Enjoy Your Quality Sleep With These Convenient Air Mattress Choices
Sleep is an essential part of our lives. That is why you must ensure the best possible quality of your sleep no matter where you are. There are times when sleeping in your bed is not an option, and that is when the air mattress comes in. There is much more to air bed than you can expect. This brings us to the point when you think that a good quality of the mattress will result in the good quality of your sleep. To ensure the latter, we have gathered here the best available air mattresses there are. Let's have a closer look!
What To Consider When Looking For The Best Air Mattress?
Source: bestway_official via Instagram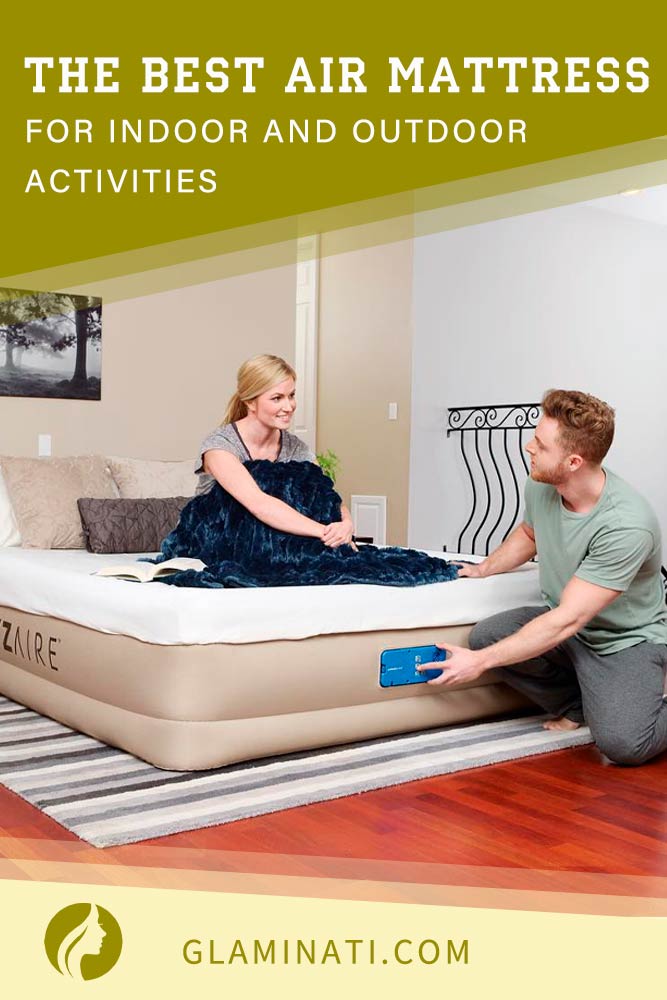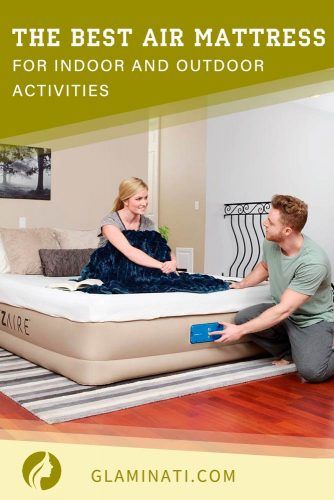 It is not that easy to choose the best air mattress if you are unsure what to look for. However, we are going to help you with that too.
Of course, the main thing that most people pay attention to is the price of the mattress. You can easily fit in less than $30 budget while getting good quality. There are also a lot more expensive airbeds, but you shouldn't assume that they are better just because they cost more.
Setting price aside, some mattresses come with build-in electric pumps, buttery-powered pumps, and manual pumps. Surely, electric pumps are fast and convenient, but if you are camping, there is rarely a socket to plug the pump in. That is why you have to determine whether indoor or outdoor mattress you need. Battery-Powered pumps can be easily used outside, but they are not as powerful as electric-powered ones. This leaves us manual pumps, they are fast, effective, and convenient no matter you are, but there is a little effort required to pump such a bed up.
Air beds come in all shapes and sizes, so you should take your own preferences and needs into consideration when picking one.
Very often, customers complain that the mattress does not hold the air. Well, you need to keep one fact in mind – all air mattresses tend to stretch when you inflate them. They lose some firmness as a result, but that does not mean that they are leaking.
To sum all up, it is safe to say that when choosing an air mattress, you need to pay attention to the price and your own comfort in the first place.
SoundAsleep Dream Series Air Mattress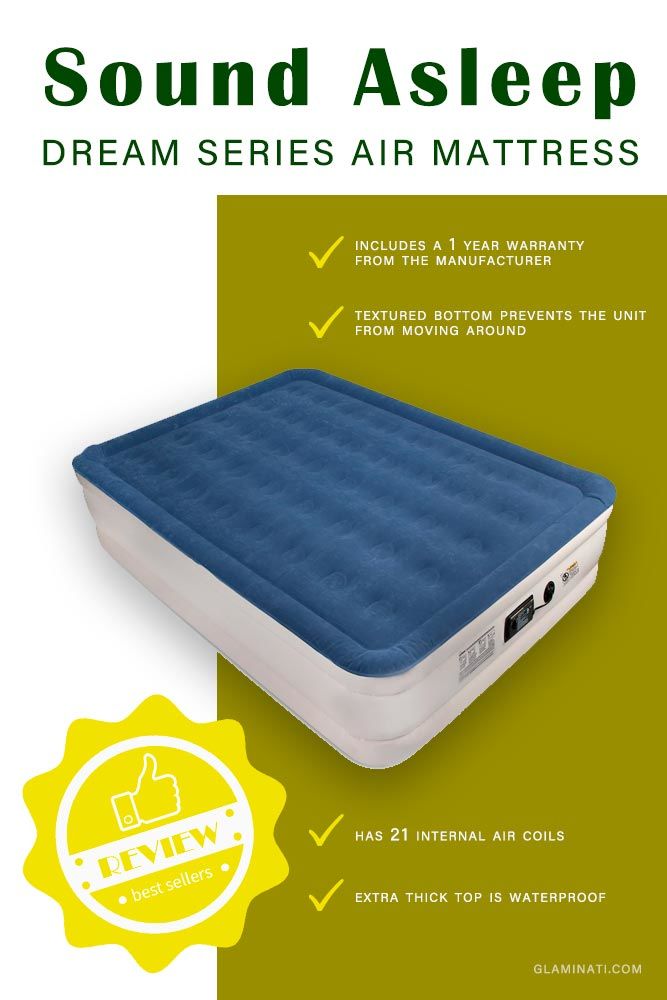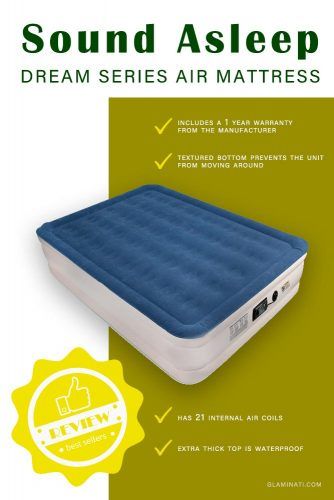 We are going to start our survey of inflatable mattress options with The SoundAsleep Dream Series Air Mattress. The mattress is designed to support your body well so that you are fully rested after sleeping on it.
Advantages
Comes in twin size
Suitable for indoor and outdoor activities
One-year warranty included
Textured bottom and soft top
Secure raised sides
Built-in air pump
Disadvantages
Costly
Does not fold compactly
To sum it up, it is safe to say that this air mattress is super convenient, but a little bit pricey. If the cost is not an issue, then you should definitely consider this option.
Source: soundasleepproducts.com
Intex Comfort Plush Mid Rise Dura-Beam Airbed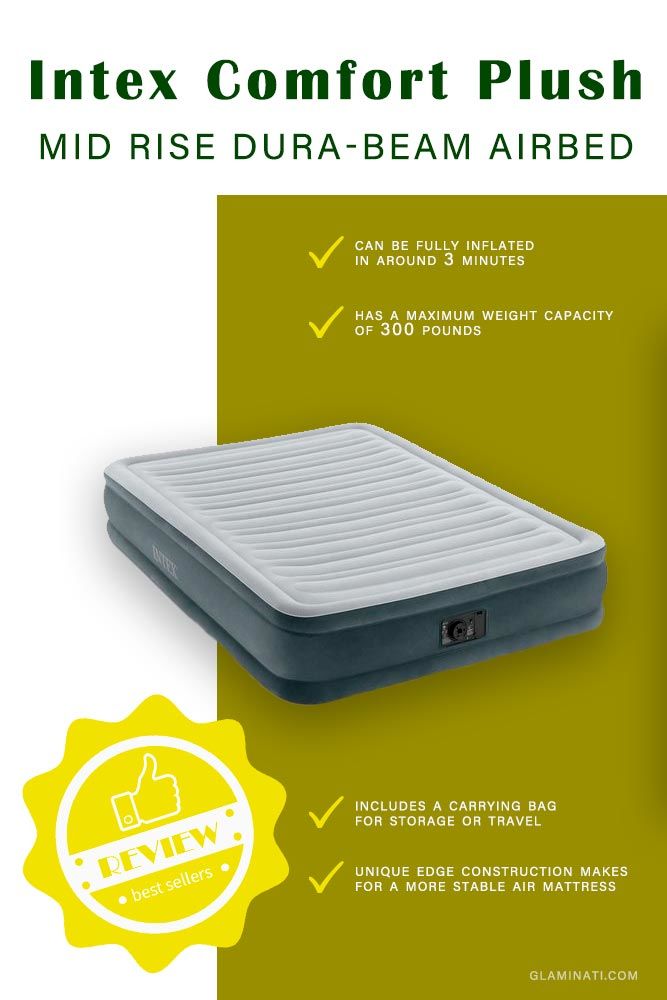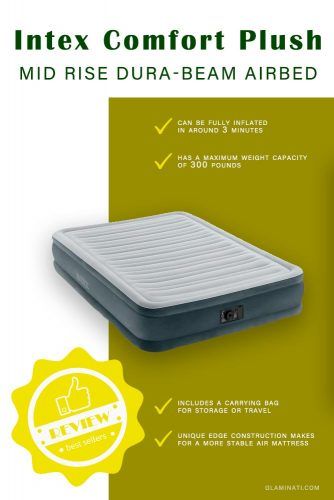 Another blow up mattress on the list is the Intex Comfort Plush Mid-Rise Dura-Beam Airbed. The bed comes in full size. Due to its height - 13″ - it is perfect for those of you who like camping. However, you can also use it indoor in case of unexpected guests who are staying over. Besides, if you are tight on a budget this is the option to consider.
Advantages
Built-in electrical pump
Easy to inflate and to deflate
Max weight capacity of 300 pounds
Comes with a carrying bag
Stable
Soft top
Disadvantages
Folding the mattress is challenging
Not as elevated as other options
Source: intexcorp.com
Bestway Airbed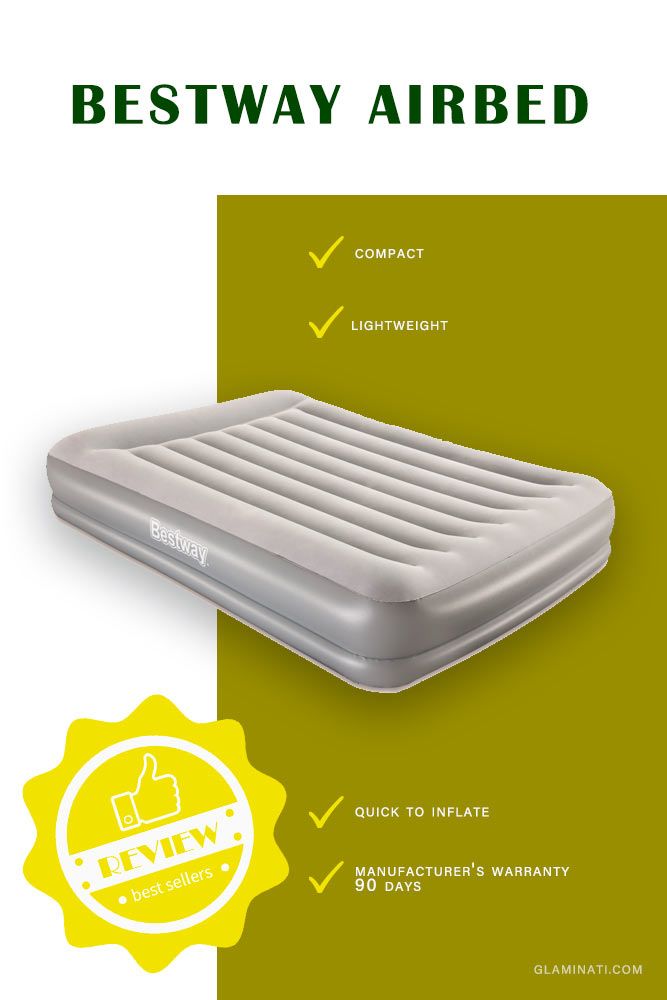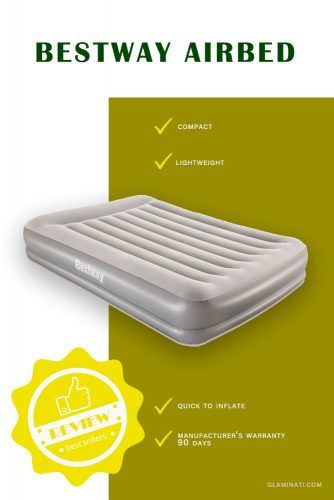 If you are looking for the best air bed mattress, Bestway Airbed may be it. The bed comes at a good price – only $65. It is lightweight and compact but not very comfortable so that we wouldn't recommend to use it on a regular basis.
Advantages
Good price
Lightweight
Compact
Can be returned within 90 days after the purchase
Integrated pump
Disadvantages
The design
Possibility of small to huge leaks
Source: bestway.ru
Lightspeed Outdoors 2 Person PVC-Free Air Bed Mattress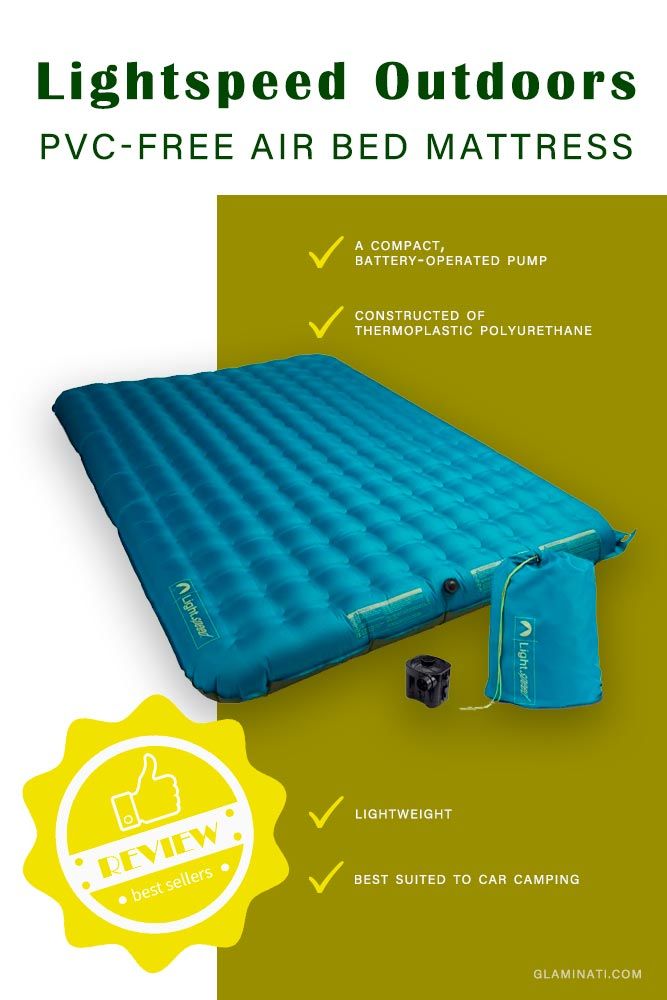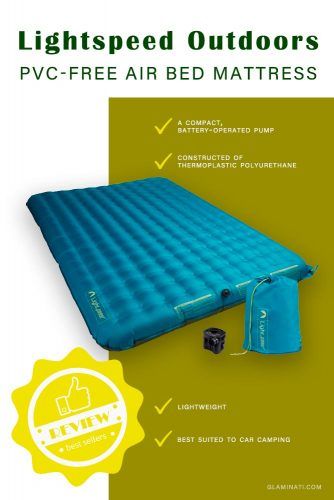 Those of you who are in search of good quality camping air mattresses, you should definitely take Lightspeed Outdoors Air Bed Mattress into consideration. It was designed for camping, no more nor less. It is super light, simple to use, and durable. What is more, unlike all the other airbeds, it is made of Thermoplastic polyurethane, which smells a lot better and is a little more durable. As for the pump, it comes with battery-powered one, which needs four D batteries to run.
Advantages
Lightweight
Built-in battery pump
Comfortable
Comes in different colors
Reasonable price
Smells less plasticky
Disadvantages
Battery-run pump leaves much to be desired
Source: lightspeedoutdoors.com
Zoetime Twin Size Air Mattress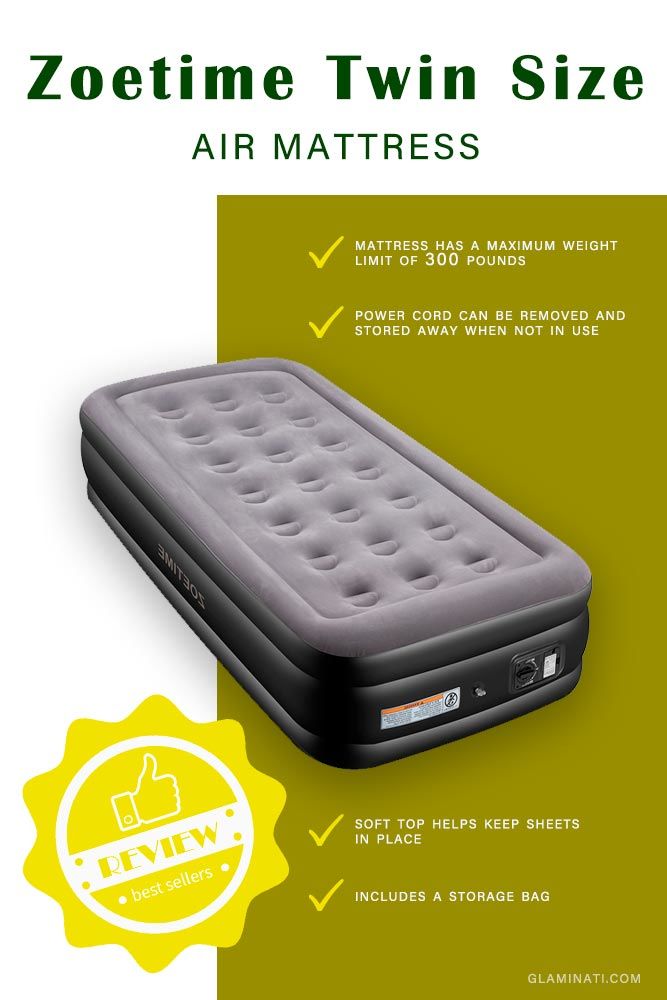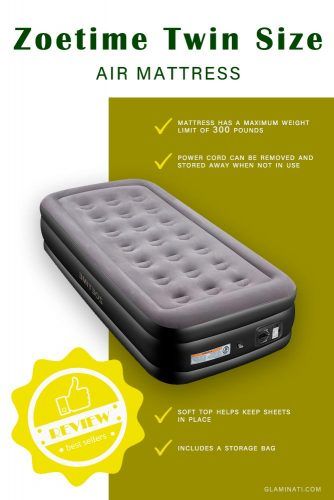 Zoetime Twin Size Air Mattress is a twin air mattress. However, it needs to be pointed out that it is suitable for kids and teenagers or small adult only, due to its size. The bed comes with a built-in electric pump and a control dial that allows you to achieve the level of firmness you need.
Advantages
Control dial
Convenient
Built-in electric pump
Fast inflate/deflate process
You can store the power cord separately
Soft top
Storage bag included
Disadvantages
Small size
The pump can generate heat if you do not plug it out after use
Source: zoetime.cc
The AirExpect Airbed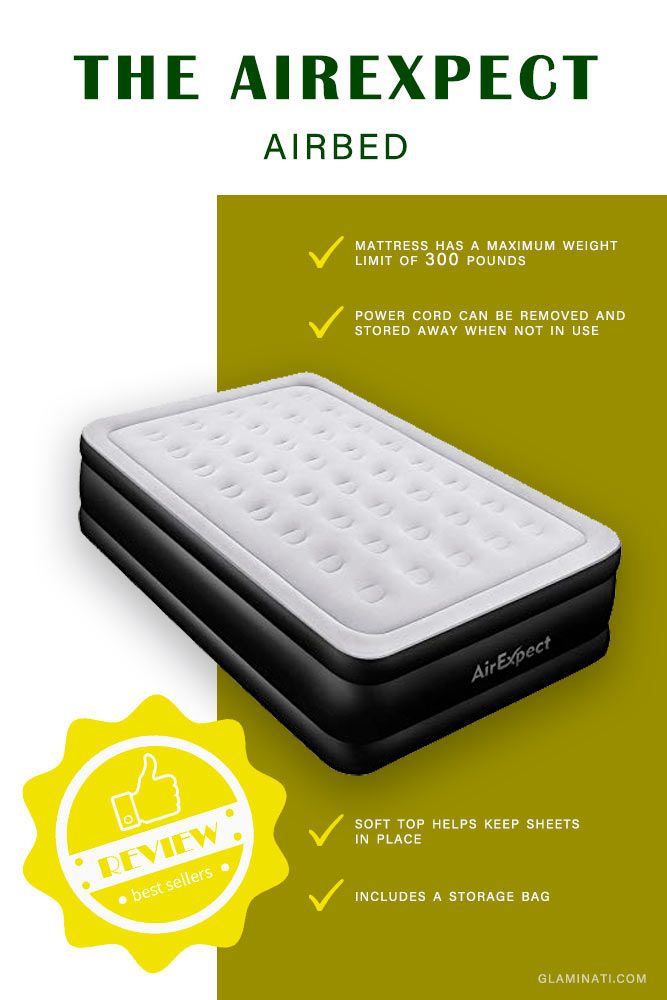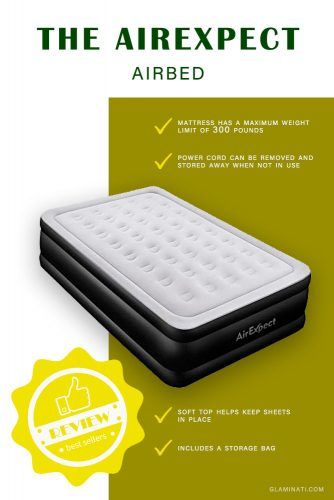 One of the best blow up mattress of queen size is the AirExpect airbed. It is designed in such a way that you will barely spot the difference between the airbed and regular mattress. The mattress is quite high so that you will not sleep close to the floor.
Advantages
Two-year warranty
Weight capacity up to 650 pounds
Built-in electric pump
Soft suede top
Waterproof
Disadvantages
The unpleasant smell when used for the first time
Unfit for tall people
Source: airexpect.com
Insta-Bed Raised Air Mattress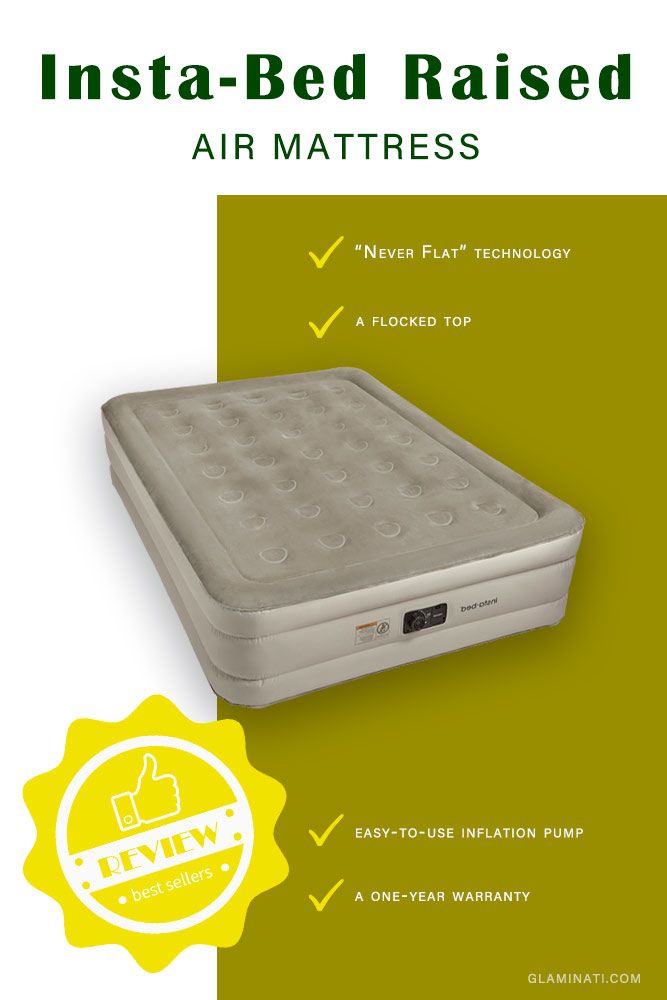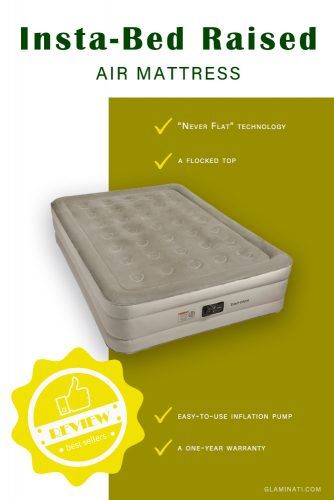 Insta-Bed Raised Air Mattress is that one best air bed that comes in several sizes: twin, queen and queen pillow-top. Unlike other mattresses, it comes with a Never-Flat option. This means that whenever the mattress is losing some air, the built-in pump restores it.
Advantages
Never-flat option
Built-in pump
Soft top
Three sizes to choose from
One-year warranty
Disadvantages
Holds only up to 500 pounds
Source: instabed.com
Etekcity Portable Air Mattress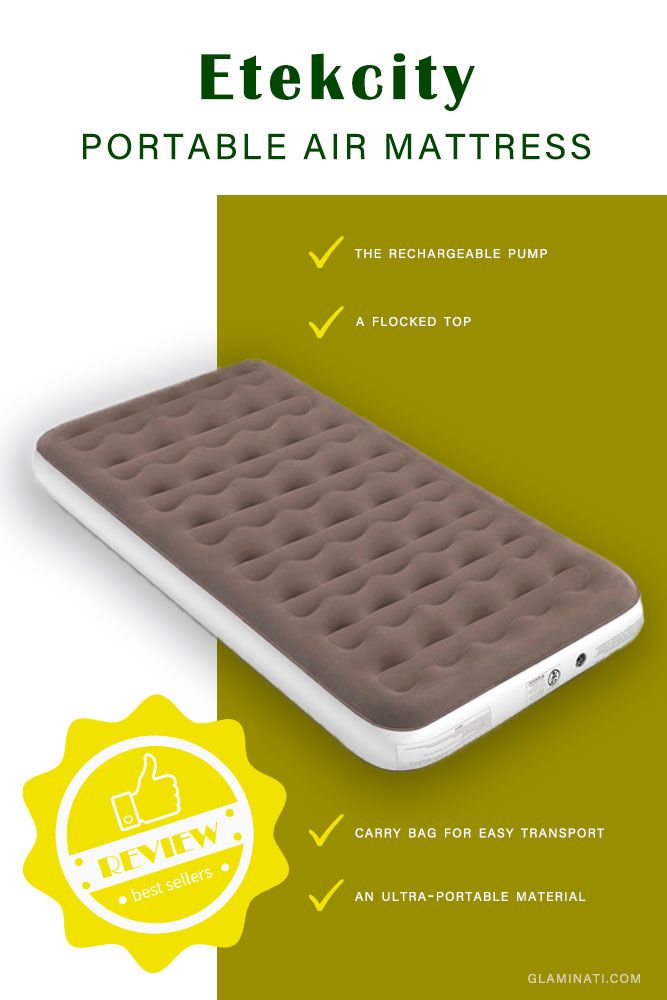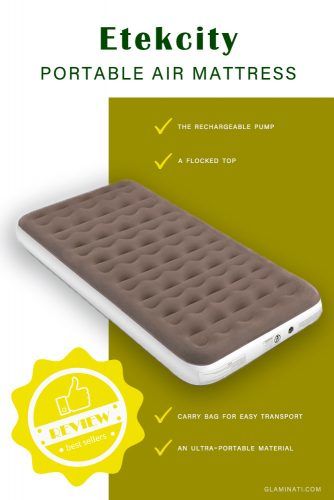 Many people complain that they can't find the best camping air mattress. If you belong to the category – we have something special for you! The fact is that Etekcity Portable Air Mattress is precisely the mattress made for the outdoor. It will not only fit in your tent perfectly but will also fold easily, not to mention the fact that it will take you only 60 seconds to inflate and deflate it. This mattress is made from a little more durable material which makes it perfect for the outdoor use.
Advantages
Anti-skin bottom
Soft top
Durable
Fast to inflate/deflate
Easy to fold
Chargeable pump
Source: etekcity.com
Coleman Camping Cot, Air Mattress, And Pump Combo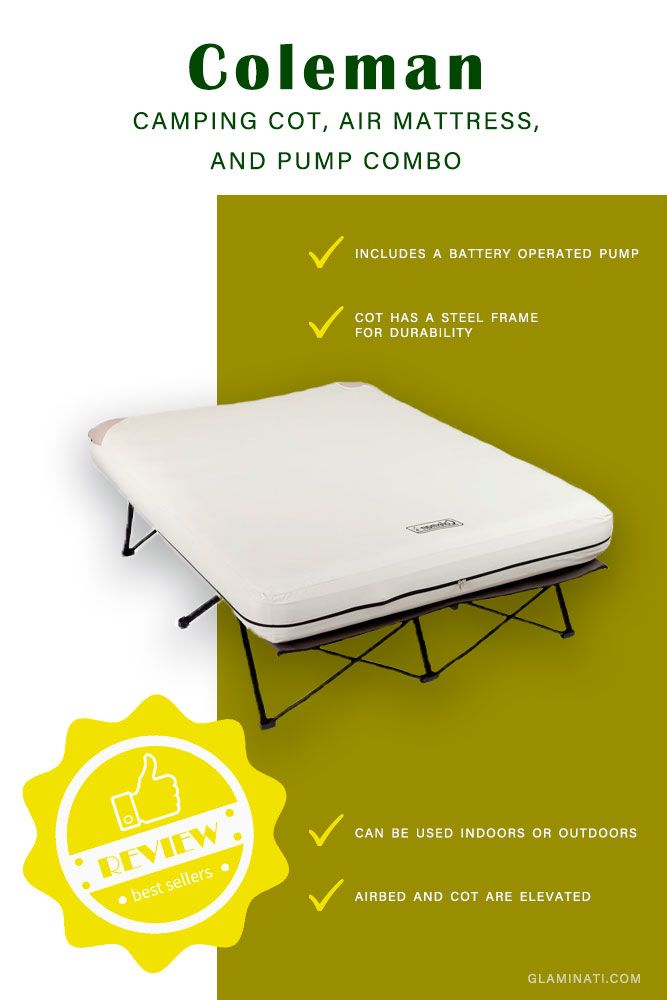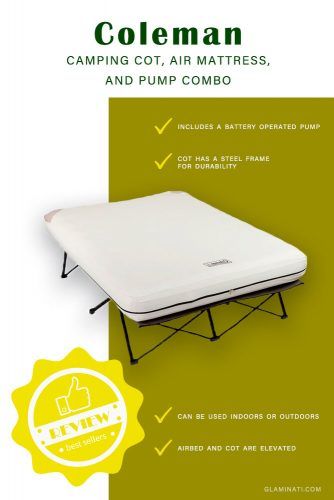 This is another camping airbed version. It will fit you if you are just a beginner to the world of camping. The included cot, air mattress, and pump will ensure your comfort and safety. Also, the air mattress comes with an airtight technology which ensures that there is no leaking. The bed can support as much as 600 pounds. The pump it comes with is battery-operated.
Advantages
Basic camping airbed combo
Battery-powered pump
Durable steel frame
Airbed and cot can be elevated
Disadvantages
Source: coleman.com
King Koil Twin Size Upgraded Luxury Raised Air Mattress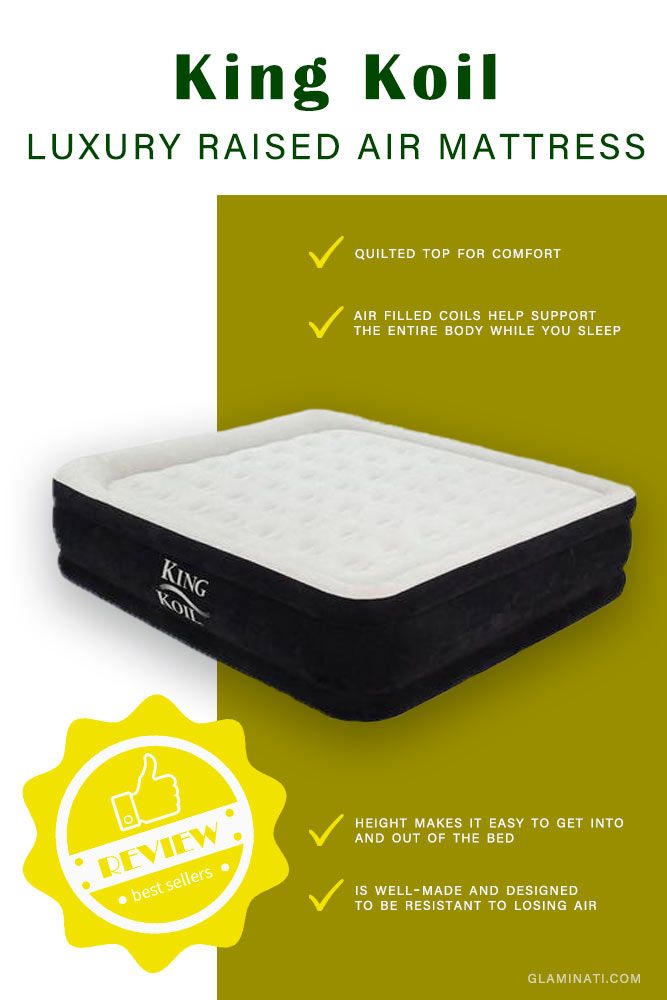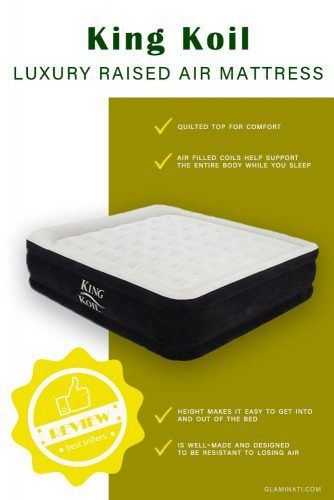 The King Koil Twin Size Luxury Raised Air Mattress is another comfortable twin size airbed that comes with a built-in pump. It is highly comfortable and simple to inflate as well as deflate.
Advantages:
Built-in pump
One-year warranty
Durable
Soft top
90-second inflate/deflate process
Disadvantages:
Pricey
Not suitable for very tall people
Source: kingkoilairbeds.com
If you are looking for the best air mattress to suit your indoor and outdoor activities – you have come to the right place. No matter your needs or budget – we have a suitable option to offer. Take a pick!