Choosing wedding colors may be a daunting task unless you have a detailed guide to follow. So that you will not become overwhelmed with a great number of options possible, we have picked out the most popular and unique colors you can use for your wedding. On top of that, for your convenience, we have grouped them depending on the season. Now all you have to do is simply choose the option that speaks to you most.
Summer Wedding Colors
Summer is one of the best seasons to hold a wedding. Days are longer, warmer and the weather is generally nice and pleasant, which makes hosting the ceremony outside a really good idea. That is why the best summer wedding colors are mostly light, bright and refreshing, which you can see for yourself below.
Gold & Blush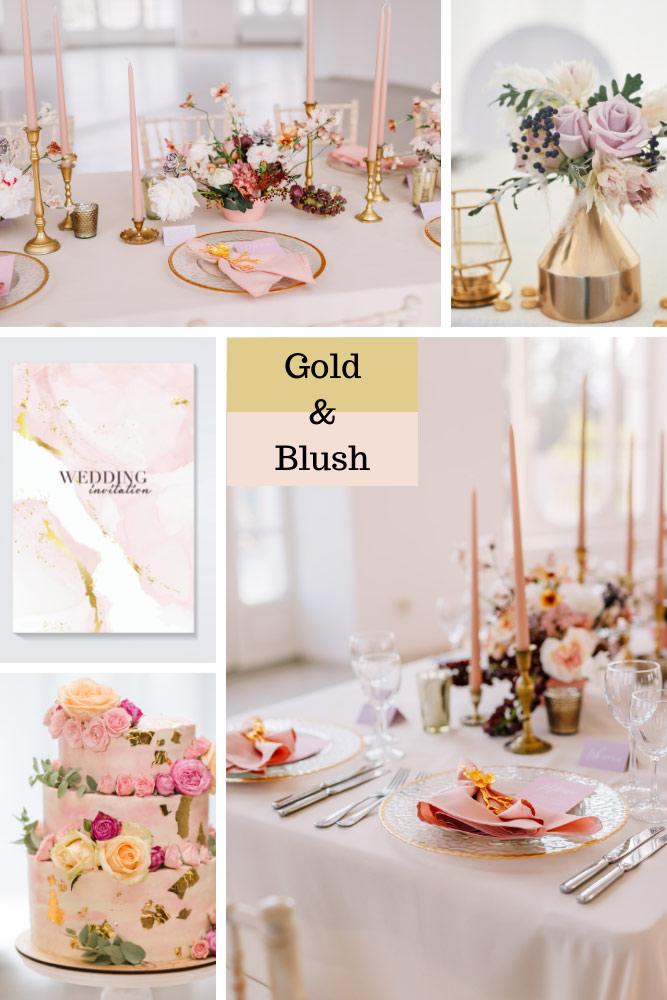 A wedding is a very romantic and magical event. So, why not use colors that resonate with its vibe? Subtle and delicate blush pink makes up a beautiful color combo with noble gold. Such a neutral color story allows for bold and intricate designs. So, you can play around with a pattern or texture of the tablecloths, napkins or even curtains.
Lilac to Grape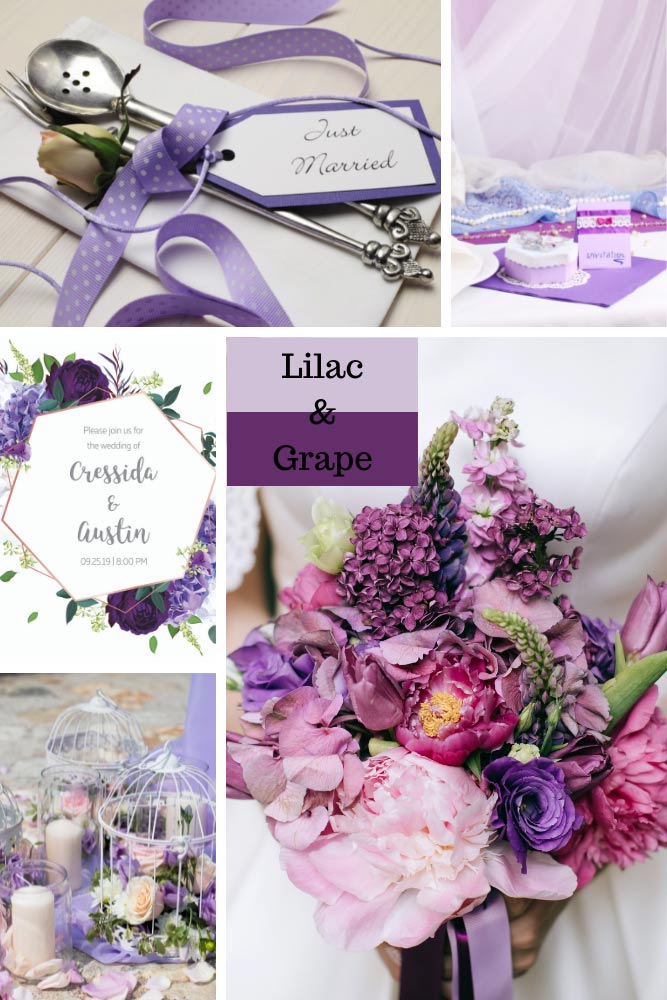 You can never go wrong with wedding colors from the same color family. Opt for different shades, varying their intensity, temperature and deepness. If you want to make your wedding palette unique and unusual, consider the shades that create a transition from lilac to grape. Not only will it look sweet and gentle, but it will also work perfectly for both daytime and evening ceremony.
Peach, Green And Pastel Pink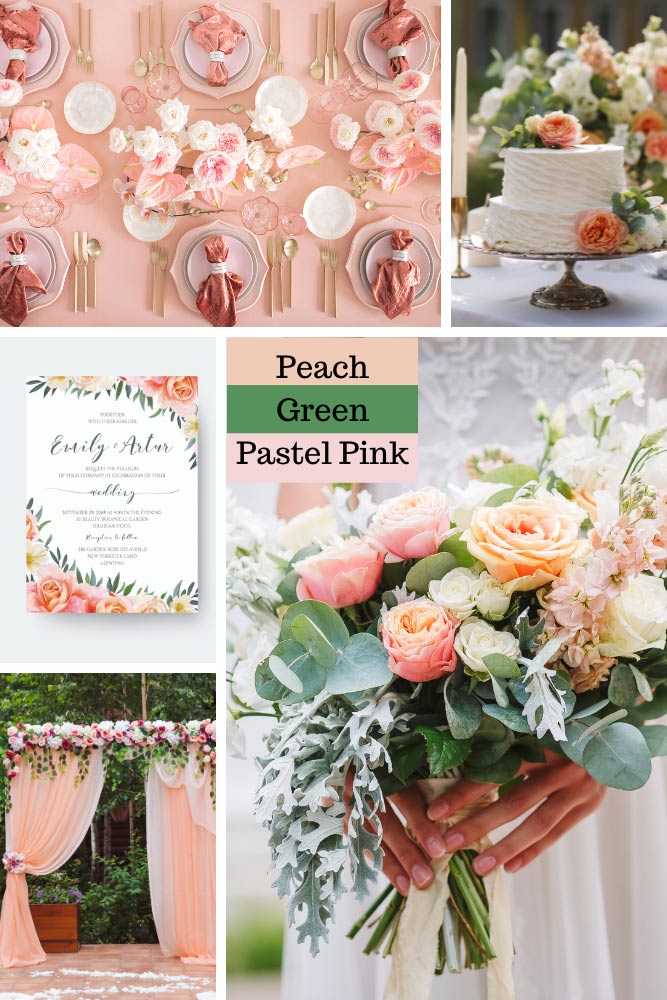 When you are limited in space, you can make the place appear bigger with the help of the right colors and décor. For instance, choose pastel pink as your main color and accompany it with contrasting green and orange. This design trick will create an illusion of lighter and more open space.
Fall Wedding Colors
Fall wedding colors call for a cozy and toasty ambiance. So get ready for all terracotta and burgundy wedding colors, oranges and purples and every tone of the earthy color palette. However, it is up to you whether to go for subdued and low key shades or vivid and flamboyant. There are fall colors for wedding for every taste. Here are the best of them.
Tawny Brown And Pine Green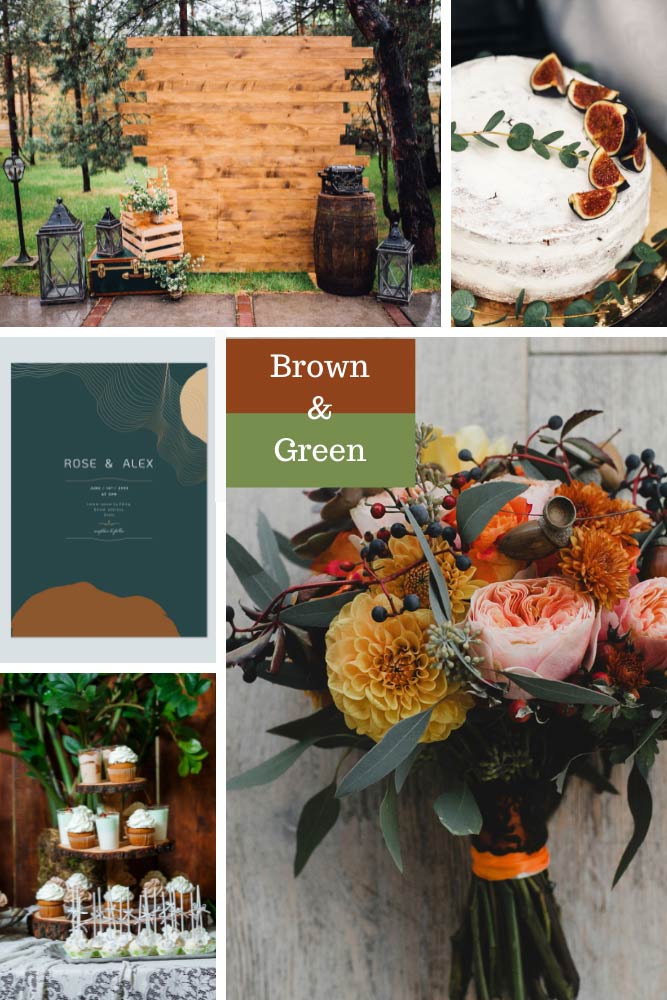 Woodsy colors are a wonderful option for a fall wedding. They create a welcoming and snug atmosphere even if you host outdoors. Look for such complex colors as pine green and tawny brown, which are said to be the trendiest fall wedding colors 2021. To accentuate them, you can go for something lighter and more reserved, like ecru or beige.
Rustic Brown To Caramel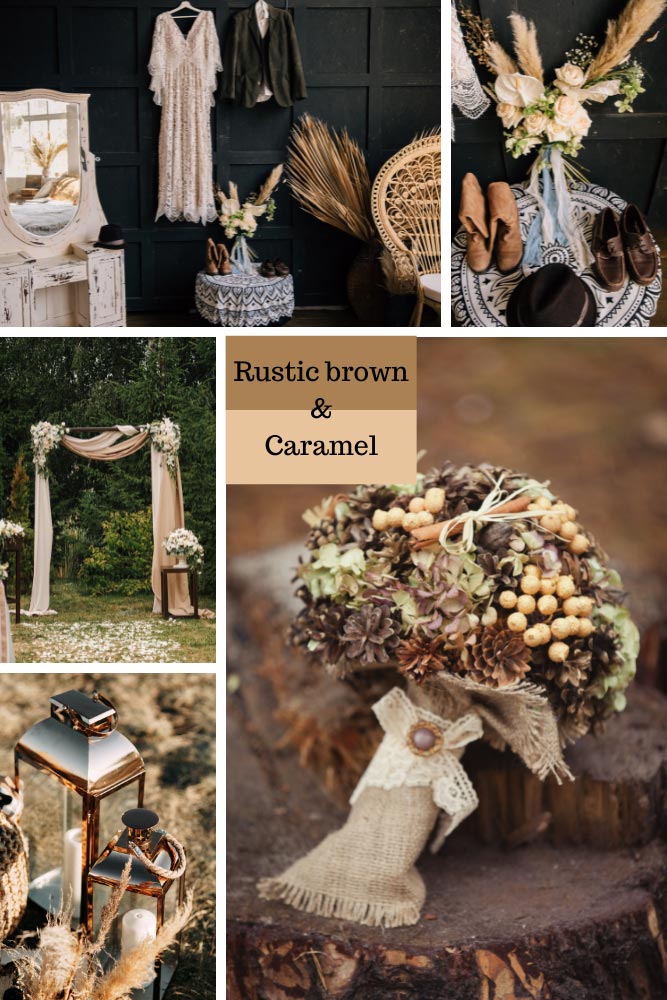 Celebrate your knot tying with boho chic by embellishing the wedding scene with accents and details in a soft gradient from a caramel to a rustic brown. This color scheme will infuse the event with a dreamy atmosphere and romantic vibe.
Yellow and Lipstick Red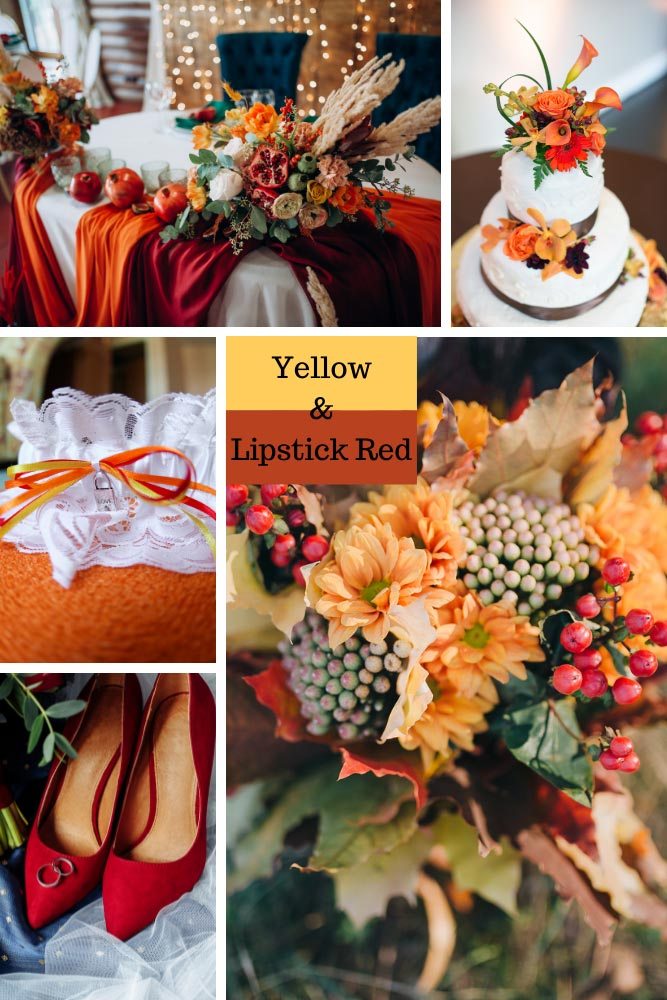 Autumn wedding colors do not always have to be deep or muted. If you feel like arranging a bright and colorful wedding, you are very welcome to do so. Yellow and red are two amazing vibrant colors that go together like bride and groom. You can never go wrong with choosing them for your wedding.
Winter Wedding Colors
Planning your wedding during colder months? With the right winter wedding colors, you can turn the ceremony into a fairy tale. Airy and fresh or bright and festive, no one but you can decide what direction your wedding is going to have. So that you know your options, we have put together the best wedding colors for winter here.
Shades of Blue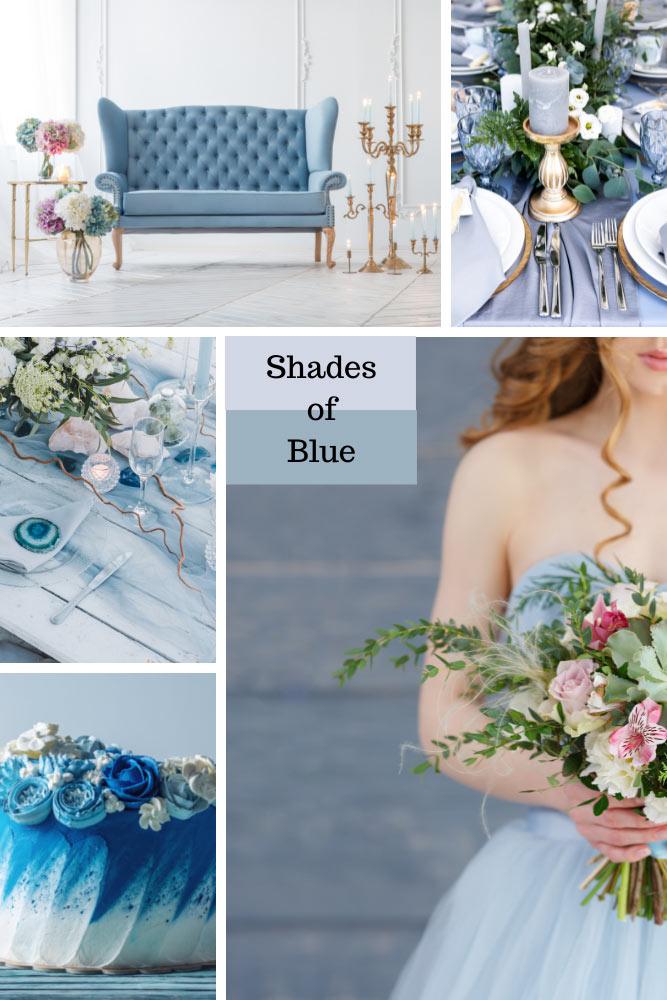 Blue wedding colors are a suitable option for any season, with winter being the most authentic. When everything outside is sprinkled with snow and glazed with ice, decorating your wedding venue in various shades of blue will make the ambiance even more magical. So, if you have always wanted to try on the role of the Snow Queen, this is your golden hour.
Blue Gray and White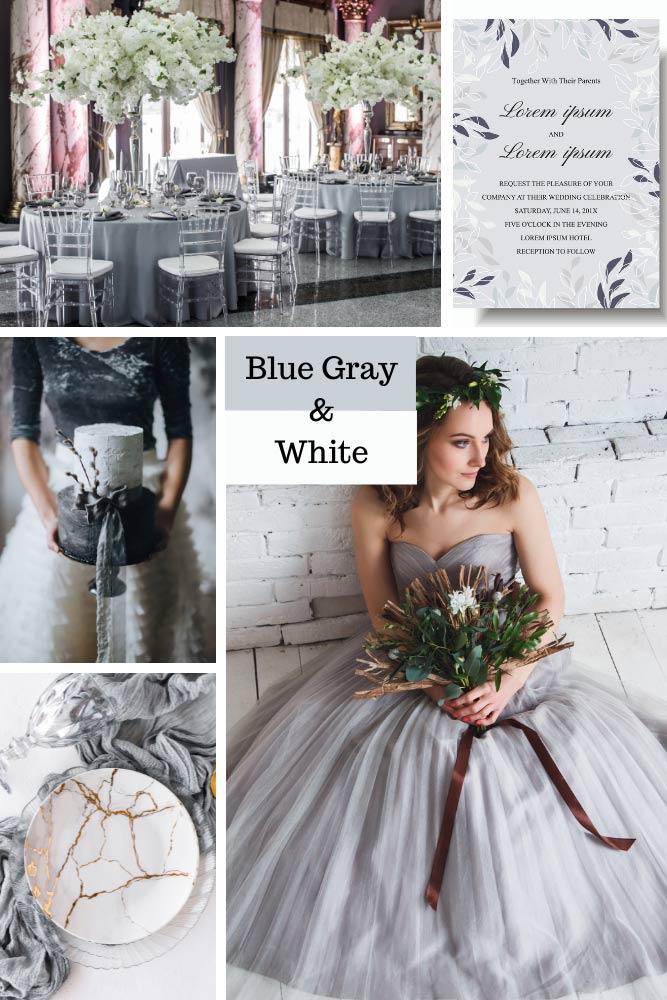 Add a tad of blue to a gray and you will get a unique winter wedding shade that looks out of this world. Although it pairs nicely with the majority of colors, white and off white ones are the most suitable accompaniment for it. What is more, you can choose it just for anything at your wedding, from the dress and cake to tablecloths and invitations.
Festive Red and Green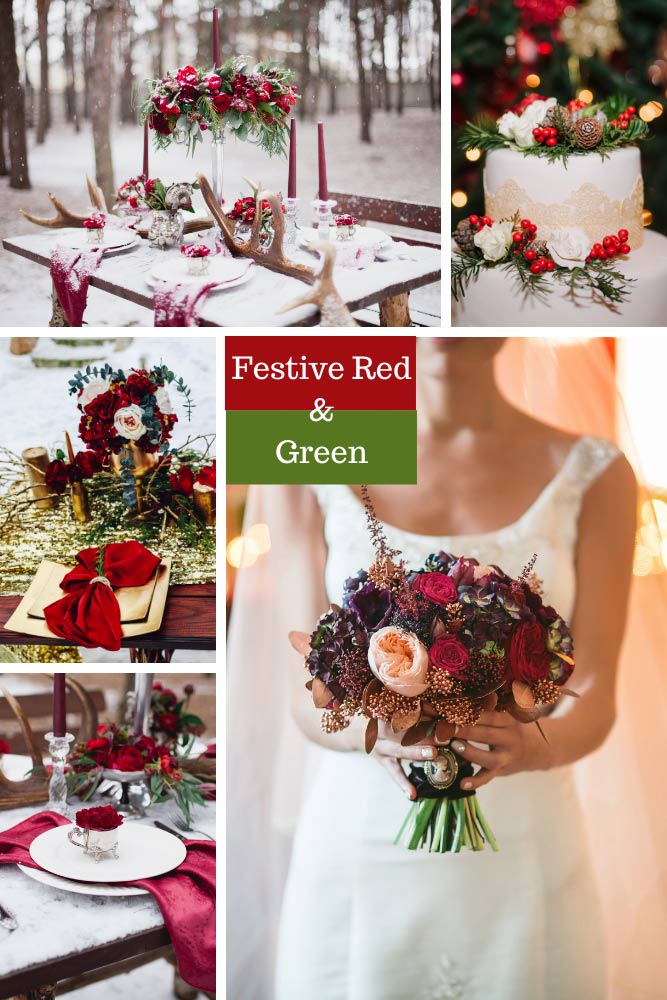 Is your wedding sometime around the holiday season? Do not deny yourself the pleasure to adopt its traditional colors for your winter ceremony. Reds and greens, whites and golds promise you an infinite festive mood and positive feel. If you want to fully immerse into the holiday atmosphere, adorn the wedding venue not only with winter colors but also with other elements, such as pinecones, fir branches, holly berries and others.
Spring Wedding Colors
Spring wedding colors denote a fresh start, which holds a perfect meaning for the beginning of married life. If you share our opinion, find the most amazing spring wedding shades below.
Shades of Pink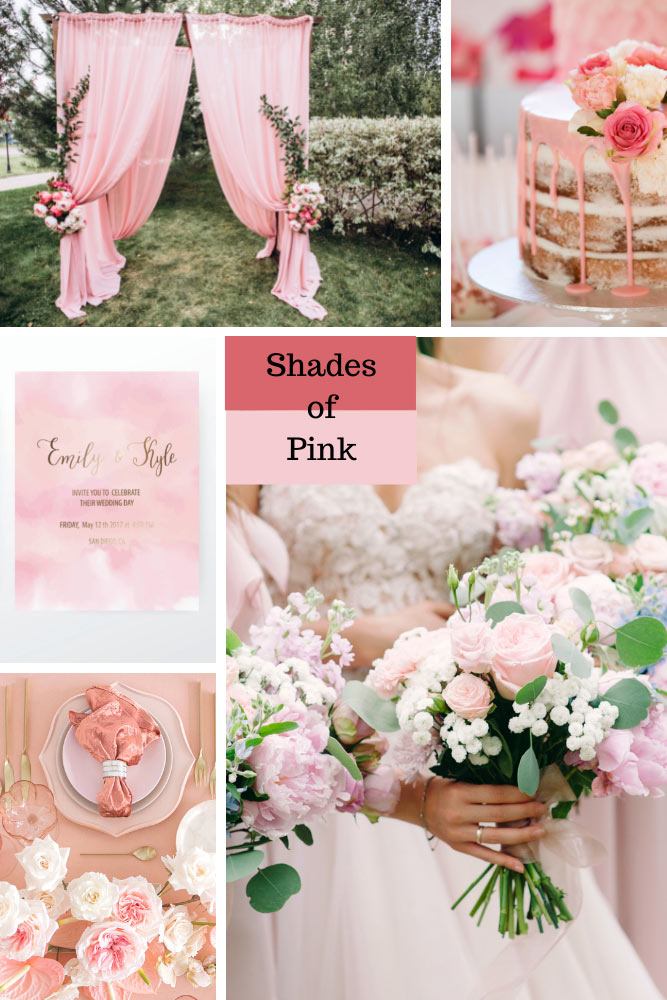 Out of all wedding colors for spring, pink is the most popular and not for nothing. It is sweet, romantic and versatile. There is a shade of pink for every preference. Barely there and hot, cool and warm, pure and dusty, the range of options is endless. And the best thing? You can never have too much pink.
Green and Dust White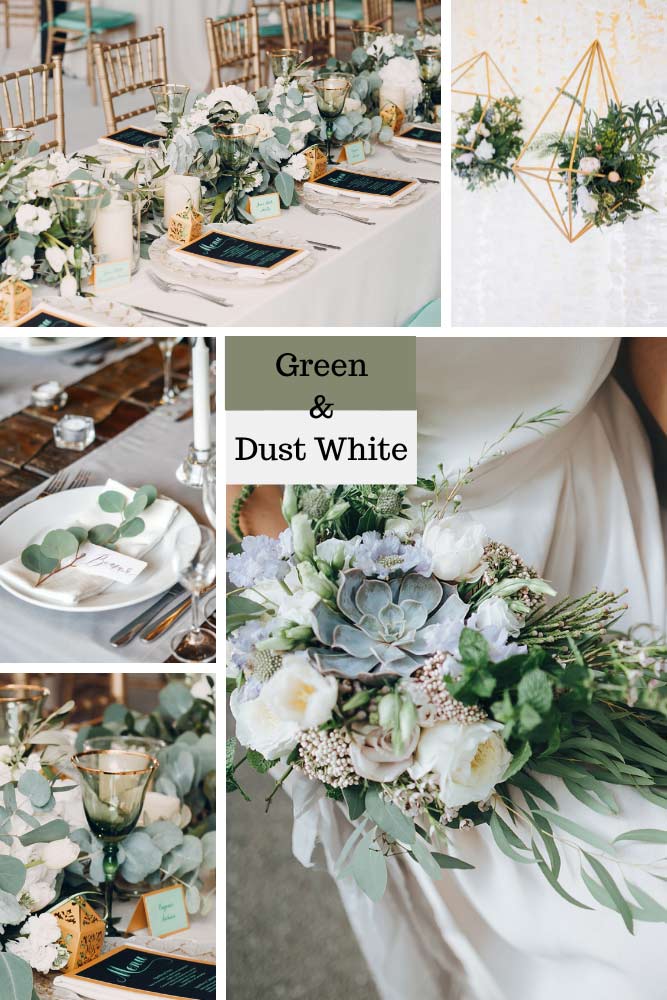 To choose an ideal color scheme for the wedding, sometimes all you have to do is just look around. Make a note of what colors catch your attention. Spring usually welcomes us with rich green and dusty white, so feel free to draw inspiration from the ideas Mother Nature gives you.
Purple and Pink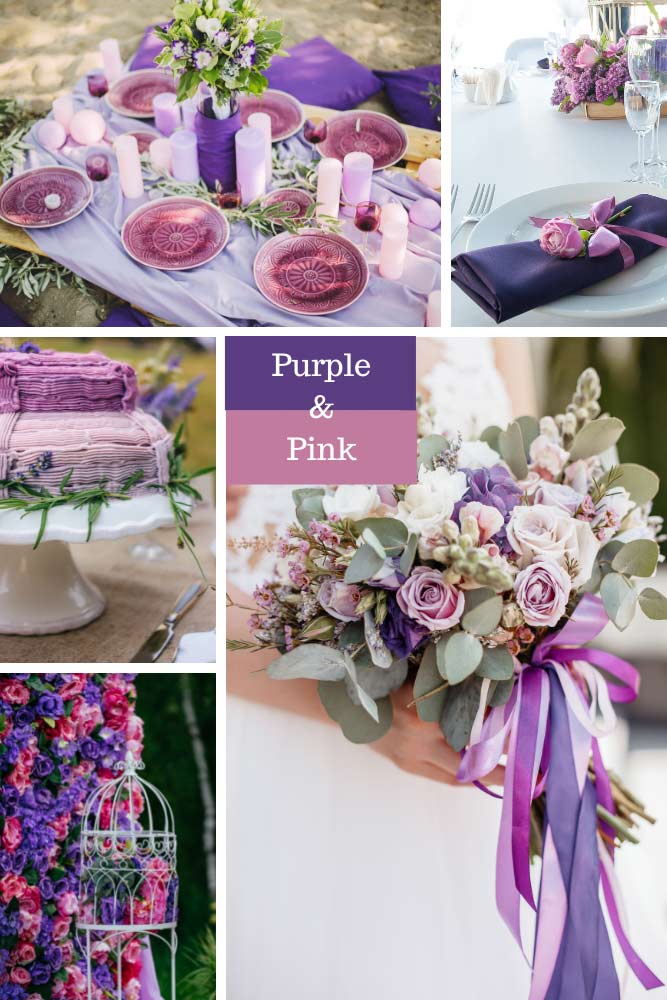 While purple and green wedding colors come out bold and pronounced, purple paired with pink looks in complete harmony and balance. But still, this combo looks striking against white porcelain tableware and other accessories in less saturated colors.
FAQ
How do I choose a color scheme for my wedding?
But, how to pick wedding colors so that they echo the theme of your ceremony perfectly? Here is your check list:
Decide what color is going to make up the base for your wedding.
Take the season when your wedding is going to take place into consideration.
Keep in mind the place where you are going to host the ceremony.
Adjust the colors to the general style of the wedding.
Make sure the color scheme is flattering for you and the groom.
Gradients can make the world of difference for your wedding colors palette.
Get inspirational ideas from holidays.
What is the best color for a wedding?
So that you do not limit yourself to one color only, here is the list of eight trending in 2021 wedding colors:
Greenery, Rose Cinnamon and Pink Blush.
Rustic Contemporary Design in Gray Shades.
Rose Gold and Rose Brown from Pantone Color Institute.
Burgundy and Dusty and Fair Blue.
Fair Terracotta and Sage.
Champagne and Nude Beige.
Greenery, Gold Foil and Fair Gray.
Greenery and Purple Mauve.
How many colors should a wedding have?
Because there are so many popular wedding colors, you may want to use just all of them. However, remember, that the ultimate sophistication is in simplicity. So, keep the color story of your wedding between 3 and 5 shades.
No matter what wedding colors you are going to choose, do not forget that our attitude and mood are essential contributing factors to the success of this event. Yet, you should not underestimate the importance of a suitable color scheme, which creates the right ambiance. Hopefully, our guide has come in handy to you.