A gorgeous wedding arch is what every wedding expert calls a true classic for a wedding day! What we believe is best about them is the fact that they are all so different. Are you a fan of floral ones or would you like to pick a creative one for your Boho wedding theme? Such a great variety of arches are presented nowadays that it is difficult to make up your mind. We are here to help you with our ideas that will inspire you to make the right choice of an arch.
*We may earn money from affiliate links on this page. Please check out our disclosure policy for more details.
Floral Wedding Arch Ideas
Flowers are what we usually associate with such a beautiful day as wedding. Tenderness and elegance of their appearance make the whole celebration look so beautiful and full of joy. Don`t you agree? More and more people choose flowers to not only decorate the wedding scene, but also to create an altar for a couple on such an important day. A floral wedding arch is where two loving souls meet to officially become a family.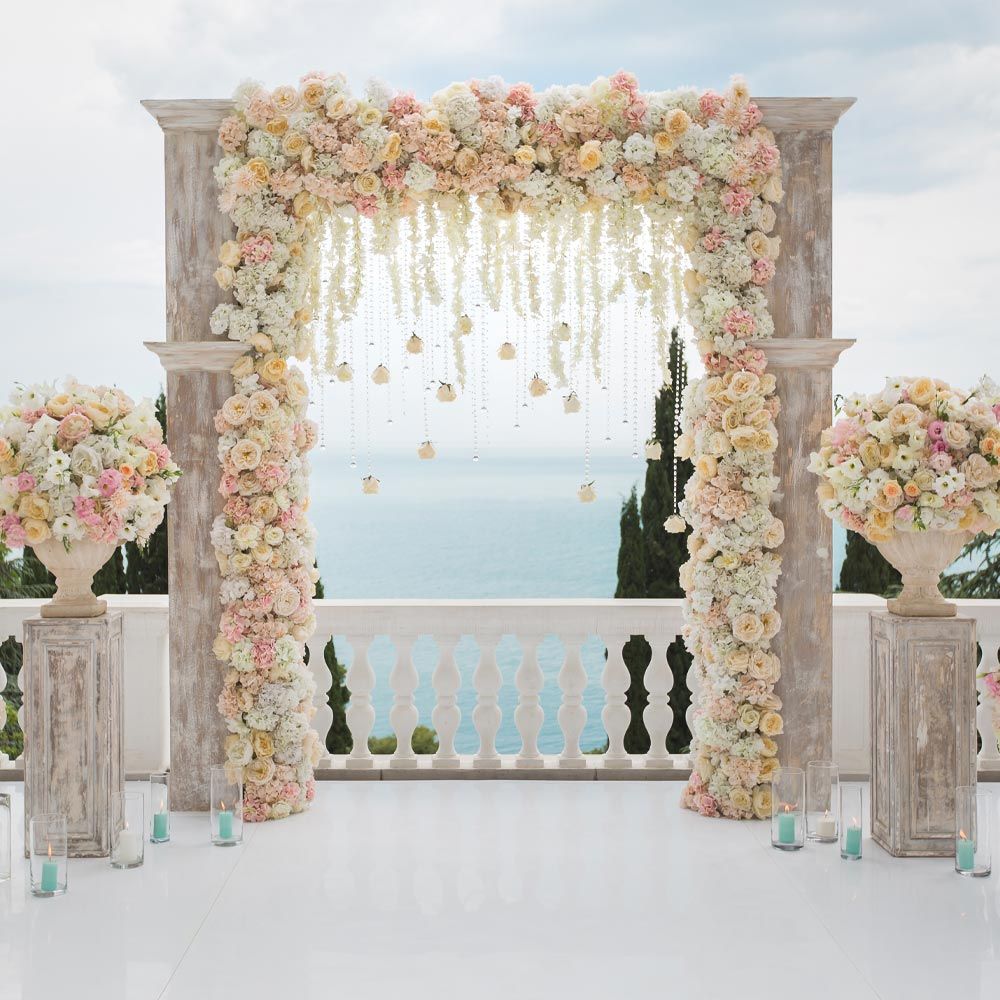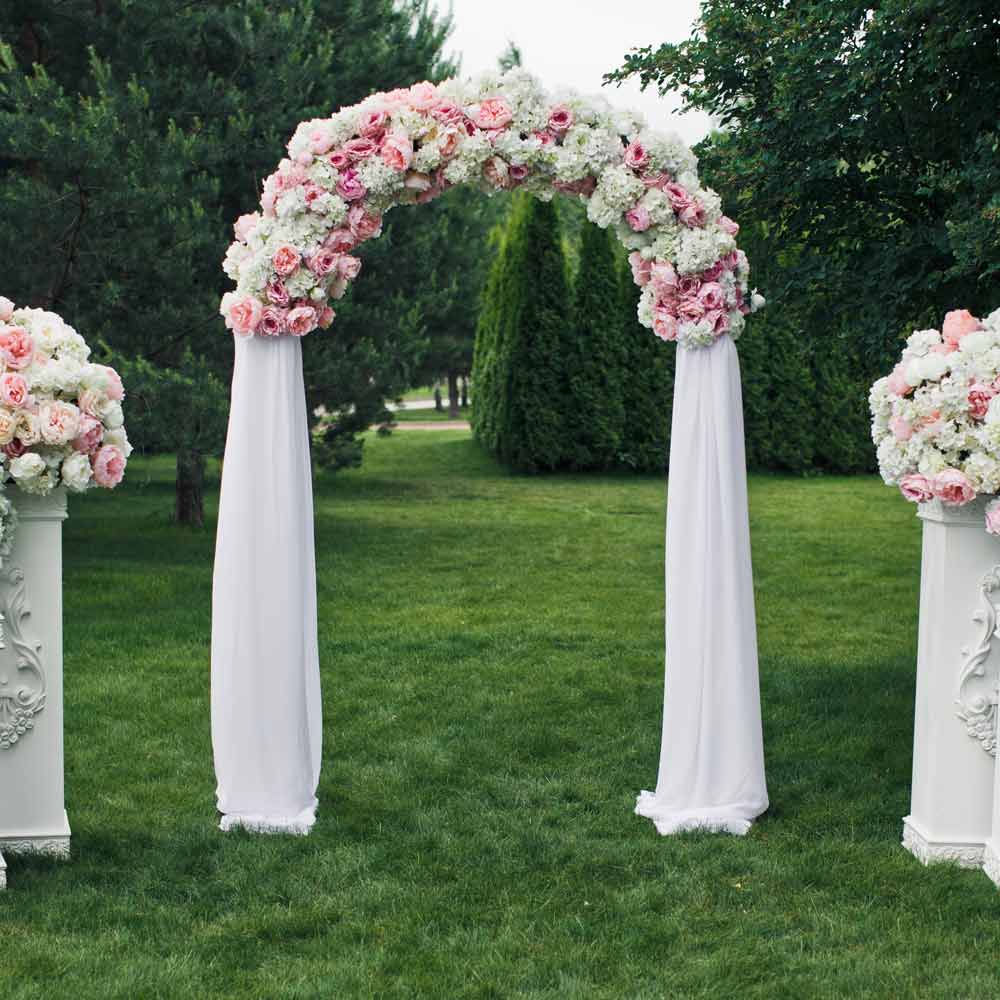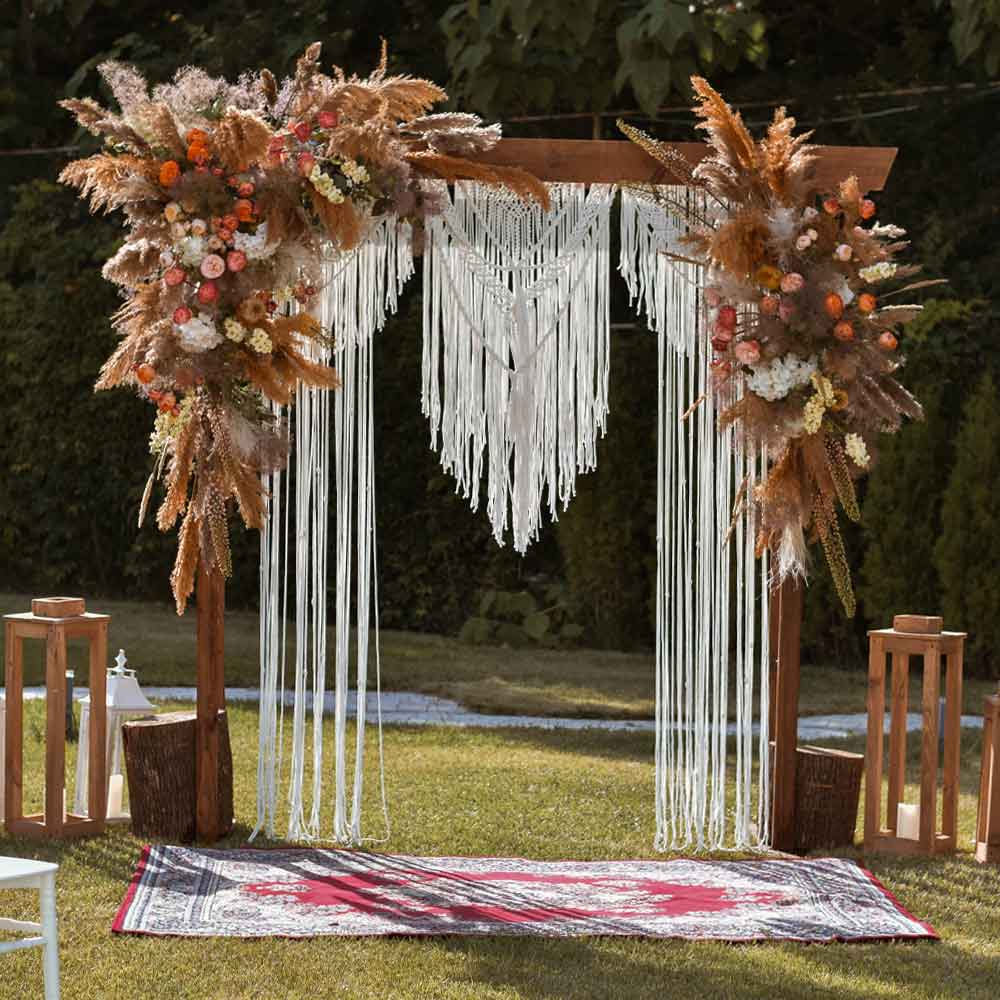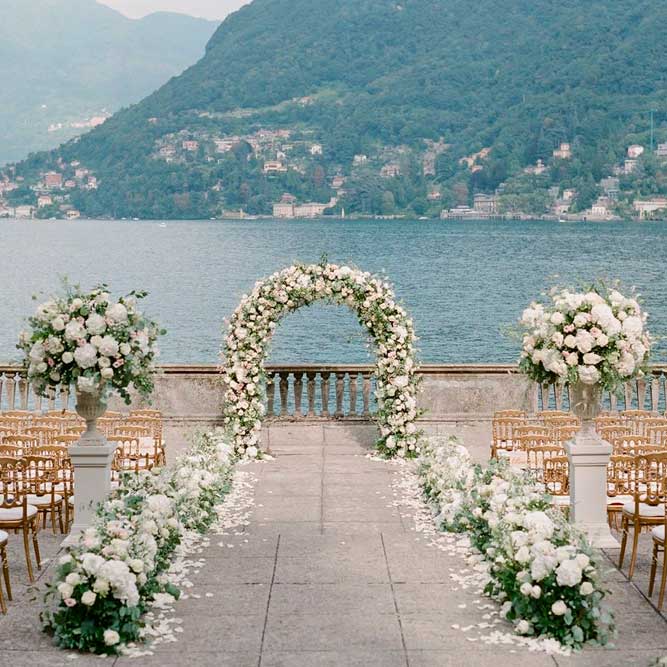 Credit photo: Instagram.com/ktmerry
An outdoor wedding ceremony is a gorgeous choice for those couples who decide to officially become one unit in a warm time of the year. What do we associate with such a great weather? Blooming gardens full of flowers. If so, why don`t you choose a garden-inspired wedding arch to decorate your ceremony? Reminiscent of roses that twine around the arch behind your home, it will be a great-looking decoration for your altar.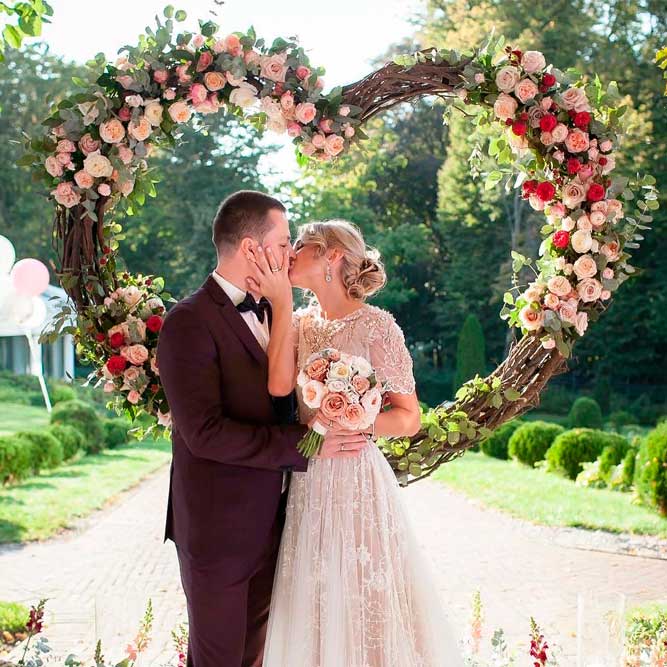 Credit photo: Instagram.com/michail_filimonov
Would you like a creative idea for your floral wedding altar? We have one. Using willow branches in arch decorating is what we call different. Add a few branches or create a new form out of it, decorating it with gorgeous flowers that match the wedding colors. Voila, your wedding altar is not only beautiful but it is also the one that doesn`t look similar to anything else.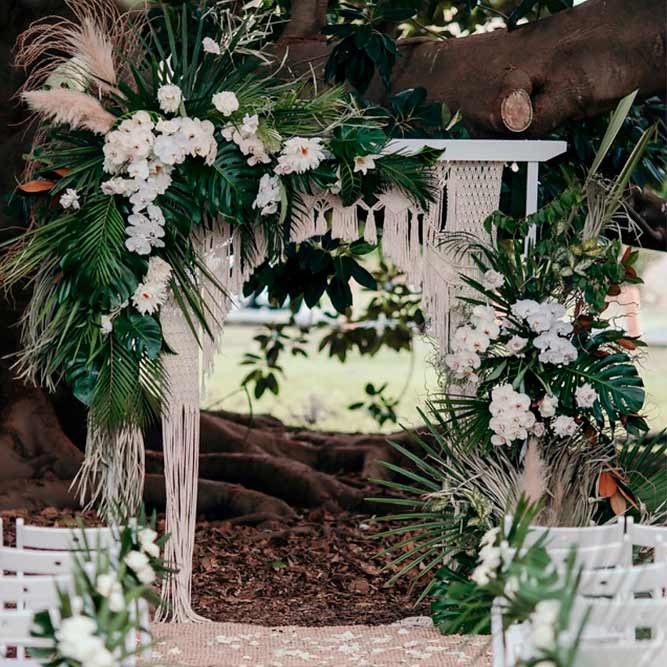 Credit photo: Instagram.com/littlelaneevents
A Boho Chic wedding style has grown so much this year that more and more brides and grooms are able to find the ideas that will help them represent themselves. If the location of your wedding ceremony is on the beach, then why don`t you use some tropical accents that will help you emphasize the boho atmosphere? Palm leaves or tropical flowers in the ensemble with nude colored macrame will work for your wedding arch decorations for sure.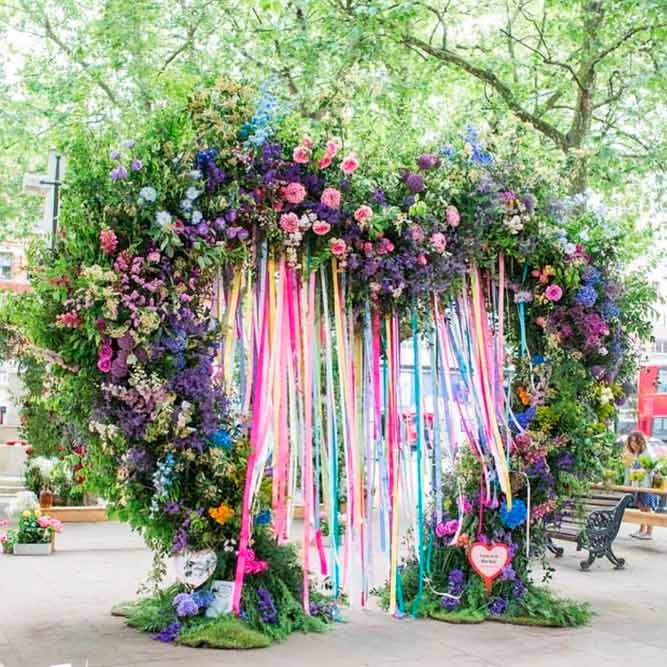 Credit photo: Instagram.com/leafycouture
If you would like your wedding colors to be super bright but still would like them to go well with the ceremony, we know what to do. Pick any wedding colors and take flowers to match them. Add them to your floral wedding arch and incorporate small details such as ribbons. Colorful and bright, they will make the atmosphere even more magical, creating a great background for your wedding ceremony.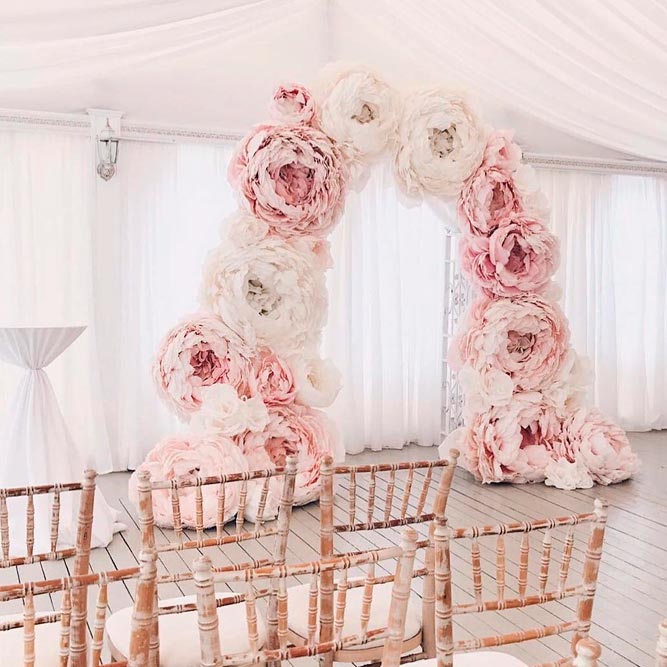 Credit photo: Instagram.com/tsvetkova_flowers
If you have your wedding in the cold time of the year or you just prefer to have an indoor wedding ceremony, we have a beautiful floral idea for you. Winter and fall is not the great time for natural flowers, so that`s when paper ones come to serve us. Use paper-made flowers of any size to decorate the wedding arch and trust us, it will not be worse than the one decorated with natural ones.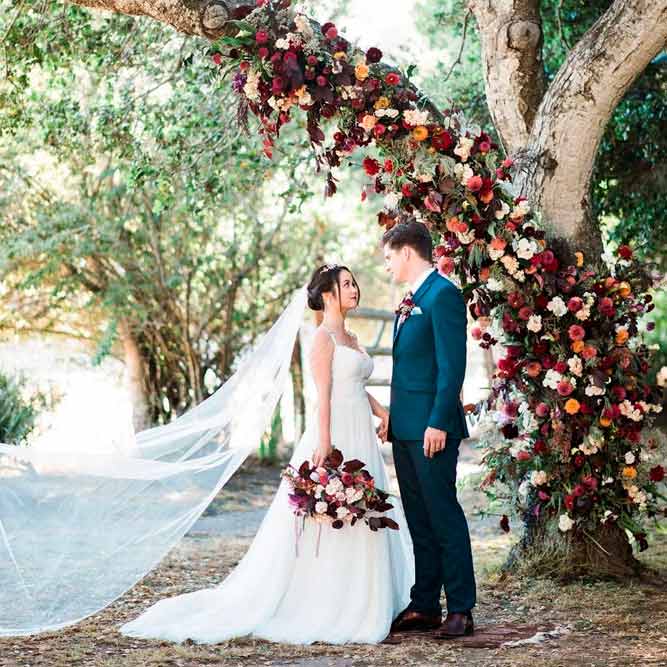 Credit photo: Instagram.com/adrianewhitephotography
Having your wedding ceremony in a garden is a great idea full of possibilities for decorations. Flowers everywhere will make a great effect and other plants can play their role, too. A tall tree that is situated there can be used too, especially if it has thick and long branches. Use one of it to create a floral arch and we bet it will be the greatest decoration trick of all time. Add flowers all over the tree trunk, and your wedding altar will look gorgeous.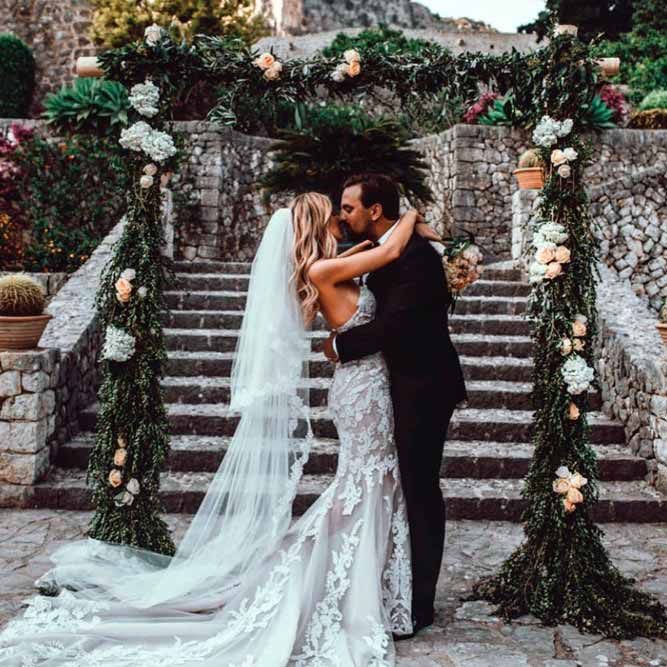 Credit photo: Instagram.com/sonberga
Floral arches are not necessarily covered with flowers from top to bottom. Some couples prefer them to be modest but stylish at the same time. Such an effect can be achieved by covering it all in greenery. Little pine branches or an ivy plant can be used to create a beautiful background for little compositions of flowers that will be situated from place to place on your wedding arch.
Triangle Wedding Arch Designs
A wedding arch is a must-have for any wedding ceremony. But what if you want something a little more unique than the standard arch? Why not try a triangle wedding arch instead? These elegant structures can be made from a variety of materials and add a touch of sophistication to your big day. Plus, they're perfect for couples who want an informal or low-key ceremony.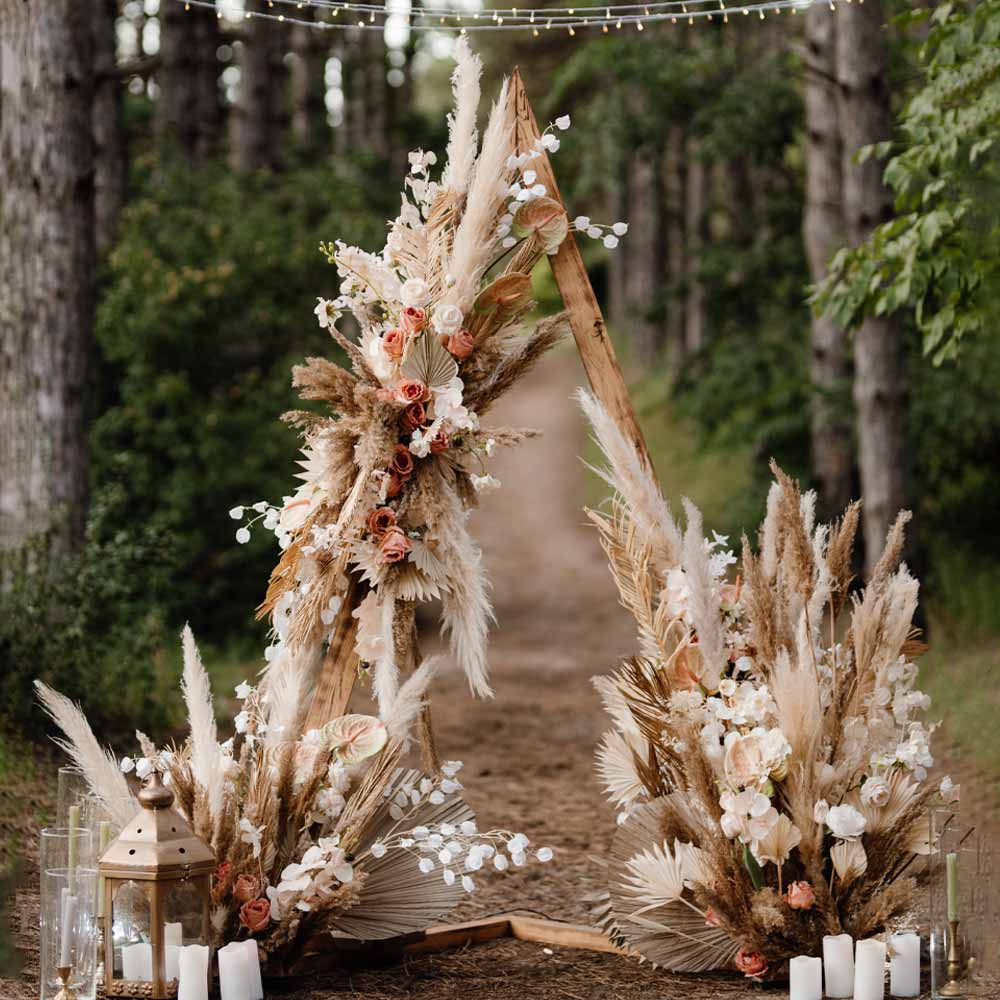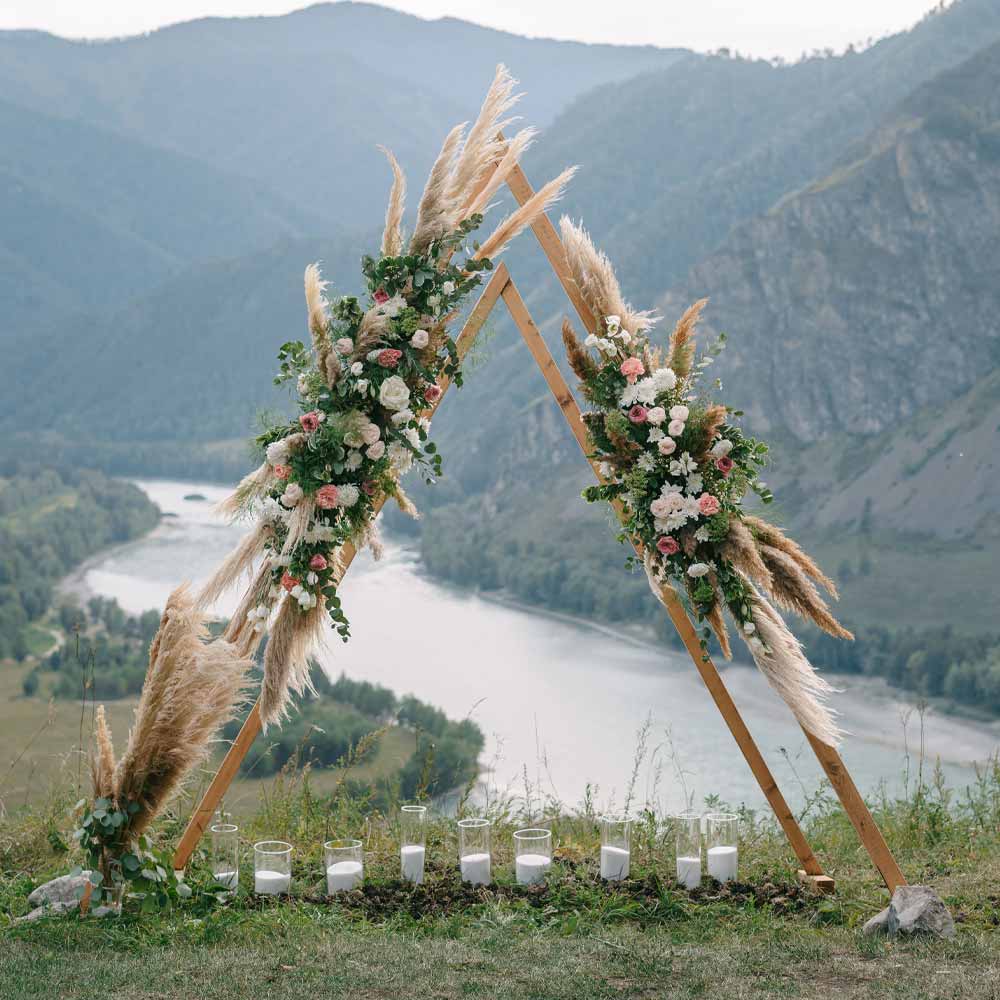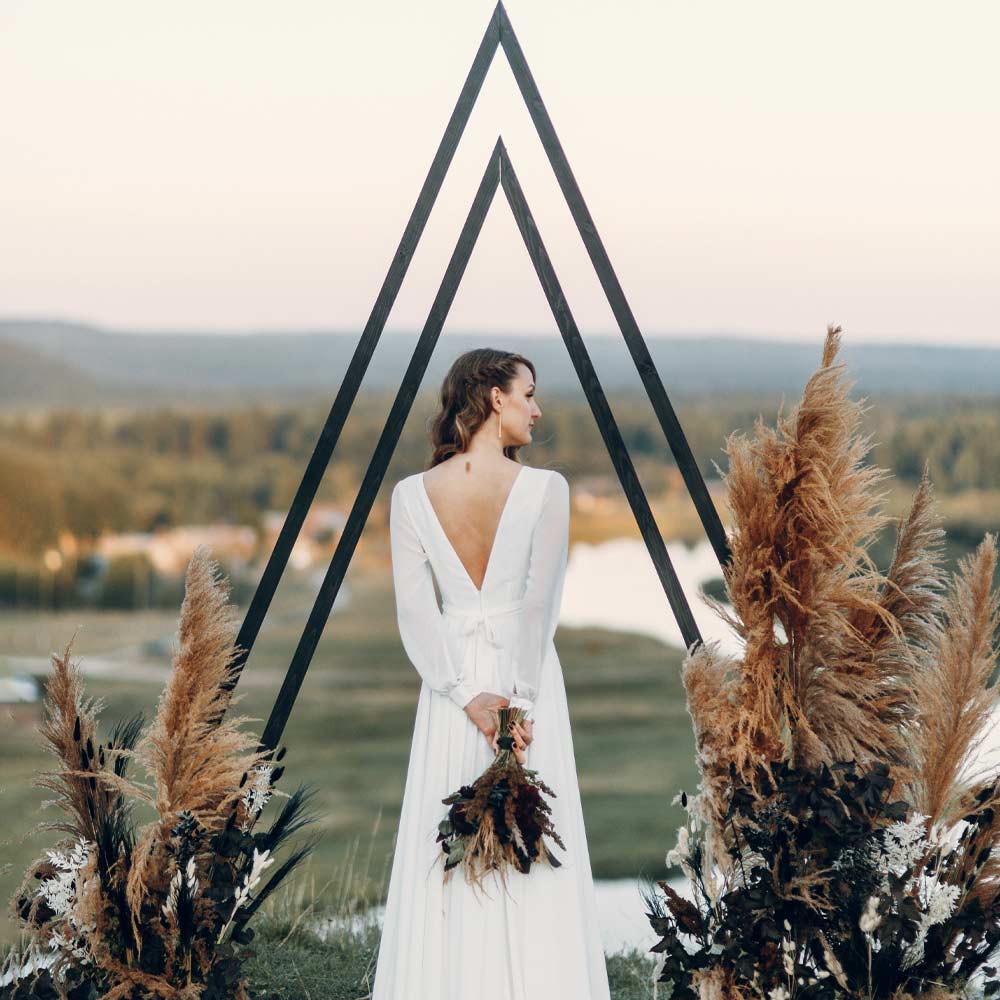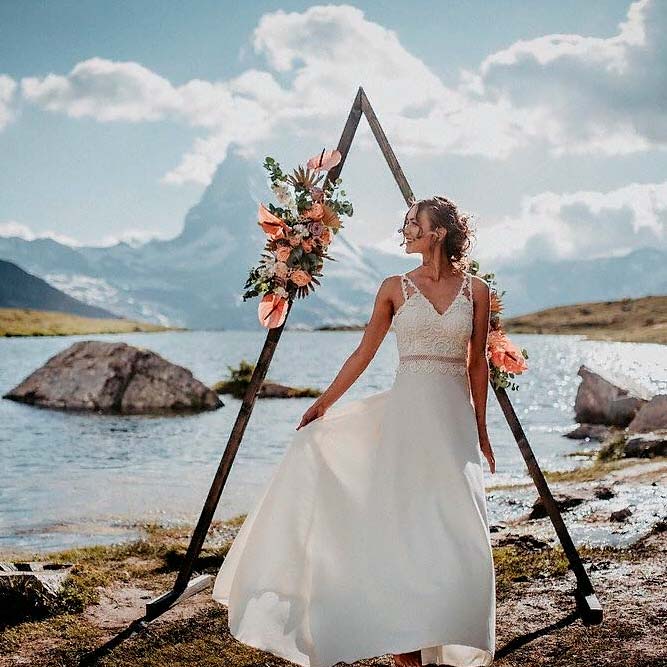 Credit photo: Instagram.com/jaypeg.ch
There are times when you can't afford over the edge expensive and extraordinarily looking arch. That is not an issue at all. The truth is that simple arches look not less lovely than all the pompous ones. Just one look at this triangular arch will prove our point.
Round Wedding Arch Designs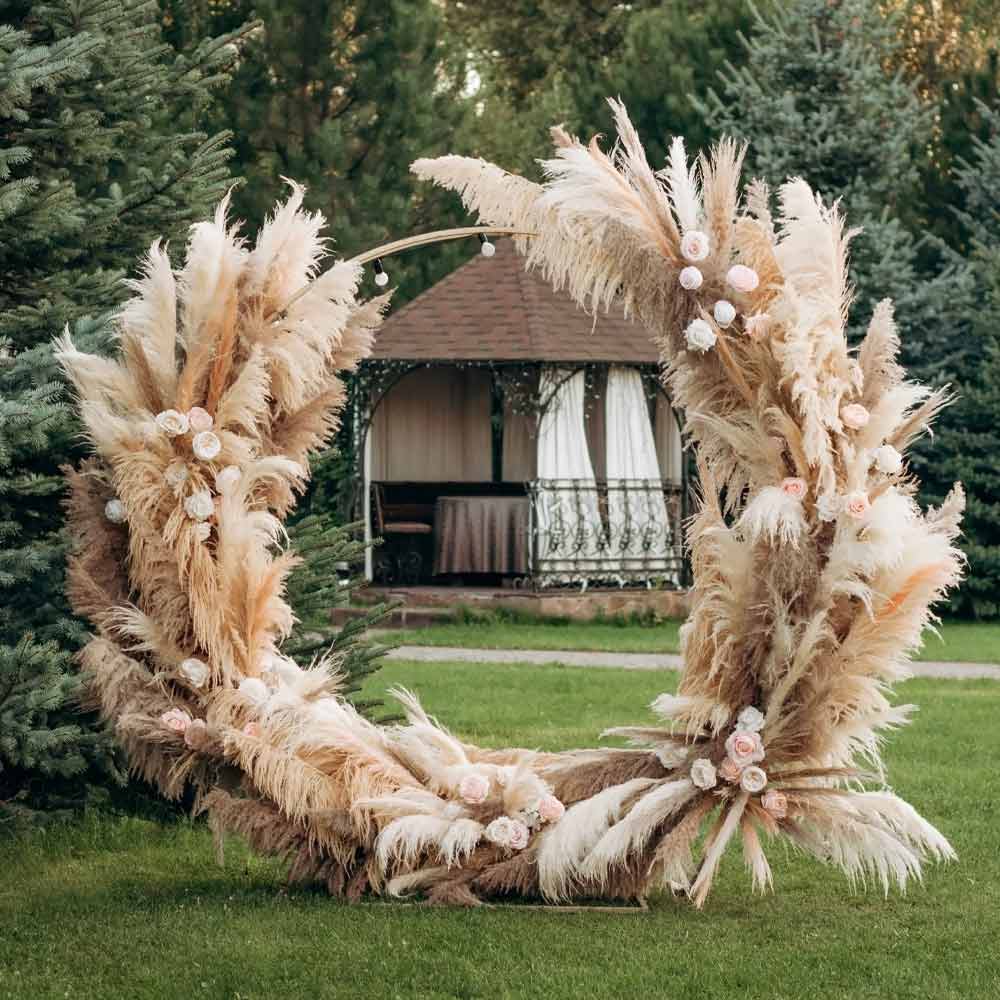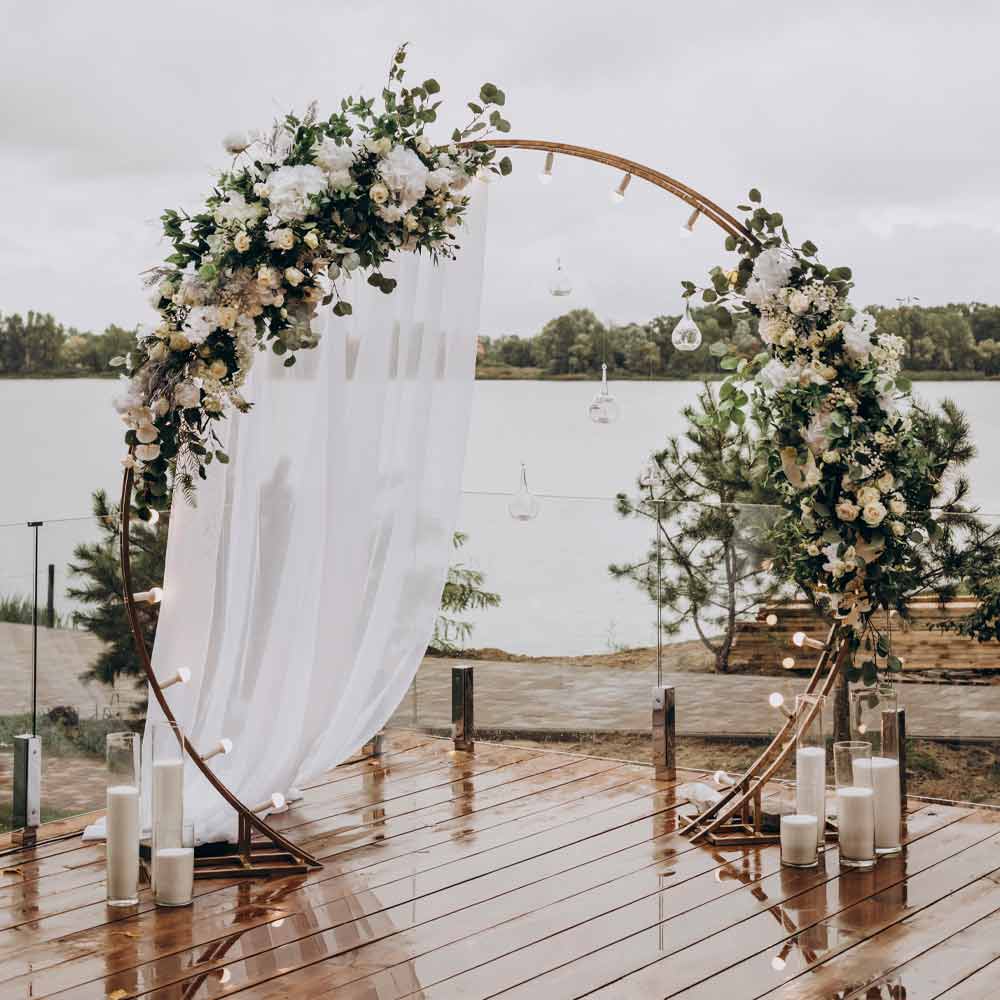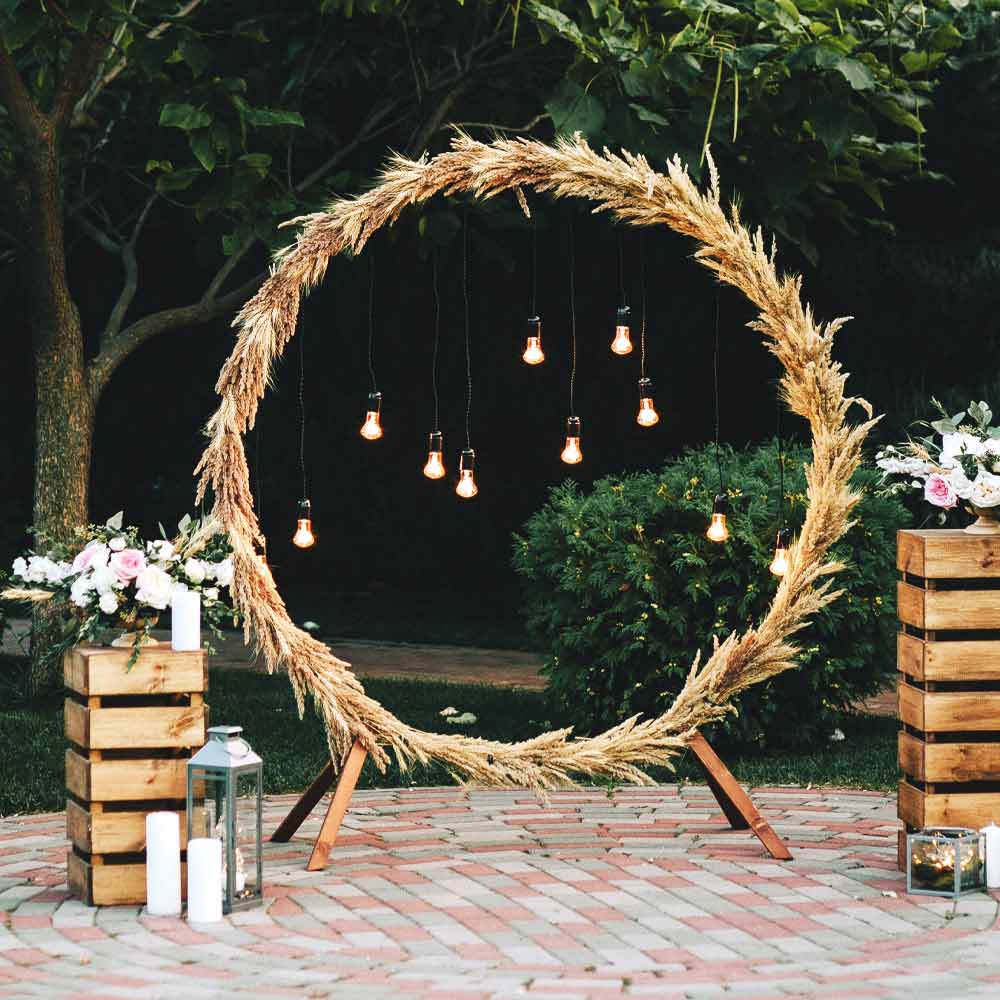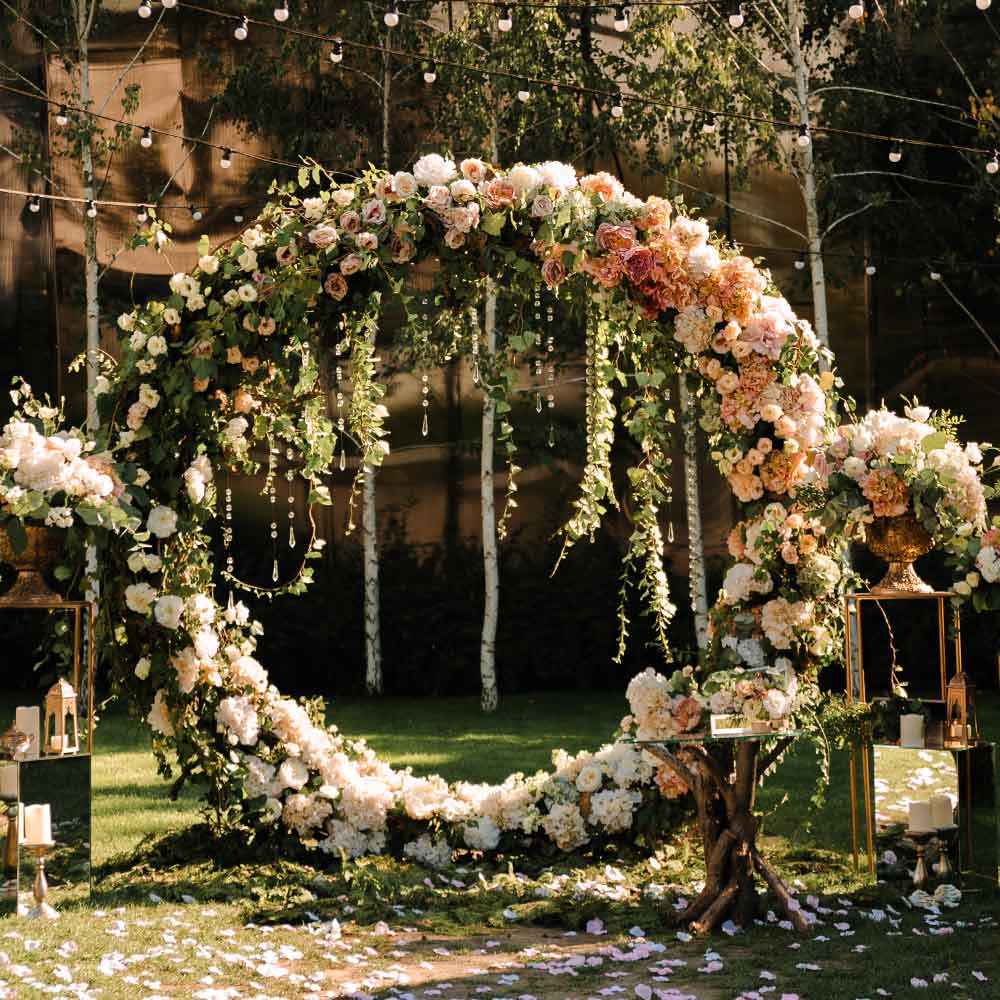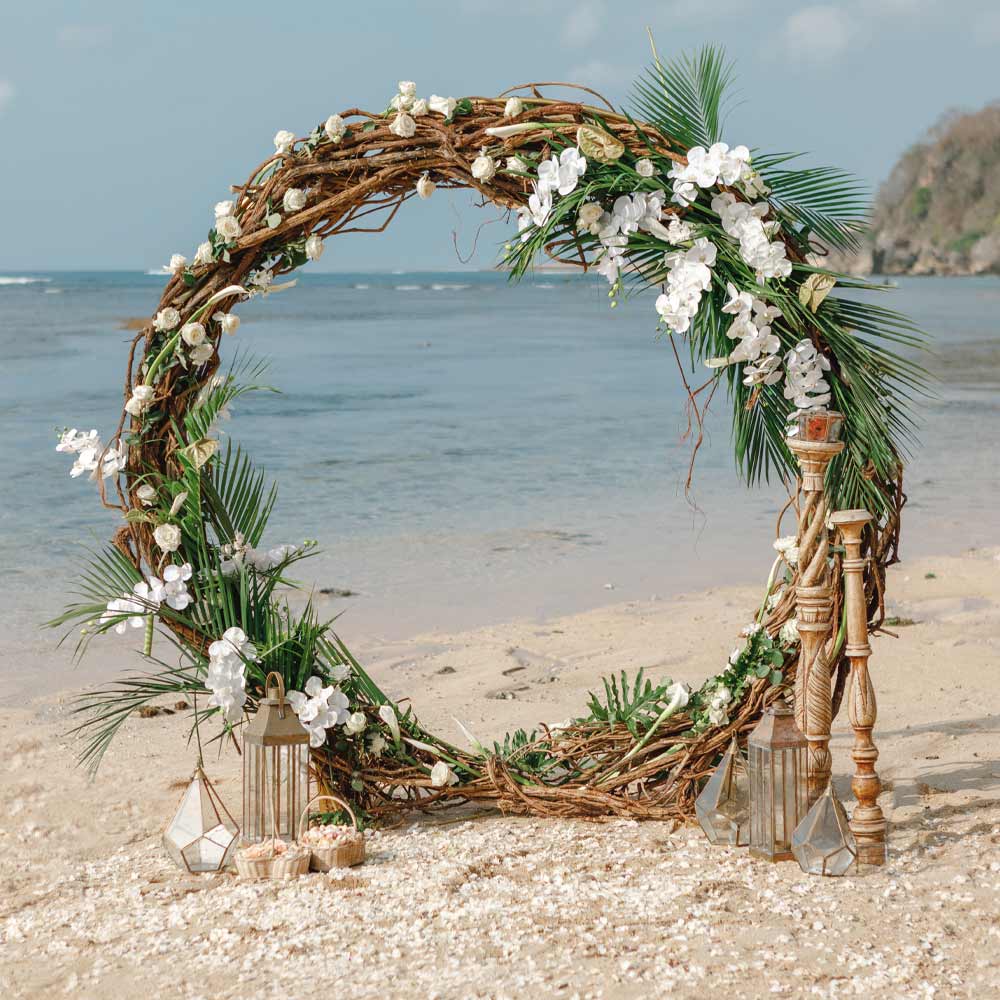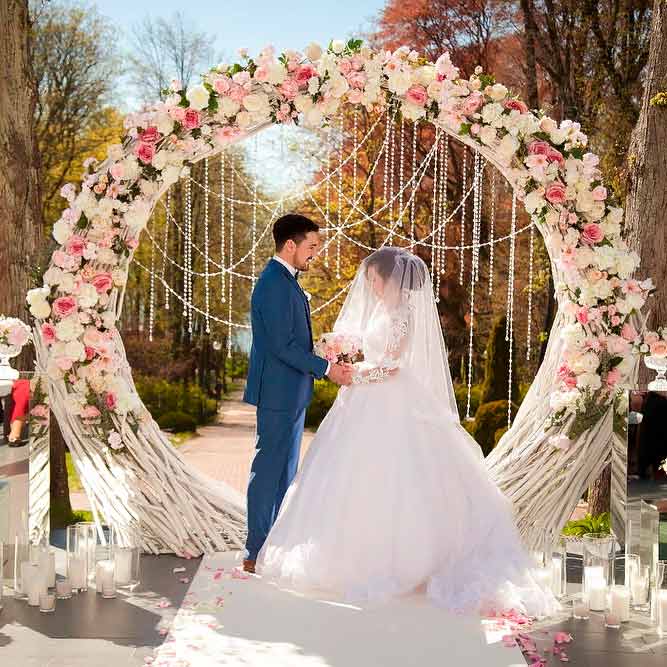 Credit photo: Instagram.com/play_event_wedding
If you're looking for a unique way to decorate your wedding ceremony or reception space, consider using round wedding arches. These beautiful structures can be decorated with flowers, greenery, fabric, or whatever else you can dream up, and they make for a stunning focal point. Plus, they're sure to impress your guests!
Arches for Beach Wedding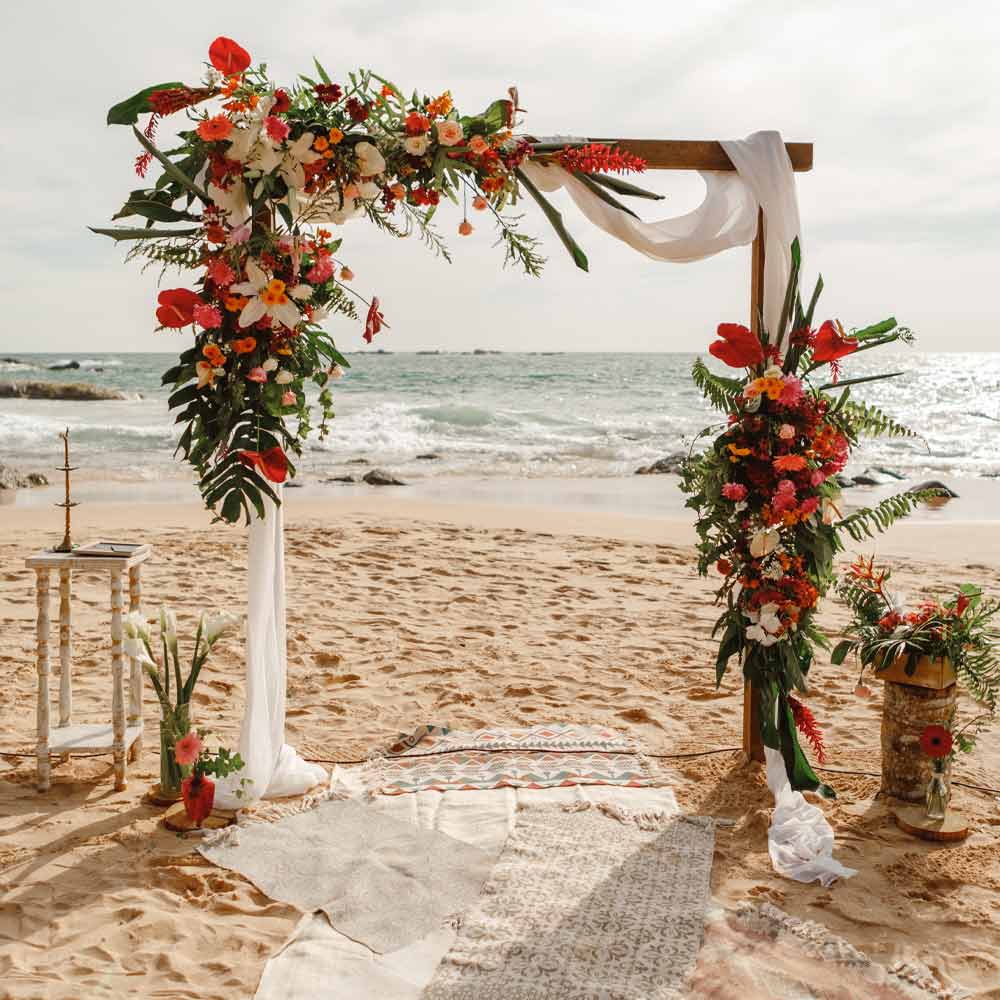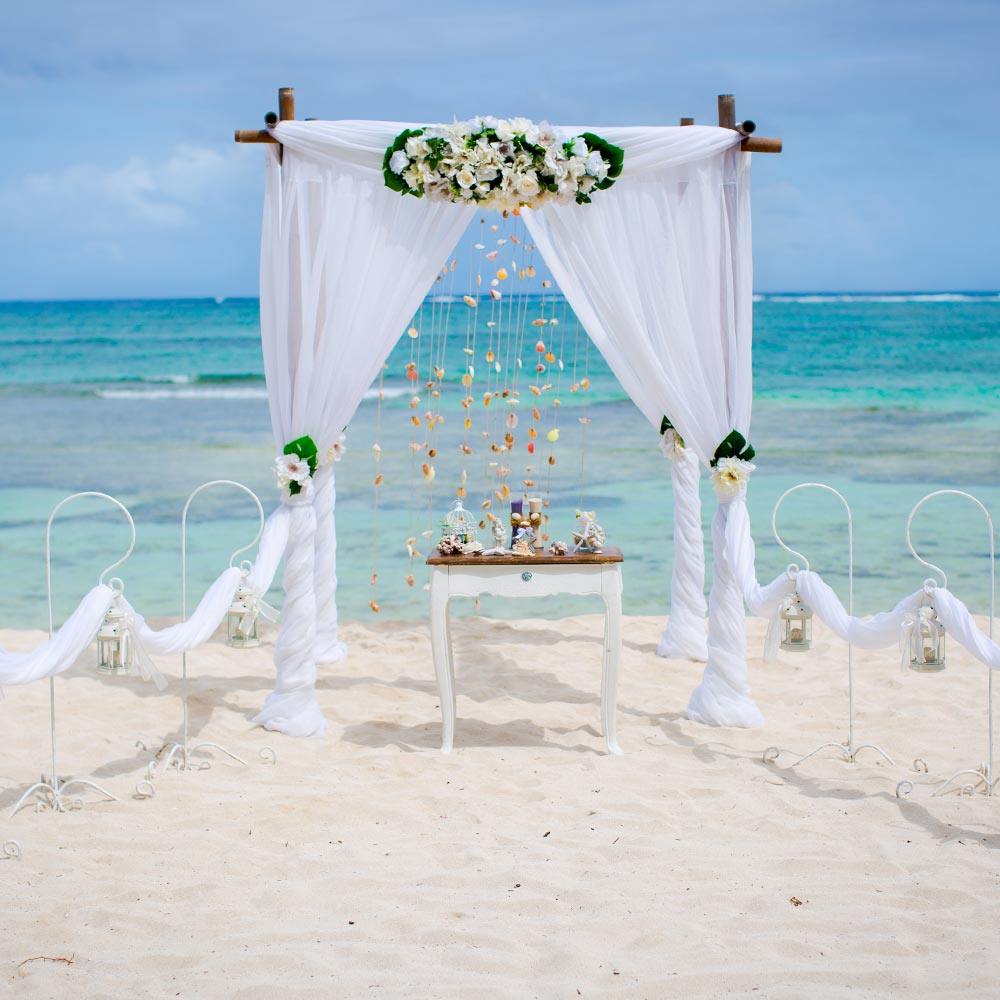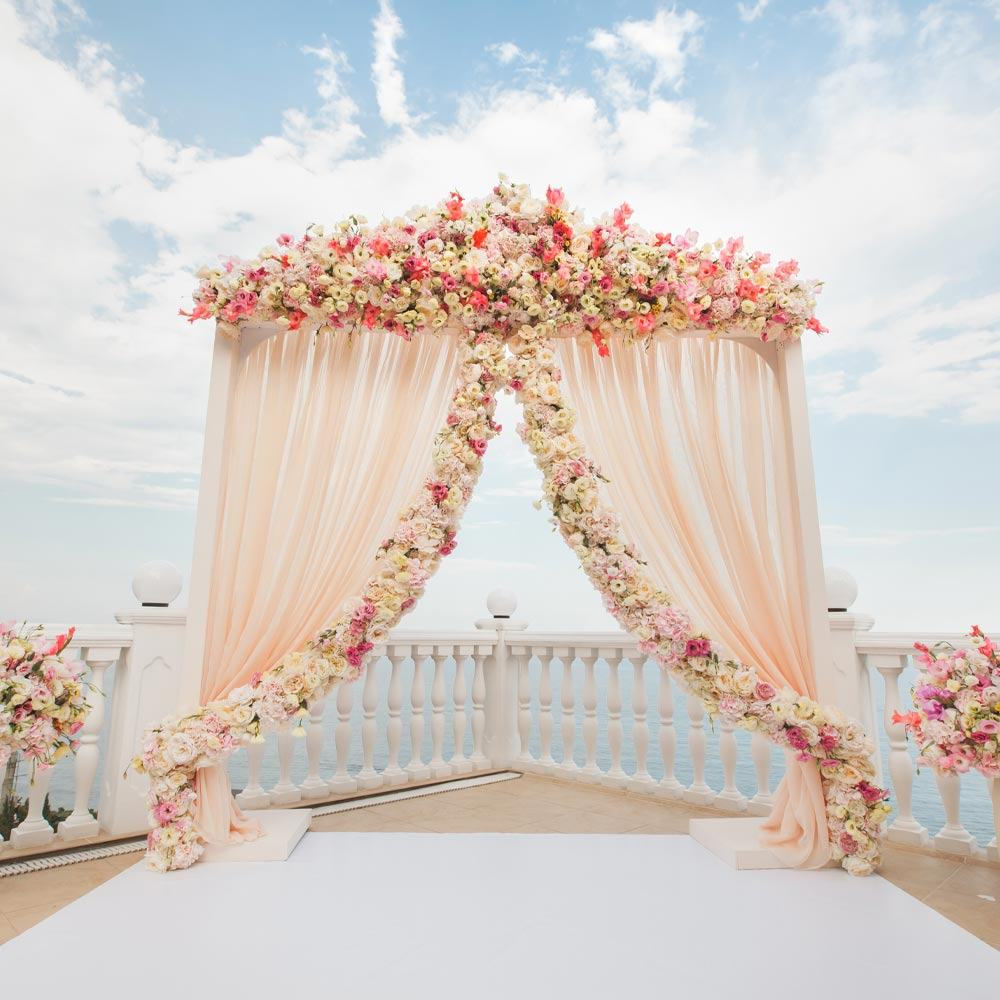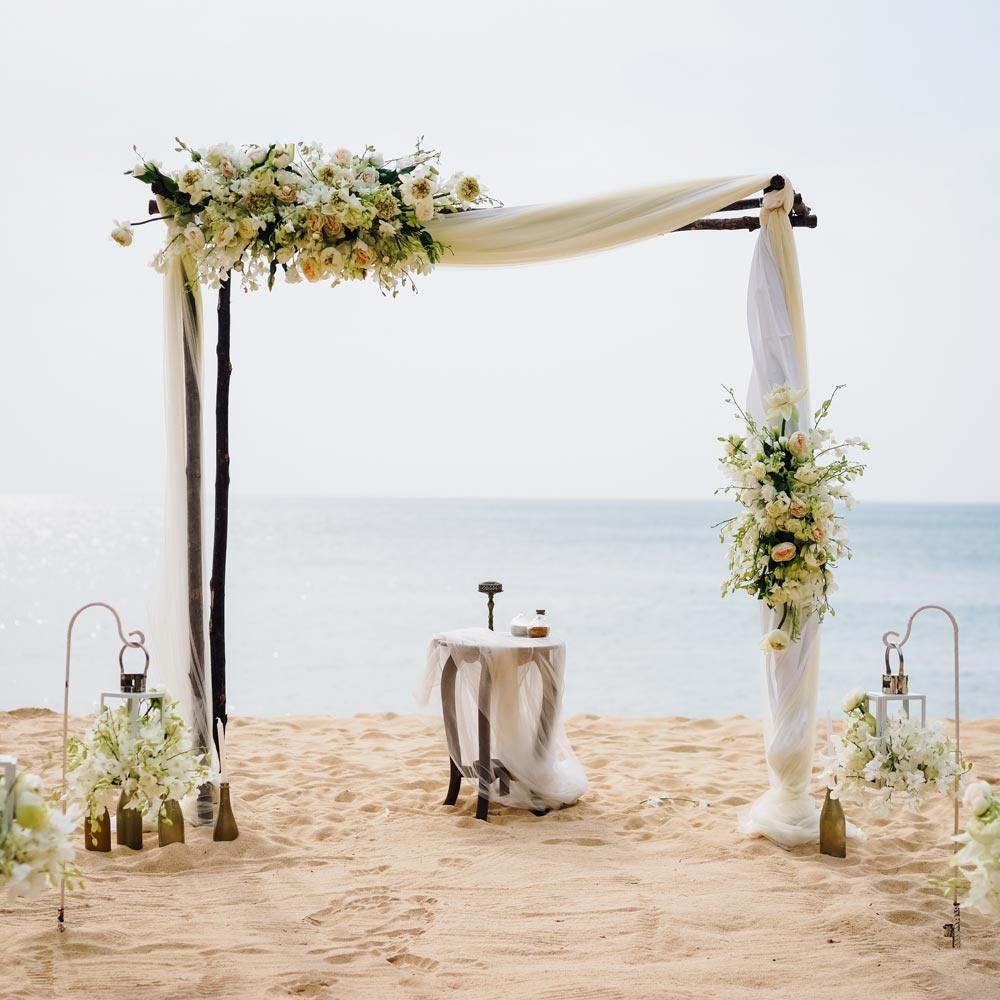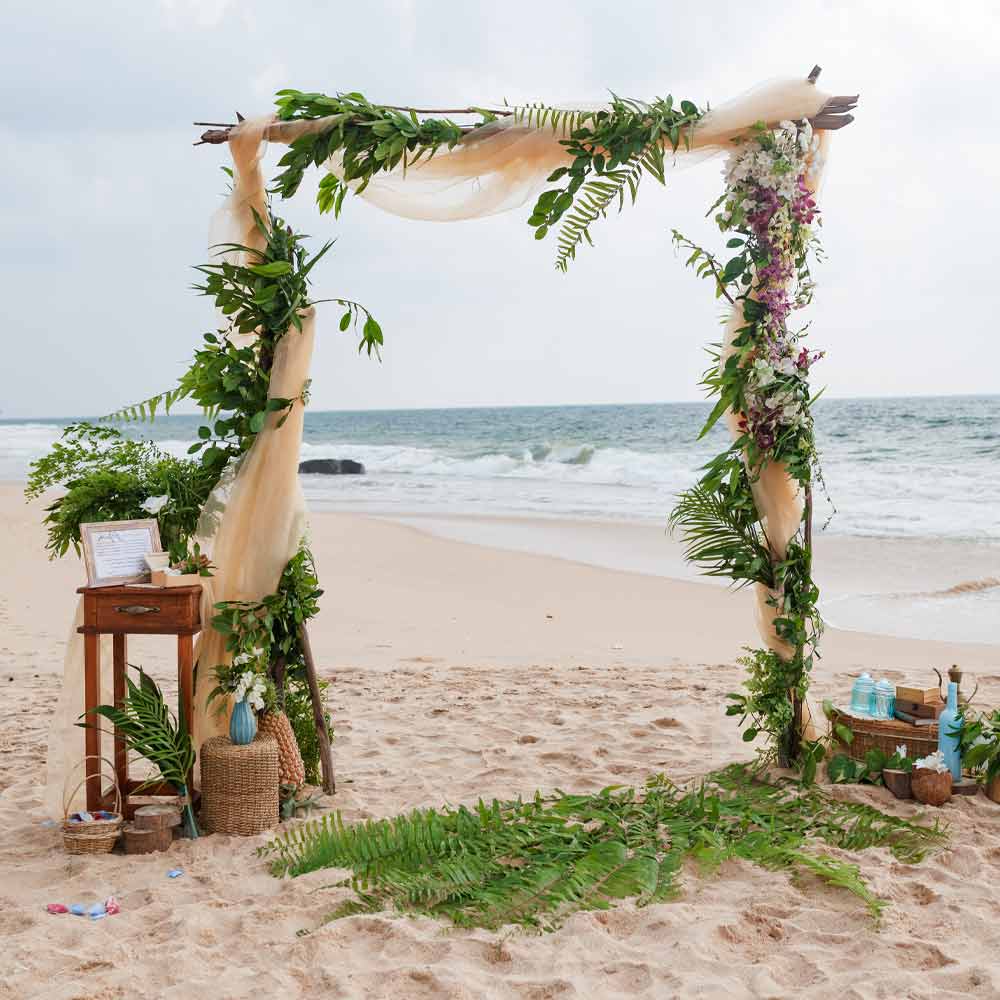 Planning a beach wedding? Don't forget the arch! A beautiful arbor can really help set the scene for your vows. Check out these inspiring photos of real beach weddings with stunning arches. From simple to ornate, there's an option for every couple. Steal ideas for your own ceremony or reception decoration, or get inspired to create your own unique design. Whatever you do, make sure your arch is as special as your big day.
Fabrics For Decorating Arches
We have already come up with so many ideas that will make your wedding arch even more beautiful. However, we haven`t mentioned the one that is commonly the most stylish and brings atmosphere all over the wedding spot even more. Adding pieces of fabric to the wedding arches is beautiful, don`t you agree?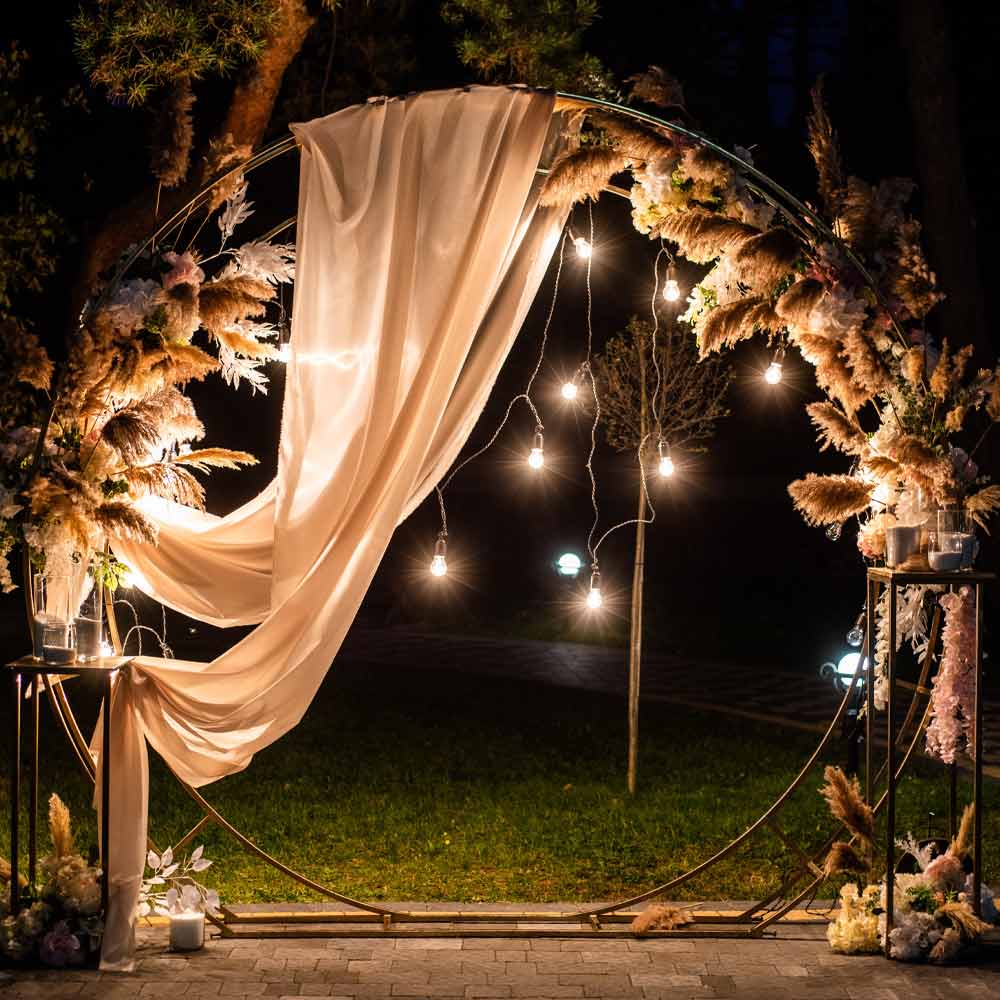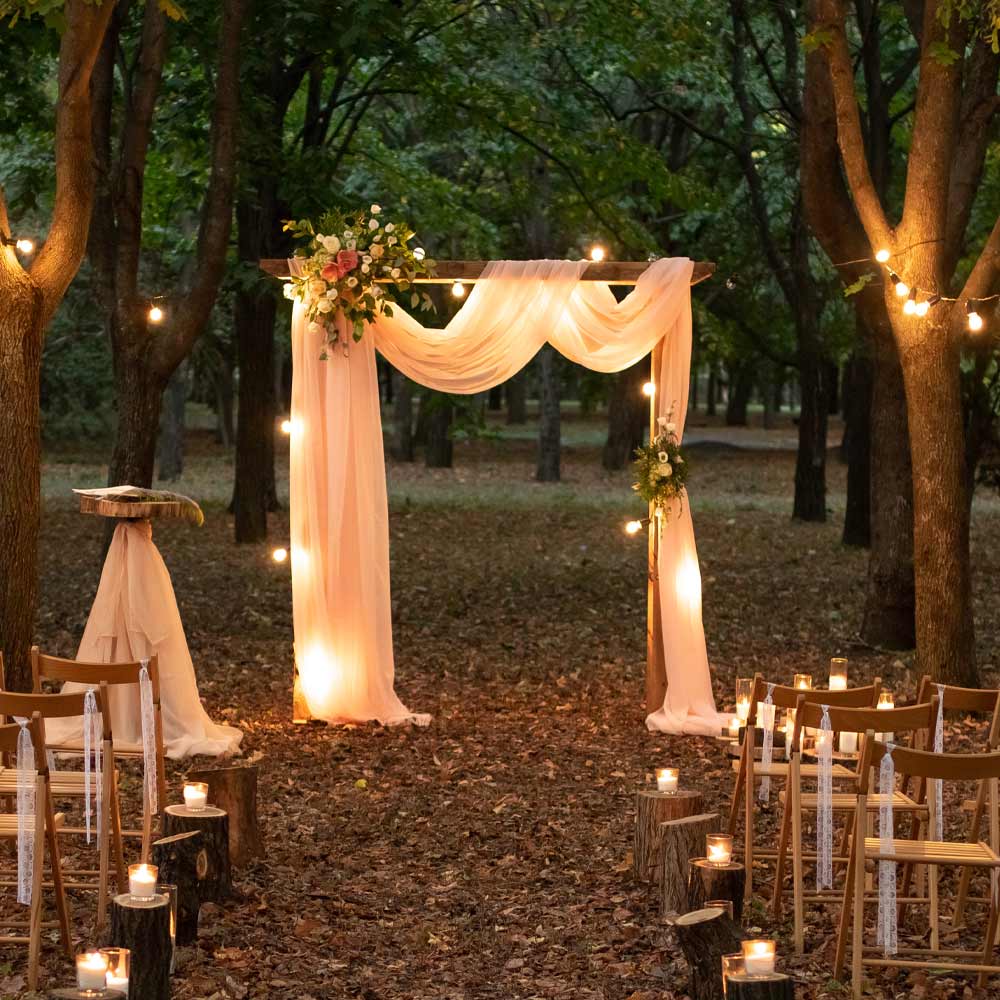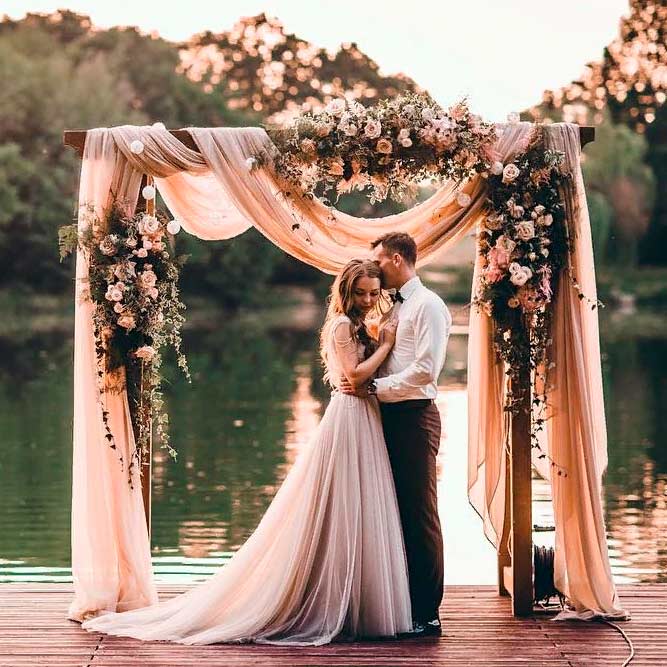 Credit photo: Instagram.com/tatyanacvetkova
Your wedding arch doesn`t have to be made in one style. You can play with different structures and decorations to bring appearance that is more interesting. Use a wooden base and wrap some fabric around it to get a dreamy and airy effect. Add a few flower compositions, and your perfect wedding arch is ready for your ceremony.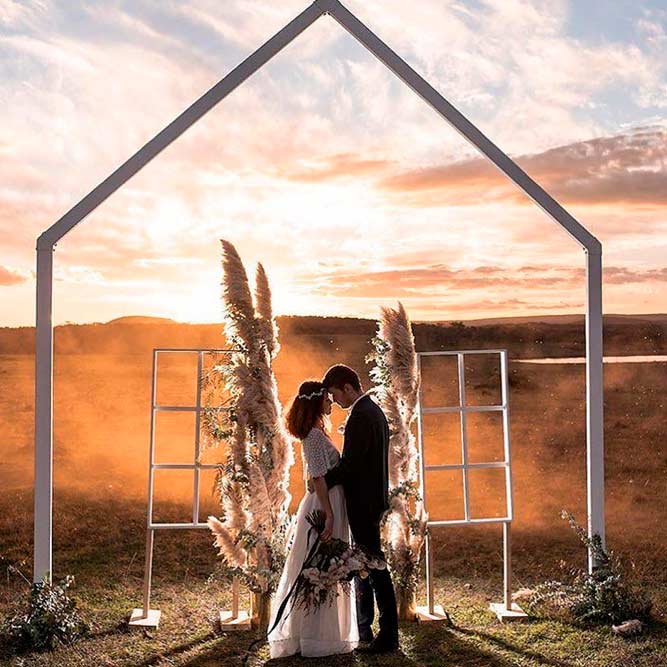 Credit photo: Instagram.com/michaelboylephotography
Some people think that simplicity is the key to style and we don`t mind that at all. Even at weddings where we all are used to see many decorations, it can be a great idea. A bald frame without any decorations can be an interesting solution for a wedding arch. Play with its size, material or shape and trust us, it won`t look worse than any other one you thought of.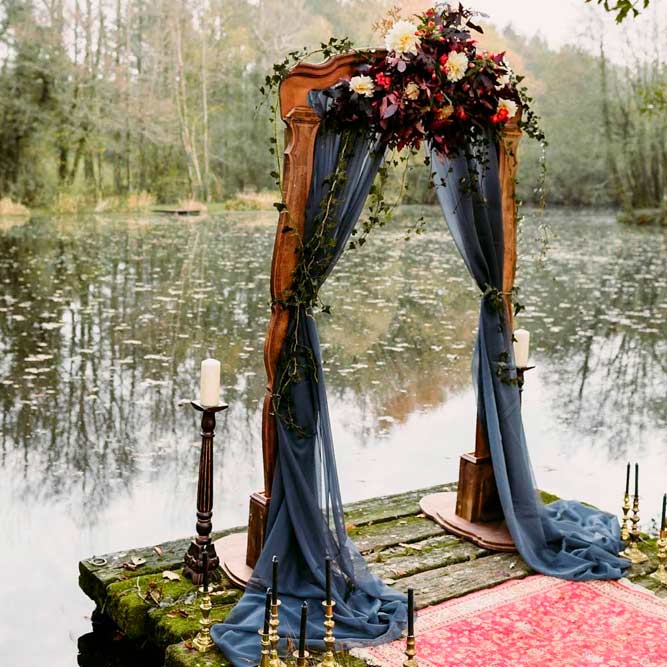 Credit photo: Instagram.com/natashamariephotography_
Vintage weddings are clearly a thing these days. That is why if you have always dreamt about such an occasion why not to decorate it with a suitable arch? All you need is a rustic-looking frame and dark-shaded drapes adorned with flowers to succeed.
Nature Themed Arch Decorating Ideas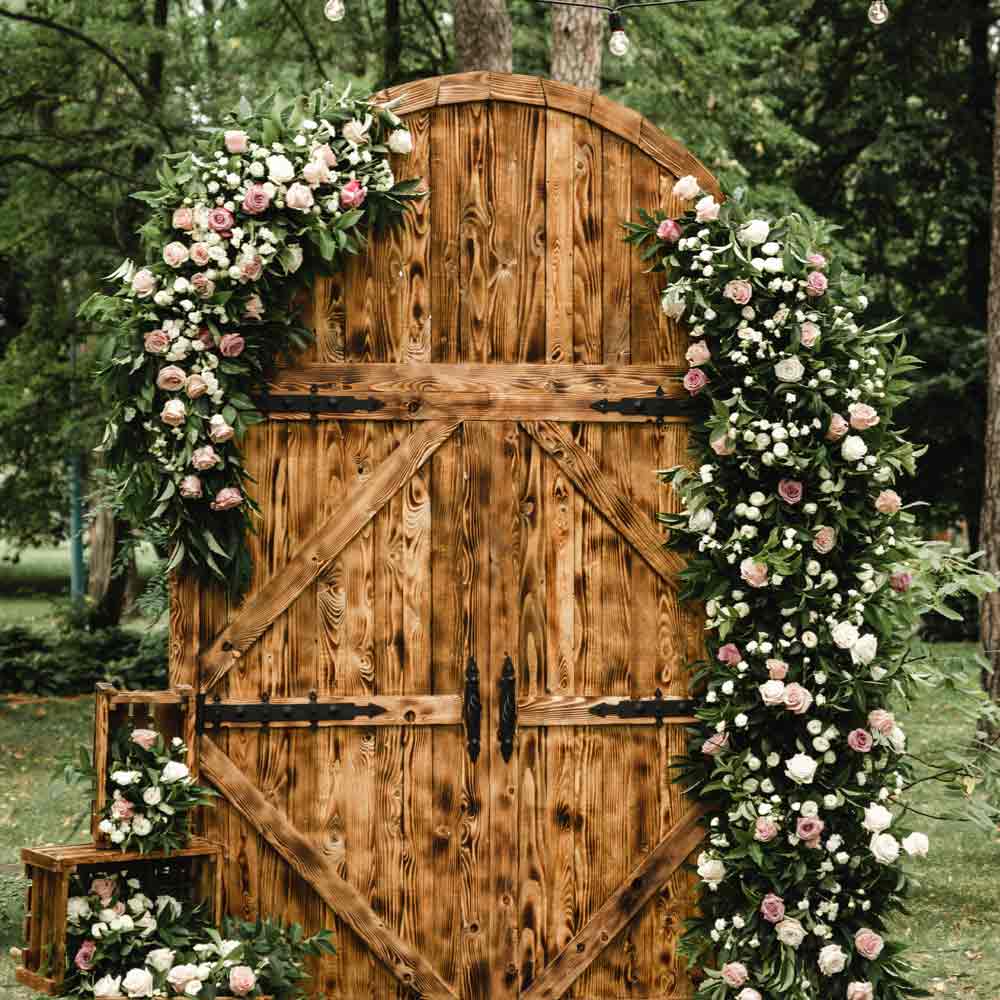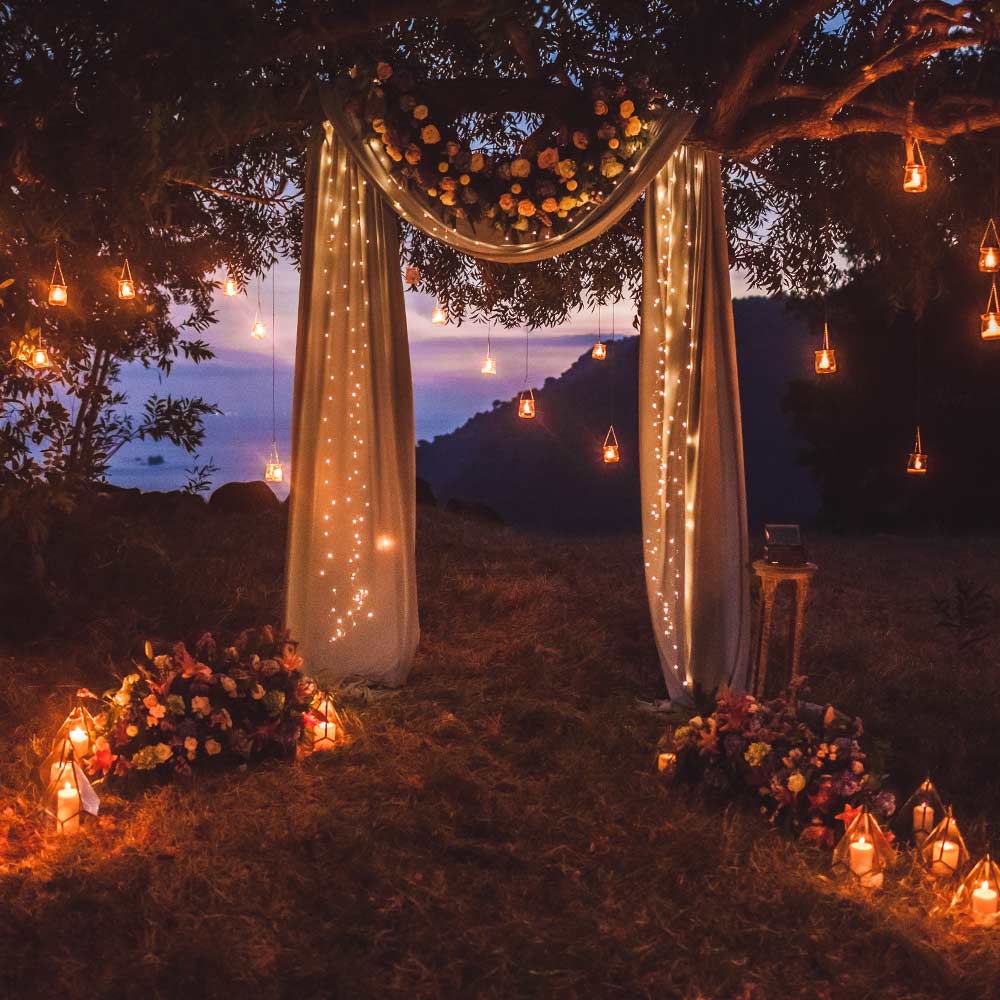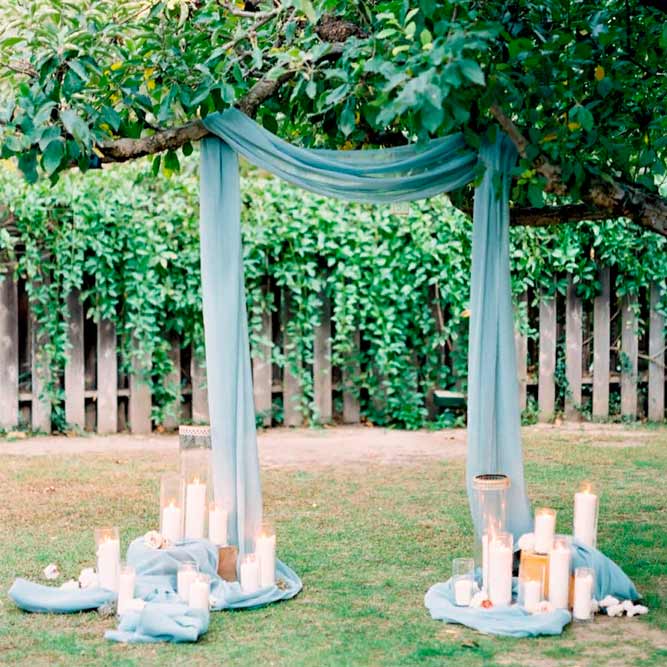 Credit photo: Instagram.com/colincowielifestyle
We have already told you about the tree idea, but this time it is even more unusual and creative. Wrap some fabric to the braches and make it fall beautifully to the ground. Add some candles or any other decorations you prefer to the bottom. And voila, your simple, stylish, dreamy and super romantic arch is there for your beautiful day.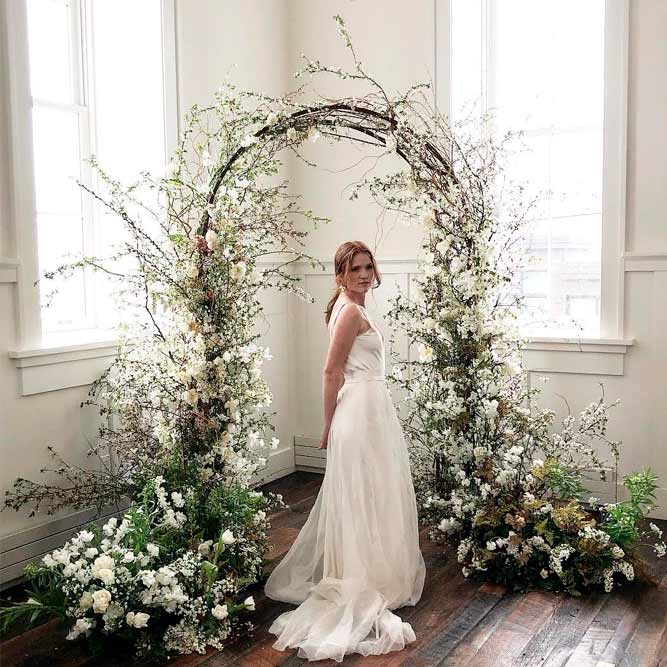 Credit photo: Instagram.com/steelcut_md
If you are in love with fairytales – we have a suitable arch for you! This floral arch looks like it has been taken from some fantasy movie, doesn't it?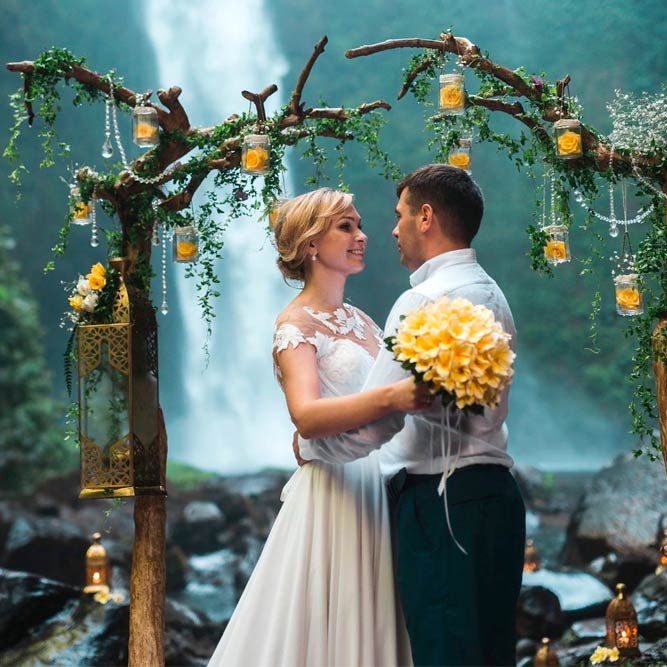 Credit photo: Instagram.com/get_a_bouquet
Tree branches can serve the purpose of a suitable arch as well. We are sure that you may have never thought about such an extraordinary arch. However, you should agree that it looks fantastic with all those rose-filed jars hanged all over the arch.
Greenery Decorated Wedding Arches
save_to
">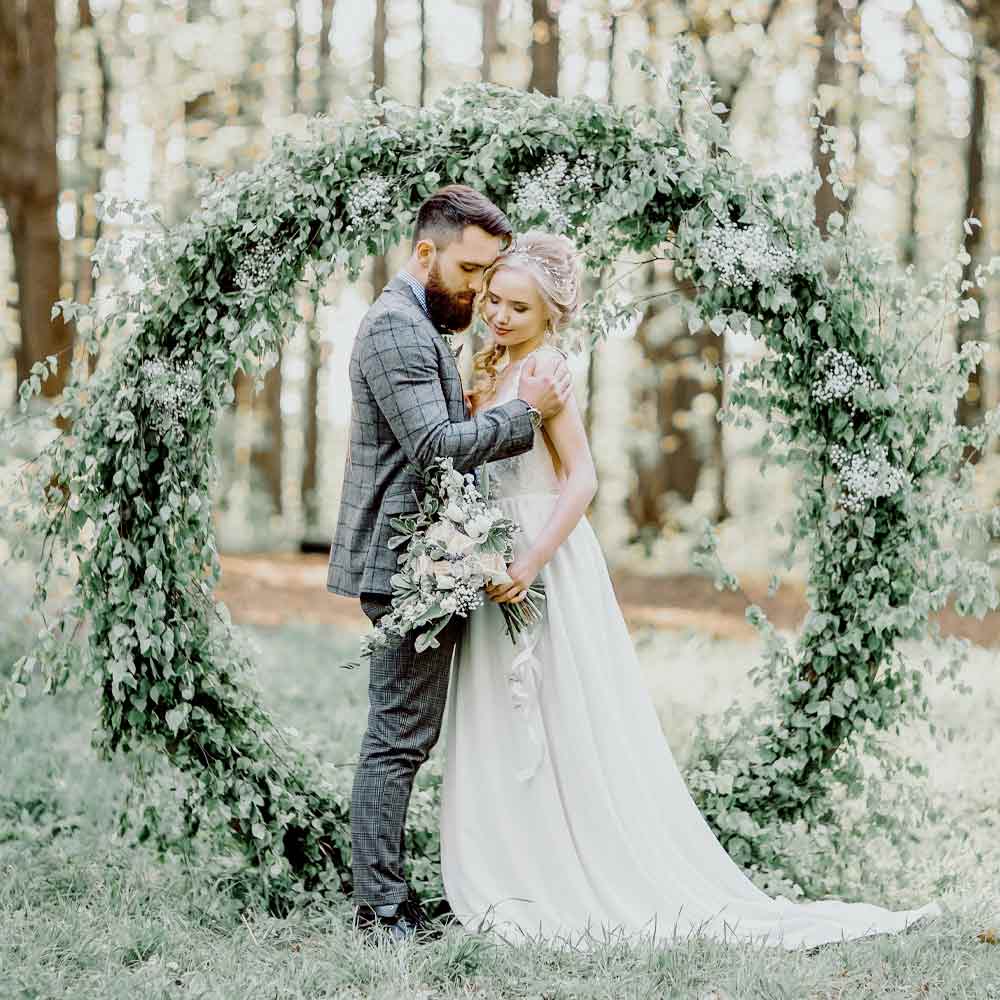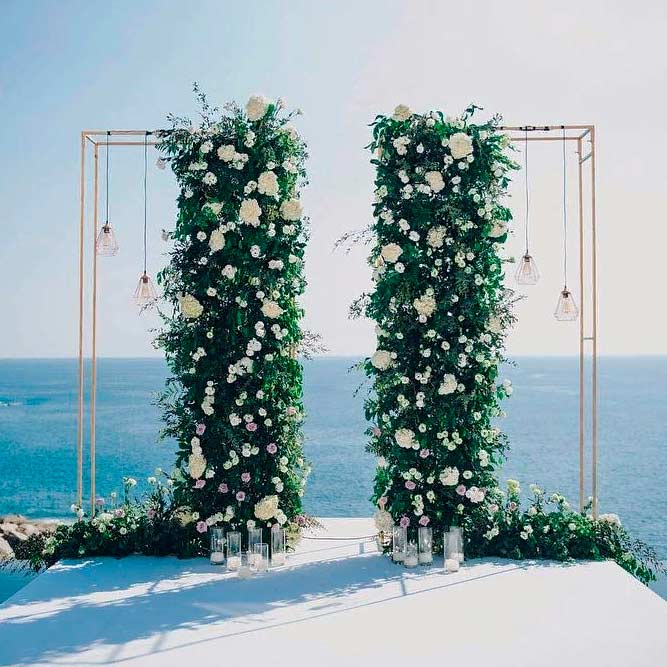 Credit photo: Instagram.com/luxuryeventsphuket
If you wish your wedding arch to stand out, then we may have an idea in mind. The fact that cubic arches are not that popular and you can use it to your advantage. Add an outstanding floral outline and a few candles to the scene, and you will get an unforgettable result.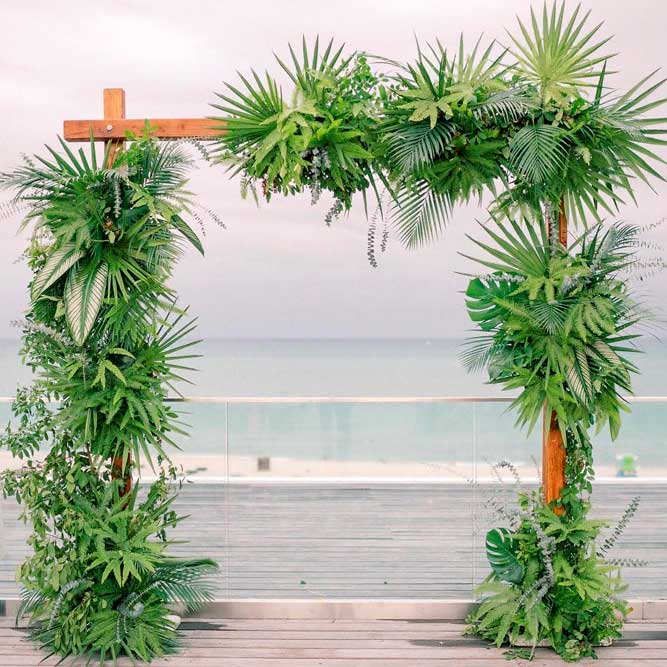 Credit photo: Instagram.com/maisonfrancis
A tropical wedding should be fitted with a suitable arch, don't you think? That is why we have a ready-made example to share with you at hand. It is so simple and fresh, not to mention tropical!
Picking a wedding arch can be a tough thing to do. You need to rely on your wedding style, own feelings and atmosphere of your wedding. Trust us, the most beautiful arches are the ones that match the character of the couple and show the idea they wanted to convey via the wedding theme.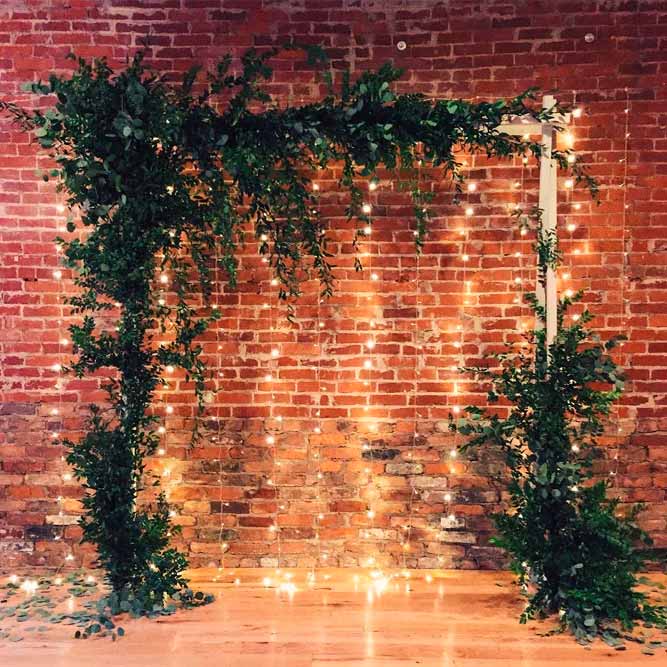 Credit photo: Instagram.com/michlersflorist
There are some great greenery ideas for indoor ceremonies that you need to consider using for sure. Cover your indoor wedding arch with greenery to make a natural-growing effect. Simple but truly amazing, it will make the wedding arch appear truly unique. Add some Christmas lights with soft shine that will make your arch lit up in a beautiful way. A gorgeous background for your wedding ceremony is there!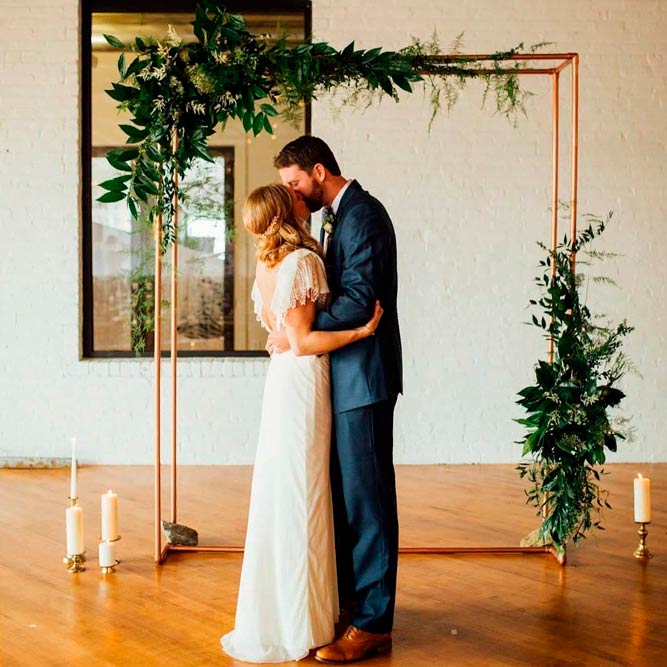 Credit photo: Instagram.com/erintrimblephoto
Those couples who would like something really simple but stylish at the same time should look at this arch decoration suggestion. Add some greenery to a simple copper frame and it won`t only look gorgeous but will also bring some atmosphere to your wedding ceremony.
FAQ: Wedding Arch
What is the arch called at a wedding?
Arbor is another name for a wedding arch or ceremony arch. This is an arch-shaped structure covered in flowers, branches, fabric etc. Arbor is often constructed as tunnel that the bride and groom stand under and recite their vows.
How do you support a wedding arch?
There are several ways that help to prevent a wedding arch from falling over. You can use two flower pots filled with sand, concrete, soil or stones to keep it sturdy. Other options include using buckets, umbrella stands or logs with drilled out holes in them that are big enough to stick the rods into.