The relaxing sound of crashing waves tickles your ears, the fresh scent of ocean foam brings the feeling of peace, and you walk down the aisle with your hair tousled by the wind and your bare feet surfing in the sand: beach wedding is the whole new art. And the truth is, celebrations by the ocean are way more different than you might expect them to be.
When planning a wedding that will take place by the shore, there are lots of things to keep in mind: from the right beach wedding dresses and authentic decorations to lighting and food. For that reason, we've highlighted the most essential things every bride and groom should consider to say the long-awaited "I do" during the flawless ceremony. Let's make your pre-wedding commotion effortless with our decoration and organization ideas.
Beach Wedding Planning: Things To Consider
Source: juliia_matviiko via Instagram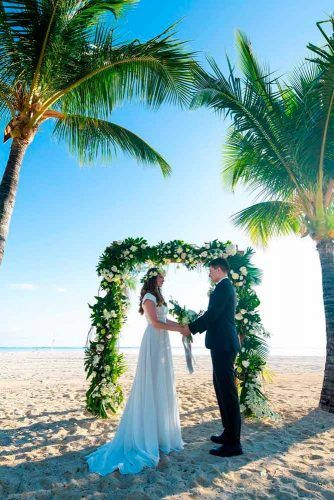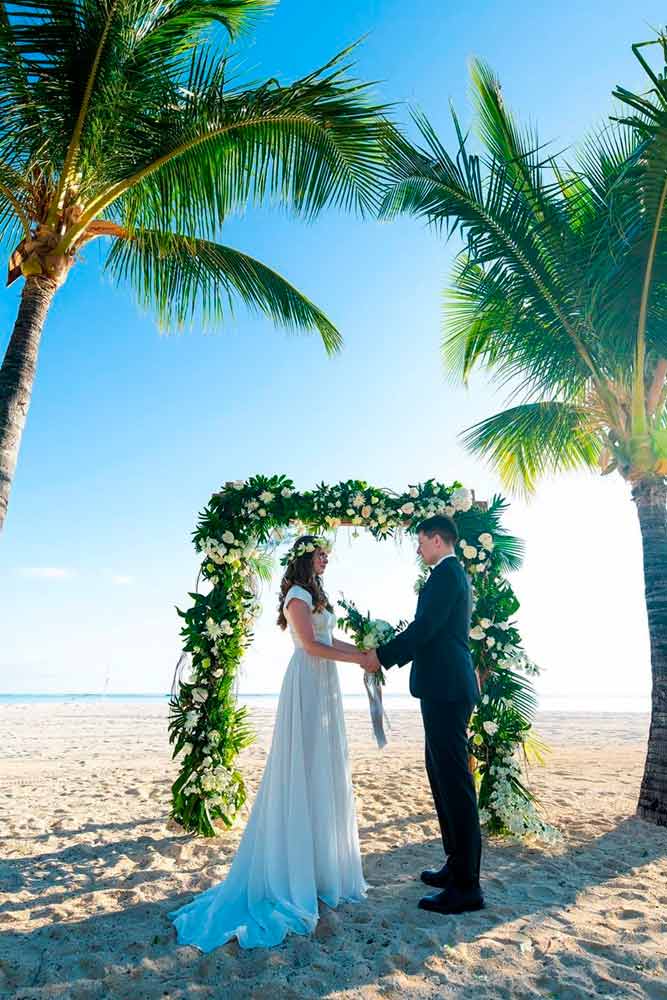 Organizing any type of wedding ceremony is always a tough and complicated process. And when it comes to a wedding on the beach, things are getting a little bit trickier. Here, we're sharing the most important moments you should definitely pay attention to when planning your own beach ceremony.
Location for your wedding
First of all, don't forget that beaches are either private or public. Though there'll be no problem with setting the celebration on a public beach, you should be ready for sun tanners who will have access to the place too. If you want seclusion, make sure to find a private property or rent an area of beach on a resort. Also, it's very important to know if the beach requires a permit for a wedding. Find out what are the rules, fees, and liability assurance for organizing a seaside ceremony.
Weather issues
Before booking beach wedding venues, you should be aware of the weather in the area. Besides, it's crucial to plan the ceremony schedule wisely: the morning or late afternoon would do just great to avoid the boiling heat. To make your guests, including older people and children comfortable, ensure your ceremony site has sufficient shade. And last but not least, check whether there's a possibility of bad, windy weather. If so, do some research to create a wedding plan B.
The noise
The sound of waves is undoubtedly amazing, but you don't want them to outshine your vow exchange, right? A professional sound system is another must to include into your wedding checklist, as well as a windscreen for microphones.
Proper decorations
Besides authentic beach-inspired decorations that match the theme, the design of your ceremony site should also be practical. Pick flowers that will adapt to the heat and humidity of tropical weather and won't leave you before the first dance. Such flowers as orchids, calla lilies, and king protea will be the right picks. As for decorations, it's better to stay away from anything fragile and to secure lightweight elements with strings or heavy objects so that the wind won't spoil your plans.
The food
Since we're talking about the ceremony on the beach, the choice of food should depend on the sweltering weather. Therefore, your big-day buffet should include foods that can hold some temperature and won't melt easily. Obviously, the same goes for beach wedding cakes: buttercream is a no-no.
Perfect Beach Wedding Color Palettes
The color palette of your beach theme wedding is the key to the perfect harmony of the whole celebration: they set the right mood for the occasion.
Sea Glass Blue, Ivory, and Coral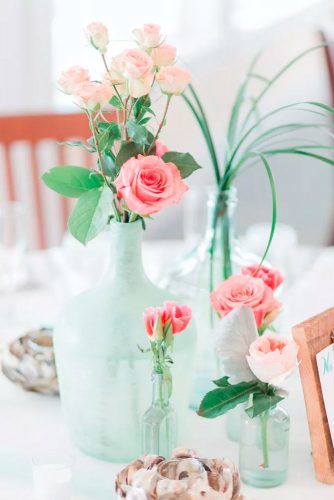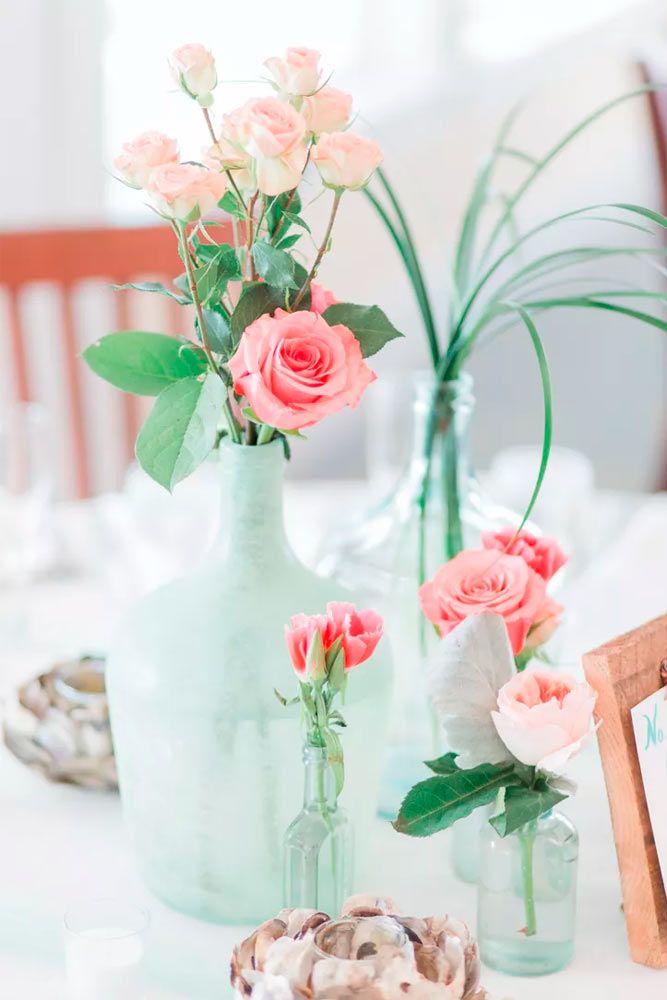 Gentle shades of glass blue and ivory as the main beach wedding colors will add a sense of elegance and dainty to your big day. To brighten it up with a casual hint, finish the light decorations with soft coral roses all around the tables, arches, and venue. Moreover, with the help of different shells, you can make your wedding style even more authentic.
Source: cassiclaire via Instagram
Bright Pink And Green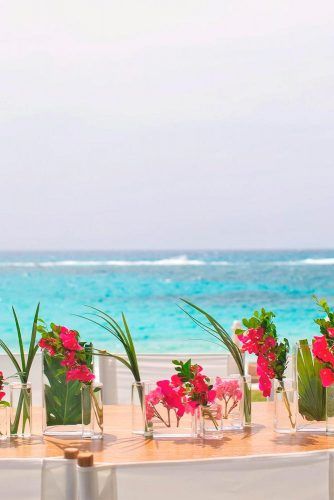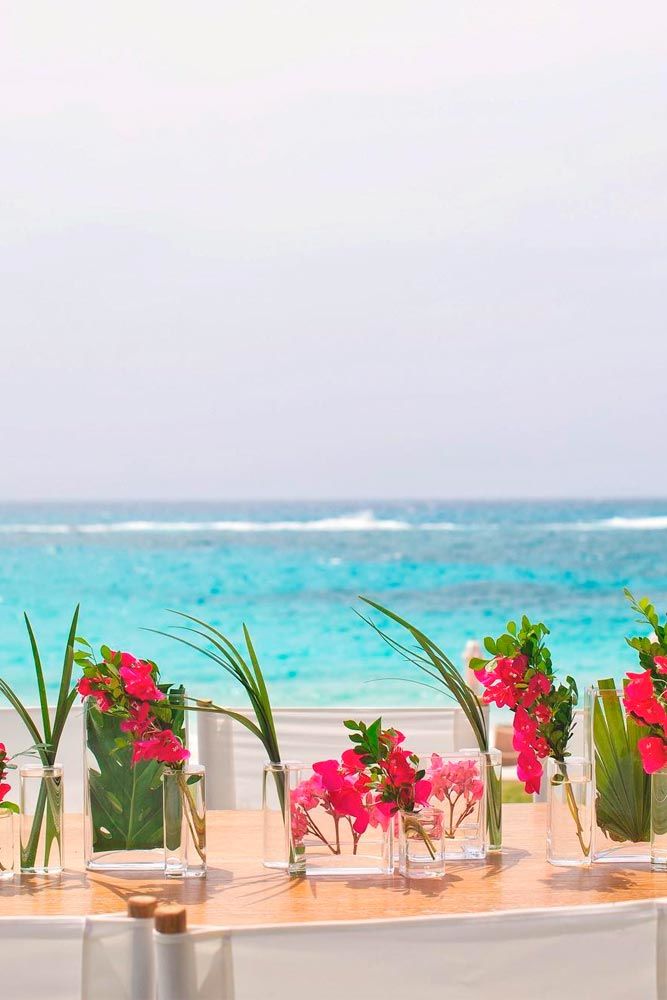 If you want your wedding to bring tropical vibes, bright colors, fruit decorations, and an ethnic-inspired cocktail bar will do the trick. Going for pink flowers will be a stunning choice, but to make it fit the occasion dynamically, don't forget to pair them with green plants.
Source: dasfete via Instagram
Gold, Ivory, And Beige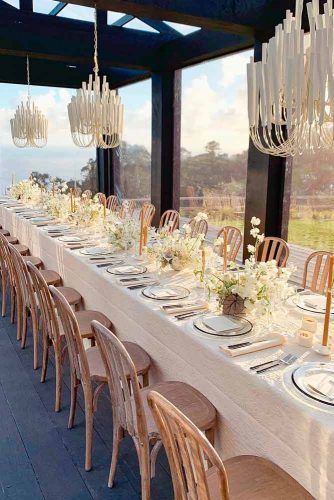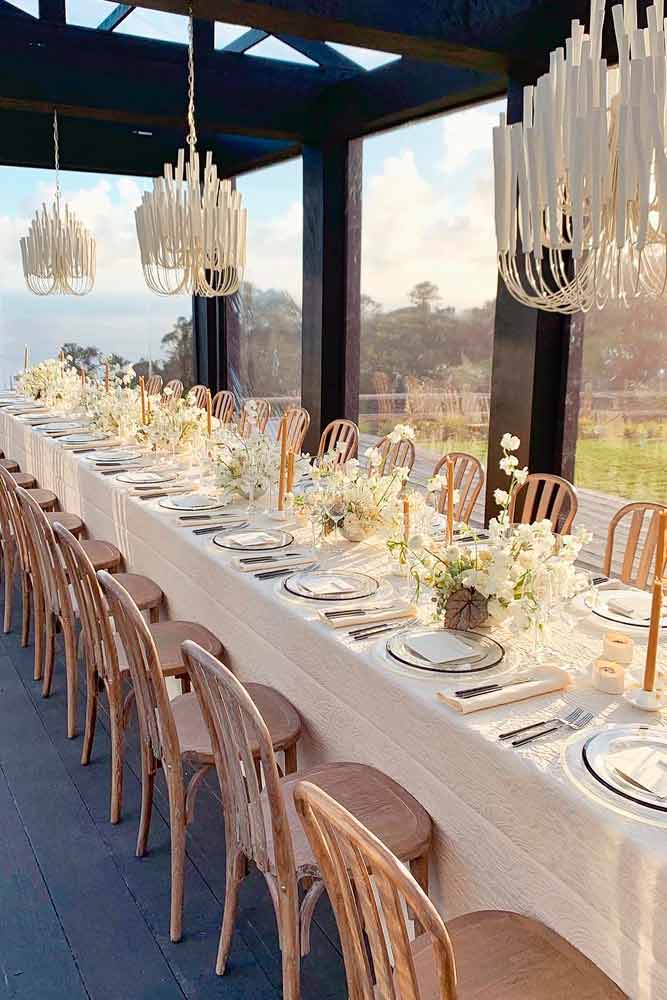 Light neutral tones with a gold finish as the icing on the cake: that's how you can create a ceremony with a regal feel. Antique candlesticks, simple but noble wooden chairs, and delicate orchids are the details that will make your wedding appear royal.
Source: josevilla via Instagram
Useful And Creative Ideas Of Beach Wedding Decorations
When choosing beach wedding decorations, you should stick to balance and harmony while not being afraid of letting your imagination fly.
Pretty Beach-Themed Wedding Invitations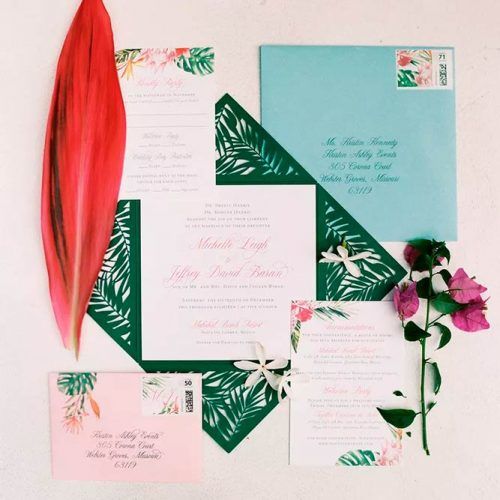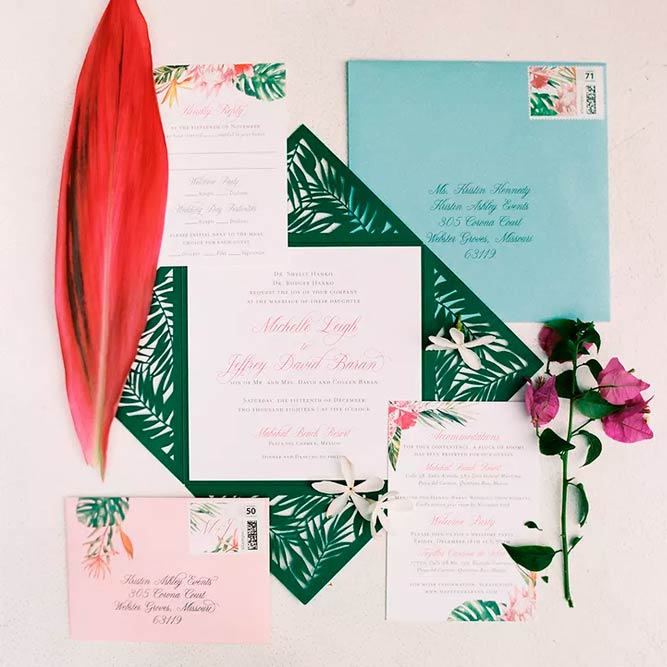 Of course, you can invite your guests by email or the phone. But let's just imagine what a romantic mood you will set if you send real paper beach wedding invitations designed according to the theme! In this way, you will not only showcase the amazing aesthetics of your ceremony but also help your guests navigate through the event.
Source: kristinashleyevents via Instagram
Romantic Outdoor Wedding Arch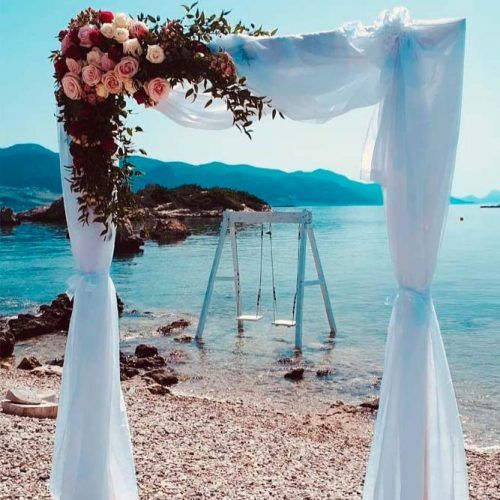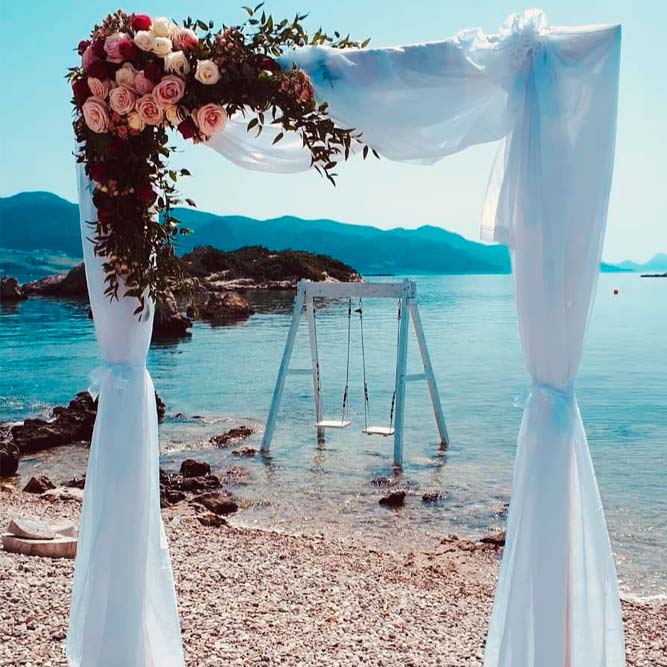 What can be more romantic than sharing the first kiss under a fantastic wedding arch standing right on the shore?
Source: moro.beach.stupe via Instagram
Beach Aisle Decoration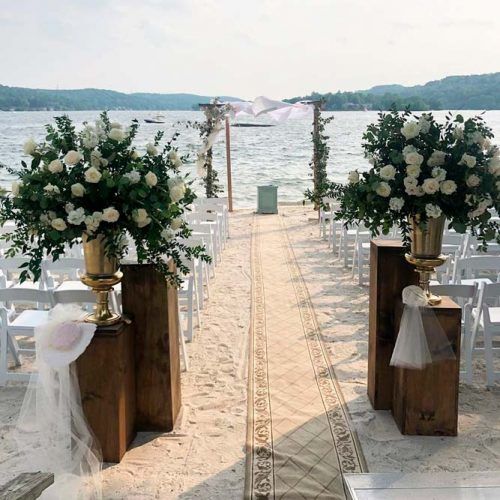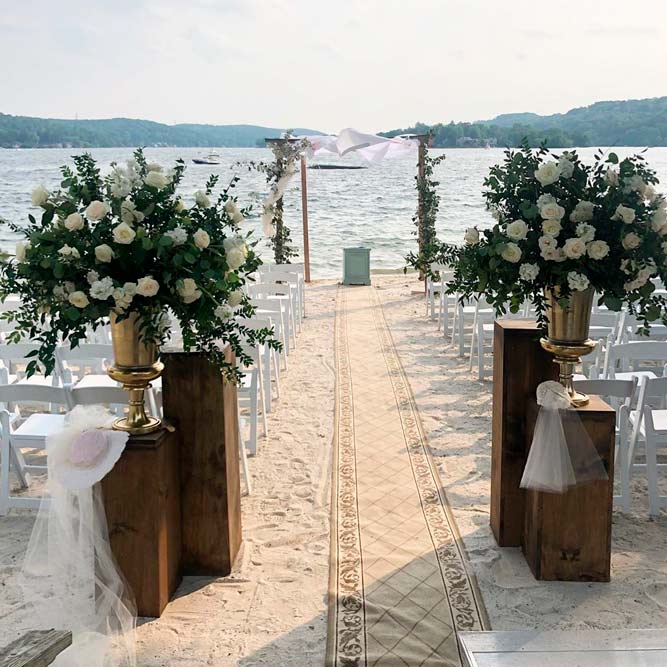 There's no better way to organize the aisle area than to do it with posh and full bouquets of flowers that match the color palette of the ceremony, leading to the arch of love.
Source: frompeoniestopaintchipsxo via Instagram
Choosing The Right Wedding Venue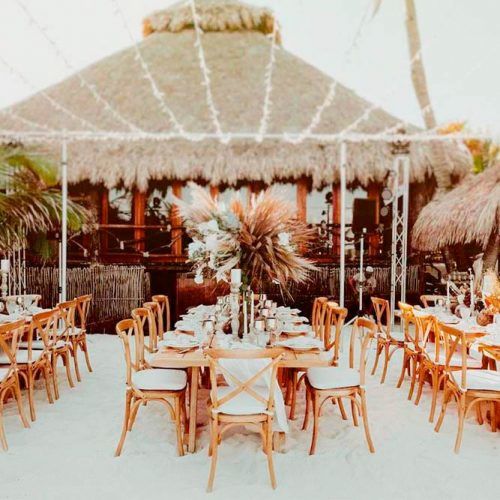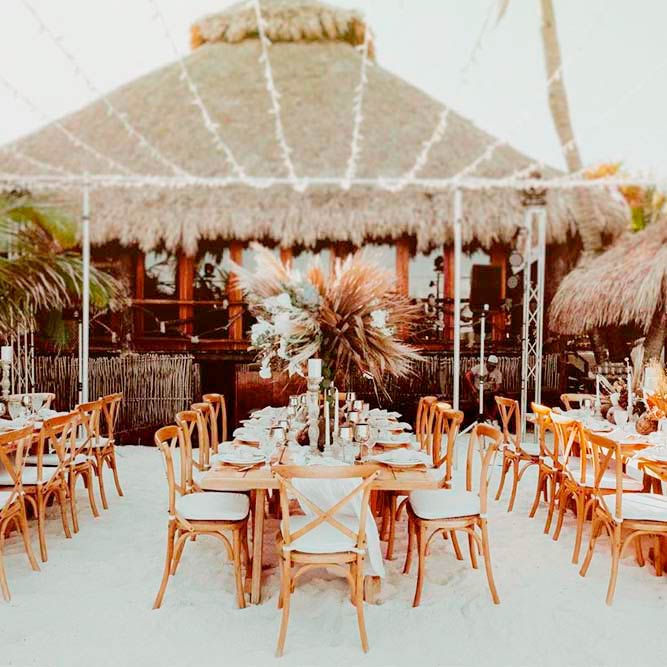 The key to absolutely harmonic beach ceremony is choosing decorations that don't counteract the basic design of the beach. Instead of making your wedding design pop, try making everything complement the setting. You won't go wrong with wooden chairs, bamboo elements, and minimalist aesthetics.
Source: fresa_weddings via Instagram
Lights Of the Night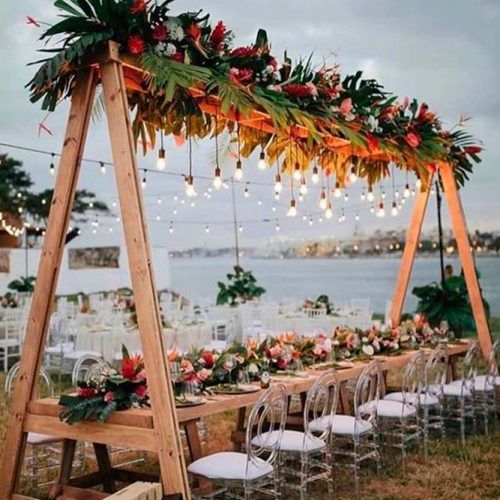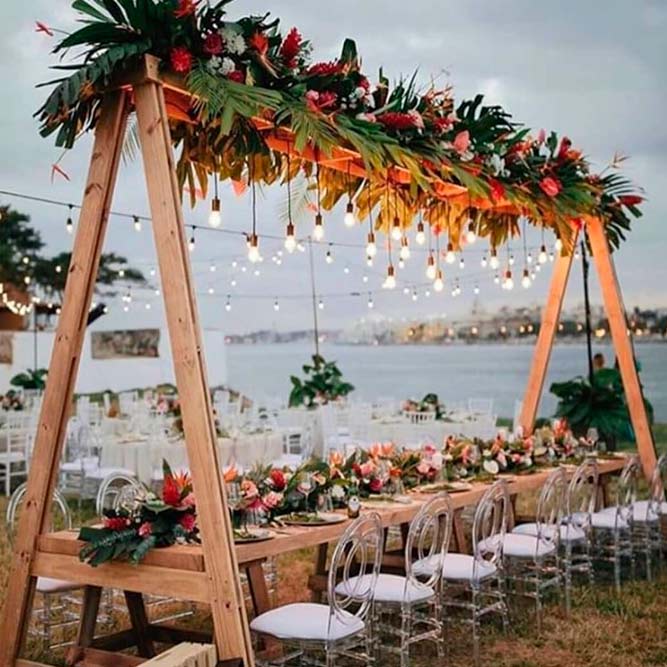 Globe lights hanging over the festive tables will be the finishing touch to creating a totally romantic ambient.
Source: volvoreta via Instagram
Creative Escort Cards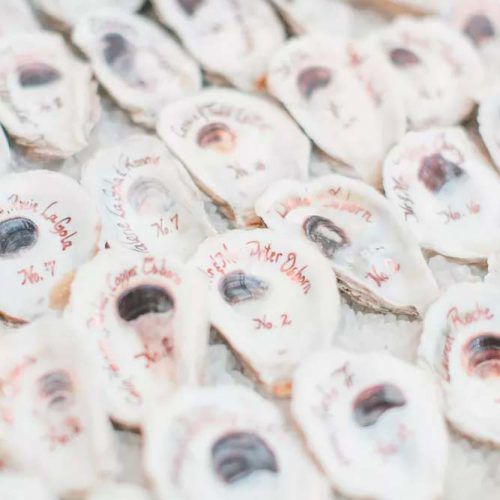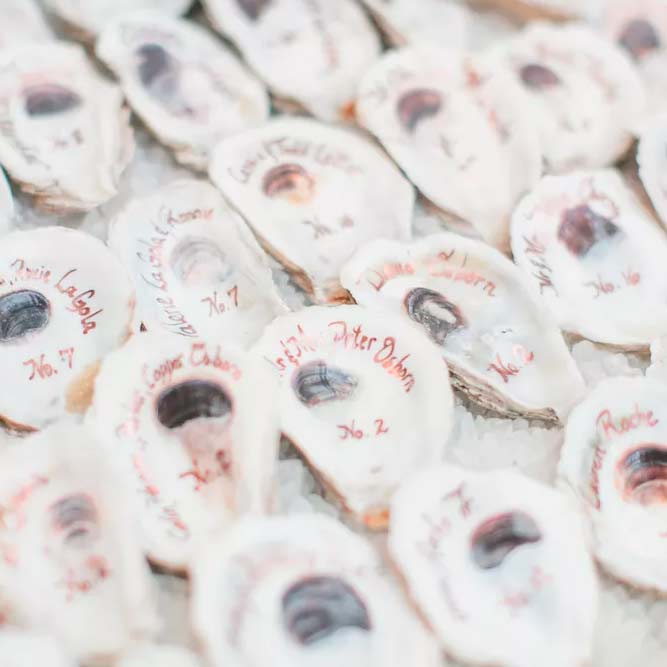 Escort cards are tiny details that can let your creativity run wild. Such customized decorations are a fun way to enhance the theme. For example, you can write the guests' names on the inner sides of oyster's shells.
Source: cassiclaire via Instagram
Awesome Ocean-Themed Wedding Cake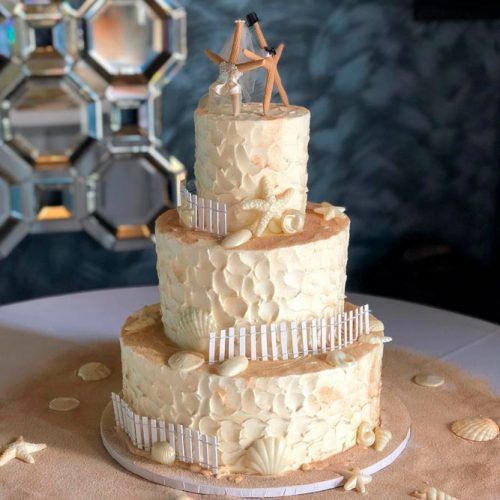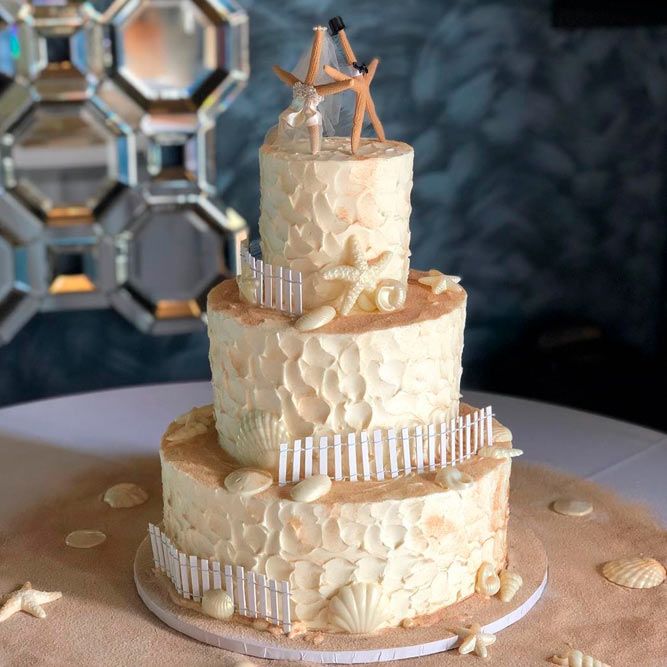 Wedding cakes should be as pleasant to the eye as they're tasty to the stomach. Make it the highlight of your ceremony by going for creative themed design with starfish, sand patterns, and lovely shells.
Source: thebakeworksnj via Instagram
Floral Wedding Decorations
Floral decorations are what can really tie everything up in the ceremony. Whether it's a bouquet that you will hold when walking to the arch or complementary details, the point is to keep the flowers simple yet significant.
Bride's Wedding Bouquet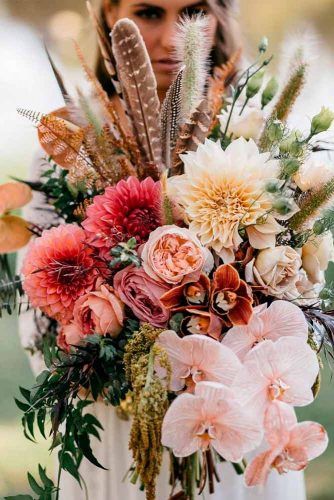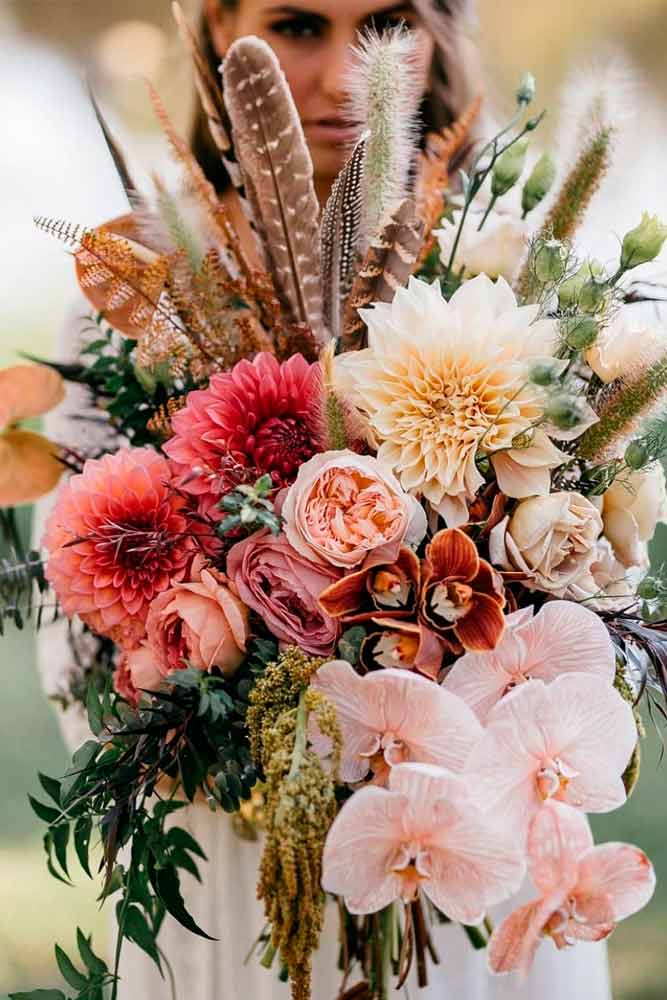 How about you to make your bouquet stand out, expressing the bright side of your individuality? It's a beach celebration, after all! By the way, some boho elements won't hurt your delicate ensemble of peonies and orchids.
Source: poppyculture_hq via Instagram
Beach Wedding Centerpieces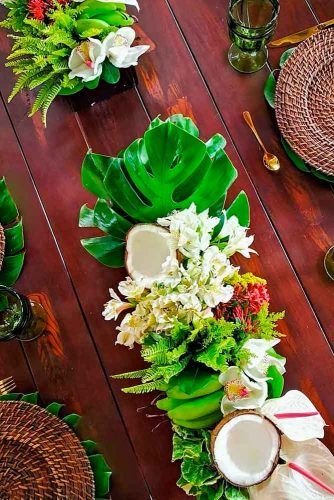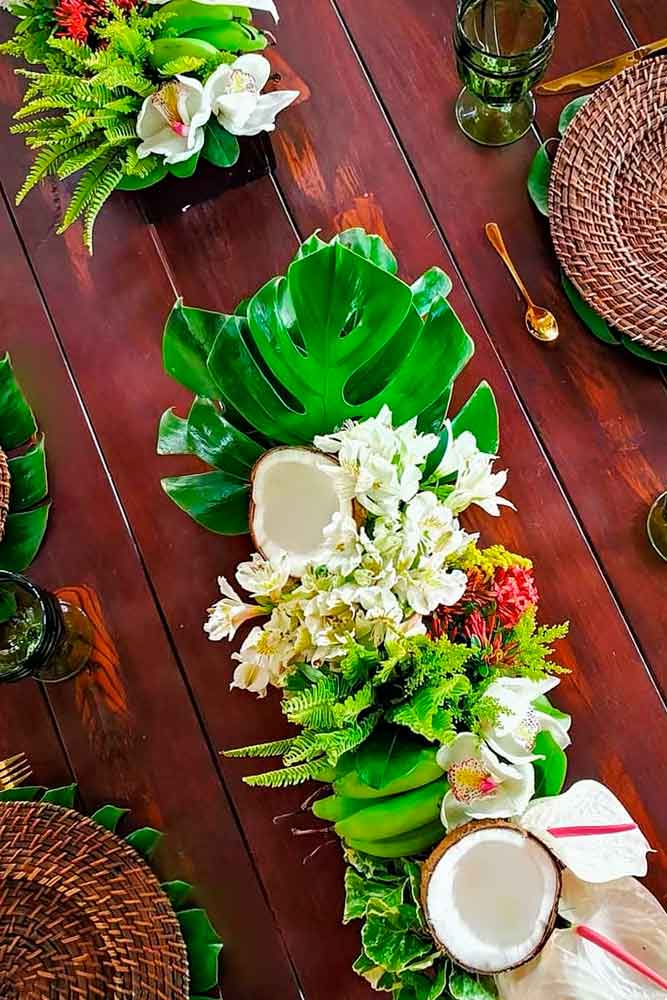 If not palm leaves, what else can be the best base for beach wedding centerpieces? In fact, the more green tropic details like these, the better. Apart from centerpieces, such ideas will work ravishingly for a table setting as well.
Source: anamariaseventos via Instagram
Tropic Decor For Chairs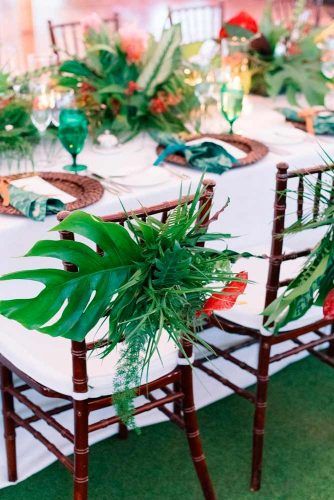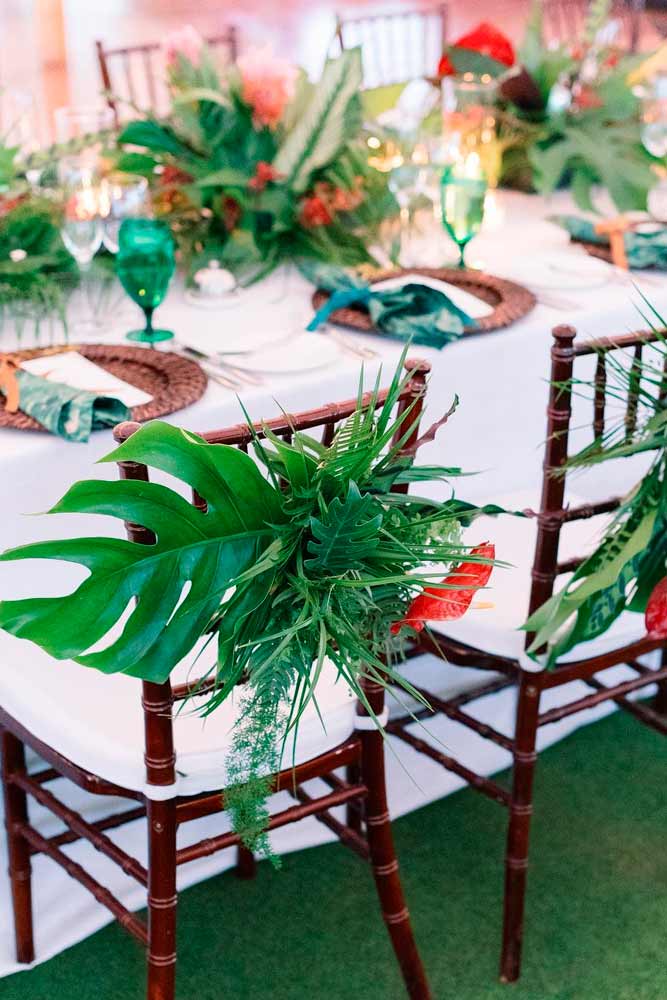 You just can't have too many palm leaves. Use these cuties to embellish everything around, including festive chairs to make them fit the occasion ideally.
Source: mattricephotography via Instagram
Napkins And Plates With Tropic Elements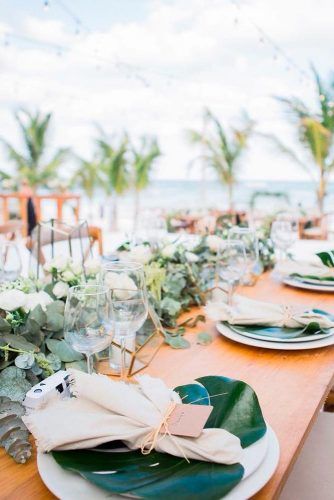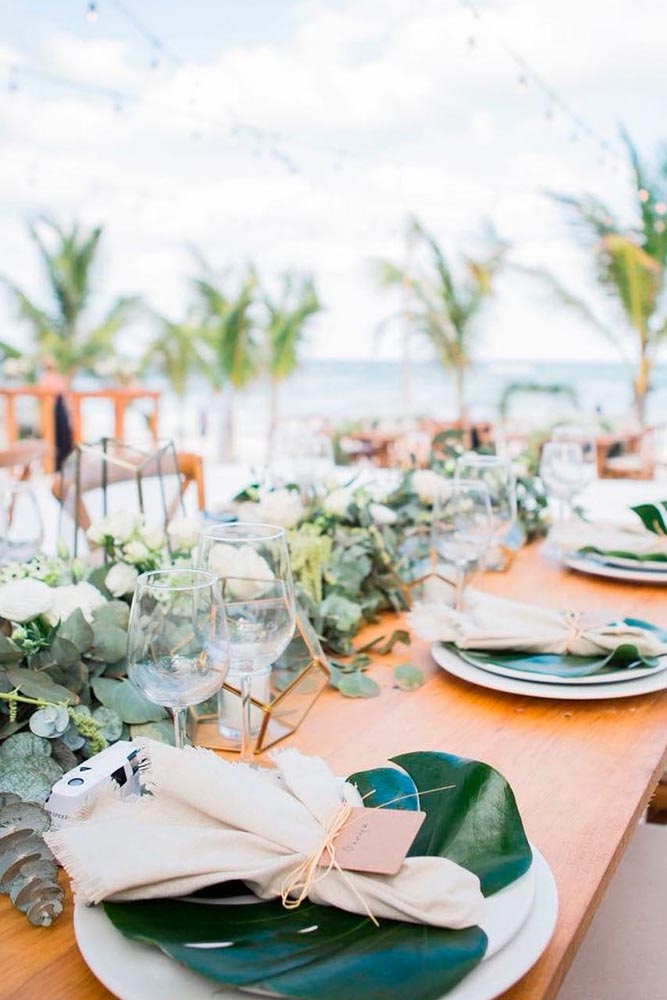 Empty plates will appear way more fun with simple tropic elements lying under elegant, neutral napkins.
Source: moni_adri_photography via Instagram
Add More Romance With Lanterns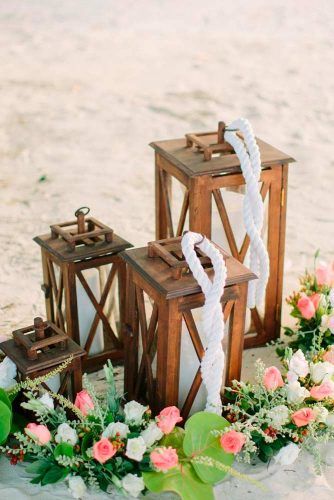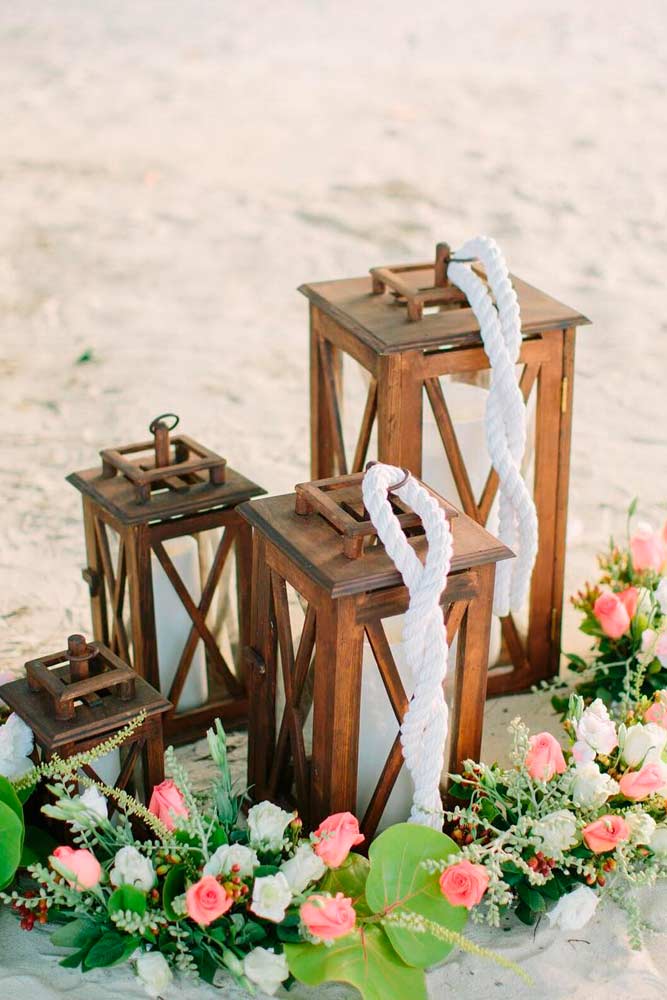 Apart from hanging lights, there's one more way to add a sense of romance and warmth at once: a couple of beautiful lanterns with a halo of flowers.
Source: darcybenincosa via Instagram
Remember About The Comfort
Keeping up with stylishness and authenticity when organizing a wedding on the beach is essential, but let's not forget about one more important moment that your guests deserve to get - the comfort.
No Shoes, No Problem!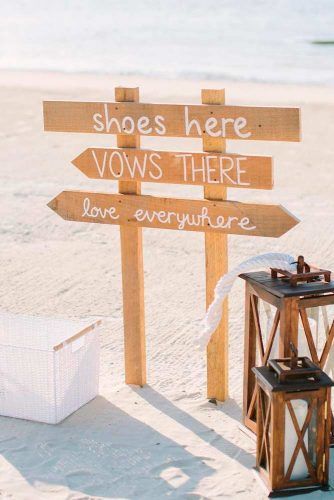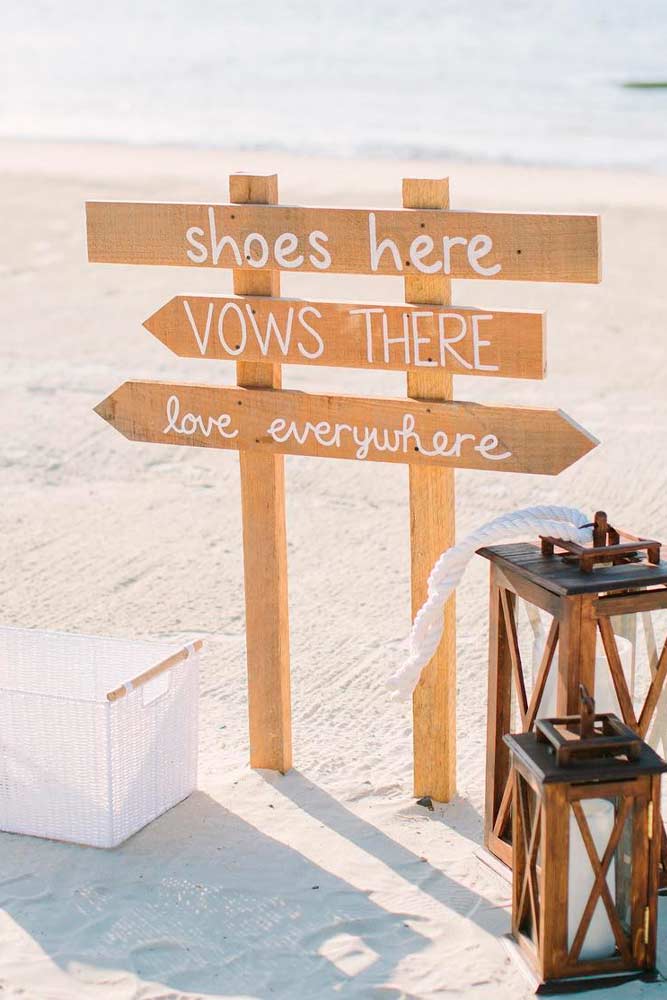 Don't make the sand in the shoes become bad consequences of a beach wedding. A couple of baskets where your guests can leave their shoes is a nice, comfy solution.
Source: darcybenincosa via Instagram
Refreshing Mini Bar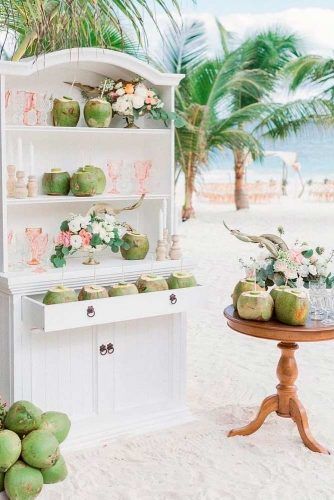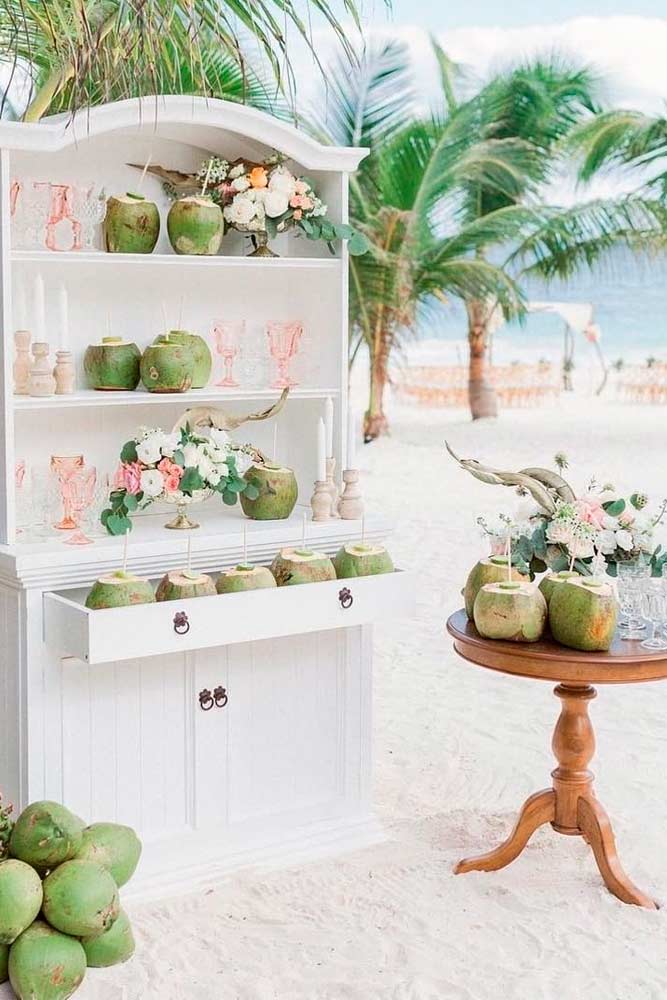 It will probably be pretty hot during the ceremony, so why don't you cheer your guests up with a refreshing mini bar?
Source: moni_adri_photography via Instagram
Just Cool It Down!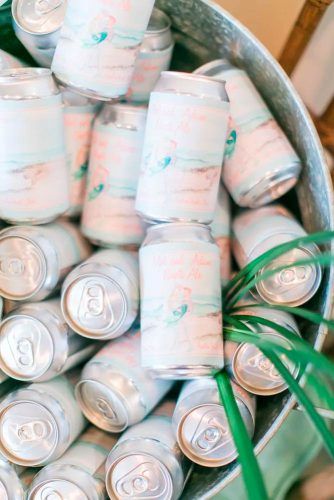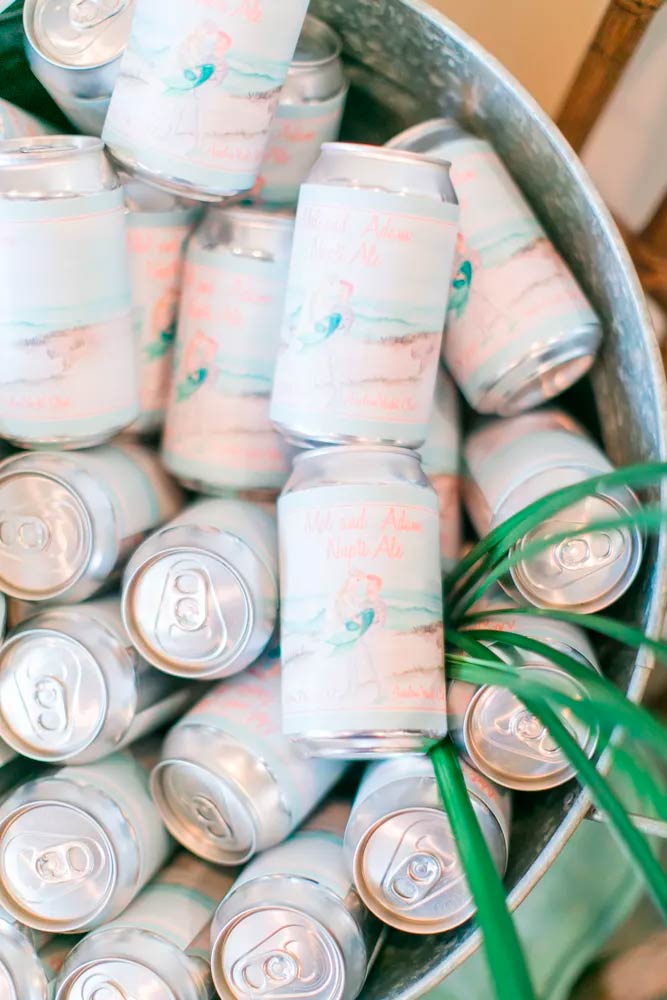 The good news is, there's no need to go too expensive with the mini bar. Some ice and your creativity is enough to please your guests with cold drinks. Just put them into a simple metal drum filled with ice and enjoy!
Source: cassiclaire via Instagram
Comfy Lounge Place For Your Guests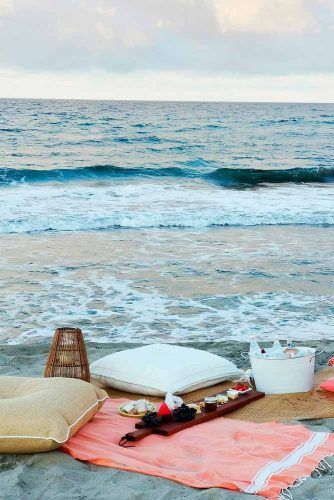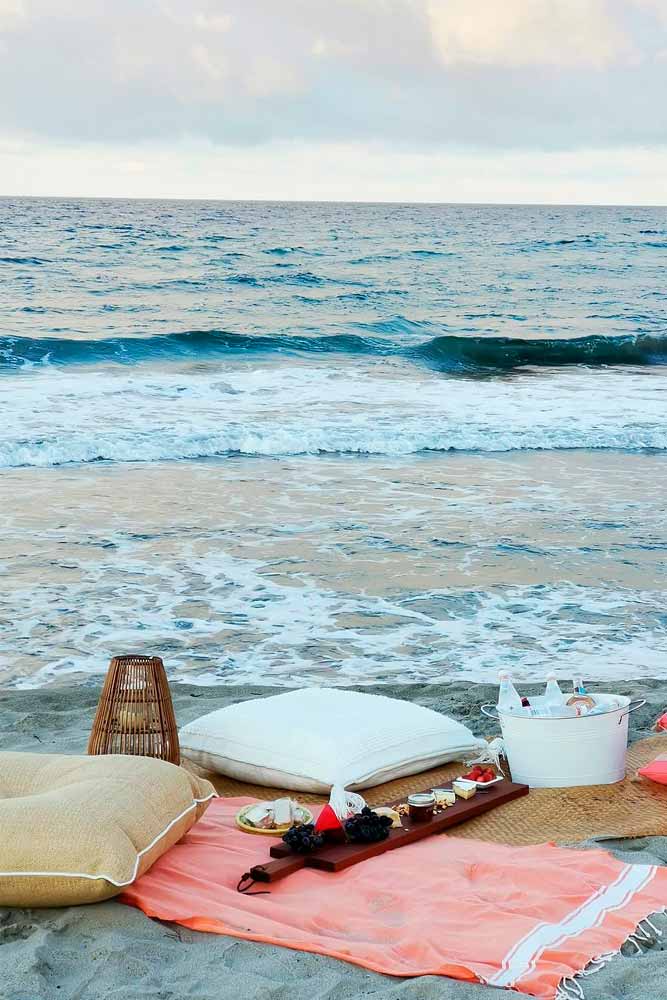 For guests who'd like to get some rest from loud music and lively conversations, spruce up your festive beach with a cozy lounge pillow zone near the shore.
Source: anamariaseventos via Instagram
Organizing a wedding on the beach is an unbelievable way to appreciate the beauty of love and nature. But to make it not only beautiful but also comfortable, future wife and husband should be aware of all the pitfalls of beach celebrations. Luckily for you, with today's beach wedding ideas and tips, you won't be mistaken in planning the long-awaited day!
FAQ: Beach Wedding
Are beach weddings legal?
You can process permit documents at standard venues, but if you are getting married at a public beach, national park, or even a local neighborhood park, make sure the wedding venue is legally squared. This requires additional work to be done.
How can I get a cheap beach wedding?
Rent a house on the water to host your wedding ceremony, honeymoon, or guests outside the town.
Find a beach wedding venue in a particular location or check out your top picks in reviews from event planners.
Is a destination wedding really cheaper?
Not only are weddings at your destination cheaper than in-house weddings. They can also reduce your emotional costs. It requires some elements of planning, many of which can be addressed by your wedding expert. Some resorts will offer you customizable packages that handle details that might otherwise be forgotten.
Was this article helpful?