Propose To Your Second Half In A Fancy And Exquisite Way
Getting married or engaged is always exciting. However, there is something that is prior to those events. The proposal. Of course, the way you propose will be remembered and carried through ages that is why you need to make sure it is worth it. In case, you are looking for the best proposal ways – we have a fair share of interesting ideas to suggest. The fact is that you need to choose the way to propose judging by your and your second half preferences. This means that even if none of these proposals suit you – they will surely inspire you for some sparkling ideas of your own!
Marriage Proposal Ideas In Public Places
Source: sydneymariephotography via Instagram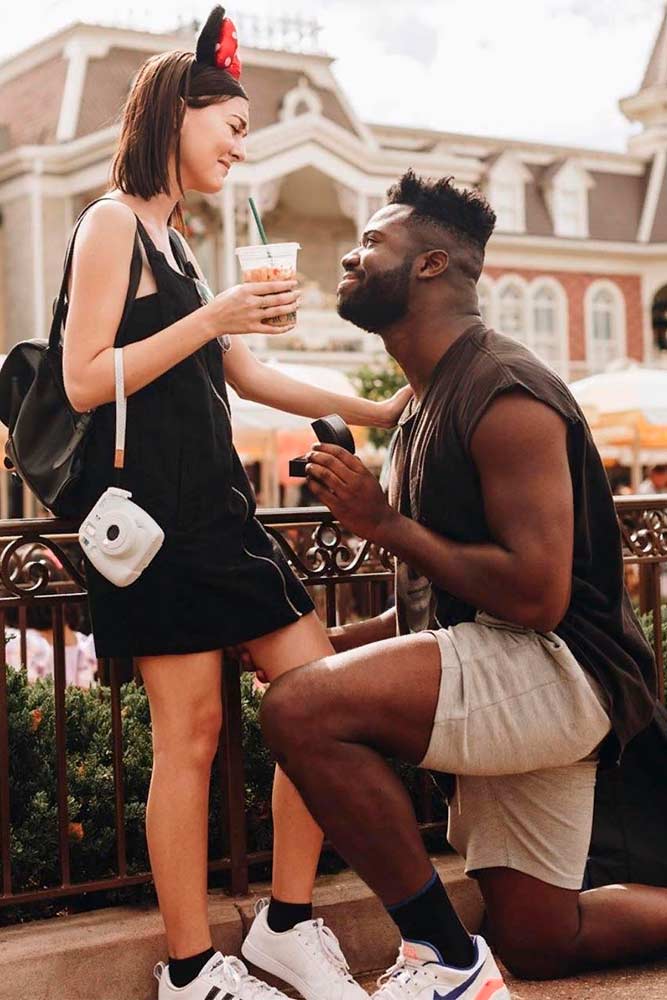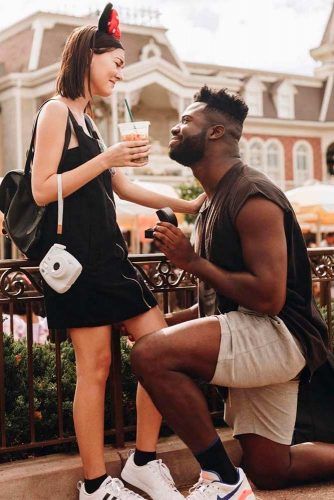 There are many romantic ways to propose however in many cases pairs choose to do it in public. Use these marriage proposals public ideas to make the day unforgettable.
You can pick the place you both like and go there. Once you reach the destination, you can ask someone just to take a picture of you. As your unsuspecting second half gets ready to pose – you get ready to propose!
Go to a music concert but talk to the band in advance. Let her favorite song play as you propose.
If you want to grant your proposal some playful vibe – ask a street caricaturist to draw a picture of the two of you. Ask him in advance to add the fateful words to the picture.
Take out your loved one on a treasure hunt date and end it with the proposal.
Ask a skywriter to spell the proposal up in the sky, so that no one can miss it.
Place your proposal in the newspaper and then ask your loved one to enjoy a cup of coffee as you read the news!
Cozy Marriage Proposal At Home
Source: alishatova via Instagram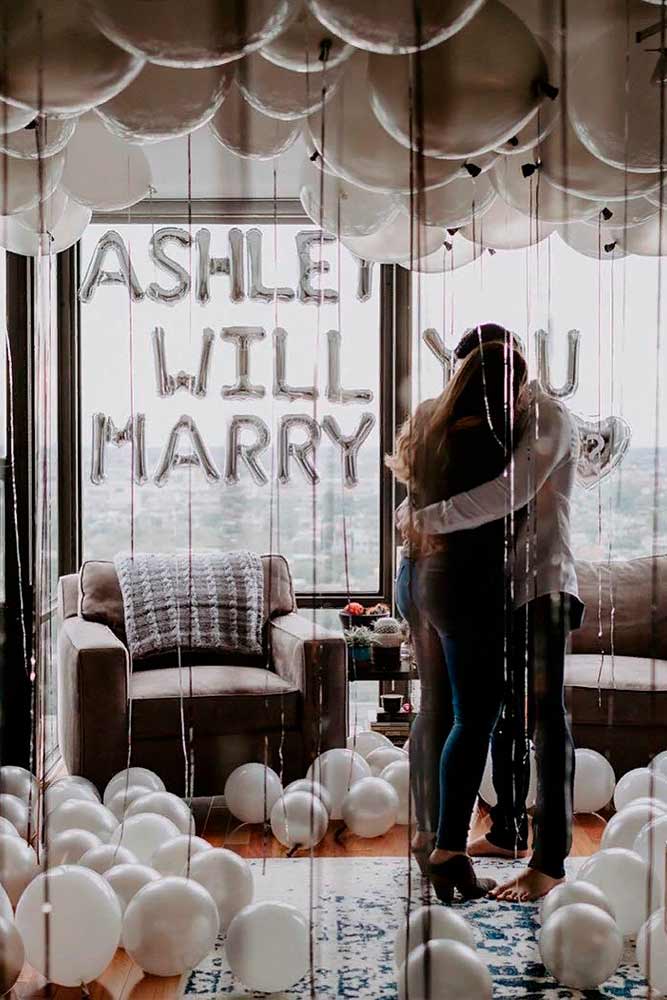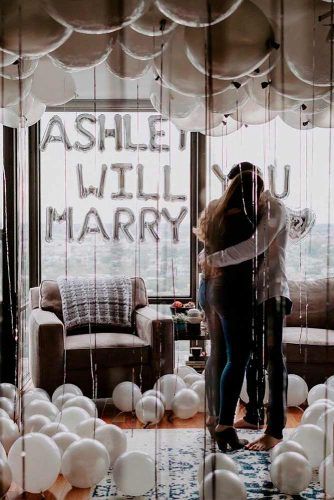 Some of you may wonder how to propose at home so that it is a need to remember.
Surprise your fiancé with a room filled with pictures of you together and then propose.
Light the candles and let them lead your loved one straight to the ring.
Put a ring on her finger while she is still sleeping so that the morning will be the most surprising one to remember.
Tie a string throughout the apartment and fill it out with notes about why you love your fiancé-to-be, place the ring at the end.
Cook her favorite meal and propose when the time of dessert comes.
Make a special jigsaw puzzle. Let her complete it on a rainy, romantic day.
At-Work Marriage Proposal Ideas
Source: nilsrosenbach via Instagram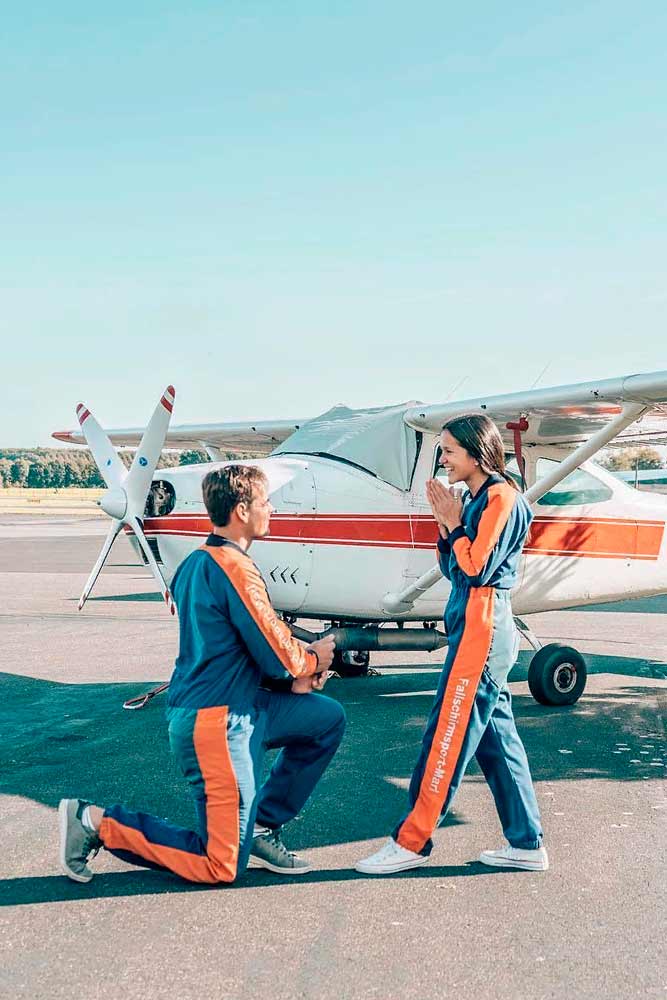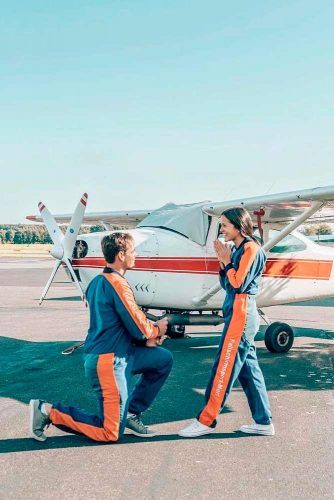 Have you ever wondered what is the best ways to propose at work? We have some few ideas stored for you!
Get into her office before she does and spell the proposal on the board before anyone can see it. Hide away and wait until she sees it.
If it is snowy outside, suggest that you will heat up the car for her. Write the proposal on her frosty car!
Ask her coworkers to help you out. Suggest an urgent meeting at an unexpected hour at an unexpected place. Surprise!
Romantic Getaway
Source: emmaemitchell via Instagram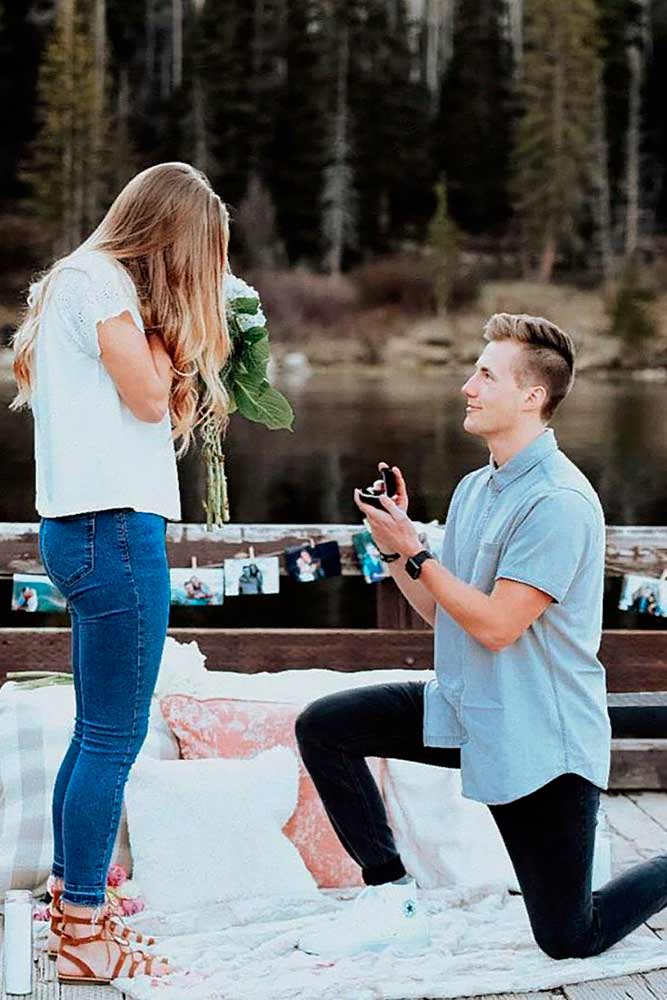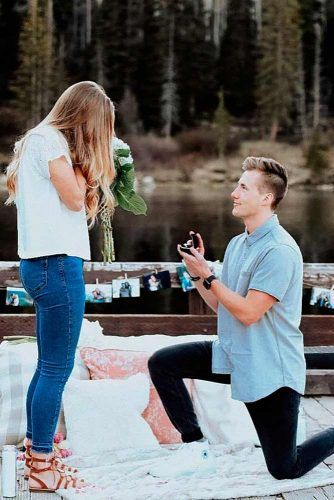 The truth is that there are many creative ways to propose but the ones on a romantic gateway deserve special attention.
When you get on the plane to fly to the destination getaway, ask the flight attendants to let you announce the proposal high up in the sky via the loudspeaker.
Rent a bike to go around the city you visit. Put a ring in the helmet.
Make a sand castle on the beach. Put a ring on the top of it the minute she turns away.
Set a romantic proposal with roses and champagne in the hotel room of the new city you are visiting.
Foodie Marriage Proposal Ideas
Source: fooddeco via Instagram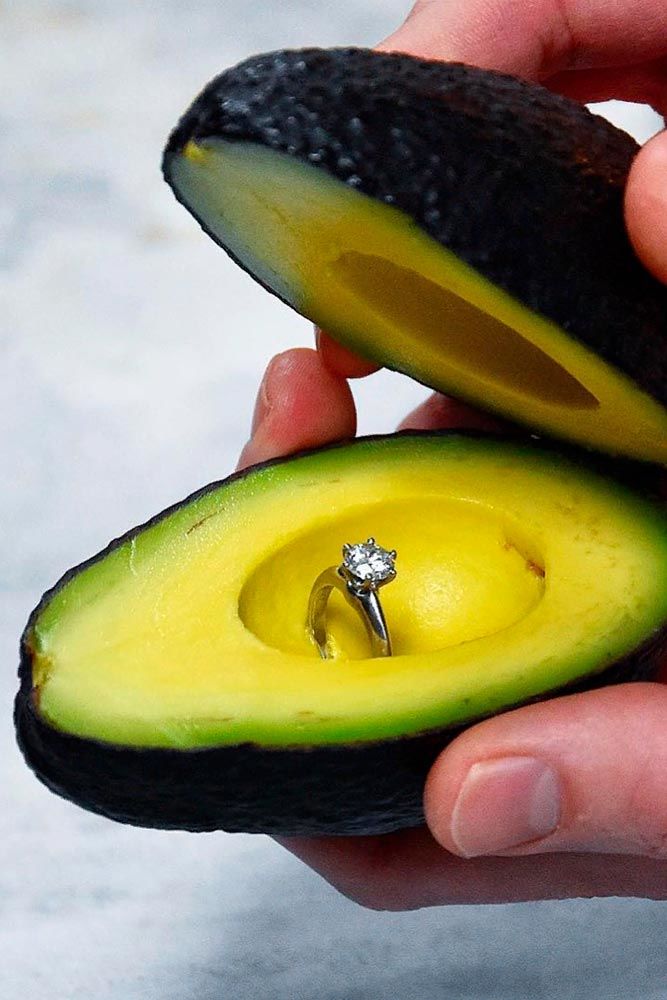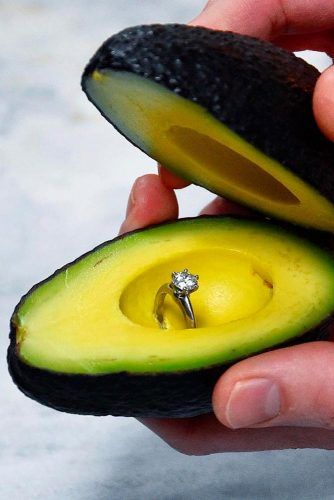 How to propose to a girl in a tasty way? Read on to find out!
Add the ring box to the dessert in your favorite restaurant.
Compose a tasty gift basket for her with the ring hidden among all the candy and other sweets.
Ask a dessert chef to spell it out in chocolate for you.
Ask a baker to make a cake with a note saying 'Will you marry me?" inside it.
Best Proposal Ideas For A Book, Movie Or Game Lover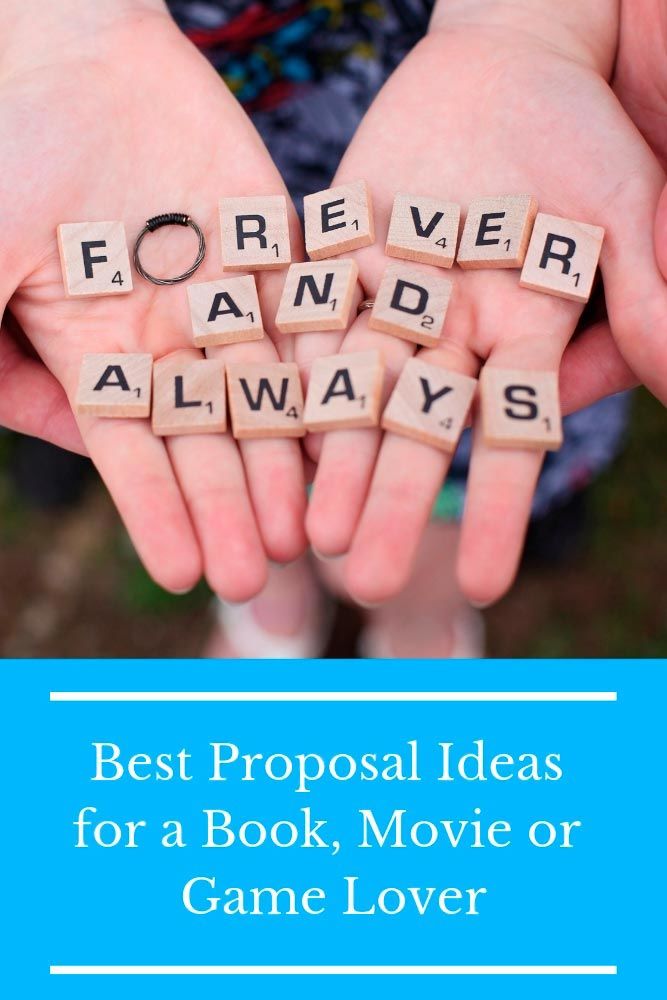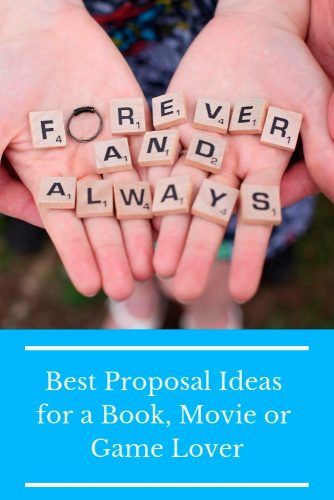 There are always some issues to face when it comes to proposing a girl who shares quite different tastes. If your fiancé likes books, movies or games – we have it covered for you!
If your girl likes Scrabble board game – use it to your advantage!
Place the ring in between the pages of the book she is reading at the moment.
Make your very own love movie trailer using the photos and videos you share together. Ask the local theater to help you out in this matter of hearts and play it on a big screen for her!
Cute Marriage Proposal Ideas With Friends, Family And Pets
Source: staygolden_charlieboy via Instagram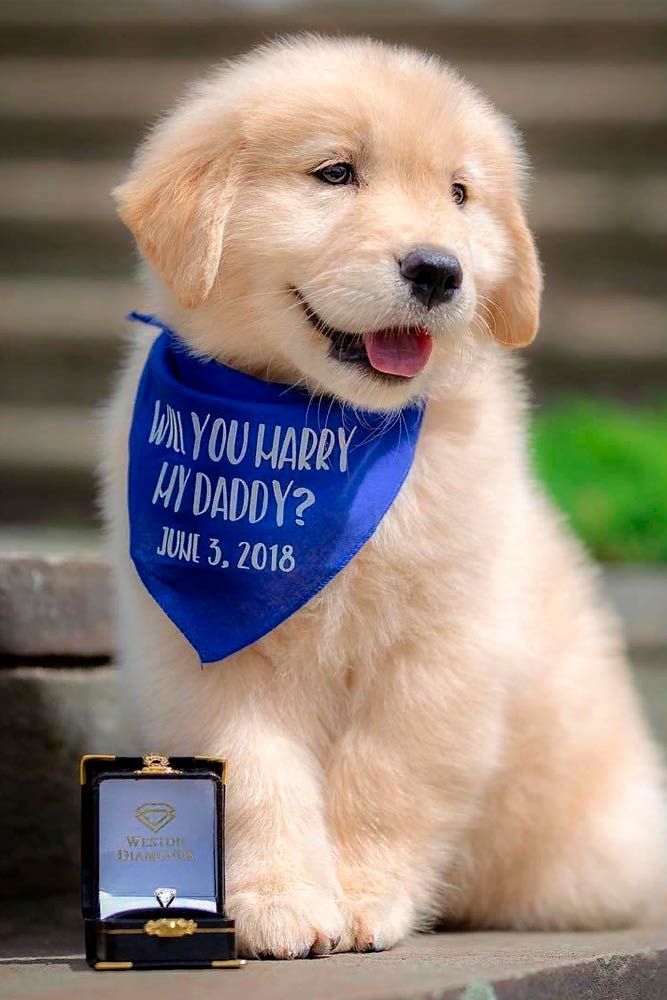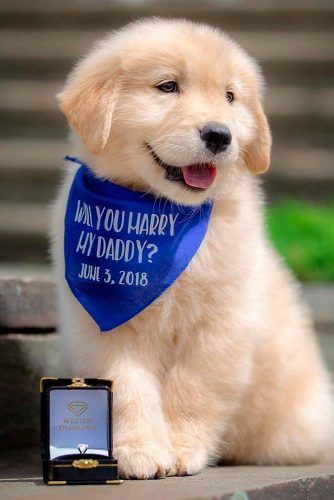 In case, both of you are very close with your friends and family – make them take part in your marriage proposal event!
If you are a lucky owner of a dog you both adore – make the doggo help you out here. Proposing with the help of a dog is always the cutest not to mention a successful one!
Use your friends or family as the right moment photographers so that such an important event will be properly captured!
It is a good idea to use your close friends and family as your helpers while you are busy with a proposal. Make them hold the sign 'Will You Marry Me?' when you get on your knees.
Marriage Proposal Ideas With Surprise Parties
Source: zeshawnrahman via Instagram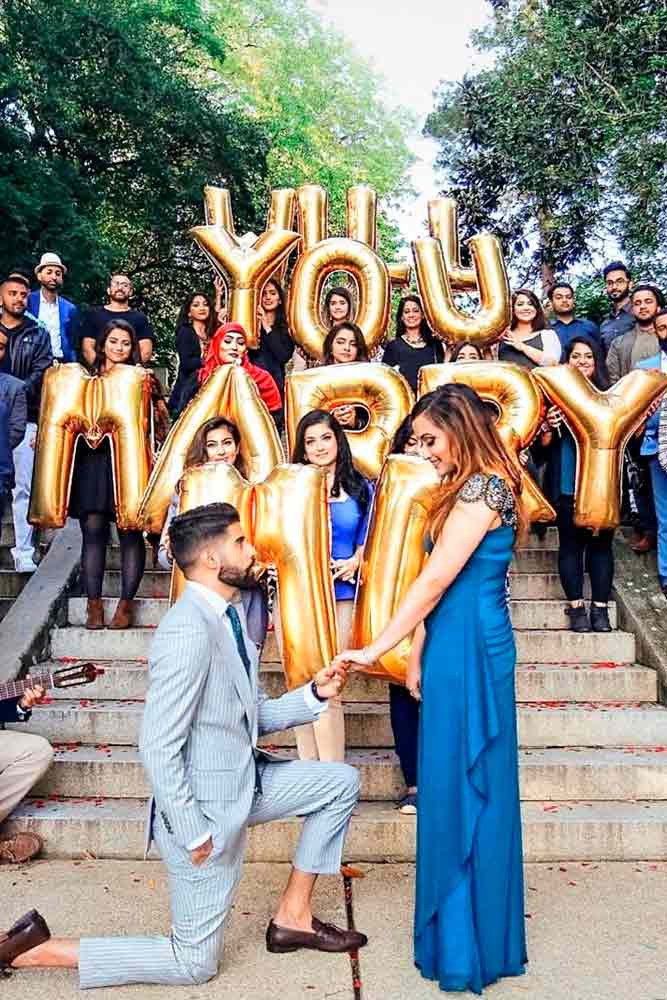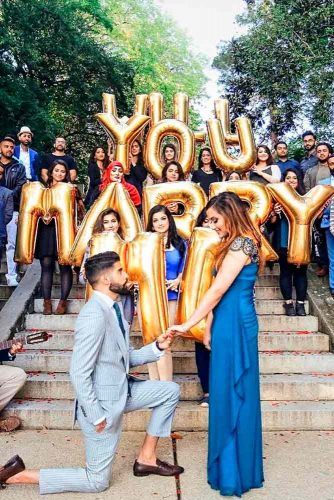 It is always best to celebrate such important moments as a marriage proposal with the closest to you people. That is why plan a surprise party to do the thing!
Tell her about the surprise party and let her get there early. Let your friends show up at the moment you are about to propose.
Ask your friends out to your favorite restaurant or bar close to the place you are going to propose. After she says 'yes', ask her out for a drink to the place where your friends are already waiting.
Make a proposal in the park while friends are watching from the distant. When you hear the word – give them a sign to join you in celebration.
Add Some Creativity To The Proposal
Source: jesspalmerr via Instagram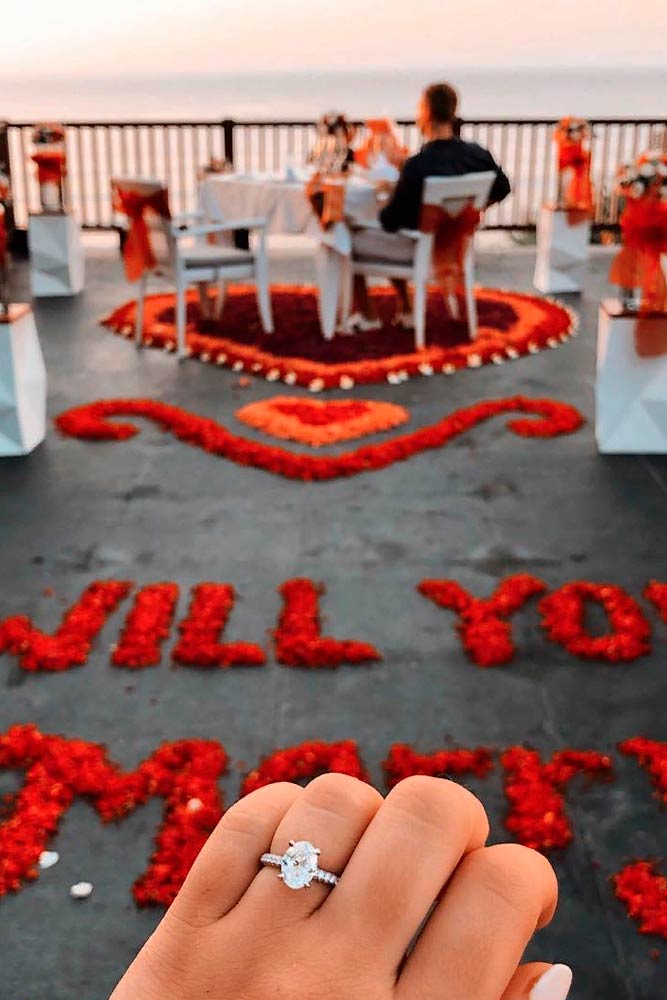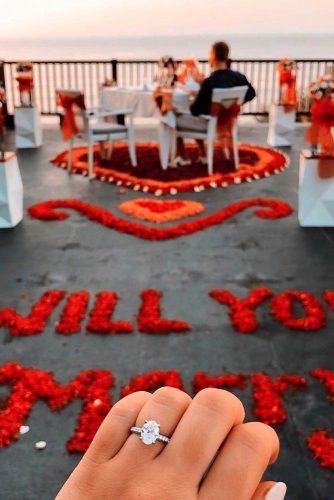 Those of you who wish to introduce some more art and creativity into your marriage proposal occasion – help yourself!
Compile a full album containing all the memories shared together. Leave one page blank, entitled 'Our Engagement'. Make sure there is a camera at hand to take the picture of that happy moment.
Go to a painting class together. While she is working on her project – you paint the words you want to hear the answer 'yes!' to!
Compose your own love story and make a book out of it. So that after she is through with it you will hear the word you want!
Season Marriage Proposal Ideas
Apart from the part – where, it also matters when you propose. That is why we gathered here some ideas divided by cold and warm seasons.
Fall And Winter Propose
Source: jessicaraelenephotography via Instagram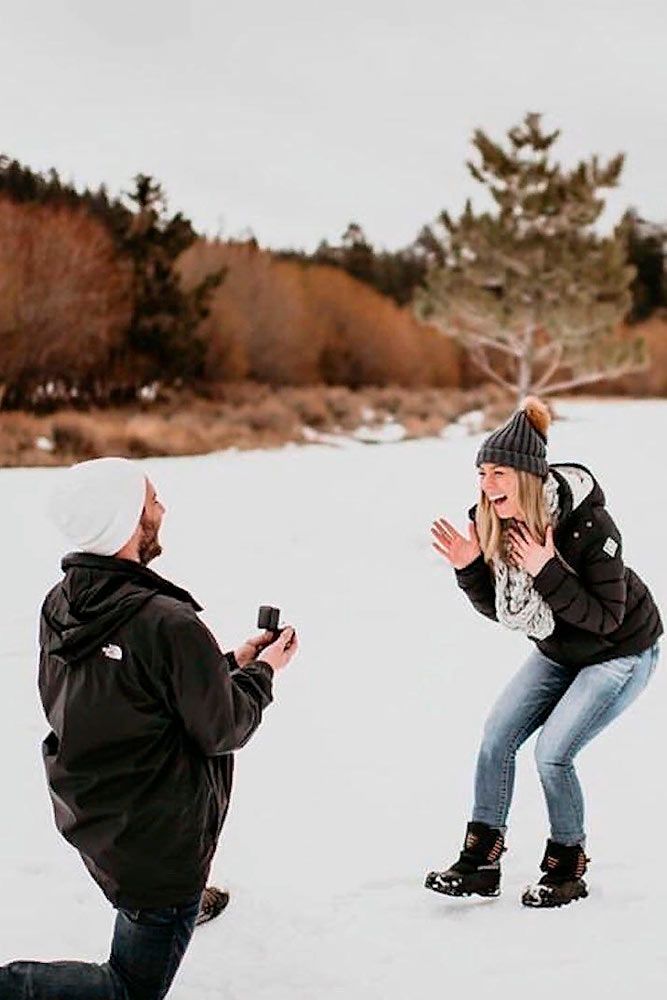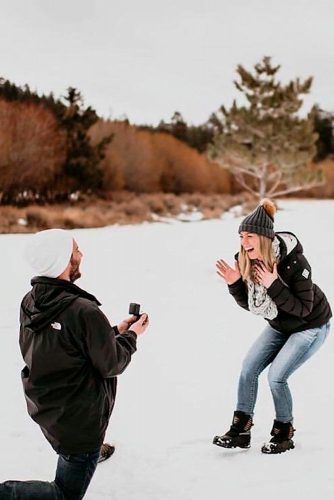 Don't be afraid to involve some things that may actually lie on the floor!
Spell out the words in the back yard with the help of fallen leaves.
Use Christmas lights as the means to write "Will You Marry Me?" if it is holiday season outside.
Make a kneeling snowman and assume the position when your loved one sees the miracle.
Spring And Summer Propose
Source: laurakalynych via Instagram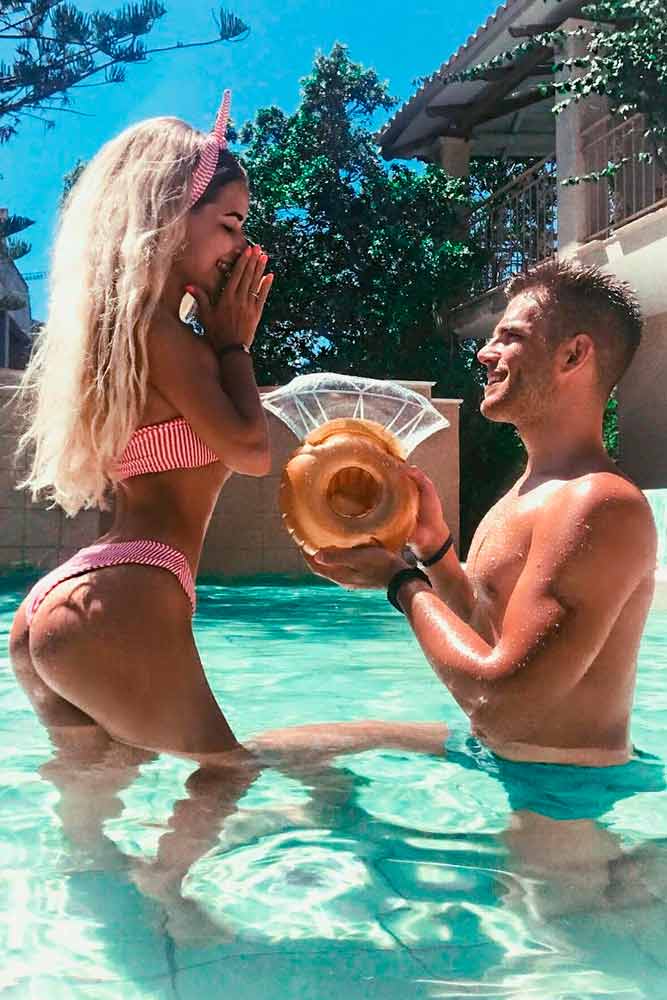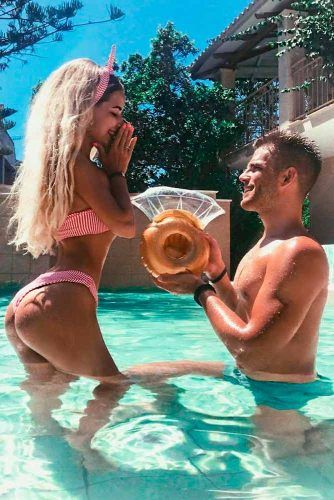 When it is spring or summer outside, these ideas of proposing will come in pretty helpful!
When everything is in bloom – take her to the botanical garden and propose there.
Choose a summer night to go stargazing – end it up with the proposal.
If there is a beach close by, go there and plant a bottle with the note in the sand. Take your fiancé to the beach the next evening, dig the bottle out and let her answer the question.
To propose is not always the easiest thing to do. So many things are supposed to be perfect when the time comes. That is why we have gathered here some exciting ways of proposing to make your preparation for the big day a little easier!