Getting inspiration and motivation from people who have achieved the same goals we reach for is the right thing. Don`t you agree? Their words can give us even more energy to fulfill our plans than we already have and of course tell a lot about their experience. We believe that words are one of the greatest weapons people can use to make lives better and bring in some feelings. In this case, we are talking about love quotes that can be so powerful for your understanding of things. They are essential in every person`s life as they are on the topic of love that surrounds us everywhere we go. It can make you move mountains and can turn you into the happiest or the saddest person on earth. At different stages of living through such a wonderful feeling, there is always something we all have to think about. Love quotes or family quotes can help us to understand and appreciate every of it. There are so many emotions involved that sometimes a guide is needed. Let the beautiful love quotes we have chosen for your romantic mood be it and show you the truth about such a great feeling. Or use love quotes as your instrument for showing feelings to your loved one. Creative, dreamy, flirty and of course super romantic they will help you both revive the love you have even more.
Cute Quotes To Show Your Love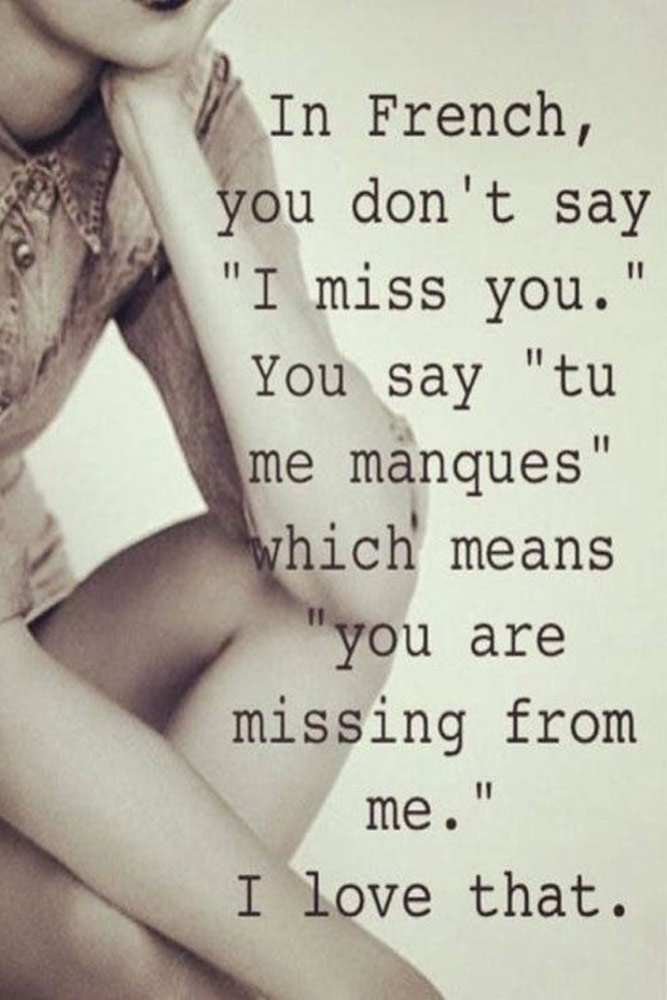 Credit photo: pinterest.com/danahm1975
Are you searching for love quotes for him? This one will help you get any woman's attention: In French, you don't say "I miss you." You say "tu me manques" which means "you are missing from me." I love that.
Quote #2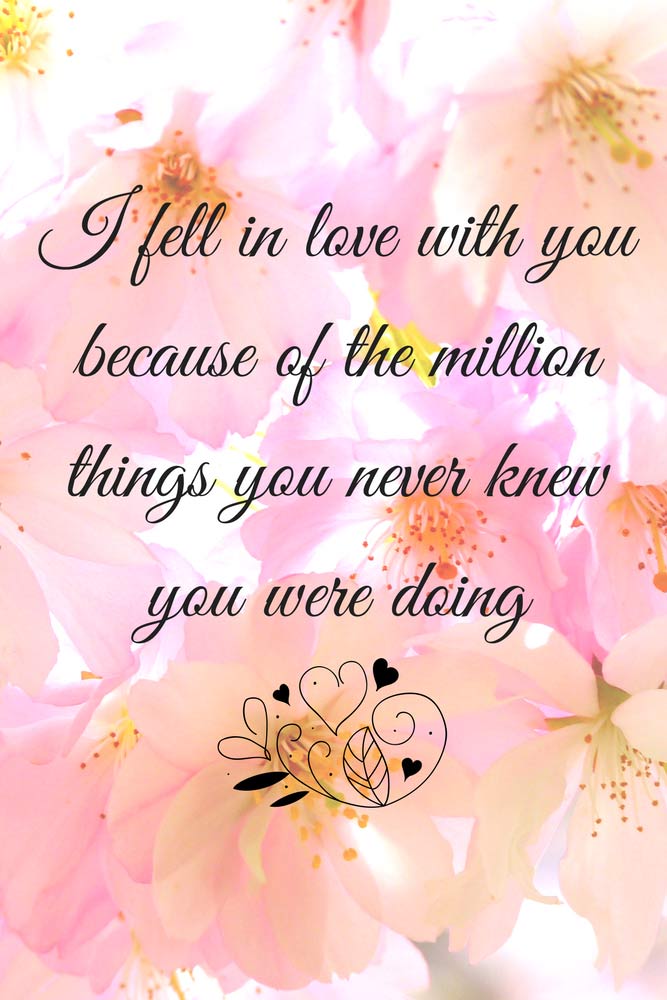 I fell in love with you because of the million things you never knew you were doing.
Quote #3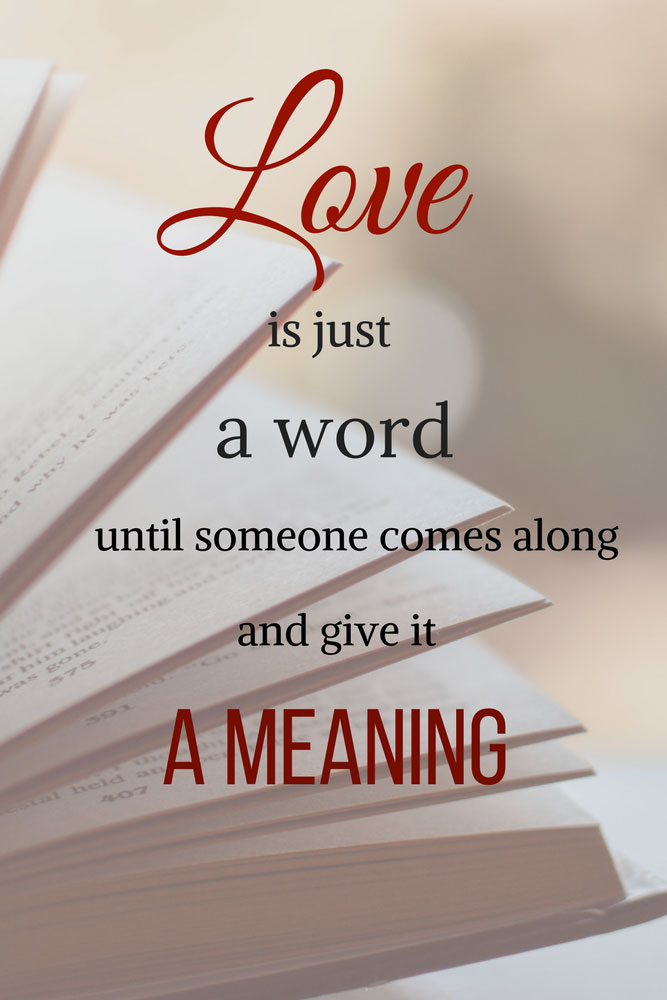 Love is just a word until someone comes along and give it a meaning.
Quote #4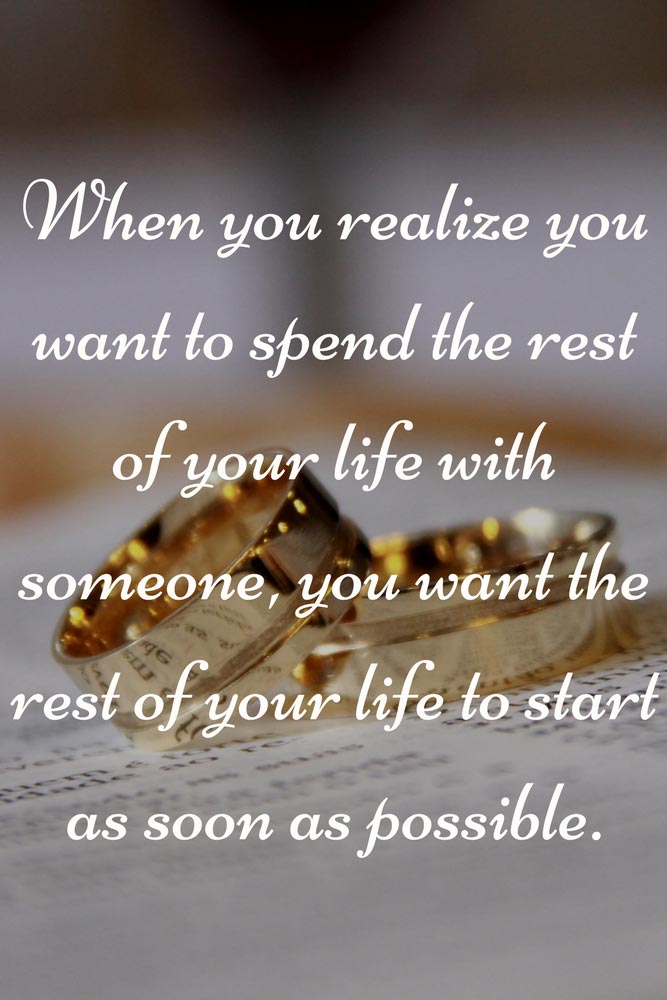 When you realize you want to spend the rest of your life with someone, you want the rest of your life to start as soon as possible.
Quote #5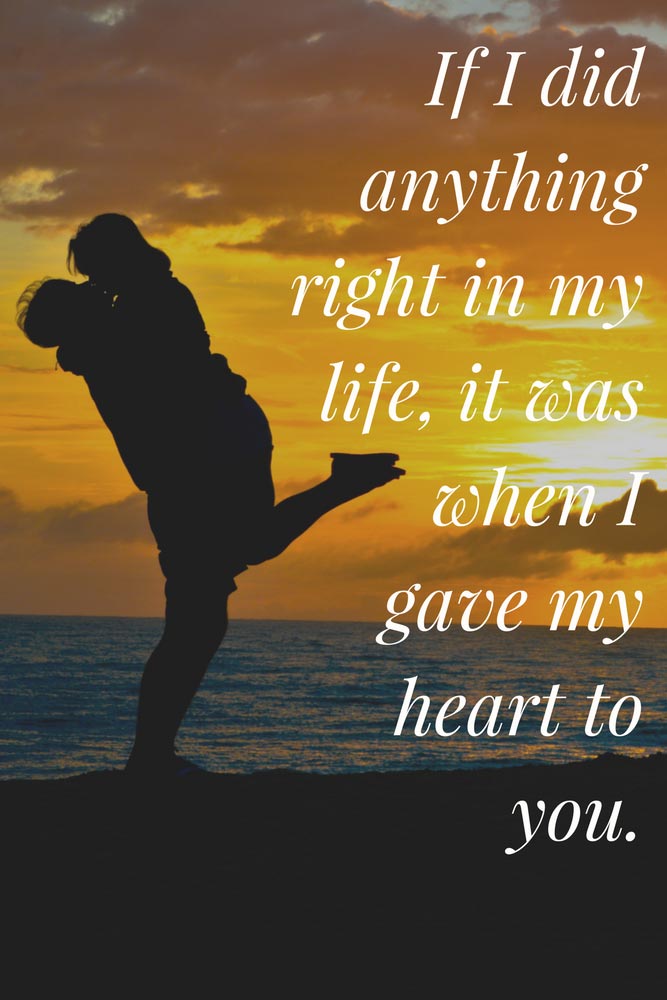 If I did anything right in my life, it was when I gave my heart to you.
Quote #6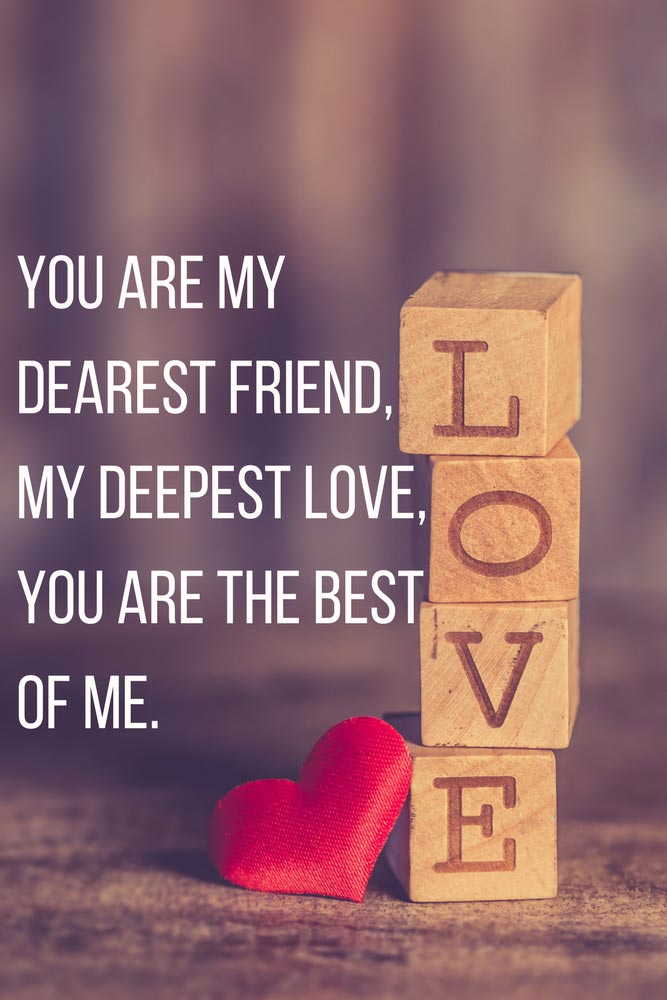 You are my dearest friend, my deepest love, you are the best of me.
Love Quotes For Your Sweetheart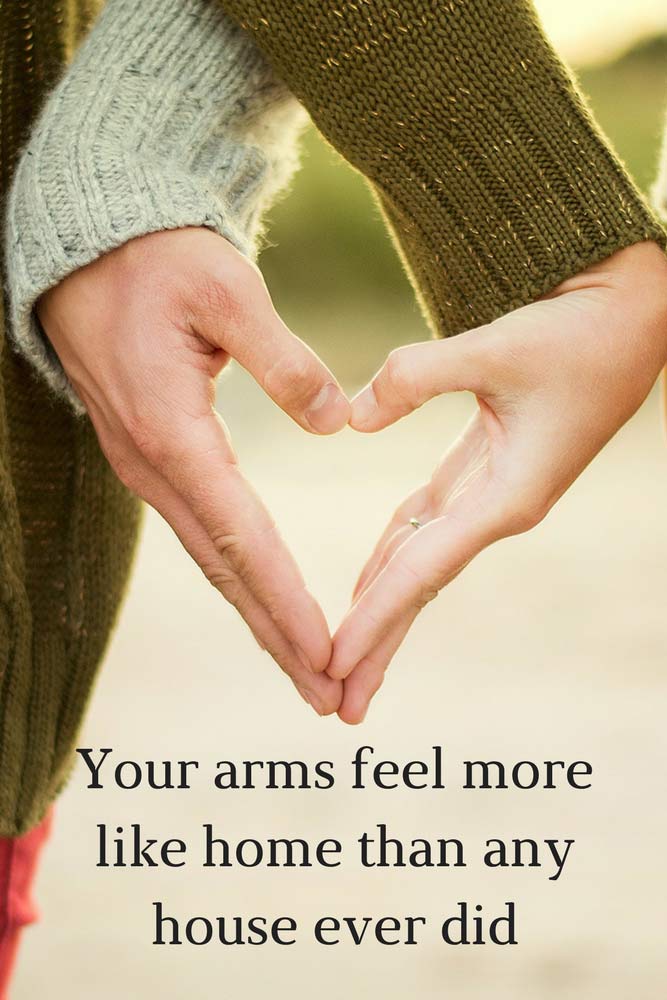 Your arms feel more like home than any house ever did.
Quote #8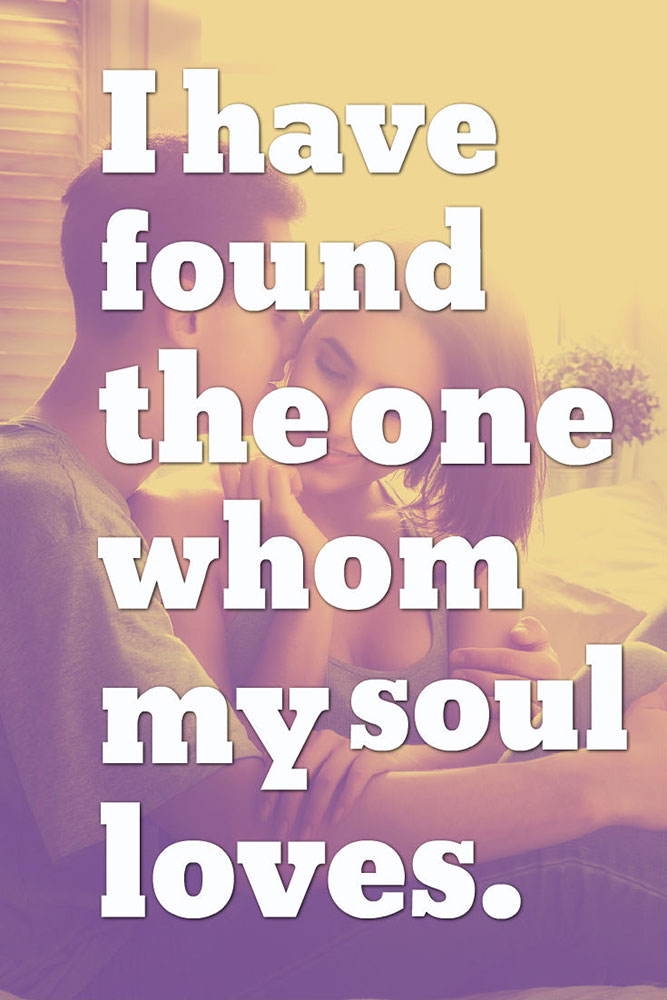 It's one of the oldest true love quotes that still makes sense for millions of people: I have found the one whom my soul loves. ~ Song of Solomon 3:4
Quotes #9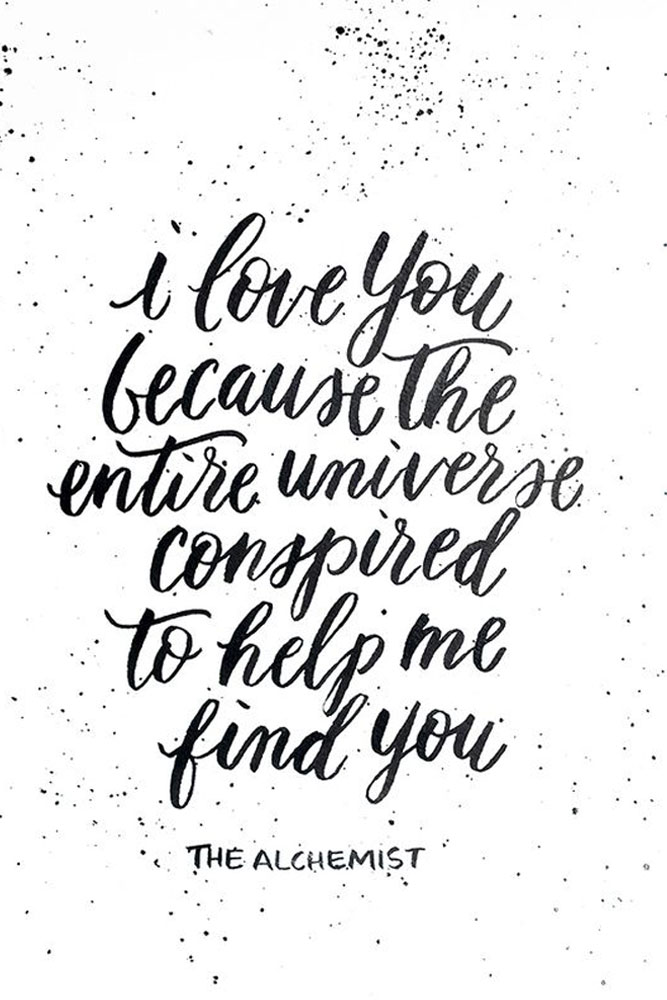 Credit photo: pinterest.com/jessicakeala
"I love you because the entire universe conspired to help me find you." ~ The Alchemist
Quote #10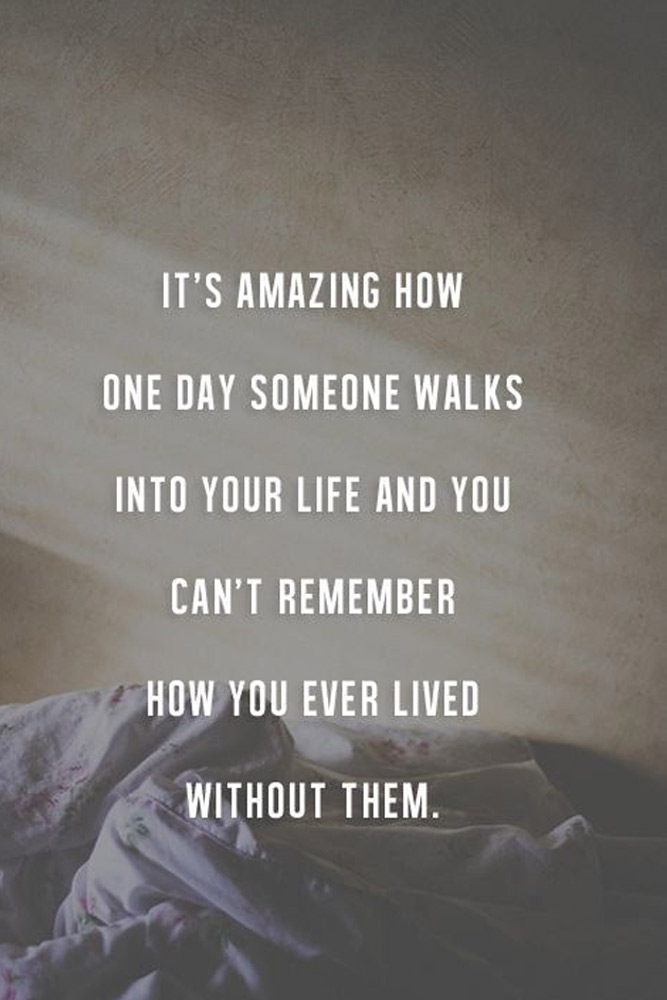 Credit photo: pinterest.com/lucyxorenee
It's amazing how one day someone walks into your life and you can't remember how you ever lived without them.
Quote #11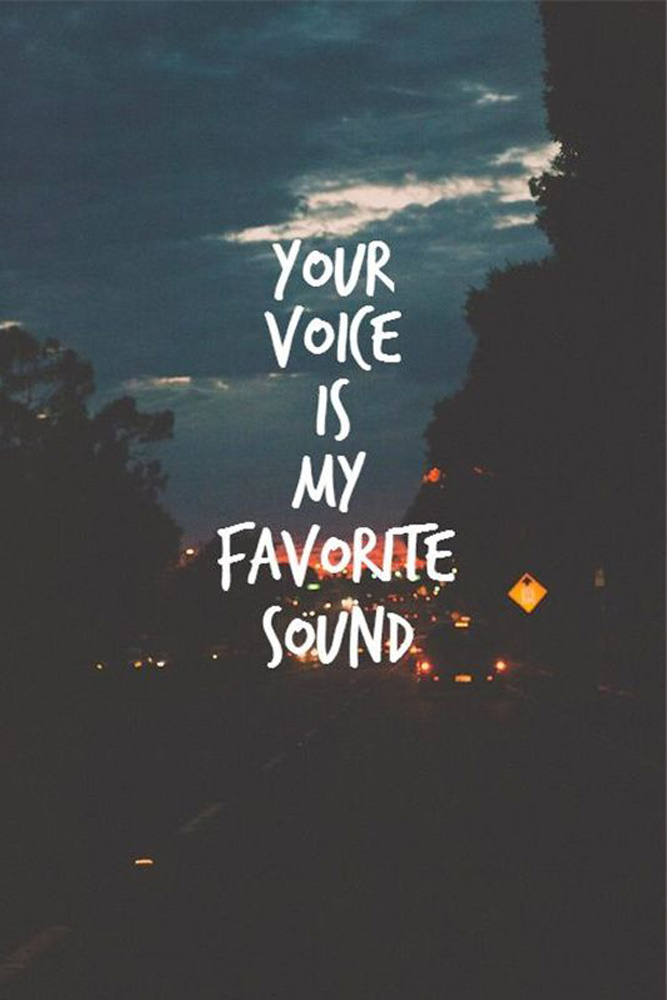 Credit photo: pinterest.com/Nelsonlee2014
Your voice is my favorite sound.
Quote #12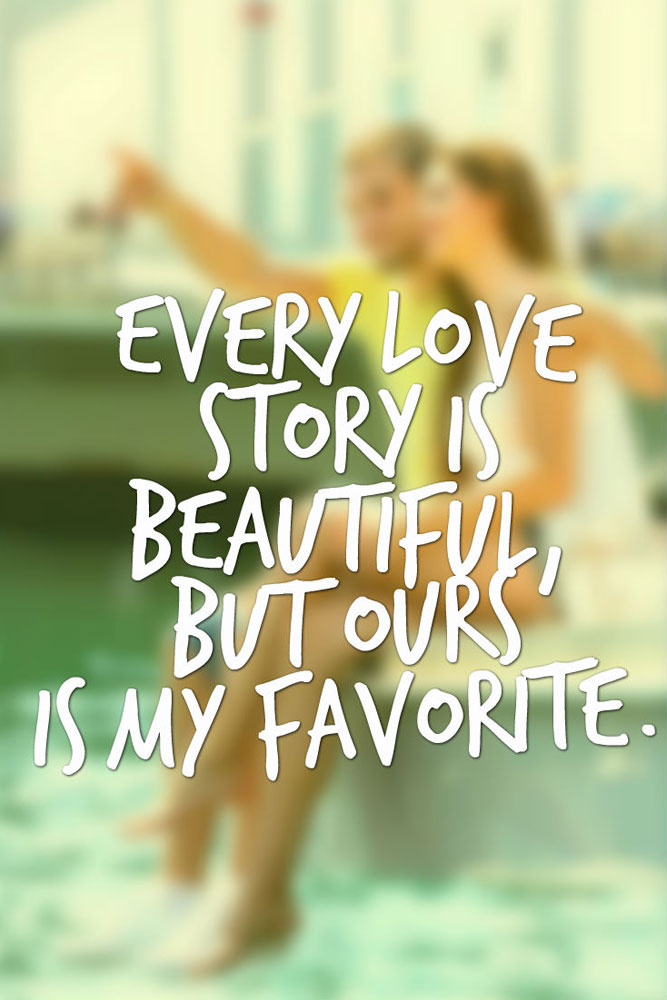 Every love story is beautiful, but ours is my favorite.
Love Quotes For Your Inspiration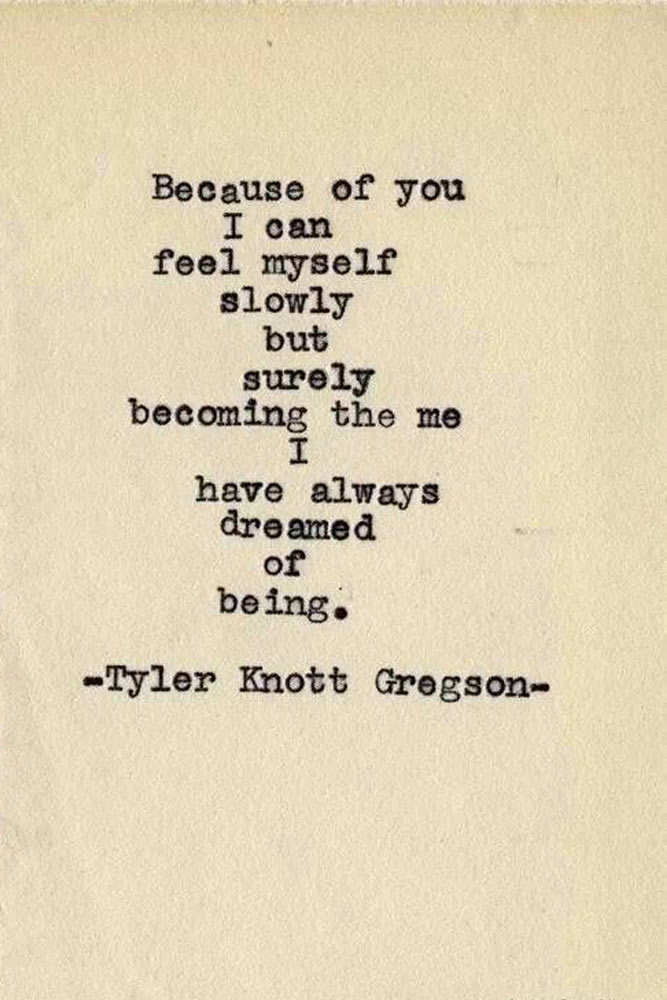 Because of you I can feel myself slowly but surely becoming the me I have always dreamed of being. ~ Tyler Knott Gregson
Quote #14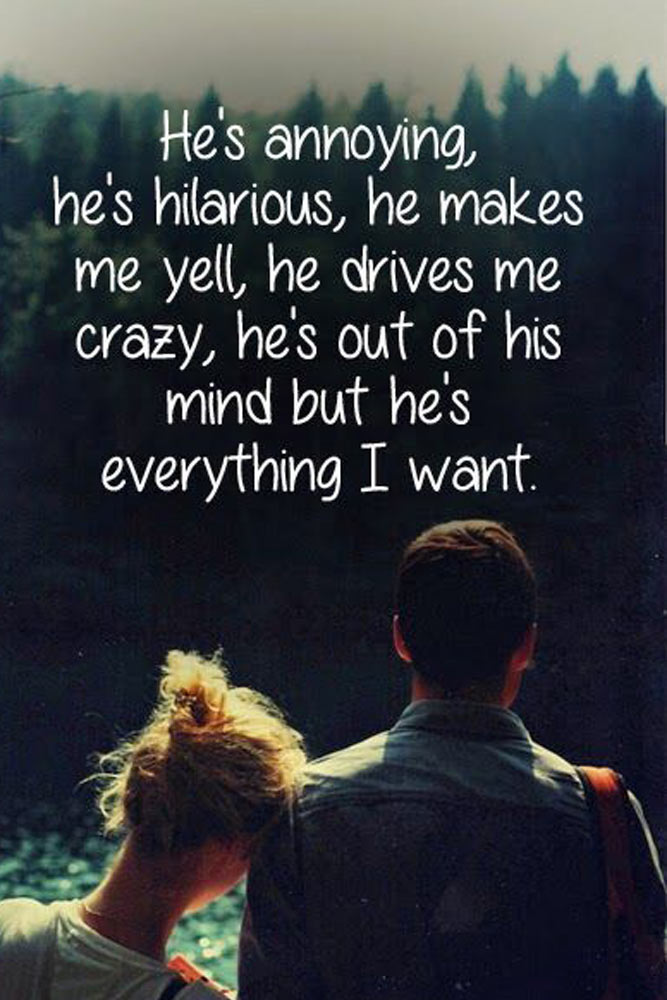 Credit photo: pinterest.com/pattizappa
He's annoying, he's hilarious, he makes me yell, he drives me crazy, he's out of his mind but he's everything I want.
Quote #15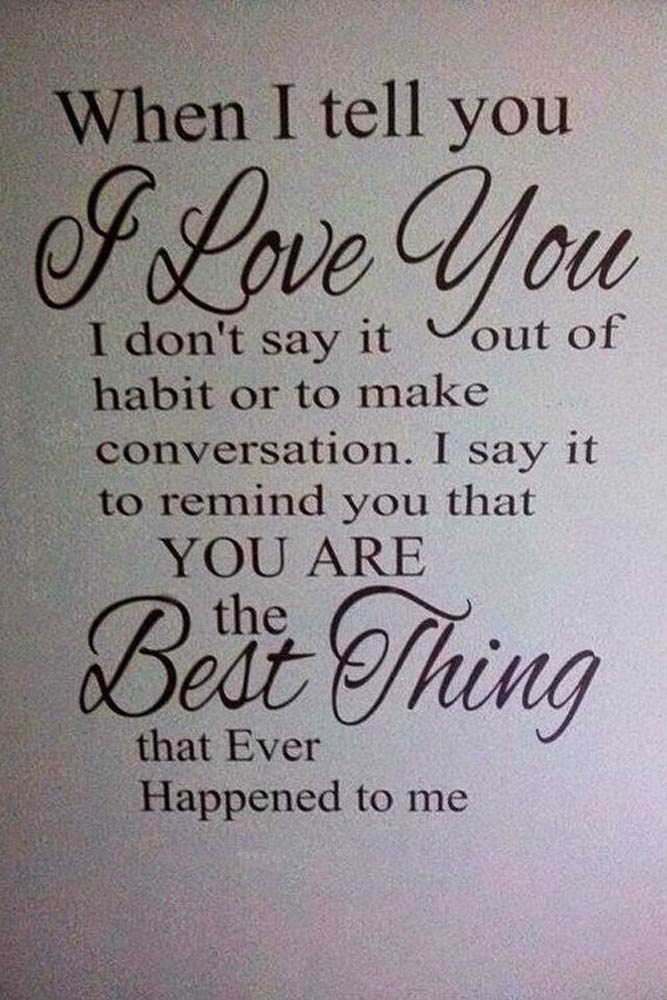 Credit photo: pinterest.com/bobspintrest
When I tell you I Love You I don't say it out of habit or to make conversation. I say it to remind you that you are the best thing that Ever Happened to me.
Quote #16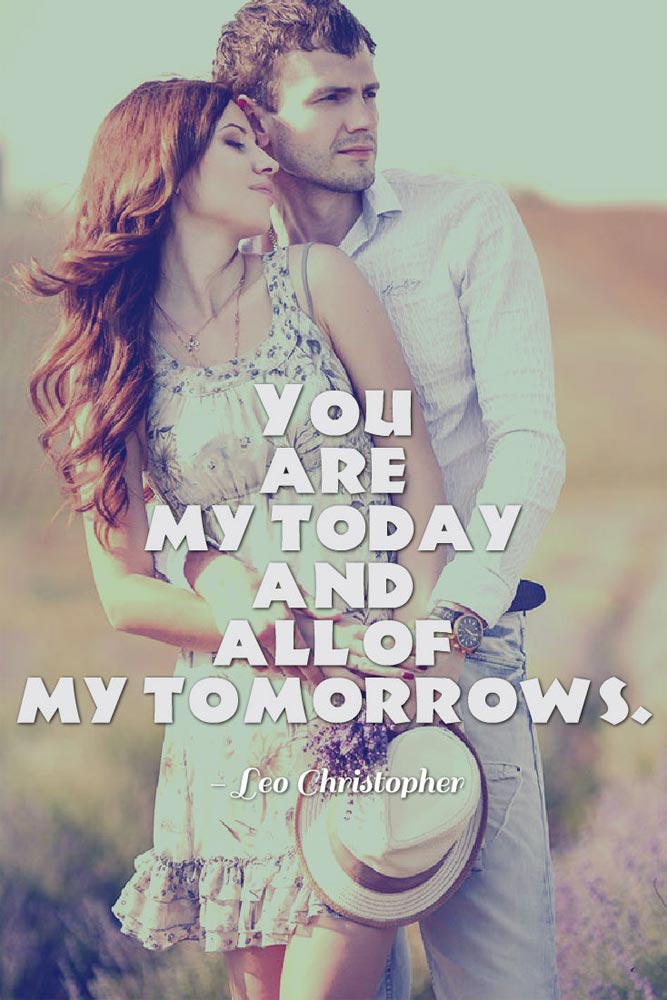 "You are my today and all of my tomorrows. " ~ Leo Christopher
Quote #17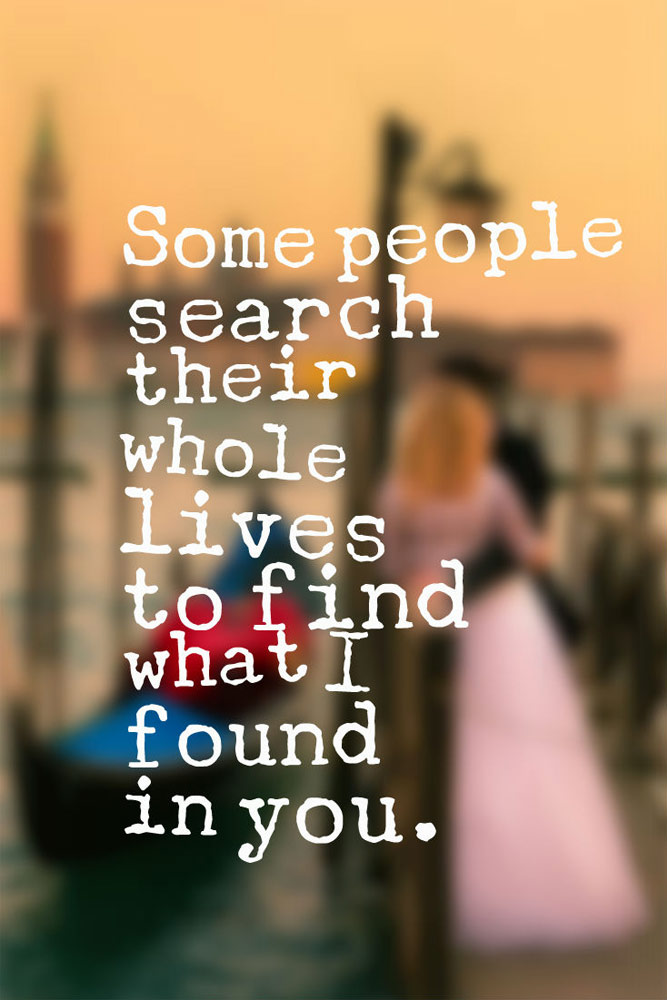 Some people search their whole lives to find what I found in you.
Quote #18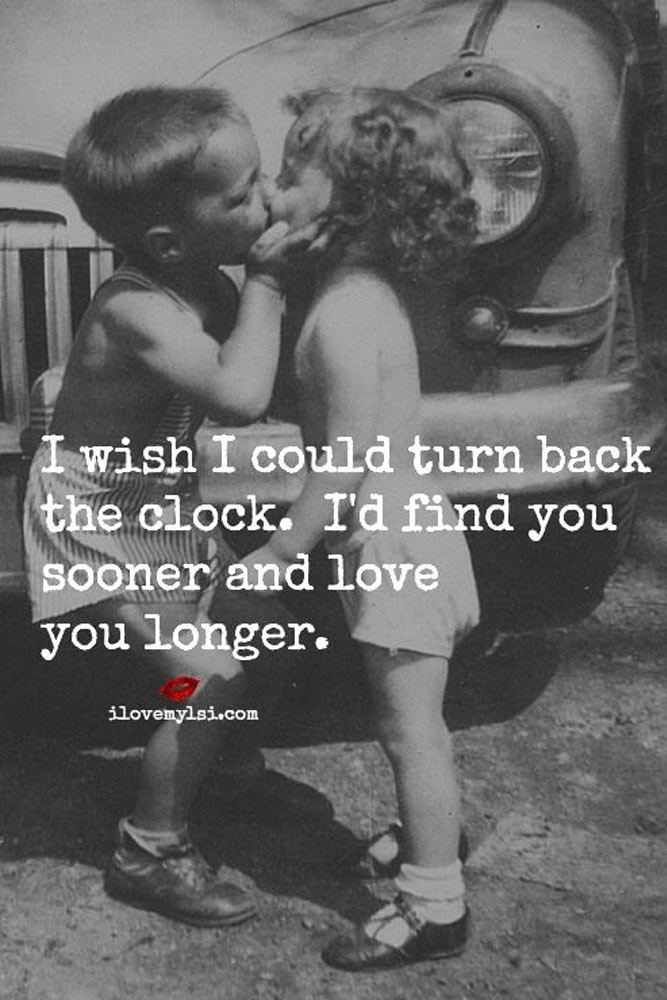 Credit photo: pinterest.com/Scoobs63
I wish I could turn back the clock. I'd find you sooner and love you longer.
Awesome Love Quotes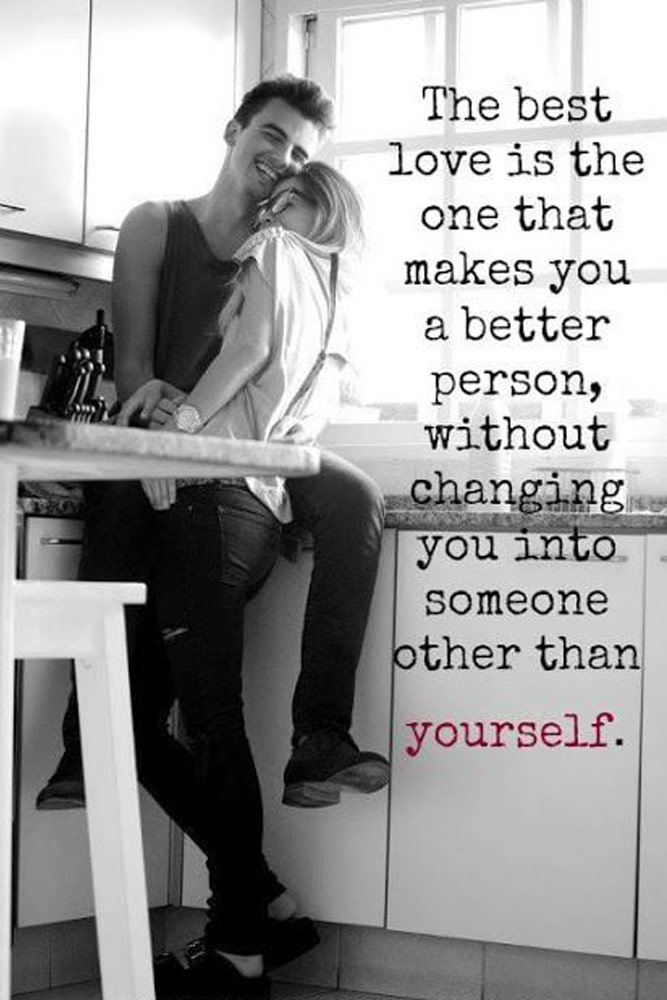 Credit photo: pinterest.com/ceciliaking05
The best love is the one that makes you a better person, without changing you into someone other than yourself.
Quote #20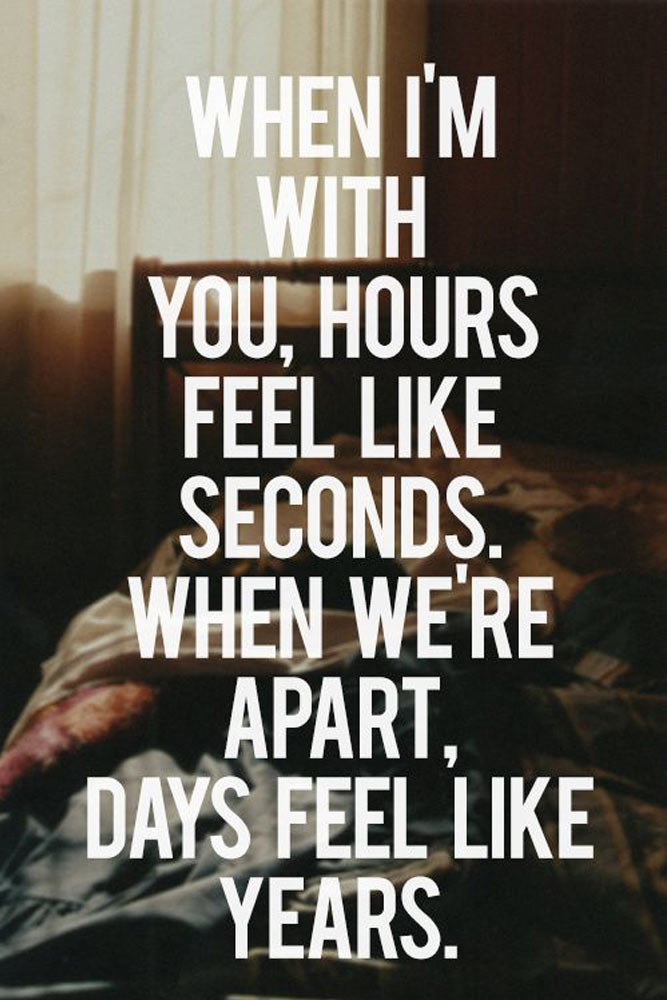 Credit photo: pinterest.com/mya1731
When I'm with you, hours feel like seconds. When we're apart, days feel like years.
Quote #21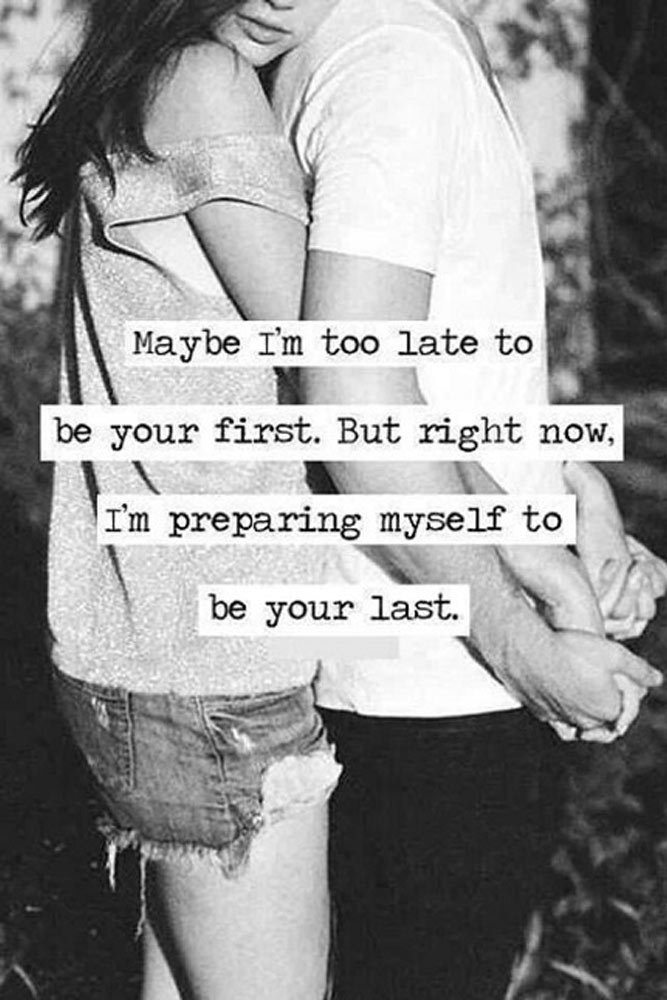 Credit photo: pinterest.com/morningquotes
Maybe I'm too late to be your first. But right now, I'm preparing myself to be your last.
Quote #22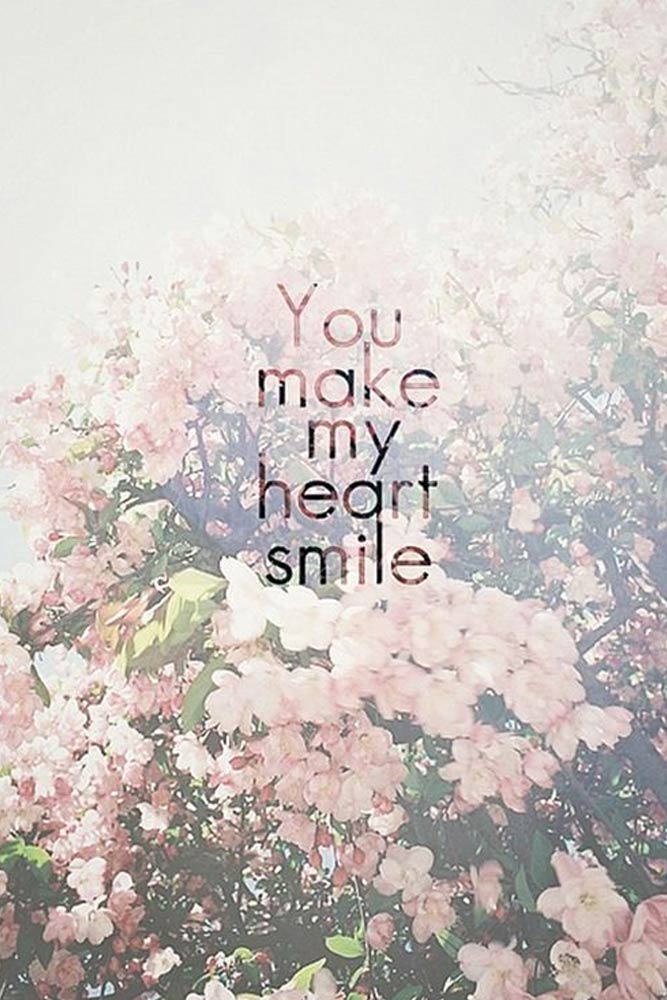 Credit photo: pinterest.com/rennee92
You make my heart smile.
Quote #23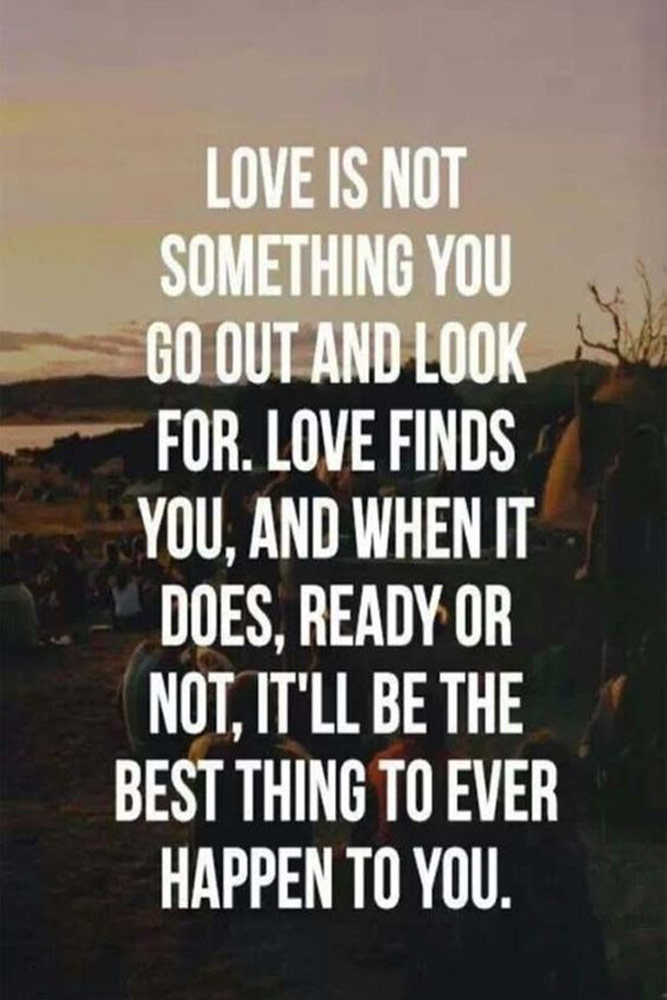 Credit photo: pinterest.com/alexvanwert
Love is not something go out and look for. Love finds you, and when it does, ready or not, it'll be the best thing to ever happen to you.
Quote #24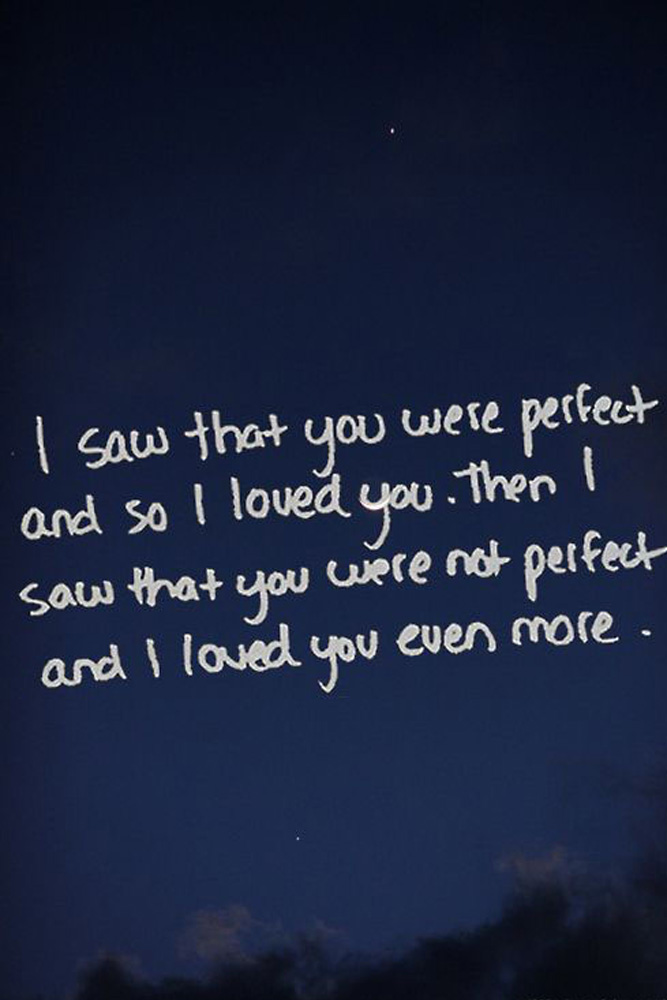 Credit photo: pinterest.com/wgettingmarried
I saw that you were perfect and so I loved you. Then I saw that you were not perfect and I loved you even more.
Quote #25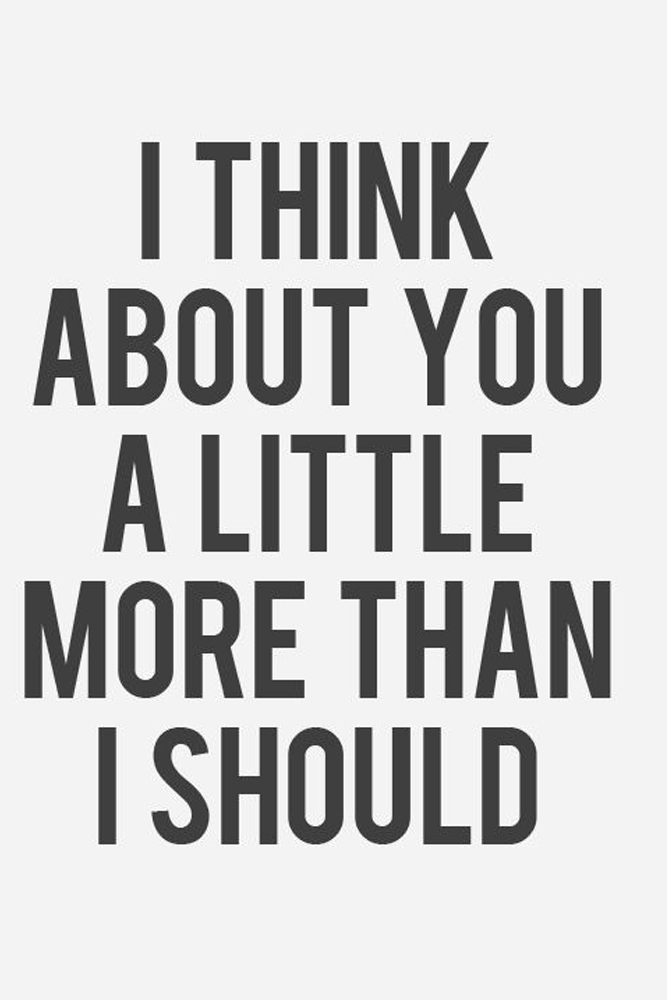 Credit photo: pinterest.com/diamond334
I think about you a little more than I should.
Quote #26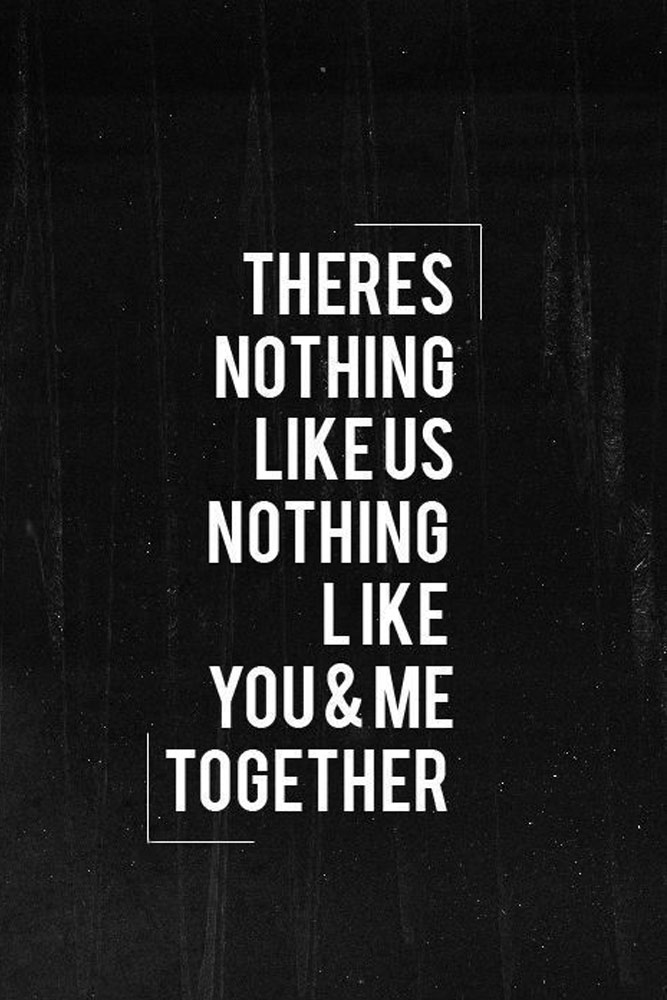 Credit photo: pinterest.com/ishanchronic
Theres nothing like us nothing like you & me together
Quote #27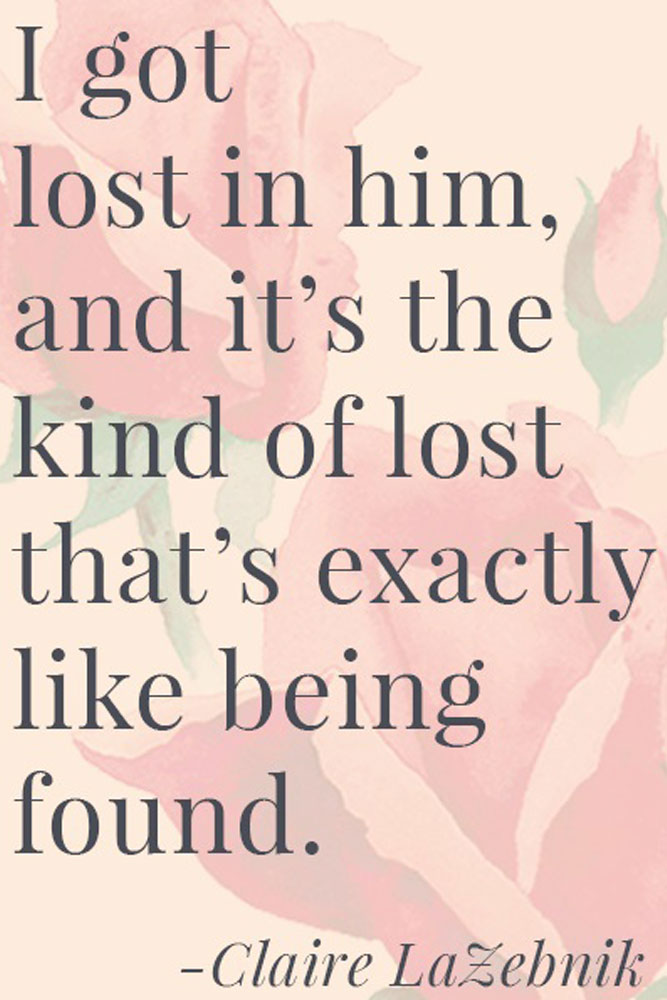 Credit photo: pinterest.com/weddingshoppe
"I got lost in him, and it's the kind of lost that's exactly like being found." ~ Claire LaZebnik
Popular Quotes About Love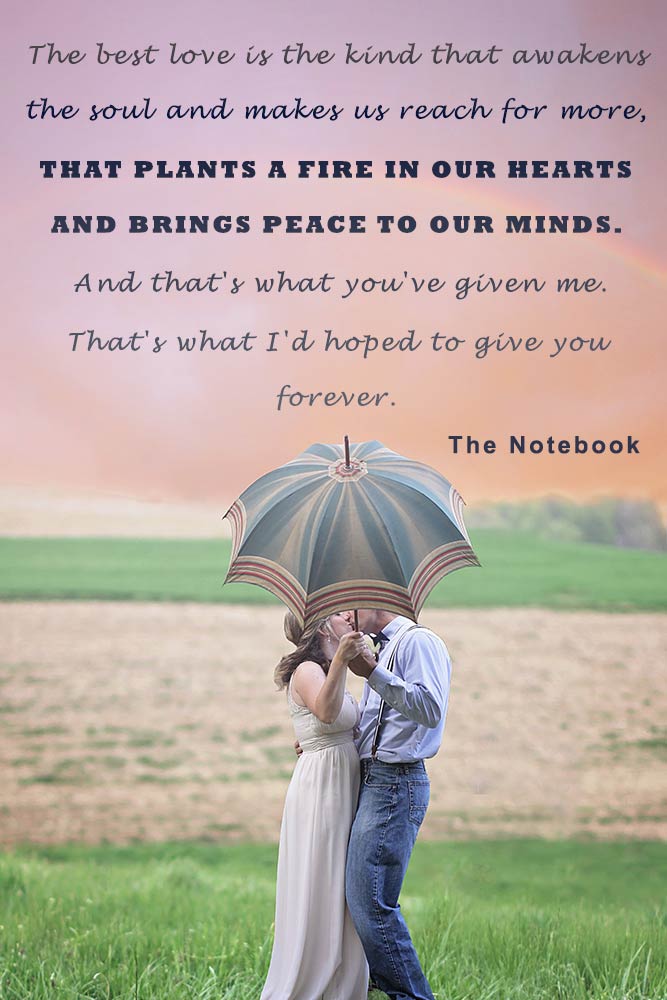 "The best love is the kind that awakens the soul and makes us reach for more, that plants a fire in our hearts and brings peace to our minds. And that's what you've given me. That's what I'd hoped to give you forever". ~ Nicholas Sparks, the notebook
Quote #29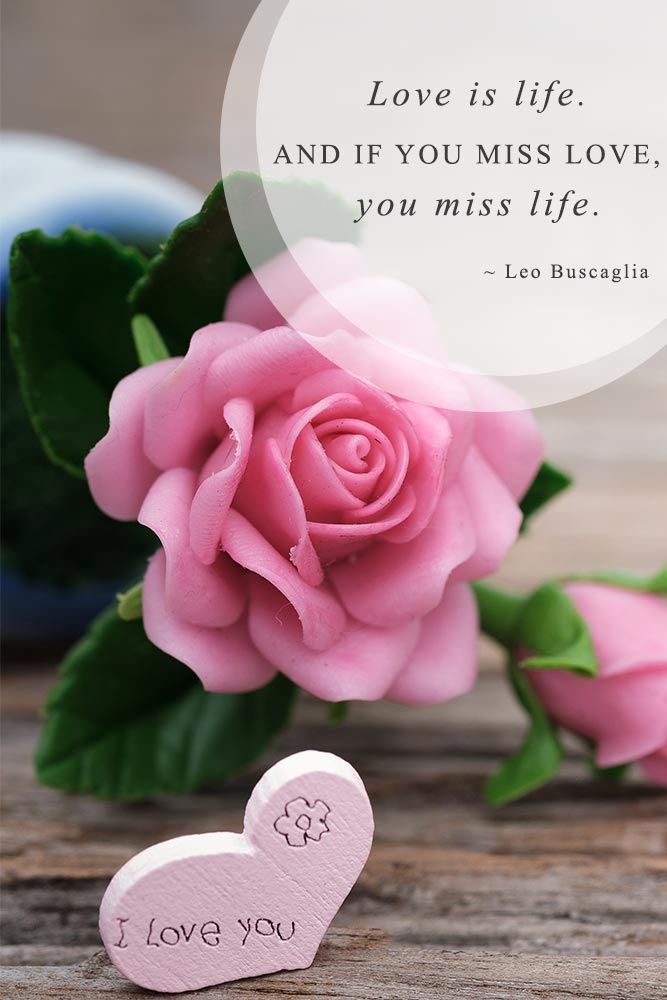 "Love is life. And if you miss love, you miss life". ~ Leo Buscaglia
Quote #30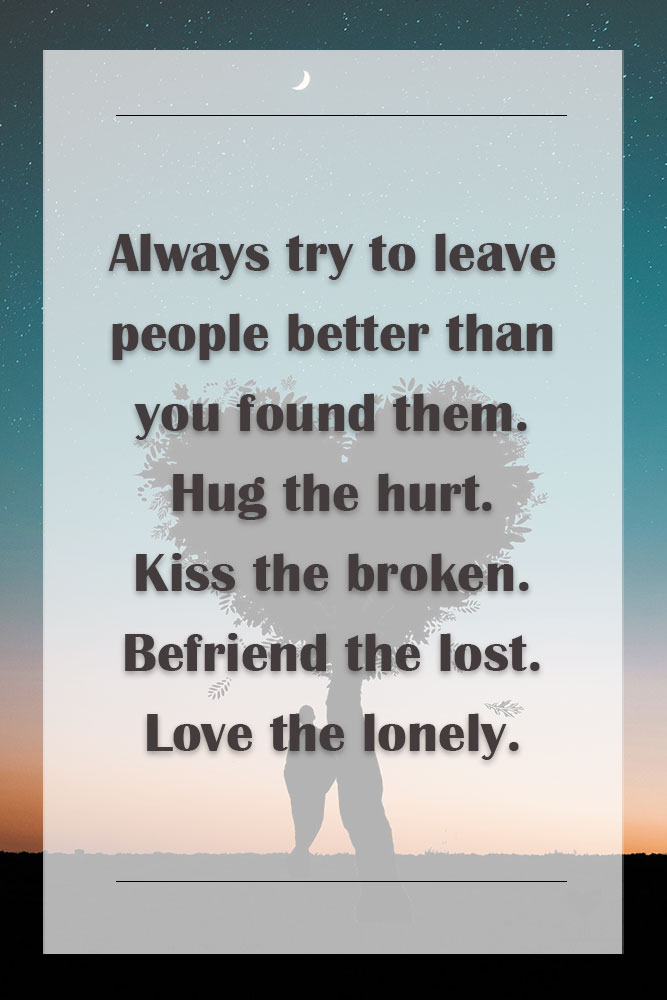 Always try to leave people better than you found them. Hug the hurt. Kiss the broken. Befriend the lost. Love the lonely.
Quote #31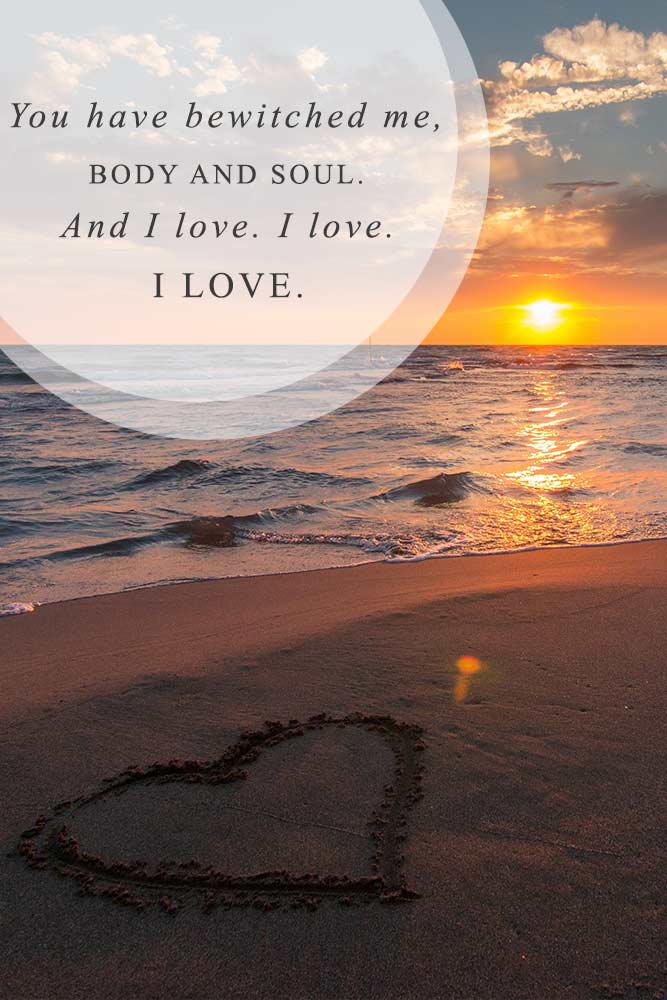 You have bewitched me, body and soul. And I love, I love, I love.
Quote #32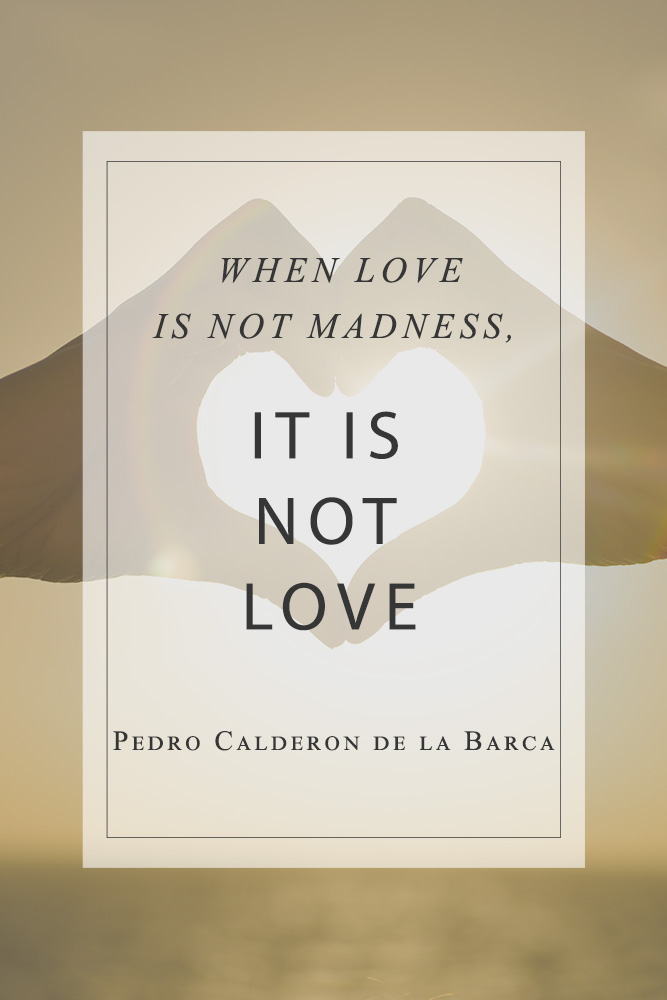 "When love is not madness, it is not love". ~ Pedro Calderon de la Barca
Quote #33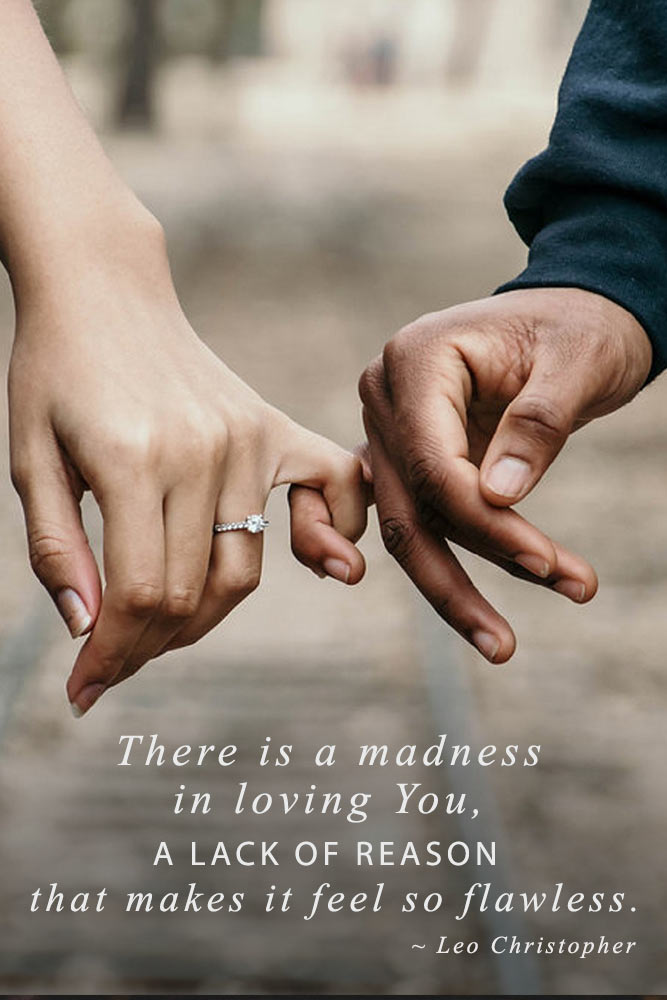 "There is a madness in loving You, a lack of reason that makes it feel so flawless". ~ Leo Christopher
Quote #34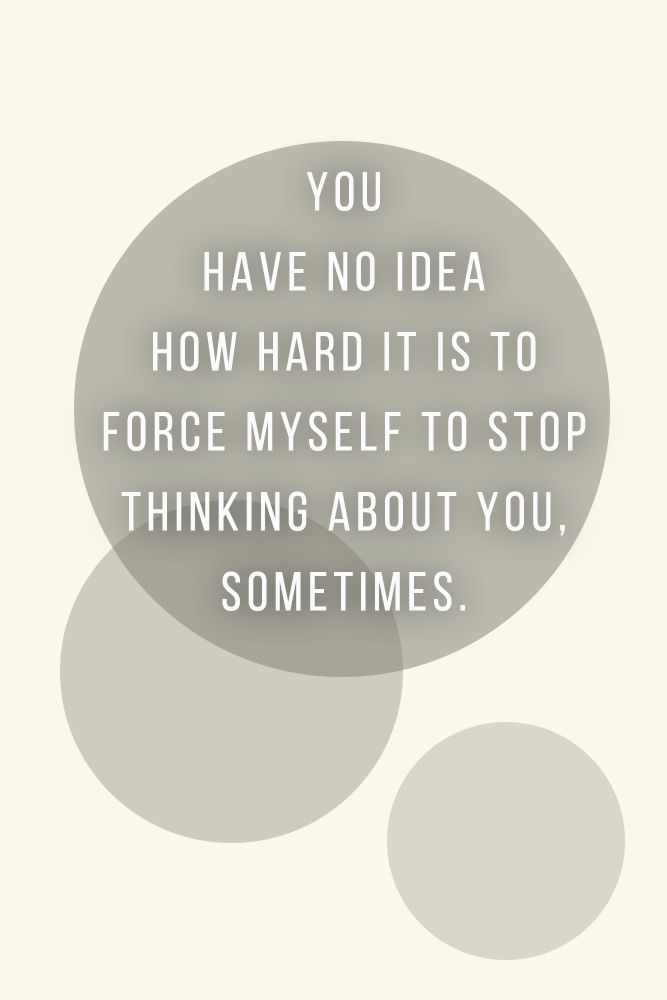 You have no idea how hard it is to force myself to stop thinking about you, sometimes.
Quote #35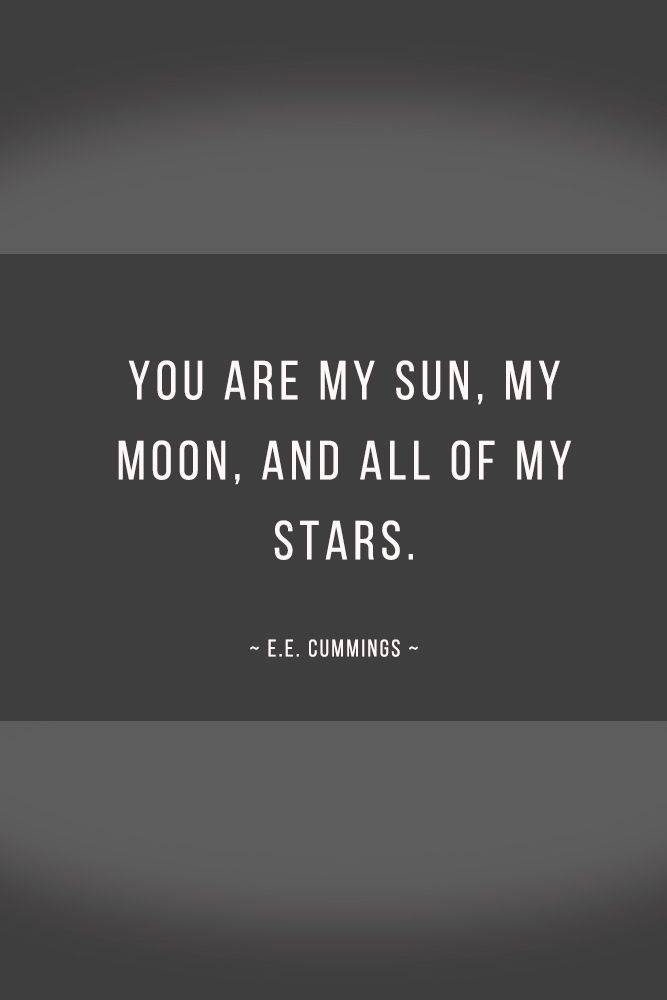 You are my sun, my moon, and all of my stars. - E.E. Cummings
Quote #36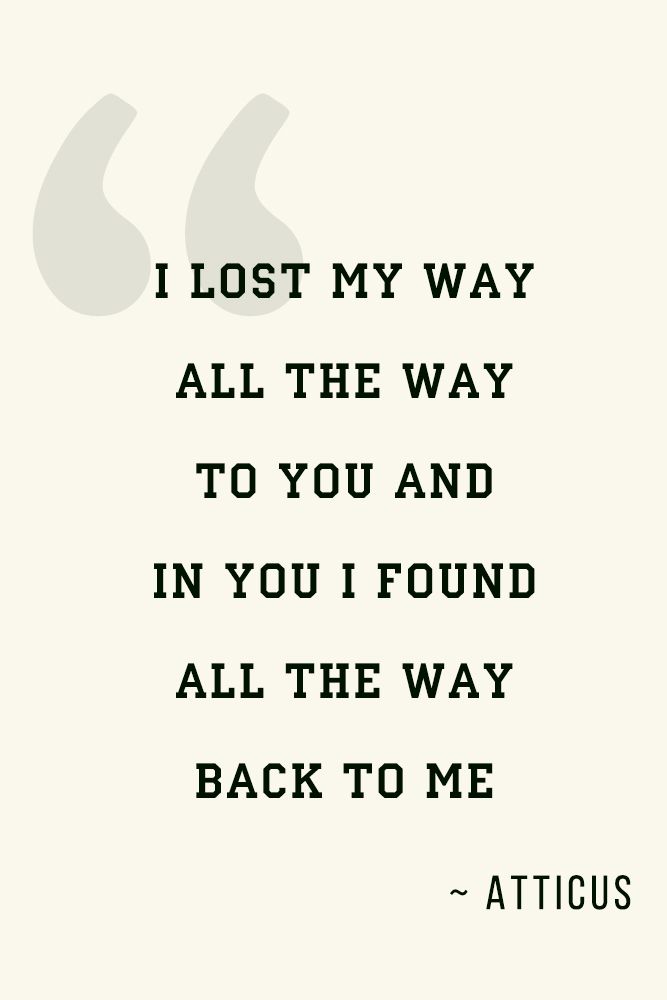 I lost my way all the way to you and in you, I found all the way back to me. - Atticus
Quote #37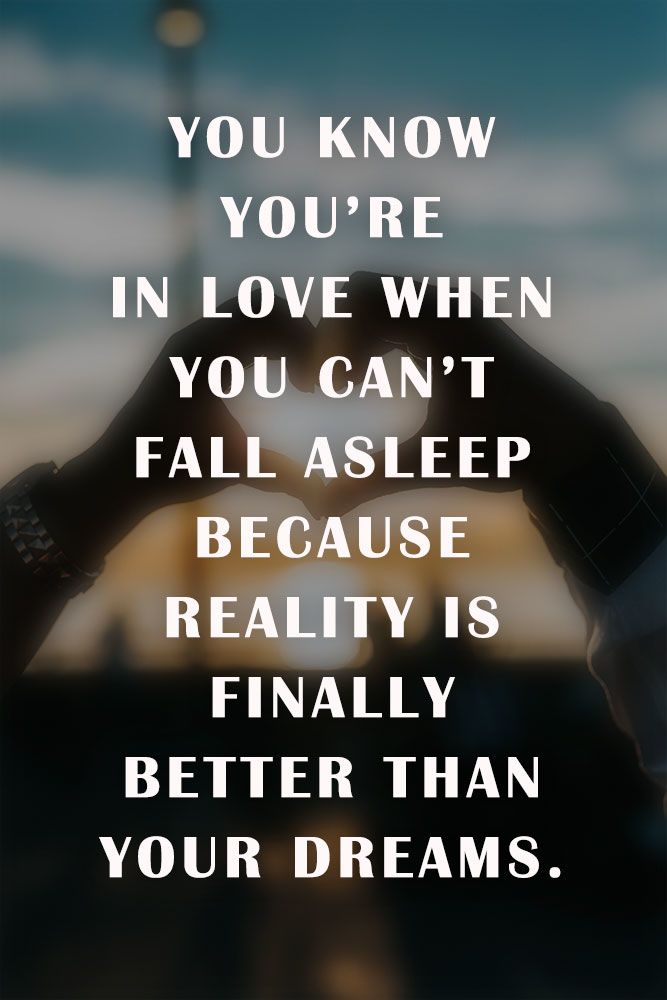 You know you're in love when you can't fall asleep because reality is finally better than your dreams.
Quote #38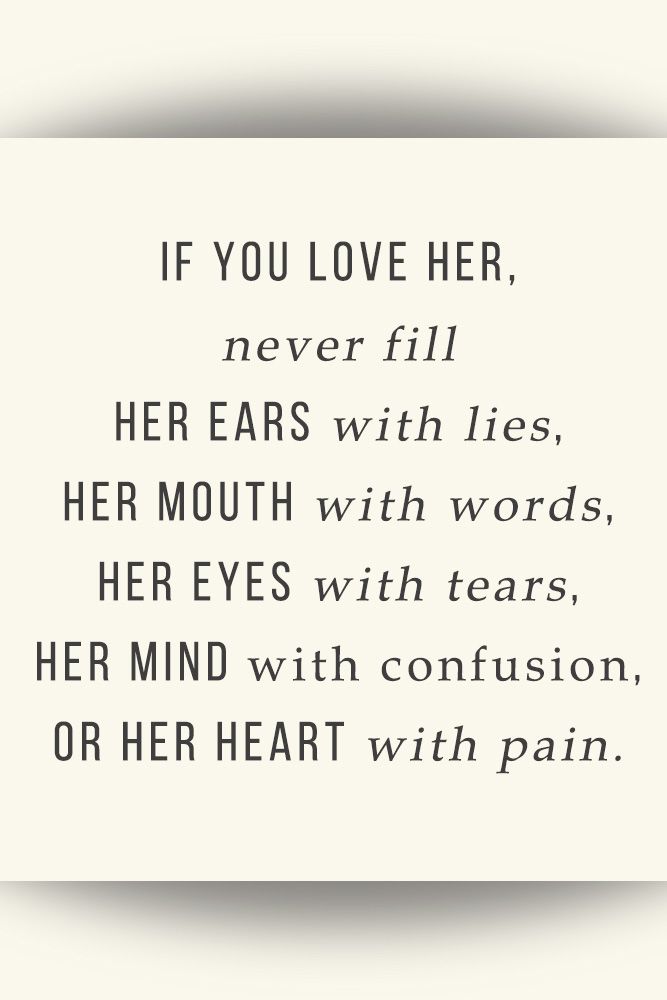 If you love her, never fill her ears with lies, her mouth with words, her eyes with tears, her mind with confusion, or her heart with pain.
Quote #39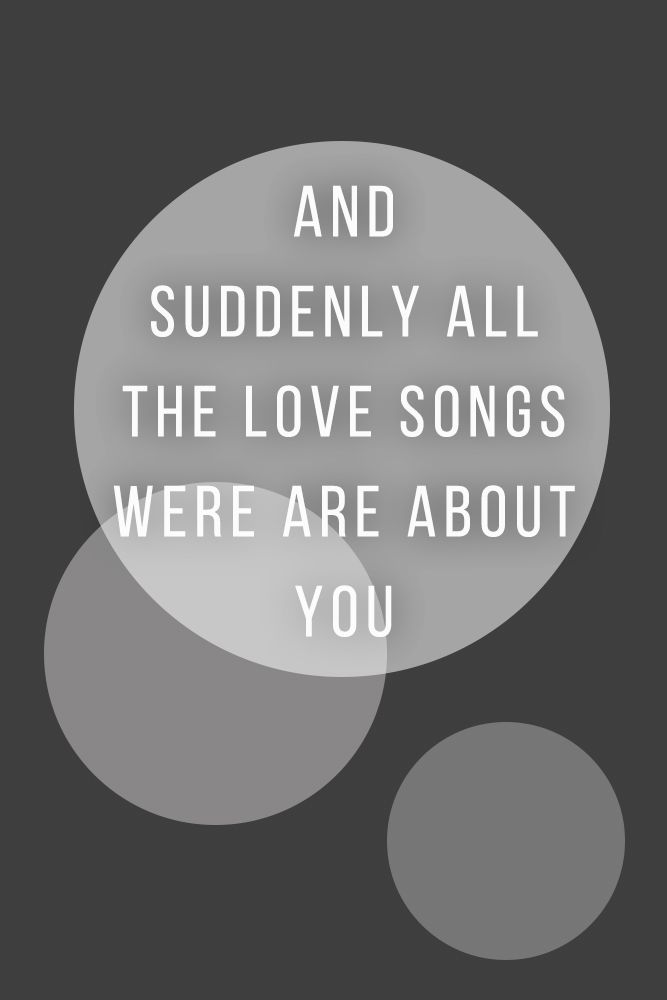 And suddenly all the love songs were are about you.
Quote #40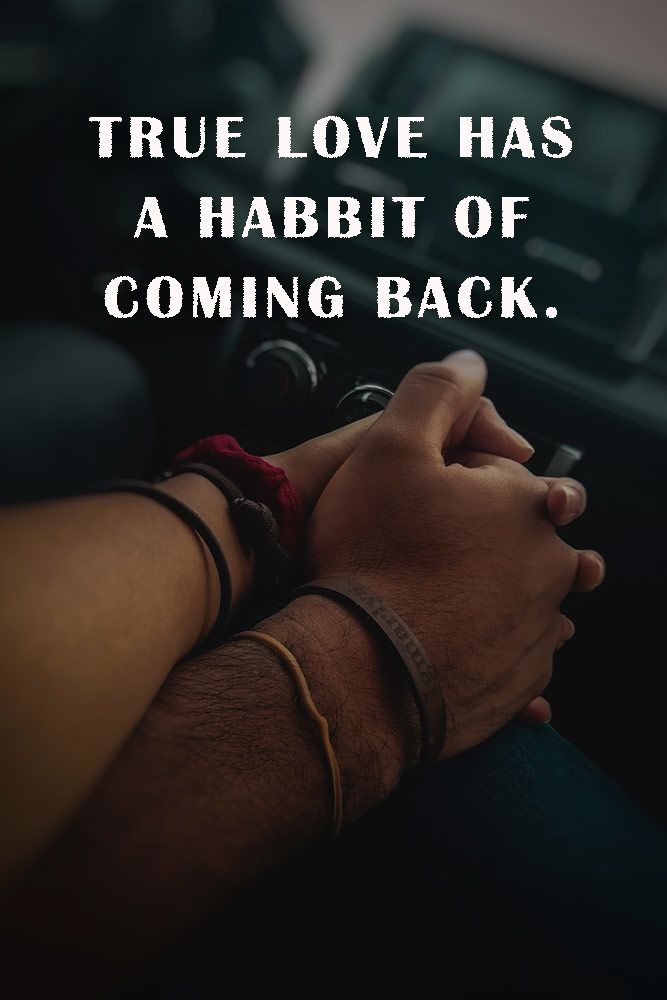 True love has a habbit of coming back.
Quote #41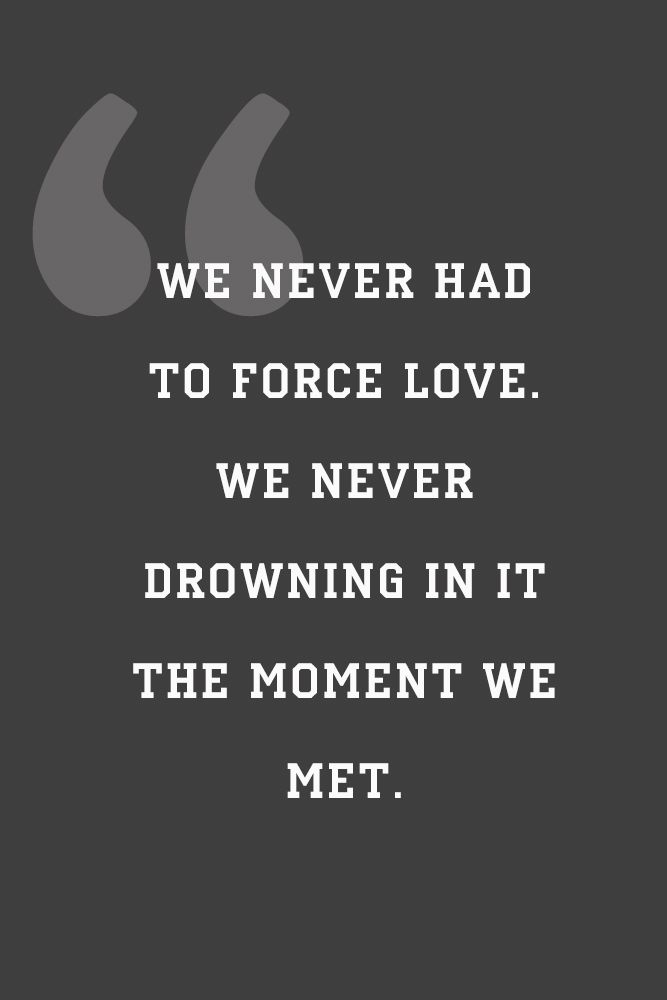 We never had to force love. We never drowning in it the moment we met.
Quote #42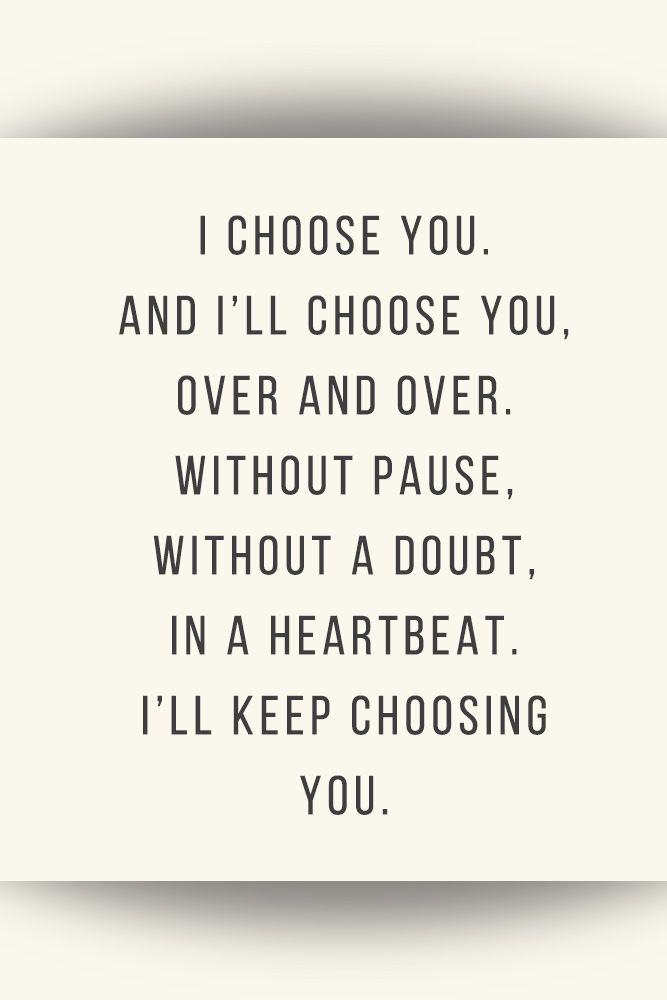 I choose you. And I'll choose you, over and over. Without pause, without a doubt, in a heartbeat. I'll keep choosing you.
Quote #43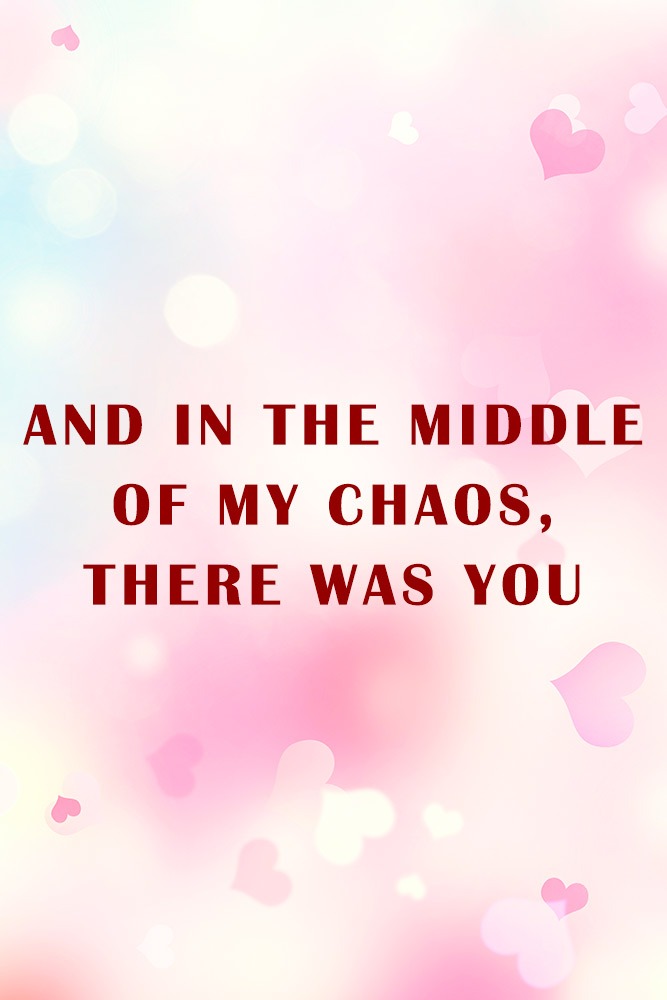 And in the middle of my chaos, there was you.
Quote #44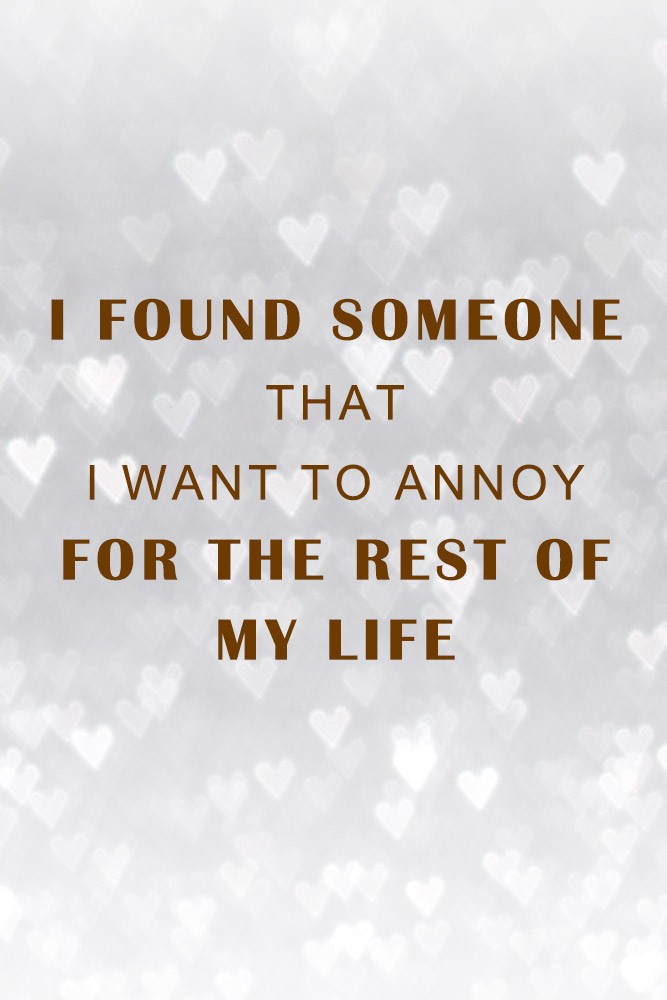 I found someone that I want to annoy for the rest of my life.
Quote #45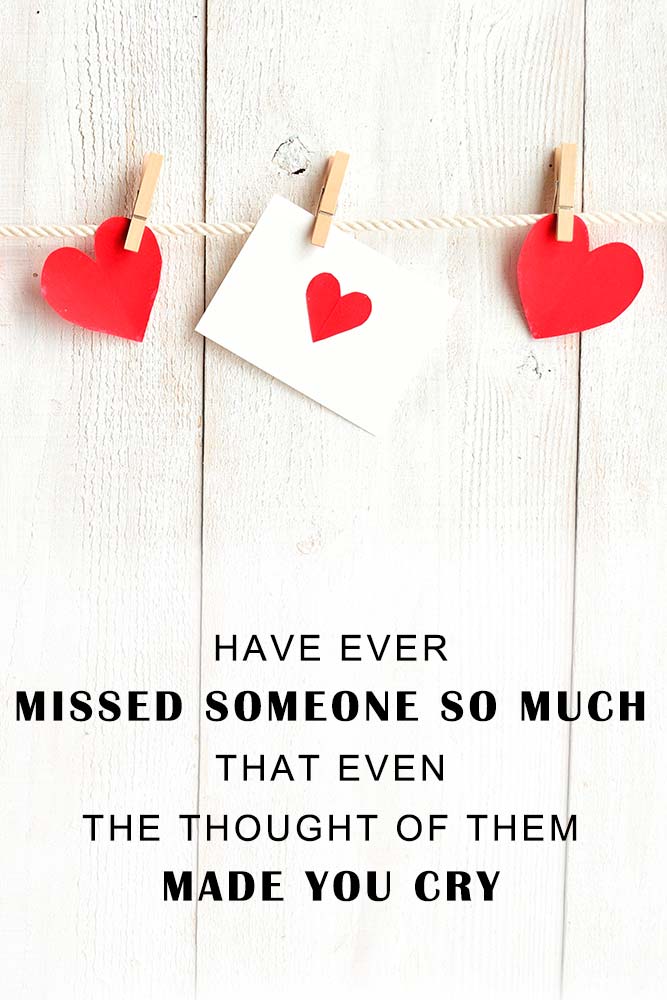 Have ever missed someone so much that even the thought of them made you cry.
Quote #46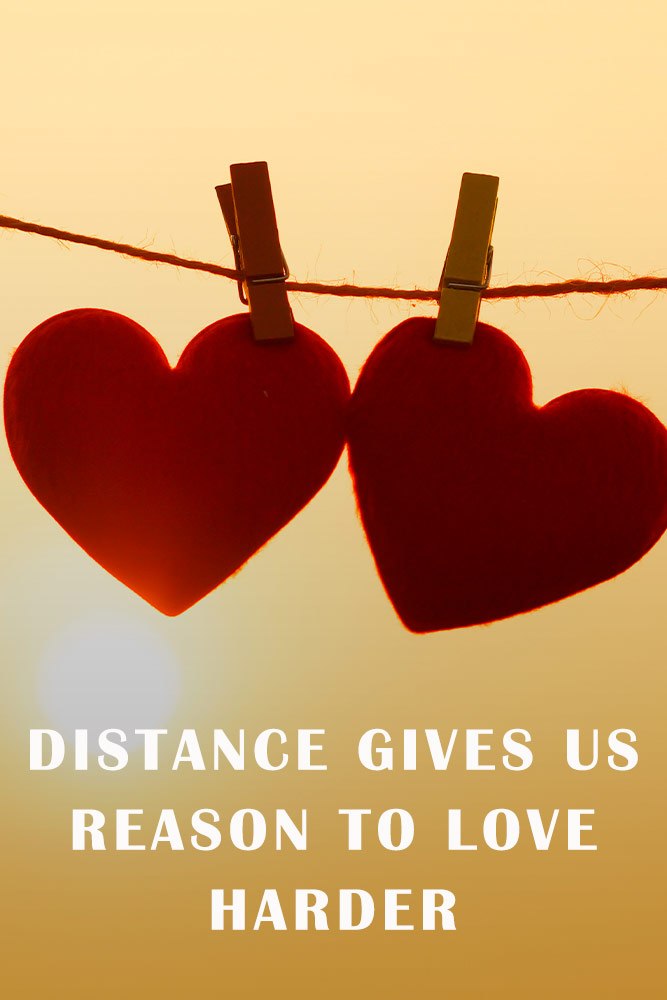 Distance gives us reason to love harder.
Quote #47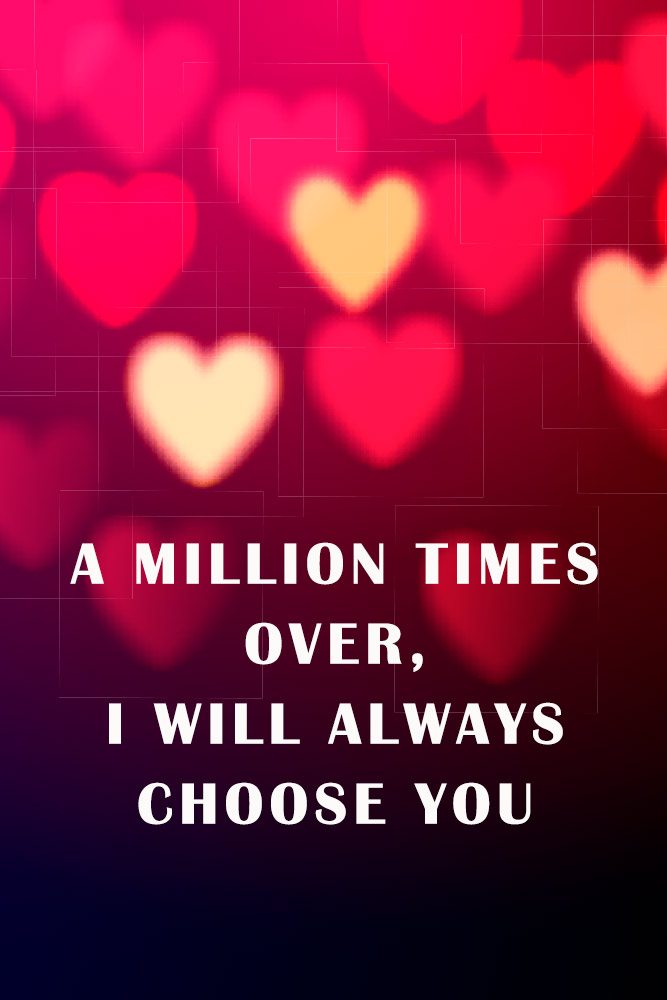 A million times over, I will always choose you.
Quote #48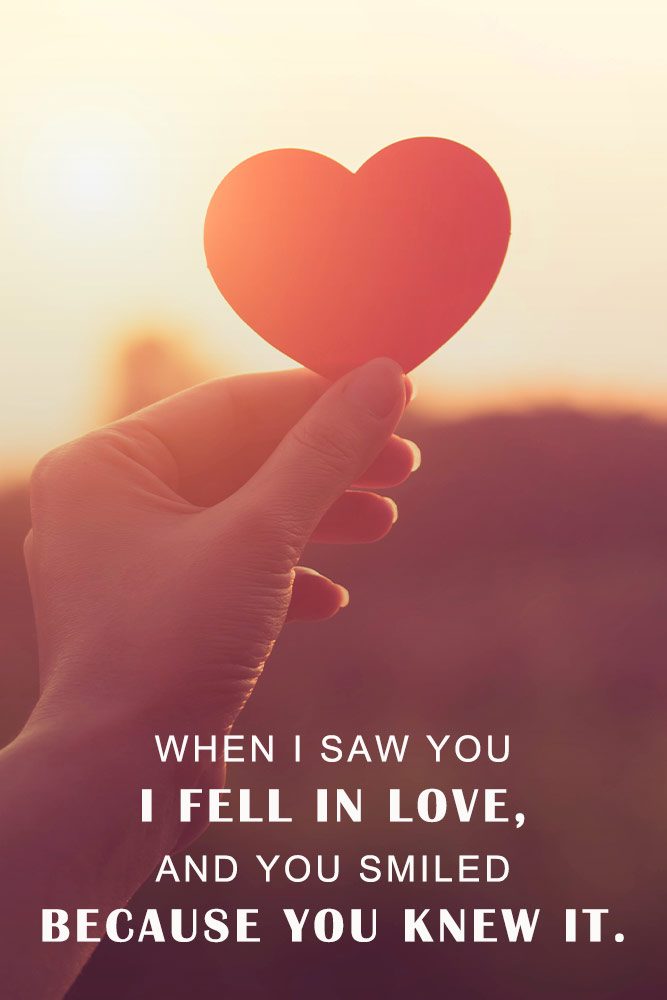 When I saw you I fell in love, and you smiled because you knew it.
FAQ: Love Quotes
What are romantic quote from novels?
Love is what is beautifully commemorated in novels, authors from all over the world used their exceptional understanding of life to illustrate this feeling.
"You should be kissed and often, and by someone who knows how." Gone With The Wind by Margaret Mitchell.
"I wish I knew how to quit you." BrokeBack Mountain by Annie Proulx.
"In vain I have struggled. It will not do. My feelings will not be repressed. You must allow me to tell you how ardently I admire and love you." Pride And Prejudice by Jane Austen.
What is true love caption?
True love is selfless. It is prepared to sacrifice. Sadhu Vaswani.
Life is a game and true love is a trophy. Rufus Wainwright.
True love stories never have endings. Richard Bach.
Nothing can bring a real sense of security into the home except true love. Billy Graham.
I think when we truly love something, we get the same true love in return. Diljit Dosanjh.
Was this article helpful?