An engagement ring is a symbol of true love that lasts forever. And this tradition dates back to 2800 BC. A circle means eternity because it has no end or beginning. And a hole in a ring is significant too – it represents a door or a getaway. So, it's love that will never die.
A wedding ceremony is held for a groom and bride to say their vows and then exchange their rings. They place the rings on ring fingers.
Now get your inspo and see amazing rings for your engagement.
Gold Engagement Ring Designs
Unique Oval Engagement Ring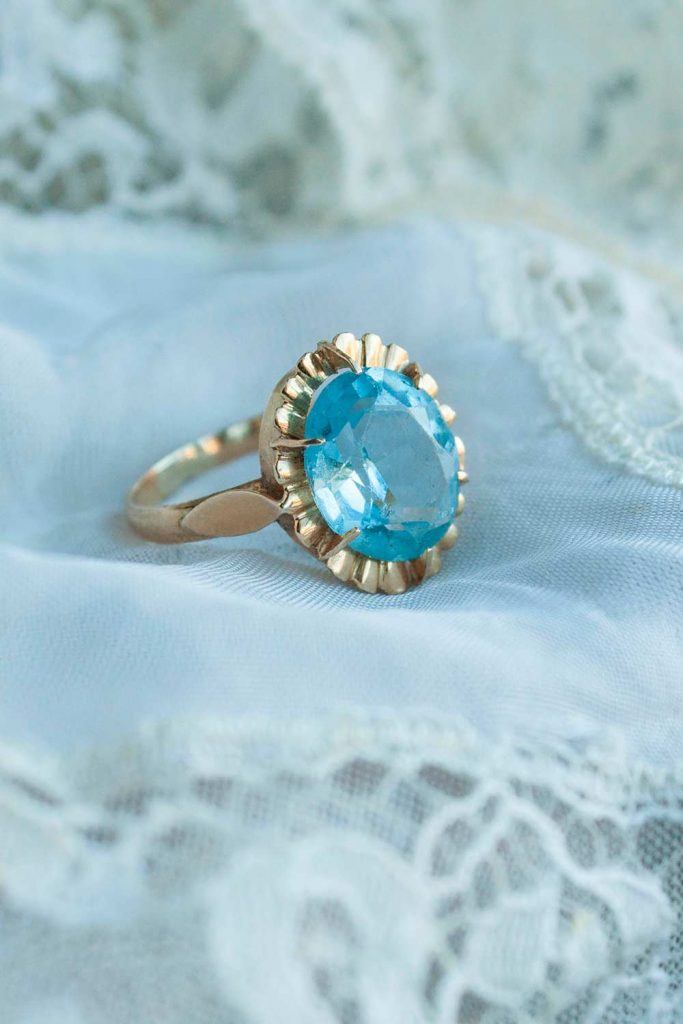 Many people wonder which the engagement ring finger is. Traditionally in the US brides wear the ring on their left hand, the 4th finger. How did this tradition appear? Ancient Romans thought that there was a vein leading to a person's heart on this finger. They called it the Vein of Love. That's why couples in love chose to wear their engagement rings on this particular finger. Today it is known that such a vein does not exist. But we really love this story. So, the tradition continues. Many brides opt for an oval diamond like you see here.
Royalty Old-Style Engagement Ring
Diamond engagement rings have been a symbol of people's commitment and eternal love for a while already. Many people are chasing old-style rings because they are rare and valuable.
Diamonds are the most durable and hardest substance on Earth that occurs naturally. So, it's a nice choice in order to represent everlasting, enduring love. Plus, every diamond is unique and very rare. You can't find two identical diamonds. And the story of every couple is unique, as well.
But diamonds are not a must when it comes to an engagement ring. Such rings can be encrusted with other gemstones and whatever else is to your taste.
Also, traditionally a man makes a proposal, and a woman tends to wear the ring. But today a man can wear one too, especially if it's a same-sex engagement.
Rose Sapphire Ring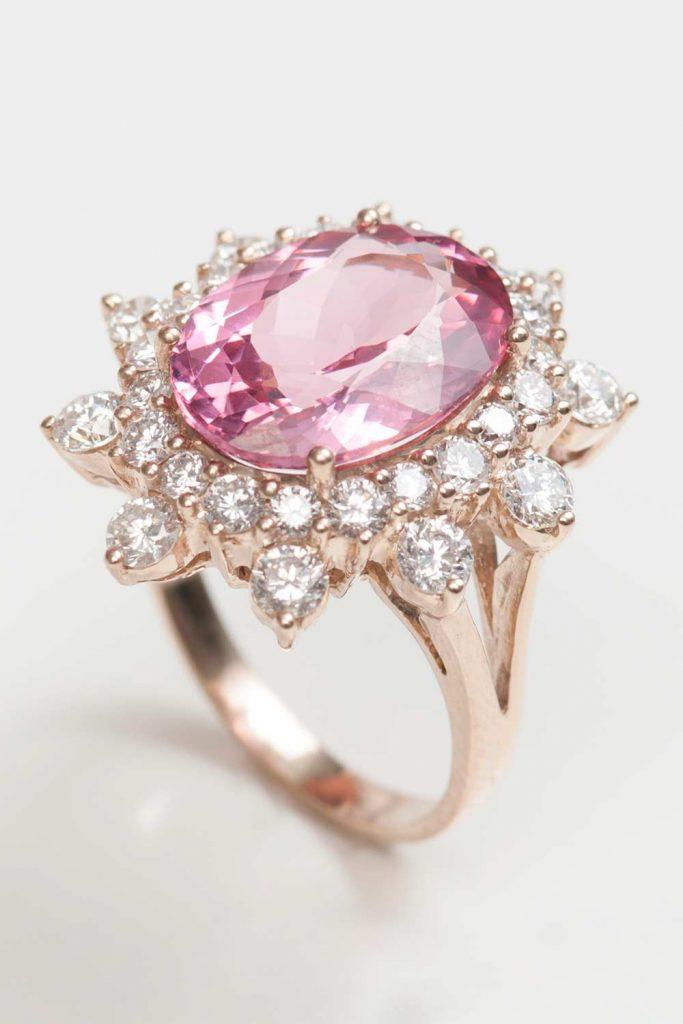 Just look at this rose sapphire ring! Isn't it gorgeous? And the gem is pretty big here. Which brings to our mind one thing. What if you spend a fortune on the engagement ring and it won't fit your partner? Well, that could happen. How to determine the ring size if you don't want to spoil the surprise? It is tricky though possible. Just sneak one of the rings and ask a professional jeweler to size it. Voila! That's so simple!
Diamond Engagement Ring Sets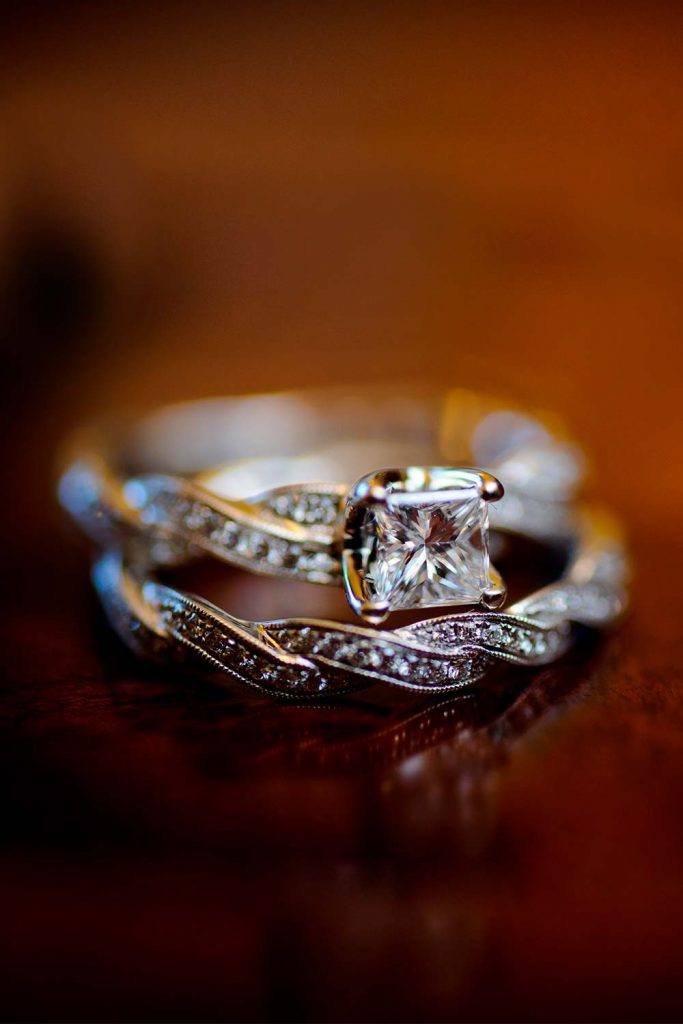 The diamond jewelry you can see here consists of multiple gemstones with a big central gem – a little twist on the classics. And the color of these gems is so pure. But keep in mind that the color is not always that bright and brilliant. Sometimes the color has traces of some elements that affect the value of the gem.
Delicate Princess Cut Engagement Ring
Credit photo: instagram.com/bestbrilliance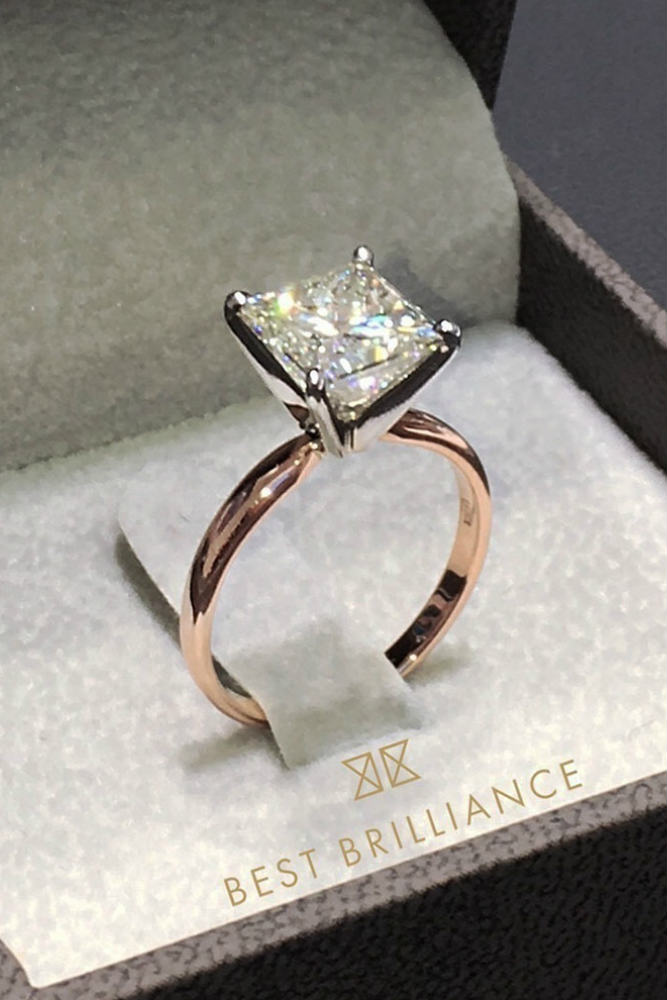 Princess cut engagement rings are quite popular nowadays. And overall, the cut of a diamond is related directly to its beauty. It's because the correct cut makes a diamond refract and reflect the light in an amazing manner. There are specific angles and proportions established among cutters to ensure that the gem is presented in the best light.
Amazing Rose Gold Ring Set
Credit photo: instagram.com/kirkkara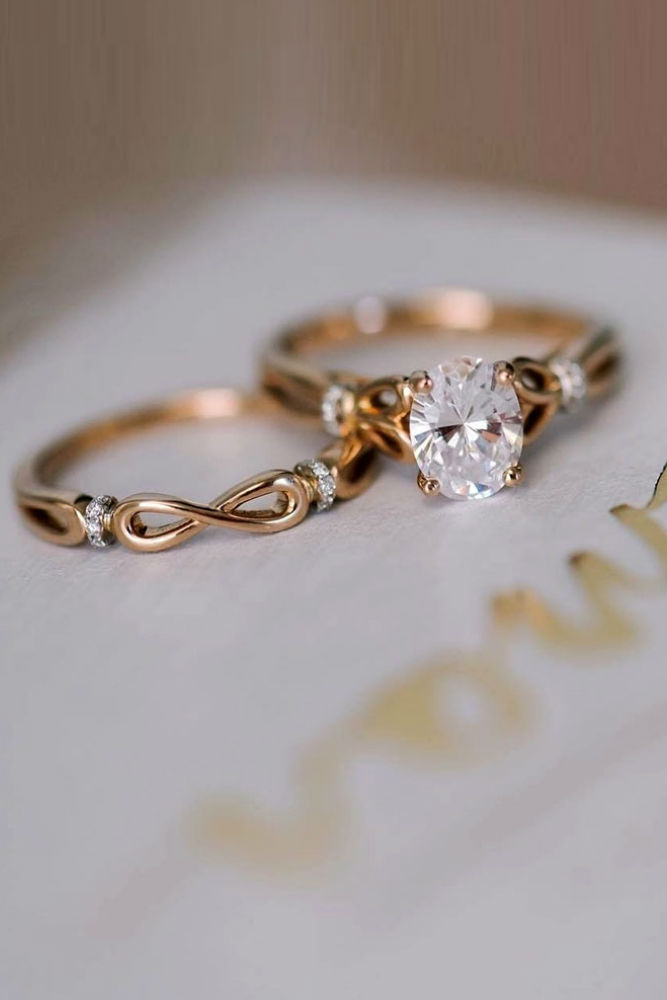 Isn't this ring set in rose gold stunning? When it comes to engagement rings gold is the common metal they are produced of. It's because as a metal, gold is very versatile. That's why it's chosen for making jewelry so often. Gold is measured in karats. The pure gold is 24 karats, but it comes more often in 18 karats, 14 karats, 10 karats.
Beautiful Diamond Sparkle
Credit photo: instagram.com/moissaniterings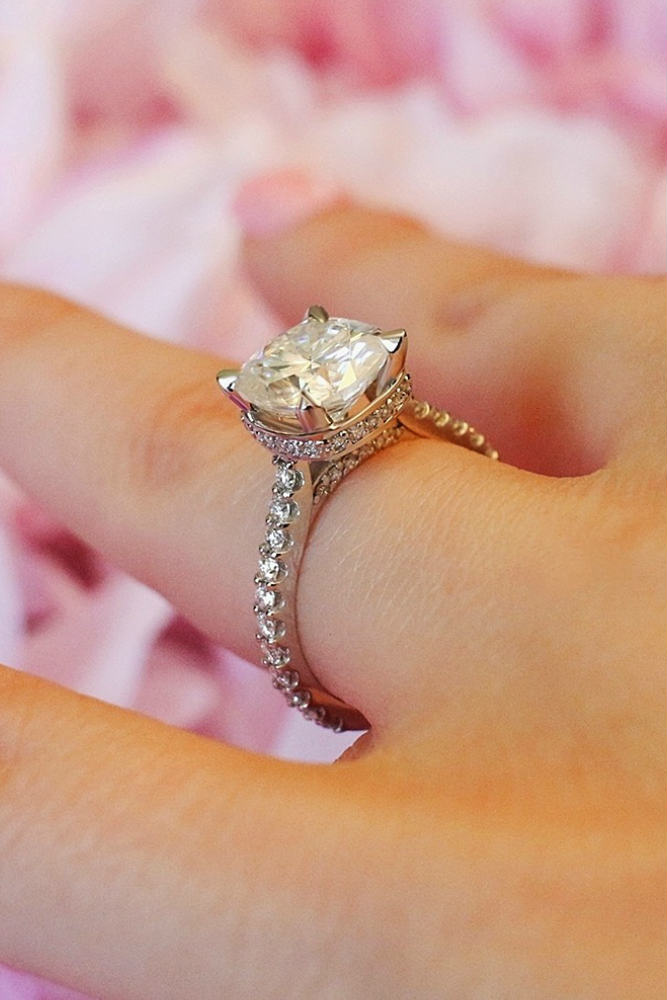 This ring has so many gems encrusted - looks gorgeous. Do you know that when buying an engagement ring for your proposal, there is a trick? For example, you hesitate about the size or style of the ring. Then you can buy a gem and some temporary ring, its setting. Then if your honey doesn't like it, you can always have the diamond or other gem re-set into another setting.
Rose Gold Set For The Real Lady
Credit photo: instagram.com/lamoredesign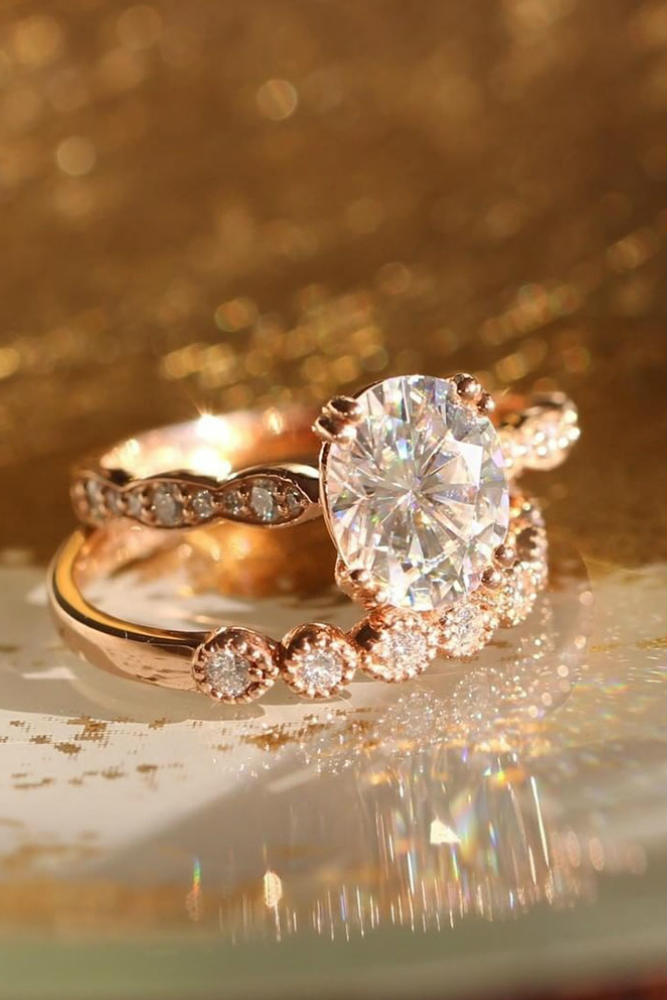 An engagement ring in rose gold is especially romantic and unique. Such a ring has a warm and pink hue that resulted from combining gold in yellow with one of the alloy materials – copper. And the presence of alloy in rose gold rings does not mean lower quality. It's the copper that gives the color, not the high percentage of the alloy.
Fabulous Set With Wedding Bands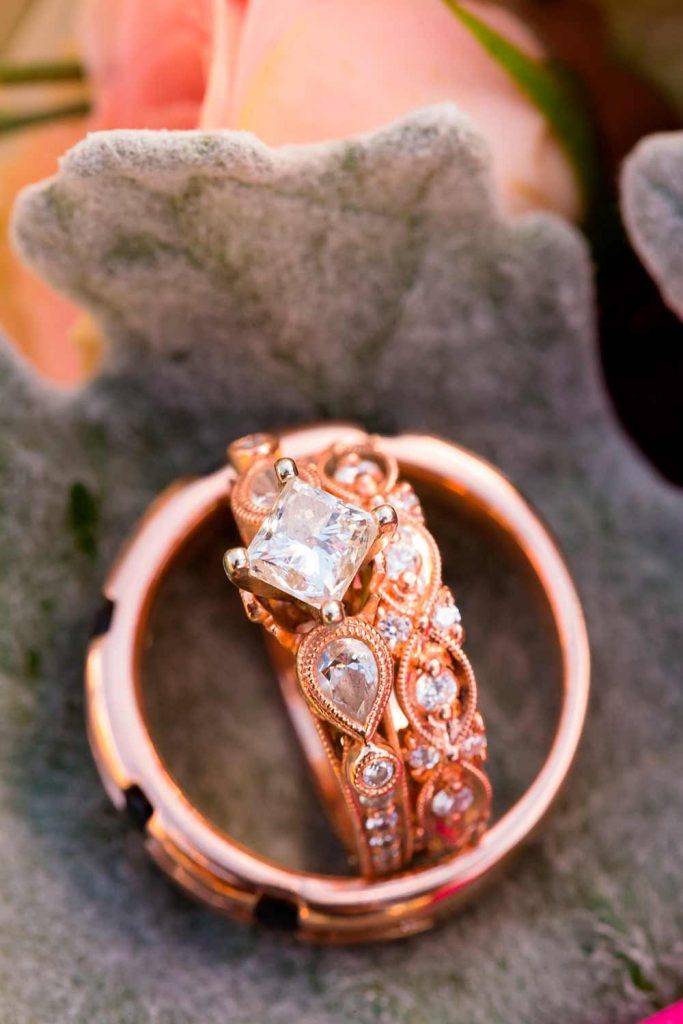 The ring you can see here consists of 3 bands with small gems and a huge central gem. If you choose to buy a gold ring, ensure that you go for 14 karat gold, but not 18 karat gold. On the one hand, 18 karat gold costs more money and is, therefore, more valuable. On the other hand, it can scratch easier because of its softness. So, 14 karat gold better resists scratches.
Beautiful Three Stone Ring
Credit photo: instagram.com/brilliantearth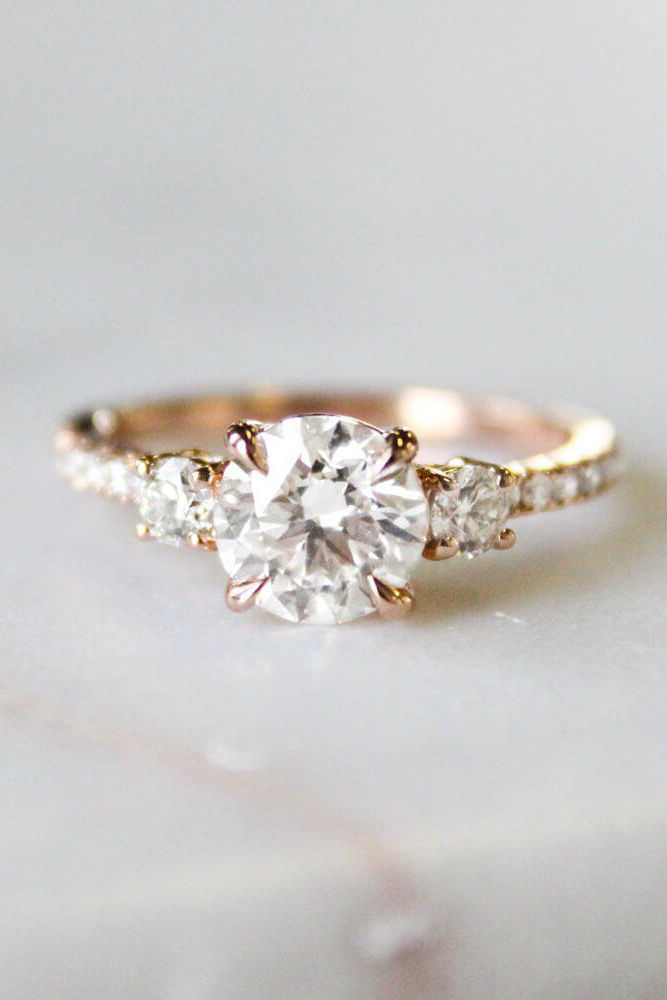 When it's your engagement, you want everything to be perfect. And the ring you see here definitely falls under this criterion. Plus, 3 smaller gems will cost less than 1 huge gem.
Platinum Engagement Ring Designs
Split Shank Engagement Ring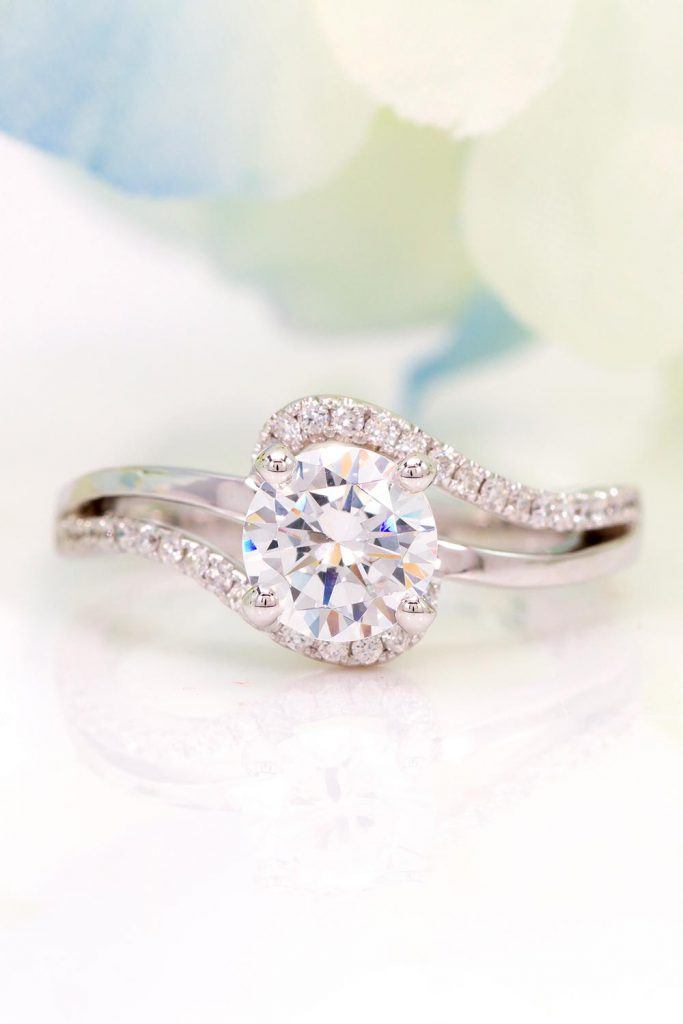 When choosing an engagement ring for your sweetheart, of course, you want her or him to wear the best ring in the world. But naturally, not all of us can afford a super expensive ring.
So, think about your budget and pick the ring accordingly. And the earlier you think about it, the more chances that you will use your money wisely. A thing to keep in mind: diamonds can be lab-created and these cost cheaper than natural diamonds. This split shank ring with many gems would have cost a fortune if encrusted with natural diamonds.
Flower-Shaped Engagement Ring
Credit photo: instagram.com/greenlakejewelry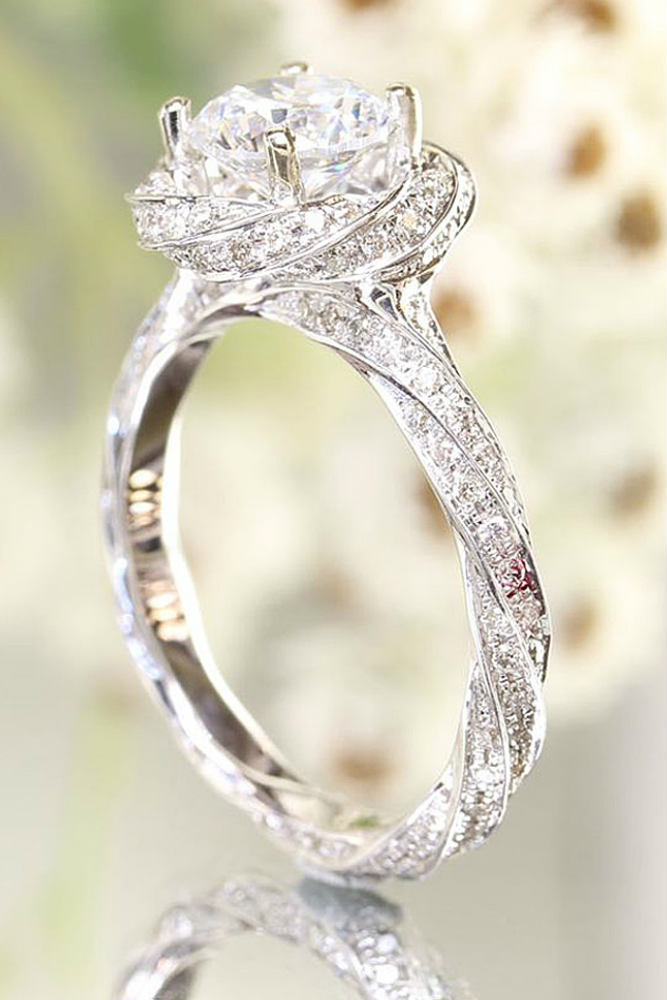 A ring with a diamond in the center like shown here is classic. However, not all people prefer classic rings. We often want something unique, right? Well, diamonds are very popular, but other gems are used too. Sapphires are second most popular gems after diamonds. Rubies are often chosen too. And in case your partner has an unconventional taste, he or she might prefer some other gem. But keep in mind one thing: sapphires and diamonds are the hardest gems, which means that they are perfect for everyday wear. And that can't be said about other gems.
Vintage Diamond Ring
Credit photo: instagram.com/ShaneCompany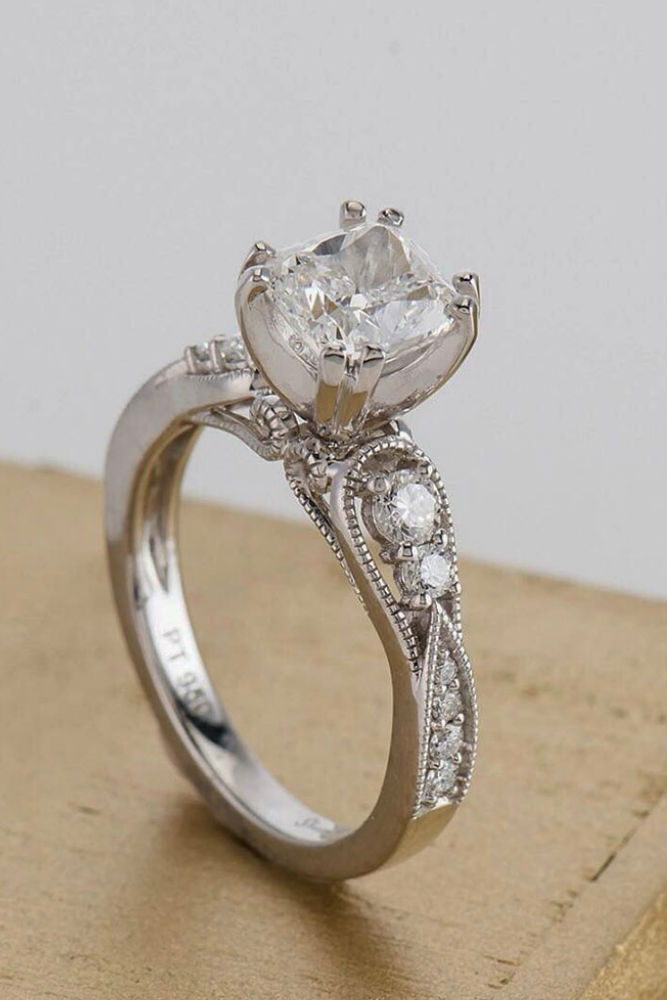 The diamond shown here is amazingly clear. When picking a diamond ring for your sweetheart, the clarity of the gem is among the things that should be taken into account. The presence or absence of natural blemishes and inclusions in and on a diamond has an effect on its value and appearance. These are the most common kinds of inclusions: crystals of some other material or cloudy or whitish tiny cracks. Such inclusions often occur to be microscopic diamonds absorbed by a larger gem prior to emerging on the Earth surface. And the clarity of every diamond is based on the size, quantity, visibility, orientation, location, and color of such inclusions. Diamonds that have got few or no inclusions are rare and very expensive.
Perfect Simplicity
Credit photo: instagram.com/rainerijewelers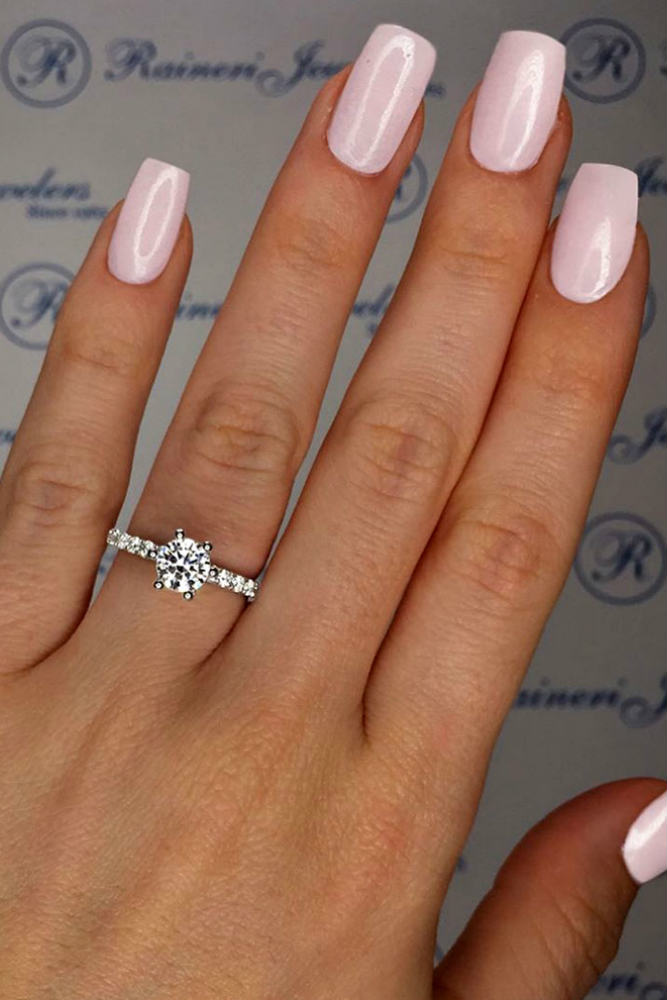 Round diamonds like shown in this pic are considered to be of a standard shape. And ten shapes that are called standard exist today. But round diamonds are preferred by almost 75 percent of all buyers. Due to their popularity, the cost of round diamonds is higher.
Cushion Cut Engagement Ring
Credit photo: instagram.com/jeanpierrejewelers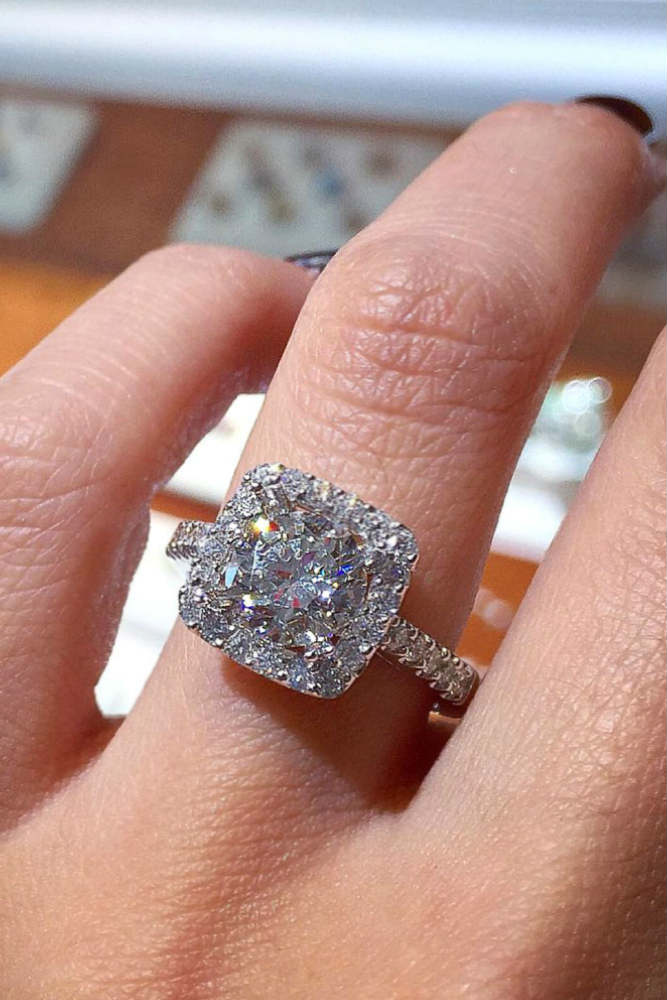 Engagement rings with cushion cut gems are trendy and feminine. Experts point out that the curved corners of a cushion with their brilliant facets can be ideal for those who are looking for a slightly soft look but with some added sparkle.
She Would Like This Engagement Ring Set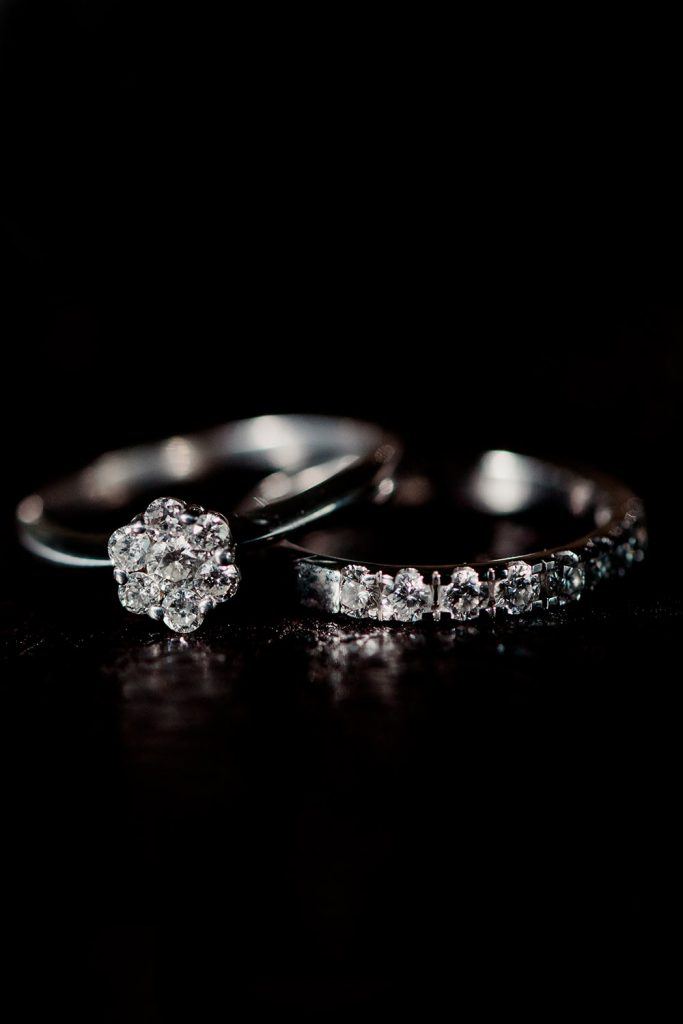 There are so many engagement ring styles, but not all of them can be found in the store. In case you like a particular design of a ring, but you can't see it anywhere, you can always have it custom made for you. Thus, your proposal will be truly unique. The ring in this picture is definitely made with love.
Pear Cut Engagement Ring
Credit photo: instagram.com/masinadiamonds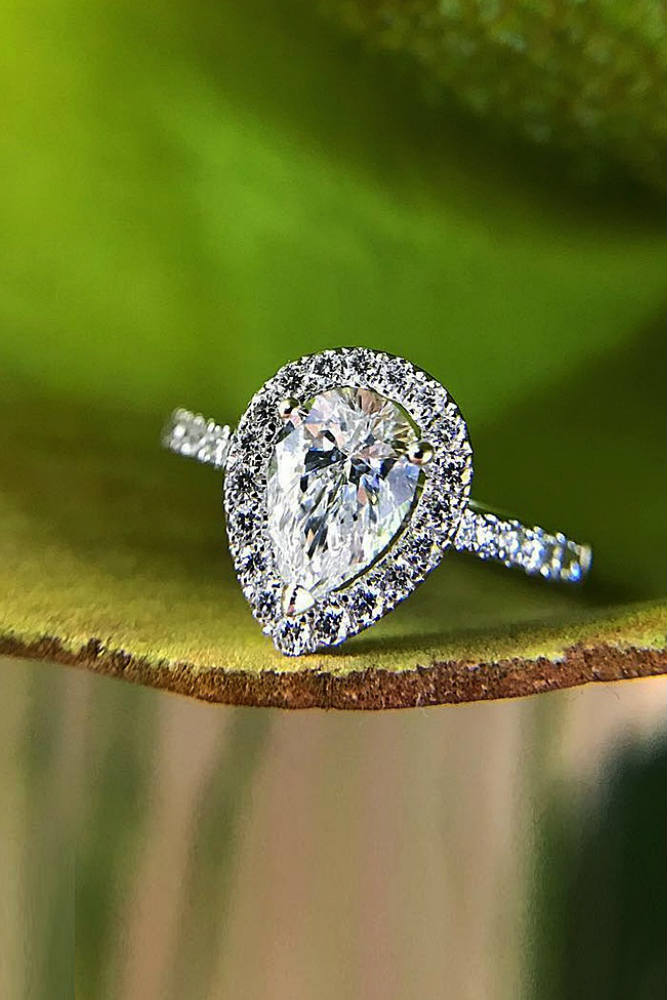 Experts say that a pear cut is for true rebels. If you feel like your honey is one, then the choice can be made in favor of this cut. Everyone will envy! Plus, this cut will add elegance to the hands of a person who will be wearing it.
We hope that you are happy to get your daily dose of inspo. More exciting posts are waiting for you on our blog.
FAQ: Engagement Ring
What are common diamonds cuts and shapes?
There are such common shapes like round cut, princess cut (square stone), emerald cut (rectangular), marquise (oval shaped), pear shaped, cushion shaped. A diamond can be well cut, which makes it reflect light better. There are also poorly cut diamonds, which do not disperse light that well, but are bigger in size, however, which can be a deciding factor for someone.
How to find an engagement ring shape?
If you have a longer distance between your knuckle and your hand, such shapes as halo, emerald cut or marquise shaped stone will perfectly suit you. And if you have a shorter finger, you might want to consider princess cut solitaire, round brilliant or trilogy ring that would go across the finger.
What stone should I choose?
Diamond is commonly chosen for an engagement ring because of its hardness and durability. In addition, ruby or sapphire are very hard stones as well and could be worn every day, these stones will also add color to your ring. On the other hand, emerald is more of a softer stone and its setting will play a part in its durability.
Was this article helpful?