Elegant And Sassy Plus Size Wedding Dresses Designs
Plus size wedding dresses, as defined in the fashion world, are dresses of the sizes 10-26. However, the differentiation varies from country to country. Sometimes a larger group of plus sizes is subdivided into plus size, super size, extended size.
If you have a curvy body, you are in the right place. We have done our best to round up the trendiest and most sophisticated wedding dresses for curvy body shapes. Let's explore what to wear on your Big Day.
Bohemian Plus Size Dress Design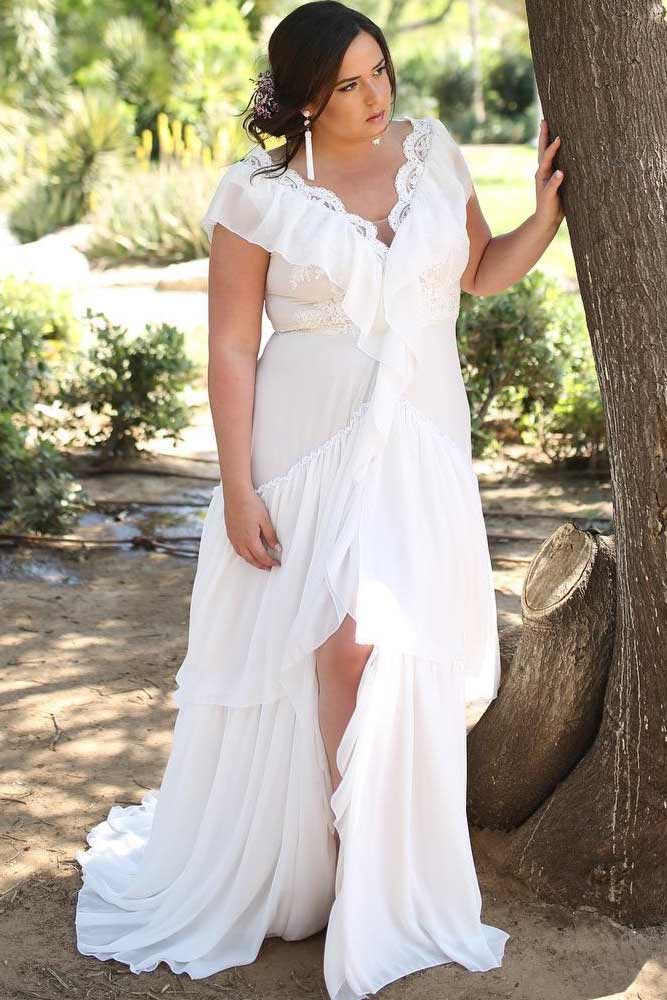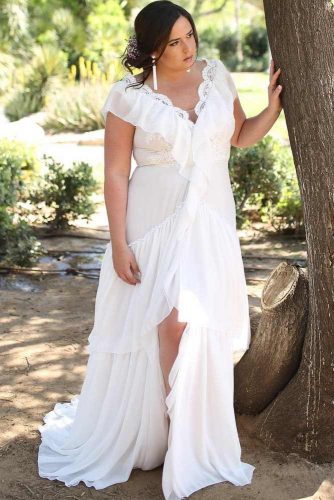 Source: allmyheartbridal via Instagram
If you can't afford plus size wedding dress designers tailor-make, it is not a big deal. An inexpensive dress might appear not worse, believe us. For example, you can always wear a boho dress like the one shown here. It is not super expensive, yet, very stylish.
Boho Wedding Dress Design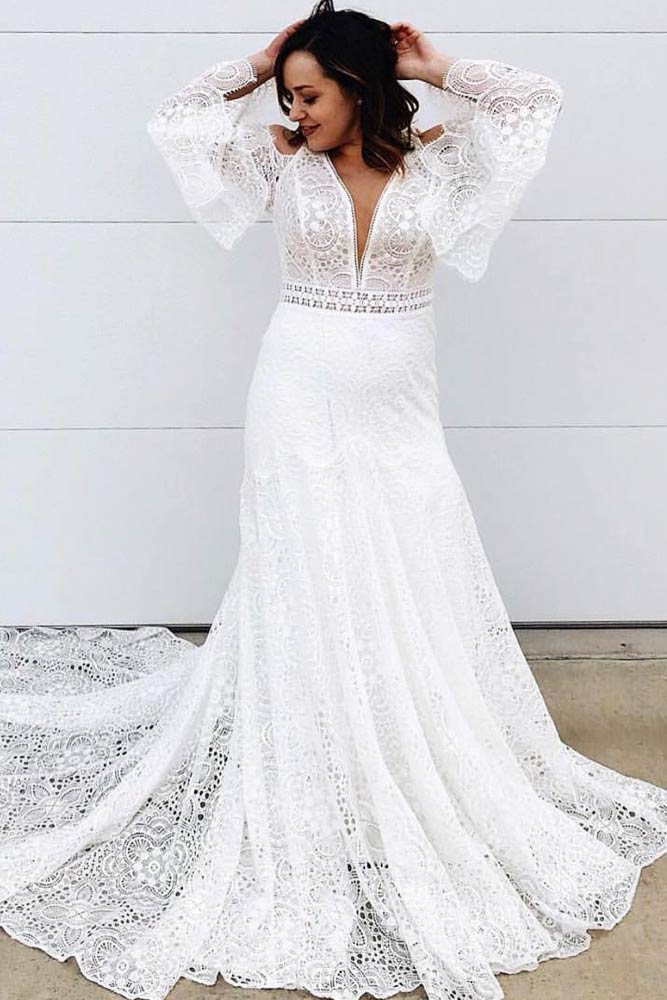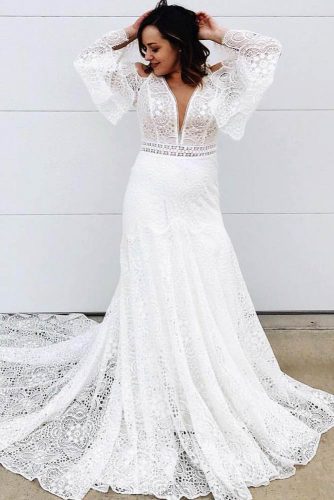 Source: rish_bridal via Instagram
This bohemian style wedding dress looks just perfect. The absolute cleavage accentuates this plus size model's beautiful bust, while the flowing silhouette makes her appear a bit taller. If you are one of those gorgeous full figured brides, here are some tips for you to choose the ideal wedding dress.
Select the brands that you like the most. Then when the time comes, you can focus on several brands instead of running everywhere.
Think whom you'll invite with you when trying on the dress. Too invasive girlfriends or mom will only spoil the impression of trying on and finding THE dress. Surely, you can't predict people's reaction. But if it's possible, take the most caring and least emotional people. Remember that they can comment, but the choice is up to you. Base it on your taste specifically. Also, restrict the number of people present at the fitting. 2 to 4 close ones is more than enough.
Boho Shoulder Off Dress Design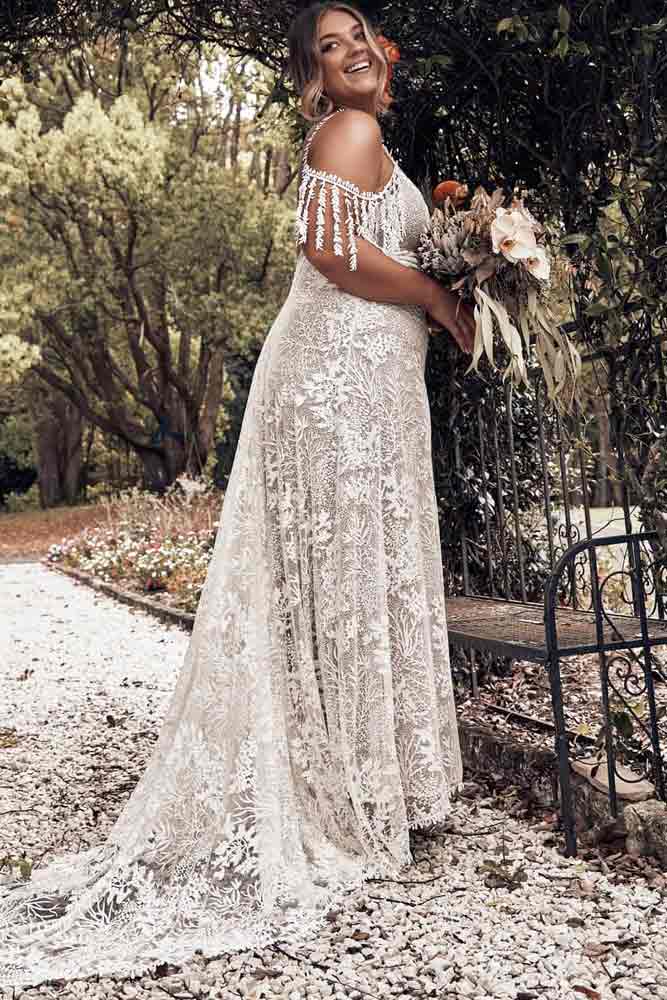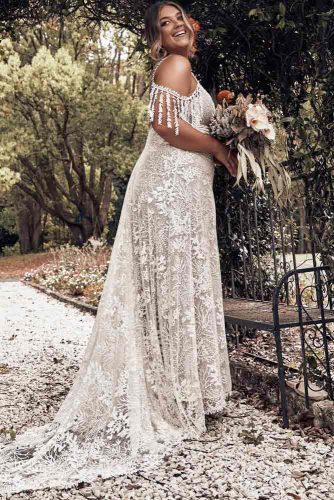 Source: grace_loves_lace via Instagram
When trying on a dress, take your time. Purchasing a wedding gown is a special event, the one that will remain in your memory forever. So, enjoy the moment and do not rush! Devote at least 3 hours to the fitting, preferably on your day off. If you think that half an hour after work will suffice you might end up wearing a dress that is not true to you. That would be unfortunate, right?
Create a mood board and save your wishes there. Our blog is full of ideas that might come in handy. Don't forget about bridal magazines, too. Nowadays there is a whole industry that lures you into finding the ideal dress. Why stubbornly refuse if you can use it to your advantage? Catch inspiration from any sources.
Simple Boho Wedding Dress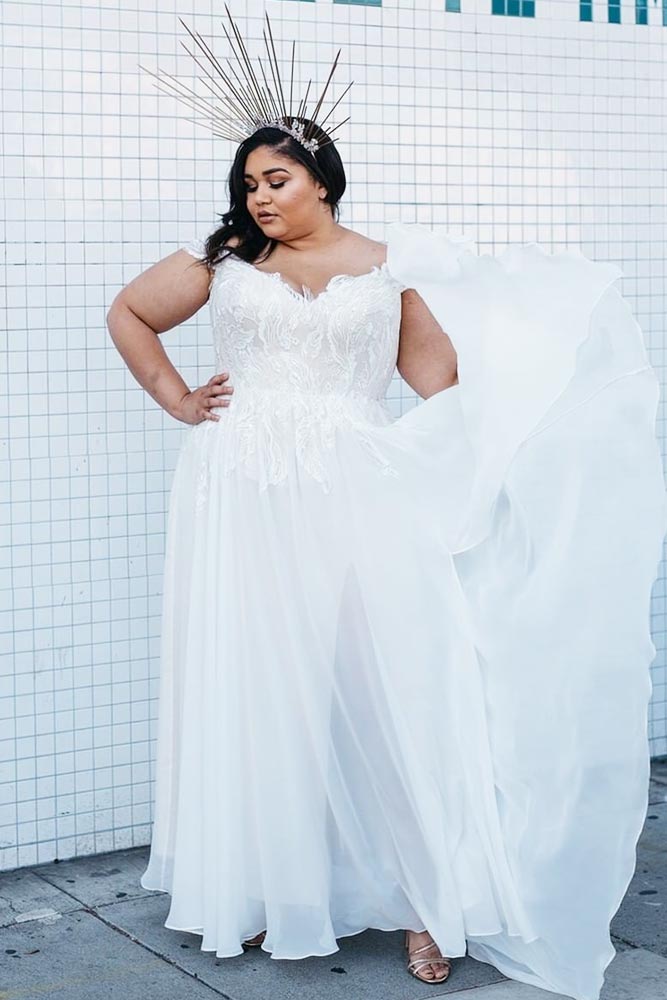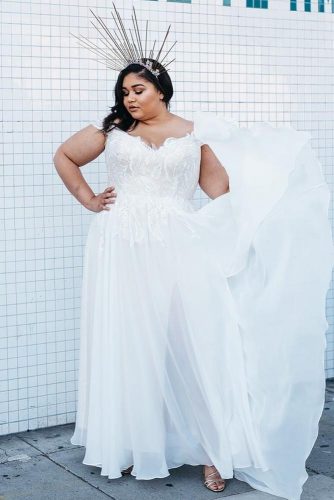 Source: lace_and_liberty via Instagram
Shop for a dress at least 2 months before the Big Day. Some time must be left for making changes. But don't buy a dress 1 year before the wedding. What if you lose much weight or gain it? Everything can happen.
When shopping, it is important to know the size of a wedding gown. It's not difficult! Just take a cloth tape and measure your bust, natural waist, and hips. You might also need to measure the length from your shoulders to your hem, and the lengths from the center front and back to your hem. Check up the measurements with a table with sizes and voila, you know your size!
Plus Size Wedding Gown Design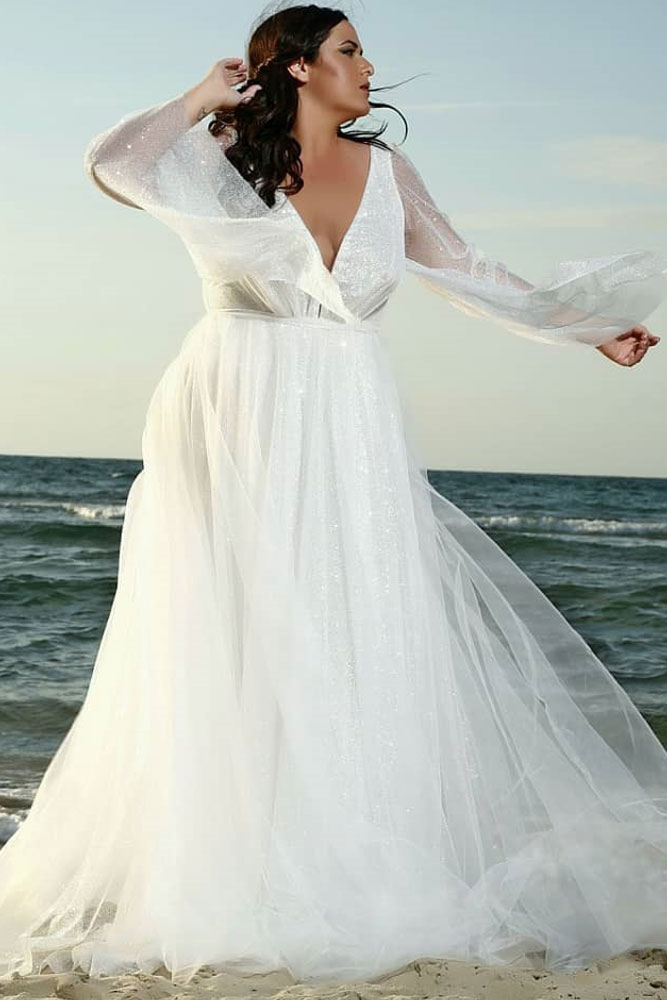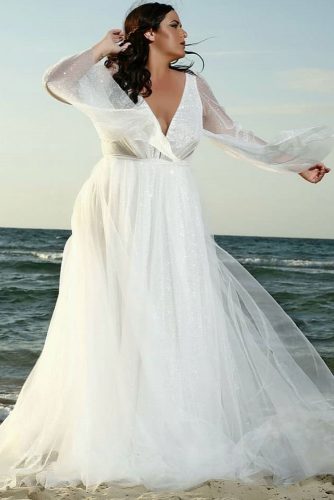 Source: studiolevana via Instagram
This bridal gown will work nicely for a wedding ceremony that takes place in the summer. The light weight fabric is the ideal choice for the hot weather.
A-line Plus Size Design For Not Tall Bride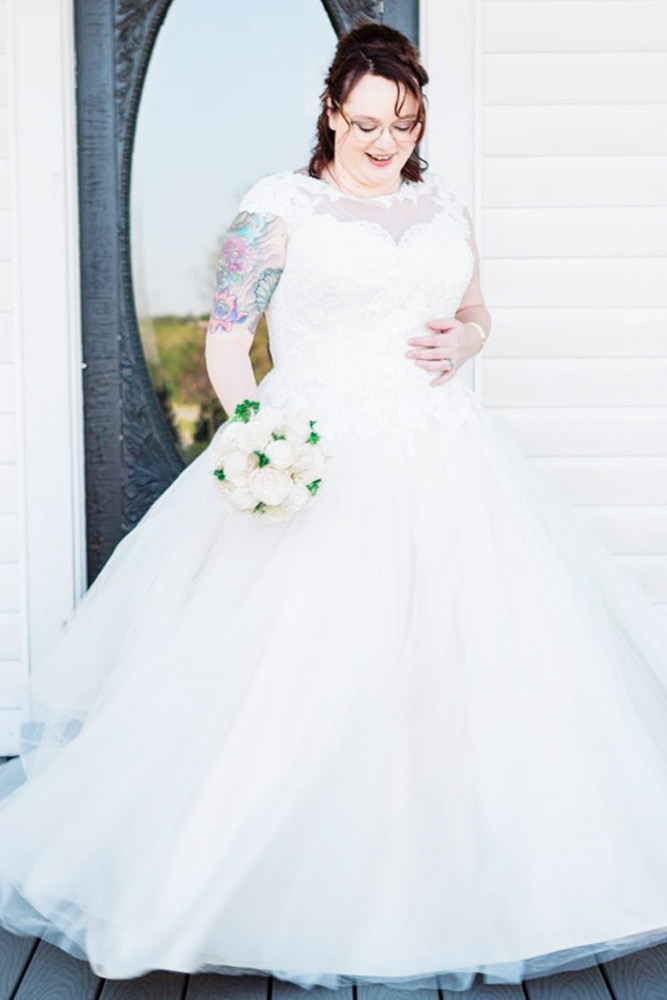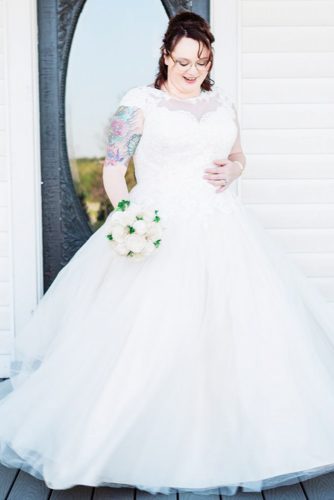 Source: allmyheartbridal via Instagram
This plus size bridal gown looks classy and elegant. And it compliments this model's curvy body so nicely. The dress accentuates the bust that is her strong suit and conceals the heavier bottom, with the train flowing so beautifully. Think about the winning sides of your body shape and let them do the talking!
Lace Wedding Dress With Long Sleeves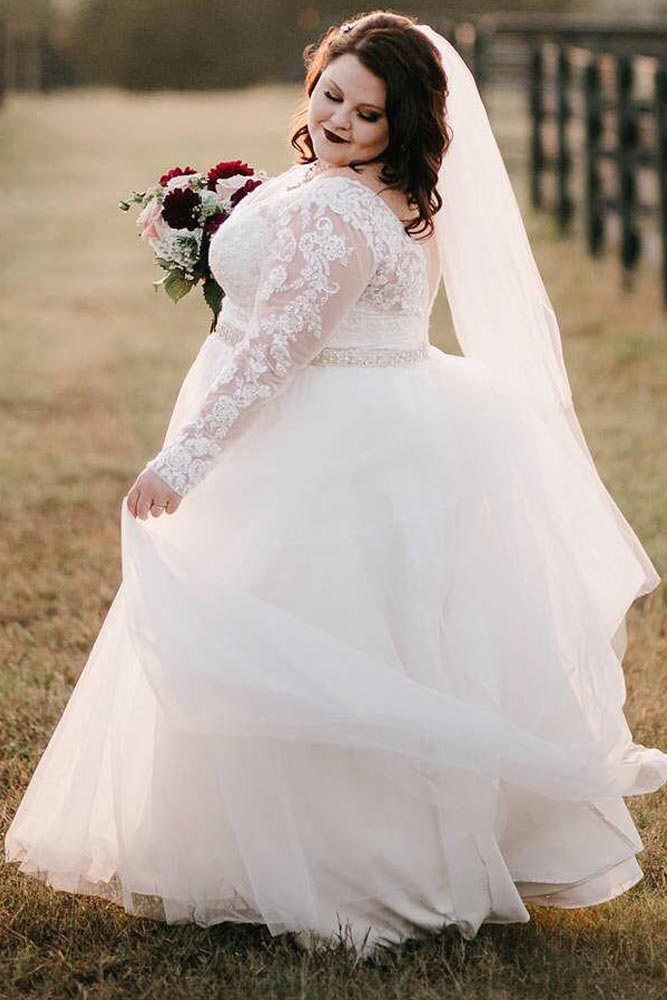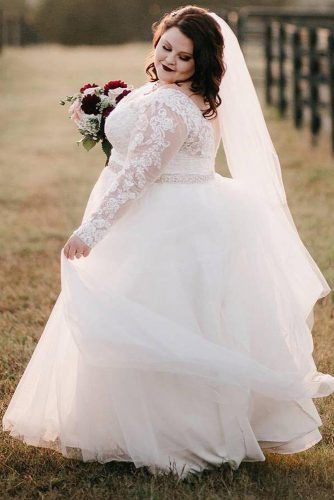 Source: kati_brayton via Instagram
When choosing a plus size wedding gown, consider your height, too. If you are not tall and curvy, it's advisable to go for a ball gown that has an A-Line neck. Just look at this model – her ball gown is perfect for her body shape.
Mermaid Dress Design For Curve Not Tall Bride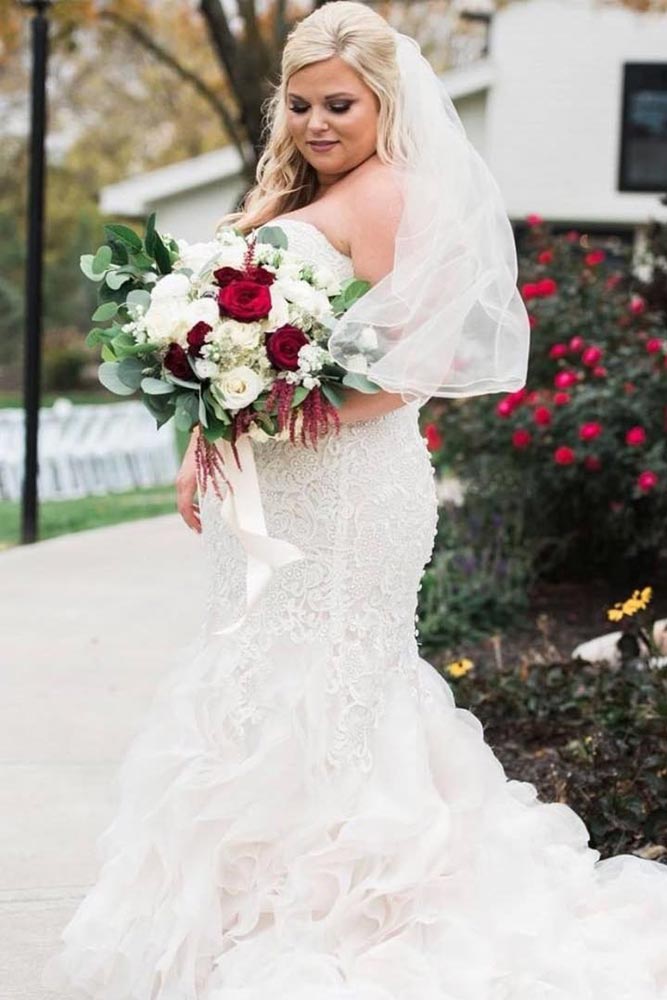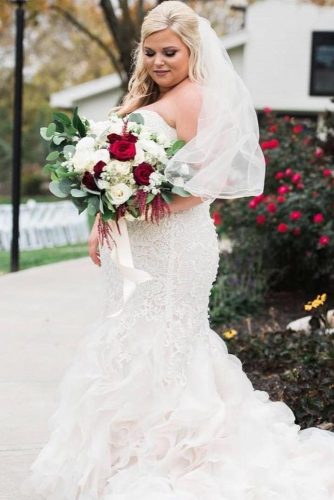 Source: allmyheartbridal via Instagram
Many brides choose Mermaid wedding dresses because of the unique silhouette. And the great news is that such dresses flatter curvy brides who are not tall. The model in this picture appears taller because of the extra long train.
Midi Plus Size Dress Design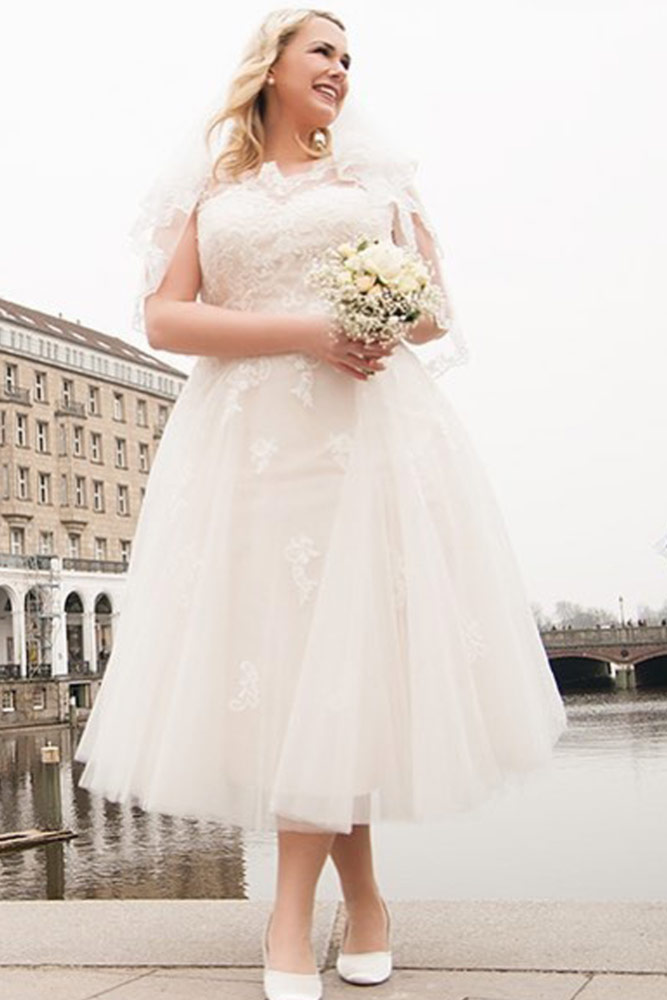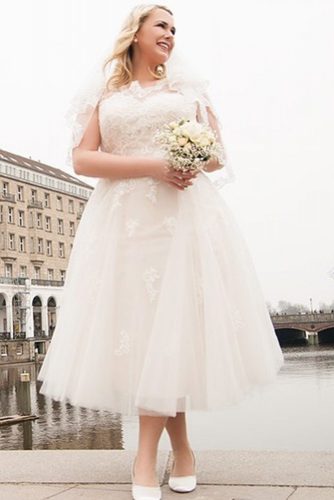 Source: vollkommenbraut via Instagram
If you wish to appear a bit playful, go for a midi gown like the one shown in this picture. Such dresses appear less traditional and reveal a bride's rebellious side. The design is simple yet sophisticated.
Tea Length Plus Size Dress Design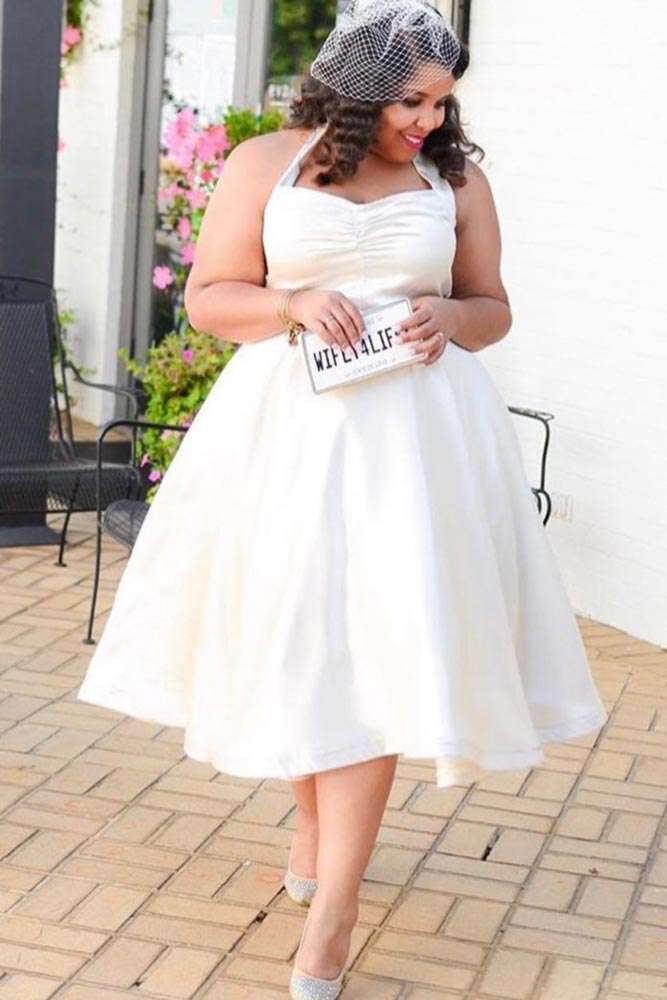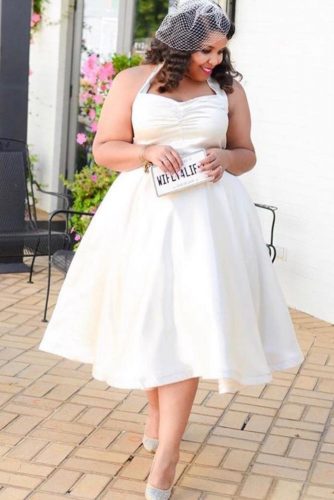 Source: ivorybridal via Instagram
Show off your sexy legs by rocking one of short plus size wedding dresses. Also, such dresses allow brides to demonstrate their chic, sparkling footwear. Isn't it great?
Simple Midi Dress Design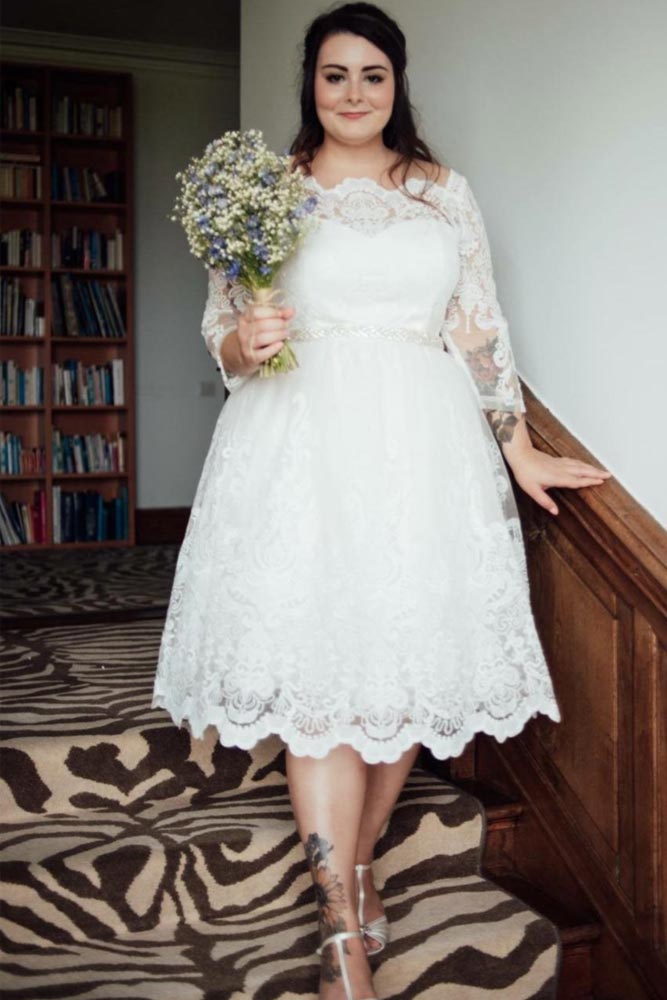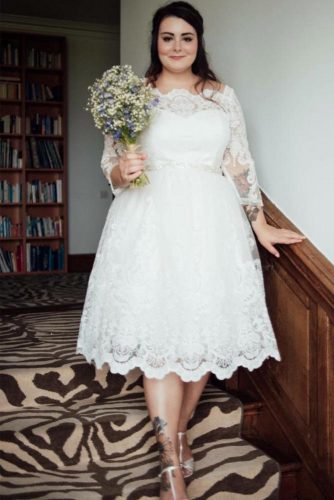 Source: erin.williams94 via Instagram
Simple plus size wedding dresses are often chosen by the brides who wish to feel more comfortable on their wedding day. Such dresses are not encrusted with gems heavily, nor are they made of many layers of fabrics. But such designs appear not less refined!
Shoulder Off Plus Size Dress Design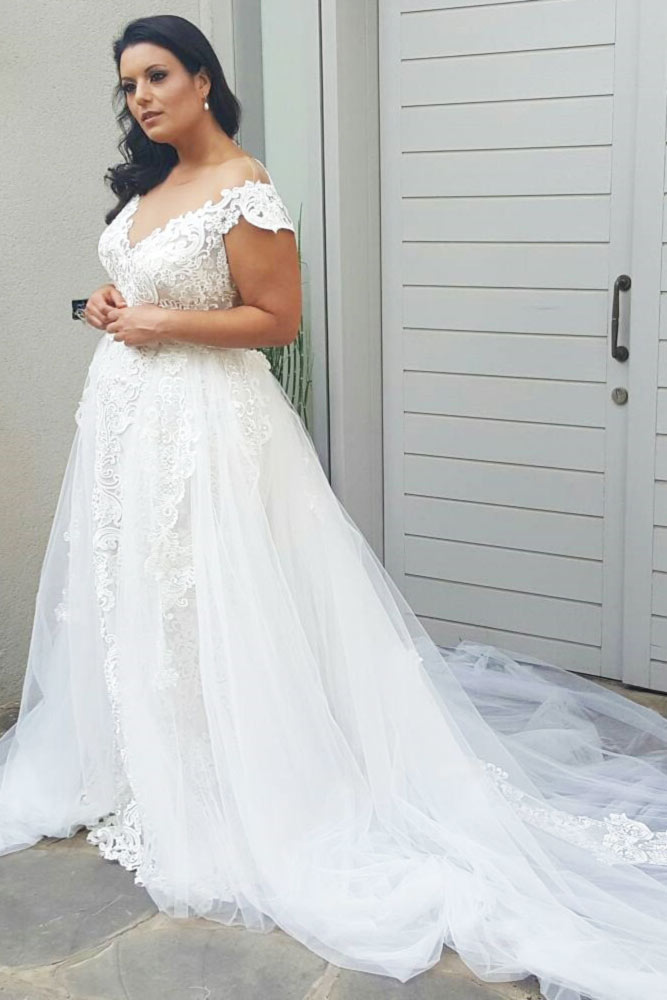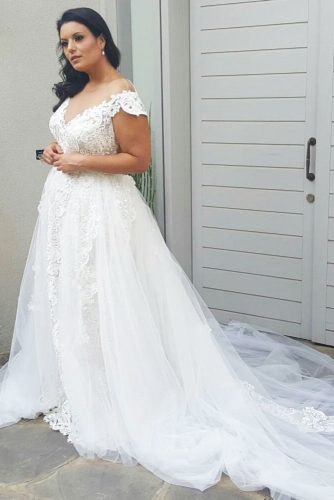 Source: studiolevana via Instagram
If you wish to draw attention to the upper part of your body, you can do that with the help of an off the shoulder dress. It's the trick that many full figured brides go for – steal attention from the body parts that you are dissatisfied with.
Cap Sleeves Plus Dress Design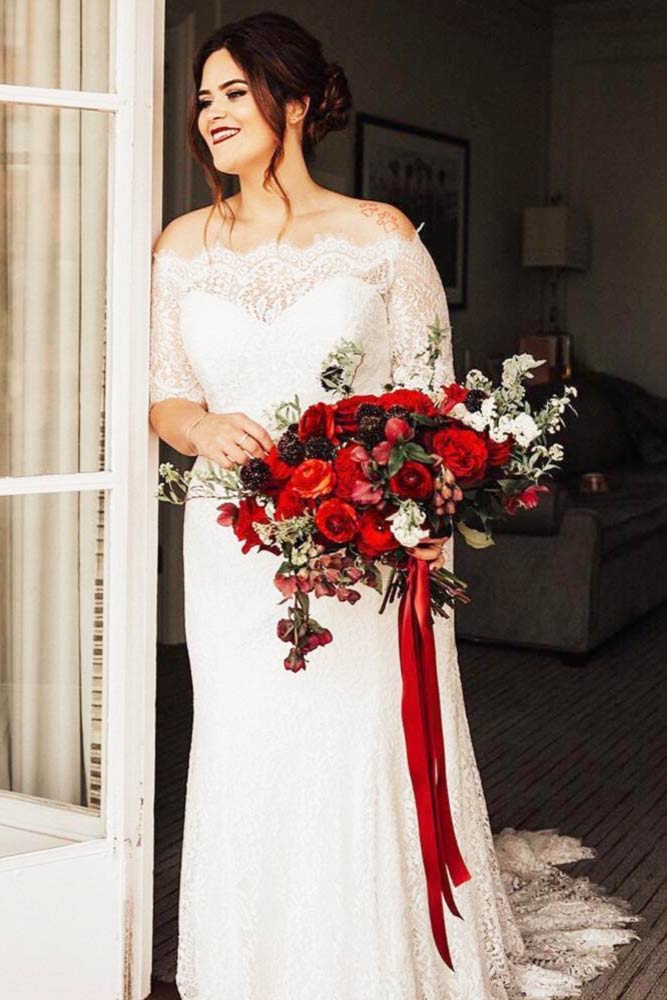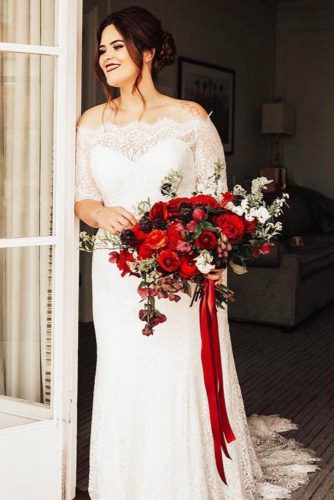 Source: dellacurva via Instagram
In case you think that your upper arm looks a bit heavy, the solution is simple: just pick a dress with cap sleeves. But it's better to go for the sleeves that are made of see-through fabrics not to enhance the heaviness.
Shoulder Off Mermaid Dress Design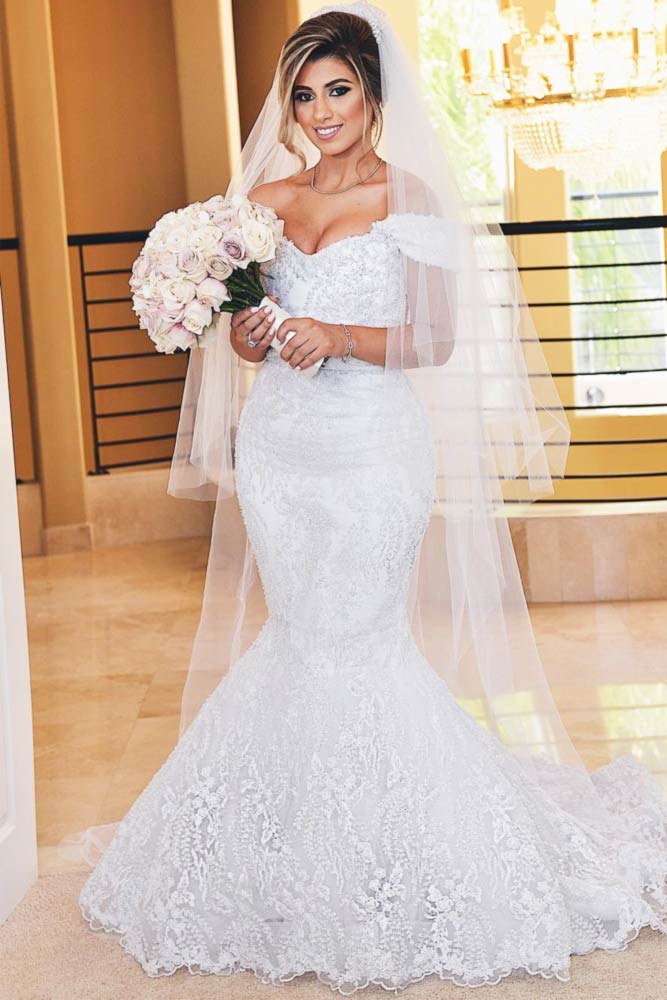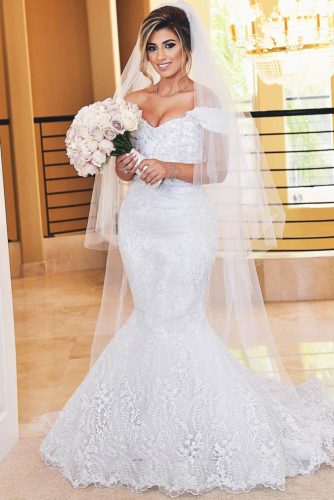 Source: ryanandwalter via Instagram
This off the shoulder plus sized bridal dress in a silver-ish hue looks rather contrasting against this model's tanned skin. The mermaid silhouette accentuates and enhances her curves.
Lace Plus Size Wedding Dress With Sleeves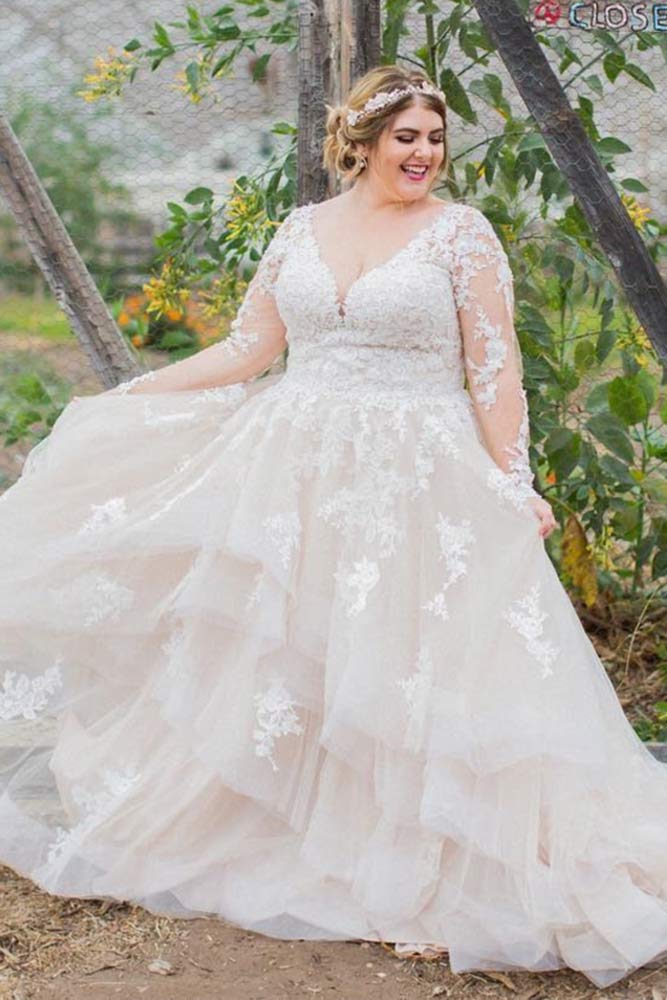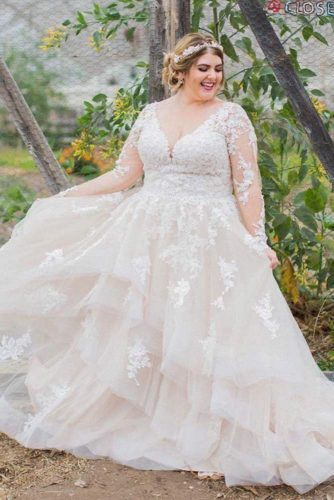 Source: dellacurva via Instagram
Look how successfully the higher waist line conceals this model's tummy. And her arms appear thinner with these long transparent sleeves. It's a good example how a wisely chosen gown can work in your favor.
Bohemian Wedding Dress With Long Sleeves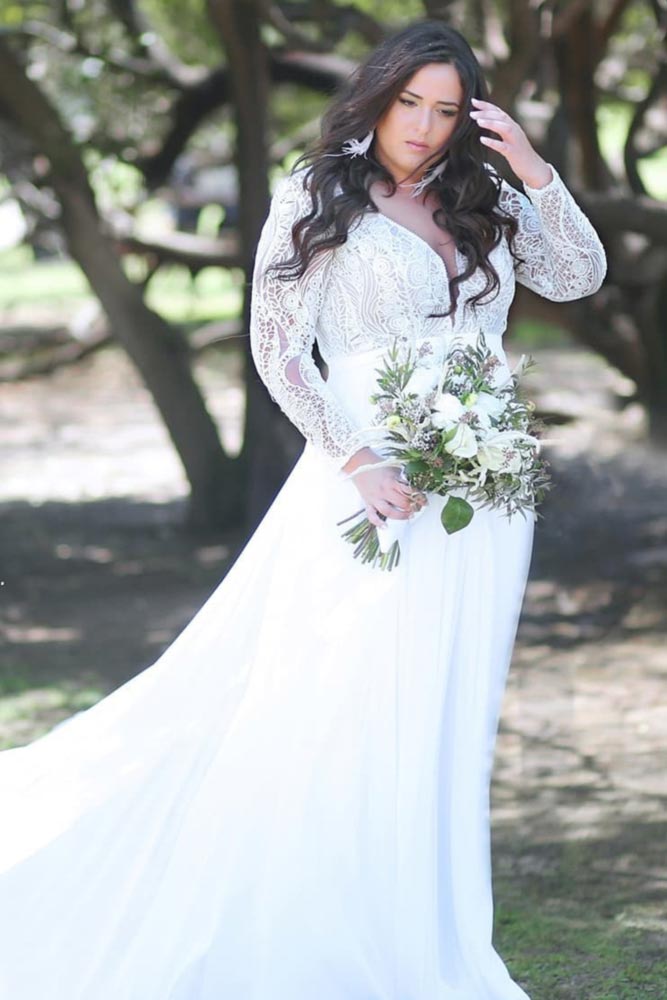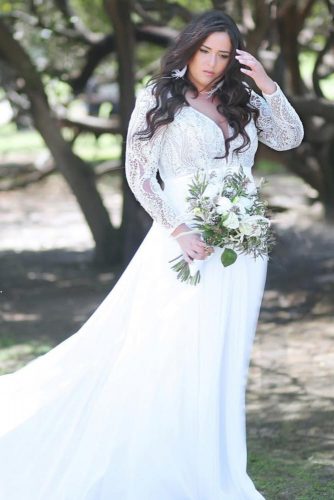 Source: studiolevana via Instagram
In case your wedding ceremony theme is filled with boho vibes, why not pick a dress that will match the theme perfectly? In this dress design, the bottom is quite traditional, while the top is bohemian.
Long Train Wedding Dress Design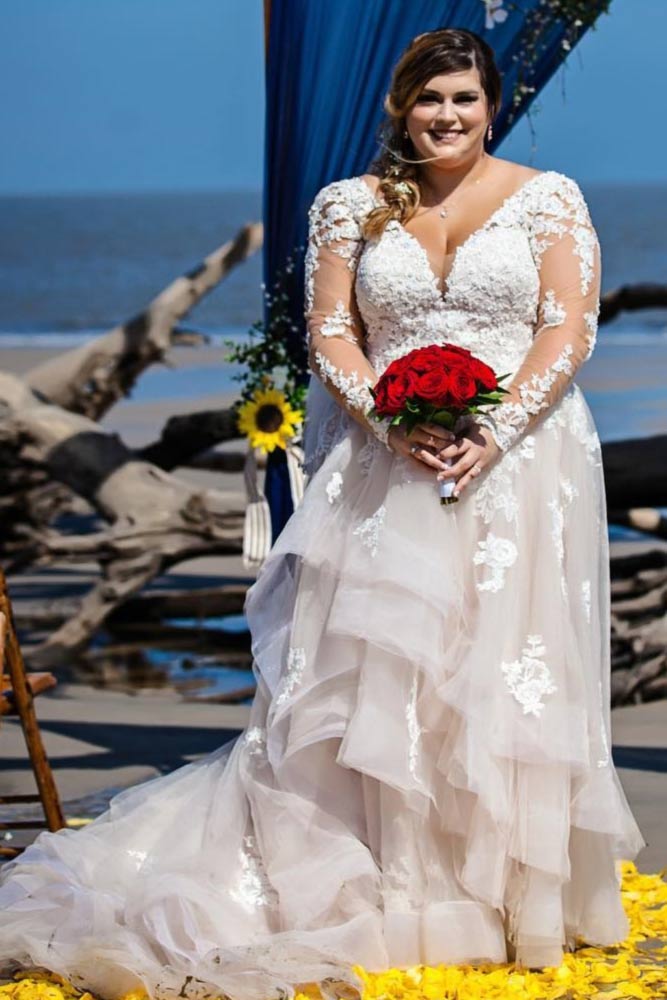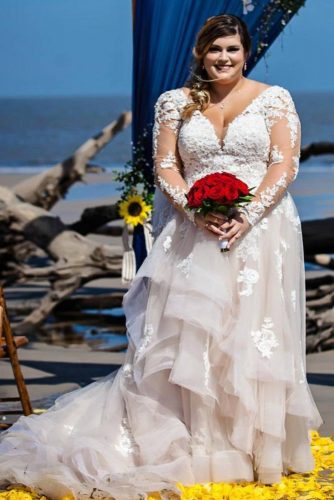 Source: bridesbyyoung via Instagram
Long plus size wedding dresses will never go out of fashion. The wedding dress design in this picture has a super long train. But the fabric is quite light weight, so it will be comfy to wear a dress like that.
3 In 1 Wedding Dress Design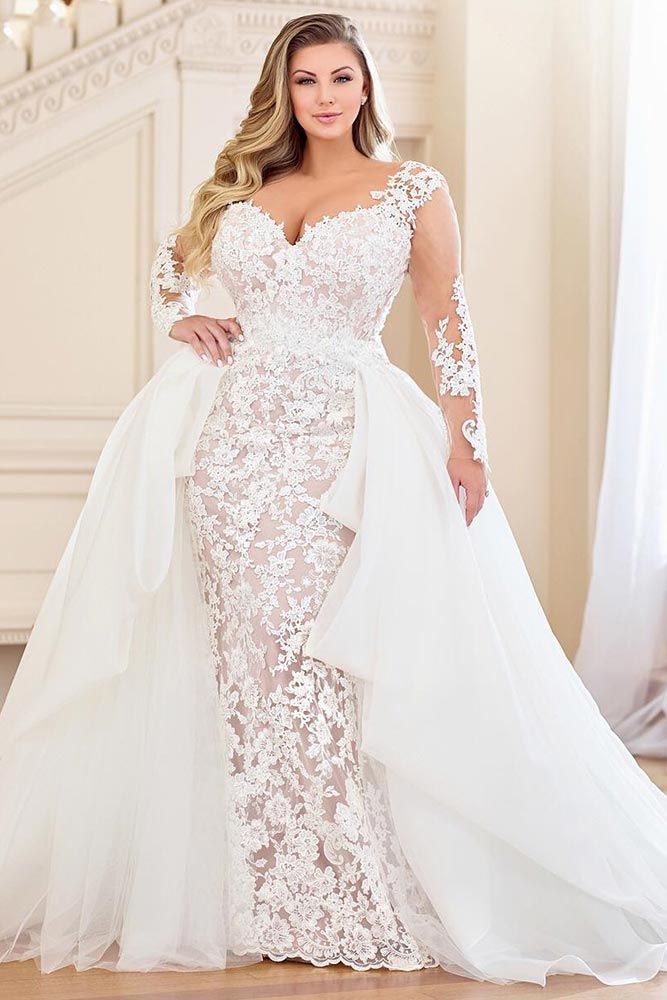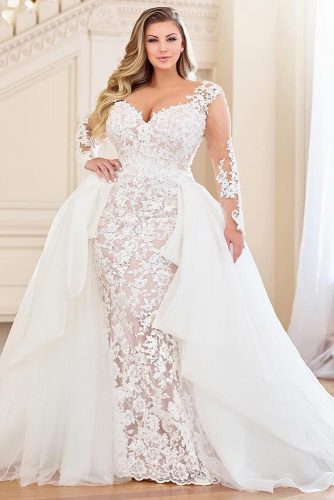 Source: martinthornburg via Instagram
Floral Wedding Dress Design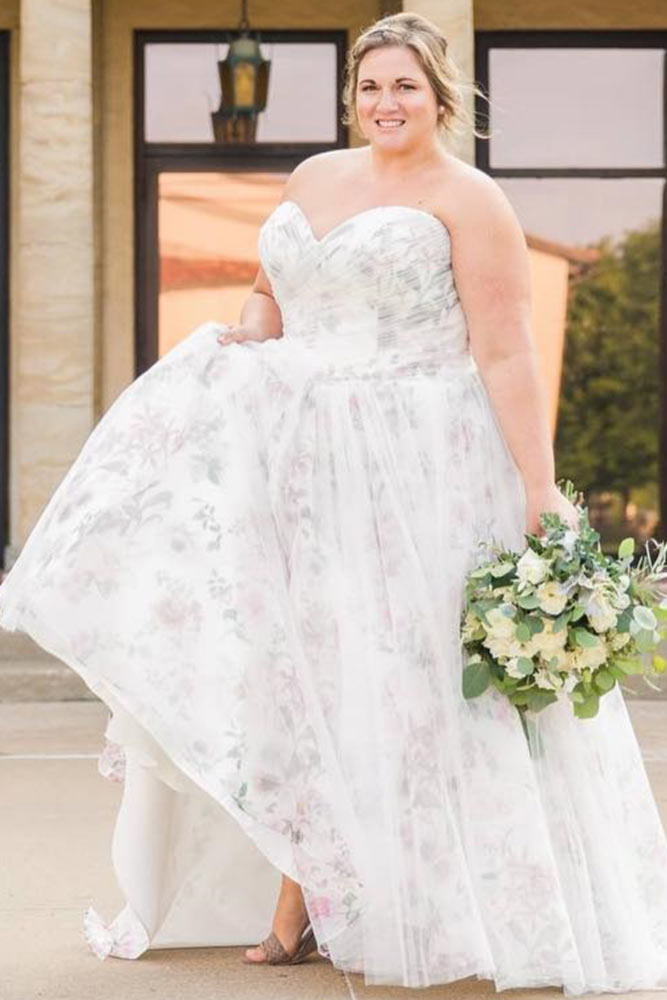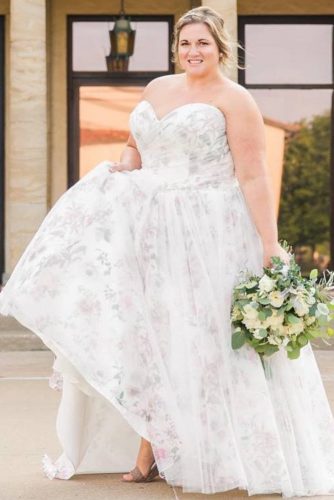 Source: allmyheartbridal via Instagram
Sometimes brides prefer plus size wedding dresses with color over more traditional all-white wedding dresses. The model in this picture sports a subtle floral pattern on her white ball gown with the wedding bouquet matching with the gown.
Pink Wedding Dress Design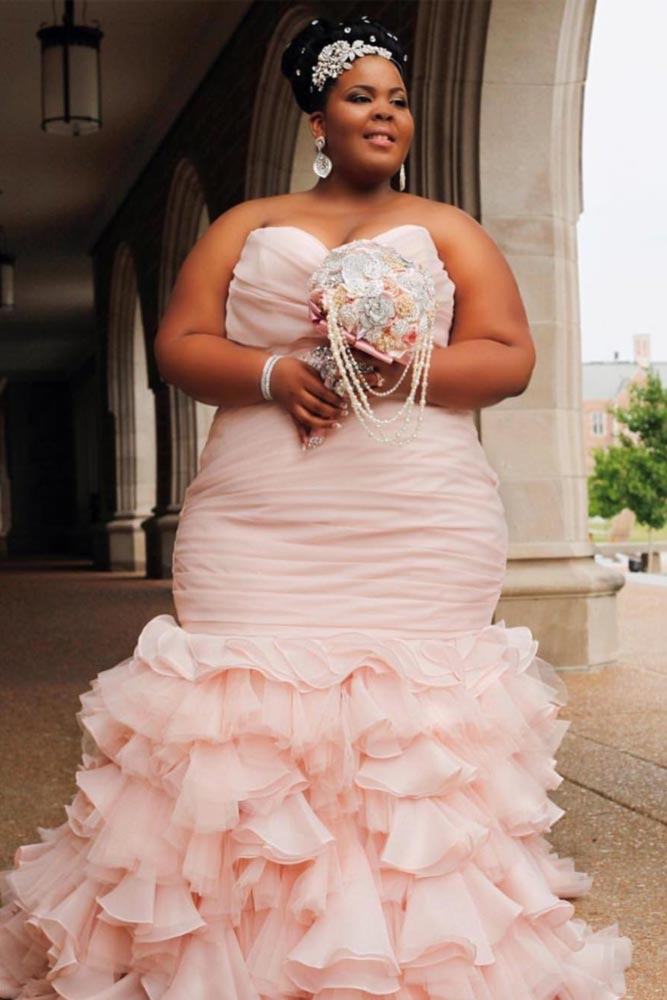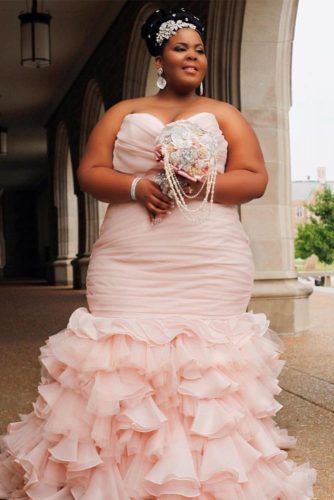 Source: prettypearbride via Instagram
This pastel pink color compliments this model's deep skin tone, making her look gorgeous. Sometimes informal plus size wedding dresses can do wonders. Who says that you must put on a white gown?
Champagne Colored Wedding Dress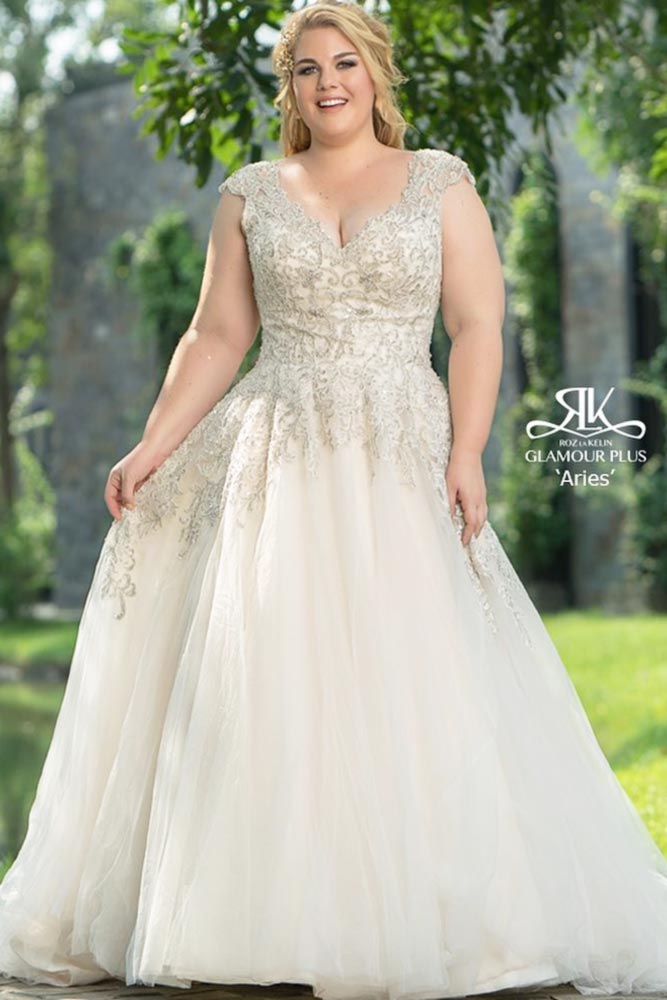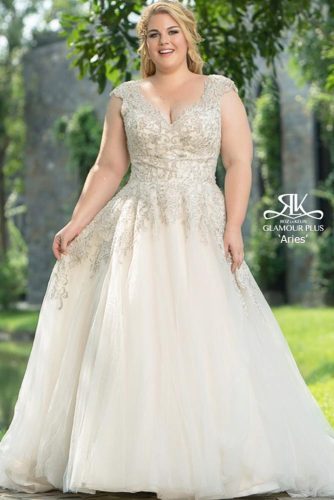 Source: glamourplusbridal via Instagram
Champagne colored gowns never go out. This plus size bride looks awesome in her long champagne dress with beautiful embroidery covering the upper half of the dress design.
Ivory Plus Size Dress Design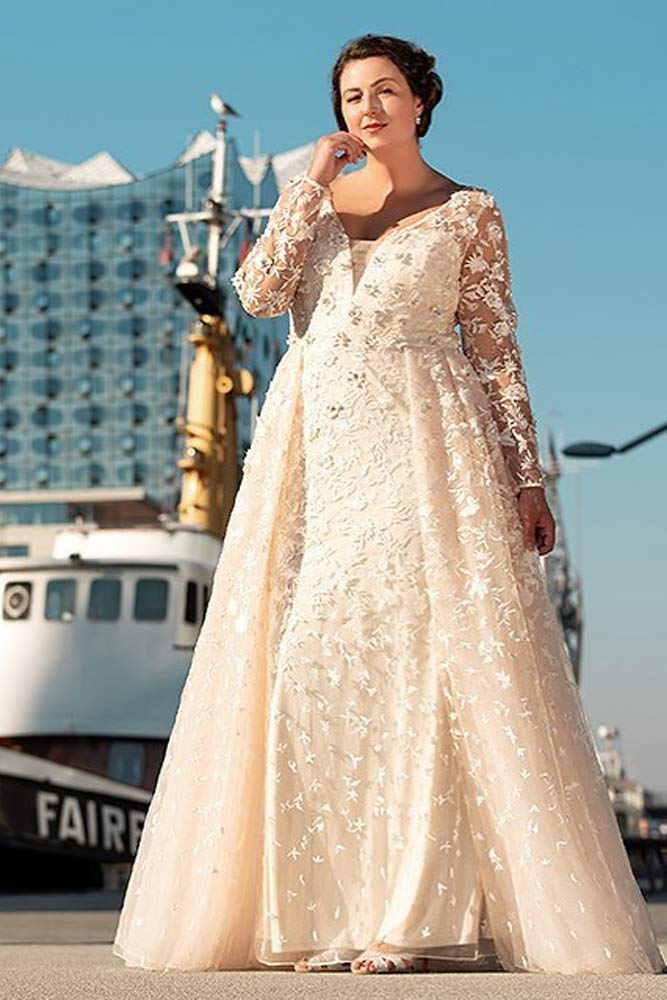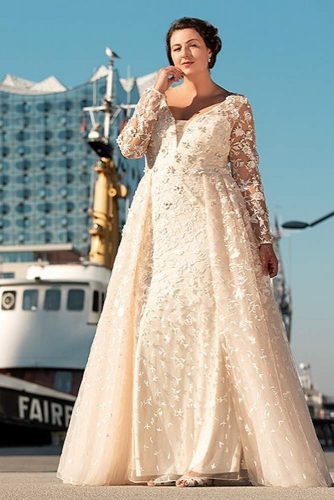 Source: vollkommenbraut via Instagram
Blush Tone Unique Wedding Dress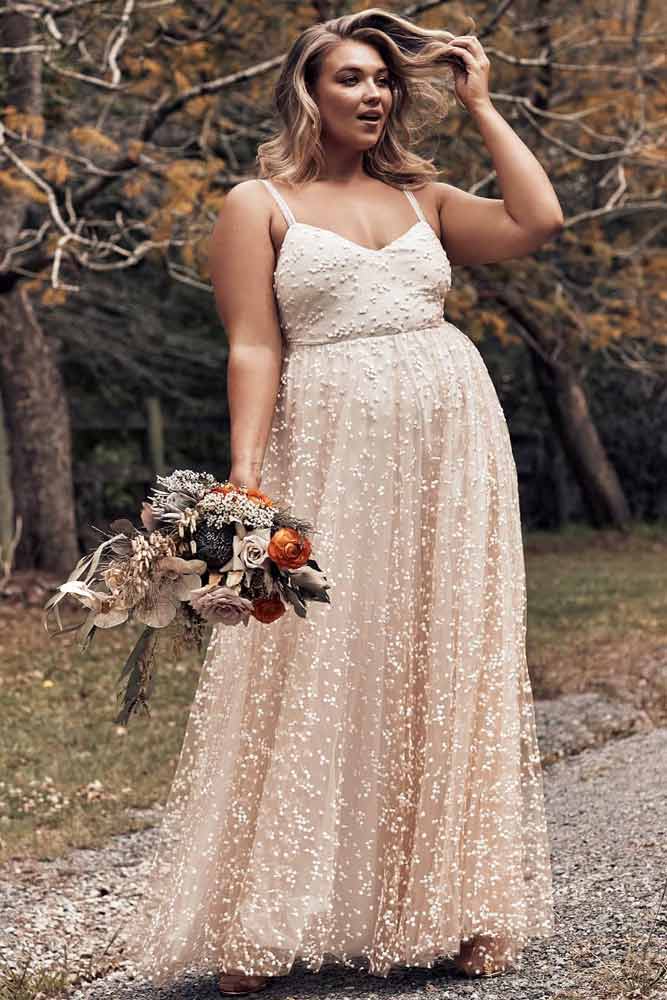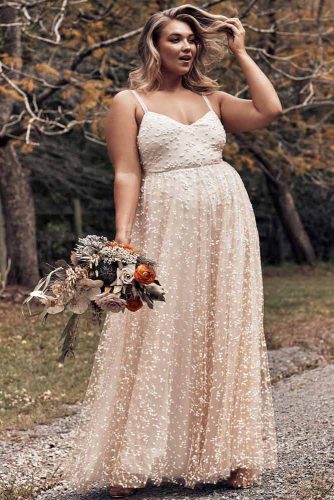 Source: grace_loves_lace via Instagram
Rose Wedding Dress Design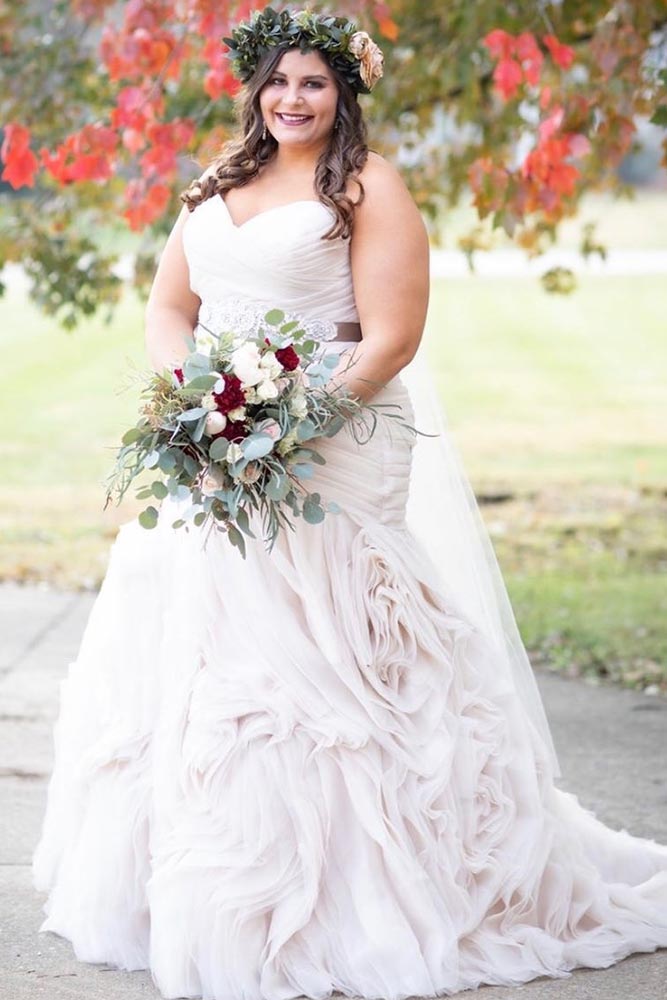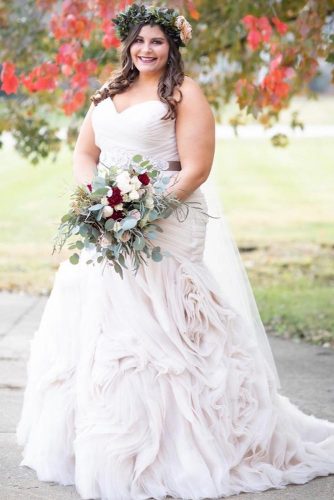 Source: ahha_a via Instagram
Now you know how winningly plus size wedding dresses can compliment a bride's body shape. Save this article for your inspiration. Discover more curious info on our blog.