The wedding is a special occasion for every girl, and everything is supposed to be well planned and perfect about it. Especially when it comes to picking the wedding gown. It is true that most ladies prefer to stick to classics and opt for white hues prevailing. However, there are those of you who think that a wedding is a day to remember and looking like everyone else is unacceptable. Black wedding dresses are usually the choice of Goth queens or Halloween fans. Nevertheless, we are going to show you that there is some clearly undeniable charm about such a dress even if you are not a Goth or a Halloween addict. Times are changing and if you want to wear maxi dresses black gown when your wedding day comes – go for it, and we are going to provide the freshest and trendiest ideas in our turn!
Monochromatic Black Wedding Dresses
Gothic Black Dress With Lace Sleeves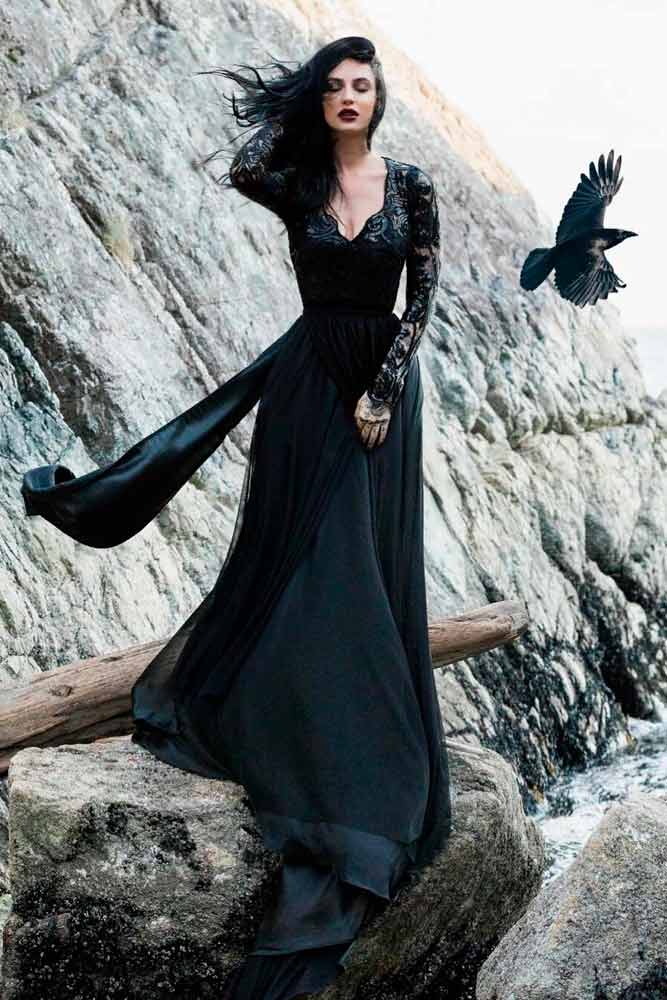 Credit photo: jackiewildwolf/Instagram.com
If you are looking for traditional gothic wedding dresses ideas to introduce into your wedding look, then there are few things to keep in mind. The thing is that a true gothic dress is supposed to be long and flowing, not to mention the amount of lace present. If too much lace is not your cup of tea, then make sure that at least lace sleeves are present.
Simple But Elegant Black Wedding Dress With Sleeves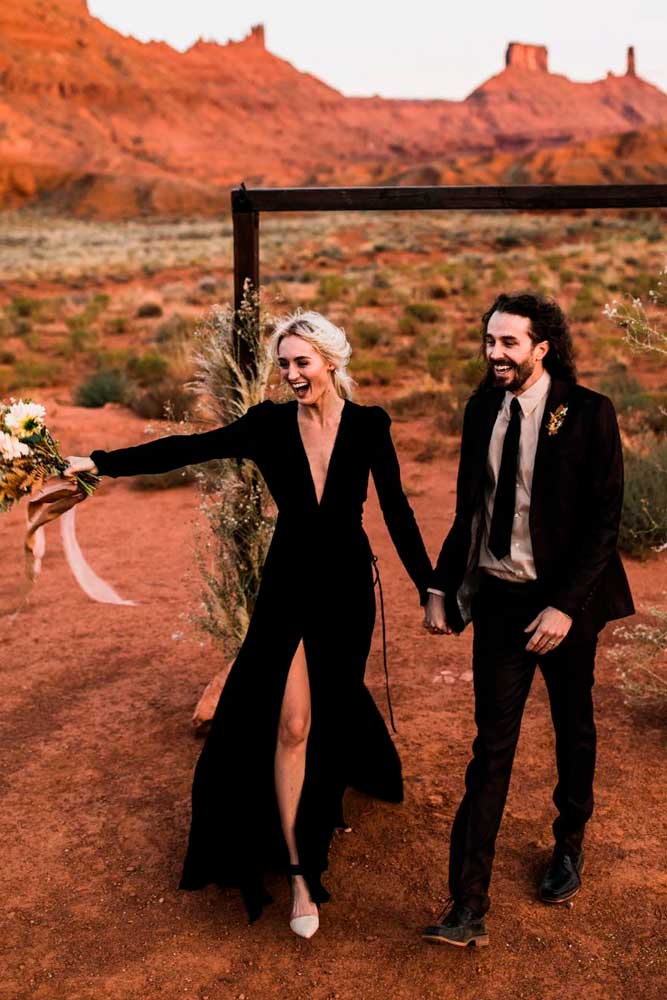 Credit photo: thehearnes/Instagram.com
It is true that there are many black wedding dresses with sleeves available these days. However, it is essential that you come up with a complete look before you go on a shopping spree. For instance, if you do not want to wear anything pompous on your big day, then a simple but elegant wedding dress with long sleeves is precisely what you need.
Fitted Lace Dress With Sleeves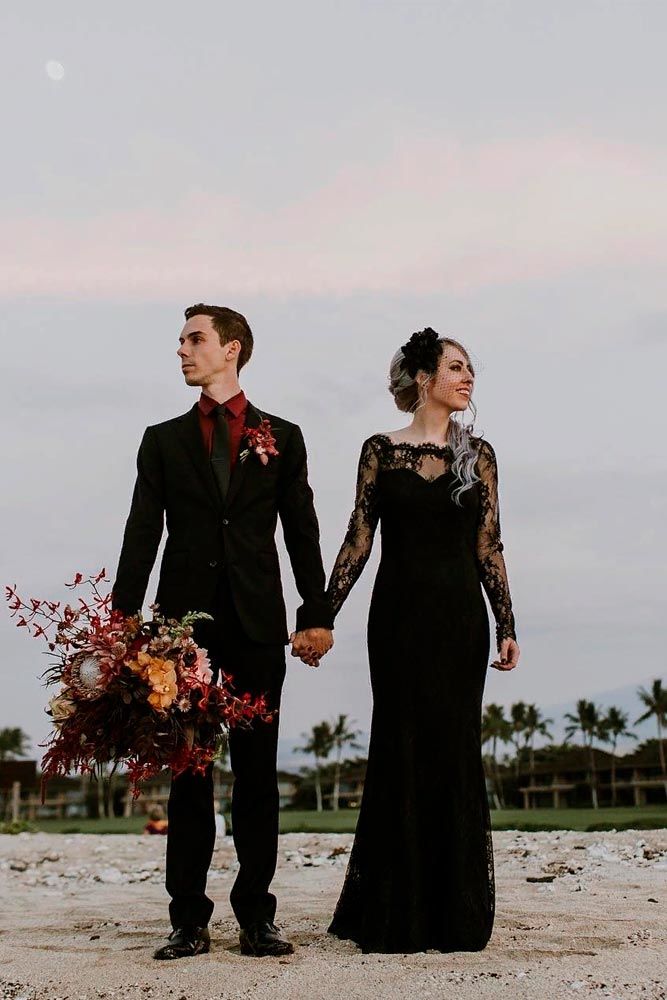 Credit photo: 4theloveoftoys/Instagram.com
Black lace wedding dresses come in many shapes and styles that is why it may be quite difficult to come up with one. If you are looking for a dress to accent your feminine shape in the first place, then we may have an idea in mind. This lace dress with long sleeves is sweet and charming looking despite the coloring.
Chic Layered Black Wedding Dress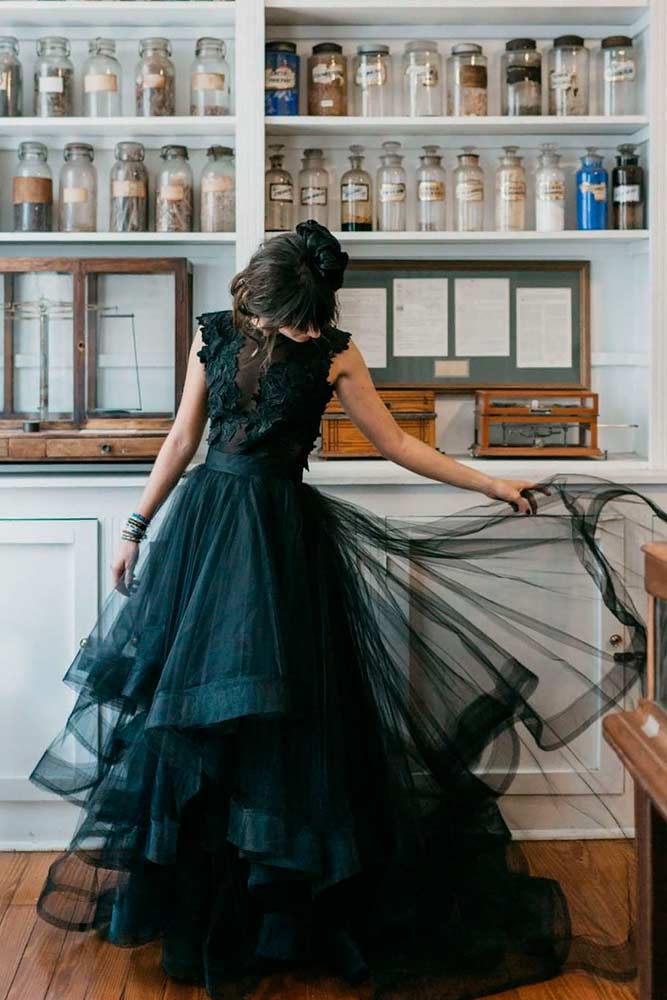 Credit photo: greenweddingshoes/Instagram.com
Very often women look for dresses that are more or less traditional despite the black color. If you are one of them, then this example is what you need to get inspired with. The thing is that the layered bottom part of the dress is responsible for that wedding look charm that many look for, while the top remains reserved and elegant in its blackness.
Ultra-Glam Ball Gown Wedding Dress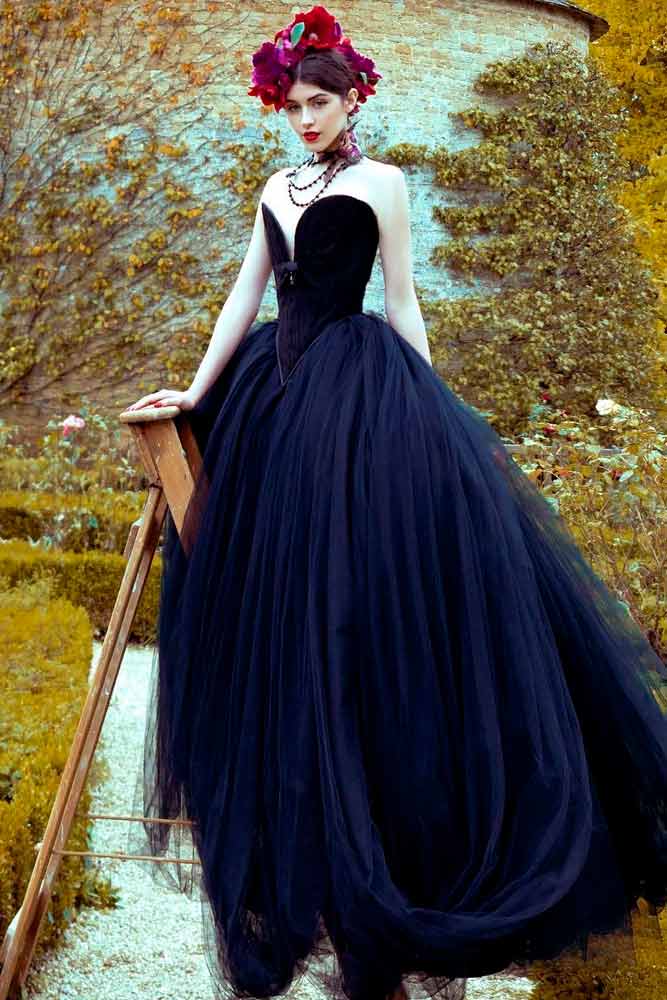 Credit photo: chantalmallett/Instagram.com
Some ladies wish to look like real queens when the day comes. If you are one of them, but you still want to rock a black wedding dress – you have come to the right place. The thing is that this extra glamourous wedding dress may be your best bet. Everything seems to be perfect and royal looking about it.
Graceful Black Mermaid Gown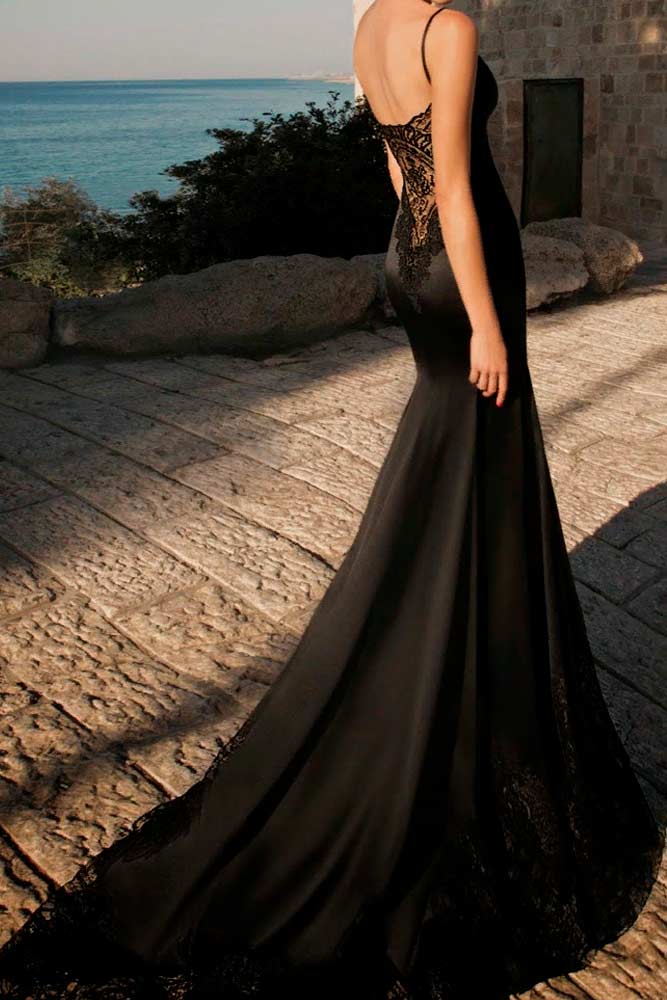 Credit photo: galialahav/Instagram.com
Black mermaid wedding dresses deserve special attention. The thing is that the style itself will make everyone around you gasp with admiration. However, the color and the lace details will only add up to the exciting vibe this dress glows with. If you are looking for over the edge elegant and stylish dress, then this is the one, that is for sure!
High Low Wrap Wedding Dress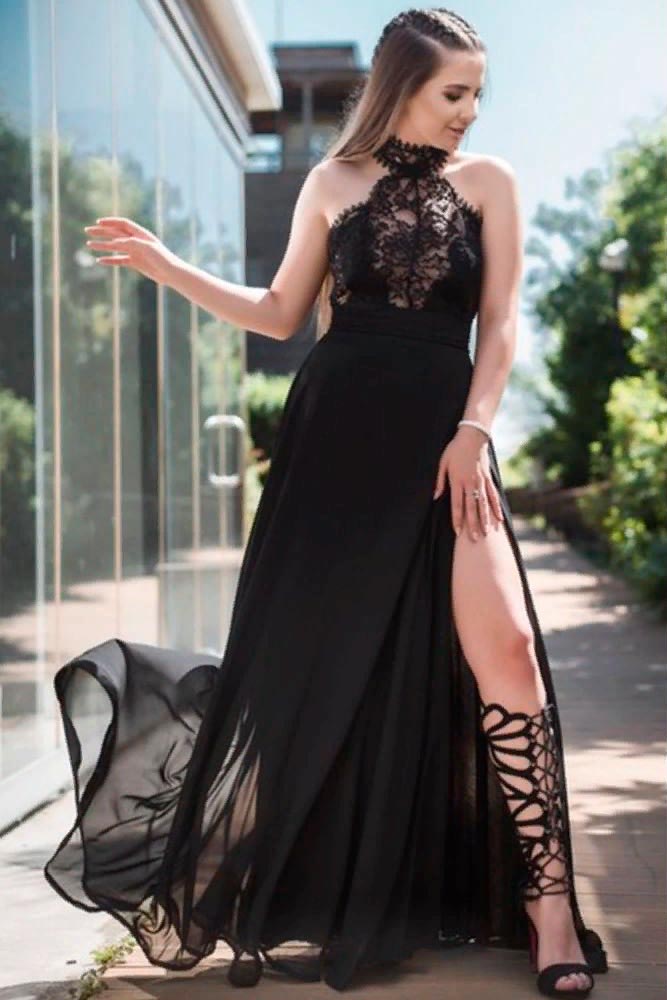 Credit photo: hebeos_official/Instagram.com
Even though weddings are mostly about the traditions, we say that you can combine the trend and tradition in one. This wrap dress is the perfect proof to the point. While it is still an admirable wedding dress, it is absolutely fashionable and trendy.
One Shoulder Ruffed Wedding Dress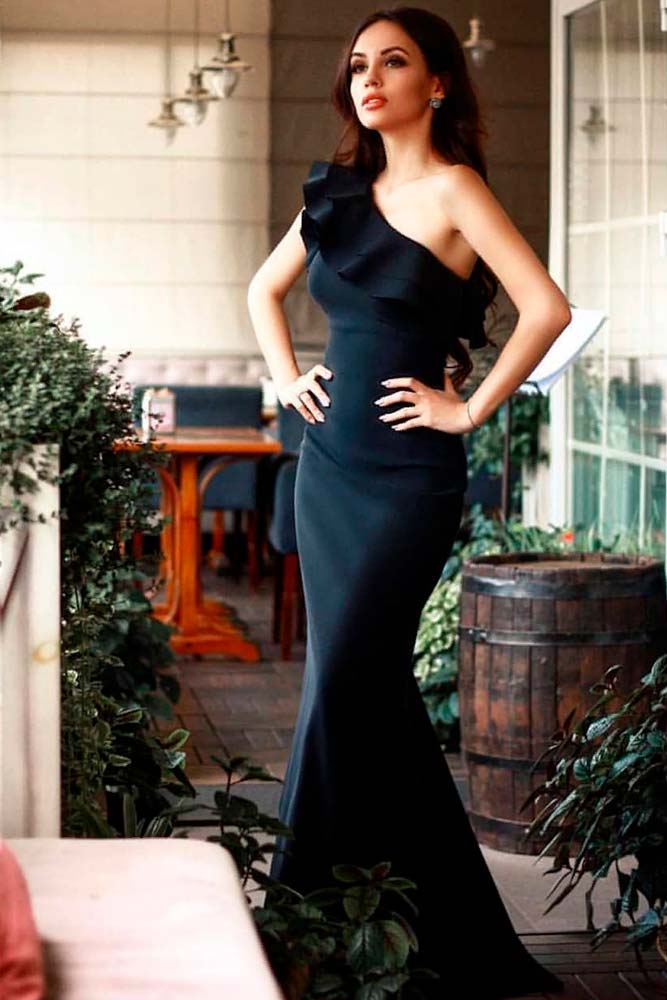 Credit photo: nsfashiondress/Instagram.com
There are times when all that matters is that you keep it simple. Of course, that does not mean that you are going to attend your wedding dressed casually. However, one shoulder off, fitted silk black dress is one of the best options. It is elegant and simple, but it is surely bride-worthy!
Shoulders Off Wedding Dress With Sequins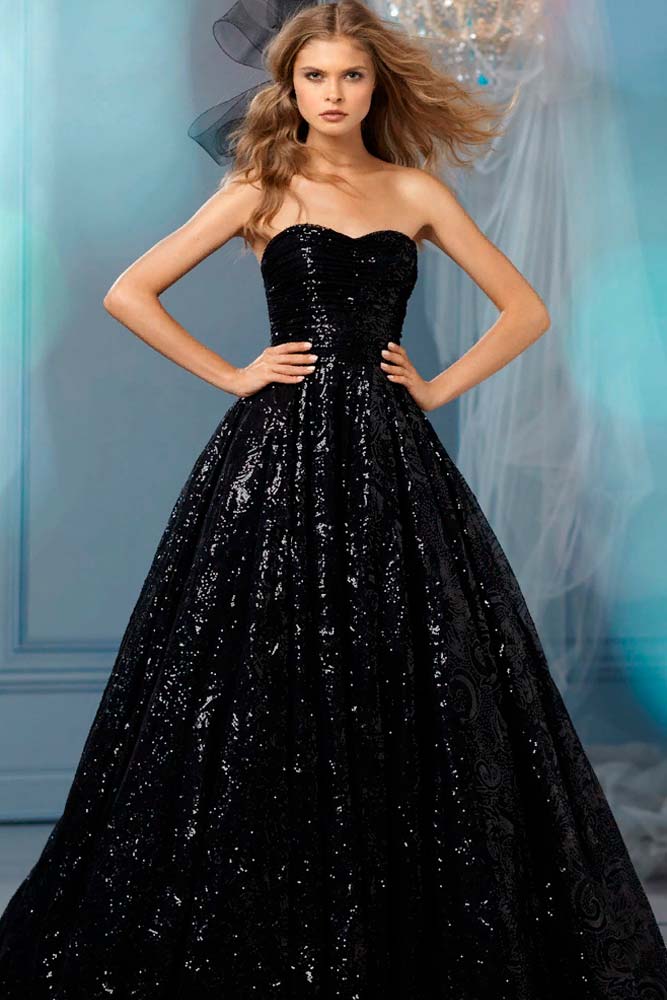 Credit photo: wtoowatters/Instagram.com
Light wedding dress may seem to be easier to decorate. However, black wedding dresses do not lag behind. The thing is that when you need to add that extra bling to your look, we suggest you pay your attention to sequin-decorated black dress like this one.
Contrasting Wedding Dresses
Goth-Chic Black And White Wedding Gown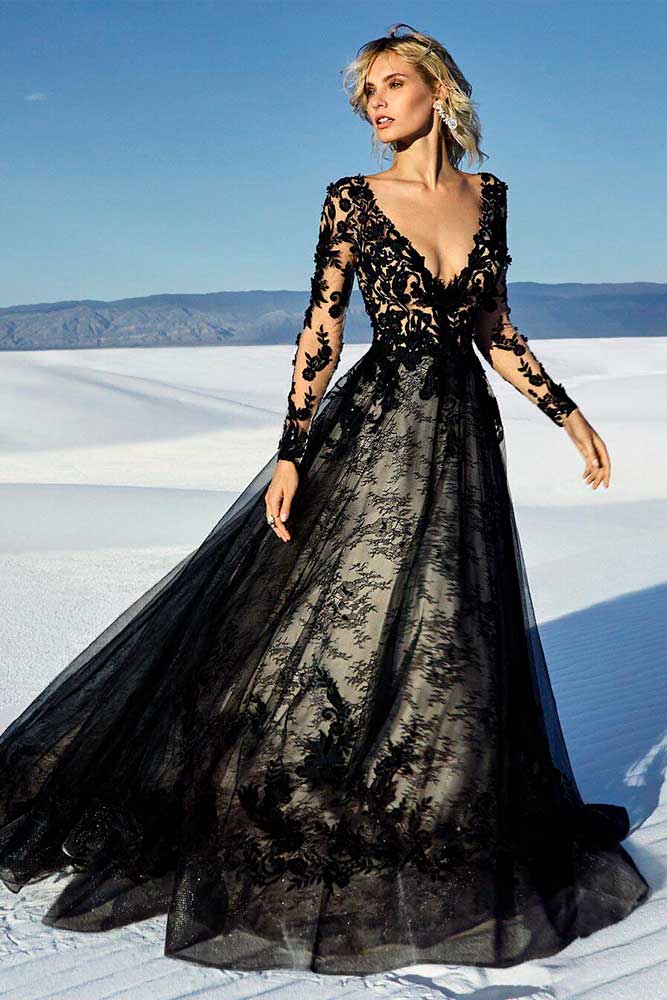 Credit photo: maggiesotterodesigns/Instagram.com
For some people, it may be quite difficult to choose between a black or white dress when it comes to the wedding look. In times like these, there is nothing better than black and white wedding dresses. For example, this wedding dress is all black, flowing lace, while the bottom skirt is pure white peeking through the lace. Such a dress will surely add up to your feminine and charming bridal look.
Wedding Gown Black And Champagne Combo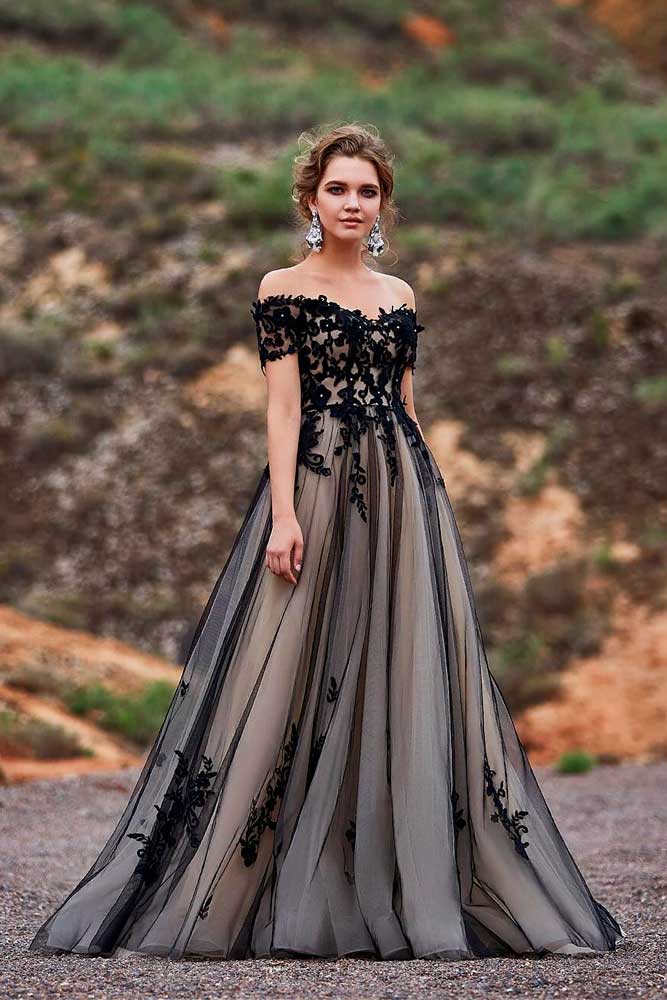 Credit photo: cocomelodyofficial/Instagram.com
Of course, white is not the only hue that goes well with black. Many brides refer to black hue because white one does not compliment them well. If that is your case, you can easily switch white for the champagne color and combine it with black for the killer effect.
Black Lace Wedding Dress With White Gown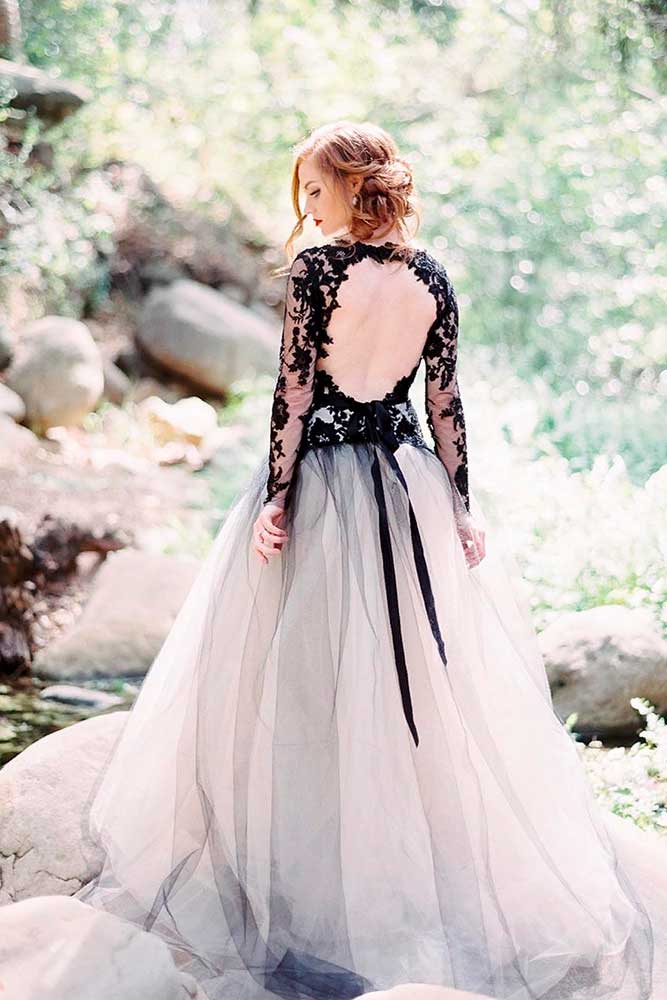 Credit photo: lunademarephoto/Instagram.com
One of the most requested contrasting combination when it comes to wedding dresses is surely a mixture of black and white. However, this example shows entirely different combo since the top, and the bottom are those contrasting pieces. We can't but agree that the outcome is clearly breathtakingly gorgeous!
Black Wedding Dresses With Colorful Accents
Black Wedding Dress With Embroidered Red Flowers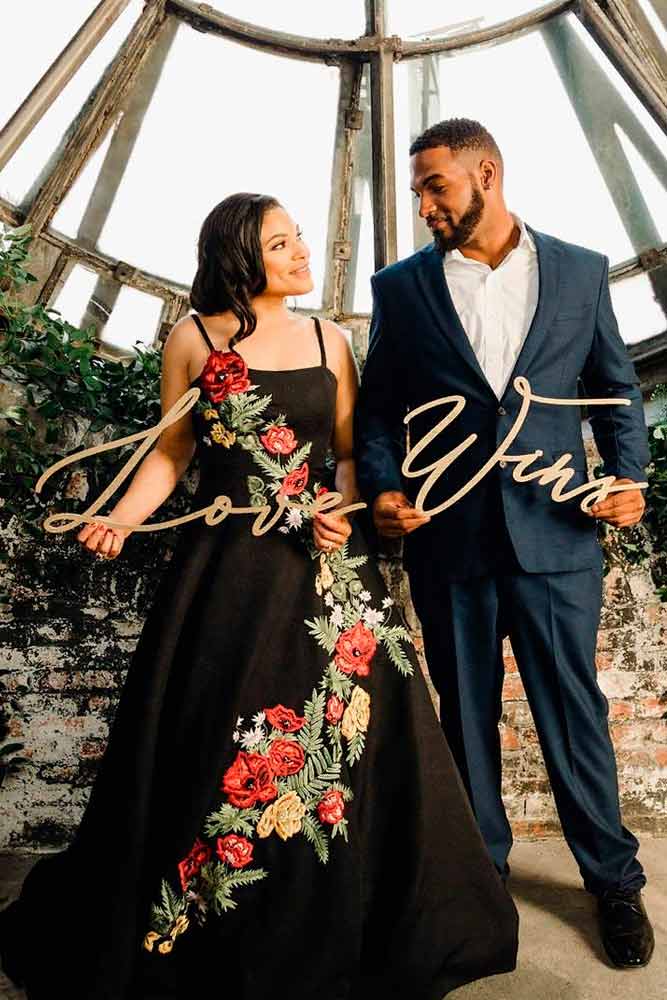 Credit photo: greenweddingshoes/Instagram.com
We all know that details matter, however when shiny ones are not your cup of tea, it is time you consider some alternatives. The thing is that floral embroidery is suitable for wedding, what is more, it fits black dress more than well. With such a detailed addition, your dress will become a real piece of art!
Dramatic Short Black And Red Wedding Dress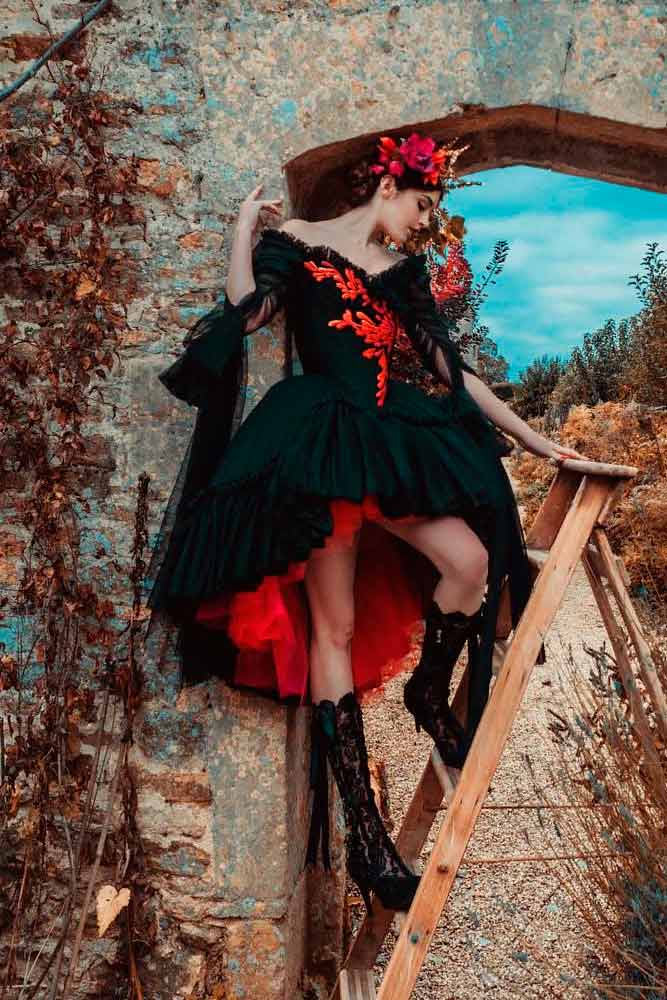 Credit photo: chantalmallett/Instagram.com
There are brides who are all about breaking the rules. If you are one of them – we have something stored for you as well. The thing is that a short black wedding dress is not something you can spot on a regular wedding. However, what makes it stand out is the bright red lining. Are you sure you are ready to rock something as dramatic on your big day?
Black And Gold Wedding Dress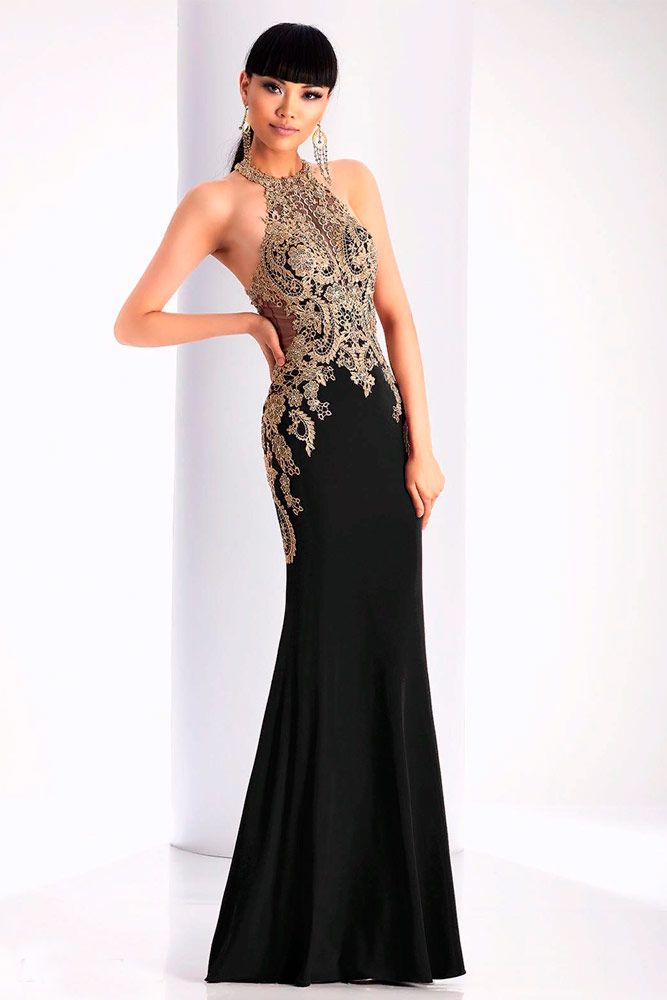 Credit photo: clarissedesigns/Instagram.com
Some colors seem to be created to match each other. If you think about black and gold, you will surely agree that it is true. Black and gold wedding dresses are so luxurious and magnetic looking that there is not a chance that your groom will be able to take the eyes of you!
Black And Nude Wedding Dress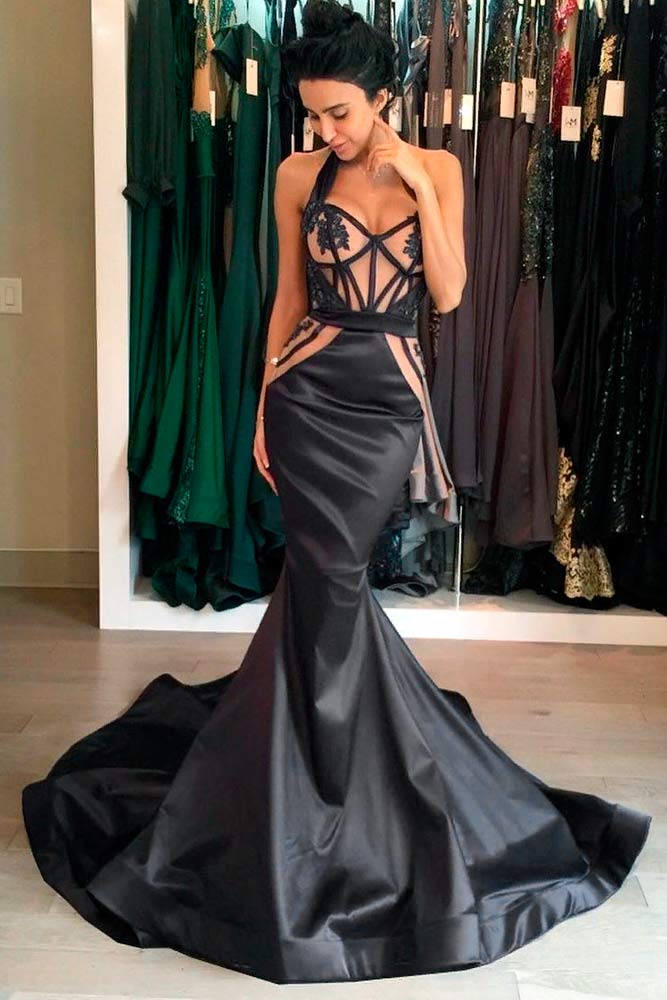 Credit photo: waltercollection/Instagram.com
The sassy vibe is not the last thing to keep in mind when it comes to your wedding look. That is why if you care about both sassiness and style then we have a suitable option in mind. The truth is that this dress is not only nice to look at – it is intriguing since it is hard to tell whether it is revealing or reserved!
Luxury Effect With Gold And Silver Sparkles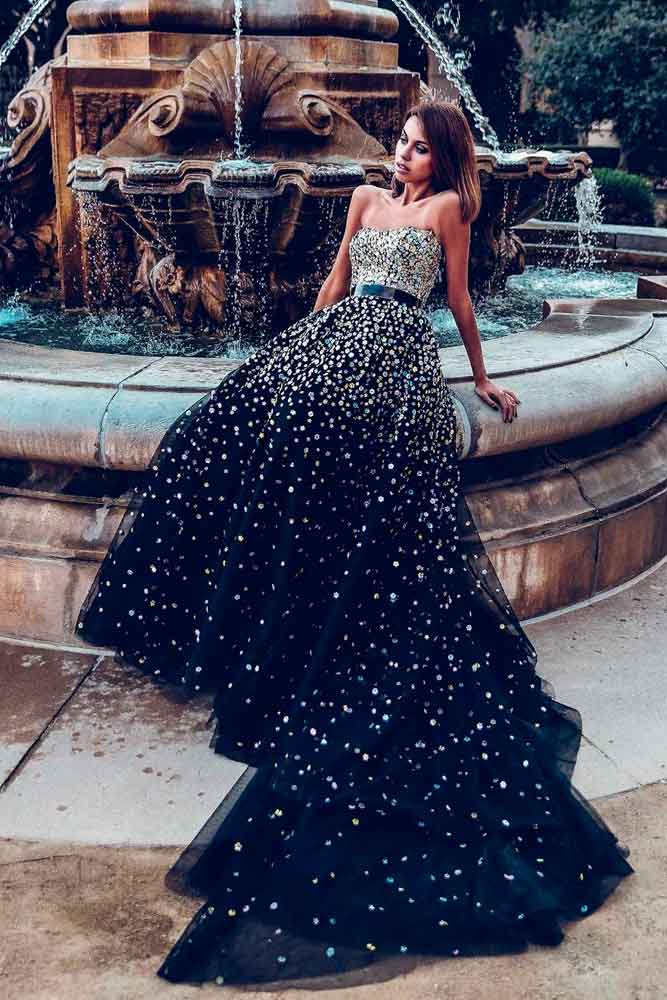 Credit photo: vivaluxuryblog/Instagram.com
There is so much bling coming up from this black wedding dress that it is hard to define that it is actually black. If you were all about the super luxurious style, then this would be the perfect option for you!
Asymmetric Black Wedding Dress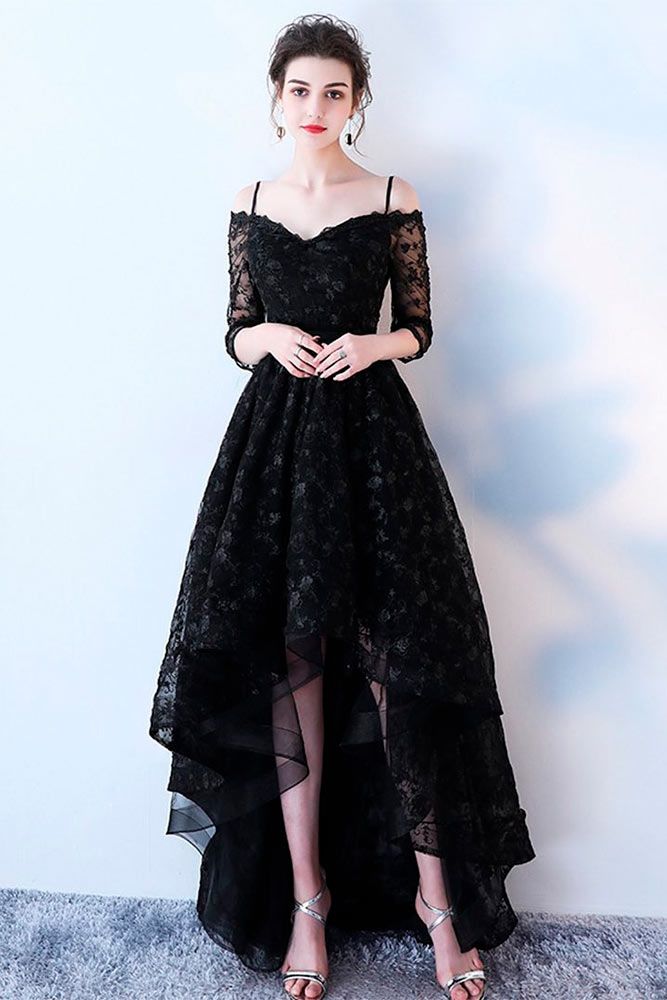 Credit photo: darkincloset/Instagram.com
When you want to look stylish and classy at the same time, then you need to consider this asymmetric black lace dress. It is not only incredibly gentle but also trendy. Besides, silver sandals will complete the look like nothing else!
Off-The-Shoulder A-Line Black Dress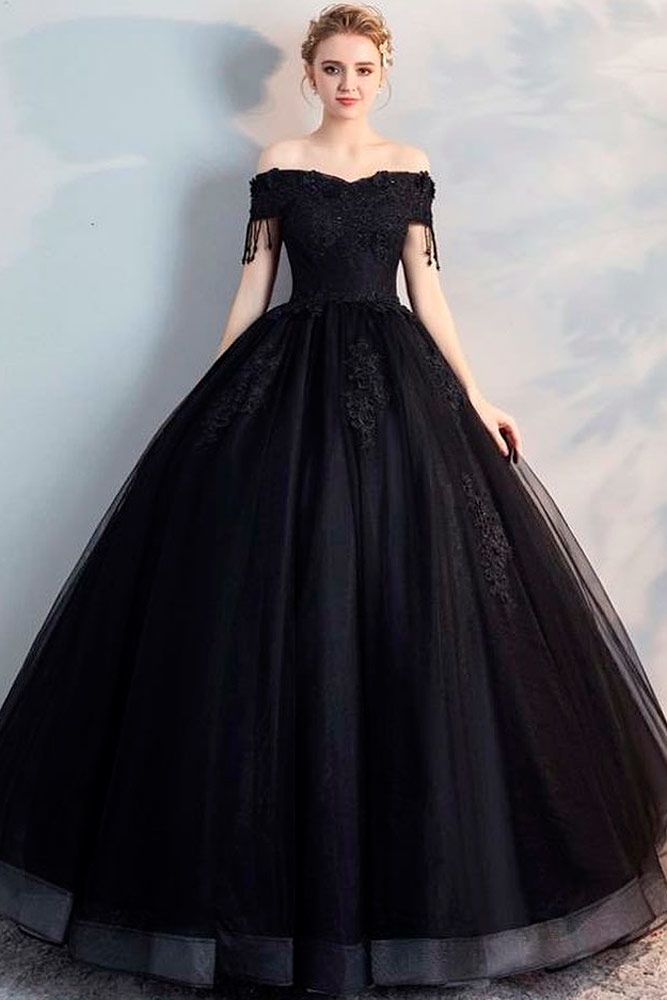 Credit photo: darkincloset/Instagram.com
A true princess looks fabulous even wearing black. Do not trust us? See for yourself! This A-line off-the-shoulder pompous dress will make the day to be the one to remember. Isn't that something that every wedding is supposed to be?
Strapless Ball Gown For Wedding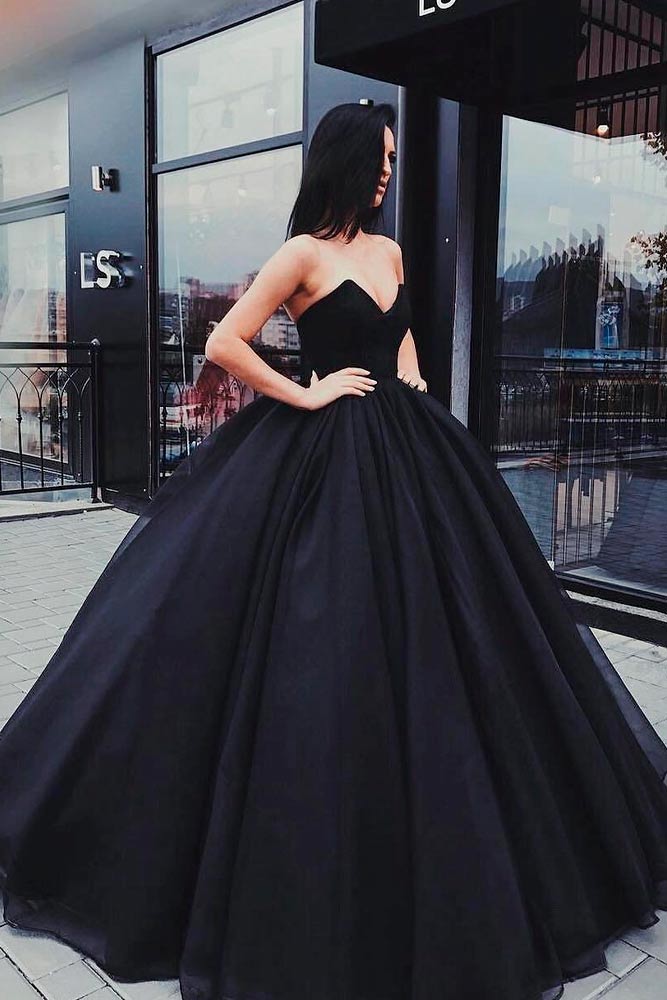 Credit photo: valette.co/Instagram.com
Your wedding is your perfect personal ball so that your gown should correspond to the occasion. This elegant strapless ball gown in black will steal all the attention. What is more, it will define your figure in the best light, and that matters a lot!
Mermaid Wedding Dress With Black Sequins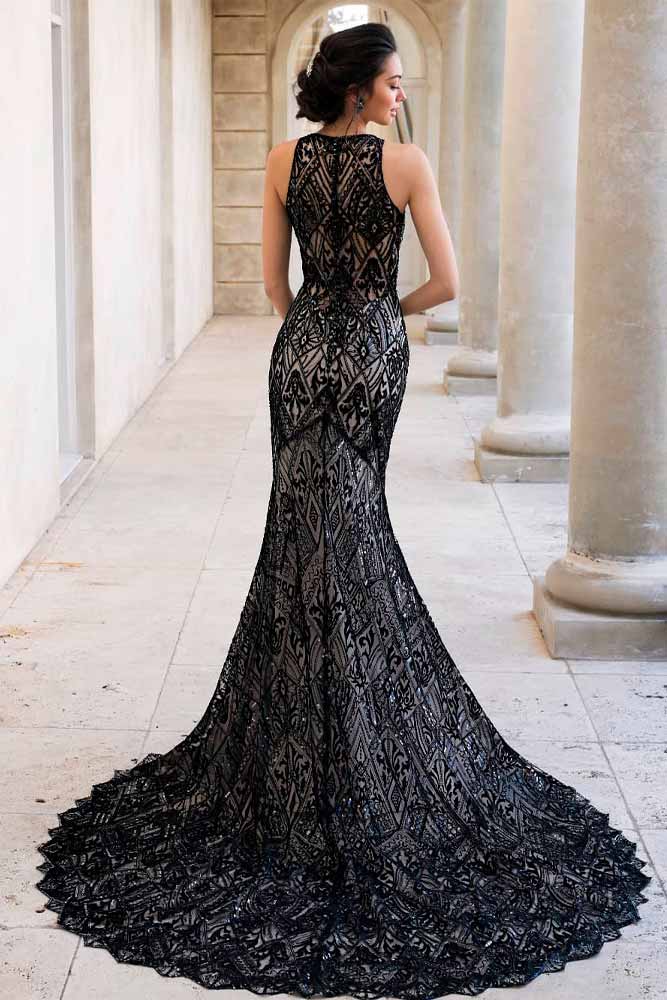 Credit photo: sophiatolli/Instagram.com
There are times when a solid back is not enough to represent your one of a kind look. That is when the interaction of shadow and light comes in. What we have in mind is the dress decorated with sequins. Also, the mermaid tail will take a look to the whole new level of gorgeous.
Black Wedding Dress With Feathers Top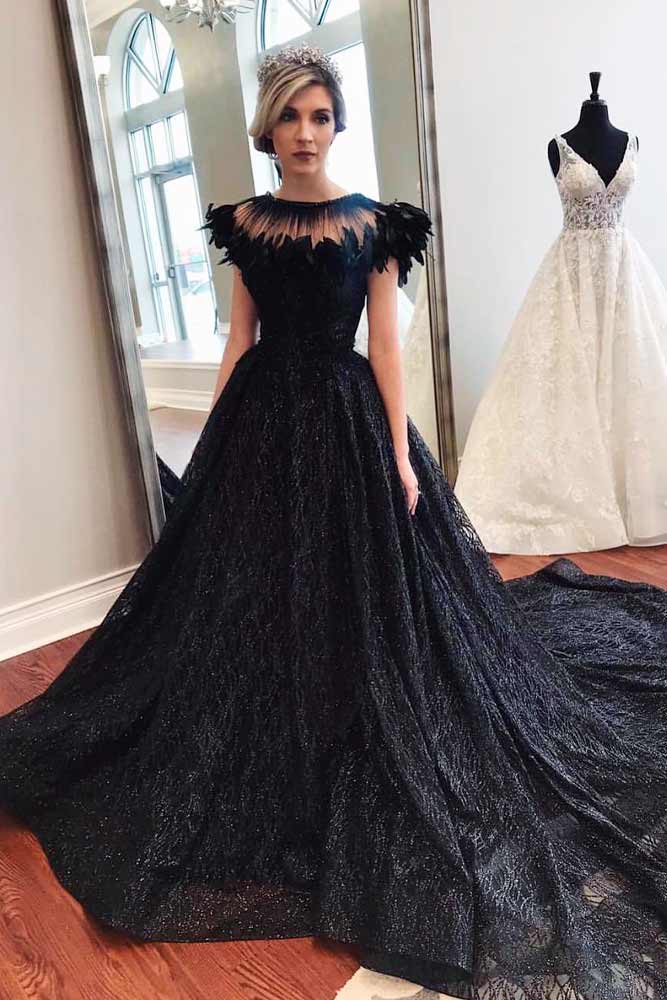 Credit photo: lazarobridal/Instagram.com
Your wedding is your day so that you can sport any look that makes you happy. In case you wish to look like an elegant and strict queen – so be it! This magnificent wedding gown with feather top to it will help you succeed with the impression. However, you should not forget about the crown!
Bohemian Guipure Black Wedding Dress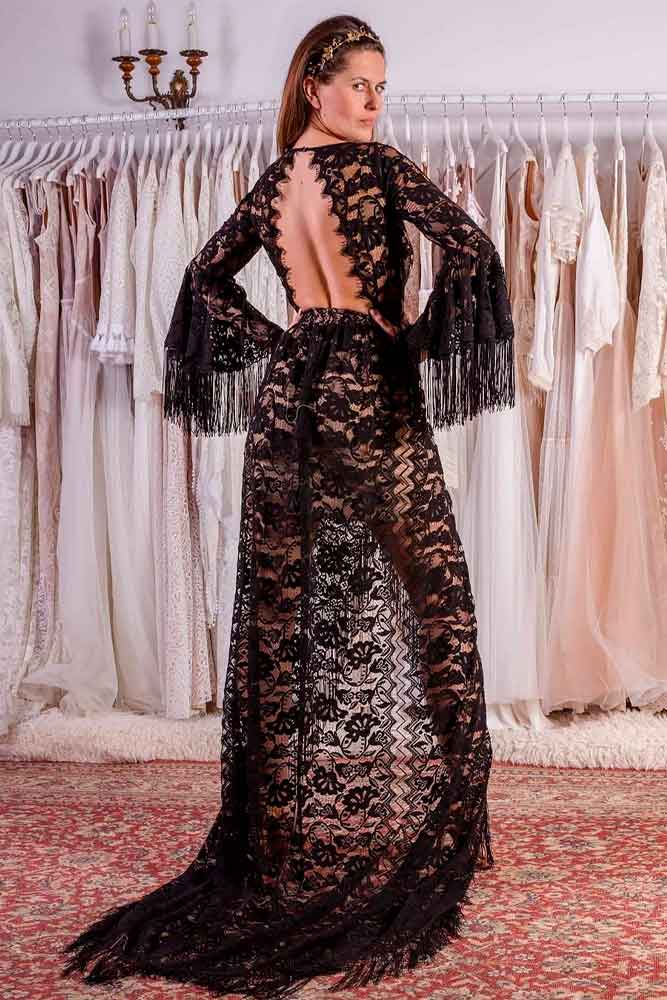 Credit photo: martatrojanowska/Instagram.com
Bohemian dresses are all about the sensuality and femininity to them. Nevertheless, no one says that you can add a hint of sassiness to the look. Take this bohemian guipure dress as your guiding look and create with your own unforgettable and sexy image!
Wedding Dress With Black And White Lace Top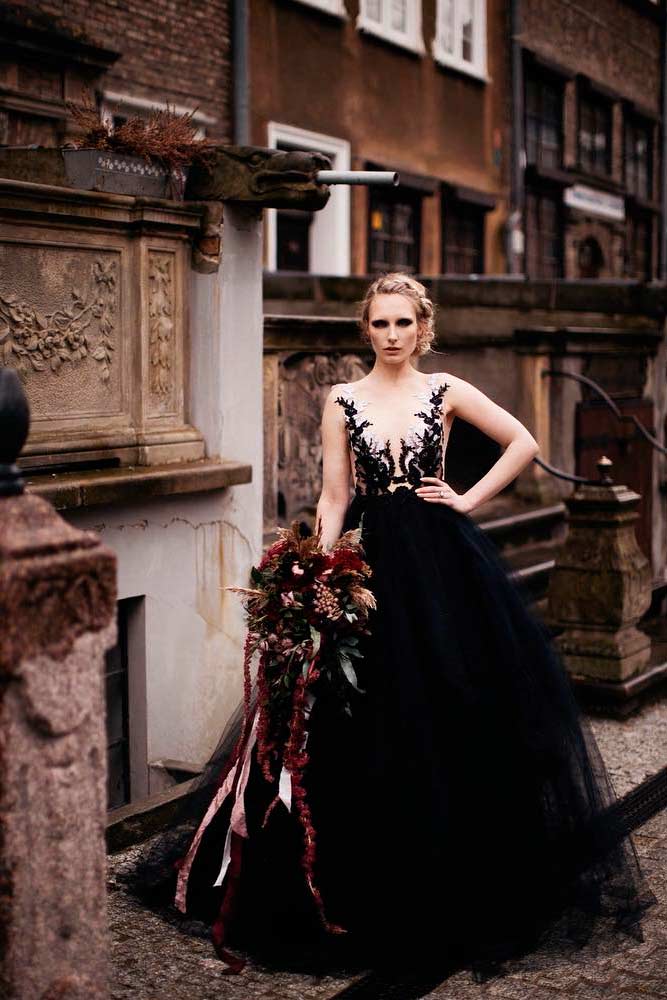 Credit photo: jeresatamophotography/Instagram.com
To intensify the uniqueness of your taste as well as your wedding look, you can get a little experimental with the hues involved. The mixture of black and white is the classy one, but the outcome of such color interaction is clearly one of a kind!
Simple Wedding Gown With Deep Cleavage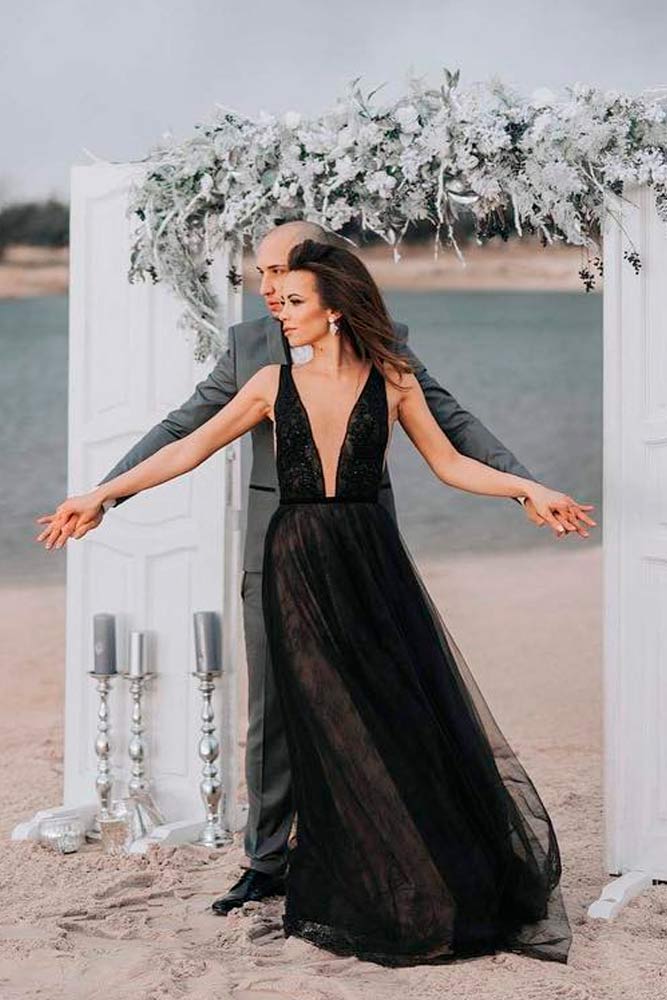 Credit photo: hope_nadinee/Instagram.com
Some brides like it simple even if it is a wedding day we are talking about. If you belong to the category, then this simple but elegant dress with deep cleavage will surely steal your attention!
Black Tulle Dress With Long Sleeves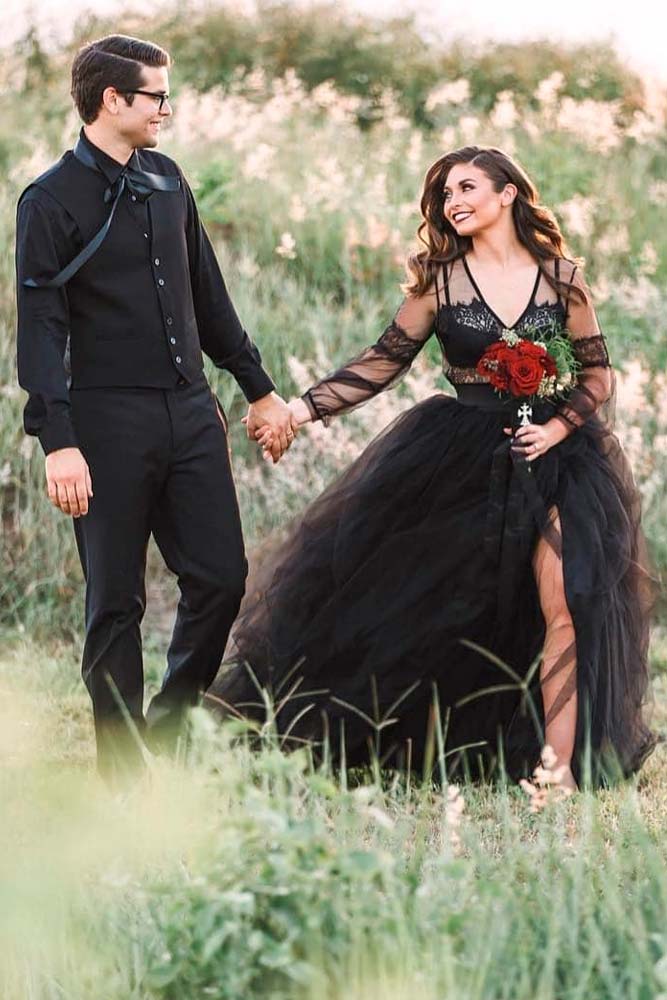 Has it ever occurred to you that wedding dresses can come in all colors and styles? If you want a beautiful puffy tulle dress but white is not your favorite color – make it black! As you can see, such a dress look not less festive and effective when worn in black! If you like colored wedding dresses you can also check our ideas of pink wedding dresses.
FAQ: Black Wedding Dress
Can a bride wear a black wedding dress?
A black wedding dress is a great alternative to a traditional white one. A bride can wear a black dress if she wants to make her wedding unique and memorable. Moreover, this dress choice will look elegant and sophisticated.
What does a black wedding band symbolize?
In addition to a black wedding dress, a couple can choose to have a black wedding bands as well. Initially, there was black onyx used to make rings meaning that black rings are traditional. Moreover, it can mean everlasting commitment of both partners, strength, power and sophistication.