When it comes to the wedding all ladies dream about beautiful gowns that will stand out. Yet, rarely we consider short wedding dresses in the search for that one perfect wedding dress. That is where most of us make a terrible mistake. The truth is that short dresses have many advantages over long pompous ones. The thing is that short dresses are always more comfortable not to mention the fact that you can show off your gorgeous legs. Apart from that, there are so many interesting designs to give a thought to. In case we have got your attention, we suggest you start browsing our exquisite gallery of unforgettable short wedding gowns. We are more than sure that you will not regret this!
Styling Tips For Short Wedding Dress Wearing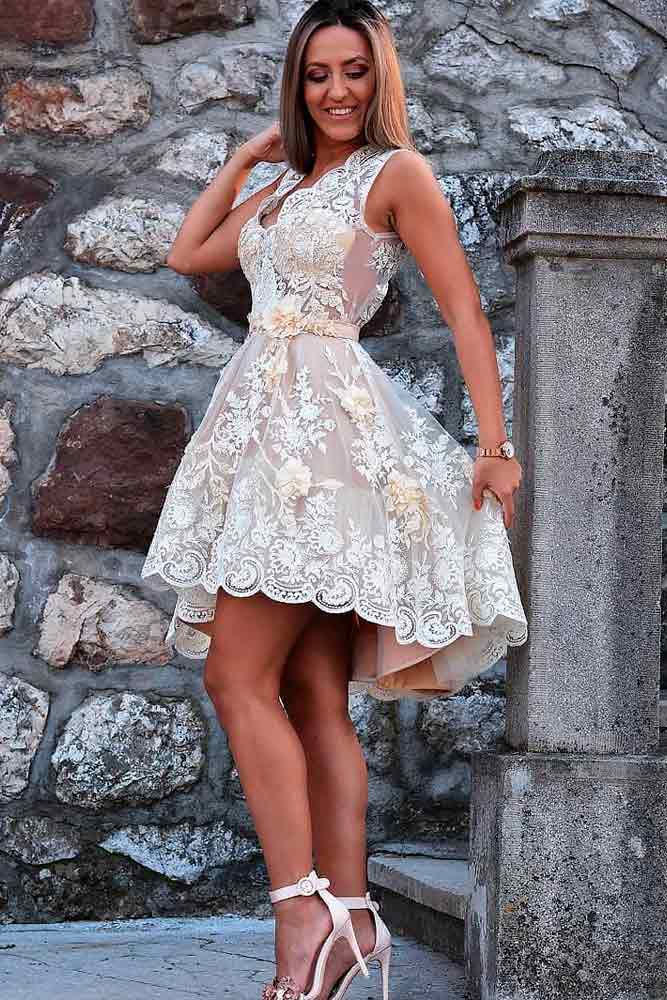 Credit photo: Instagram.com/danijela_lalic_design
For many, it may seem that there is nothing special about wearing a short dress and there is no need to think about all possible tips and tricks. However, when it comes to your wedding day, things may get a little complicated, and you need to make sure that everything is flawless. That is why we offer you these simple styling tips to take into consideration:
The undergarment:
Even if you have a perfect body, it is always best to ensure that everything stays in place. That is why most brides-to-be opt for shapewear. However, it is not enough to get yourself one and wait until the day comes. You need to try it on and make sure that the size fits and that there will be no surprises during the wedding. At this point size really matters.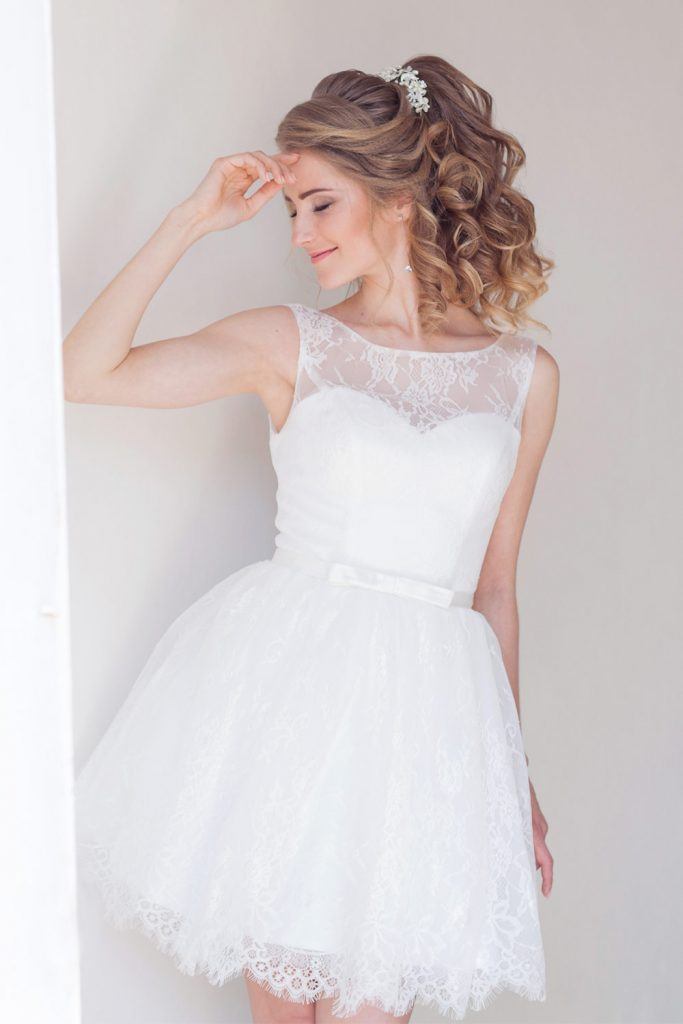 Thigh Chafing:
Yes, it is just as unpleasant as it sounds and you need to do anything to prevent it from happening during your wedding. Blister blocker and baby powder are your best friends here.
High heels:
This one may sound pretty obvious; however not all the brides pay enough attention to such a detail as shoes. The thing is that high heels look exquisite with a short dress and you shouldn't leave this detail out when planning your wedding image.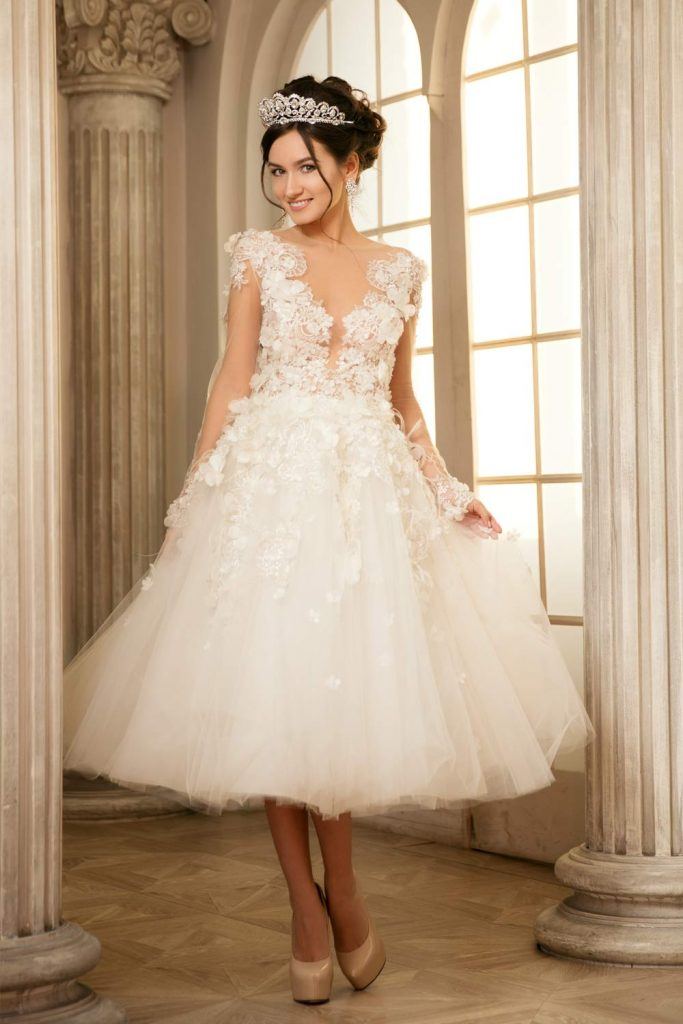 Fun:
Very often, brides think of their dresses as of sort of formal wedding wear. We say you have all the fun you can, especially if you are going to change after the format part. Add some feathers, rhinestones and dare to your look!
Simple But Elegant
To tell you the truth, very often when you think about a bridal dress you imagine something ethereal almost otherworldly. However, not all the brides like pompous looks. That is why we are going to tell you that simple short wedding dresses are not only existent but also versatile. You can have a look yourself!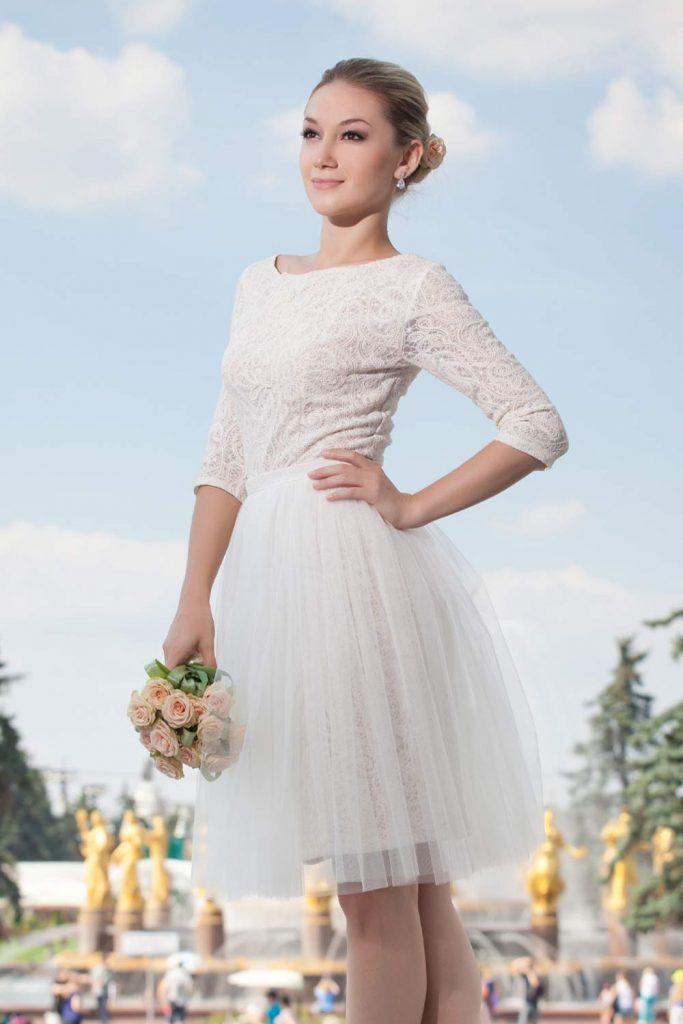 Simple Satin Short Dress With ¾ Sleeves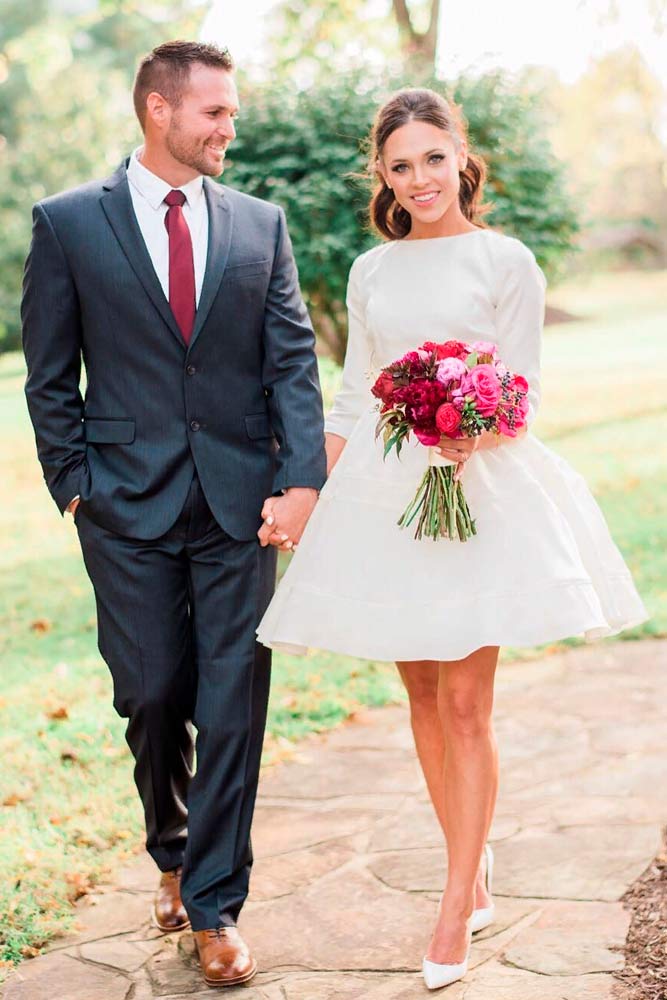 Credit photo: Instagram.com/twobrightlights
This little satin dress looks not less bridal than any other dress. Yes, it is simple, but it is over the edge elegant and feminine. There are times when these two details are the ones that matter most. Think about it!
Elegant Short Dresses With Open Back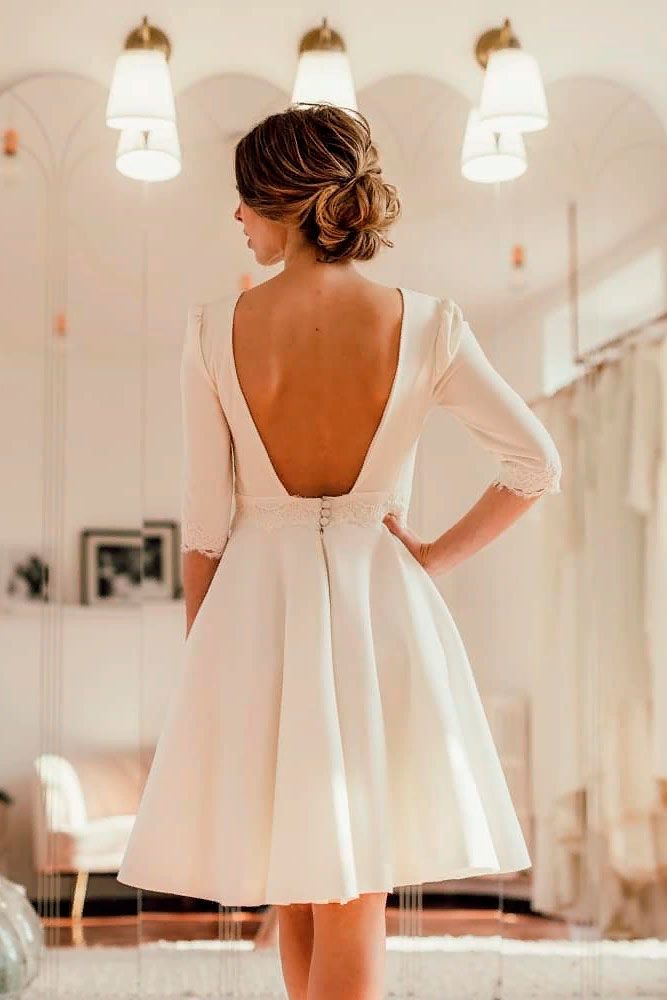 Credit photo: Instagram.com/labudekoeln
Even a simple wedding dress can stand out. Do not trust us? See for yourself! The thing is that short wedding dresses with sleeves can look simple at times, but there are intricate details that take the charm to the next level. In this case, a dress with open back proves the point like nothing else.
Simple Spaghetti Straps Wedding Dress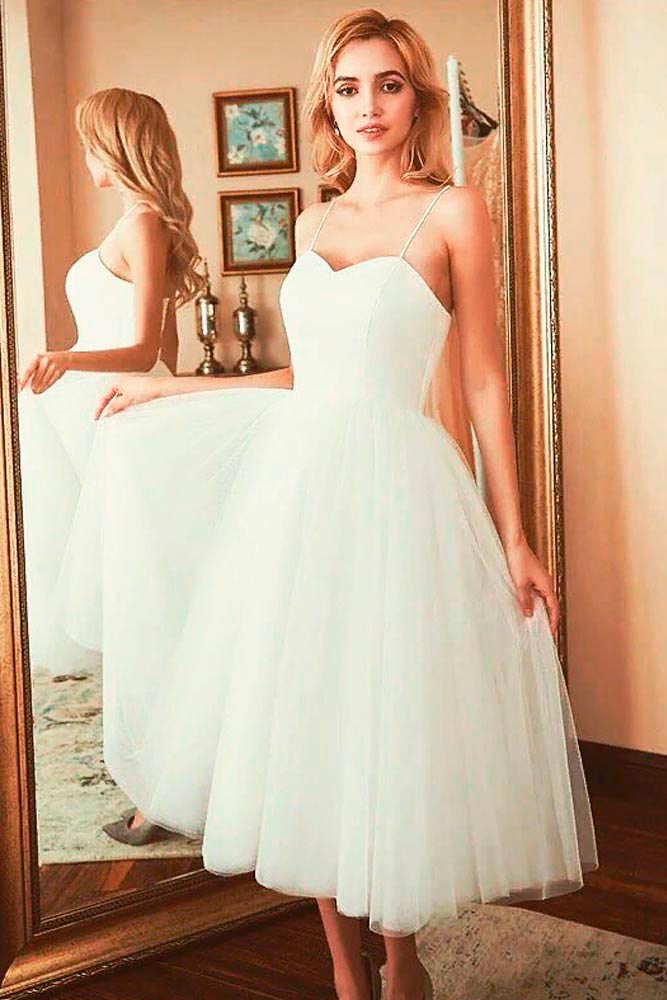 If you want to combine two feminine looks in one, then there is nothing better than a simple spaghetti strap dress. White dresses like this resemble a fragile ballerina who is about to become a bride, and there is something magical in this idea, don't you think?
Credit photo: Instagram.com/wyldflower.weddings
Classic Wedding Dresses For Real Princesses
If you wish to be a princess when the day comes – we are totally up for it! However, we want you to know that you can look like that wearing a short wedding dress as well. The thing is that classic wedding dresses come with fluffy bottoms too. This means that you can kill two birds with one stone – feel comfortable and look like a princess.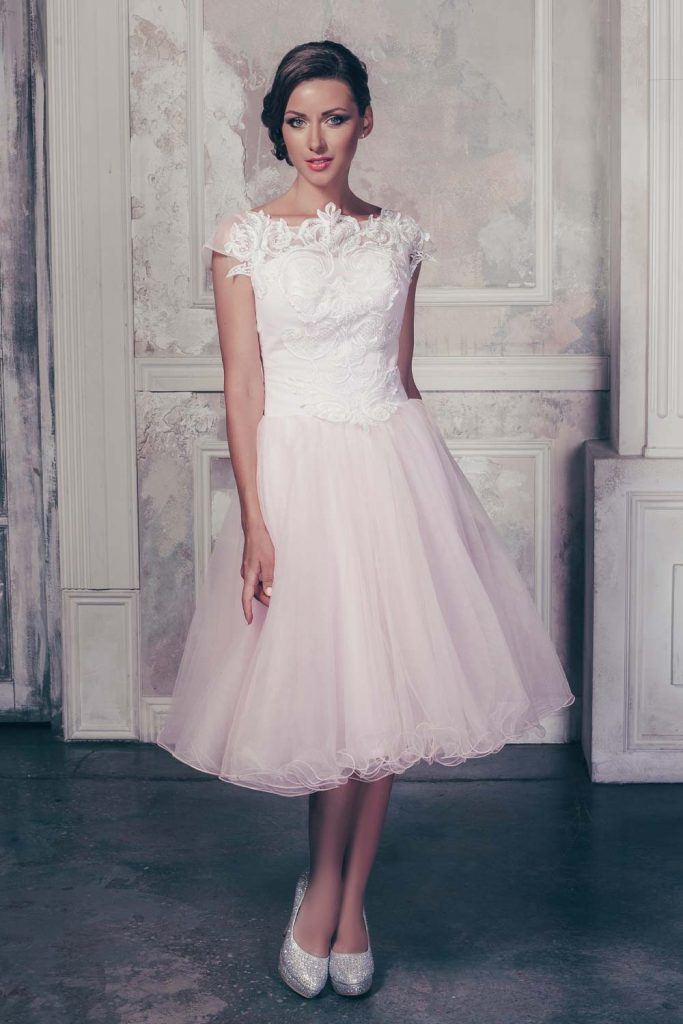 V-Neck Short Wedding Dress With Lace Top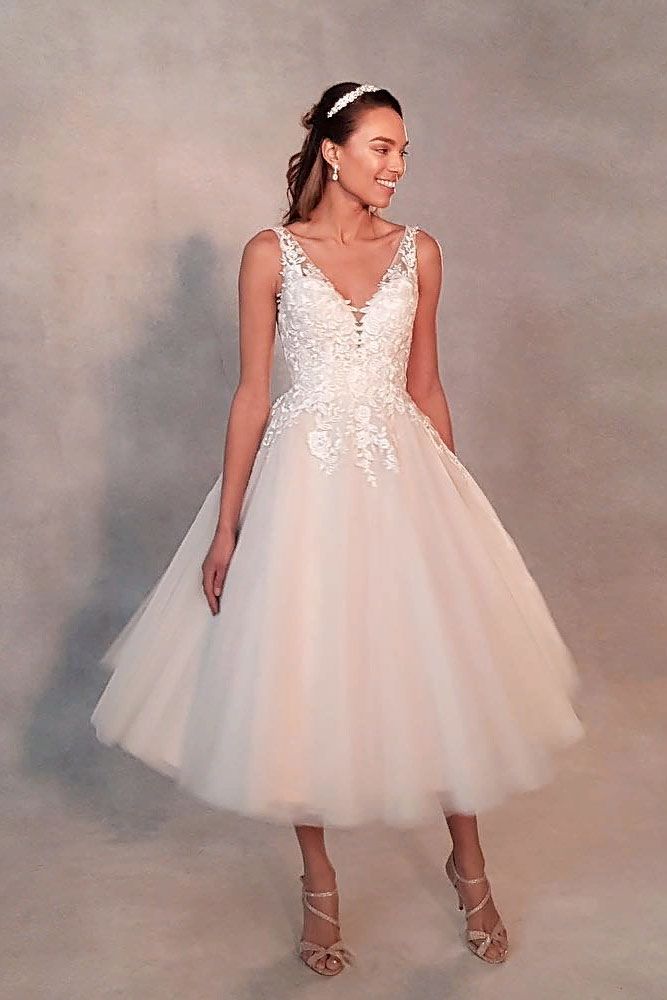 Credit photo: Instagram.com/vivabride
There are many cute short wedding dresses, yet the ones with lace always stay at the top. You do not need to introduce too much lace to look cute. The laced top is sometimes all that you need.
Strapless Wedding Dress With Long Tail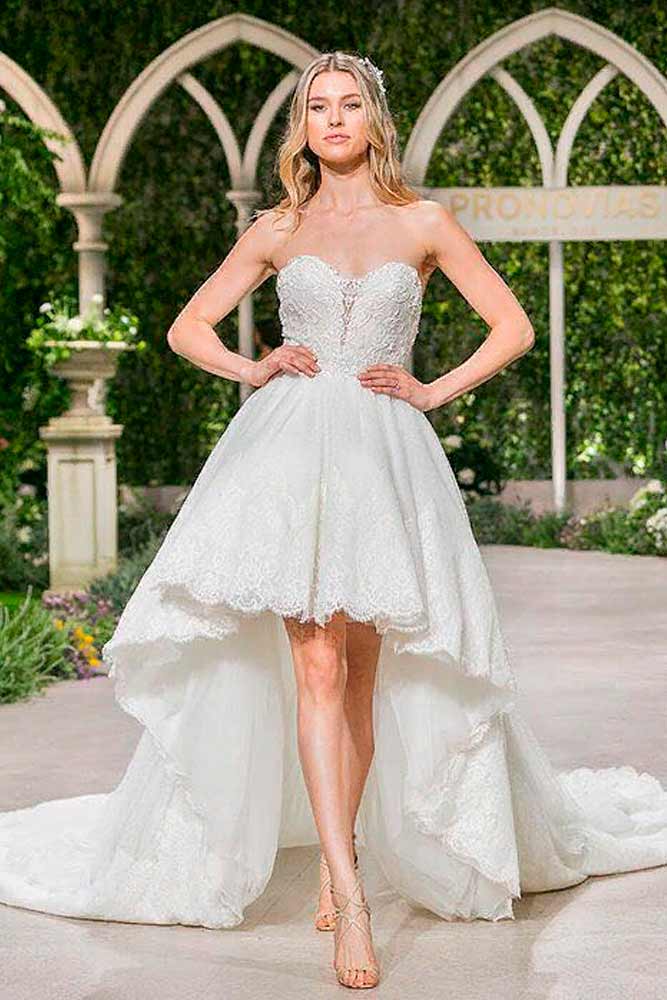 Credit photo: Instagram.com/pronovias
Those of you who cannot decide upon short of long they want to go – there is a perfect compromise. What we have in mind is a gorgeous short dress with a long tail. Every bride wearing such a dress will feel like a real queen.
Lace Wedding Dress With Cap Sleeves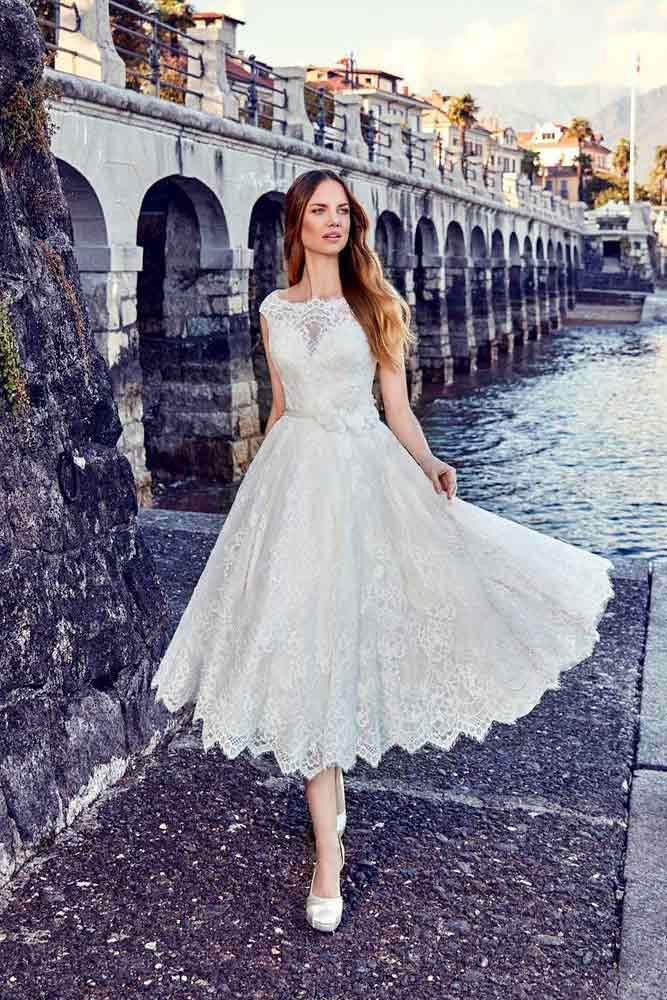 Credit photo: Instagram.com/eddyk_bridal
In case you wish to enchant everyone around you with your beauty, good taste and gentleness, we may have something in store for you. The thing is that such an exquisite lace dress with cap sleeves is truly a dream come true!
Boho Style For Wedding Dresses
Often when you think boho style you think of maxi length. However, that is not always the case. Do you wish to learn why? Let's have a closer look at these boho wedding dresses!
Bohemian Lace Short Wedding Dress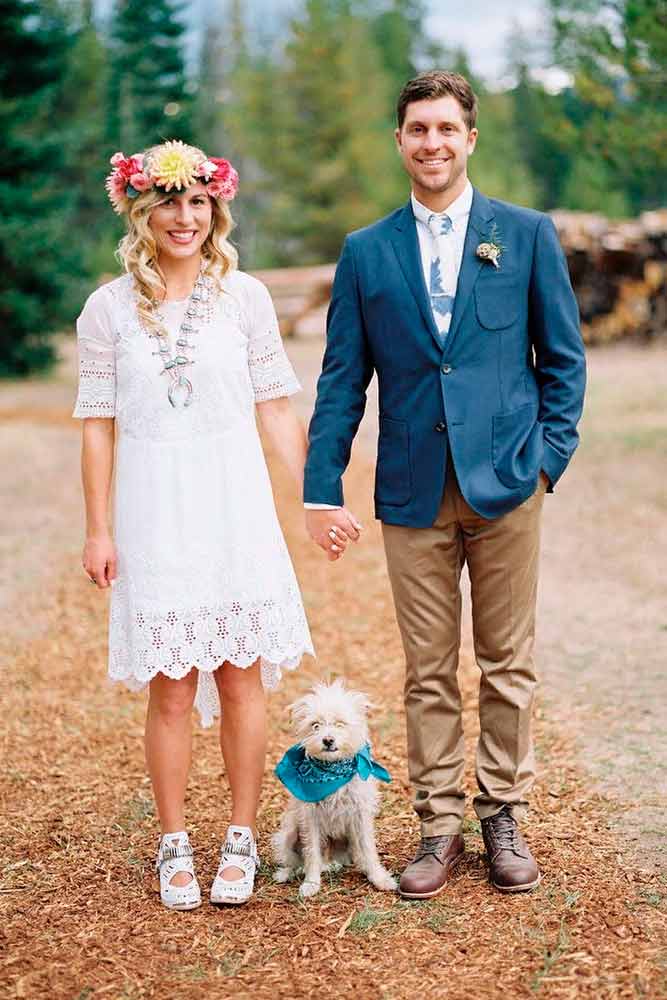 Credit photo: Instagram.com/jeremiahandrachel
The dress is short and light, perfectly suitable for hot summertime season. Bohemian lace is what makes this dress so special despite what you may have expected. To complete your bohemian look, add some flowers to your hair, and you will look fantastic!
Cool Bohemian Dress With Fringe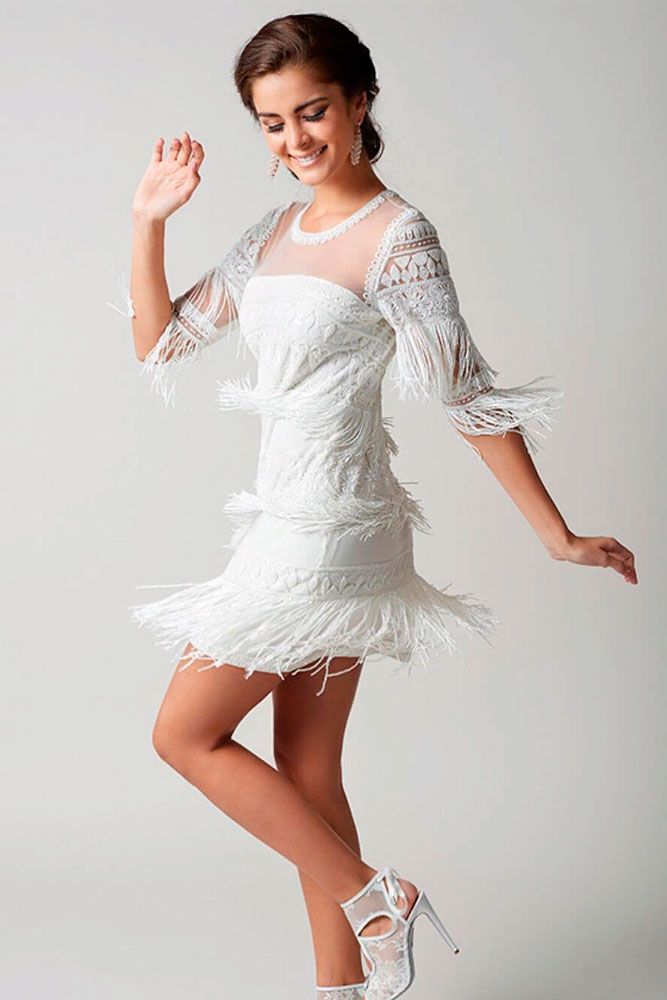 Credit photo: Instagram.com/naeemkhanbride
Many details define boho style; however fringe is surely the well-known one. If you want everyone around you to know that you are wearing a dress in boho style opt for fringe and you will not regret it!
Asymmetrical Boho Wedding Dress With Long Sleeves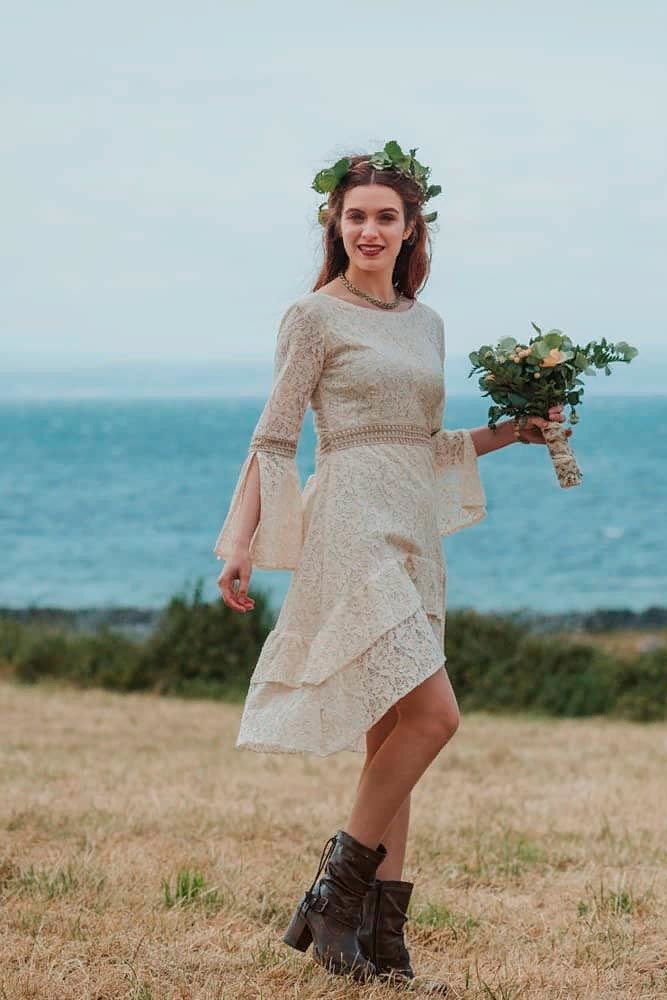 Credit photo: Instagram.com/celticfusiondesign
This is the time when you play not only with the color and style but with material as well. This boho dress steps away from all regular wedding-dress material and offers you something entirely different. It is both simple and extraordinary. Just the perfect pick for those who wish their wedding day as well as the look to be remembered.
Charming Vintage Short Dress
Vintage short wedding dresses deserve special attention since there are so many eras they can involve. If you are looking for something oldie but goldie – this may be the right chapter for you!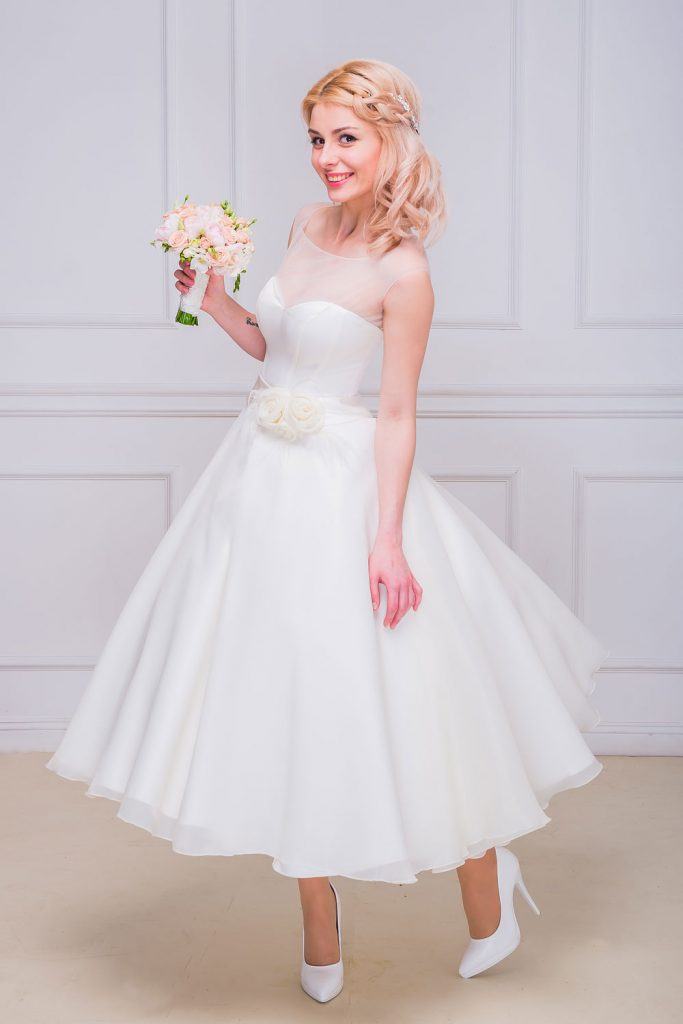 Stylish Shift Dress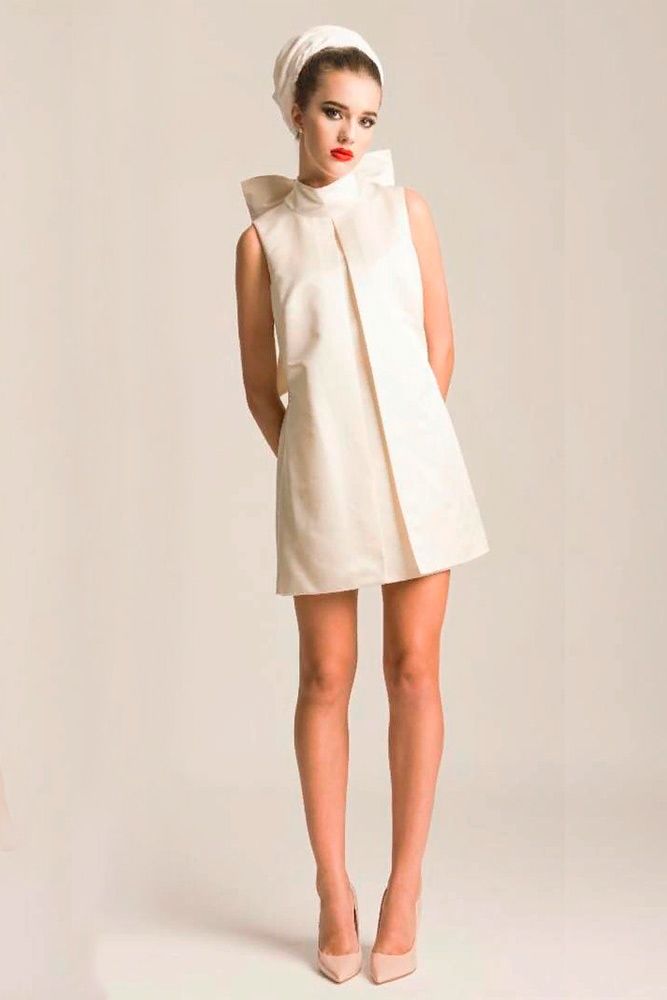 Credit photo: Instagram.com/adelais_london
A shift dress is the one that grants you that elegant and breezy look. What is more, it looks perfectly vintage with that huge beautiful bow on the back. Add a suitable hat to your look and the vintage vibe will be just overwhelming!
Feminine Vintage Halter Wedding Dress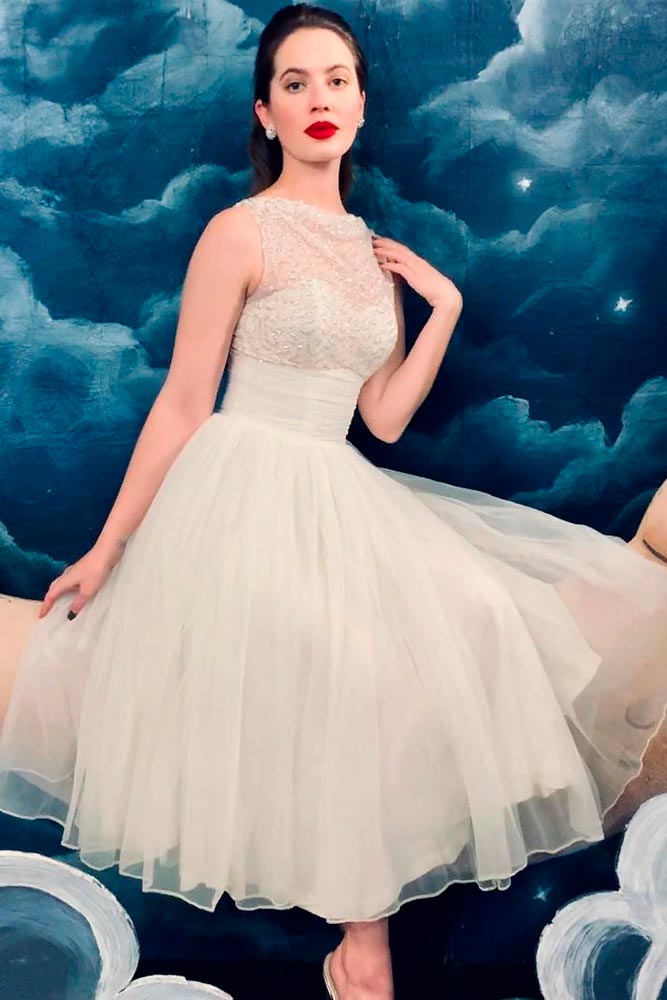 Credit photo: Instagram.com/papermoonvtg
The beauty of vintage dresses lies in their design that was created to enhance and underline your femininity. The material combined with a color and then completed with perfect design will make you look simply otherworldly!
Modern Wedding Dress - To Be In Trend
The truth is that those of you who are considering short wedding dresses are already quite modern. That is why we suggest you embrace that calling to the fullest.
V-Neck Wedding Dress With Modern Pattern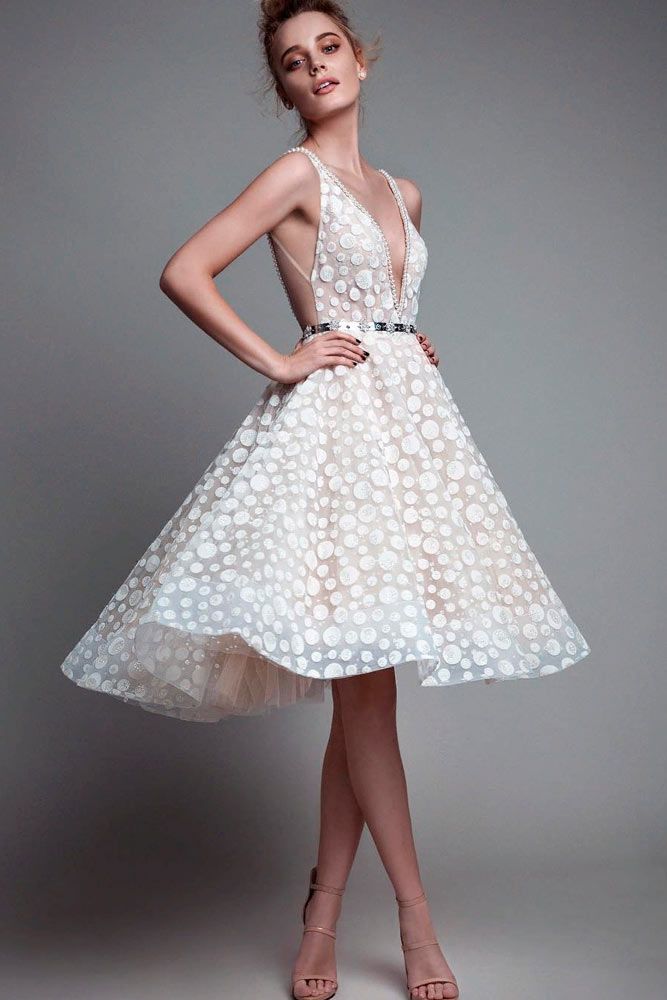 Credit photo: Instagram.com/berta
A modern wedding dress should be not only stylishly designed, but also the details should be appropriate. In this case, we see that everything is in place, starting with a revealing V-neck and ending with an interesting pattern. What is more, the metallic belt emphasizes the modern era perfectly.
One Shoulder Satin Dress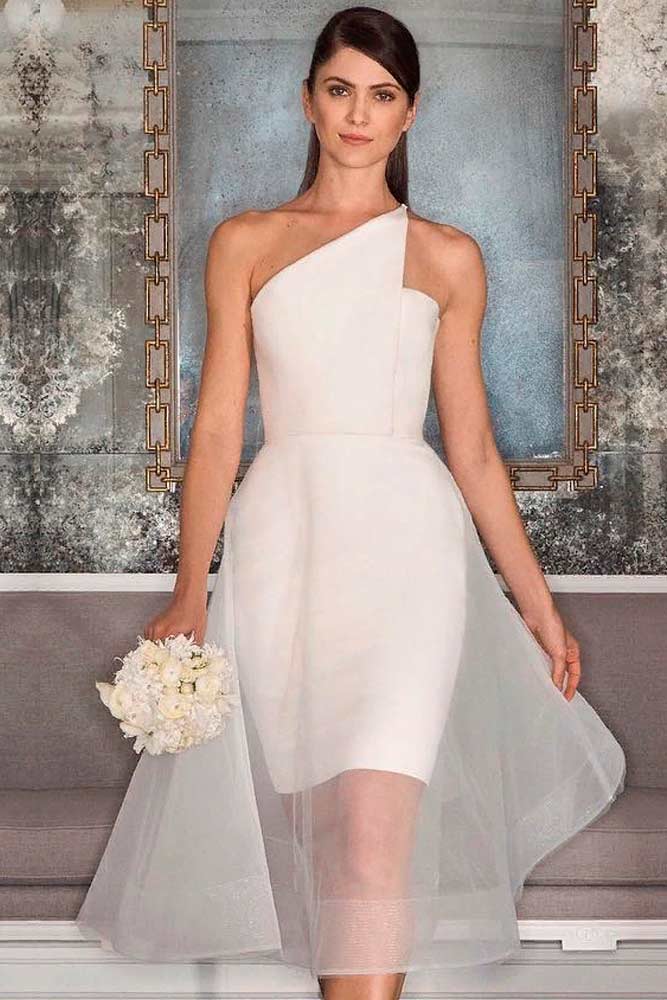 Credit photo: Instagram.com/romonakeveza
Modern does not necessarily mean too open or too complex. You can always come up with something in the middle. For instance, one shoulder off satin dress is exactly what we have in mind. Such a dress will accent your gentle and fragile silhouette with both strictness and sensitiveness.
¾ Sleeves Wedding Dress with Floral Decor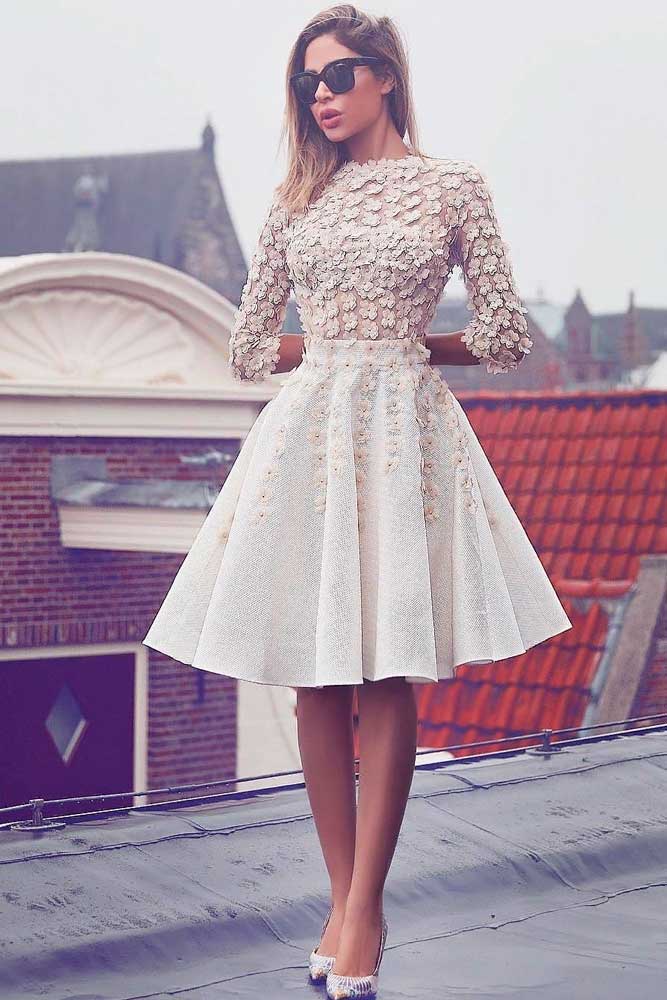 Credit photo: Instagram.com/ailsa_098
Weddings and flowers always go hand-in-hand. That is why a modern floral wedding dress is surely worth your attention. It is short, quite simple, undeniably elegant and of course stylish. What else should you wish for in a short wedding dress?
Nontraditional Wedding Dress – Create Your Own Look
We have come to the notion of informal short wedding dresses. To tell you the truth we stick to the point that there are no formal either informal dresses fit for a wedding. There are dresses that you wear to your wedding, and that is it. That is why if you want to set your imagination free – go for it and we are reaching out a helping hand full of ideas!
Chic Wedding Dress With Rhinestones And Ostrich Feathers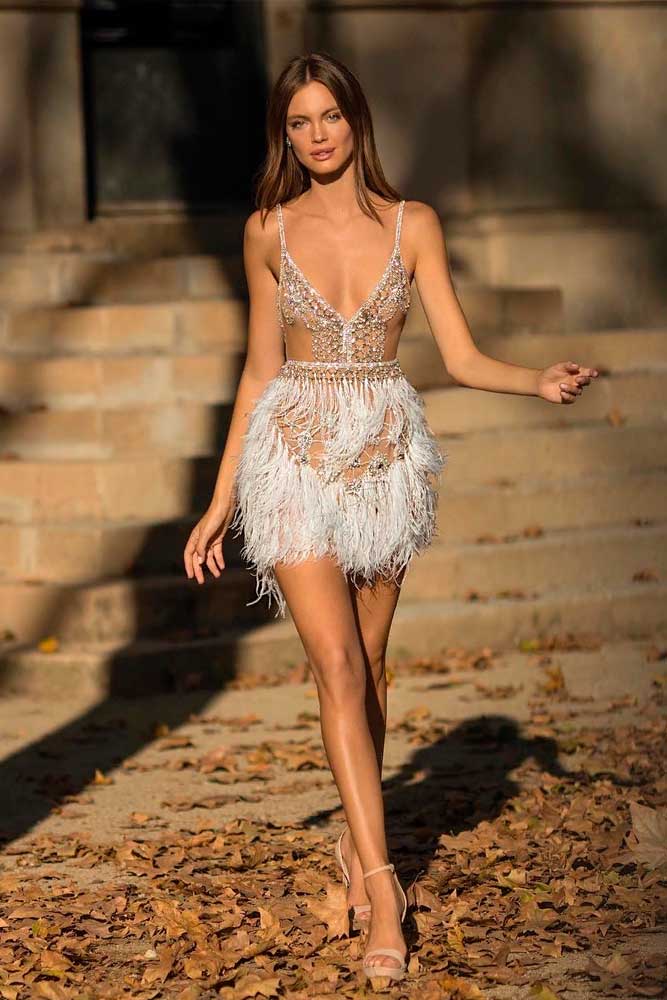 Credit photo: Instagram.com/bertabridal
This short wedding dress is surely modern and totally chic not to mention over the edge fab. If this is the dress, you fall in love with at the first sigh – do not hesitate to wear it when the big day comes!
Shoulder Off High Wrap Dress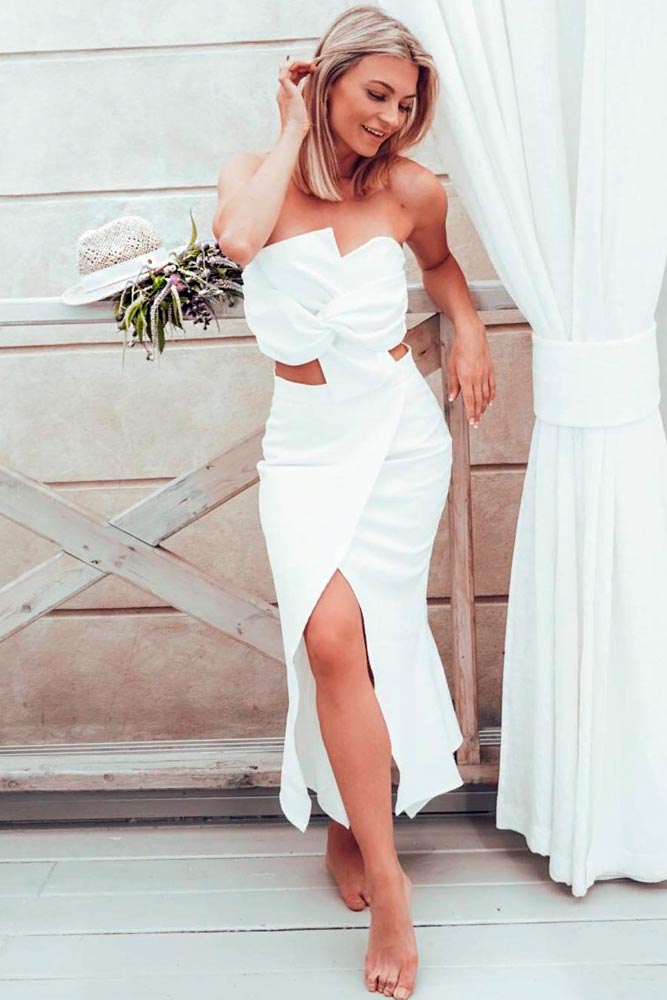 Credit photo: Instagram.com/misstarynwalker
No one says that you can't experiment with your wedding look and pull of the one you simply adore. This shoulder off wedding dress may not be quite traditional; however, it is simply outstanding in its simplicity and elegance.
Asymmetric Tulle Cape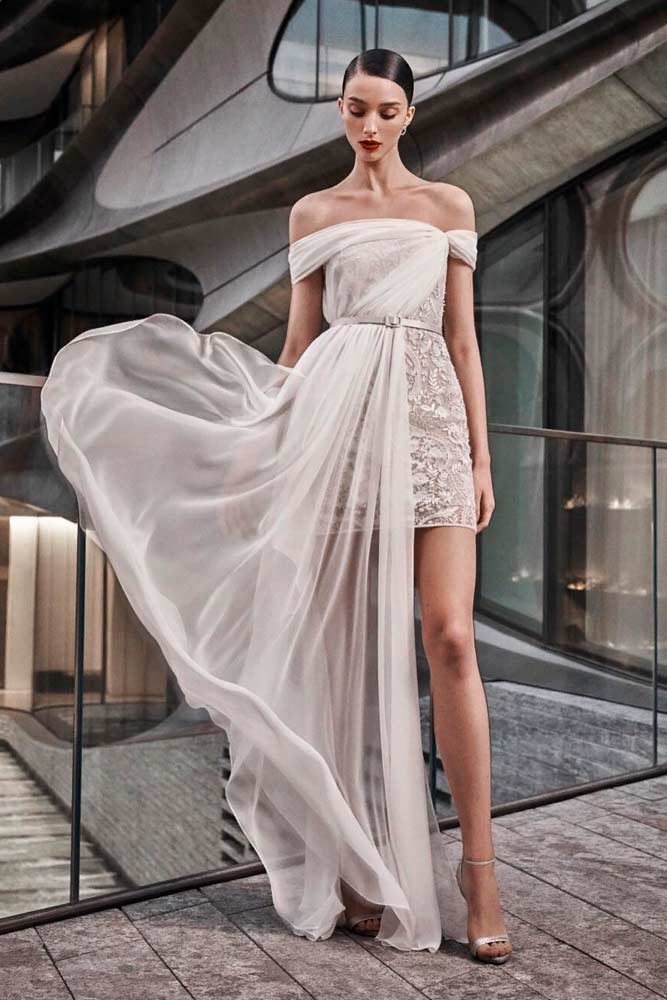 Credit photo: Instagram.com/naeemkhanbride
It has been already mentioned that your short wedding dress does not need to be short in general. You can add exquisite parts to the design that will make your dress one on the kind. For example, you can spice a beautiful short dress with an asymmetric tulle cape so that anyone who sees you freezes in awe!
Short wedding dresses are having a major comeback, and you need to know every detail about it. If by any chance, you have been considering a short wedding dress - this is the article you have been looking for!
FAQ: Short Wedding Dresses
What shoes can I wear with a short wedding dress?
While your wedding shoes may be hidden when wearing a floor-length gown, your shoes will be in the spotlight when wearing a short wedding gown. Thus, it's important to invest in a pair you trully adore. There are plenty of shoes to compliment any type of wedding dress, from statement-making stilettoes for a formal wedding to casual wedges for a beach or garden wedding.
Can you wear a short wedding dress in church?
Short wedding dresses with standard lace patterns are very imposing and are ideal for religious weddings. If you don't really like lace, try wearing your wedding dress with a long veil for a spectacular entrance.
What shoes should I wear with a short wedding dress?
Open shoes with strap heels go well with short wedding dresses. You can also experiment with cowboy boots, vintage velvet block heels, and glamorous T-straps to look more stylish.