Every woman plans her wedding and imagines her wedding dress long before the actual occasion takes place. However, these days there are so many options to choose from that as the big day approaches it becomes more and more difficult to come to a final decision. To ease your suffering, we decided to compile a full set of vintage wedding dresses to play around with if the vintage vibe is your cup of tea. All of these wedding dress ideas are unique and special in their own ways that is why there is certainly at least one idea that will win over your heart. Enjoy!
Vintage Wedding Dress Designs With Long Sleeves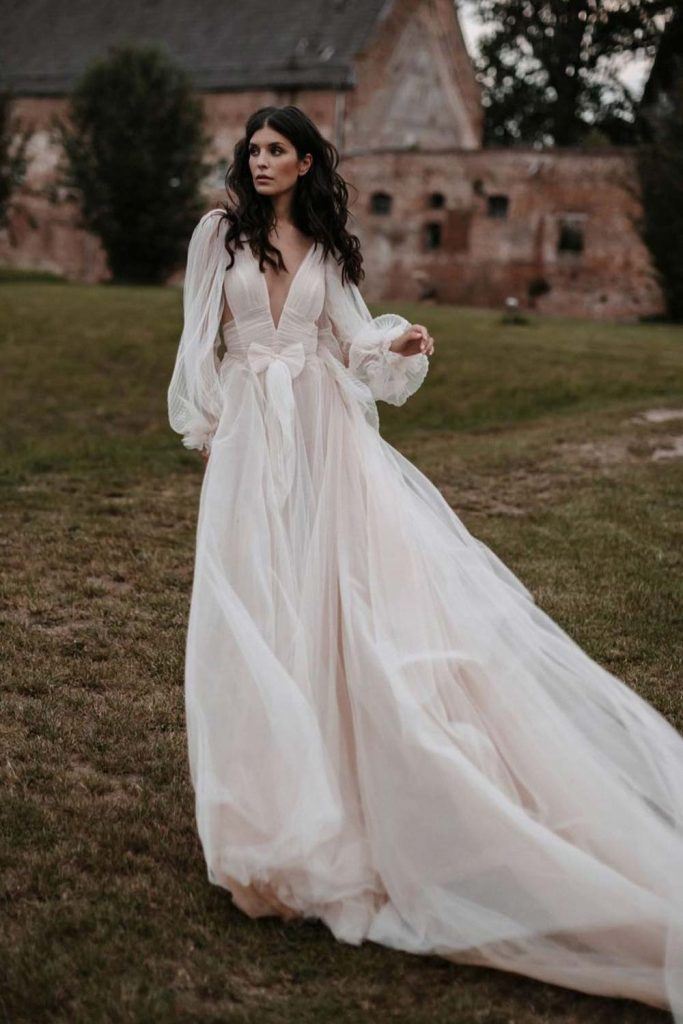 Source: Instagram.com/galialahav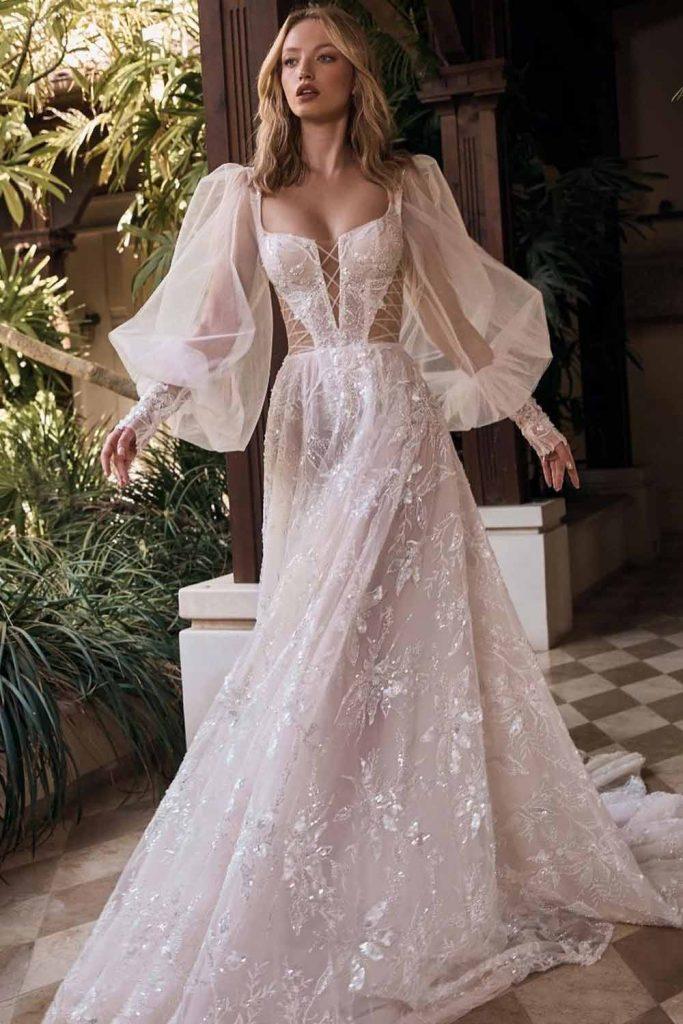 Source: Instagram.com/galialahav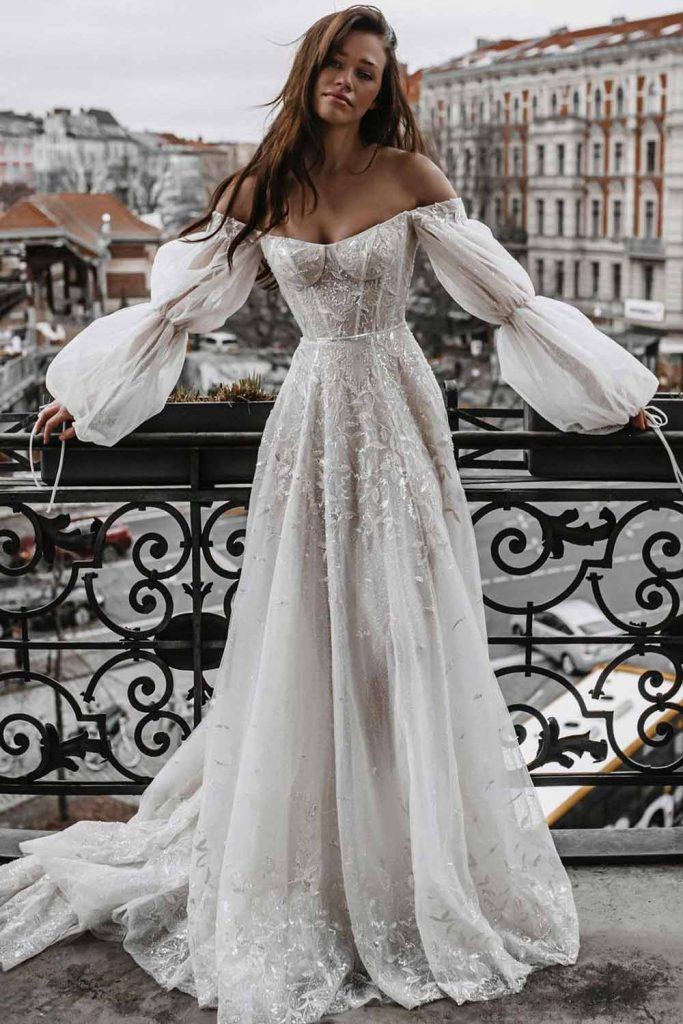 Source: Instagram.com/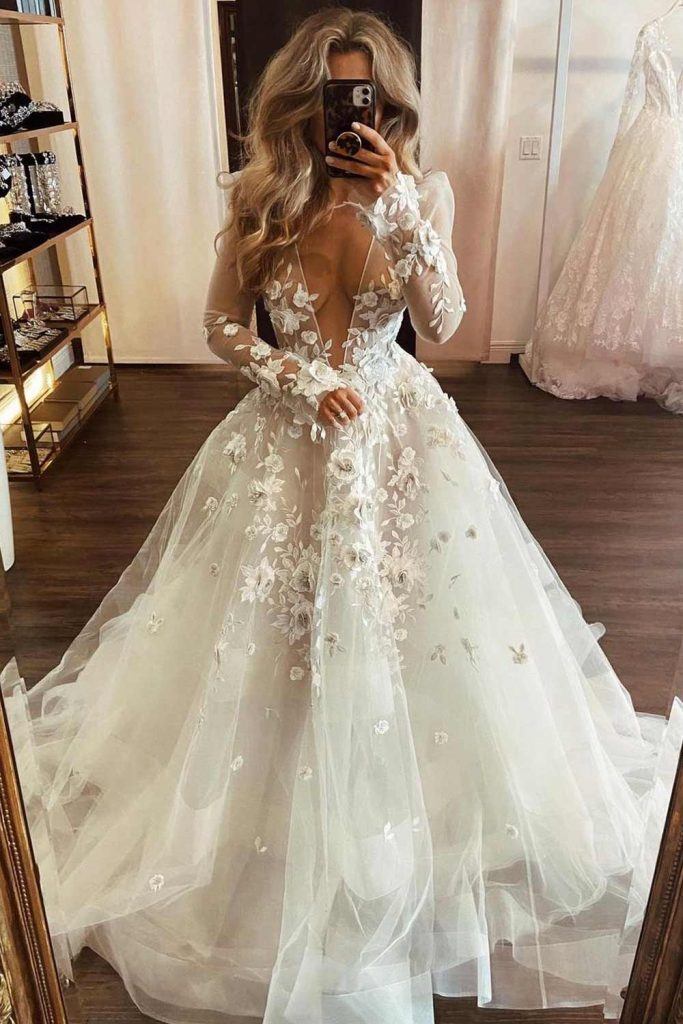 Source: Instagram.com/
berta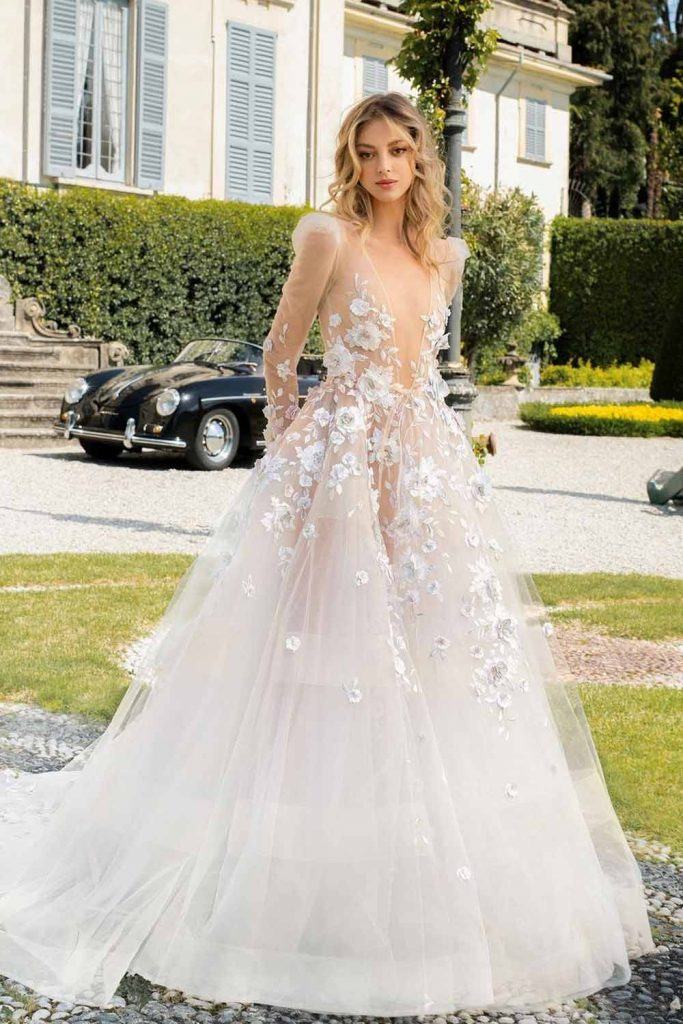 Source: Instagram.com/berta
Classic Lace Vintage Dress With Long Sleeves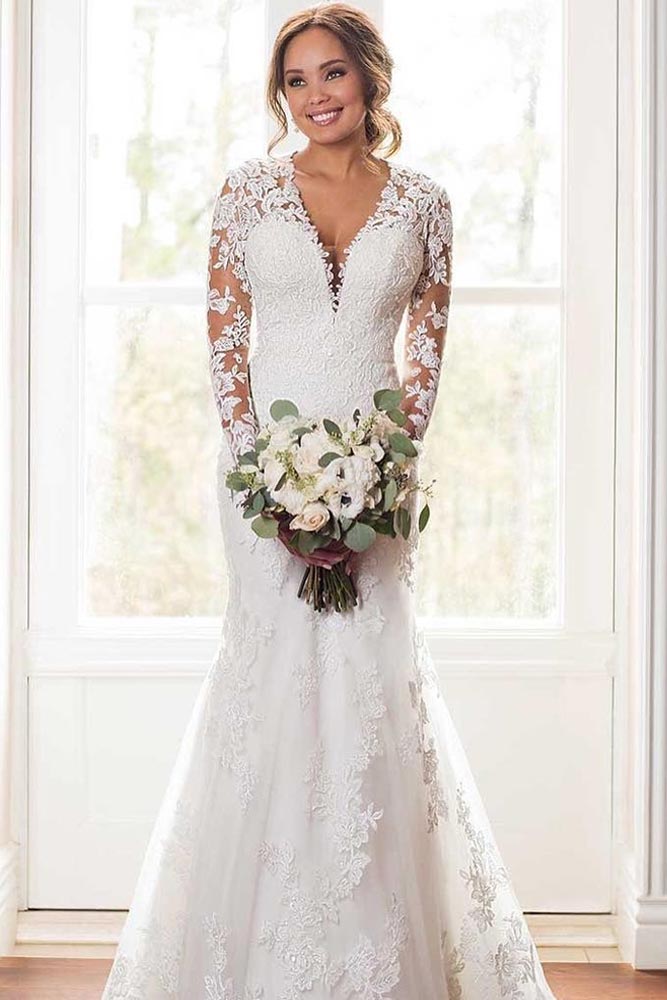 Source: Instagram/missstellayork
There are some wedding maxi dresses that remain classic no matter the century outside. This long-sleeved one is precisely one of those vintage lace wedding dresses which will look great on anyone. If you are planning a romantic and feminine look, then there will be nothing better to come up with rather than this option. Besides, the shape of the dress underlines those beautiful curvy parts of your body, and that is a great addition too.
Shoulder Off Dress Style With Long Sleeves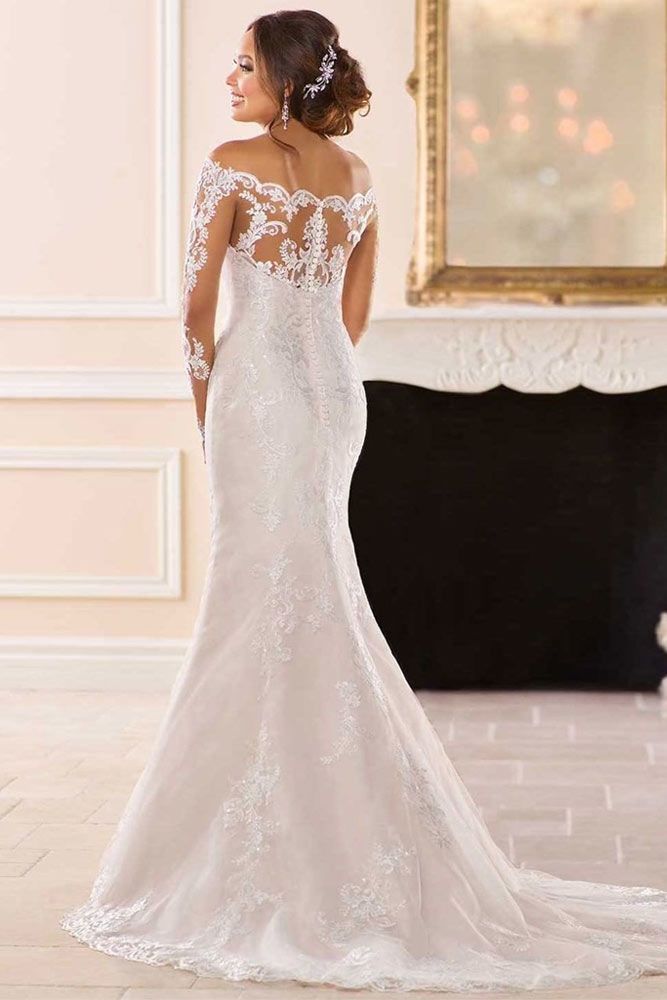 Source: Instagram/missstellayork
Those of you who are looking for modern vintage wedding dresses with a romantic touch to them may as well pay attention to this gorgeous shoulders off one. The thing is that the shoulder-off does not require sleeves in most cases – this particular one has. Those laced long sleeves are exactly the detail that makes this dress look like one of a kind. What is more, laced back still carries that modern vibe.
Lace Vintage Dress With High Neck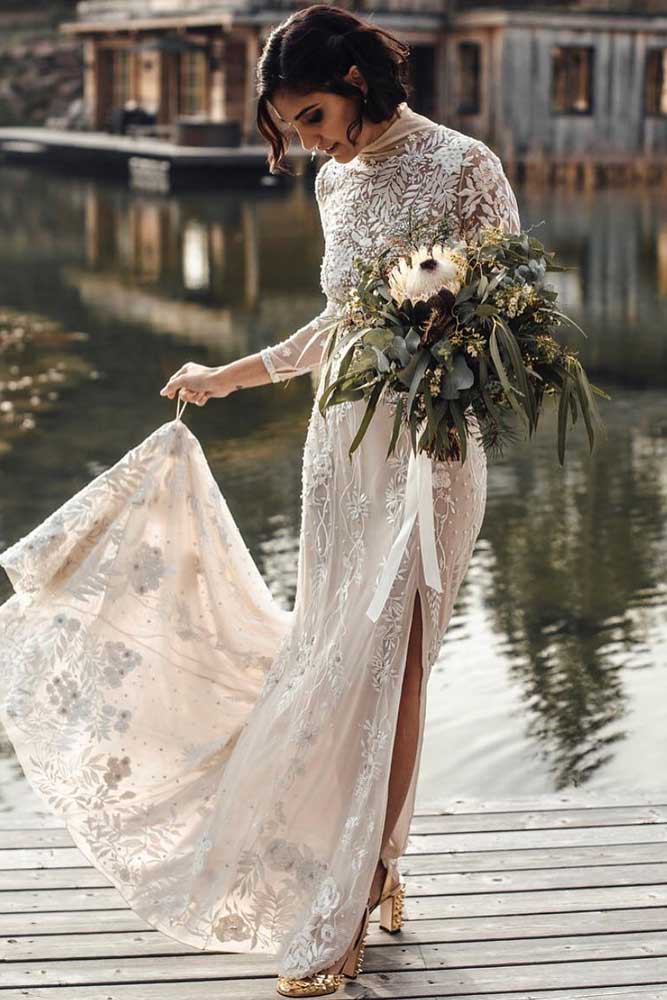 Source: Instagram/tali__photography
Vintage wedding dresses with sleeves, and high neck look most exquisite and unusual. However, they are undoubtedly practical, especially if your big day is planned on the colder season. Yet, these two details are not the only intrticate components of this dress. You need to pay attention to the gentle and elegant embroidery added to the dress, besides the whole dress looks somehow magical and ethereal. Last but not least, golden shoes accent the dress like nothing else.
A-line Dress With Long Sleeves And Tulle Skirt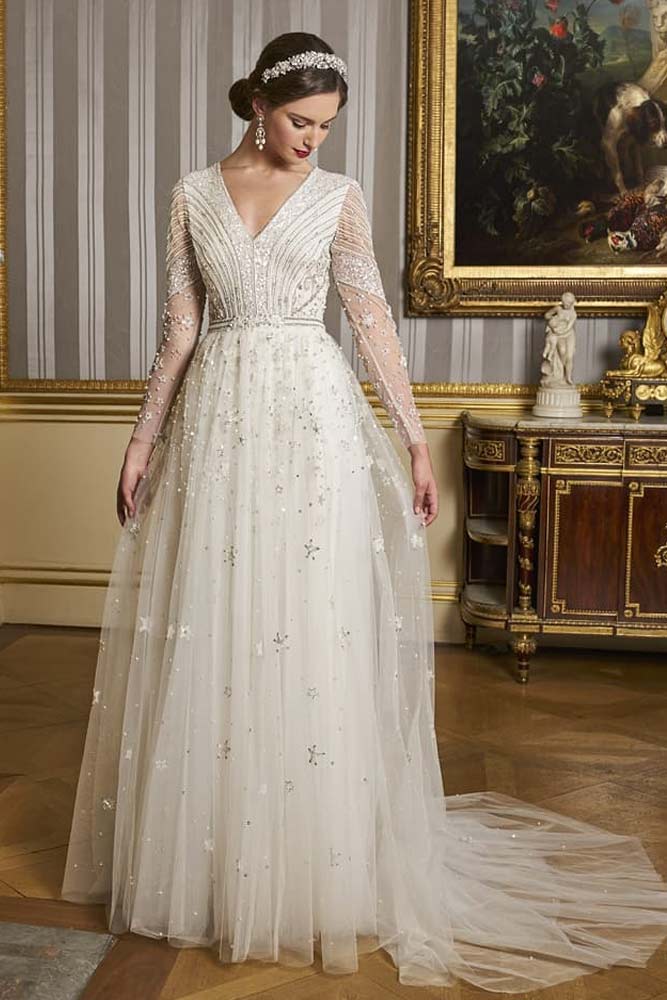 Source: Instagram/elizajanehowell
It happens so that a dress may look quite simple at first glance but when you pay attention to all the tiny details, you come to an understanding that there is nothing simple about it. This A-line dress is exactly what we have in mind. It creates a sweet and woman-like silhouette, but it seems about it. Yet, on the second glance, the beautiful starry decoration comes to mind as well as the extraordinary match of long sleeves and tulle skirt.
Plus Size Lace Dress With Long Sleeves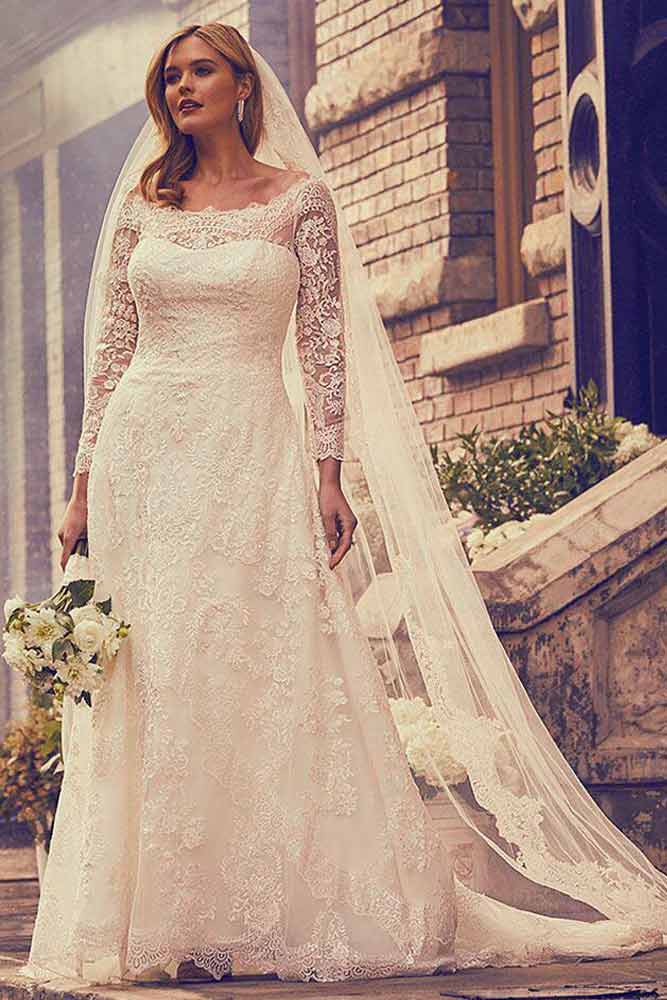 Source: Instagram/davidsbridal
Very often a plus size dress may seem like an impossible choice to come up with. However, we are going to prove you wrong - vintage plus size wedding dresses look not less beautiful or exquisite and this one is the best proof to the point. Beautiful lace dress combined with extra-long veil creates that supreme effect and the defined curves only compliment the femininity of the bride.
Vintage Dress With Ruffles And Long Sleeves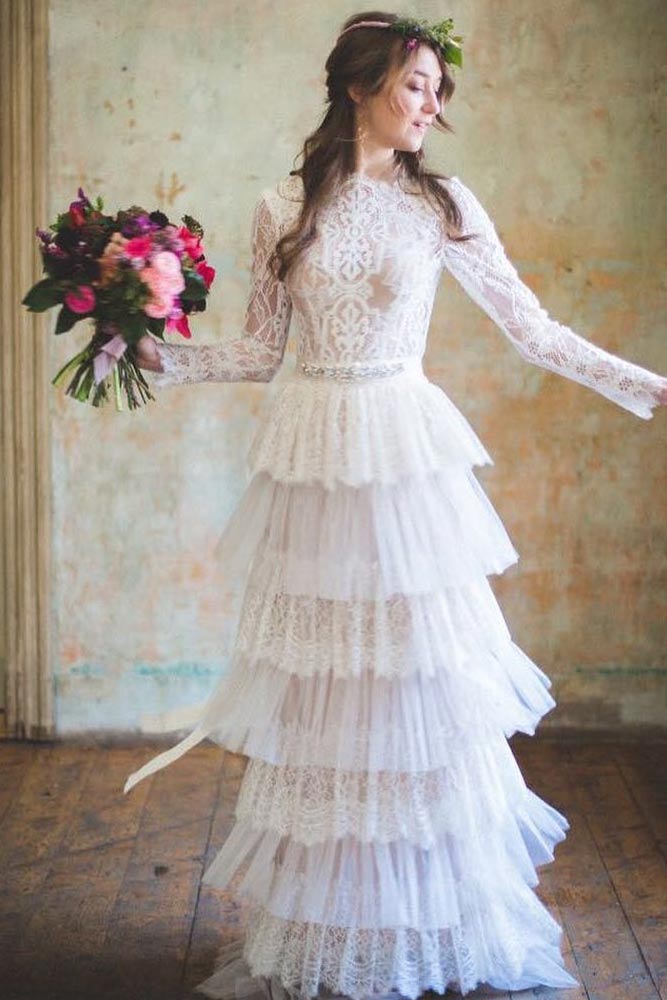 Source: Instagram/katyakatyalondon
Sometimes it is difficult to choose whether classic or boho style you would like your dress to be. In times like these, we think that this particular example fits the occasion like nothing else. Light ruffles and long sleeves match each other perfectly. What is more, the combo of silk and pearly decorative elements is always a winning one.
Lace Vintage Wedding Dress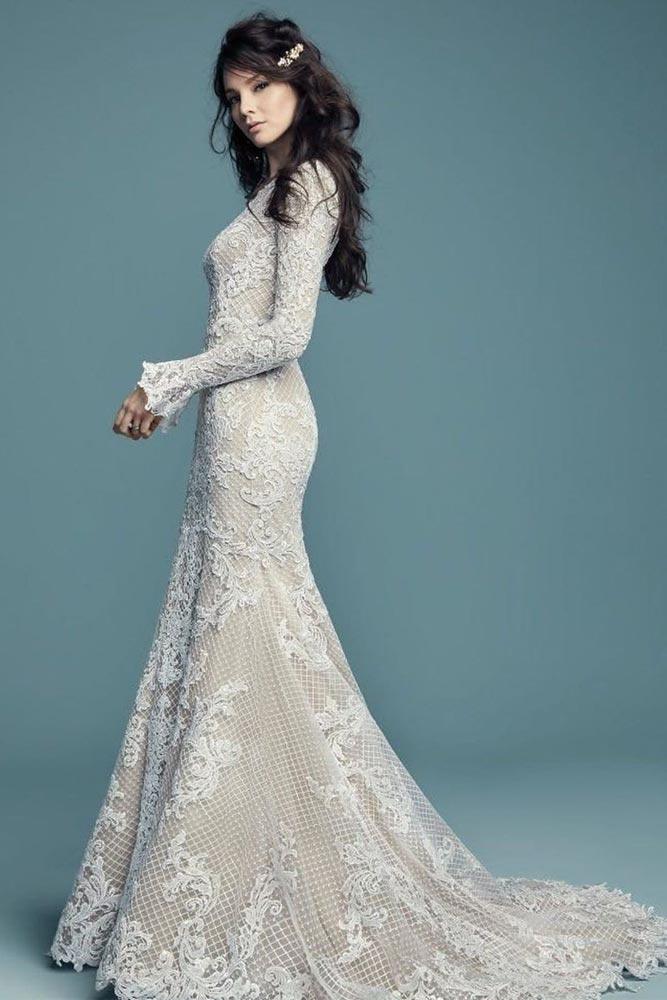 Source: Instagram/maggiesotterodesigns
You can never go wrong with a lace dress for your wedding. Yet, you should go for vintage lace if you want your dress to look classy and lavish. For an added romantic flair, choose a dress that incorporates a scattering of pearls or beads all over your a-silhouette skirt with a moderate train. Such a dreamy attire allows for other vintage details, such as an antique crystal crown or comb and chandelier earrings.
V-neck Lace Dress Design With Long Sleeves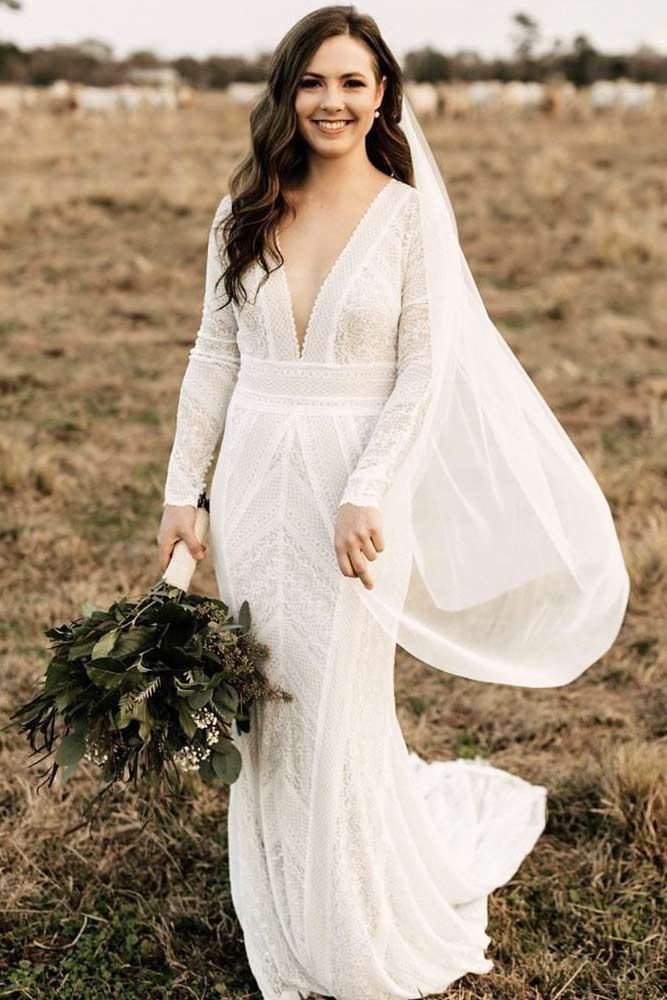 Source: Instagram/bhldn
Do you want to teleport to the Victorian Age this instant? If your answer is yes, take a closer look at this V-neck long-sleeved lace dress. Thanks to a low-cut neckline, it attracts just the right amount of attention to your décolleté. Thus, it allows you to show off your antique family necklace should you have one. The long sleeves restore balance in the dress design, while the vintage lace gives the gown a festive and ceremonial feel.
Vintage Combinated Dress With A Train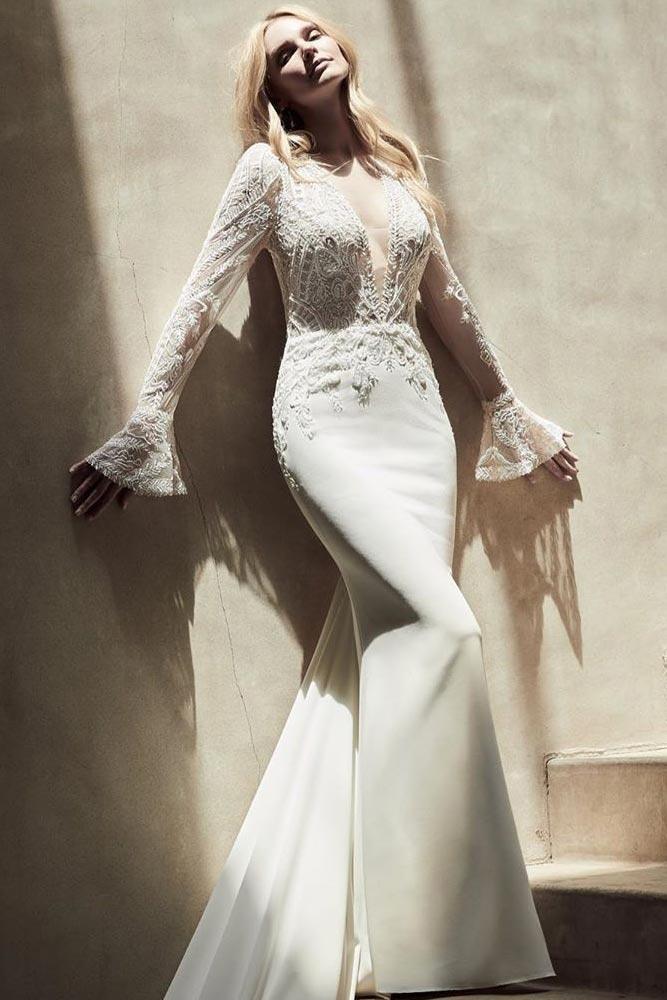 Source: Instagram/maggiesotterodesigns
A vintage wedding dress often combines several fabrics to give it an elegant and personalized touch. Chiffon or silk partnered with lace will make up a wonderful fusion. What adds to the authenticity of the style is an extensive train embellished with a row of cloth buttons. While looking quite demure and low-key, it guarantees that no one will be able to avert their gaze from the hypnotizing bride.
Tea-length Wedding Dress Designs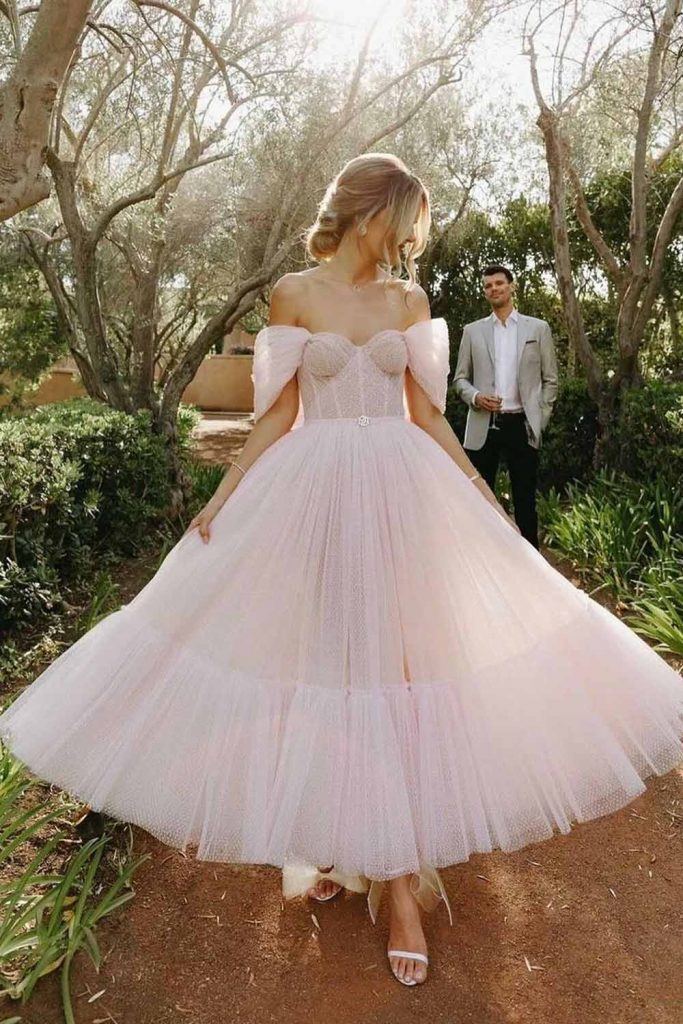 Source: Instagram.com/berta
Tea-length Wedding Dresses With Open Back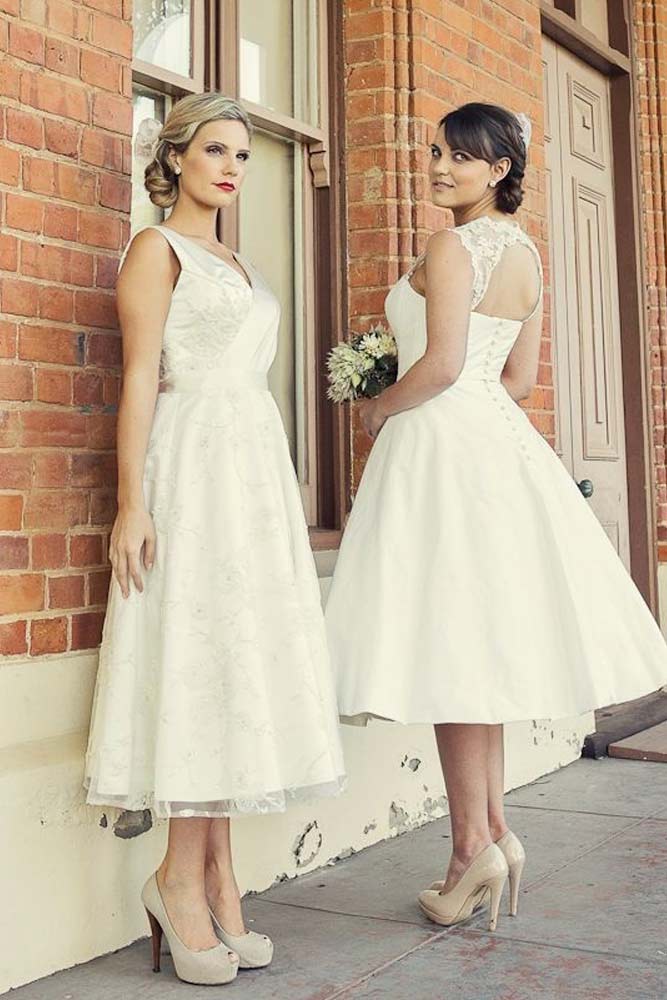 Source: Instagram/elvidesign
These days short wedding dresses are not that popular as they were before but if it is your dream dress, then you should not limit yourself in no case. Tea length dresses were popular in the '50s, and if you are planning a vintage party, then such a dress can come in more than handy since you will kill two birds with one stone. There is one thing to keep in mind – make sure the accessories match your T-dress.
Layered Tulle Tea Length Vintage Dress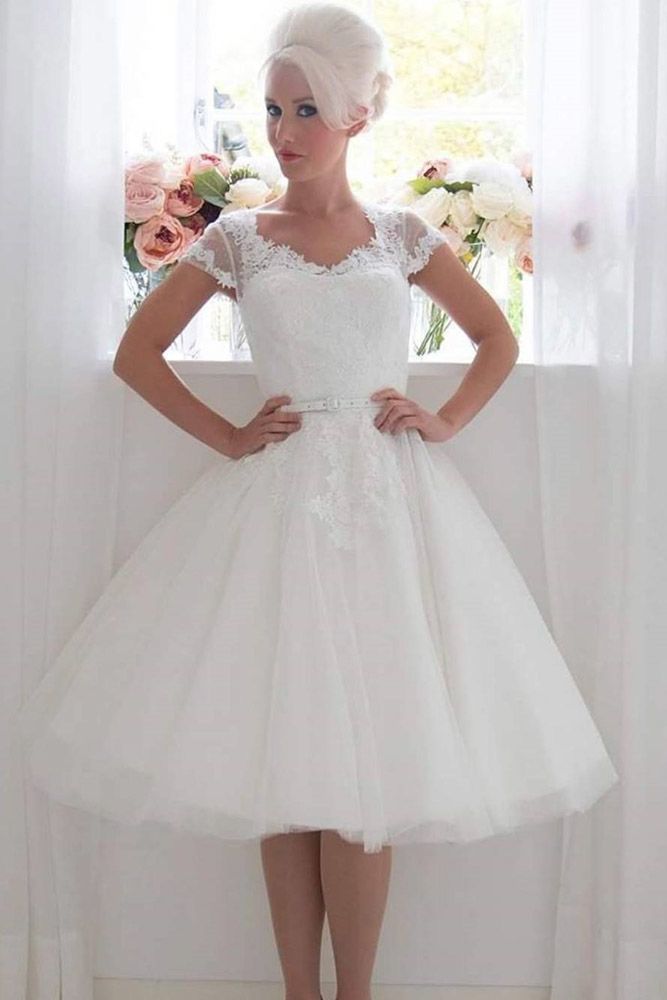 Source: Instagram/vintagepearlbridal
To tell the truth vintage tea length wedding dresses are many, but you need to find your perfect one since it is your big day we are talking about. If you are looking for a simple but light look, then this layered tulle one may be exactly the one. This dress is something in between a ballerina and bride look, and that is precisely what makes it so special.
Dress With Long Sleeves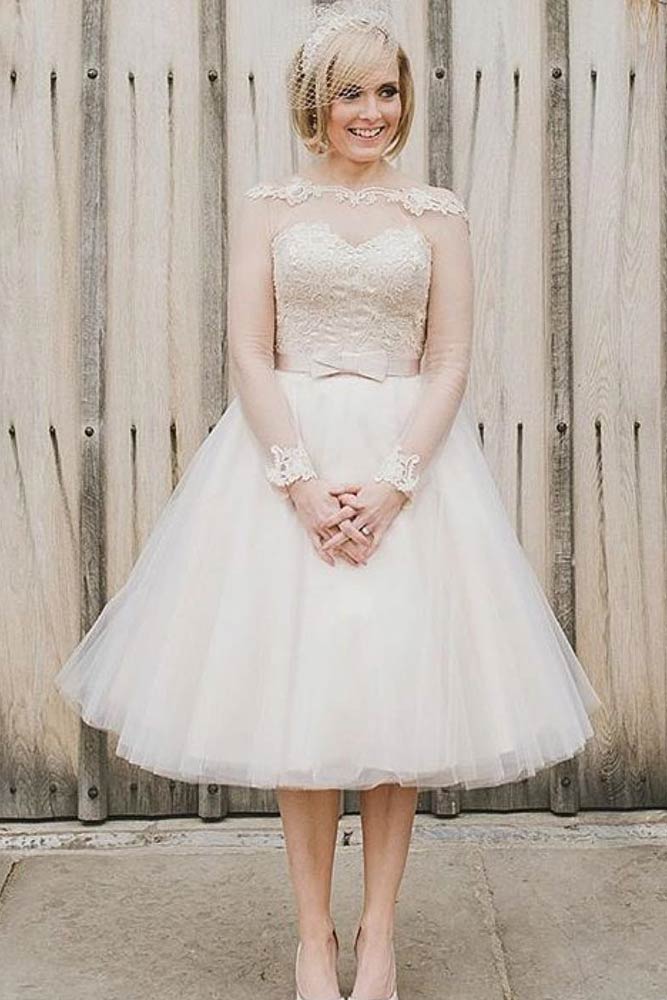 Source: Instagram/fairytaleweddingstowcester
It may seem that when you think about the tea length dress, it is always with short sleeves or sleeveless. Well, that is not true. Long sleeve wedding dresses of tea length exist, and they look sweet and fabulous. The lace top, layered tulle skirt complement each other perfectly and together they create that genuine vintage bride look.
Asymmetrical 1950s Inspired Dress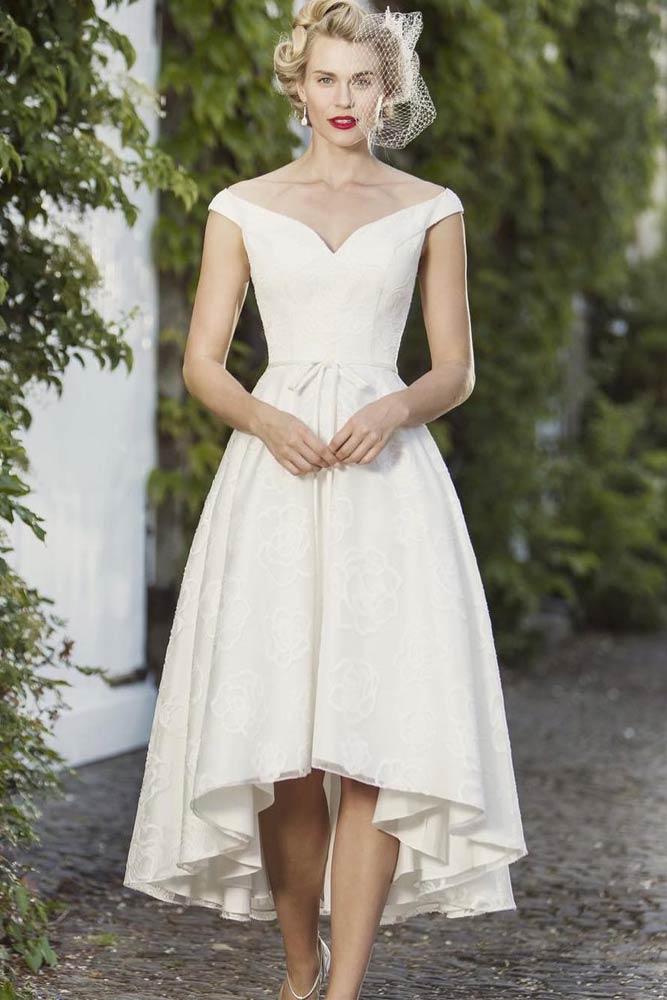 Source: Instagram/angel_brides
You can say anything you like about the 1950's, but simple wedding dresses were the thing then. Even though we say 'simple' we do not mean the lack of style or elegance – quite on the contrary. This asymmetrical vintage wedding dress screams gentleness and femininity. What is more, a special veil over the face adds up to the 1950's look and creates that particular atmosphere. That is why if '50s are your theme – do not hesitate to pull such a look off!
1920s - 1930s Vintage Dress Designs
1920s Vintage Dress Design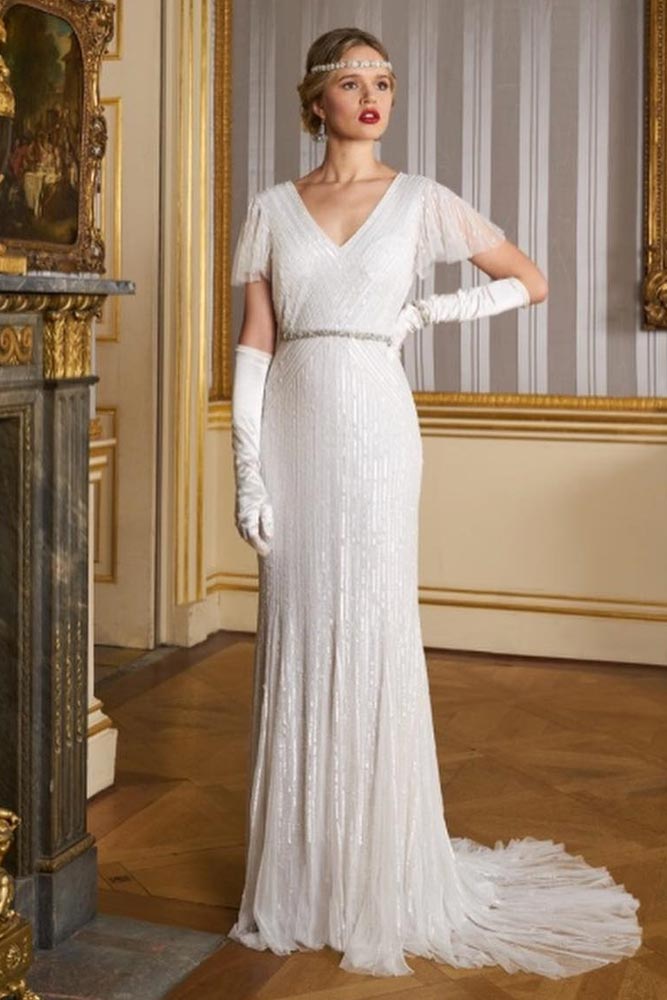 Source: Instagram/dressmeprettybridalroom
Going back as far as to 1920s may seem like a tough task for some of you. However, those of you who are not afraid of all the time and effort spent can easily incorporate such a wedding look in. 1920's wedding dresses weren't that pompous as the ones we have access to these days, but that does not mean that they looked any less gorgeous. It should be mentioned that details mattered greatly, for example, nice silky gloves and a tiara altogether with all the other jewelry were a must at that time. So, if you pick this epoch to be your inspiration keep these simple details in mind!
Vintage Dress With Fringe Sleeves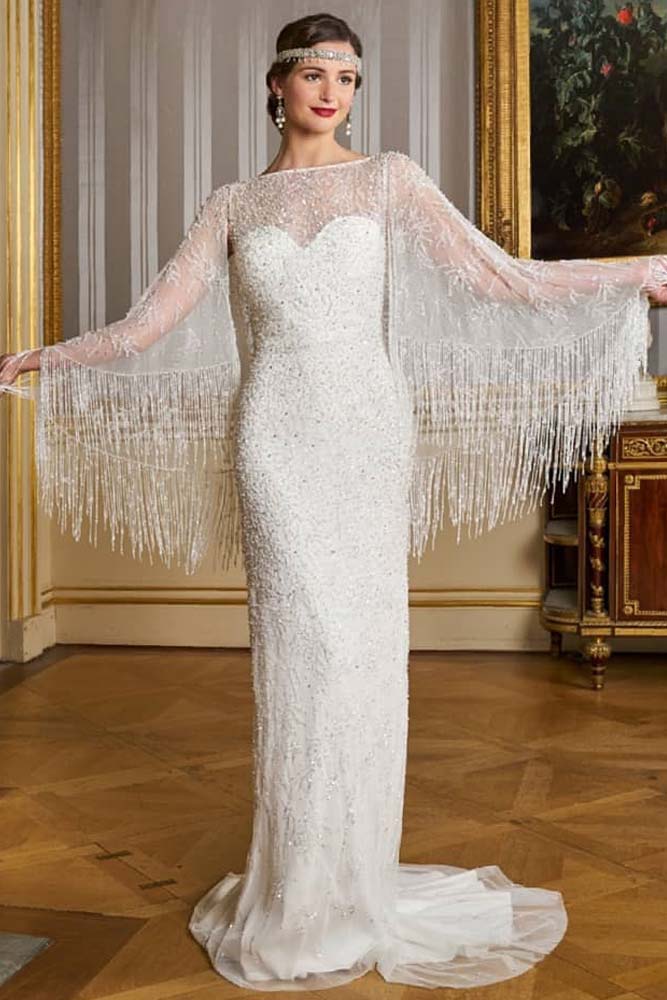 Source: Instagram/elizajanehowell
In most cases, vintage dresses from the 1920s usually were perfectly fit to the body shape of the wearer, and you can see that from the example. However, that does not mean that there was nothing out of the ordinary about them. One look at these fringe sleeves will make you get the point. Besides, beautiful embroidery was a thing even at that time and very often it was handmade.
1930s Silk Gown Inspired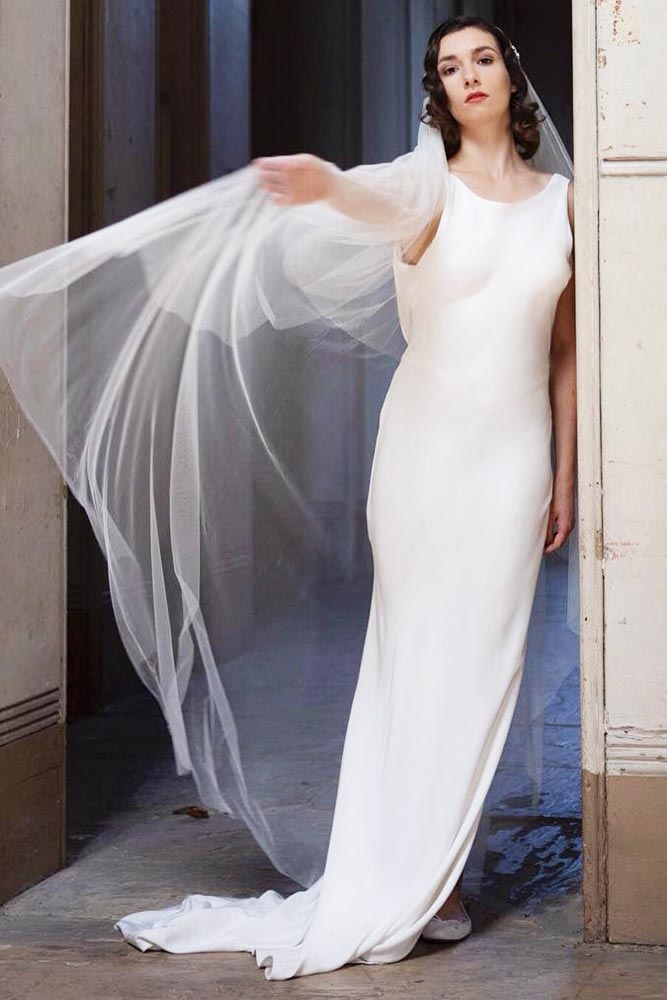 Source: Instagram/elizajanehowell
Fashion during the 1930s was entirely different from what we are used to these days. Yet, those who would dare to recreate the look when the wedding day comes, you need to bear it in mind that beauty during those times came in simplicity. That is why, solid, maxi length silk dress and a long veil are the essential components of 1930's wedding look.
Wedding Dress With Button Butterfly Sleeves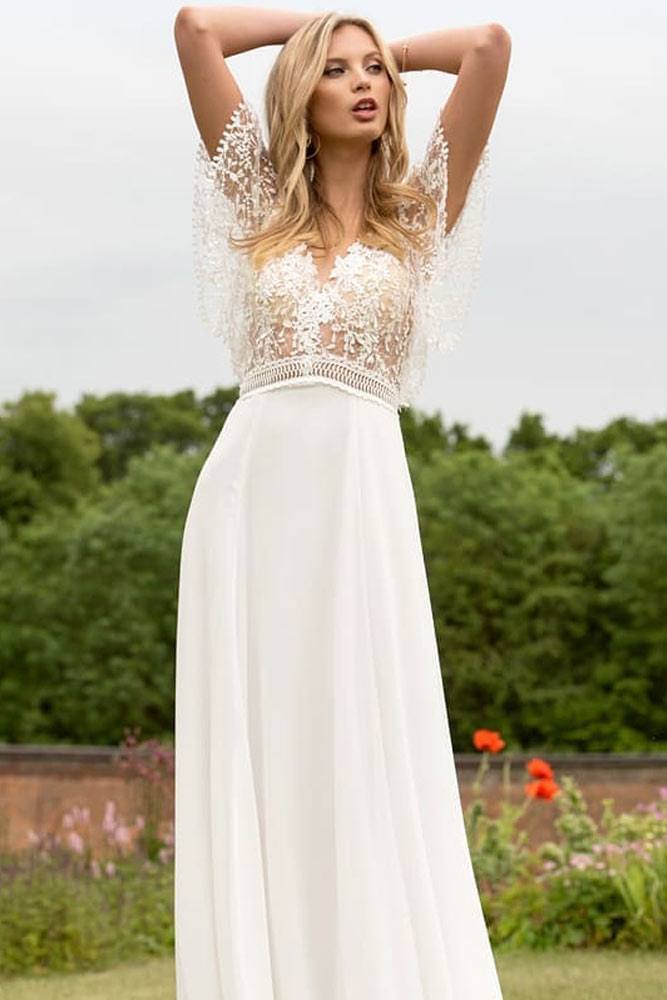 Source: Instagram/kelseyrose_official
Buttons of all sizes and materials are one of the most recognizable attributes of vintage wedding dresses. They are incorporated into different details of the dress, from back to train, and sleeves are obviously no exception. What is more, if you garnish peek-a-boo butterfly sleeves with a sprinkling of buttons, it will bring an ultimate vintage feel to your wedding look and create an illusion of movement.
Flapper Vintage Wedding Dress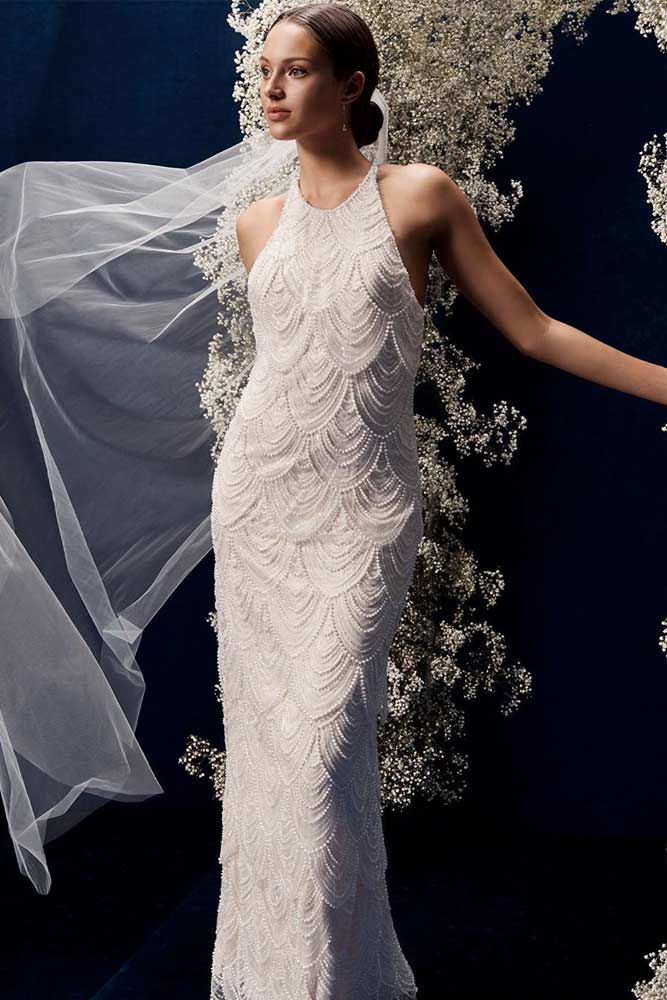 Source: Instagram/bhldn
Can you think of something that says vintage more than a flapper dress? We neither. In this dreamlike gown, you will look nothing short of "amazing." Flapper layers add your outfit drama and definition, which is what you are most likely striving for on this day. Imagine only how breathtaking it will look when you are going to waltz around with your husband-to-be. Just like the most romantic scene from The Great Gatsby is brought to life.
Beaded Crystals 1920s Dress Design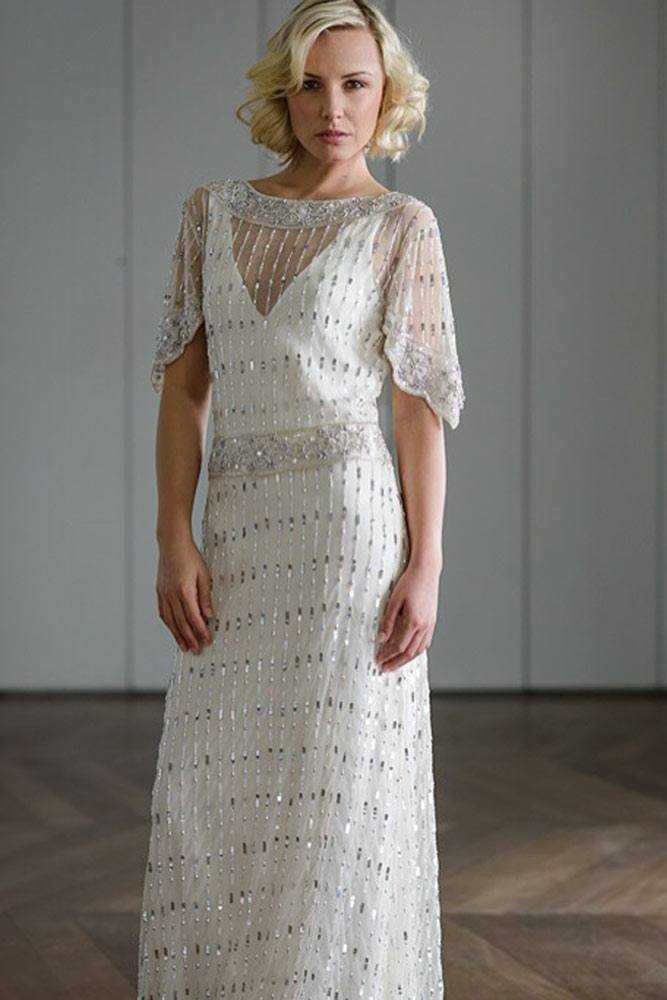 Source: Instagram/luellasbridal
A surefire way to infuse your wedding dress with a vintage yet celebratory air is to decorate it with beaded crystals. This 1920s style inspired dress is not only gorgeous but also practical. Despite being long, the gown does not constrain movement thanks to a straight shape and absence of train. Yet, you may rest assured that it will not look boring or plain, as the crystals will reflect light and spark up your look, keeping you in the spotlight all day long, where you belong.
Voluminous Vintage Dresses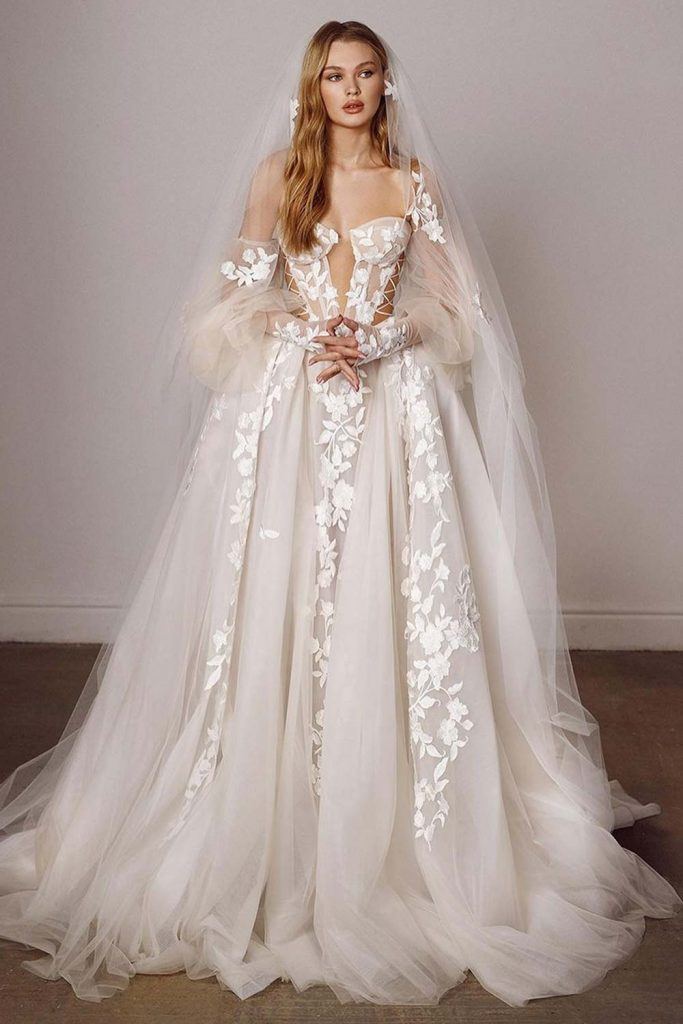 Source: Instagram.com/galialahav
Princess Mermaid Wedding Dress With Detachable Overskirt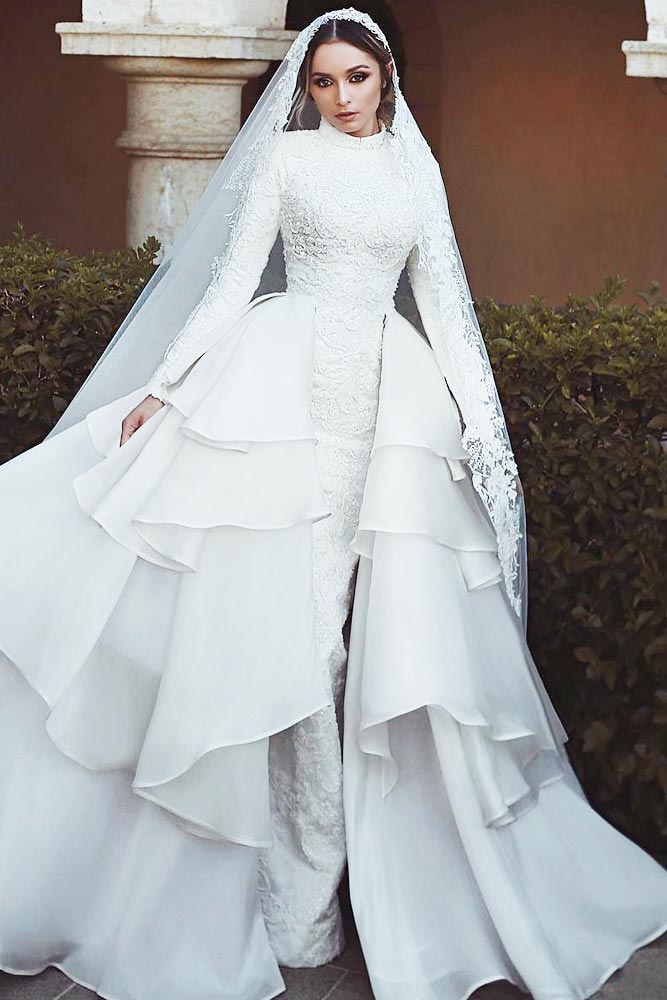 Source: Instagram.com/saidmhamadofficial
There are times when a wedding consists of two parts – official and more informal. That is why sometimes brides choose different dresses for each part. We think that with this wedding dress you can easily save the means since the detachable skirt is that one element that will help you transform your super fancy wedding dress into something less pompous when the party starts.
Voluminous Wedding Gown With Double Skirt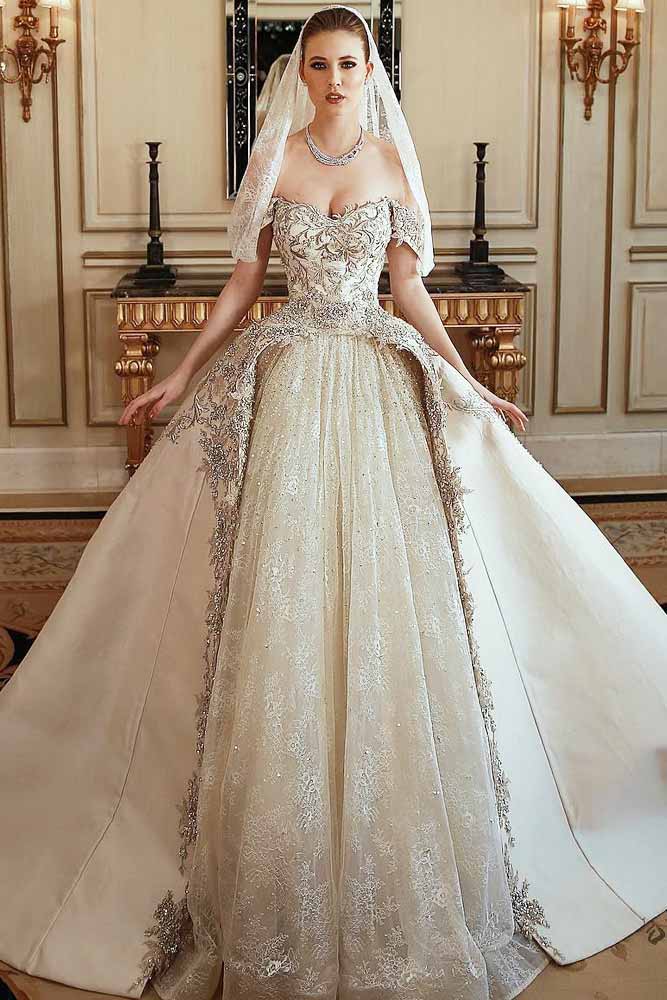 Source: Instagram/sadekmajedofficial
It has been mentioned before that every lady wants to look like a real princess when the wedding day comes but not everyone dares to go that far to pull off real princess look. In case you are the bold one, and you certainly desire your dream to come true then this gorgeous dress may as well inspire you. As you can see, the coloring is slightly different from the regular wedding dress, because of gold suits a princess more than pure white. Heavy embroidery and a double skirt complete the look.
Shoulder-off White And Gold Wedding Dress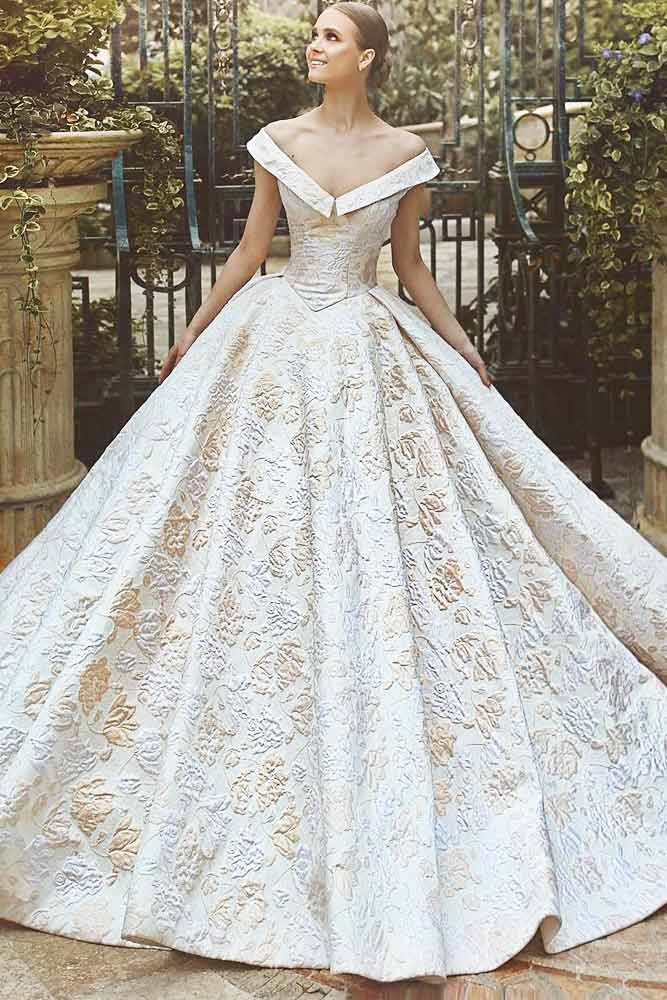 Source: Instagram/saidmhamadofficial
If you are a traditional bride-to-be but the wish to look like a queen remains – there is a way out. All that you need to do is to combine white and gold in one magnificent dress. While a considerable skirt is all about a vintage look, then the shoulder off is a tribute to modern fashion. We can't but admit that this look is truly mesmerizing and worthy a queen!
You may be surprised that vintage wedding dresses are not only very popular these days, but also they are quite versatile. All the best vintage dresses are gathered in one place so that your choice becomes a little simpler and less time and effort consuming!
Glam Vintage Wedding Dresses
Glam Two Pieces Vintage Wedding Dress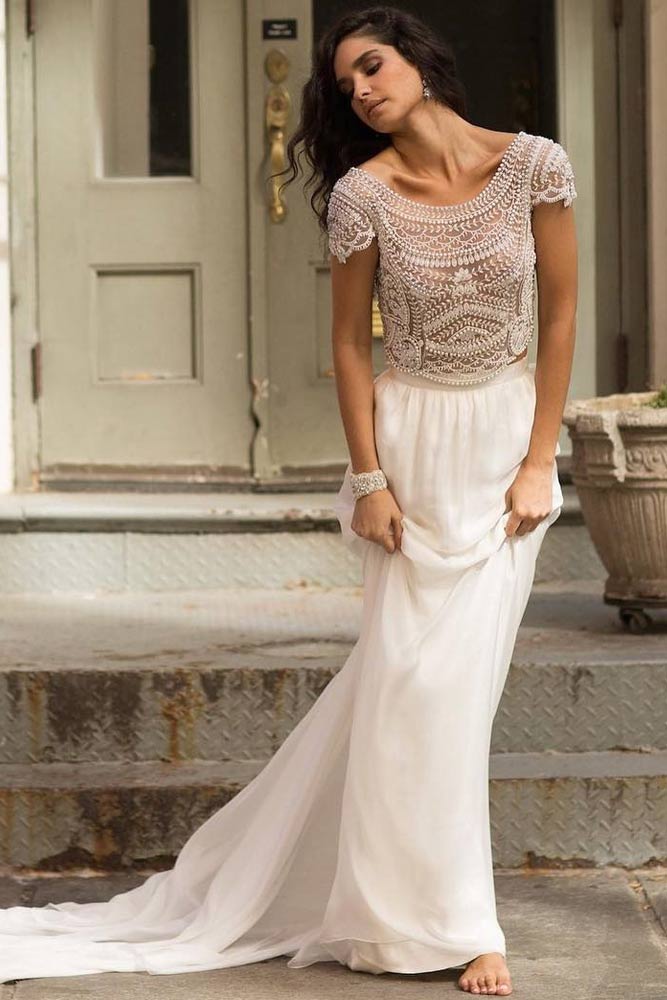 Source: Instagram/annacampbellbridal
Has it ever occur to you that you can combine your dress out of separate pieces? This is precisely the case to get inspired with. As you can see this beautiful vintage dress consist of two lovely pieces that can be worn separately at will.
Wedding Dress With Rhinestones Top Design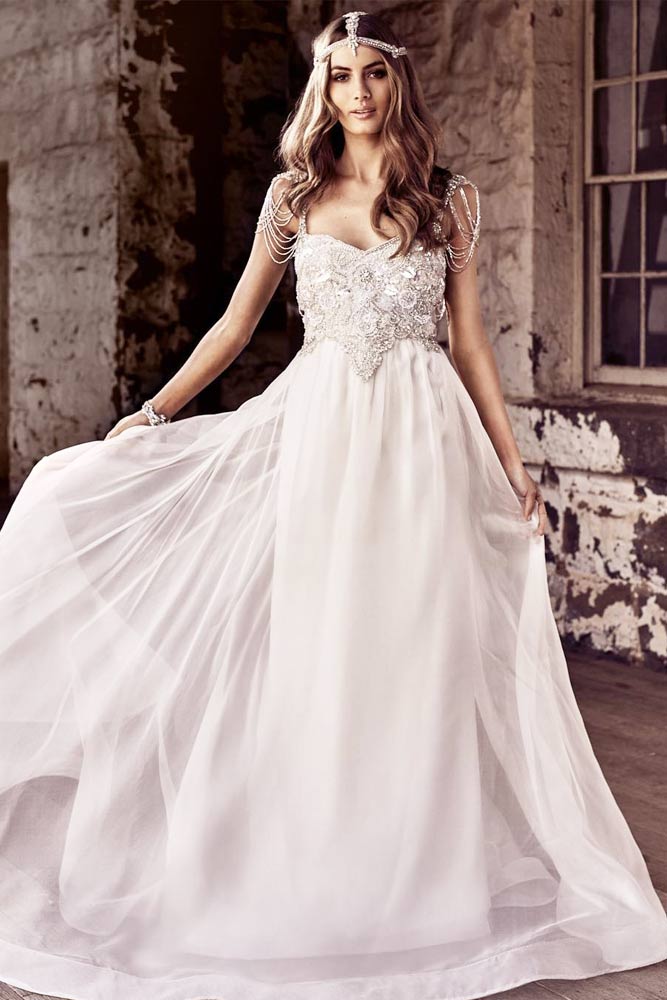 Source: Instagram/annacampbellbridal
A wedding dress is always about the decoration. That is why we suggest you at least consider adding some rhinestones to your unforgettable vintage dress to provoke even more glamorous effect.
Lace And Rhinestones Design For Glam Dress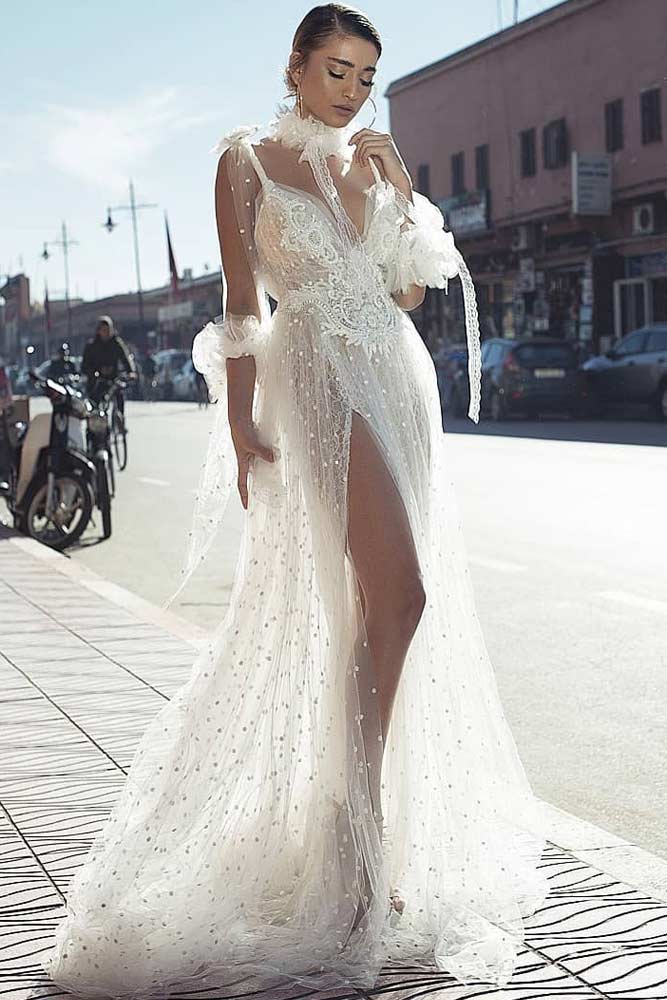 Source: Instagram/michal_azulay_bridal_couture
If you are looking for an extra glam dress with a vintage touch to it – we have something in store for you. This light lace and rhinestones dress will conquer the hearts even of those of you who are the pickiest regarding fashion.
FAQ: Vintage Wedding Dresses
How old does a vintage wedding dress have to be?
To be categorized as vintage, a bridal gown must be 20 years old or even older, just like all other accessories.
What are off the rack wedding dresses?
Off-The-Rack Dresses are typically imported from other countries. Because they are mass-produced in conventional sizes, they are much less expensive than couture dresses. These gowns are suitable for brides on a budget who are of a regular size.
Is it better to buy a wedding dress too big?
If you do decide to buy anything that isn't your usual size, keep in mind that buying a dress in a larger size is always preferable to buying one in a smaller one. A gown can always be made smaller, but making a gown larger is much more difficult.
REFERENCES:
Vintage clothing is a generic term for garments originating from a previous era. Source
A wedding dress or bridal gown is the dress worn by the bride during a wedding ceremony. Source
Flappers were a generation of young Western women in the 1920s who wore short skirts (just at the knee was short for that time period), bobbed their hair, listened to jazz, and flaunted their disdain for what was then considered acceptable behavior. Source
Was this article helpful?