Shopping for the wedding gown isn't the simplest task of all. Most dresses look utterly charming and incredibly appealing. However, there's more than a single reason why tea length wedding dress is at the top of popularity at the moment. Surely, it is beautiful, gentle, and feminine. Besides, it's very practical should you be planning an active wedding. Yet, there's more where those benefits come from, and we'll discuss most of the unique features of this style together. Are you ready?
*We may earn money from affiliate links on this page. Please check out our disclosure policy for more details.
History and Evolution of Tea Length Wedding Dresses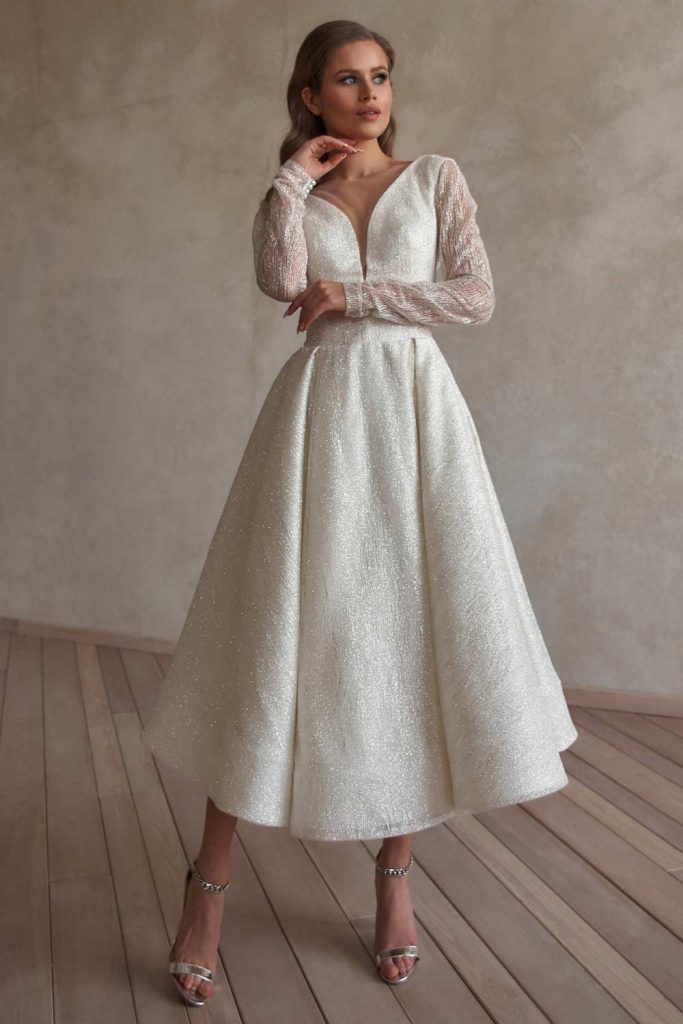 Credit photo: Shutterstock
So, what is tea length dress? To get a better idea of what this dress type stands for, we should dive a little deeper into fashion history. The first known appearance of T-length dresses dates back to the 1950s. These dresses didn't start out as fancy wedding dresses but rather as practical everyday wear for women of those times.
Among the distinguishing features of these dresses are flared skirts and fitting bodices aimed at highlighting women's figures. It wasn't long until the style became fit for grand occasions like weddings. As ladies preferred more practical solutions for the event, tea-length dresses took the offer.
These days, the image of retro dresses has resurged, but taken on a few modern updates, so that they can be suited to all tastes and preferences. You can play around with the corset wedding dress, its silhouette, fabric, and overall style of the gown as long as you preserve the ultimate characteristics of the dress.
Who Should Wear a Tea Length Wedding Dress?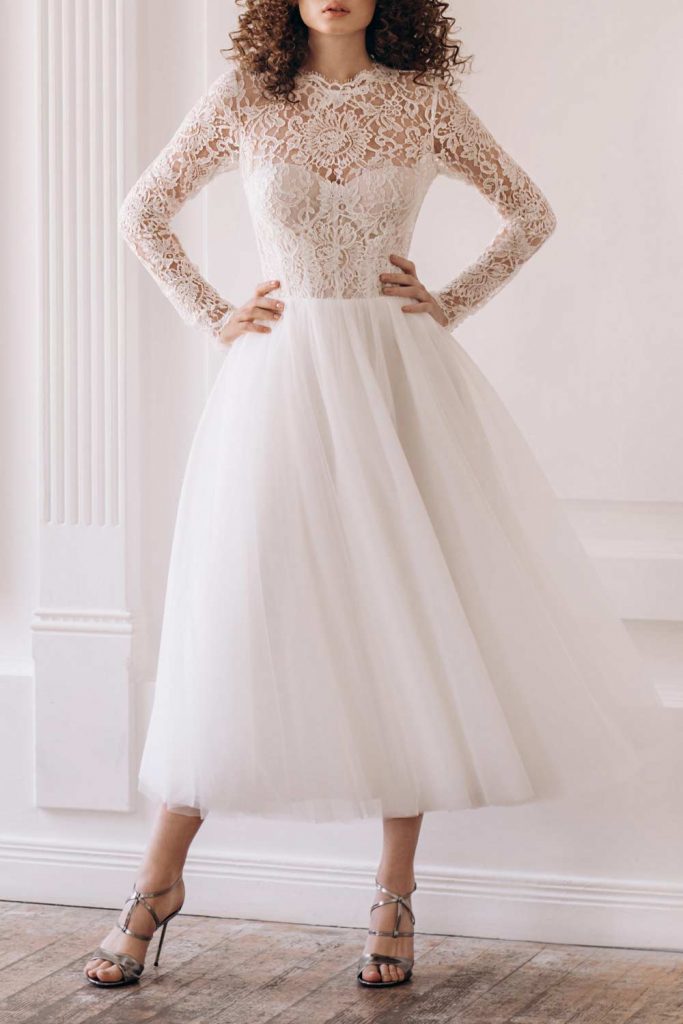 Credit photo: Shutterstock
To cut a long story short – the tea-length dress is for anyone who prefers the style. The dress is incredibly versatile, so it can be suited to all figures and shapes. However, it's worth mentioning that the style becomes irreplaceable when planning an outdoor wedding since it is more practical than a typical ball-gown type of dress.
Whether it is a blue wedding dress or any other shade that comes to your taste, the T-length form can save a petite bride the discomfort of wearing a long and voluminous dress. Keep in mind that various individual preferences can be easily preserved when opting for a T-length dress. Whether you choose a classy or contemporary variant, the dress will make you feel unique, beautiful, and comfortable on your wedding day. Nothing else matters.
Tea Length Wedding Dress Trends and Inspiration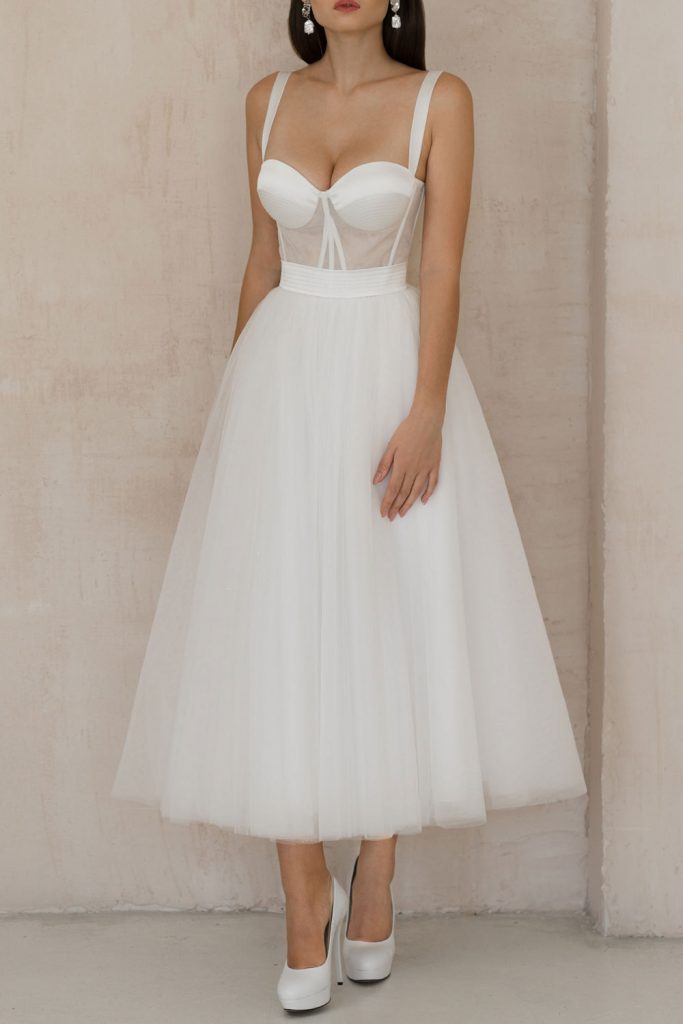 Credit photo: Shutterstock
When you are set on buying a wedding dress tea length, you may need a friendly push in the right direction. So, we'll share the latest trends and inspiration with you.
Two-piece set – some tea length dresses come as a playful alternative for a retro style. Combining a top and a full skirt that form a dress seamlessly, they can be worn separately when needed. Such a combo allows it to play around with colors and patterns so that you can create a completely individual wedding look.
Floral print – if you seek an overly romantic and special appeal for your wedding-day gown, delicate floral patterns perfectly serve the goal. Whether you choose floral lace or delicate print is a matter of personal taste.
Detachable trains – you can kill two birds with one stone using detachable trains. The primary purpose of those is to allow you to enjoy a full-length dress for the official part of the wedding and embrace the comfort of a knee-length gown for the rest of the day.
Lace and sheer details – some ladies can barely imagine a wedding dress without lace and sheer fabrics involved. A tea-length tulle wedding dress is an excellent example of the style's versatility. Every hand-picked lace detail will only introduce additional spice and individuality into the gown.
Color accent – when a traditional white wedding dress isn't your cup of tea, you can play around with colorful accents, and the T-length style enables the experimentation. You may want to dip the hemline into a color or embrace grass-green for the big occasion – go for it!
Vintage inspiration – preserving the retro vibe is yet another possibility to consider. You may want to opt for classy A-line skirts and pearl buttons to intensify the flair.
Illusion neckline – implementing a modern update into a retro silhouette is a great idea too. For instance, you can use sheer fabric to mimic a plunging neckline or off-the-shoulder sleeves without losing coverage or support.
Tea Length Wedding Dress Styles And Designs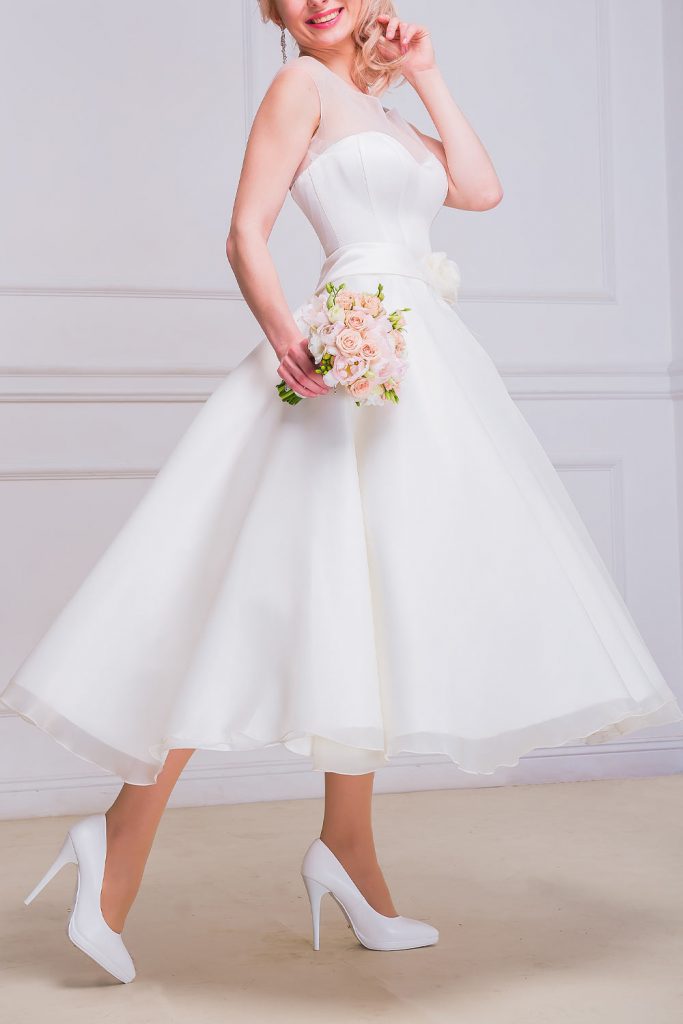 Credit photo: Shutterstock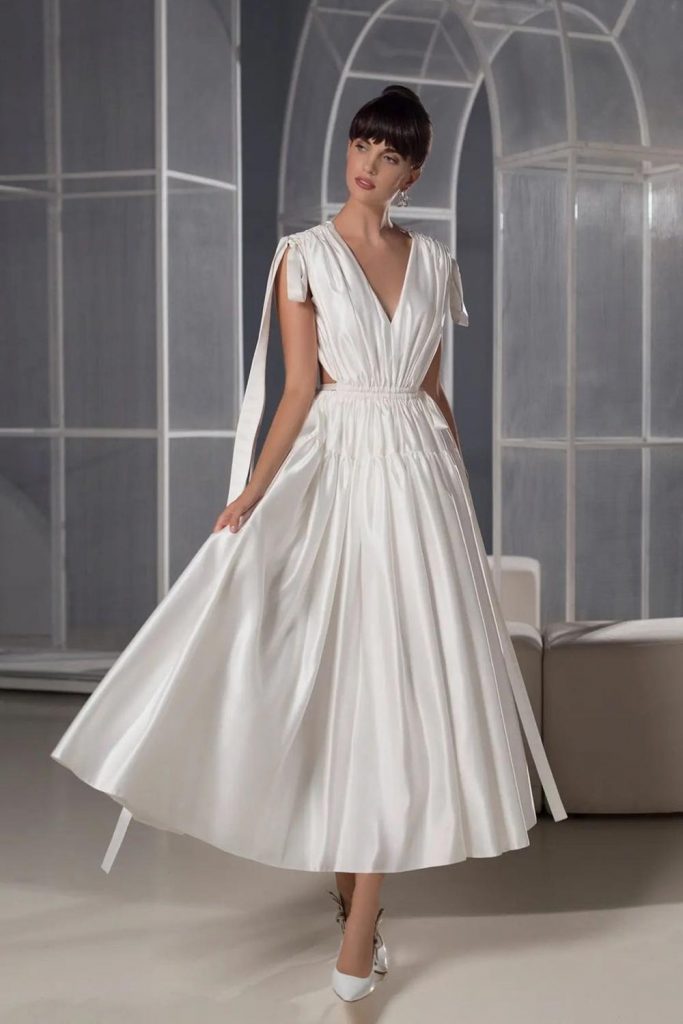 Credit photo: Instagram.com/haremsbrides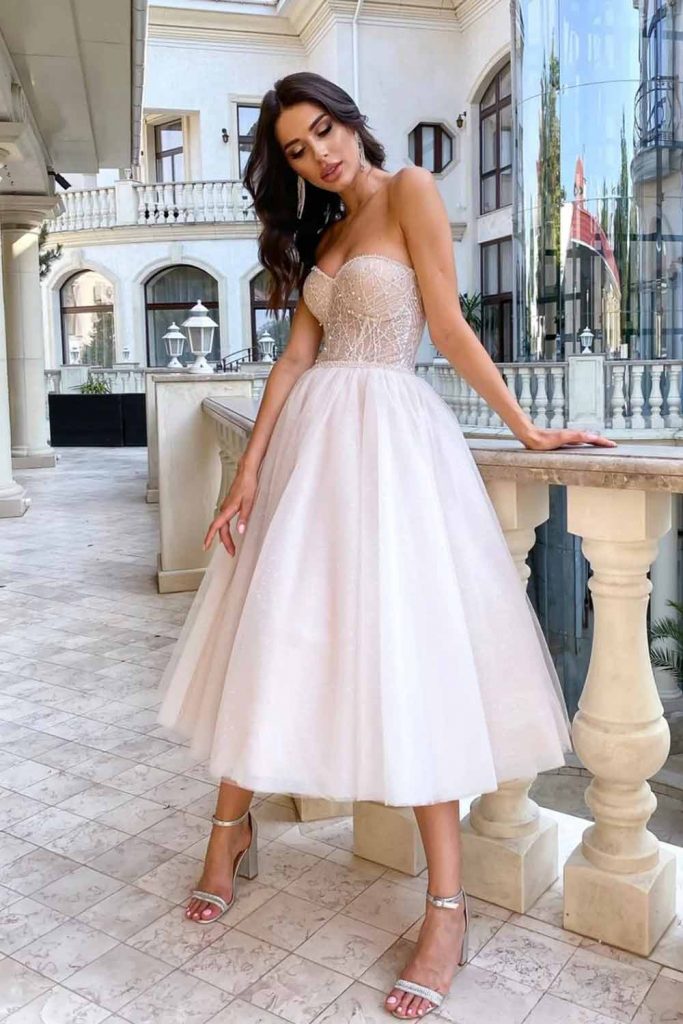 Credit photo: Instagram.com/haremsbrides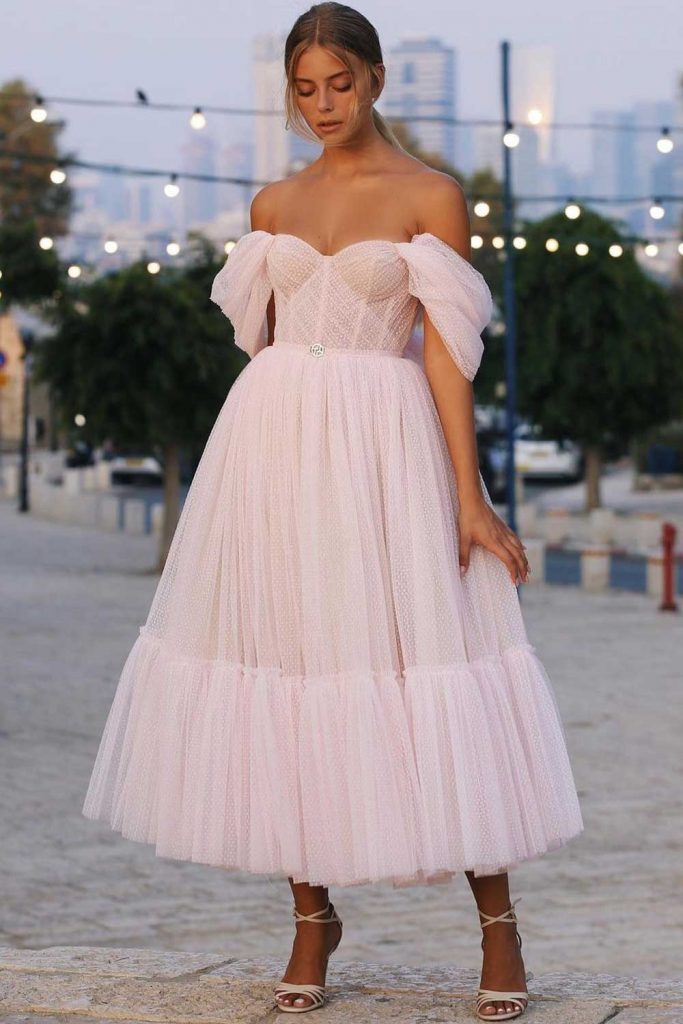 Credit photo: Instagram.com/berta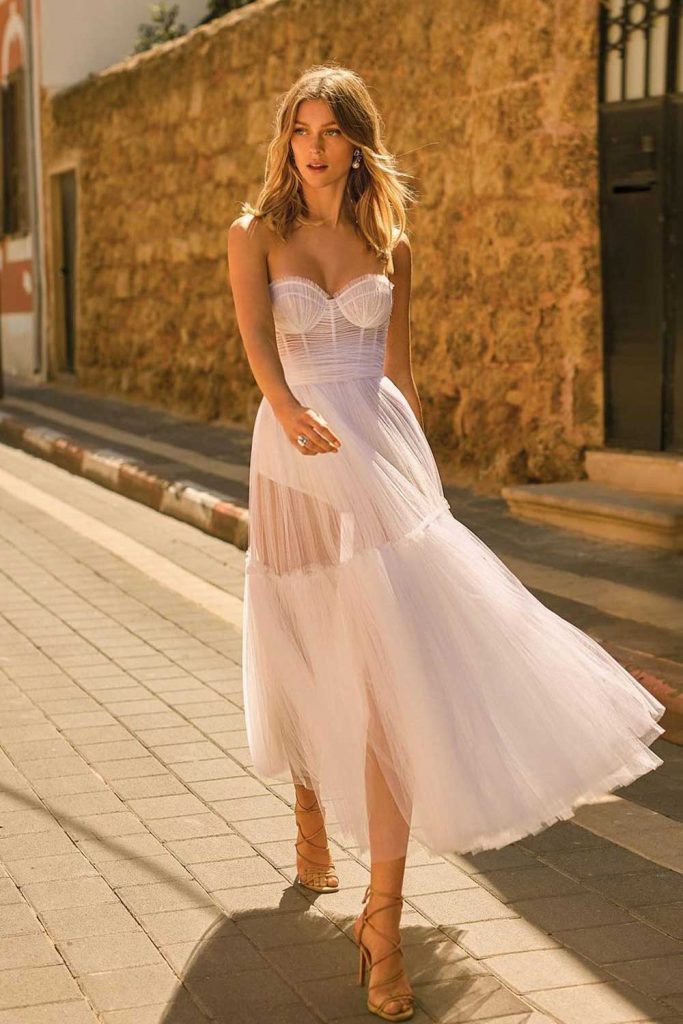 Credit photo: Instagram.com/berta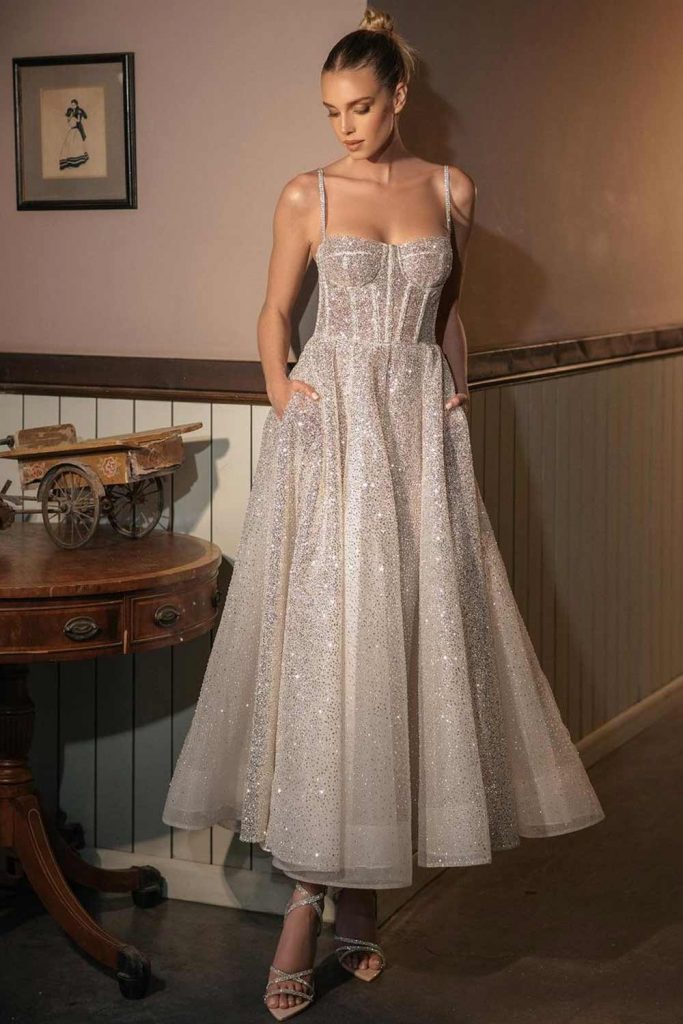 Credit photo: Instagram.com/berta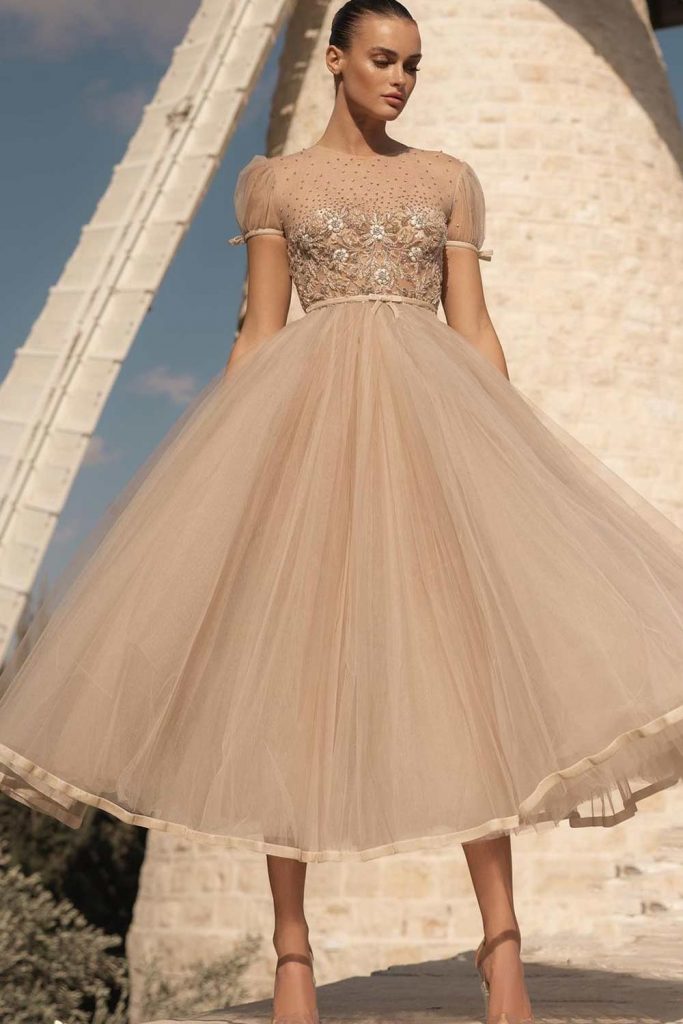 Credit photo: Instagram.com/berta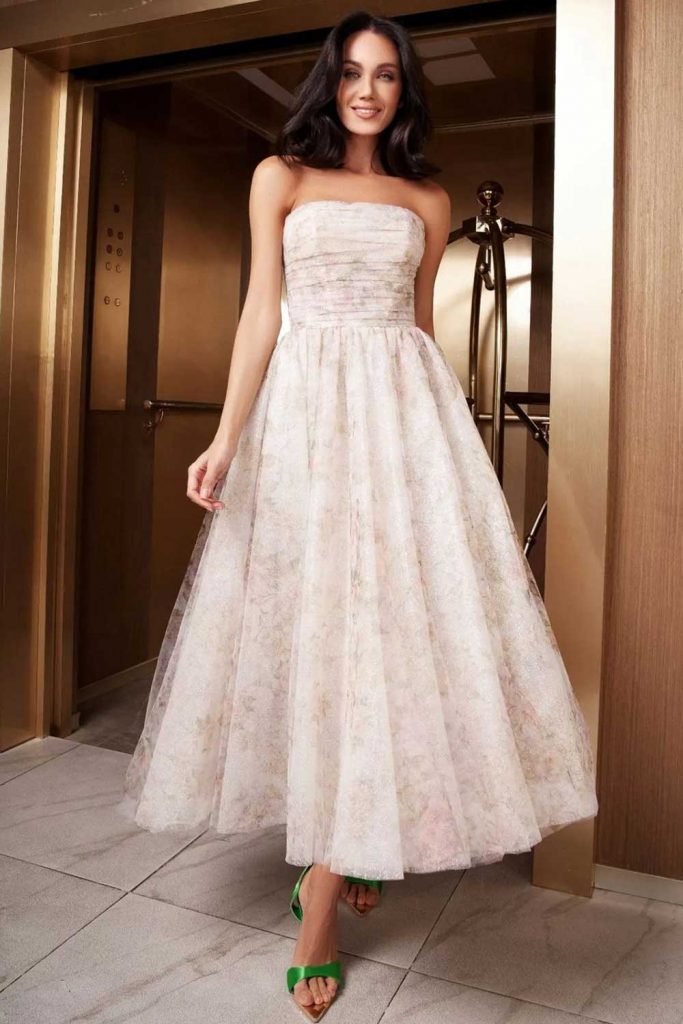 Credit photo: Instagram.com/haremsbrides
Theoretical knowledge about what a tea length dress looks like may not be enough to grasp the full potential of the style. To make your life a little easier, we've gathered the best ideas for T-length gowns to consider as the big day approaches.
The versatility of tea-length dresses is challenging to underestimate. There's a perfect option to suit every style and taste.
Where to Find and Purchase Perfect Tea Length Wedding Dresses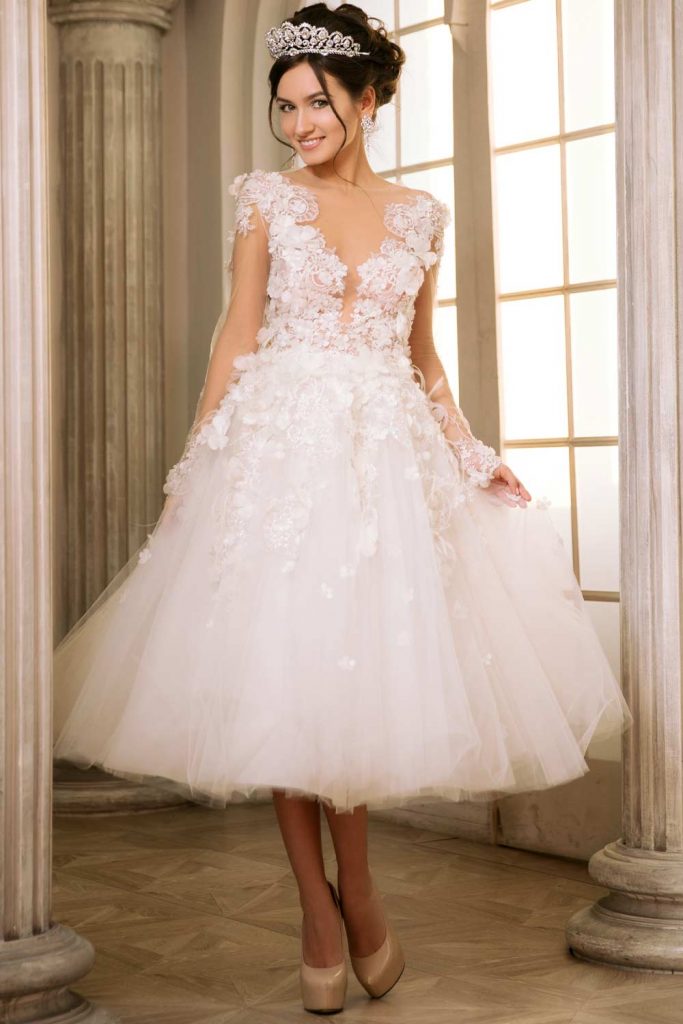 Credit photo: Shutterstock
T length dress is an incredibly popular style. Thus, you can find it in both offline and online stores. Visiting a bridal boutique is one of the simplest things to do. You can talk to the experts there and try on different variants to choose the best option.
In case you are certain about the type of T-length dress you want to buy, you may consider online shopping platforms. However, you should be careful about the size and return policy that the store offers. In case the dress does not fit you properly, you should be able to return or exchange it. Keep in mind some lengths may require alterations after being purchased online, so you should include extra expenses in your wedding budget.
FAQ
What is a tea-length wedding dress?
T-length gowns belong to the range of retro knee-length wedding dresses that consist of a full skirt and tight-fitting bodices. Very often, the style is associated with 50s wedding fashion.
Is a tea dress suitable for a wedding?
Tea-length dresses are fit for a wedding that take place around the year due to their comfortable design and versatility of styles. It's possible to play around with the shades of the dress and its decorative elements to emphasize the season when your big day takes place.
Why is it called tea length?
The style bears the name T-length since women wore such dresses to teat tables in the 1920s. The dress's skirt falls around 3-4 inches below the knees.
What body shape does a tea dress suit?
The tea-length dress looks great on every figure, but it is known for its slimming effect when it comes to pear shapes as well as triangle body shapes.
Tea length dress is a retro style that the modern era has given a new life. The style is immensely practical and incredibly versatile. It suits most figures and tastes, and the variety of designs to choose from is overwhelmingly wide. Take your fashionable pick!
REFERENCES:
Tea Length Wedding Dresses Source
Was this article helpful?