A blue wedding dress is a perfect alternative to a classic white gown. Not everyone likes wearing white and that is perfectly fine. It is up to you to decide what color your wedding dress is going to be. Plus, there are plenty of blue shades to choose from so everyone will be able to pick out the option that will express their personality best. The shade can also vary depending on the general color story of your wedding and even the season. To help you select your dream wedding gown, we have picked out the best blue dress ideas and gathered them in the following guide.
Simple Wedding Dress You Will Love
Shutterstock
i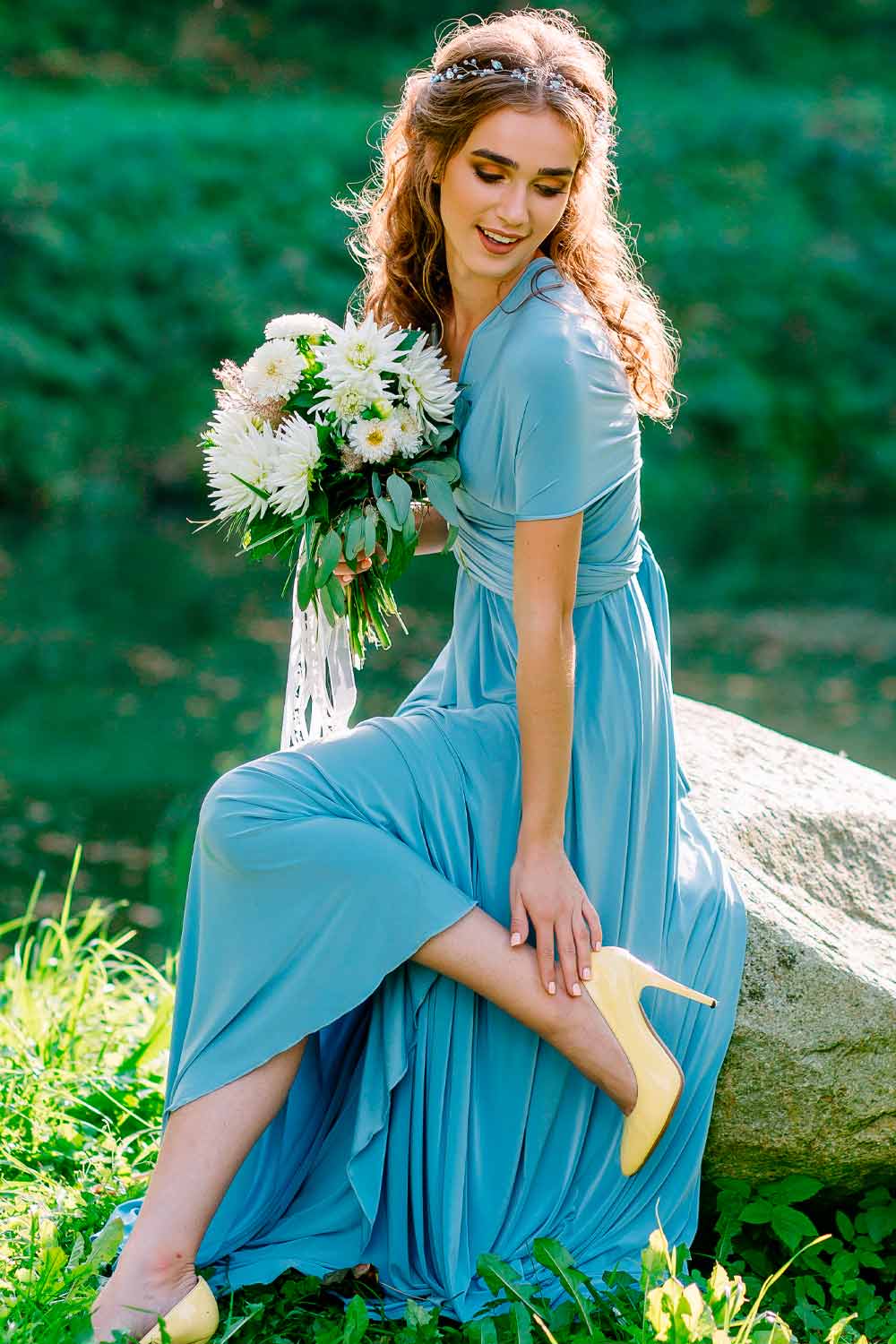 Shutterstock
i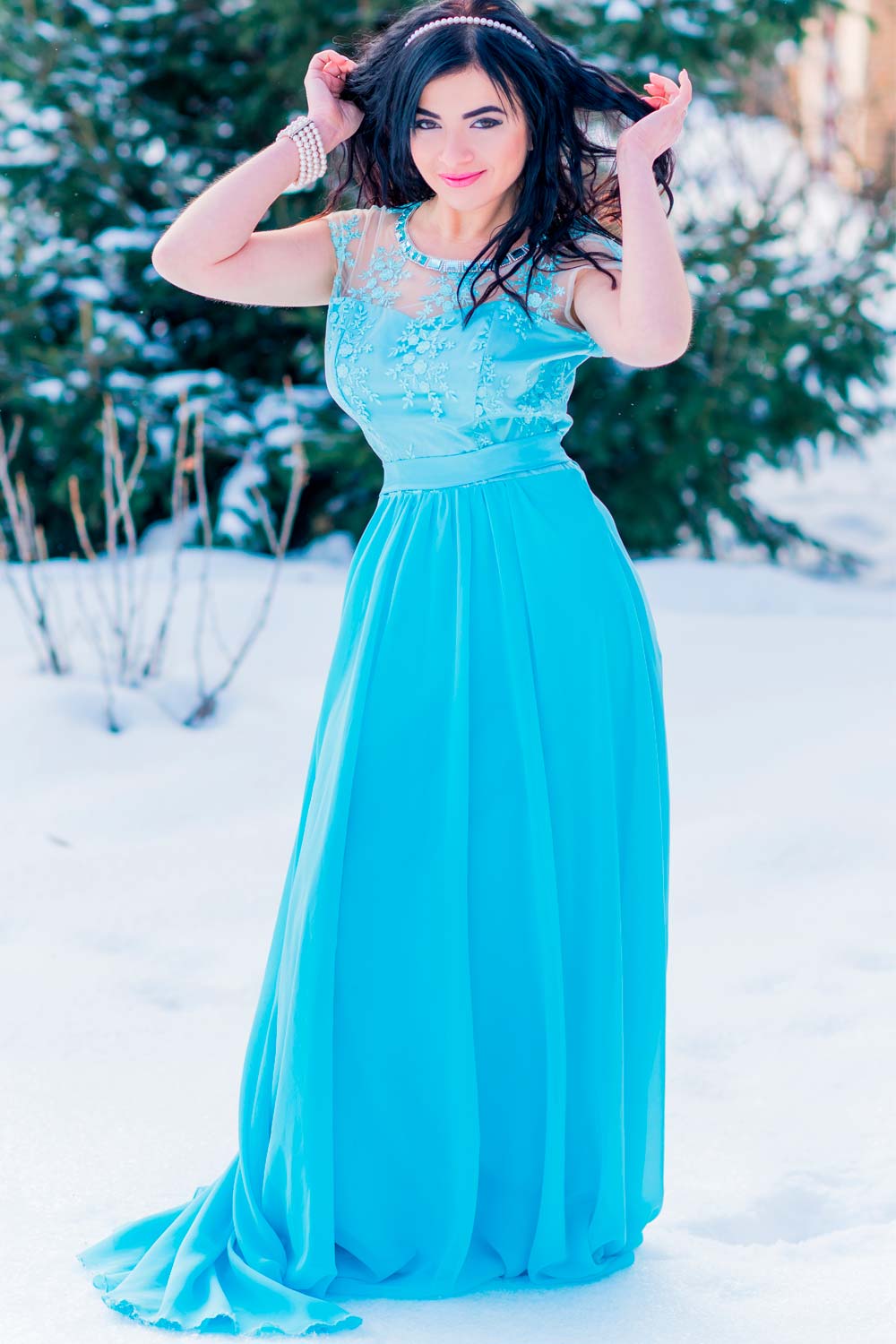 /
Elegant Long Sleeved Wedding Dress
Shutterstock
i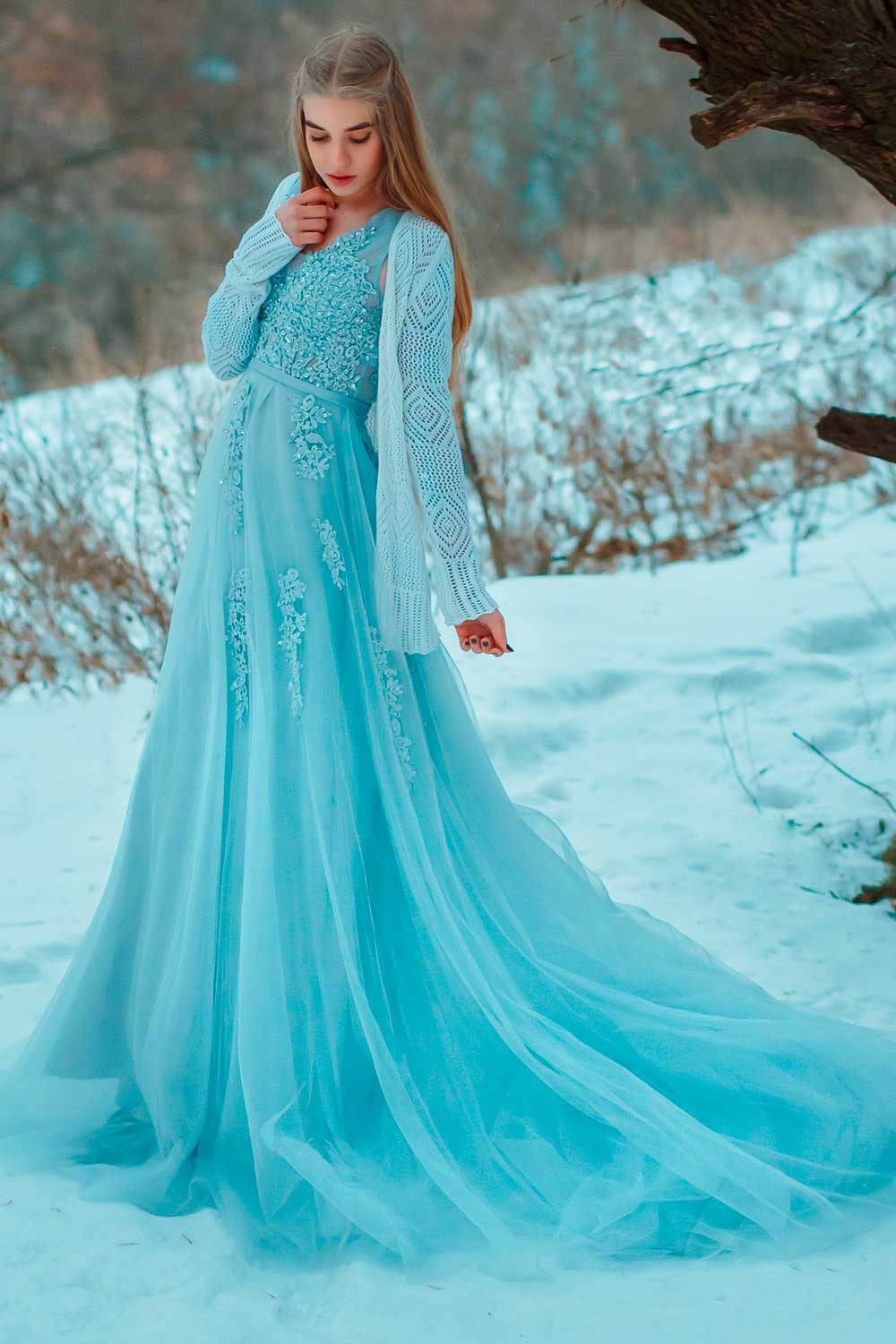 Shutterstock
i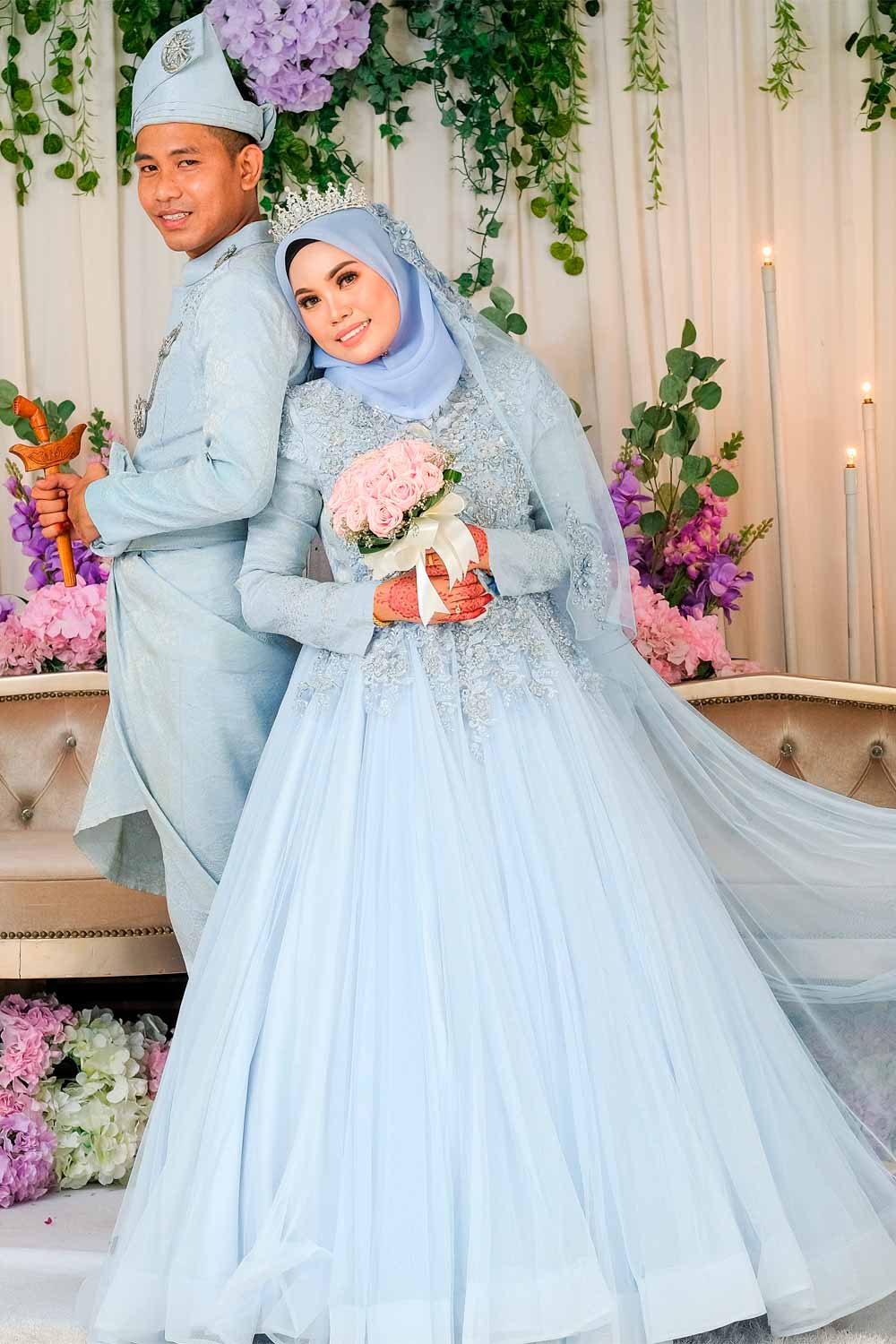 /
If you are getting married during colder months or you do not want to show off your arms, a long sleeved wedding dress is your surefire way to go. The style of the sleeves can be anything, from ruffle and bishop to angel and bell sleeves. Of course, you can go for regular long sleeves. And to give it an unusual twist, consider a blue wedding gown, which is the elegance at its finest.
Mesmerizing Blue Mermaid Wedding Dresses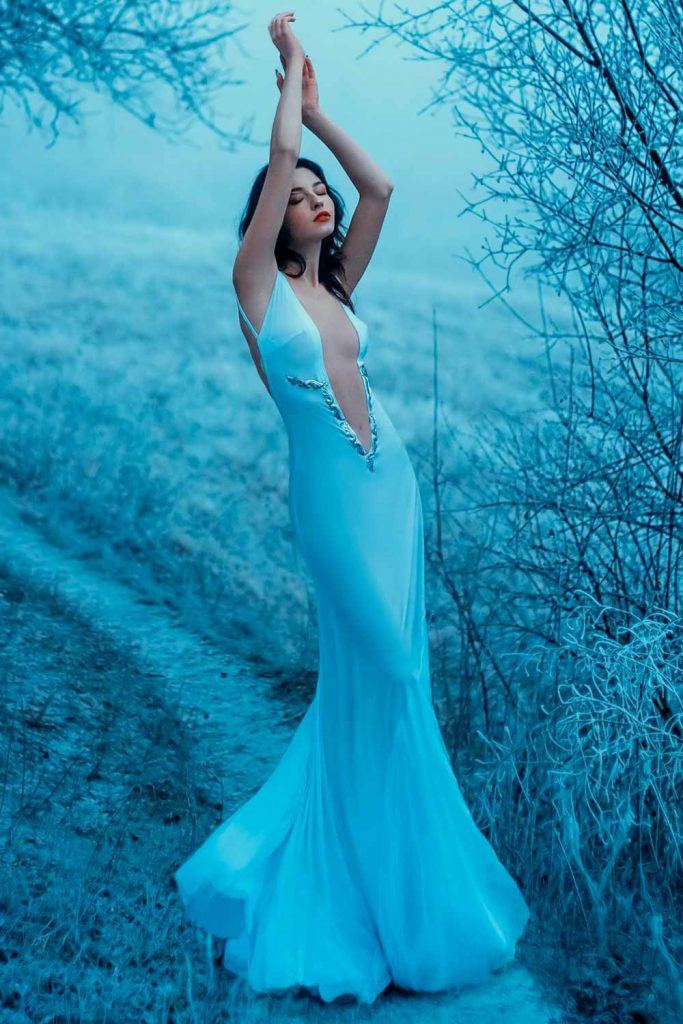 Credit photo: Shutterstock
Mermaid wedding dresses do not lose their popularity and no wonder. Choosing one guarantees that as soon as you walk down the aisle, everyone will be standing in awe. This style of wedding dresses looks out of this world. So, you can rest assured that it will not leave anyone indifferent. To enhance the look, you can choose a gown with a train. And to take it to another level, go with a blue mermaid wedding dress.
Variety Of Shades For Your Blue Wedding Dress
A blue wedding dress comes not only in a great variety of styles and designs but in a wide spectrum of blue shades as well. They may differ depending on the season, your wedding color story and your taste. To make the choice easier for you, we have collected the most stunning shades of a blue wedding dress here.
Dark Blue Wedding Dress
Shutterstock
i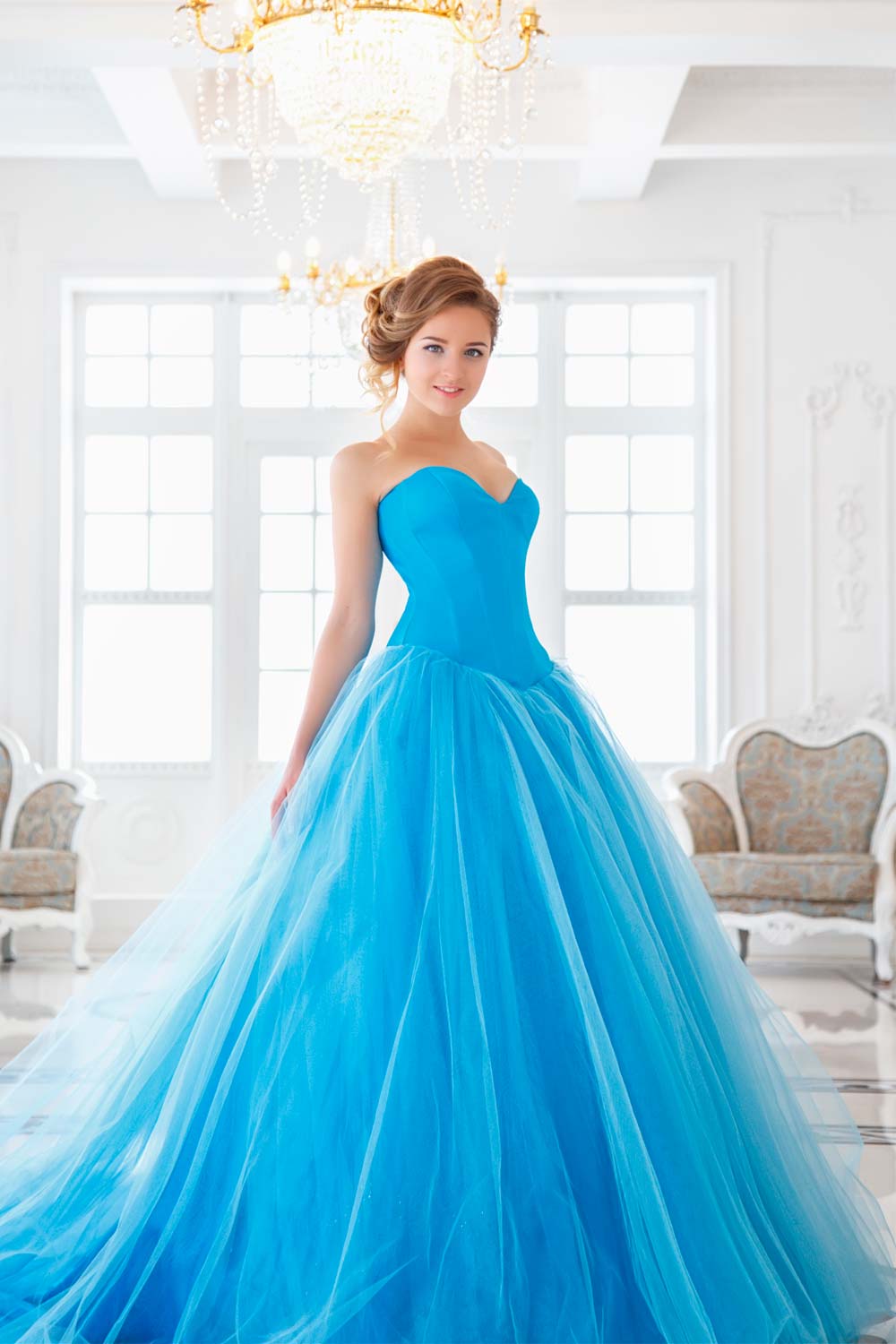 Shutterstock
i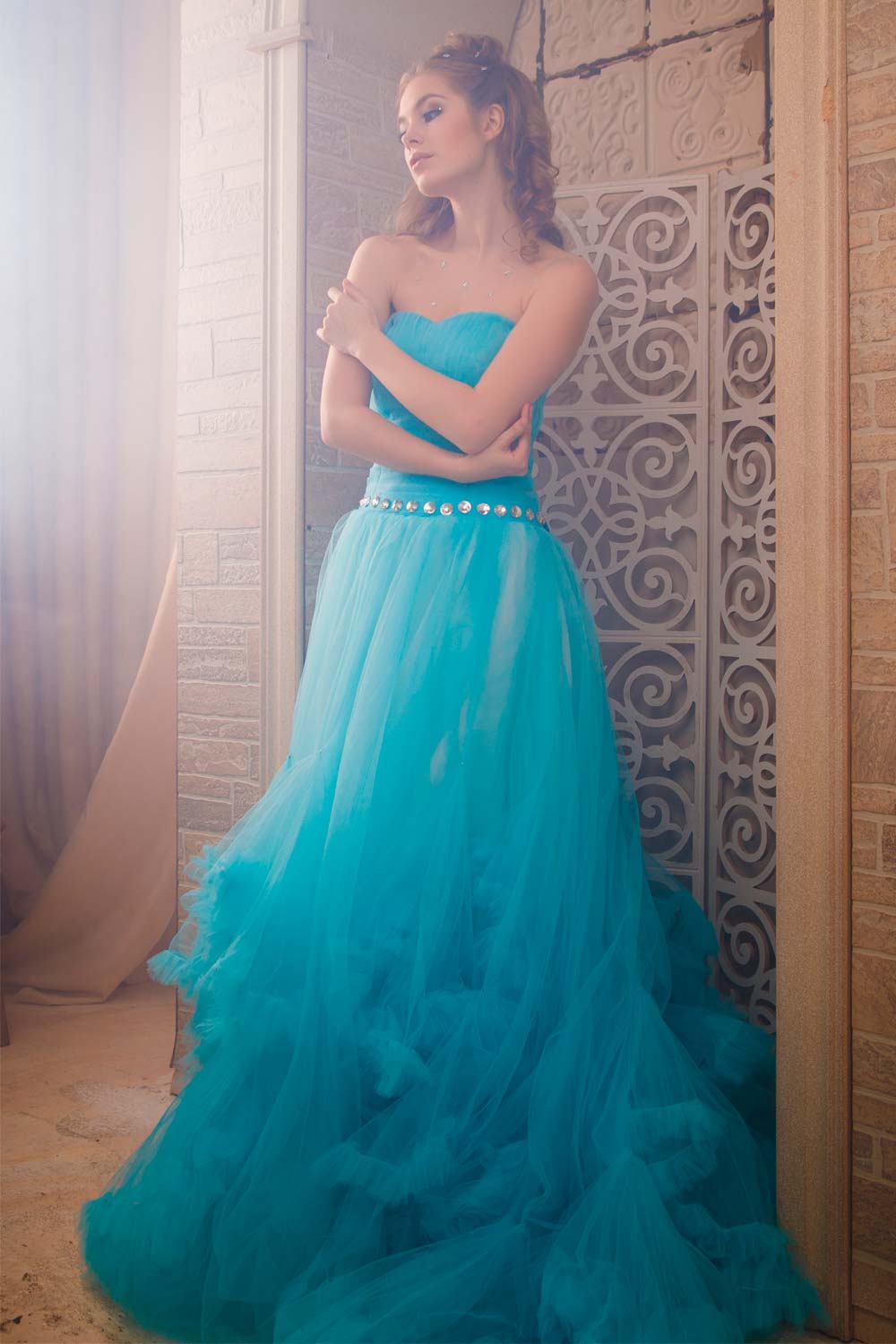 /
Who said that a dark blue wedding dress is not a good idea? They must have not seen this incredible deep blue wedding gown. Such a shade comes out bold and striking, so you are sure to steal the limelight even if someone dares to wear a white dress to your wedding.
White And Blue Wedding Dress
Shutterstock
i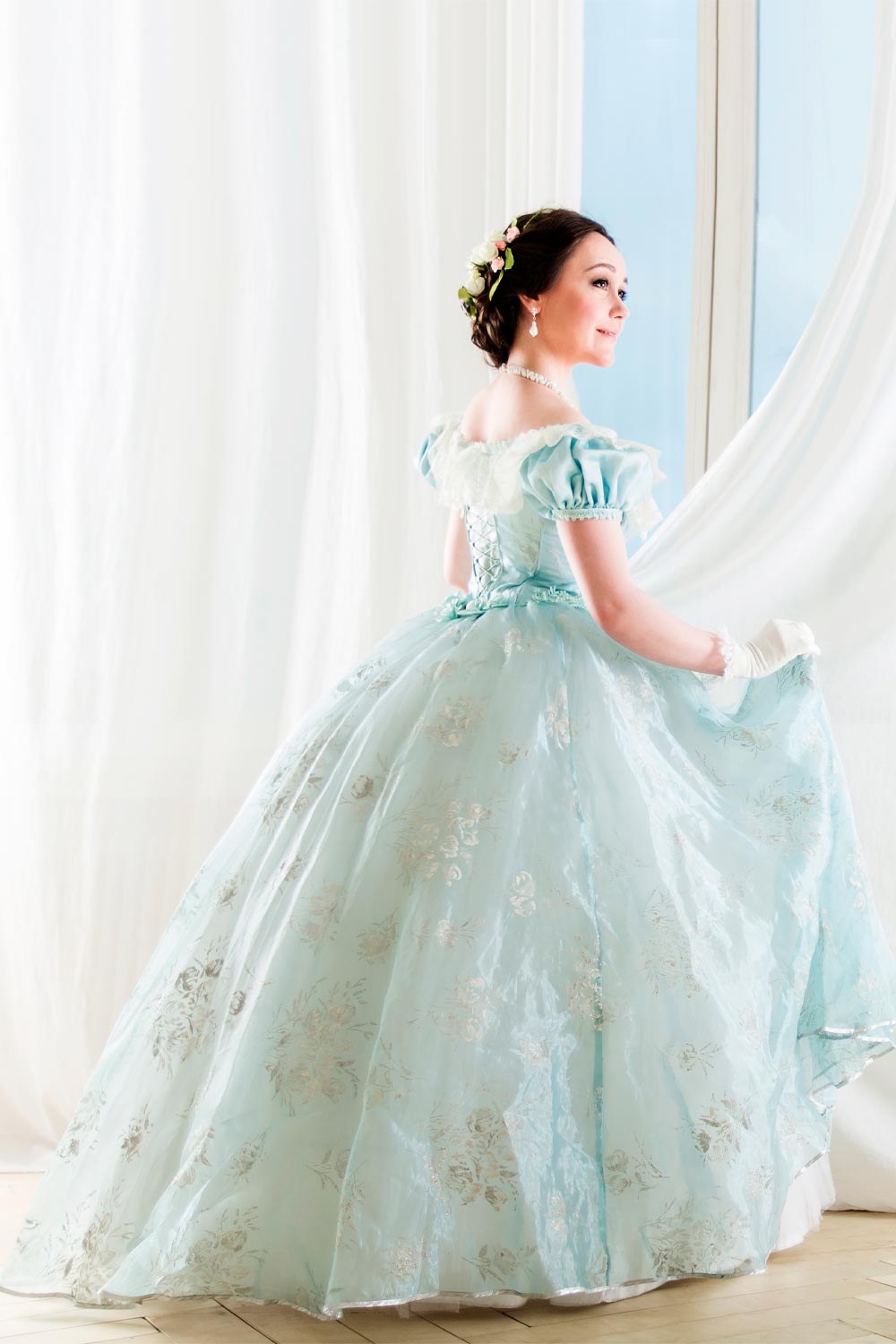 Shutterstock
i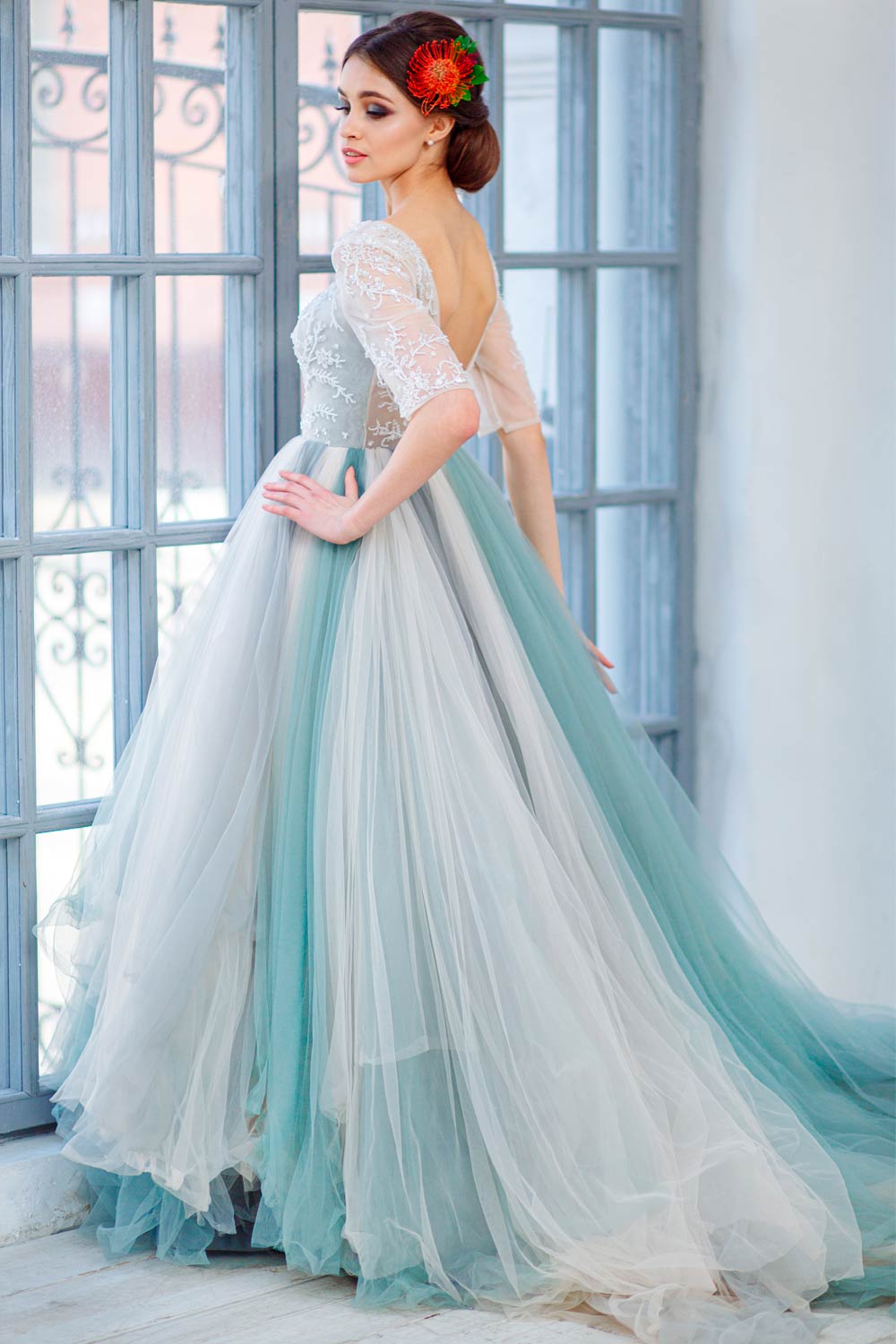 Shutterstock
i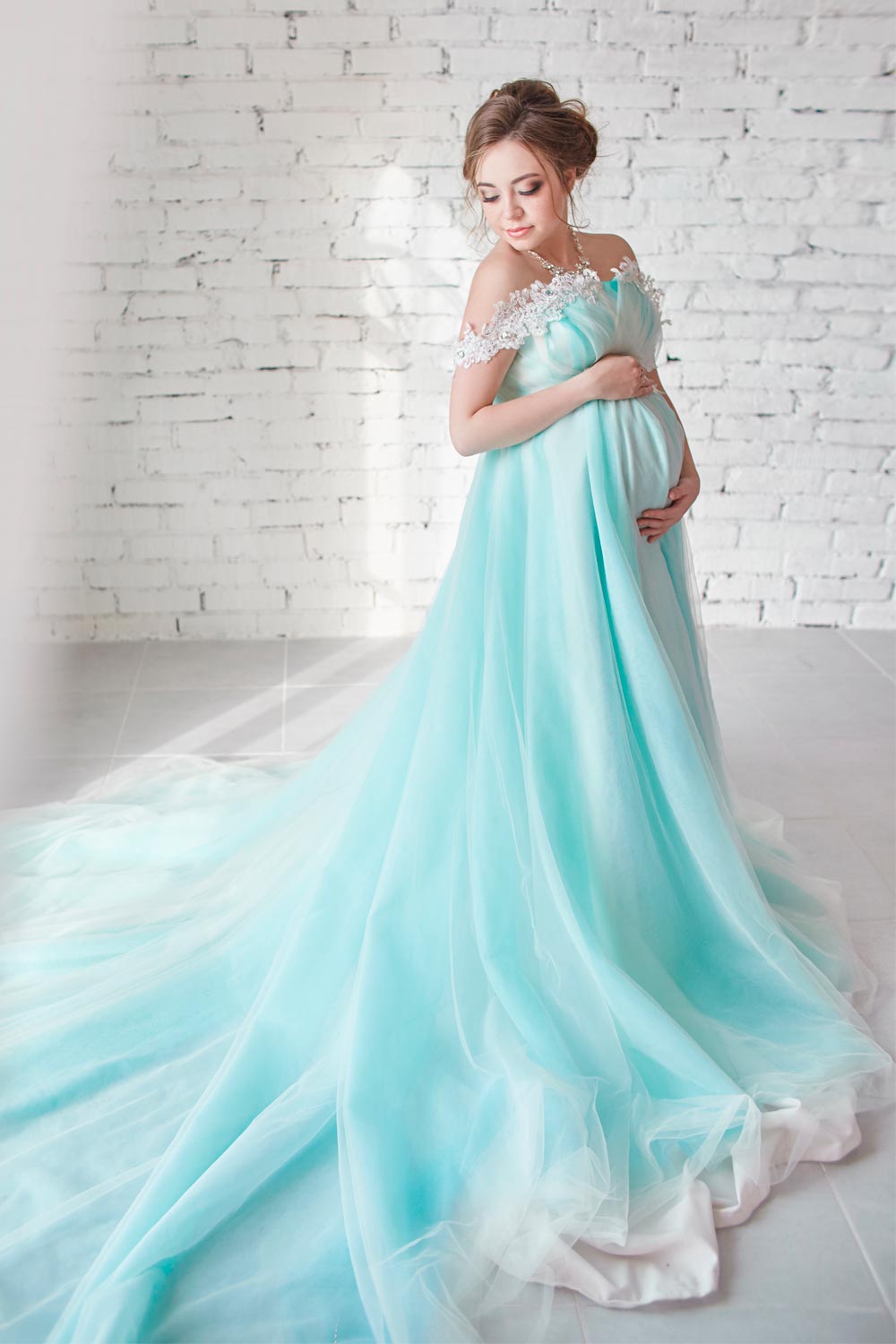 /
If you are not ready to venture out for an all out blue dress for the wedding, you can use blue as an accent color. As such, why not give a white and blue wedding dress a go? It still has a celebratory vibe but does not appear as unconventional as a solid blue dress.
Dusty Blue Wedding Dress
@stylishbrideaccs
i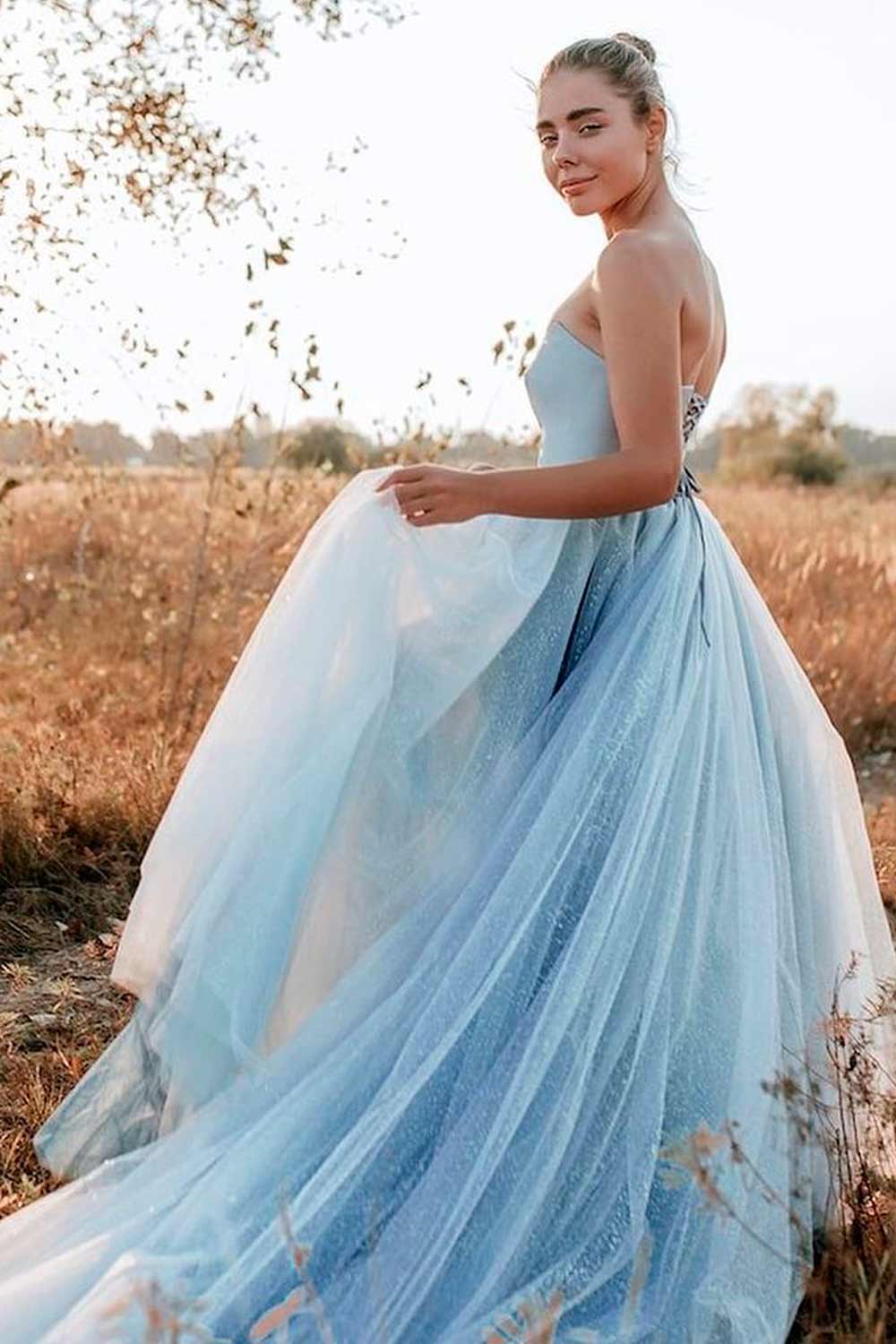 @stylishbrideaccs
i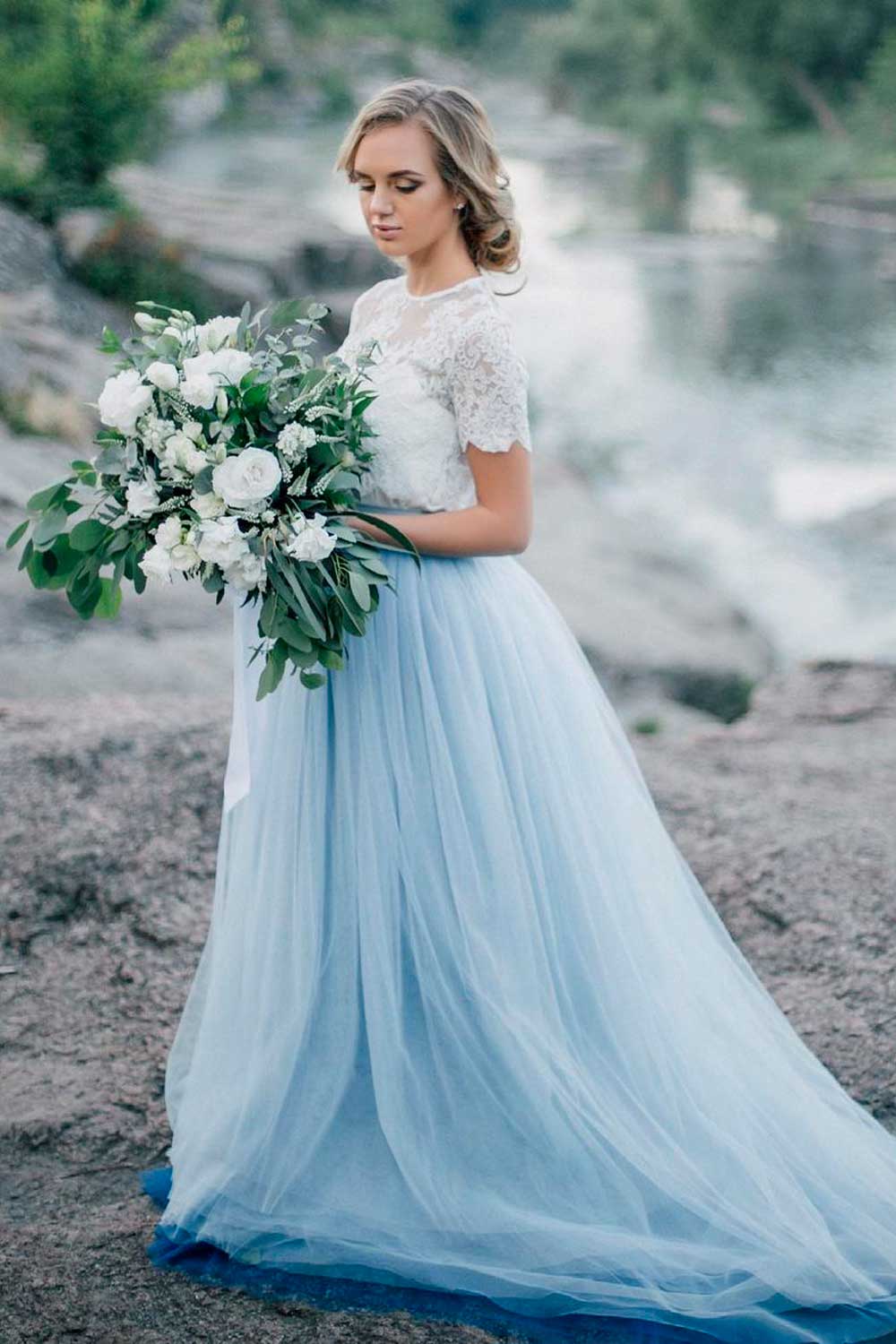 Shutterstock
i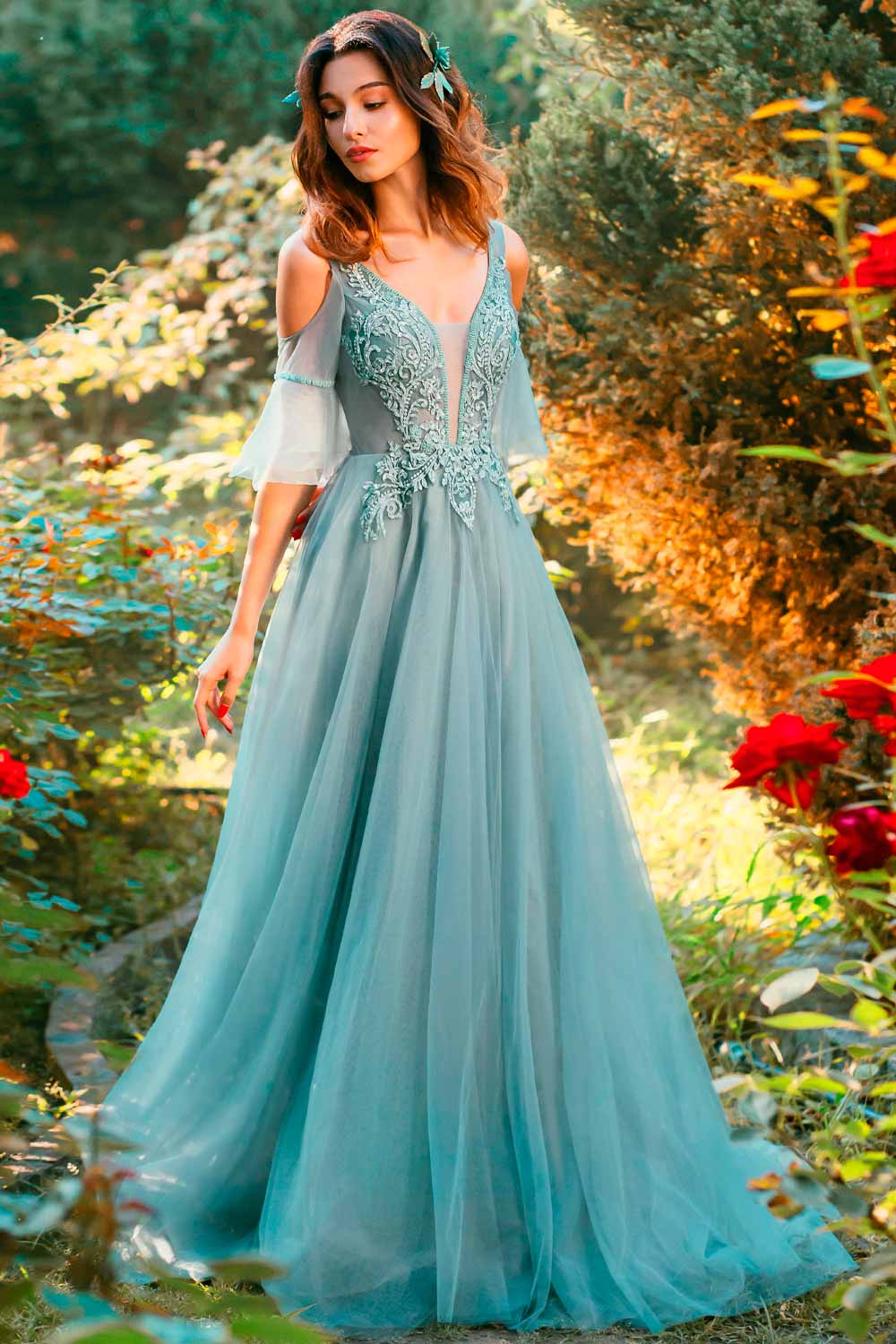 /
Sometimes, pure blue may seem too bright for a wedding gown. If this is the case for you, no worries. A dusty blue wedding dress is a wonderful solution. Thanks to the muted color, it does not look overly flashy. Yet, at the same time, it is not too dark or gloomy. A perfect balance.
Light Blue Wedding Dress
Shutterstock
i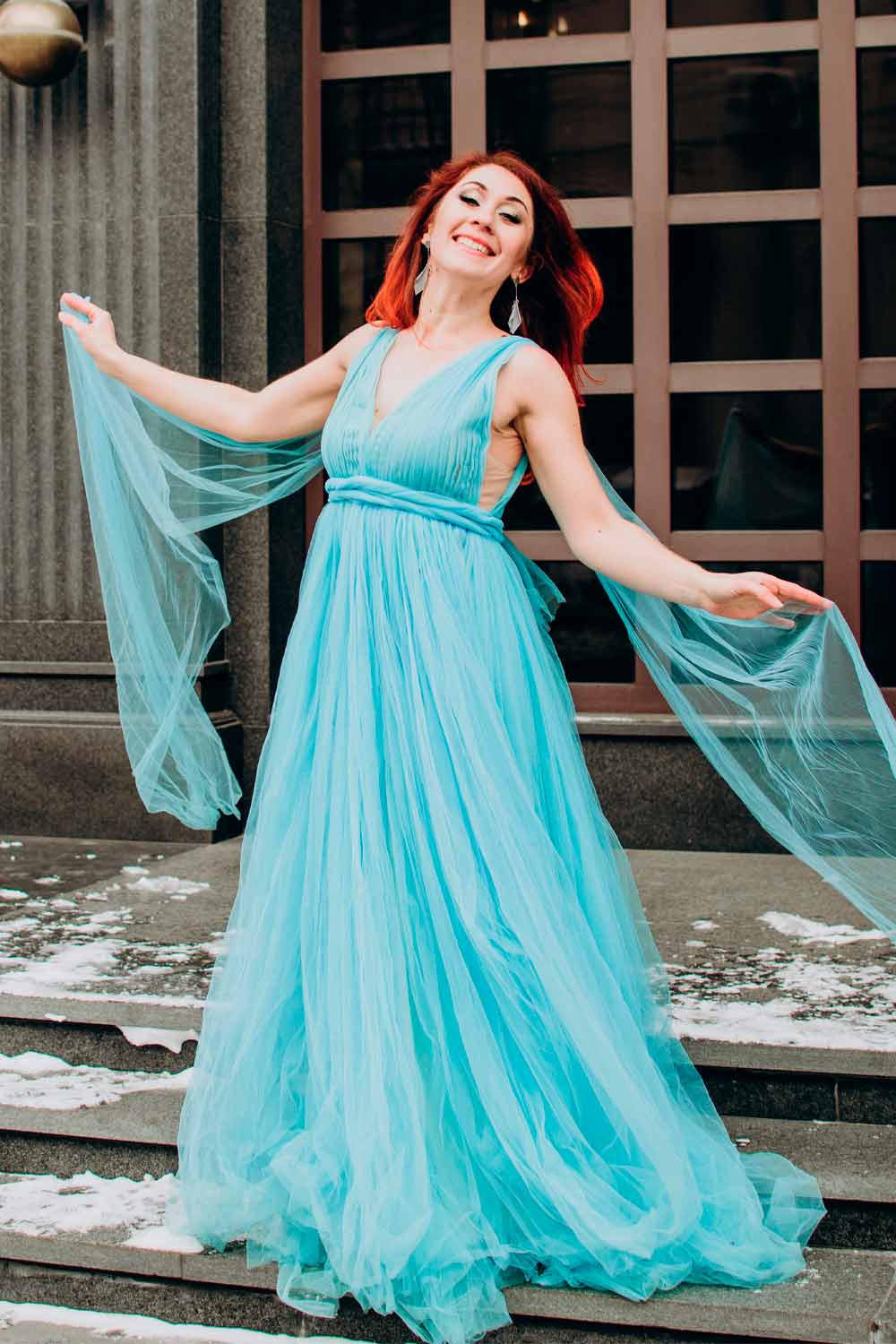 @stylishbrideaccs
i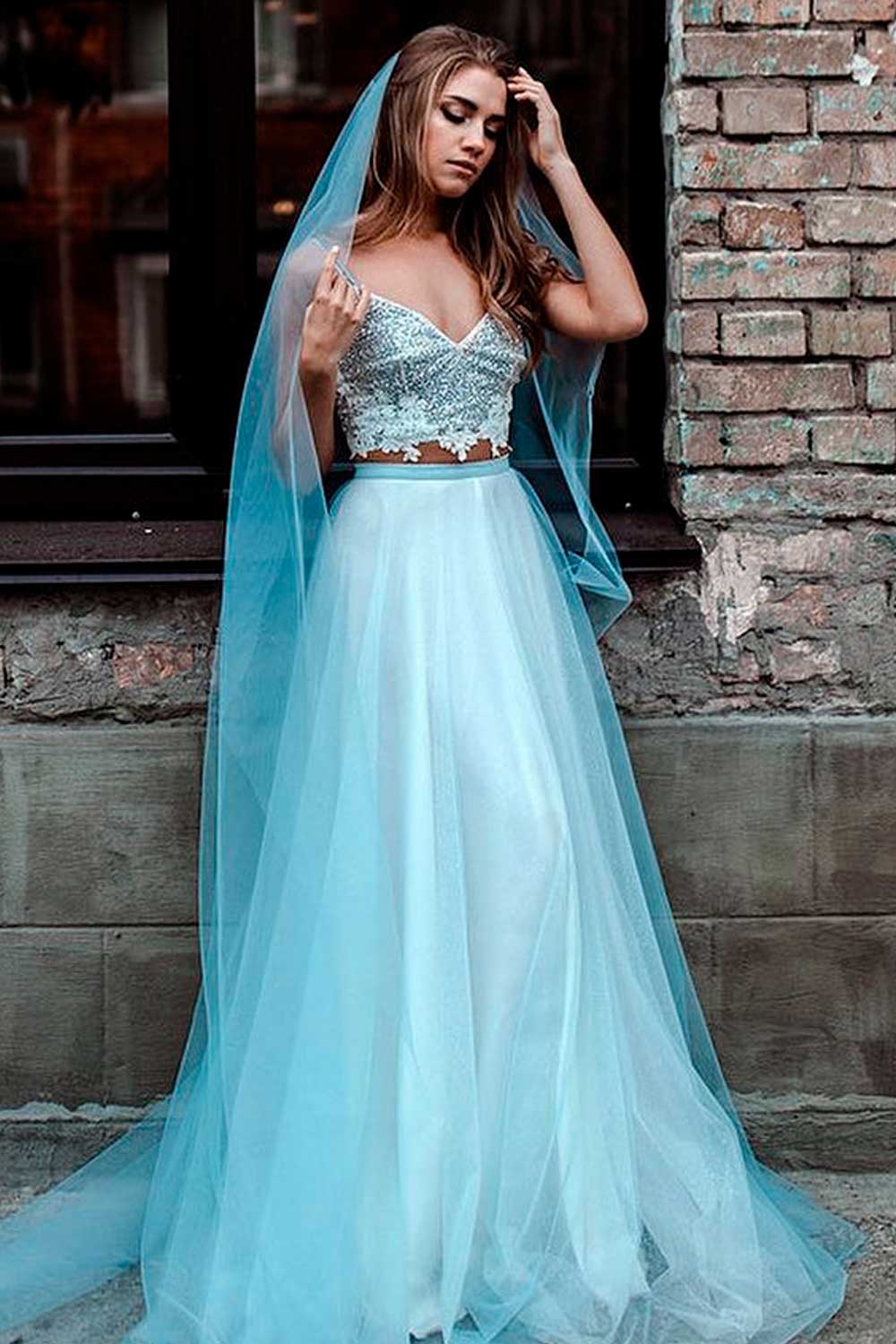 Shutterstock
i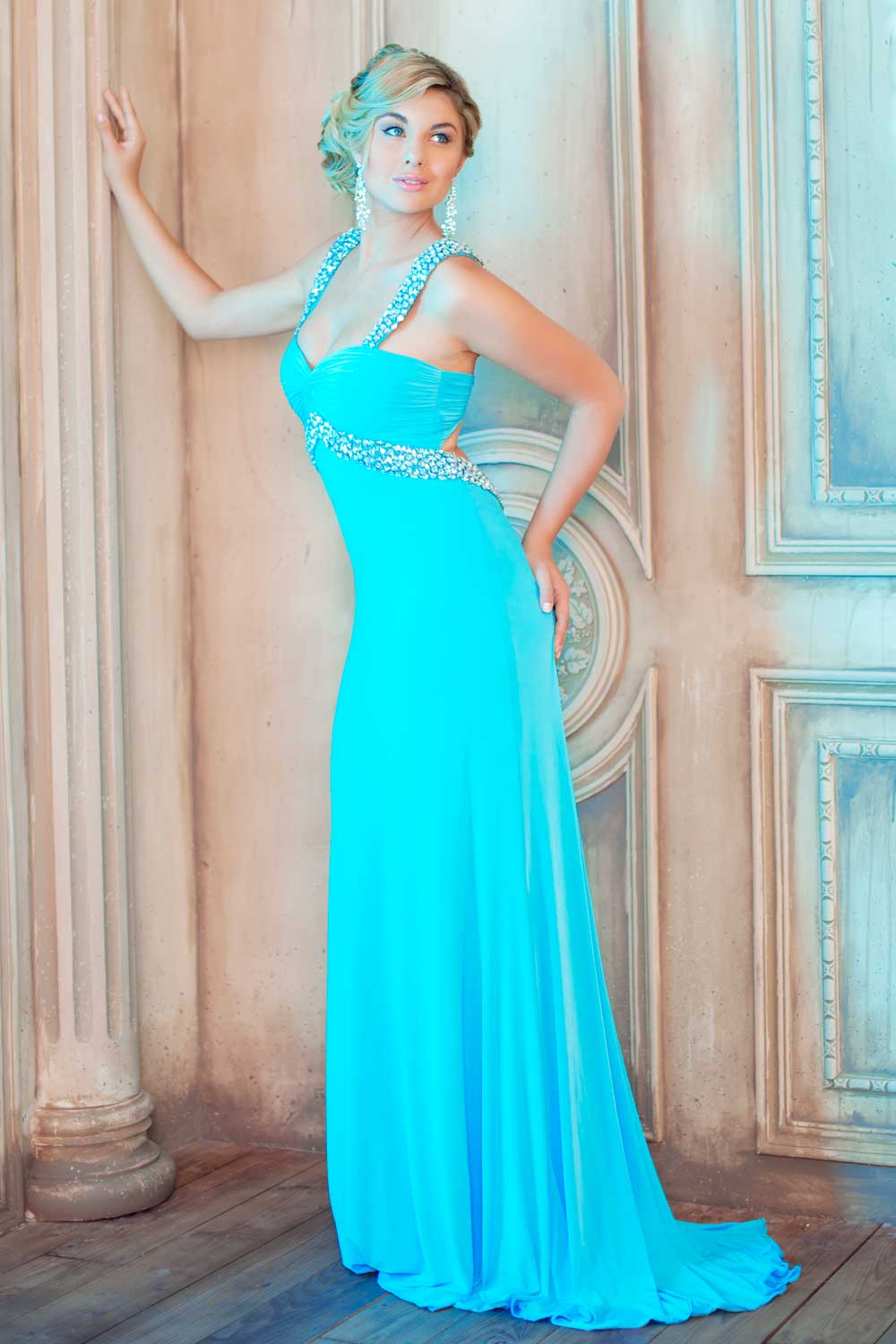 /
For a spring or summer wedding, you may want to choose something refreshing and bright, such as a light blue wedding dress. Of course, you can choose it for any season. Yet, when the weather is warm, it looks especially flattering. And even if you decide to accompany your look with a veil and/or a shawl in a matching color, it will not come out over the top.
Royal Blue Wedding Dress
Shutterstock
i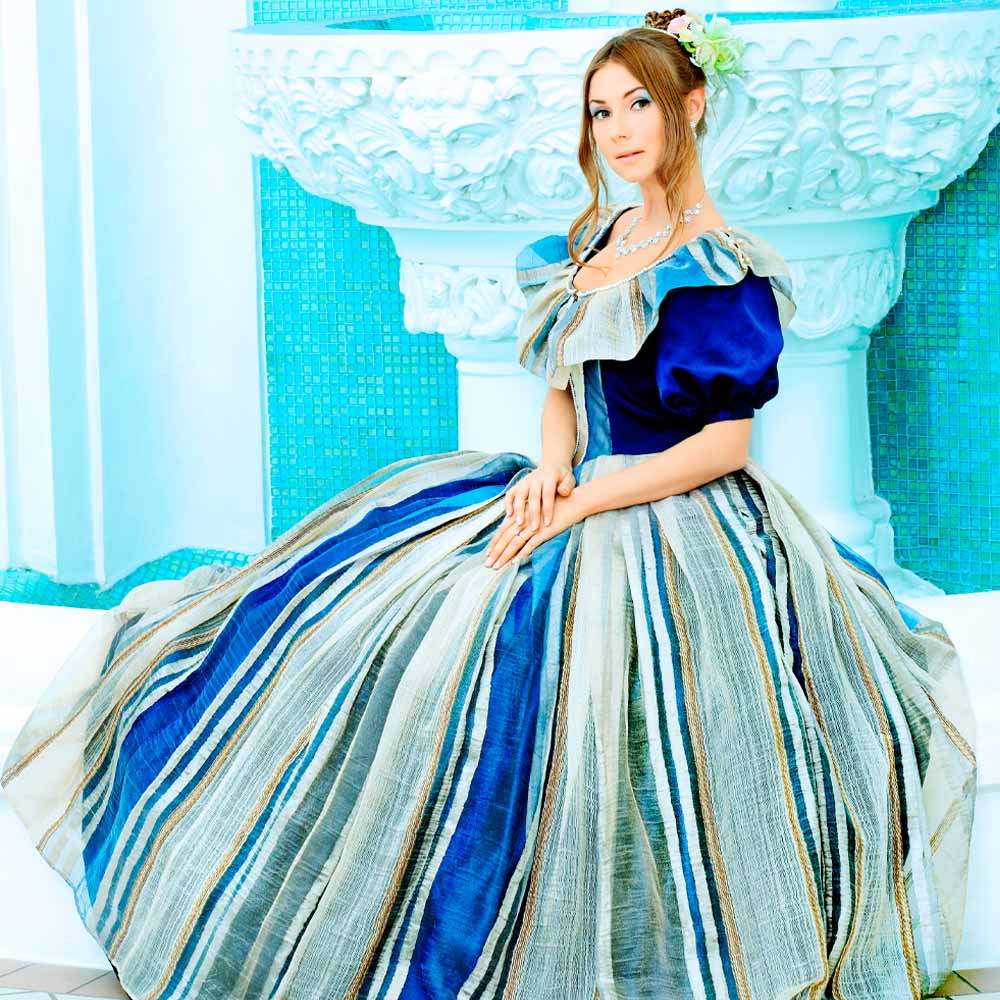 Shutterstock
i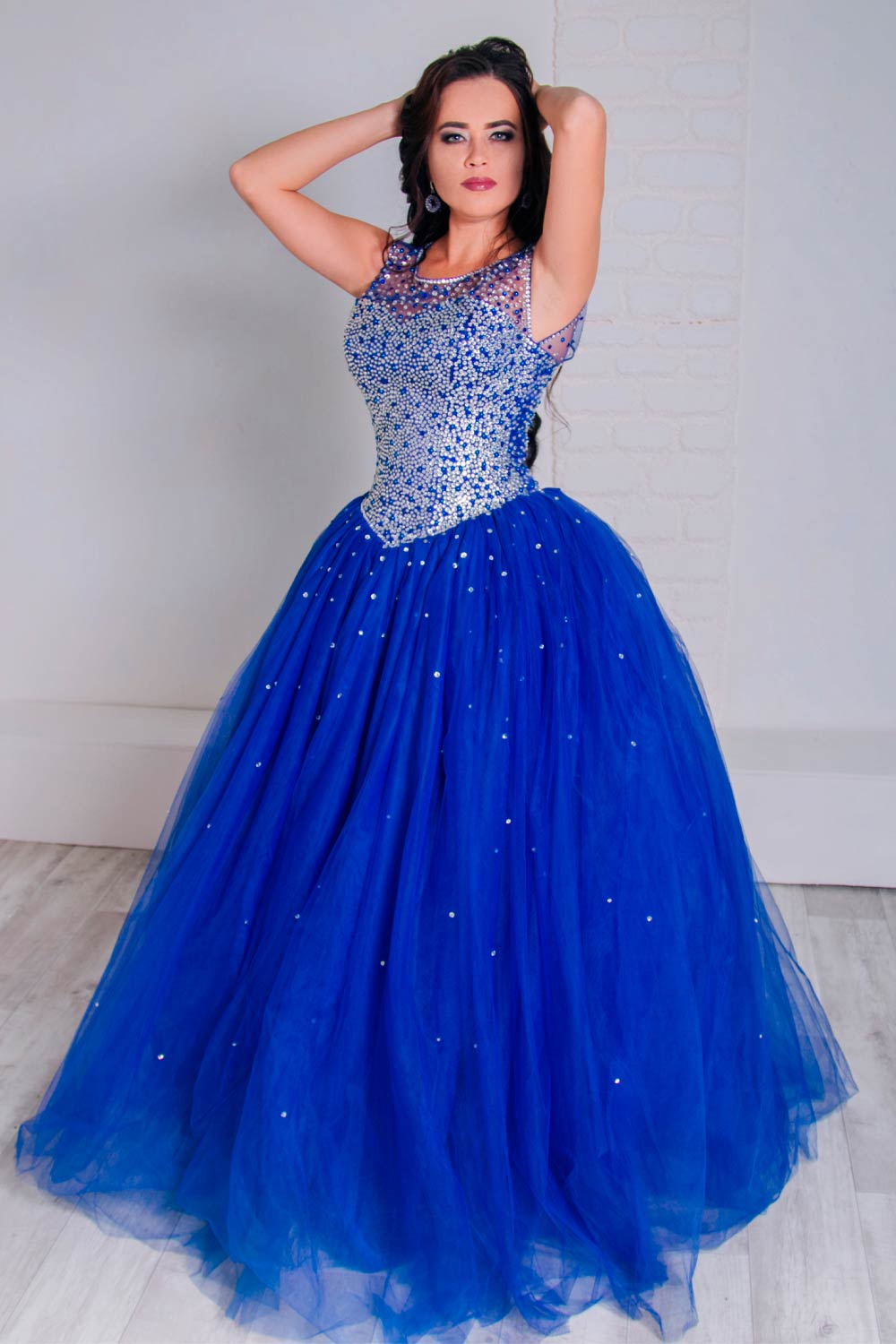 /
A royal blue wedding dress, on the contrary, fits the winter ambiance flawlessly. Rich and luxurious, it symbolizes loyalty, purity and femininity. Gracing your head with a tiara will complete the look and allow you to add a royal flair to your wedding. So, if you want to feel like a princess on this special day, a royal blue dress for wedding is all you need.
Navy Blue Wedding Dress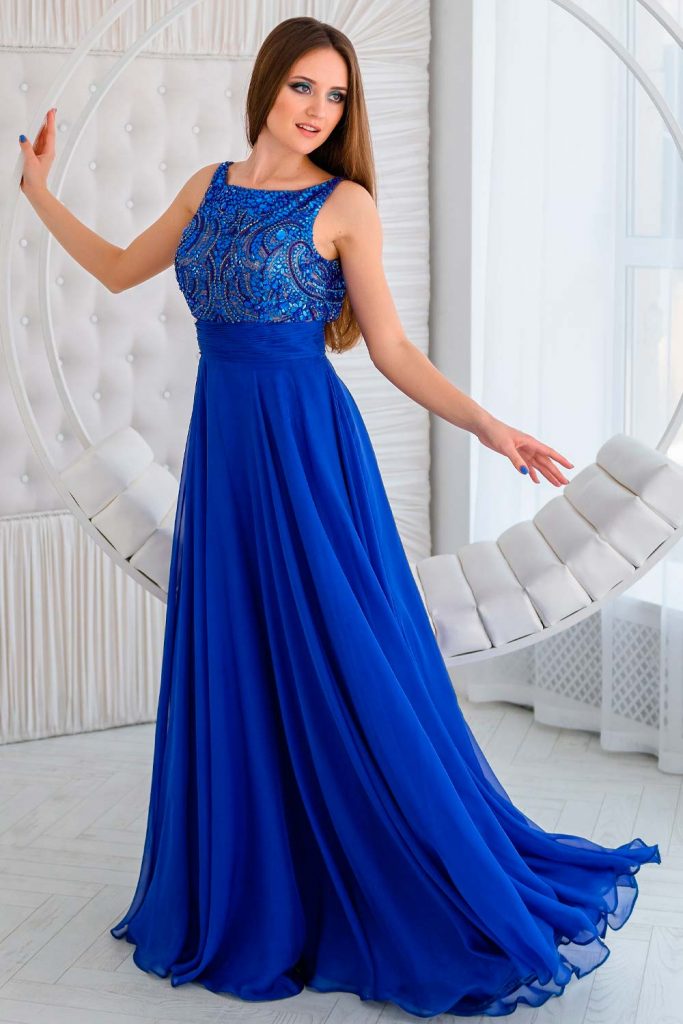 Credit photo: Shutterstock
One of the best things about a navy blue wedding dress is that despite being pretty dark, it still makes you look dressed up. So, if this gorgeous color appeals to you, you are welcome to pick it out for your wedding gown. Optionally, you can also use it as an accent color for your makeup or accessories.
Black And Blue Wedding Dress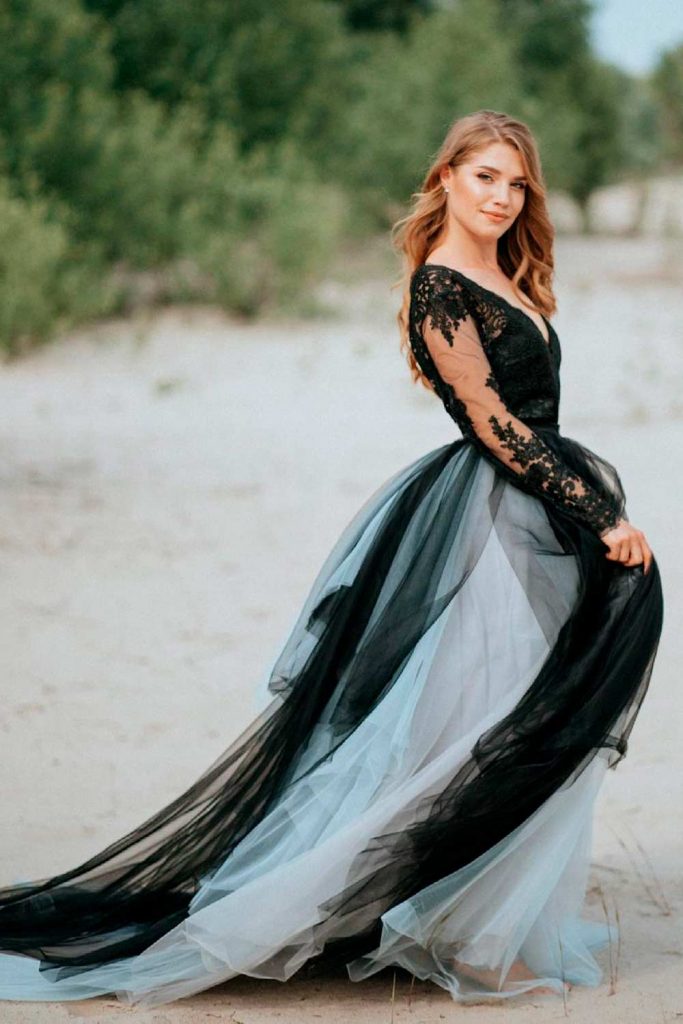 Credit photo: Instagram.com/stylishbrideaccs
For those who are not afraid to stand out in the crowd, a black and blue wedding dress is a viable option. Sure thing, such an unusual solution may create a lot of stir among your guests. But this should not bother you, as you must have quite a lot of confidence and some sort of bravery to pull it off.
Wedding Guest Dress
@stylishbrideaccs
i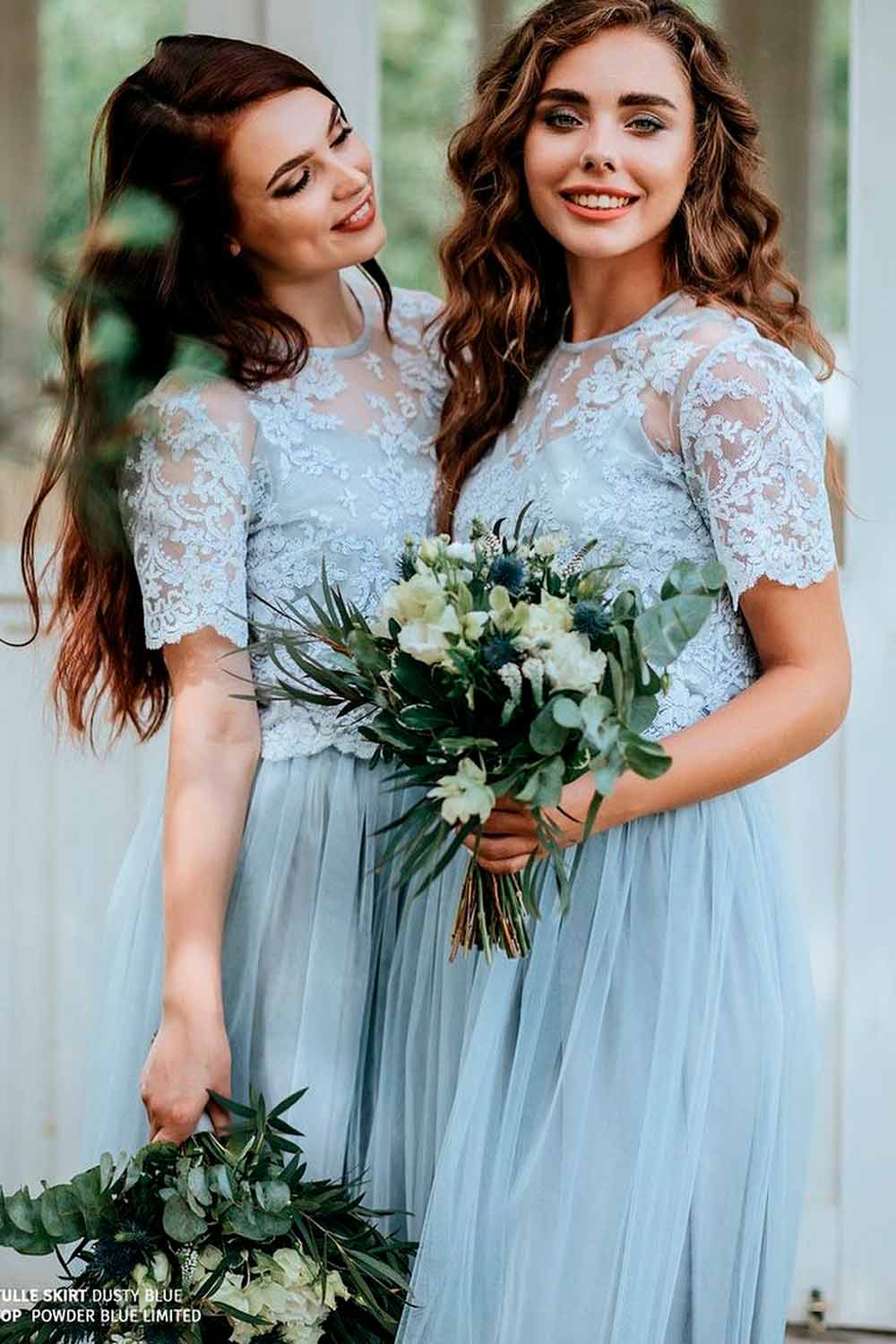 @stylishbrideaccs
i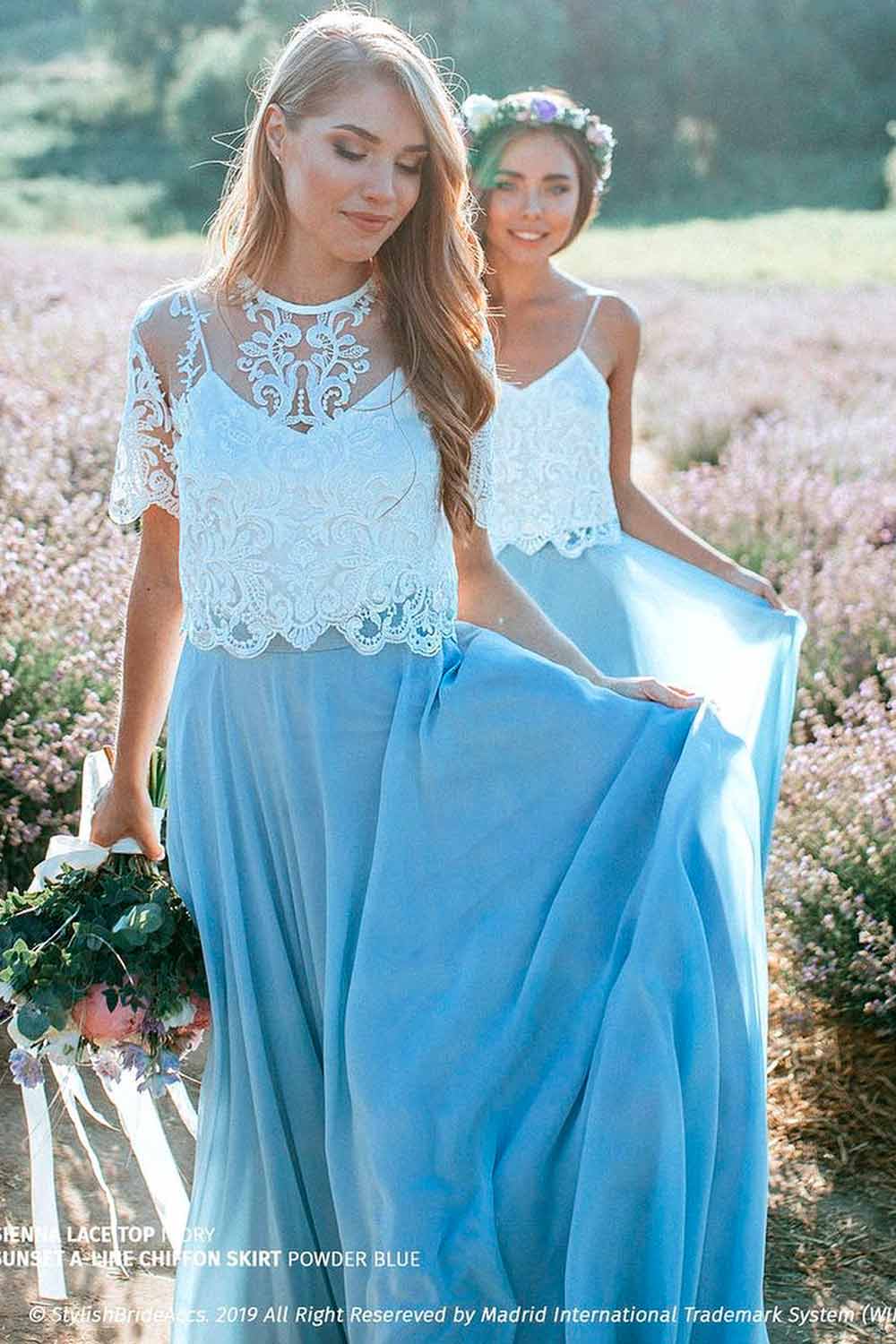 /
Blue can also be a color of choice for guests' dresses. While you are free to choose any shade of blue, may we suggest a light blue wedding guest dress? It goes with any wedding color palette and emphasizes the bride's dress even more no matter whether it is classic white or any other color.
You should not be afraid to opt for a wedding gown color other than white. A blue wedding dress may look even more special than a traditional option. And as you can tell from our guide, there is an extensive selection of various shades, styles and designs of blue wedding dresses. All you need is to pick out the one that resonates with you most.
FAQ: Blue Wedding Dress
What color shoes should you wear to a wedding?
Don't be afraid of color. Classic and traditional brides will likely be drawn to clean white, champagne, ivory, and nude tones, but if a little footwear flair intrigues you, don't be afraid go outside the box in the color department.
Is navy too dark for a spring wedding?
For spring & summer weddings, wear lighter shades and pastels. For fall & winter weddings wear more darker tones. Navy blue is perfect for all year round!
What else do brides wear for something blue?
Blue is the color of love, purity, faithfulness, and modesty. To keep with tradition, the bride can wear a blue piece of jewelry.