Impressive And Stylish Long Sleeve Wedding Dresses For All Tastes
In many cases, brides underestimate the beauty of long sleeve wedding dresses since for the longest time they have been considered to be too conservative. However, times have changed, and wedding dresses with long sleeves have become extremely versatile and anything but restrictive. We have gathered here all the best representative of long-sleeved beautiful gowns that will fit in any wedding and will suit any exquisite taste. Anything on the scale form short wedding dresses to the impressive royal gown is covered. Choose the dress that appeals to you most!
Main photo Lia Koltyrina/Shutterstock
Classic Long Sleeve Wedding Dress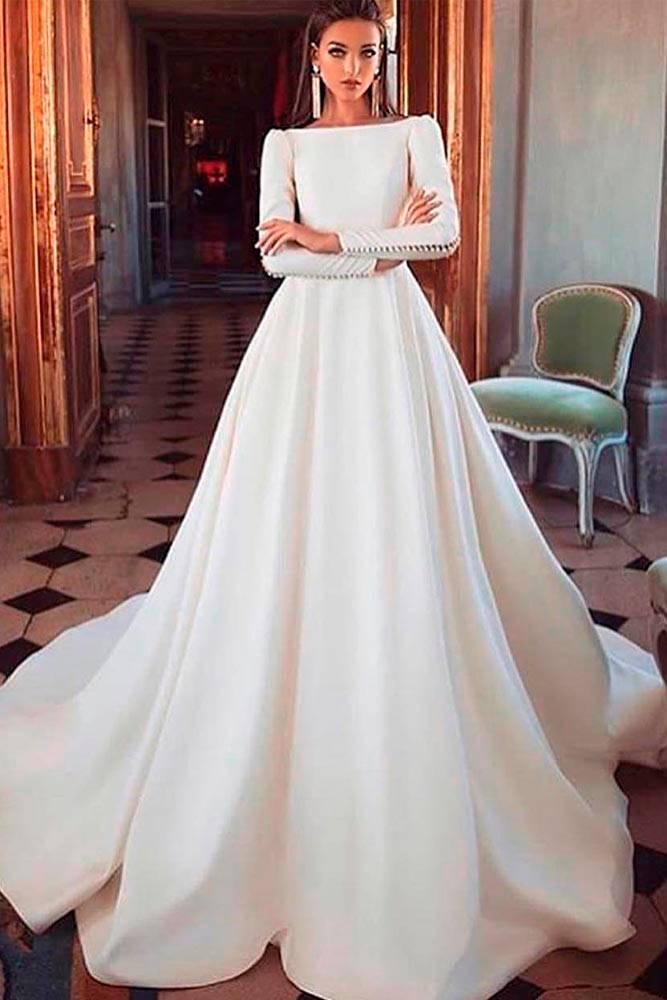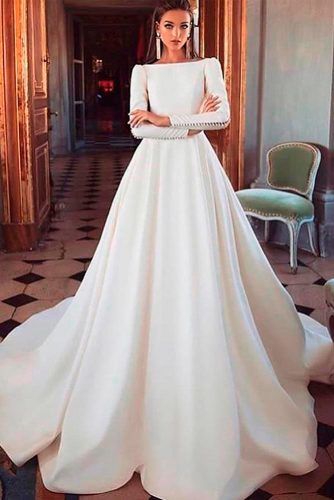 Source: vestidodenoiva via Instagram
Of course, simple long sleeve wedding dresses can be considered the conservative ones. However, when you have a closer look at this classy gown with long sleeves, we are sure that you will find it anything but boring. The lack of decorative elements is fulfilled with the gorgeous flaring skirt and sleek top part. Besides, such a dress leaves a lot of room for experimentation with the accessories.
The Sheer Bodice Features Illusion Long Sleeves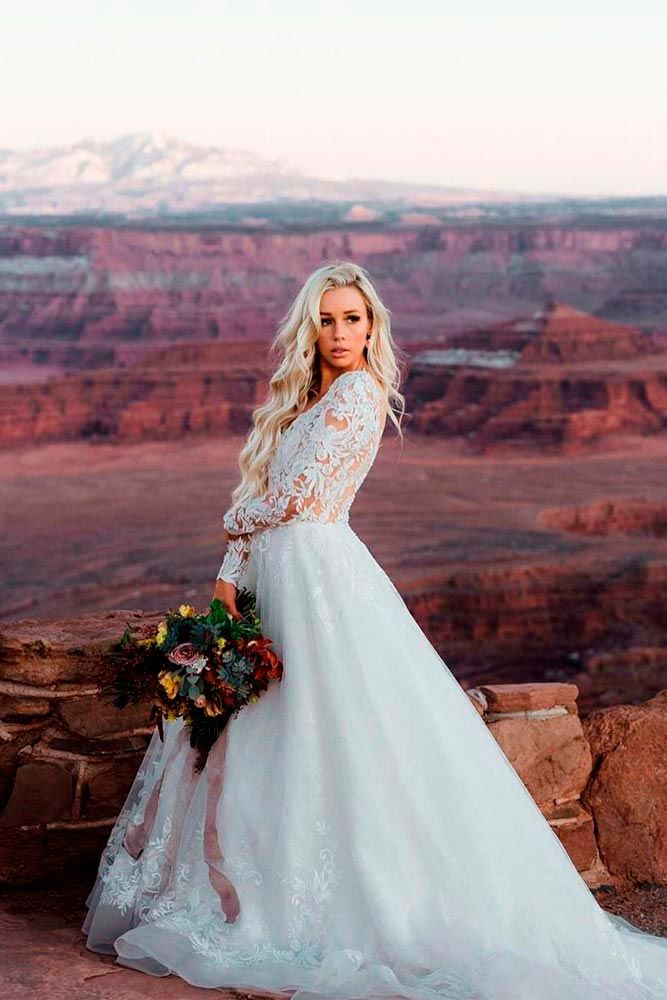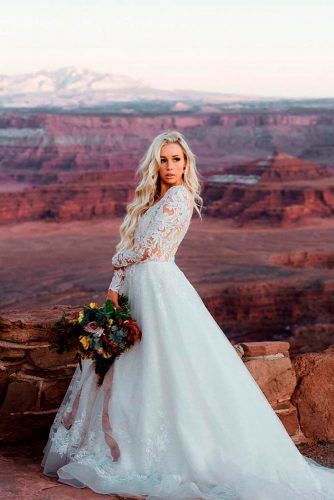 Source: maggiesotterodesigns via Instagram
In case you are looking for some magical long sleeve lace wedding dresses – we may have something in store for you. This sheer bodice wedding dress with a long tale and illusion sleeves suits the category well. The illusion sleeves create that gentle and eerie look that may seek for.
Simple Cuff Sleeves Wedding Dress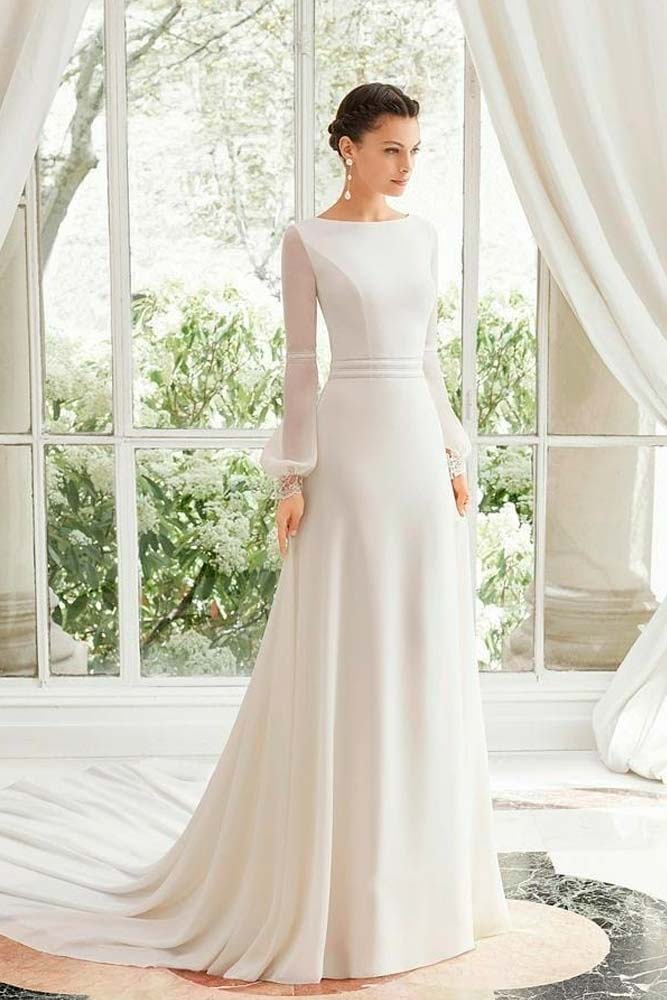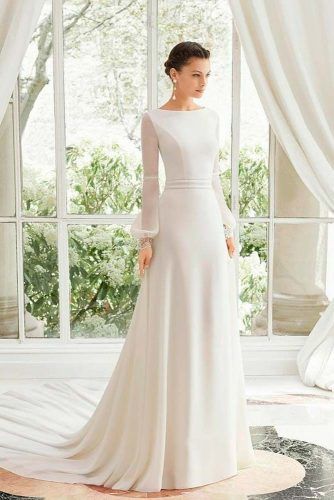 Source: felizwedding via Instagram
There are times when brides are head over heels about long sleeve modest wedding dresses. Can't say that we blame them. One look at this perfect cuff sleeves wedding dress, and you will understand why. The thing is that the dress is super simple but extremely elegant and unique at the same time. Very often, that is the mix you need to look one of a kind when the big day comes.
Airy Tulle And Sequin Lace Wedding Dress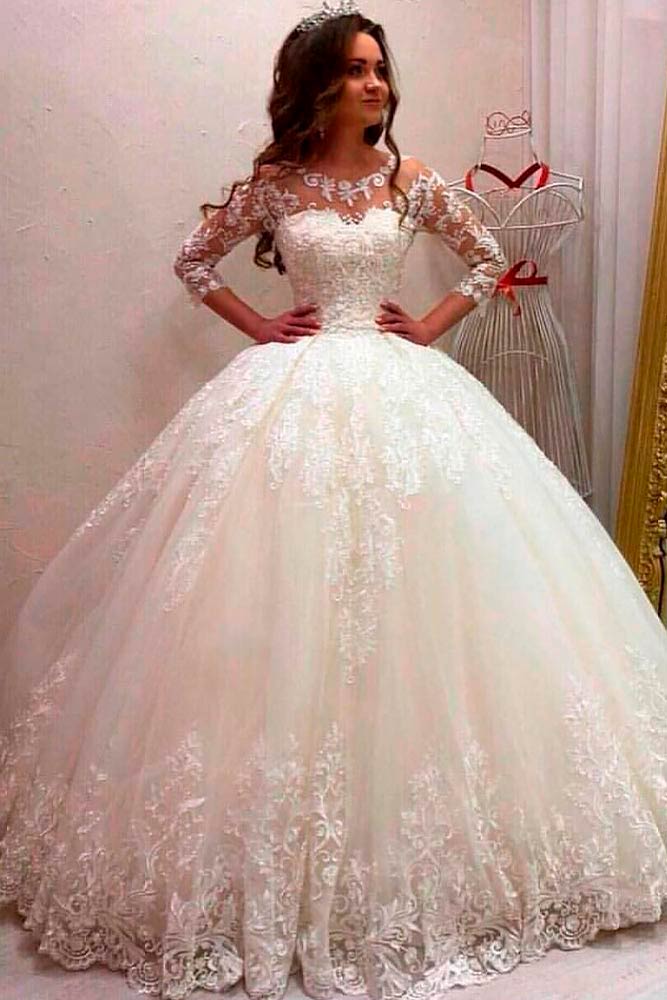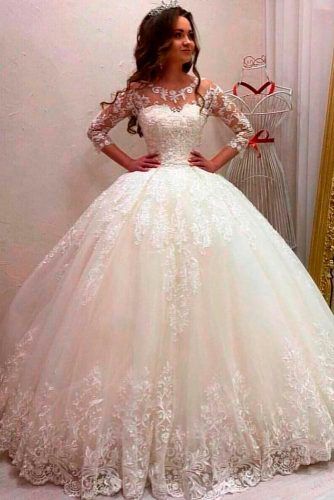 Source: gelinlik.rehberim via Instagram
Real princesses choose long sleeve bohemian wedding dresses. There is nothing pompous about the assumption. The fact is that tulle, lace, and sequins are the definitive elements of classy wedding dresses. It needs to be mentioned that such a dress will accentuate your petite figure and exquisite sense of style perfectly.
Featuring Illusion Long Sleeves Wedding Dress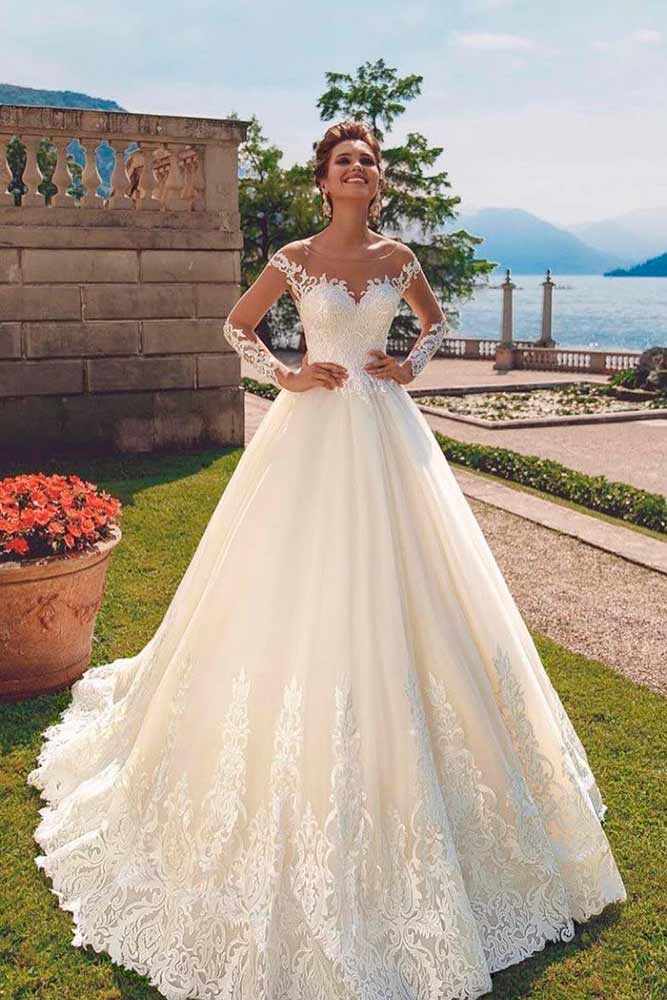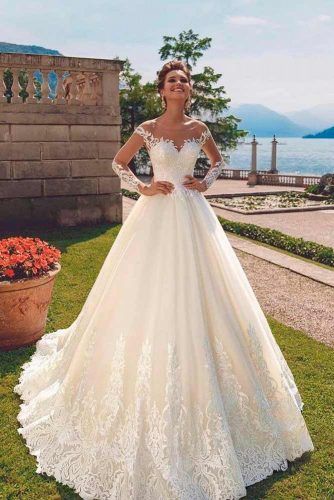 Source: gelinlik.rehberim via Instagram
When we say simple wedding dresses, usually we think about something plain and lacking decoration. Truth be told that is not always the case. The thing is that a simple dress can be the one with minimum decoration too. A little bit of lace and elegant illusion sleeves are precisely what we have in mind.
Bell Sleeve A-line Wedding Dress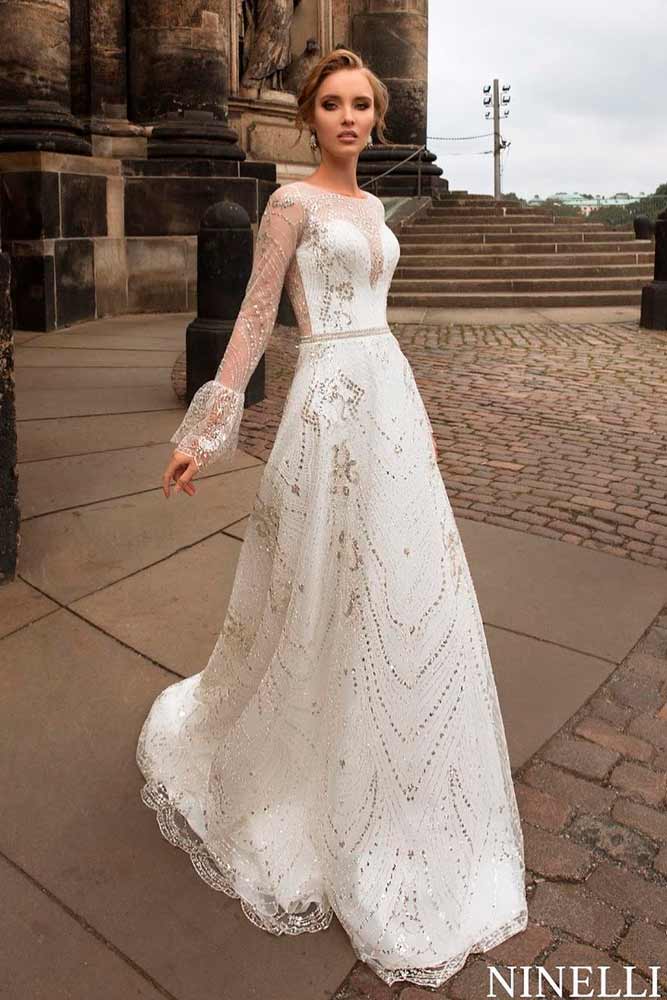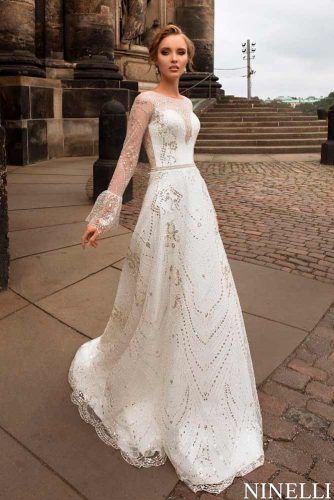 Source: ag_bridal via Instagram
If you are looking for long sleeve satin wedding dresses with a boho vibe to them, we may have one in store for you. What makes the dress stand out are the bell sleeves and the A-line silhouette, but that is not just it. If you look closely, you can see an intricate embroidered sparkly pattern, and that is something you won't see every day. Besides the illusion of a backless design adds up to a general flawless impression too!
Lace Sleeve Wedding Dress
Source: santorini_svadebniy_salon via Instagram
Has it ever occurred to you that elegant long sleeve wedding dresses can be over the edge seductive as well? In case it hasn't we are going to prove the point with this overall laced dress example. Apart from the fact that white lace over nude linen looks extraordinary, the V-neck makes the dress a little revealing but to the point of sassy not vulgar. Truth be told the dress is dreamy and purely fabulous and long lace sleeves only intensify the vide.
Boho Cut-Out Wedding Dress With Sleeves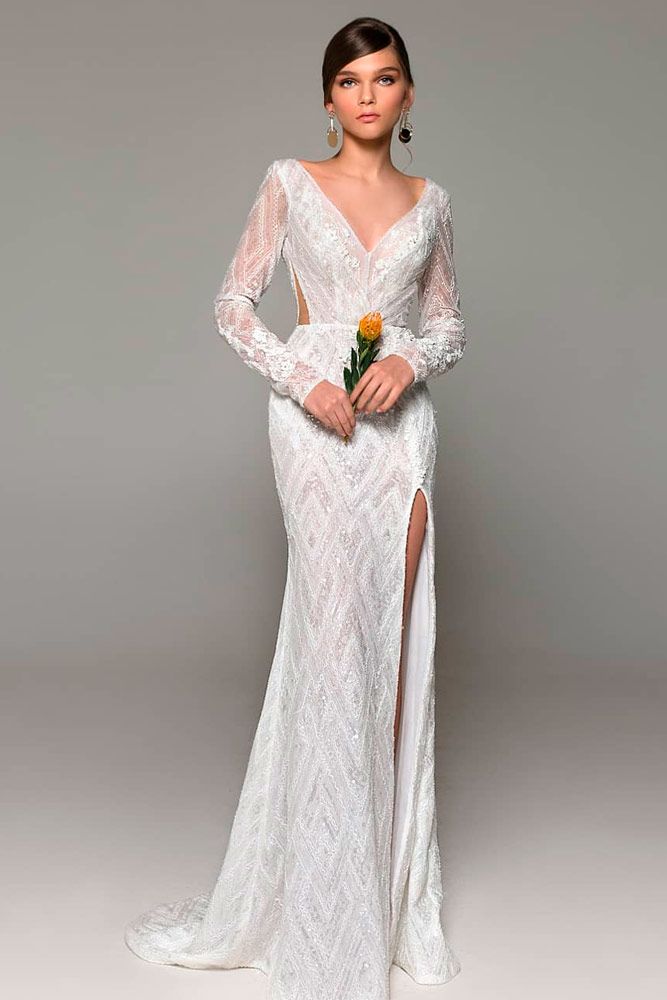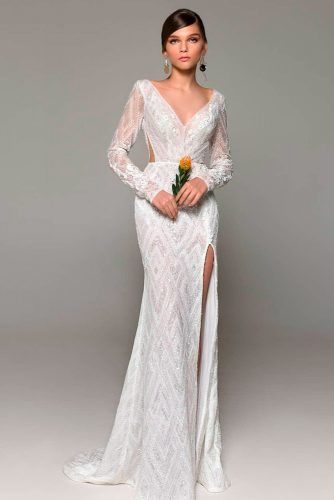 Source: crystal_eleonor via Instagram
There are so many wedding gowns to choose from that at times it is easy to get lost. However, we are always ready to offer a helping hand. So that if you need a modern dress to fit in your stylish wedding – we have an idea stored up our sleeve. The truth is that this sexy boho dress requires not only exquisite taste but also the courage to be worn on such a great occasion. Light material with a glittering pattern to it and the cut-outs are the elements that make the dress look modern, sassy, and simply beautiful.
Unique Off-the-Shoulder Bridal Gown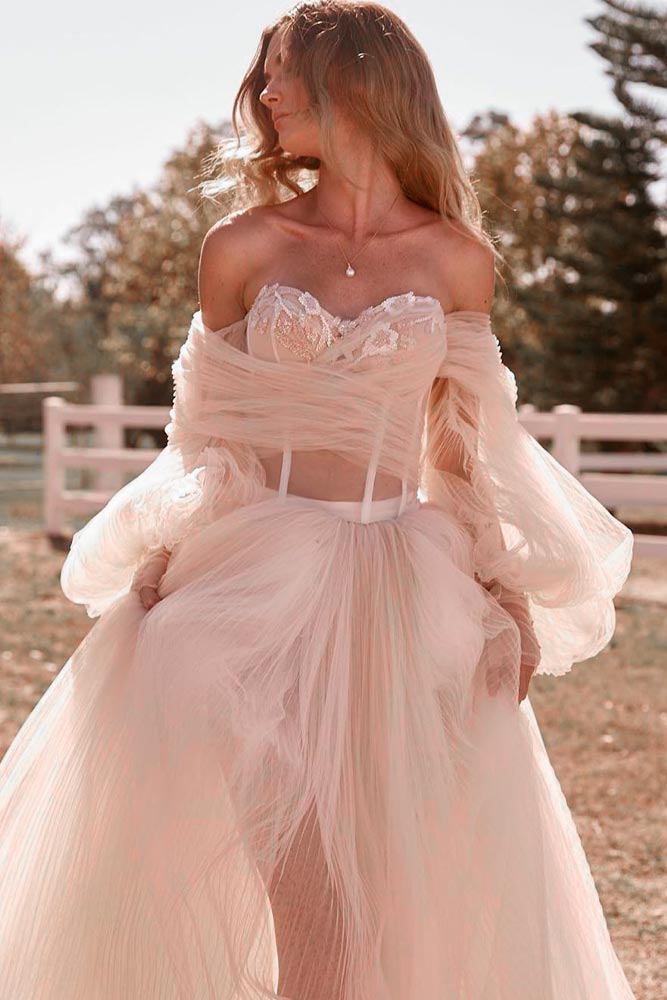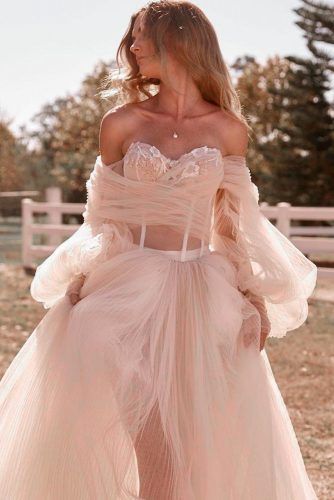 Source: galialahav via Instagram
Some brides go as far as to plan their wedding to take place at the beach. In case you belong to the category, you need a range of long sleeve beach wedding dresses to choose from. This unique off-the-shoulder one may be the one you have been looking for. Apart from the intricate design, the material, as well as the hue of the dress, stand out too. Light tulle silhouette in champagne will complete your bridal look like nothing else.
Embroidered Long Sleeve A-Line Wedding Gown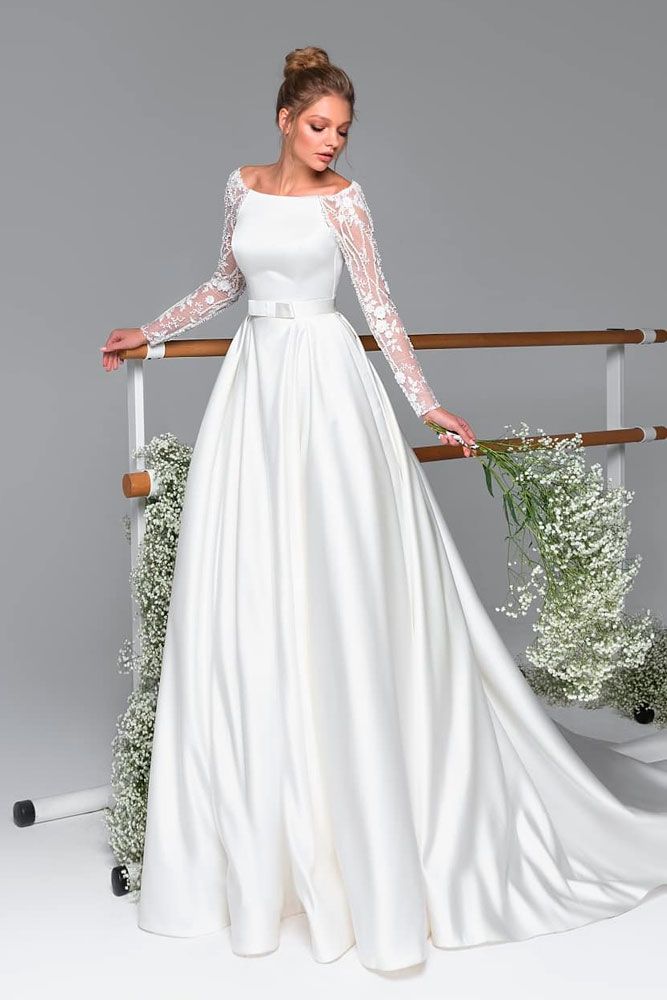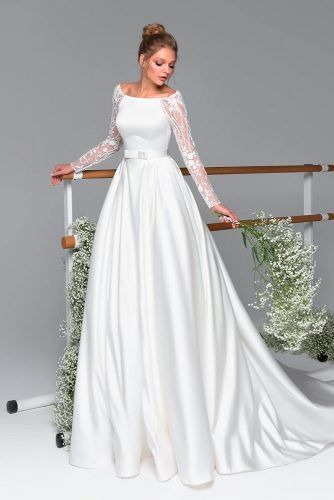 Source: crystal_eleonor via Instagram
All bridal dresses are beautiful. Period.
Nevertheless, it may be difficult to come up with one if you are not a fan of all the sparkles and puffy looks. Yet, there is nothing impossible if you have us at your side! This silk, long-sleeved wedding dress will suit those who would like to have the least decoration involved while projecting extreme elegance and style. The lace sleeves and the little bow belt are the only decorative elements, but when you combine them with a long flaring skirt with a tail, you get something otherworldly and exquisite.
Cinderella Dress With Cuff Sleeves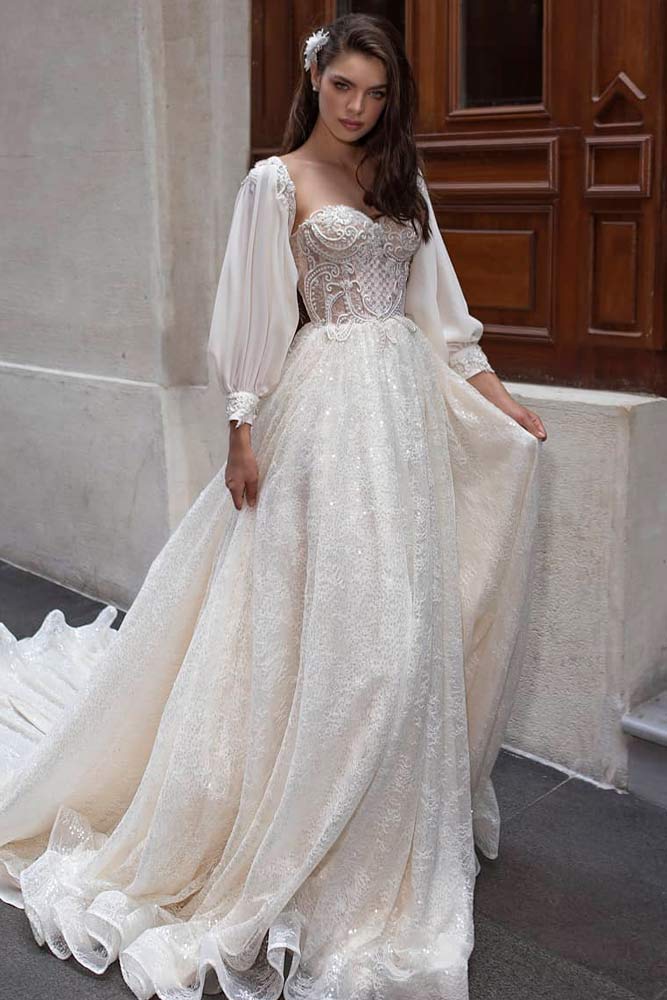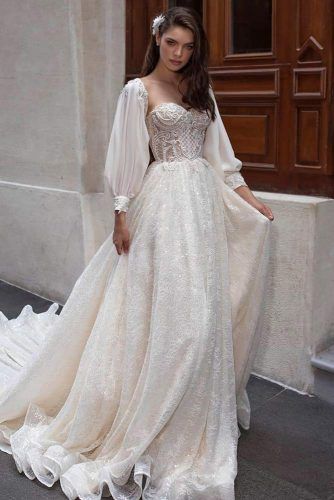 Source: dovitabridal via Instagram
Every girl dreamt about a Cinderella dress in childhood. Your wedding is the time when all the dreams come true. This means that Cinderella dress is not a dream but your wedding-dress-to-be! Add cuff sleeves to the picture. Enhance the skirt with lovely glowing sequins and tight corset – done!
Wedding Gown With Detachable Sleeves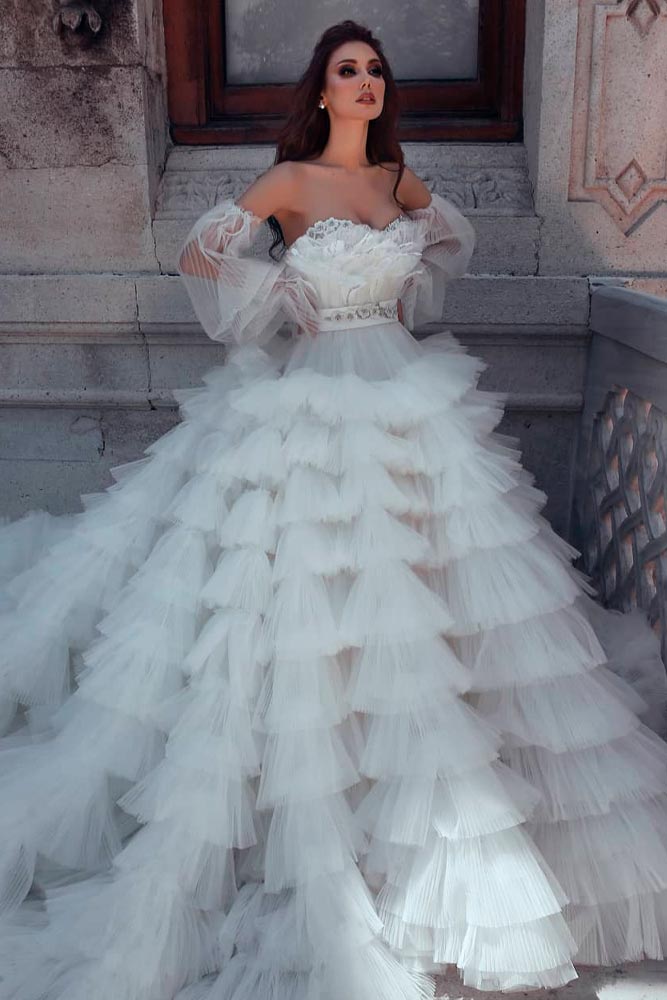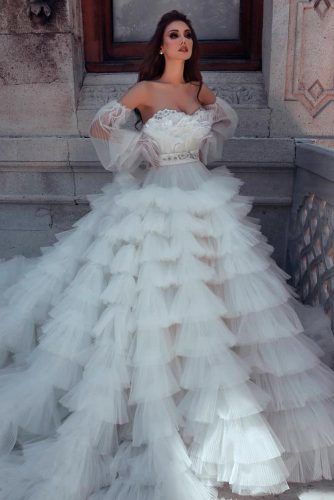 Source: dovitabridal via Instagram
There are times when you can't make up your mind, whether sleeves or no sleeves. In times like this, we can suggest you opt for a dress with detachable sleeves. Besides, you can go as far as to make the skirt detachable too. This means that you will have two dress at the cost of one! Do you know a girl that would turn down such an opportunity?
Bishop Sleeve Wedding Dress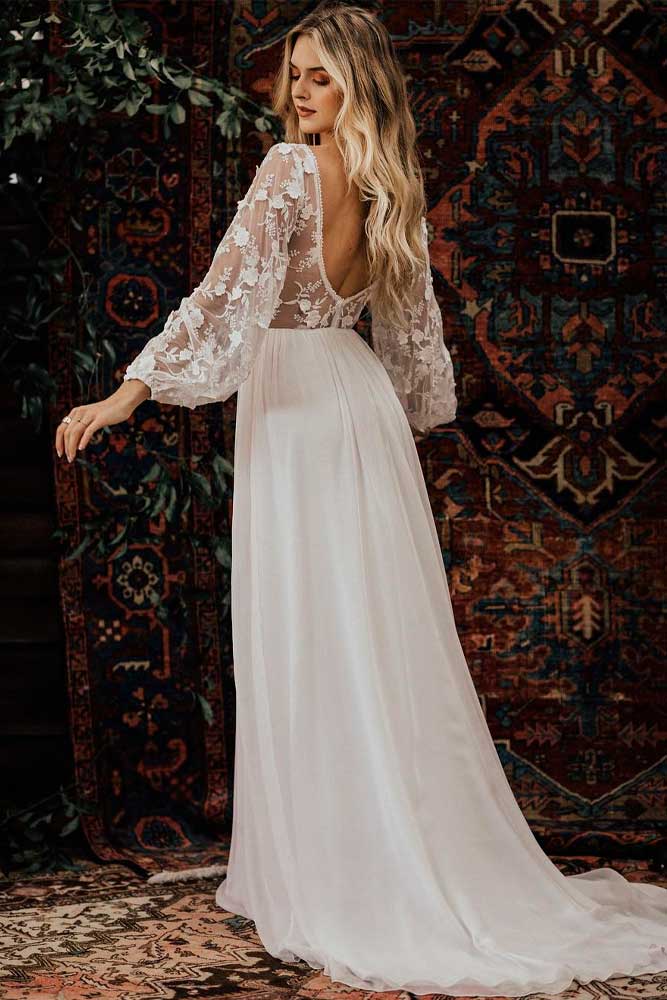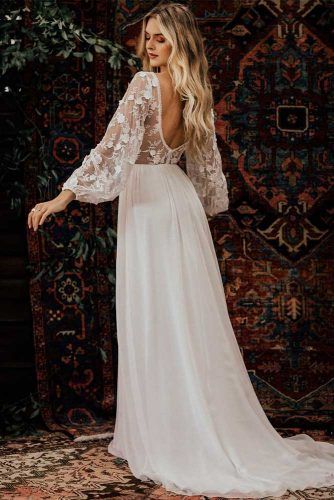 Source: dreamersandlovers_ via Instagram
Long sleeve open back wedding dresses are extremely sensual and gentle. They do not vibrate sexuality or pomposity – they project purity and elegance, not to mention femininity. Laced bishop sleeves create the impression of an ethereal, angel-like silhouette. We think that a perfect bridal gown creates harmony, and this one seems to deal with the task perfectly.
Off-The-Shoulder Mermaid Dress With Long Sleeves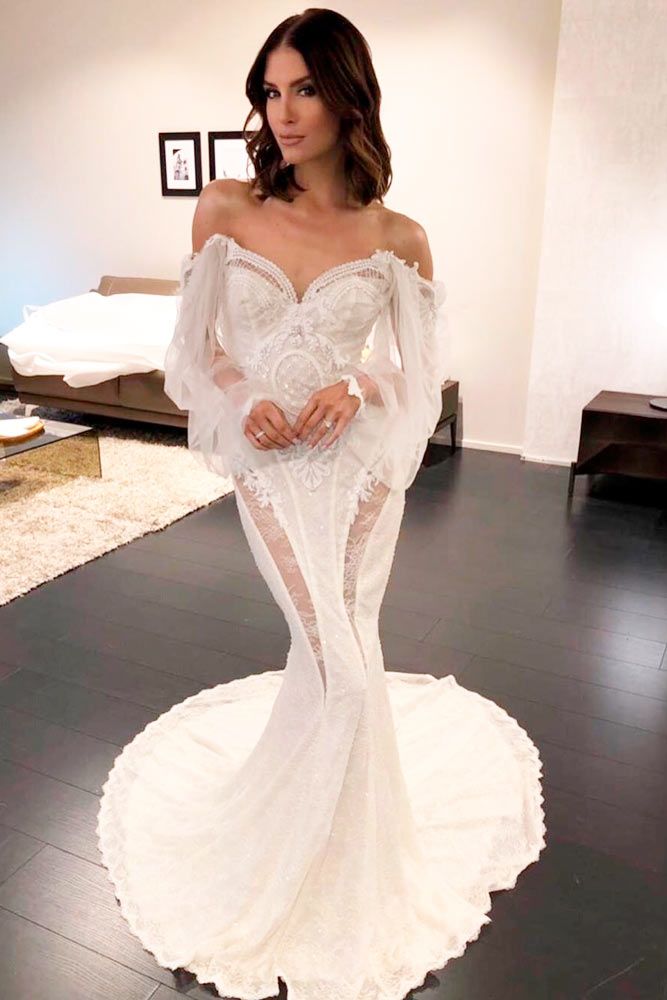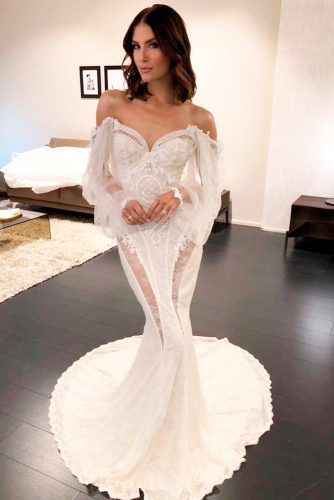 Source: galialahav via Instagram
In most cases when you think off shoulder wedding dress, you imagine the dress without sleeves at all. That is a false assumption. The fact is that long sleeves go with an off-the-shoulder design like bread and butter. When we talk about this particular design, it is safe to say that the dress is anything but ordinary. If you are looking for the woo effect, then this is the dress you should at least consider.
Tulle Wedding Dress With Floral Lace Decor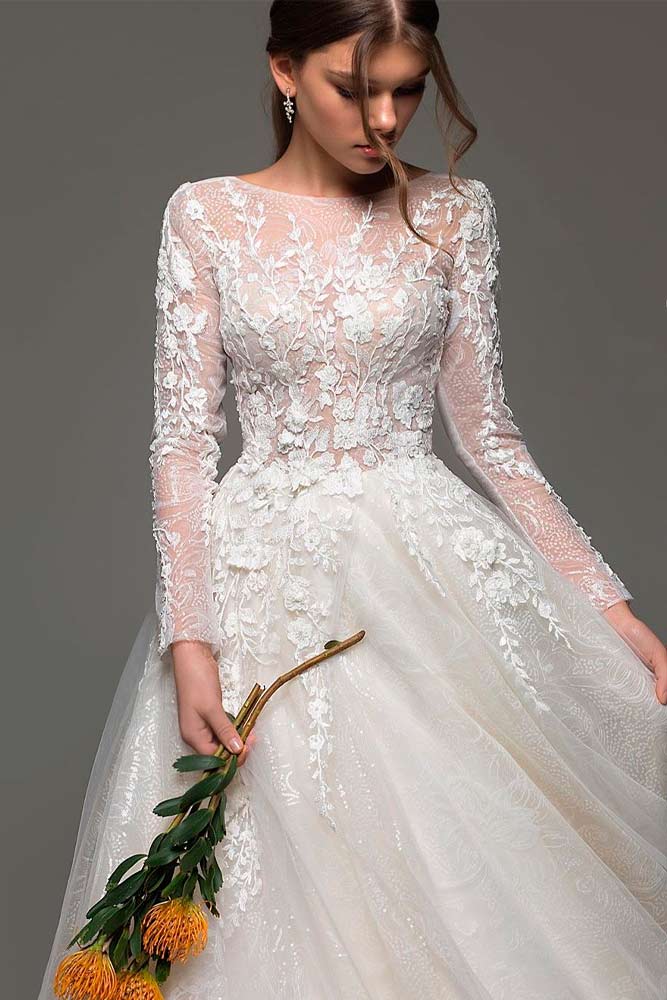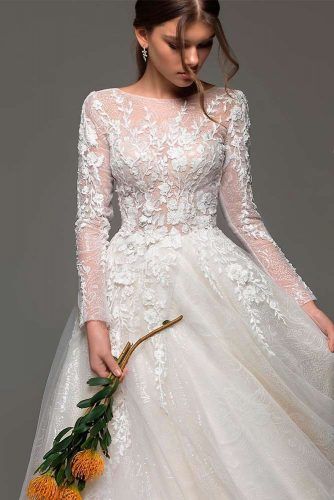 Source: evalendel via Instagram
Wedding dresses and flowers is the match made in heaven, and this dress proves the point. If your wedding takes place during the colder season such a dress is simply irreplaceable. Not only it will keep you warmer but will also make you look extremely beautiful and sophisticated. The voluminous floral pattern defines all the fragility of an innocent bridal look. Once you put on a dress like that – no one will be able to take the eyes off you!
Boho Wedding Dress With Choir Boy Sleeves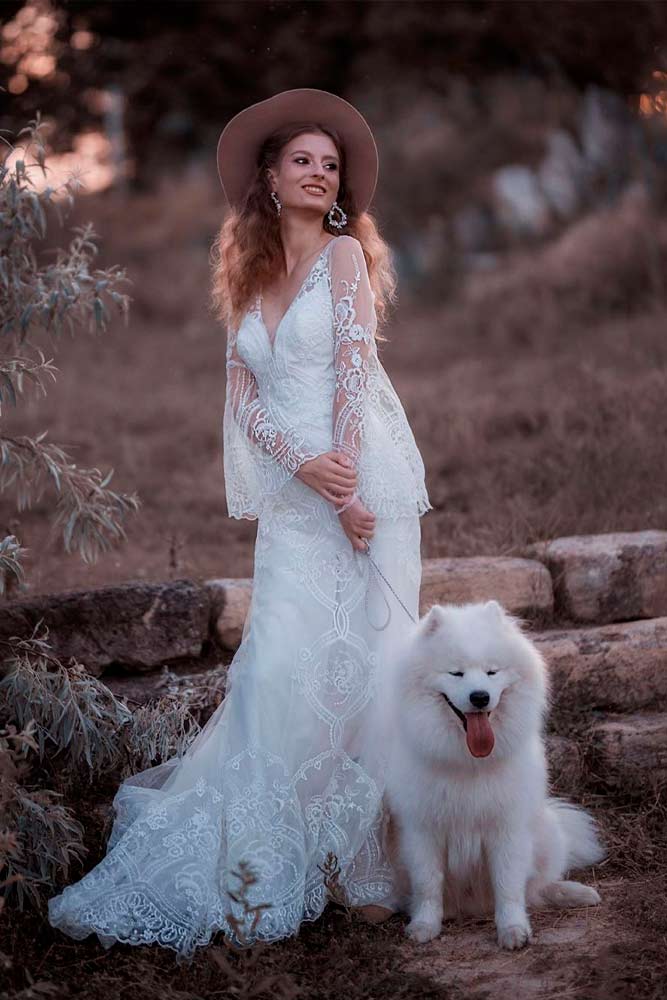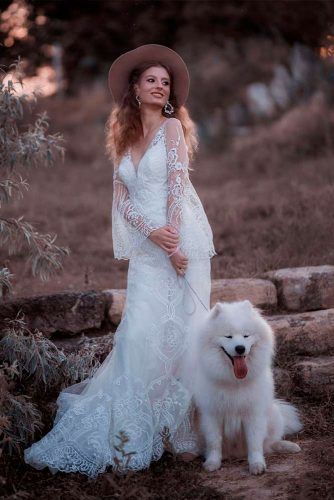 Source: krasnovagala via Instagram
Boho wedding dresses are always impressive in their simplicity and attention to the details. For instance, this boho dress with choir boy sleeves would look nothing special if it hasn't been for the laced pattern. The combination of intricate lace, unusual sleeves, and loose silhouette make the dress stand out and that precisely what a wedding dress should do.
Crystals And Beaded Top Wedding Dress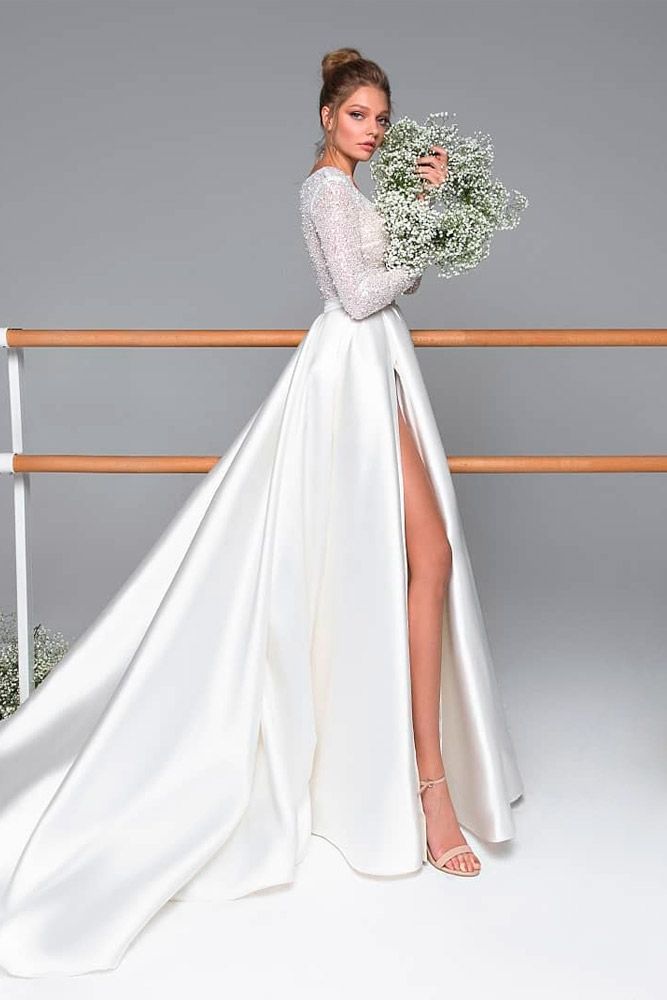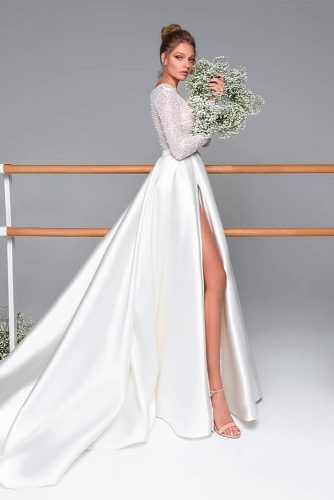 Source: crystal_eleonor via Instagram
When you are head over heels about the wedding dress with a fair share of bling to it – then this is the one you need. Even though there is no decoration over the extra-long skirt – the whole bodice and sleeves are covered with crystals and beads. With a dress like that, you will shine brighter than a diamond on your wedding day!
¾ Length Circular Sleeves Wedding Dress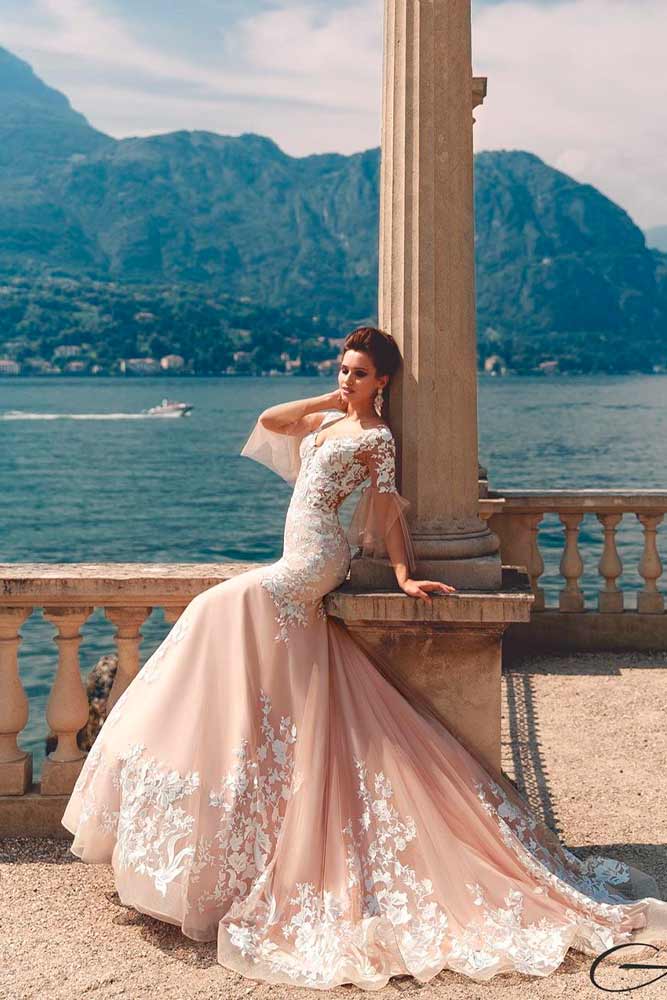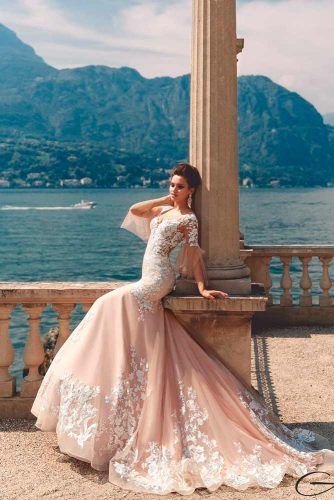 Source: ag_bridal via Instagram
When neither long sleeves nor pure white is not your cup of tea, we have another bridal dress to offer. This gorgeous wedding dress in nude features ¾ circular sleeves and white lace over it. A fabulous fishtail and a sensual V-line make the dress suit the occasion more than perfectly.
Wedding Dress With Voluminous Embroidery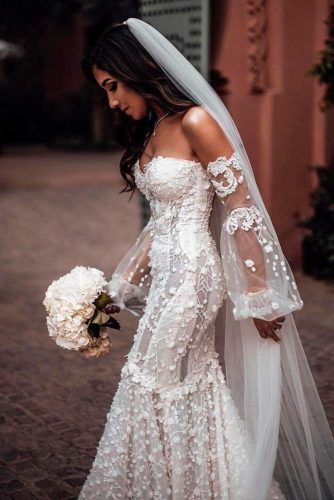 Source: tali__photography via Instagram
When we think about wedding gown, the first thing that comes to mind is the decoration involved. Regular embroidery will surely be no surprise to you no matter how exquisite it is. However, voluminous embroidery is clearly something fresh and worthy of your consideration. This dress involves both – extraordinary decoration and a unique silhouette, not to mention the particular bell sleeves.
Translucent Crystal Wedding Dress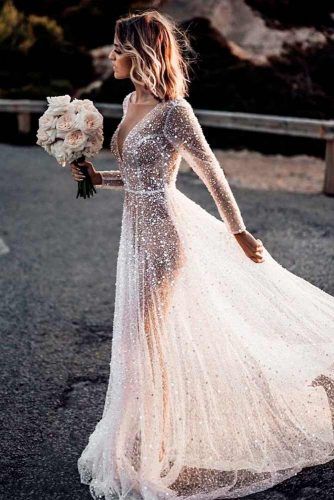 Source: tali__photography via Instagram
Every bride wants to look her absolute fab when the day comes. That is why a suitable dress is so important. If you intend to look both shining and sexy, this translucent wedding dress is precisely what you need. It is light and sparkling, the gems will shine like the precious dew in the first rays of the spring sun.
Broderie Anglaise Wedding Dress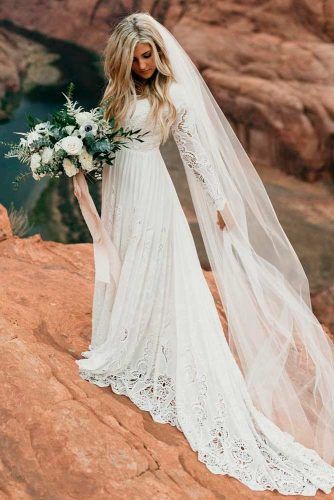 Source: ruedeseinebridal via Instagram
Another peculiar type of embroidery is Broderie Anglaise or English embroidery. It involves both needle lace and cutwork so that picking a dress like that will already be a unique choice. Besides, such wedding dresses look exquisitely gentle and feminine, so that the fragile bridal image is achieved.
Separate Wedding Dress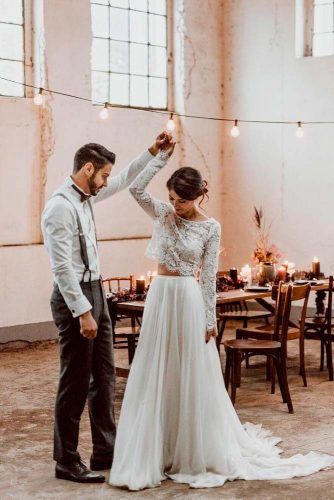 Source: kirasteinfotografievia Instagram
The truth is that separate dresses are all the rage these days. That is why if you happen to be a fan of such a dress style, a separate wedding dress is an option too. It looks fashionable and stylish not to mention festive. What is more, you can wear the pieces separately when the day is over, if you prefer.
Short Boho Dress With Circular Sleeves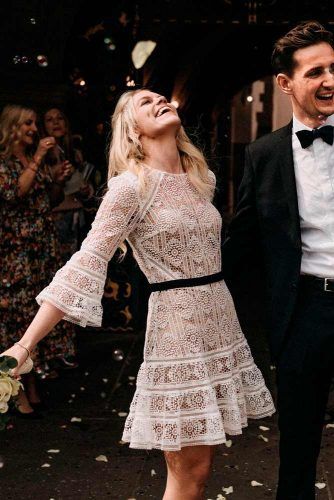 Source: kreativwedding via Instagram
It is true that if we speak about the classy wedding dress, it is long and lacy. However, since the modern fashion era has begun, you can get as experimental with your bridal look as you like. If a short dress in boho style is your dream wedding dress – go for it! We are more than sure that such a short boho dress with circular sleeves looks absolutely marvelous and fit for such an occasion.
Backless Wedding Dress With Long Sleeves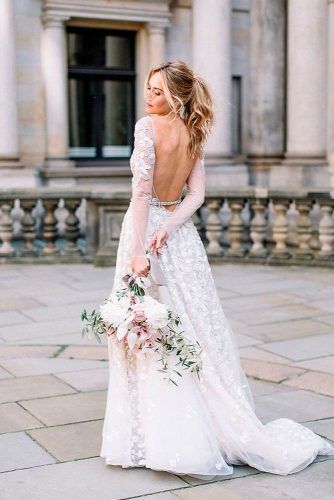 Source: iay_iamyours via Instagram
There is nothing wrong with you if you want to show your fit body when the big day comes. A backless dress was designed to accent the beauty of your back. Besides, long sleeves will not only add up to the genuine look but will also provide additional support when necessary. This backless dress allows the wearer to stick up to the traditions while sporting a modern look.
If you are looking for long sleeve wedding dresses – then you have come to the right place! We have gathered here only the best examples to fit all exquisite bridal tastes. All you need to do is to take a pick!