Weddings are extraordinary occasions, and not only for the bride and the groom, but all the guests should also look correspondingly too. That is why we have prepared this ultimate guide into wedding guest fashion, and all the best wedding guest dresses are gathered here in one place at your disposal! Don't be shy and have a closer look!
The Best Ideas Of Wedding Guest Mini Dresses
Besides bridal shower gifts that you should prepare with taste and practicality in mind, there's one more important thing to take care of for the big day of your friend. Of course, it's the way you're going to dress for the wedding! There is a popular opinion that guest dresses for a wedding are supposed to be extremely pompous and fancy. However, you can always find a great dress that you are going to be able to sport to other events as well. These mini dresses are the best proof to the point.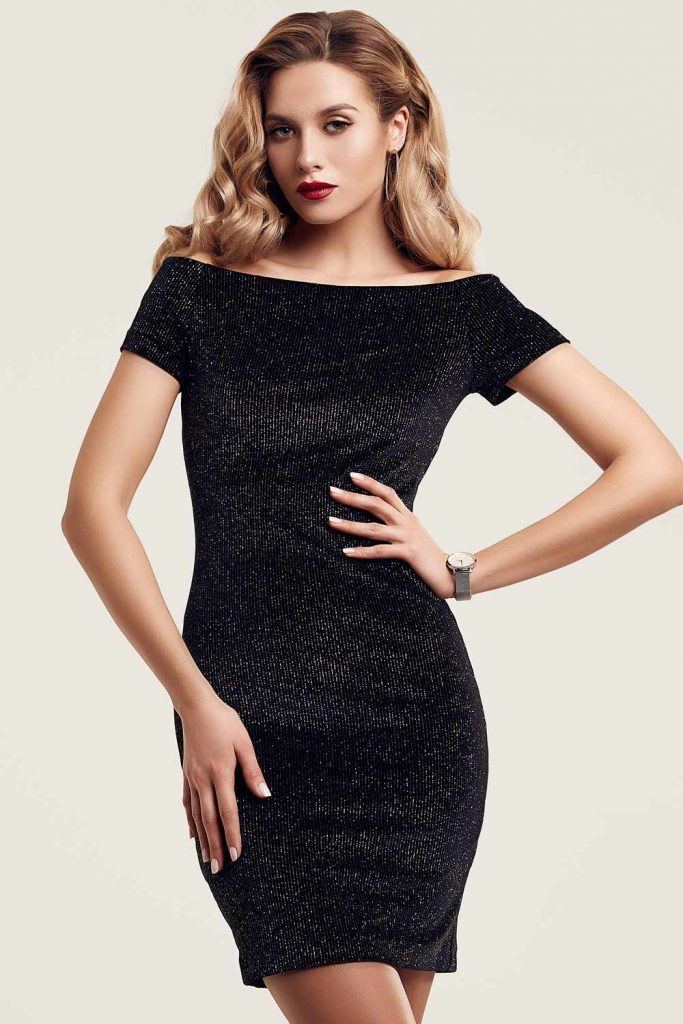 Simple One Knotty Frock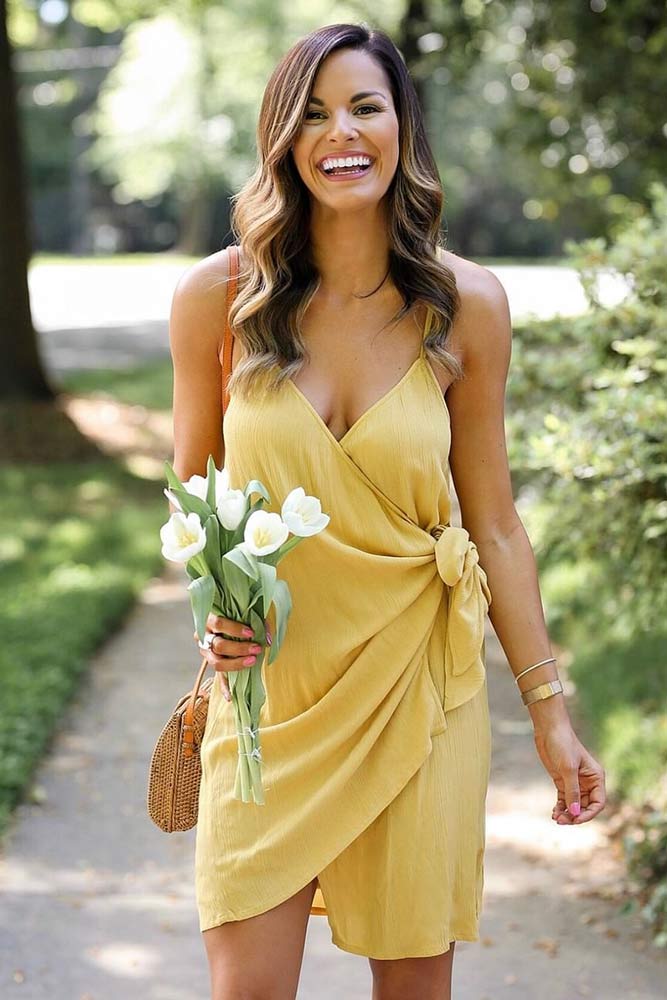 Credit photo: instagram.com/mumuandmacaroons
When it comes to choosing a wedding guest dresses their affordability certainly matters too. That is why in case you are looking for some affordable wedding guest dresses options we may have an idea up our sleeve. The thing is that a simple one knotty frock yellow dress is all that you need to look fantastic on a wedding without spending too much on the preparation process.
Deep Blue Bouffant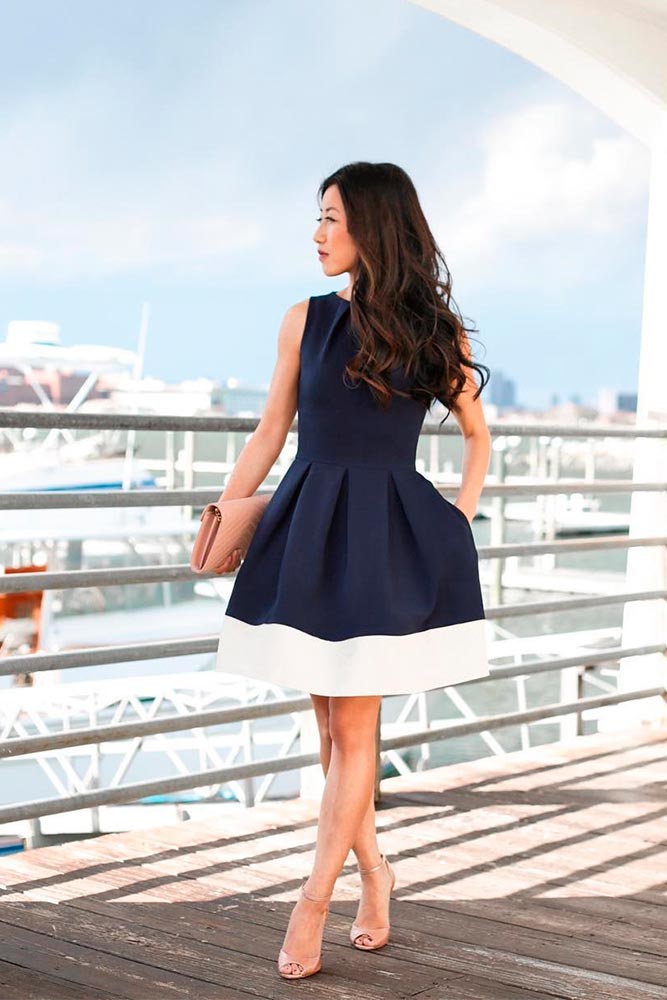 Credit photo: instagram.com/jeanwang
It is true that when it comes to looking for a wedding guest dress, the thought may cross your mind that you need something that you will be able to put on when the less fancy occasion comes in sight. That is when a dress like this deep blue bouffant one comes more than handy.
White Mini Dress With Long Sleeves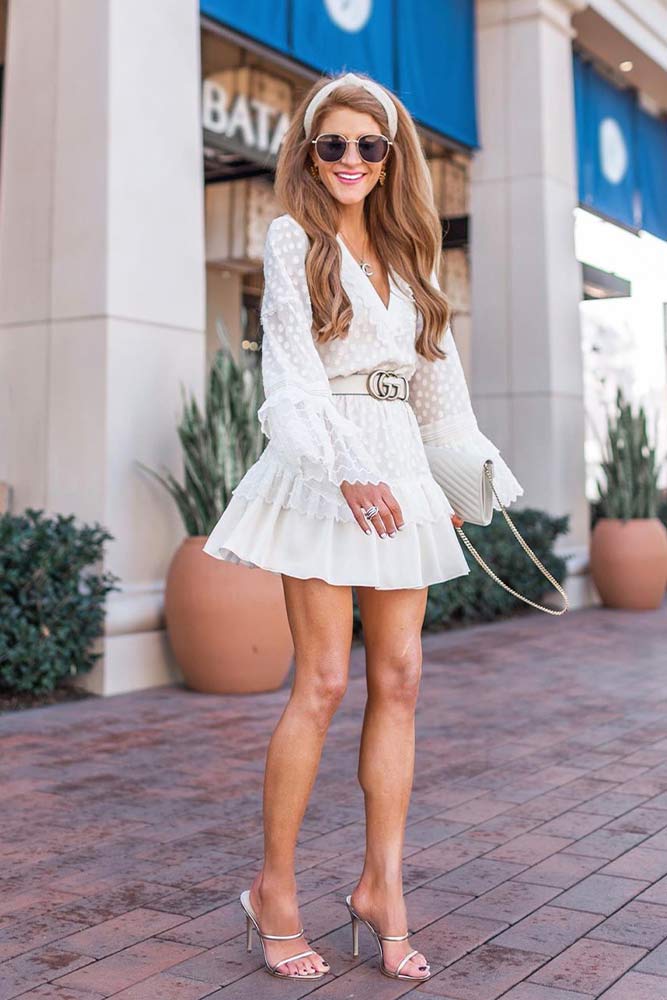 Credit photo: instagram.com/currentlycaro
Many ladies think mini dresses quite inappropriate for something as formal as a wedding ceremony. However, we say that it is a misleading assumption. Besides, these days there are many styles that a certain wedding can be fitted too. If you are willing to show those toned legs of yours and the gorgeous heels that you have got for the occasion, we say that a white mini dress is a gorgeous option to consider.
Pink Lace Dress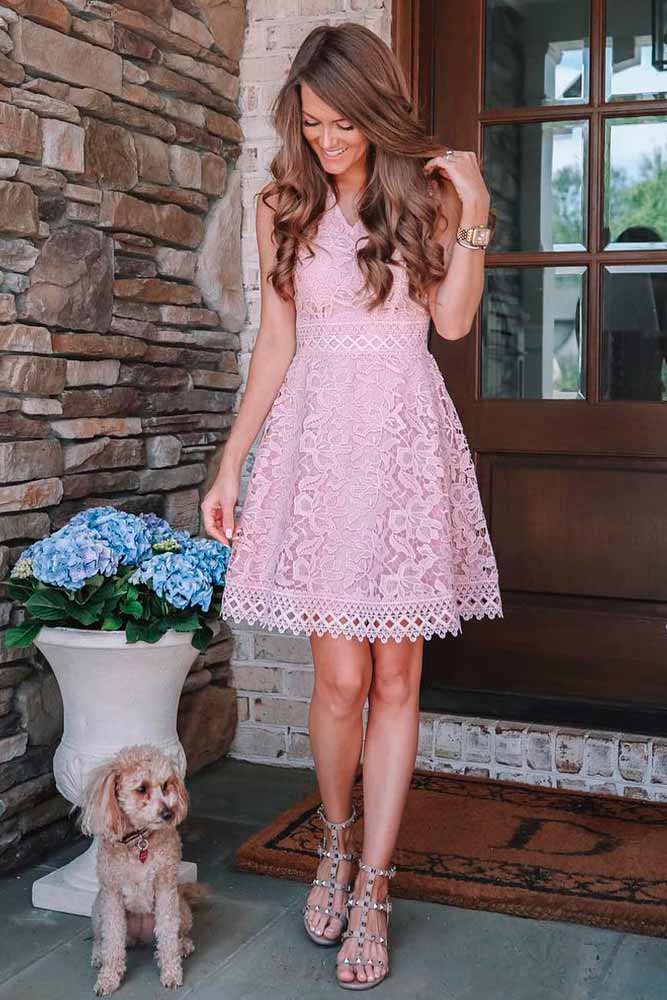 Credit photo:
There is a reason why pink is considered to be a girly hue. The fact is that such a beautiful dusty pink dress with lace will make you the star of any party without even the slightest attempt to steal the bride's thunder!
Bright Floral Print Dress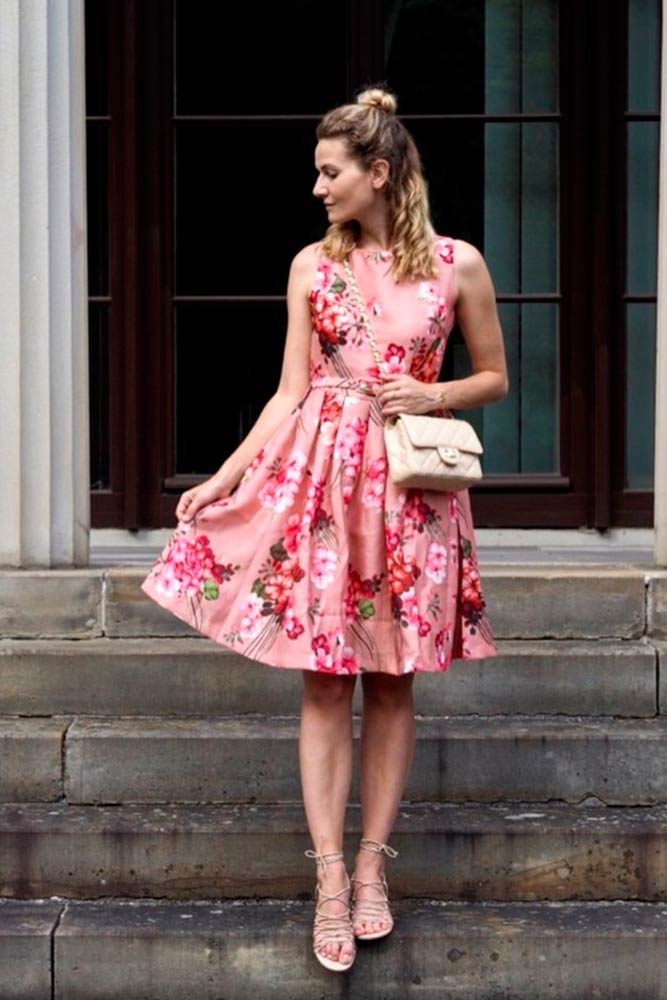 Credit photo: instagram.com/doctorsfashiondiary
Wedding guest dresses for summer 2018 are all about pastel hues and flowers. That is why if you do not mind going a little pink and introducing some flowers into your look, this gorgeous floral pink dress may be your best option here.
The Best Ideas Of Wedding Guest Midi Dresses
When you are not ready to go full-in for your friend's wedding, then we suggest you consider a midi dress instead of a maxi one. One look at the ideas that we have gathered for you, and you will understand why midi dresses are made to spread elegance.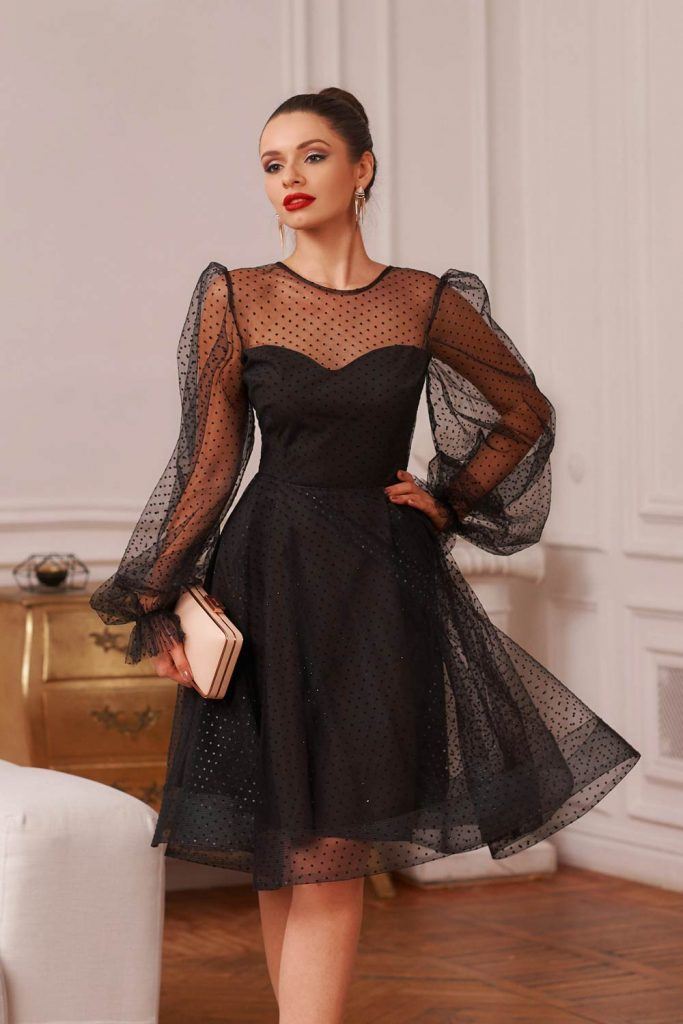 Gentle Pink Dress With Lace Pattern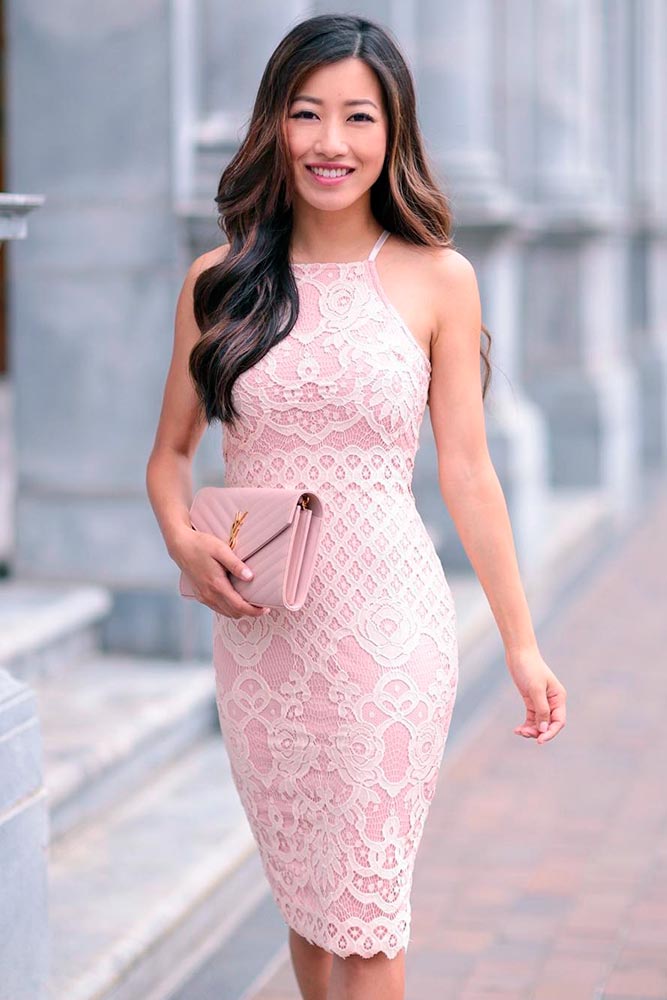 Credit photo: instagram.com/jeanwang
Lace is the material that suits the formal occasions such as wedding just perfect. That is why a gentle pink dress with lace all over may be worth your consideration if you are looking for something that can emphasize all the benefits of your flawless figure!
Light Pink Shoulders Off Wedding Guest Dress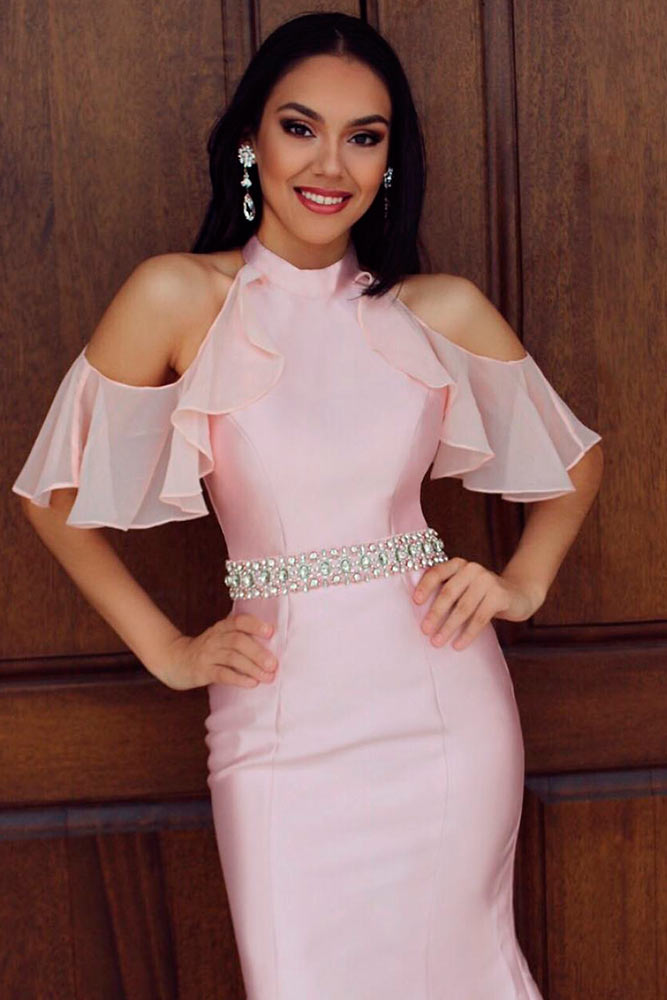 Credit photo: instagram.com/vielkabelen_
A cocktail dress is never a waste when it comes to a wedding. That is why in case you are a fan of pink hues and silk materials this shoulder off elegant dress may turn out to be what you are looking for. What is more, a nice jeweled detail is never a bad thing to add to your look.
Silver Chrome Bodycon Dress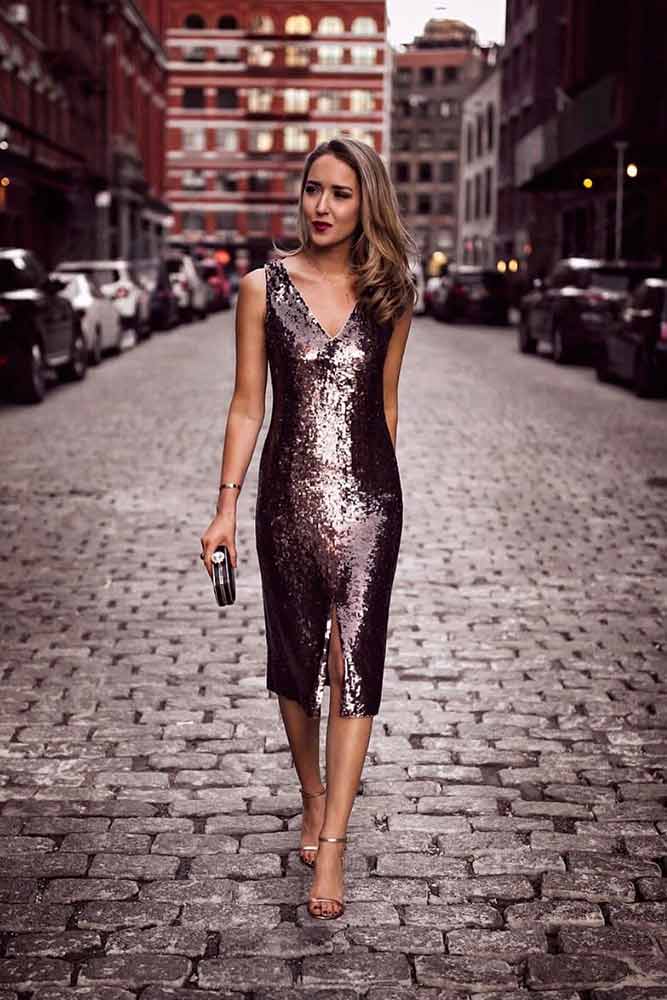 Credit photo: instagram.com/maryorton
It is true that when it comes to clothes and important events, you should pay closer attention to the existing trends in order not to look out of place. That is why a chrome dress wouldn't be a bad choice to wear it to something as important as your friend's wedding. Do not worry; the shine won't be too much, it will fit in perfectly.
Elegant Midi Red Dress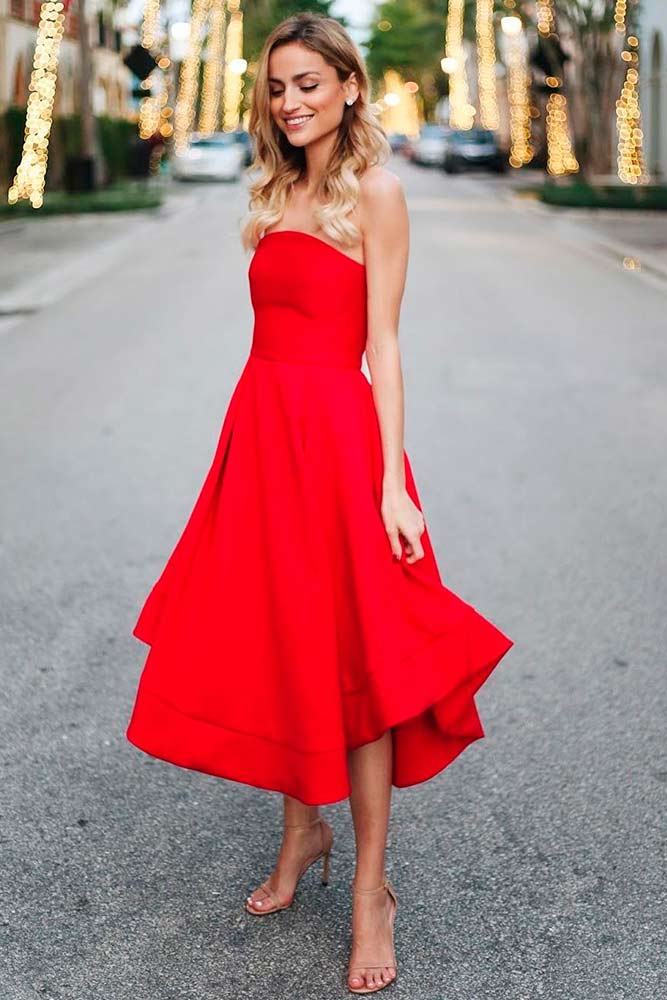 Credit photo: instagram.com/littleblondebook
Beach wedding guest dresses may be challenging to come up with, yet we have managed to come up with a cute idea. A beautiful red midi dress without the straps will suit both the occasion and the place very well, that is something that we can promise you here!
Elegant Bouffant Midi Wedding Guest Dress With Gold Roses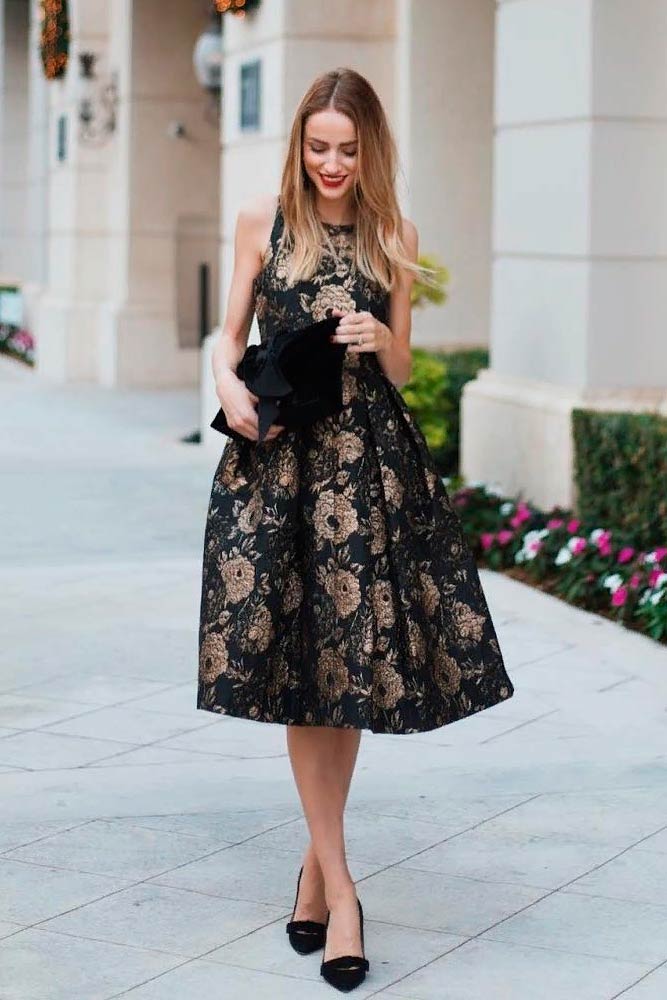 Credit photo: instagram.com/littleblondebook
This black midi dress with dark gold roses can make you feel like royalty. This model chooses to pair it with black shoes and a black clutch. And it's a great choice for a formal event like a wedding. Also, such patterns are very versatile. They look equally well on young and mature ladies, so if you're in search of mother of the bride dresses, you won't go wrong with a lace bouffant midi dress.
Bodycon Red Dress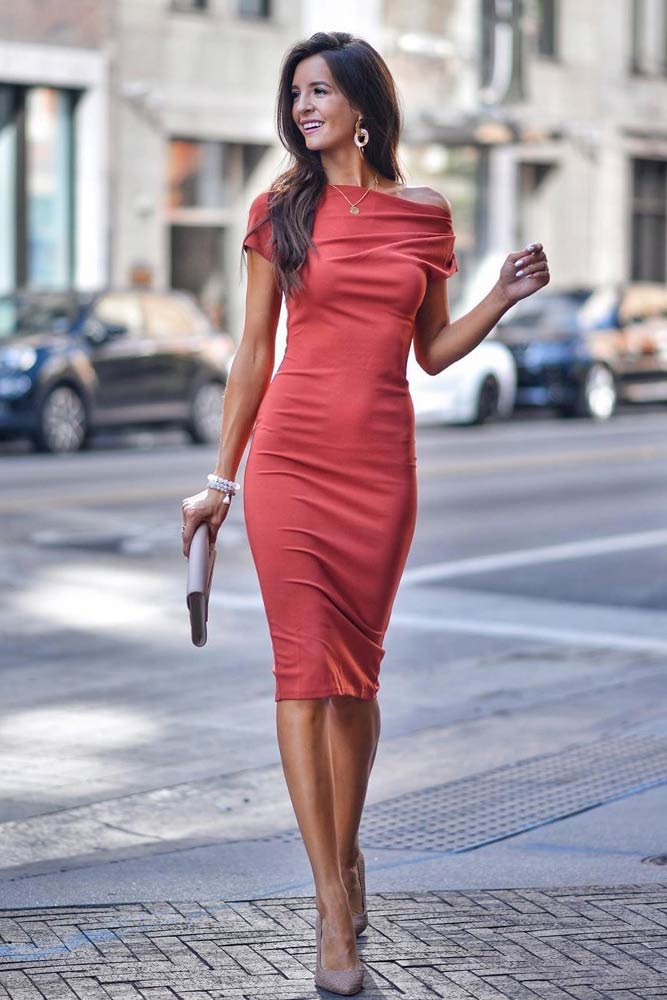 Credit photo: instagram.com/myviewinheels
If you think that a bodycon dress cannot fit such a formal and festive occasion as a wedding, it is time we prove you wrong. The truth is that such a dress will not only accent your slim figure but will add that necessary brightness and elegance to the general look!
The Best Ideas For Wedding Guest Long Dresses
There is something extremely magnetic and gorgeous about long dresses. They are so feminine and extraordinary that at times it is hard to take the eyes off! See for yourself!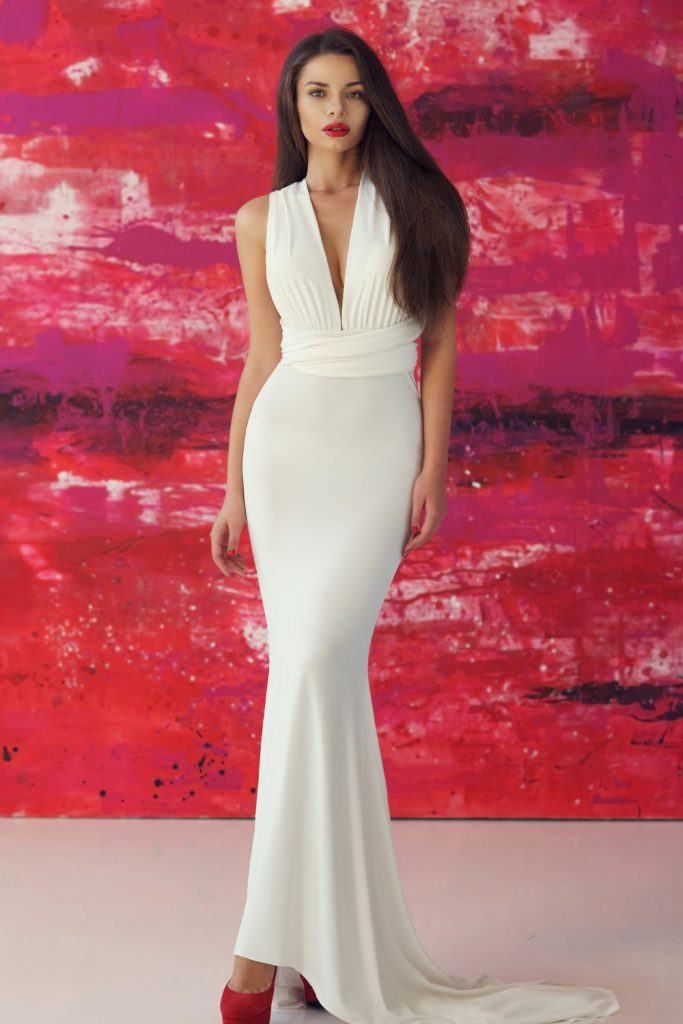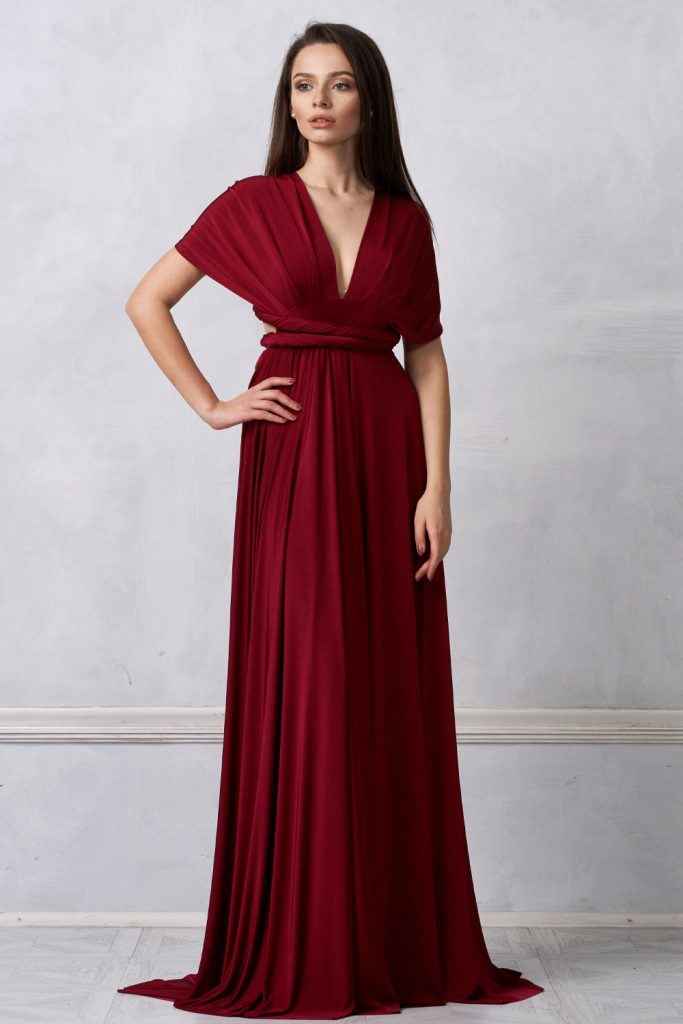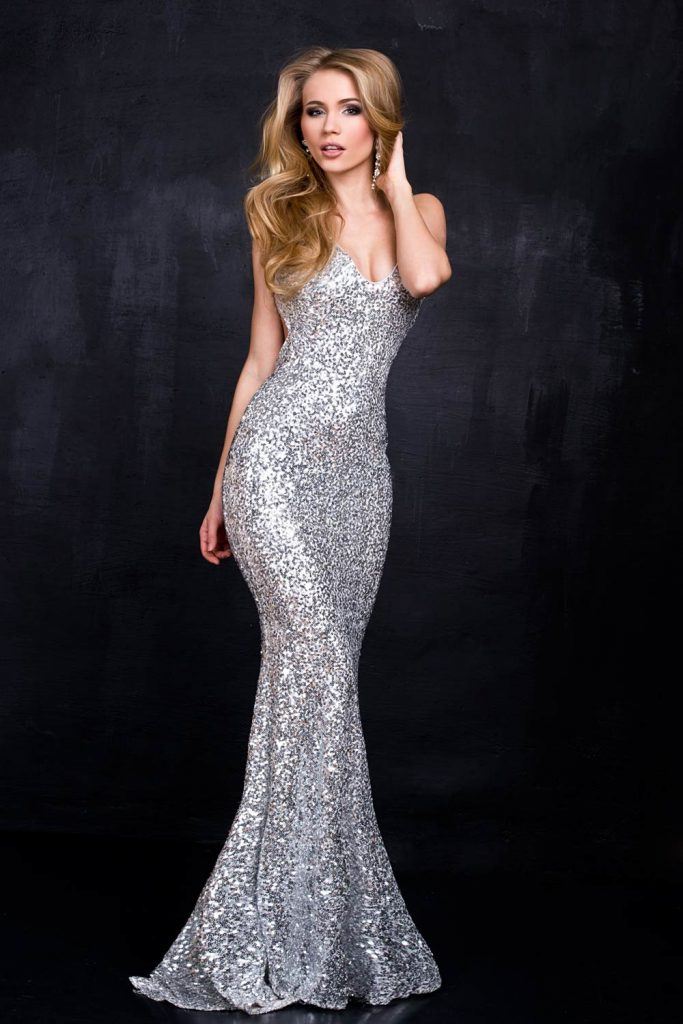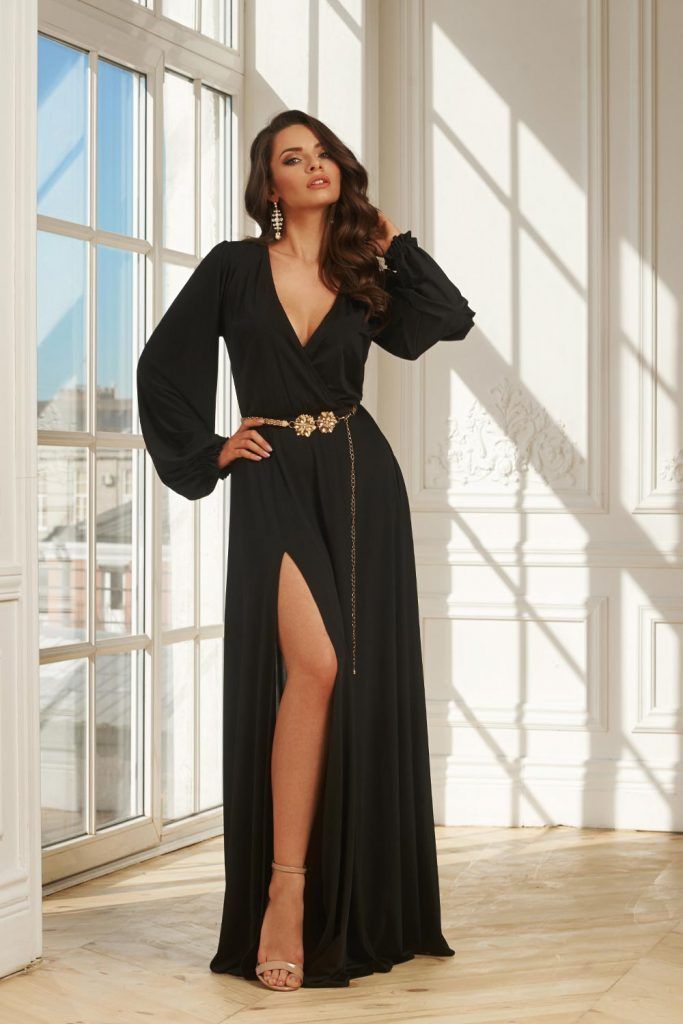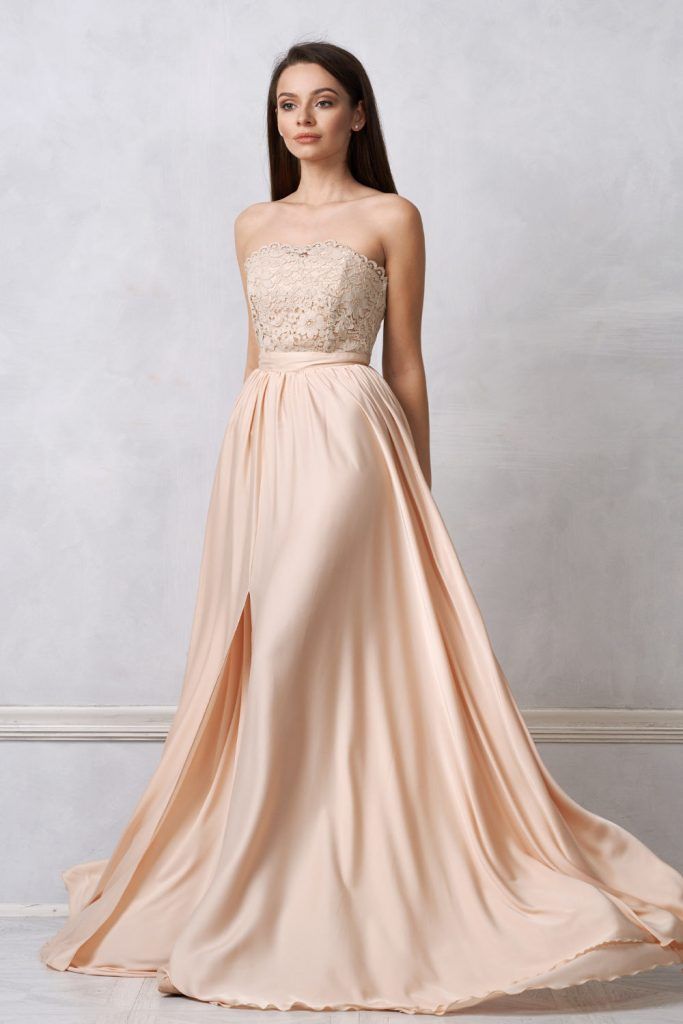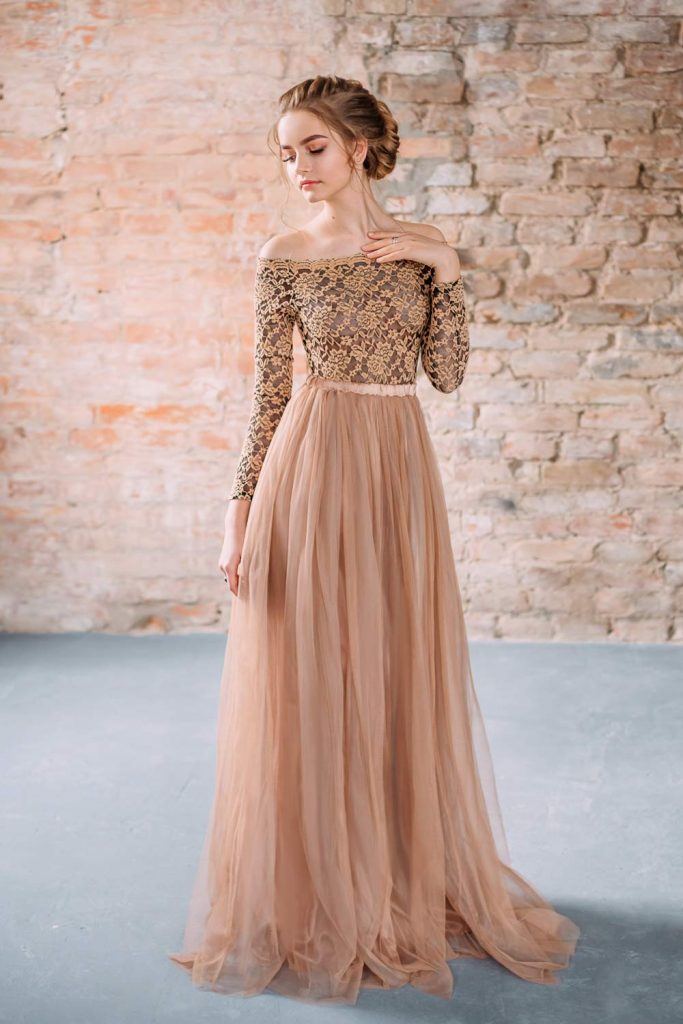 Sparkly Mermaid Maxi Dress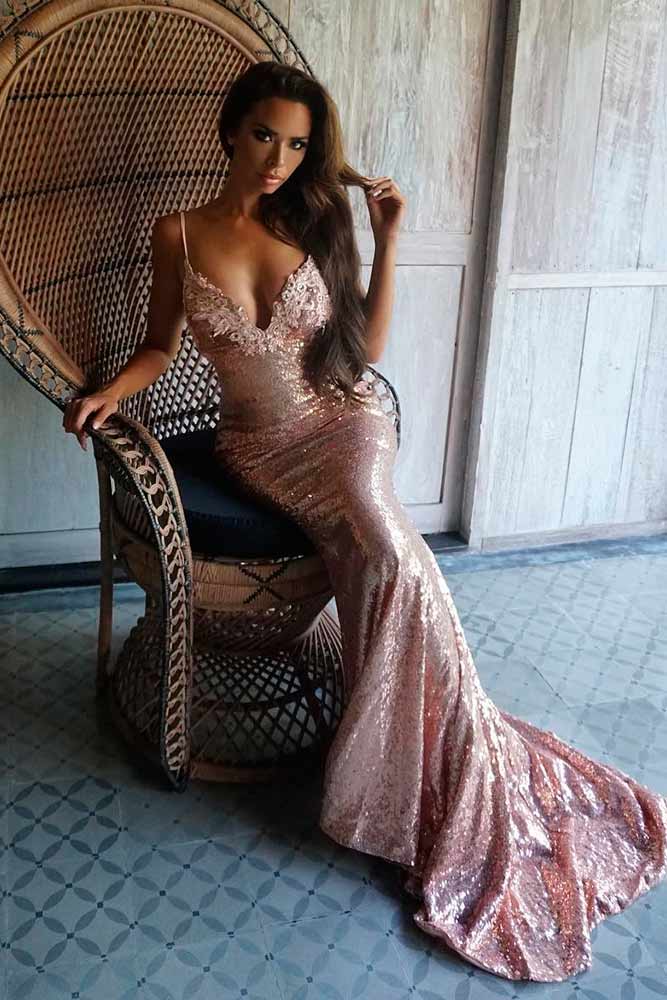 Credit photo: instagram.com/shiraleecoleman
It should be mentioned that among the wedding guest dress ideas gathered here there are some that are literary magical. This mind-blowing maxi dresses mermaid design one is precisely the one. That is why if you are not afraid of standing out you should totally opt for it!
Mermaid Dress In Red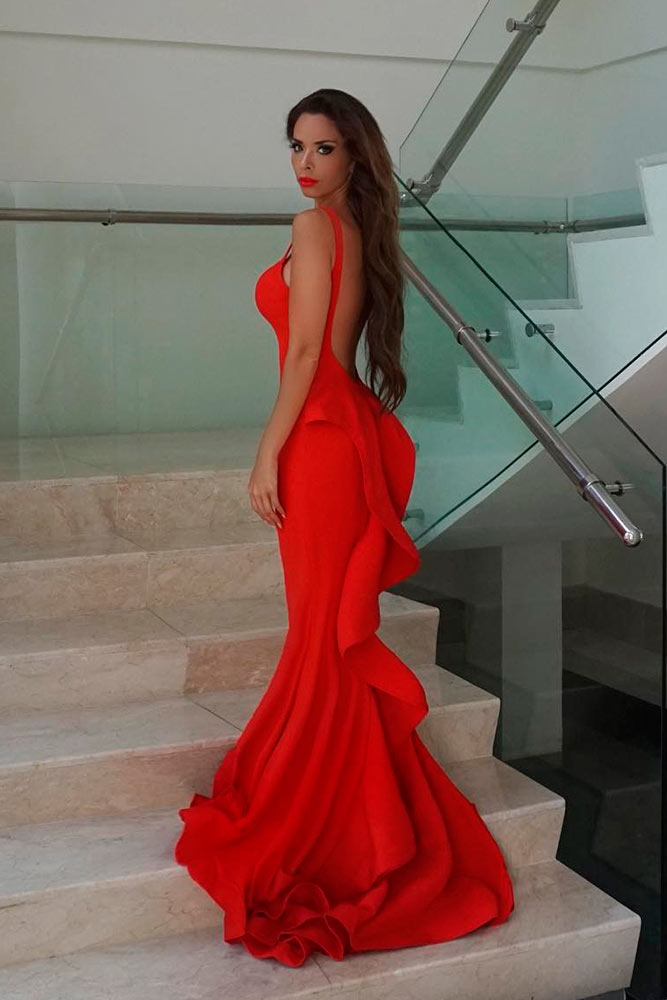 Credit photo: instagram.com/shiraleecoleman
Lady in red is classy, but there is something sassy to be added to the image too, don't you think? In case that is the idea you have in mind you will undoubtfully consider this red mermaid dress, it certainly looks trendy, impressive and fit for the occasion.
Layered Black Wedding Guest Dress With Floral Print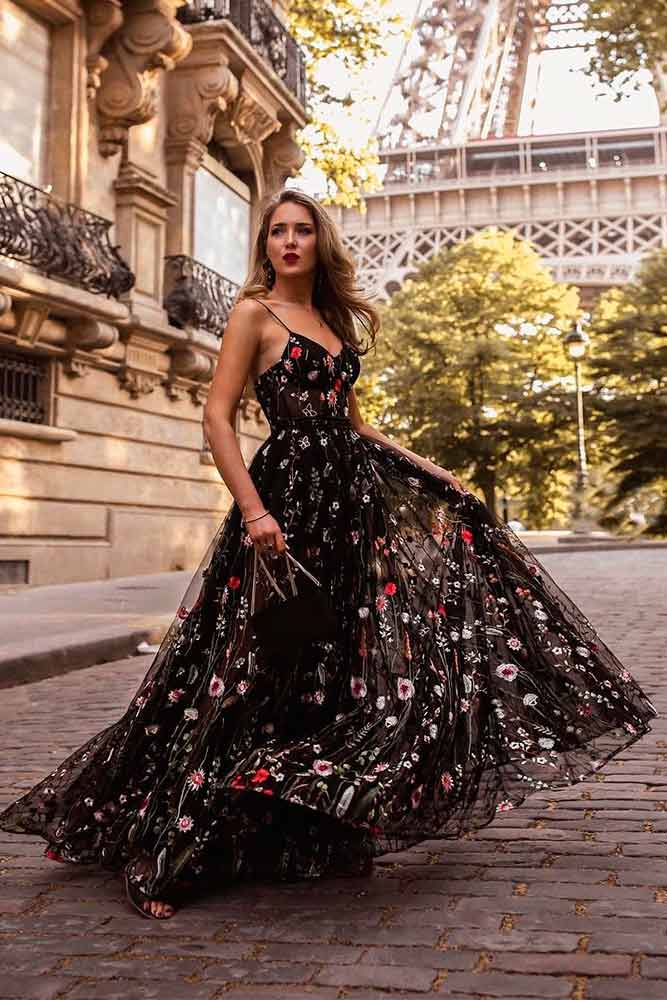 Credit photo: instagram.com/maryorton
Who said that black is not fit for a wedding? We say it totally fits if you know what to mix it with. The thing is that layered floral dress in black hues look fascinating and elegant no matter what others may say, we surely suggest it if you are all up for bold hues!
One Shoulder Gold Wedding Guest Dress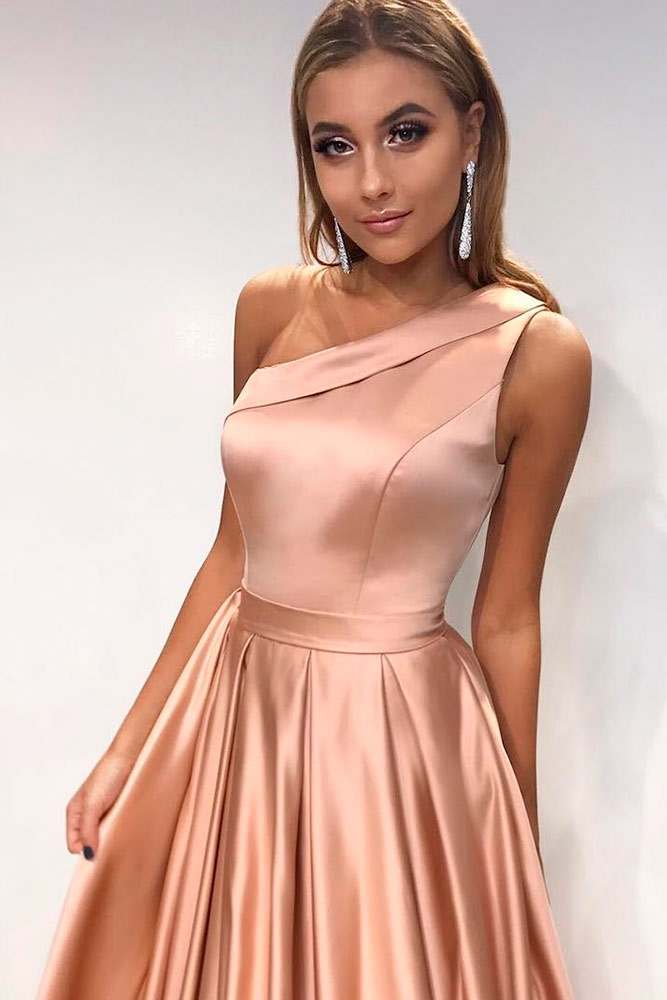 Credit photo: www.ashleylauren.com
The gold dress does not necessarily have to be a sreamy one. The thing is that gold hues are a lot more versatile and suiting than it may seem at first glance. For example, this gold one shoulder dress looks nothing but gentle and cute while it is also elegant and fit for the occasion.
Baby Blue Dress With Shoulders Off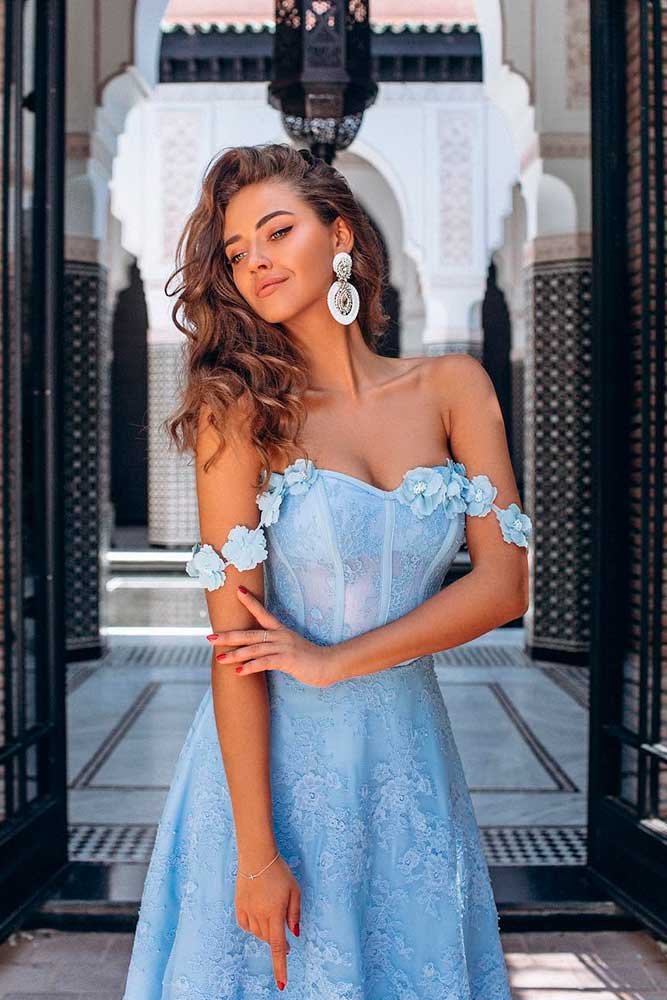 Credit photo: instagram.com/dulcis_shop
If you feel like going to a wedding is like going to the ball then we have an exciting dress idea to pull off. Just borrow the Cinderella look with less fanciness of course, and you are ready to go.
Sparkly Gold Formal Dress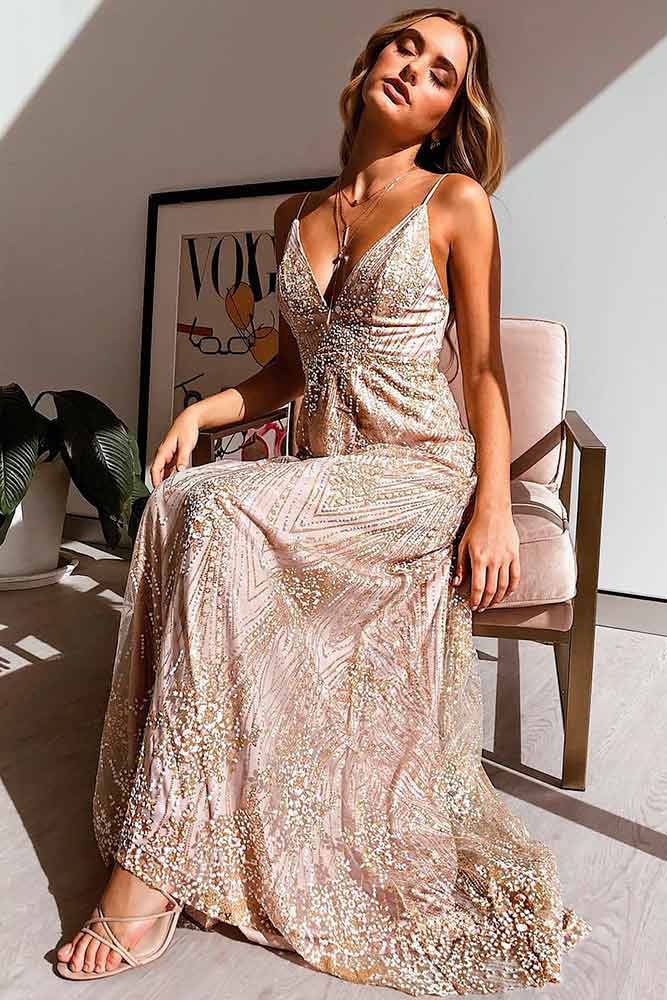 Credit photo: instagram.com/beginningboutique
When it comes to weddings, you certainly shouldn't try to outshine the bride, however, no one dismissed adding sparkles to your look. That is why if you have a perfectly sparkly dress in your closet – do not be shy to show it off to a formal wedding party.
Long Gold Dress With Deep Decollete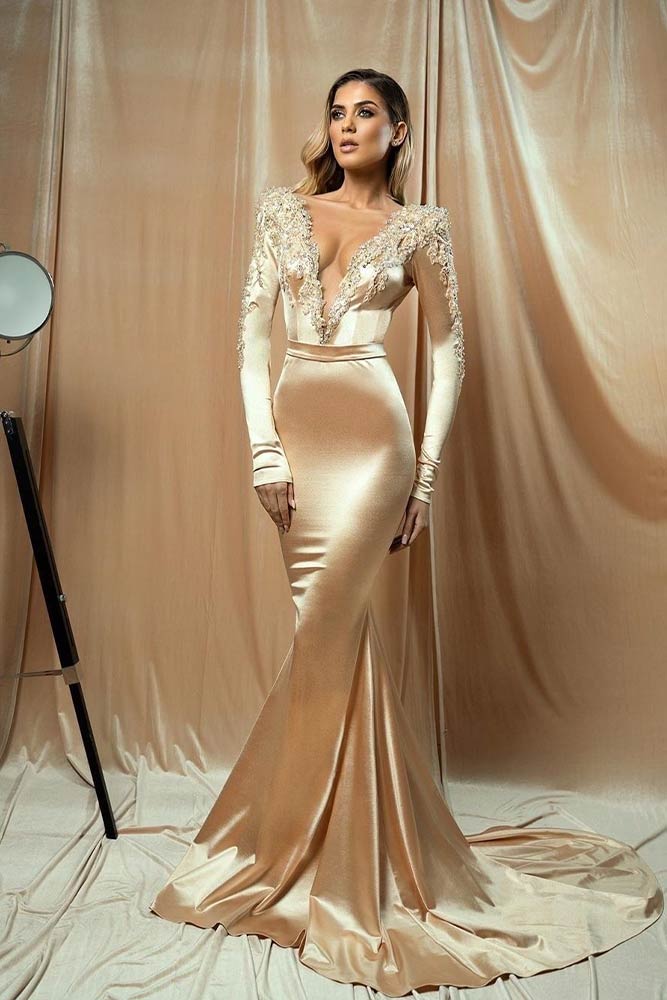 Credit photo: instagram.com/albinadylaofficial
When you are marrying your close friend, it is only natural that you care about the occasion just as much as she does. If you wish everything to go one perfectly, you should look correspondingly. A fantastic dress like that is surely the idea to brood upon.
Black Strapless Wedding Guest Dress With Gold Print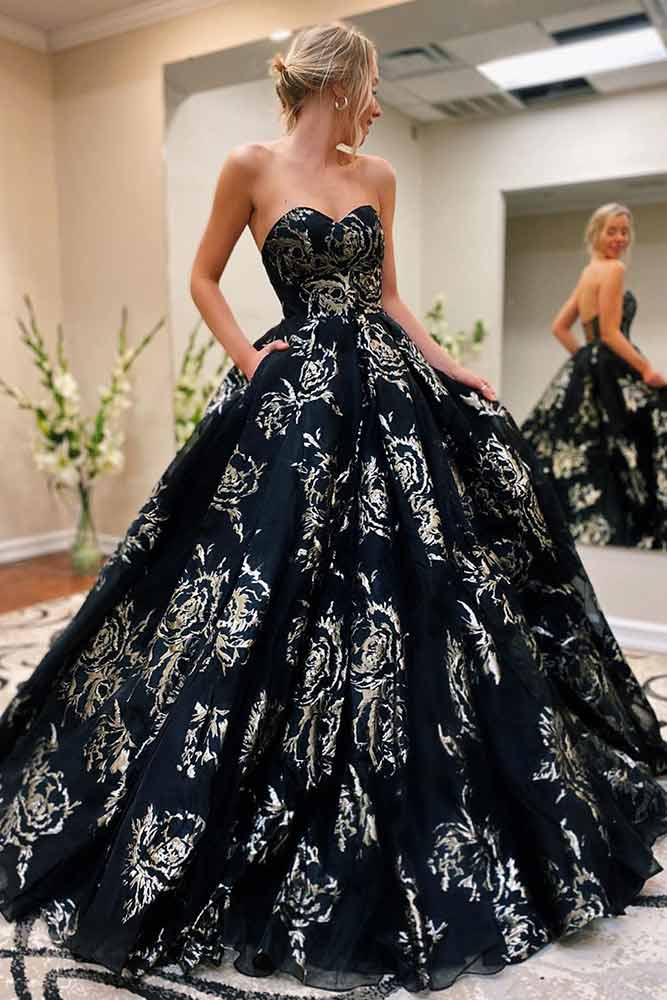 Credit photo: instagram.com/breezebridal
For so many decades, a black dress worn to a wedding was close to being an unspoken tattoo. If you ask us why we won't have an answer since the chances are that it is non-existent. We say that such a fabulous black gown is created for such happy occasions as weddings!
Blue Mermaid Dress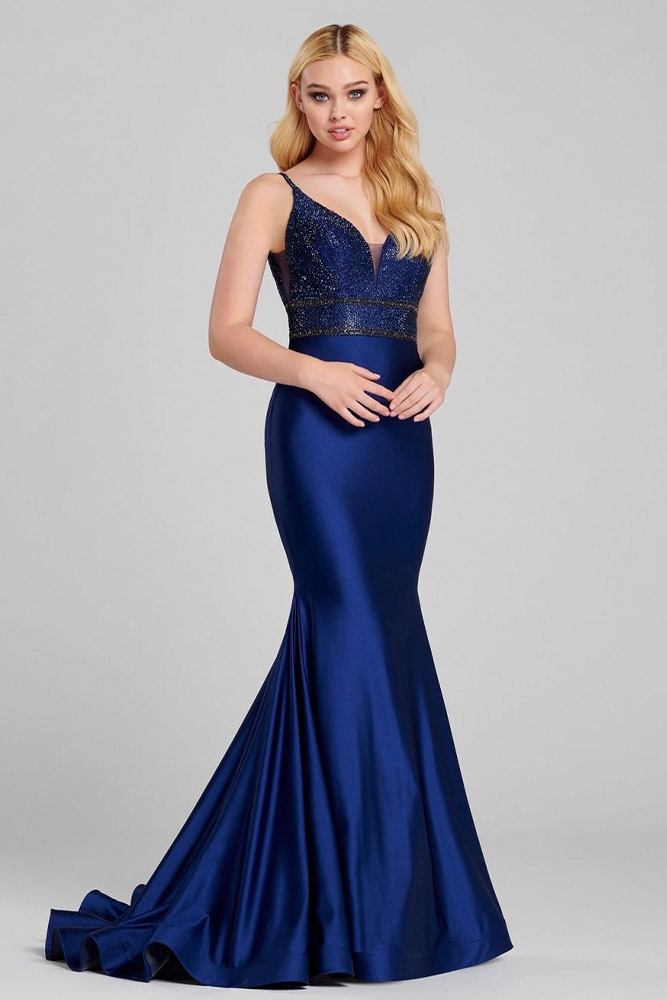 Credit photo: instagram.com/officialelliewilde
There are times when you prefer to look elegant but fancy without a drop of elegance spilled. In times like this, we offer you to pay attention to a satin mermaid dress. It seems like everything is seamless about it, the royal color, the design, the decoration. Perfection does exist!
Shoulder-Off Burgundy Dress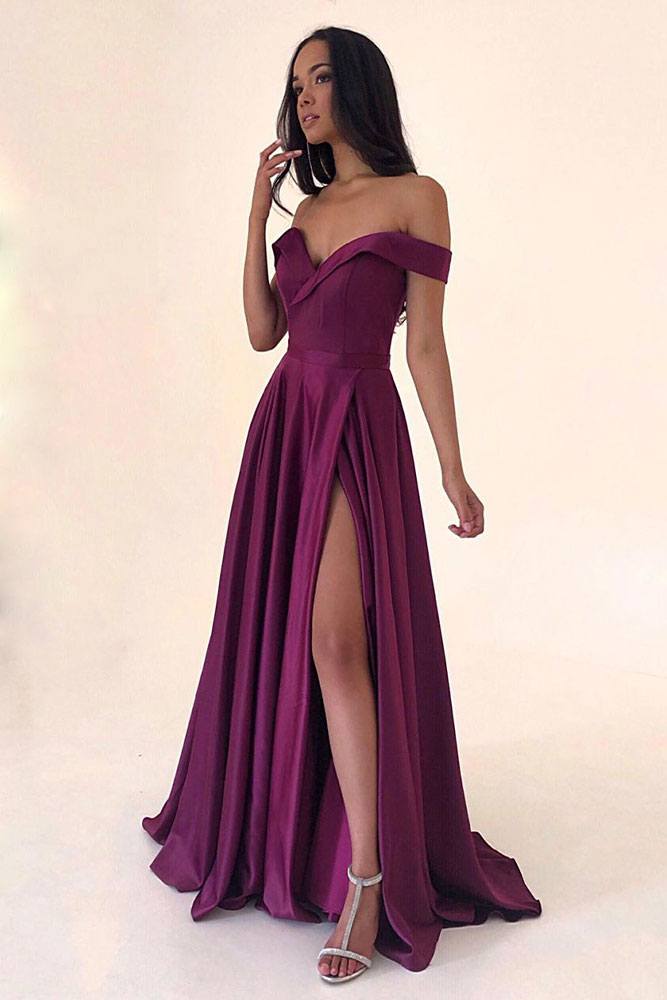 Credit photo: instagram.com/scarlettfashiondresses
The ladies who are looking for the trendiest dresses on the list – rejoice, we have something special for you too! This burgundy off-shoulder dress is the best representative of the modern fashion. It is simple but captivatingly sassy at the same time. What else should you look for?
Wine Red Velvet Tight Dress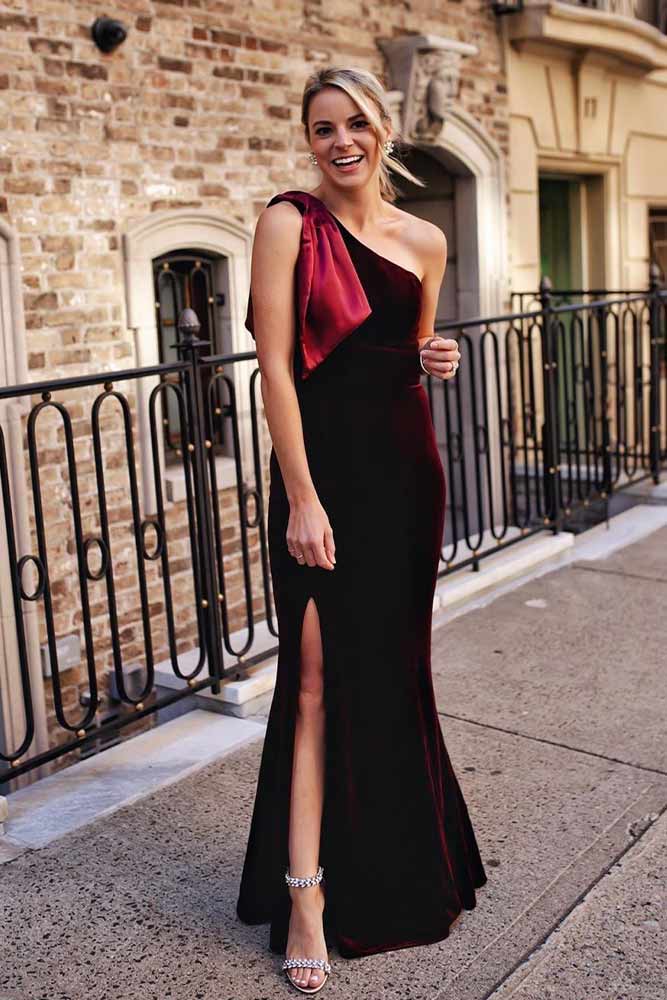 Credit photo: instagram.com/styledsnapshots
There is something about the way a chosen fabric matches the color, don't you think? When you have a look at velvet mixed with a wine-red hue, it becomes obvious enough that it is a match made in heaven. It seems that nothing is missing, nor is out of place about this marvelous gown, in our opinion.
Strapless Peach Dress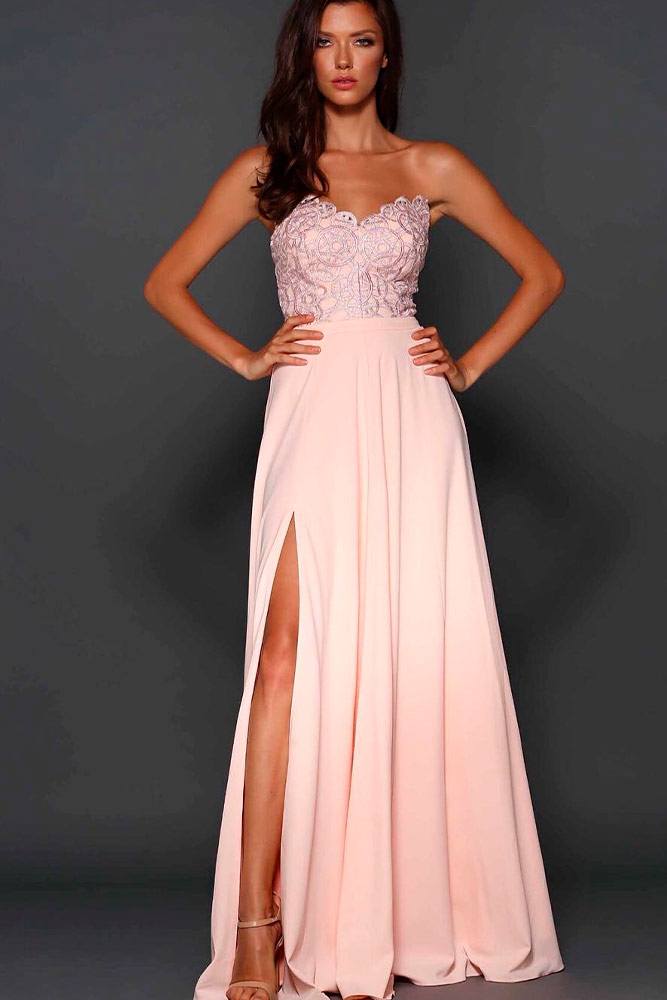 Credit photo: instagram.com/smikclothing
Not all women appreciate vibrant or dark hues equally. If you belong to the category, worry not, we have something in store for you too. This pastel peach maxi dress with a side cut resonates with modern trends while remaining classy at the same time. It is like a gentle piece of art that you can wear to your friend's wedding, doesn't it?
FAQ: Wedding Guest Dresses
What guests should not wear to a wedding?
Avoid wearing anything that's too revealing. Although black dresses and gowns are perfectly acceptable for most formal weddings, you might want to consider another hue. Avoid plain dresses and skirts in ivory, off-white or light beige. Even if the wedding dress code requests "casual" attire; jeans, shorts, T-Shirts, sneakers are never appropriate.
Is a 6 o'clock wedding formal?
Weddings that start at 6 p.m. or later are considered formal, so formal clothes are appropriate. Some invitations may specify whether it is a black tie or white tie wedding. So you might get the idea what to wear from the invitations.
REFERENCES:
Formal wear, formal attire or full dress is the traditional Western dress code category applicable for the most formal occasions, such as weddings, christenings, confirmations, funerals, Easter and Christmas traditions, in addition to certain state dinners, audiences, balls, and horse racing events. Source
An evening gown, evening dress or gown is a long flowing dress usually worn to formal occasions. The drop ranges from ballerina (mid-calf to just above the ankles), tea (above the ankles), to full-length. Source