Trendy and classy mother of the bride dresses are presented in this photo gallery. When choosing the dress for your daughter's wedding, you will base your choice on several factors. First of all, almost every wedding has its own color scheme these days. Pick the shade of your dress according to this color scheme. Also, make sure that the dress is comfortable because you will have to spend all day wearing it. And of course, take into account the style and length of the dress. Read on to discover amazing dress designs in various lengths and styles and get some useful tips.
Useful Style Tips For The Mother Of The Bride
Source: _christinawu_ via Instagram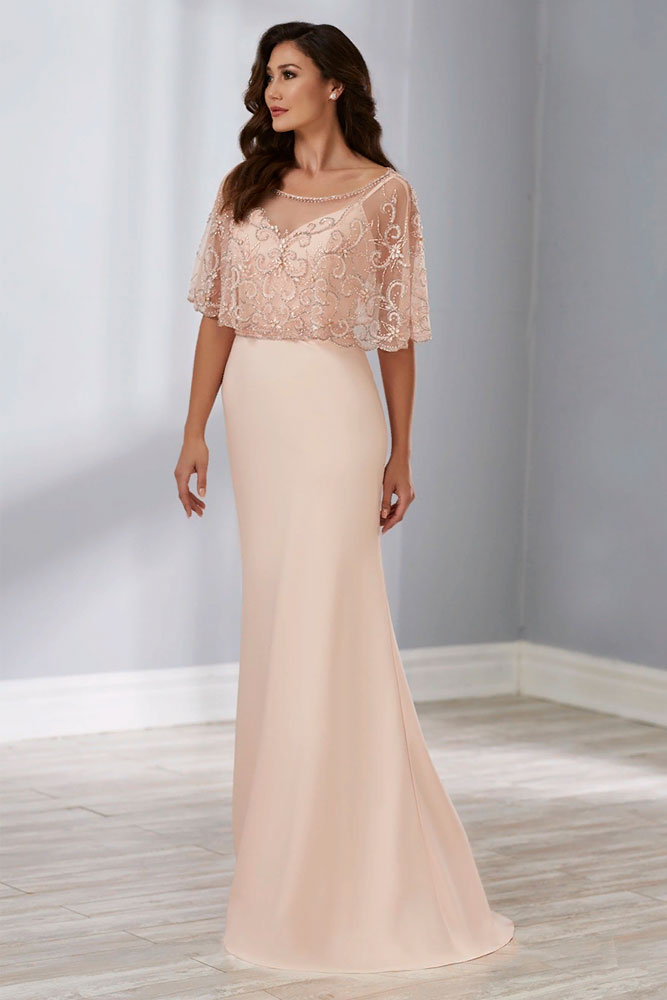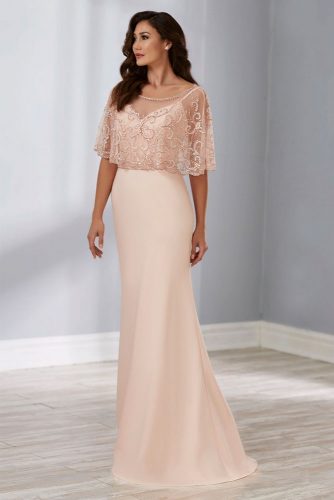 When searching for the dress, try to focus on the elements of the design – do not just look for any mother of the bride dresses. Think if you wish the dress to have sleeves. Look for the specific fabrics, length, color or color combination and style.
Discuss your attire with your daughter. Wait until she picks her gown. Then ask her what she wants you to wear. Maybe you will have a similar gown with the co-mother-in-law. Or maybe she does not envision your look at all. It's better to discuss it face to face to avoid any misunderstandings.
Accentuate your winning sides. Of course, you can't show too much skin on your daughter's wedding. But it doesn't mean that you can't draw attention to the specific areas of the body. Maybe you have beautiful long legs that you wish everyone to notice. Then don't pick a floor-length taffeta dress. Or you have toned arms. Then it's better to go for a sleeveless dress. You can sport a belted dress in case you wish to show off your gorgeous slim waist. In case you doubt, you can always pick a dress with a softly flared skirt, fitted bodice. Such dresses are universally flattering because they create an hourglass silhouette.
Source: _christinawu_ via Instagram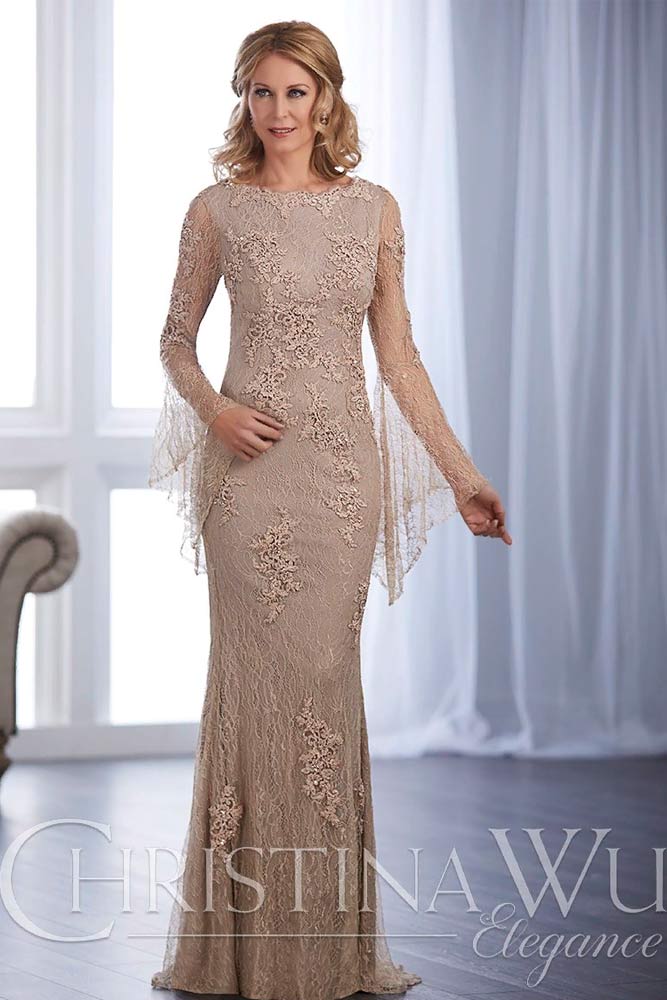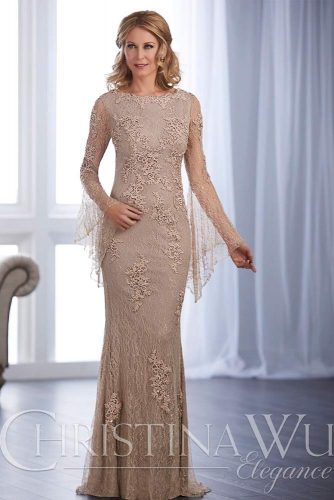 Think through the weather conditions. It may be wise to buy a matching bolero or shawl just in case it gets colder or windy.
Try to expand the color palette. The wedding scheme may be blue and red or white and green or whatever. But it doesn't mean that you need to stick to these colors strictly. Every color has many shades. So, don't be afraid to spice things up with fashionable hues of traditional colors.
Don't forget about accessories but keep them simple. Of course, you can't go for a statement piece because your attire should be modest. But do pick something delicate and sophisticated to finish your look.
Take advantage of progress. We are talking about some shapewear. It will especially come in handy if you have a fitted dress.
A Few Inches Above The Knee Length Mother of the Bride Dresses
Mother Of The Bride Dresses can work for women who do not mind revealing some extra skin and showing off their sexy legs. Just stick to the semi-formal, that is, acceptable kind of short length. And that would be a few inches above the knee. Otherwise, you risk looking overly sexy or even tacky.
You can always consult with your daughter. It is her wedding, so it is for her to decide what length is too short and what is just fine.
The shorter designs that you can see in these pics can be put on during beach weddings, morning weddings, civil weddings, and garden weddings.
Classic Dress With Lace Sleeves
Source: grupo_madison via Instagram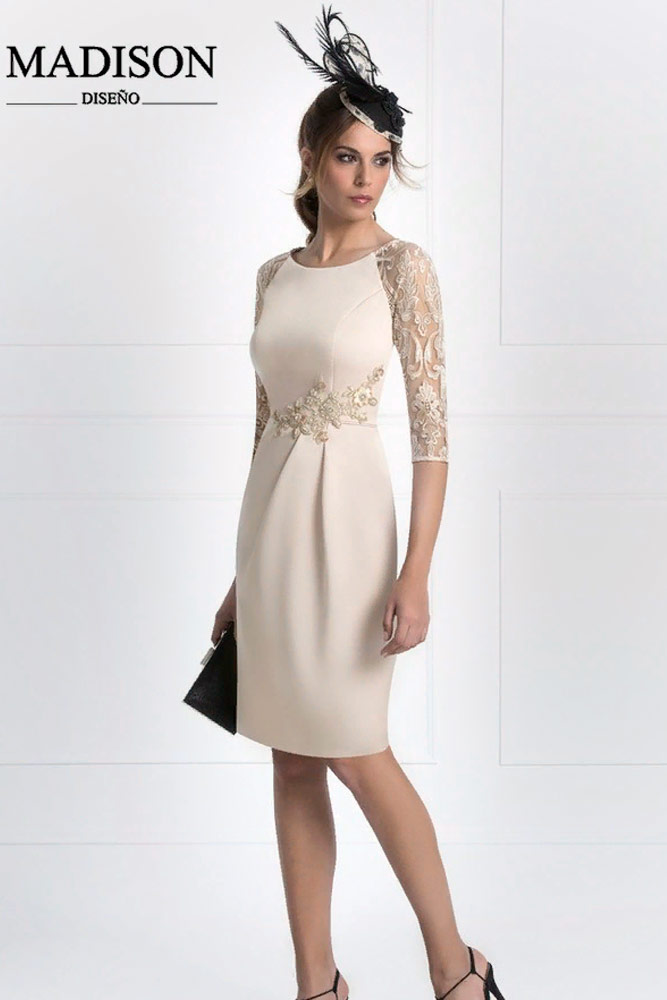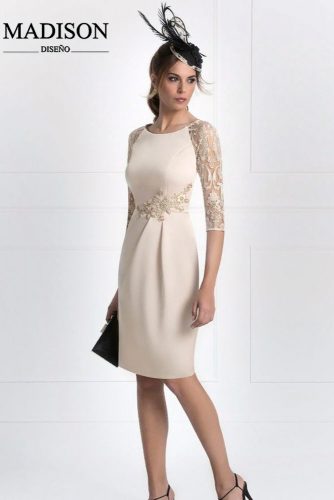 This dress has an elegant silhouette. Lacy, partly see-through sleeves add on to the sophistication of this dress. Plus, the beaded accent on the waist has a slimming effect.
Burgundy Bodycon Dress With Lace
Source: _christinawu_ via Instagram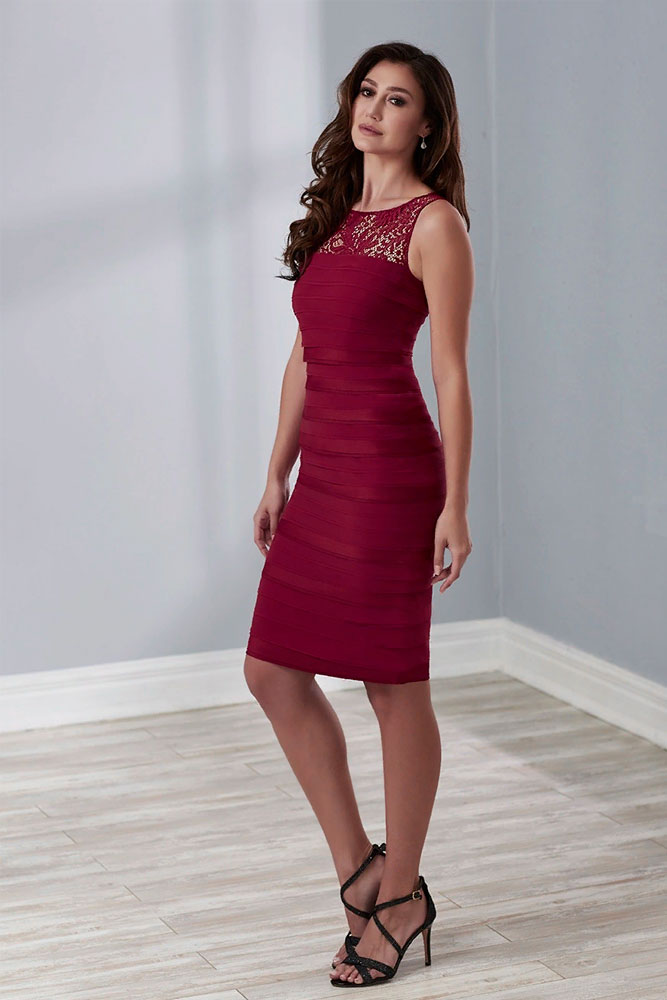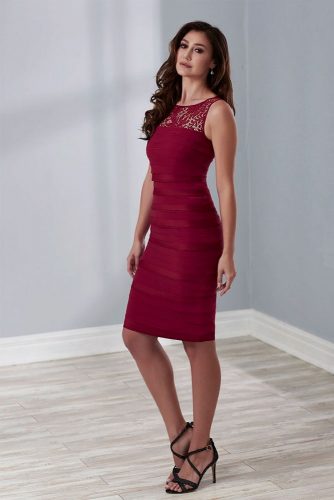 In case you wish to show off your gorgeous body curves, go for a bodycon dress like this. And the burgundy color will grant some sassiness to your image. It's a win-win.
Elegant Tight-Fitting Lace Dress
Source: _christinawu_ via Instagram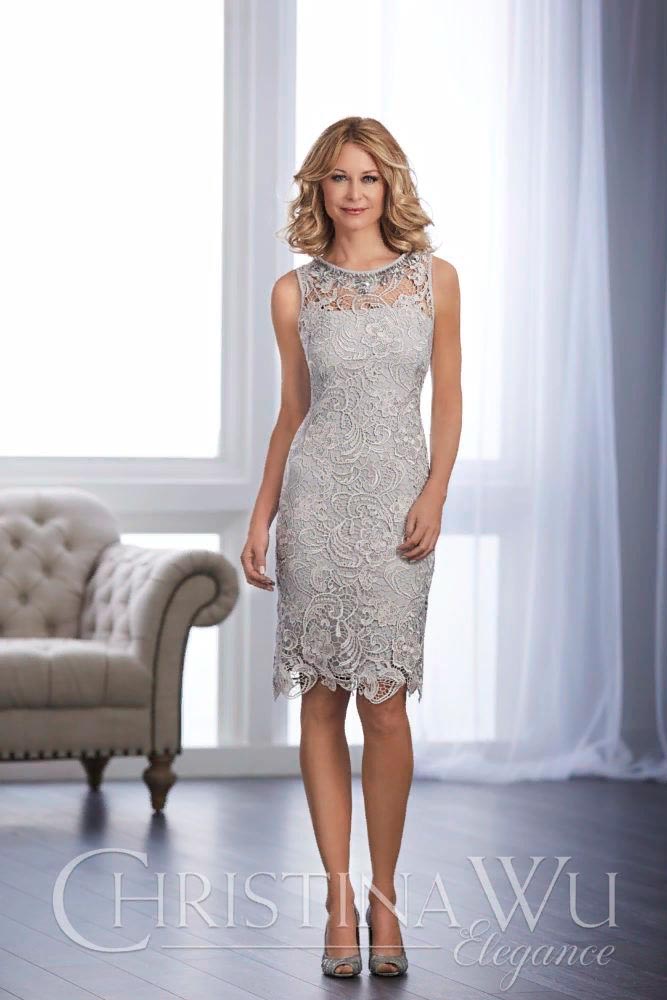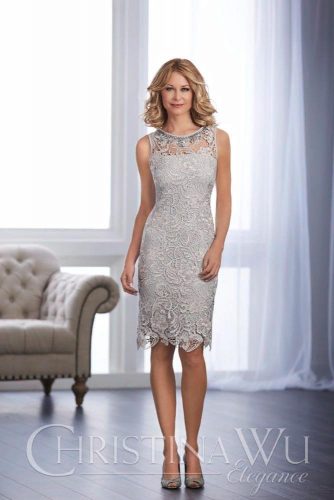 This tight-fitting dress might be an awesome option for any woman. And it has that unique flair of exquisiteness that will make you stand out at your daughter's wedding.
Knee Length Mother of the Bride Dresses
Usually, knee-length dresses are considered to be formal dresses. Some stylists even point out that such a hemline is even more conservative compared to the dresses that sweep the floor. That's why many women find them to be the perfect picks for wedding guest dresses. And we won't argue with this statement. This length is ideal for tall women who have the legs of a goddess. But women who are not tall would better go a bit higher or lower.
Also, the knee length gowns are appropriate for daytime weddings. Keep the rest of your attire polished and sophisticated. And we also suggest that you complete your image with high heels as shown in these pics. Though, it is up to you to decide.
Red Backless Dress With Lace
Source: jjshouseofficial via Instagram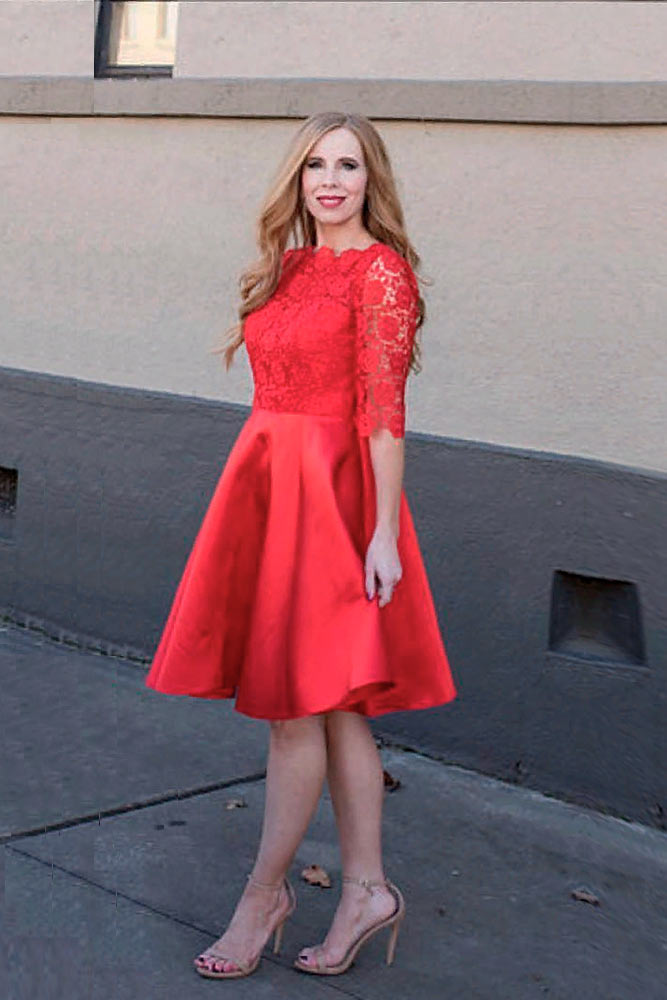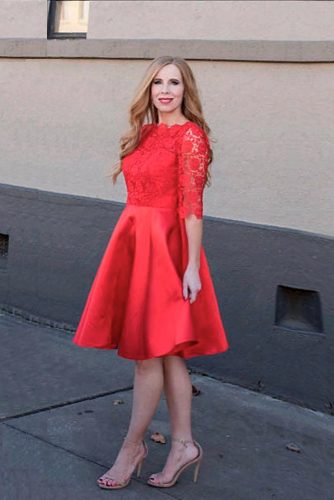 With a red backless dress like this, you will appear refined and sexy, too. Backless formal dresses will never go out of fashion. Wear one, and you will look exceptional in every picture taken.
Purple Lace Dress With Three-Quarter Length Sleeves
Source: jjshouseofficial via Instagram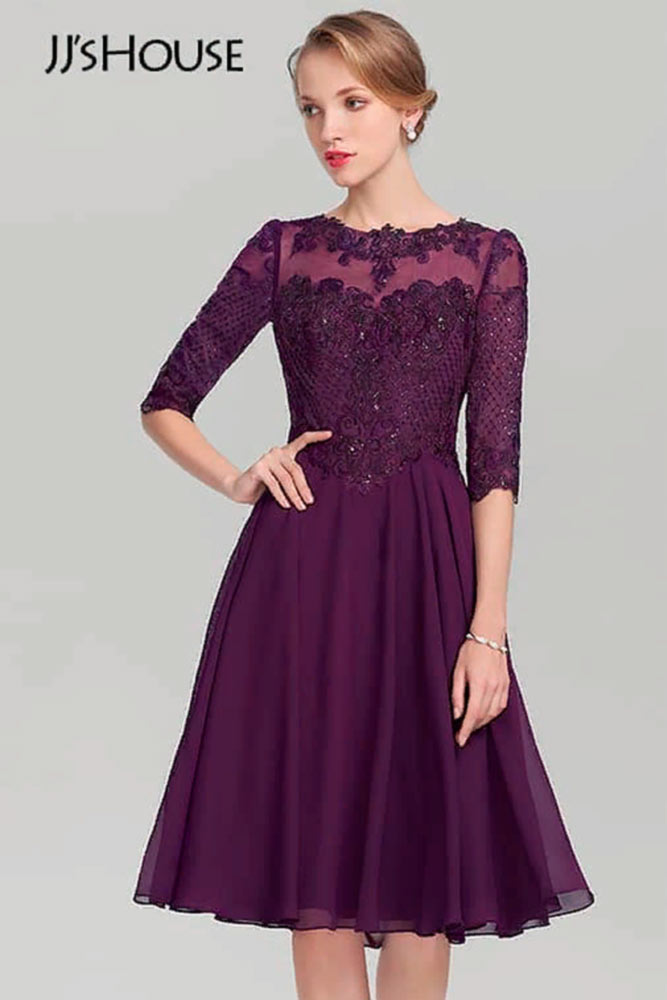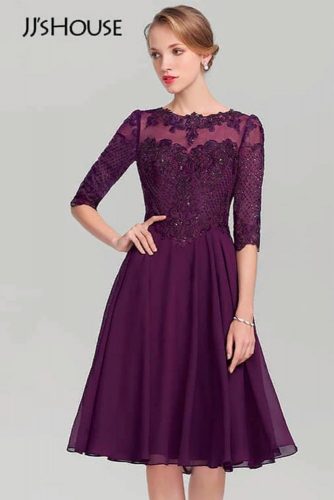 This model decided to incorporate lace elements in her dress. But to complement this purple dress, you can also go for the footwear or clutch with lace. Adding some attention-grabbing accessories is optional.
Elegant Bodycon Hand-Beaded Dress
Source: nigelraymentbou via Pinterest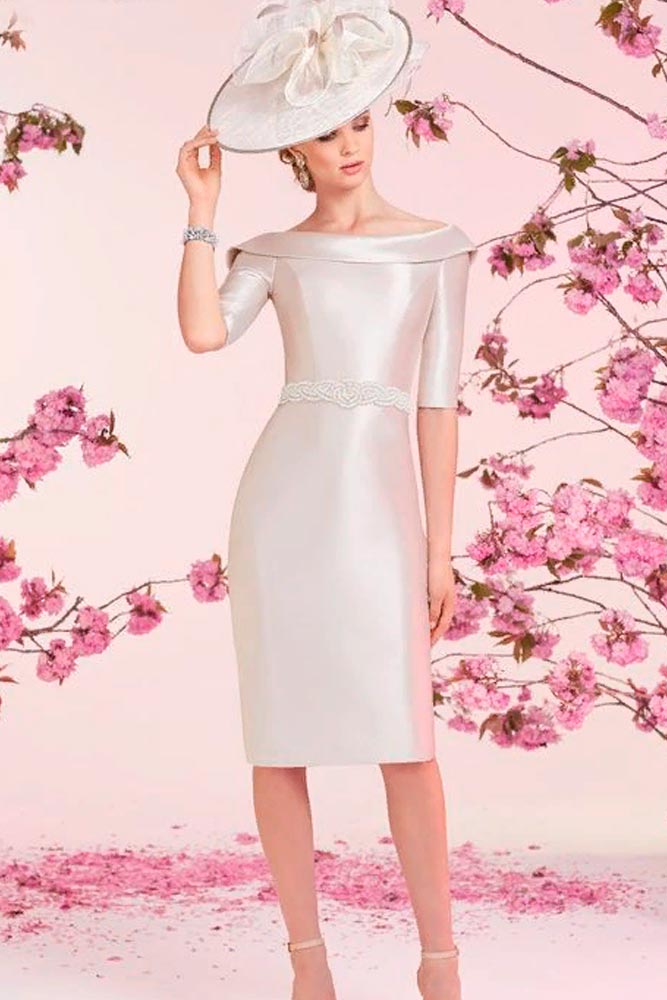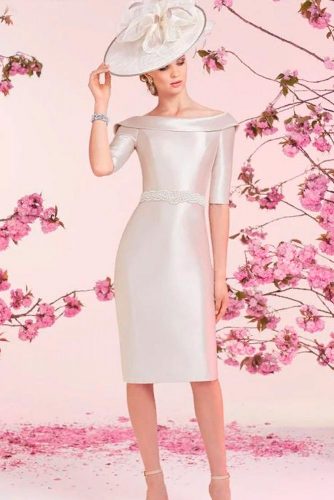 What we really love about this bodycon dress is its exceptional pearl color. Pair it with a hat with a large floral decor like the one in this picture, and you will reach the elegance nirvana.
Tea Length Mother Of The Bride Dresses
You will definitely feel beautiful if you go for one of these elegant tea length dresses. The tea length term came from the 1920-s when women used to put on dresses of such length to the tea table. Such a dress falls 3-4 inches below a woman's knee. And this length is considered to be ideal for evening weddings.
This length is probably our favorite due to its versatility. Depending on the extent of the formality of the wedding, such dresses can be either dressed up or down with the help of accessories. For example, an exquisite bonnet or gloves made of lace will make your image the definition of Formal.
Classic Dress With A Jacket
Source: joyceyoungcollections via Instagram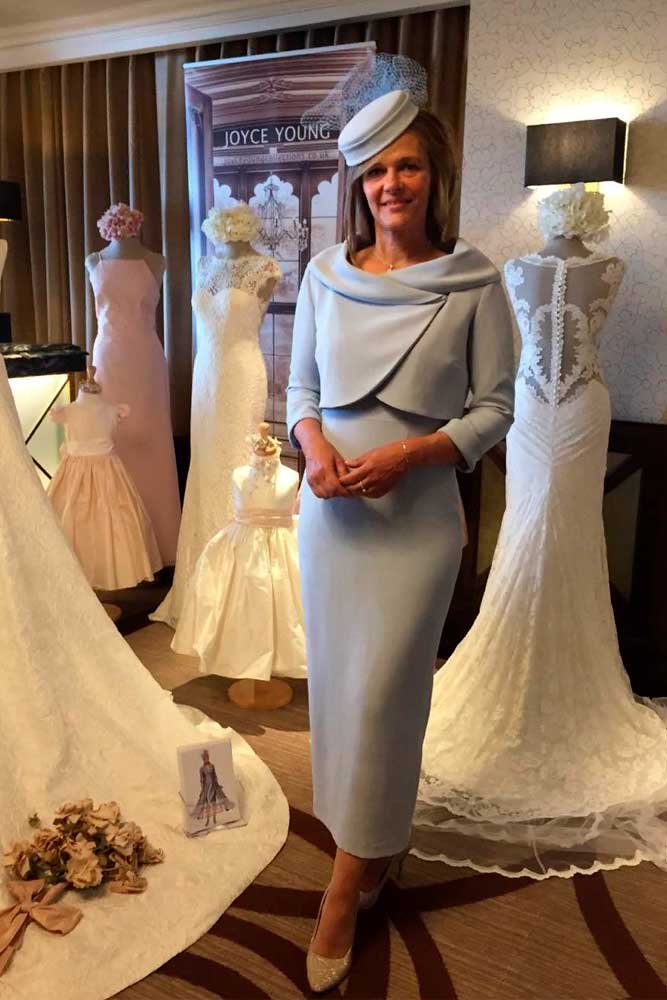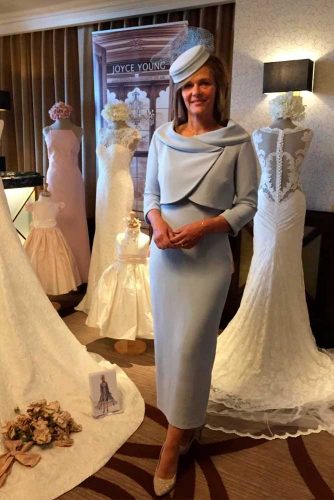 The most exciting thing about simple dresses is that they can be paired with practically anything. Here the model went for a refined jacket and bonnet. The outfit is perfect for a fall or spring wedding ceremony.
Asymmetric Shoulder Off Dress
Source: alza_boutique via Instagram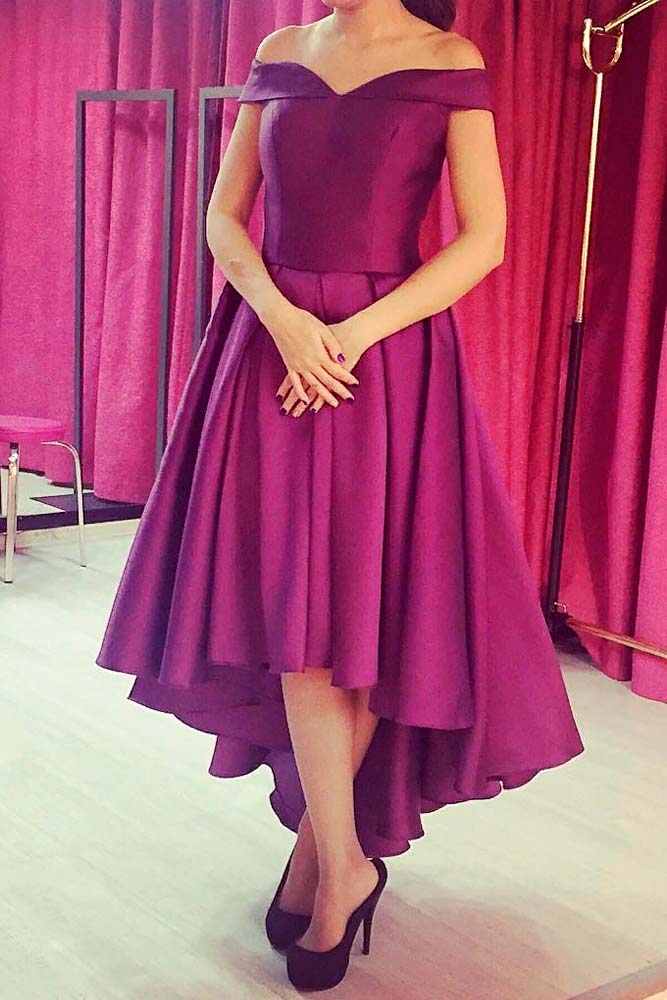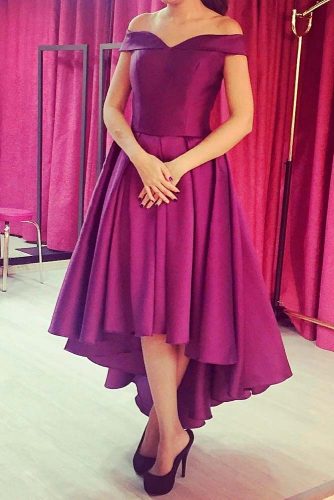 In case you wish to show off your unique personality, why not go for an asymmetric dress like the one shown in this picture? The purple hue is romantic and feminine.
Dress With A Natural Waist And A Fuller Skirt
Source: jjshouseofficial via Instagram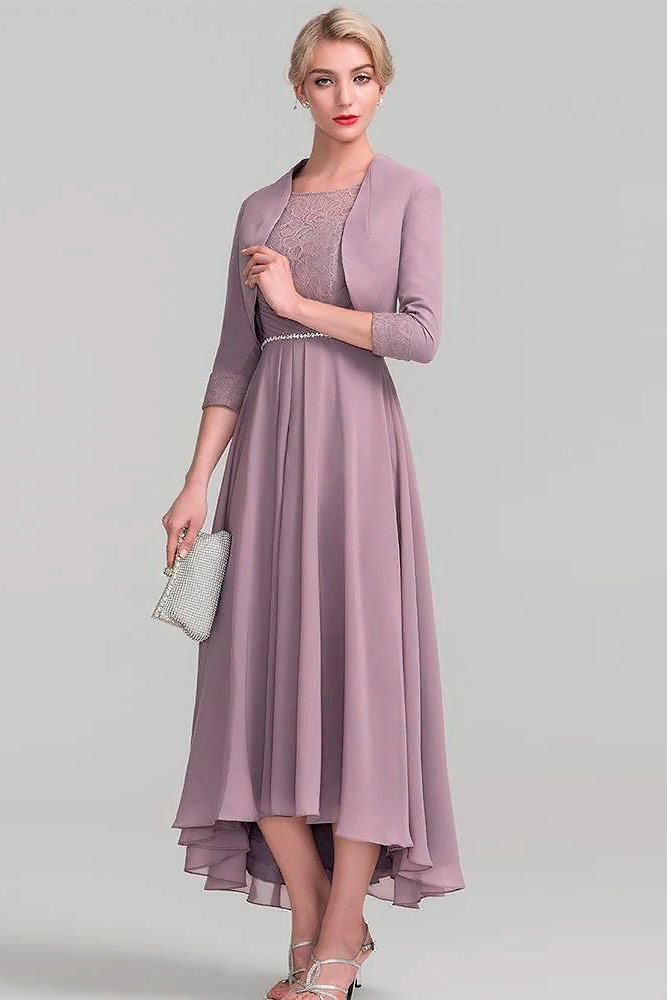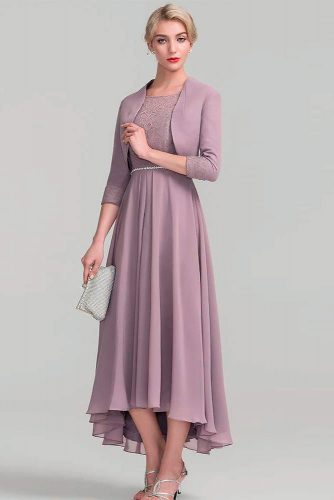 This dress accentuates this model's slim waist with a small light colored belt. Match this gorgeous dress either with silver or with black footwear and clutch.
Long Mother Of The Bride Dresses
Mother of the bride dresses long are probably the most popular of all. The floor-length lets you look ultimately elegant and modest. Long dresses can have the hem that ends just above the floor or grazes the floor a bit.
Pick the length with the location of the wedding ceremony in mind. If the wedding ceremony is held outdoors, it is better to pick a dress without a long tail. But if the wedding is celebrated indoors and you wish to make a statement, go for a longer tail.
Long Dark Dress With Embellishments
Source: _christinawu_ via Instagram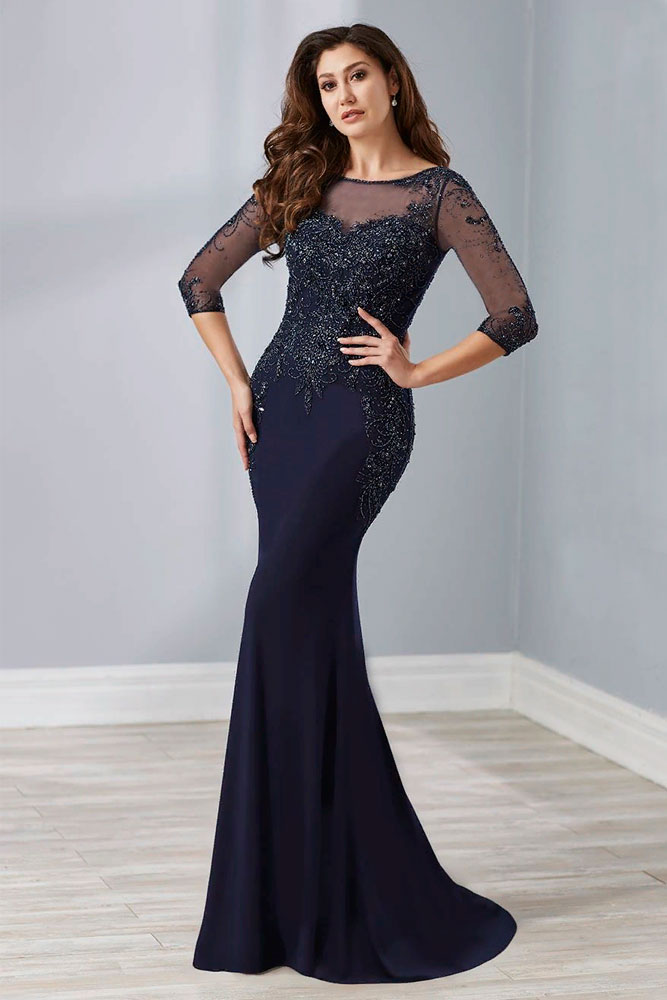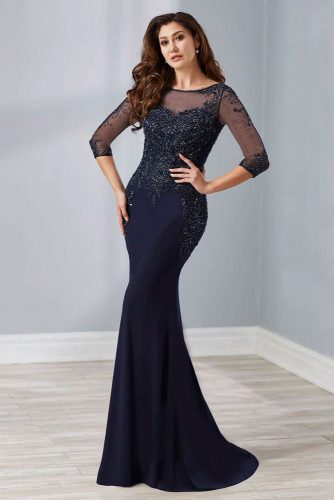 The long black dress shown in this picture is super fascinating and will accentuate your body curves beautifully. And the beads on its top part add some dazzling to the look.
Sparkly Shoulder Off Dress
Source: markseliger via Instagram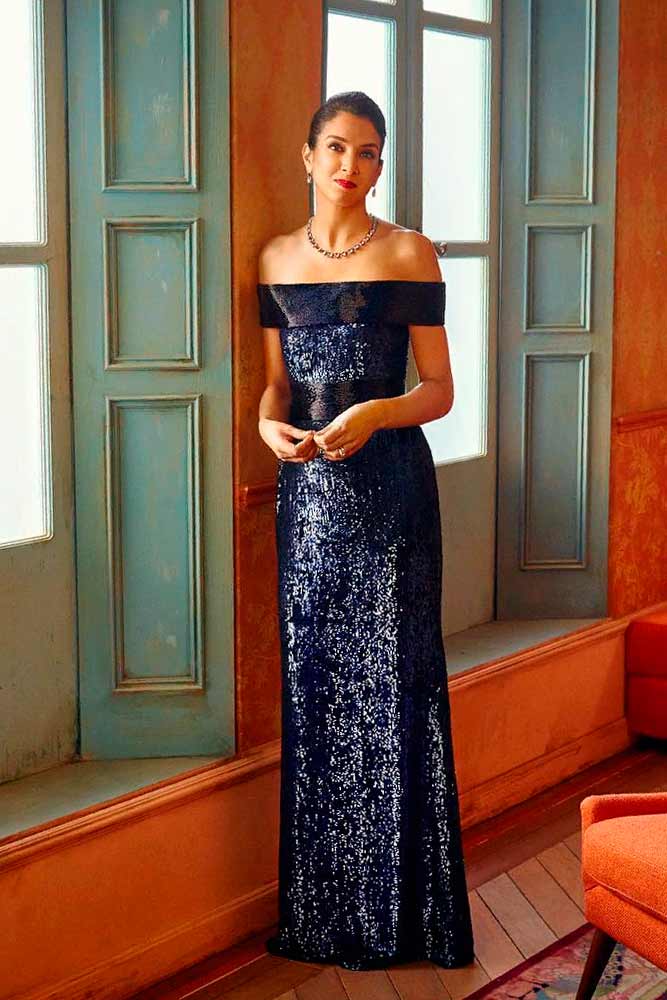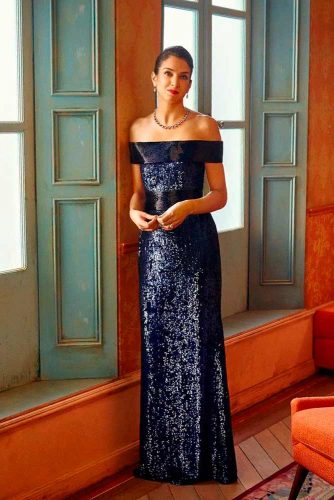 Such a sparkling long dress is totally attention grabbing. A dress like this will compliment nicely women who have brown or black tresses. If you have pretty shoulders, hiding them is a crime.
Dress With Cascading Ruffles
Source: ursulaofswitzerland via Instagram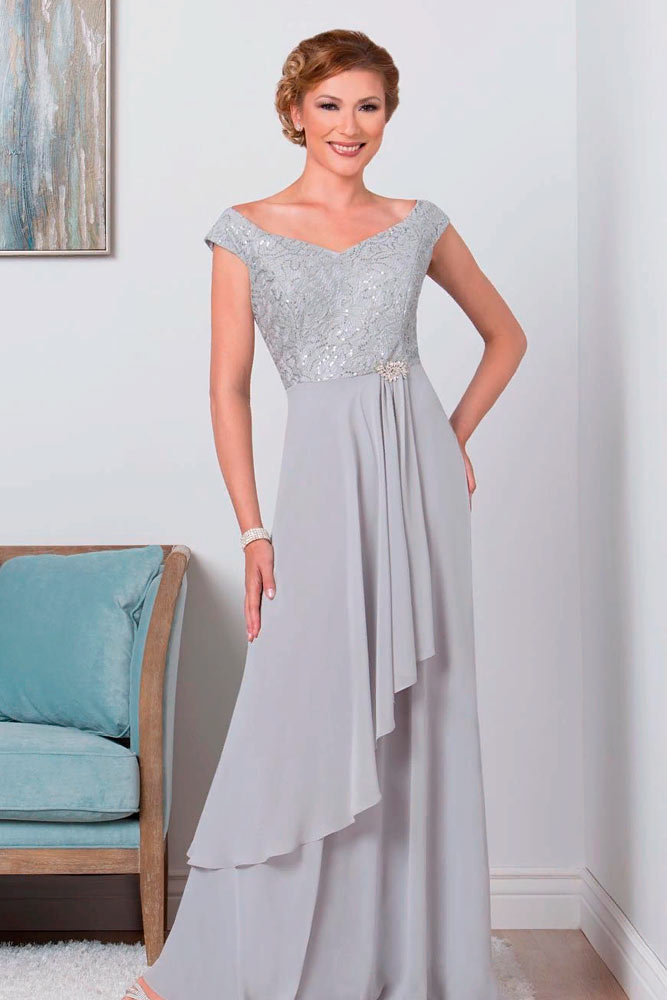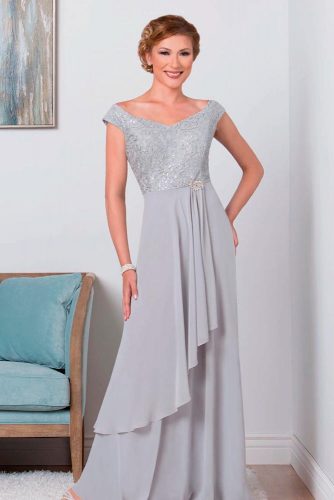 This admirable dress will work great for women who have a petite body shape. The ruffles that start at the waistline will create the illusion of fuller hips and buttocks.
Dress With Cascading Draping
Source: _christinawu_ via Instagram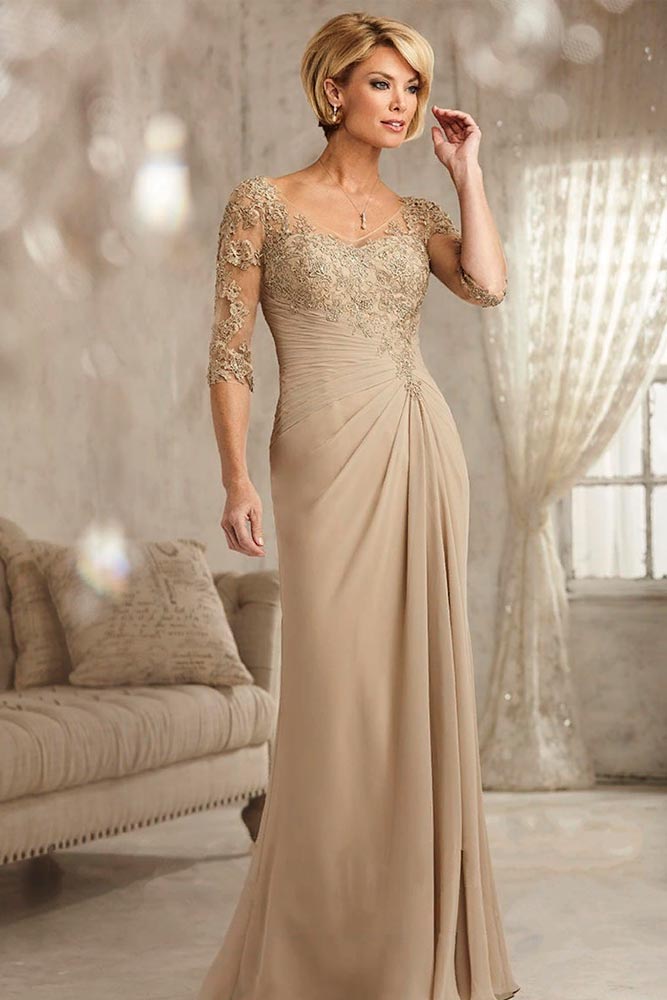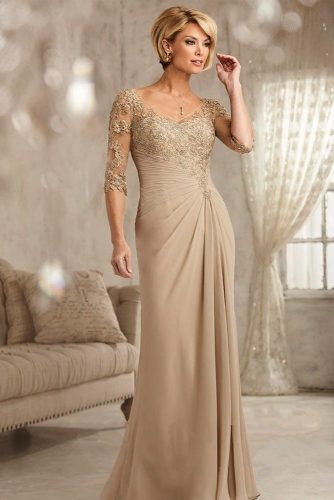 With the help of this dress, you can accentuate the winning sides of your body shape and hide some of the flaws. The draping visually cuts this model's hips, making her appear slimmer than she is.
Layered Fit-And-Flare Dress With Sleeves
Source: ursulaofswitzerland via Instagram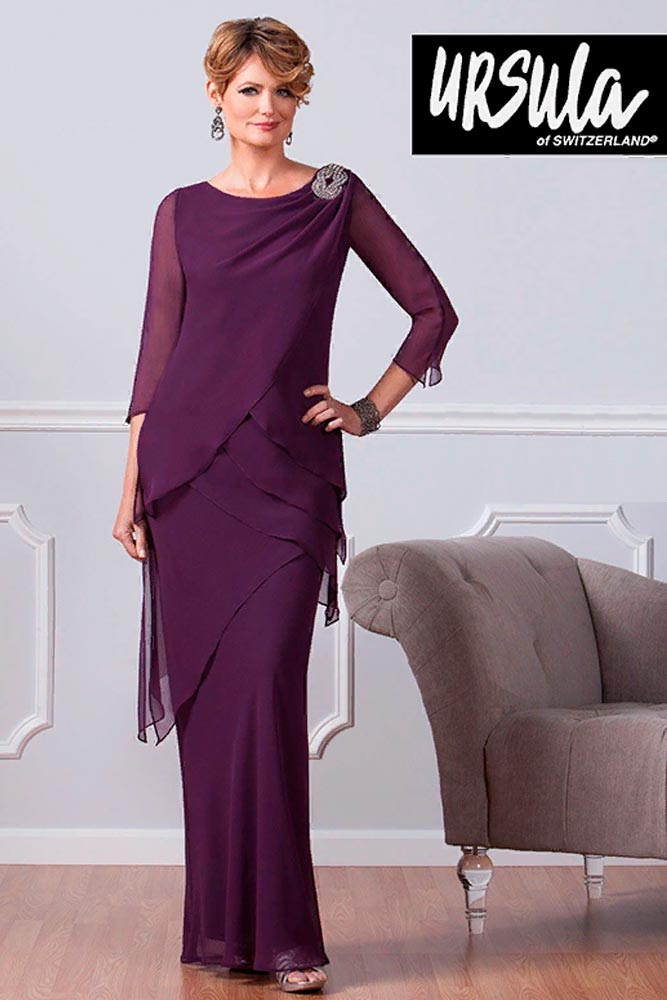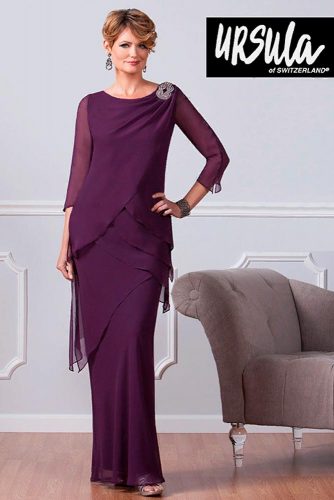 Being made of lightweight fabrics, this long dress is super comfortable. You will feel like a feather wearing it. And the layers help to conceal every single problem area.
Scoop Neck Dress With Bright Floral Print
Source: grupo_madison via Instagram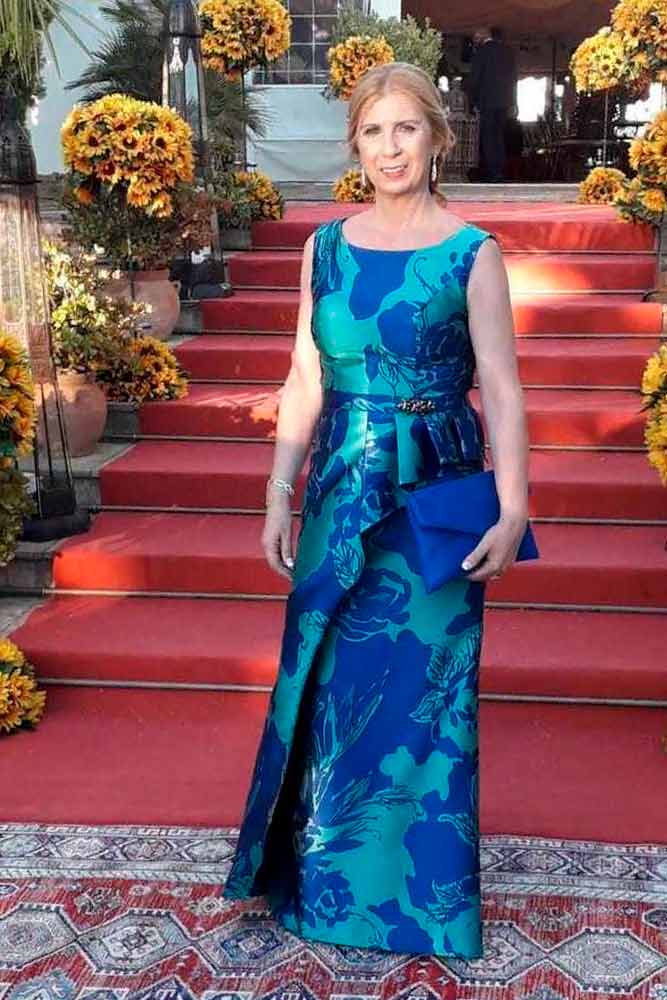 Floral prints are ultimately feminine. Add some juicy hues, and you get the prefect dress design for a summertime wedding ceremony. Match this dress with a classy dark blue clutch bag.
Fit To Flare Overlace Dress
Source: _christinawu_ via Instagram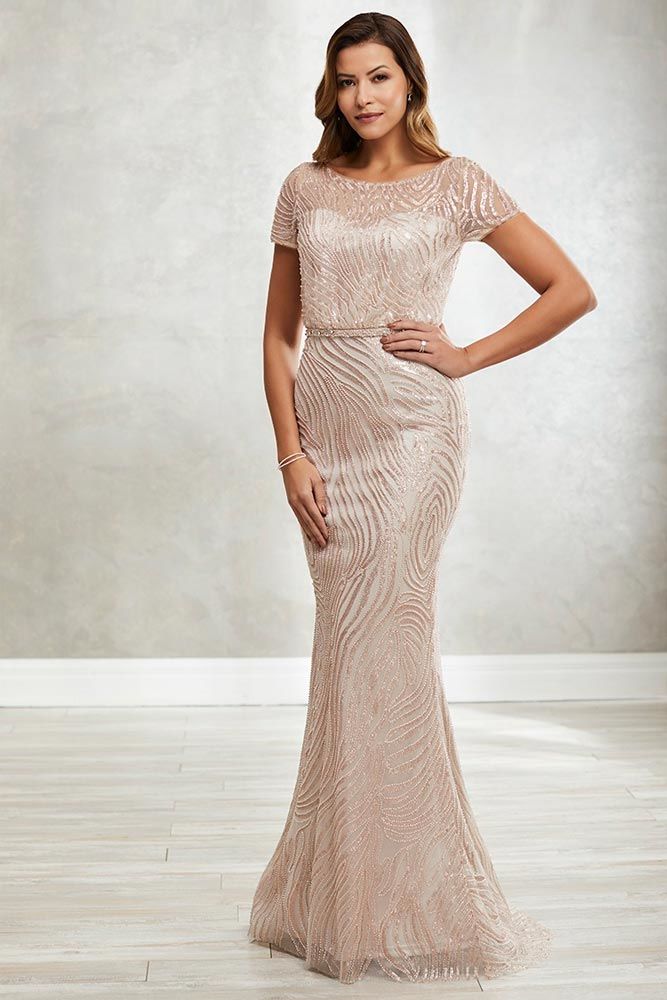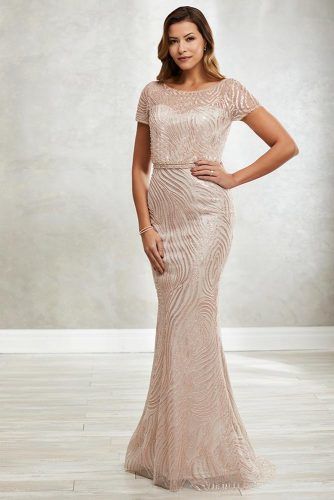 Fit to flare dresses are one of the best choices for a wedding. They sit perfectly, enhancing your curves, yet look refrained and appropriate for the occasion. And thanks to an overlay design, there's no need for an elaborate pattern, as the dress already has an intricate twist.
Crepe Dress With V-Neck And Short Sleeves
Source: _christinawu_ via Instagram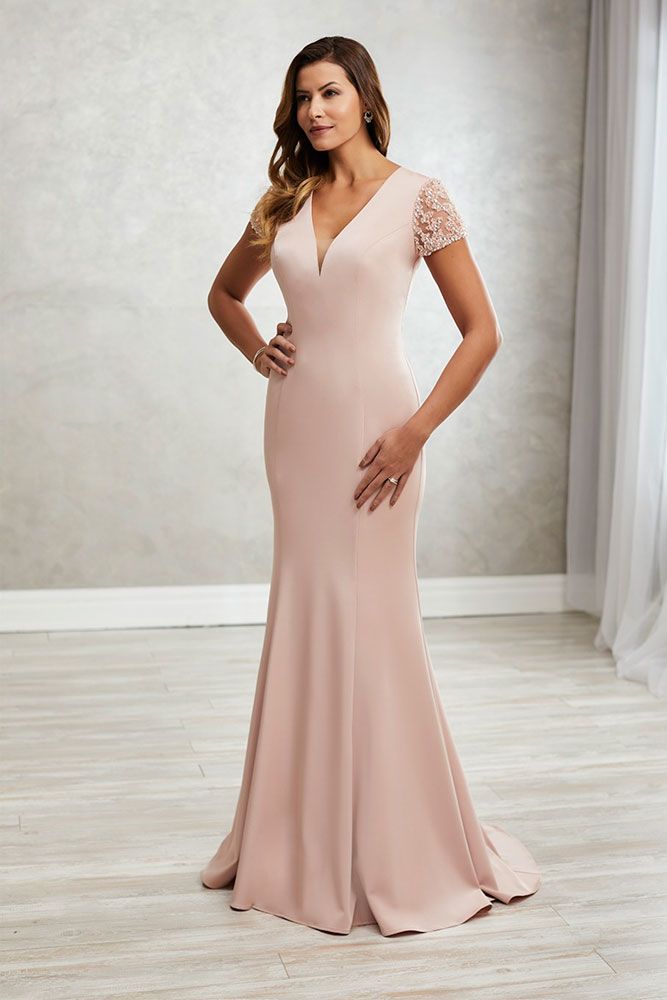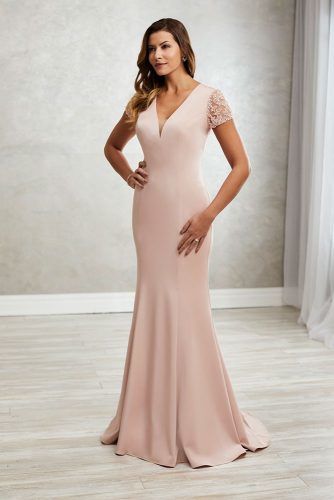 This dress clearly illustrates simplicity in its finest. Crepe fabric allows the skirt to fall down effortlessly, thus adding delicacy and tenderness to the look. The short lace sleeves and the V-neck serve as the perfect enhancement for this elegant gown.
Fit To Flare Dress With Falling Sleeves
Source: alza_boutique via Instagram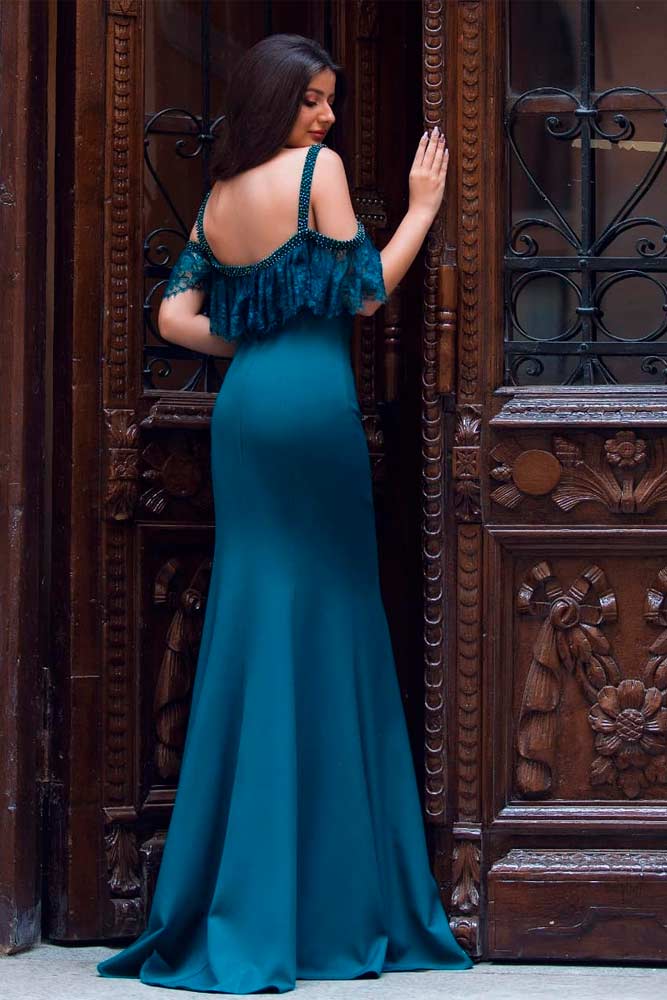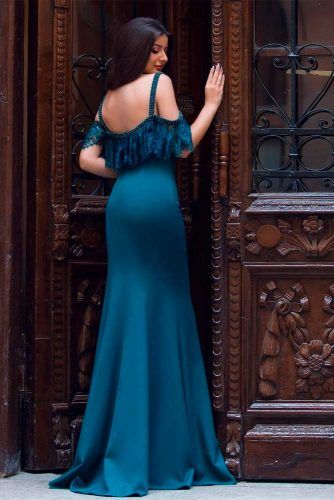 With a fit to flare dress, you can go for any sleeves design you wish. Actually, the ampler the sleeves are, the more balance they add to the dress. That's why when you opt for falling sleeves, you not only keep the focus on your shoulders but also make your look harmonious.
Chiffon Dress With Falling Sleeves
Source: jjshouseofficialvia Instagram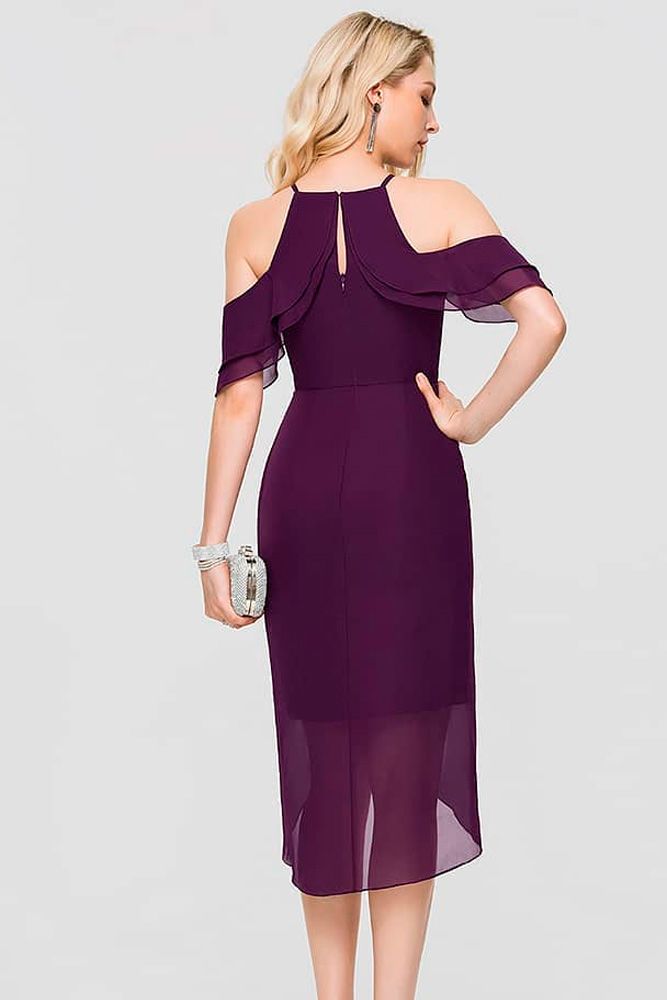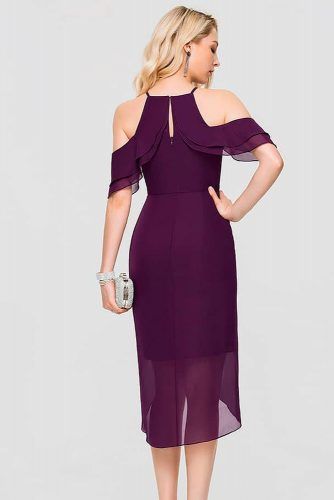 For the mother of the bride dresses, falling sleeves are always a great option, as they suit basically any dress design and don't require many accessories. Thus, if you choose a classic chiffon dress with falling sleeves, you can get away by complementing it with a neutral clutch and a couple pieces of jewelry.
Shoulder-Off Mermaid Dress
Source: alza_boutique via Instagram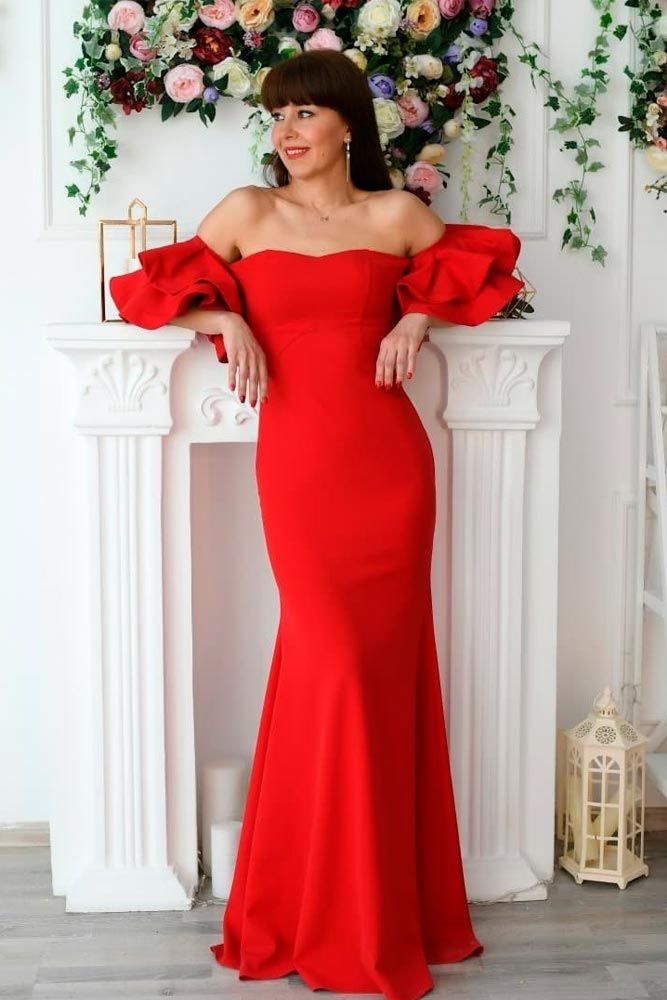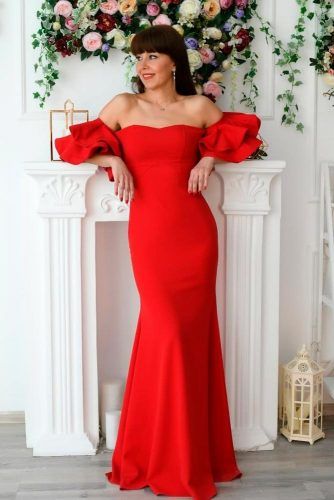 If you go for an accent on your shoulders, it's hard to think of a better selection than a shoulder off mermaid maxi dresses gown to do this. Elegant yet playful, it'll definitely keep all eyes on you. A minimalistic necklace is an ultimate adornment for such a look.
Dress With Chiffon Choir Boy Sleeves
Source: alza_boutique via Instagram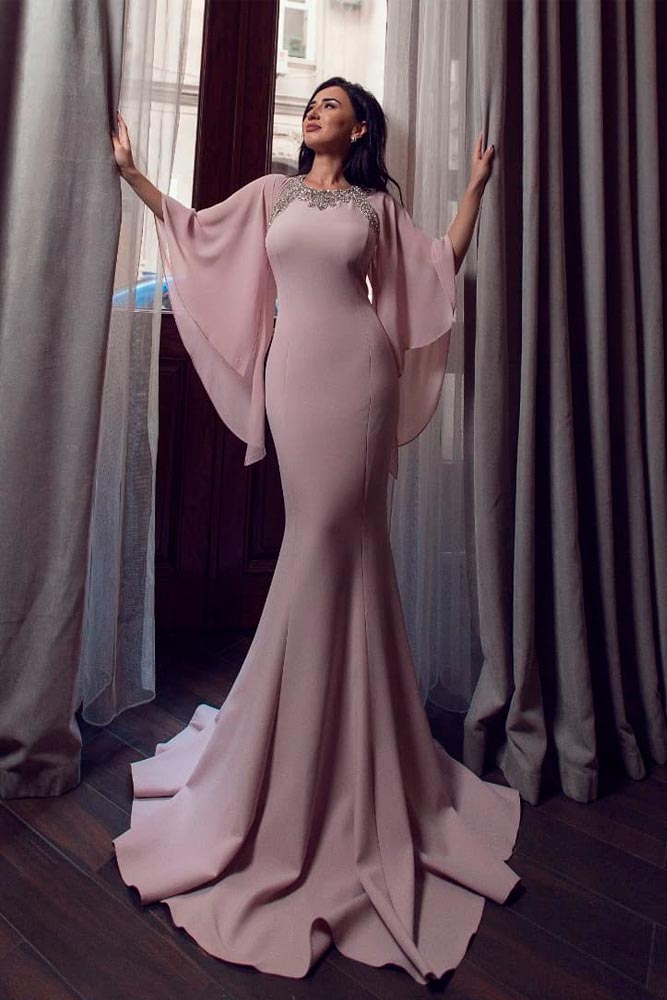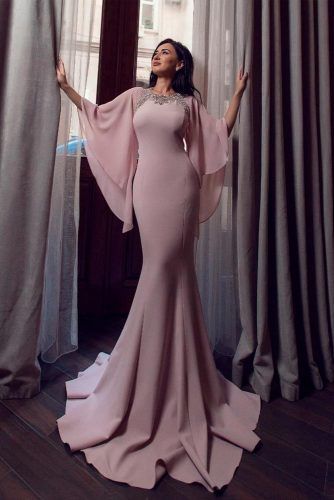 A dress with chiffon choir boy sleeves suits the ambiance like no other. It looks heavenly thanks to the weightless fabric and adds a romantic flair to your look. If you choose it in a powdery color, you may rest assured that you'll be in the spotlight all day long.
Now you have a collection of stylish and elegant mother of the bride dresses. Don't forget to save it. Also, check out some more inspirational topics on our blog.