Do you have damaged hair? As women, we put our hair through so much from excessive washing to blow drying, curling and straightening to the use and abuse of hair products. All of this can leave our hair frizzed, dry and severely damaged. However, there are plenty of ways how we can fix our damaged tresses, from managing our diet to caring for our hair with natural products that do not contain harsh ingredients.
A DIY hair mask is a great way to help heal damaged tresses. You can easily make it at home with a few natural ingredients.
It doesn't cost a lot to have healthy hair. In this article, we will give you many tips to help repair years of hair damage.
First, we should take a look at some of the things that can cause damaged hair. Of course, extensive washing may be the culprit, but also the overuse of hair products. Processes for your hair, including bleaching, highlighting, coloring, perming and straightening are not healthy either. Too much sun exposure and brushing your hair excessively can also contribute to hair damage. If you do not take the time for your hair, it can result in dry hair, split ends, thinning hair, and excessive breakage. Following are some tips on how to properly care for, repair and even prevent your tresses from getting damaged.
✅ Can Damaged Hair Be Repaired?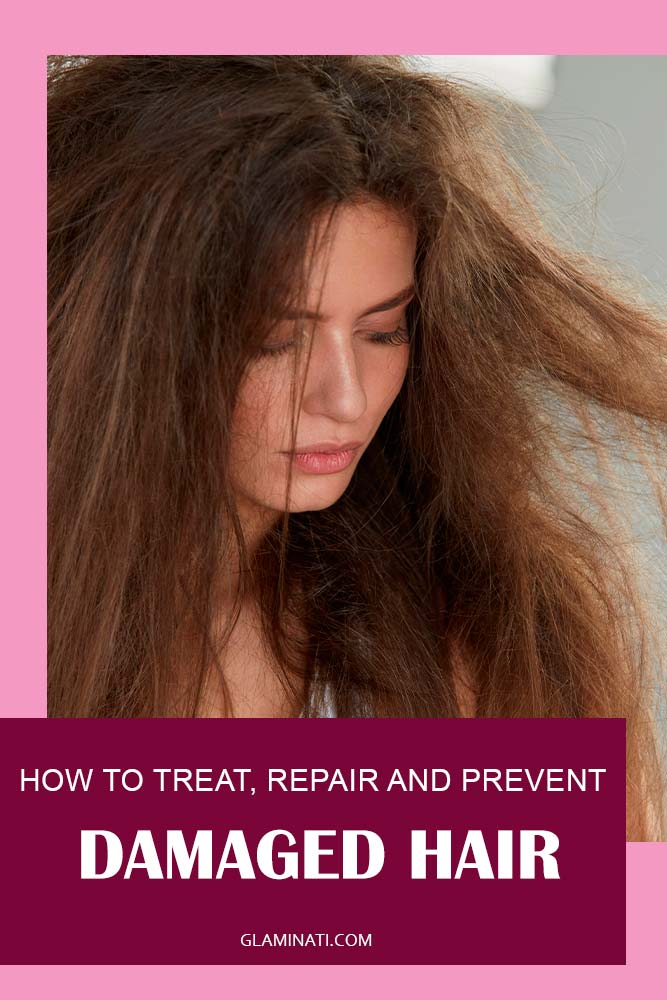 To tell you the truth, there's no universal answer because damage can be different, as well as the ability of your hair to recover. Basically, hair damage has a permanent nature, as damaged sections of hair consist of dead cells, which are impossible to repair. Time and your stylist's scissors are the only cure to the total repair. However, there are still some ways to deal with damaged hair so that it looks and feels healthier while promoting stronger cuticle. The right approach to hair care and preventing new damage is your key, and we're pleased to share it with your mane.
✅ What Hair Treatment Is Best For Damaged Hair?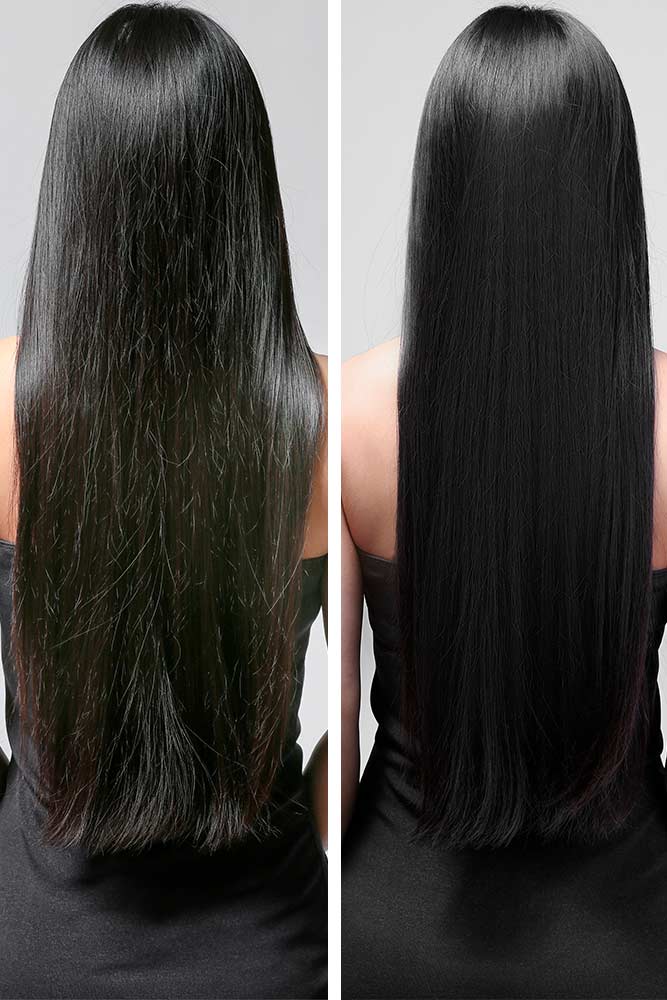 You may come across dozens of promising treatments in the hair care aisle. But, you can't know for sure if they're effective and suitable for your hair. When it comes to hair, it's good to give a shot to something new. Yet, when it comes to damage in hair, you can't allow yourself a shot in the dark. For that reason, we recommend you going for something fail-proof and salon-recommended. You won't go wrong with these products:
Goldwell Kerasilk Premium Hair Care. Depending on your hair type and damage, you can choose one of the new Godwell treatment versions. There's an option for strengthening fine hair, and a product for boosting vibrancy in color-treated hair, as well. At the same time, this line comes with damage-repairing and keratin-infused products for those who want to keep away or recover from damage. Unlike the rest of the versions, the one with keratin formula may serve you with a smooth look for five months.
Wella System Professional Energycode Complex. Whatever type of damage you have, this Wella product will be your helping hand to get rid of brittleness. It contains special ingredients such as caffeine to encourage healthier growth, vitamin B to restore natural moisture and lipids to strengthen keratin bonds in the hair.
Redken Heatcure In-Salon Total Hair Restoration Treatment. The innovation formula comes as a cocktail of essential proteins, waxes, and conditioners that will smooth out the cuticle and strengthen the hair shaft. Interestingly, you need to apply heat to fight damage. As weird as it sounds, with the help of heat, the cocktail penetrates deeper into the cuticles to improve it from both inside and out. Don't worry; it's an absolutely safe option that will give you salon results for up to 10 washes.
✅ How Can I Repair My Damaged Hair At Home?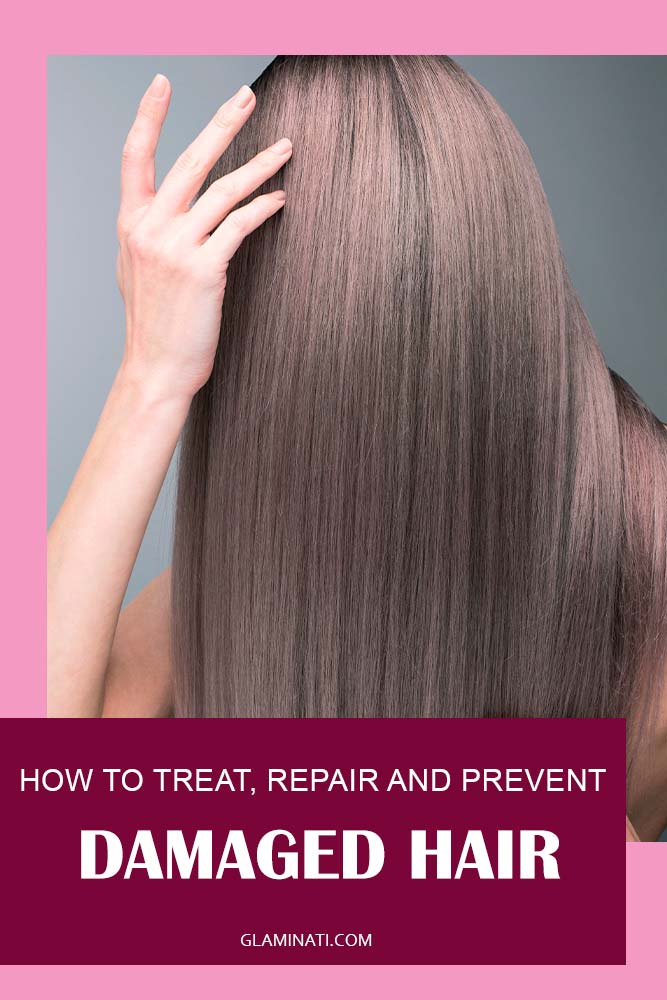 If you don't want to cut off your precious locks and you are ready to give them a chance to recover, these conditioning remedies will be your guide. The good news is, they're inexpensive yet natural and effective!
✅ Does Keratin Repair Damaged Hair?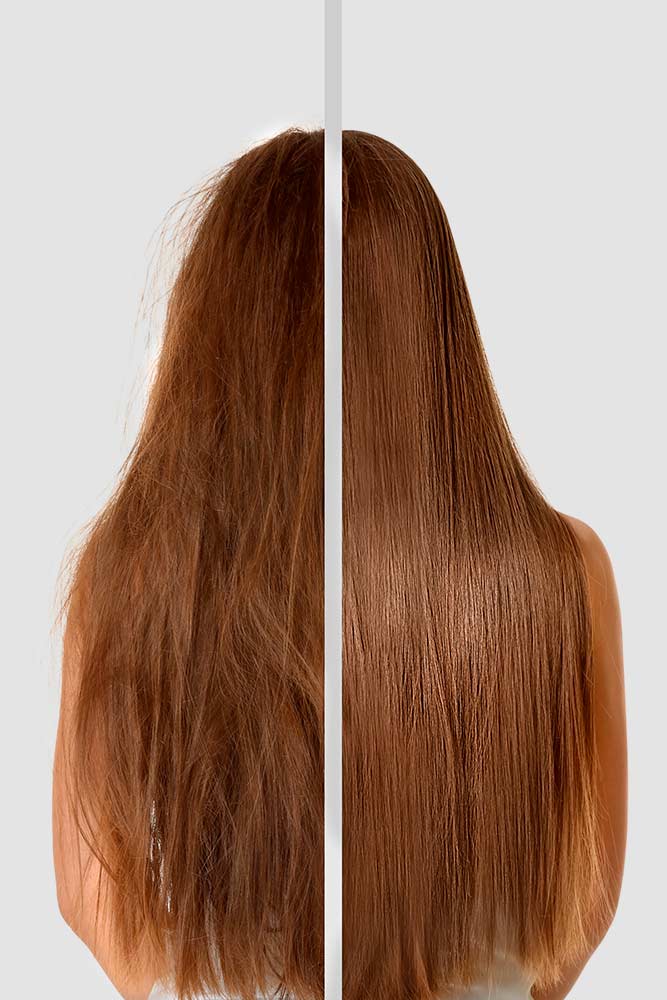 Since keratin is a form of a strengthening protein that you can find in your nails, skin, and hair, it's the most essential element for repairing damaged cells. Apart from strengthening properties, keratin is responsible for flexibility and elasticity in hair. Therefore, once your natural keratin levels decrease, be it the result of an imbalanced diet, chemical processing or aging, your hair will become brittle.
Luckily for those in love with color experiments and heat styling, there is a brand new way to restore keratin levels and thus work on the damage without going to a salon. The keratin treatment system is a complex dose of keratin-based products that give instant and long-lasting results of smoother and stronger hair. Unlike the semi-permanent keratin treatment that you do in salons, the keratin care system provides the hair with a regular dose of the proteins. Plus, it keeps up with your hair's natural texture, whereas the salon service gives a straight, polished look.
✅ Essential Oils To Repair Hair Damage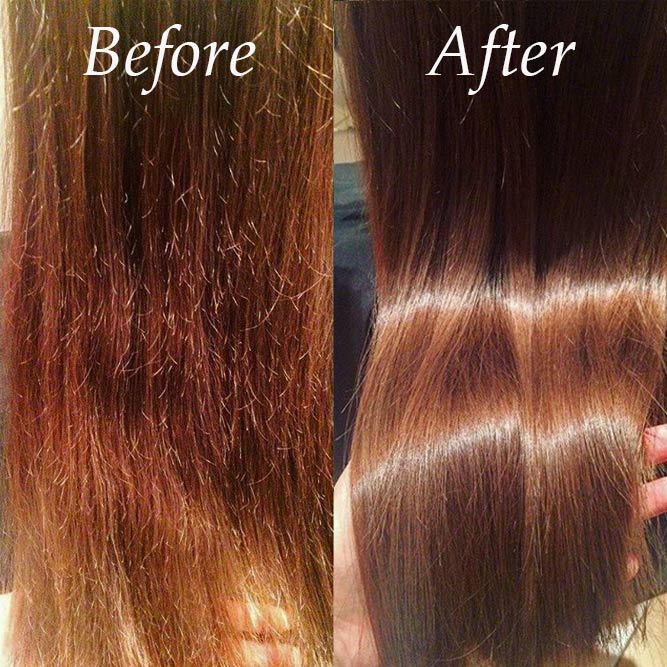 Credit photo: instagram.com/anna_kovalenko_beauty
Essential oils are an excellent way to help repair your hair by restoring moisture and nourishing your hair naturally. Since they penetrate the roots, oils nourish from the inside out. As they contain important vitamins and fatty acids, they can not only repair the previous damages but also prevent further damages.
Olive Oil
Olive oil is good for so many things. It does wonders for your hair as it the best oil to naturally condition your hair. Simply apply a tablespoon of warm olive oil to your scalp and massage in a circular motion. Cover your hair for about 40 minutes with a shower cap and then rinse thoroughly. If your hair is really greasy, wash with gentle shampoo.
Avocado Oil
Avocado oil works great for dry and damaged hair as it penetrates the roots and provides superior moisture to the core. As it contains vitamin E and monounsaturated fatty acids, it will give your hair a healthy sheen and promote hair growth. Simply deep condition your hair with hot avocado oil for at least 30 minutes before rinsing. Or, you can leave it on overnight under a shower cap and wash it out the next morning.
Tea Tree Oil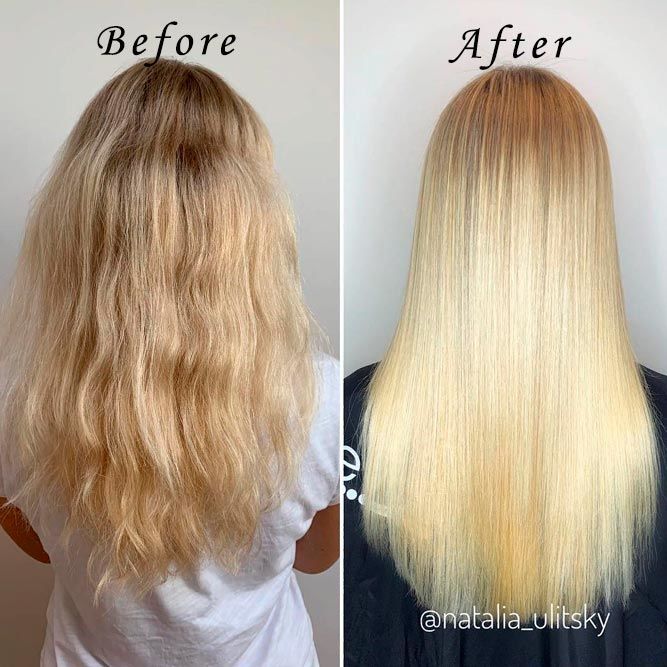 Credit photo: instagram.com/natalia_ulitsky
Tea tree oil is a great way to treat dry, itchy scalp and unclog your hair follicles. Besides, it helps promote hair growth. To use, wash and condition as usual, then towel dry and comb your hair. Put 10 drops of tea tree oil in your hands and apply to your hair, massaging it gently into your scalp in a circular motion. Leave it in and style as usual. Adjust the amount used per the length of your hair as needed.
✅ Homemade Hair Conditioners For Hair Repair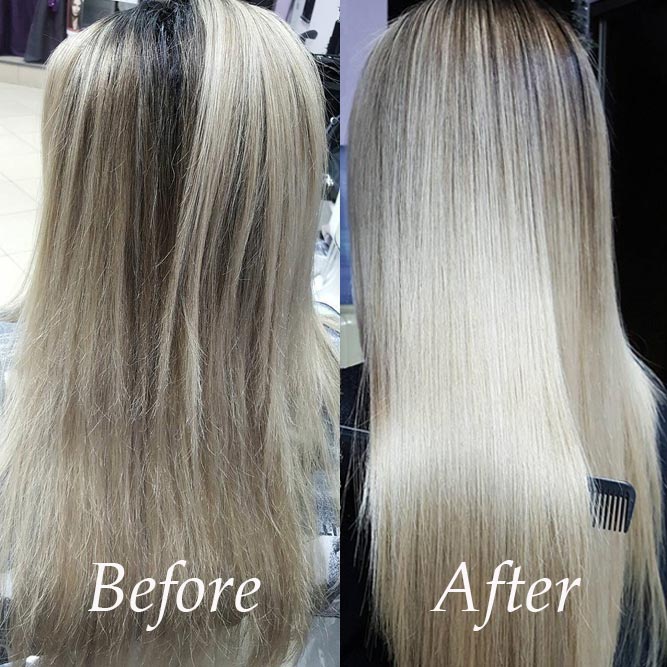 Credit photo: instagram.com/olesya_lav_
These simple homemade conditioners can help restore your dry, brittle hair to its natural sheen. You can apply these 1-2 times a week after shampooing your hair normally.
Avocado And Banana Hair Conditioner
This homemade conditioner will make your hair soft and shiny. Avocado will promote hair growth while conditioning your hair. And banana nourishes your hair naturally and prevents frizz.
Simply peel an avocado and mush it into a paste (use half an avocado for short hair and the whole avocado for longer hair). Next, add half a banana and 2 tbsp olive oil. Mix well. Finally, put the mixture in a blender, add one egg, and blend until soft.
Apply to dry hair. Work through your hair, starting with the top and working down. Do not rub into your scalp. Allow to stay for ten minutes before rinsing.
Egg And Honey Hair Conditioner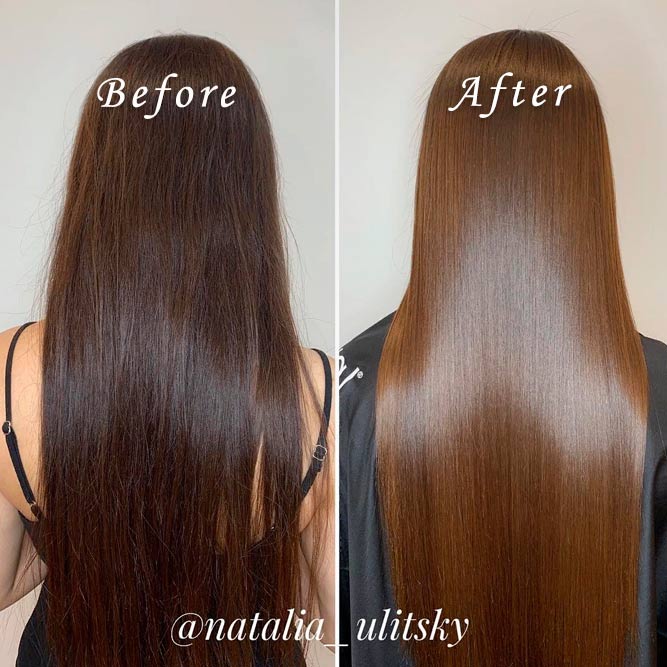 Credit photo: instagram.com/natalia_ulitsky
Eggs contain a great deal of protein, which helps to condition your hair. And honey helps to replace and retain natural moisture in your hair.
Whisk 2-3 egg yolks and then add 4 oz of extra vinegar, 5 oz lemon juice, 2-3 tablespoons of honey, and 8 oz of extra virgin olive oil. Pulse in a blender until it becomes a thick paste.
Apply to the tips of your hair only and allow it to stay for about 15 minutes before rinsing with cold water. Allow your hair to dry naturally.
✅ Homemade Hair Masks To Repair Hair Damage
These homemade hair masks are simple and can help heal your damaged and dry hair. Simply apply at least once a week (but no more than three times), and your hair will be healthy and shiny.
Yogurt And Egg DIY Hair Mask
Yogurt and egg whites make an excellent hair repair mask. This homemade hair mask can help restore years of damage to your locks. Simply beat an egg white until smooth. Then add 6 tablespoons of natural, unsweetened yogurt and blend. Massage onto your scalp and hair, cover with a shower cap and let it stay for half an hour. Wash with mild shampoo and allow the hair to dry naturally.
Banana And Honey Hair Mask
This simple hair mask will work wonders to repair your dry, brittle tresses. Simply mix one egg, 3 tablespoons of honey, 5 tablespoons of extra virgin olive oil and one mashed banana till you have a smooth paste. Apply thoroughly to your hair and let it stay for half an hour before rinsing and washing with gentle shampoo.
FAQ
How do you fix really bad damaged hair?
In case your hair is severely damaged, you can recover it with the help of the following tips:
Incorporate deep conditioning into your hair care routine.

Set your heated hairstyling tools to a lower temperature.

Always apply a heat protecting product.

Before brushing the hair, always apply a detangling product.

Do not put your hair in tight hairstyles, like a top knot.

When you dye your locks, do not neglect pre and after treatment.

Switch your regular pillowcase to a silk or charmeuse one. 

Apply a hair conditioner before combing your tresses.
How can you tell if your hair is damaged?
To find out whether your locks are damaged or not, you should examine them with your fingers. With two fingers, take a strand of hair around one inch wide and slip them toward the tips. Notice what you feel – whether the texture is smooth and even or there are areas that are too palpable. If the latter, then your hair is most likely damaged.
Does damaged hair grow back healthy?
Unfortunately, you cannot recover your damaged hair completely and more so when you have bleached it a lot or styled it heavily. To get healthy locks back, you simply need to allow them to grow. But make sure not to damage them again while growing.
REFERENCES:
If we continue to damage our hair, we may eventually see thinning hair or even bald spots. Source
Hair cosmetics are an important tool that helps to increase patient's adhesion to alopecia and scalp treatments. Source
">Hair care is an overall term for hygiene and cosmetology involving the hair which grows from the human scalp, and to a lesser extent facial, pubic and other body hair. Source
When you feel like damaged hair takes over your routine but have no guts to learn
how to cut your own hair
, natural conditioners come in. While you can't turn the damaged cuticle into a luscious and healthy lock, you can prevent the damage from getting more severe, as well as take care of your hair with hydrating natural treatments.