The use of coconut oil for hair comes with tons of benefits for your mane. This all-natural supplement can make your hair look more gorgeous than ever.
The studies of coconut oil suggest that it is one of the healthiest foods on the planet containing tons of necessary vitamins and microelements. And it can be used not only as a food supplement but also as a beauty supplement.
Coconut oil for skin if applied properly can make you look much younger, and who wouldn't want to achieve such an effect?
Advantages of Using Coconut Oil for Hair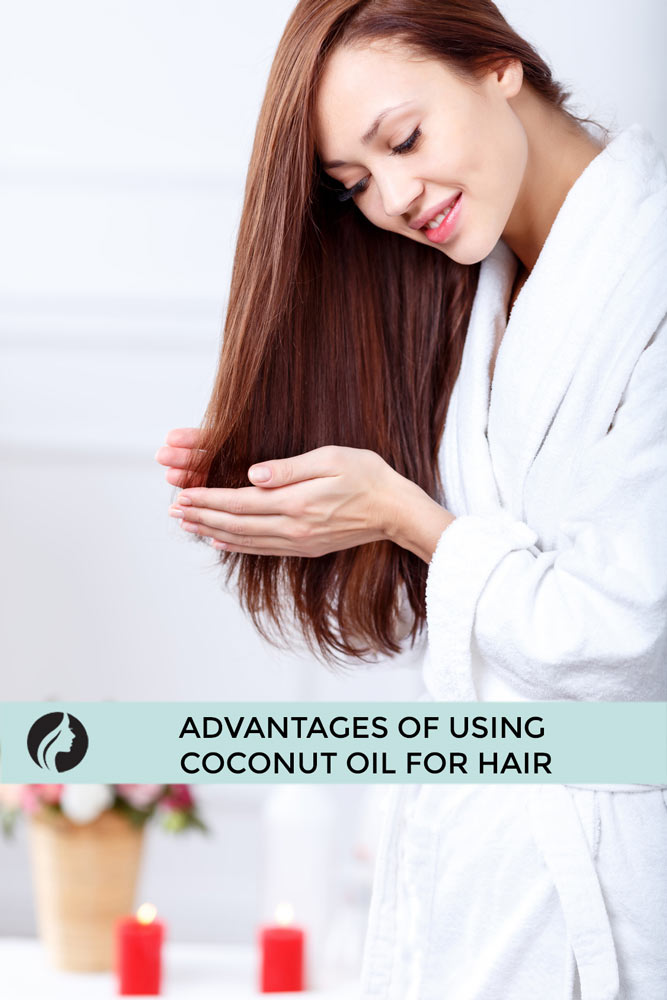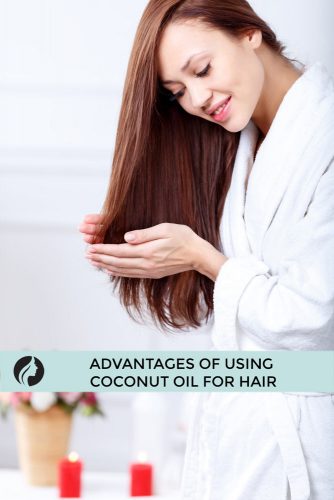 Coconut oil is becoming more and more popular, and it's not surprising. Its benefits are numerous, especially for hair, as it can create wonders with it. Such oil can be used as the hair moisturizer; it can help speed up the hair growth, can be used against dandruff and much more.
You can easily moisturize the hair by applying some small amount of this wonderful oil to your scalp, but before you do so, make sure that it's melted. It might take some time, so make sure you are not in a rush and can devote some time to your hair treatment as the longer you leave it on your hair, the better effect you would have. After that shampoo your hair to remove the oil and enjoy your new look.
If you have problems with dandruff, this magic oil can do wonders. No need to buy super expensive shampoos to fight this problem. All you need to do is to use coconut oil to help your scalp. Melt the coconut oil, then apply it gently to your scalp and some hair ends and, for the best result, wrap it up in a towel and leave it for the night. Wash your hair in the morning. After you do it regularly, you'll see all your problems with dandruff disappear.
You can also use coconut oil for hair growth and for hair protection from the sun. The procedure is basically the same: melt the oil, apply it gently to your mane and wait for some time (the longer, the better), after that you can wash your hair with your regular shampoo.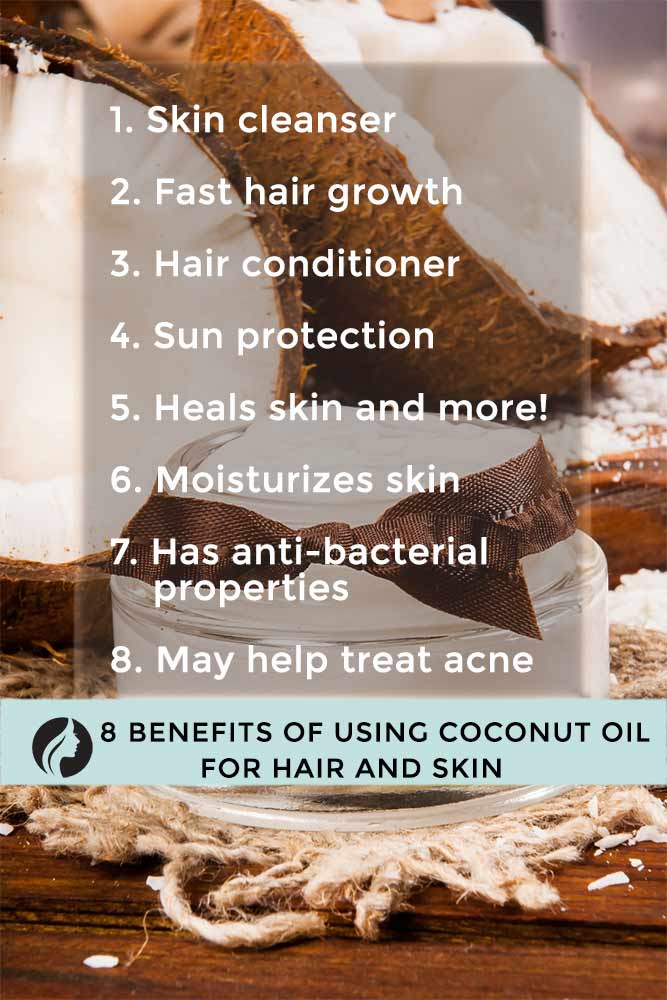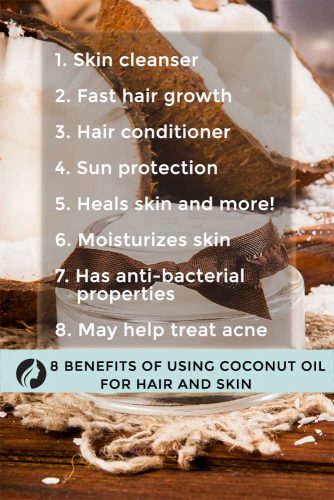 Some Disadvantages of Using Coconut Oil for Hair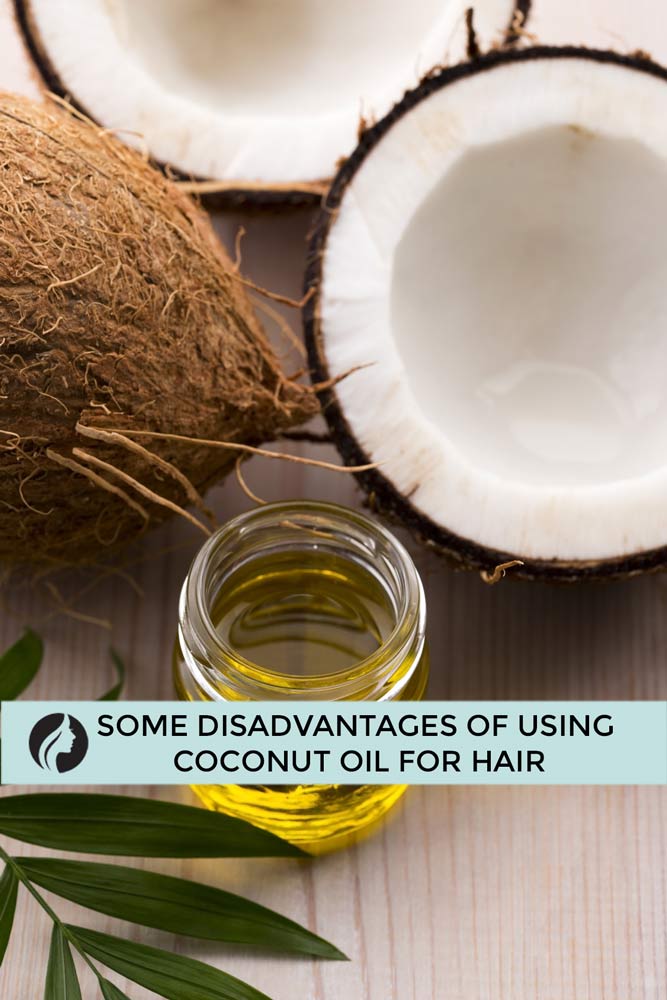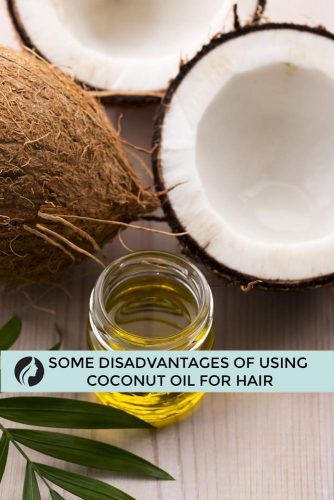 Hair gets damaged because of a number of reasons; some of them are poor diet, over shampooing, lack of vitamins, etc. And so, the use of coconut oil for hair seems to have lots of advantages, but does it have some disadvantages? Well, it does.
It shouldn't be used for every hair type. If you have coarse or dry hair, the use of coconut oil might not bring the desired effect. You might benefit more from using other types of oils, like argan oil.
If you are allergic to coconut, then you should avoid using the oil as it might bring you more harm. Also, if you do use the oil, don't put it too much. In this case, the formula, the more, the better, isn't going to work.
You can also mix the coconut oil with some other oils to achieve better results. It can be mixed with olive oil, argan oil or marula oil. So, if you notice that coconut oil doesn't give you the effect you longed for, try to be more experimental and mix it up with some other oils, and don't forget that it's better to apply a small amount of it, especially if you are just trying things out.
Hair Mask on the Basis of Coconut Oil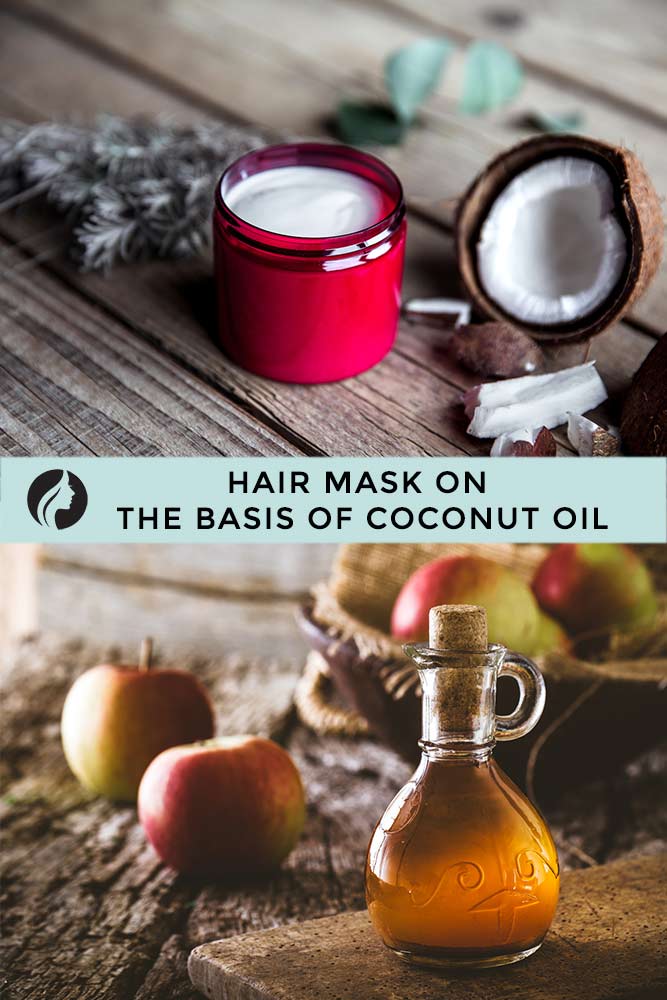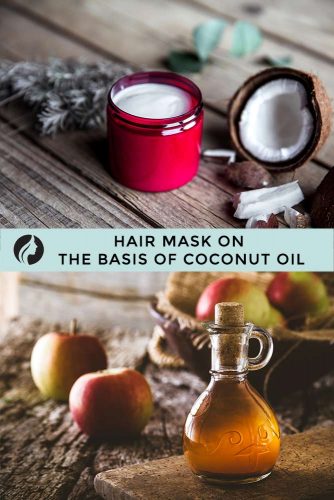 So, instead of using pure coconut oil, you could use it as a basis for making a hair mask. And here's how you can do it. You'll need two tablespoons of coconut oil, a tablespoon of honey and a tablespoon of apple cider vinegar. First, melt the coconut oil and add honey to it; next – add the apple cider vinegar. Mix up all the ingredients really well.
After that, you can apply the hair mask starting at the roots and then slowly moving up to the tips of the hair. You can either apply the mask by using hairbrush or comb or with the help of your fingers if it's easier for you to do it this way. Let the mask sit for 20 minutes. And then wash your hair, preferably with some natural shampoo. There's no need to apply hair conditioner. Such mask is especially useful if your hair looks too dull or overly dry.
How to Wash Coconut Oil Out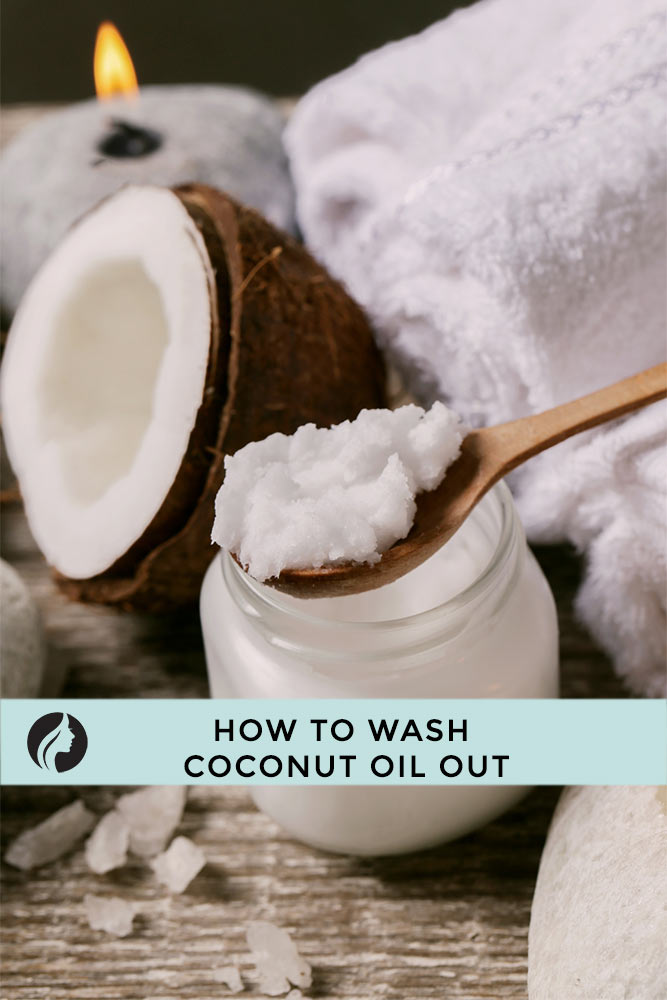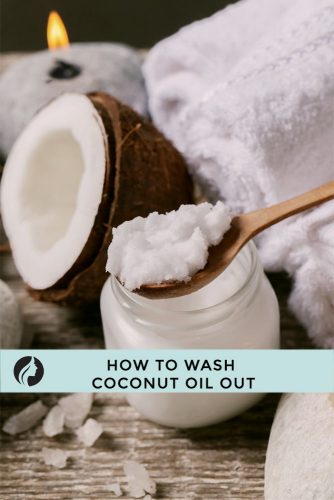 After applying coconut oil to your hair or doing some masks based on this ingredient, you might wonder about what type of shampoo is better to use to wash the oil out of hair. Well, it pretty much depends on your hair type. If you have dry hair, you might wash it out pretty easily with your normal shampoo. Though it's always better to use shampoo with more natural ingredients. If you feel that the oil isn't completely washed out, you might apply a small amount of hair conditioner. Also, make sure that you rinse your hair well.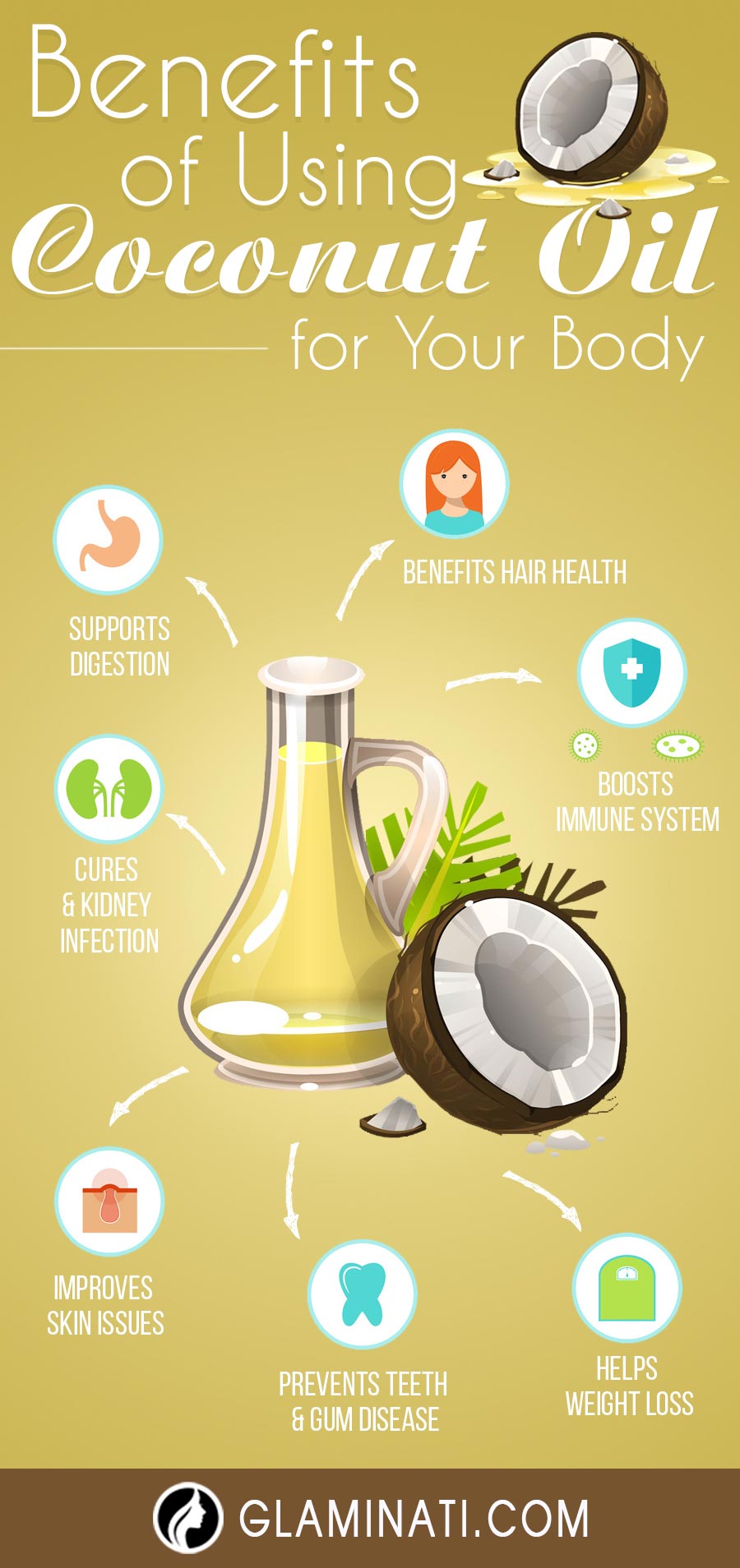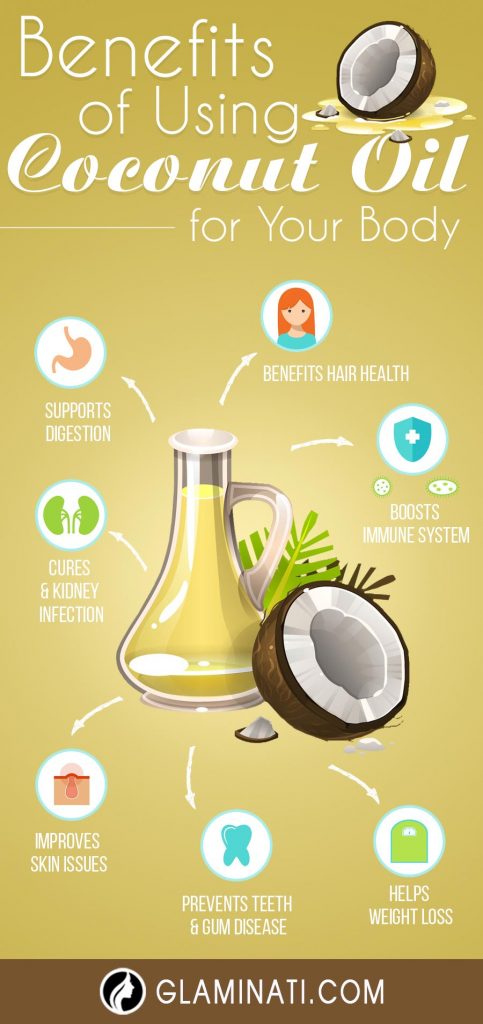 If your hair is rather greasy, it might be harder for you to wash the oil out properly. One of the ways to do it is to apply the shampoo two or three times on your hair until you feel that your hair is thoroughly clean. But you might also want to try some natural ways of washing it out. One of such ways is to use an egg. Simply mix two tablespoons of water with the egg and massage it gently into your scalp. Leave it for up to 10 minutes and rinse it with warm water. Eggs have lots of protein and vitamins, and so can not only remove the oil but also nourish the hair and add shine to it.
FAQ: Coconut Oil For Hair
How do you apply coconut oil to your hair?
Put a small amount of coconut oil in a bowl or a cup.
Microwave for around 20 seconds to melt the coconut oil.
Examine the coconut oil to see whether it is soft but not fully liquid.
Massage the coconut oil into your scalp with your fingers.
Do you apply coconut oil to wet or dry hair?
After shampooing and conditioning your hair, apply the coconut oil to damp hair as a final nourishing treatment. When you apply coconut oil to wet hair, it gives it an extra dose of hydration and keeps it soft and lustrous all day.
Does coconut oil make hair straight?
Hot oil treatment improves the absorption of oil into the hair, making it softer and straighter. Just heat the coconut oil and apply it to the hair. If you need to soften and straighten hair, mix one tablespoon of honey with one cup of milk.