What do the best black boys haircuts look like? While most answers will differ depending upon your personal taste and preferences, a few things remain unchanged. These boys haircuts are neat, trendy, and easy to maintain. Considering the mentioned criteria, we have chosen the fittest ideas to fit the description and make your life easy once again. No matter the style, length, or complexity you find acceptable – there is an excellent option for each and every one of you. Dig in!
*We may earn money from affiliate links on this page. Please check out our disclosure policy for more details.
Short Twists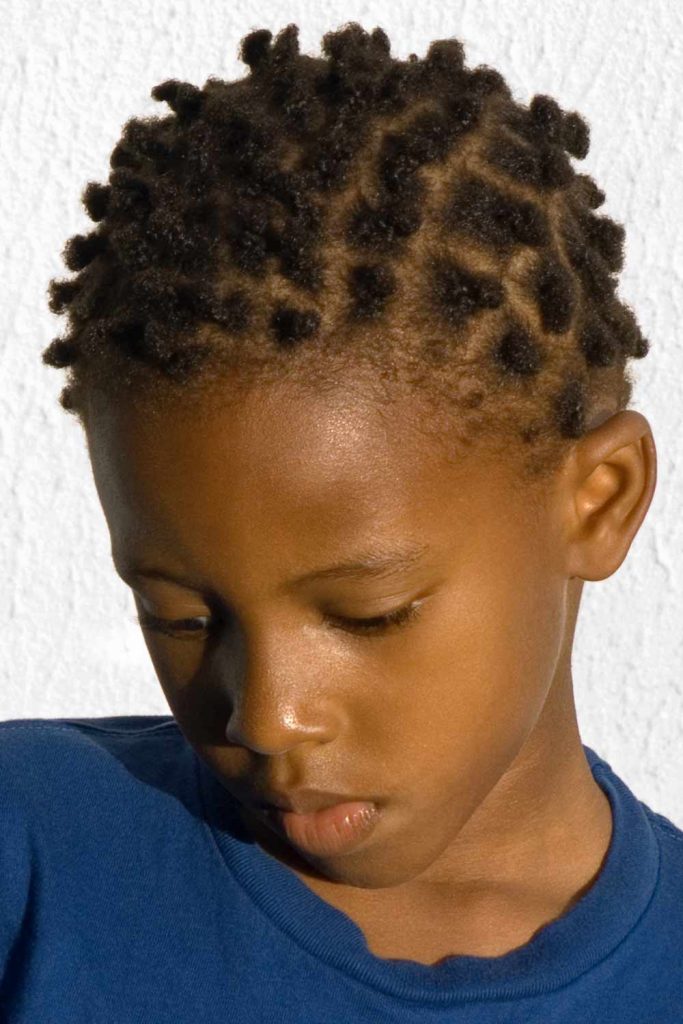 Some blackboy haircuts will take a fair share of time and patience to be over with, but the lasting result and low maintenance levels will pay double for the spent effort. In case it is something you are interested in – short twists are there to consider. Should we bring out the fact that the style is on the edge of popularity at the moment?
Medium Voluminous Curls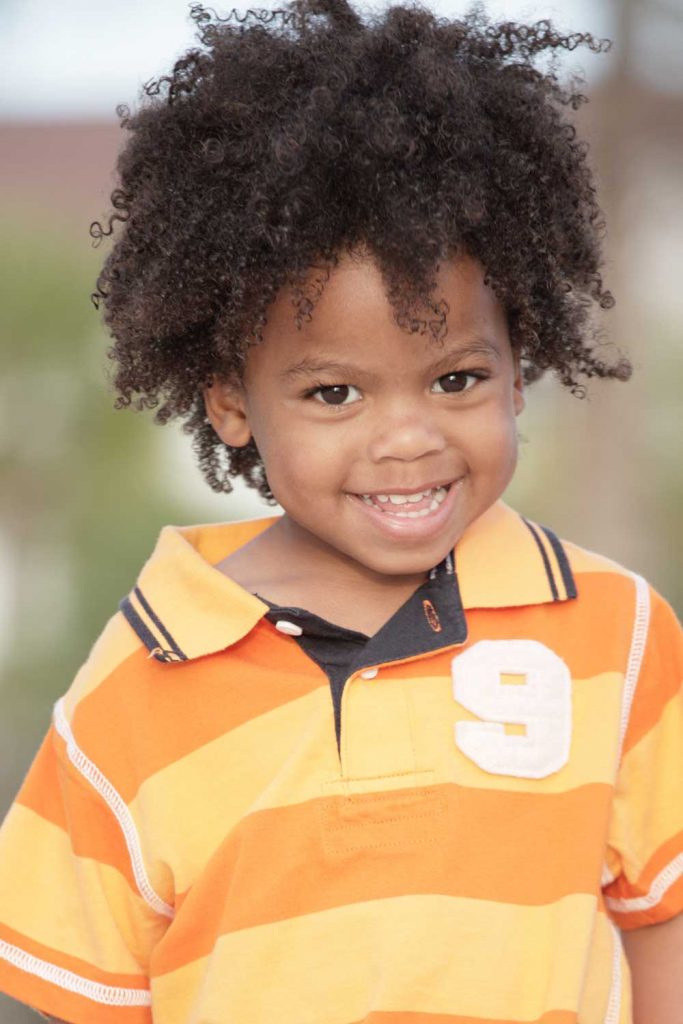 A great variety of blackboy hairstyles is super easy to succeed with. If your little man has such gorgeous curls like these – let them grow out. Occasional trims to get the hair out of his eyes are the primary care routines to consider.
Skin Fade with Short Curly Top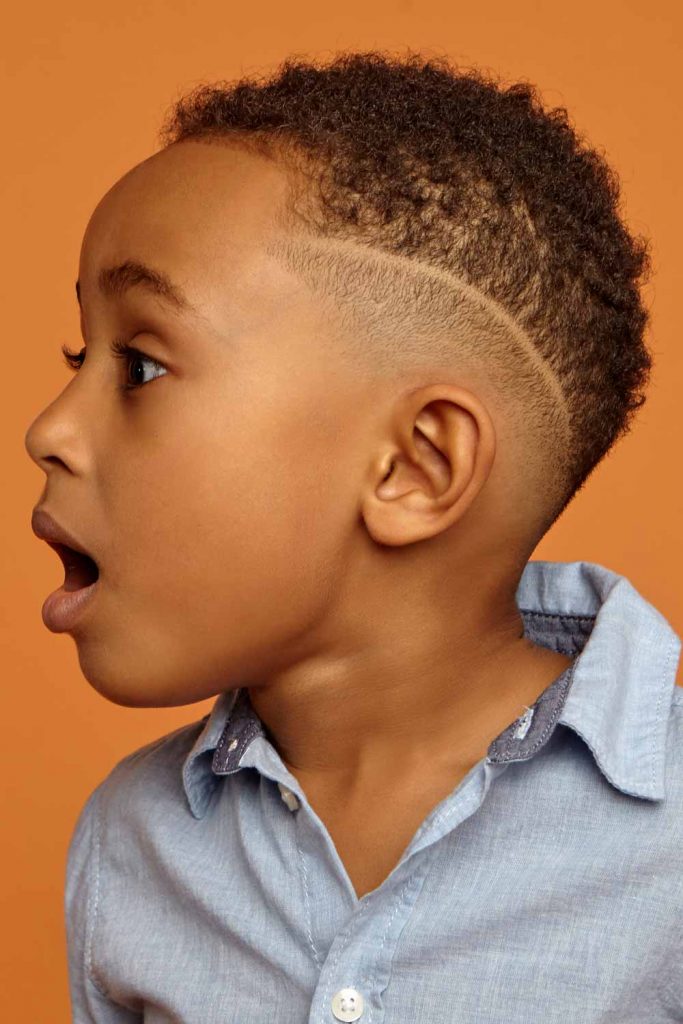 When looking for the best little black boys haircuts, you must think about the level of activity of the guy. An energetic and playful boy may benefit from a neat skin fade paired with a curly top. To spice things up a tad more, you can introduce a shaved detail to enhance the contrast.
Lined Up Taper Fade Black Boys Haircuts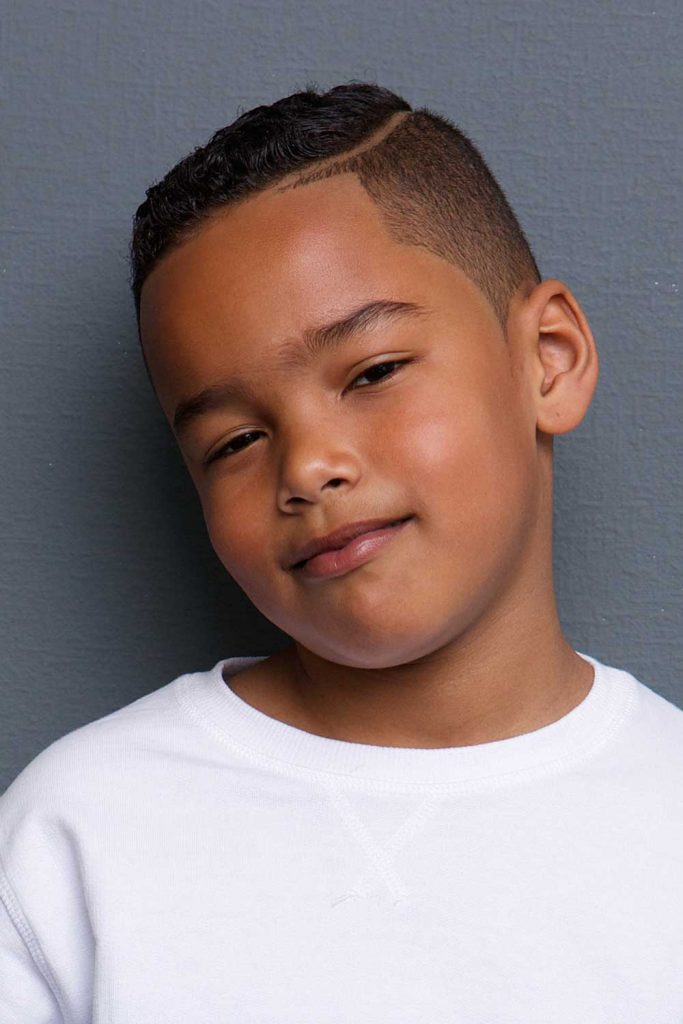 As your little one grows older, it may become a bit challenging to choose from the plethora of available haircuts for boys black. However, considering the style and personality of your boy, it's safe to suggest a lined-up taper fade. While the style is basic at its core, it is utterly effortless to look after. Besides, the shorter the fade, the more time you have to schedule another barber's appointment.
High Flat Top with Undercut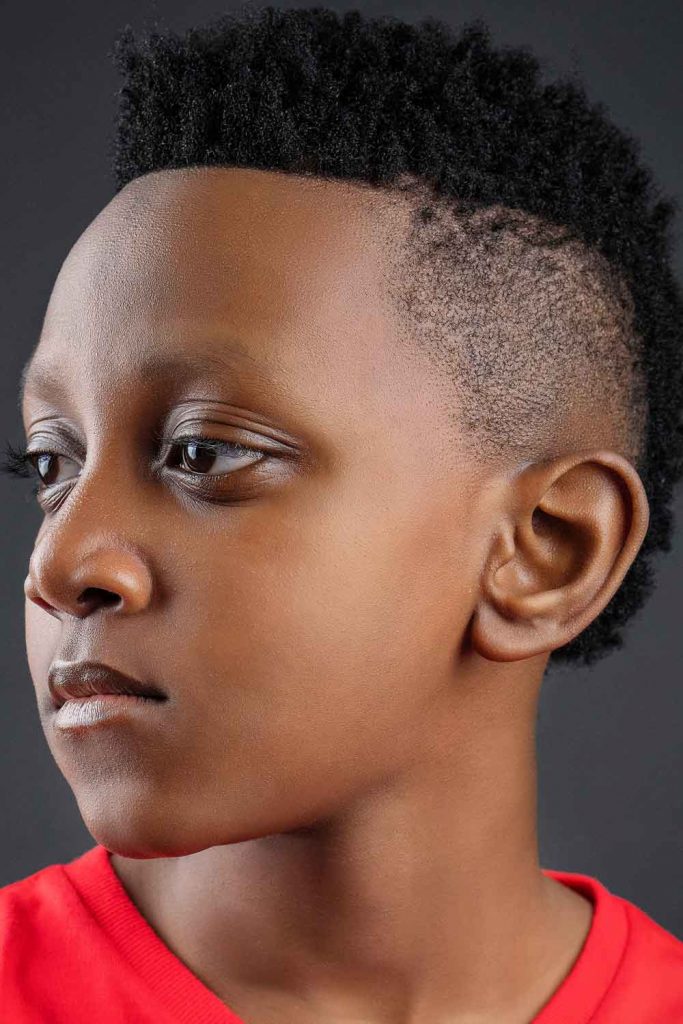 Blackboy haircuts for medium hair vary greatly, but if you are curious about something straightforward yet unique, a high flat with an undercut may be it. While the top crowns your boy's head, the shaved sides will take away unnecessary styling efforts.
Medium Hair Length Afro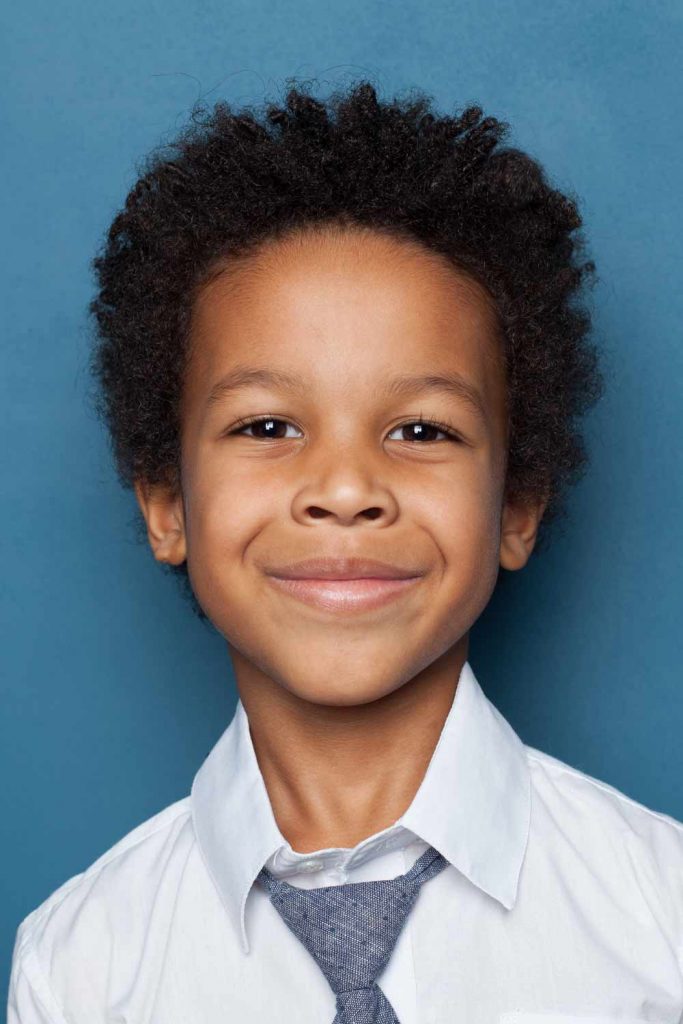 Little boys haircuts black that boost confidence are many, but not all of them evolve around the natural hair texture. Should you be willing to showcase those amazing Afro curls and emphasize your little one's individuality, a mid-length afro is a perfect choice. Yet, you must trim the ends frequently to prevent end splitting, and proper hair nourishment is critical.
Super Short Curly Cut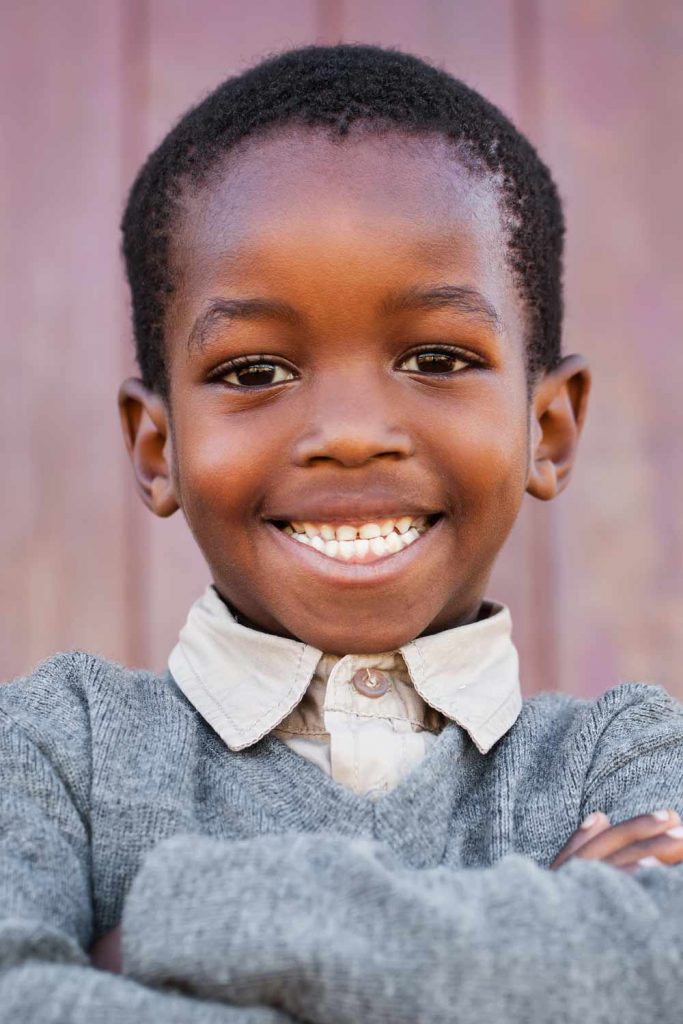 There is nothing wrong with keeping your boys haircuts black short. You may not want to go full-on buzz cut, but a neat taper style is a variant to explore. While being super-low in styling, the cut projects individuality and creativity. Besides, active lads will also find it to their taste and advantage.
Dreadlocks Hairstyle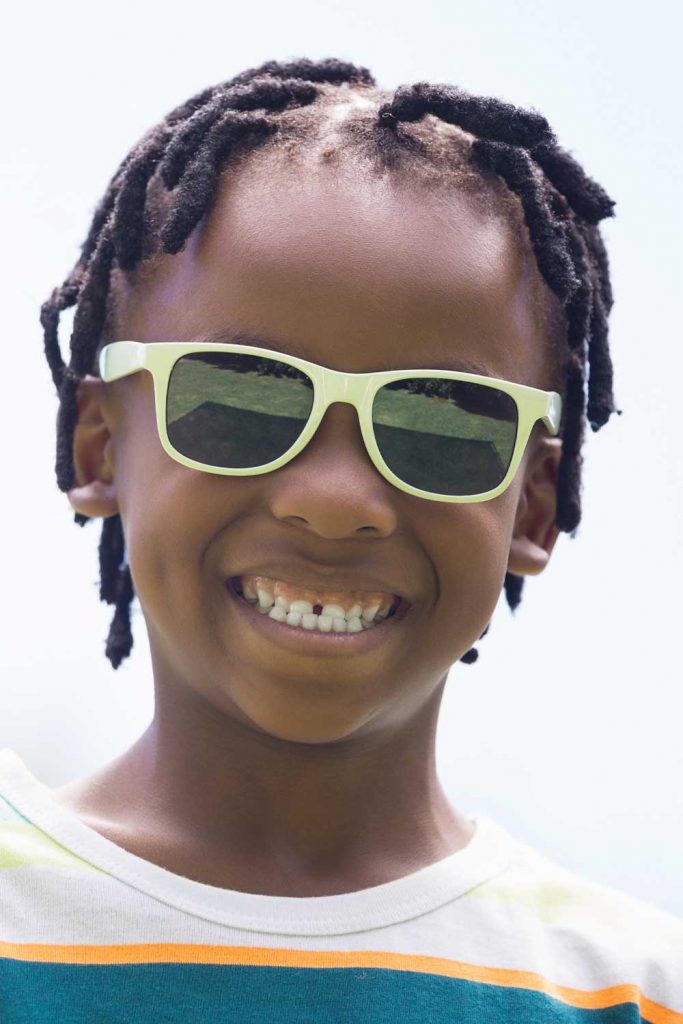 Blackboy haircuts are ultra-versatile, and we don't tire of repeating that. In case you are all in for something extra-stylish and bordering with something daring, dreadlocks are there to brood upon. Contrary to popular opinion, the style no longer bears limited 'rasta' flair. Instead, it comes with modern appeal and leveled edginess.
Short Blond Afro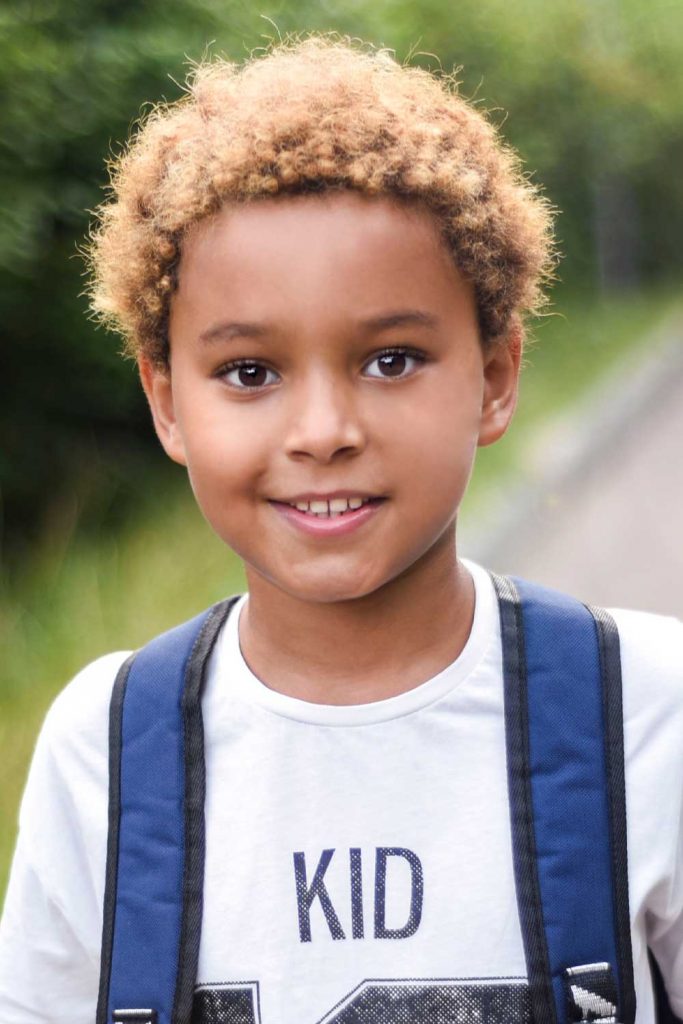 Black little boys haircuts don't rule out stylish dyeing. If your boy wants to explore lighter hues, why not give them a try? Honey blonde curls look gorgeous due to the depth that the texture embraces ideally.
Box Braids Style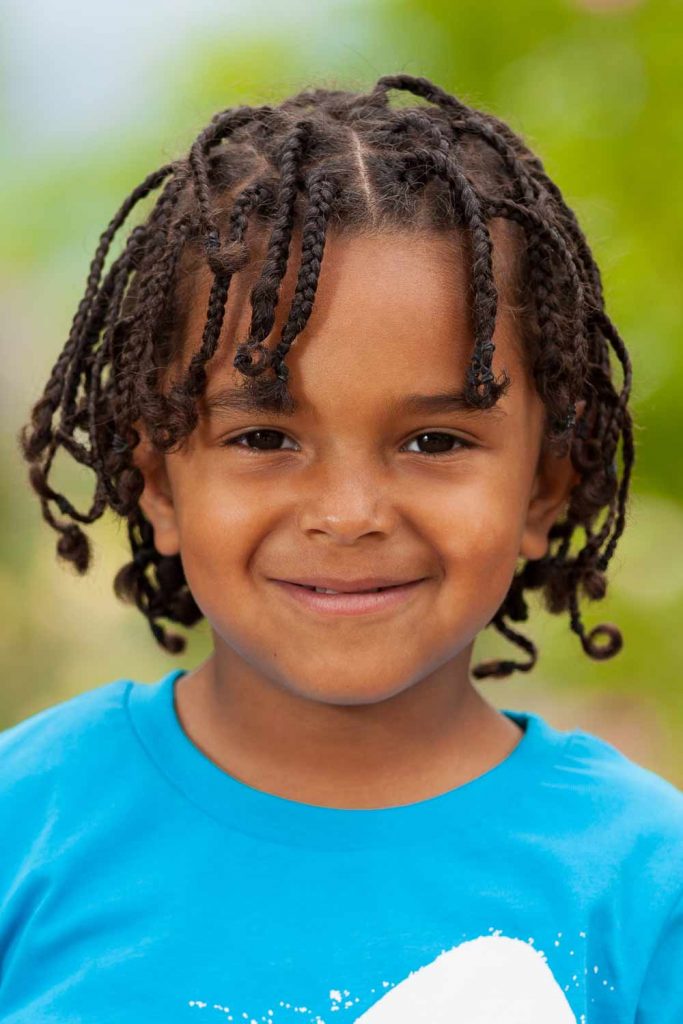 Some haircuts for little black boys offer a lot of room for experimentation. For instance, you can succeed with stylish box braids even if your boy's hair isn't long enough yet. All it takes is to implement the add-ins of the desired length and braid them in. Moreover, box braids are more lasting than other looks. On average, the style can hold in place for around 6-8 weeks which seems a fantastic option for active boys and busy parents.
Medium Twists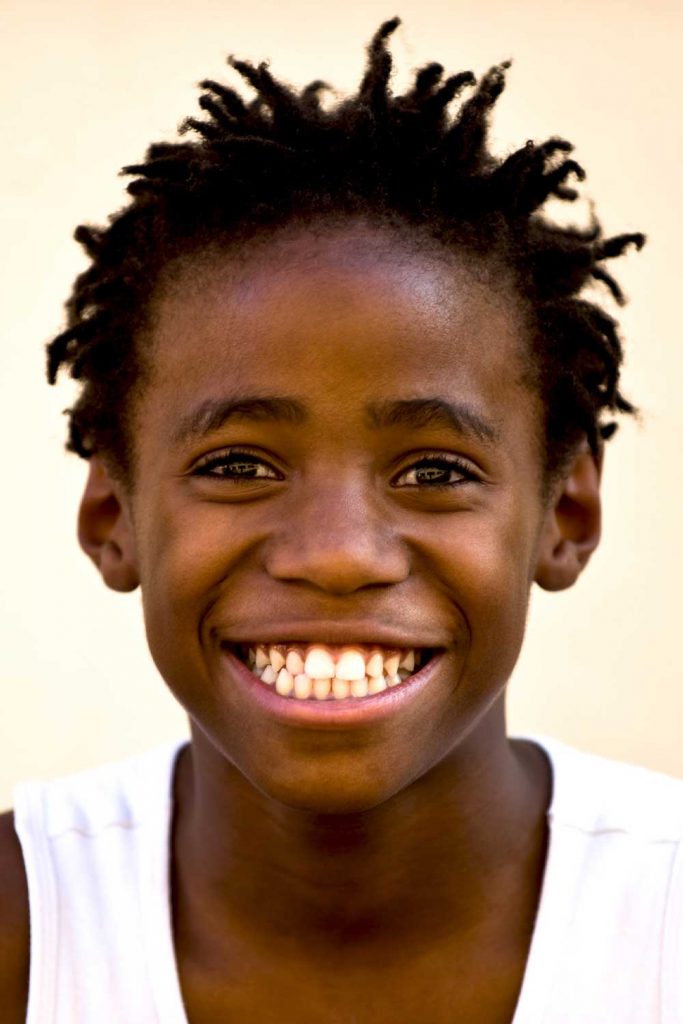 The range of impressively popular black boy haircuts can't go without medium twists brought to the light. The style spreads that necessary confidence and style that teen boys crave. Besides being a protective cut, it secures the hair from unwanted damage and split ends.
Buzz Cut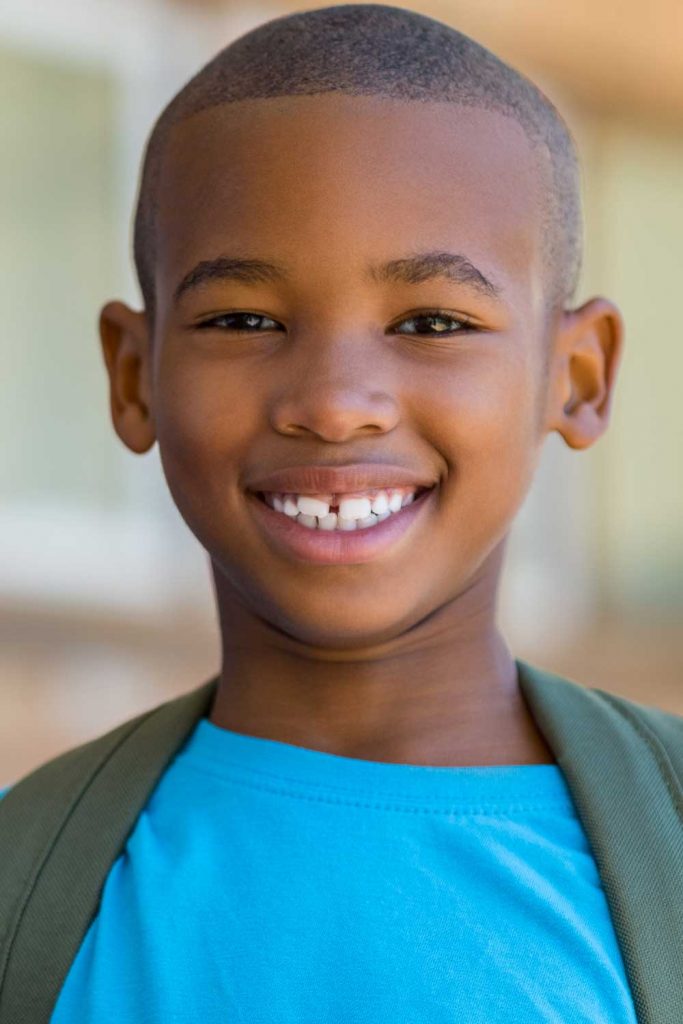 Sometimes a simple look is all your boy asks for. Should that be the case, a buzz cut is there to benefit from. A talented barber can skillfully outline the face shape so that such simplicity highlights the features and brings personality to the front.
Short Curls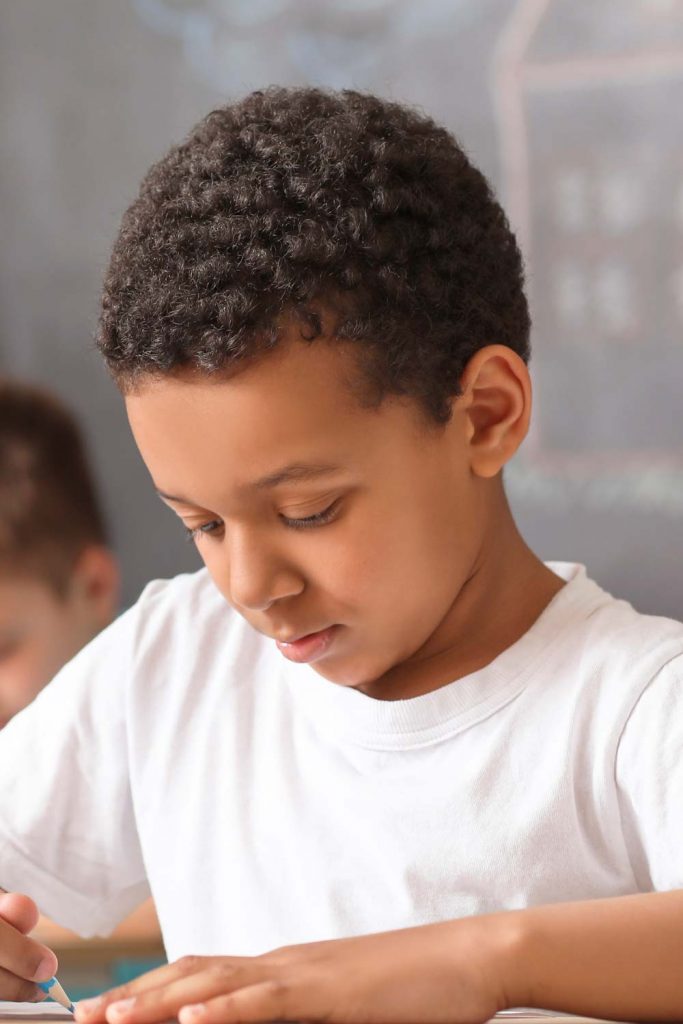 Very often, the natural texture of your little one's hair can dictate the best cut to follow. If your boy has a pretty curly mane, ask your barber to define those short curls well. Starting off as short as possible, you can let the style grow out without frequent visits to the barber's shop, and that is a benefit no one treats lightly.
Medium Twists Hairstyle
There's an undeniable casual pull about medium twists that we can't describe in detail. You can experiment with the length and thickness of those twists and figure out the best combo that suffices your boy's lifestyle. On top of that, the thinner the twists are, the more options on how to style them you will have at hand.
Long Loose Curls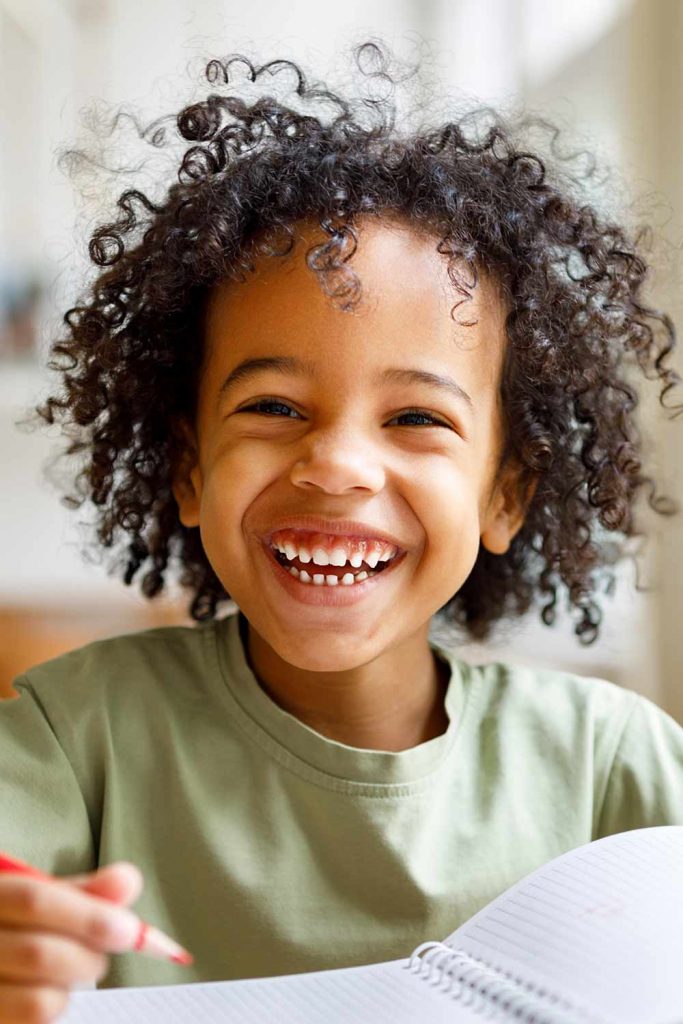 Some trendy blackboys haircuts are clearly overrated. The thing is that boys with such cute loose curls need occasional trimming to rid of the split ends. Those fascinating curls' form and shape will define themselves best without tiresome modifications. If your little one enjoys longer hair, this may be the path to follow.
Cornrows with Top Knot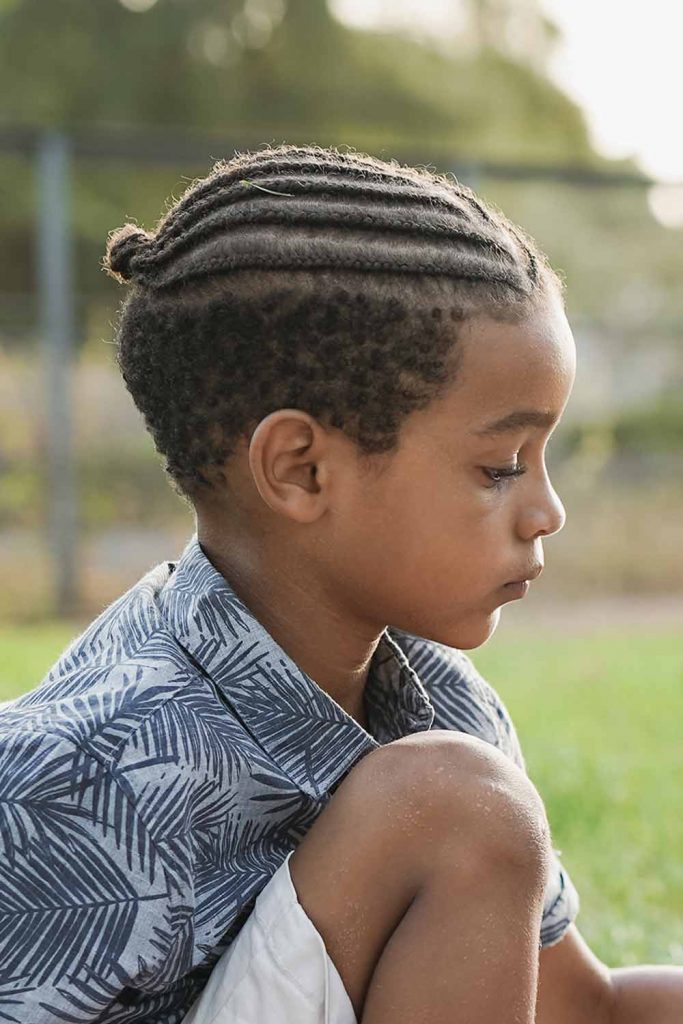 Longer haircuts for black boys may not seem the fittest option when the summer hits with its full blast. However, there is a simple loophole to consider. Gather the longer top into neat cornrows and form a tight bun of loose braids. Clip the back of the head neatly to save your boy from the heat and call it a day.
Curly Mullet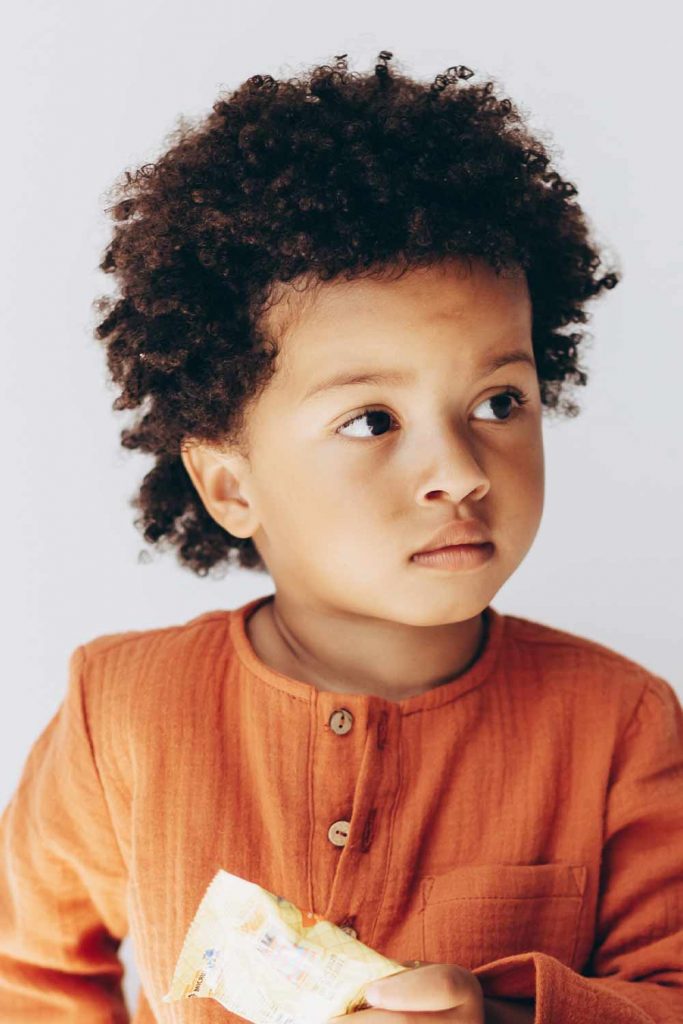 Mullets are all the rage at the moment, yet barely anyone can consider them as suitable hairstyles for black boys. We are here to tell you that mullets and tight natural curls make a powerful totem, and you should at least consider embracing the look.
Fade + Curly Mohawk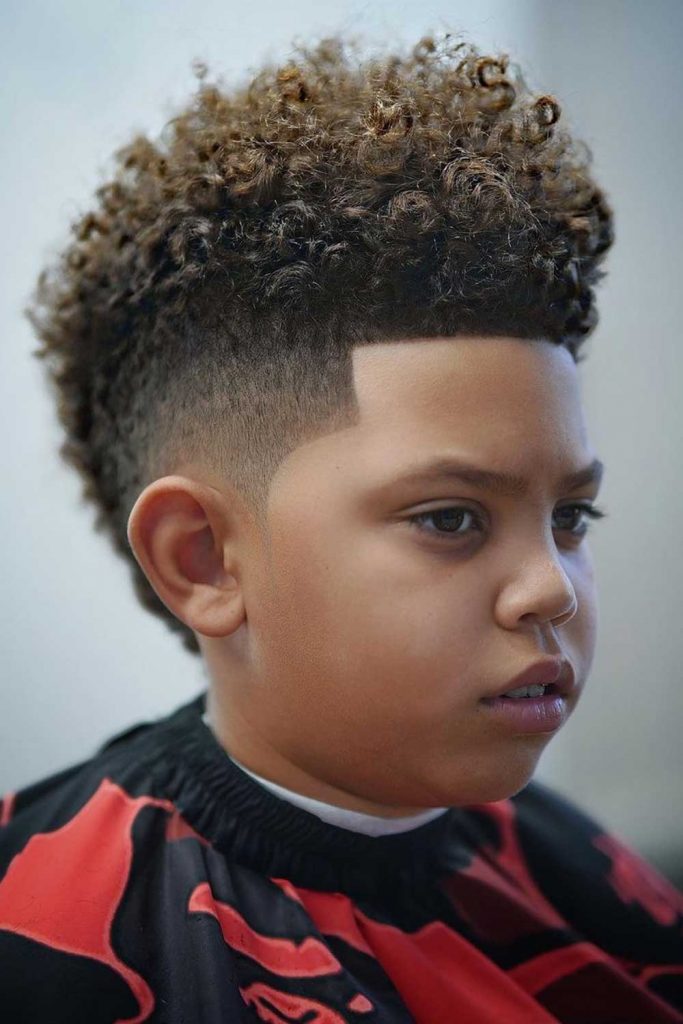 Credit photo: Instagram.com/nickthebarber
When searching for the edgiest black kids haircuts of the season, you must at least consider a trendy mohawk. It turns out that the style works perfectly on curly hair, enhancing the natural texture. Besides, pairing it with a neat fade can introduce some more definition and a slightly daring vibe.
Short Curly Top With Hair Tattoo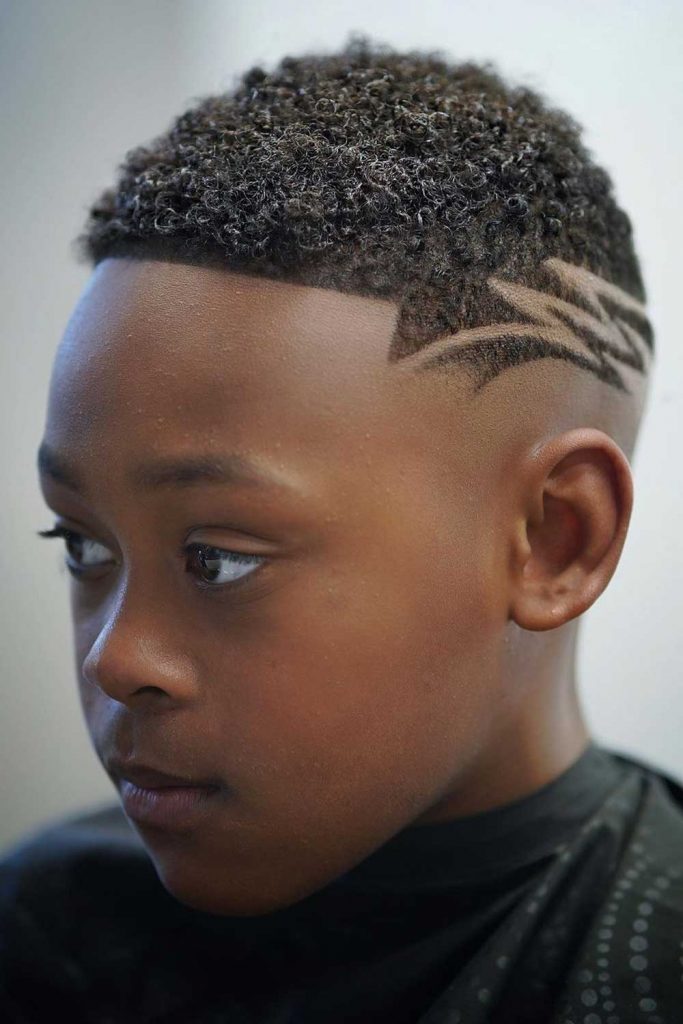 Credit photo: Instagram.com/nickthebarber
It is not enough to familiarize yourself with all the trendy blackboy hairstyles available at the moment to pick the best one. You must attend to your little one's needs and preferences. The chances he will love a simple curly top paired with a unique and cool hair tattoo are impressive. This is an excellent variant to adopt if your boy likes to stand out.
Low Fade Black Boys Haircut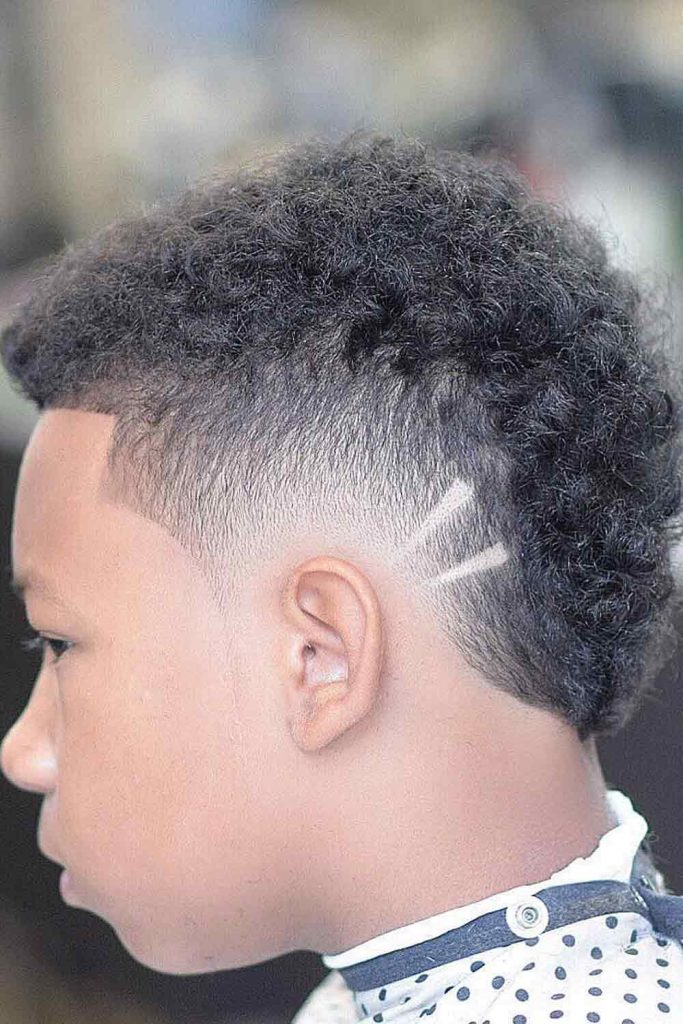 Credit photo: Instagram.com/sirpaulcharles
Blackboy haircuts don't have to be utterly complicated and challenging to style to be noticeable and unique-looking. All it takes is to ask the barber for an elegant low fade and adorn it with an ultra-stylish Frohawk.
Black boys haircuts are impressively versatile in their number and style. You can find a haircut that suits your boy's activity level, personality, and taste, not to mention hair length. Plan your next visit to the barber shop fully prepared with this ultimate haircut collection!
FAQ: Black Boys Haircuts
How to take care of black men's hair?
Black men's hair requires a precise care routine, which is different from other textures. You should better refrain from washing your locks daily. Seek sulfate-free shampoos, and don't forget to condition your mane correctly. Additional moisturizing products are welcome as well. As to the styling routine, try not to expose your hair to harsh elements and wear protective styles every now and then. Don't forget about a healthy diet!
When can black boys get a haircut?
According to African American traditions, the first cut is carried out before the child turns 1. However, it's been mentioned that if you cut your kid's hair before they turn 2, the texture will be coarser, and the curls will be tighter.
What are the new black boys' haircut trends?
The season has brought new favorites into the list of black boys' trends. You may want to focus on stylish fades, mohawks, loose curls, hair tattoos, mullets, twists, and braided looks to achieve the most fashionable outcome.