Ladies, get ready to make a statement with taper fade women's haircuts! We are thrilled to introduce you to this trendsetting and edgy look that's taking the fashion world by storm. Gone are the days when fades were just for men – this captivating style is all about empowering women to unleash their inner fierceness!
In this post, we'll explore the versatility of Taper Fade cuts, how they can complement your unique features, and the confidence they can instill in you. Whether you're looking for a low-maintenance yet chic haircut or a bold transformation that defies norms, the Taper Fade has got you covered.
What's The Difference Between A Fade And Taper?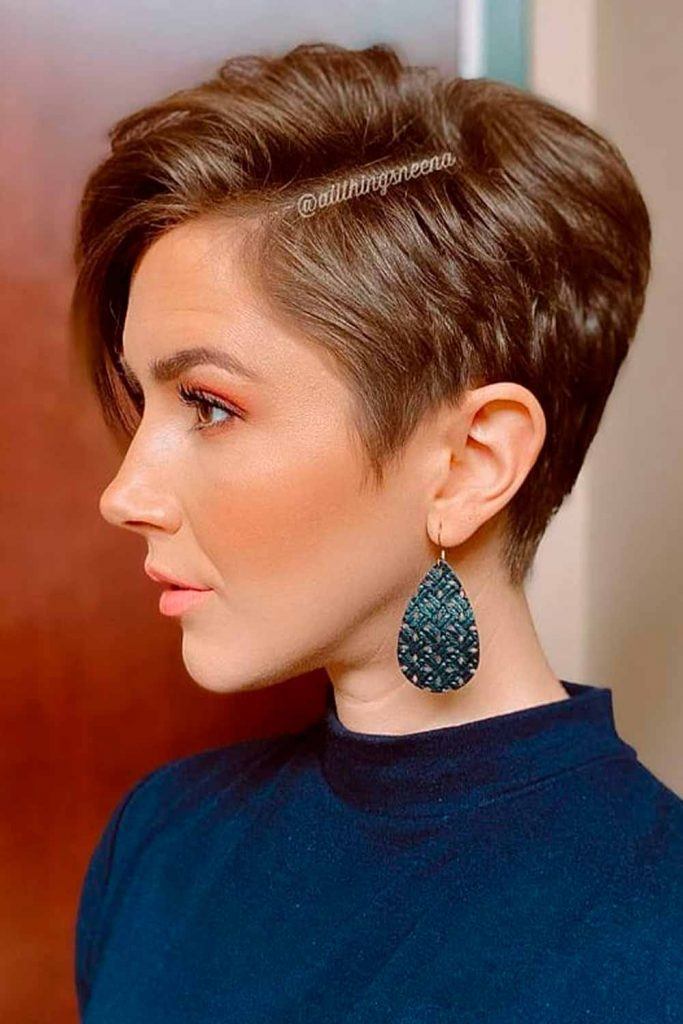 Credit photo: instagram.com/allthingsneena
Tapered haircuts feature longer tops and shorter backs and sides with the length decreasing gradually. And fade haircuts tend to lose the length more drastically, having practically no hair on the sides and back. Sometimes stylists incorporate both elements into one haircut that is then called a taper fade.
These are kinds of tapers: short tapers, faint, long tapers, long crown.
Fades can be bald, low, mid, and high.
And taper fades are divided into temp fades, undercut fades, and side part taper fades.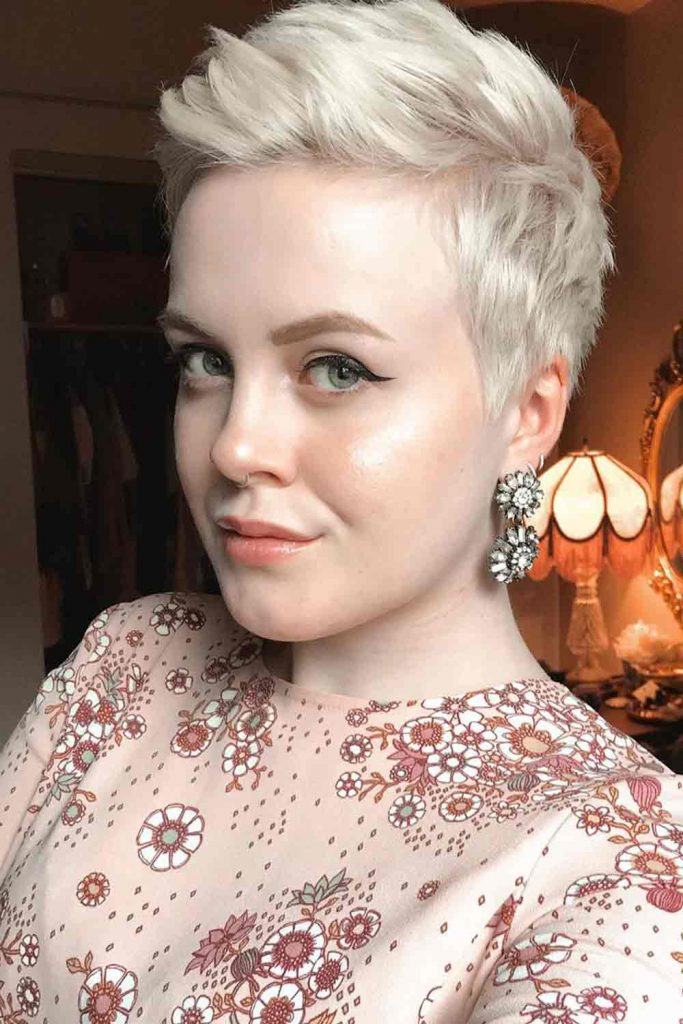 Credit photo: instagram.com/sarahb.h
What Looks Better Taper Or Fade?
Can You Get A Taper And A Fade?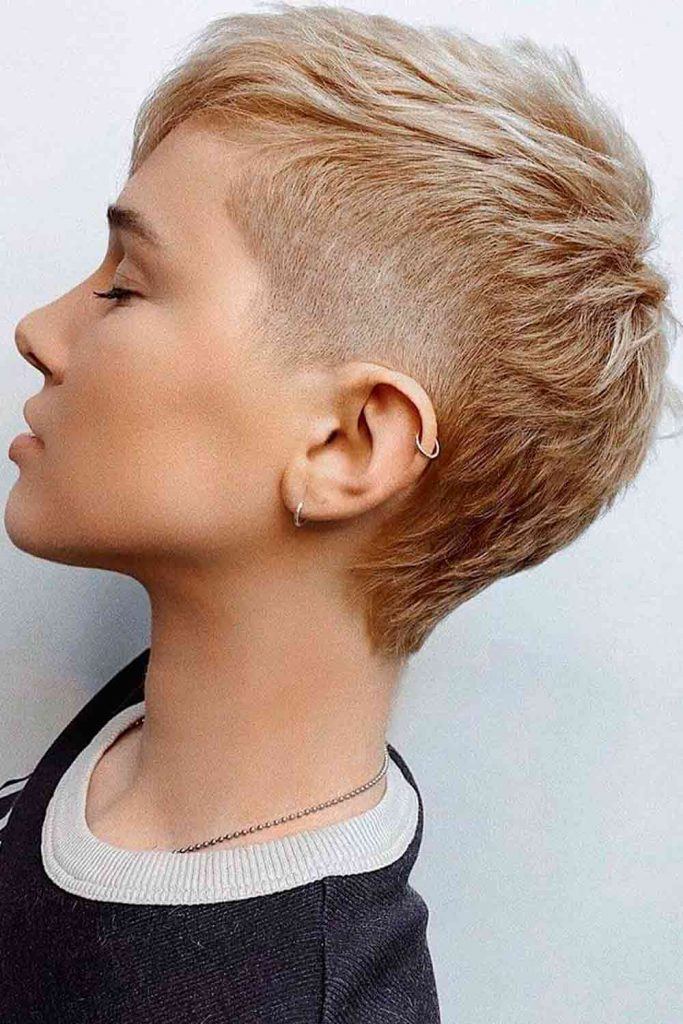 Credit photo: instagram.com/sergstyles
If you are thinking about a seamless mixture of a taper and a fade cuts, then you would need to ask your hairstylist to give you a taper fade cut. The distinctive feature of a taper fade women's haircut is that flawless transformation from longer top to shorter sides and back of your head. It needs to be added that despite such a simple explanation and easy to understand the definition, the number of taper fade cuts is close to being unlimited, and we are going to prove that as we move on.
How Long Does A Women's Taper Haircut Last?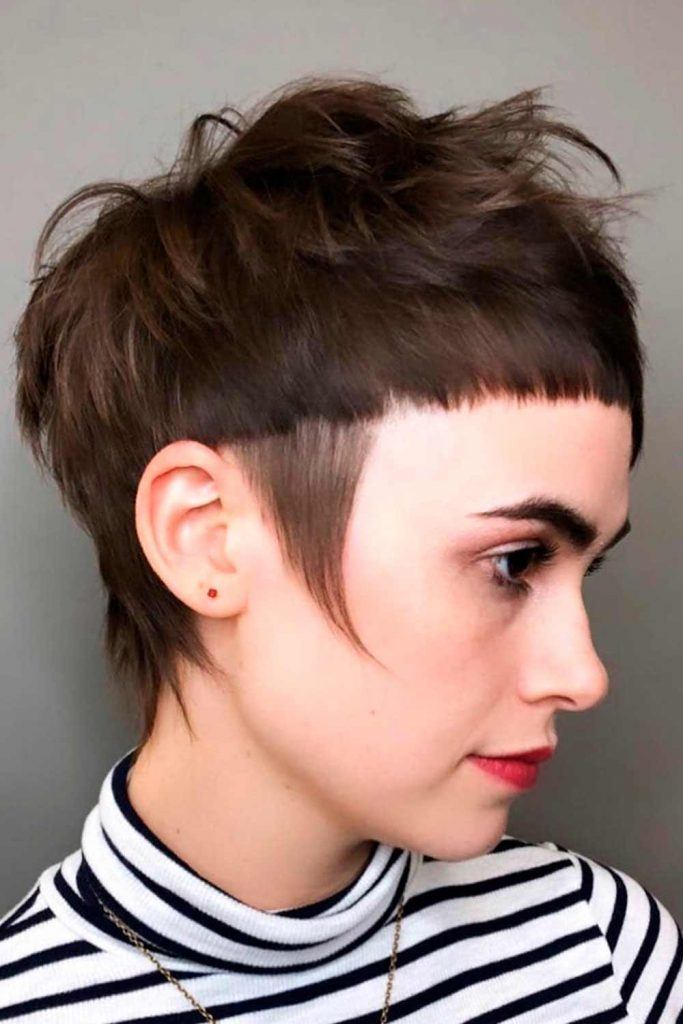 Credit photo: instagram.com/heymissmandy
The thing with short cuts is that they are easy to maintain, but they require regular touch-ups and taper haircut is clearly not an exception. However, there is no one-for-all recommended refreshing period. It mainly depends upon the shortness of the cut that you get. The fact is that the shorter is the cut, the sooner you are going to need to refresh it. With tight fades, it is usually two-three weeks before you are going to need to visit your stylists. Other tapers may last between four to six weeks, looking just fine. Also, you should not leave that fact out that someone's hair grows out faster while others can't show off the luxury.
How Can I Make My Haircut Last Longer?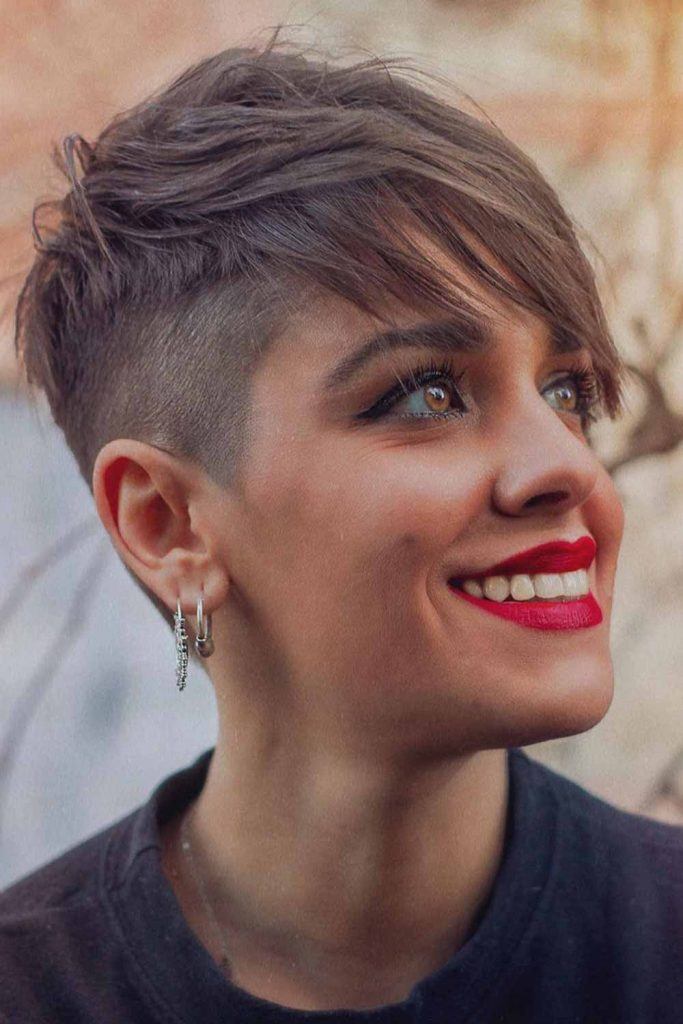 Credit photo: instagram.com/snchezrebeca
Whether you like it or not, but you can't make your hair grow faster or slower. That is why the only right way to make your haircut look fancy longer is to take proper care of your hair in the meantime. We have some useful tips at hand that may come in more than useful for you too:
The length defines the maintenance – it is quite simple. The shorter the cut, the sooner you are going to need to trim it.
Do not over shampoo your hair – you need to keep in mind that it is not only the hair length that affects the look but also the state of your hair. When washing your hair too often, you may cause it to thin out and become too brittle to look its best no matter the cut.
Condition well – conditioning prevents over-drying, and that leads to a shiny and healthy mane.
Use the proper tools – the quality of the tools you are using matters too. Especially when it comes to blow-drying and straitening. Thus, tools that ensure proper heat-protection are advised.
Taking a day off – letting your hair rest from all the styling and various hair products will add up to its healthy outlook. A day or two per week without any styling, and you will observe a beautiful metamorphose in no time!
Short Taper Fade Women's Haircut Ideas
Looking for a hairstyle that oozes confidence and sets the trend? Look no further! Women's short taper fades are here to elevate your style game and leave you feeling empowered. Let's explore some fabulous ideas that showcase the bold elegance of this cutting-edge haircut. Get ready to discover the perfect short taper fade that will leave you looking and feeling fabulous!
Short Layered Taper Fade With Blond Highlights
Credit photo: @andrewdoeshair
i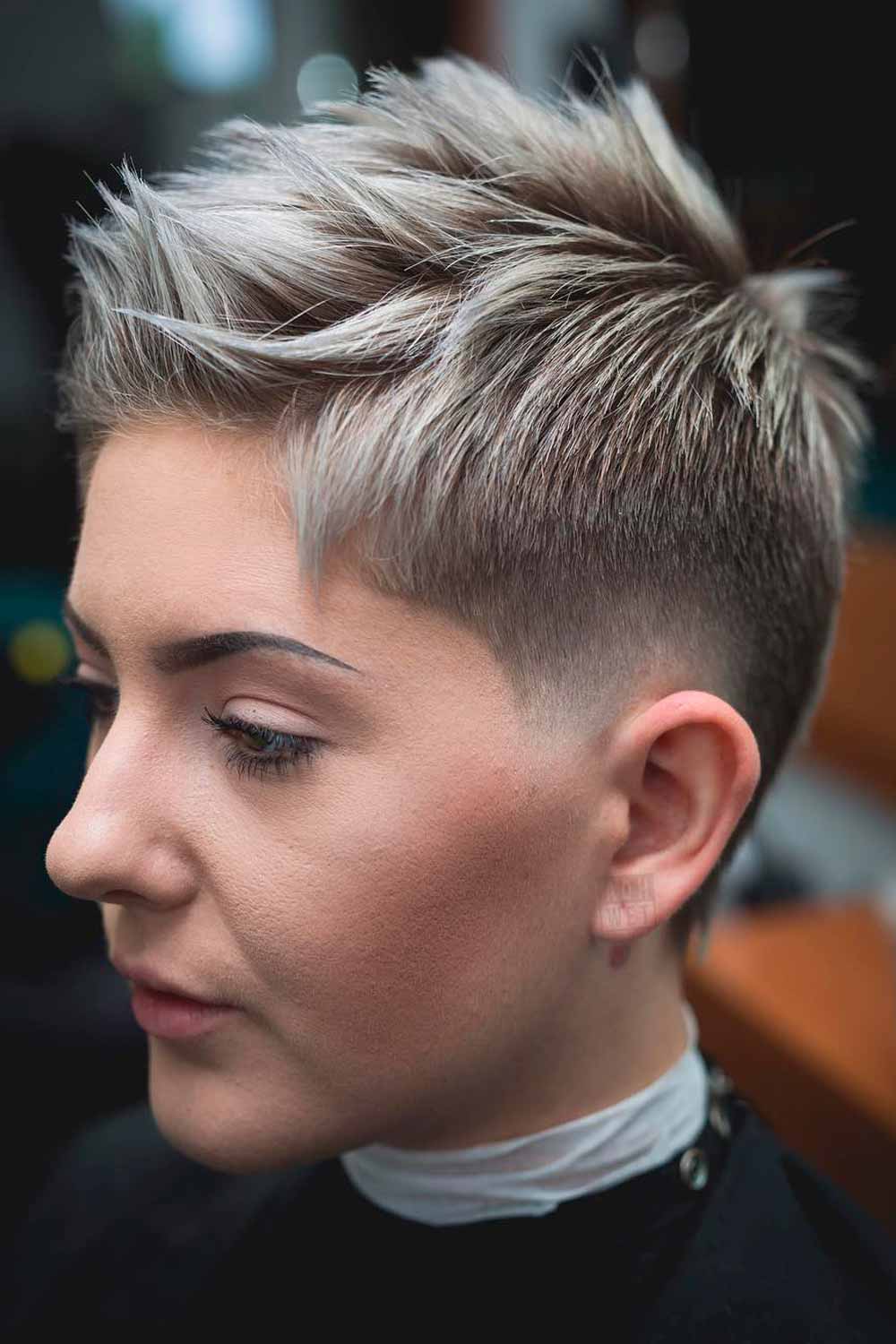 Credit photo: @andrewdoeshair
i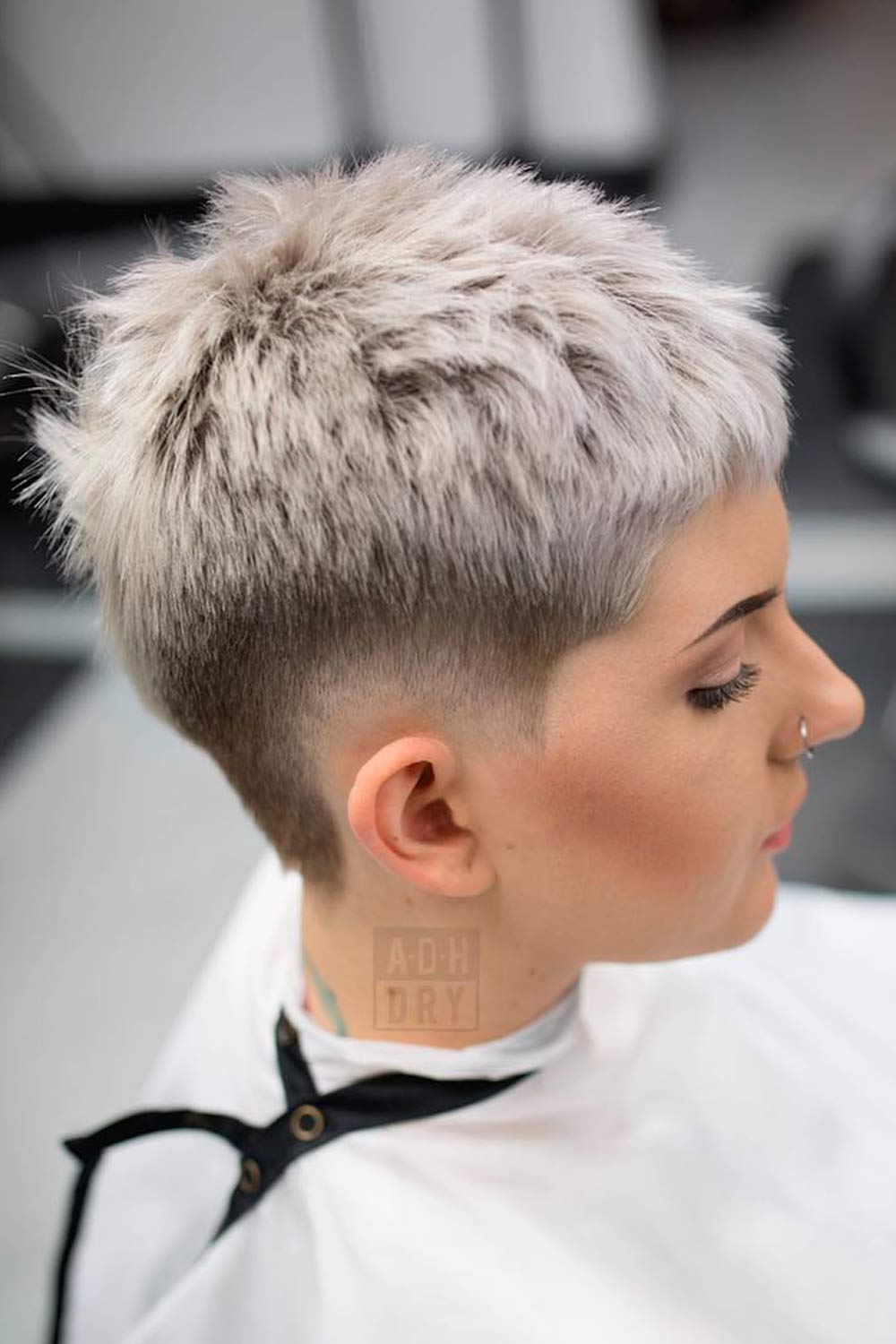 /
Most taper fades feature minimal distance between the ears and nape, while layered bowl defines your hair when they are worn together. This cut is edgy, while its fringe is left short and layered. To add texture and volume, just dry some sea salt spray into it and finish with a style powder. Look at the playful contrast created with these blond highlights against dark roots...
Short Layered Peachy Pink Taper Fade With Extra Short Bangs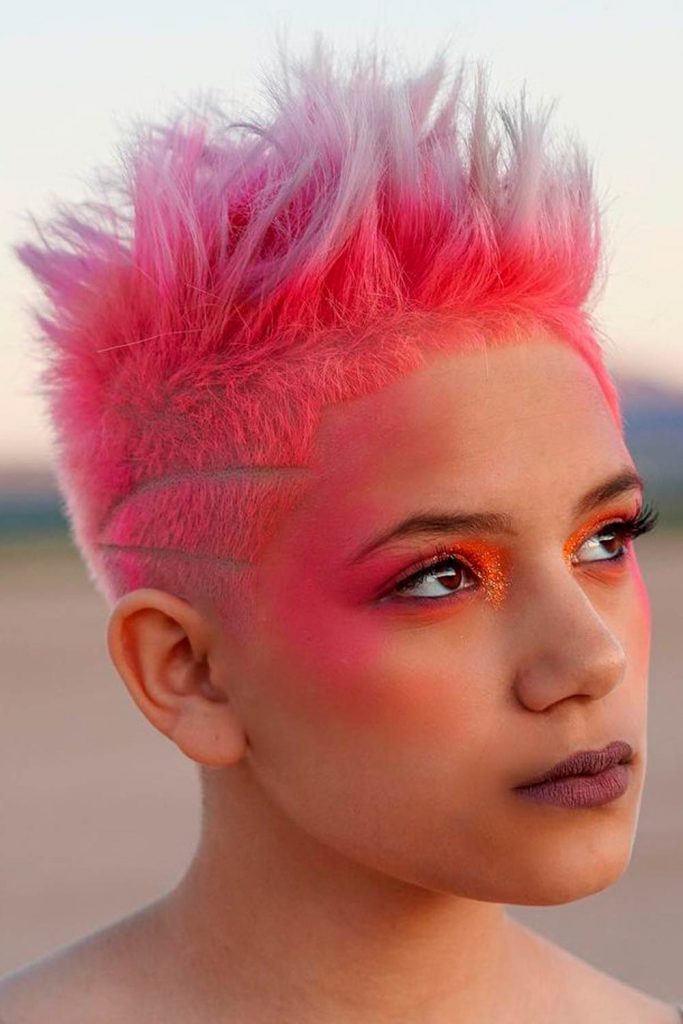 Credit photo: instagram.com/hairgod_zito
See how the fading around the ears is maintained in this look. It's a wise choice for taper fade. The top hair here is specifically styled to draw attention to the front, while maintaining a tight finish. You can also style your hair up to tame any unruly areas.
Side Swept Women Taper Fade With Up Styled Bangs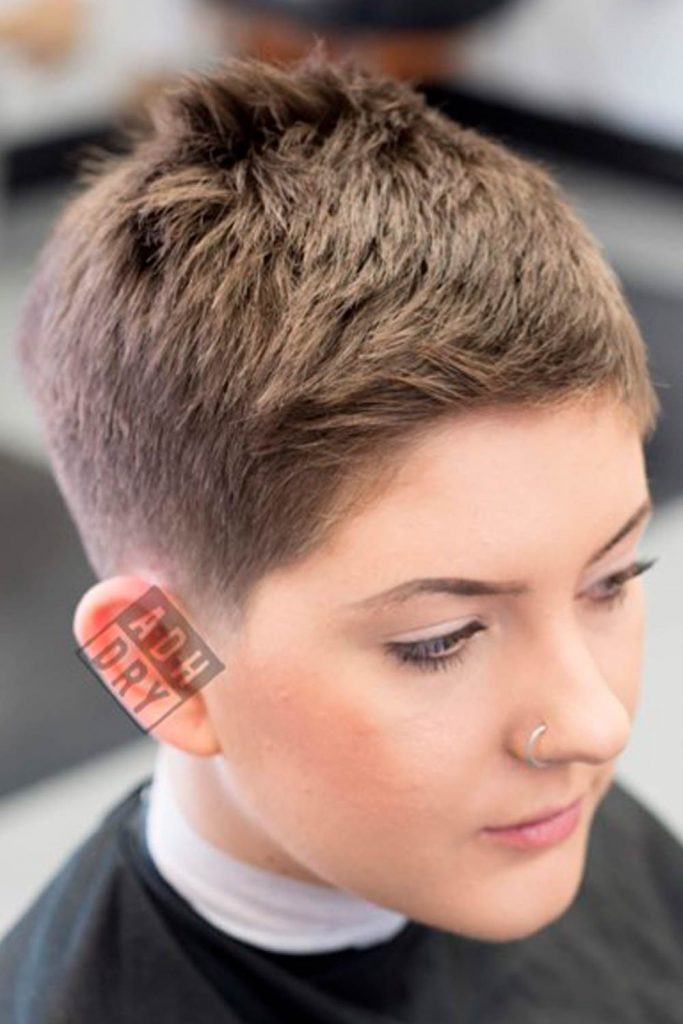 Credit photo: instagram.com/andrewdoeshair
With this side part that accentuates your taper fade women's hair, you will show off your best self! Don't forget to blow out those parted locks to get a stylishly voluminous hairdo!
Layered Taper With Trimmed Fade Pattern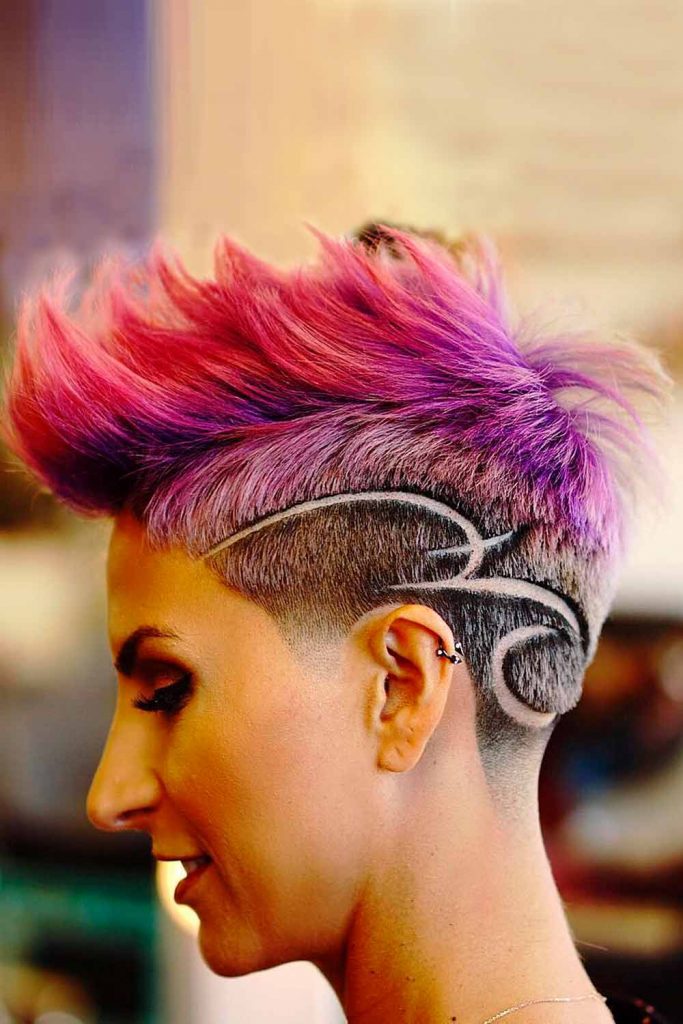 Credit photo: instagram.com/hairgod_zito
Different short hairstyles with shaved sides are typical for open-minded people and "free spirits". Ladies who opt for these haircuts are without a doubt audacious in their choices of clothing and hairstyles, and they really don't give a damn what other people think about them.
Flipped Peach Cream Taper Cut With Disconnected Fade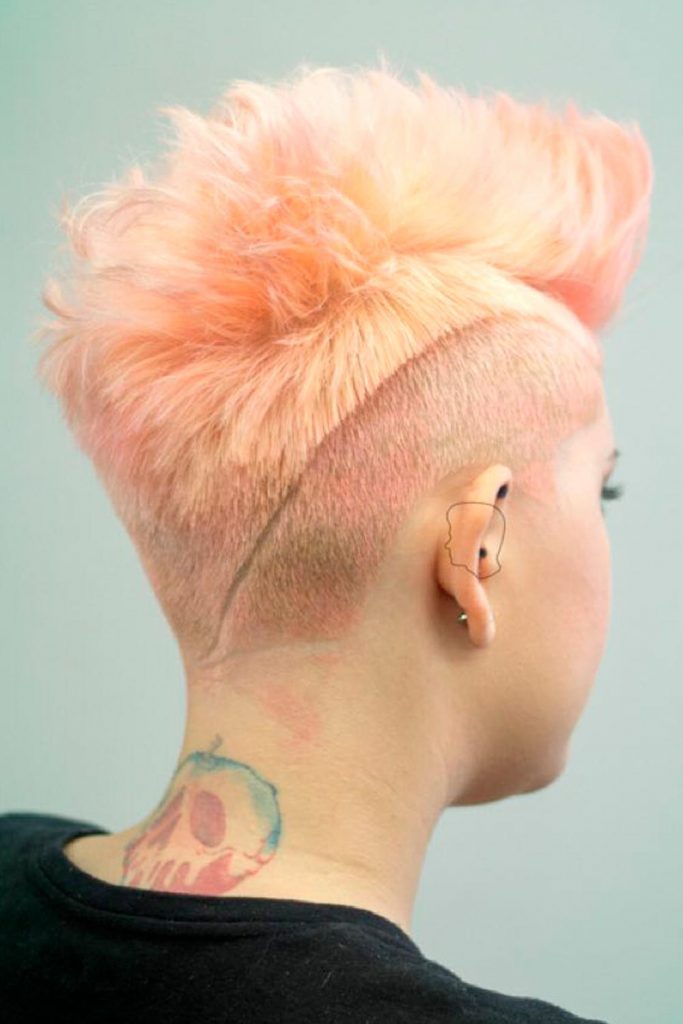 Credit photo: instagram.com/andrewdoeshair
See how the length of this bold haircut varies from side to side. As a result, we have a trim that typically ranges from grade 1 to grade 3 on the back and the right side, with the top hair styled upward.
Bold Bowl Taper Fade With Trimmed Side Patterns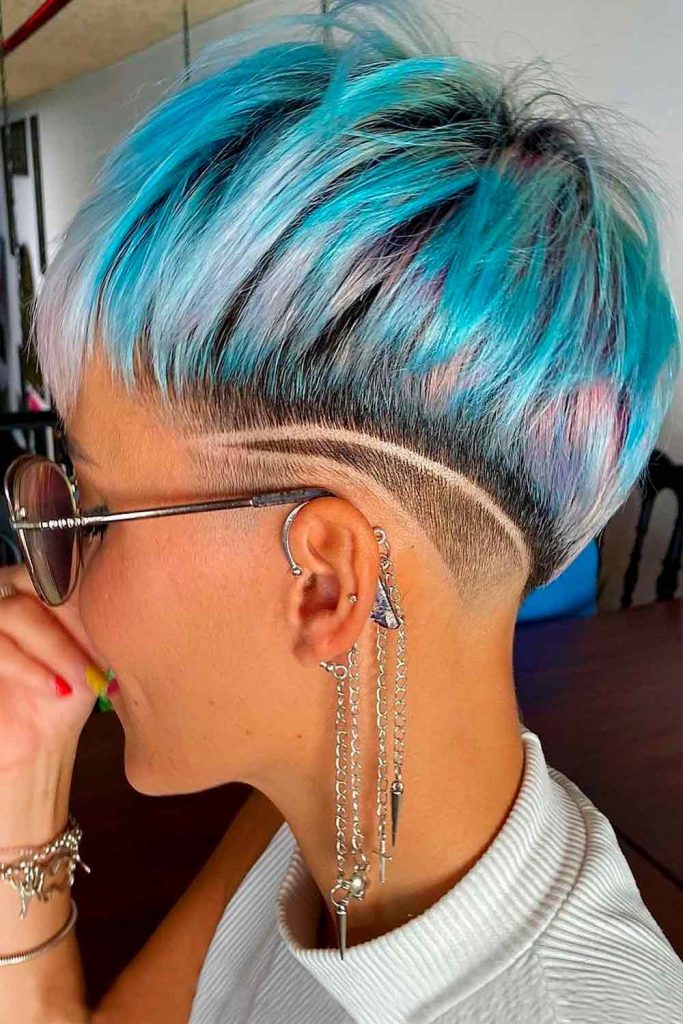 Credit photo: instagram.com/shorthairexclusive
This hairstyle is the same length all the way around the head and has long, layered bangs. Although it can be a bit difficult to do, you can modify it to your liking. Try combining it with a taper fade, which will shorten the hair on the sides and back, and you will have a blended finish that looks bold and up-to-date. The trimmed patterns on the faded sides will make you head look more oval-shaped and draw attention to your ears, so, make sure your earrings also contribute to your overall look!
Low Taper With Fade Nape & Long Side Bangs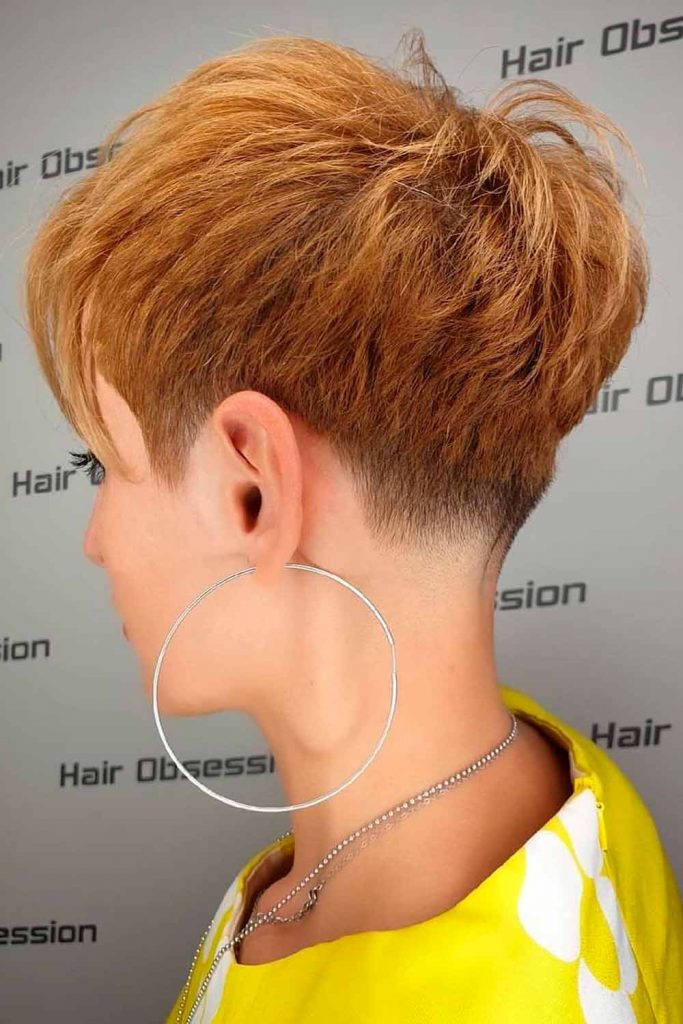 Credit photo: instagram.com/shorthairexclusive
The low taper fade women's haircut, which is more sophisticated than other fades, begins at your ears and goes along your hairline to your neck. It gives your hair a neater, more texturized appearance, while it doesn't give the same high-contrast impression as other taper fade types, due to the fact that it prevents untidy or stray hair from growing around your neck and ears. Also, did you know that low taper fade is a fantastic way to highlight your cheekbones?
Faint Taper Idea for Woman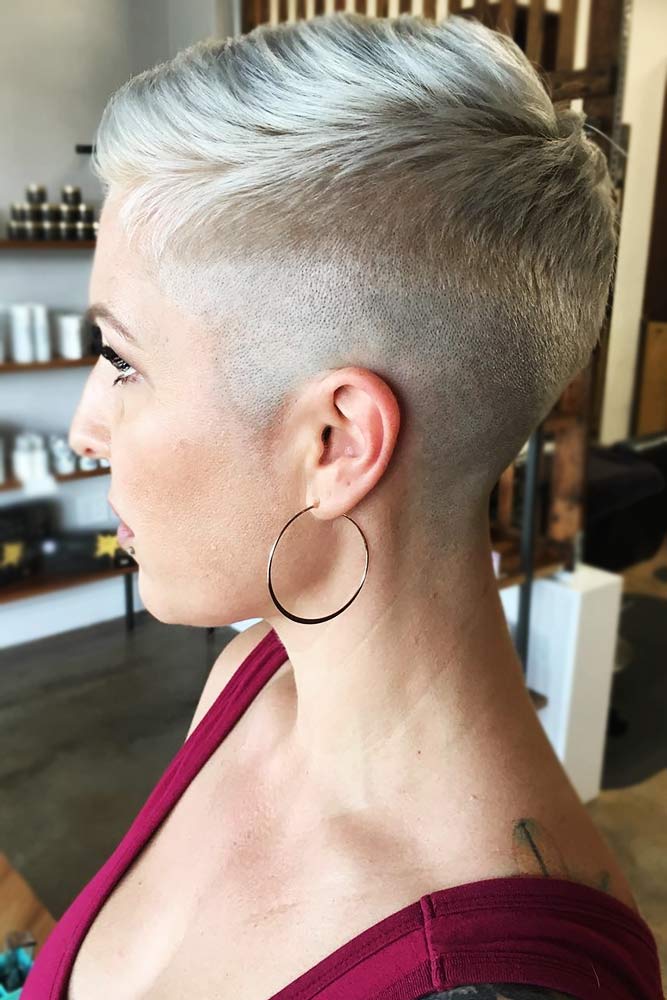 Credit photo: instagram.com/justindillaha_hair
This blonde short hair cut is called a faint taper. As you can see in this picture, the length on the sides is extremely short. That is why the word faint is used. With the light color, the hair is barely visible.
Short Women Tapers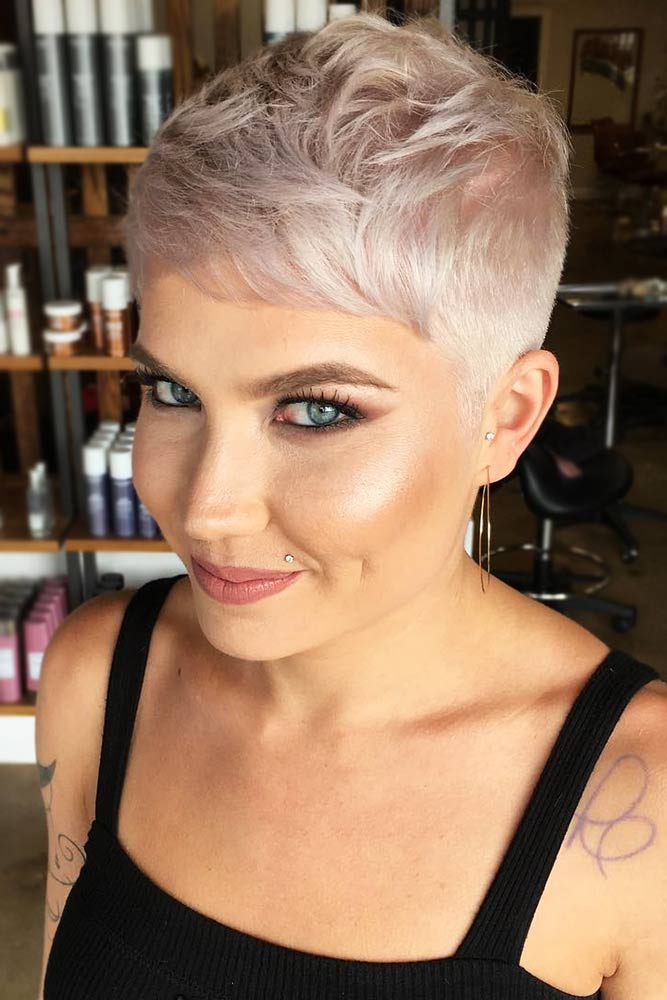 Credit photo: instagram.com/justindillaha_hair
This haircut is among the shorter types of fades that we absolutely love. As you can notice, this model's sides fade very slightly to the top. The look is popular because it is not that drastic.
High Top Fade for Ladies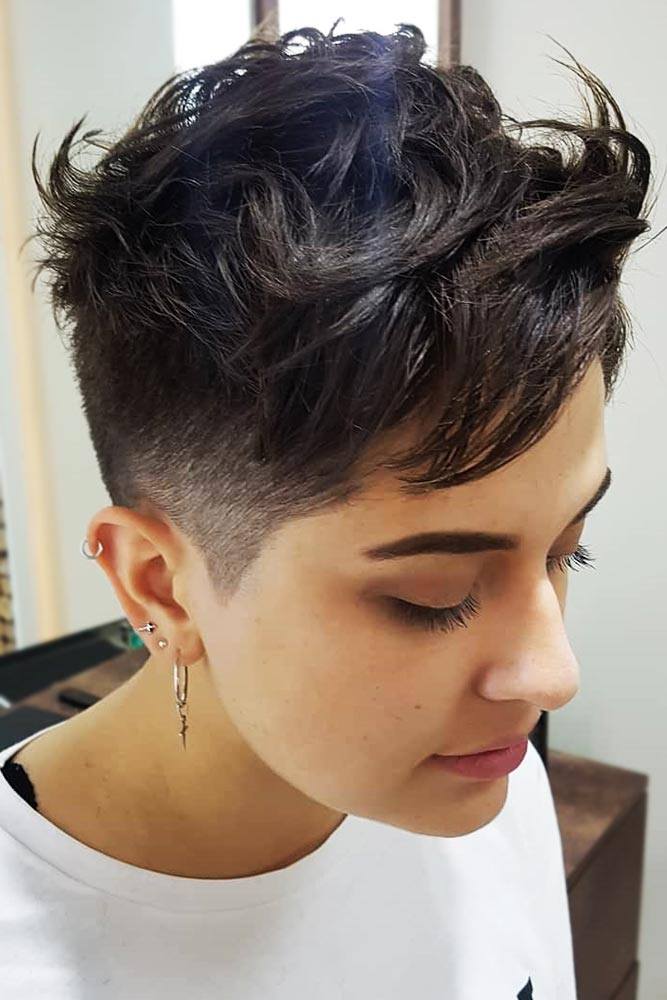 Credit photo: instagram.com/denyvir
This fade haircut features a high top that is styled in a messy way. The haircut is easy to maintain. All you need is some styling mousse and a blow dryer. Style it with your fingers.
Women's Temp Fade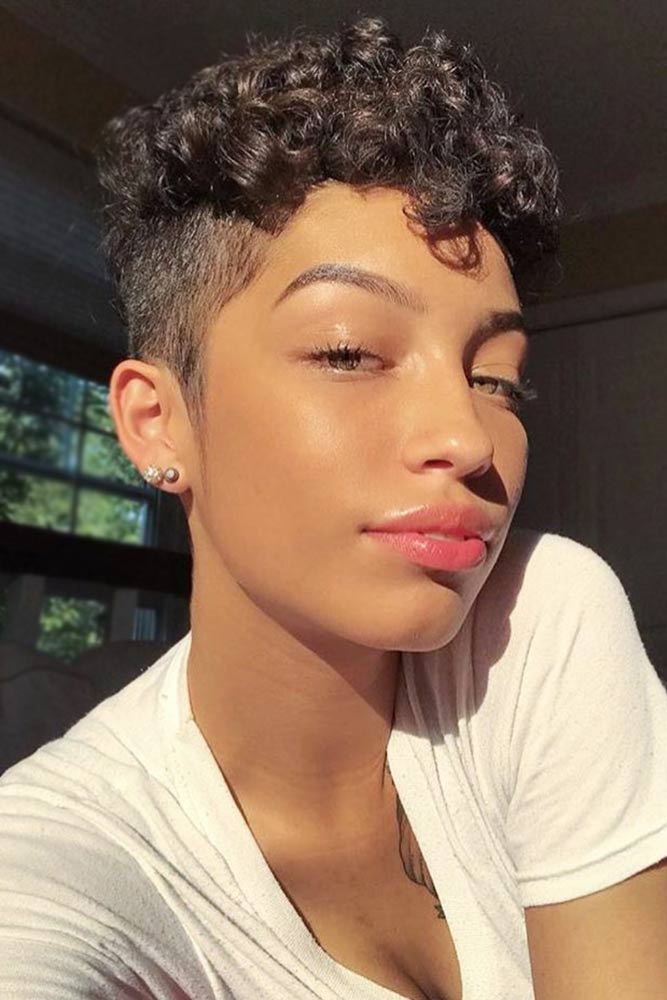 Credit photo: instagram.com/thecutlife
Haircuts like this are often chosen by women who have natural curls and do not want to straighten them. And taking into account that you do not need to form any curls, the style is super easy to get.
Side Part Taper Fade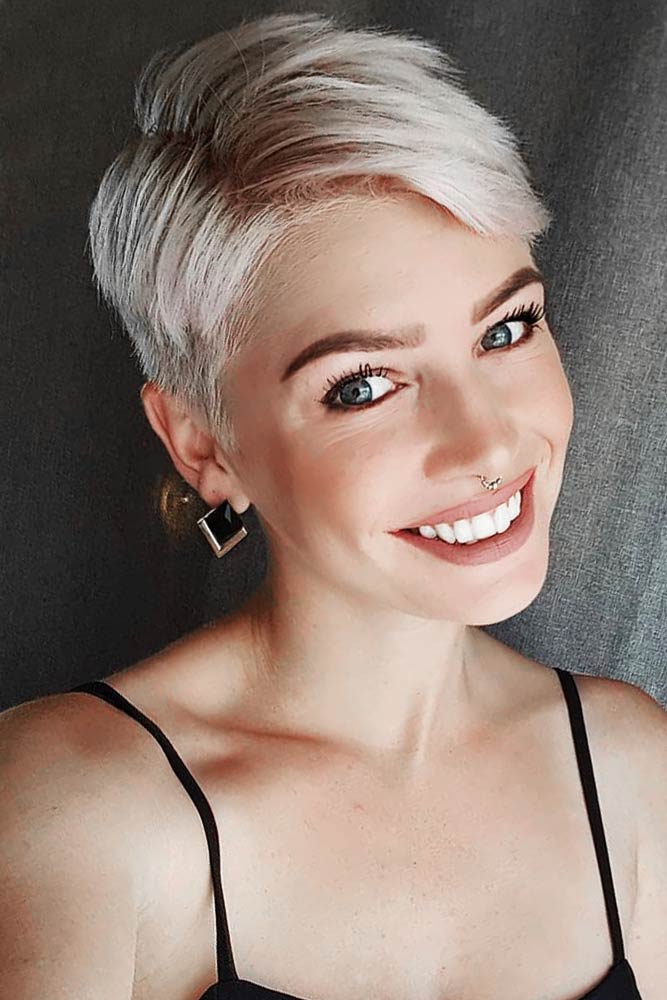 Credit photo: instagram.com/anna_maria_theresia
Sometimes we wish to spice things up. If that's the case, why don't you alter your taper fade haircut just a bit? Create a deep side parting, and you already get a different look.
Fade Haircuts For Your Inspiration
In this section, we have chosen the trendiest and edgiest tapers and fades to inspire you. You will see how awesome they appear and will be tempted to get one.
Buzz Cut With Surgical Hairline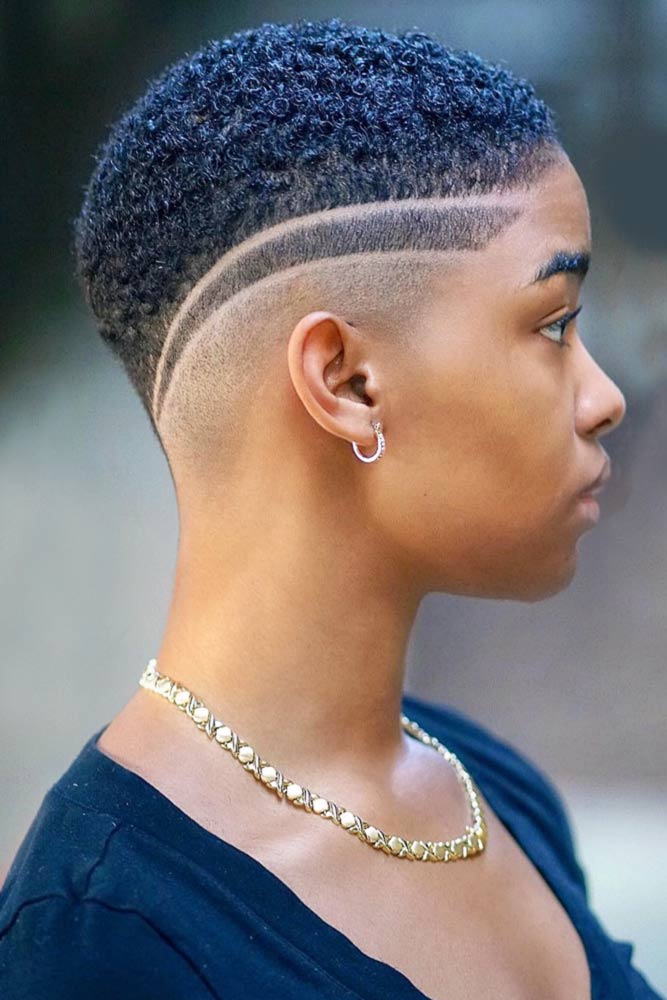 Credit photo: instagram.com/stepthebarber
This haircut with a bald fade might be a great option for those women who wish to show off their adventurous side. This hairstyle will work perfectly for the summertime heat.
Platinum Blonde Taper With Faded Sides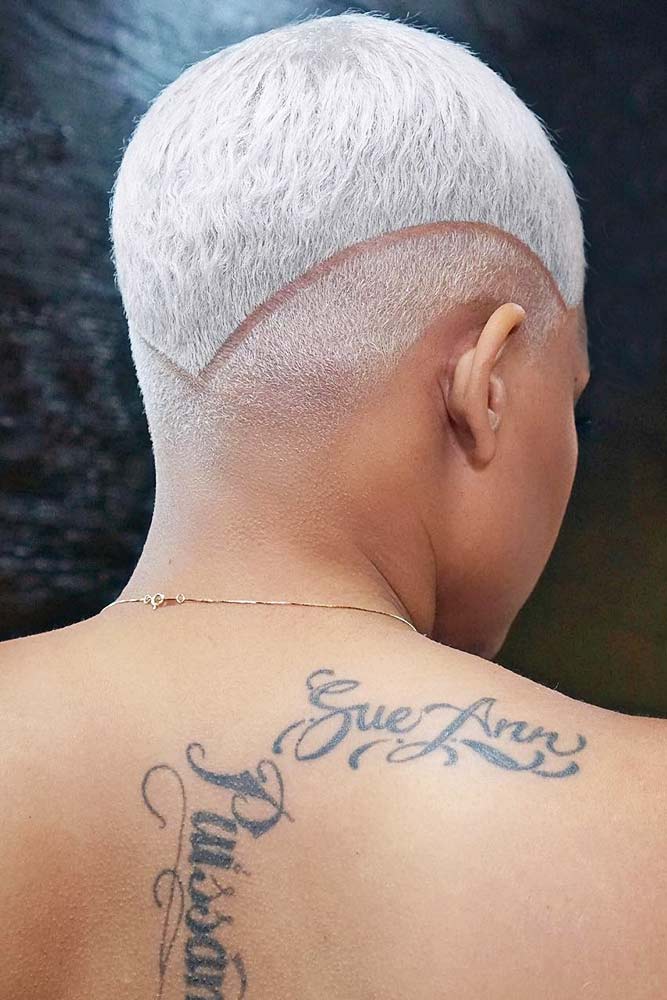 Credit photo: instagram.com/stepthebarber
This clean cut looks pretty striking on its own. But add a platinum blonde color, and it is taken to another level in the blink of an eye. Rock this icy cool style and all eyes will be on you.
Curly Buzz Cut With Shorter Sides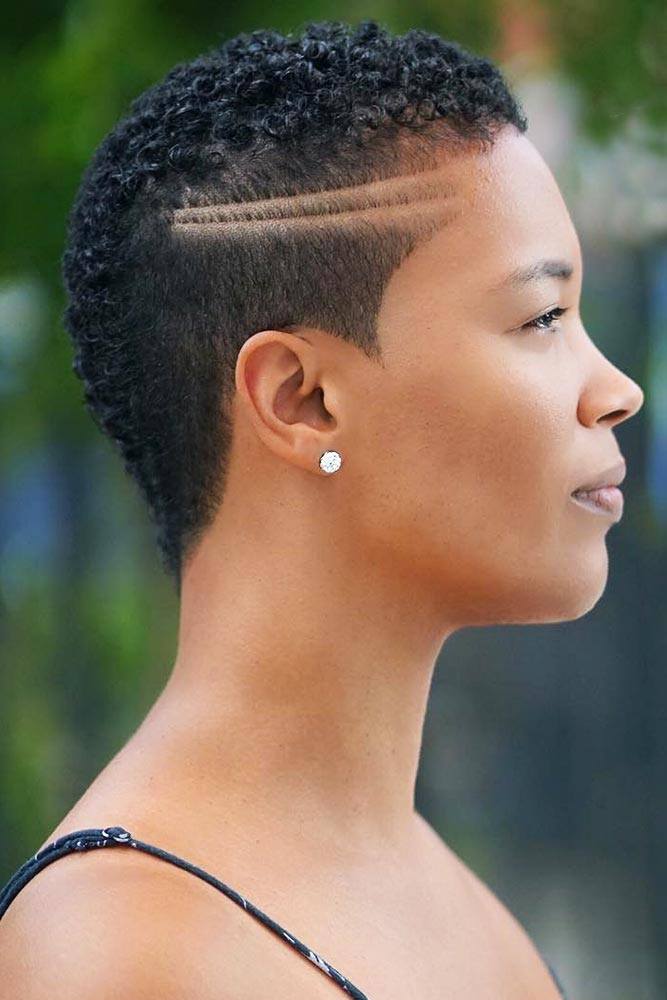 Credit photo: instagram.com/stepthebarber
This curly buzz haircut that features shorter sides is the definition of a daredevil. Taper fade curly hair looks especially chic when its length is super short, like in this picture.
Tousled Tapered Pixie Cut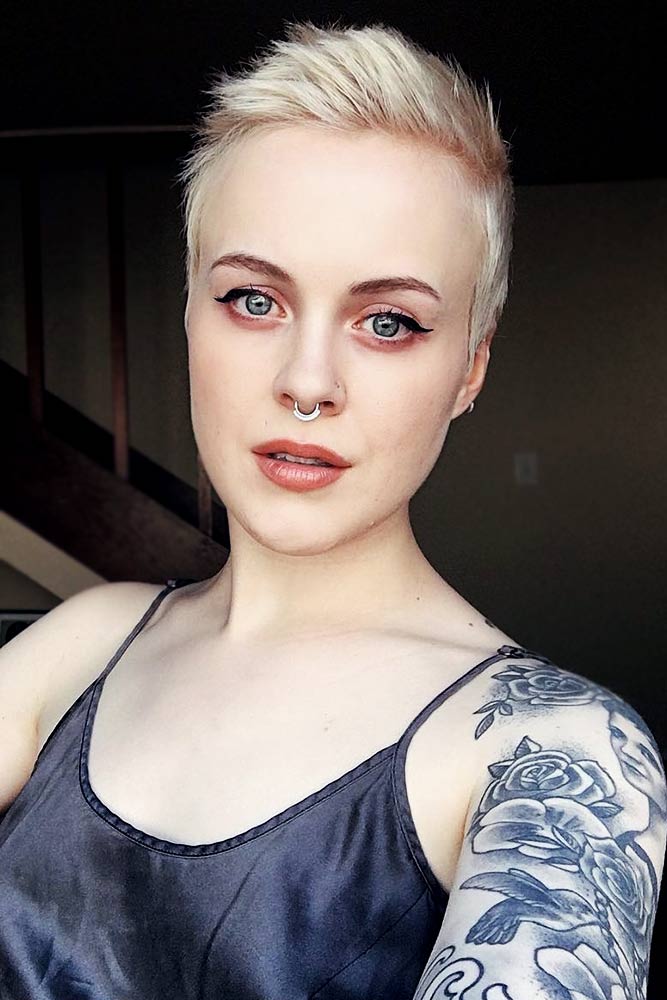 Credit photo: instagram.com/sarahb.h
In combination with a warm blonde color, this tousled tapered pixie haircut is Miss Spunky in the world of taper fades. The bed-head look is easily created with any heat protectant.
Blonde Sassy Women's Taper Fade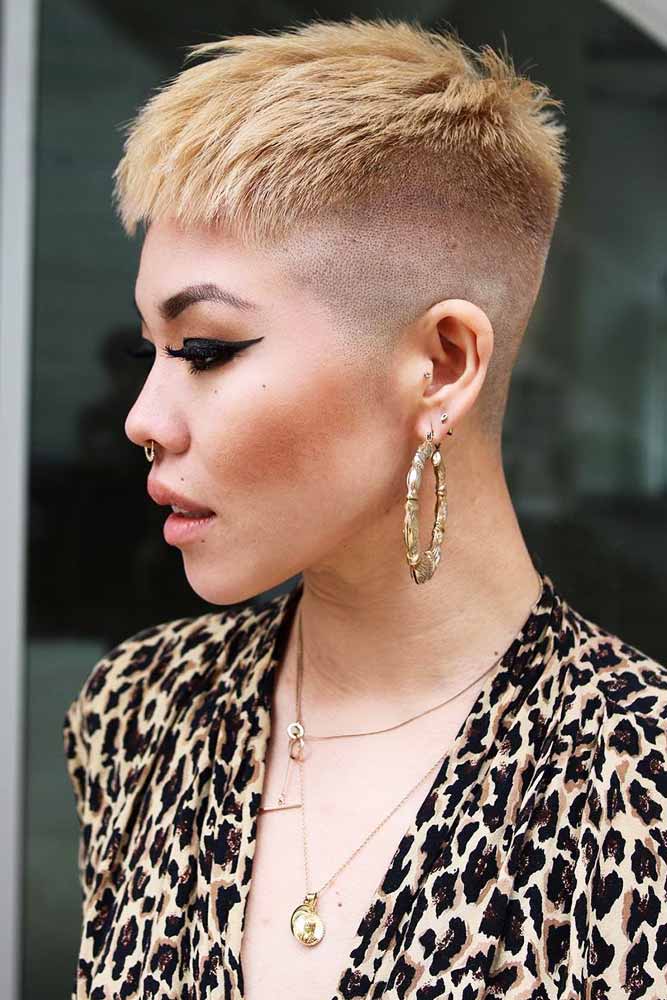 Credit photo: instagram.com/salsalhair
Short blonde haircuts are always attention grabbing. But this haircut with a skin fade is something exceptional. To style, you will simply need to apply texturizing gel or pomade and blow dry your hair. Plus, it is so low maintenance! Just visit the salon every 3 weeks for a touch-up.
Natural Taper Fade Cut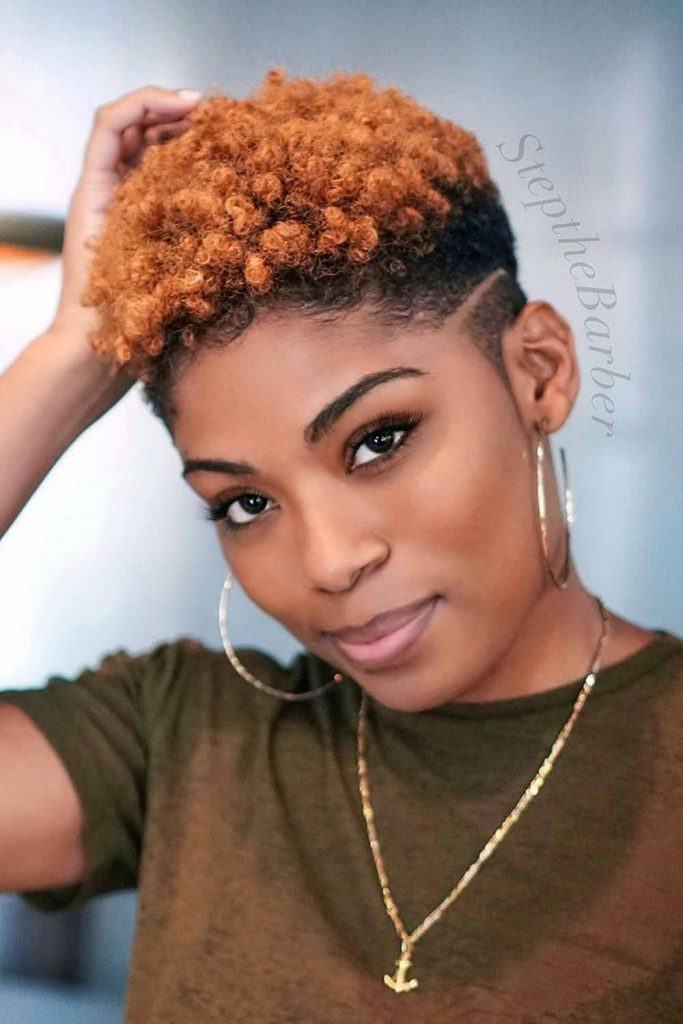 Credit photo: instagram.com/stepthebarber
Sometimes the best cut is the one that enhances your natural curls best. In this case, a simple taper fade with an edgy disconnection like accents the bright orange top flawlessly. The cut is so magnetic that it is hard to take the eyes off!
Spiky Taper Fade for Women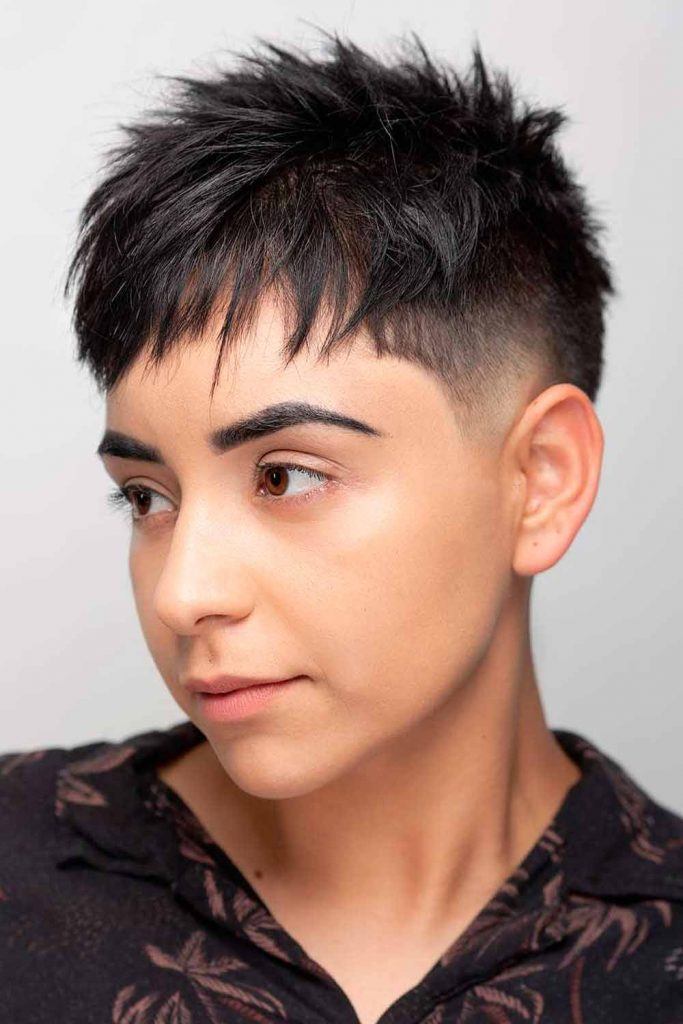 Credit photo: instagram.com/andrewdoeshair
Taper fades can indeed look both messy and elegant at the same time. Do not trust us? Have a look yourself! We know you would agree that this spiky cut can be easily fitted to any look or occasion, without making you look out of place.
Taper Fade With Hairline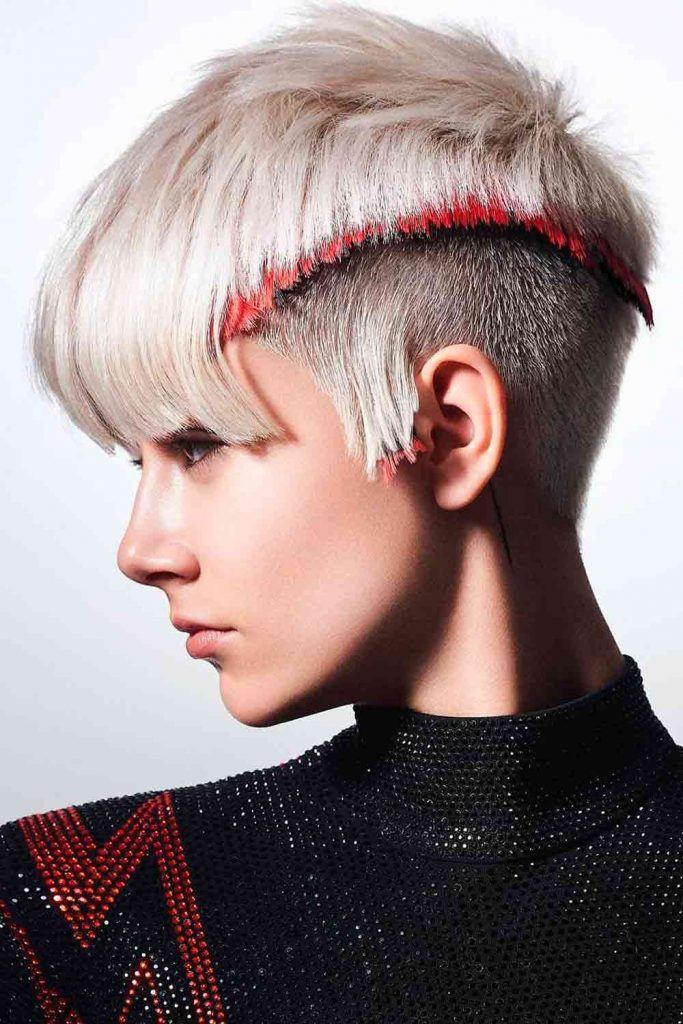 Credit photo: instagram.com/alexey_osipchuk
If you are the lady who loves those adoring glances thrown your way – we know what you should try out when the new season breaks. A taper fade does not necessarily need to be all seamless and sleek. An outstanding hairline spiced up with red hair dye will show that experimental and adventurous side of you better than anything else.
Taper Fade Haircuts Ideas For Longer Hair
Asymmetrical Layered & Tapered Bob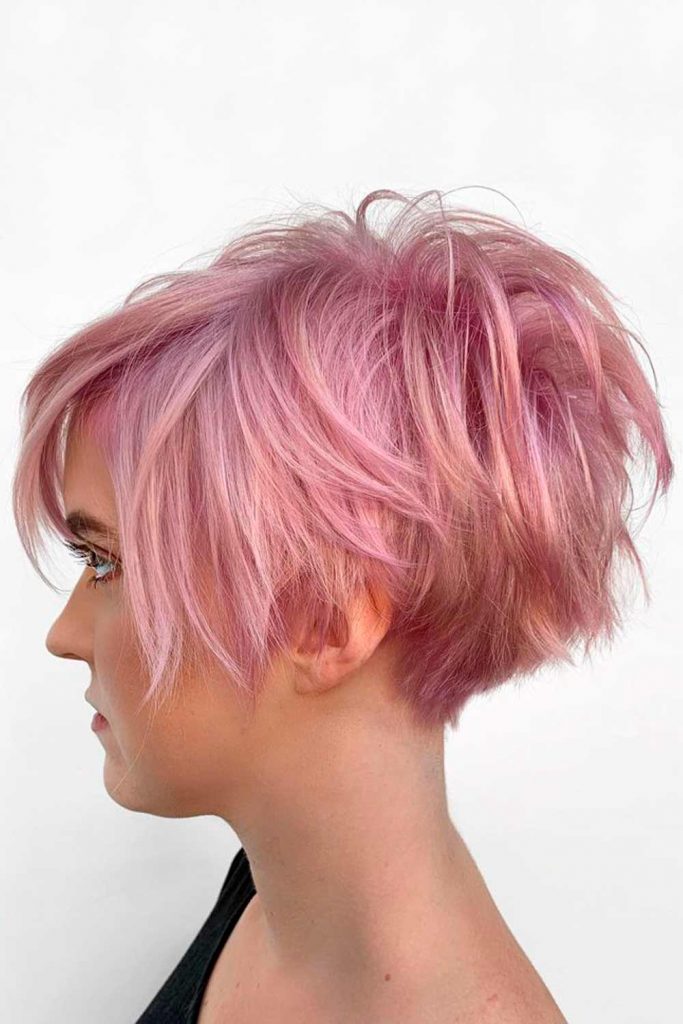 Credit photo: instagram.com/headrushdesigns
In case you are one of those women who would like to go short but not too bald, this asymmetrical bob with a taper is a nice solution. Voluminous and full of movement, this medium length hairstyle is often chosen because of its femininity.
Long Women's Tapers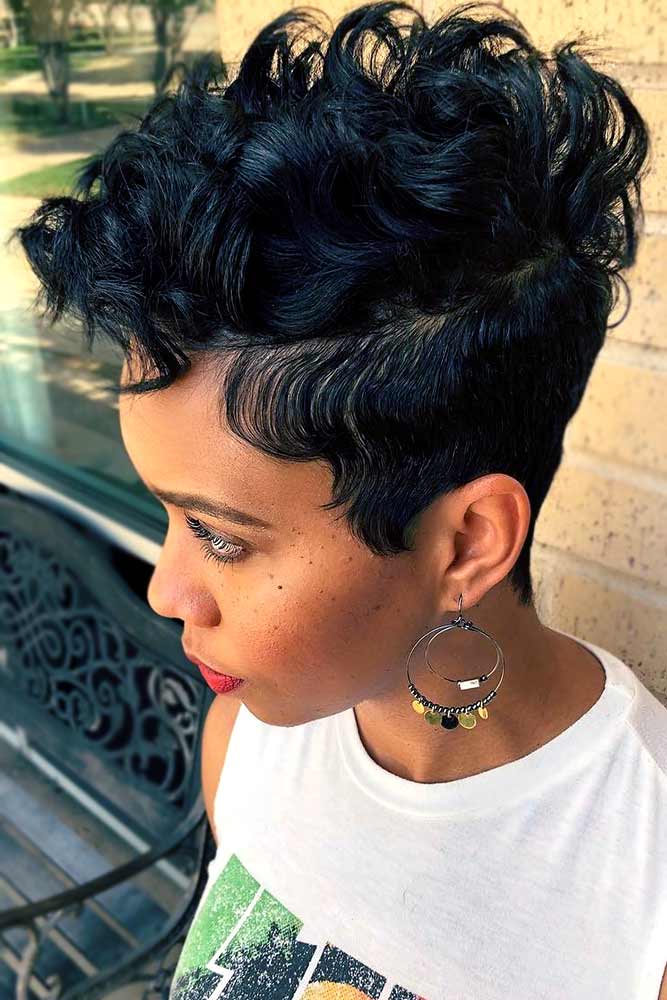 Credit photo: instagram.com/khimandi
A high taper fade was popular at the end of the twentieth century. And today this haircut is experiencing a huge comeback. Its top and sides are not super short, so the cut is in the category Long Tapers.
Long Crown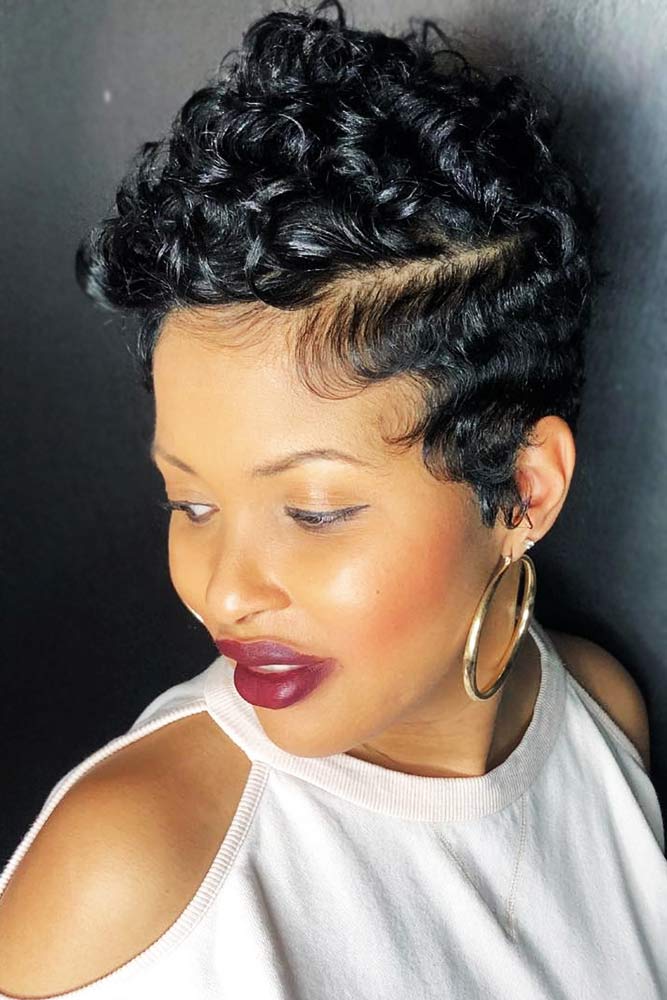 Credit photo: instagram.com/khimandi
If you have natural thick hair, try a haircut with a long crown like the one shown here. And yes, women who have curly locks can easily rock a taper style. Just find a professional stylist.
Peachy Lavender Spiky Taper Fade With Even Parting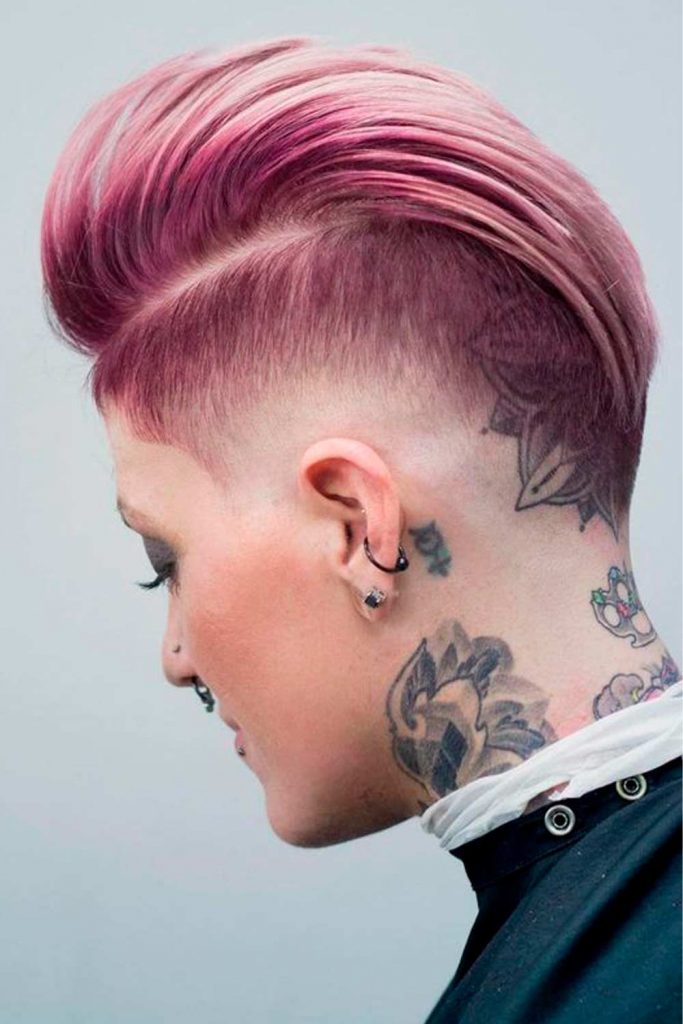 Credit photo: instagram.com/andrewdoeshair
Want to resemble a Hollywood hunk? Choose this haircut! Feels like anyone will look cute and beautiful with this spiky hair and low taper fade, which is by the way quite simple to achieve. You will surely not regret trying it out.
Punky Styled Blond Taper Fades
Credit photo: @andrewdoeshair
i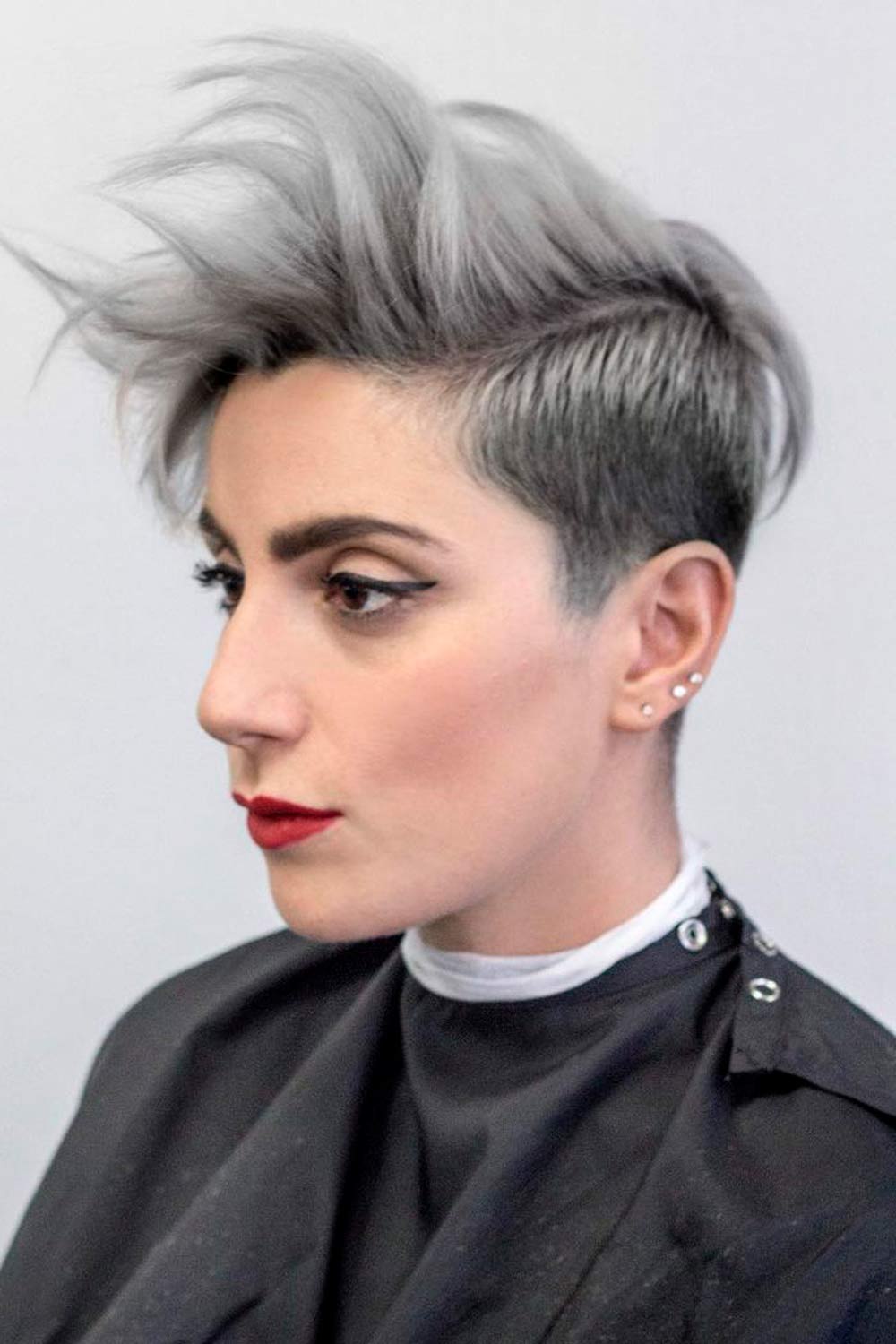 Credit photo: @andrewdoeshair
i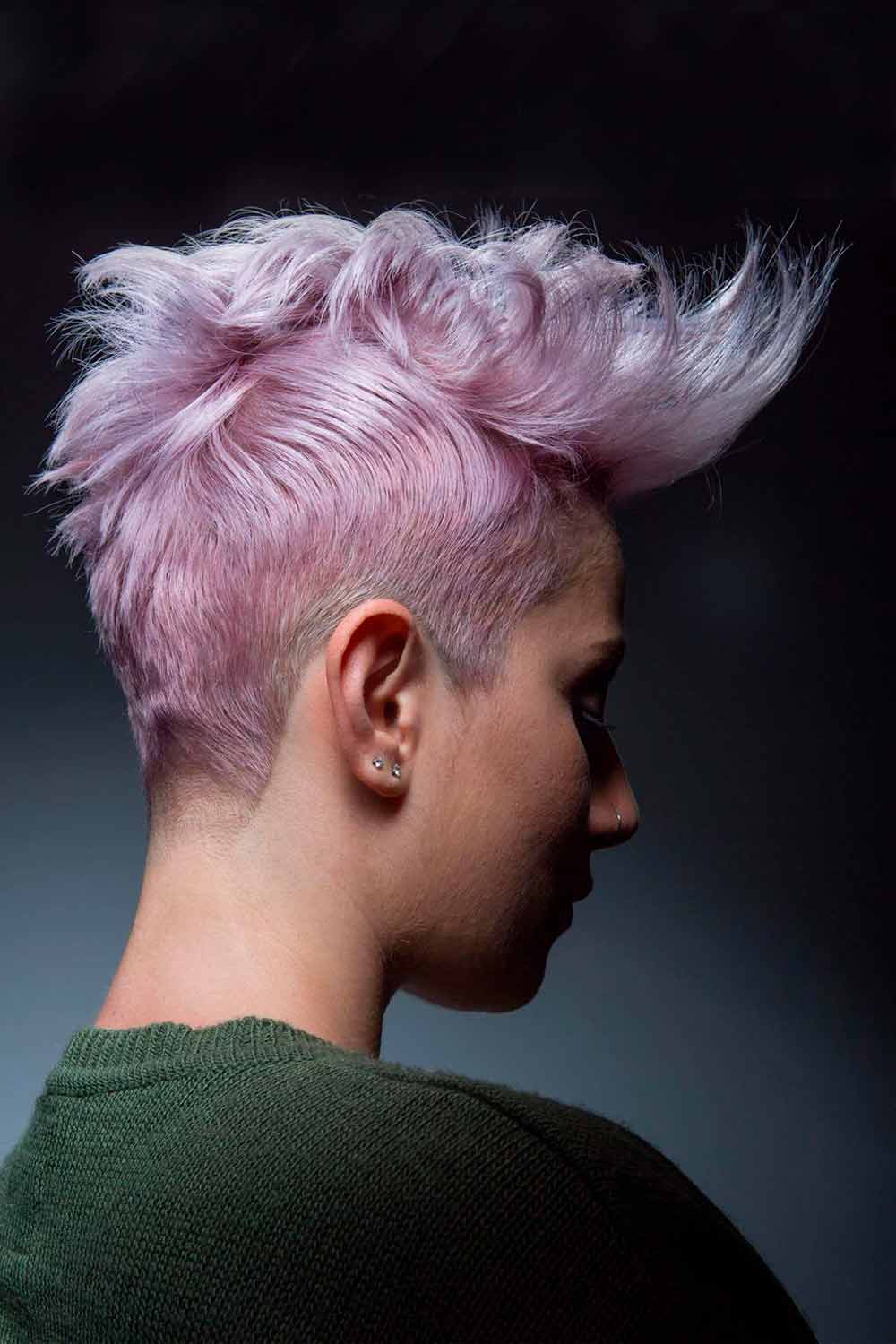 /
This punky hairdo combines chicness and elegance. You don't need to make any additional cuts for the chevelure that is already rather thick. See how it complements any hair type and keeps this strong punk look while still giving you texture and a little chill.
Faux Hawk Taper Fade With Mullet Back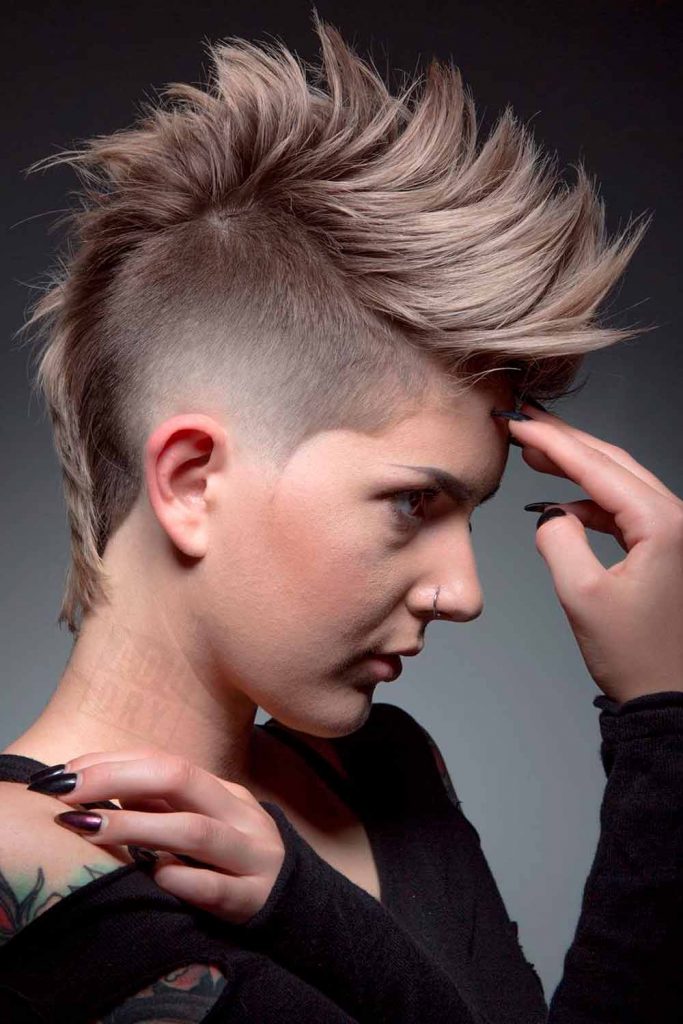 Credit photo: instagram.com/andrewdoeshair
You may have already noticed that mullets have returned in popular haircuts just like plenty of other '90s hair trends, and the mullet fade is one of their most well-known variation. The taper fade's fantastic adaptability has given the traditional mullet a more up-to-date, stylish appearance.
Faux Hawk Fade for Gilrs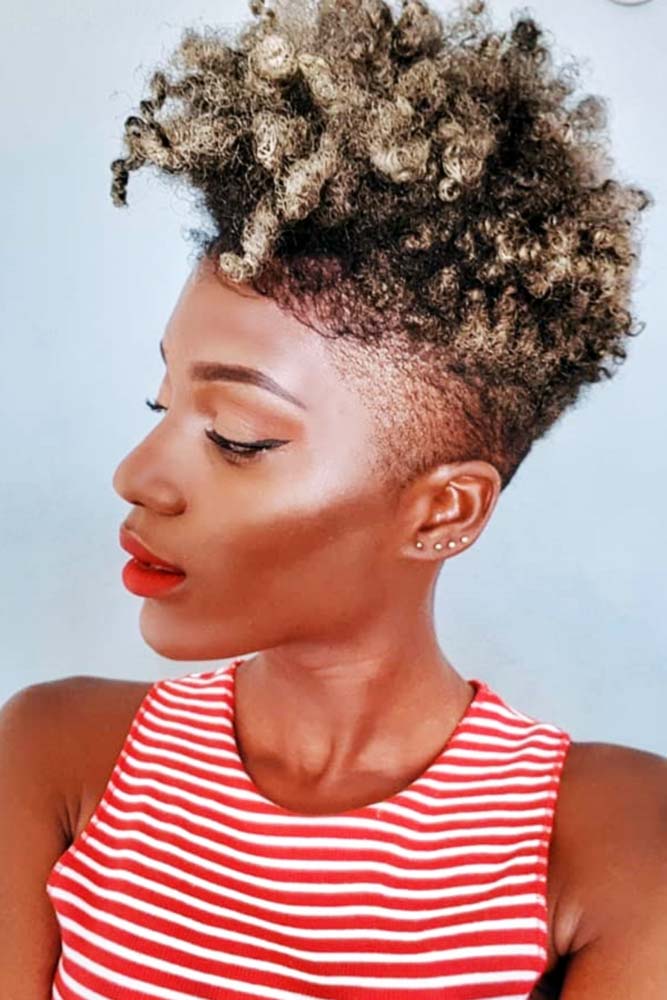 Credit photo: instagram.com/theabigailmartina
This taper fade Afro looks edgy and really awesome. The curls are sky-high, and the contrast between the sides and the top is so vivid. This hairstyle is also called a faux hawk.
Disconnected Women's Fade Undercut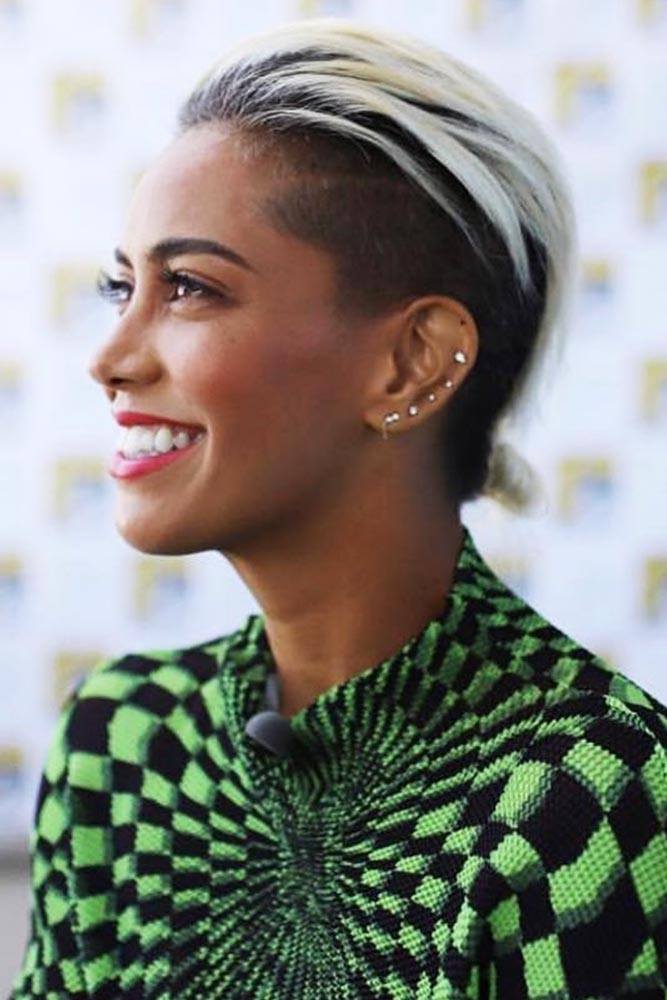 Credit photo: instagram.com/sib_vicious
A disconnected fade hairstyle has been in for some time already. This gorgeous hairstyle is often referred to as a pompadour. The length changes quickly and dramatically from shorter sides to a longer top.
Pumped Up Pompadour Tapered Pixie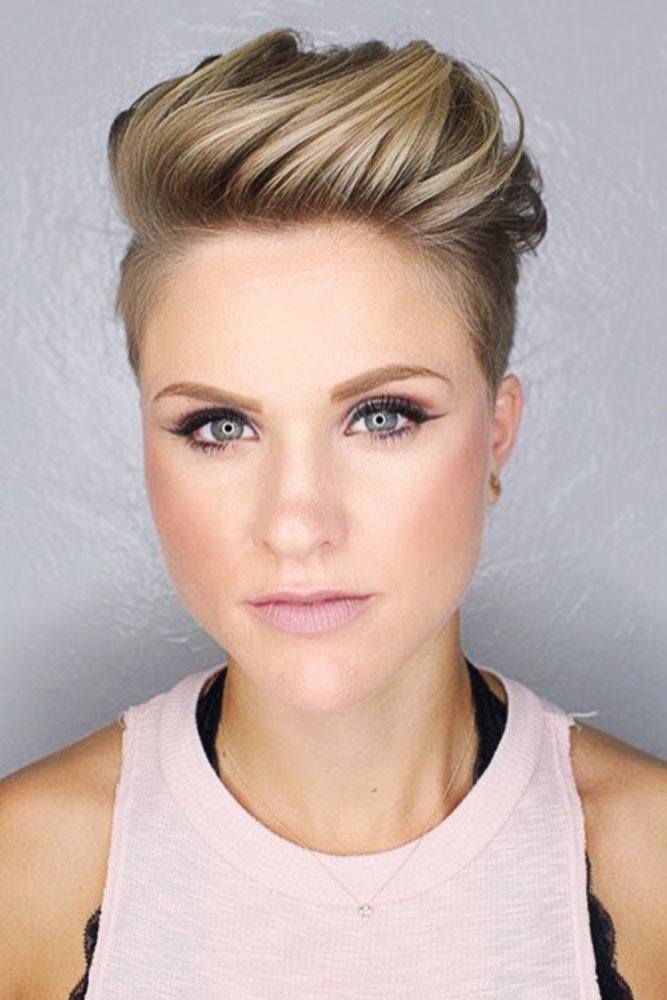 Credit photo: instagram.com/justindillaha_hair
If you wish to sport taper fade long hair, you can go for a pompadour hairstyle like the one demonstrated in this picture. What we really love about it is its exceptional volume. It creates a dramatic contrast with the sides of this haircut.
Modernized Taper Bowl Hairstyles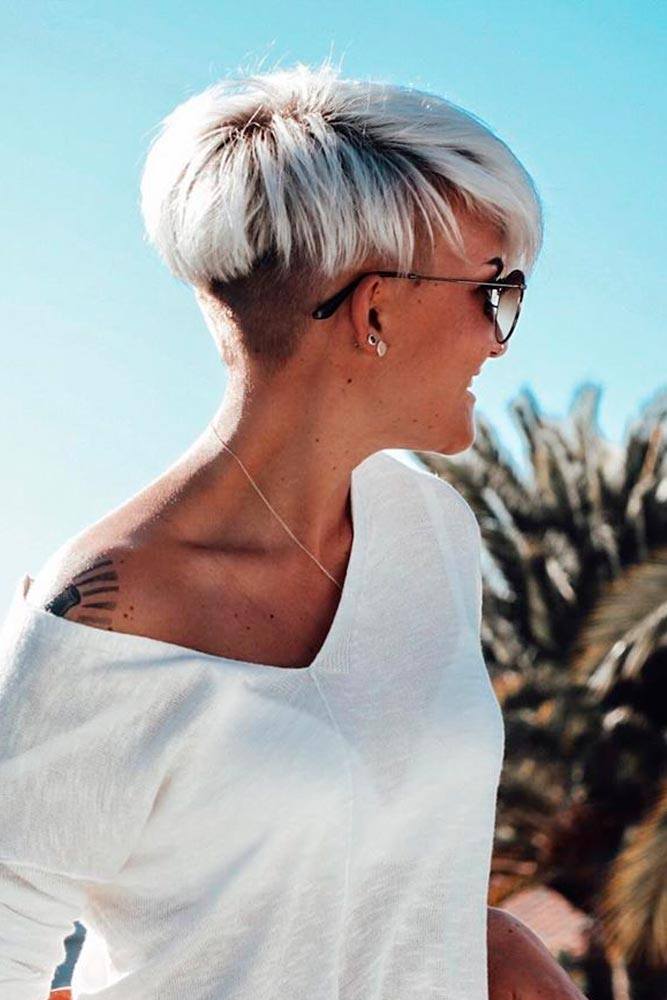 Credit photo: instagram.com/henniegebhardt
Have you always shied away from a bowl cut because of considering it an old school and boring hairstyle? How about adding a modern twist to it? You'll be pleased to find out that a taper fade cut works wonders for such a hairstyle, instantly making it trendy and up-to-date.
Skin Fade Pixie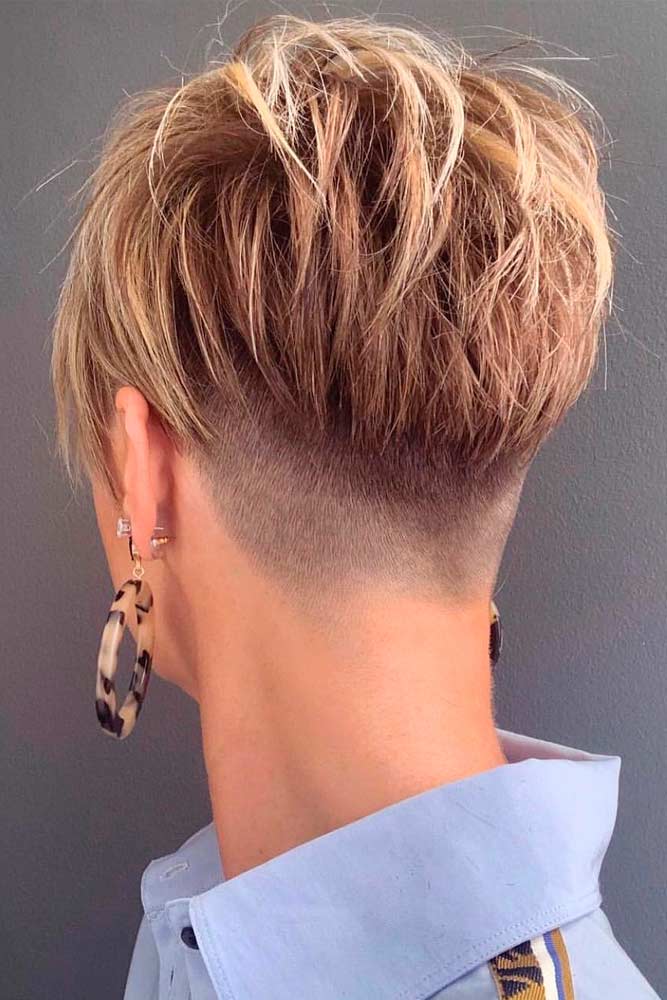 Credit photo: instagram.com/kimidailey
Do you still think that a pixie cut can't be accompanied by a fade because it's already so short? We're here to prove you wrong. Pairing a pixie with a skin fade makes up a really edgy and bold look. Add platinum blonde highlights to it and you're sure to have all eyes on you.
Platinum Blonde Spiky Taper Fade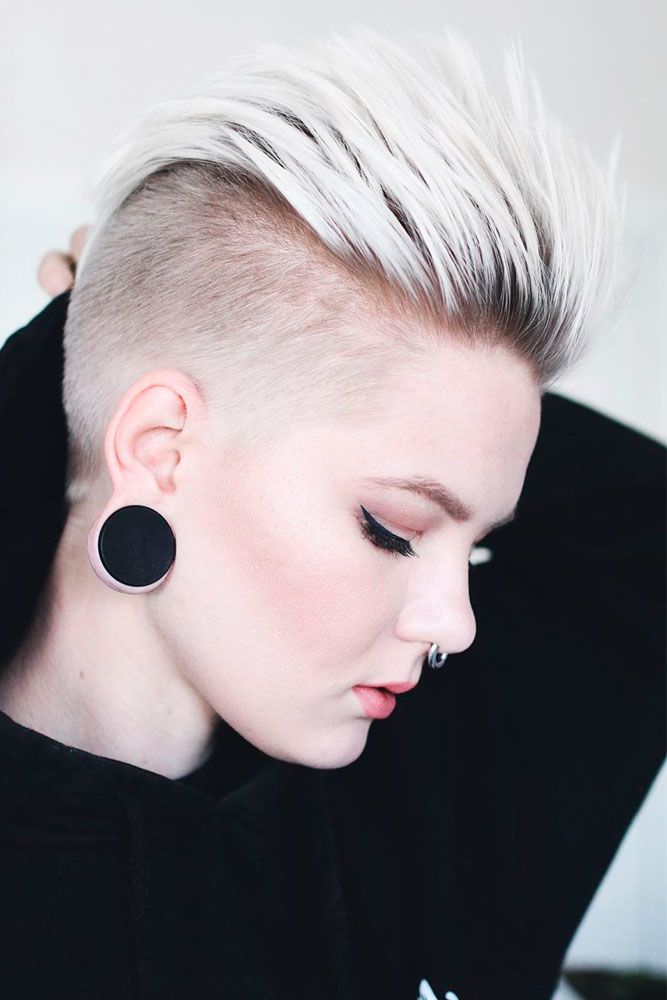 Credit photo: instagram.com/katrinberndt
If you want to channel your inner rock star, it's hard to think of a better way than going for a spiky hairstyle. Although it's already sharp and defined, you can make it even more contrasty by adding a taper fade on the sides and leaving them in your natural color while dyeing the spikes in platinum blonde.
Flipped Taper Fade Haircut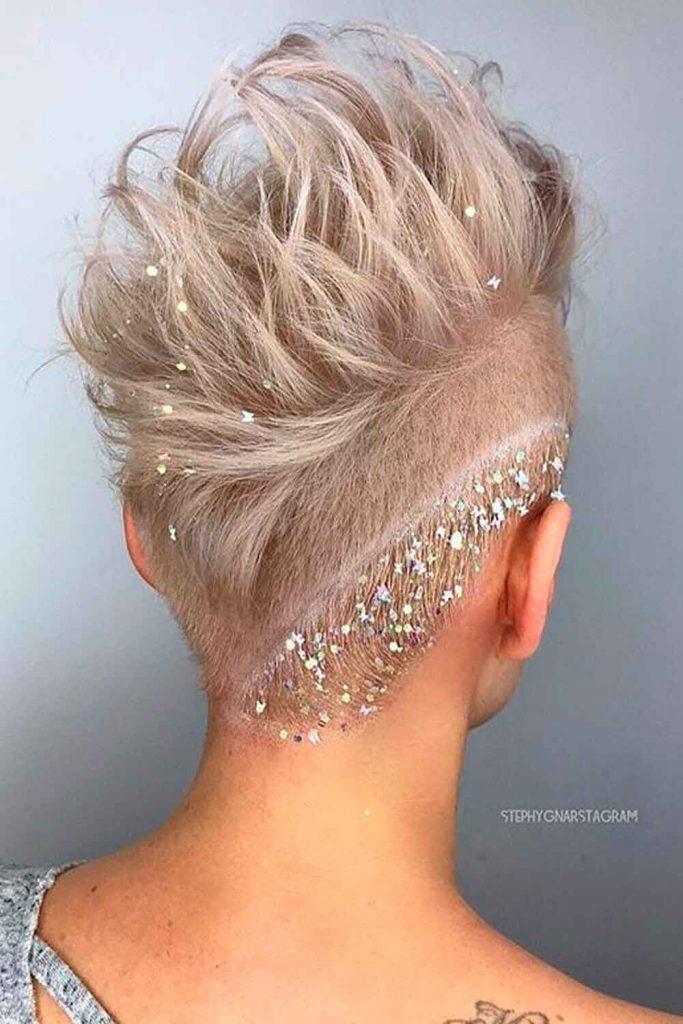 Credit photo: instagram.com/stephygnarstagram
When a rebel and a princess are living inside you, it may be quite challenging to meet the beauty standards of both. However, there is always a perfect compromise if you know where to look. This flipped taper fade sprinkled with heavenly glitter speaks louder than any words.
Now you know the difference between taper and fade haircuts. There are lot's of ideas of taper fade haircuts for men, but not less ideas of taper fade haircuts for women! We are sure that you are so excited that your new image is on a short term horizon already. But don't think that we are saying goodbye already. More inspo is here for you on our blog.
FAQ: Taper Fade Women's Haircuts
What is a low taper fade?
A low taper fade haircut is a gradient haircut where the hair begins about 1 inch (2.5 cm) or so above the hairline.
it makes your hair look more neat because it ensures there are no messy or hairs around your ears. In addition, It's a great way to draw attention to your cheekbones.
What is a mid taper fade?
The mid taper fade is a right balance between low and high fades, it looks stylish yet casual. A medium taper starts halfway up the sides and back. The benefit of this hairstyle is that it works great with the best haircut lengths, styles, and hair textures.
What is a high taper fade?
Comparing to other fades, a high taper fade starts further towards the crown of your head. Because it draws attention to your eyes, it's the perfect hairstyle to combine with a voluminous hairstyle like a pompadour. A high taper fade can also frame your face making it look slimmer
What do I tell my stylist for a fade?
Explain your personal style: whether you want your haircut to look professional or edgy.
Bring a photo that the stylist can use it as a reference. Choose the photo of someone with a similar hair texture
Tell the barber how short you want your hair to be, soft or disconnected fade.
Was this article helpful?