The first thing that comes to mind when you hear the word pompadour is the modern men hairstyle. Well, that is partially true, but not to the full extent. The thing is that the look itself was founded a long time ago and the person whom it was named after was actually a woman. Madame de Pompadour is the one who invented the hairstyle and wore it on almost every occasion so that it was named after her. Surprising, isn't it? What is even more surprising is the fact that modern celebrities decided to go as far as to breathe in a new life into the style. If you are thinking about some fresh ways to style your hair inspired by female celebrities – you have come to the right place!
Main photo Andrea Raffin/Shutterstock
The Female Pompadour Is Back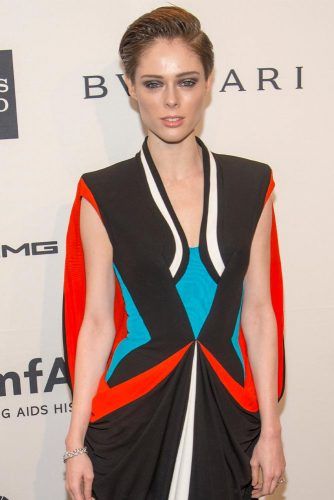 Source: Debby Wong/Shutterstock
It has been already mentioned that pompadour haircut is said to be a mostly male cut, in its classy version. The fact is that a classic modern pompadour involves shaved sides or at least a fade. However, that didn't stop Coco Rocha to wear the look during amfAR New York Gala. We must say that she looked absolutely fab with the sleek sides and slightly messy top. If you prefer short haircuts to the long mane, we suggest you consider the look.
Easy Female Pompadour Styling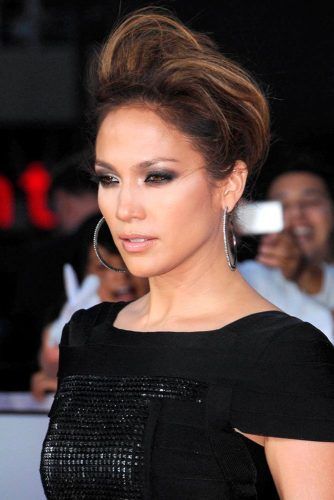 Source: s_bukley/Shutterstock
Many of you may still think that pompadour hairstyle is only possible if you sacrifice the length. However, that is not true, and Jenifer Lopez proves the point. The thing is that all you need is a little bit of hairspray and some teasing. What we have in mind is that you can easily pull the top of your hair to the front, while keeping the rest in the back. Secure the top with some hair product, and you will look perfectly disheveled and stylish.
Classy Business Hairstyle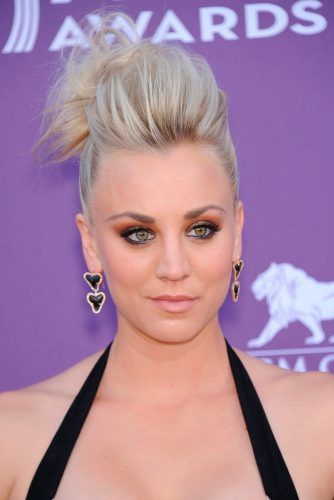 Source: DFree/Shutterstock
In case you wonder how to style a pompadour so that you can pull the stylish look to work, we may have an idea in mind. Business female hairstyle is the combo of a pony and a pompadour. It is simple to succeed with since all you need is a little bit of teasing in the front and it is lovely to look at. Even Kaley Cuoco wore the look to Country Music Awards, and that means something!
Voluminous Pompadour For Long Hair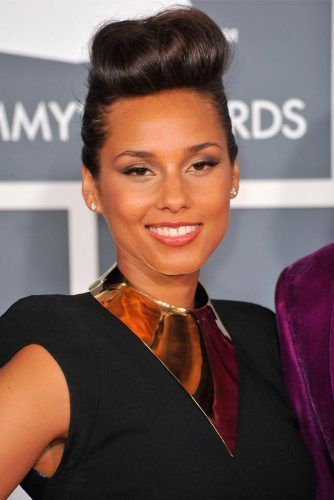 Source: Featureflash Photo Agency/Shutterstock
Pompadours can look very elegant and formal when you know what to opt for. The truth is that if you wish to look your absolute best while keeping the hair out of your face, voluminous pompadour will save the day. One look at the 'do that Alicia Keys sported to the 54th Grammy Awards proves the point perfectly.
Blonde Haired Pompadour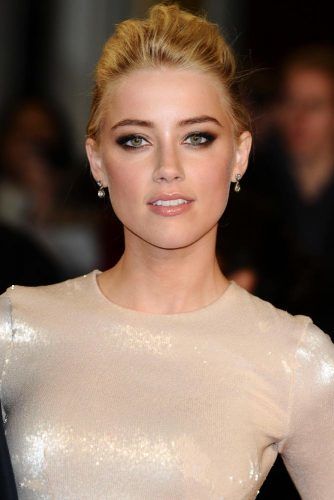 Source: Featureflash Photo Agency/Shutterstock
It is true that in most cases a modern pompadour is the perfect combo of messiness and sleekness. When you are running out of time, and you still haven't thought of your hairdo, this blonde pompadour may be all that you need. Just take the middle section of your hair, spray the roots for some more volume and pin the section to the scalp. As a result, you will end up with a gorgeous pompadour that Amber Heard sported for the premiere of "Rum Diary."
Protruding Pompadour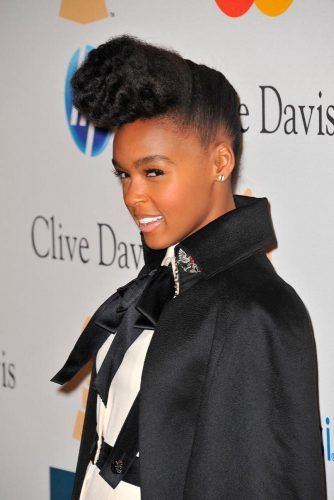 Source: Jaguar PS/Shutterstock
There are so many pompadour hairstyles to choose from that it is even a little surprising. If you seek for the look to make you stand out, then protruding pompadour may be precisely what you should at least consider. It may be a little difficult to succeed with on your own, but with the help of a handy stylist, there is nothing impossible. It should be added that protruding pompadour looks incredible on curly hair, we set Janelle Monaé as the flawless example.
Easy Pompadour Ponytail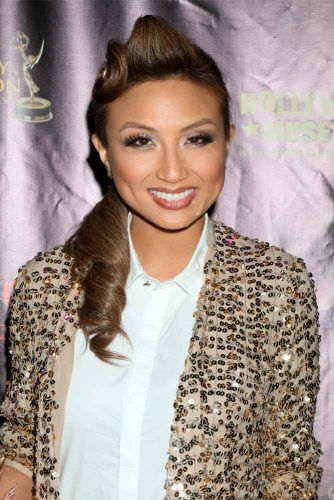 Source: Kathy Hutchins/Shutterstock
No matter how unbelievable it may sound but pompadour hair can be fitted to actually any occasion or event. Jeannie Mai here decided to pull a low pony pompadour. When you look at the image, it looks absolutely perfect, but the reality is such that it couldn't be easier to replicate. Another advantage to the look is that it will keep the hair off your face and that may be crucial at times.
Sleek Pompadour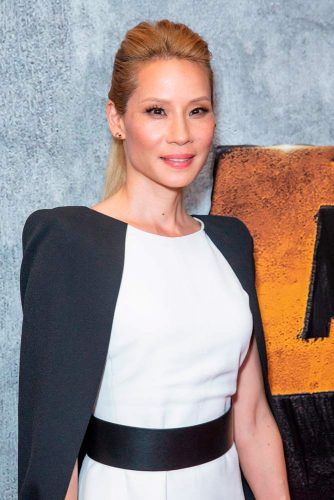 Source: lev radin/Shutterstock
Lucy Liu is one of those pompadour women who like it sleek. There is no wonder why since such a hairdo complements her long face perfectly. Sleek pompadour is easy to do too. All you need is a sleek front section secured on the back of your head. It is best to straighten the rest of the hair for an even more impressive result.
Short Thick Wavy Hair With Pompadour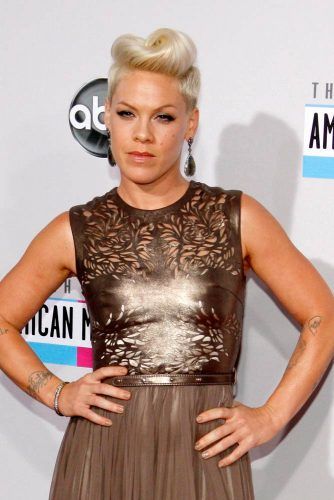 Source: Tinseltown/Shutterstock
Often it seems that styling short pompadour is a lot easier than the long one. The truth is that all depends upon the impression that you want to achieve. If you are heading for a sleek and feminine look then a twisted pompadour that Pink sported may be the one. It should be added that such a look will suit those with short and thick hair most.
Slicked-Down Pompadour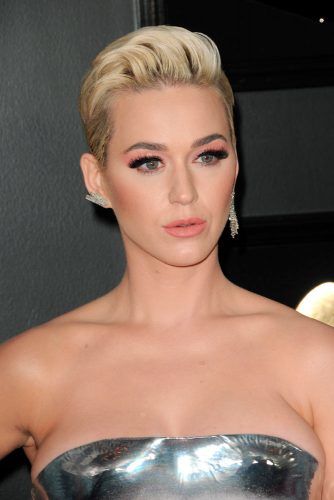 Source: Kathy Hutchins/Shutterstock
Katy Perry is one of those celebrities that like to experiment with their hair a lot. Among all the others she recently sported a few pompadour haircuts. While being ultra-trendy, her look remains somehow slick and classy. All due to the slicked pompadour spiced up with a few wispy pieces that add that necessary dimension to the hair.
Curly Pompadour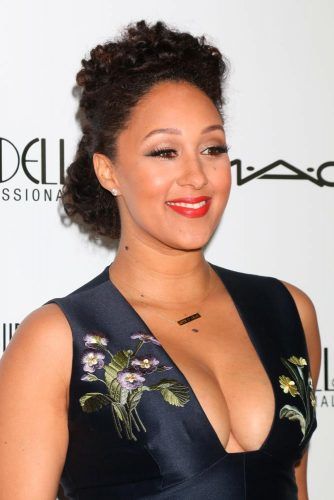 Source: Kathy Hutchins/Shutterstock
Styling curly pompadour is pure fun and aesthetic pleasure. The thing is that there isn't much that needs to be done, all you need is to bring out curls to the front and secure them. For the greater effect you can let a few stands out. Take Tamera Mowry-Housley look like a suitable guide.
A Messy And Perfectly Imperfect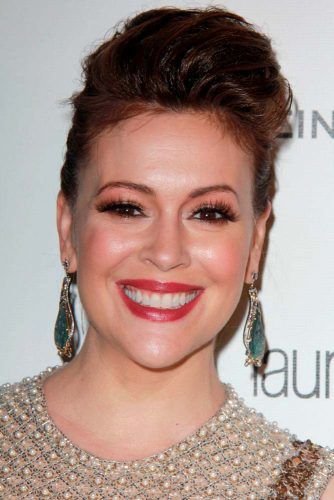 Source: Kathy Hutchins/Shutterstock
If you dare to cut off your locks and go for a pompadour, you need to get yourself a set of a voluminizing product, round brush, and a blow dryer. You may have all those things at your disposal already. These little helpers will keep your hair in place, without it falling into your eyes all the time. As you can see from Alyssa Milano's example, such a look is fabulously perfect with all the imperfection it involves.
Feminine Pixie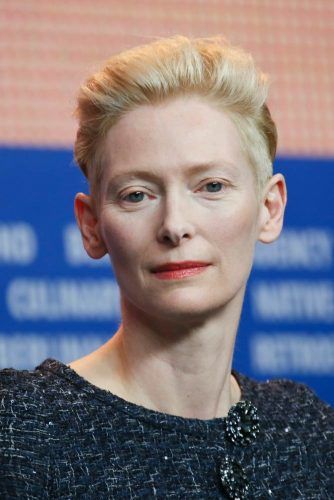 Source: Denis Makarenko/Shutterstock
Tilda Swinton has never been a fan of super complex hairstyles. This time, it is no different. However, her pompadour fade is seamlessly elegant and feminine. While the bottom part is closely-cut, the top is elegantly swiped back with some volume added to the front.
Sleek Shoulder Length Pompadour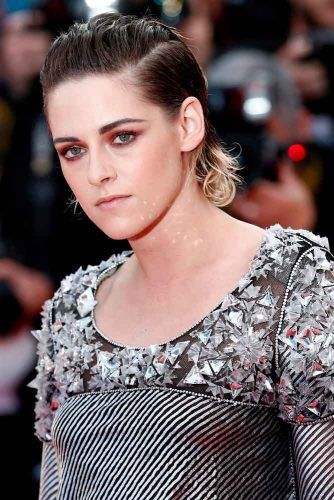 Source: Andrea Raffin/Shutterstock
We couldn't have left Kristen Stewart out of this pompadour collection. She sported the shoulder-length pompadour to Cannes Film Festival in 2018. The look is both simple and daring. The main task is to define the pompadour on the sides while wearing it with such length, that is why the addition of some hair product is necessary.
Sleek And Elegant Updo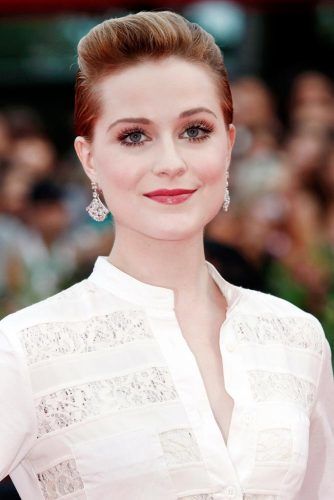 Source: Andrea Raffin/Shutterstock
Another peculiarity of pompadours is that you can easily incorporate them into almost any hairdo. For instance, this sleek updo that Evan Rachel Wood chose wouldn't look as elegant without a super sleek pompadour in front.
Stylish Half-Up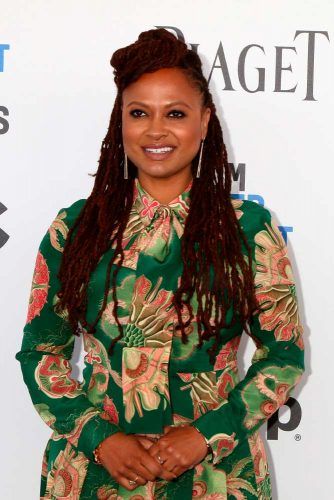 Source: Kathy Hutchins/Shutterstock
Those of you sporting long afro braids, there is a pompadour look to replicate too. The fact is that it seems that Ava DuVernay didn't spend much time on her hairdo since all that she did was wrapping a front part of her fros on top. However, such a half-up pompadour looks cute and genuine, not to mention stylish. Try it out!
Messy Updo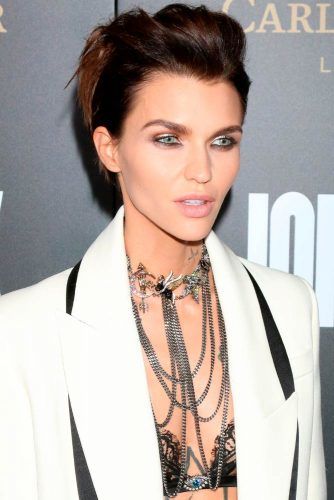 Source: Kathy Hutchins/Shutterstock
At first glance, it may seem that Ruby Rose opted for a perfectly classy and sassy pompadour. Yet, she went a little further. What she did was letting her hair shift to the side a little. Such a gesture resulted in a beautifully messy updo, don't you think?
High Pompadour With Side Bang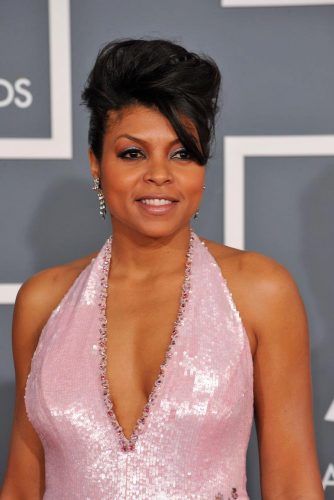 Source: Jaguar PS/Shutterstock
The fact is that a high pompadour on a long hair may seem like it is missing something. Taraji P. Henson thought the same, and she found a perfect way out. What she did was the addition of a loose side bang, but it added to the look tremendously. See for yourself!
Pompadour hairstyle is extremely versatile, and that makes it super popular among female celebrities. If you are looking for a perfect source of inspiration – you may have already found it!
FAQ: Pompadour
How long does hair need to be for a pompadour?
The conservative standard is to have a top that is 2.4 inches or longer and sides that are shorter. This gives you enough hair to sweep or comb back for more volume. Talk with your barber about the best hair length for the pompadour height that you want.
Did Elvis have a pompadour?
Elvis Presley wore his dishwater blonde hair in a pompadour that is combed back, with long sideburns in the 1950s. In the late 1960s, Elvis had his hair dyed jet black and his sideburns shaved. The emphasis was on the top of his head rather than the sides.
Can you use a round brush on dry hair?
It is not necessary to comb it or use the round brush on it. Just make sure it doesn't dry completely. When your hair is 85-90 percent dry, stop brushing. If you use the round brush on wet hair, it will not only take a long time, but the end result may not be what you were expecting.