How many flairs to a fade haircut are there? The fittest answer would be – an unlimited number. In case you have been considering spicing your everyday style with a mens haircut, you may as well take a pick at the trendiest fade looks that 2023 brings. There is a suitable option for each and every one of you. We can promise you that much!
What Is A Fade Haircut?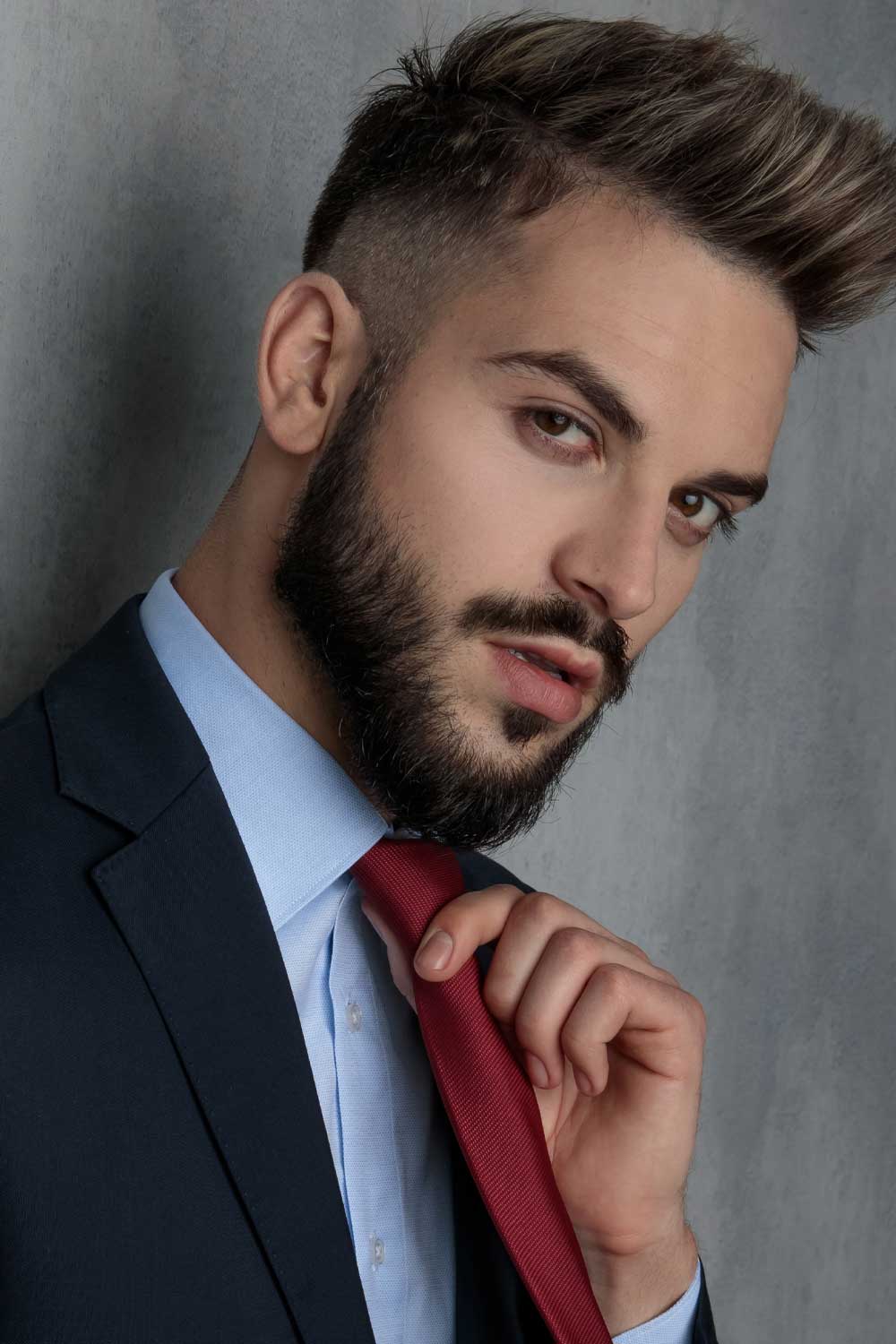 Before you decide to test any of the existing boys haircuts, you must realize what it is all about. In terms of a fade, it can be described as a cut with a shorter back and sides and quite an extended top. There are different types of fade to experiment with, so you can attune the style to your personal needs and preferences in no time. Keep in mind that the length of the top varies too. In case it feels like you would want to give the style a try, consider the following points before you head to the barber's.
Pick the layer – low, mid, or high fade.
Choose the top length – short, medium, or long.
Decide on the everyday style – textured, messy, straight, something individual.
Evaluate your everyday style – formal or casual?
Once you have all the answers at hand, you can book a visit at your hairdresser's immediately.
How to Ask the Barber for a Fade Haircut?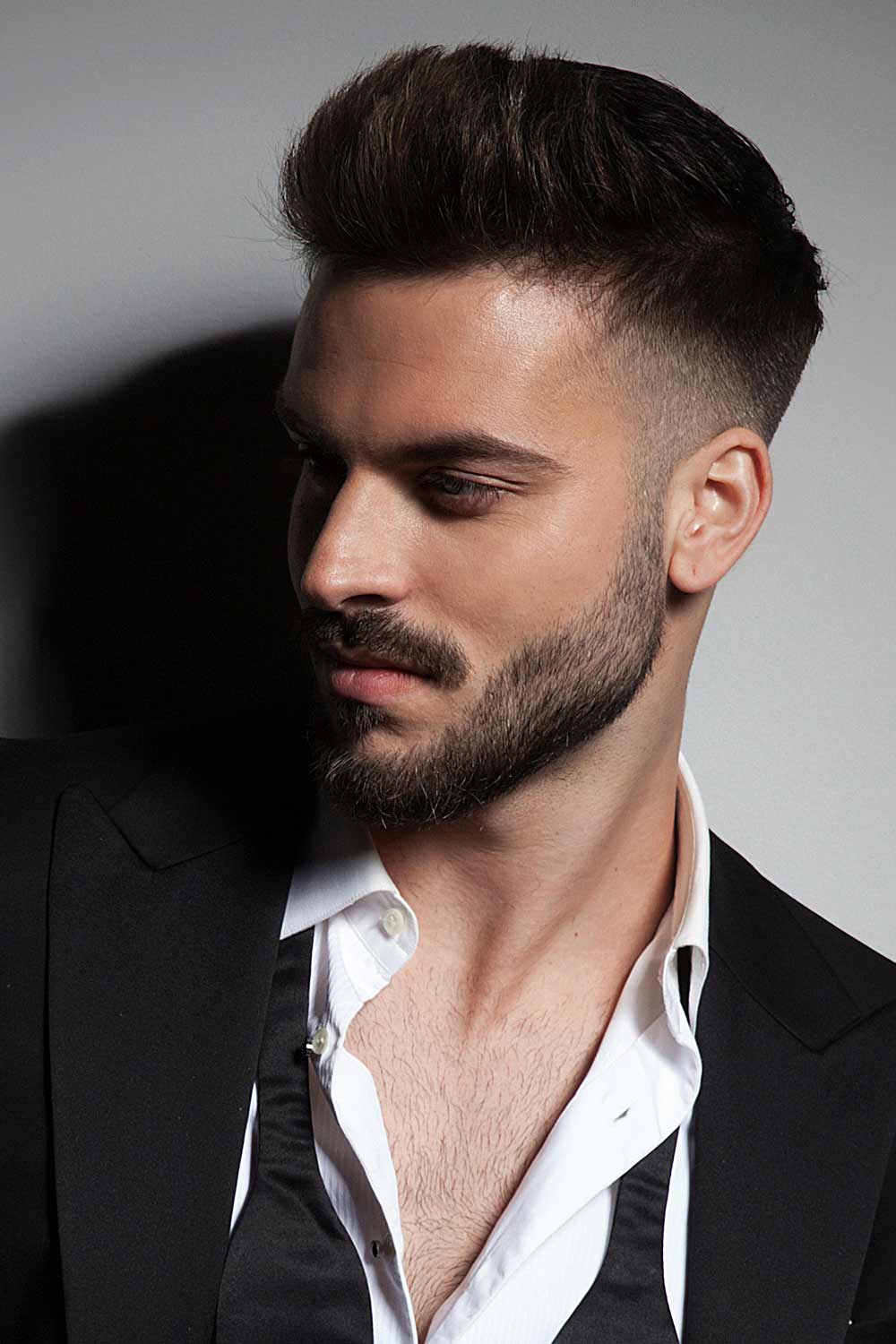 It may bother you how to ask for a fade haircut for men. The answer to that is simpler than you could have initially assumed. Since you have an example of the cut you desire in mind, you can share your thoughts and preferences with the barber. When a professional is aware of the top length, styling ideas, and fade level, they will advise you on whether the look suits your face shape and lifestyle in particular. Besides, having a picture of a wanted look on you is never a waste. Lastly, should the expert suggest that the look isn't the best for you, you may want to listen to a professional opinion. Though the chances with a fade are slim, the style is flattering to most.
How To Do A Fade Cut Yourself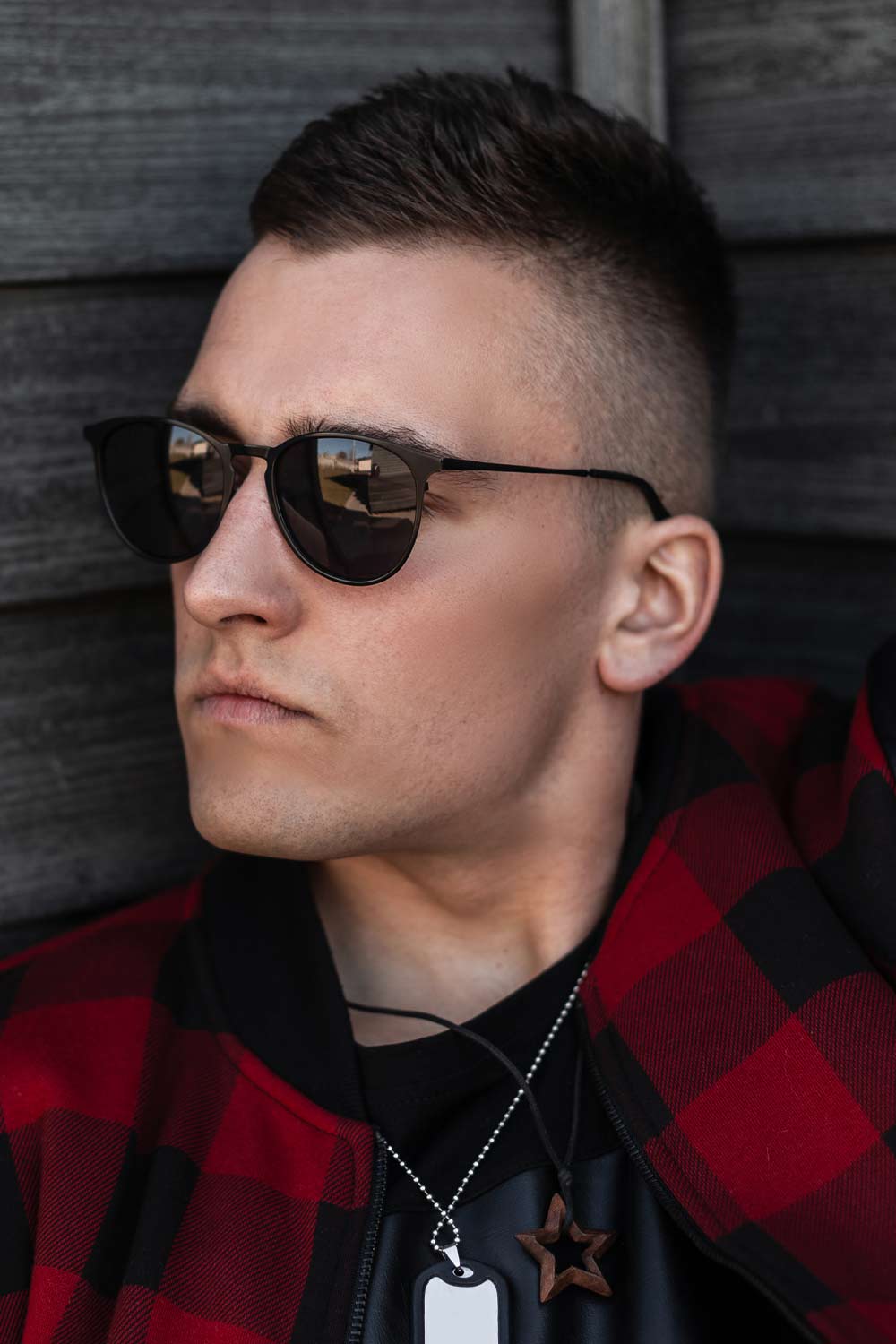 Sometimes men can try and give themselves a bald fade haircut on their own. Should you belong to the category, you may want to follow these simple steps to succeed with an ideal outcome.
Consider where you would like the fade line to start.
Decide on your preferred shorter or longer fade and set the fitting guard size.
Trim the hair, moving your clippers up the sides and back. Start at the bottom and move up. Always.
Change the guards to fade nicely and blend your hair length. There should be only natural transitions without any parts that stand out too much.
Don't go higher than your temples.
Use your clippers and comb to blend the fade and the rest of the hair. Run your clippers over the comb to balance the right length.
Trim your hairline and neckline with trimmers.
A word of advice – moderation is the key, you can always go shorter, but there is no turning back if you cut too much too soon.
The Different Types of Fade Haircuts
Low Fade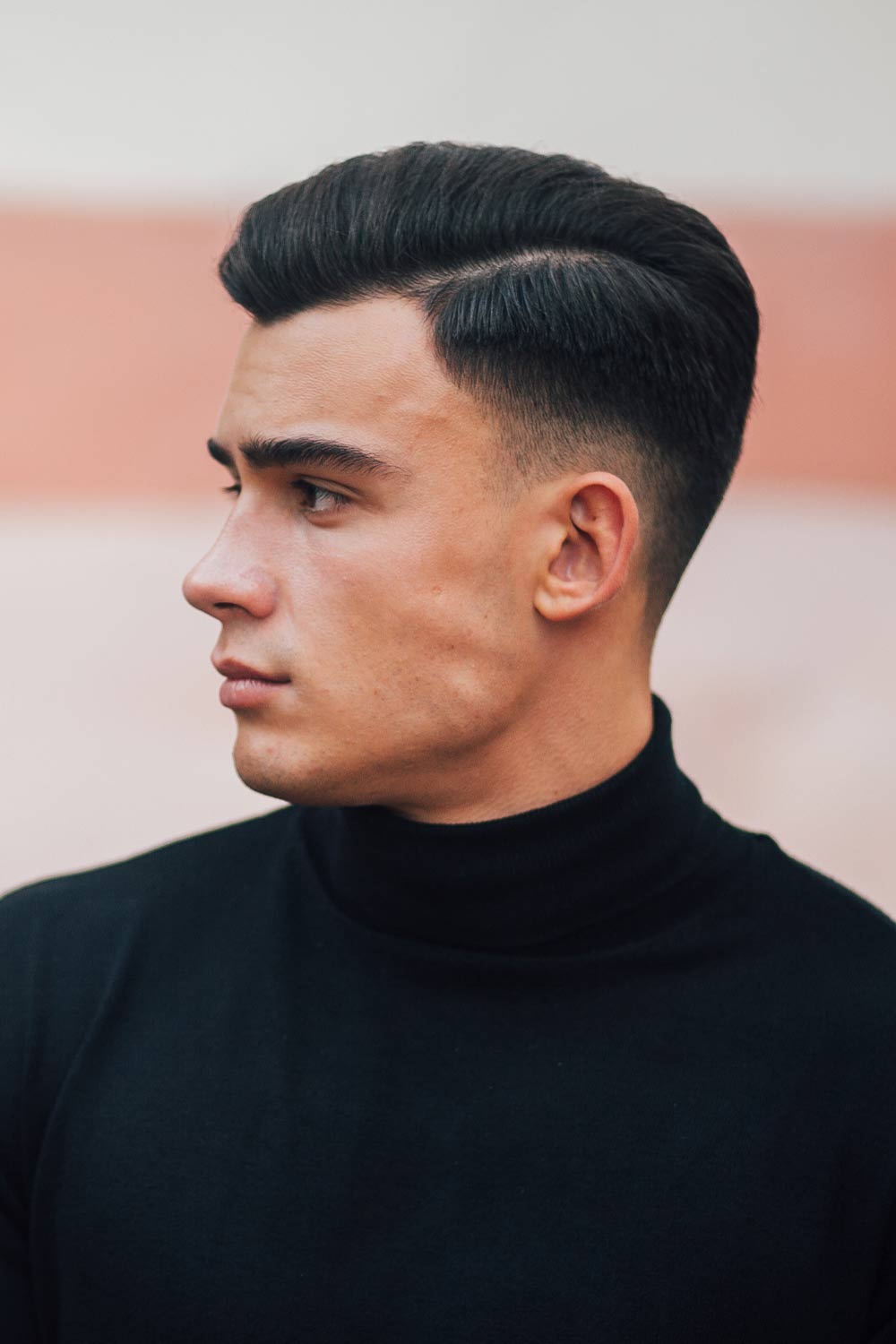 As you already know, there is more than a single fade level to choose from. It happens so that a low fade haircut is one of the most frequently picked variations, and there is more than one reason for that. The thing is that a low fade starts above the ears and goes down in length toward the nape. Thus, the style is easily implemented into any style and pairs well with every hair texture. Not to mention that the number of options to style the cut is nearly unlimited.
Medium Fade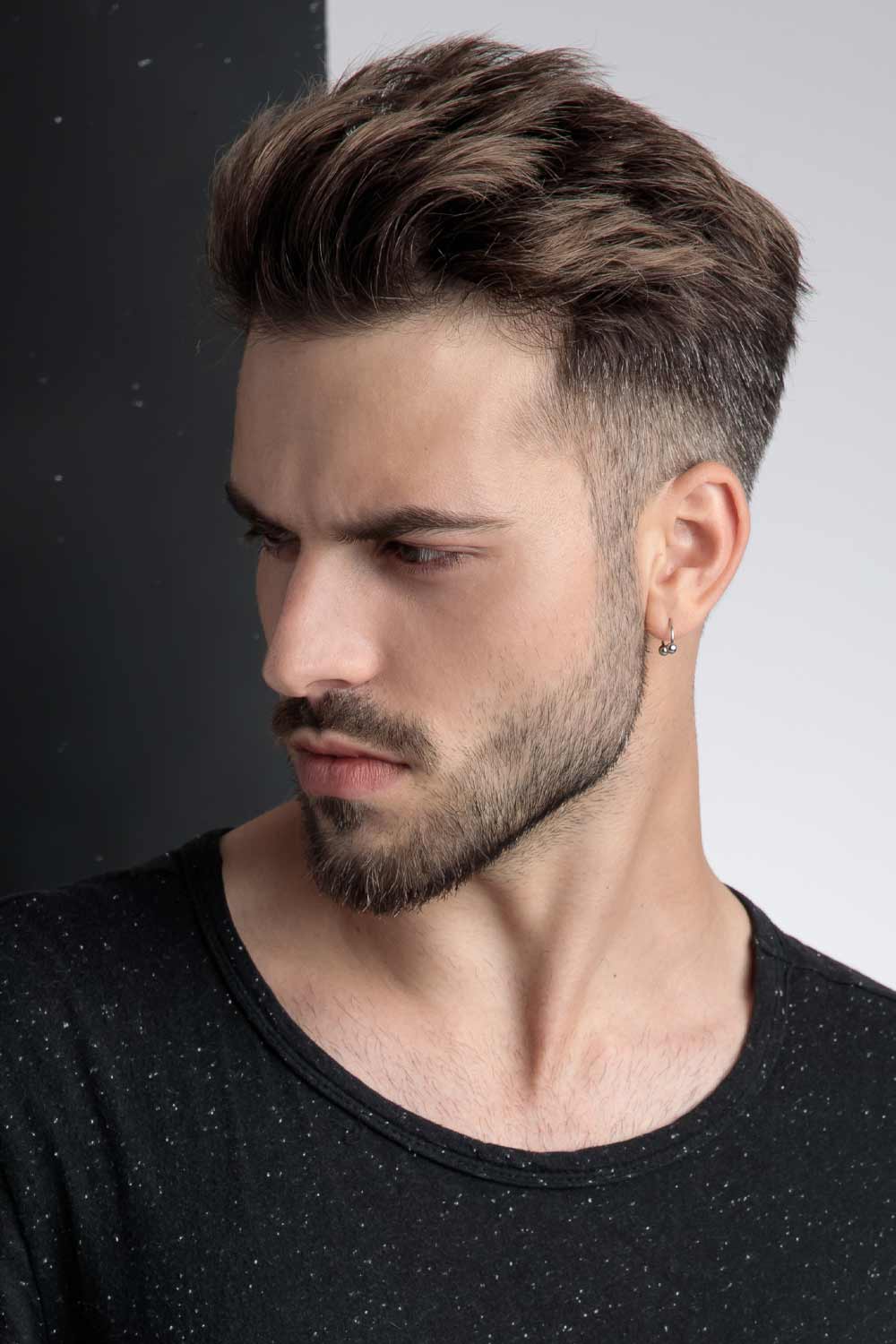 Another fade choice is a mid fade haircut. The medium fade is sometimes described as a regular fade, the classiest variant. The medium fade starts higher than a low one, at least an inch above the ears. The haircut is impressively neat and brings more definition to your face. Considering the countless top variants, you can pull off a plethora of trendy looks with the cut.
High Fade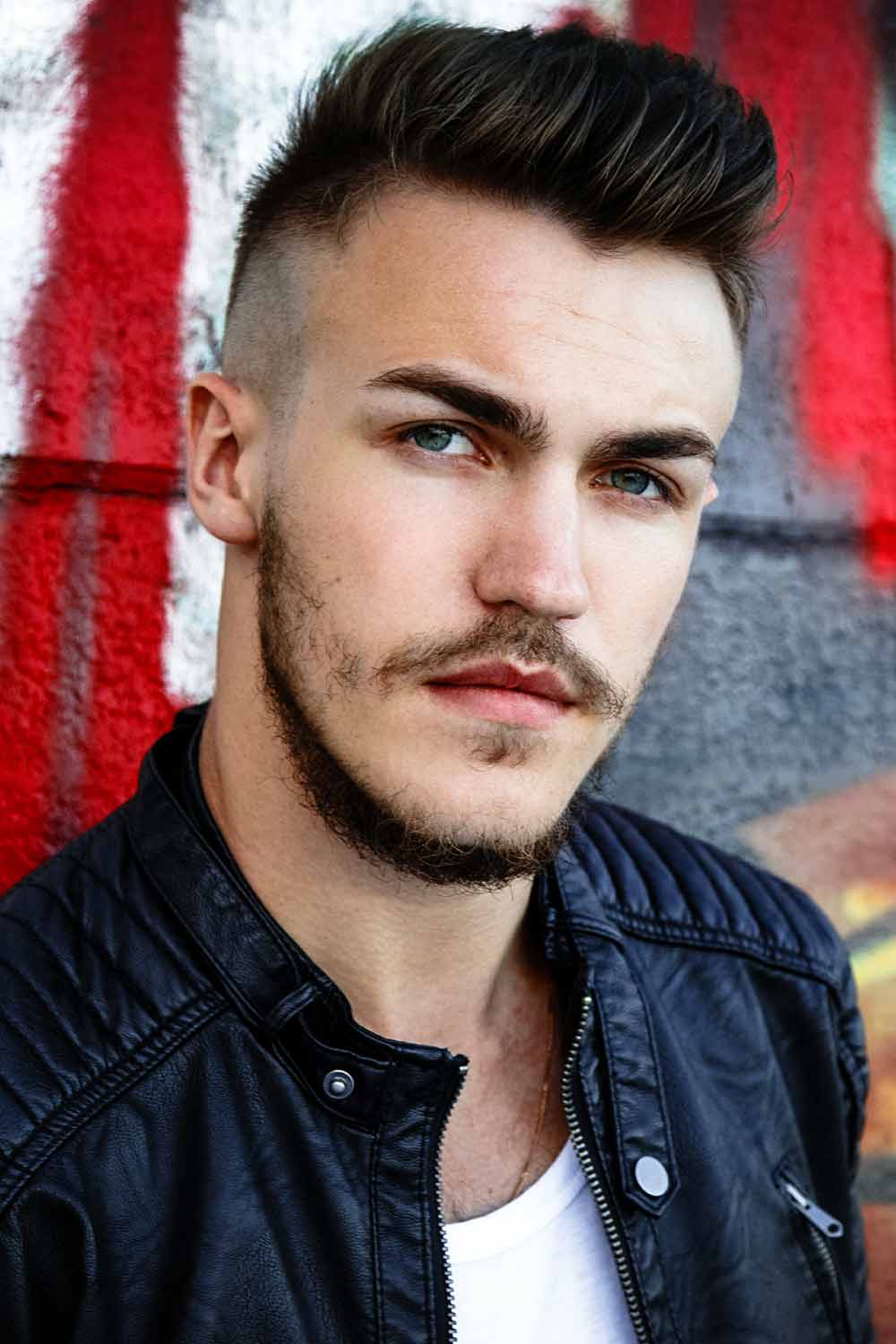 A high fade haircut is slightly edgier than the mid and low fade. It starts below the temples and suits those who want to succeed with a dramatic look or emphasize the stylish top. In case you wonder which styles the cut fits best, we would name anything with cropped hair, but there are no boundaries you can't push.
Skin Fade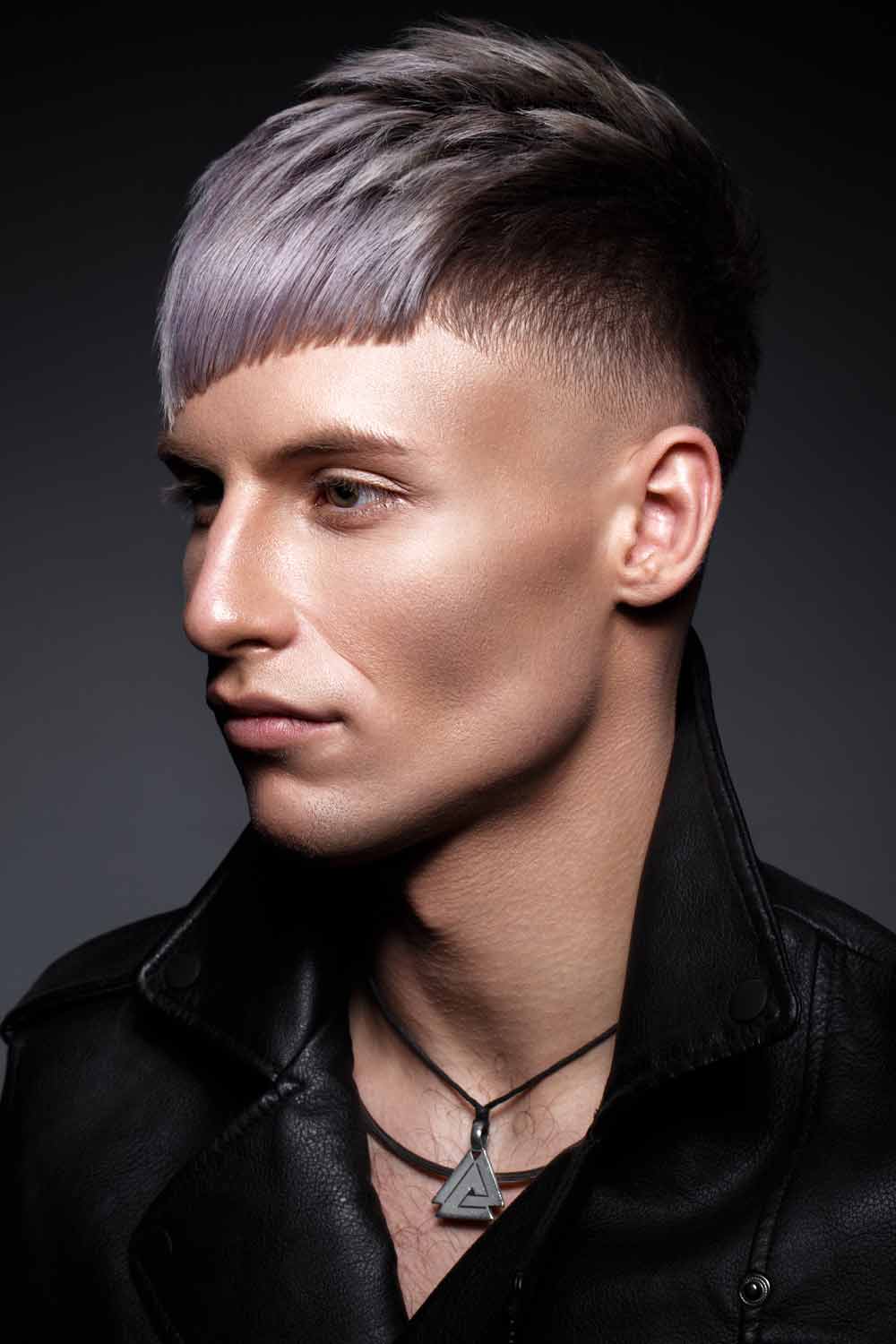 On top of the three primary fade levels, there are additional choices to keep in mind, and a skin fade haircut belongs to the list. As you may have already guessed, the name implies that a part of your head is shaved right to the skin. Usually, it is done with the help of a foil shaver or a straight razor. With the skin fade, it is possible to implement either of the three primal fades into the mix. The cut may start as a skin fade and seamlessly transition into a low, mid, or high fade.
Taper Fade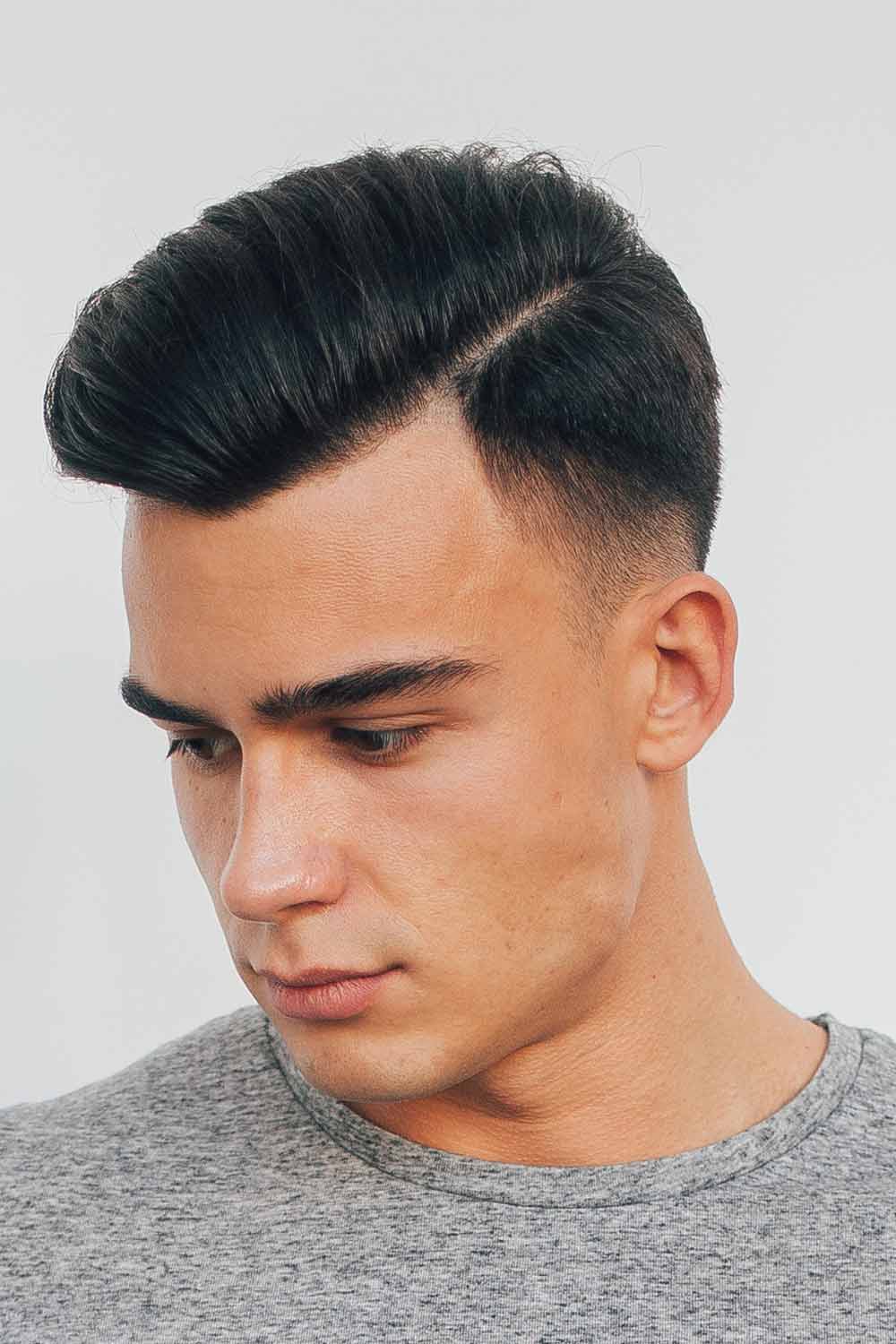 There is yet another subcategory of fades – taper fade haircut. The primary element of the style is how it is cut. In the case of a taper fade, there is no such obvious and quite dramatic transition to notice. The hair is neatly clipped without getting too short.
Fade Haircut with Medium Curls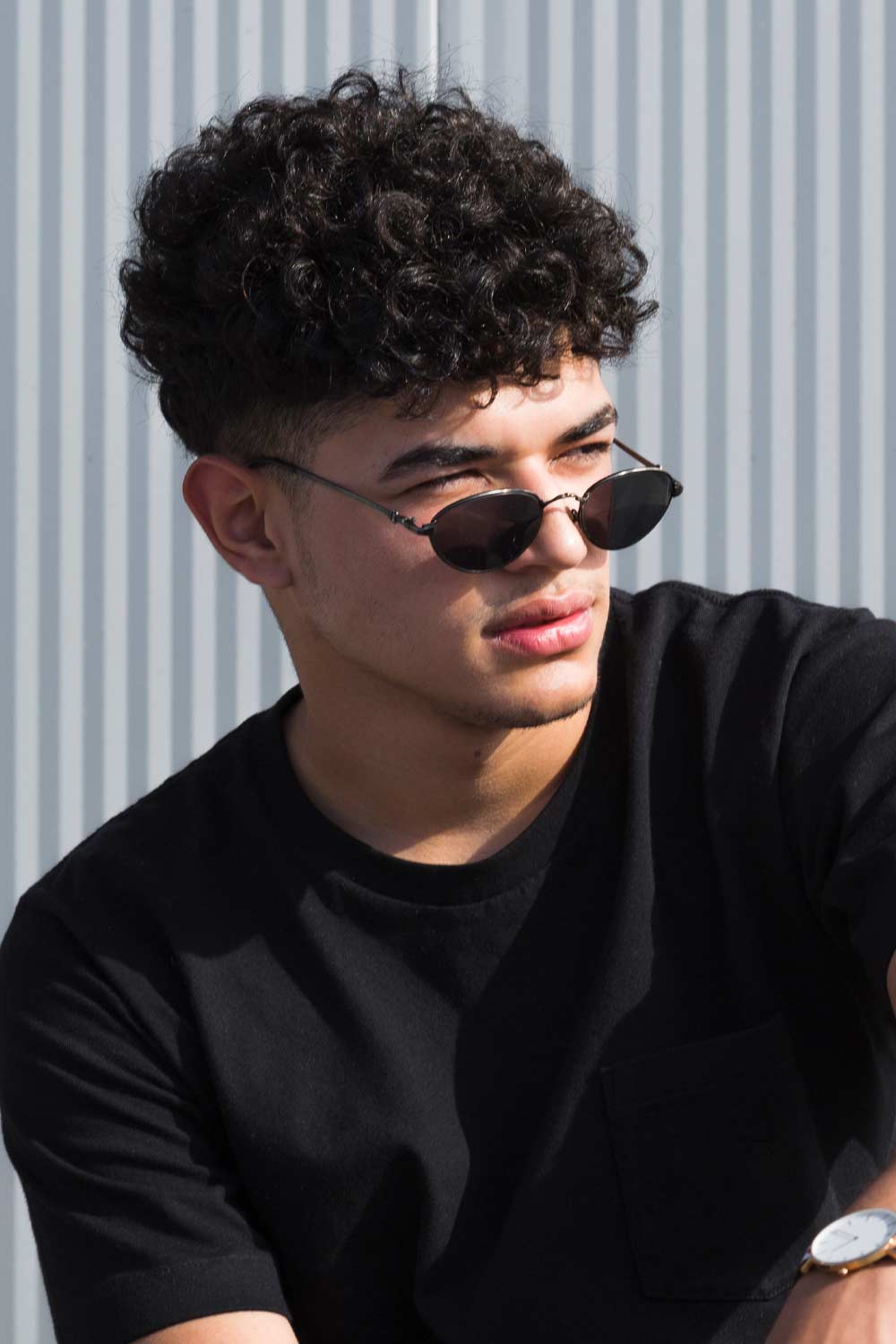 Now that you are fully aware of all the fades in fashion, it is time to discuss how they match different hair textures and styles. As you can see, a stylish medium fade haircut is all you need to emphasize your curly top. The sleek transition between the top and the back and sides creates that necessary emphasis centered on the texture. Throw in a little styling product; the dimensions will amaze you!
Quiff Fade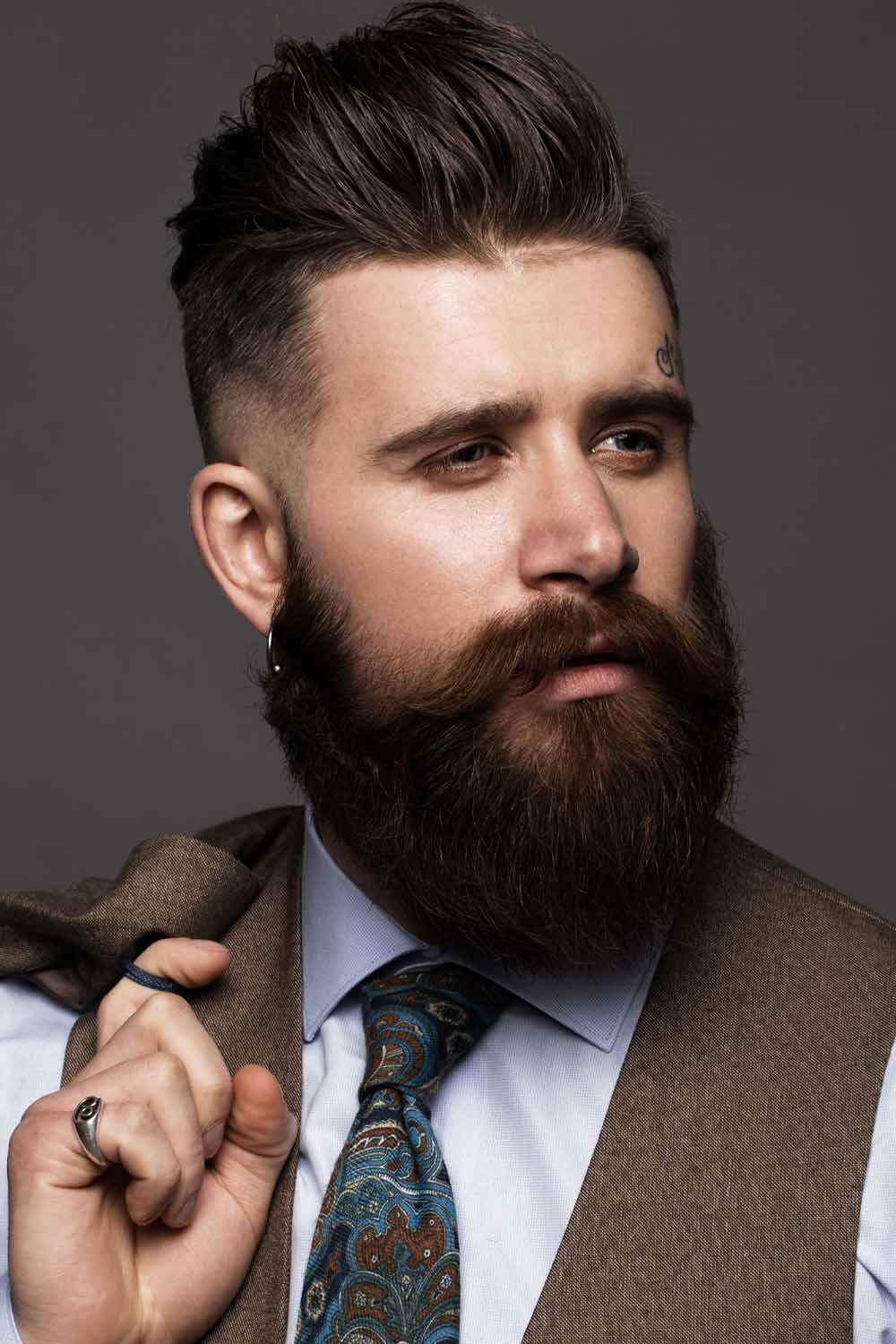 Some people may find quiff a little too boring as there is no room for drama. However, it takes as much as a mens fade haircut to introduce all the edginess and sass you seek into the look. Keep in mind the higher the fade is the more daring the style will appear. Besides, pairing the cut with a full-on beard is a great way to add some dramatic flair to the mix.
Scissors Fade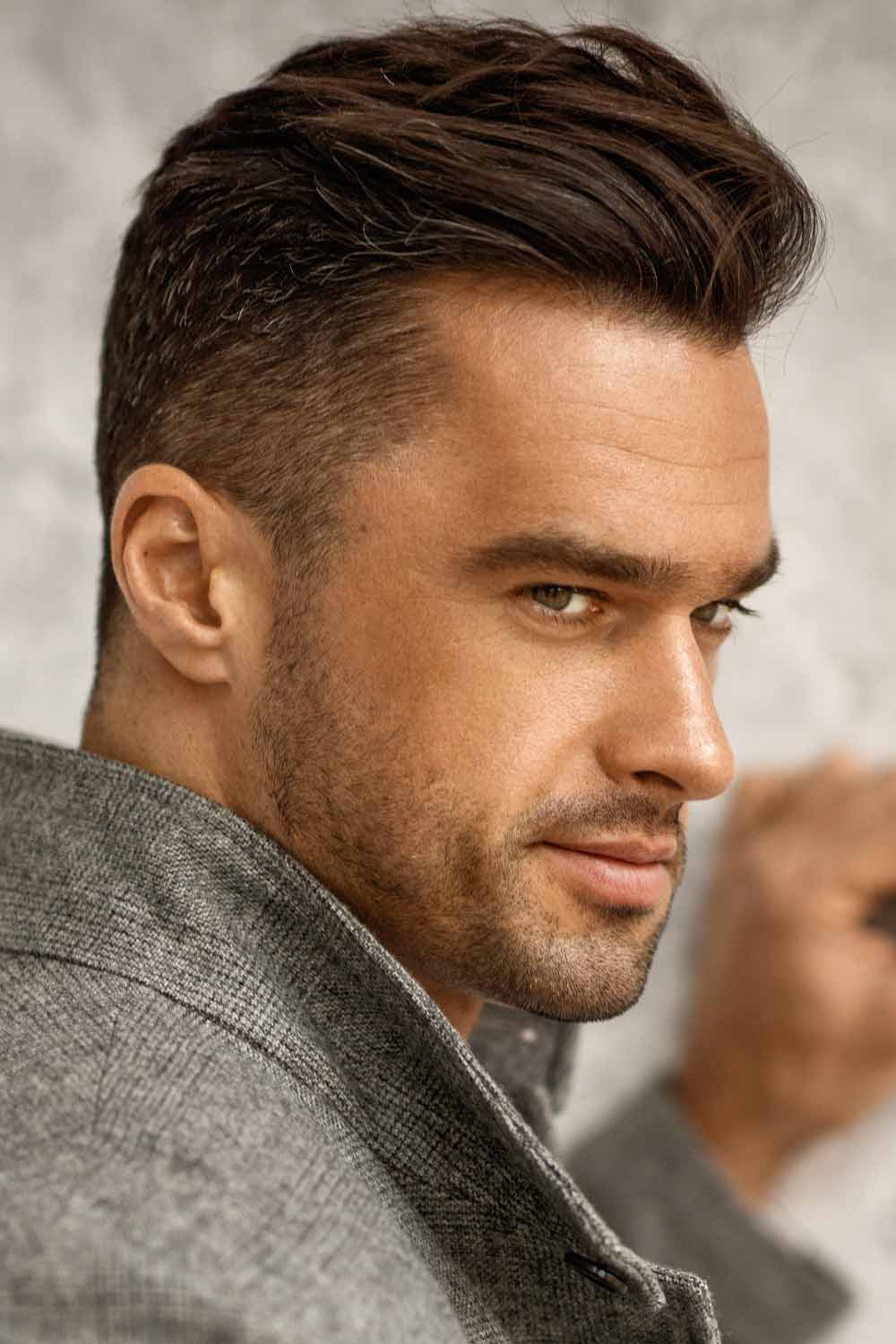 As neat and elegant as a low taper fade haircut can be, some men may need a little more customized feel. Should you belong to the category, we suggest you opt for a scissors fade. The intricacy of the cutting technique will attune the style to your personal needs and preferences precisely.
Brushed-Up Fade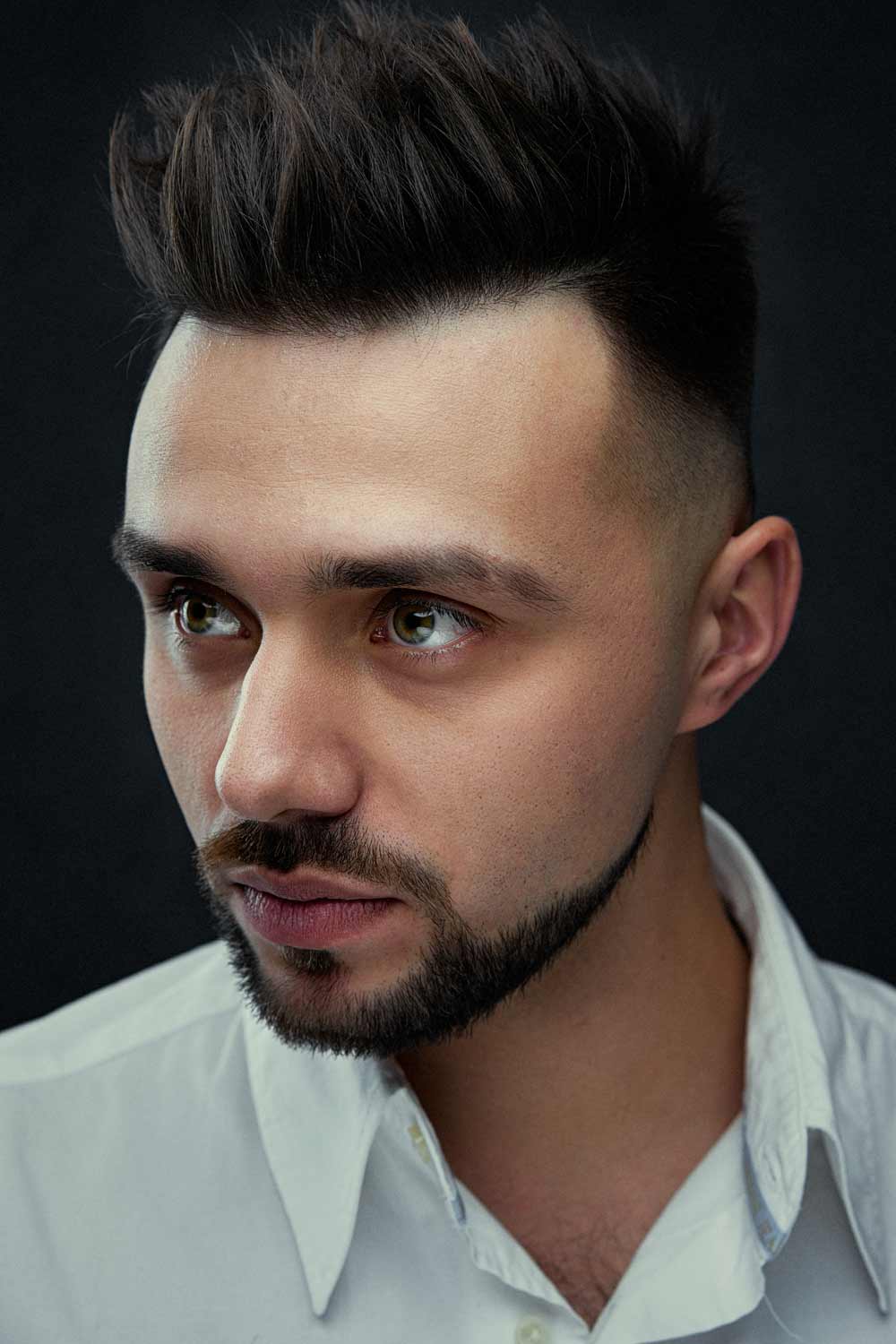 Beauty comes in simplicity. The rule applies to fade cuts as well. All it takes is a longer fringe and neatly faded sides to create an impressive brush-up. It may take a few more minutes in the morning to fix the look, but the effect is always worth it. Moreover, you can always spray some styling product before you dry your mane, and a regular blow-out will transform into a finished brushed-up look.
Short Spiky Skin Fade Haircut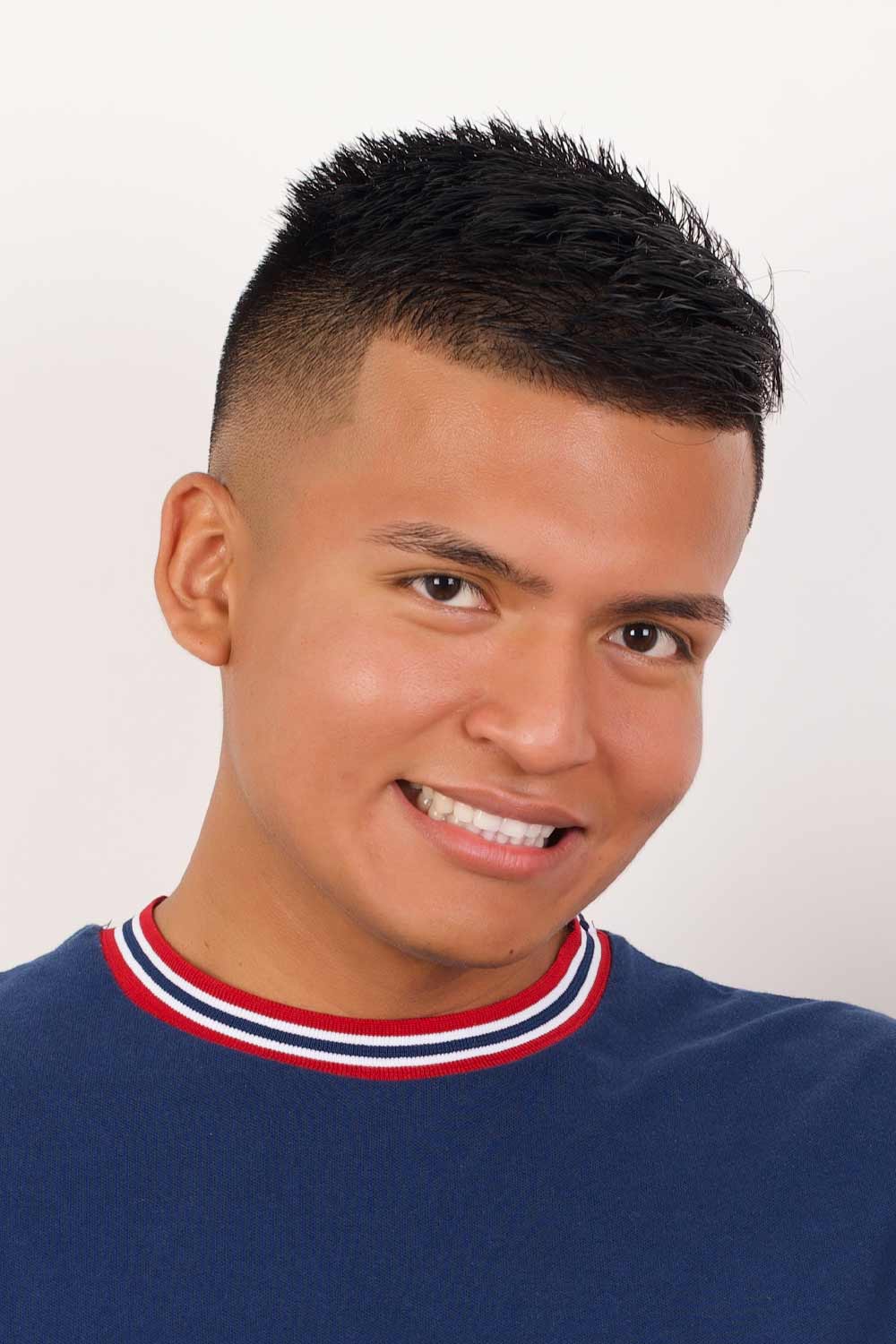 When you think of a short fade haircut, you surely imagine something simple with little room for experimentation. However, that is not the case. As you can see, a neat skin fade compliments a well-textured spiky top perfectly. The trick lies in the seamless transition, but a scoop of styling product run through your hair can add up to the finished result.
Everyday Low Skin Fade Cut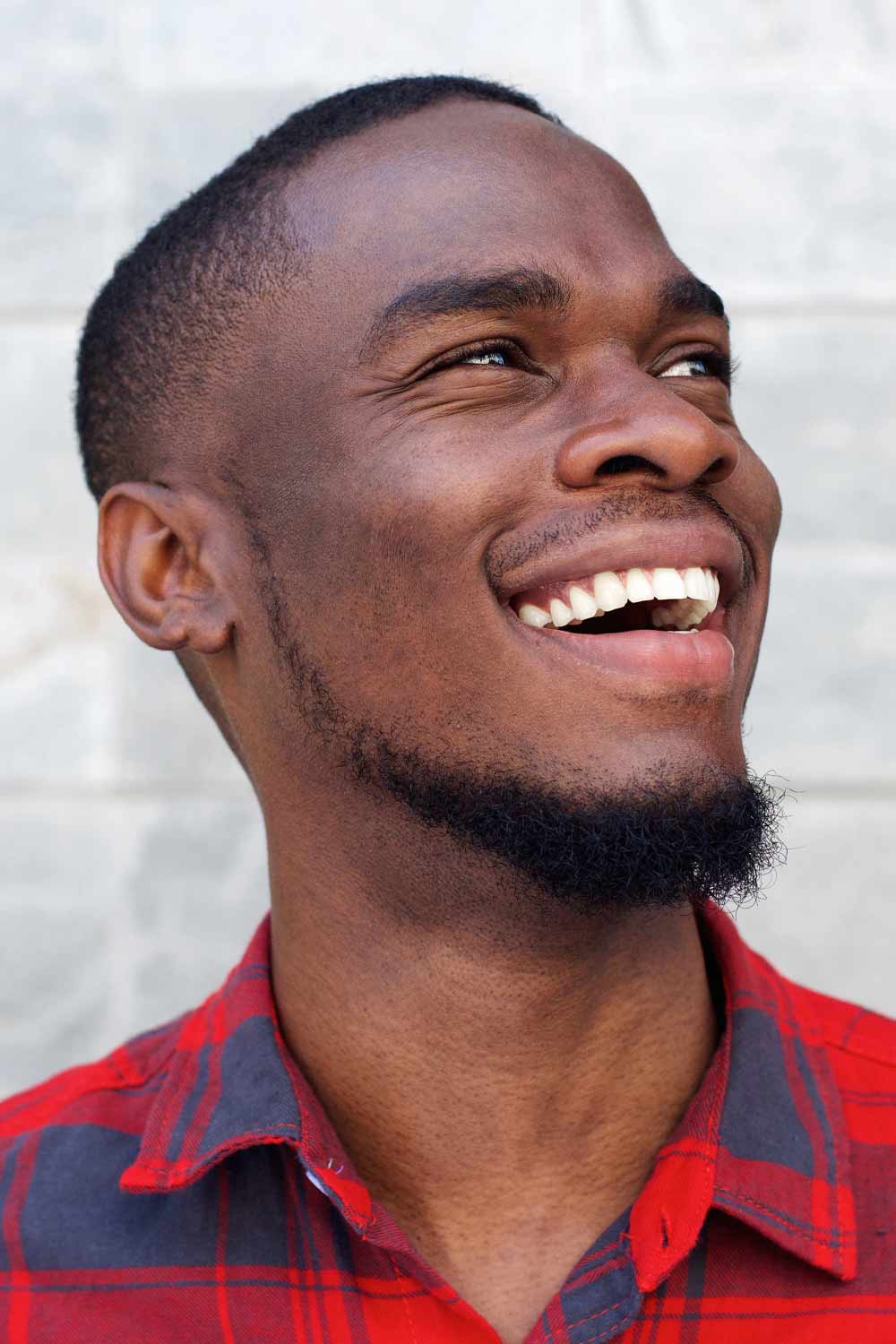 When looking for an effortless black mens fade haircut, you may want to pay extra attention to a low skin fade. The beauty of the look lies in its low maintenance, but there is enough room for expressing your stylish side too. So, if you are interested in a cut that requires little styling effort but compliments the hair texture well – this may be the case.
Fade Haircut with a Twisted Mohawk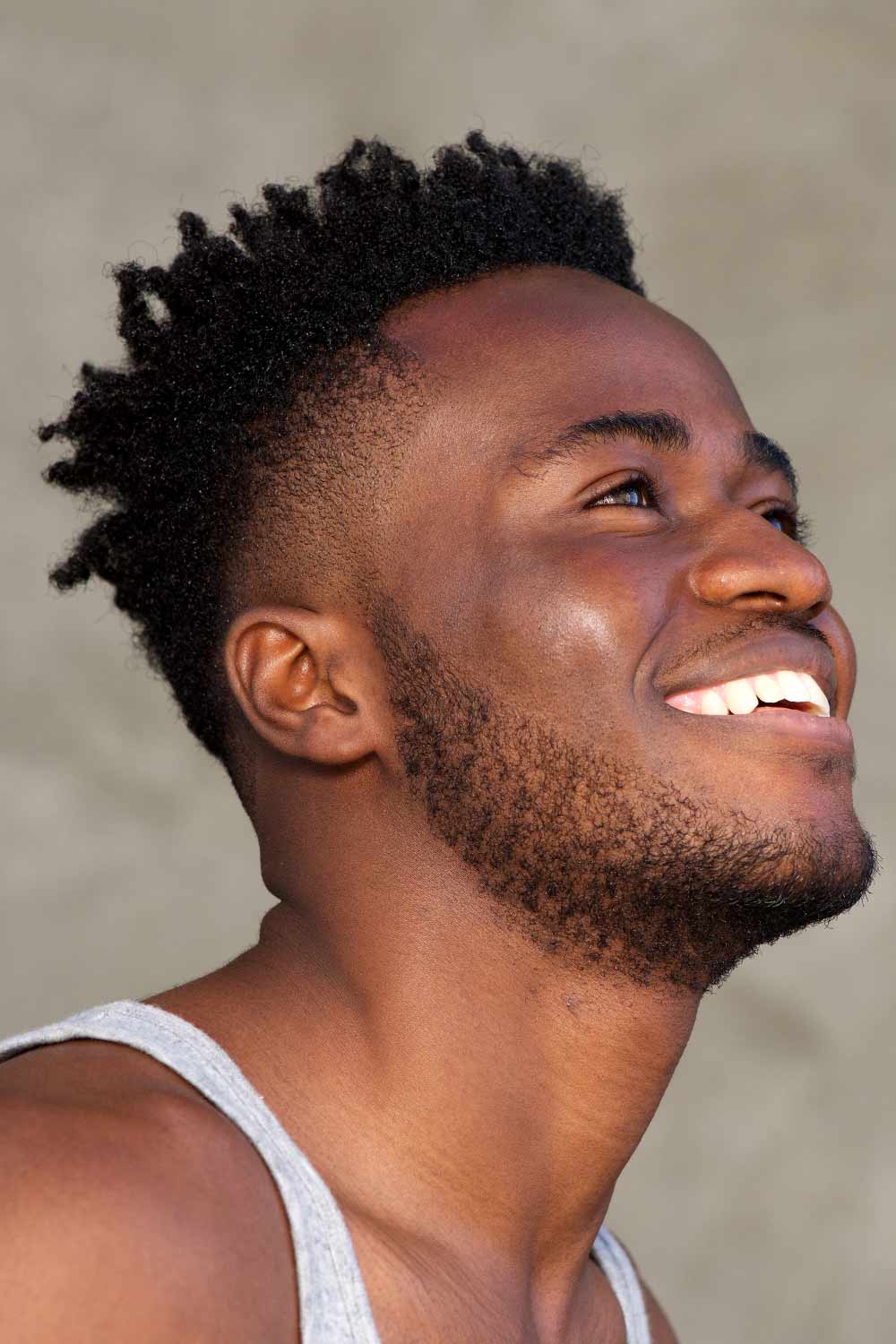 Taming your kinky hair texture may be a more challenging task than some people would dare to assume. However, that does not mean that the mohawks are out of your league. On the contrary. With a low fade haircut a black man can easily tame the curly mane, bringing just enough definition to emphasize its beauty and magnificent appeal.
Short Fade with a Detailed Line-Up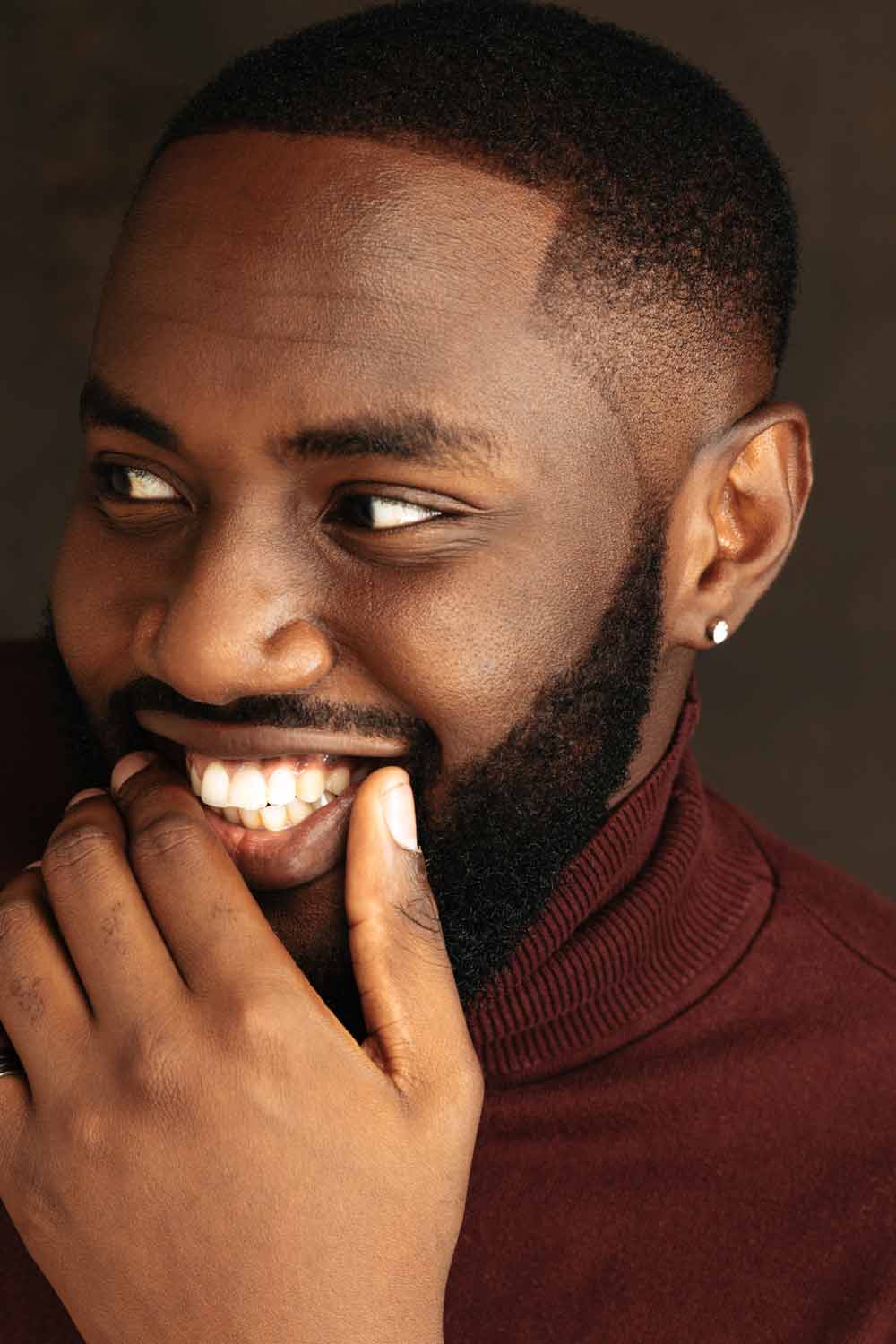 Looking for an elegant fade haircut black men will head over heels about? Seek no more! This precise short fade with a prominent line-up and neat beard is what you need. The cut lights up those prominent features so that no mood swings will go unnoticed. Besides, just a tad of texturizing powder will make the style shine. Think about it!
Side Parted Fade Cut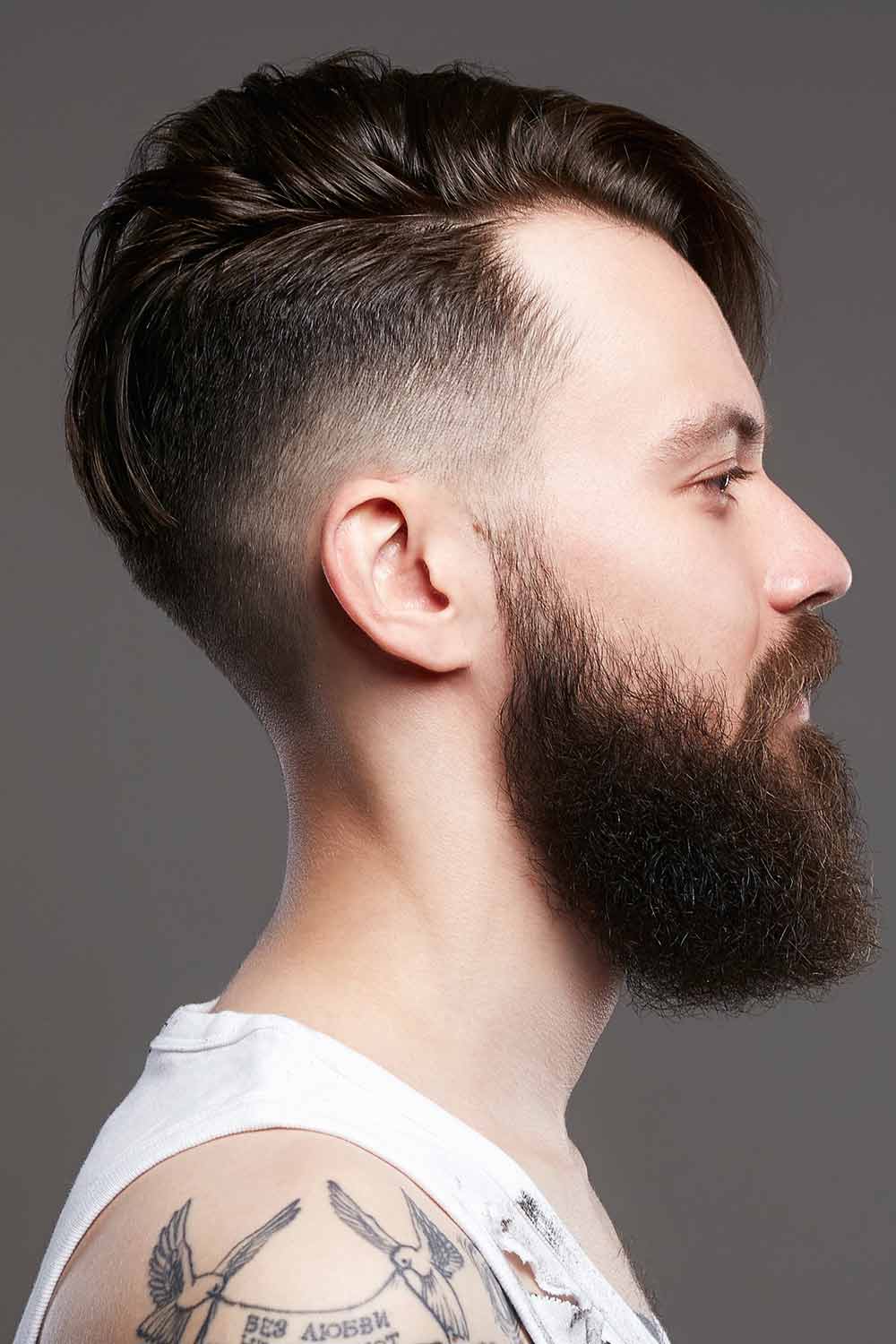 In case you don't know, side-parted cuts are currently on the verge of popularity. The reasons are many, but that seamless sophistication that the cut brings in can't be underrated. Yet, to emphasize the top, there is little better than a skillful taper low fade haircut. The killer combo will make heads turn as you pass by.
Fade Haircut with Long Top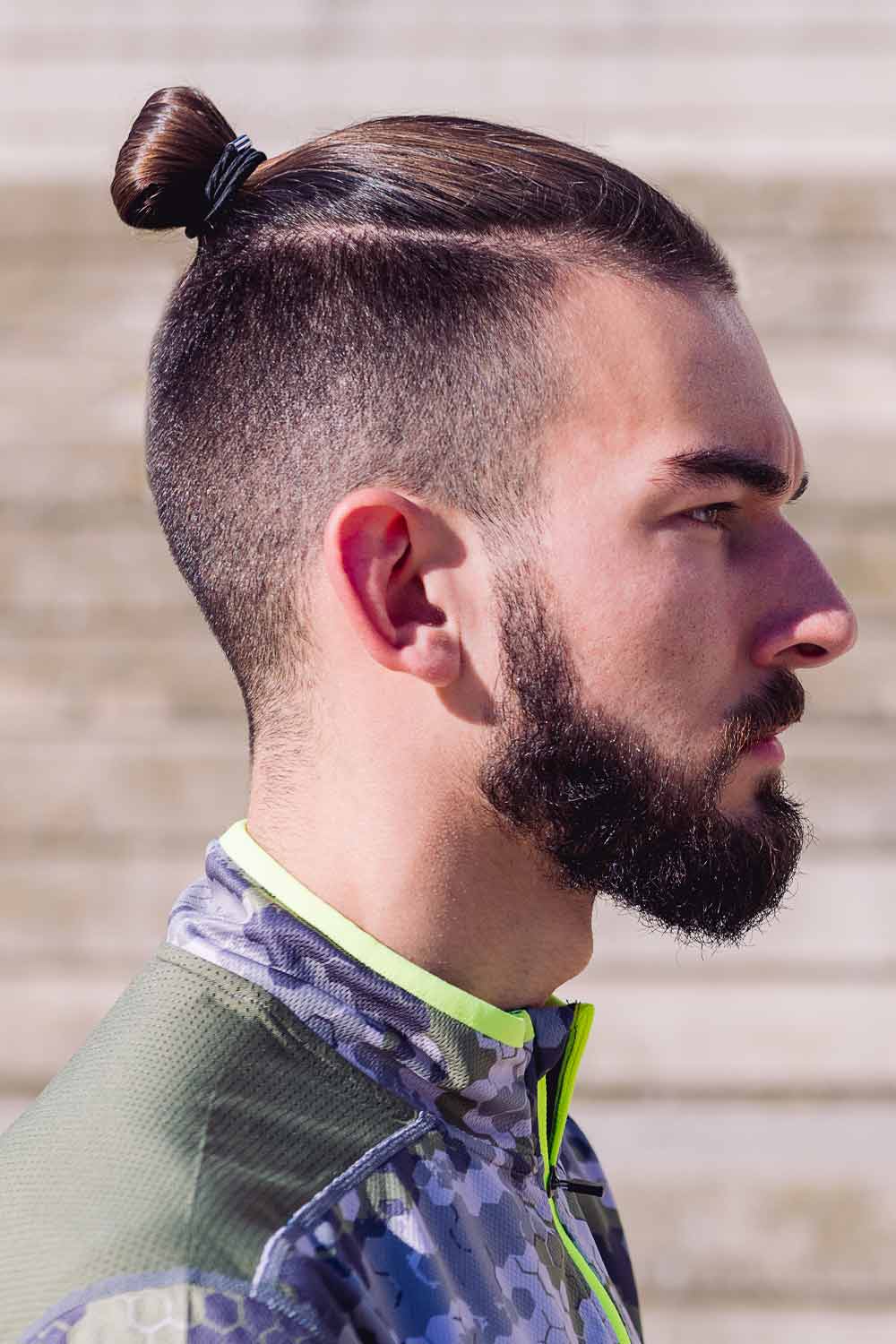 You may falsely assume that all fades are reserved for short haircuts, but that is not entirely true. The truth is that a low fade haircut taper, along with other fade variations, can be paired well with longer tops too. When you choose to tie your long hair up, the fade will take over and project the desired stylish appeal.
Fade Haircut Ideas for Women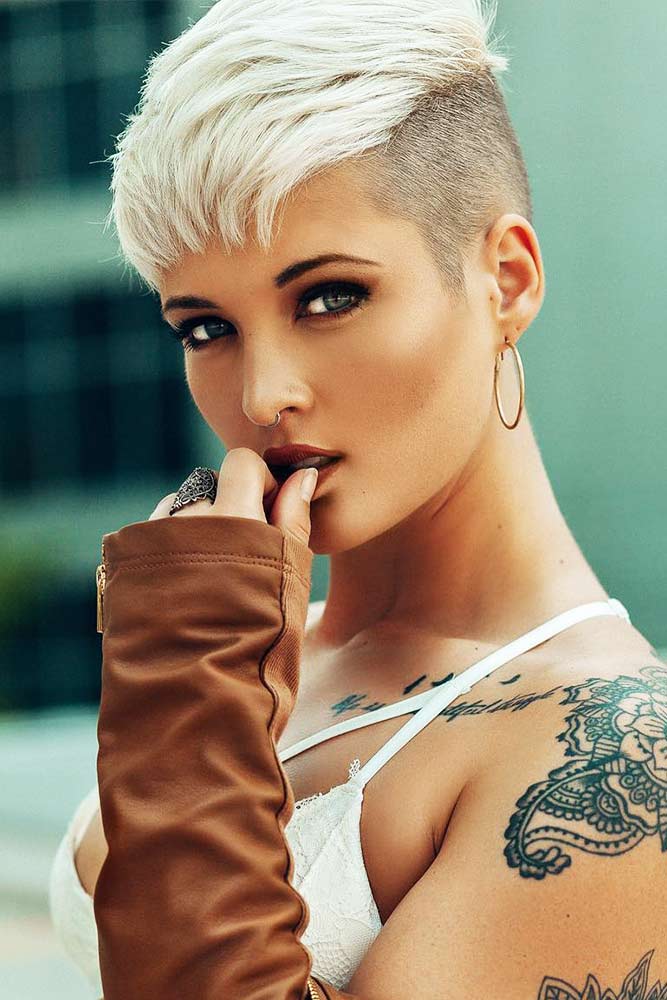 Credit photo: Instagram.com/kryptogirl7
As we have discussed the most beautiful and trendy fade haircut men prefer in 2023, it is time to shift our attention to the women league. In case you still don't know, most fades work with girly looks too. See for yourself!
Low Fade For Short Pixie Cut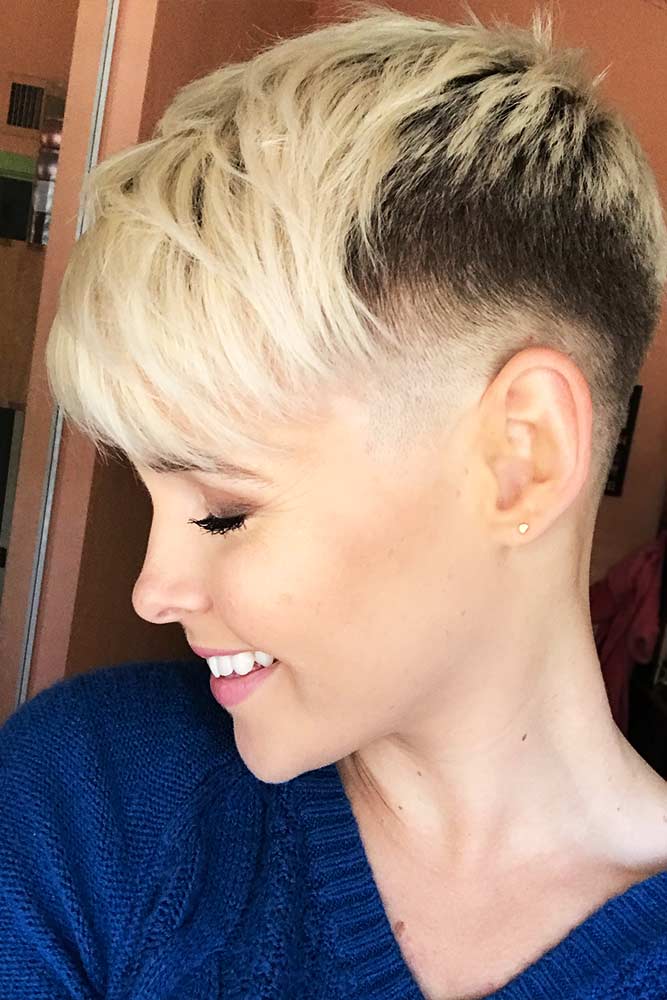 Credit photo: Instagram.com/christinaperez93
If you are looking for something ultra-fashionable and super easy to maintain, then a short fade combined with a short pixie is a combo to consider. One of the main peculiarities of the cut lies in its ability to adjust to any hair color, not to mention hair texture. Also, when the cut grows out, it still looks great so that you won't need to visit your stylist too often. Busy and trendy ladies choose a low fade and short pixie mixture in the vast majority of cases.
A Bowl Cut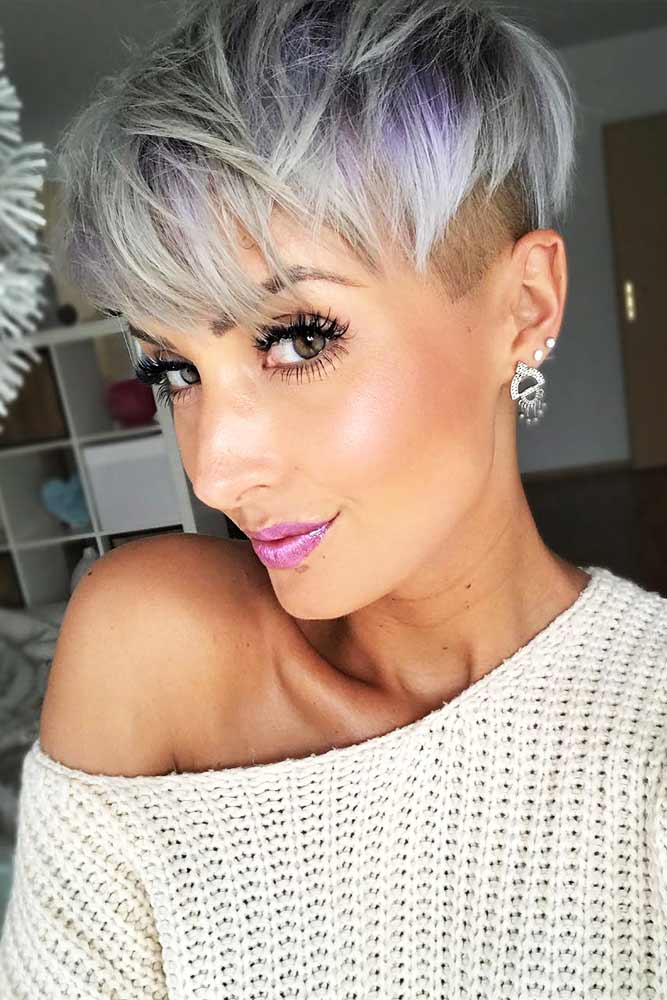 Credit photo: Instagram.com/jejojejo87
When you are in search of something new to experiment with, then we advise you pay your attention to the bowl cut. The cut is indeed timeless itself however, the addition of the fade hairstyle to it makes it very modern and fashionable. Add some trendy coloring to the picture, and you will have a daring and outstanding look to sport on a regular basis.
Very Short Natural Hair Fade Haircut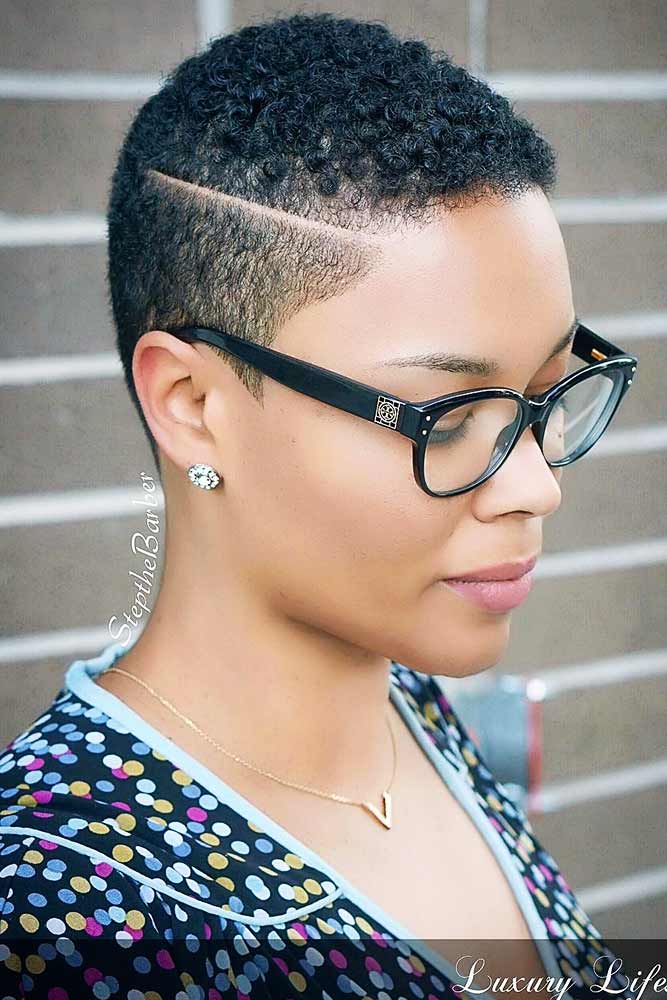 Credit photo: Instagram.com/stepthebarber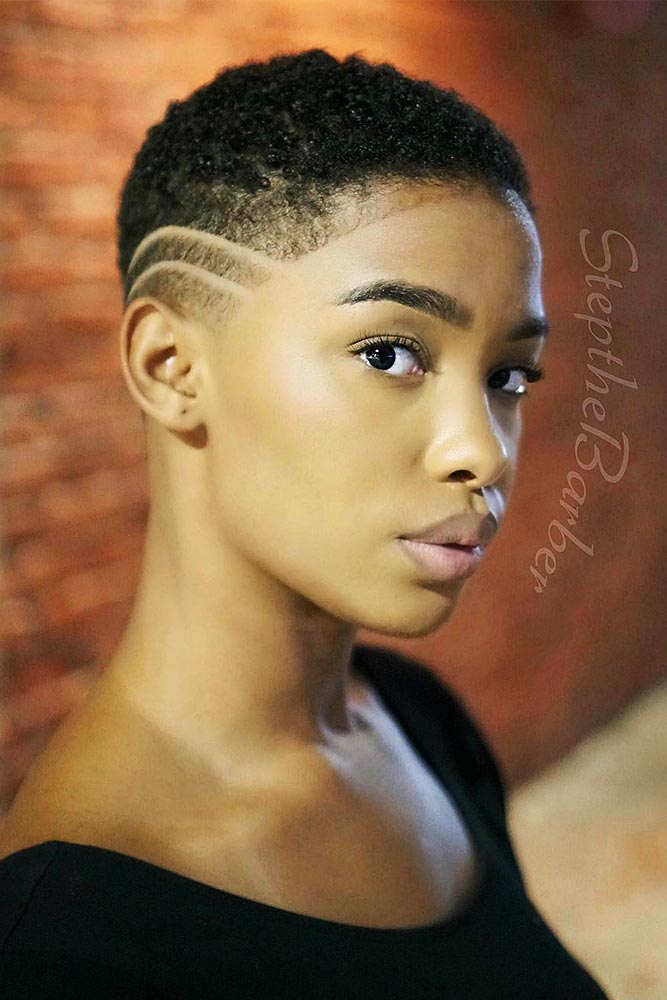 Credit photo: Instagram.com/stepthebarber
The popularity of a fade haircut is not a secret to anybody. Some people consider it boring but we are here to disagree and prove that this hairstyle can be so different and creative!
There are so many variations of it, and a very short fade haircut is the one we would like to tell you about. What we enjoy about it the most is how simple but stylish it is at the same time. Super comfortable for those who have the type of hair that tangles easily. You won`t have to spend hours in front of the mirror to make it look good. Super short at the sides, the hair gets a bit thicker and longer toward the top - a gorgeous-looking hairstyle.
If you want to add something interesting to it, then we have an idea for you. Why don`t you have figures or lines cut with a razor to get a design on your fade haircut? A great idea to try out with such a hairstyle. Be creative and stylish every month.
Medium Hair Fade Haircut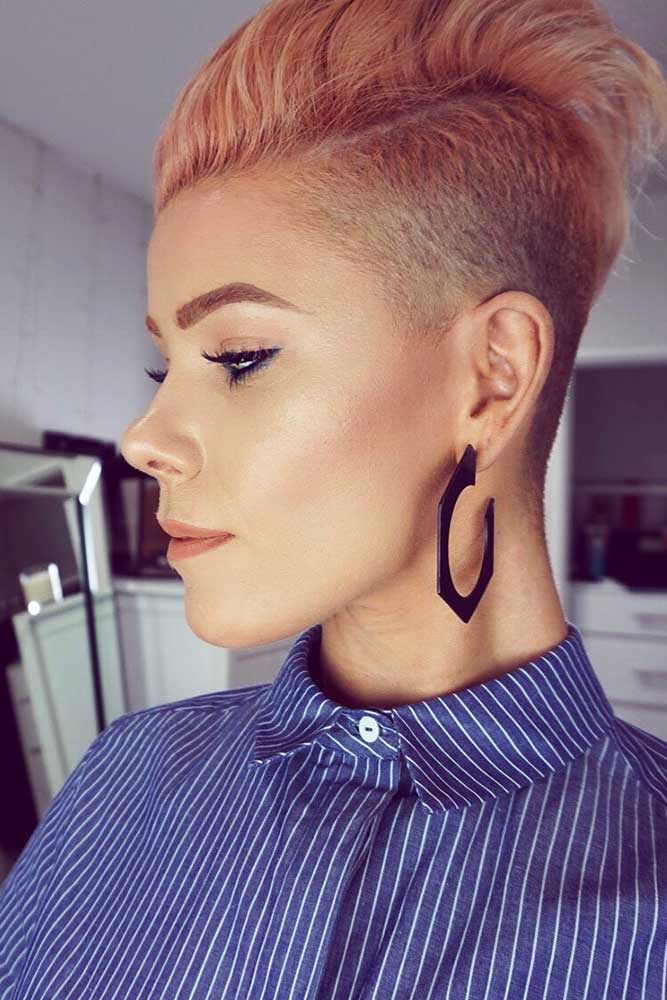 Credit photo: Instagram.com/evesilcock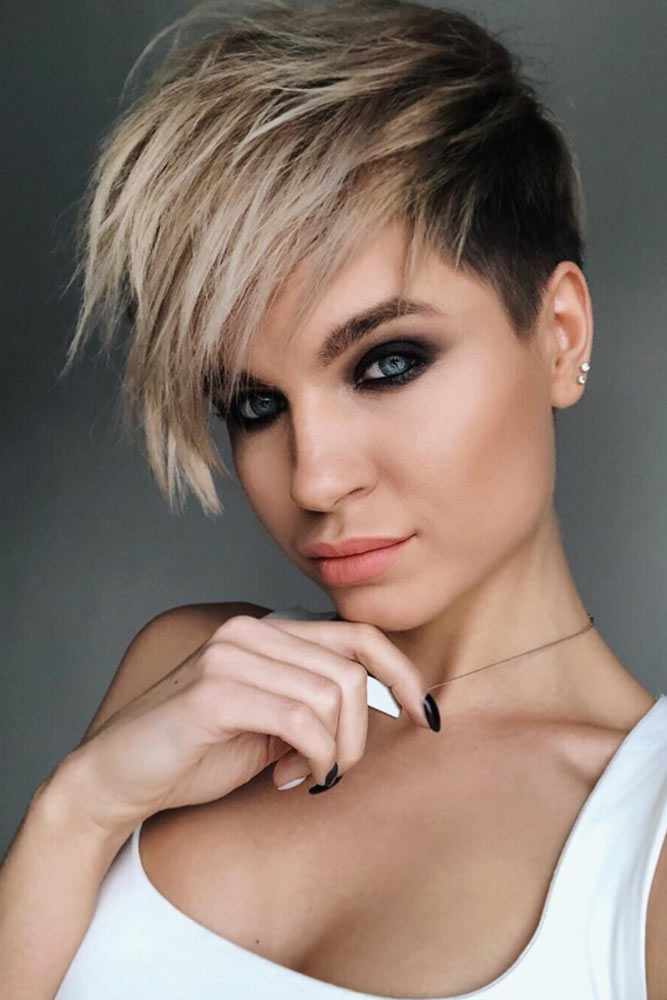 Credit photo: Instagram.com/juliana.key
Do you like a short fade haircut but want your hair to be a bit longer at the top? Then this medium hair fade haircut is perfect for you. We get it that some people enjoy having a bit more volume with the long hair and there`s nothing strange about it. With such a haircut you still won`t have to spend hours on taking care of it. It will look perfect, especially if you have structured hair. It always looks freshly done and will give you even more charm and style at any time.
Different designs can be added, too. Besides the lines cut with a razor, there is another interesting variant - dying your hair another color. It will stand out on such a hairstyle, making it look even more beautiful. Give this medium hair fade haircut a try and you won`t be disappointed with the results.
Mohawk Fade Haircut Ideas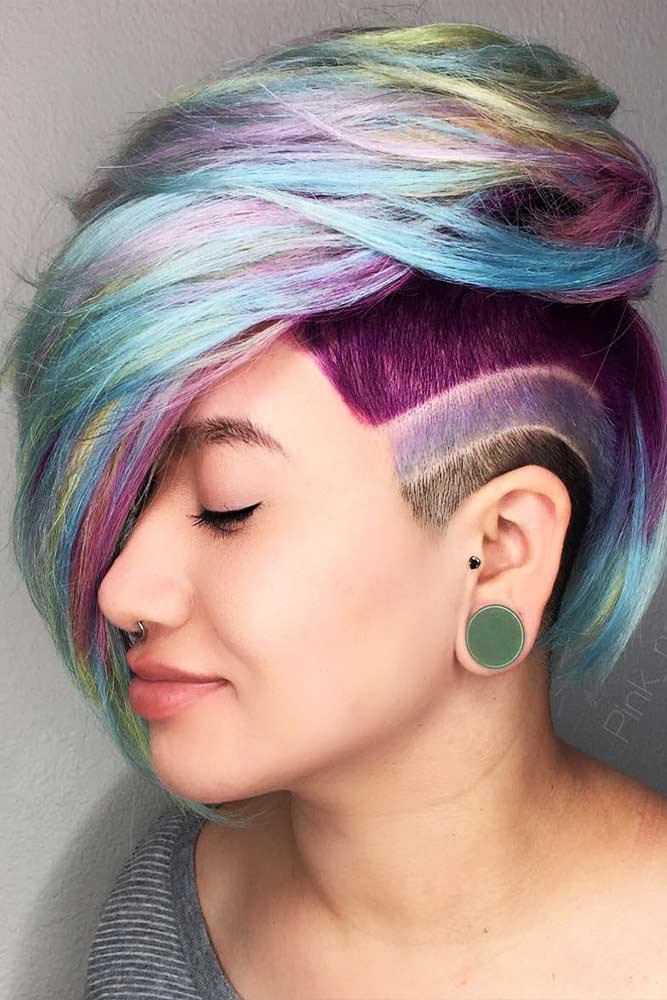 Credit photo: Instagram.com/pink_nouveau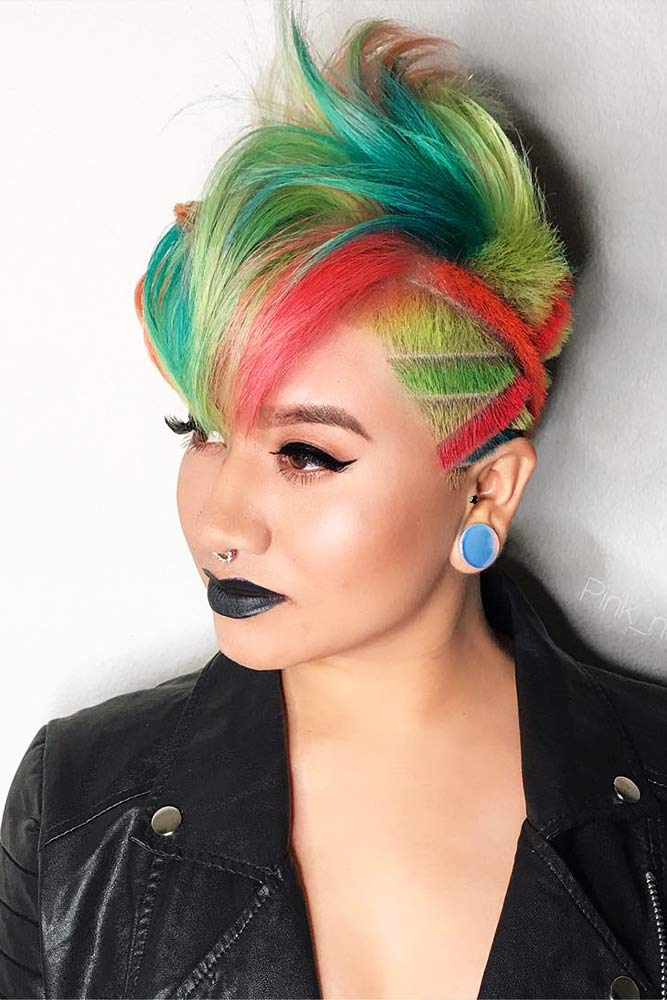 Credit photo: Instagram.com/pink_nouveau
If you consider yourself to be extraordinary and super creative, then why don`t you try a Mohawk fade haircut? A true definition of brightness and creativity, it`s what we believe is a must for those who are ready and not afraid to experiment with their hair. So many different colors can be chosen, so why don`t you pick something bold?
You can combine a few ones, dying streaks of hair in different shades or pick the one you like the most and dye your whole hair with it.
Super short at the sides and long at the top, this Mohawk fade haircut will be really different to what you are used to. And we believe that this is the best thing about it.
The fade haircut is a genuine invention in the world of today. Being centuries old, the style brings fresh vibes into every style. Pick your favorite look and watch the style change your world for the better.
FAQ: Fade Haircut
Are there different types of fades?
There are various types of fades you can pick from these days. Whether it is a drop fade haircut, temple fade, skin fade, high fade, or flat-top fade – you can create an individual and unique style that matches your personality.
What looks better taper or fade?
It depends on your needs and preferences to choose between a haircut fade or taper. The former will create a more dramatic transition and visual definition, while the latter will keep things more reserved and neat.
What is a 0 fade?
A zero fade is a taper fade cut in such a fashion that it remains hair near the base of your neck. Compared to a skin fade, the zero one is shorter at the bottom so that more of the scalp is exposed.