The diversity and versatility of the shag haircut is the main reason for its widespread popularity. One of the most pleasant things about this cut is that it never looks the same, as we all have different hair types and lengths. Plus, every lady can choose her own base for the shag, giving her stylist directions regarding the cutting technique.
Though shag cuts are all unique and different, they all have one aim - to work on one's texture, shape up the overall silhouette, and simply improve one's haircut. By improving, we mean adding layers and involving texturizing that builds voluminous, sophisticated body.
Before customizing your own shag, you should know how different they can be and what to expect from its popular variations. We've selected the most versatile ideas for long, short or medium layered haircuts so that you can get inspired before your next salon appointment. Let's go!
*We may earn money from affiliate links on this page. Please check out our disclosure policy for more details.
What Does A Shag Haircut Look Like?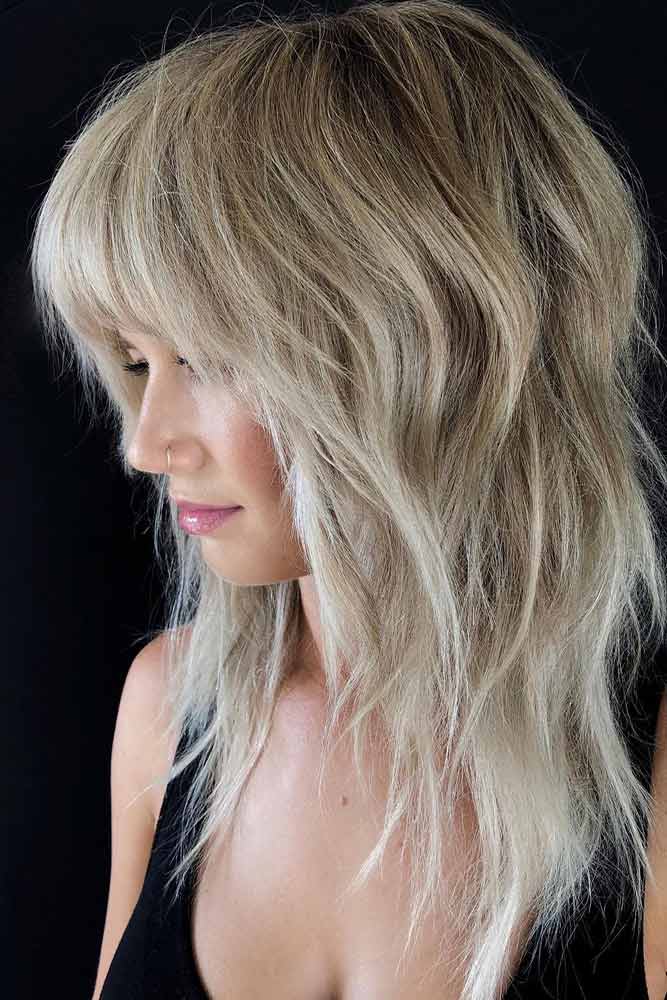 Credit photo: instagram.com/rachelwstylist
The variety of shaggy options is so vast that no wonder if you'd like to know what features make a haircut a shag.
Initially, shag haircuts had a punky, carefree character conveyed by a voluminous crown with lots of sharp little layers and a longer top with flowing long layers. The cut has changed a lot to introduce its modern facet, however, it has still left this casual feel and sense of freedom in the hair.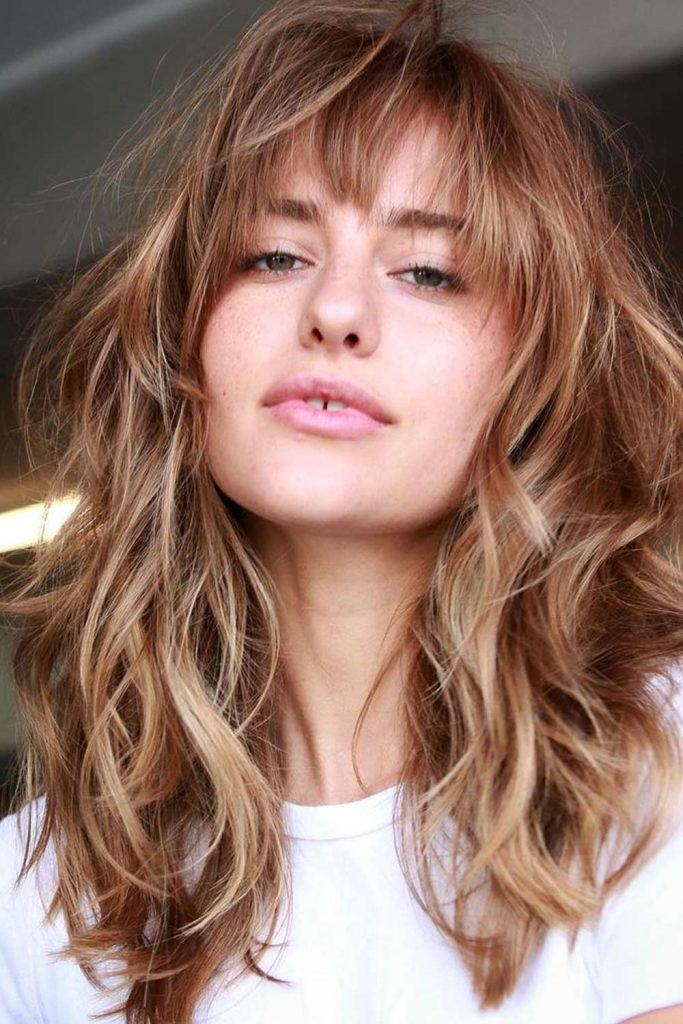 Credit photo: instagram.com/salsalhair
Modern shags consist of sharply cut layers that can adapt to any hair length and any texture possible. What makes this haircut so special is that it can equally improve thick and thin hair types, enhancing volume and movement in the latter, and providing a balanced shape to the former. Choppy ends, lots of texture, and edgy finish - that's how we describe this ever-popular masterpiece.
The best thing about shaggy looks is that you can always customize your cut to flatter your features. You can regulate the length and sharpness of your layers, as well as decide how dramatic and disheveled your shag would be. In other words, with a shag, you can create anything from punky to lovely casual looks.
How Do I Cut My Hair Shaggy?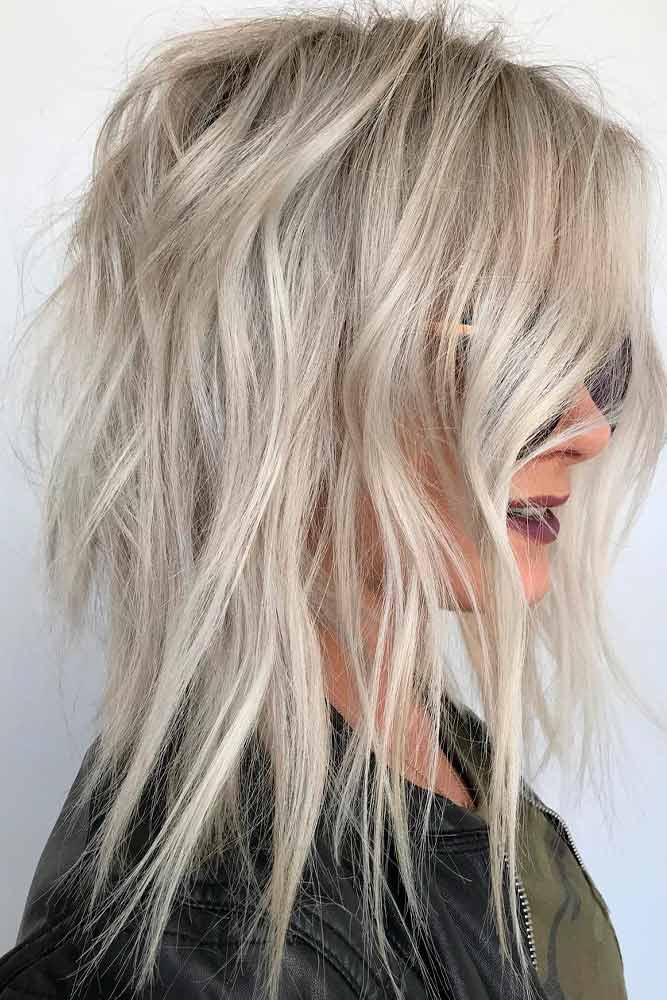 Credit photo: instagram.com/erin.boha
If you wonder whether you can leave your shag up to DIY rather than to a professional, we strongly recommend you to change your mind. This haircut requires a thorough approach to details and texture, which would be hard to perform. However, you still need to know how the cut is actually done to know what to ask your stylist for.
In general, the shag is cut in two variations. The first, or the classic one, involves bangs and various increasingly-longer layers that progress along the head from the top to the neckline. The second cutting method is slightly different: the hair in the center features a greater lift straight over the head, which allows for creating especially long layers.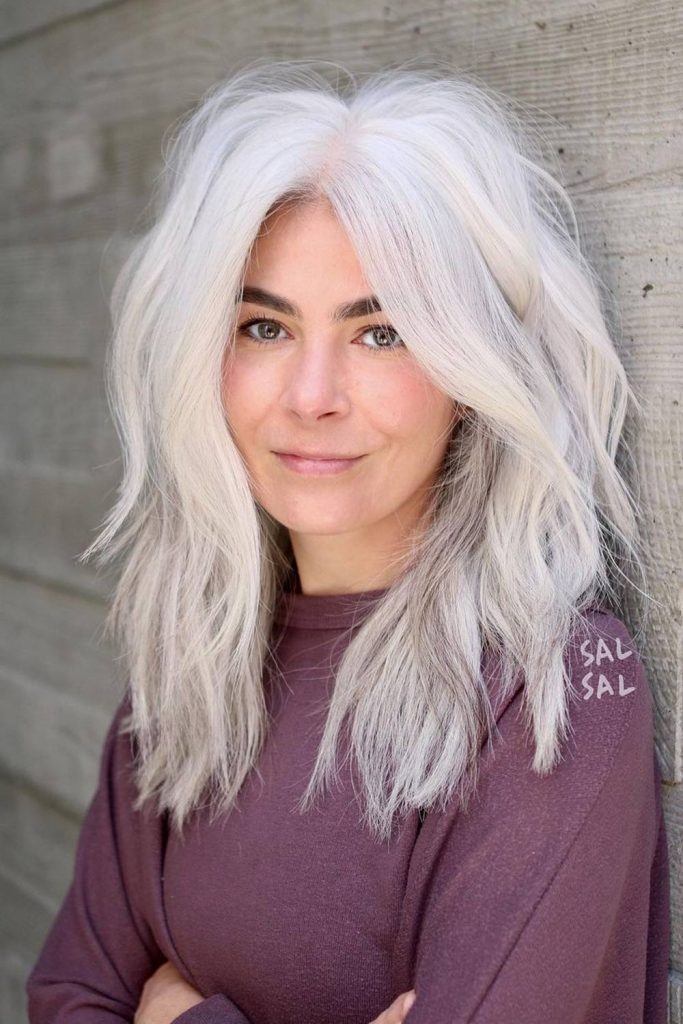 Credit photo: instagram.com/
salsalhair
To create this cut, your stylist will:
Section off the hair to cut the bangs first.
Shape your hairline by cutting the perimeter at a sharp cascading angle.
Create a guide for top layers, blending the length with the bangs.
Take thin vertical sections of hair, and cut them in a straight line horizontally.
Work her or his way from back to front to cut all the hairs to the top guide.
Blend the lengths of the perimeter, switch to an angled cutting technique for very long layers.
Texturize the hair with thinning shears.
Short Shag Haircuts
Let's start with the shorter versions of shag haircuts. Whether you want to make your bob more advantageous or you want to add some liveliness to your pixie, these ideas will match your preferences.
Short Messy Bob With Standout Texture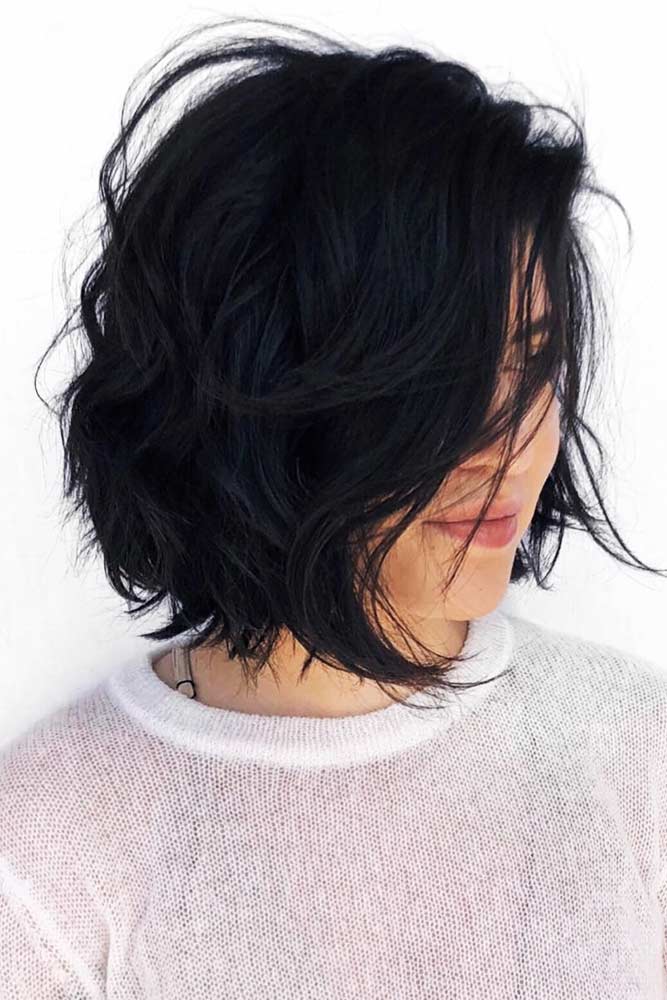 Credit photo: instagram.com/chrisjones_hair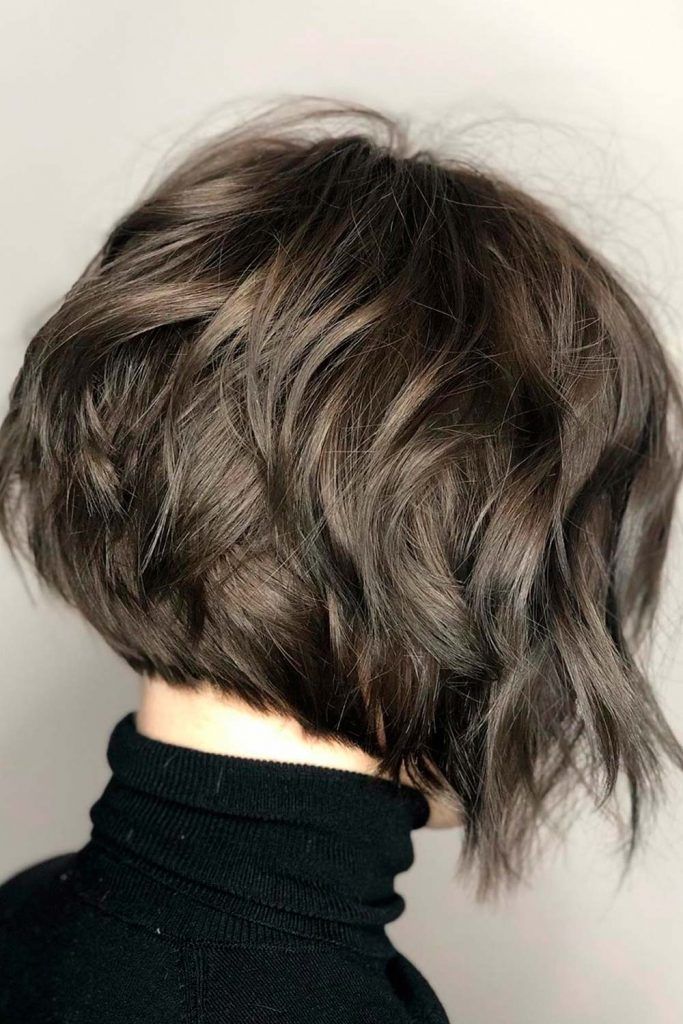 Credit photo: instagram.com/timurbegichevstudio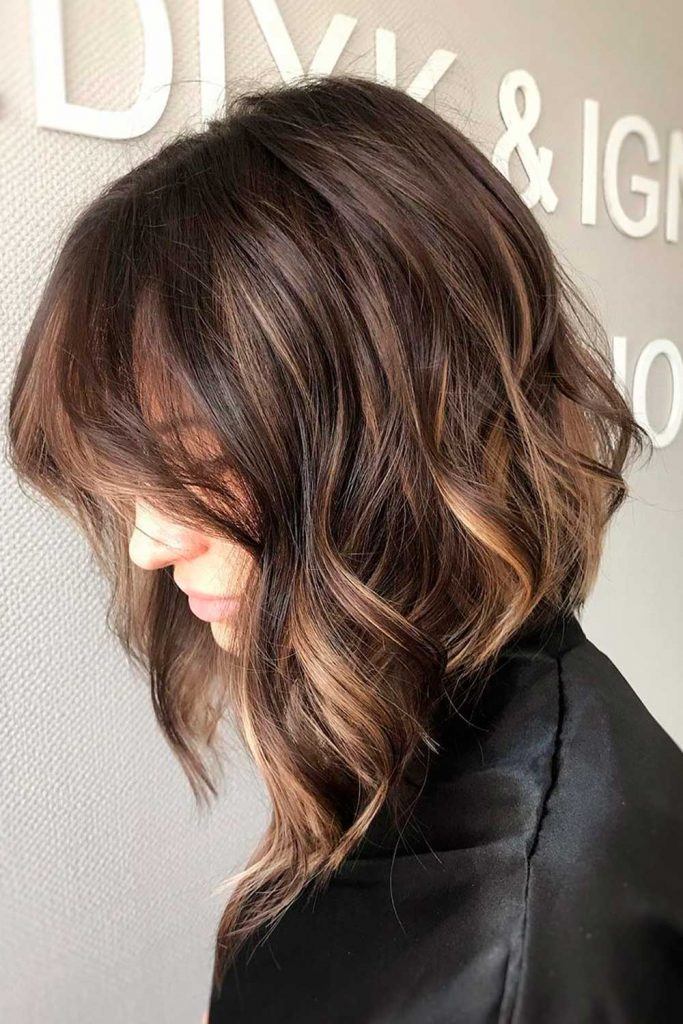 Credit photo: instagram.com/olga.chediyk
What is a shag haircut? It's a great canvas to your imagination, and that's it! You are the one who regulates the layering, feathering, and texturizing of your cut, deciding whether you want choppy ends or not. We want you to show how you can beautify your simple bob: look at how the classic short haircut has improved with just a soft touch of layering. The body is full, and the wavy silhouette is lively and dramatic.
Short Shaggy Bob For Thin Locks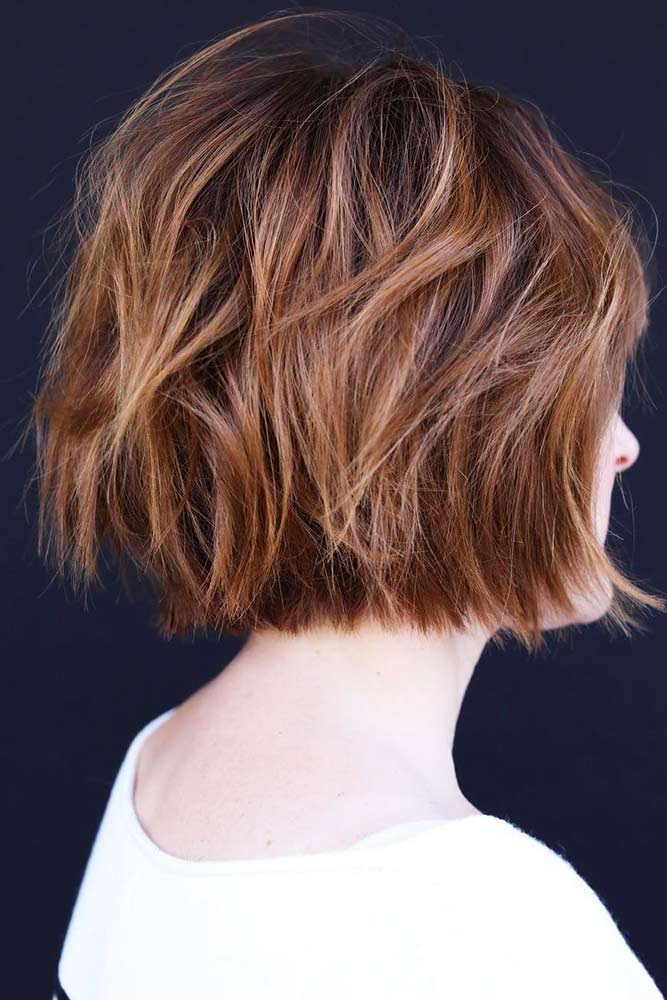 Credit photo: instagram.com/anhcotran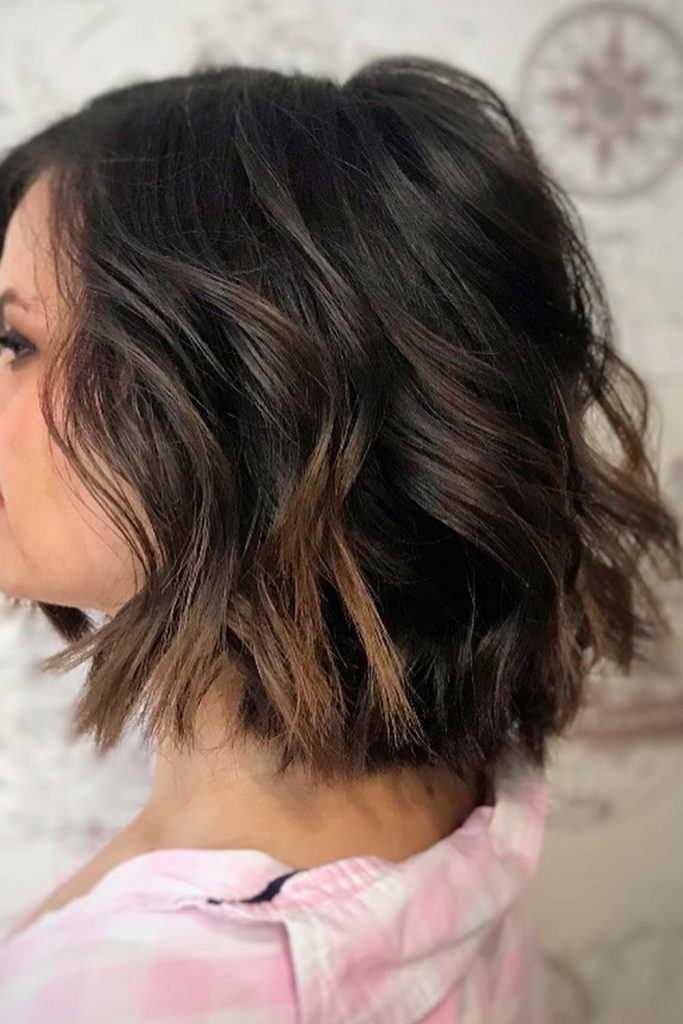 Credit photo: instagram.com/julia_alesionok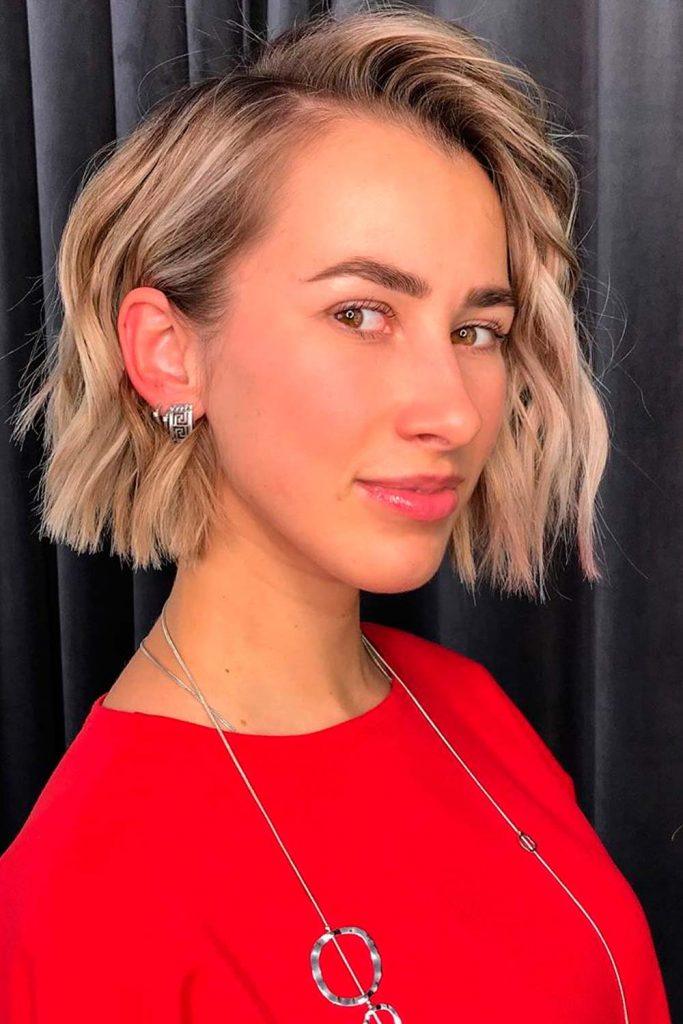 Credit photo: instagram.com/ryabchik.moscow
Nothing goes better with bobs than short shag haircuts. They are not only pretty easy and to achieve; the result is always fresh and easy to style. Ladies with thin hair can ask their stylists to shape up the ends of the top layer: it will add more lift to the crown and spice up a short bob with a new, lovely texture.
Layered Shaggy Bob With Feathered Ends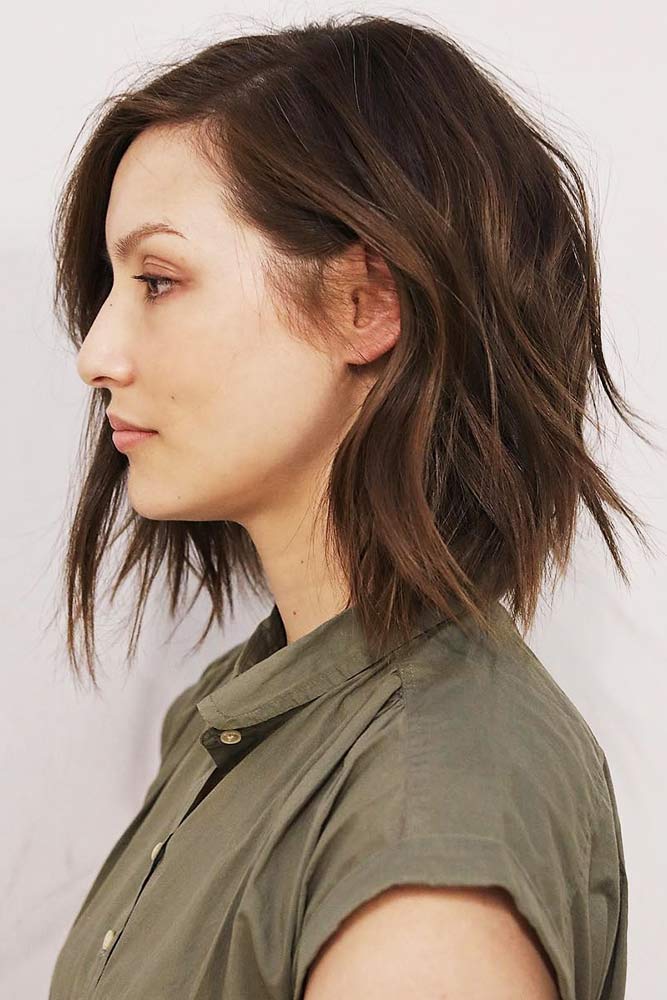 Credit photo: instagram.com/anhcotran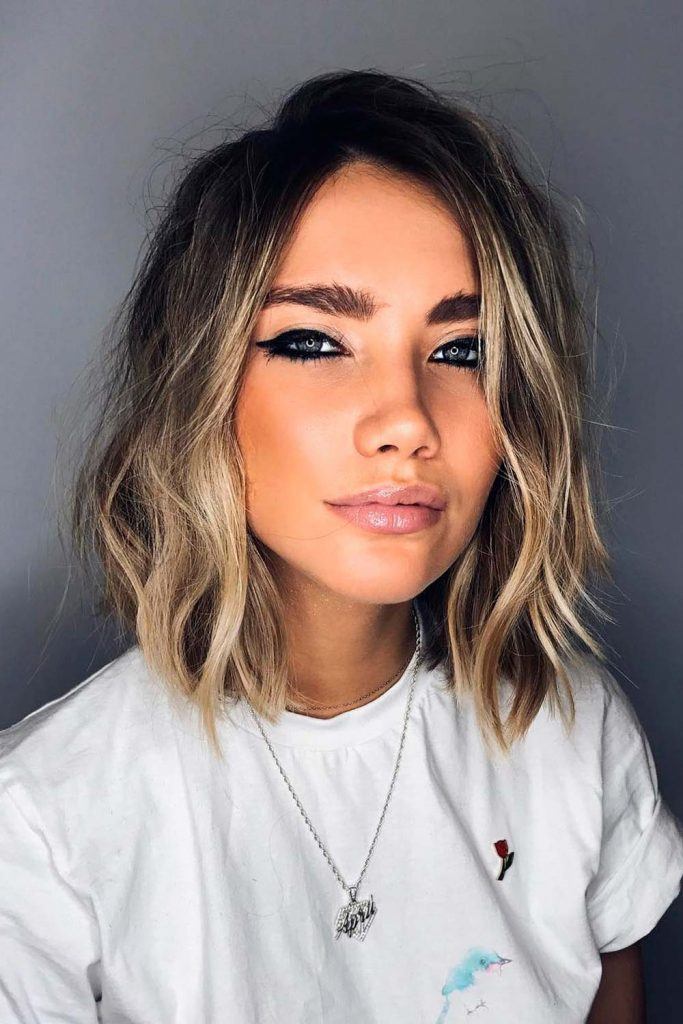 Credit photo: instagram.com/ryabchik.moscow
The modern shag haircut has no limits: it can be as sharp, edgy, and dramatic as you please. One of the most versatile and eye-catching ways of getting a shag is to focus on the ends. You can make your hair look fuller, embellishing it with pointed ends. A simple feathering is all you need; it won't take a lot of time, yet will make your hairstyles pop.
Lightweight Shag Cut For Thick Curly Bob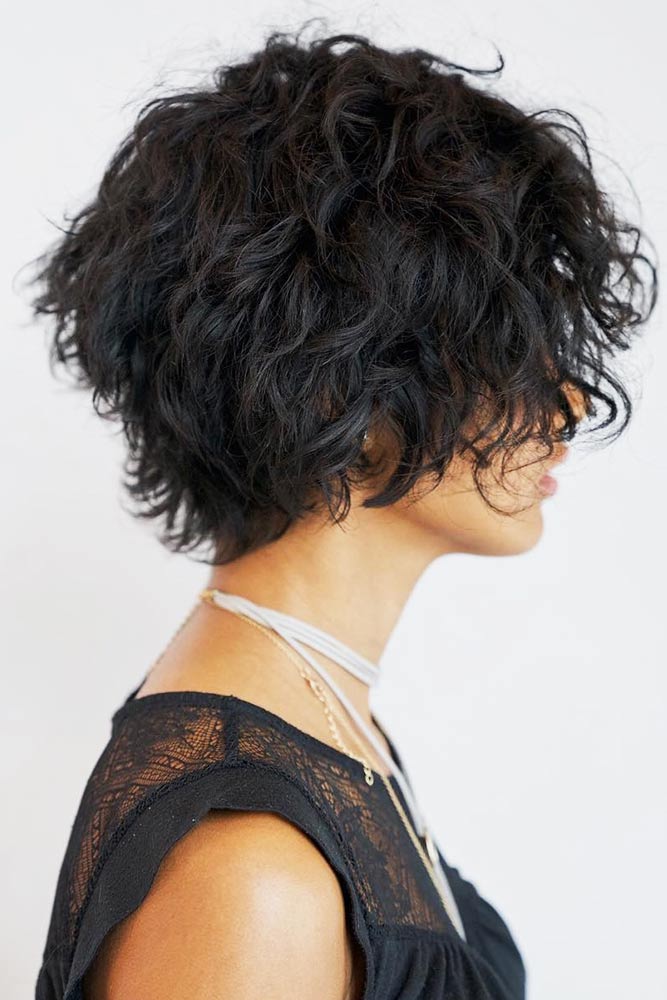 Credit photo: instagram.com/anhcotran
Curly shag haircut is different than curly bob haircut. Well, only ladies who fight with coarse, bouncy locks every single morning know the difference. The truth is, your shag can tame your curly texture, giving it a more manageable, lightweight body, thus making you feel comfy with your locks and helping you to reach easy styling routine.
Choppy Bob Cut With Balayage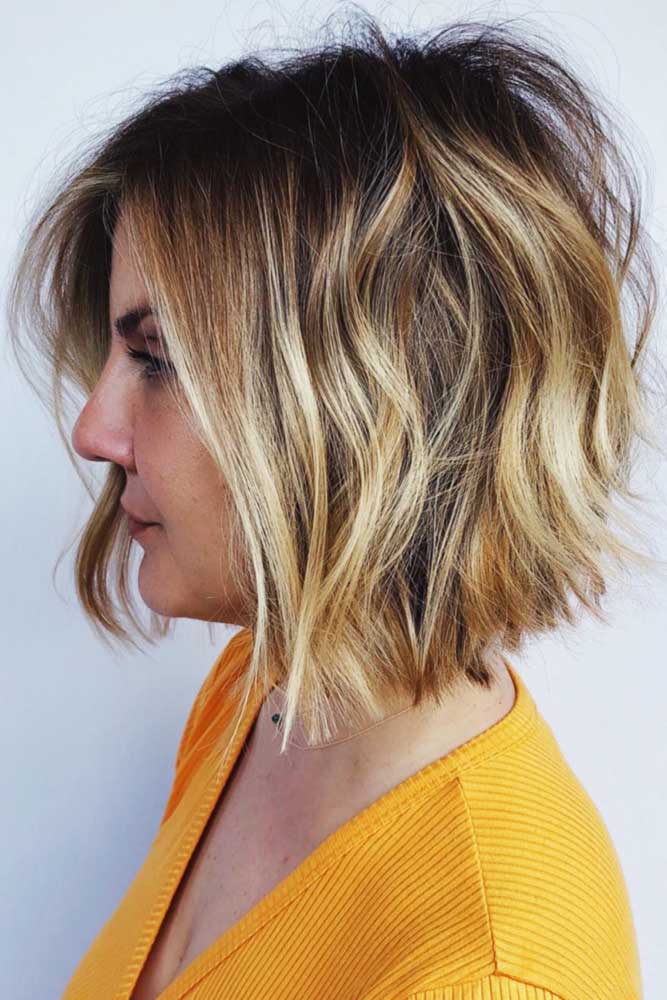 Credit photo: instagram.com/chrisjones_hair
Choppy bob haircut seems to be another definition for volumetric haircuts. When giving you a choppy cut, your stylist changes the thickness of your locks one by one to make each strand super airy. Also, to enhance such a lift-up effect, he or she can offer you to try classic balayage that will highlight the movement of your hair.
A-Line Shaggy Bob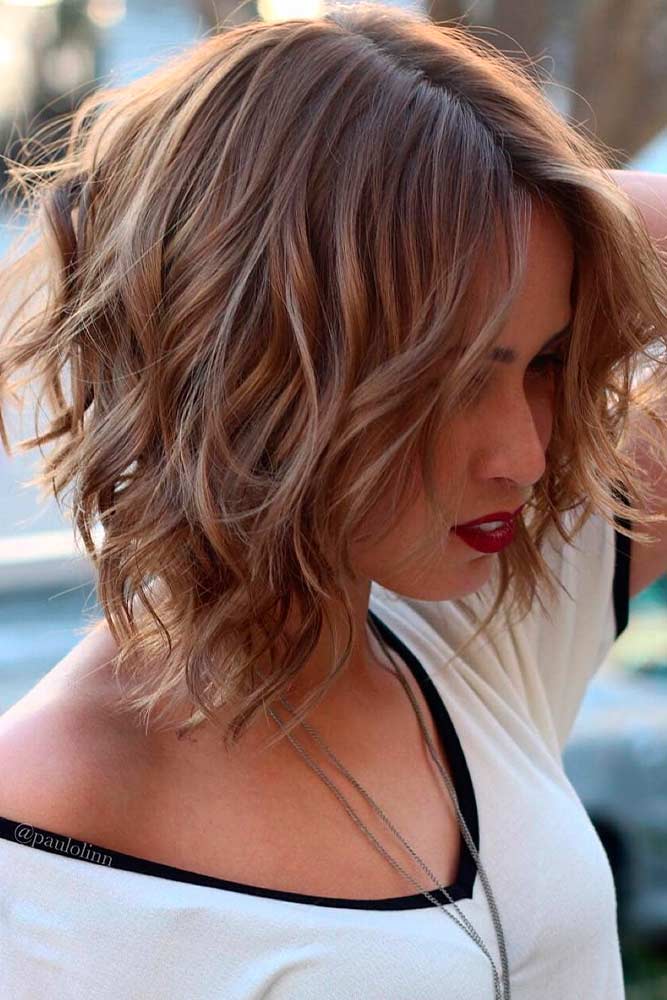 Credit photo: instagram.com/paulolinn
Since shaggy layers look sharp and edgy, imagine how awesomely they can enhance pointed and angled haircuts! A-line haircuts are all about precision, and you can always intensify its sharpness with the help of a lively shag. Ask your stylist for cascading layers that follow the pattern of your cut so that they get longer as they move to the front.
As for styling, the options are countless! This haircut will look wonderful on both sleek and wavy texture, so your task is to find the most flattering option for you.
Shaggy Layered Bob With Brown Ombre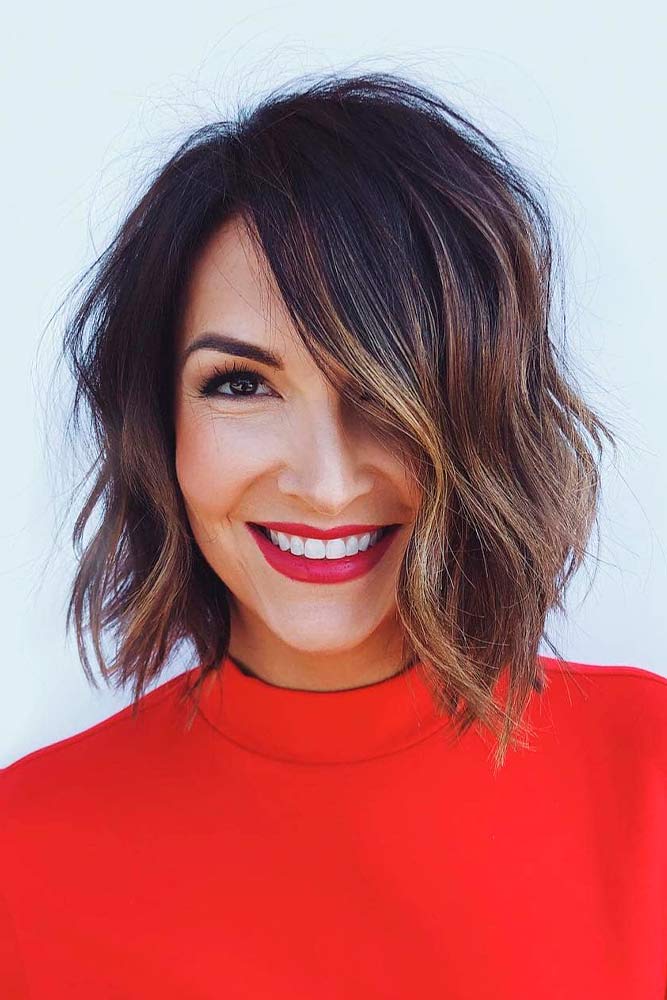 Credit photo: instagram.com/chrisjones_hair
And here's one more ravishing way to mix two trends for your unique stylish look! The main reason why more and more women go for shag is that it allows them to experiment to their hearts' content. Apart from giving a nice frame or spicing up the hair with movement, they can form a stunning duo with other cuts like bobs, lobs, and pixies.
If you always wanted to breathe new life into your bob, adding more natural volume and dynamics to it, just ask your stylist for shaggy layers. For a harmonic finish, a slight wave will do just great.
Shaggy Pixie With Side Fringe For Fine Hair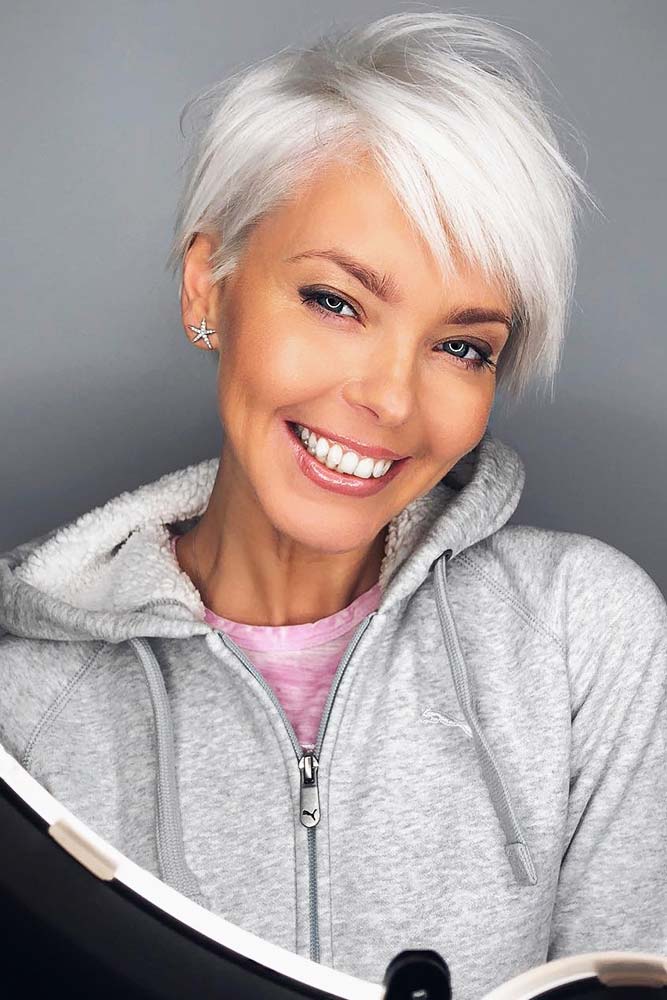 Credit photo: instagram.com/ryabchik.moscow
Pixie haircut has always been the number one salvation for unruly fine hair. So if you are about to find a perfect shag haircut for fine hair, don't look any further shaggy pixie. First of all, the soft texturizing will make volume stay longer. Secondly, this idea features bangs which means it can frame up your face with little gentle layers.
Shaggy Spiky Pixie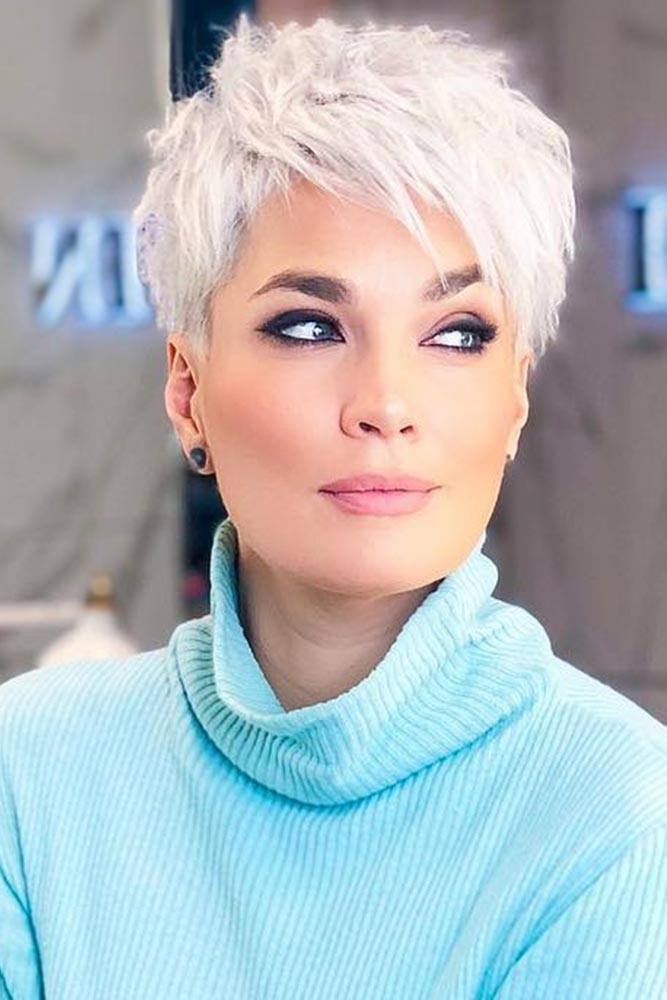 Credit photo: instagram.com/karapylka
Though pixie haircuts are the shortest cuts ever, it doesn't mean that you can't make them express your personality. When all you want is to rock a distinctive, yet minimalist cut and fascinate with its texture, a shaggy pixie with spikes is the key. The lively layers will make your spikes look natural and spice them up with lovely movement.
Shaggy Pixie With Undercut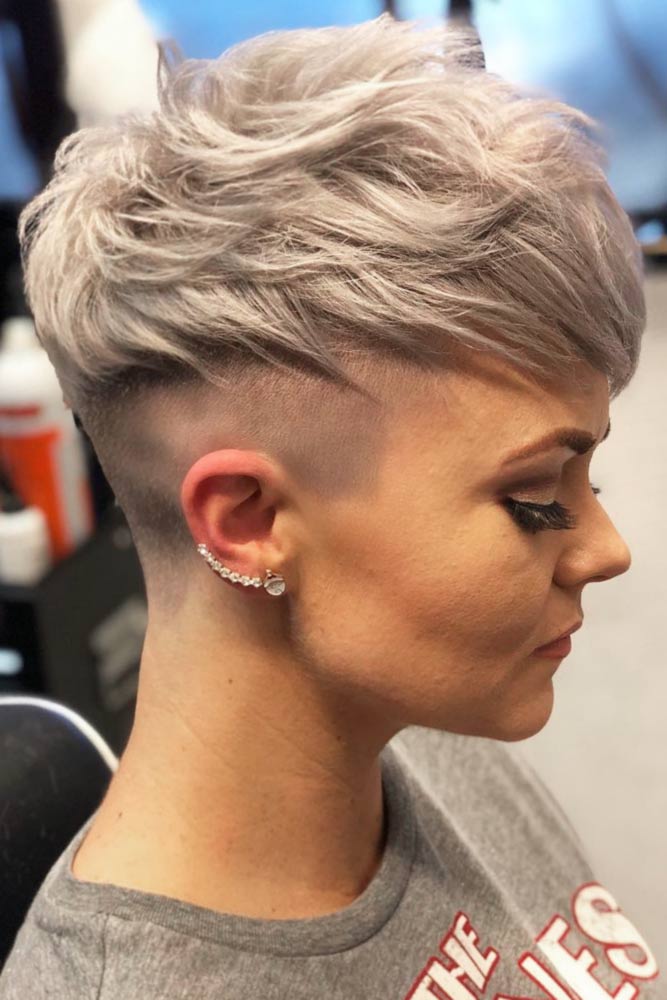 Credit photo: instagram.com/mr.barber
A lightweight, carefree, and voluminous look. Is there something that can compare to this pixie? A chic, neat undercut that gradually turns into a shag will draw all attention to the top. And due to the texture contrast, you will make your crown even more voluminous.
Inverted Shaggy Pixie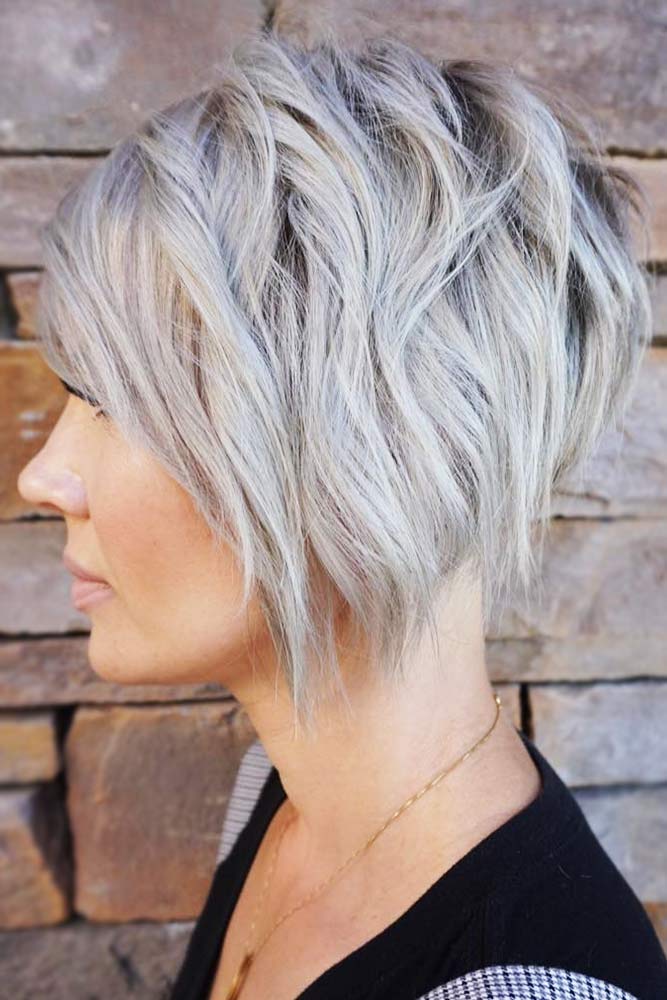 Credit photo: instagram.com/emilyandersonstyling
Those who like to crush stereotypes can't do without inverted and asymmetrical haircuts! This pixie is another proof for the variability of the cut: the long front tresses get shorter to the back, creating a very modern silhouette while the layers add more oomph.
Layered Bob Haircut With Side Bangs
Credit photo: instagram.com/ryabchik.moscow
A layered shag haircut with bangs is distinctive and is very rock and roll. It is layered in a way that brings out your best features, and while it usually is recommended for someone with a round or an oval face, it definitely is a style that suits most face cuts. It is a classic shag cut look and you must have seen a lot of celebrities flaunting it too.
Medium Shag Haircut
When we have no idea what our style should be, we usually cut our hair medium. It just so happens that medium hair length is one of the most flexible and versatile options ever. Feels like you are tired with it? See how a shag haircut can sort things out.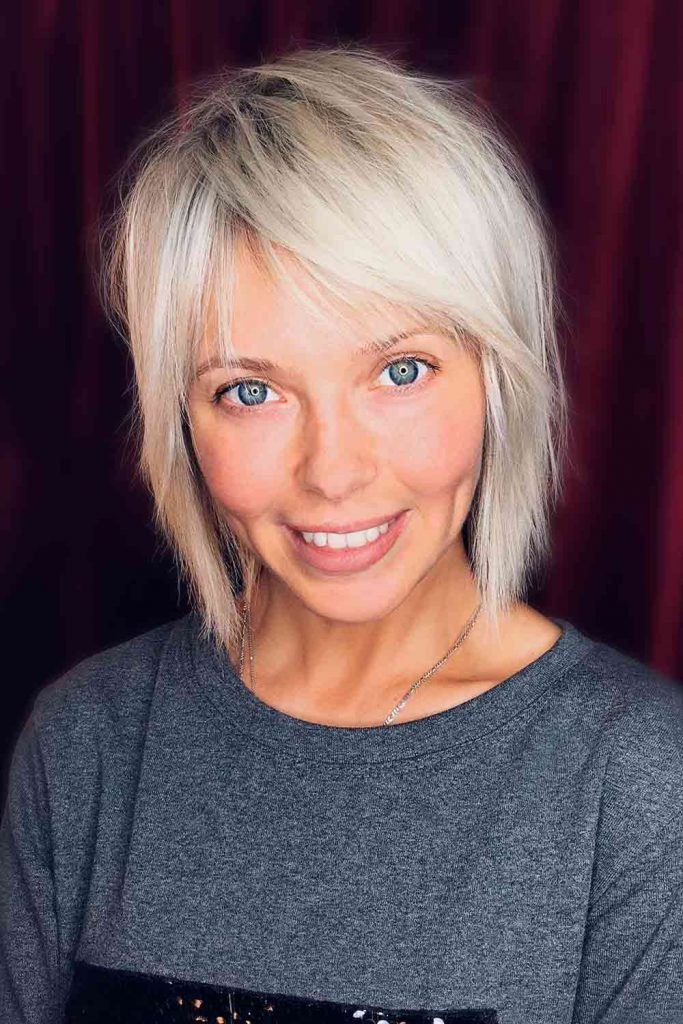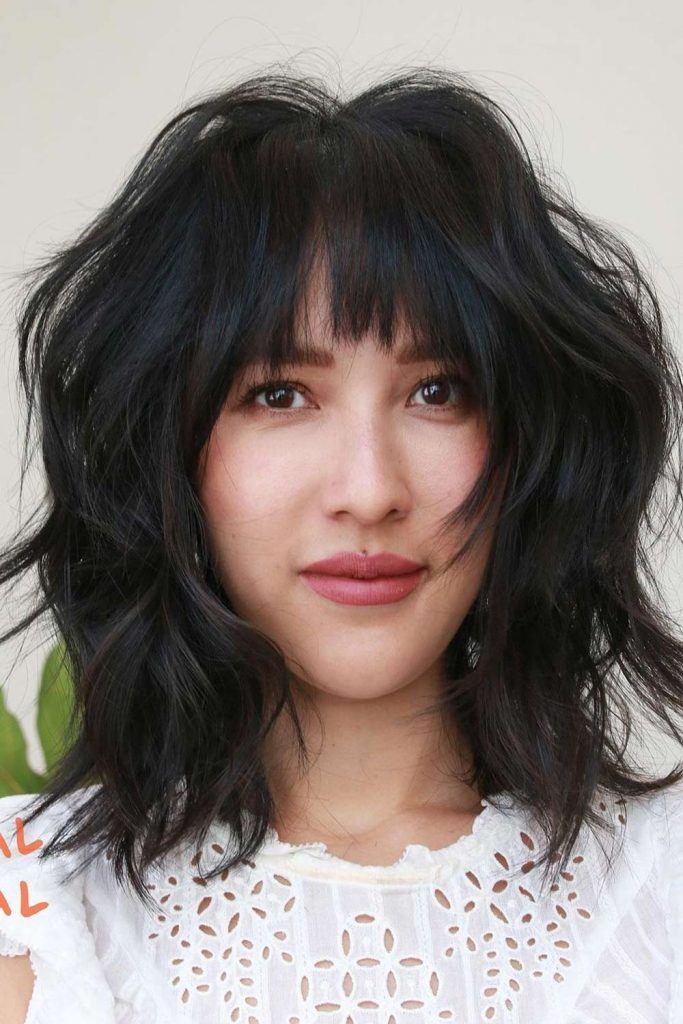 Credit photo: instagram.com/salsalhair
Feathered Brunette Shag With Long Side Bangs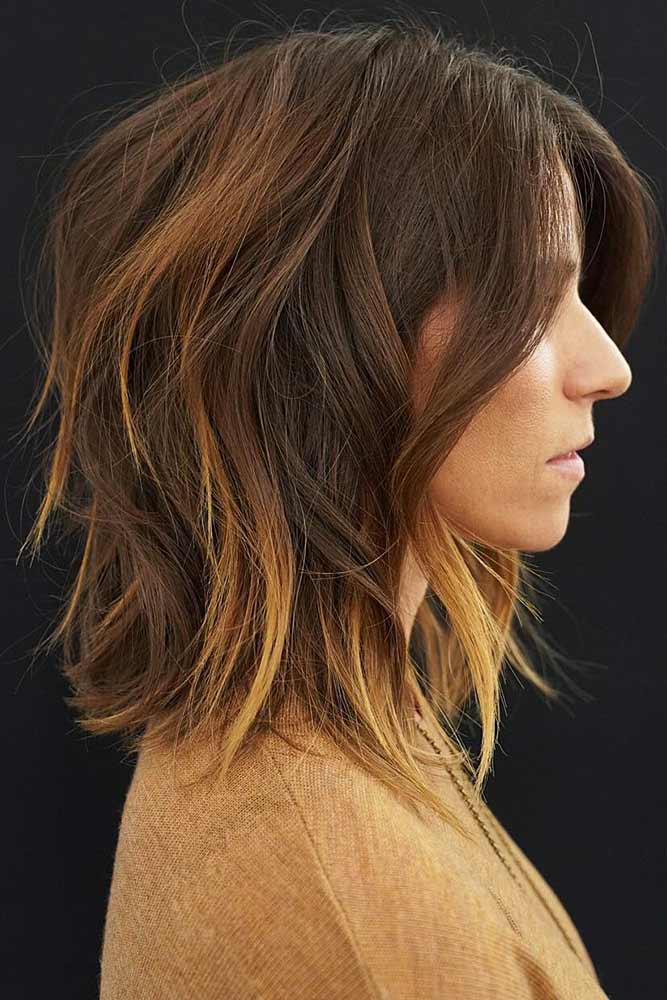 Credit photo: instagram.com/anhcotran
When it comes to choosing a shag for medium hair length, shag haircut with bangs is the first thing that comes to hairdressers' minds. Who would've thought that a simple mid cut could turn into a chic, edgy style once you add some choppy layers to it and finish it with bangs? Volumetric waves that move so lovely and the face-framing side fringe are enough to take your cut to the next level.
Blunt Cut With Choppy Layers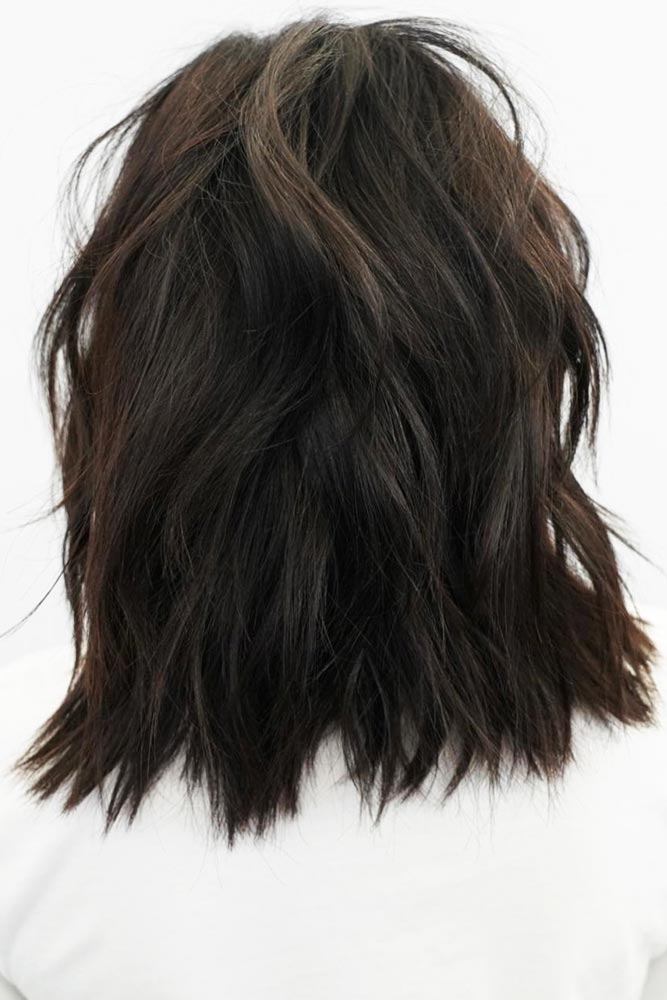 Credit photo: instagram.com/anhcotran
No wonder that the majority of medium shag haircuts feature choppy layers. It's no secret that messy and tousled silhouettes are the thing of today. Moreover, layers, whatever they are, can save your hair from falling flat, always keeping a well-groomed, presentable look.
Soft Wavy Blonde Shag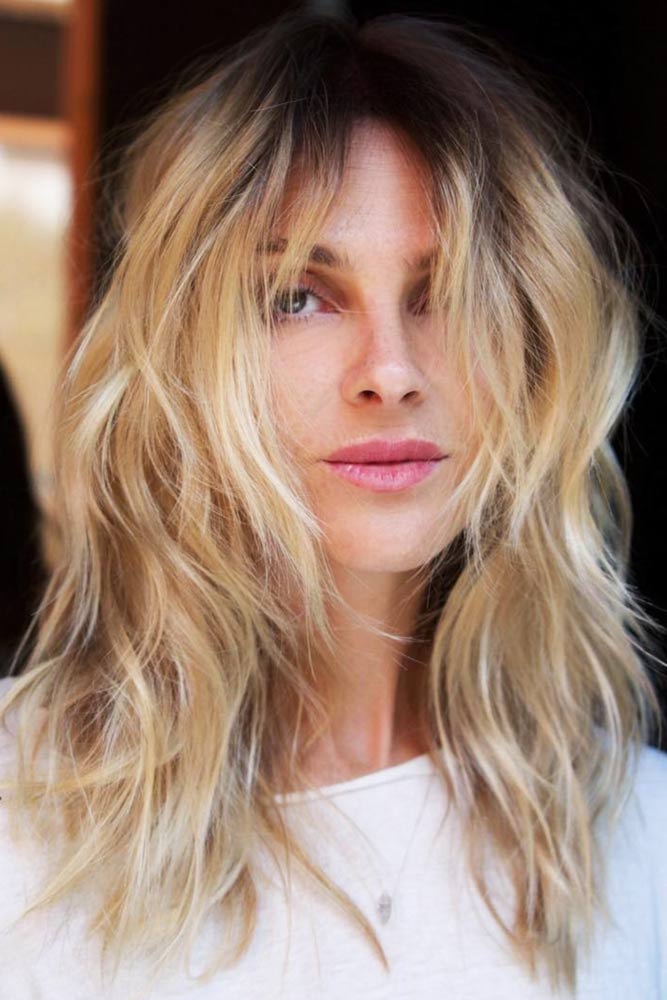 Credit photo: instagram.com/salsalhair
Carefree beachy waves that can be seen from a mile away, while melting gently with one another, is the beauty dream of all women. Well, congratulations! You can replace loads of salt sprays with just a shag haircut. Wave your hair softly, working with a flat iron and running your fingers through your hair, and your hair will look like you've just left the sunny beach.
Medium Bob With Light Ends And Thick Bangs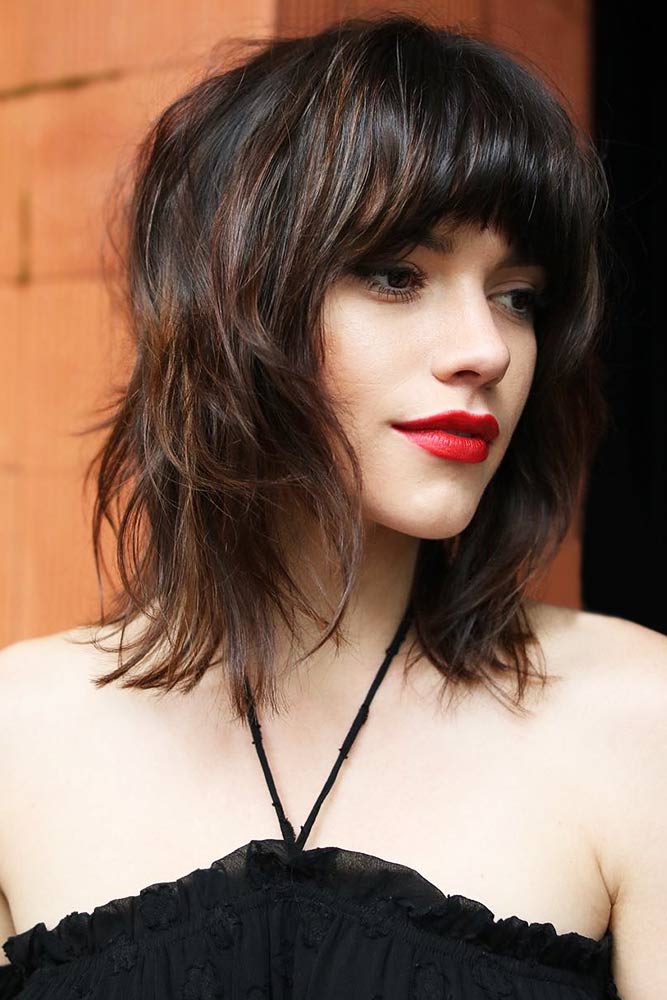 Credit photo: instagram.com/salsalhair
How do you like the idea of contrastive textures? Ladies who are tired with fine hair styling mornings can lighten up the texture of their hair, leaving bangs as thick and full as possible. Such an approach will provide you with comfortable styling, making your locks behave, and giving a fresh, accentuating touch that falls on your brows.
Tousled And Shaggy Bob With Waves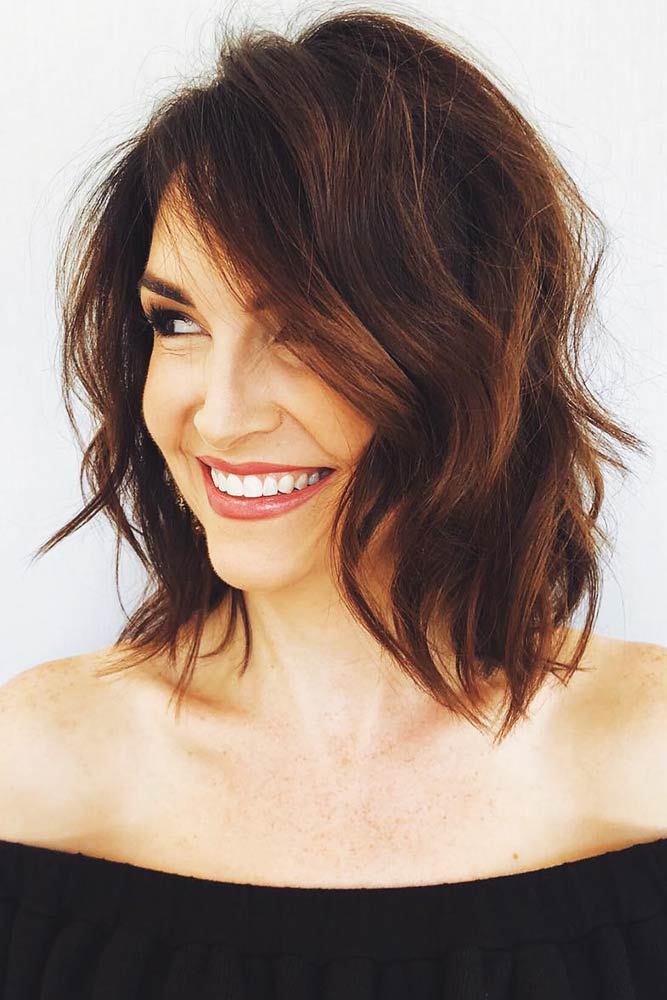 Credit photo: instagram.com/chrisjones_hair
One thing about the shag haircut that you should always keep in mind is that there are no hair color restrictions. It can be a blonde base with dimensional balayage, rainbow-colored chevelure, or a rich chestnut hair color like the idea above: the cut will create an unbelievable tousled look with charming movement in your hair, regardless of the color you sport. A tip: wave your shag to make it even more eye-catching.
Messy Haphazard Medium Cut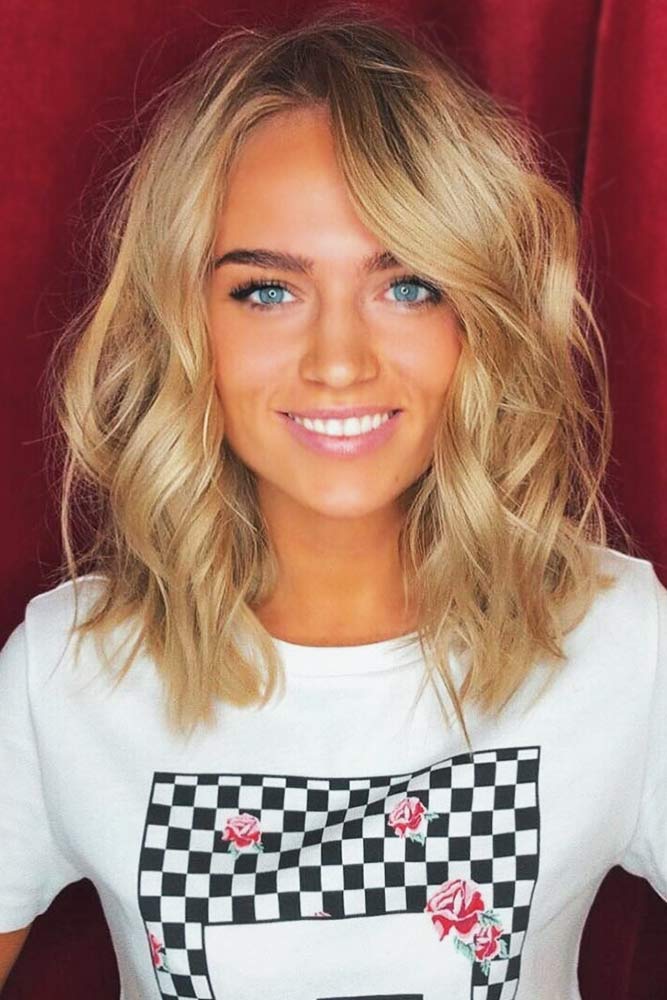 Credit photo: instagram.com/ryabchik.moscow
As you might have noticed from their appearance, haphazard haircuts involve various lengths with many different layers. The shorter ones build the voluminous body; the longer layers give the needed movement. Together, they produce a stunning messy look that just needs to be stolen.
Shaggy Cut With Center Parted Layered Bang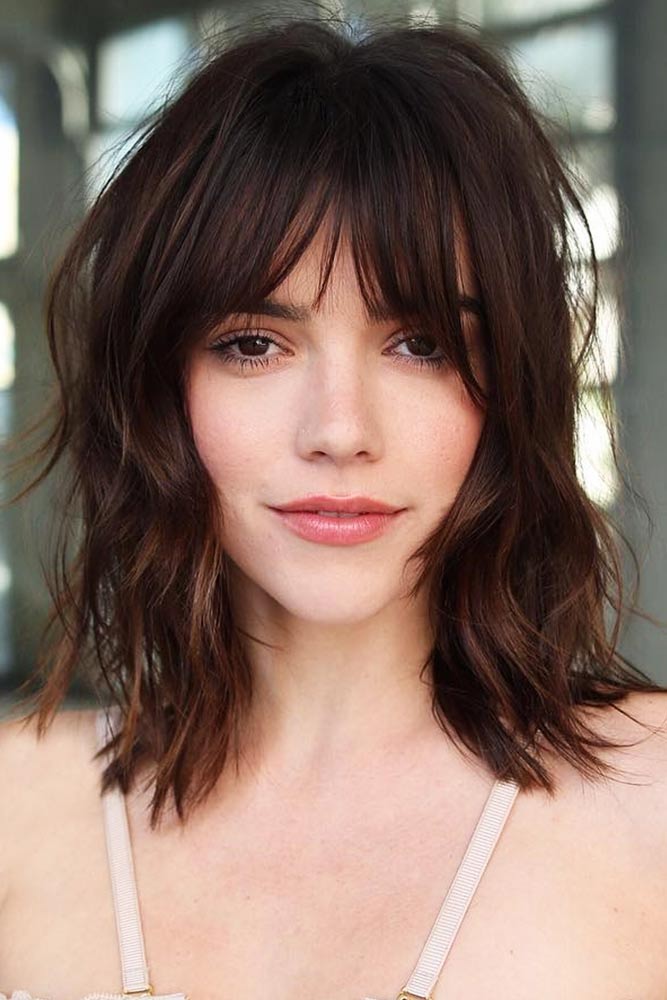 Credit photo: instagram.com/salsalhair
Medium shags work ravishing when layered bangs accompany them. In simple words, mixing these two is nothing but volumizing magic for fine hair. Once you get your medium haircut layered, you will see your front locks volume up and will love the way the bangs frame your forehead.
Medium Layered Shag With Beachy Waves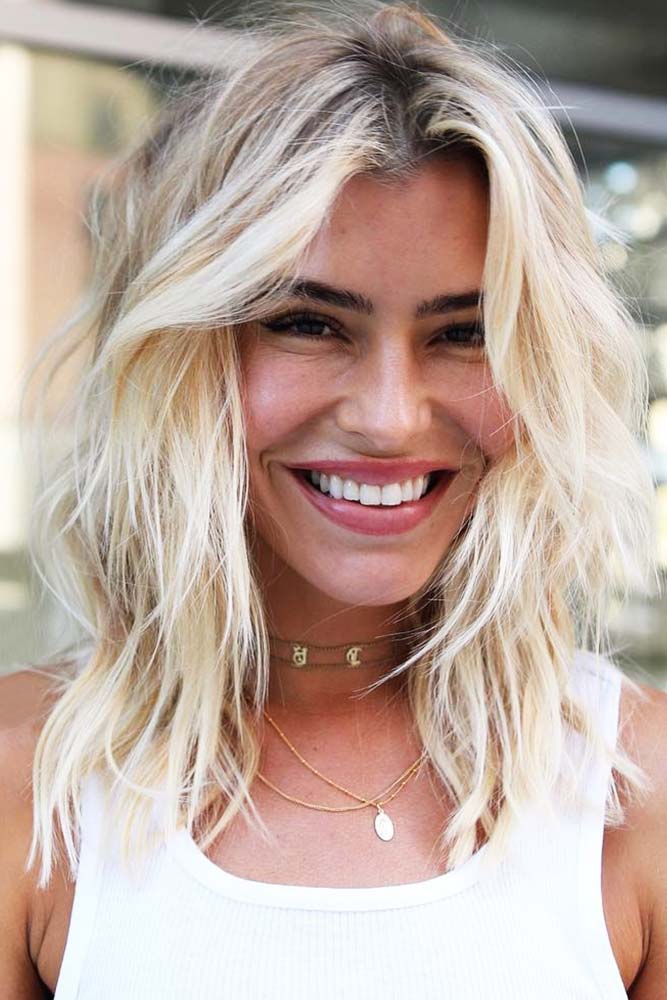 Credit photo: instagram.com/salsalhair
Only layers can reveal the real potential of wavy hairstyles. For example, everyone's favorite beachy waves that are known to have a lively texture as if you've just left the beach can only reach such appearance with the help of layers. And this pic is the proof: just look how harmonically they fall on one another.
Shaggy Bouffant Hairstyle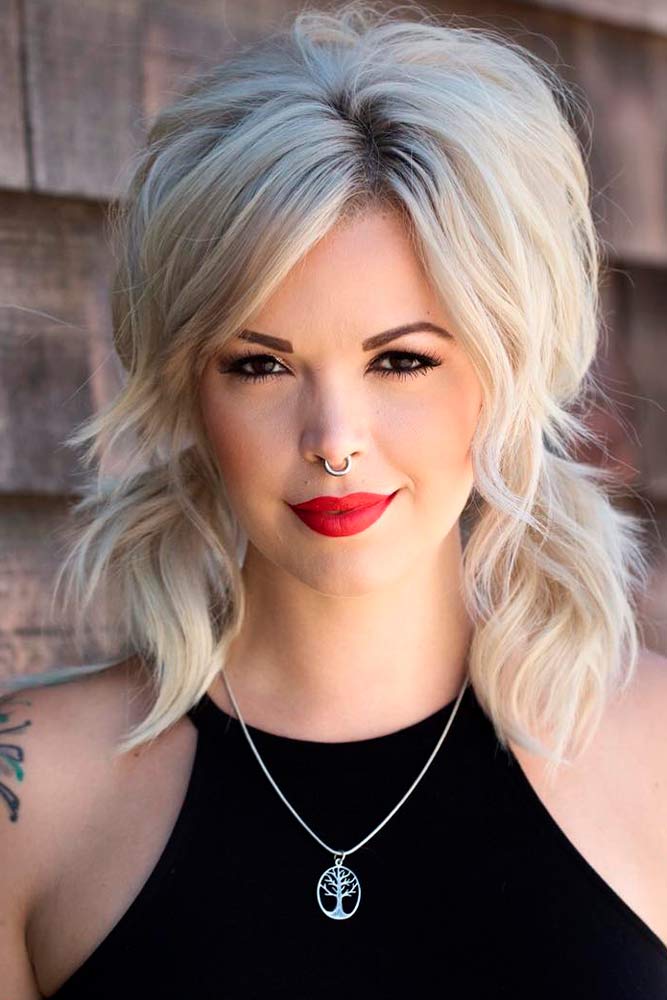 Credit photo: instagram.com/alliedoeshair
You may have seen bouffant hairstyles in English movies from the fashionable 60s. Well, how do you like this mixture? Though this look has nothing to do with elegant suites and delicate pearl necklaces, it has a lot of modern character that many women will love. The super voluminous crown will wash away any traces of thin hair, while the sharply cut locks pointing up will add some flirty, contemporary vibe.
Before recreating this style with a round brush and hairdryer, make sure to prep your hair with a softening mousse or conditioner.
Shaggy Curly Lob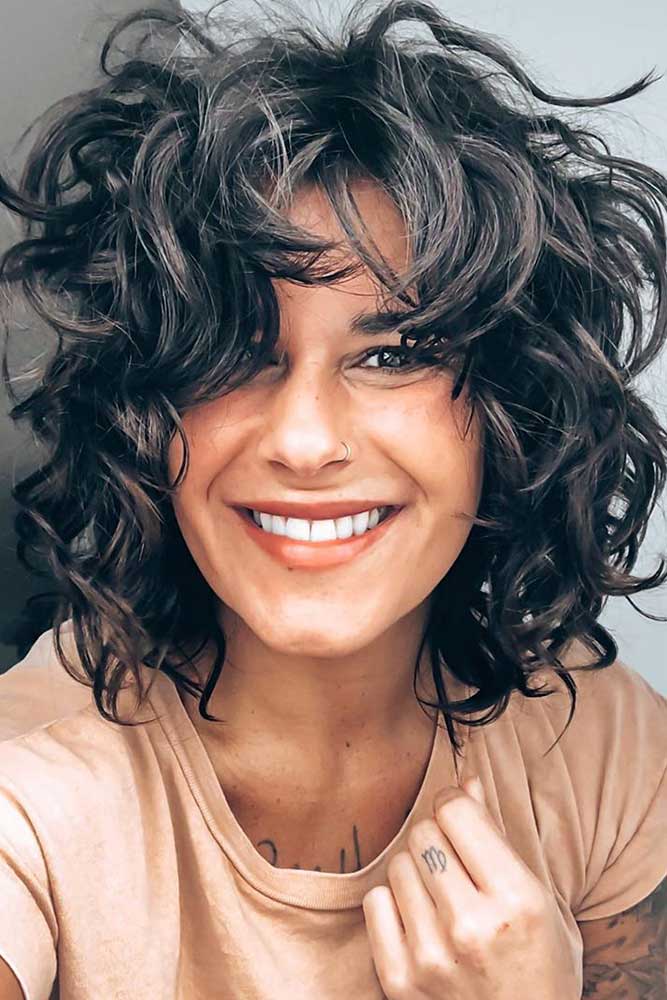 Credit photo: instagram.com/eclectic_shag
Although you're used to seeing the good old shag on straight hair where you can see every single angle and edge clearly, it looks fab on curly hair too. On top of that, shaggy layers actually work wonders shaping and defining curls to make them look distinctive. Once you try a shag for your curly, wavy or slightly wavy mane, you will reveal the amazing pattern you never knew you had.
Style your carefree locks with moisturizing texturizing products to get the most of your bouncy curls.
Shag Haircut With Rocky Bangs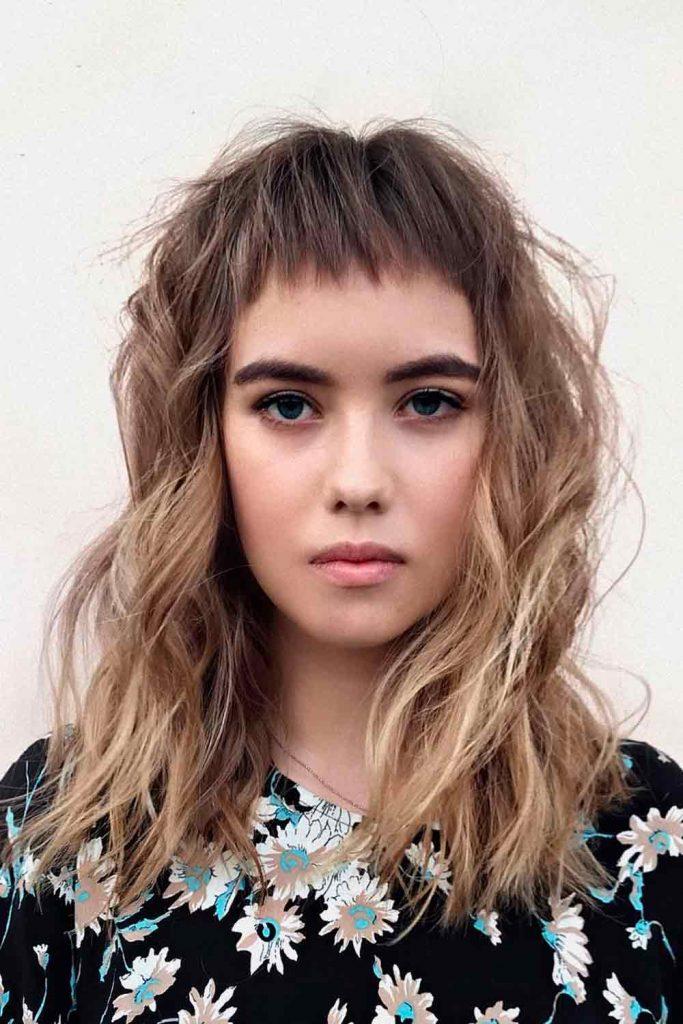 Credit photo: instagram.com/ryabchik.moscow
Shag haircuts with bangs are a bold move. It is definitely a head-turner. It gives your hair a lot of texture and a lot of bounce to play around with. And, with the bangs, you get a very grungy punk rock look. The finishing of the bangs and layers will say a lot about how this style comes out, so make sure your stylist understands to get the shaggy hair just right.
Shag Hairstyle For Curly Hair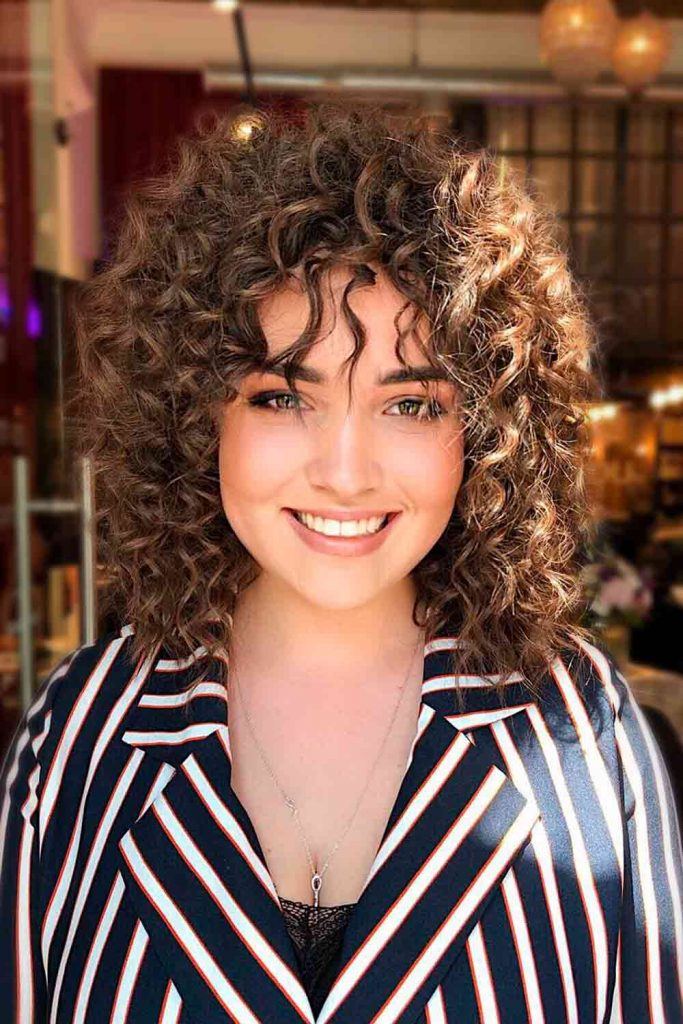 Credit photo: instagram.com/ryabchik.moscow
Curly hair is naturally stylish but to add a dash of fun, you can opt for shag haircuts for women with such hair. This is something all curly-haired girls are wary off, but medium shag haircuts will use the dense texture of your curls to work them around into a funky cut. One pro tip while opting for a shag haircut on your curly hair is to get them cut when they are dry.
Curly Shag Hair With Straight Bangs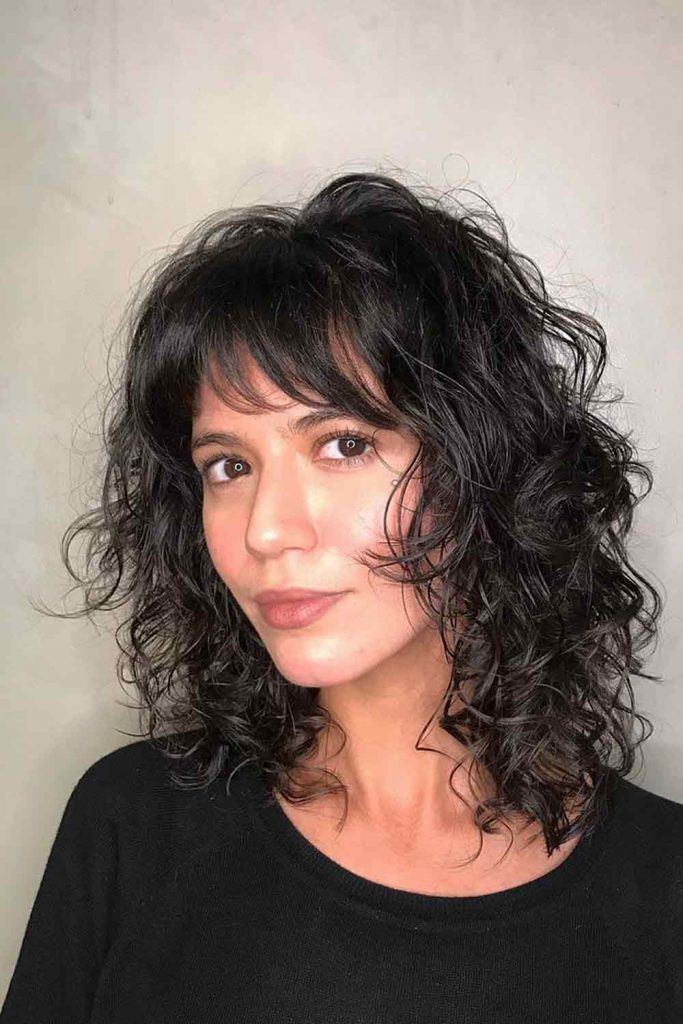 Credit photo: instagram.com/danibarroshair
To accentuate your naturally sculpted face, a wavy shag hair cut with straight bangs will make you look like a superstar right out of a movie. This is one of those medium layered hairstyles that makes wavy curls sit comfortably on your cheeks. If you are wondering how to style medium shaggy hair like these, just use some mousse to tousle the waves.
Shag Wavy Bob Cut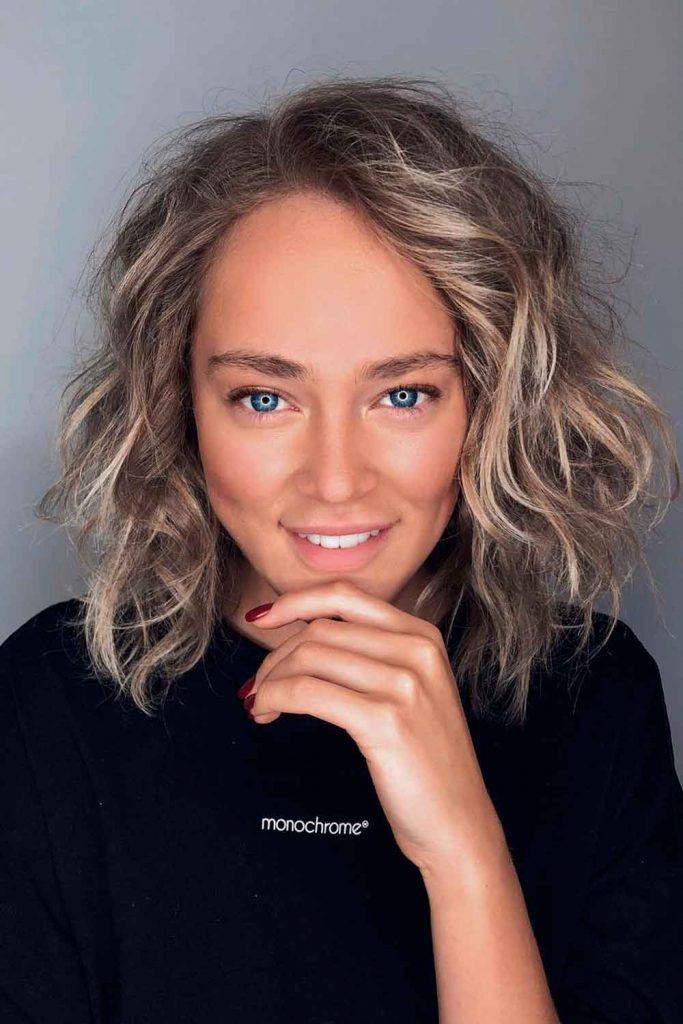 Credit photo: instagram.com/ryabchik.moscow
With medium length shag haircuts, scrunch up those choppy curls to give a defining volume to your thick layered hair. It is a cute cut with just the right amount of teasing around crown of your head to really bring out the pompousness and give it a height. This shaggy medium haircut style is simple, sporty, and definitely highly recommended.
Colored Long Bob Cut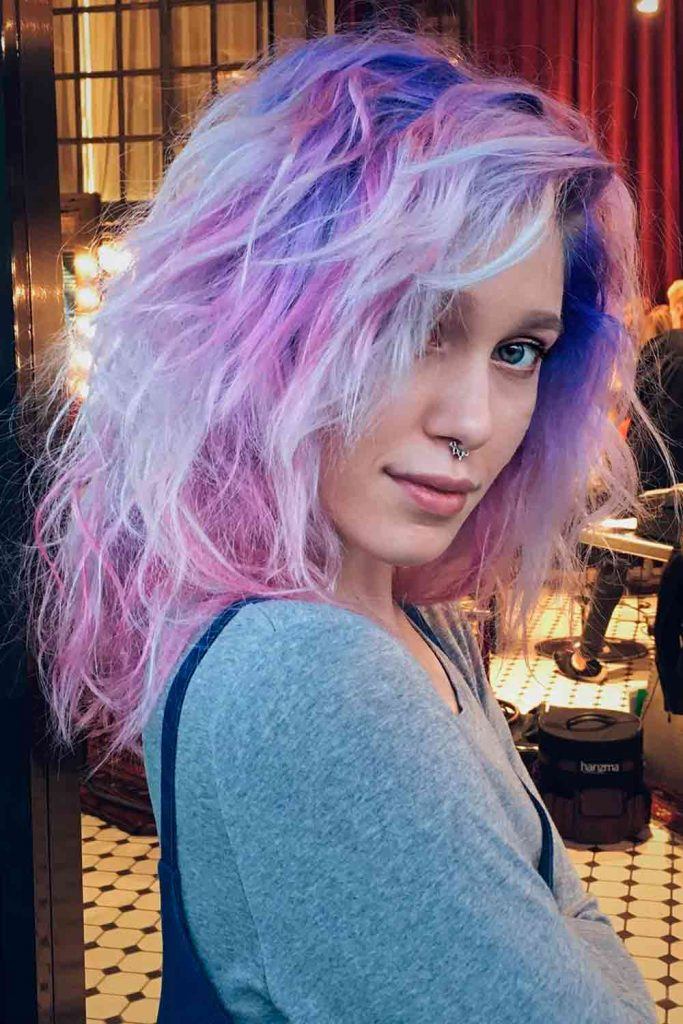 Credit photo: instagram.com/ryabchik.moscow
People who talk about beauty in imperfection are talking about this mid length hairstyle for women. This medium shag haircut has loose loops of imperfect waves bouncing off your shoulders. You are going to be the reason a lot of people turn green with envy. This shoulder length haircut is so effortless and it even makes thin hair look full and bouncy. You can add highlights and play around with color to show off the texture too.
Layered Long Side Parted Bob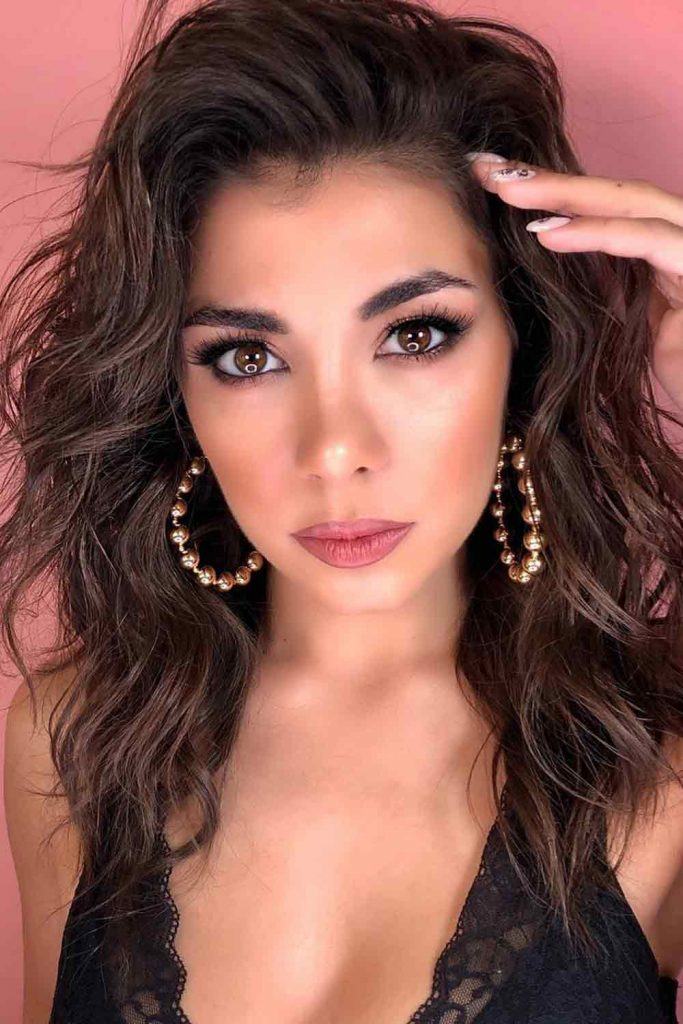 Credit photo: instagram.com/superjylia
A mid length haircut where your hair is styled into beautiful chunky waves with twisted shaggy layers is bound to make you look ravishing. The top of your hair is slightly tousled to flaunt the few wispy fly-aways. This long shaggy bob style gives your hair a lot of body and bounce and in this process, ends up making you look like a dream.
Wavy Lob With Bangs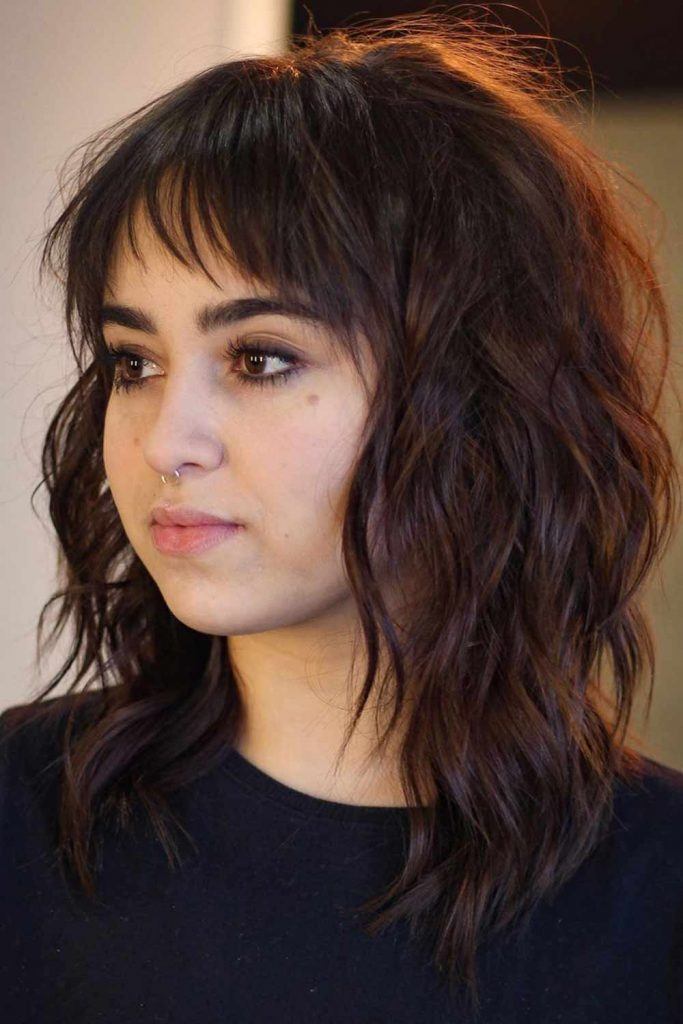 Credit photo: instagram.com/jhonatan.klagemberg
This classic shag haircut for women who prefer bangs works best for someone who has medium textured tresses. It brings out the bounciness and adds thickness to the hair by adding a numerous amount of layers. This layered shag haircut style is sassy and chic, and you cannot go wrong with it.
Long Shag Bob Cut With Balayage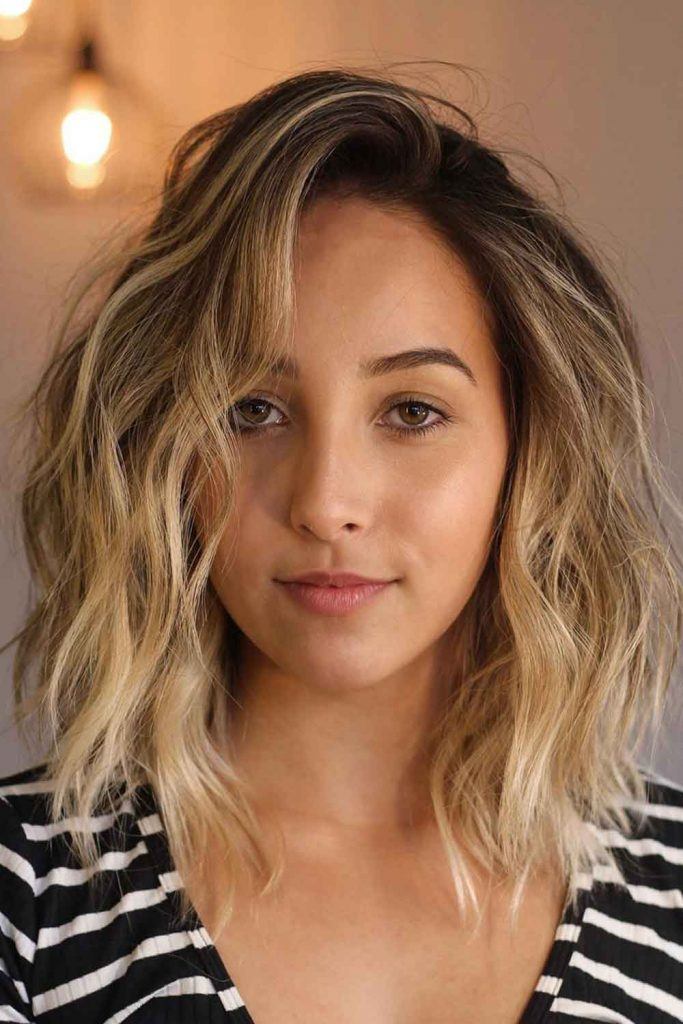 Credit photo: instagram.com/jhonatan.klagemberg
All the shaggy hairstyles have a distinct rock flair to it, which makes you stand out from the crowd. The long layers and slightly choppy locks of this hairstyle accentuate your collarbones and neck. Combine this medium shaggy wispy haircut combined with simple smoky eyes and lightly tinted lips. For blonde or brunette hair, you can even go for golden highlights that subtly fade into the ends of the hair.
Long Shag Haircuts
Now, it's time to see how you can add some edge to your long chevelure. Instead of cutting your hair short and yielding to the changes completely, you can just shape up your ends or crown and freshen up your look without length loss. See how it works!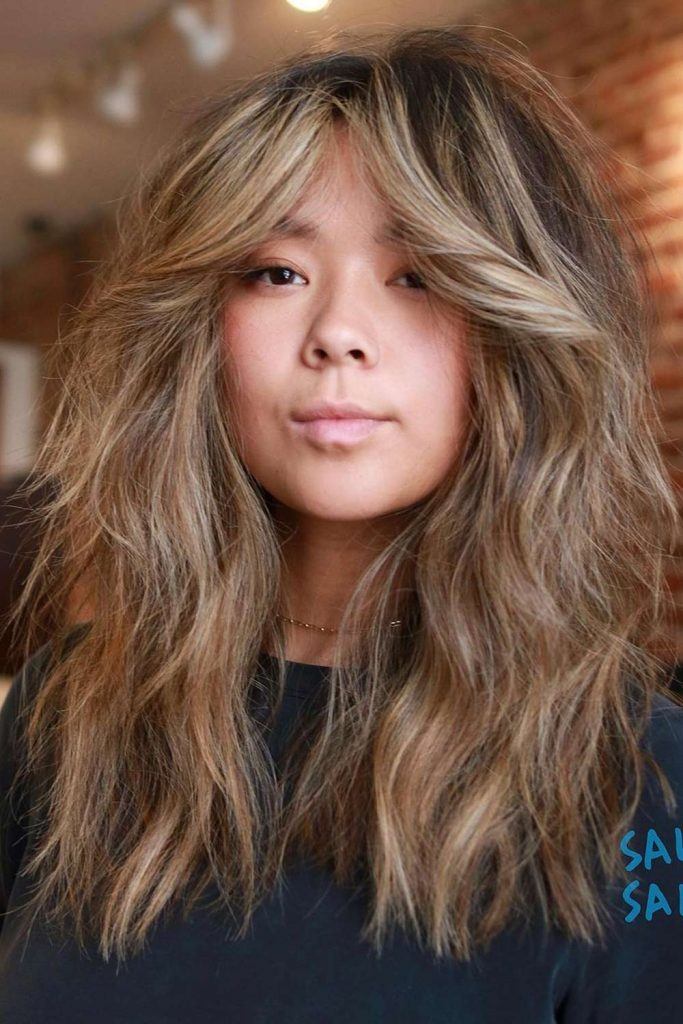 Credit photo: instagram.com/salsalhair
Long Wavy Blonde Shag With Bangs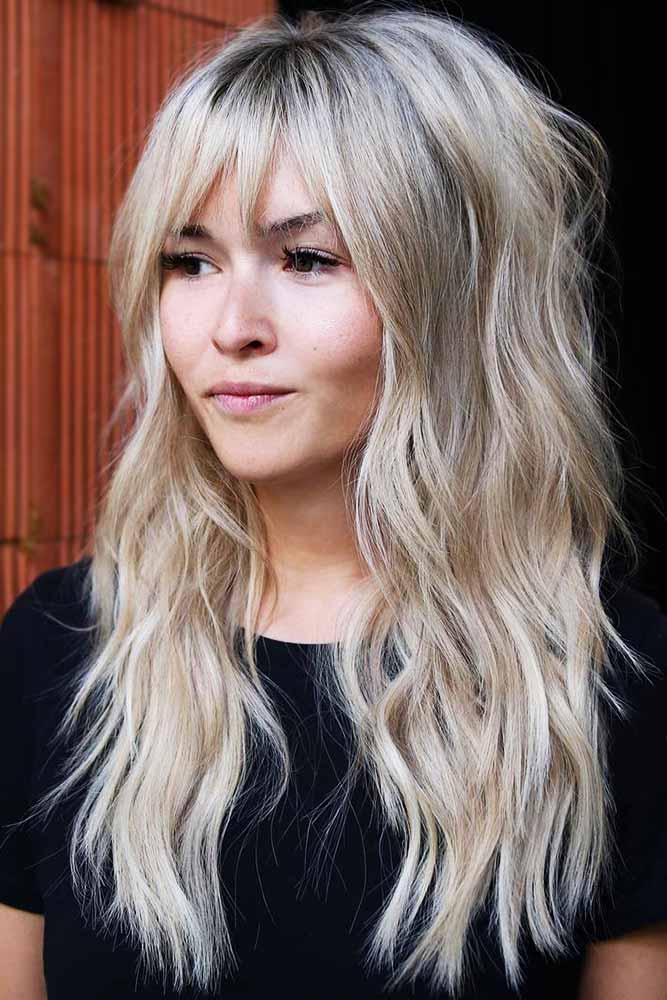 Credit photo: instagram.com/salsalhair>
Unfortunately, despite all our attempts to make volume stay longer, flat looks are inevitable when styling long hair. Yet, long shag hairstyles are an exception: such cuts look at long locks from totally different perspective. Once you opt for slight layers on the midway and frame your brows with thin bangs, you will see your long hair in a new light.
Texturized Loose Wavy Long Shag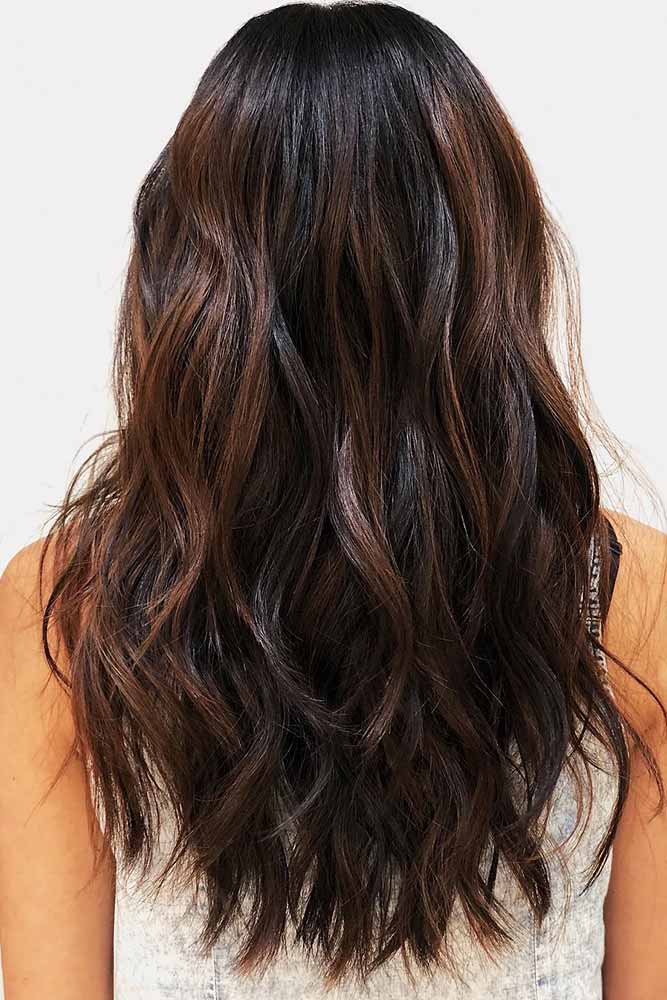 Credit photo: instagram.com/anhcotran
Let's be honest, the waterfall of gentle waves that fall on your shoulders is to die for. And we all get envious when we see a girl with cute and full wavy hair. Luckily, we all can look that glorious! Just call your stylist and ask for a long shag haircut. Let the ends texturizing do the talking.
Long Choppy Shag With Feathers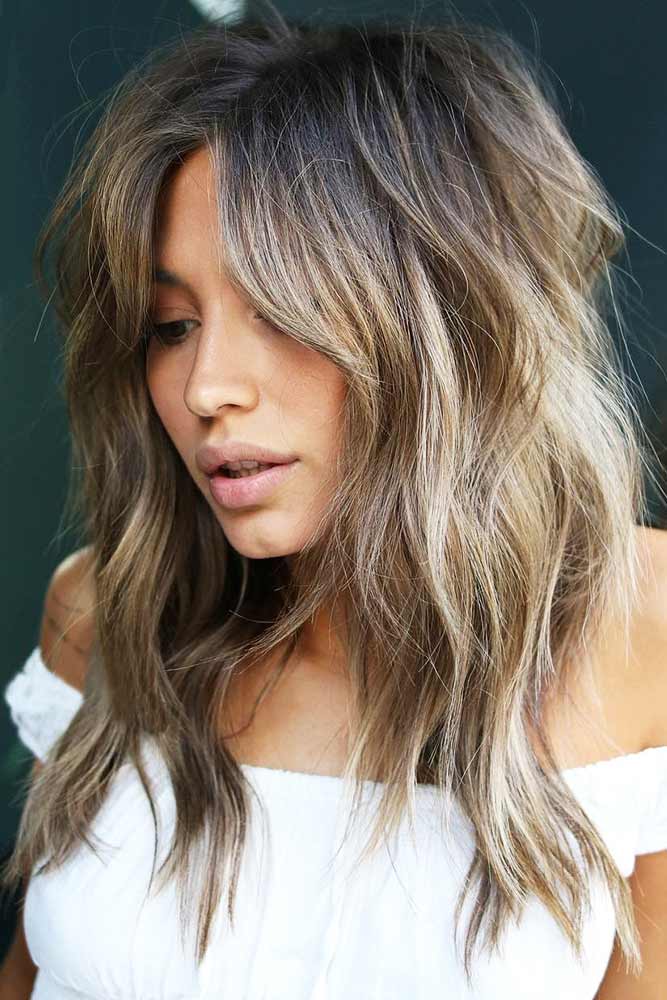 Credit photo: instagram.com/salsalhair
Nothing looks more flirty and sexy than long feathered hair. If you choose this cutting technique, you will be surprised by the difference. Feathers don't cut the length, they work on the ends, making them pop by moving from layer to layer. In this way, you can keep your favorite length, while getting a graduated, modern cut.
Razored Shag With Curtain Bangs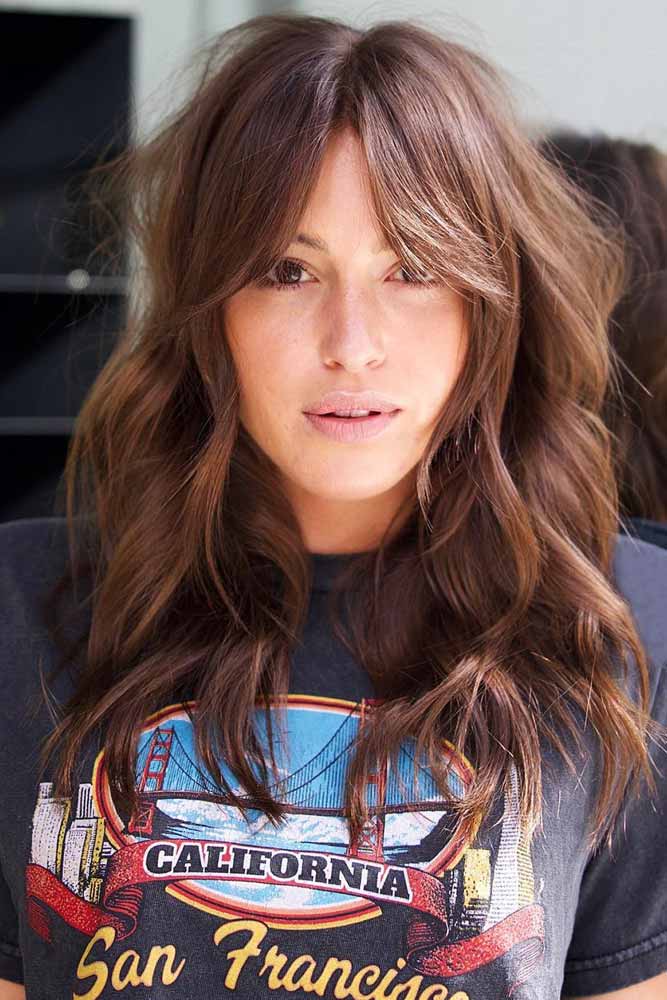 Credit photo: instagram.com/salsalhair
While the classic shag haircut is achieved with scissors, you can go for a more distinctive and contemporary look of a razored shag. To complement this idea, it's better to combine it with curtain bangs of the same thickness. As for styling, nothing can compare to its wavy variation: everything is so effortless and seamless!
Long Wavy Shag For Thin Hair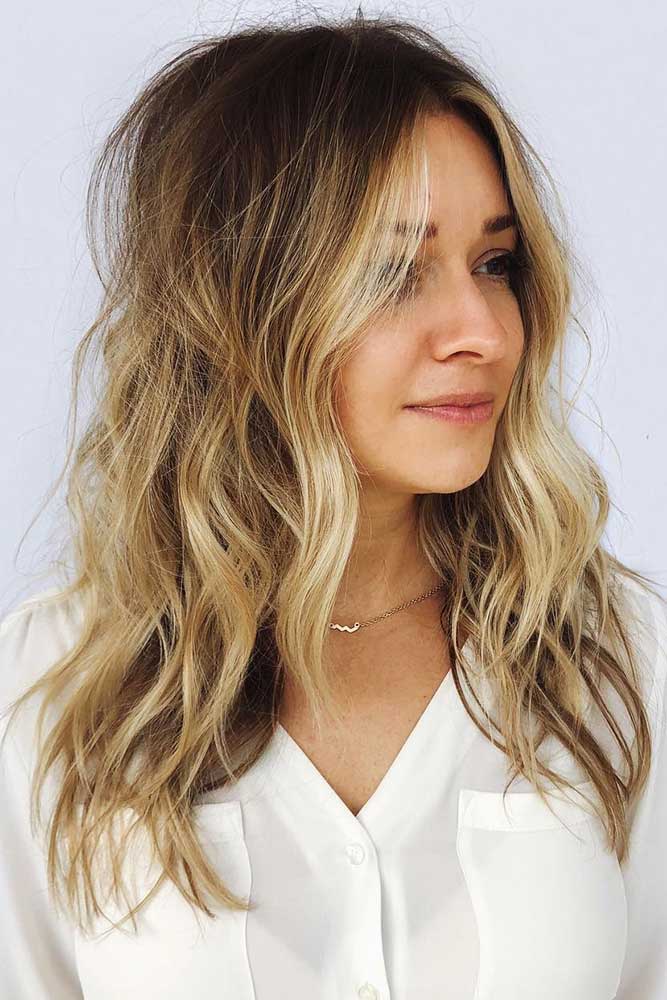 Credit photo: instagram.com/chrisjones_hair
Swirling layers and edgy ends can really say goodbye to your weak, thinner locks. Yes, when dealing with hair that lacks volume, texturizing is crucial. But don't worry: it will volume up each strand, working on the ends only.
Long Choppy Shag With Thin Bangs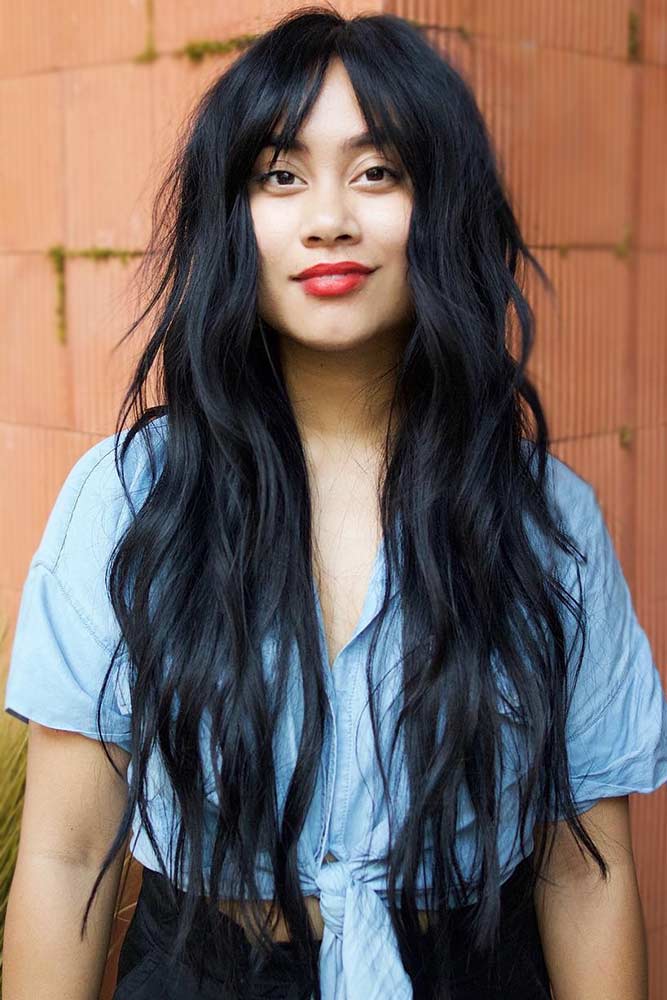 Credit photo: instagram.com/salsalhair
Has your hair ever had a twisty look like this? The hair is noticeably full, and each wave stands out in its own, choppy way. Isn't that a truly perfect look that every thick chevelure deserves? Pair it with a thin curtain bang and be ready to catch people's eyes.
Shaggy Messy Layers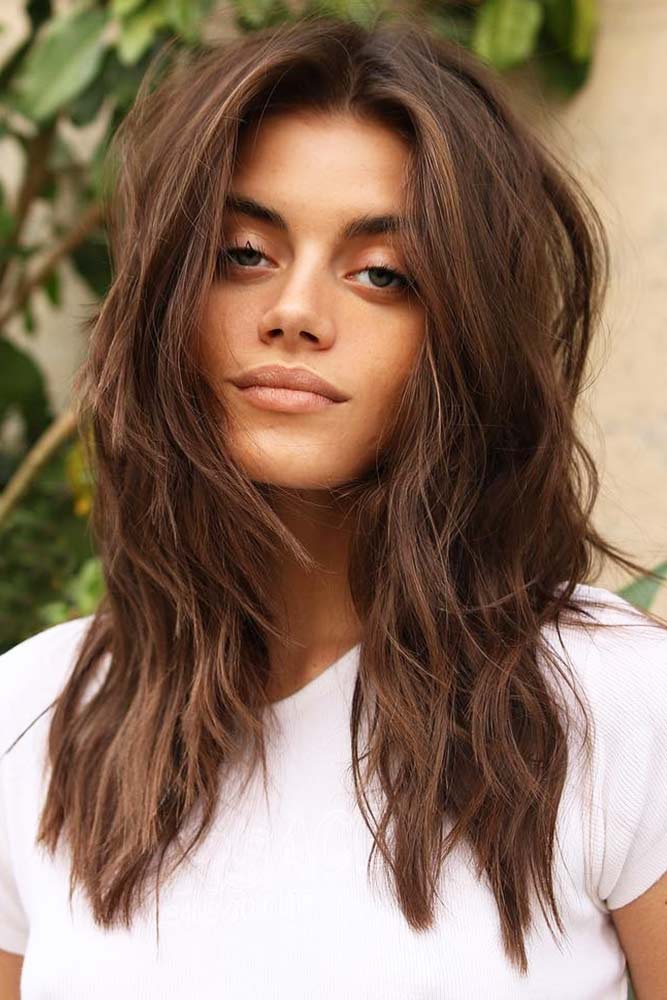 Credit photo: instagram.com/salsalhair
We've got good new for those who love messy and tousled looks! With shaggy layers, the charm of chaotically styled strands will reach the next level. Of course, once you combine messy styling with the power of layers, you will forget about thin hair troubles and make volume stay.
Long Layered Hairstyle With Torn Bang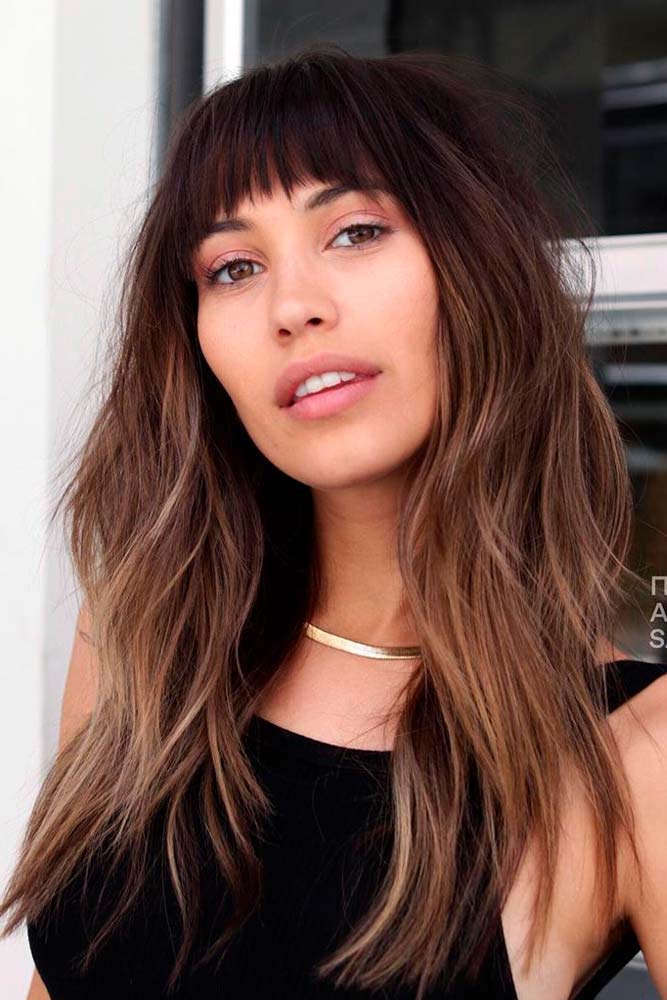 Credit photo: instagram.com/salsalhair
Some women still have no idea how drastically bangs can change their appearance. On top of that, even a slight touch of a fringe is enough to amp up a haircut, turning it into something brand new. So meet one of the latest types of bangs that can complement your shag with its edgy, yet airy texture. Not only does this cutie enhance the movement of long layers but it also gives a slight framing touch without overlapping the eyebrows.
Long Pink Shaggy Hairstyle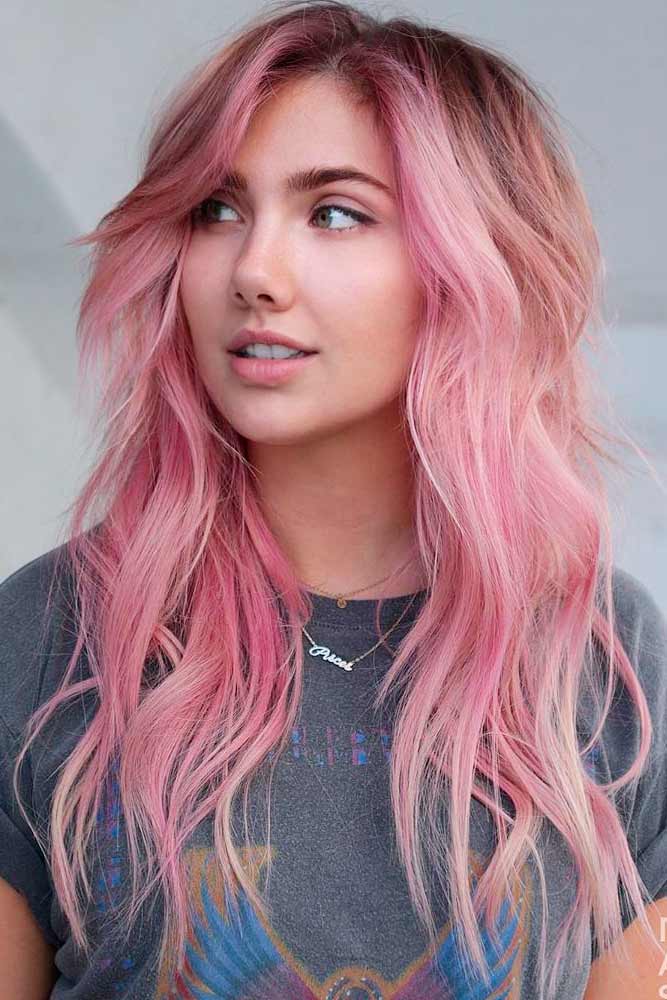 Credit photo: instagram.com/salsalhair
A shag haircut has whole lotta advantages for all kinds of women. As for those who love to steal the show with uncommon and jaw-dropping hair colors, a shag can be a palette for your color experiments. Every single edgy layer and every pointed twist will accentuate your color play, making it dynamic and alive. Just check out how the long shag with softly defined layers enlivens the trendy baby pink hue!
Blonde Shaggy Curls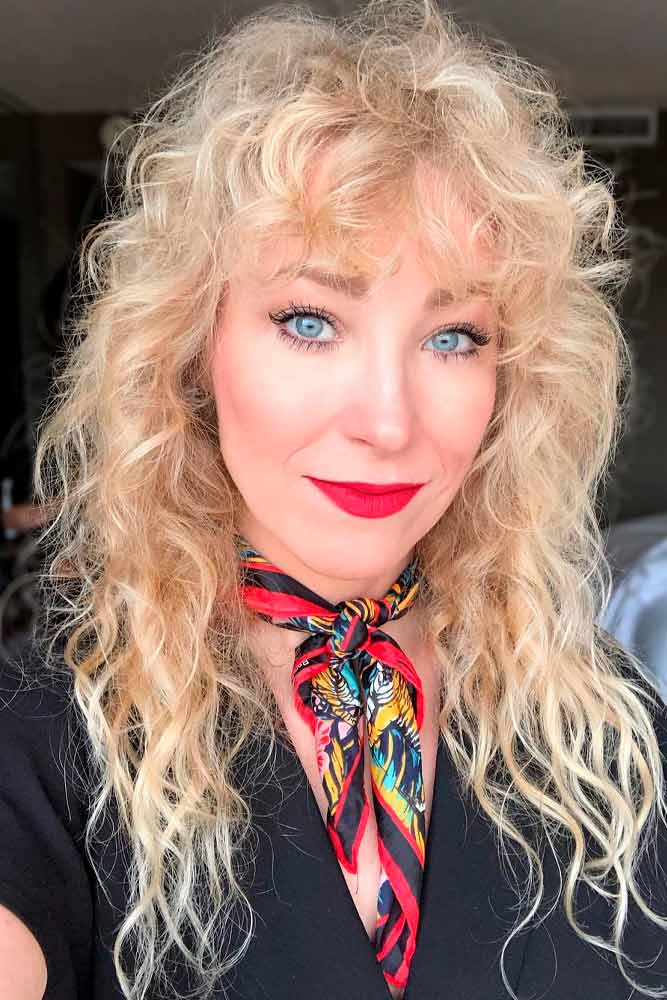 Credit photo: instagram.com/soraverly
We weren't joking when we told you that shag is literally for everyone. Since it performs a unique function for ever hair type, it can take an awesome approach to your curly hair. When working with curls, shaggy layers provide exceptional definition to every strand, making the curly pattern very balanced and distinctive. In other words, a shaggy cut is something that can reveal a stunning curly hair pattern you never knew you had.
Long Bob With Blonde Highlights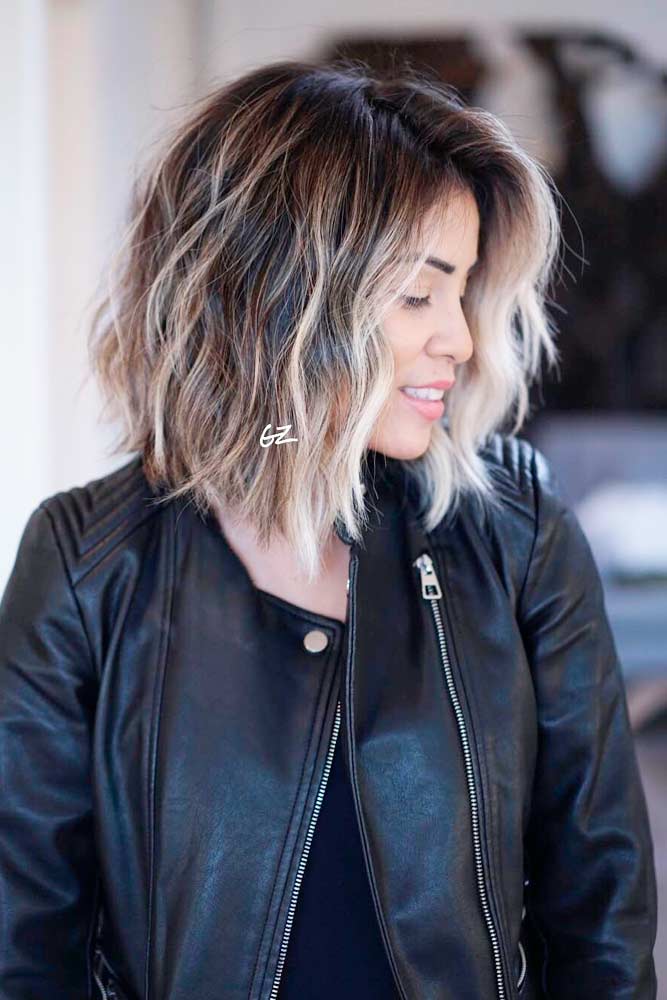 Credit photo: instagram.com/gracezip
Don't ever forget that haircuts go hand in hand with colors when you want to take your image to the next level. For example, you can always accentuate your haircut with the right color technique, as well as intensify the beauty of your color with the right haircut. This highlighted inverted bob is an example of a unique approach to hair changes. Here, highlights create harmony with shaggy layers, emphasizing their movement and adding a ton of modernity to the whole look.
Shaggy Peach Bob Hairstyle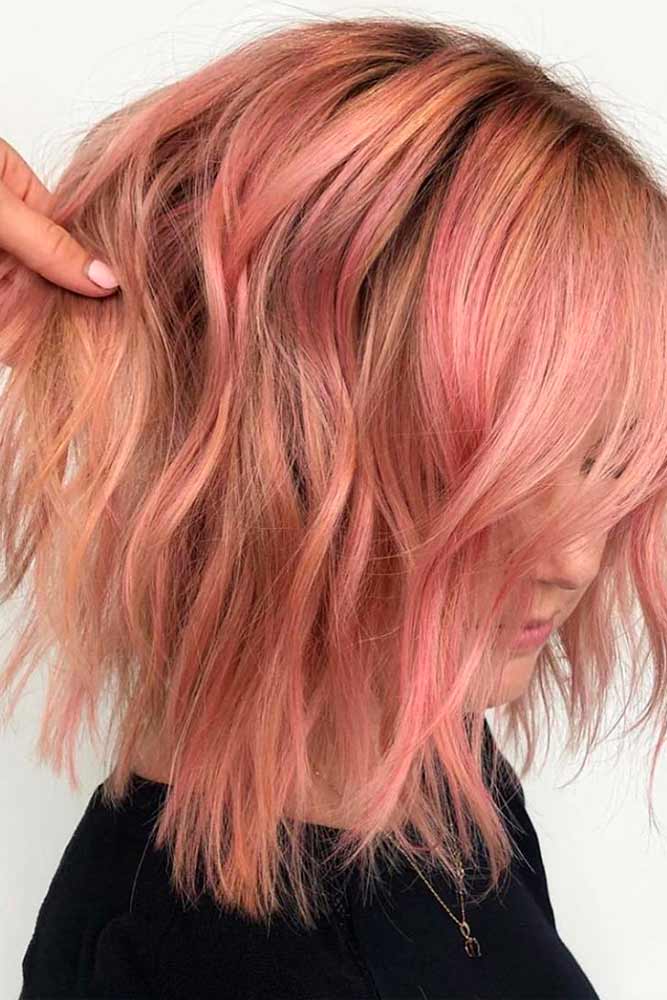 Credit photo: instagram.com/bluegeminihairstudio
Gentle and effortless colors can't do without airy and lightweight hairstyles! Soft pastel shades have become a huge trend in the past few years, and they don't seem to ever take a backseat. For that reason, girls from all over the world like and pin all those peachy, lilac, and light navy blue pastel ideas, dreaming that one day they will bring them to life. And you know what? Such colors are the best matches to shaggy layers: together, they create a lovely airy silhouette that no one has the power to resist.
Short Layered Bob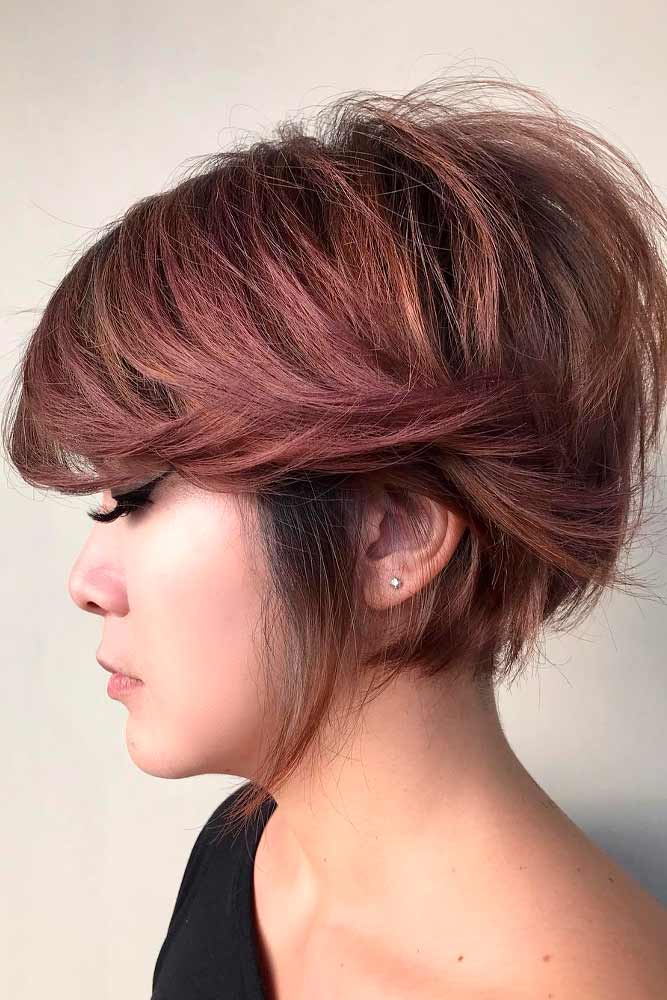 Credit photo: instagram.com/jamiekeikohair
No matter how short your bob is, there's always a place for layers. Most short bob haircuts feature longer tresses on the front to allow for face-framing hairstyles while rocking short lengths. And this is where layers should come in. You can get them right at the front to spice them up with dynamic and edgy textures. Just look at how these pointed front pieces add more character to the look!
Retro Shaggy Style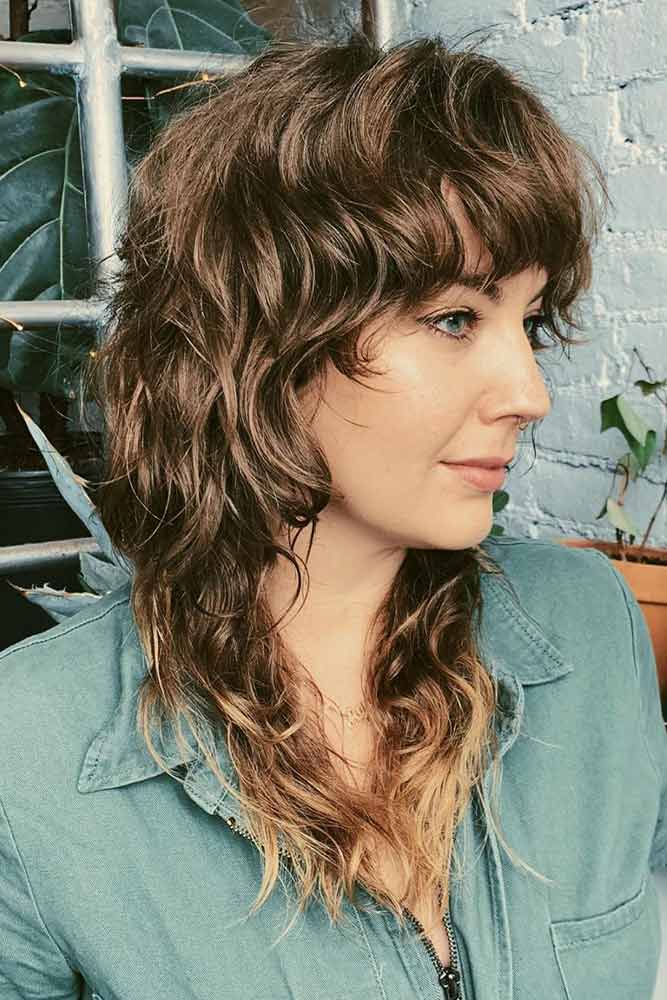 Credit photo: instagram.com/jmcintyrehair
Everything began from this retro shaggy style. The fun fact is, this cut has turned out to be ageless; today, it can nicely fit any modern outfit and complement any image. What makes this look so reminiscent of the retro times is the texture and the way the fringe is blended with the rest of the locks. Rocking messily styled wavy hair was a thing those days, especially during the rise of the shag.
To make this fantastic cut a part of your modern look, we recommend you wearing it with a wispy fringe and keep it at a moderate length. Some curl foam at the ends will be a good idea, too.
Celebrities with Shag Haircuts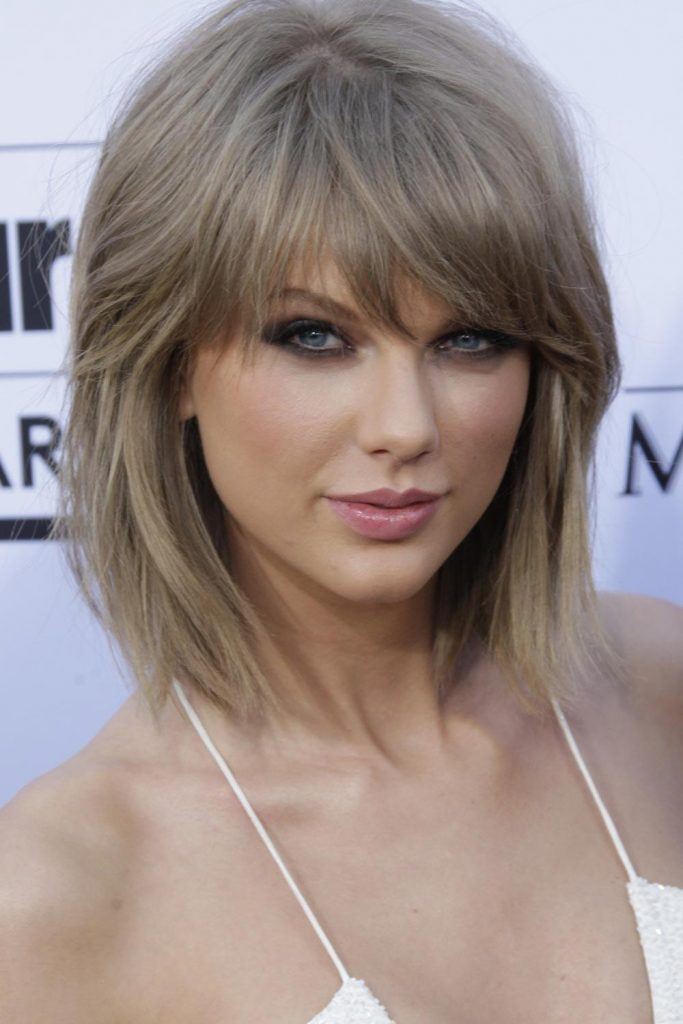 Credit photo: Phil Stafford/Shutterstock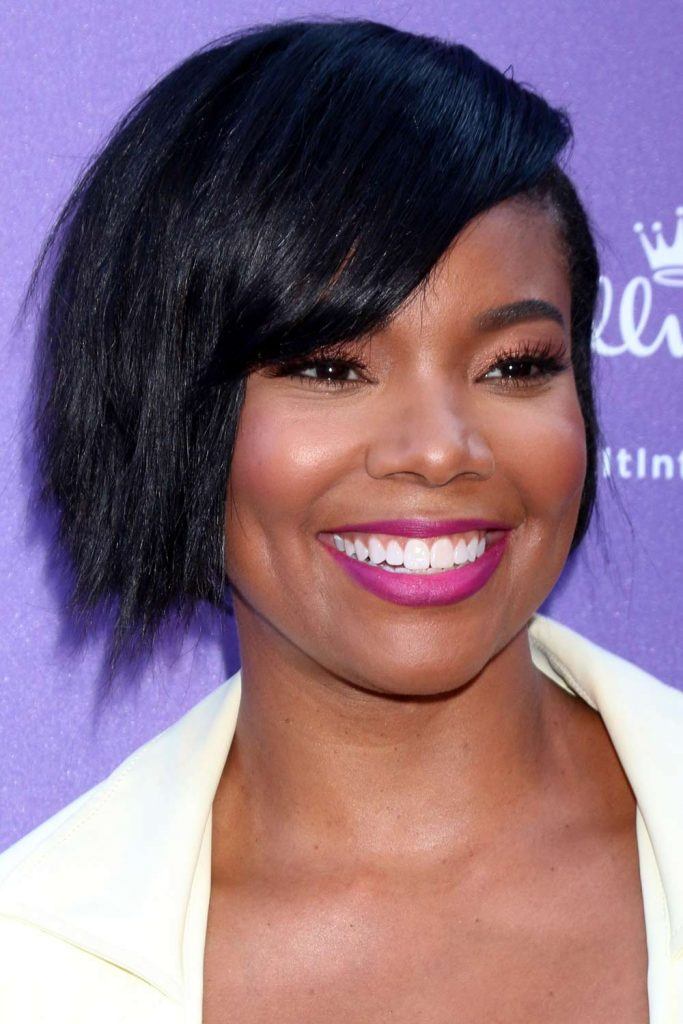 Credit photo: Kathy Hutchins/Shutterstock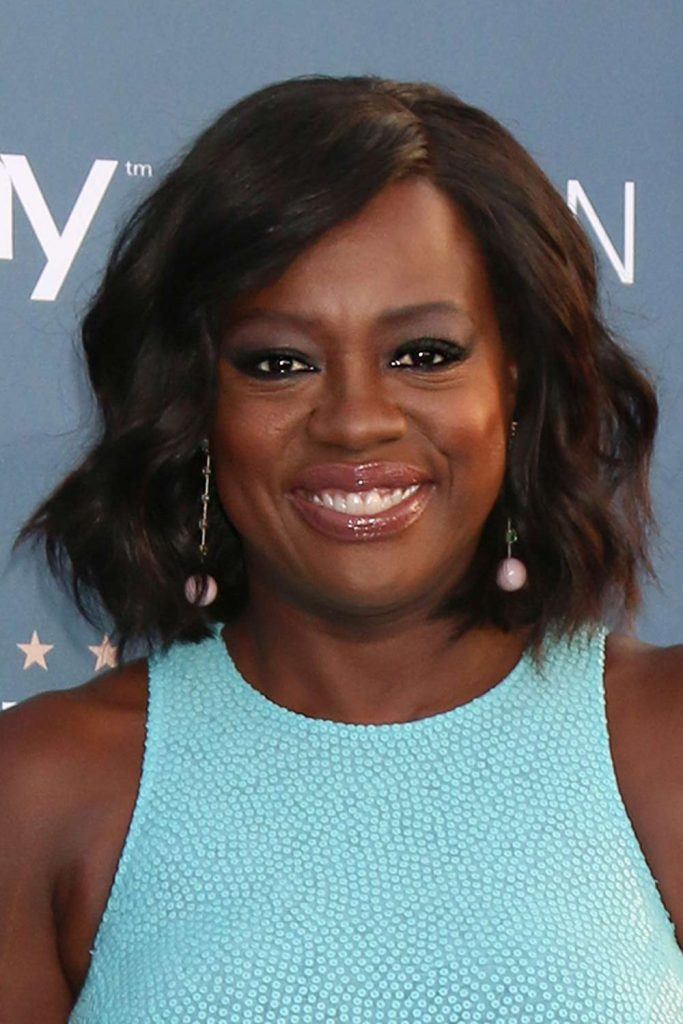 Credit photo: Kathy Hutchins/Shutterstock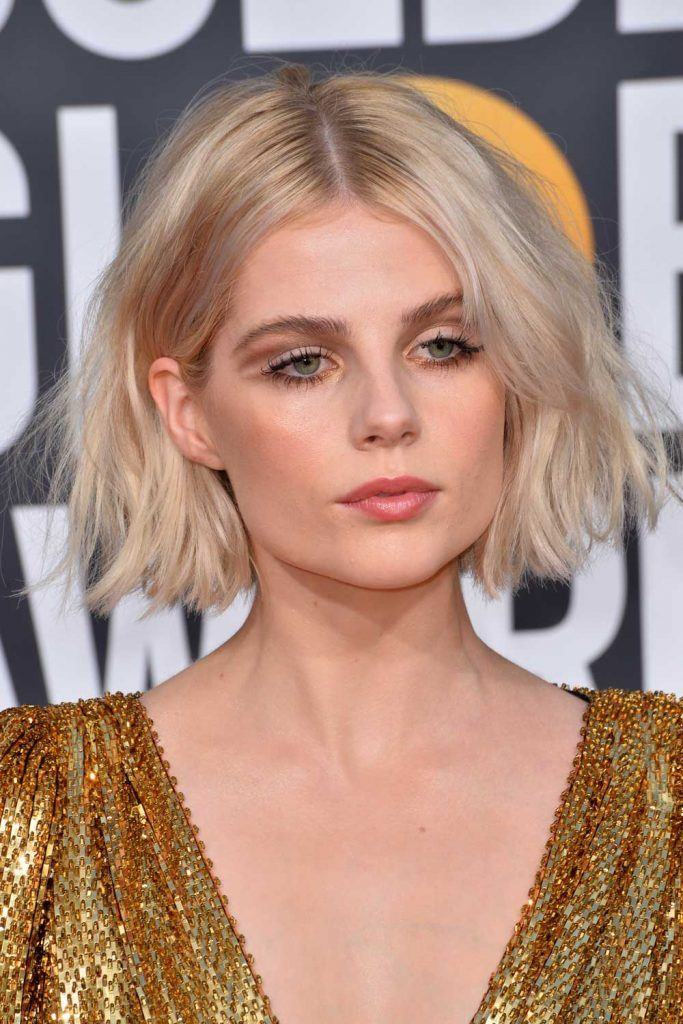 Credit photo: Featureflash Photo Agency/Shutterstock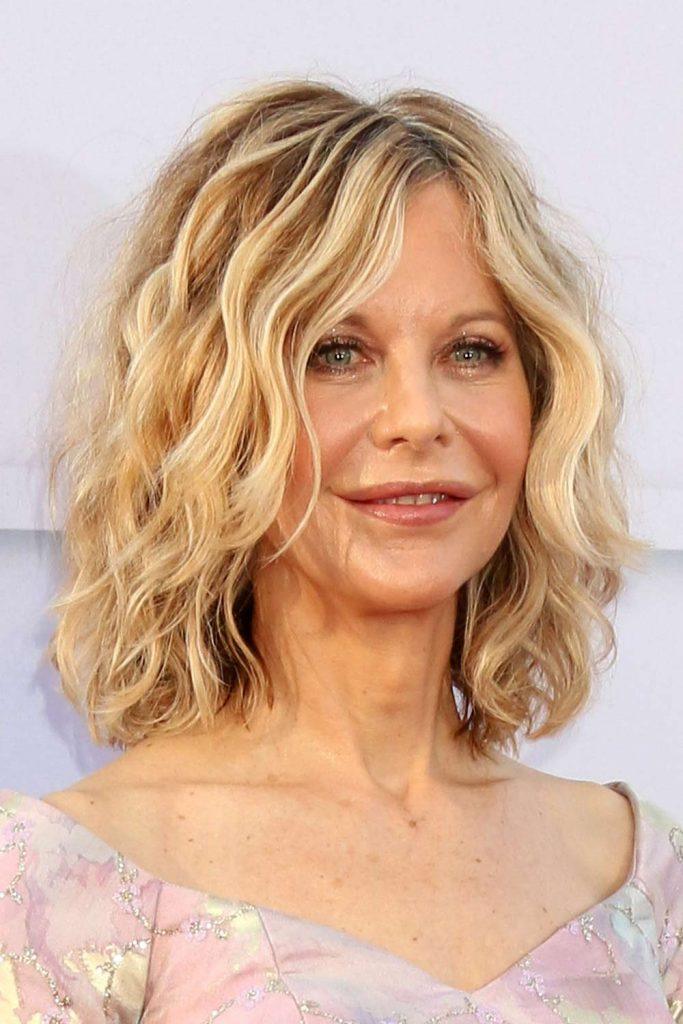 Credit photo: Kathy Hutchins/Shutterstock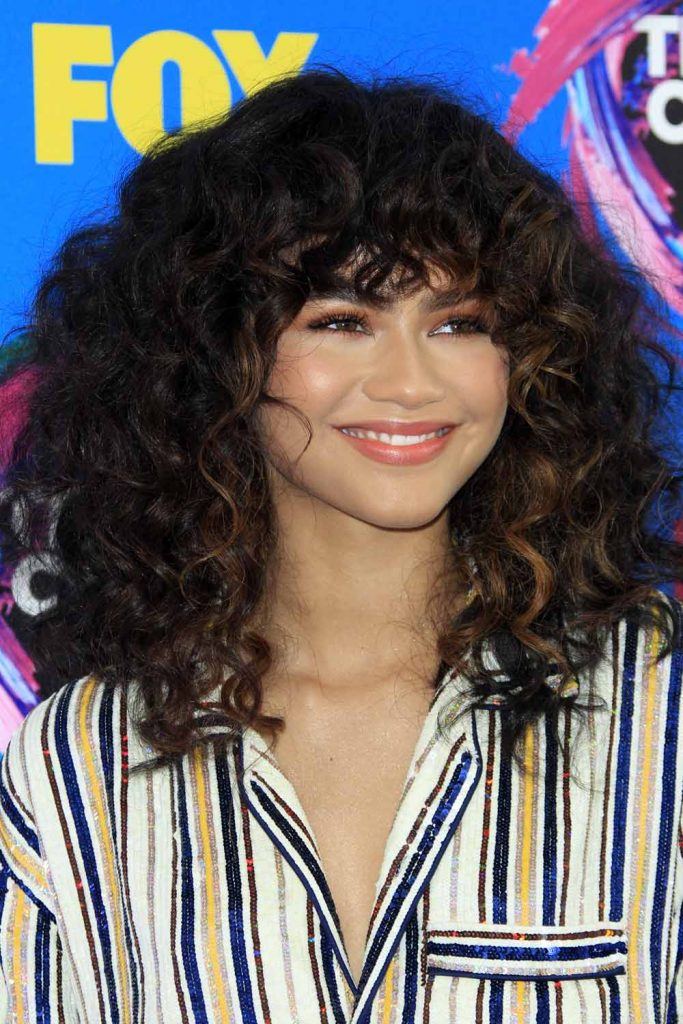 Credit photo: Kathy Hutchins/Shutterstock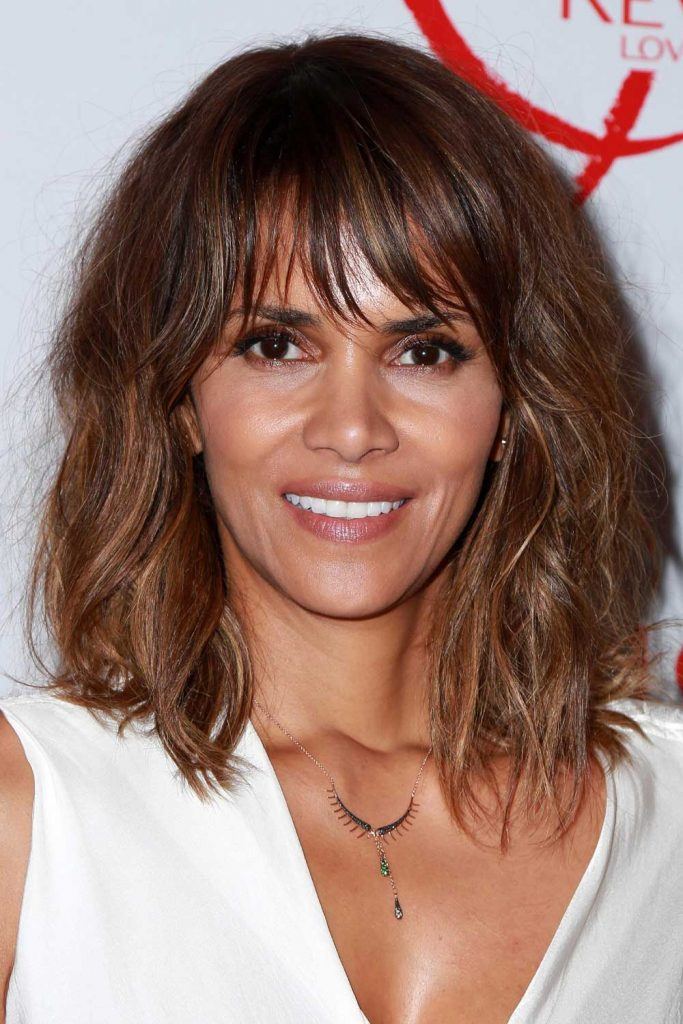 Credit photo: Kathy Hutchins/Shutterstock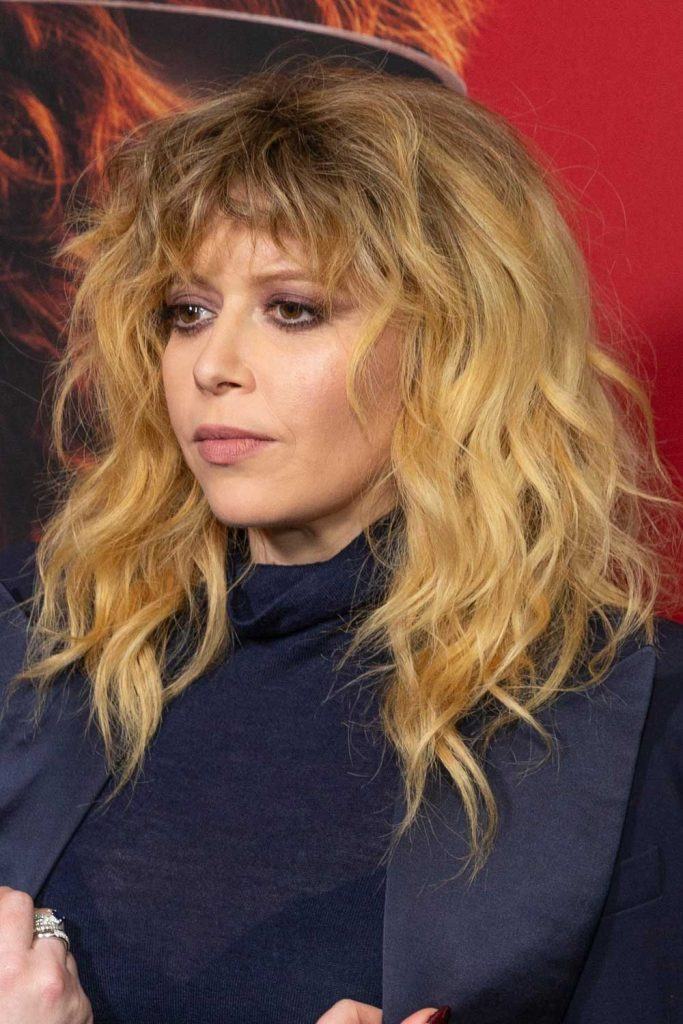 Credit photo: lev radin/Shutterstock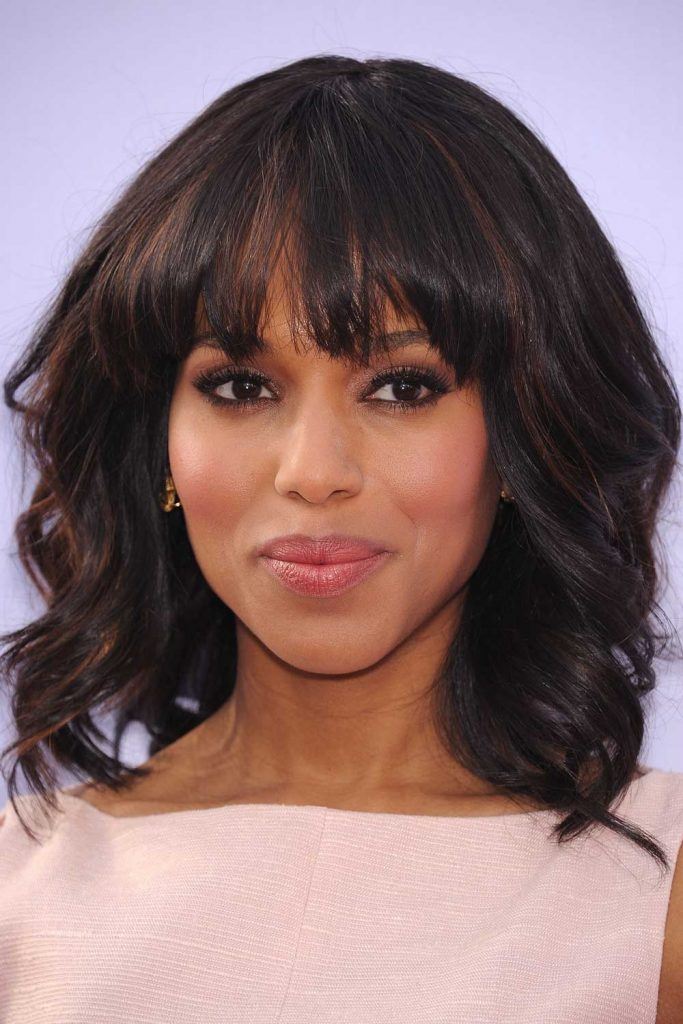 Credit photo: DFree/Shutterstock
Now that you know how many shag variations there are, including those that you can design yourself, it's time for you to give one of them a try. A shag haircut is all about getting the most of your texture and taking your cut to the next level. Let the upgrade into your life!
FAQ: Shag haircut
What is a wolf cut?
The wolf cut lies somewhere between shag haircut and mullet. It features a long mullet style with voluminous feathered layers. Usually, it's also accompanied by a set of face-framing curtain bangs or a heavy fringe adding some extra shape towards the front.
Otherwise, the 'wolf cut' requires little upkeep and looks especially well on wavy or curly hair.
What degree is a shag haircut?
Shag is the 180-degree haircut, also known as the reverse elevation. This haircut is generally reserved for longer hair, whereas the rest of the cuts can be used on any hair.
The hair is divided into five sections, then each section is combed straight up and then cut straight across.
Should I get a shag haircut?
The shag is a great haircut for people with curly or wavy hair, naturally having the movement and volume.
The good thing is that there's no need to hold yourself back from getting shag haircut if you have got straight hair; this cut suits most hair types and textures.
REFERENCES: