Beautiful Bun Hairstyles To Rock
Bun hairstyles are always in the top of the hairstyles ideas. Of course, as they are so good-looking for formal events, daily life and fancy occasions. More and more people with any hair length are trying them on and absolutely love the results they get. If you are interested in trying new things that will upgrade your appearance, then try these hairstyles that we have found for you.
A Low Twisted Bun
Source: lenabogucharskaya via Instagram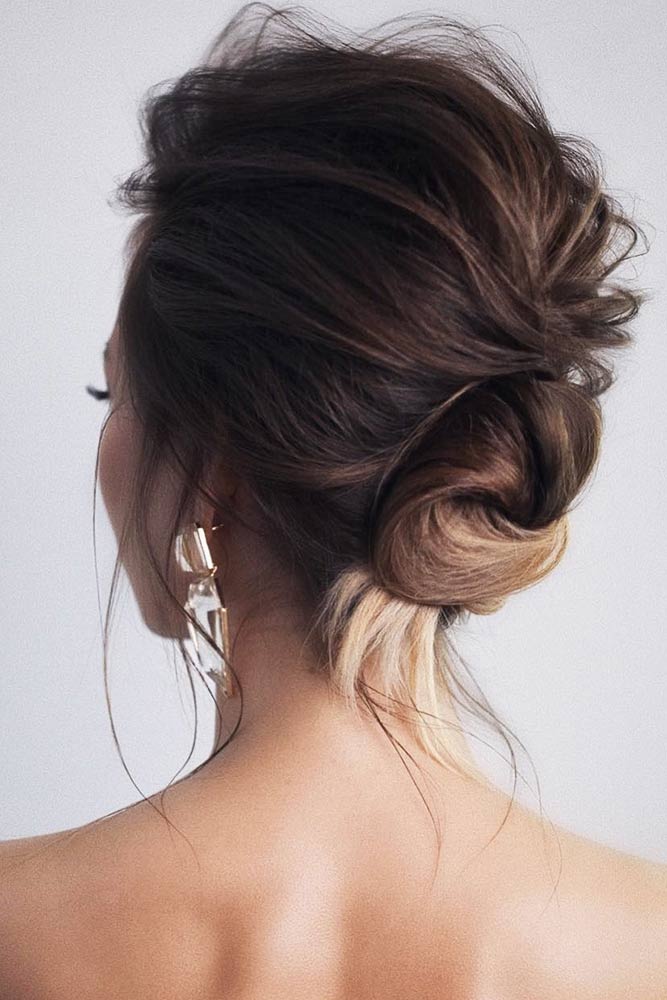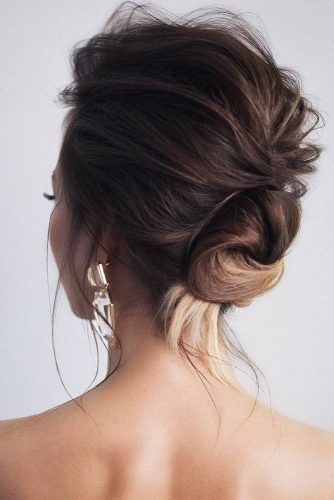 If you have long hair that you would like to put into a beautiful hairstyle, we have a suggestion for you. Do a low twisted bun with a loose side braid. Isn`t it gorgeous? It is a great idea among other bun hairstyles for long hair.
A Half Wrapped Low Bun
Source: tonyastylist via Instagram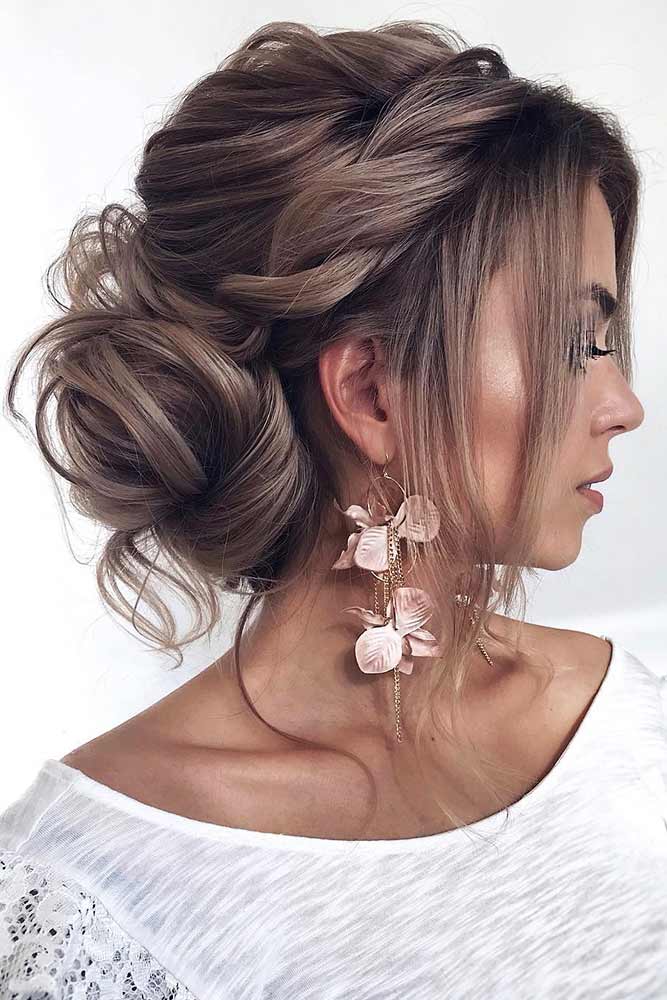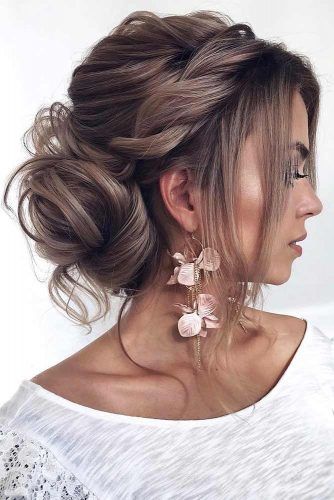 Do you prefer tight hairstyles to the loose ones? Then this secure half-wrapped low bun is your next everyday choice. An elegant bun that fixes your hair together in a tight way. Add a thick piece of hair as an interesting detail, and your perfect hairdo is done!
Add Double Lace Braids Into A High Bun
Source: missysueblog via Instagram
A sleek bun has gathered so much popularity over the past few years. After it became a trend, so many different variations were brought to the beauty world. What can you say about this one? A tight and high sleek bun with two lace braids that complete this look so well.
A Low Bun With Elegant Pearl Accessories
Source: lenabogucharskaya via Instagram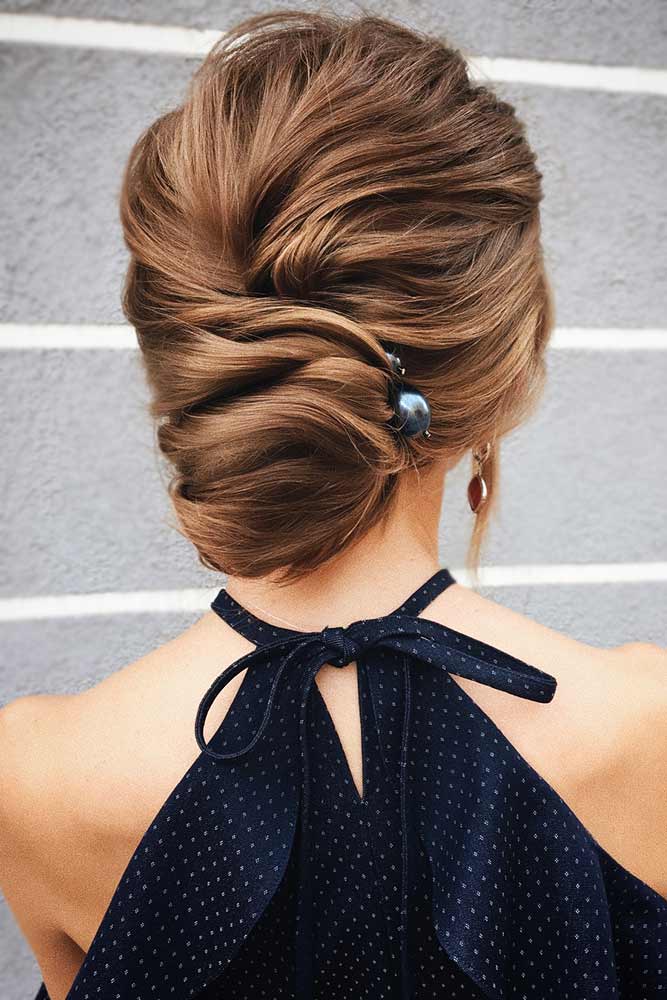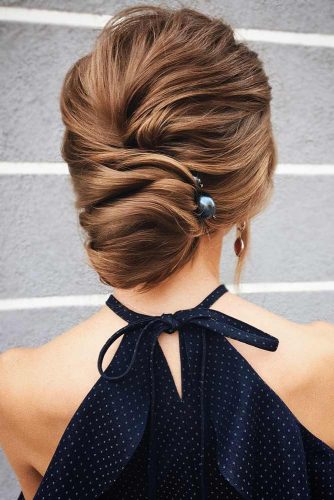 There are a lot of ideas with bun hairstyles for medium length hair, and we aspire to bring the best ones to you. What do you think about this one? In our opinion, it is worth trying! A simple low bun with small pearl accessories that bring so much chic to the hairstyle.
A Messy Low Braided Bun
Source: amberfillerup via Instagram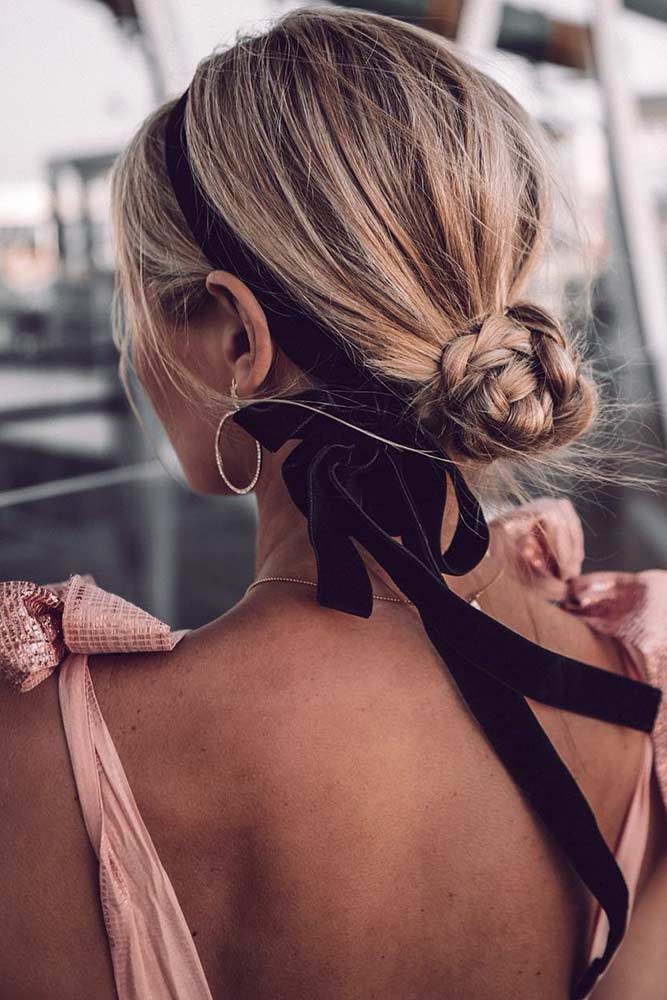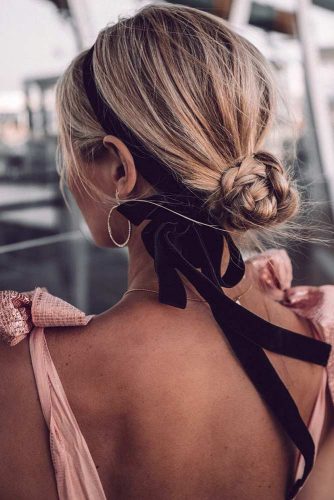 Braids have always been popular all over the planet. They bring a particular mood to the whole appearance of the person who is wearing them. They are also very comfortable apart from looking beautiful. Why don`t you try on a braided bun then? Interesting and different from everything you have tried, for sure.
A Messy High Bun
Source: lenabogucharskaya via Instagram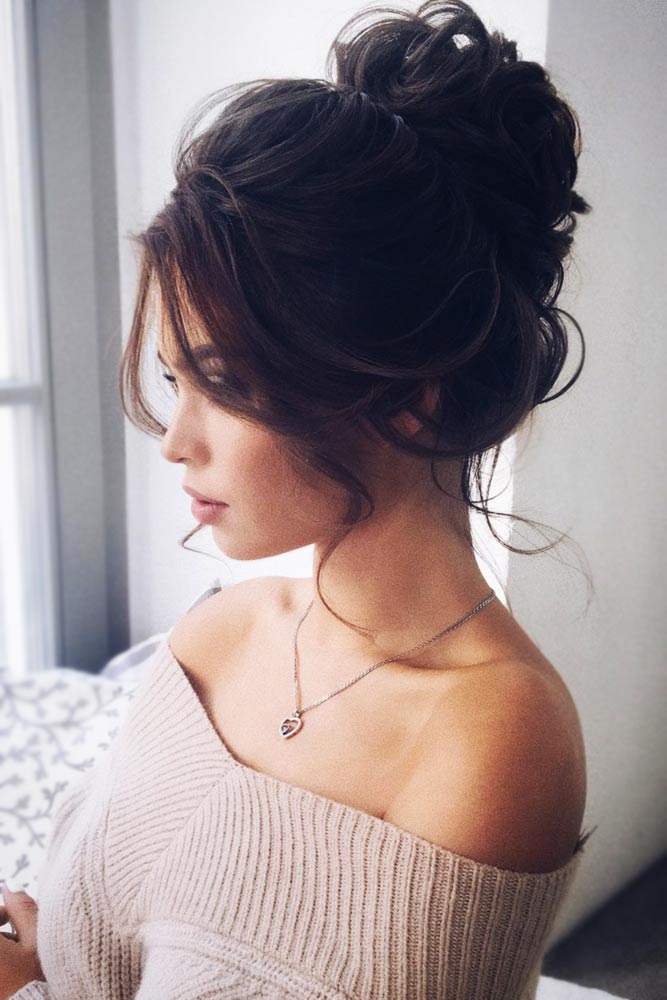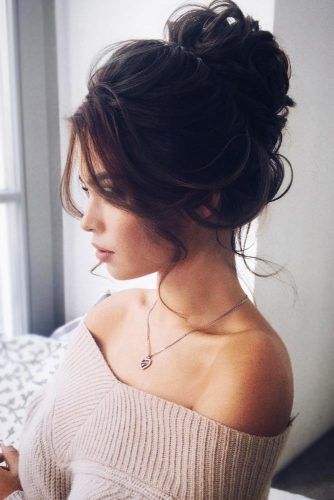 Messy hair and easy bun hairstyles are coming together to create trendy and gorgeous hair looks. Super simple, this messy bun hairstyle will become your favorite hairdo for every day as you won`t have to spend hours making it look pretty. Its messiness is its charm for sure.
A Cute High Gibson Bun Style
Source: lenabogucharskaya via Instagram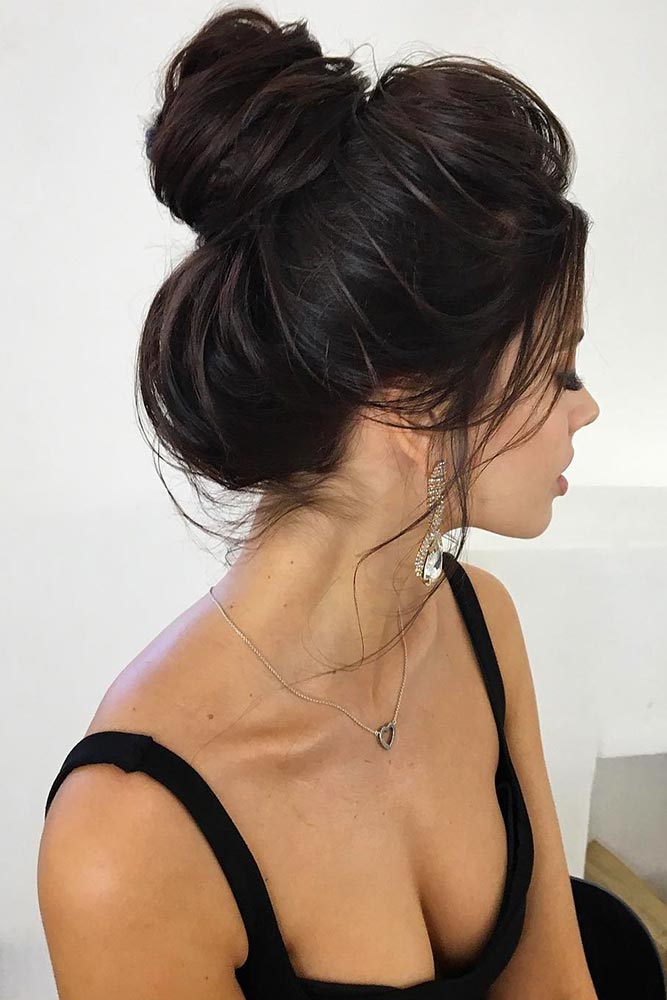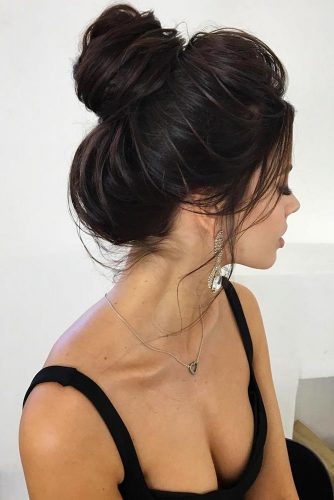 A high Gibson bun style is standing out from all bun hairstyles for black hair. It makes it look even more shiny and beautiful. Gather your hair into a high bun and make it loose around the areas where it is supposed to be held. Isn`t it perfectly imperfect?
A High Bun With A Scarf
Source: tiaravanessaa via Instagram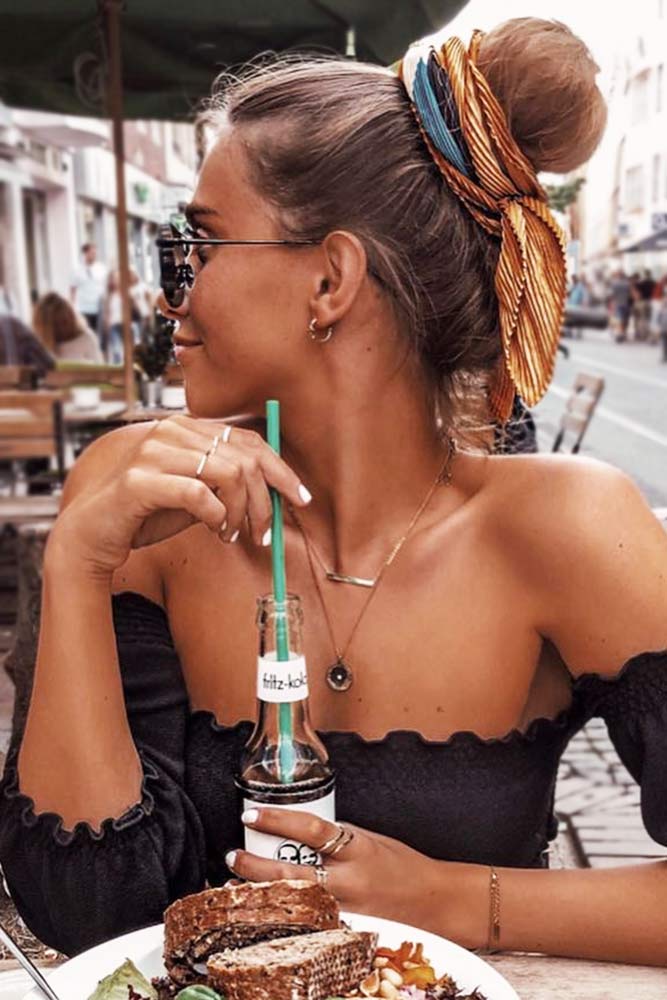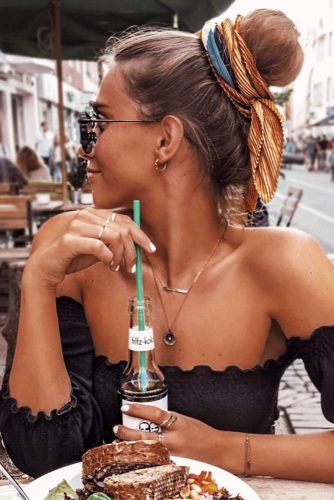 Scarves and headbands have come into the fashion world again, and we are thrilled they`ve made a comeback! There are so many ways to wear them, but we believe this one to be the most stylish. Make a high bun and fix it with a headband. It will definitely catch attention, bringing an exciting detail into your look!
A Boho High Bun Hairstyle
Source: hairandmakeupbysteph via Instagram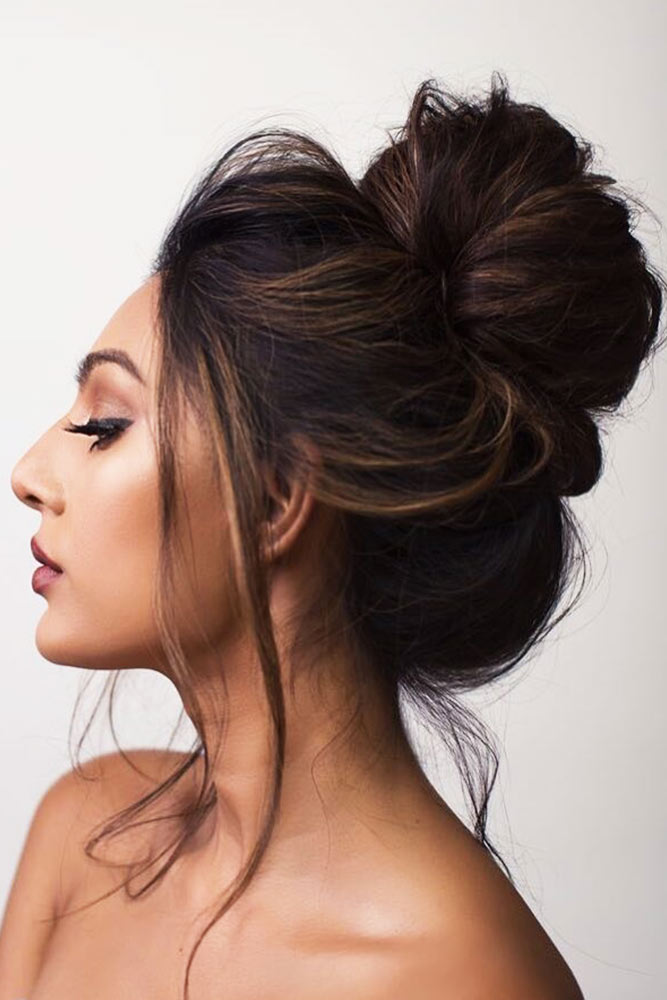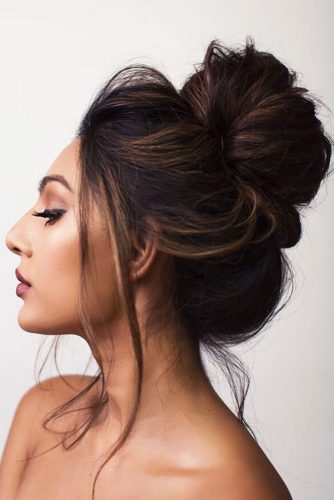 A high bun in a boho style will be perfect not only for every day. It will be super-looking on special occasions, too. Loose, with a lot of volume, it will have a unique vibe coming from it. Isn`t it what you prefer?
A High Bun And A Bow Idea
Source: n.starck via Instagram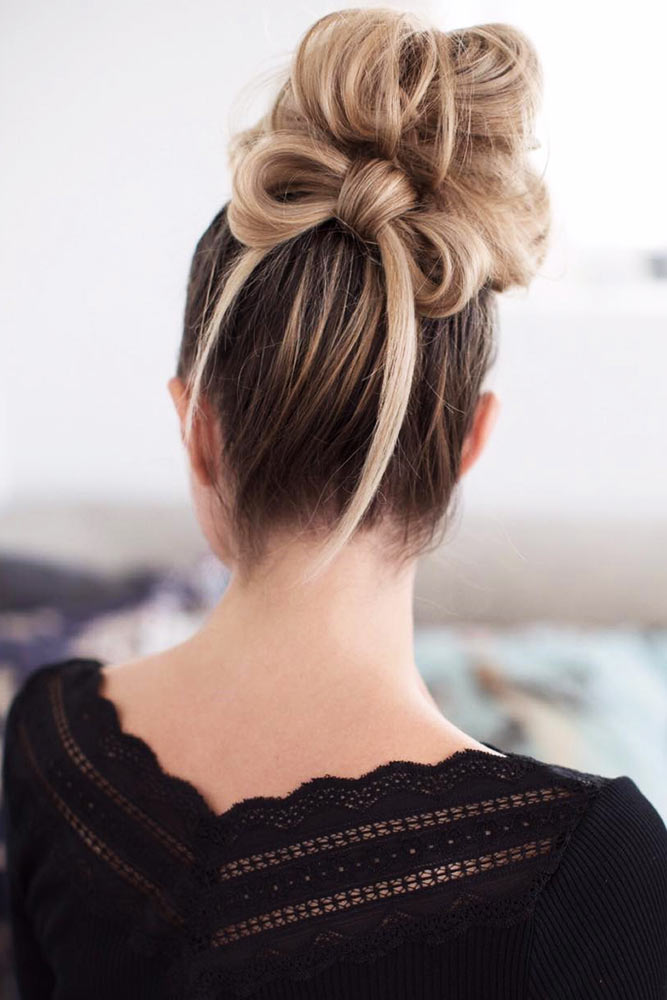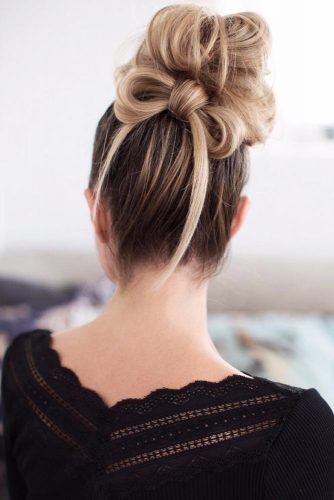 Unusual things usually bring so much attention, and this high bun with the bow is one of them. Messy bun hairstyles with small, stylish details will become so popular that you will be shaken. So, don`t miss your chance to try it on yourself this season.
A Bow High Bun
Source: ameliecheval31 via Instagram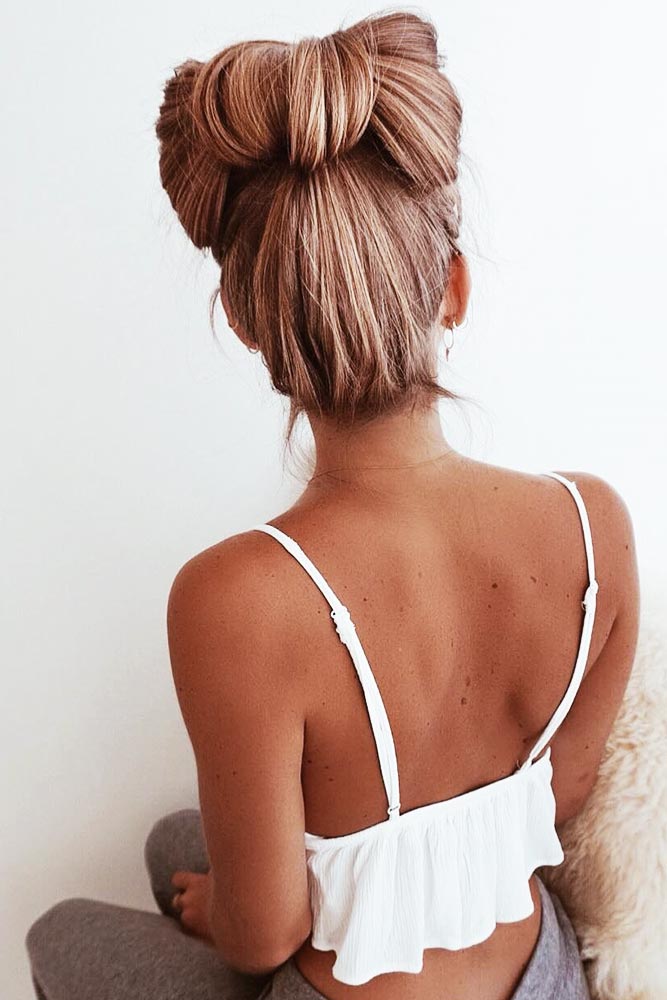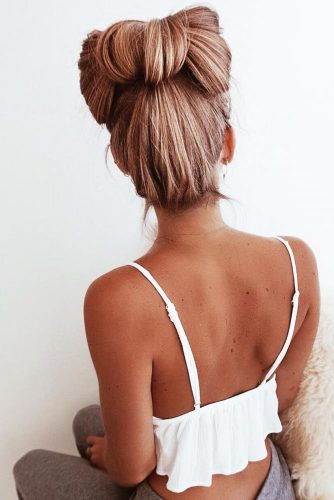 Do you have long hair and are up to try unusual hairstyles on it? Add a texturizing spray to your length to get volume and fix it in a bow bun. Do it carefully and slowly for it to look neat. Don`t be afraid if it gets loose, it will bring even more charm to it.
Cute Double High Buns
Source: braids_in_action via Instagram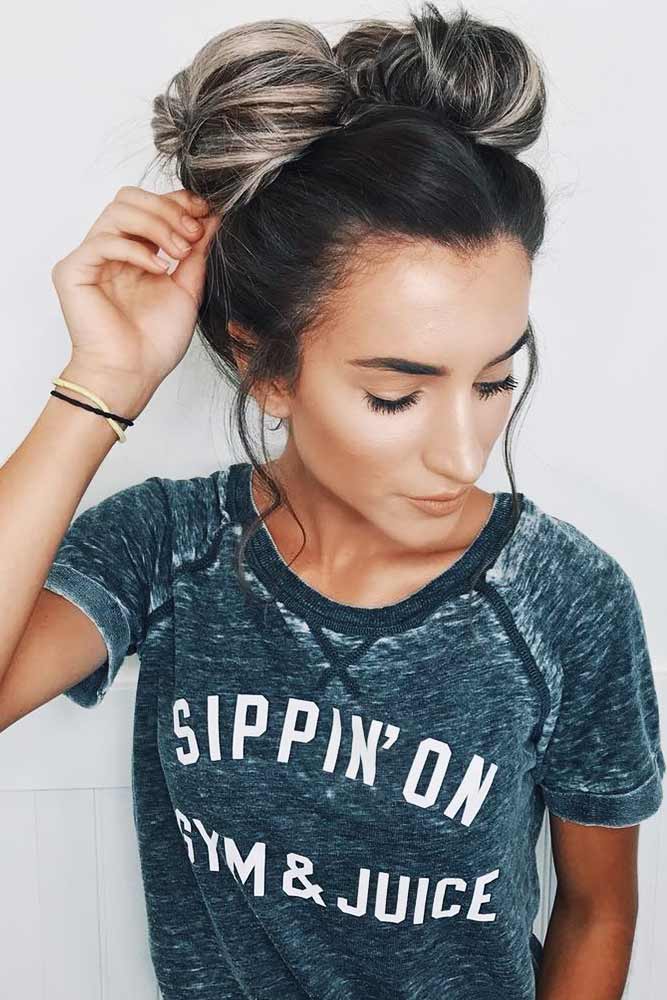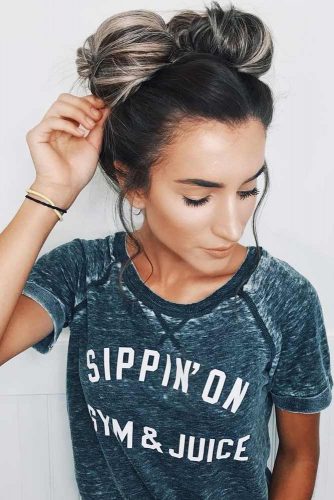 Who says that you have to stick to a classic one-bun hairstyle? We have so many great ideas that you can try with double hair buns. What about this one? Two messy high buns that will bring so much cuteness to your look.
Unique Space Buns Hairstyles
Source: missysueblog via Instagram
This idea has blown everyone away recently, and we get why! Extraordinary, it has so much beauty about it. Do two high buns and add glitter to your parting. Great for special events and for those who are not afraid to stand out from the crowd.
A Half-Up Mini Bun
Source: missysueblog via Instagram
Would you like to try a bun hairstyle but still would love to keep half of your hair down? No problem. Gather the top part of your hair and braid it from both sides. Create a messy bun out of the ends and curl the bottom layer. Voila, a super romantic hairstyle is here!
A Stylish High Half-Up Bun
Source: missysueblog via Instagram
This is what we call a Top Knot. Make two sections out of your hair and make a super messy hair bun with the top layer. That`s all you need to do to get such a beautiful style!
A Messy Bun Tutorial
Source: Kayley Melissa via YouTube


We would be glad to help you with creating bun hairstyles step by step. Here`s a tutorial for you!
Gather your hair into a low ponytail and, with your fingers, mess up a bit of the fixed hair. Pull out some little pieces around your face.
Divide your hair into two sections and split these two sections into two little ones so, in the end, you have four thin separate pieces.
Take two little pieces and wrap them around each other until you get to the ends of the "braid."
Pick a thin piece out of the ends and hold it with one hand. Slowly pull the twisted hair that has separated from the picked end upwards with another hand.
Fix the messy bun you have created with some bobby pins. Repeat the same routine with the other half of the hair.
A Dutch Braid Into A Bun Tutorial
Source: Kayley Melissa via YouTube


Why don`t we try a different variation of a bun hairstyle?
Take a section of hair from the crown of your head and, splitting it into three pieces, do an inside-out Dutch braid. You just go under the pieces of hair, gathering more and more strands of hair from the sides until you get all your hair braided.
When you get to the length of the hair, fix the braid with an elastic band by looping your hair through it once and switching your elastic band around and looping it through again.
Pull out the strands of hair of the messy bun and fix it with some bobby pins.
A Double Buns Updo Tutorial
Source: Kayley Melissa via YouTube


Would you like to try double buns? Then do it with us!
Section your hair and do two high pigtails. Make sure they are at the same height.
Braid your hair in the pigtails and secure it with little elastics.
Loose up the braids for more of a relaxed look and wrap them around the pigtails.
Secure the messy double buns with some bobby pins.
Bun hairstyles will make any look you think of even more special than it is already. They will bring freshness and mood to your appearance. Try them on with us and pick your favorite bun hairstyle!