When you think of pink hair, what comes to your mind? For some ladies, it's a nice way to stand out in a crowd, while others take it as a touch of softness that adds a feminine twist. And the truth is, being the most desired trend in women's fashion, pink hair color can be anything you want it to be.
Whether you love rocking an outstanding and eye-catching hair color or you'd like to keep up with your girly image, there's a pink shade for all moods. And today we want to introduce the diversity of this color. Alongside with tons of inspiration, you will get to know the top products for smooth home experiments. Let's take a plunge together!
Pink Hair - Fresh Looks For Trendy And Brave Ladies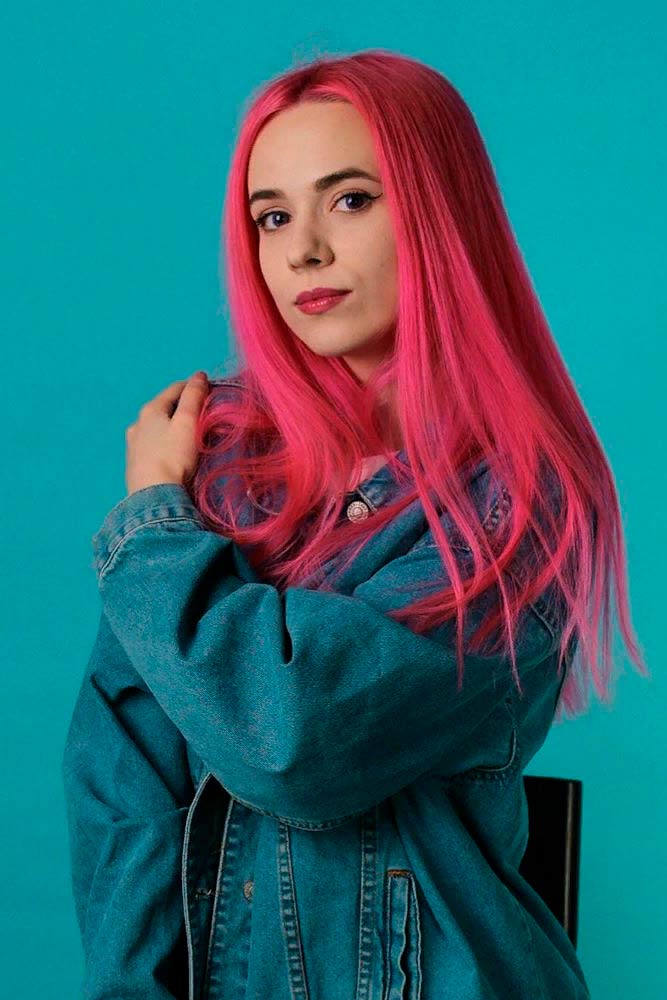 Credit photo: Instagram.com/your_dead_eyes
With the overwhelming popularity of the hot pink hair, the great variety of color choices is growing more and more each day. As you know, there are plenty of different shades of pink, which, consequently, give life to countless coloring options for ladies seeking bright changes. Therefore, besides an all-over coloring, you are free to experiment with soft pastel accents added over your blonde or brunette base, as well as go big and turn your mane into distinctive pink ombre with blue roots. Or, if you're afraid of big commitments, you can opt for delicate partial highlights hiding under your natural color. Bottom line? There' no way you won't find the perfect pink idea for you. And the ideas you're going to see below are proofs!
Pastel Pink Long Hair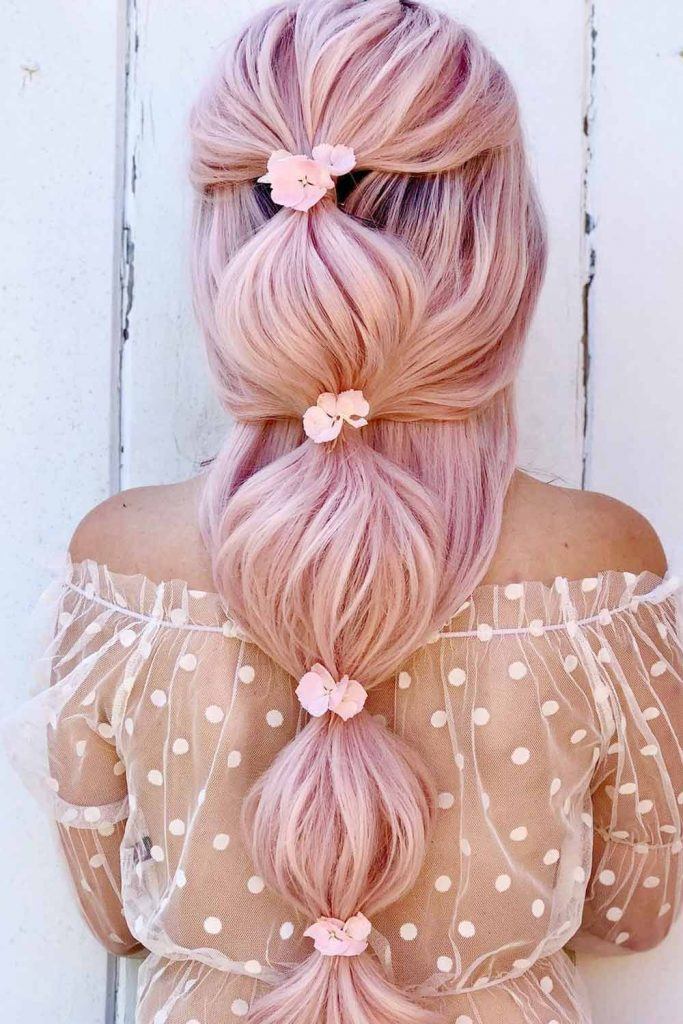 Credit photo: Instagram.com/alexandralee1016
Unlike most color variations, pastel pink hair gives a head-turning finish while not going too drastic and intense. In other words, such ideas can make even the most unusual ideas appear pretty soft and effortless, thus making them appropriate not only for casual looks.
Pastel Bob Hairstyle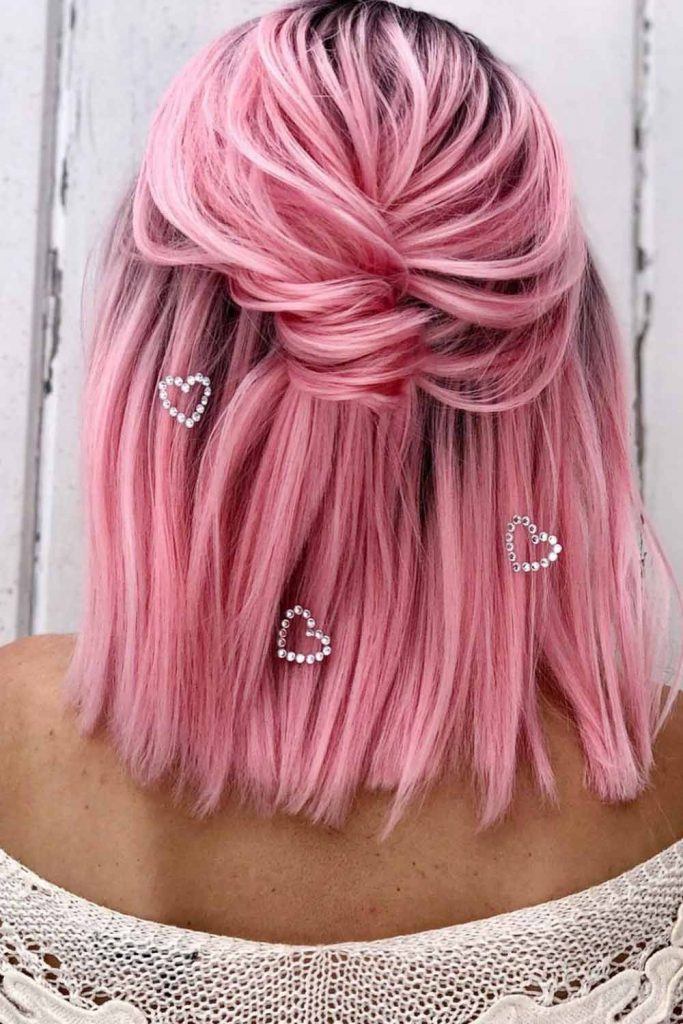 Credit photo: Instagram.com/alexandralee1016
Pink and Yellow Undertone Hairstyle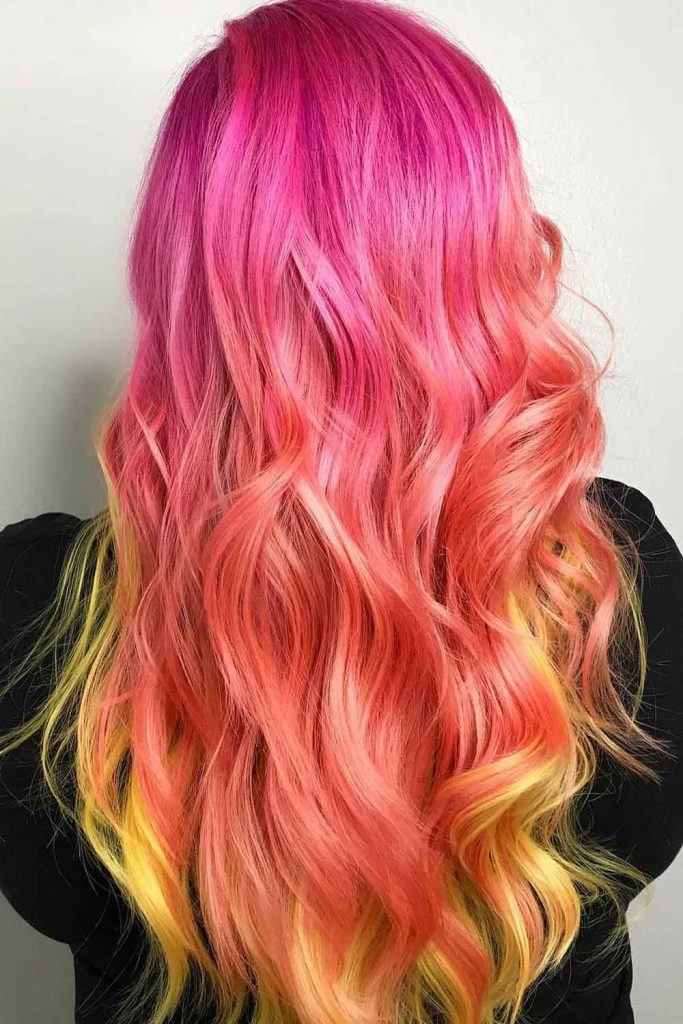 Credit photo: Instagram.com/k.s.colors
Bubblegum Pink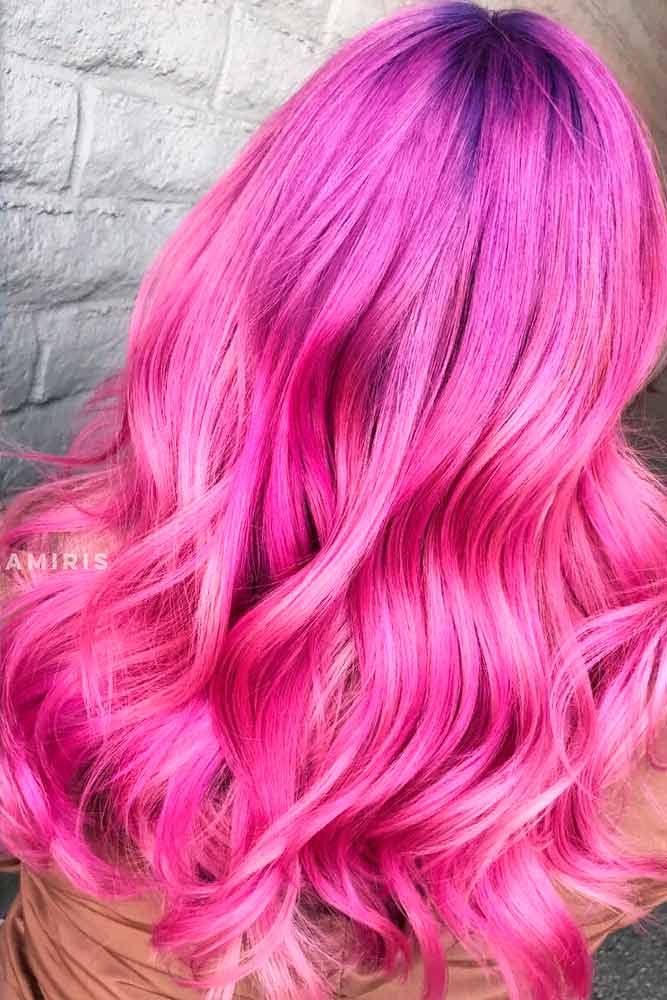 Credit photo: Instagram.com/glamiris
How about a mix of pink and purple hair that is as sweet and tasty as the good old bubblegum? Of course, it has nothing to do with the previous idea: it's meant to make heads turn. By the way, the color looks extremely dynamic due to the hint of purple escaping from the roots.
Bubble Gum Pink Color with Highlights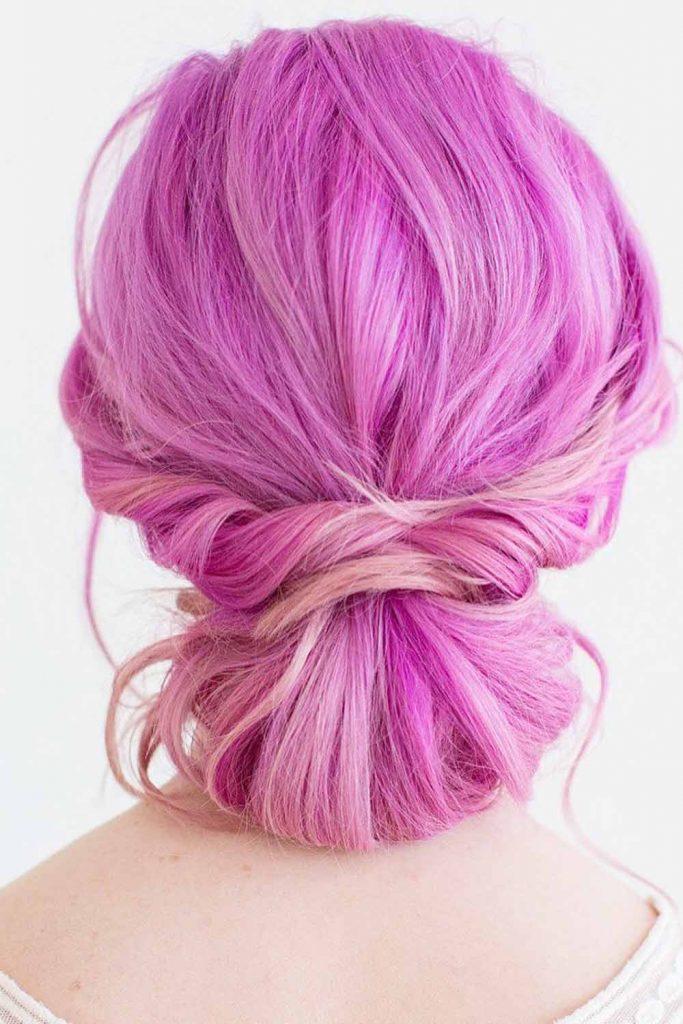 Credit photo: Instagram.com/jenniekaybeauty
Pink Hair With Dark Roots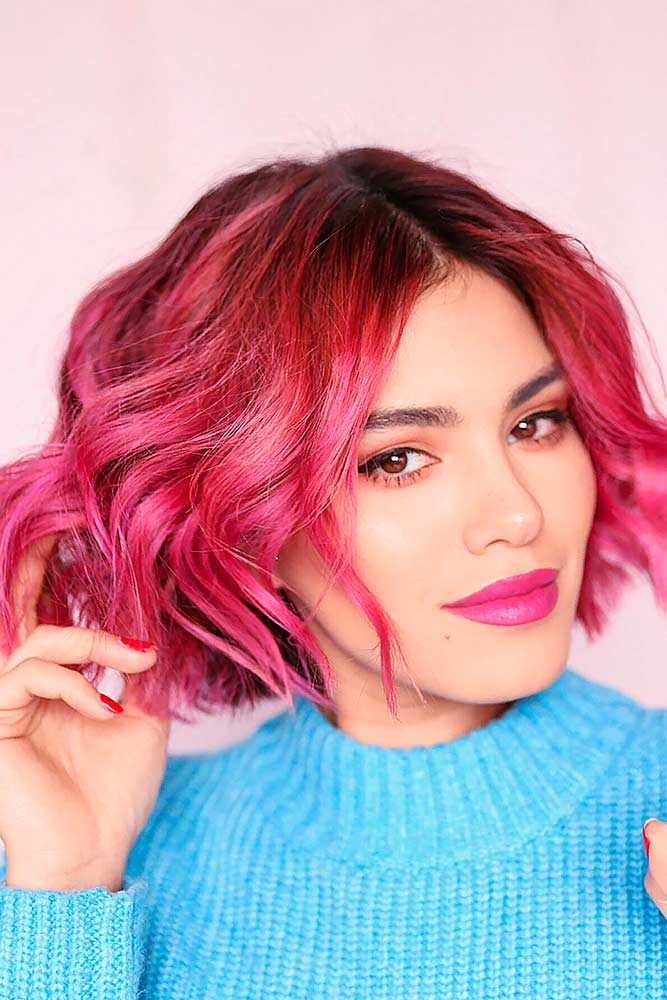 Credit photo: Instagram.com/xandervintage
Leaving roots dark is not only a trendy but also a healthy twist. It's no secret that color-treated hair tends to get weaker and dryer, so leaving a trace of your natural base for future color recovery is a wise choice. And, needless to say, the way this bright pink blends with the roots is to die for. Short haircuts look amazing with pink hair!
Pastel Pink Highlights with Dark Roots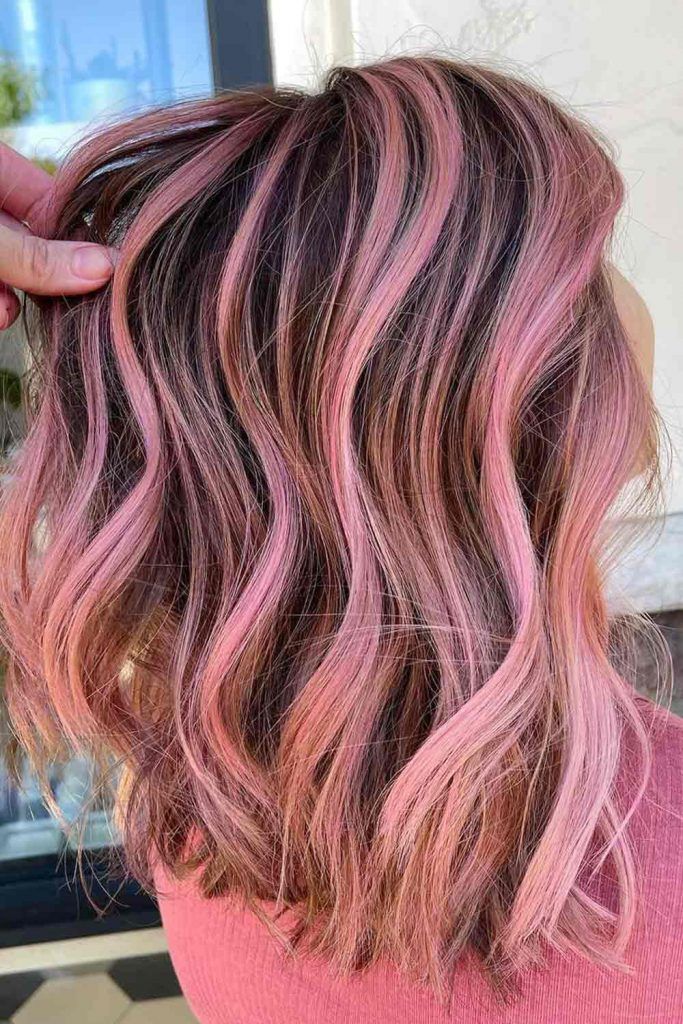 Credit photo: Instagram.com/harttofcolor
Pinky Shadows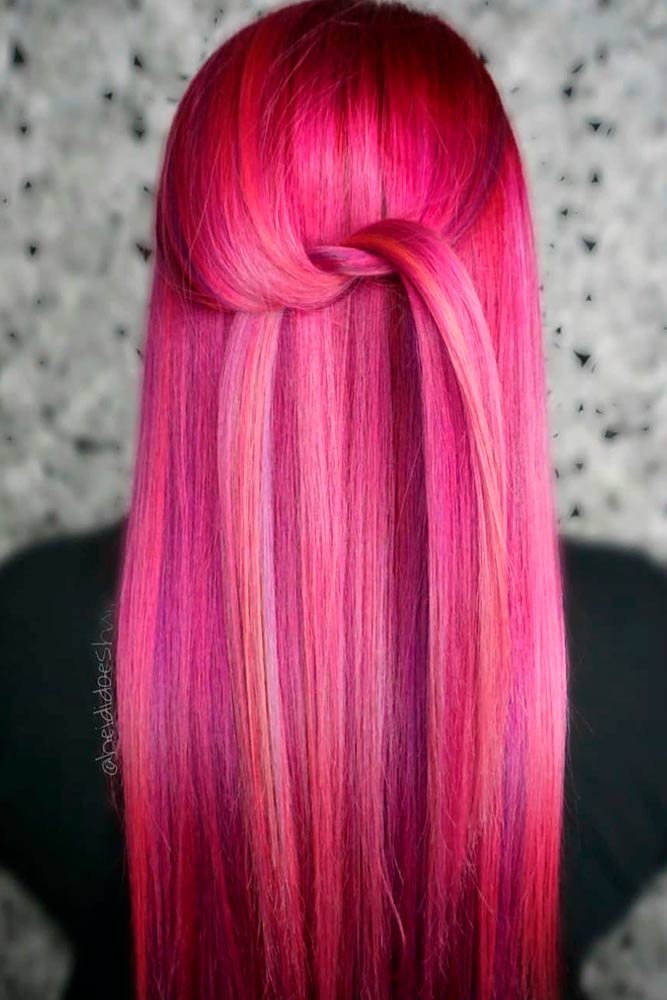 Credit photo: Instagram.com/heididoeshair
When you look at the world through rose-colored glasses, even rainbow appears in a new, rose light. So how about you to go creative and make up your own rainbow of various pinky hues? Also, some purplish hints won't hurt.
Half Blue Half Pink Hair Style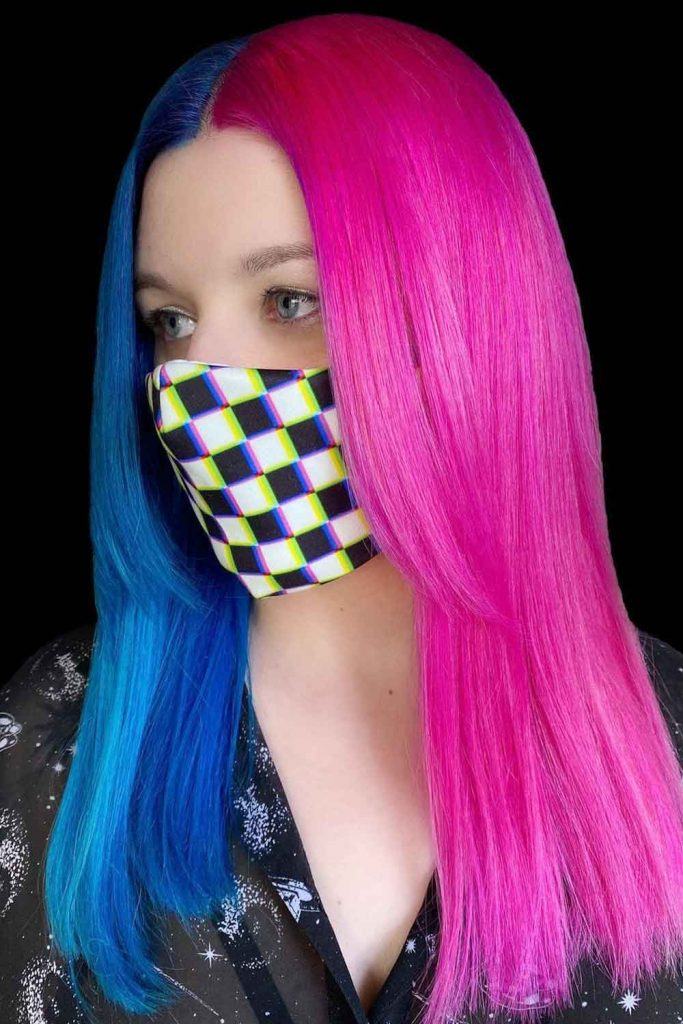 Credit photo: Instagram.com/hairbyac_alcorn
Blonde With Pink Ends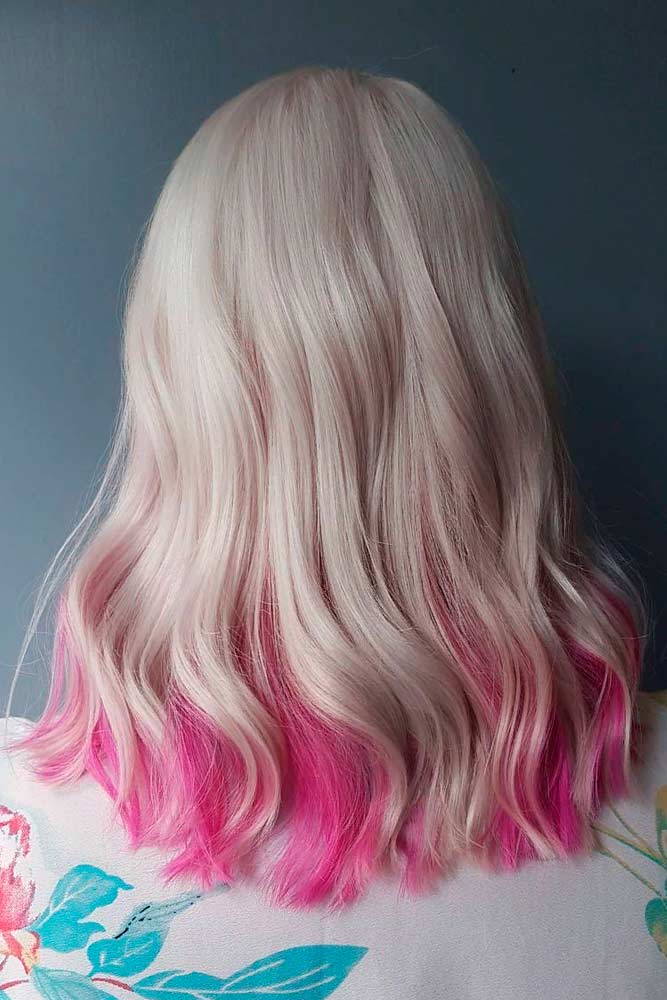 Credit photo: Instagram.com/jaymz.marsters
Pink blonde hair is the most pleasant and popular color choice. It just so happens that nothing can't compare to the gentle melt of these two. As for this idea, it's something totally different. Only the lower layer of hair is colored pink, creating a visible yet so fascinating color graduation at the ends.
Half Pink Half Purple Hair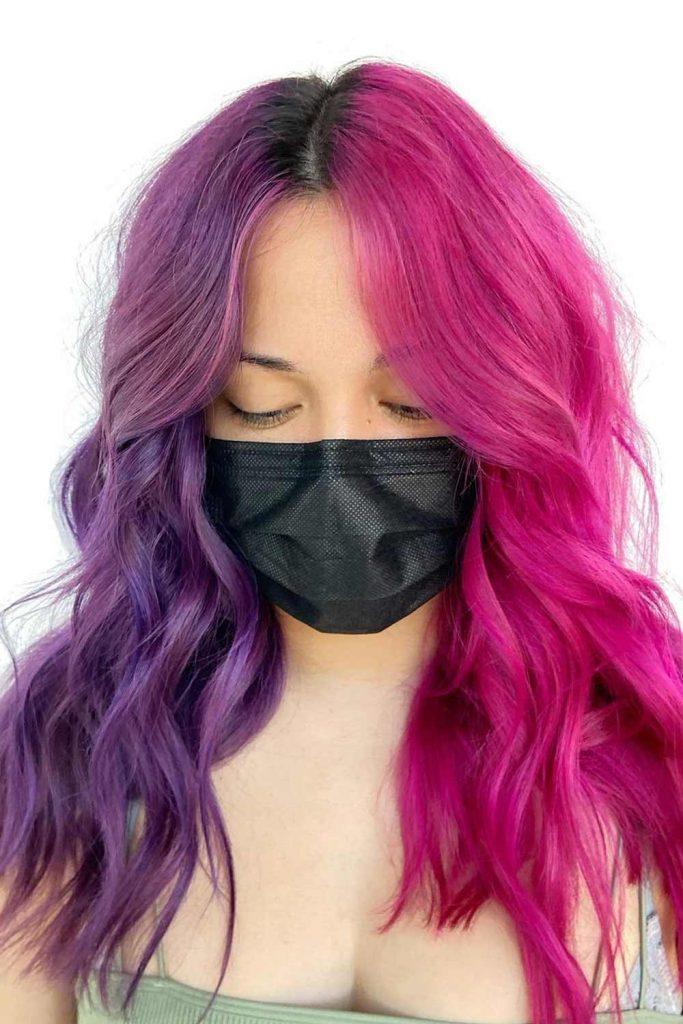 Credit photo: Instagram.com/k.s.colors
Brown Hair With Strawberry Pink Highlights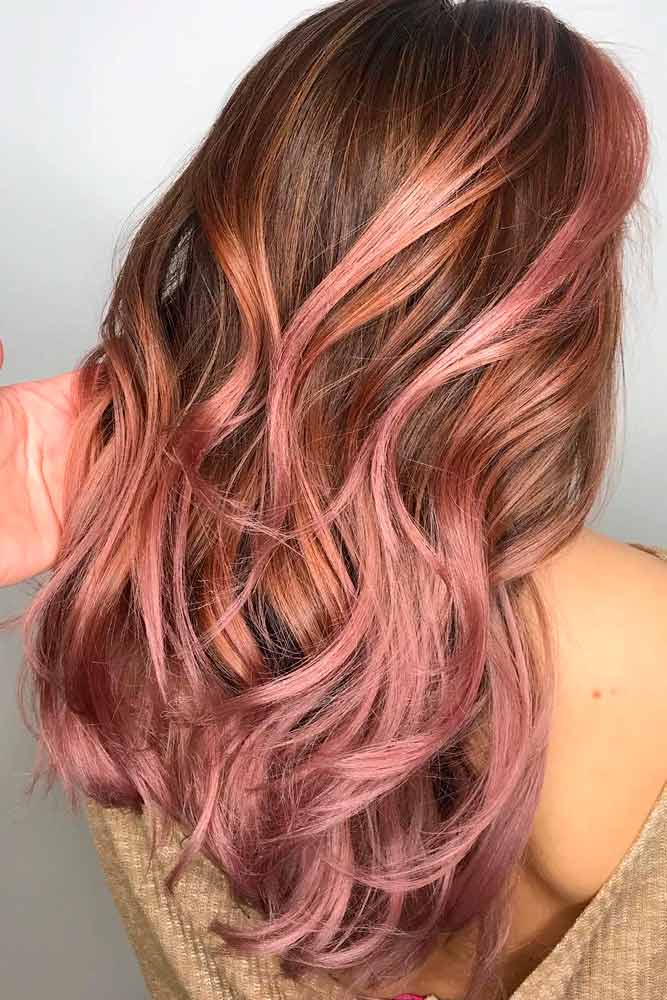 Credit photo: Instagram.com/harttofcolor
Now, it's better to sit down before this unbelievable dusty pink hair idea takes you over! We weren't joking when we told that this red hair color could adapt to any image and base. These dusty strawberry pink highlights added over the light brown base is nothing but a perfect fresh take at your brunette routine.
Pink and Orange Ombre Hair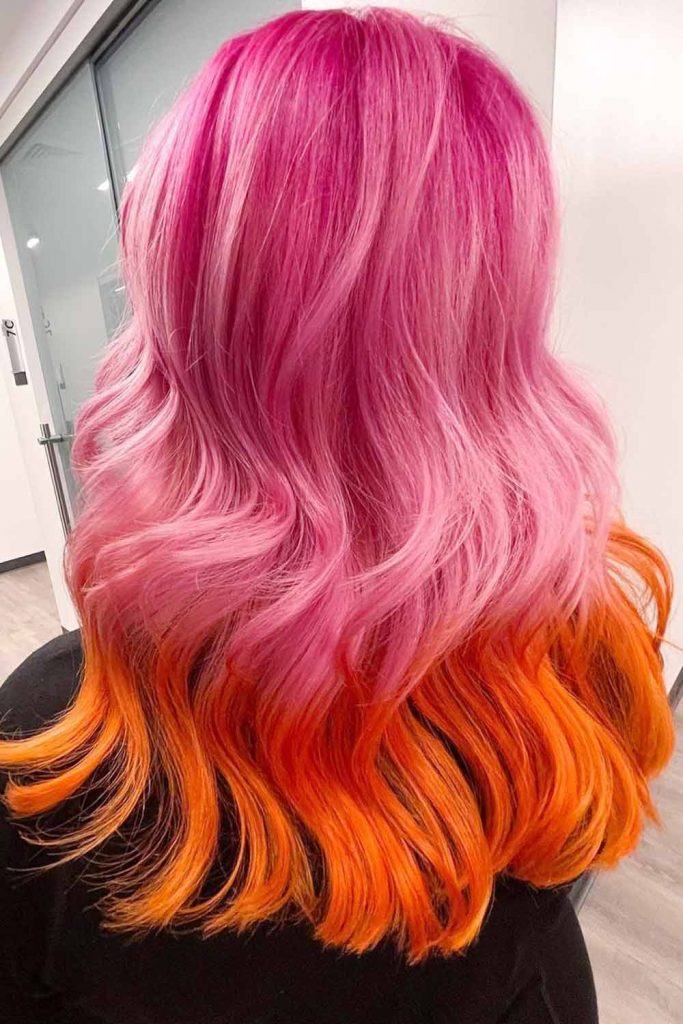 Credit photo: Instagram.com/rachelturleybeauty
Pink Ombre On Dark Base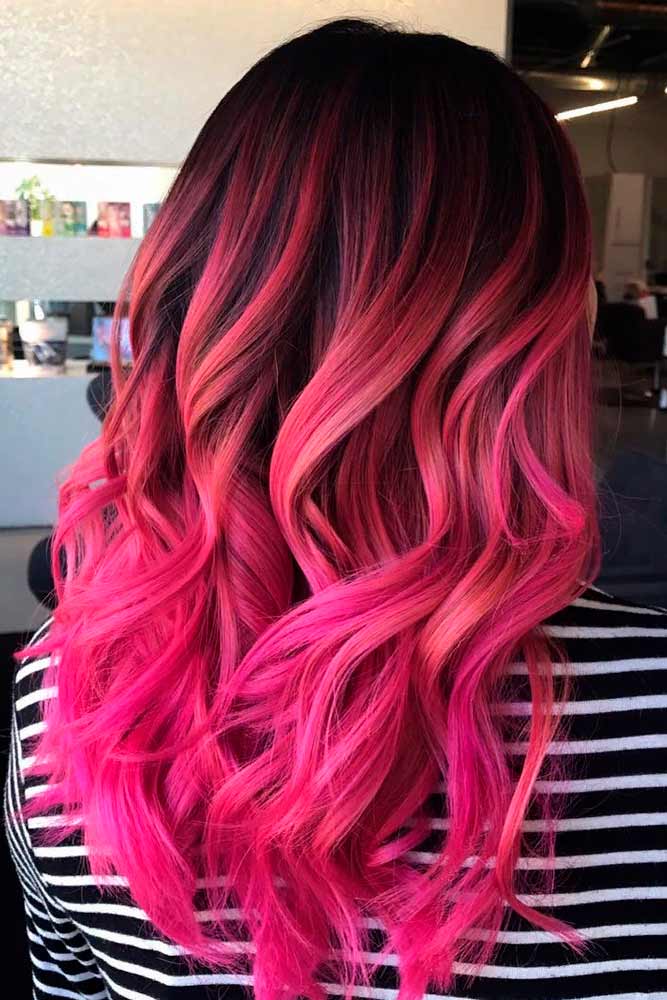 Credit photo: Instagram.com/harttofcolor
Pink ombre hair looks its best only when its tone matches the tone of the primary. By the tone, we mean the intensiveness and temperature of colors; if you have a saturated dark base, a bright shade of pink will nicely finish it. Also, modern colorists recommend mixing several pink shades, going from softer to brighter ones to create dimensional looks.
Long Pink Hair with Colorful Bang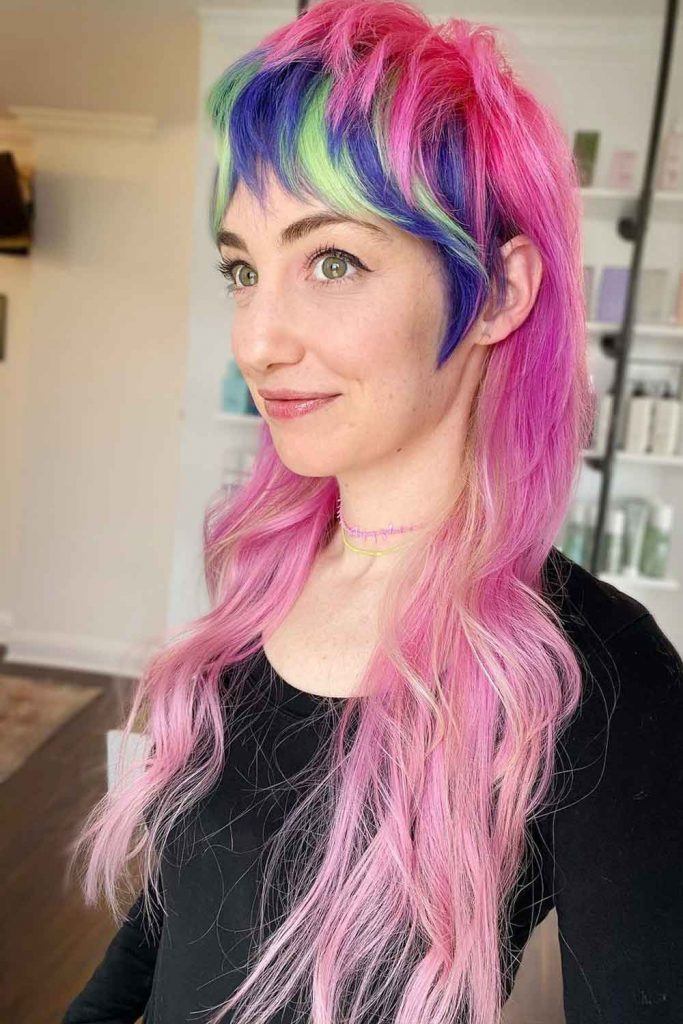 Credit photo: Instagram.com/hairbyac_alcorn
Pastel Mermaid Hair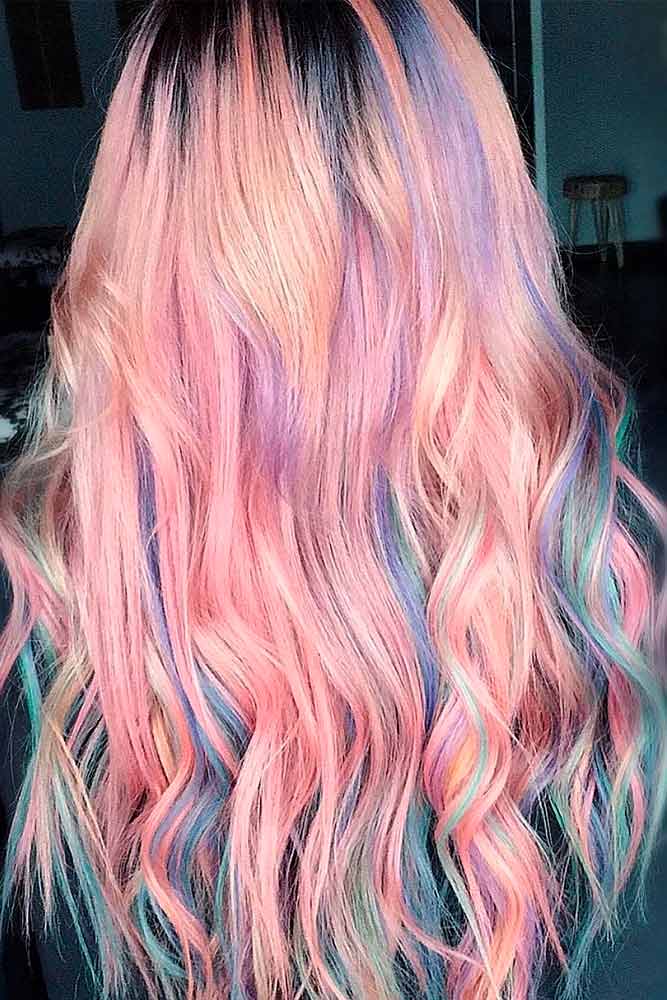 Credit photo: Instagram.com/theartistkristi
While most people think that mermaids don't exist, your hair can prove them otherwise. Mix the most subtle shades of pink and blue hair, spice them up with a pastel mood, and finish the look with your natural roots. Isn't that a dream hair look?
Straight Rose Pink Long Bob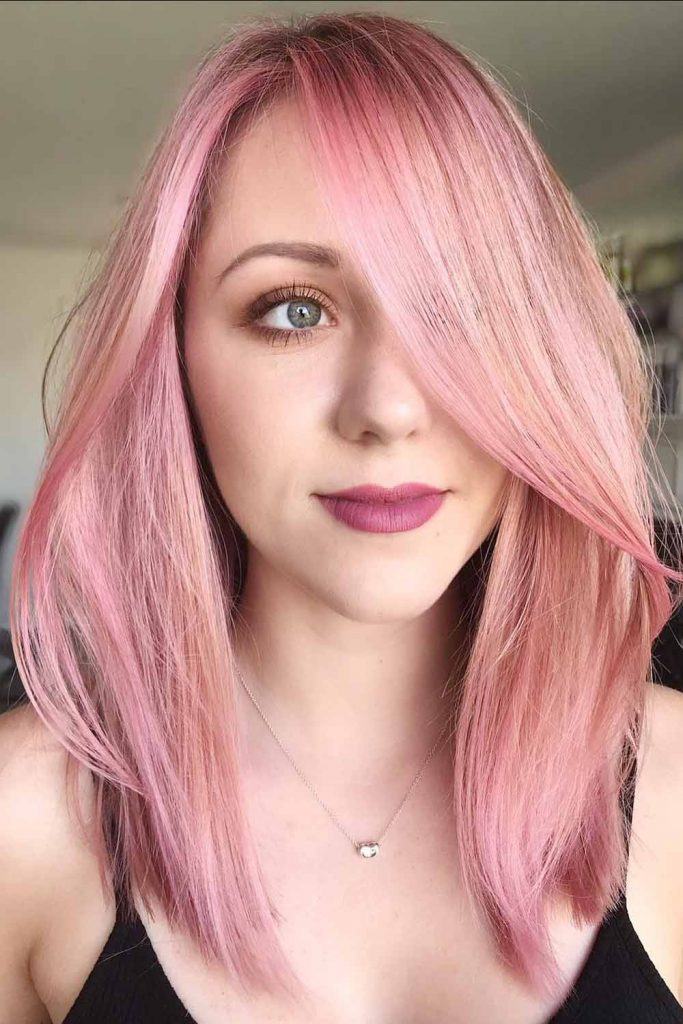 Credit photo: Instagram.com/hairbyac_alcorn
Flamingo Pink Pastel Shade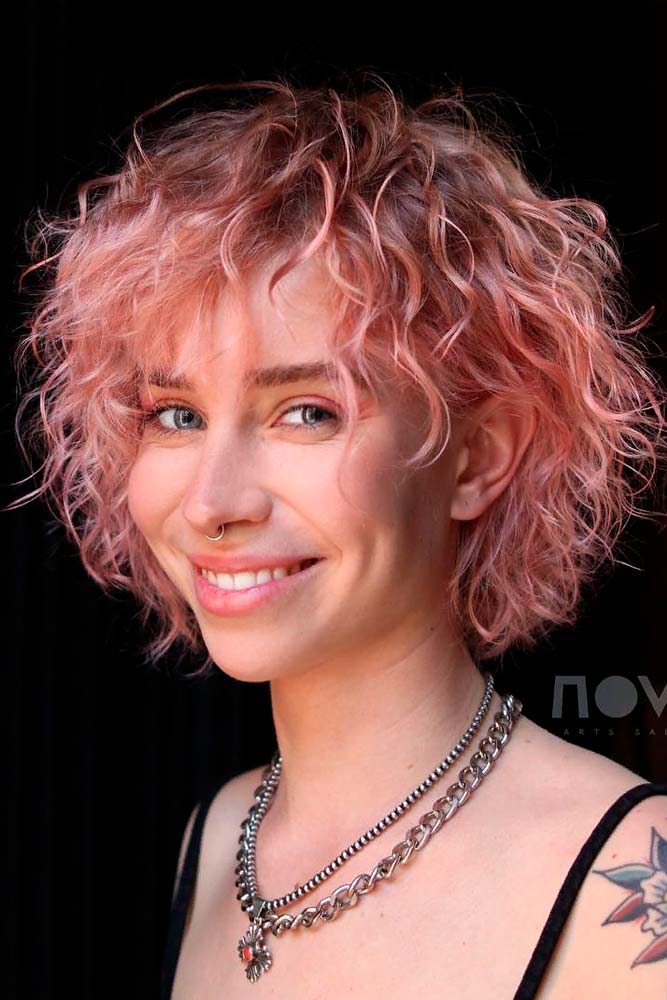 Credit photo: Instagram.com/salsalhair
If you wonder how natural pink shade looks like, this short pink hair is here to satisfy your curiosity. To achieve such a cute and soft look, ask your stylist to coat your light blonde primary with an airy layer of light pink hair color.
Raspberry Milkshake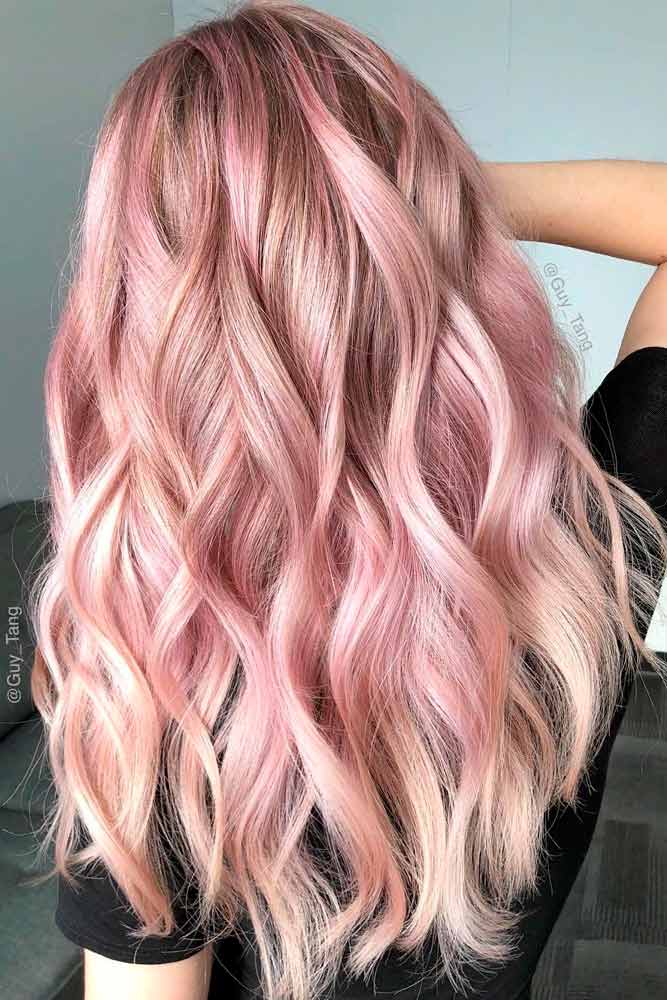 Credit photo: Instagram.com/guy_tang
This color is just like a cool milkshake foam melting under the sun: it's so tempting and yummy! When going for pastel ideas like this, make sure to make the color muted but illuminative enough. To do so, ask your colorist for lighter strands on the bottom portion.
Bold Color Mix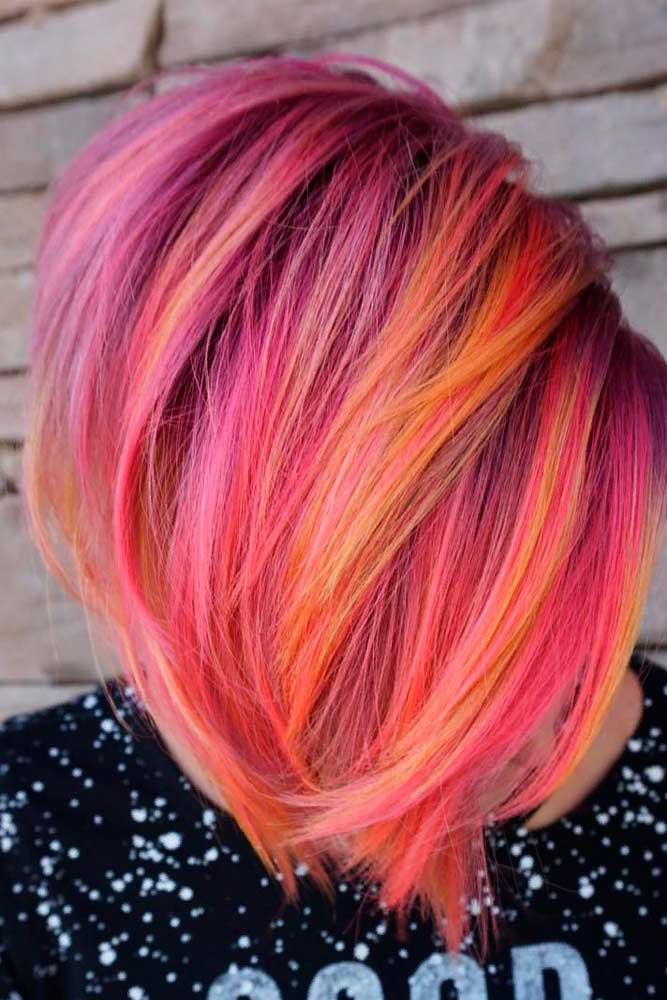 Credit photo: Instagram.com/emilyandersonstyling
Can't decide between the amazing options of pink? Mix them all, then! Of course, such a color twist requires courage, and that's why you don't see girls with multi-colored pink manes every single day. If you are brave enough, mix light auburn hair with rose pink and lavender shades, and be ready to catch people's eyes!
Pink And Purple Hair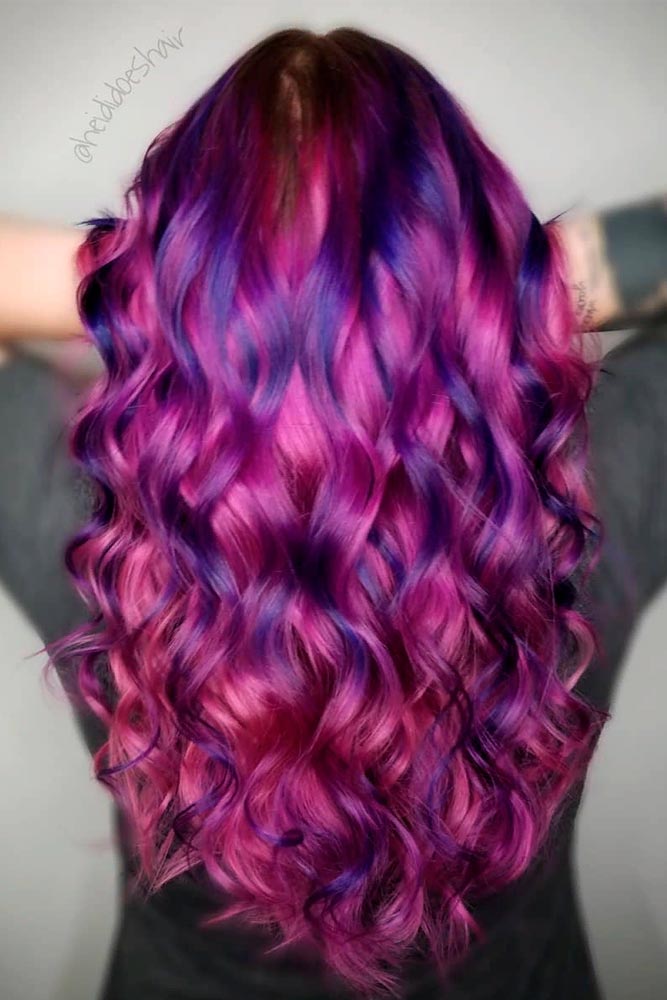 Credit photo: Instagram.com/heididoeshair
There's one hack about purple and pink hair: you won't go wrong if you make them a part of your look. Since they stand close to one another in the color wheel, your pink and purple hair combo, whatever it is, is destined to be a success.
TOP 5 Products To Get Perfect Pink Hair Color At Home
Even though it's always better to address to a professional when it comes to color experiments, creative souls can't help but play around with their hair themselves. Well, we don't blame them! On the contrary, we'd like to contribute to your brand new look and help to find the best pink hair dye. With these products, you won't lose in this color game.
BLEACH London Rose Shampoo And Conditioner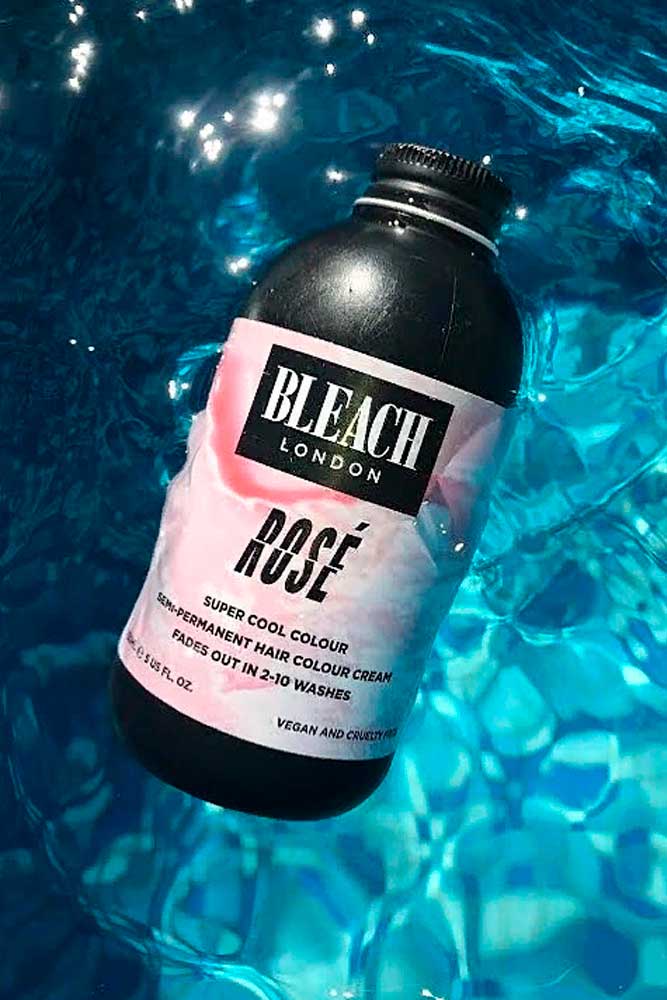 Credit photo: Instagram.com/bleachlondon
In contrast to many dyes that tend to dry out the hair, this product is designed to make you feel the difference. Just wash your hair to achieve a pink tint!
Pure Blends Tempted Intense Color Depositing Conditioner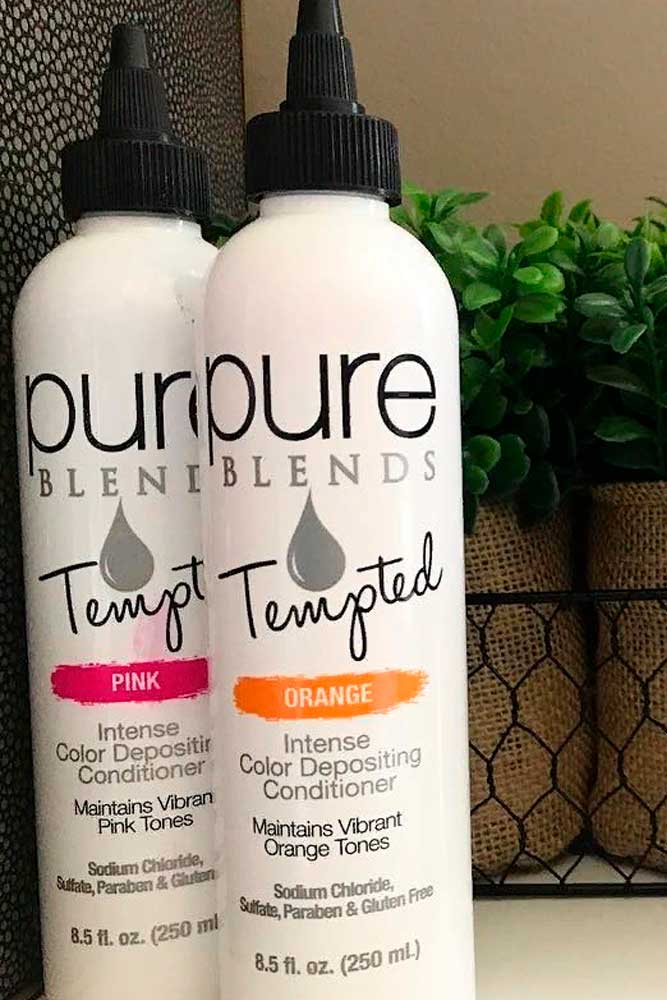 Credit photo: Instagram.com/americanculturehaircare
A product that colors as it conditions, who could ask for more?
Arctic Fox Hair Color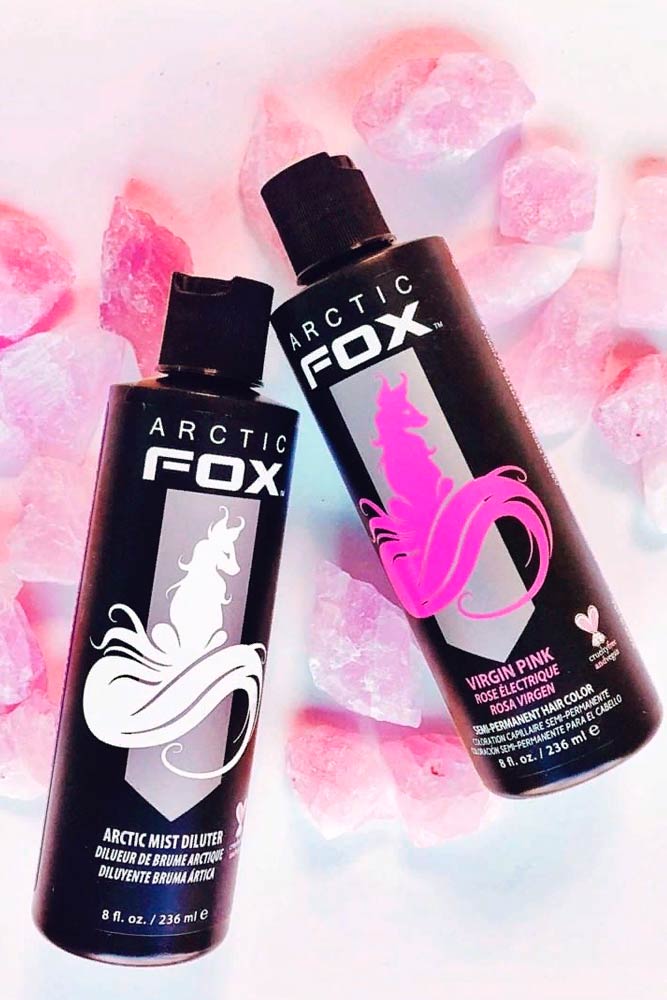 Credit photo: Instagram.com/arcticfoxhaircolor
Not sure if pink will suit you? Try this temporary option, then; it's not only hydrating but also cruelty-free.
Joico Color Intensity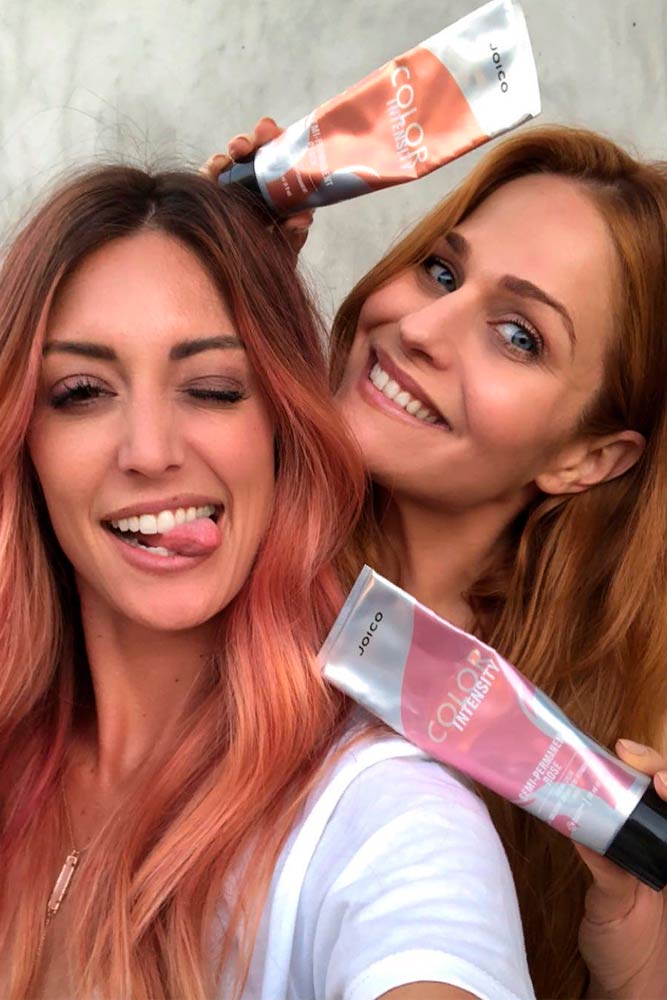 Credit photo: Instagram.com/joicointensity
If you want to flaunt with a vibrant style, look no further than this semi-professional temporary dye.
Pink hair has taken over the whole Internet with its great variety of options. Well, not for nothing, as now there's a pinky hair color for a girl with any taste and mood. The ideas you've explored today are only the beginning of the endless experiments you can do with your hair. So why don't let the changes into your life starting from today? All in all, you know what products to focus on.
FAQ: Pink Hair
What does pink hair symbolize?
Color pink has long been associated with femininity, sensitivity, tenderness, empathy, romance and love. Neon pink means a person wants to make a statement, it is a perfect option for those who want to be little rebellious as this hair color fades pretty fast.
What shade of pink hair is right for me?
Pastel pink shades look best on fair skin with blue or green eyes, it warms the skin.
Neon pink complements olive skin. Dark skin complements every pink shade from pastel colors to impressive bright pink shades like fuchsia and magenta.
Does pink hair fade fast?
Neon colors fade fast. If you use semi-permanent dye on non-bleached hair, your pink shade will fade in 6 to 8 washes and your hair will go to the same color you had before. If you use permanent dye on bleached hair, your pink will turn into strawberry lemonade shade in a month and will fade to cotton candy shade at the end of the second month.
How to make pink hair last longer?
Wash your hair less frequently, remove any anti-dandruff shampoos or shampoos/ conditioners that contain sulfates. Avoid using heat. Hair oil or other moisturizing products wash the pink pigment out of your hair.
Was this article helpful?