Curly hair men, indeed, face a lot of challenges when it comes to picking the right hairstyle and maintaining it. The texture is often non-obedient and difficult to tame, but it does not mean you should opt for a buzz cut and call it a day. Today, we will share some critical advice on how to style your hair properly and drop a dozen trendy looks to inspire from. If you are looking for a spike of confidence, masculinity, and sass in your appearance – you have come to the right place!
Curly Hair Men Tips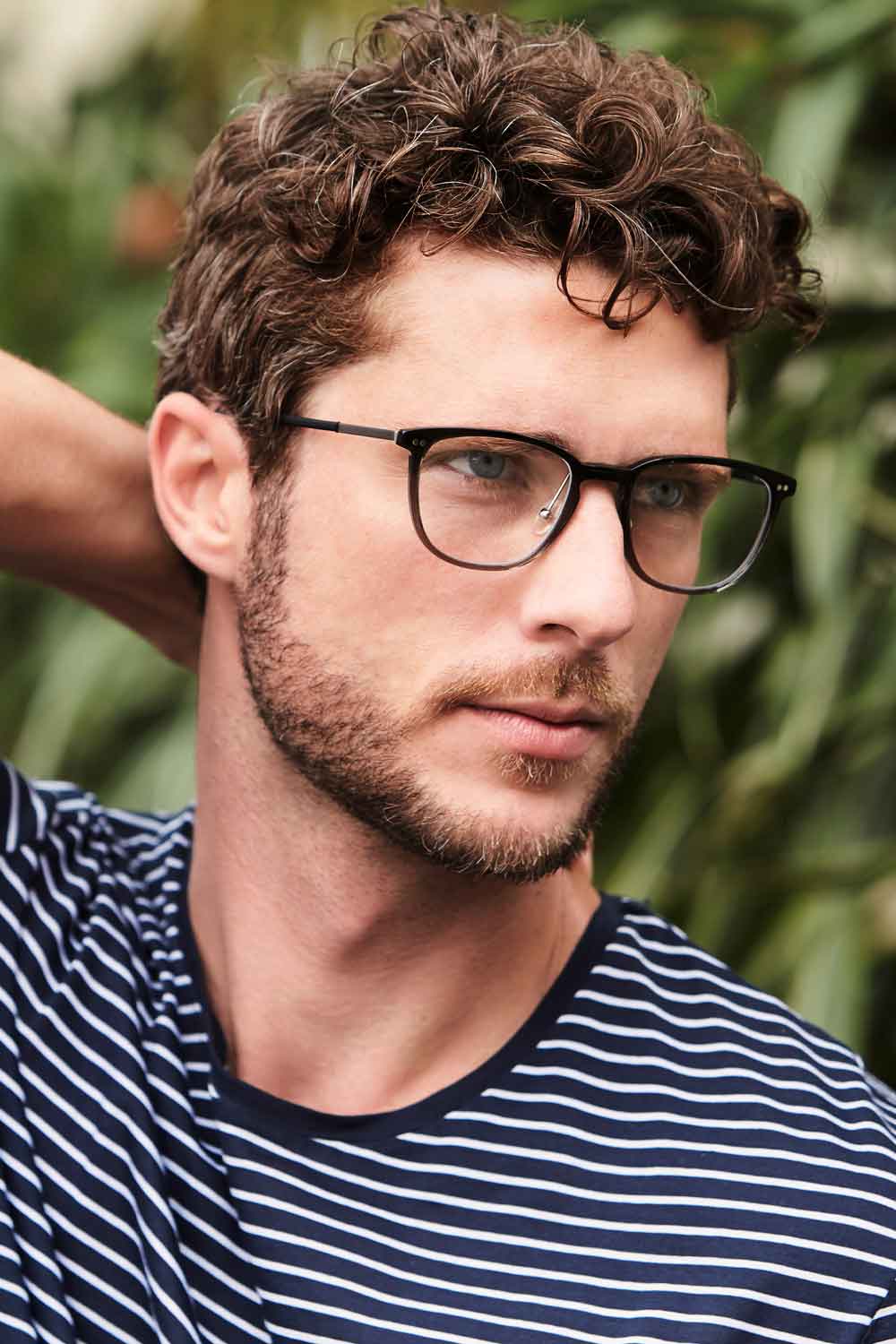 You may be a little suspicious about most popular haircuts for curly hair men because you don't have all the tips at hand. It is time to change that!
Moisturizing is the key
Curly hair texture screams for special hair care, and you can't deny it. While it may take some time and effort to find the best ingredients, it will be worth it. Our experts suggest that you aim at a product created for curly manes in the first place. Anything with natural oils, including but not limited to argan and coconut oil, will provide that required moisture to help your curls thrive. Keep an open eye for glycerin and Aloe Vera on the ingredient list as well.
Curl pattern matters
The tighter your curls are, the more fragile they become. Thus they require even more moisture to look healthy. Thus, hair masks and conditioners should be added to your care routine.
Pre-shampooing ritual
It is easy to assume that the curly hair care routine starts with the shampoo, but in fact, everything you do before matters as much. So, you can apply some oil-based products to your hair before you wash it. The hair oil will nourish your locks and help seal the incoming moisture better.
The power of the dry shampoo
As beneficial as frequent washes are, so damaging they can be to the curly mane. That is why it is best to use some dry shampoo in-between the washes to cut the number of those during the week.
Must-Have Products for Curly-Haired Men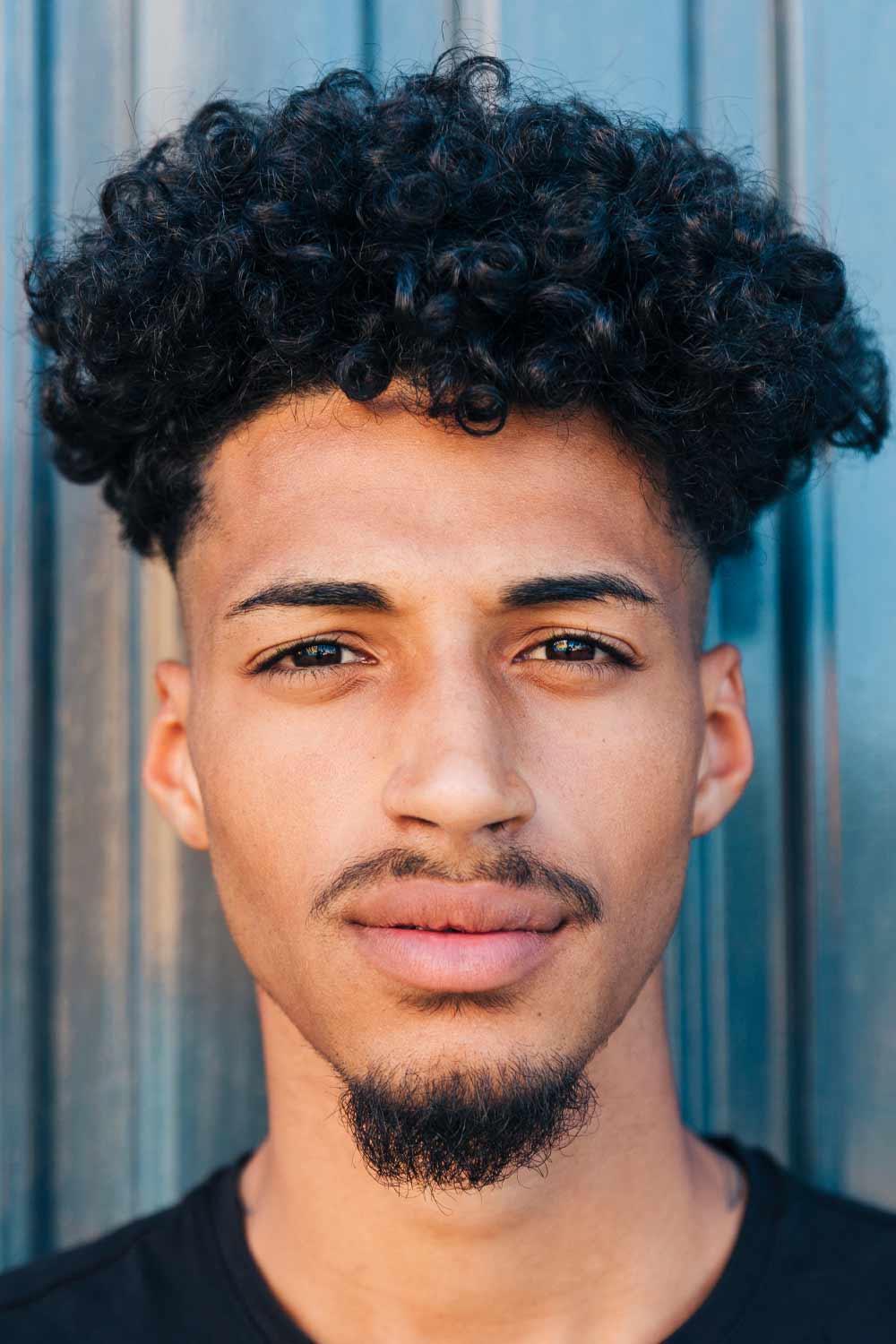 When browsing for the fittest haircuts for men with curly hair, it is so easy to forget about how to look after your locks when you get the cut of your dreams. A good hair care routine ensures that your favorite cut looks its best on daily basis.
Shampoo – gel shampoos have a lesser moisturizing effect when compared to creamy shampoos. You don't have to break the bank over shampoo. Anything that is labeled sulfate-free and spiced with natural oils will do.
Conditioner – it's been mentioned that a quality conditioner will be an excellent addition to your hair care regime. Often, the shampoo and fitting conditioner come from the same line, but you can use any other conditioner that works for you.
Deep conditioner – in case you are in for taking an extra step when it comes to your hair care, you may want to introduce a deep conditioner into your life. All it takes is to use it once a week, but the effect will leave you speechless.
Curl cream – in case you feel like you could do some curl-defining care, a curl cream is what you need. All it takes is to rub it in and let your hair dry.
Smoothing serum – a frizzy texture can be a pain to deal with. However, you can get rid of it with as much as a drop of the smoothing serum spread over your mane.
Styling Tips for Curly Men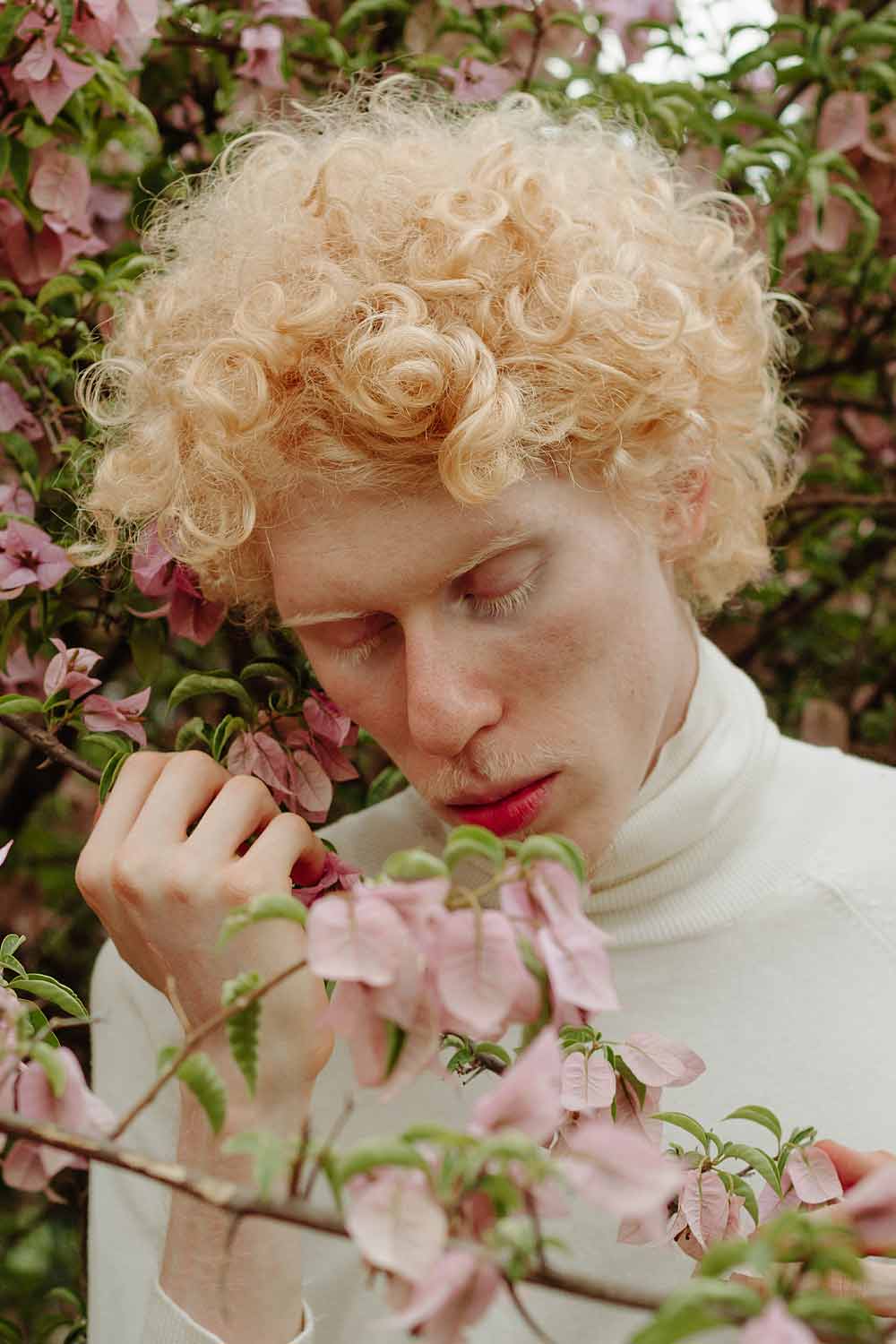 Before you finalize your opinion on hairstyles for curly hair men, you must be aware of how to style curly hair men in fashion. There are a few tips we want to share with you.
Keep brushing and blow-drying at bay. Comb your hair with your fingers instead and let it air dry.
User a diffuser when you must.
Don't rub your hair with a towel harshly. Use a cotton T-shirt instead.
Find a dedicated stylist, someone who knows how curls work.
Curly Hairstyles for Men
Curly Hair with Undercut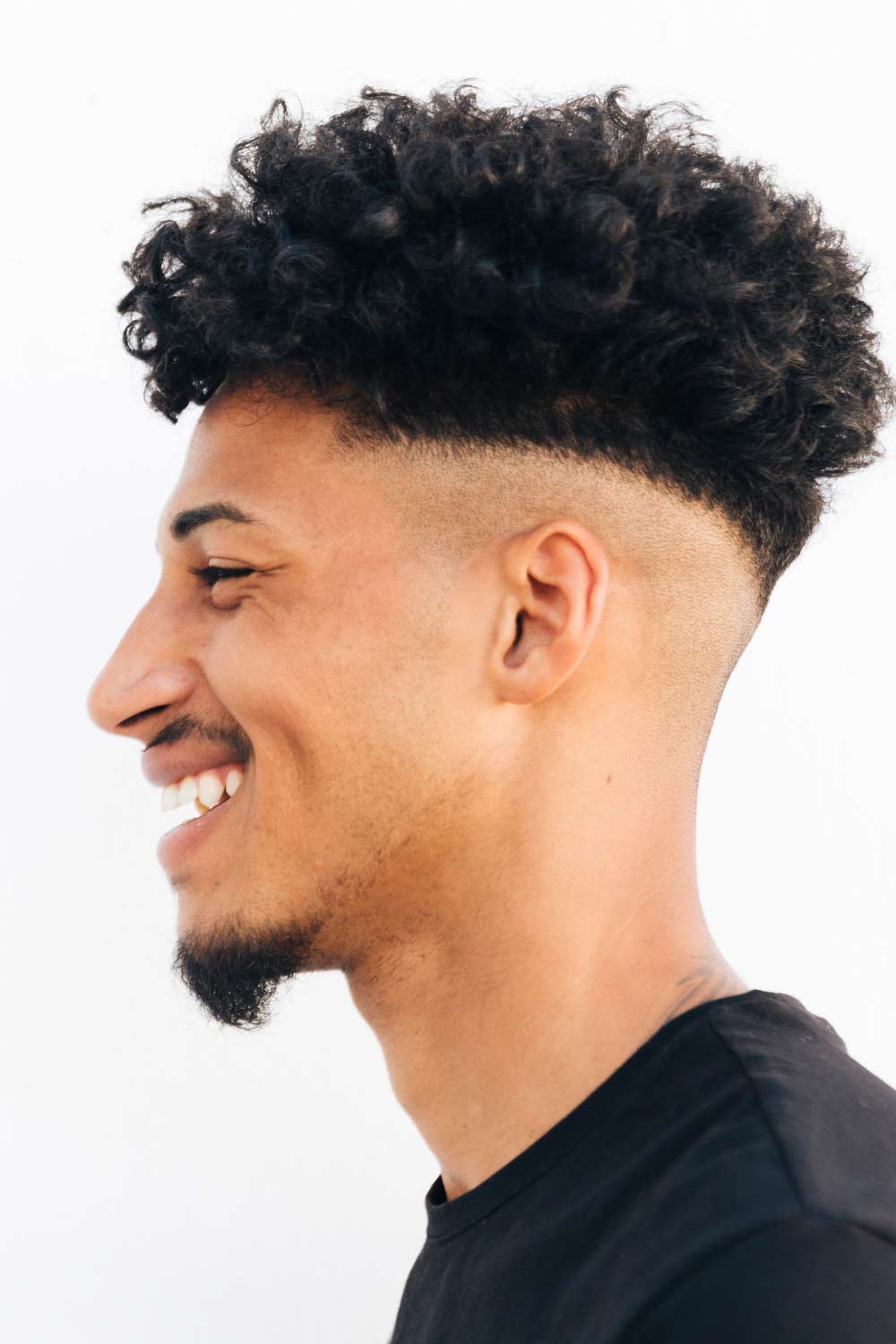 The origins of the undercut are well-known, but the military background does not mean that the style can't be fun to play around with. In case you are interested in short curly hair men styles, an extended top, and neat undercut sides make a perfect match. While you can experiment with the top length, the neatly-cut sides decrease the maintenance efforts. This mens haircut worth to think about.
Blow-Dried Curls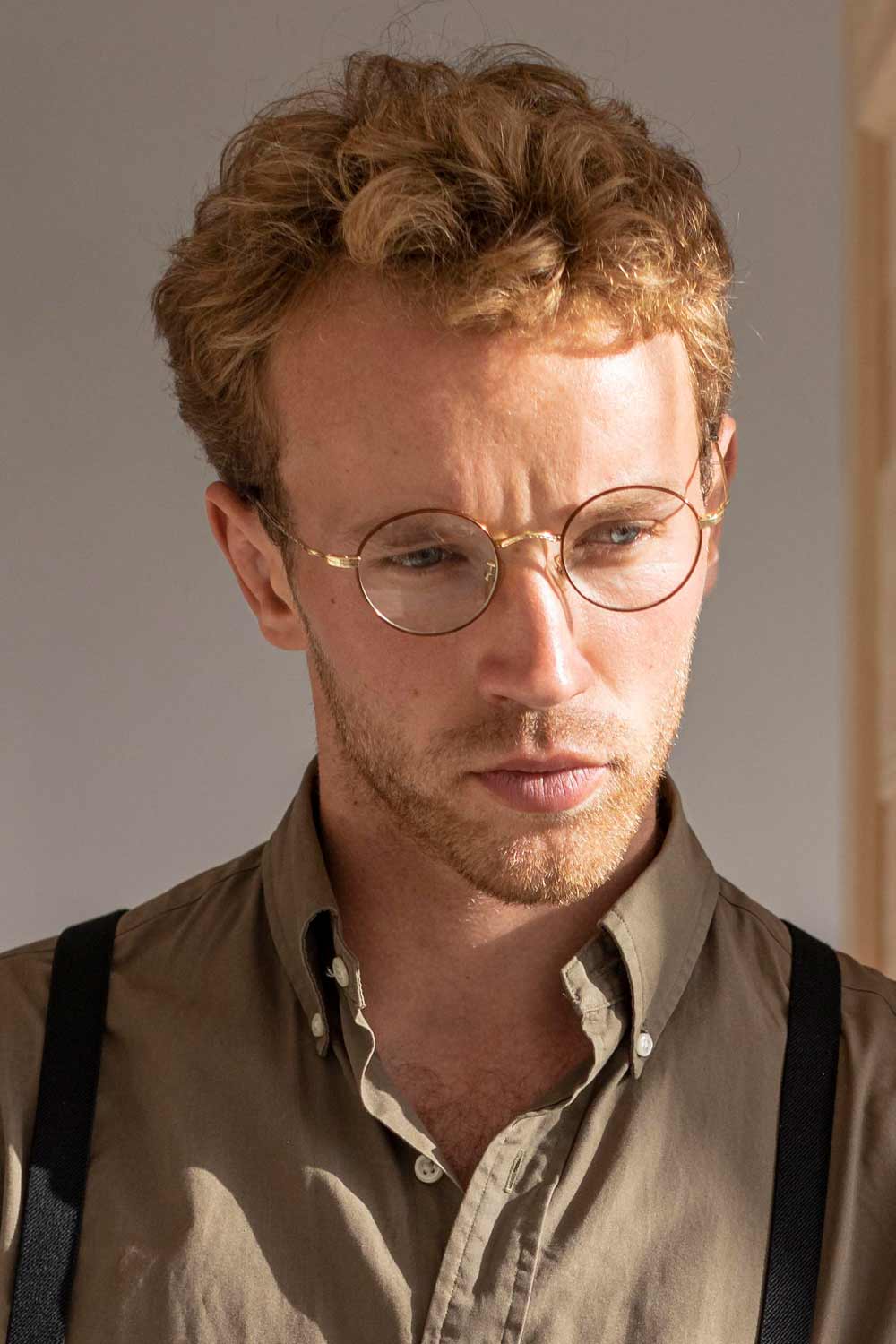 When browsing for hairstyles for men with curly hair, you may seek a well-defined option to stress your curly mane and present it in the best light. That is where blow-dried curls come to help. While holding in place, the style will outline the magnificent natural pattern.
Curly Curtains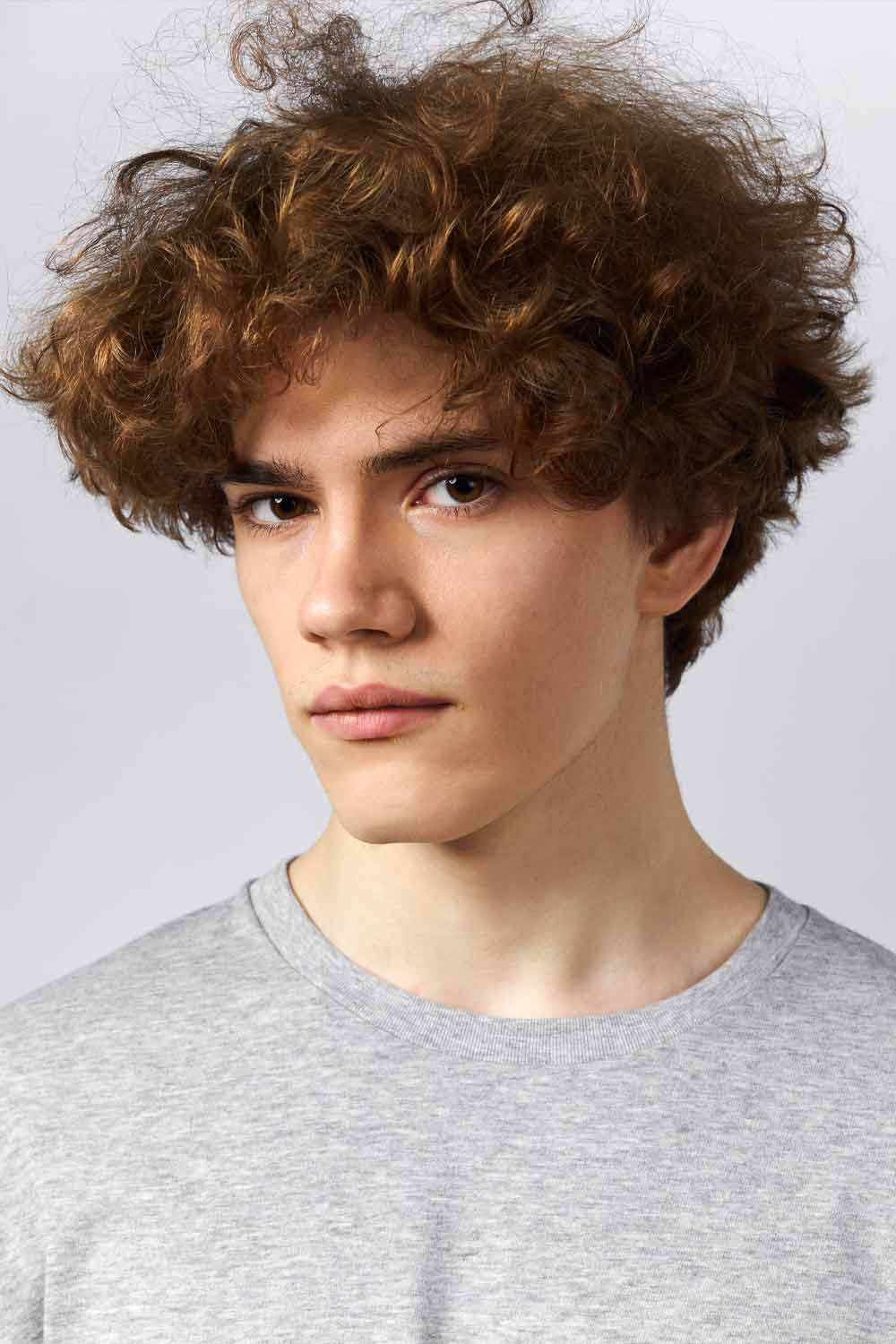 Medium curly hair men choose quite often involves curtain bangs, and for a good reason. The style has been at the peak of popularity for the longest while, and it seems to stay that way. Besides, the cut allows it to experiment with various lengths and styles, not to mention its framing perks. If you want to cut on styling, this is an excellent idea to brood upon.
Curly Bob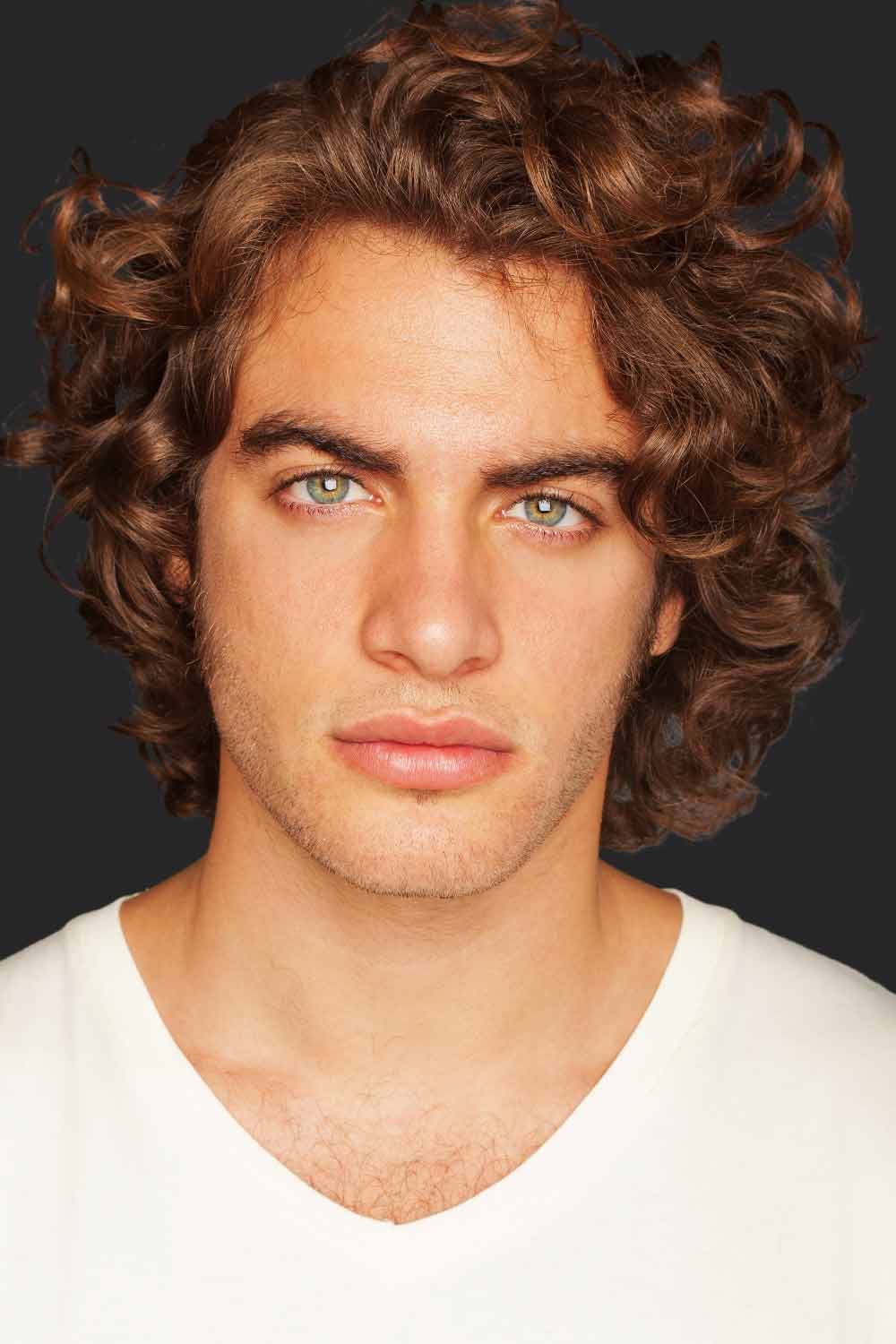 One of the best ways to attract more attention to your facial features and present them in the most flattering way would be to grow your curls out a little. Thick curly hair men can make the most of classy curly bob. A tad of texturizing spray, and you are set for the day.
Glossy Medium Curls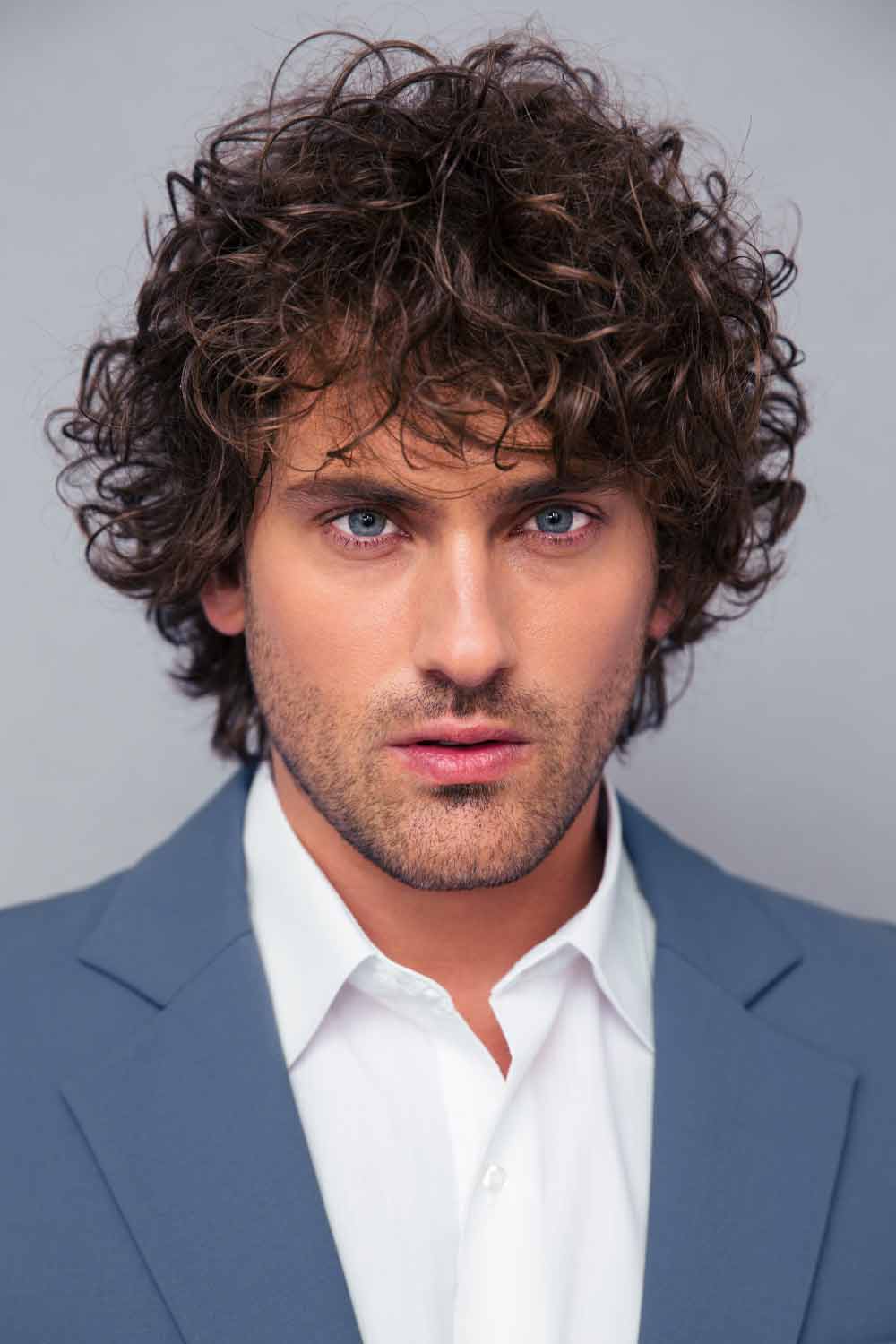 When it comes to curly hair haircuts men usually assume that there's little room for business take on medium styles. Yet, that is a misleading assumption. You can easily intensify that triumphant vibe by expressing your formal self through a slightly casual look. Don't mess with the clothes, but dishevel your curly mane with some hair gel spread through it.
Long Curly Afro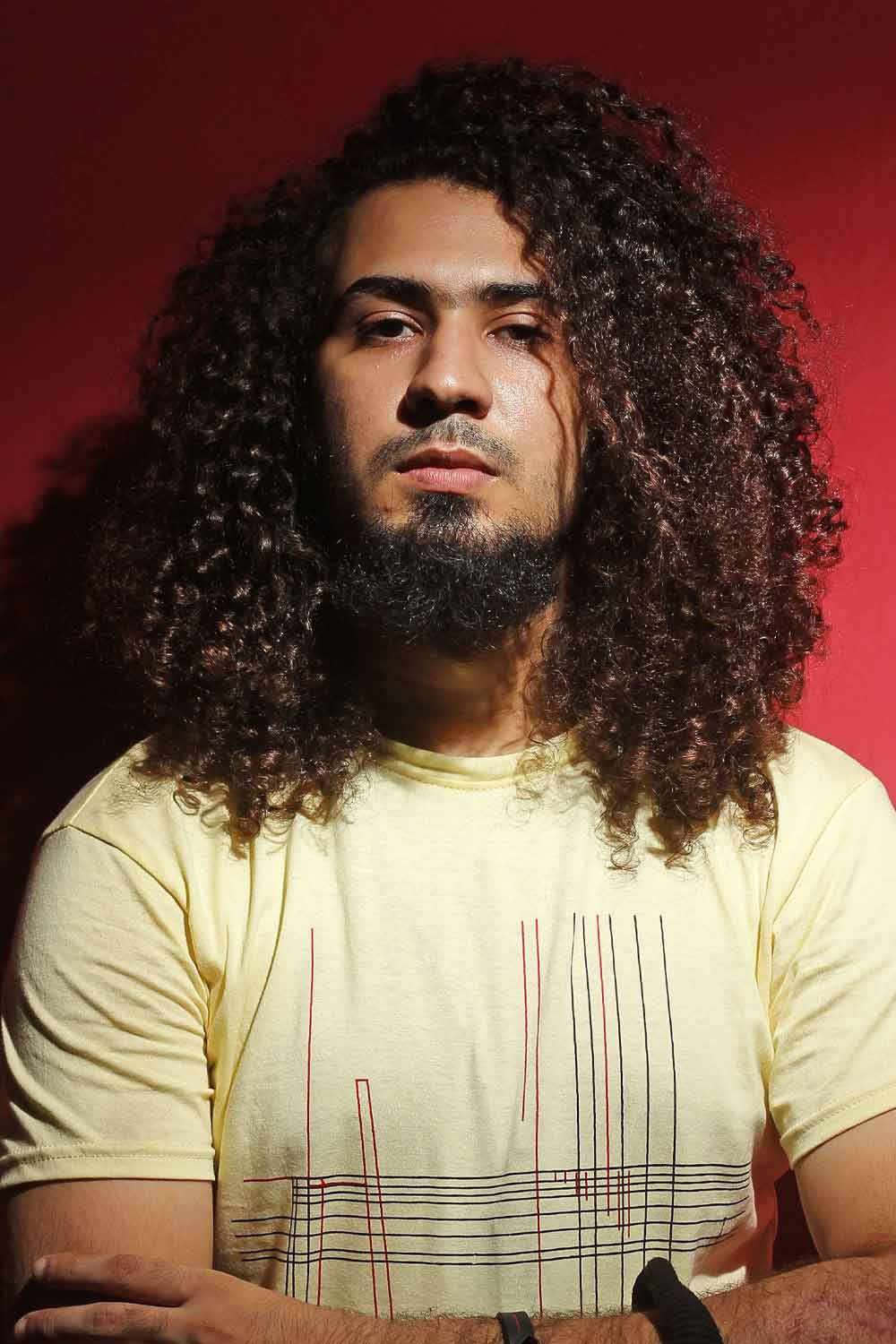 Afro curly hair styles men prefer most are usually focused on something shorter and seemingly less time-consuming. However, we have proof that shoulder-length tight curls can look mesmerizing and maintenance-free. All it takes is to choose a professional barber who will layer your mane well, give up on your brush, and define those beautiful coils with hair serum.
Shaggy Curls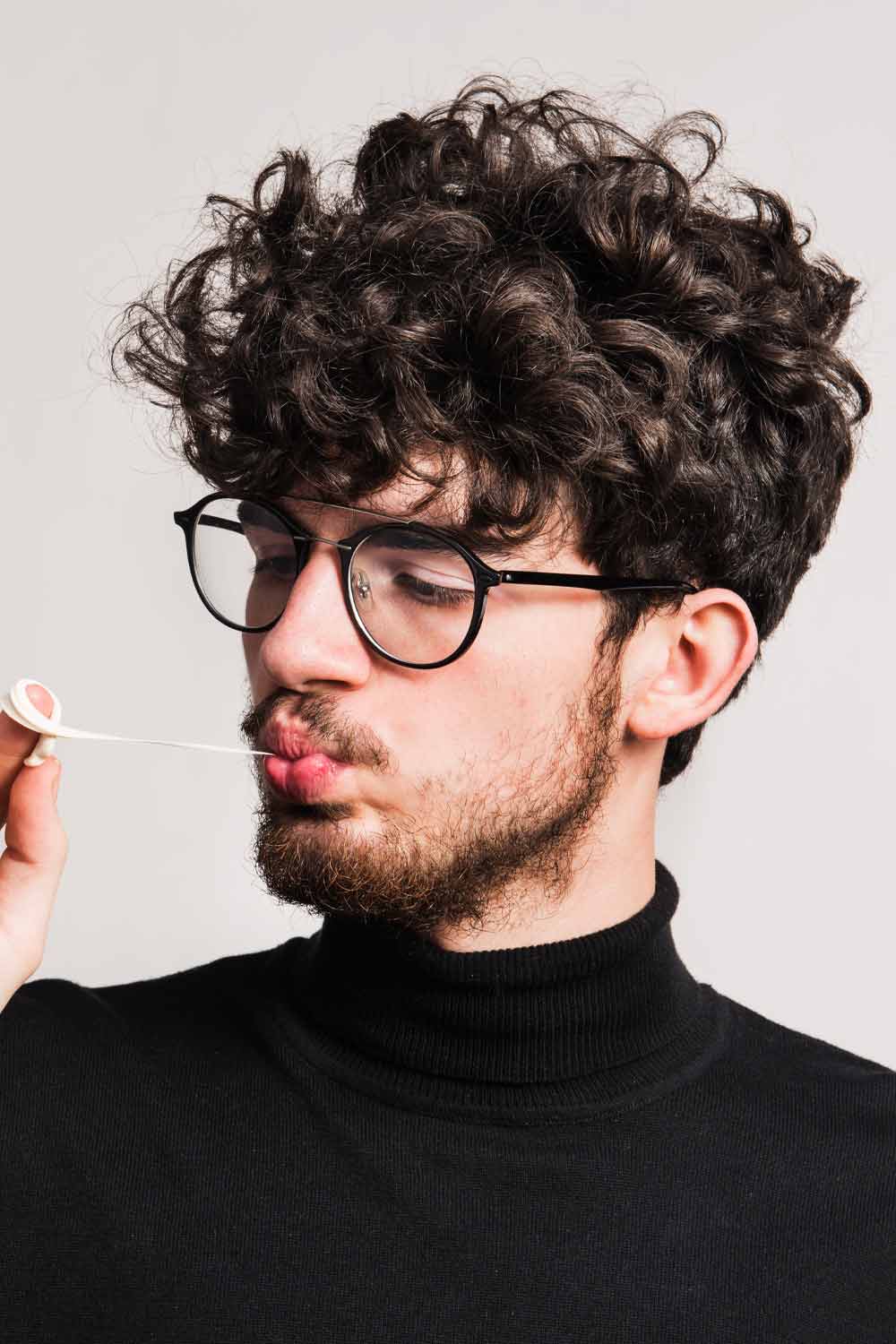 Shags are back, and we are happy about that. There isn't another all-flattering style compared to a shag. The way it enhances the range of curly hair cuts men can introduce into their lives is as amazing. The neat layering takes the weight off your hair without draining it off the volume. Moreover, the casual appeal bordering with a carefree attitude makes it one of the sassiest looks in the field.
Beach Curls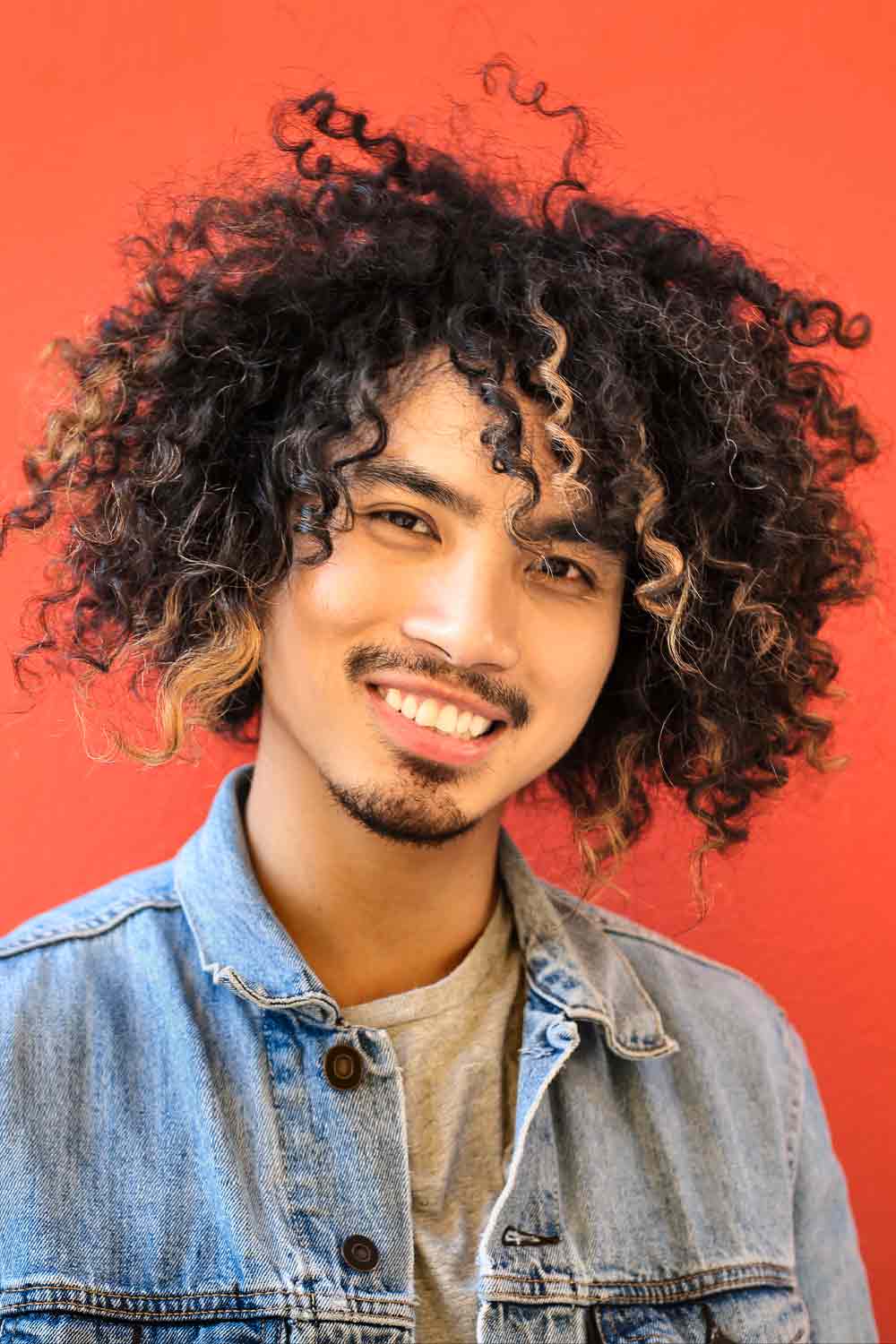 Often, when you think about men curly hair, it appears that neat styles are those that require the most maintenance. In contrast, the reality is a bit different. It turns out that to succeed with a perfectly messy style, you may input more effort. Opting for ideal beach curls, you should consider investing in a good sea-salt spray to embrace the texture and keep your curls safe. Keep in mind introducing highlights is an excellent way to take your beach look to the next level.
Long Curls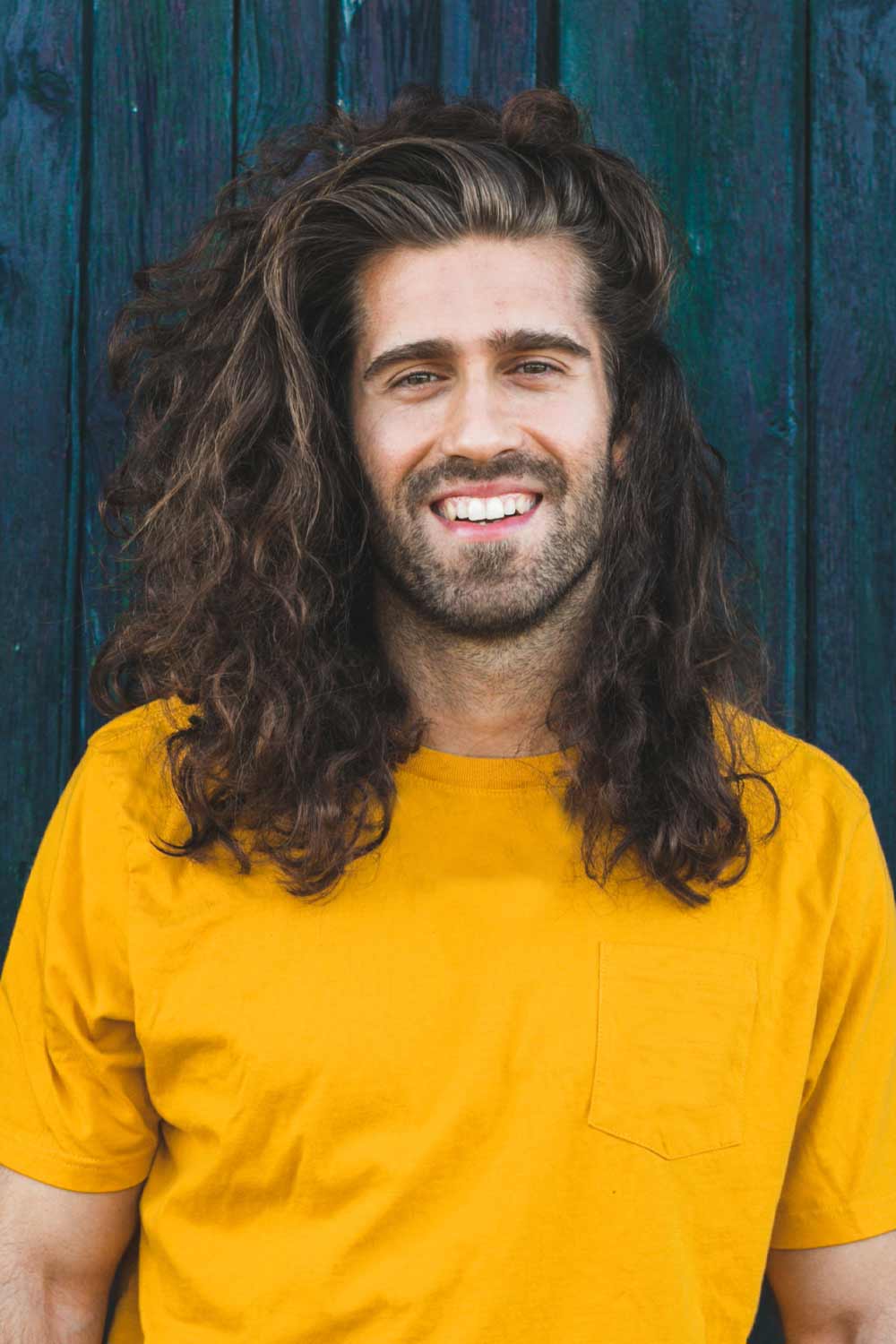 There is something irresistible about long curly hair men sport these days. You should learn a few tricks if you are all up for growing your mane out. First things first – frequent touch-ups are unnecessary. Secondly, you can explore a plethora of styling techniques starting with a regular pony and ending with a sleek man bun. Yet, don't forget to work some product in to intensify that natural sheen that your locks have.
Curly Pompadour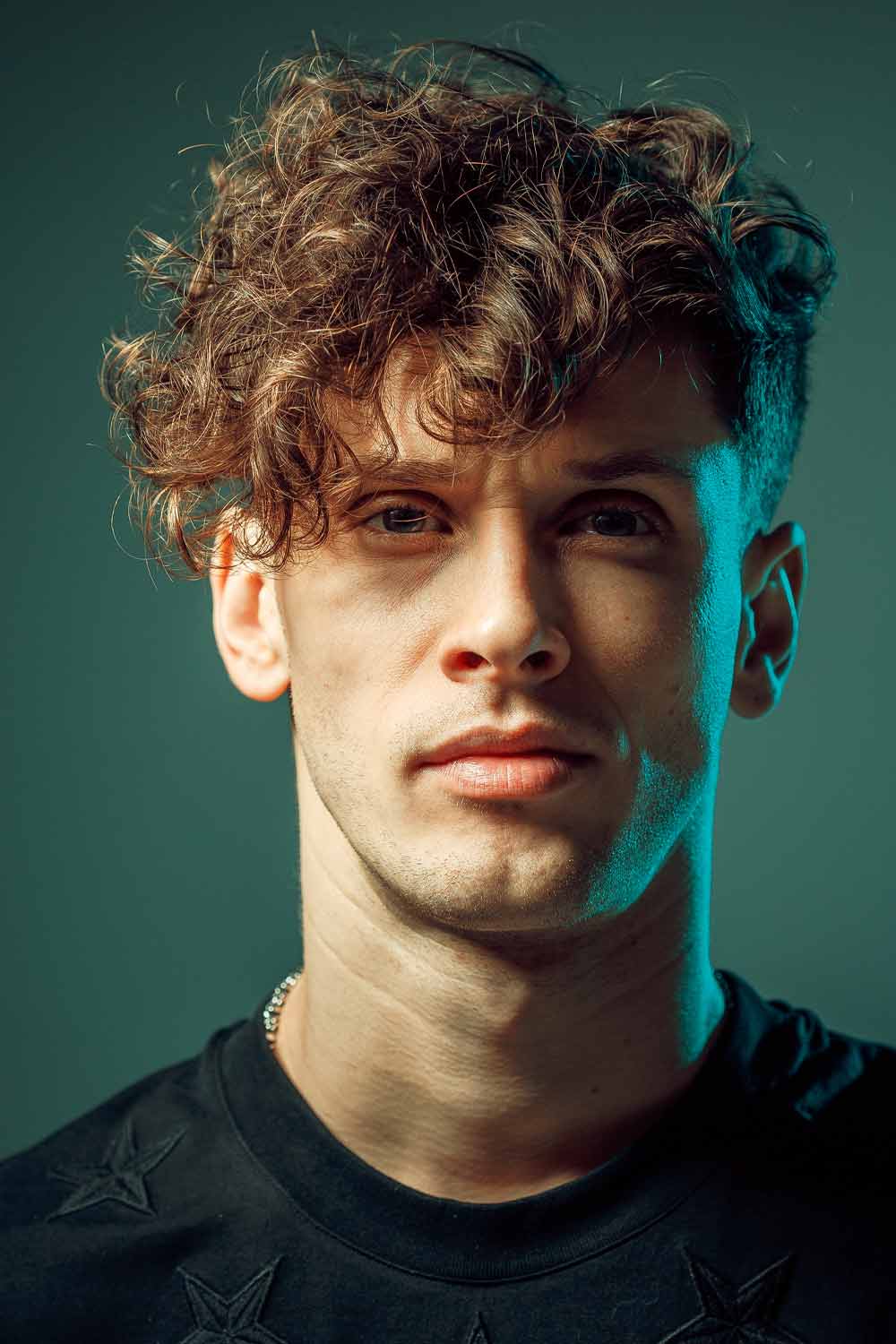 Pompadour isn't precisely a new statement in hair fashion, but it certainly requires an undeniable modern flair that makes it stand out from the rest. When used as one of the curly hair hairstyles men can make the most of it since the curly pattern adds up the necessary volume and spike to the look.
Cropped Curly Hair with Side Undercut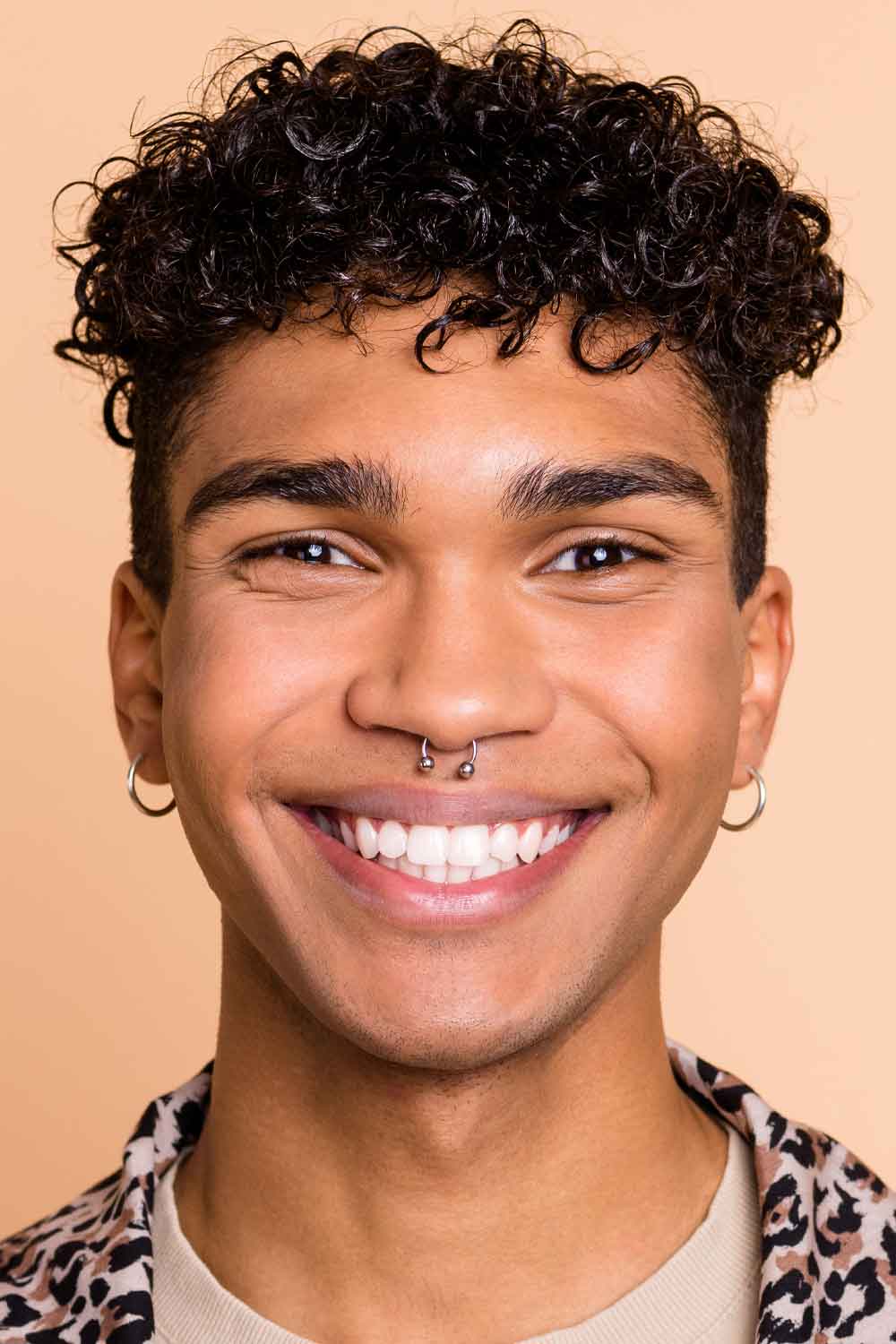 Most curly hair men styles indeed focus on embracing the texture and making it stand out. Yet, in the case of a cropped cut paired with a neat undercut, the combination brings in the required contrast to help the curls stand out. However, it is not enough to rely on skillfully cut hair. You must work on some product to define those curls well, too.
Surfer Curls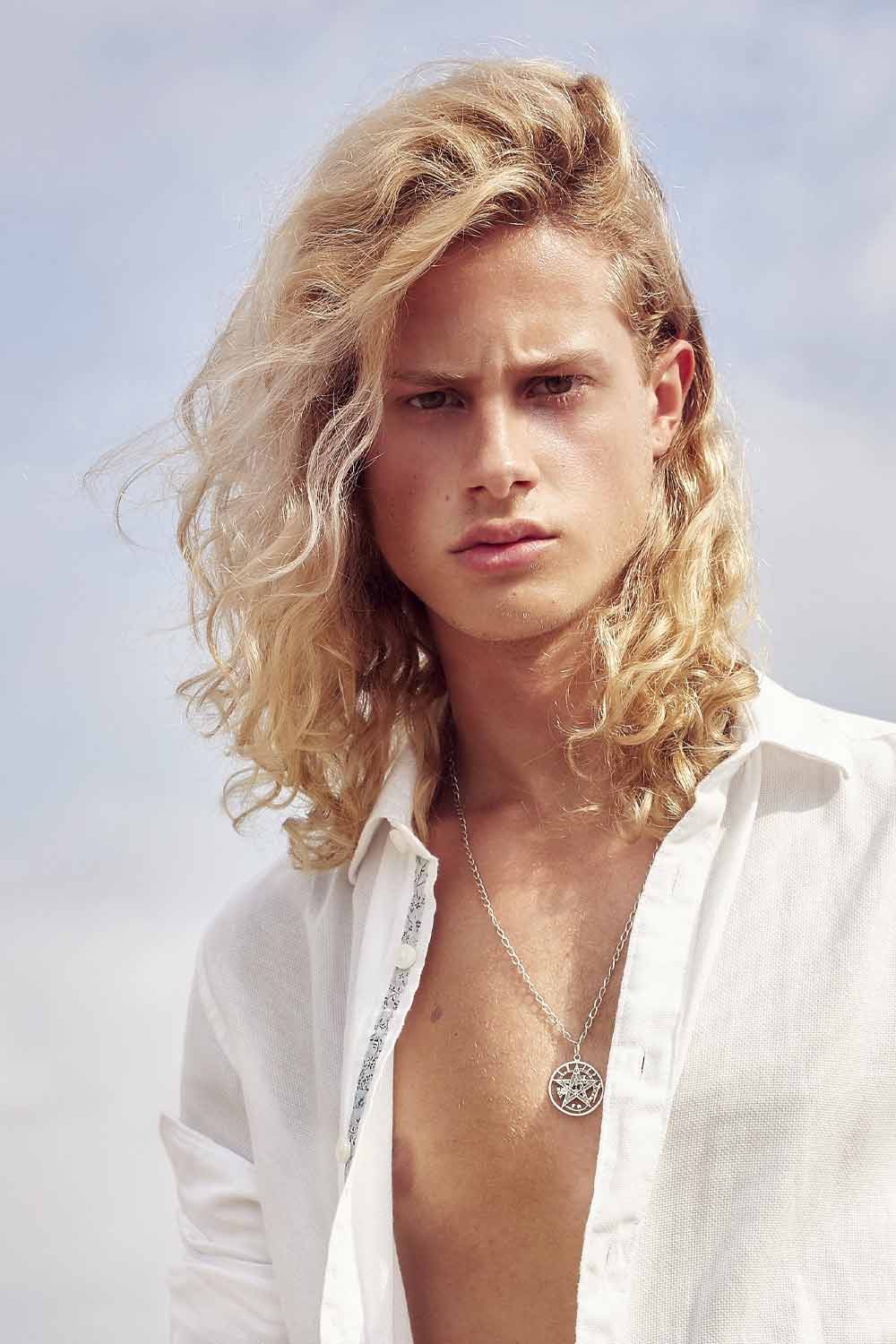 Of all the curly long hair men try to avoid surfer curls simply because they have little to do with surfing. One point to stress here is that the name of the style has nothing to do with the actual activity. The hairstyle implies that you grow your locks to shoulder length, let the curly pattern form on its own, and rock those messy vibes with confidence.
Curly Half Up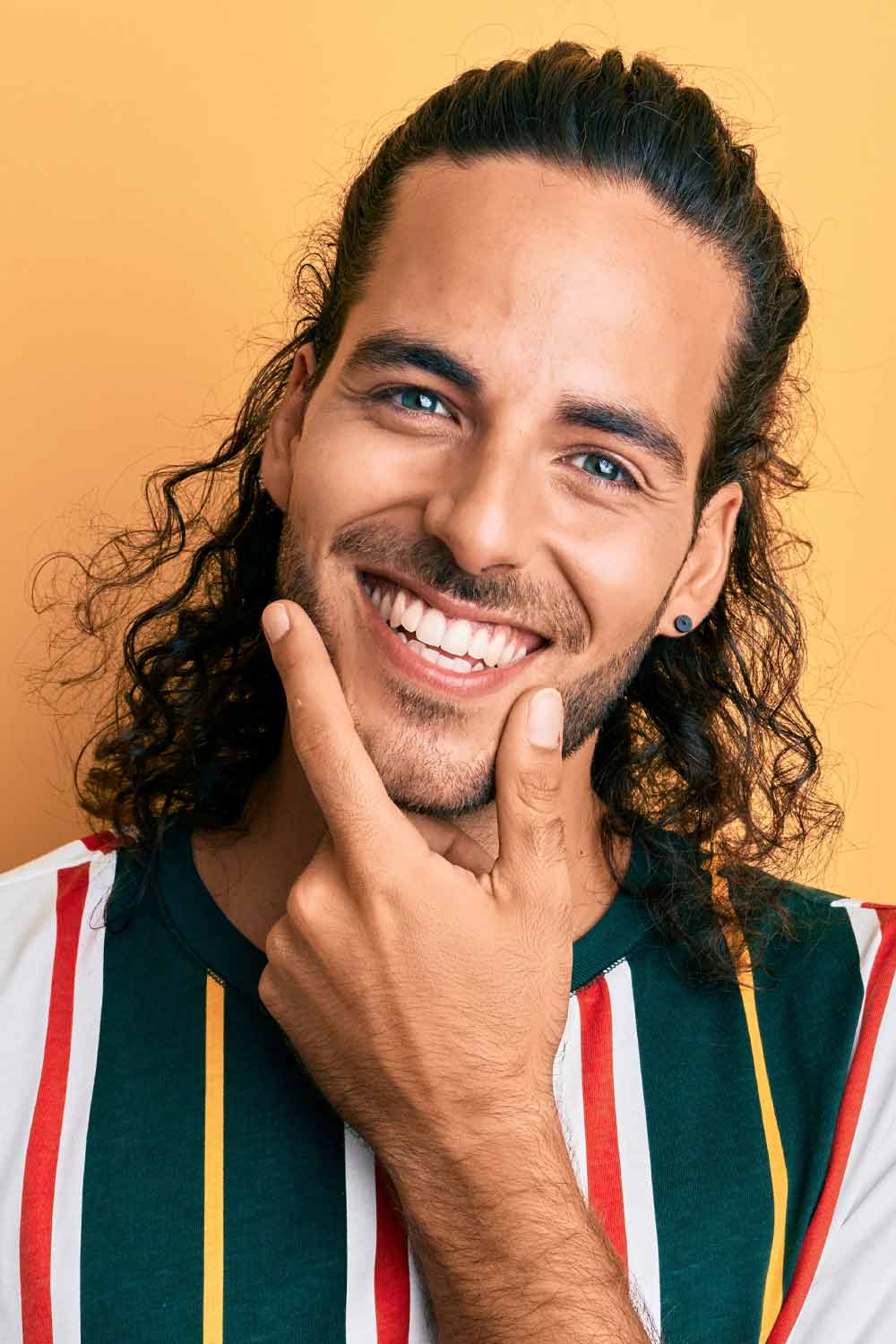 Another benefit of long curly hair for men is that you can play around with different styles. If you feel active today or want to sport something unusual, all it takes is to take your hair into a half-up ponytail. The result is both practical and occasion-oriented.
Afro with Mid Fade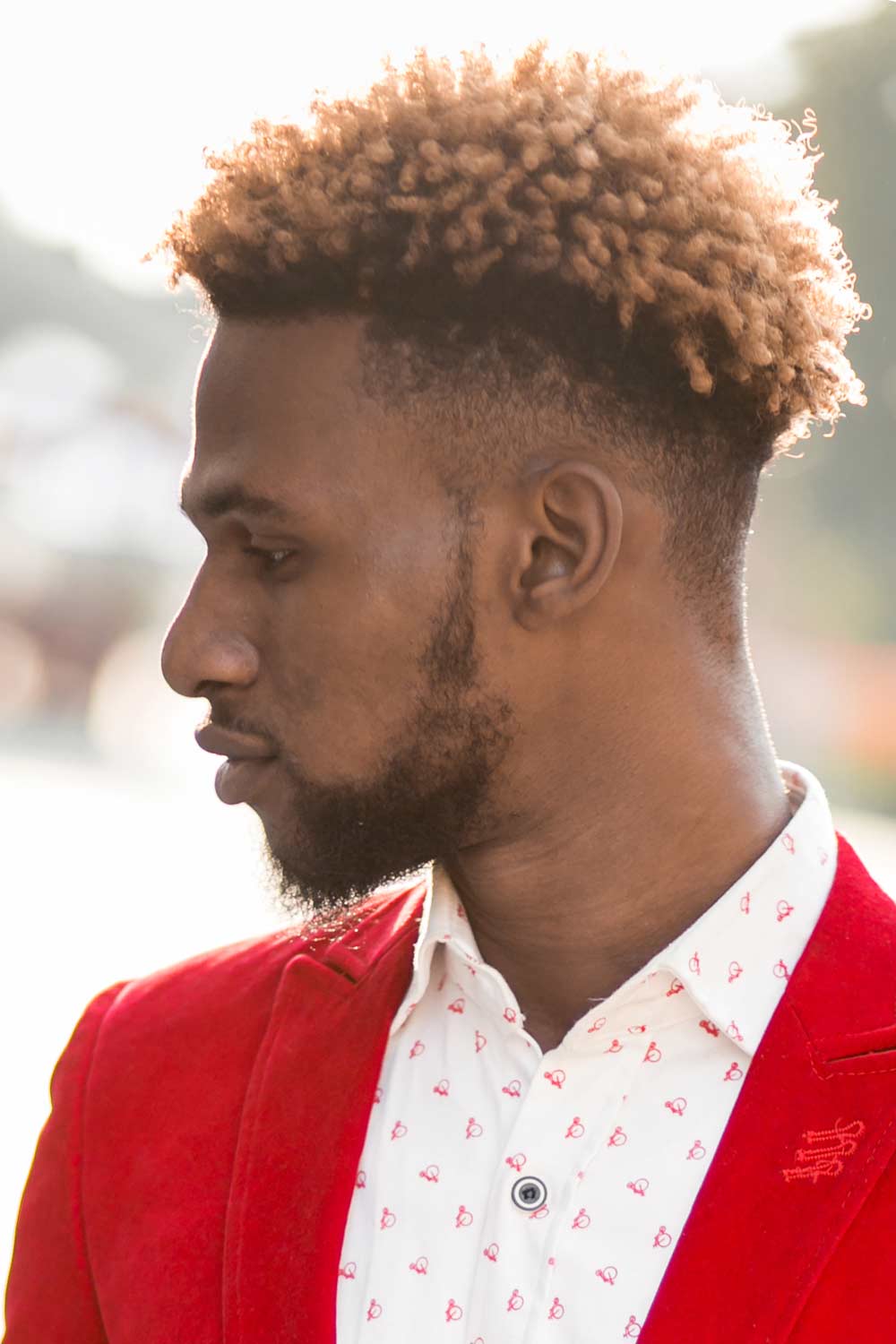 Dealing with black curly hair men often combine the texture with fade haircut. There is more than a single advantage to taking on a curly hair fade men praise. While the short sides to the longer top allow it to showcase the texture, the maintenance time is cut in two. Besides, you can always take things a little further and introduce modern dyeing techniques too.
Long Dyed Curly Top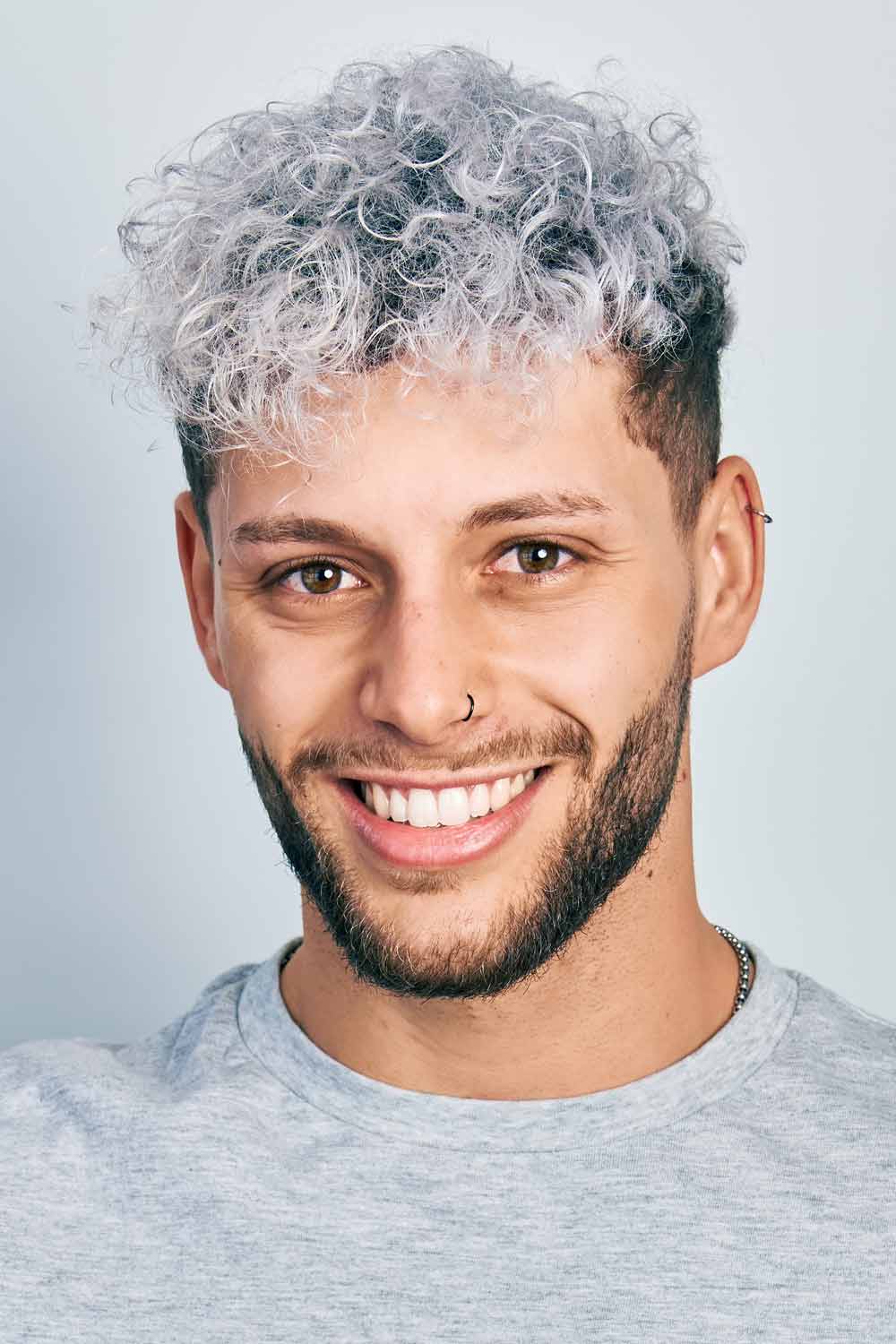 Curly hair men haircut range is clearly impressive, and you surely have noticed it by this time. However, there are a few more directions to explore. As you choose to experiment with the cuts and styling options – why not expand your color palette? Silver platinum tones are all the rage at the moment. Besides, they pair well with outgrown roots, so frequent touch-ups are off the table. Think about it!
Long Curly Hair with Bun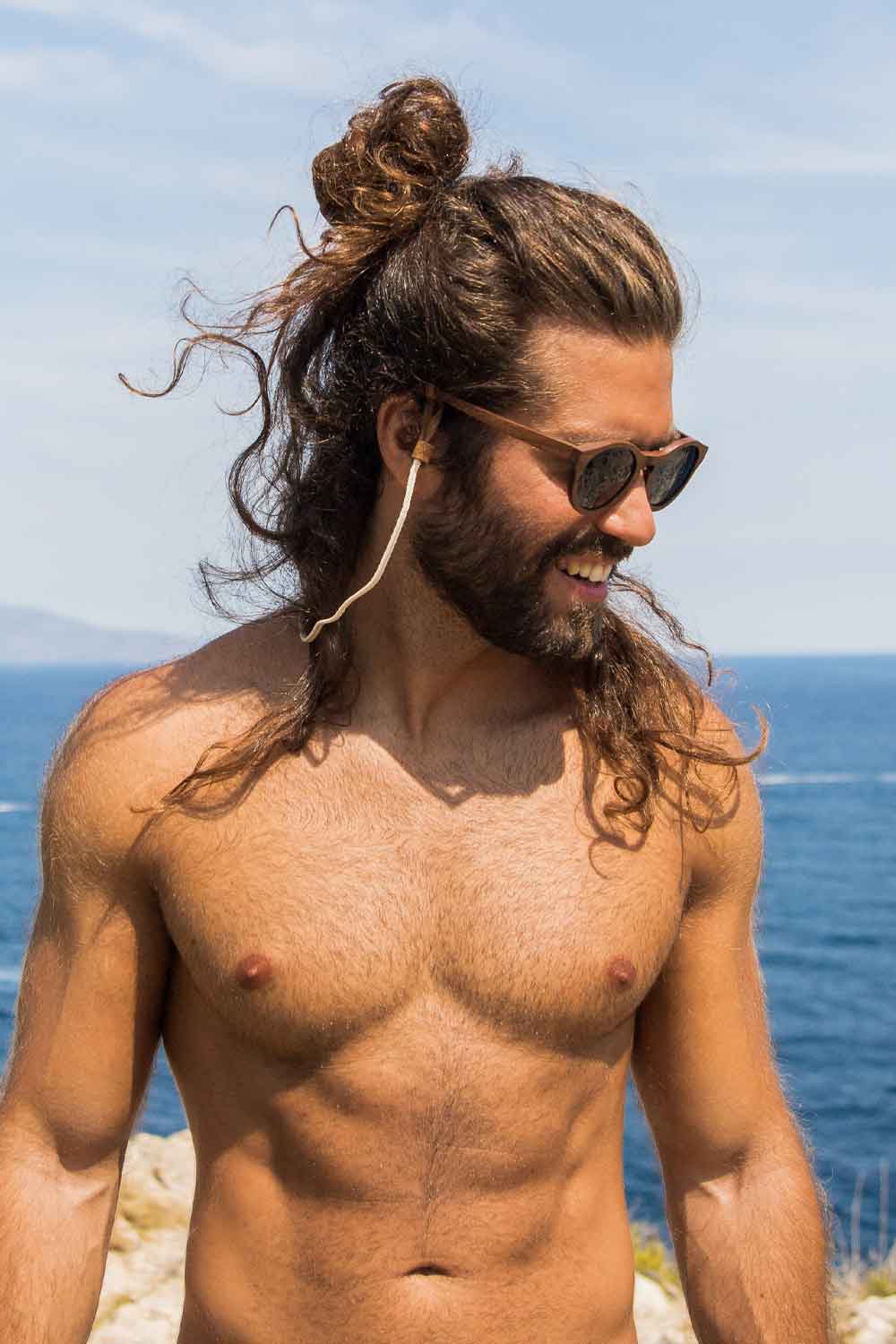 Leading an active life may seem like a good-enough reason to reconsider growing your mane out. However, we are here to object. In case you get slightly tired of your long locks getting in the way all the time, you can simply style it in a man bun and kill two birds with a single stone.
Curly hair men may have falsely assumed that their texture is more of a curse than a blessing it can turn out to be. Hopefully, this collection shows you that there are many ways to embrace your curly mane and rock it with confidence and style!
FAQ: Curly Hair Men
Is curly mens hair attractive?
There is something incredibly appealing about curly texture. It almost invites you to run your fingers through it and play with the locks. So, yes – curly hair is attractive.
How to style curly hair for guys?
Curly texture may require a tad more styling effort and attention. It helps to acquire a range of styling products designed for texture. Besides, you may want to reduce your shampooing frequency and use dry shampoo instead. Lastly, give up on your brush and invest in a wide-toothed comb instead. Occasional blow-drying is acceptable, yet air-drying is more advisable.
What is a Type 3 curly hair male?
Type 3 stands for curly hair. Curly locks are more prominent as opposed to wavy hair but less defined when compared to a coily mane. Curly hair is thicker than most, yet it is utterly easy to damage. There are a few subtypes to consider, ranging from loose curls to corkscrew curls.