When barbershops and beauty salons are not accessible for some reason, learning how to cut your own hair has probably become your own holy grail. The truth is, you can't know for sure when you won't have time for a salon appointment. Nevertheless, your hair still needs to look good.
Of course, haircutting is anything but easy, and it's always better to leave it up to a pro so as not to mess it up. However, if you're one of those who need to take matters into your own hands right now, we will lend you a hand, too.
Our readers know that we want them to look their best no matter what. So here's your ultimate guide to trimming and cutting your own hair with a professional approach. From different bangs to layers and regular trims, you're going to get decent results at home.
✂️ How Do You Cut Your Own Hair Professionally? Basics And Tricks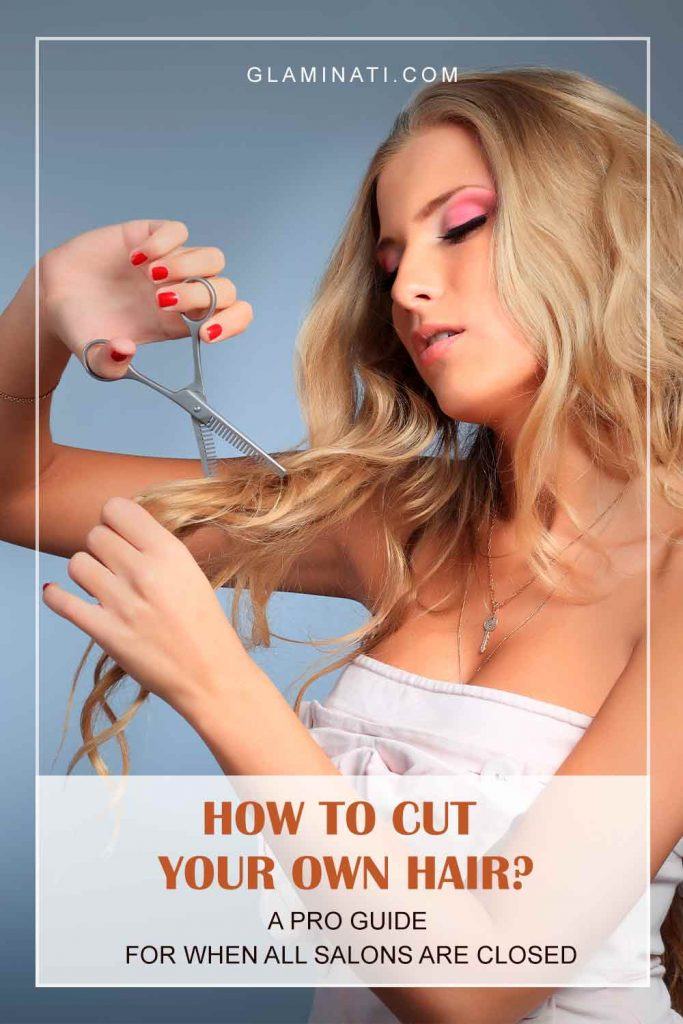 As we told you already, cutting hair at home is not a breeze, and you should cut your own hair with caution. By this, we mean that you should follow all the tips and use the same kind of tools before you start. Now, let's discuss the basics you should keep in mind.
Cutting Wet Or Dry — Which Is Better?
In fact, there's no universally right answer, as different hair types require different approaches. For straight and sleek looks, stylists recommend working with wet hair because it gives more control. And when working with wavy and curly texture, it's better to cut the hair dry: curls will look much shorter than you expect if you cut them wet.
Still, it's all about your preference, so you can simply do what your stylist did the last appointment.
Prepare Your Hair For Cutting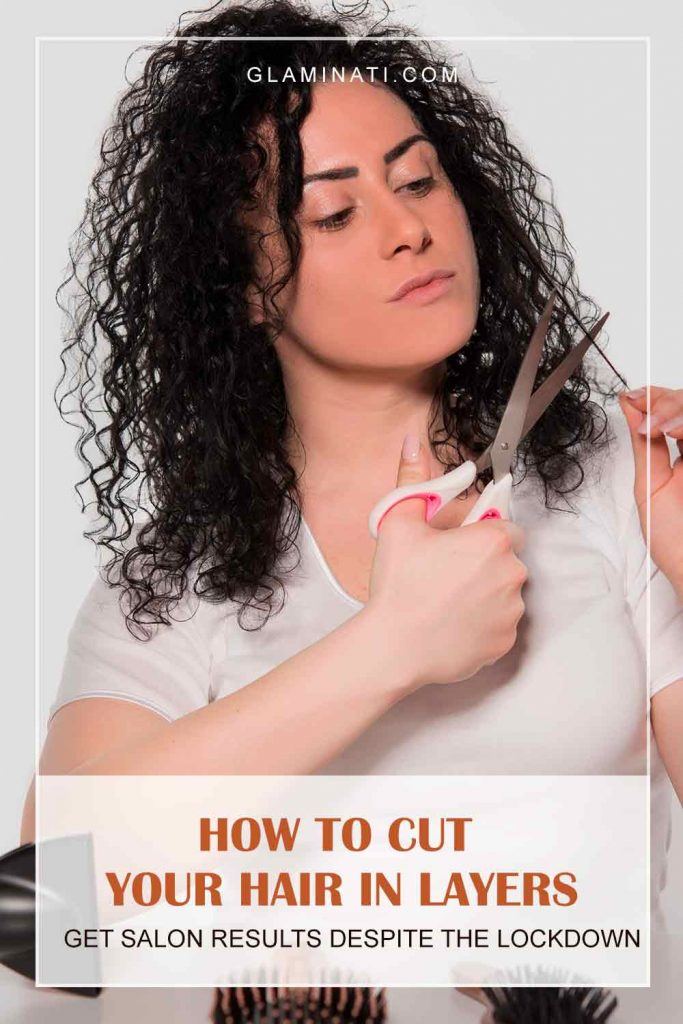 Preparation is one of the most important steps of cutting your own hair. Here's what you should consider apart from tools (more on that later).
Decide what haircut you will do. Whether it's a simple trim or a dramatic change, make sure to have a clear picture of your haircut. Also, we recommend you getting some inspo from the web, as well as taking some time to think if you're sure of this change.
Wet or dry? If you decide to cut your own hair wet, cut it a couple of inches longer than you want the cut to be. That's because the hair will shrink and get shorter when it dries. Also, keep in mind that dry cutting usually results in uneven cuts, so think twice before choosing this way.
Prepare your hair. Before cutting the hair wet, shampoo and condition it, removing excess water by wrapping the towel afterward. Then, comb your hair straight. As for dry cutting, you should dry your clean and conditioner hair, finishing it with flat iron if you usually use it.
Can You Cut Your Hair with Regular Scissors?
Don't even try to figure out how to give yourself a haircut before you get sheers that professionals use for their clients! Domestic scissors aren't sharp enough to produce clean and sharp edges, not to mention dull scissors. Unevenly cut pieces of hair will soon turn into split ends, which is not desirable for both healthy and damaged hair. If you want truly good results, invest in high-quality hair scissors. Small sheers with 2.5 or 3 inch-blades will do just great for home experiments.
✂️ Cutting A Ponytail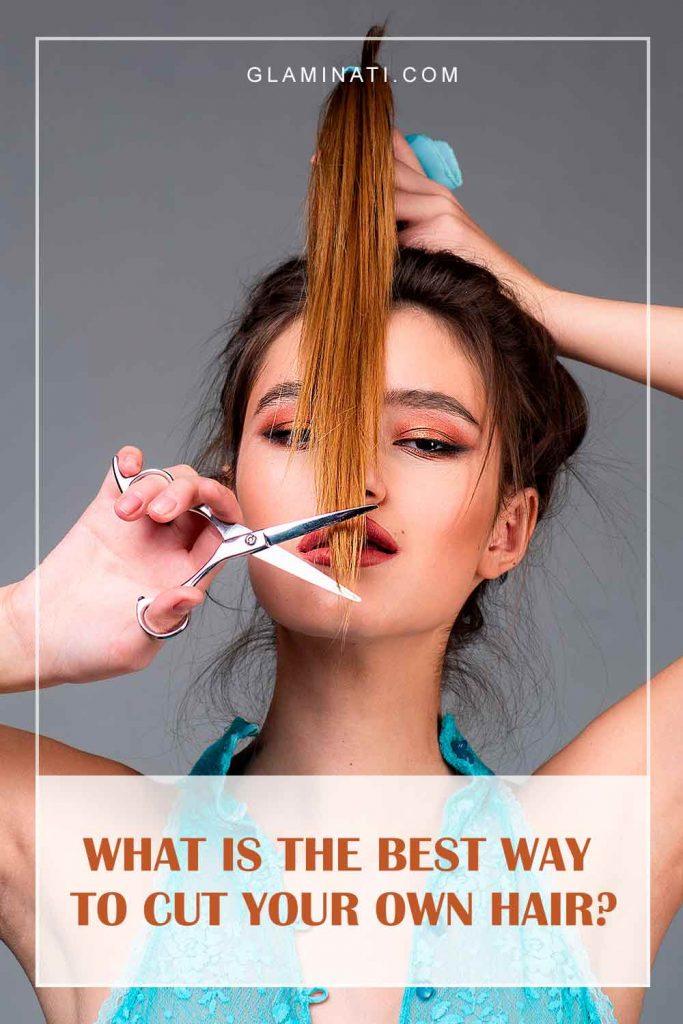 Ponytails are full of surprises, and now, you're going to see how to cut hair at home while wearing a pony! All you need is a rattail comb and a couple of elastics.
Low Ponytail Haircut
Following all the steps correctly, you will achieve a straight haircut with a slightly rounded back.
First off, dampen your clean hair and create a middle part using a rattail comb. It should be in the middle back to the top of the crown.
Ensure that the part is perfect and thoroughly brush your hair on either side of the part.
Next, create a low ponytail at the nape of the neck, ensuring the hair is smooth and has no knots.
Place another elastic just above where you want to cut your hair.
Hold the second elastic between your fingers, and gently pull the pony up toward the ceiling.
Now, cut the excess hair under the second elastic, doing it in a couple of snips. Don't do it with one go, and ensure the ends are as neat as possible.
High Ponytail Haircut
Meet another ponytail tutorial that will show you how to cut your own long hair. This method produces long layers, so if you're also wondering how to cut your own hair in layers, don't miss it.
Again, start with damp clean hair.
Next, point your hair downward, bending over at the waist.
Brush your hair thoroughly and put it into a high ponytail, ensuring it's smooth and right at the center. Place the band close to the scalp.
Similarly to the previous tutorial, place another band below where you want to cut your hair.
Take the sheers and, holding the pony with the other hand, cut your hair above the second band. Of course, you should cut in a couple of snips!
Make sure the ends are even, giving them a trim if there are stray hairs.
Front Ponytail Haircut
Here comes another simple tutorial that is perfect if you want to learn how to cut your own hair in layers with a ponytail. Here, you will see how to create face-framing layers with dry cutting!
Start with clean, smooth, and dry hair.
Tip your hair upside down and create a tight ponytail at the center of your forehead.
Then, take a comb and measure the length of the first layer. For example, it can hit your brows or start at the chin.
Grab your ponytail with one hand, and hold the scissors with the other, cutting off the measured length.
Now, hold the shears straight and snip into the blunt ends, point cutting at an angle so that the ends look graduated like a shaving brush.
Cutting Your Hair With Pigtails
As it turns out, two ponytails can also help you when giving yourself a haircut. Besides, it's not only a good way how to cut your own hair straight but it's also a solution for women with thick hair. And that's another dry cut!
Begin by brushing your clean hair, straightening it if it's not straight naturally.
Create a perfectly neat middle part, dividing your hair into two halves.
Now, create a low pigtail with each half.
Next, tighten up your pigtails by splitting them into halves and then pulling each half until the elastic sits close to the scalp.
Start pulling the elastic lower until it reaches the desired length (the line where you will be cutting).
Similarly to previous tutorials, cut the hair just beneath the band on both sides, holding the scissors at a 45-degree angle for a layered finish.
Finally, polish your cut, holding the scissors in the same position and point cutting the ends.
Cutting Your Hair Back To Front
There's no better way how to cut the back of your hair than to do that with the back-to-front method. Plus, it can give you a layered look!
Dampen your clean hair before you start.
It's better to stand in a room with two mirrors so that you can see how you cut from both sides.
Then, comb your hair along your part lines.
Split your hair into eight sections: bangs, top-front on either side, top-back on either side, sides, and one section at the nape.
Clip all the sections, except the nape, twirling each one before you clip it up.
Now, hold your scissors horizontally for a blunt cut or at a 45-degree angle for a softly layered look. For the first scenario, cut your hair straight across. For a layered finish, cut your hair upward, making diagonal cuts.
Bring the nape section in the front and comb through it with your fingers (as if they're a pair of scissors).
Using your fingers as a guide, slide them until they are above the line where you want to cut your hair. Then, just cut beneath your fingers.
When the nape section is ready, go to the top-back right section and cut it. After this section, take the top-back left section and cut it so that it's even with the top-back right and nape sections.
Work your way section by section, moving from back to front until all the hair is cut evenly.
Cutting Your Hair In Twist Methods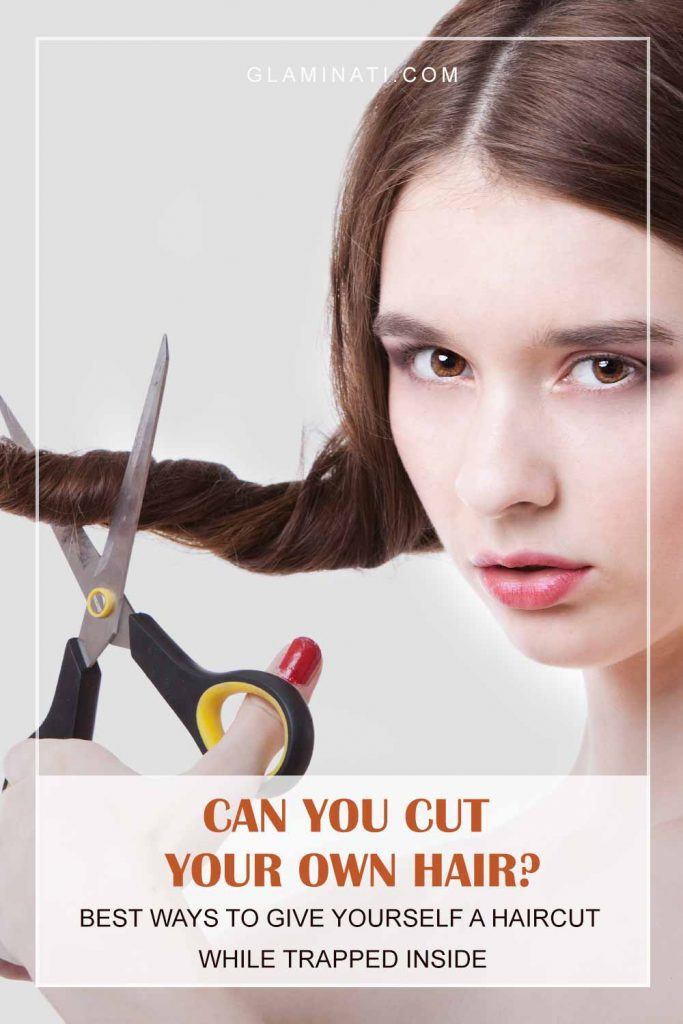 Here's a great tutorial on how to cut your own hair women with medium-length angled haircuts will find to be useful. Before you begin, keep in mind that this cutting method involves a lot of layering, which will remove much weight from your hair.
Twist Methods For Long Hair
Begin by combing all your hair to the top of your head, and twist it tightly.
Take your scissors and, holding your hair up above your head, cut as much hair as you want.
You will also need to create a guide for where to cut the shortest layer: simply pinch a piece from the front hairline, right where you want this layer to fall. Then, pull it back.
Let your hair down and brush it with a comb.
Now, you need to twist your hair one more time but in the opposite direction.
Again, hold your hair above your head with your fingers, cutting away any stray hairs.
Twist Method for Pixies
Although pixies are low-maintenance, they also need regular touch-ups. So here's a tutorial on how to trim your own hair for those rocking pixie cuts.
First off, section off the bangs of your pixie at front of your hair. If you want the fringe to be longer, comb your hair from the top.
Again, comb all your hair up and twist it above your head.
Decide how long you want the crop to be, place your fingers there, and cut at this point.
Then, comb your hair.
Next, take a thin vertical layer of hair and point cut moving vertically up, cutting in an even straight line.
The previously cut section is the guide for cutting the rest of your hair. Therefore, take a section that is parallel to the first one and cut your hair in the same way.
✂️ Cutting Your Hair Upside Down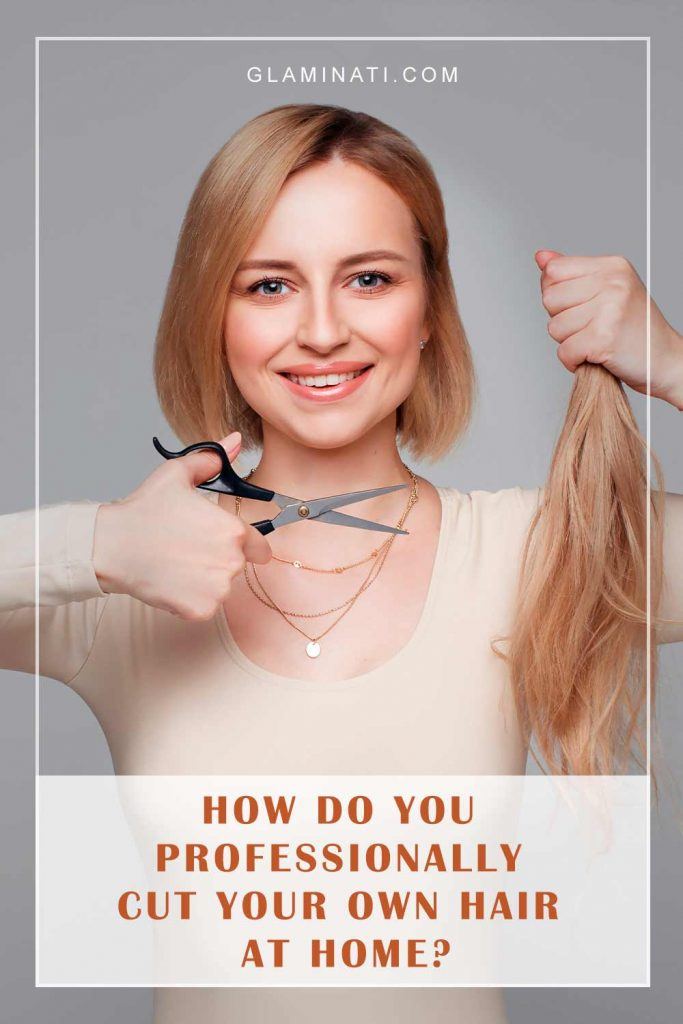 The world is pretty much upside down right now, but you can benefit from it when cutting your hair!
Before you start, place a towel in front of you: it will catch your cut hairs.
Next, flip your head over and brush your clean damp hair.
Now, take your scissors and start cutting your hair parallel to the floor, working by small horizontal sections.
After the first cut, run your comb to check if it's even, and do that until you cut the whole length.
Stand up and check if everything is even.
✂️ How To Cut Your Own Hair: Easy Ways To Cut Bangs Yourself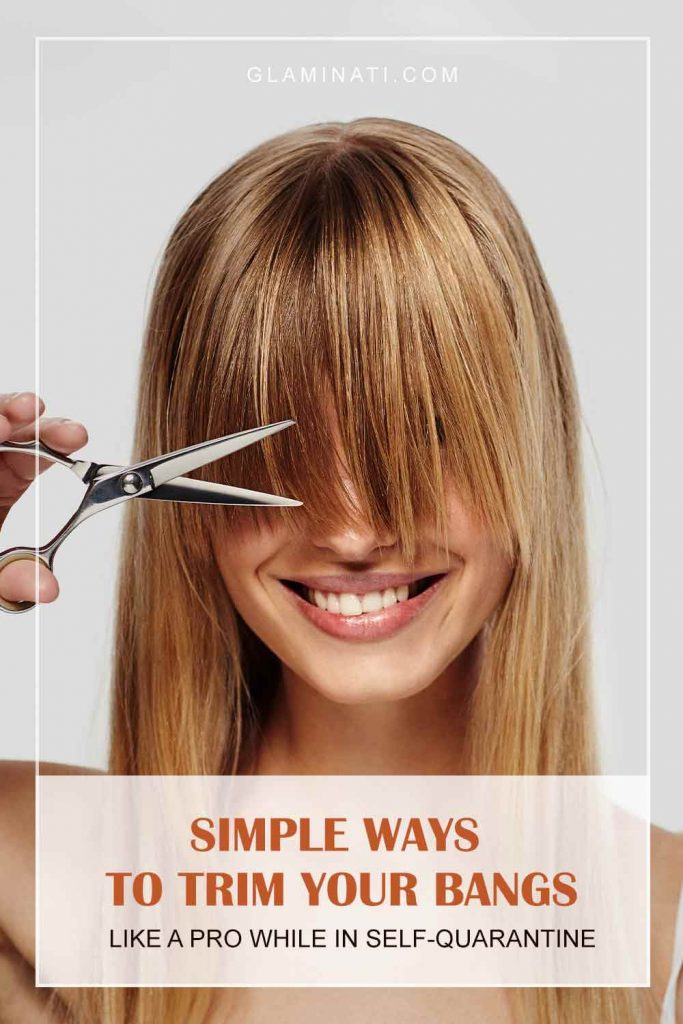 Bangs are so popular with DIY lovers that most stylists have got equipped with the crying-girl-starter kits. If you don't want to enter your salon tearfully confessing "I tried to learn how to cut my own hair, " then follow our fail-free tutorials.
How to Cut Side-Swept Bangs
Since side fringe is all the rage today, we'd like to start with a tutorial on how to cut your own hair short for side-swept bangs.
Start by washing, drying, and styling your hair as you usually do.
Look in the mirror, and find a place for bangs, angling your head sideways. Then, find a place where the crown starts to curve down your forehead, placing a comb to it.
Now, start at the place you've just identified, and pull your front hair forward. You will see that your hair forms a V-shape, and the hair that falls inside is what you will cut for bangs.
Hold this V-section and gather the rest of the hair in a ponytail.
Now, pull this section tightly between your middle finger and forefinger so that the part extends evenly from them.
Hold the scissors at a slight angle and snip the hair under your fingers.
Sweep the bangs to one side to see if they're nice and even.
How to Cut Blunt Bangs
If you're into classics, here's how you can create the everyone's favorite blunt fringe.
Begin by washing and styling your hair as you normally do.
Keep in mind that this type of bangs should cover your forehead, starting 2–3 inches from your hairline. So make sure to brush enough front hair forward.
Next, put the rest of the hair in a ponytail.
Decide how short you want the bangs to be, folding them with your fingers to see which length looks best.
Hold the hair tightly with one hand, and make a horizontal cut with the other, making it a bit longer than you need.
When bangs are ready, brush them and trim the edges vertically, slightly point cutting them. Also, make sure to trim less at the sides and more in the middle for a more natural look.
How to Trim Your Bangs
Finally, let us show you how to maintain your bangs while all stylists are stuck at home.
Create a ponytail, leaving your bangs out.
Then, comb them straight so they lie flat.
A regular trim usually takes 0.5 inches of hair, however, you can place a comb wherever you want the bangs to end. In fact, it's always better to go longer first and fix after.
Now, pull your hair tightly.
Holding your scissors vertically at a slight angle, make a cut from the middle to the left side, and then from the middle to the right sight.
Lastly, tousle the bangs to see if they're even.
Saturated life full of working hours may feel like a trap, especially when your hair needs an update ASAP. And even though it's always better to have it done in salons, you still can give yourself a good cut at home: all you need is the right scissors and professional guidance. Now that you've seen the most popular and truly effective ways to cut your own hair, we bet you know how to brighten up hard-working routine.
FAQ: How To Cut Your Own Hair
Is it better to cut off damaged hair?
It depends on where exactly your hair is damaged.
If you have split ends, it'll be better for you to get them trimmed immediately as the hair will never return to their normal condition.
On the other hand, if your ends are just dry, you can deeply nourish them with serums, oils and maintain your ends healthy going to your stylist every 3 months.
What is a unicorn cut?
The Unicorn Cut is a DIY haircut method also known as the ponytail method. It is done by tying your hair into an extremely high ponytail that looks like a unicorn horn and giving.
The unicorn cut can only give you a heavily layered type of haircut. This method can be suitable for those who have extremely long hair or curly hair, because drastic layers look best for on curly texture and lots of length.
Why is cutting hair so emotional?
Drastic changes in our lives make us take measures that provide immediate relief. Cutting our hair can feel as lifting an emotional and physical burden, taking our stress away and a transition to our new self.
On the other hand, the haircut itself can make us pretty emotional, either we don't like strangers touching our hair or we find ourselves unready to accept our new hairstyle.
Please, think what makes you feel that way. All in all, the answer lies in the question.