Top 24 Stylish Burgundy Color Choices
A true definition of style, a burgundy color will become your cup of tea. Deep and really beautiful, it is the combo of blue and red. A special shade that will not only make you look stylish, but also everything that surrounds you. Hair, makeup, shoes, pieces of clothes and furniture, even design ideas for your apartment can consist of burgundy color pieces. Stylish, it makes everything so beautiful. So, try including it into your life. Here we have a few ideas on how you can use this wine shade in your life. Trust us, you won`t regret these choices.
Stylish Heels In A Burgundy Color
Source: lolashoetiquedolls via Instagram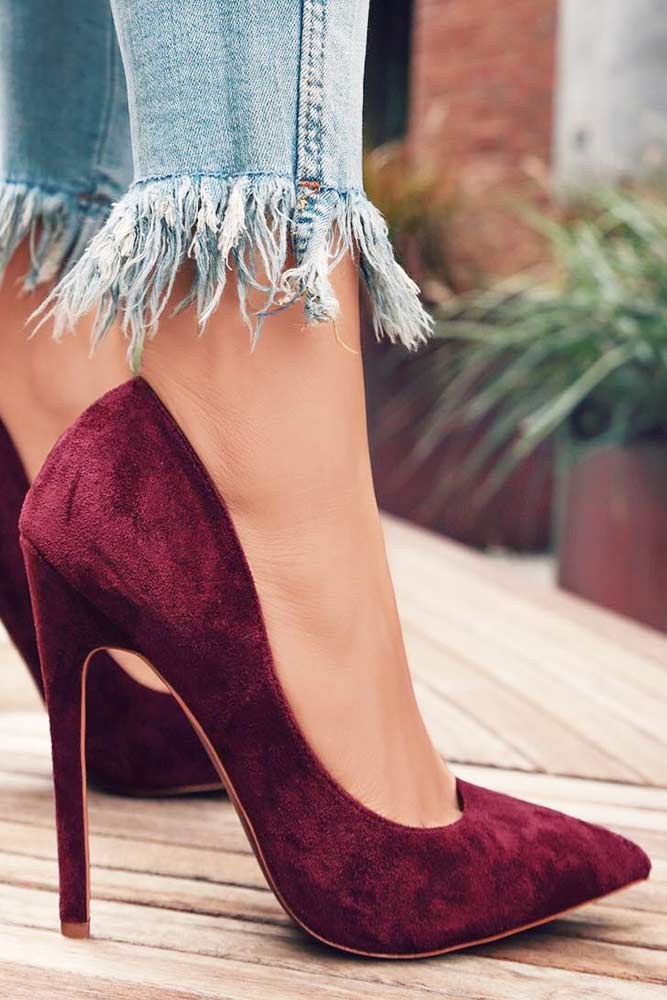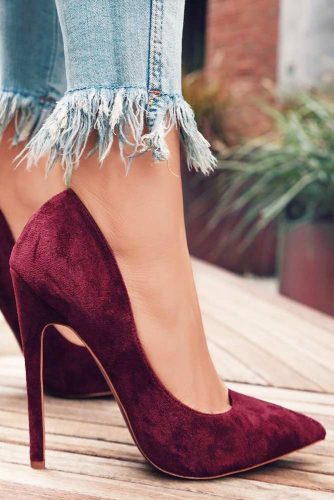 It`s a true fact that shoes of different colors are becoming more and more fashionable. Of course, as everyone is getting a bit bored of classic black ones. However, if you are not ready for more colorful decisions, why don`t you choose burgundy tones for your footwear? In addition, a dark color will look so great and interesting. Even if it's a classic style of shoes such as pumps that always make our everyday looks dainty.
Source: lolashoetiquedolls via Instagram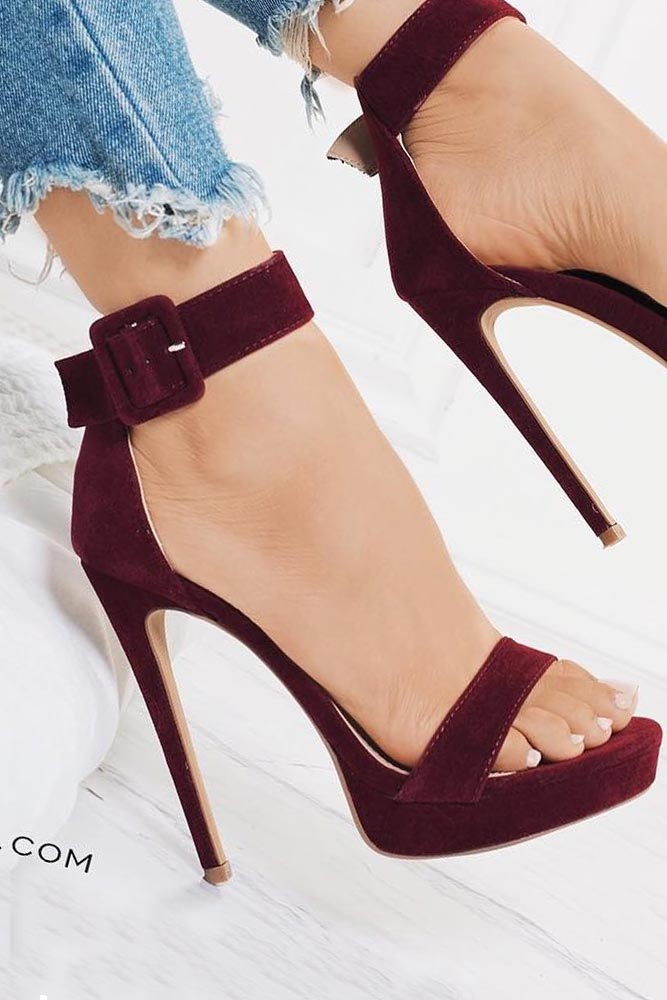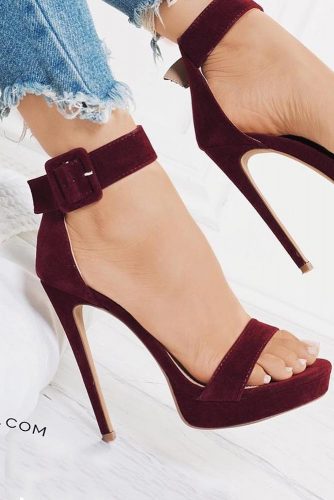 If you think of ideas for your summer footwear, then we have something in store for you. Why don`t you get something different this time? A bit of color is what makes every look better, so burgundy-colored shoes will be brilliant. They are universal for anything you want them to match with, so don`t doubt and find your perfect strapless burgundy shoes.
Source: lolashoetiquedolls via Instagram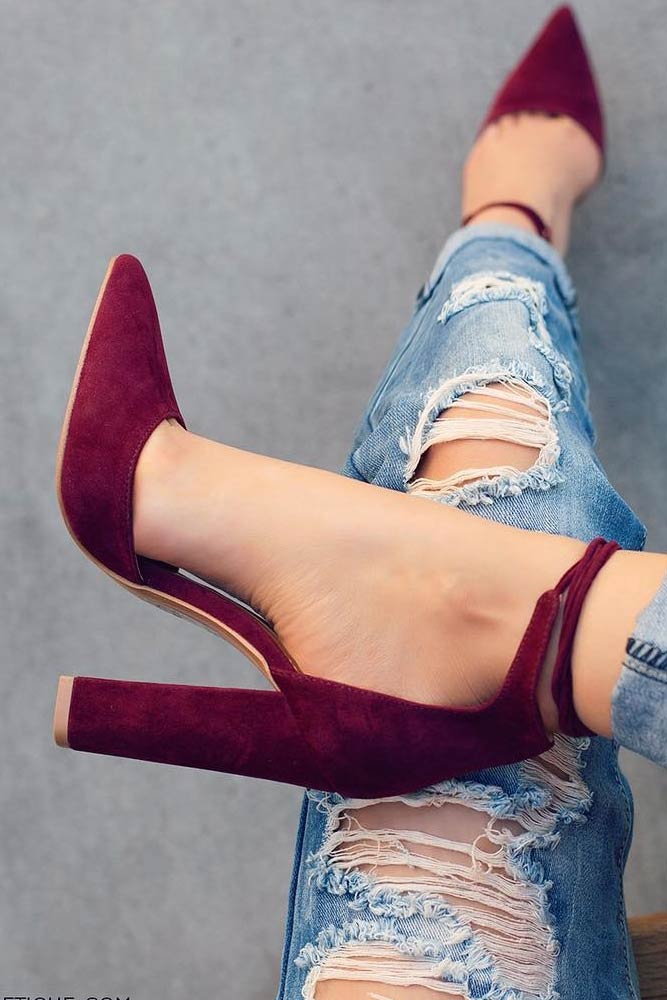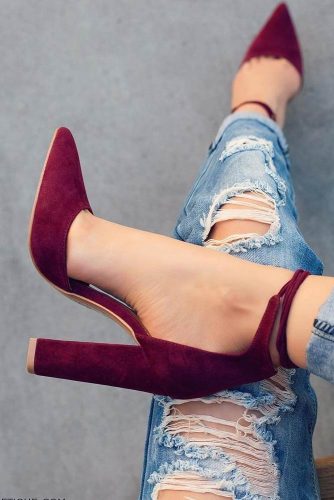 Details are what makes such a piece of our wardrobe as shoes look great. Try getting them with little ties and see how great they will look on your feet. How well they complement your legs, don`t you agree? Especially in a burgundy color that makes your footwear look even more beautiful and trendy.
Burgundy Dresses Designs
Source: alamourthelabel via Instagram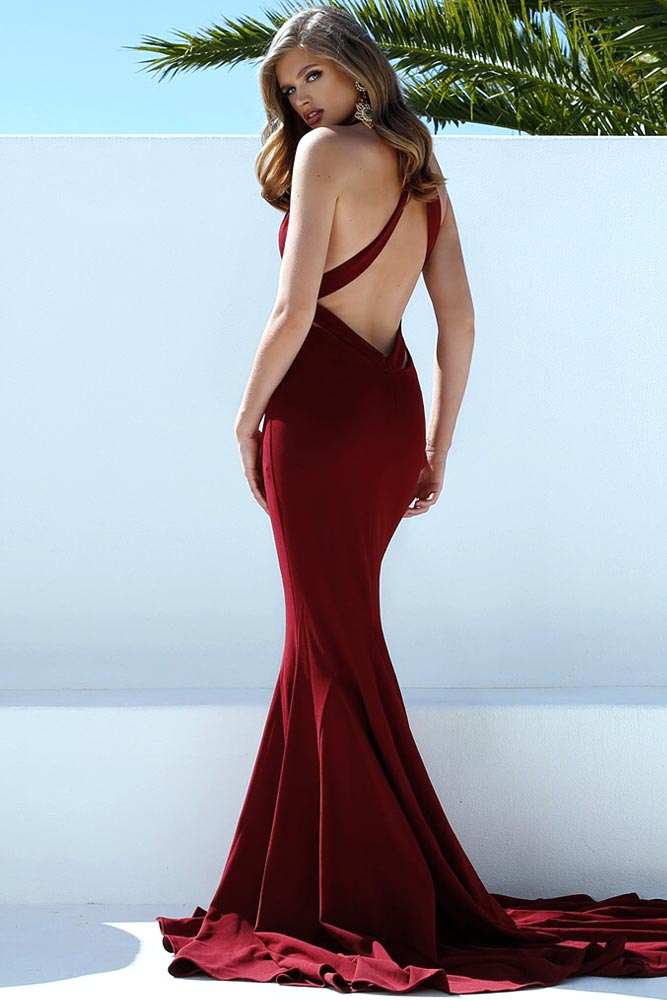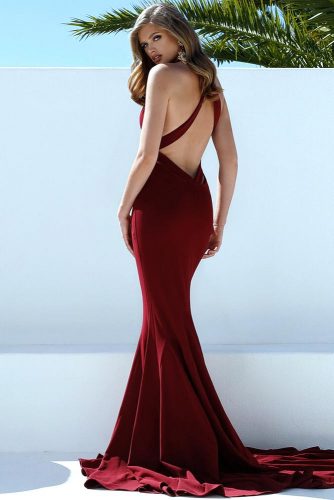 A burgundy color dress is a dream that every fashion expert wants. Of course, as being made in such a gorgeous color, it will look really stylish and different from the classic black ones. This dress design is something that you can`t miss. Super long, it creates a long tail that makes your body look stunning. Combined with an open back, this dress will fascinate everyone around you. Perfect for any special occasion you can think of.
Source: anboutique.official via Instagram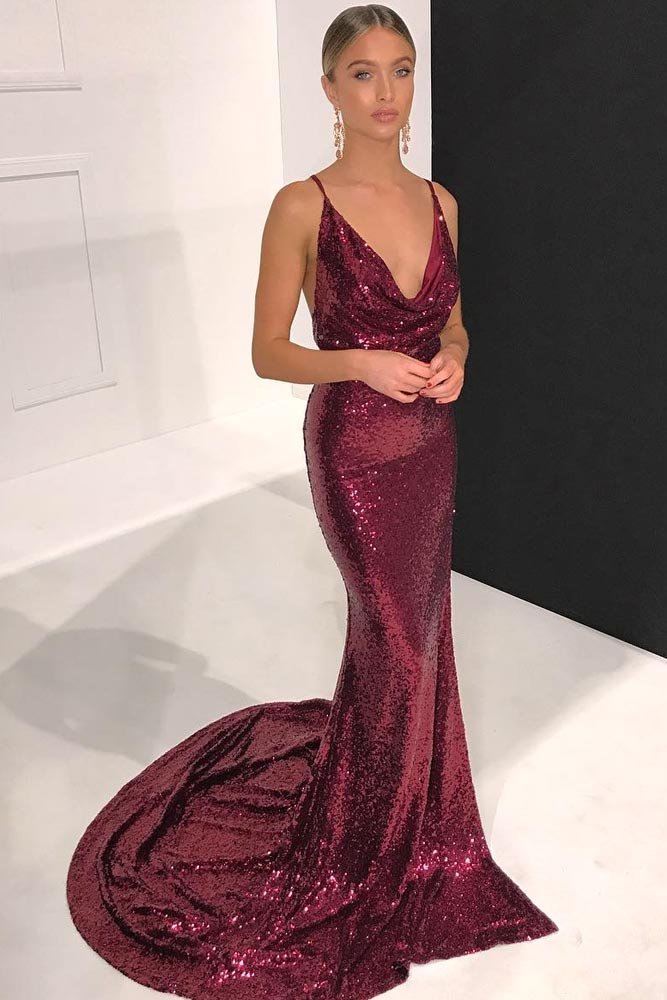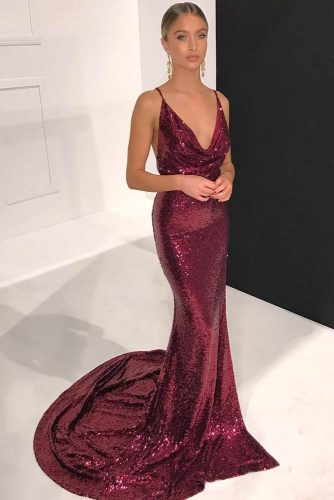 Do you like sparkling as the brightest star every time you go out? Then this dress literally will make you shine bright like a diamond. Long, it will make your body look gorgeous, while burgundy color glitter will make you look so special. You don`t have to figure out what shoes to choose to go well with it. Pick the same colored ones or plain black ones, and it will be perfect. People won`t be able to get their eyes off you, trust us. If that`s the effect you are looking for, then don`t doubt.
Source: em.spiliopoulos via Instagram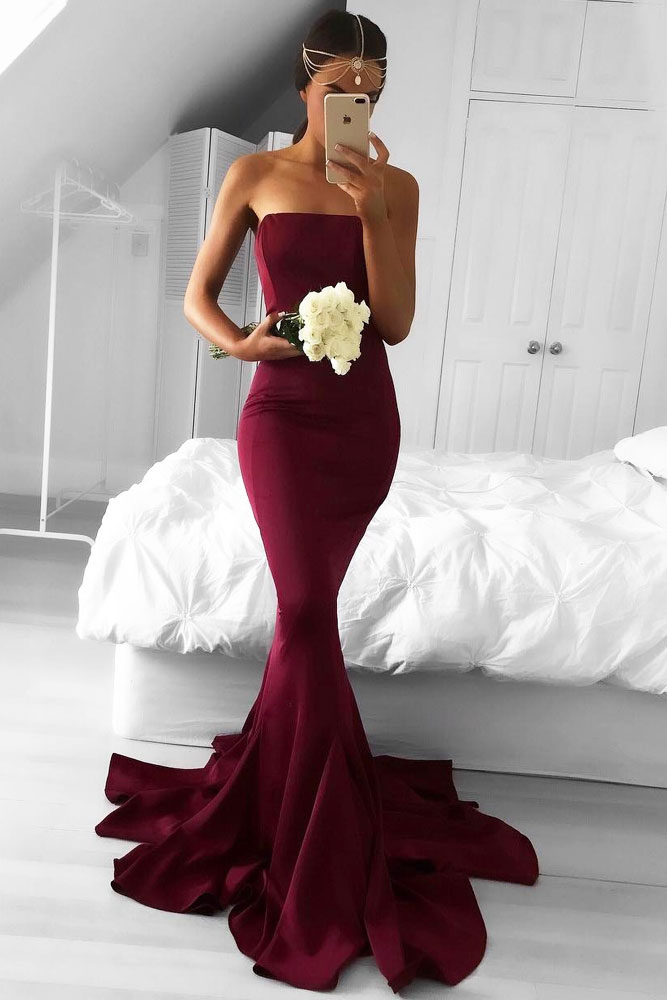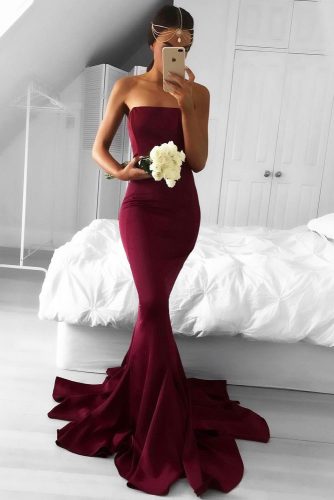 This burgundy color maxi dresses gown will be a true match for those who prefer classic designs. It will complement your beauty. Its simplicity is its key to being stylish. We bet, you won`t regret this choice even for a second.
Glam Nail Designs In Burgundy Colors
Source: riyathai87 via Instagram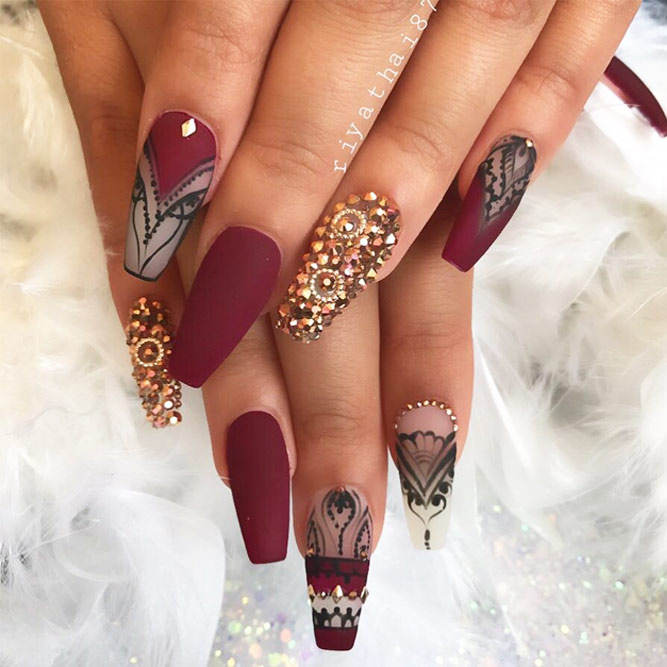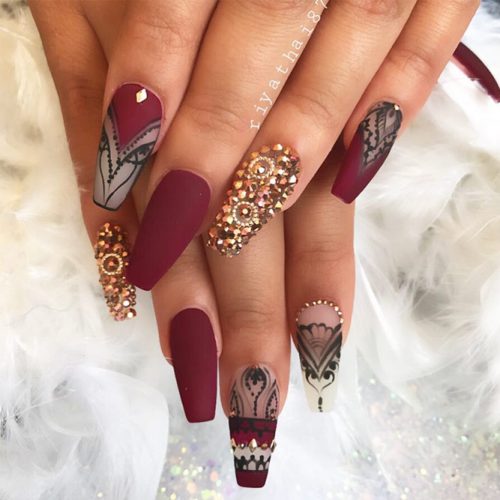 There are so many nail designs on the internet that our head begins to spin every time we start looking for them. It`s so easy to get lost while picking something specific. That is why we would like to give you a classic idea that you will enjoy every time you gaze at your nails. A burgundy color combined with black ornaments and gold glitter – it`s what you won`t regret even for a second. Super stylish, they will look great with anything you wear, so why don`t you try it?
Source: anboutique.official via Instagram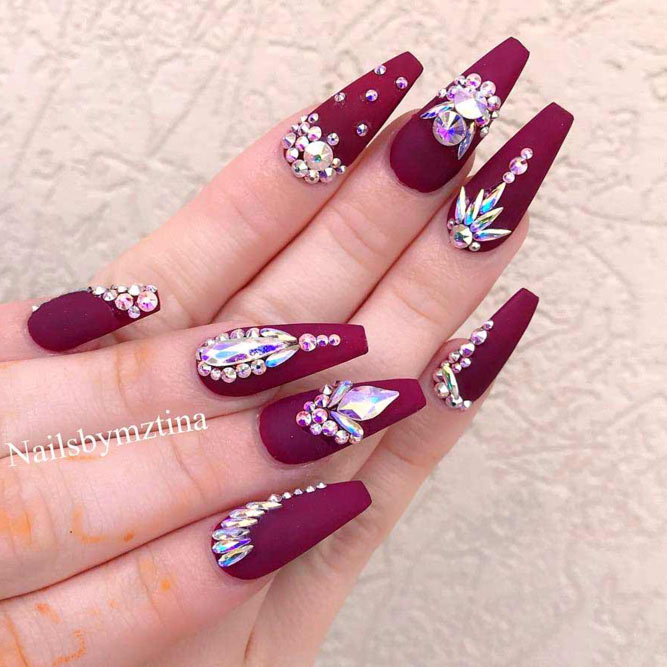 Who said that gold glitter is the only option going with a burgundy color? A white one is a good option, too. A great contrast between dark and light shades will make your nails look stunning. Ask your nail master to do something ornamental with glitter and believe us, you will do this look all over again for many times after trying it.
Source: em.spiliopoulos via Instagram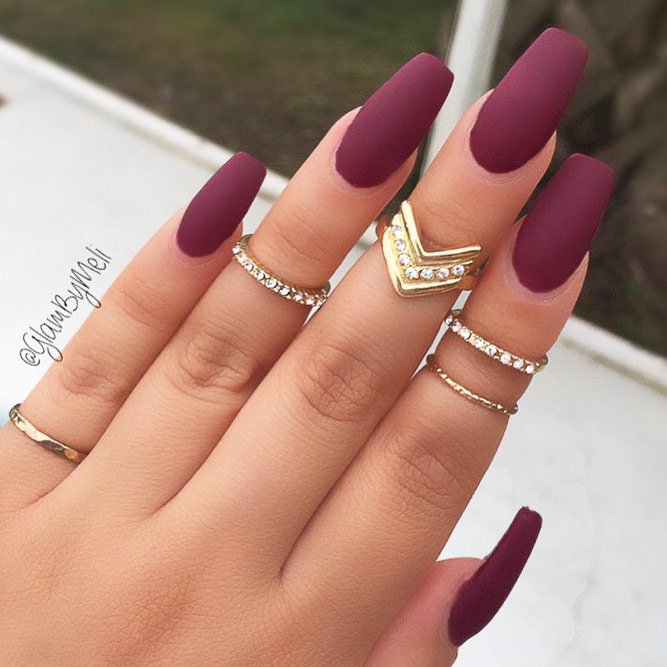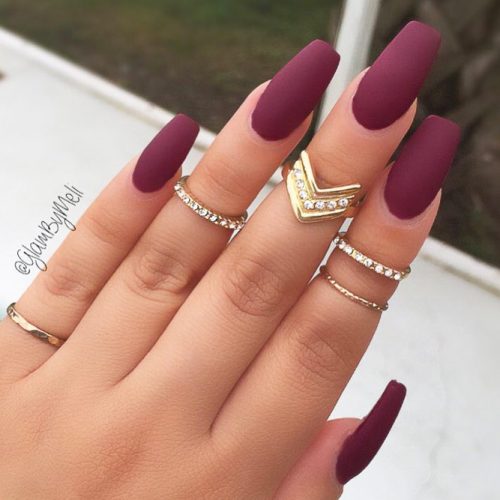 If you are not the fan of any designs on your nails, then this idea is just for you. Perfect burgundy colored nails will be your solution. Super stylish and classic, they won`t be too much for you, believe us. Deep dark colors are always so good looking on your nails, so try this one and find your new favorite shade for manicure.
Amazing Burgundy Makeup Ideas
Source: swetlanapetuhova via Instagram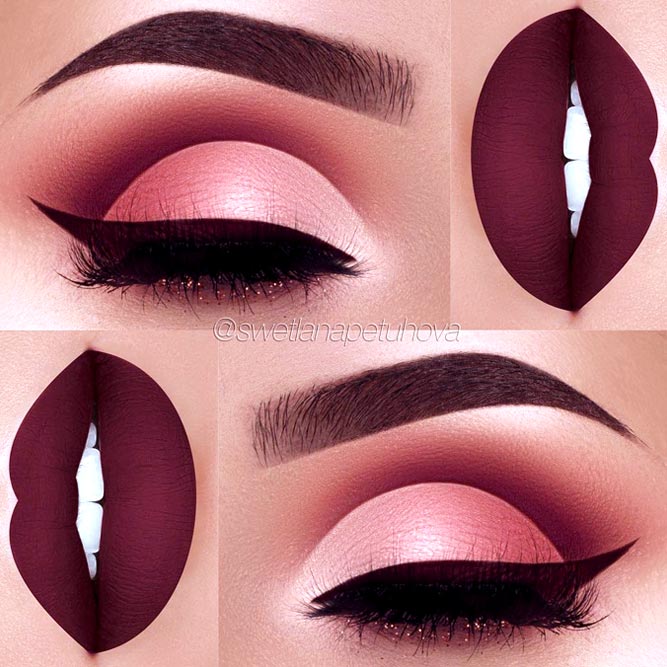 If you don`t want to choose burgundy for only one part of your face, then choose it both for your eyes and lips. Such a mixture of the same color will make your face appear more defined and your look more magnifying and sexy. Truly vampy makeup that will make you feel great without doubt.
Source: swayzemorgan via Instagram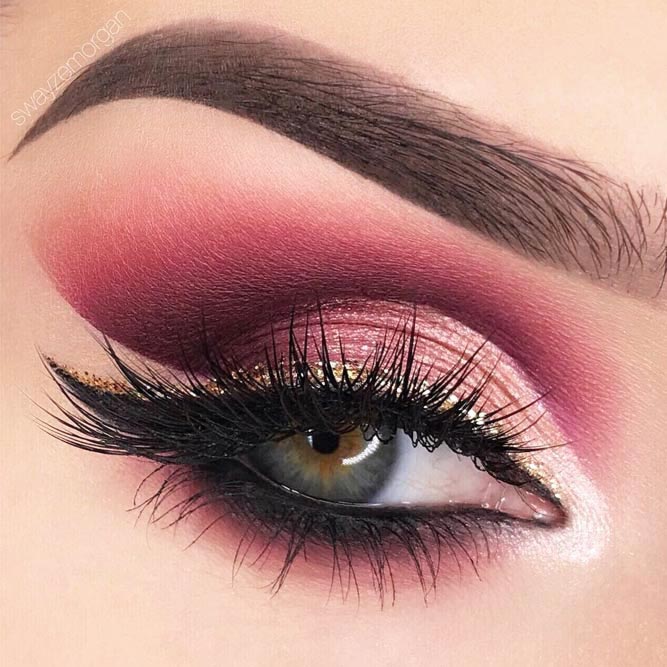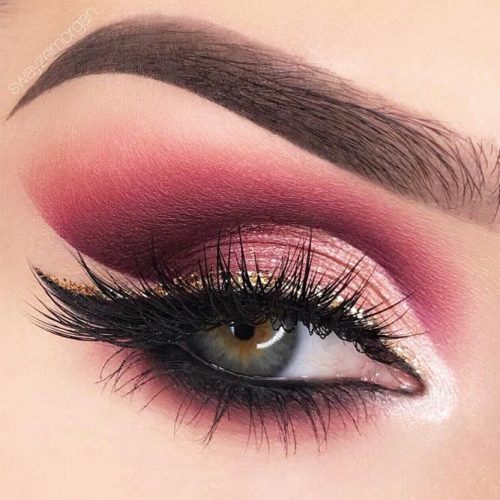 Girls who prefer colorful makeup ideas should try adding a burgundy color to their makeup routine. Such a deep color will complement your skin so well. Try applying it to your eyes. Adding burgundy eyeshadow will define your beautiful eyes. Especially if you mix it with gold glitter liner and light colored eyeshadow as the main color.
Source: rubina_muartistry via Instagram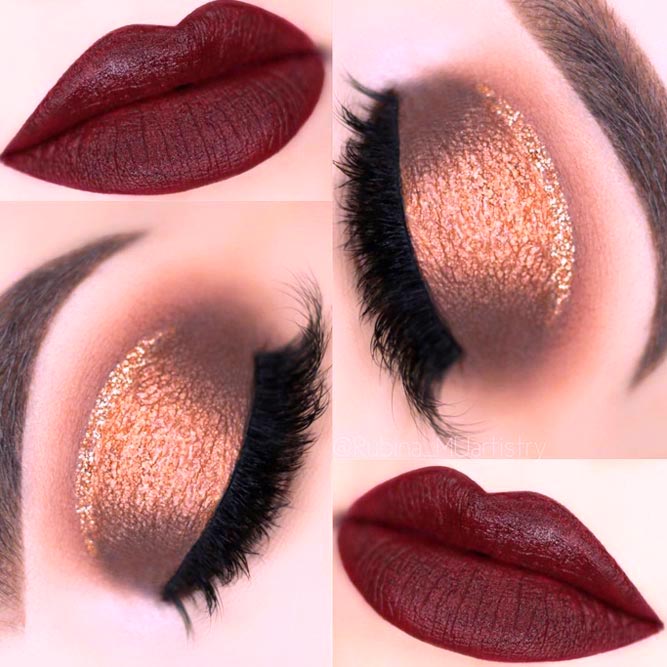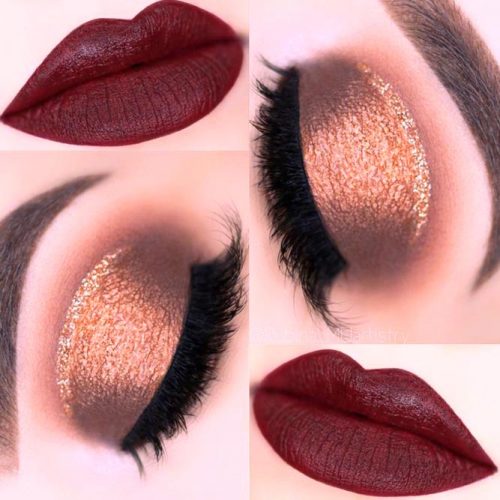 More and more people think that applying lipstick is a key to a beautiful look. That is why we believe you should think of trying burgundy color lipstick to make your makeup look truly special. It will define your lips and, in contrast with your skin, will complement your complexion.
Burgundy Hair Colors
Source: glamhairbymarie via Instagram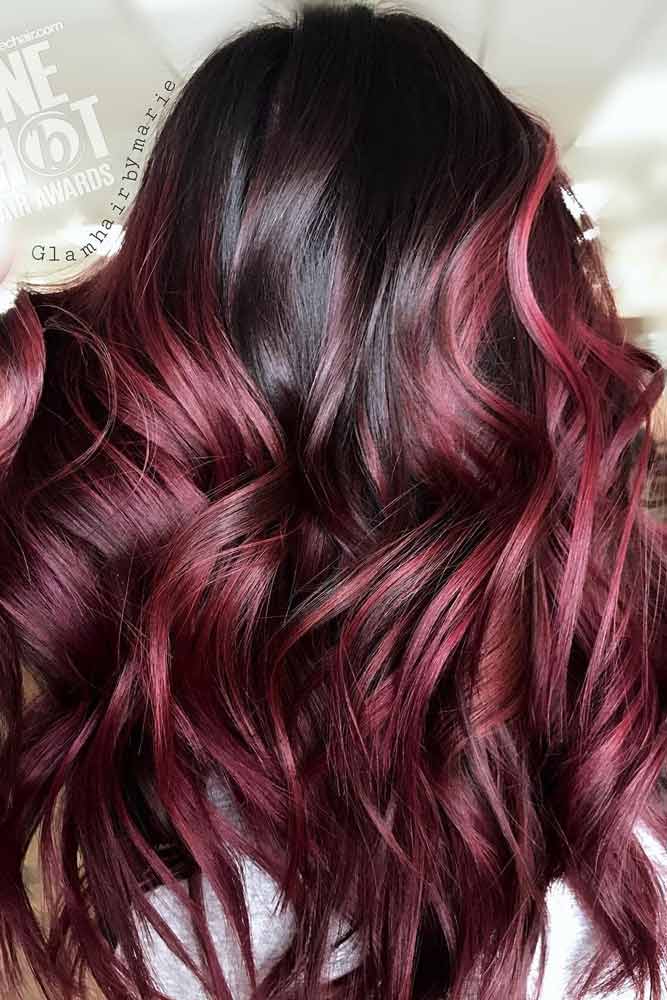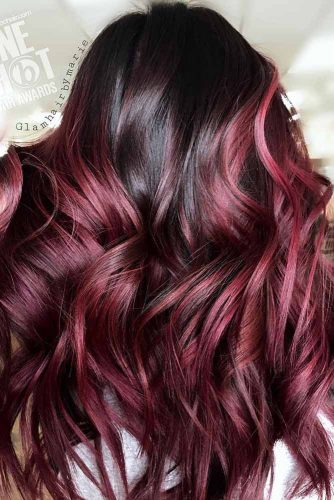 It is so great that colorful hair becomes a big thing nowadays. More and more women all over the world want to differ from others, so they make a choice for colorful hair ideas. For those who are not ready to experiment with bright colors, we have an option of not dying your hair fully in a burgundy shade. Add burgundy highlights for the length of your hair with the black or dark main hair color.
Source: feelunique via Instagram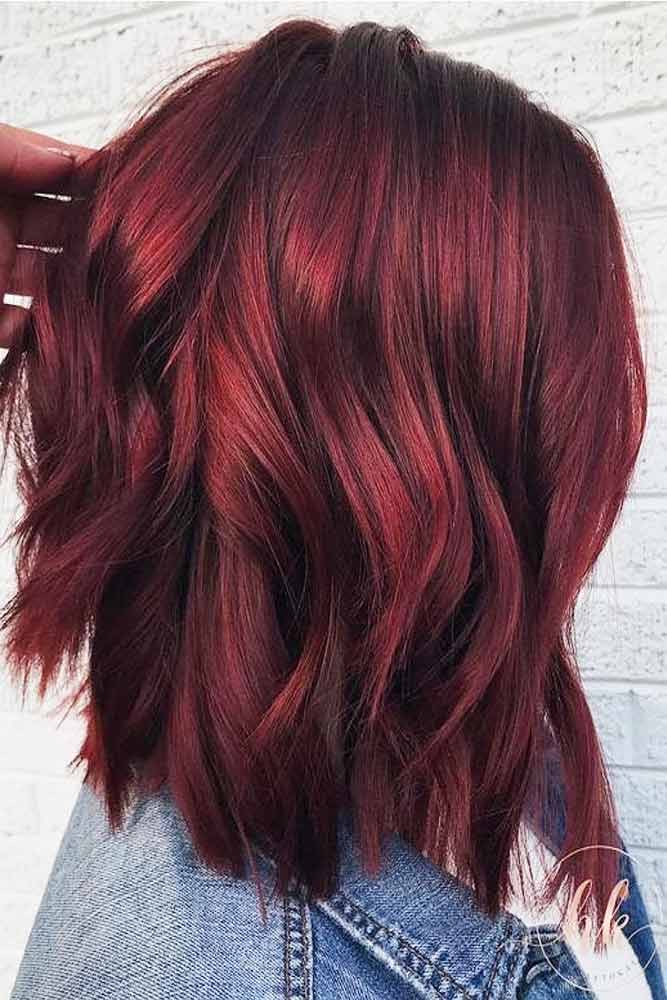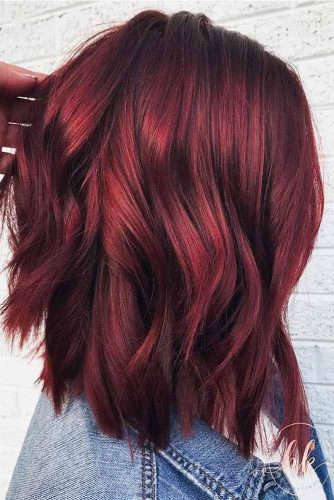 If you like your hair fully dyed, then use a dark red burgundy color. It will definitely complement your complexion and make your appearance more interesting. Especially after burgundy became a truly classic shade, it will make you look bright and not too much at the same time. Isn`t it a perfect opportunity to try something different?
Source: hairbynoora via Instagram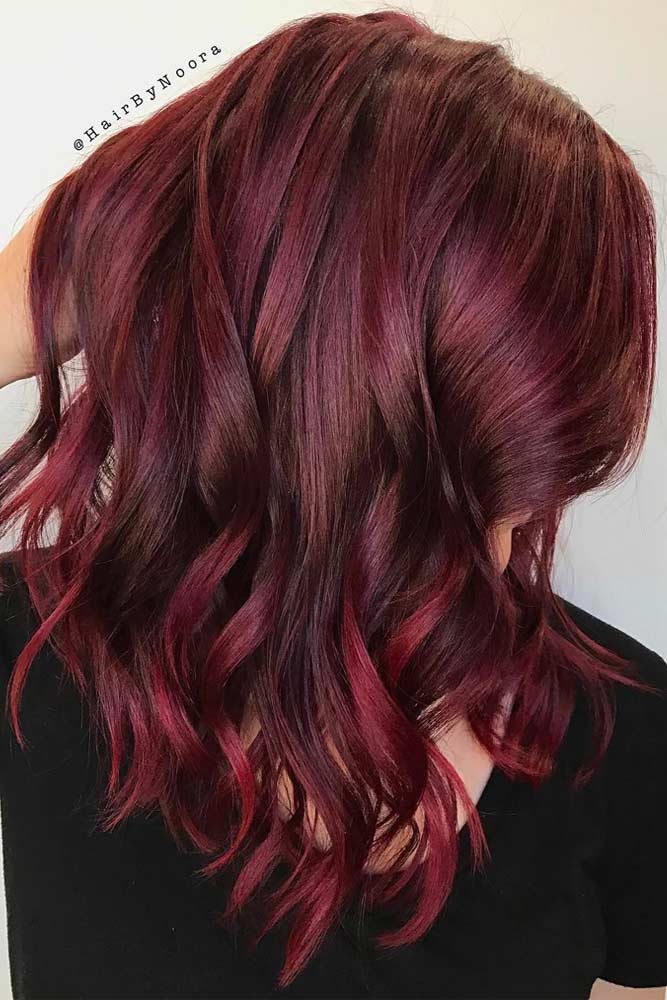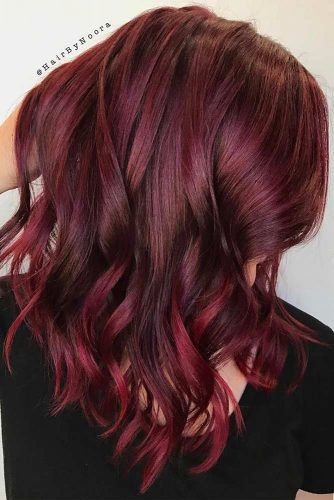 This idea for hair will be great for you if you want a little hint to be present in your hairstyle. A gradient in a burgundy color will make your hair look fabulous and so creative. If you are ready to be different, then don`t doubt about this one. It will for sure become your signature look.
Burgundy Color Accents In Home Décor
Source: archiraffa via Instagram
Don`t think that a burgundy color is only for things you wear. You may think like this only because you haven`t seen it in the interior design before. For example, look at how good this shade works for the wall color. Different from what we are all used to, it will for sure become a special detail in your design.
Source: wittmann_official via Instagram
Little pieces of furniture will make your interior look really stylish. If you are searching for beautiful design ideas, then consider this one to include. A burgundy color table will be a perfect one to fit into your apartment. Don`t doubt that this will be your best choice.
Source: archiraffa via Instagram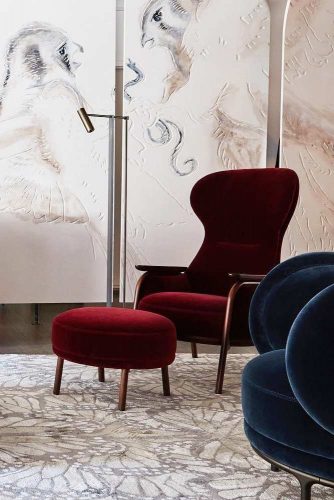 Another option for you to choose is soft pieces of furniture to complete the look of your interior design. Why wouldn`t they be in a burgundy color? They look super luxurious and stylish and will for sure make the whole picture look so great and interesting. A great accent for your room.
Jewelry Set Design In A Burgundy Color
Source: kathylycka via Instagram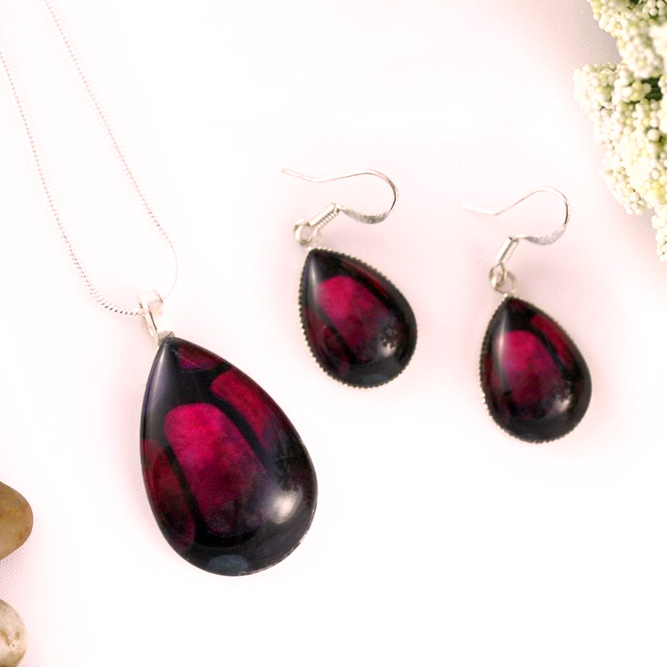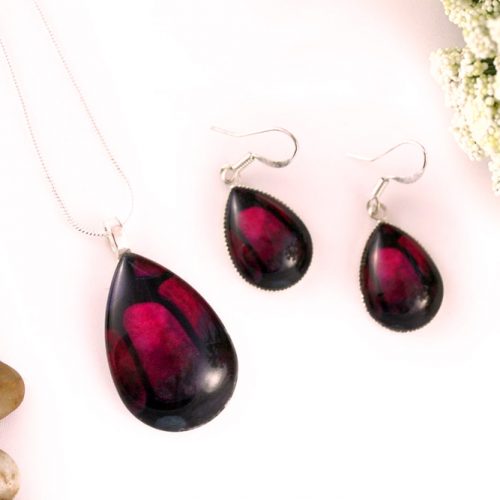 This burgundy set can be paired with an outfit in a subtle shade, for example, pastel. Then the set will act as an accent. And if you wish to play with contrast, match the set with an emerald outfit.
Bracelet Design In A Burgundy Color
Source: aranwensjewelry via Instagram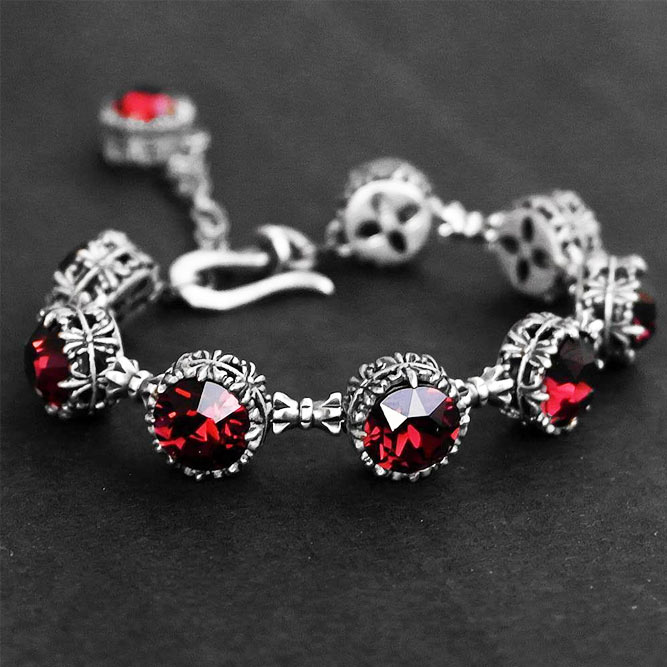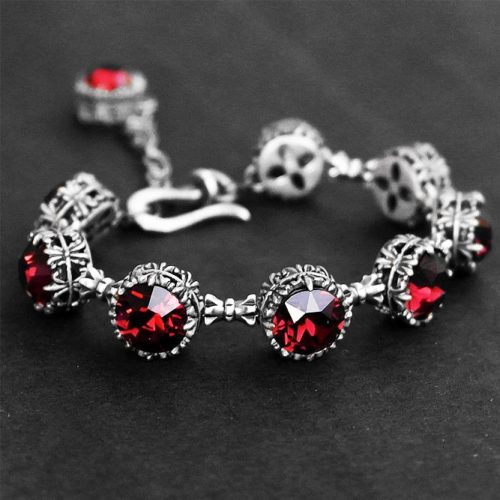 This burgundy and silver bracelet will compliment any skin color, whether lighter or darker. It's because silver is a cold color and burgundy is a warm color. So, the combo will work for any undertone.
Earrings Design In A Burgundy Color
Source: itorookon via Instagram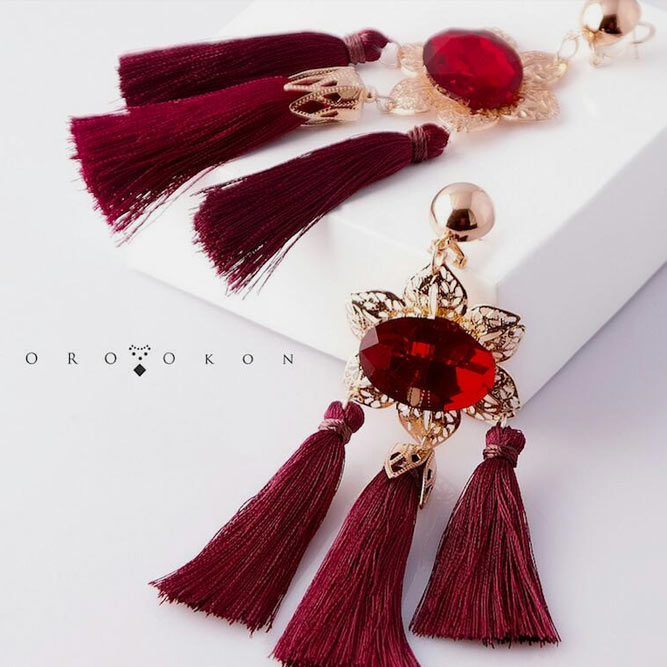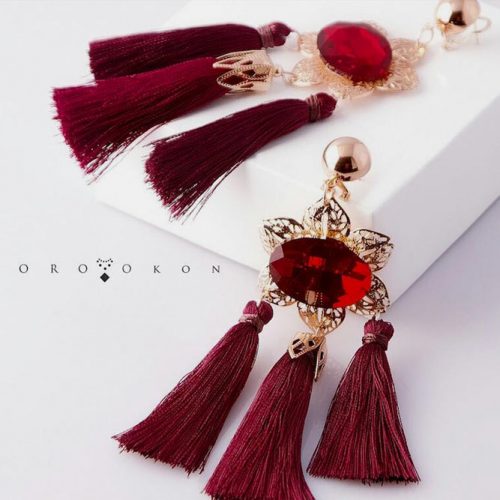 These earrings are quite extravagant, how do you think? This big and bright accessory will definitely be an attention grabber. You can wear such earrings on a special occasion.
Stylish Outfit Idea With A Burgundy Bag
Source: mdfhima via Instagram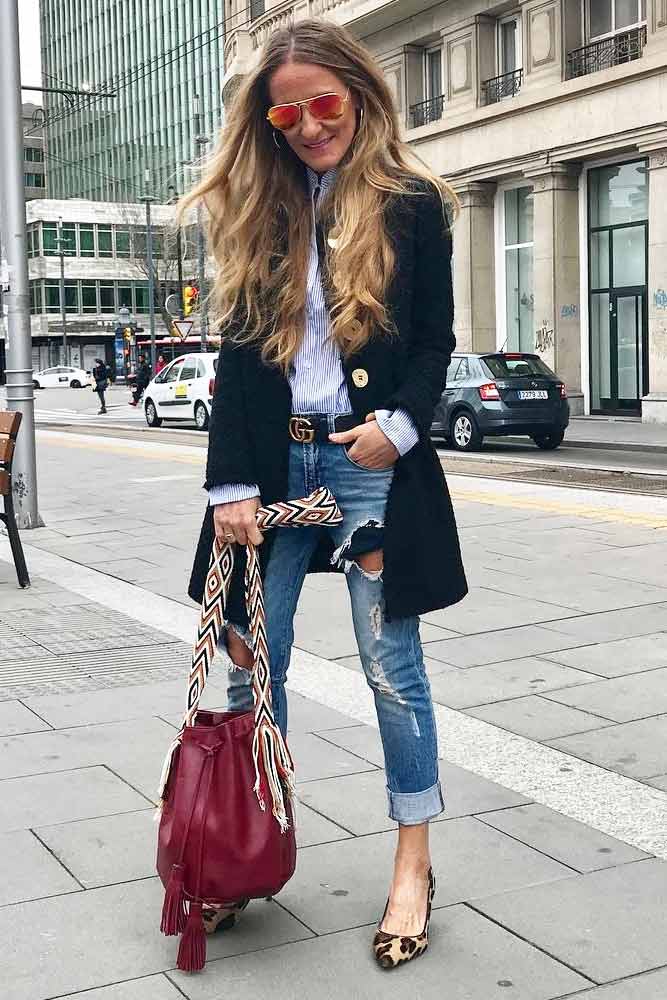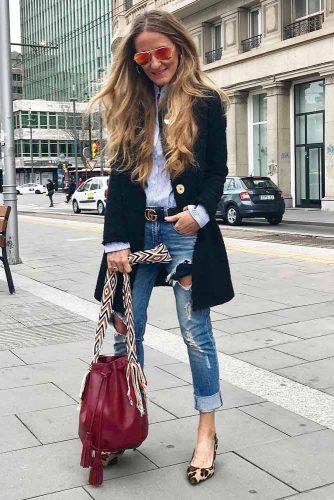 In this picture, you can see a great example of how to incorporate burgundy accents into your image. White, black, and grey shades are subtle enough to let burgundy do the talking.
Classic Style With A Burgundy Bag Accent
Source: maryorton via Instagram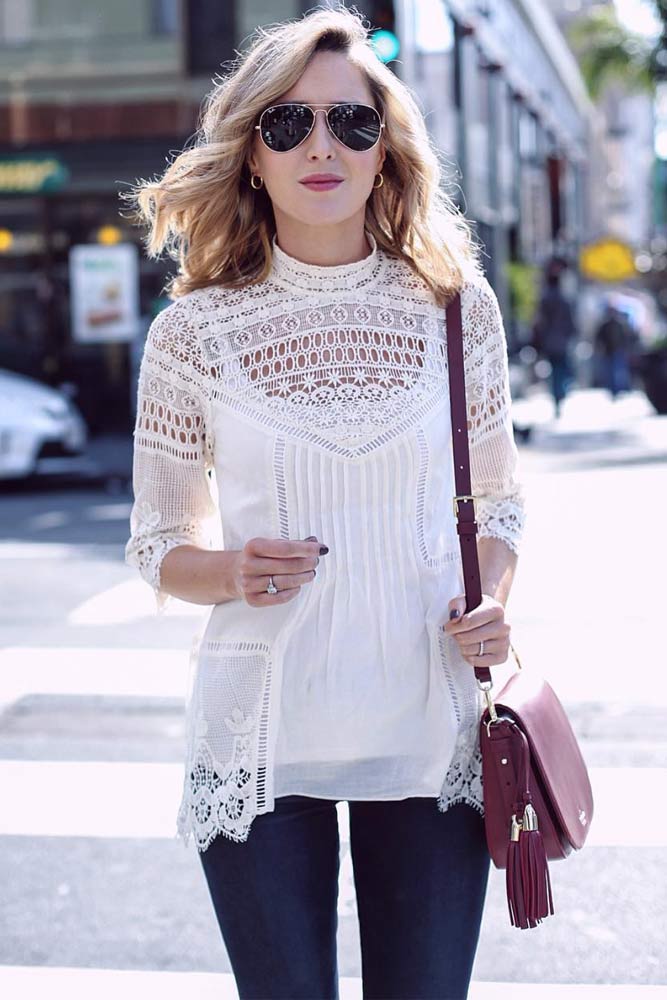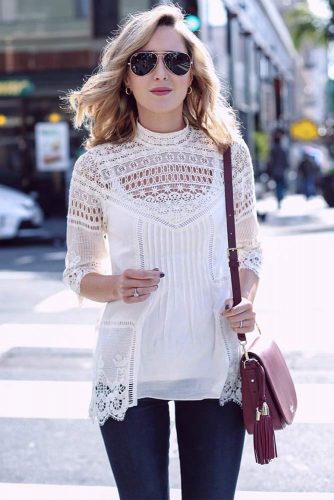 In this picture, the model pairs her white blouse and jeans with a burgundy bag. And the burgundy game is continued with burgundy lipstick and nail lacquer.
Casual Outfit Idea With Burgundy Accessories
Source:pepperedinstyle via Instagram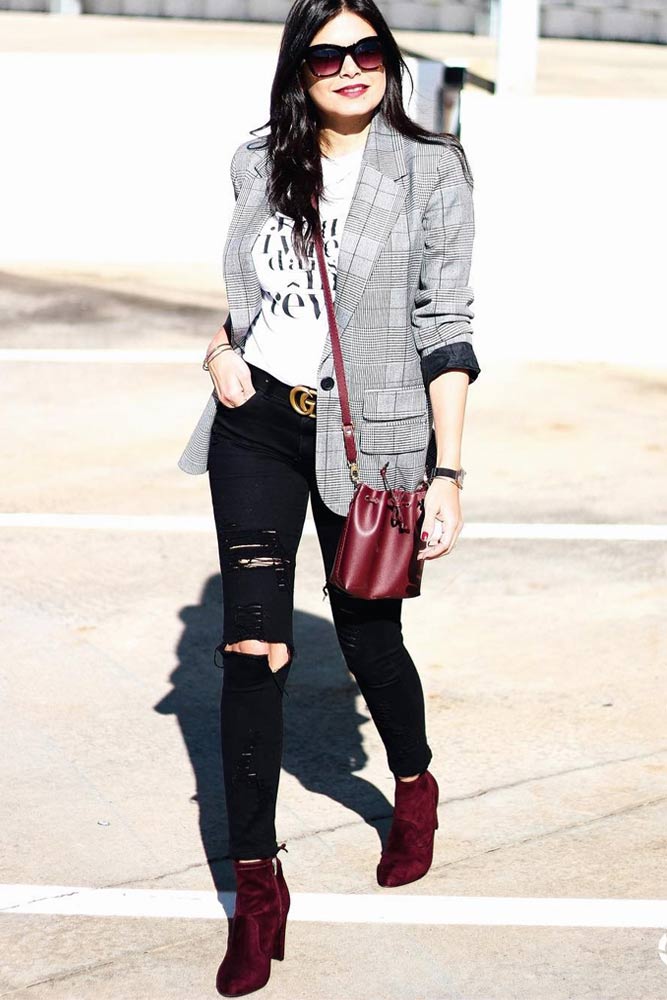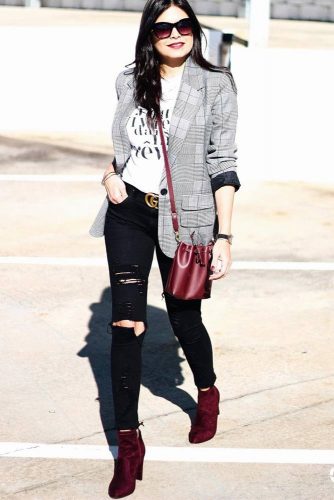 This burgundy bag has some bohemian vibes due to the colorful chevron pattern added to the bag design. The bag compliments this model's image quite nicely.