Cowboy boots are classy, that is the fact. However, no matter how the styles change, these boots remain popular. You may wonder – what is the secret behind such popularity? The answer is straightforward – these boots are so elegant and simple at the same time that they can fit in any outfit. We are not exaggerating here. To prove the point, we have compiled a full set of looks to give a try to if you are the lucky owner of trendy cowboy boots. If you still do not own a pair, we are sure that after you browse through the compilation, you will not be able to resist buying yourself a pair or two!
Main photo Aimee Junnila/Shutterstock
Black Cowboy Boots With Animal Printed Mini Skirt And Leather Jacket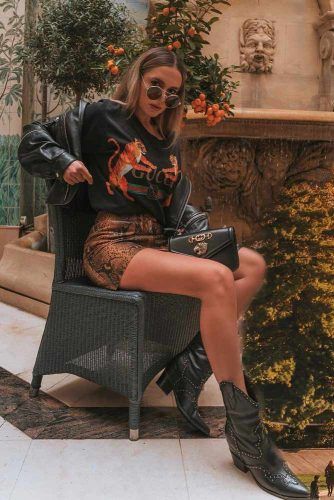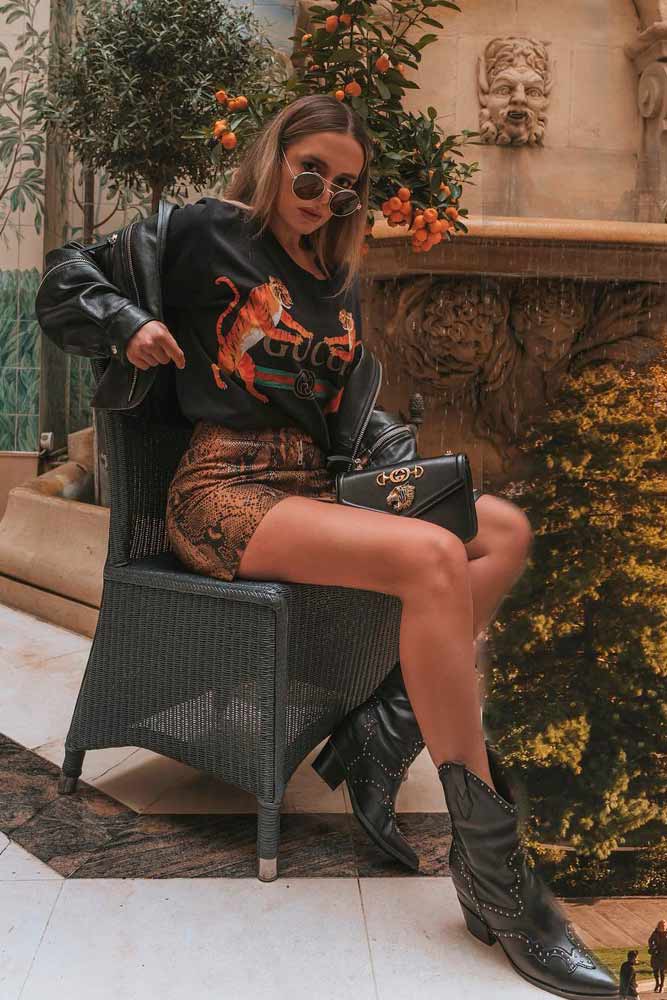 Cowgirl boots, if you prefer the name more, are a little edgy and bold, especially if you combine them with a corresponding outfit. If you are that kind of a rock and roll chic that likes to stand out, then this outfit is the one you should add to your daring list. Snakeskin pattern over a leather skirt, a leather jacket, and a pair of cowboy boots are the elements you need to succeed with a woo outlook.
Source: camilacarril via Instagram
Denim Jacket And Pleated Skirt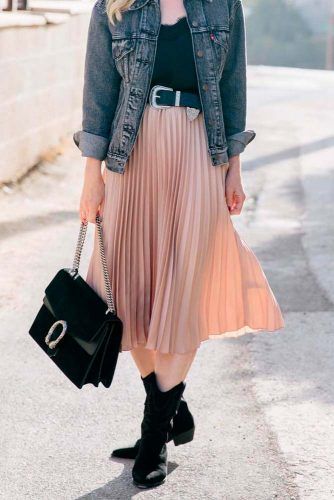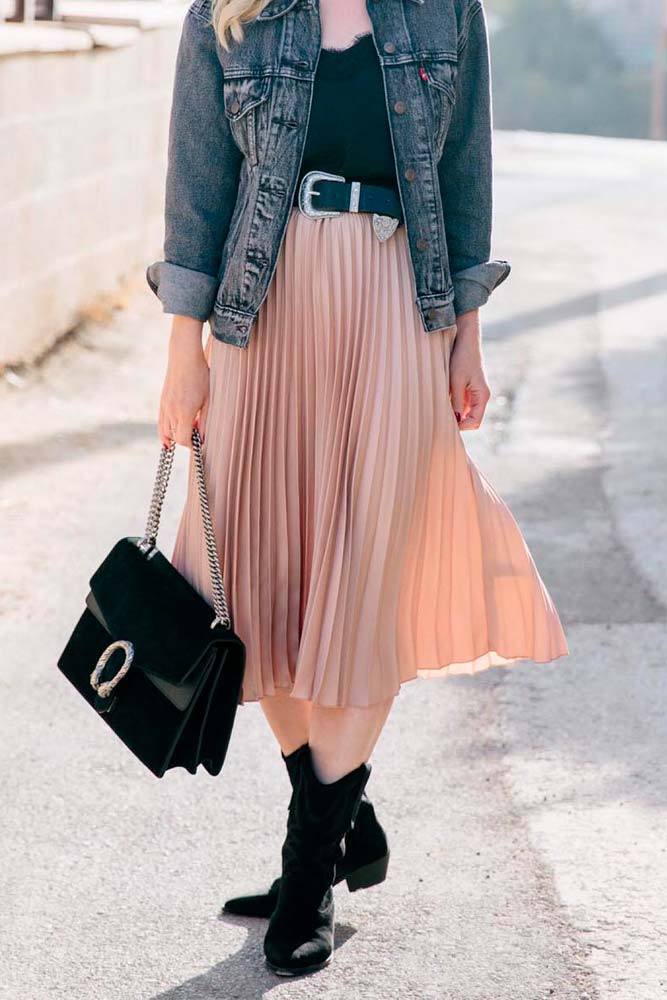 Not everyone knows that womens cowboy boots can easily complete a gentle and feminine look as well. The fact is that light fabrics and denim are the most suitable materials to be paired with cowboy boots. In this case, a light pleated skirt and a denim jacket goes perfectly well with black suede boots.
Source: meagansmoda via Instagram
Oversize Plaid Blazer With High Cowboy Boots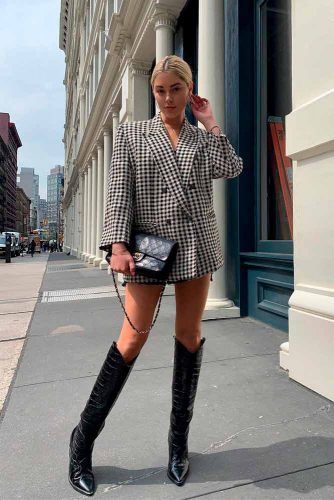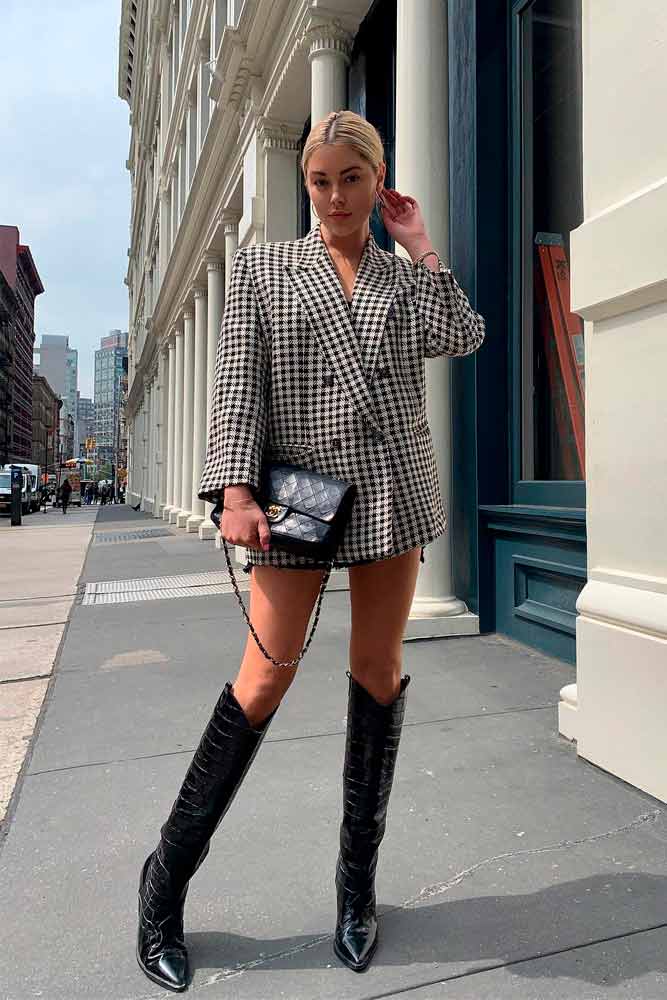 There are so many cowboy boots for women options that you will be surprised. Not only patterns and colors change with time but also the size of the boots. If average mid-length boots are not enough – go for high cowboy boots. You can pair such boots with a plaid blazer, which results in over the edge stylish and seductive look.
Source: jourdansloane via Instagram
Silk Maxi Skirt With A Sweater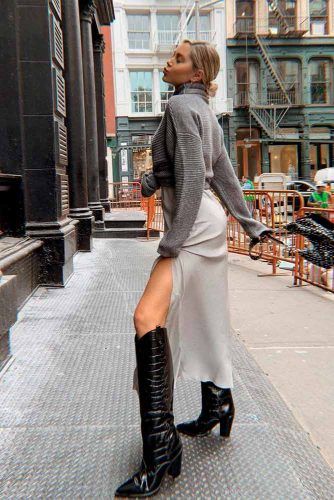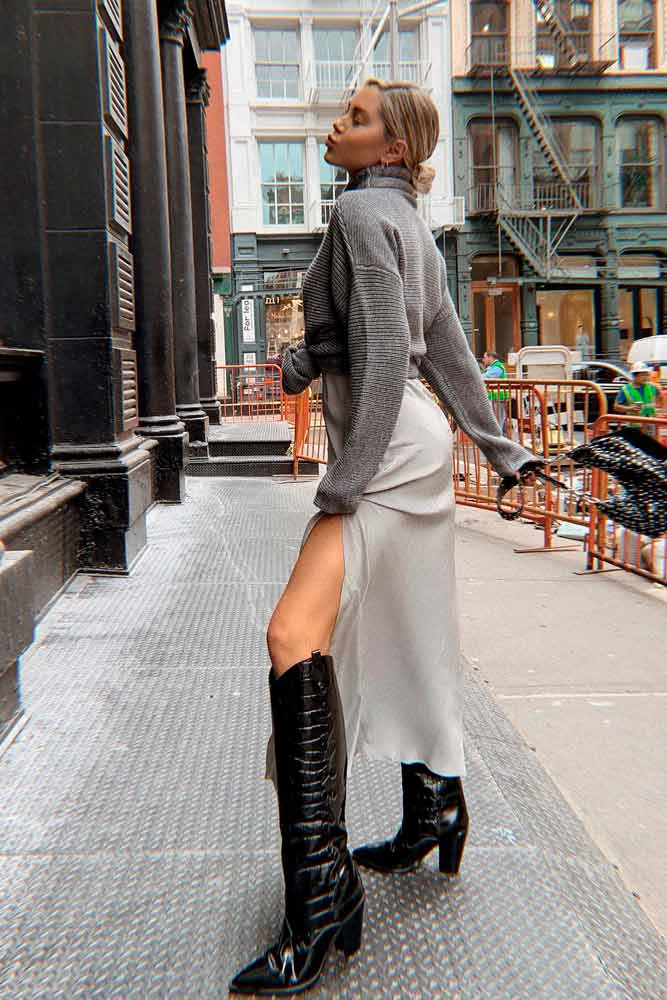 The beauty of girls cowboy boots lies in their versatility and incredible ability to match almost anything. It seems impossible to combine high cowboy boots with a maxi skirt and an oversized sweater. However, once you have a closer look at this image, you will understand that even impossible is possible at times!
Source: jourdansloane via Instagram
Boho Style With Cowboy Boots And Long Sleeved Dress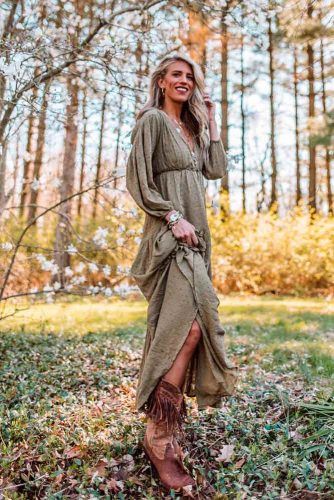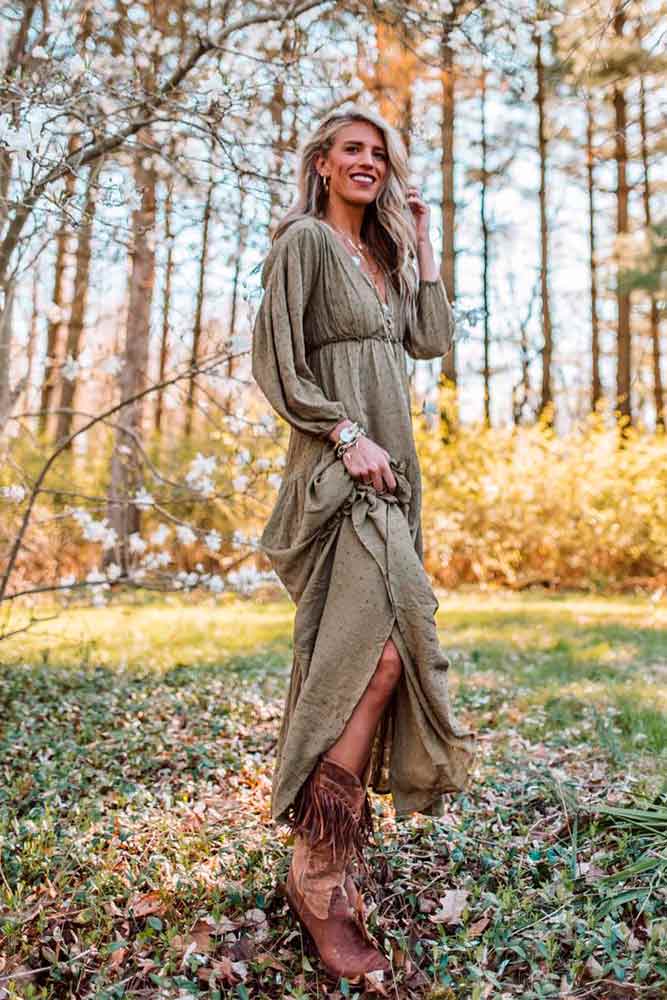 You may not know it, but one of the best cowboy boots combo is with a boho style. A simple boho maxi dress with long sleeves and subtle hue creates an unbelievable match with edgy cowboy boots that is both ultra-stylish and super feminine and gentle.
Source: tallblondebell via Instagram
One Shoulder Polka-Dot Mini Dress With A Hat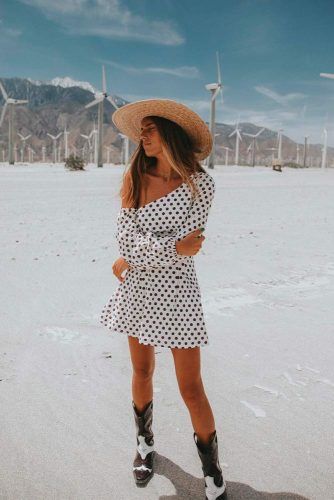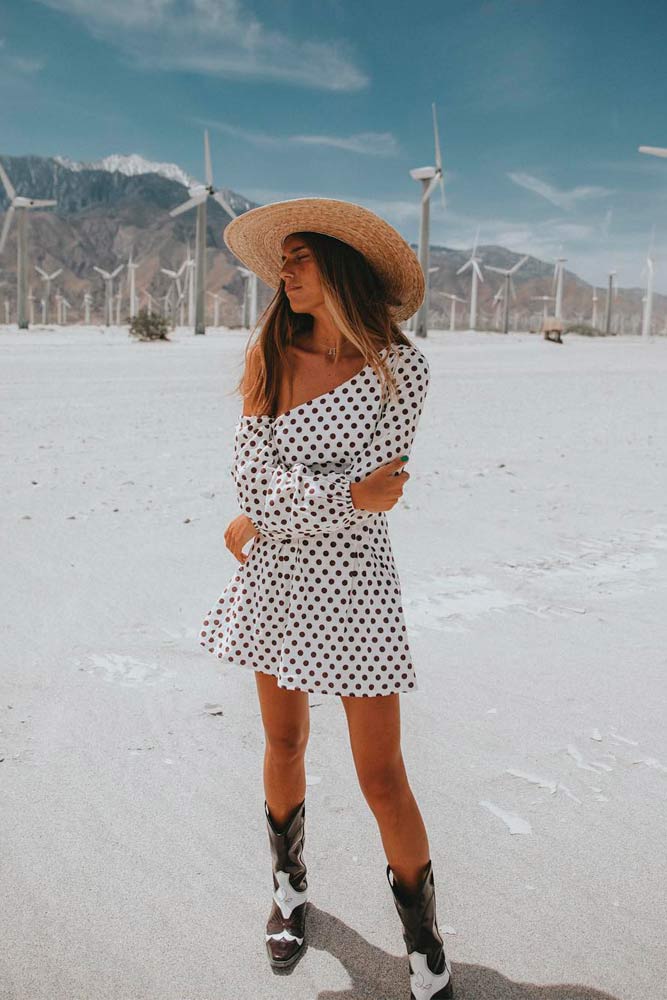 Those of you who wonder if it is possible to sport women's cowboy boots during the summer – the answer is positive. All you need is your favorite and comfortable pair; the rest is easy. A simple polka dot off-the-shoulder dress and a summer hat will complete the look.
Source: belenhostalet via Instagram
Snake Printed Boots With Leather Skirt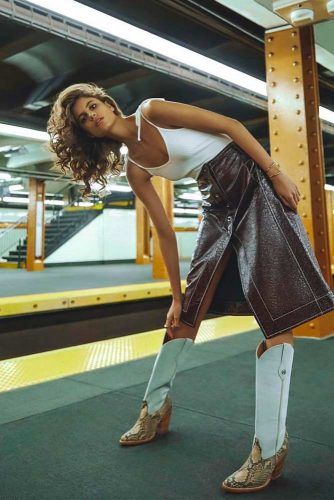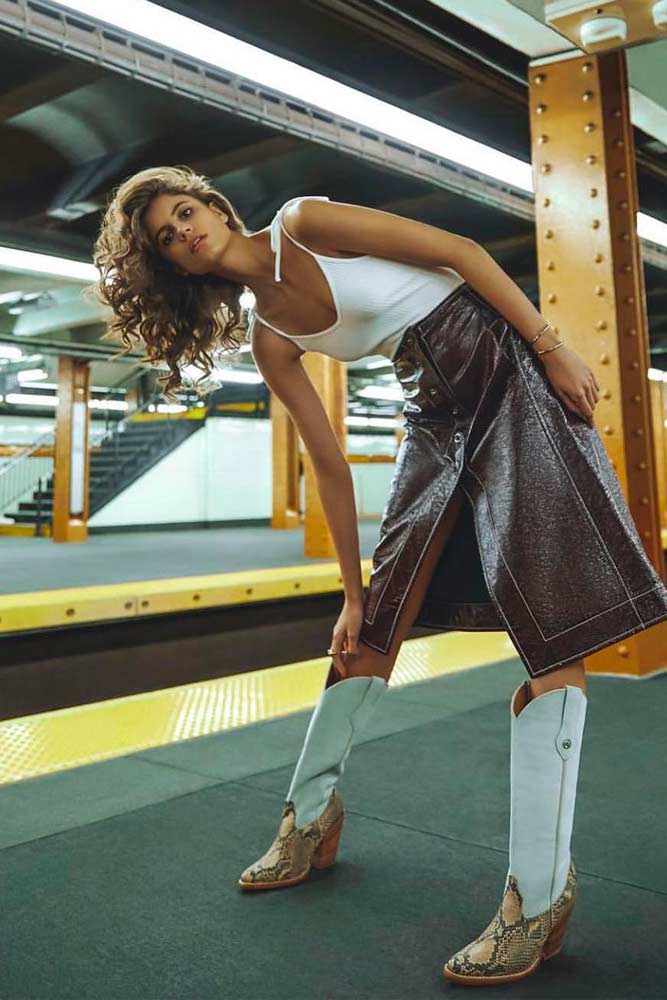 When opting for a pair of cowboy boots women should take various factors into consideration. However, the main one remains that you should adore your boots. As simple as that. Once you successfully find your perfect pair, you will be able to pull off any look that pops up in your head. For instance, these snakeskin patterned boots seem to be created for this leather skirt outfit. Nevertheless, we are more than sure that they will complete any other look as flawlessly.
Source: brothervellies via Instagram
Total Black Monochromatic Look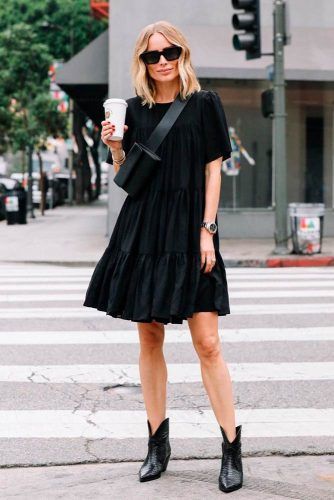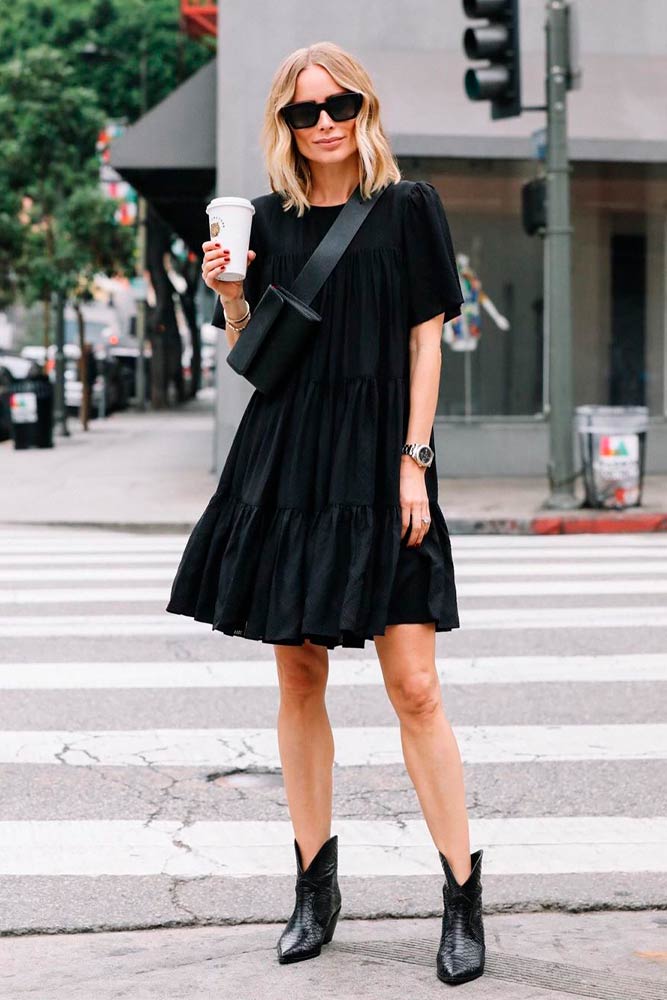 Not all women like to experiment with different colors. If you belong to the category, then this total black look involving black cowboy boots will fit you perfectly. The general idea is quite simple, a black dress matching your black boots go well together, but you should not leave the accessories out. Be it a purse or a watch, even a pair of glasses, the accessories must be included in the look.
Source: aninebing via Instagram
Comfy Cowboy Boots Outfits With Skirt And A Hoodie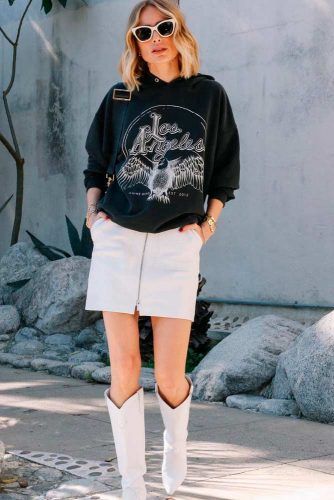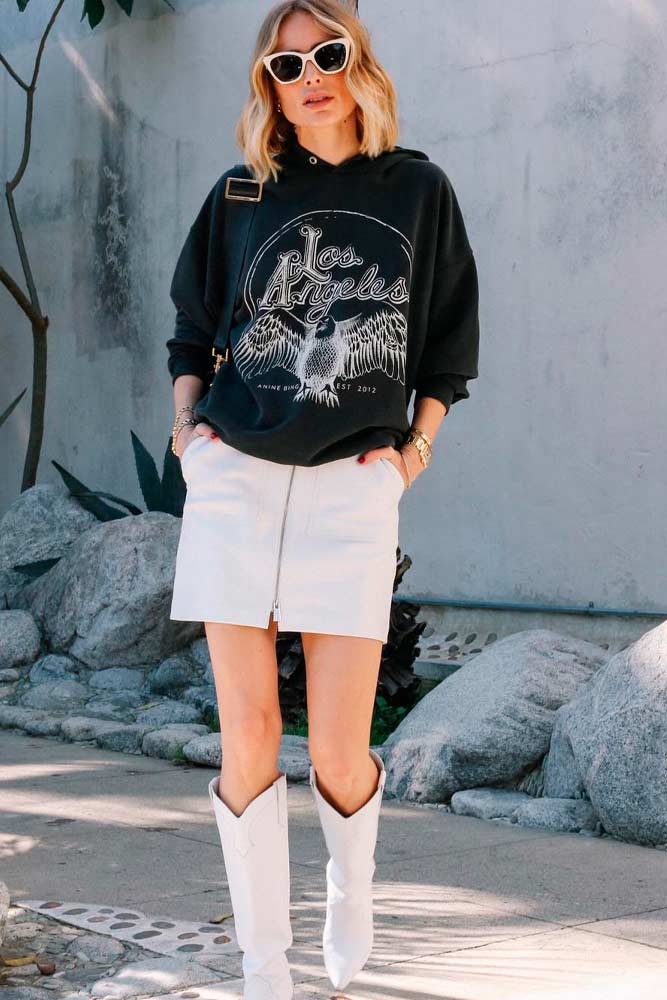 It may hit you as a surprise, but white cowboy boots are not less trendy than their black and brown relatives. White boots always have that unique sense of fashion and style, and this is not the exception. Match the boots with a white leather skirt and a black hoodie, and you are ready to divide and conquer!
Source: aninebing via Instagram
Burgundy Skirt Overalls With A Hat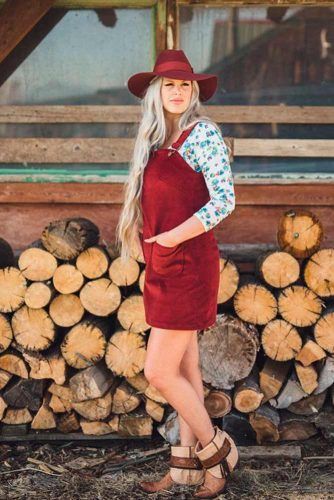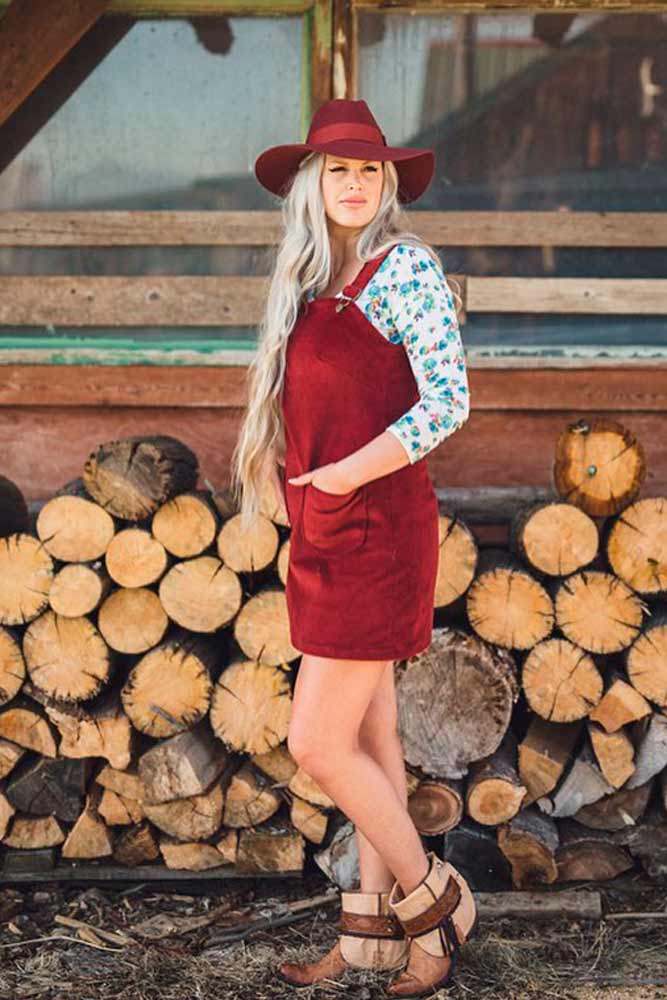 Those of you who are still wondering how to wear cowboy boots like a ranch chick – we have a ready example at hand! Burgundy skirt overalls, printed blouse, and the same-shaded burgundy hat will match with cowboy boots like bread and butter. What is more, such a look will help you create the intended impression there is no doubt about it!
Source: cantyboots via Instagram
White Maxi Dress With Brown Boots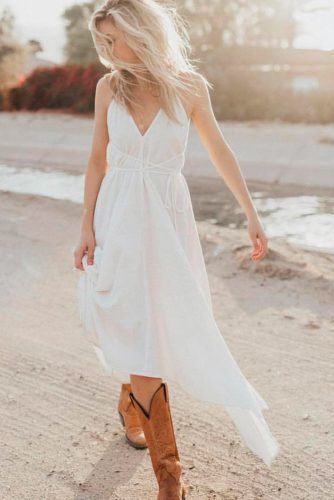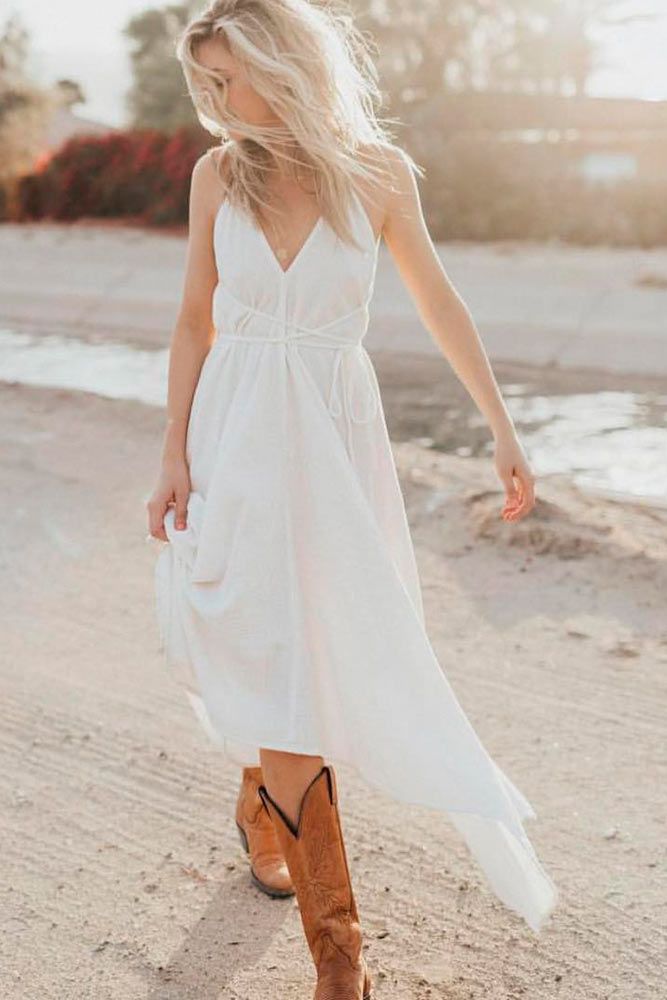 We can't stop repeating that there are so many cowgirl boots for women that is hard to list them all. These brown boots are something they usually call classic. Such a pair goes well with anything on the scale from regular jeans to a gentle white maxi dress.
Source: lifeinstylerb via Instagram
Sparkly Glam Long Dress With Cowboy Boots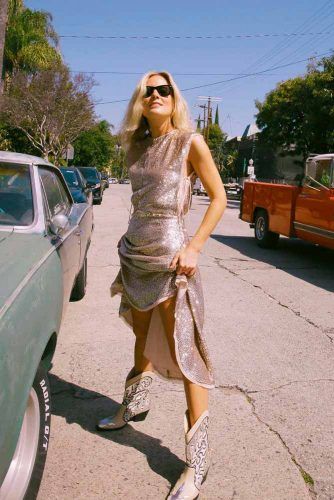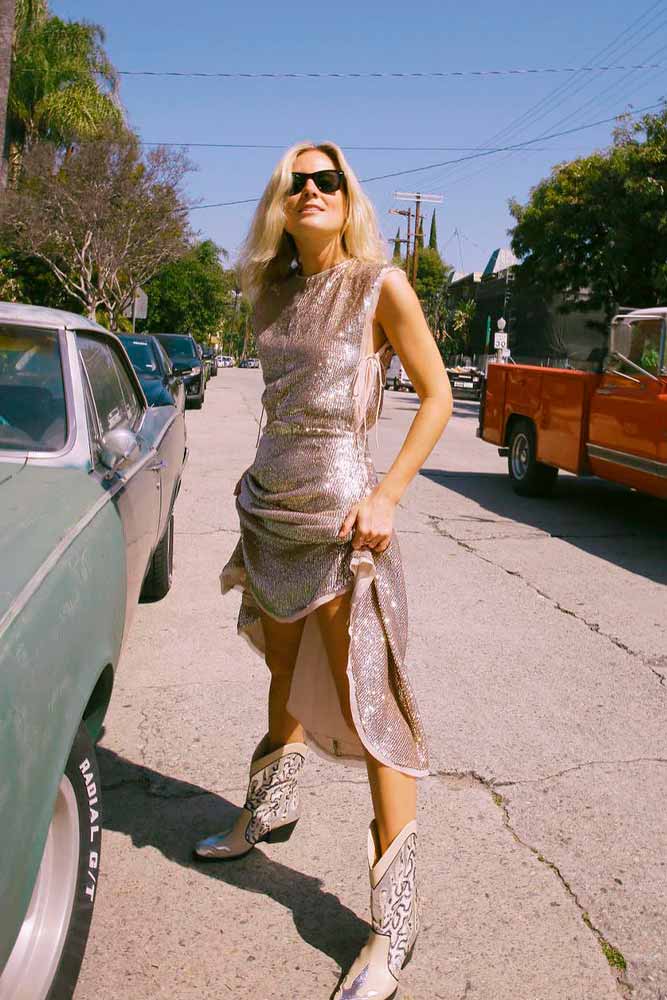 There are also cowboy dress boots. As you may have already guessed, they are a lot fancier looking than the regular ones. This means that you can easily pair them with something as fabulous as your sparkly glam dress.
Source: lucywilliams02 via Instagram
Classic Work Outfits With Cowgirl Boots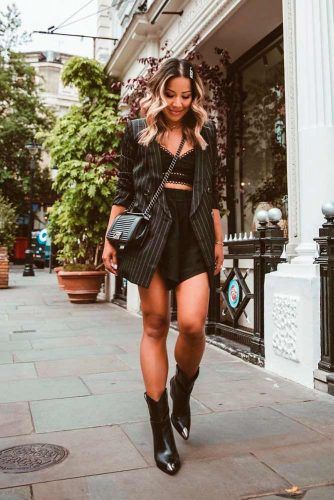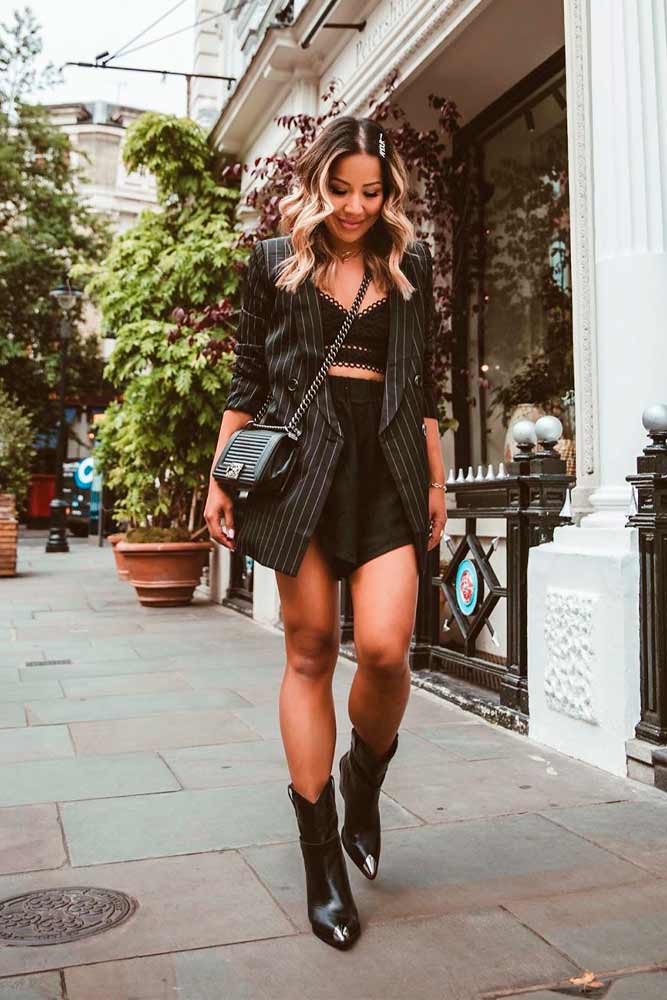 Very often, it is said that cowboy boots are more casual footwear, and combining them with the formal outfit is not a good idea. We beg to differ. The thing is that you can match your black cowboy boots with your work outfit and kill two birds with one stone. You will look both hot and elegant not to mention trendy!
Source: miss_gunner via Instagram
Boots With Pencil Skirt And T-Shirt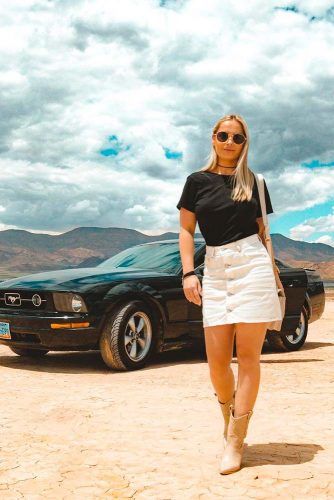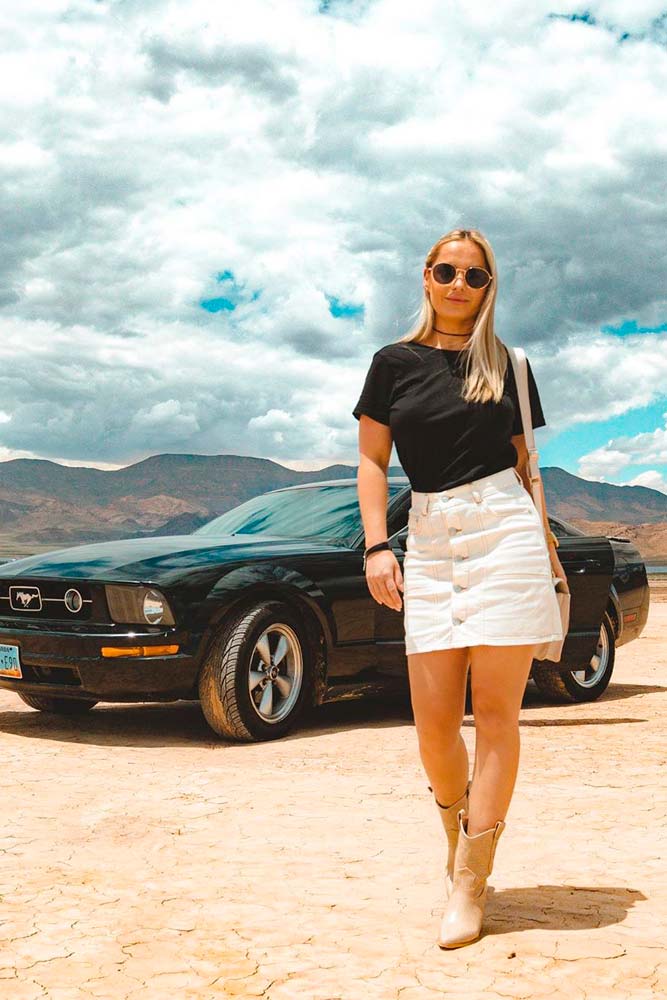 Combining a skirt and a T-shirt is a recent trend that is gaining popularity at a rapid speed. In most cases, ladies complete such a look with a pair of sneakers. However, we have come up with a different idea. The fact is that cowboy boots look perfect with such an outfit. Wouldn't you agree?
Source: marissagalle via Instagram
Cowboy Boots With A Long Coat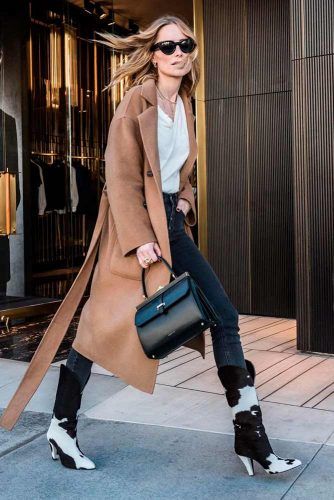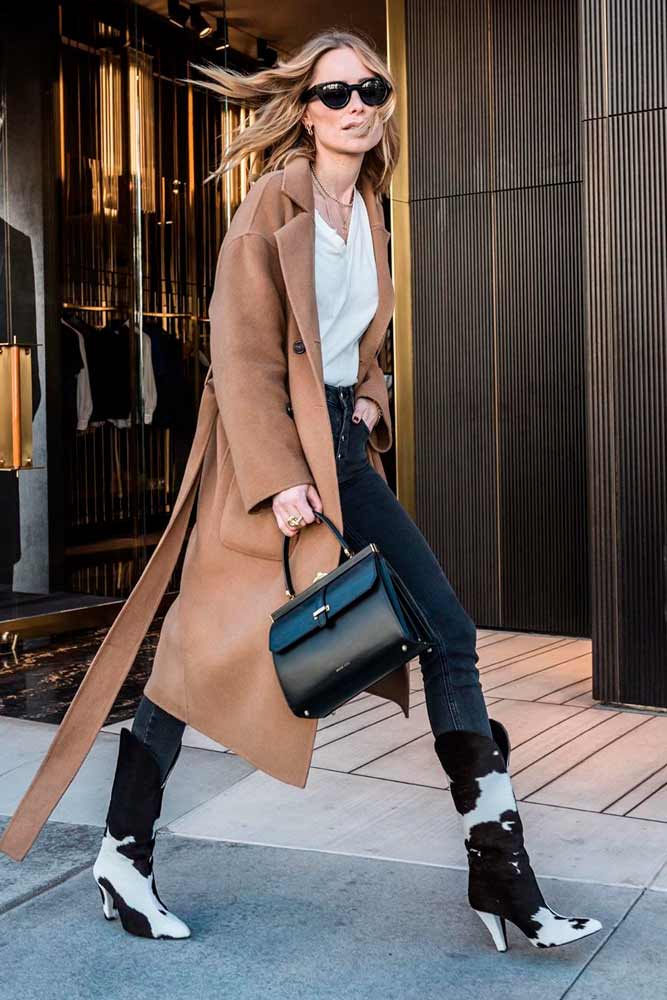 You can easily sport cowboy boots when it is summertime, but what about the time when it gets a little colder? The truth is that there is no problem with wearing boots during autumn or light winter. Cowboy boots go well with long coats and skinny jeans. See for yourself!
Source: aninebing via Instagram
Cowgirl Boots With Fringes And Off The Shoulder Dress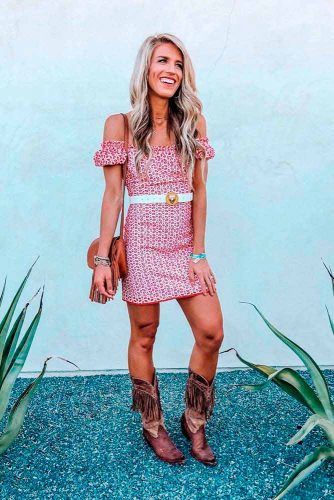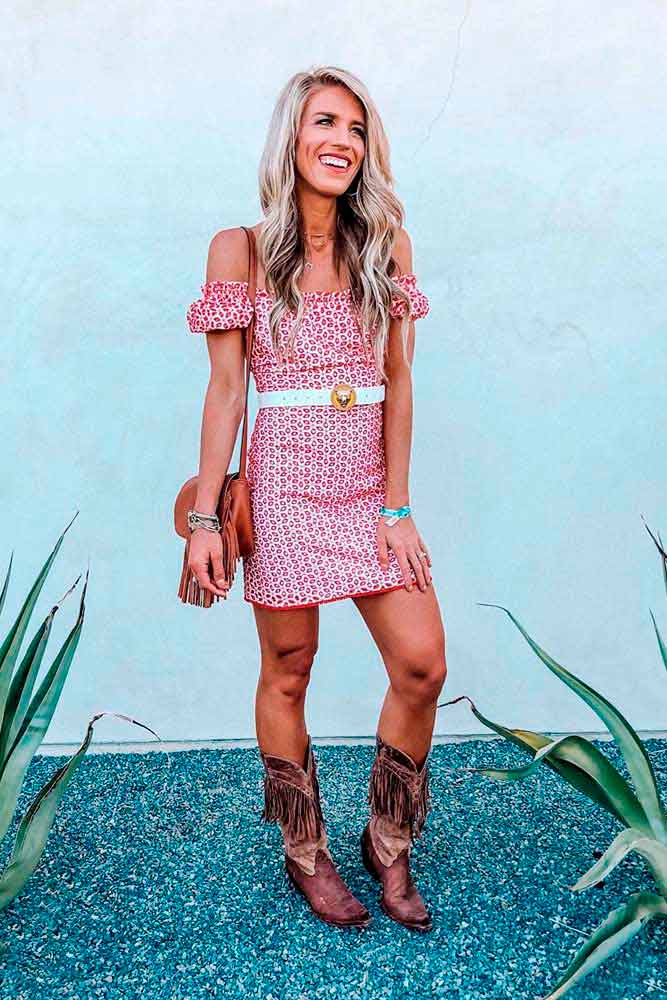 Those of you who are looking for a super hippie look involving cowboy boots, we may have an idea at hand. The thing is that cute short dress with shoulders off will look fantastic when paired with fringed cowboy boots. Add a same-shaded purse to the look, and you will be irresistible!
Source: tallblondebell via Instagram
Ripped Jeans With A Sweater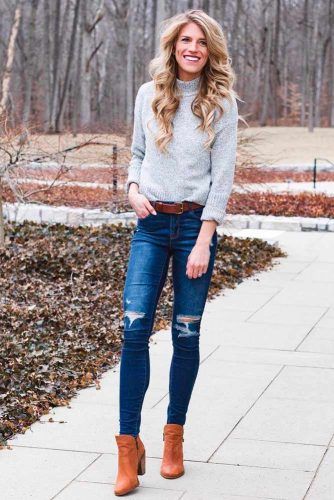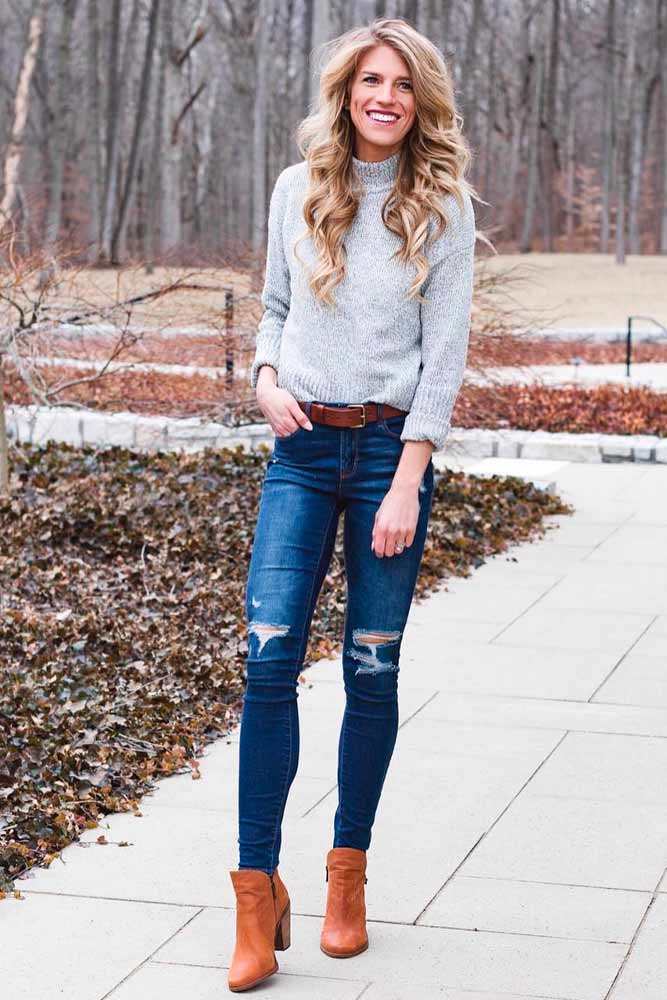 The beauty of cowboy boots lies in their versatility and simplicity. You do not need to get all extraordinary when sporting a pair. Your regular jeans and sweater look can be completed with a pair of short cowboy boots. Beauty comes in simplicity!
Source: tallblondebell via Instagram
If you are looking for the range of trendy and extraordinary looks combined with cowboy boots – you have come to the right place! We have gathered all the stylish ideas for you in one place. Take your boots out of the closet and start experimenting!
FAQ: Cowboy Boots
Do real cowboys wear square toe boots?
Many cowboys have become fans of square-toe-boots because of their benefits. However, more traditional cowboys avoid them because square-toe-boots are not as accessible as the traditional pointed boots. The most common boots among rodeos are round toe ropers.
Can a snake bite through cowboy boots?
Cowboy boots don't protect you from vamp bites (top and sides of the foot). However, the thick sole protects the soles of your feet. Most snakebites usually occur in the calf area. Whenever a rattlesnake bites straight and hits the shaft of a cowboy boot, it penetrates the leather.
Why do Texans wear cowboy boots?
Cowboy boots are traditionally designed for riding. They have low heels and keep your feet in the stirrup when riding. In addition to riding, the Texans also wear these boots for dancing.
Was this article helpful?