Whether you like it or not but leather pants have been in a fashion more than a decade or two. However, if during the 70s and 80s, leather was bound to rockers and metalheads – times have changed. These days you can see many women sporting leather trousers anywhere they go and anything they wear. Such an interest in leather makes famous designers think of fresh ways to wear such trousers. We must say that there are no limits to a talented mind. So, as you may have already guessed, there are new looks involving leather pants that you need to be aware of, and we are going to share them with you today!
Are Leather Pants Comfortable?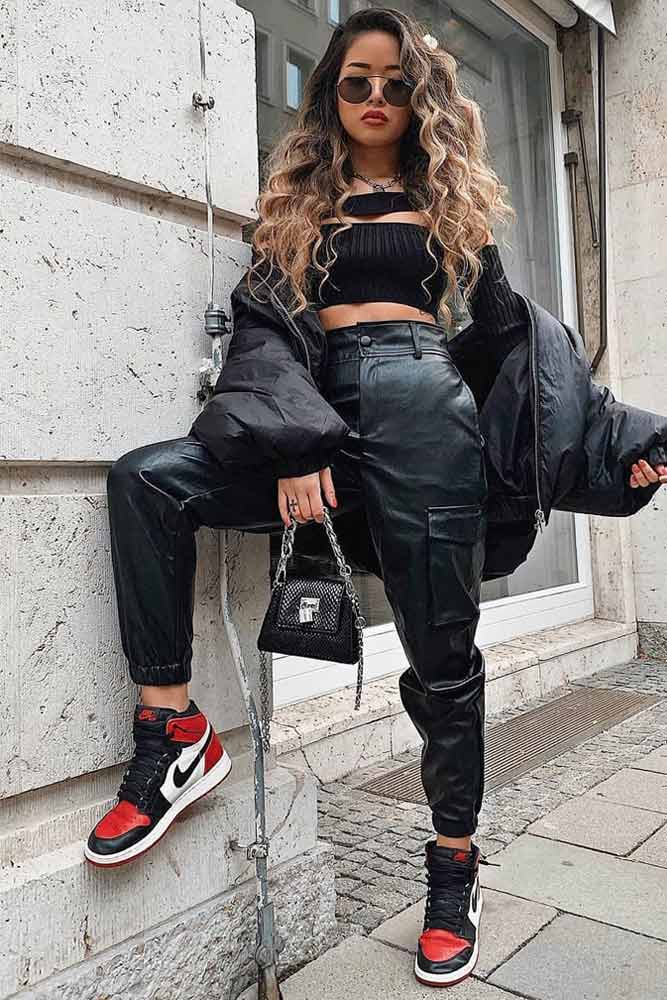 Source: Instagram/arrestthisgal
In the vast majority of cases, when you think about faux leather pants, the question of comfort enters your mind. It is true that if you haven't worn the item before, it is easy to assume that they are anything but comfortable. We must say that the assumption is obvious but false. You should think of leather pants as of your second skin. Not only they sit tight and bring up all the necessary features of your figure, but they also let the air in, and thus they are perfectly breathable too. To cut a long story short – leather pants are perfectly comfortable, no worries here.
What Do You Wear With Leather Pants?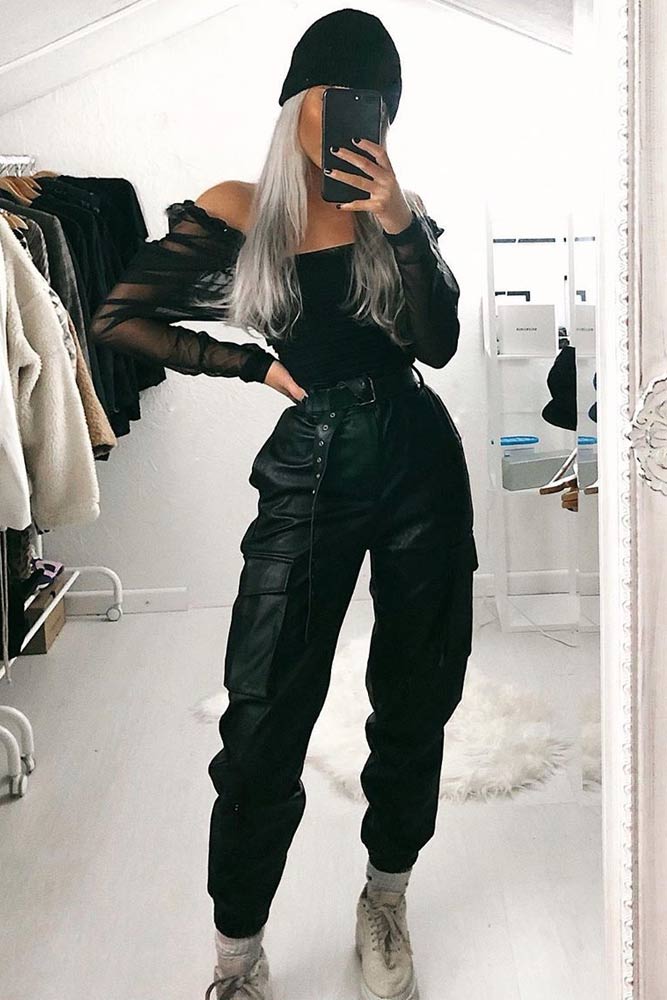 Source: Instagram/georgiaharbridge
Now, when we figured that leather pants are comfy, the issue of what to pair them with arises. The truth is that black leather pants can be worn with almost anything, we are not trying to exaggerate here. As long you like the look you create, and you feel fit and gorgeous – go for it. However, we would like to accent leather leggings in particular. if this is your favorite type of leather trousers, then it is best to wear them with anything that resembles a tunic, at times look with short sweaters, and crop tops are not so favorable. Aside from that – experiment as much as you wish with these pants.
Are Leather Pants Warm?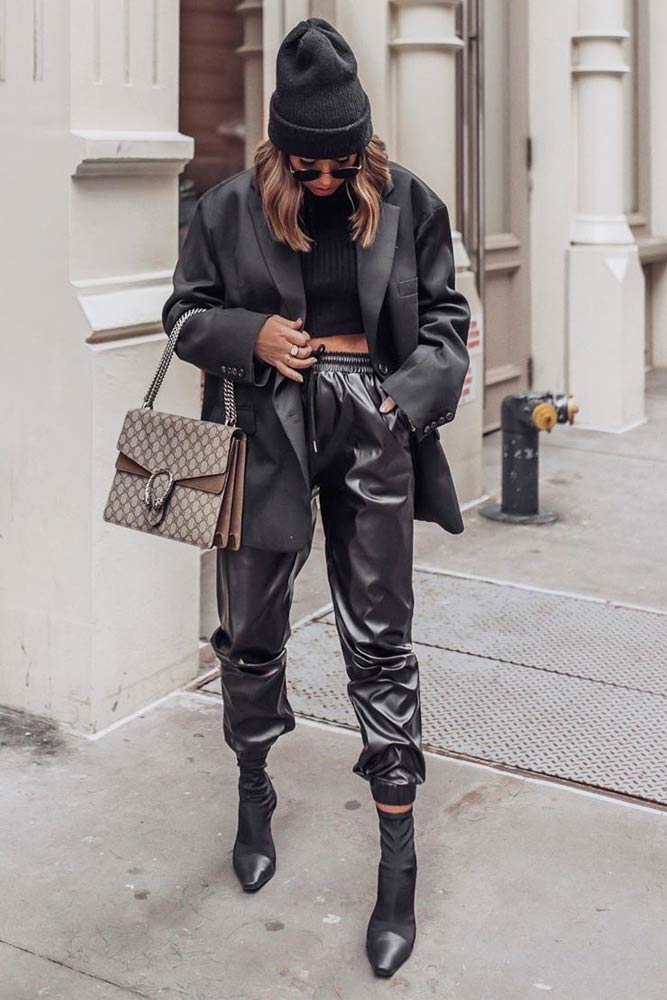 Source: Instagram/flauntandcenter
Since we are discussing leather pants for women, you may wonder how warm they are. In their vast majority, such pants are best for colder days or seasons. They are perfectly windproof and water-resistant, which means that autumn and winter are the best seasons to plan your leather pants looks. And yes, they are warm.
Can You Wear Leather Pants In The Summer?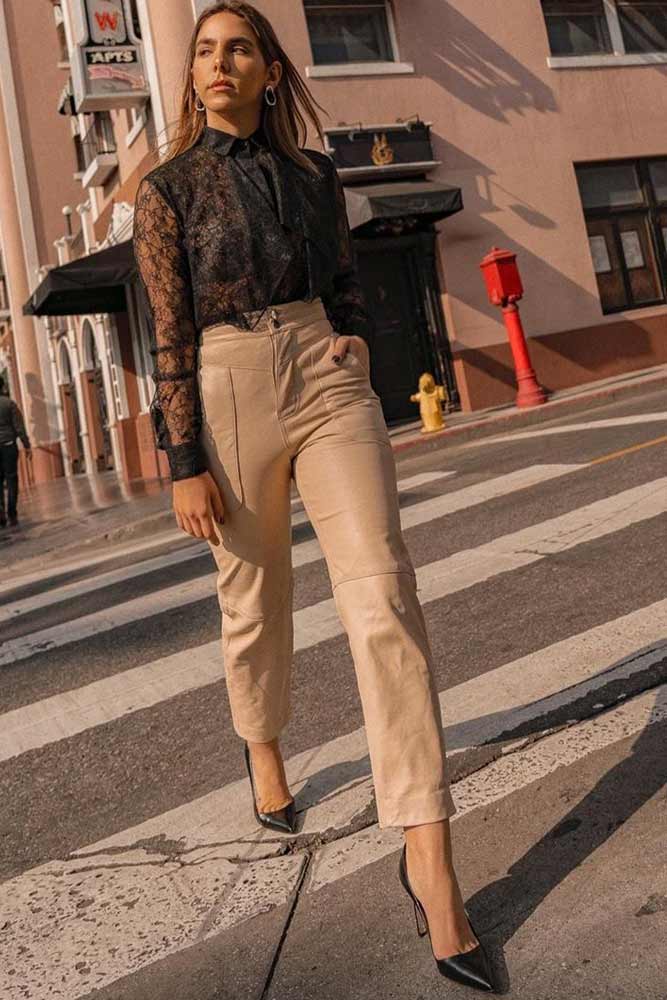 Source: Instagram/erinsackman
We have mentioned it that one of the peculiarities of these pants is that they are quite warm. Thus, sporting a pair of those when it is burning hot outside, wouldn't be the greatest idea. On the other hand, there is an awful lot of other leather clothing items that are well-fitted to summer heat. Think about skirts, dresses, and shorts – all come in leather too.
Leather Skinny With Jacket Outfit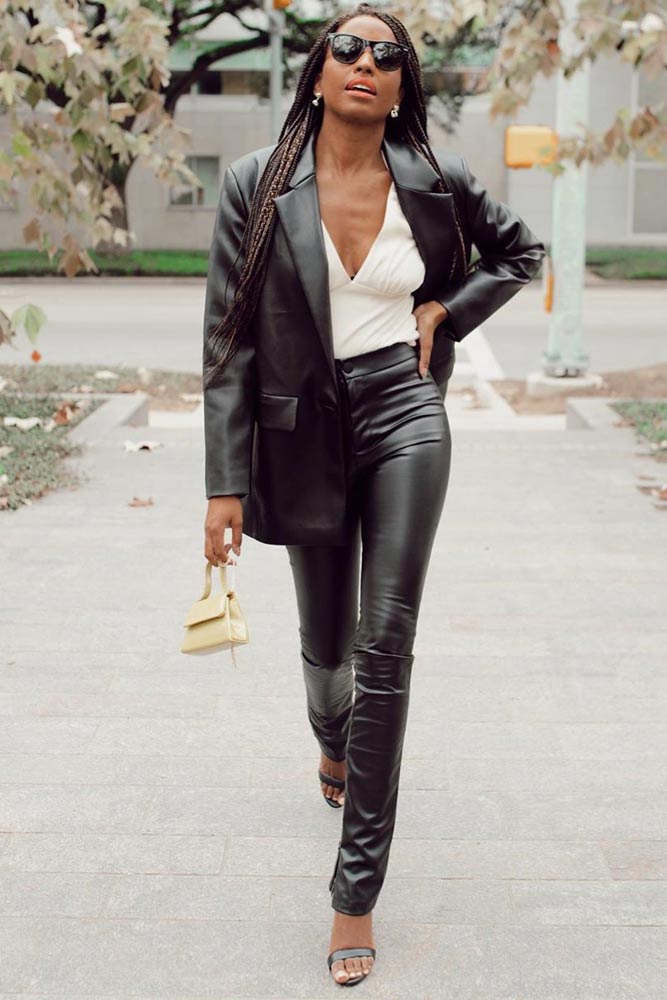 Source: Instagram/newtexacali
We think that by this time, we have convinced you that your wardrobe may be still missing a pair of glossy pants made of leather. However, the issue of what to combine them with remains. If you prefer tight leather pants, then pairing them with a white blouse and same leather jacket will result in a semi-formal look that can be worn anywhere and at any time.
Wild Print Top With High Waisted Plus Size Pants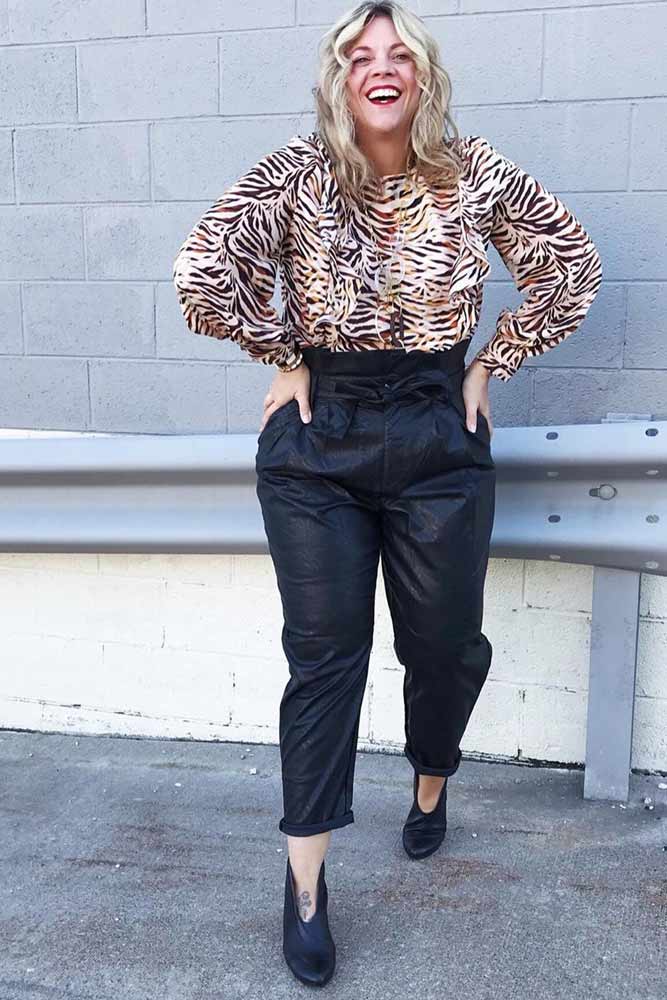 Source: Instagram/nicoles_outfit_inspirations
It is true that when you think about plus size leather pants, it is an arguable suggestion to wear a tight pair. We think that pants with a high waist and an animal printed blouse is more than a winning combo.
High Waisted Pants With White Shirt Outfit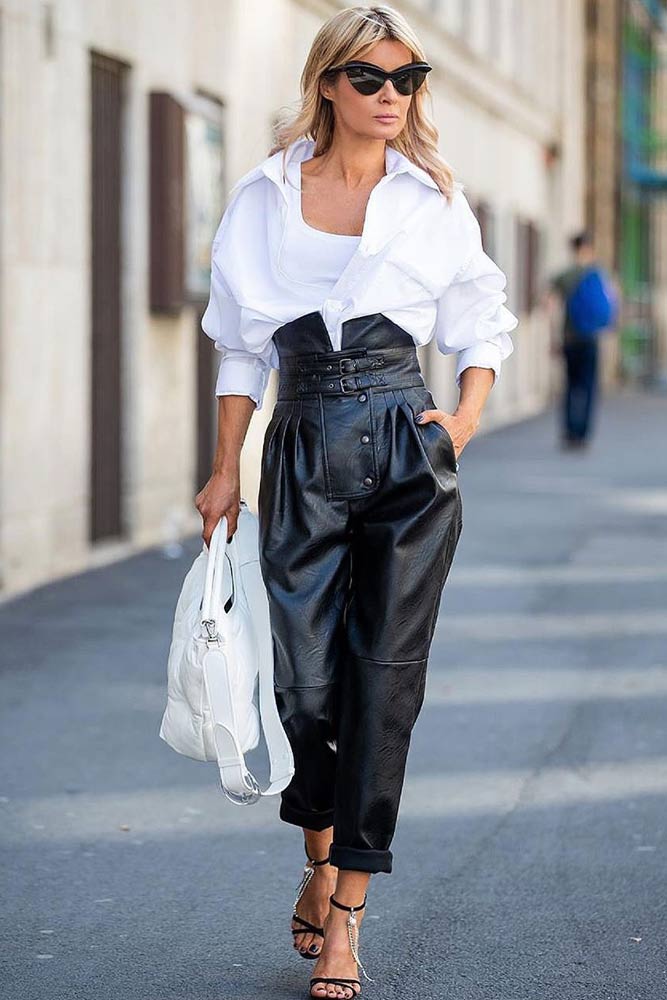 Source: Instagram/gittabanko
In case you still do not know high waisted leather pants are on the edge of glory these days. If you brood upon the issue for a while, you will understand that such a style is complementing to most body types, not to mention the outfit ideas. Such a semi-business style involving a white shirt and leather pants is the best proof of the point.
Asymmetric Top With High Waisted Pants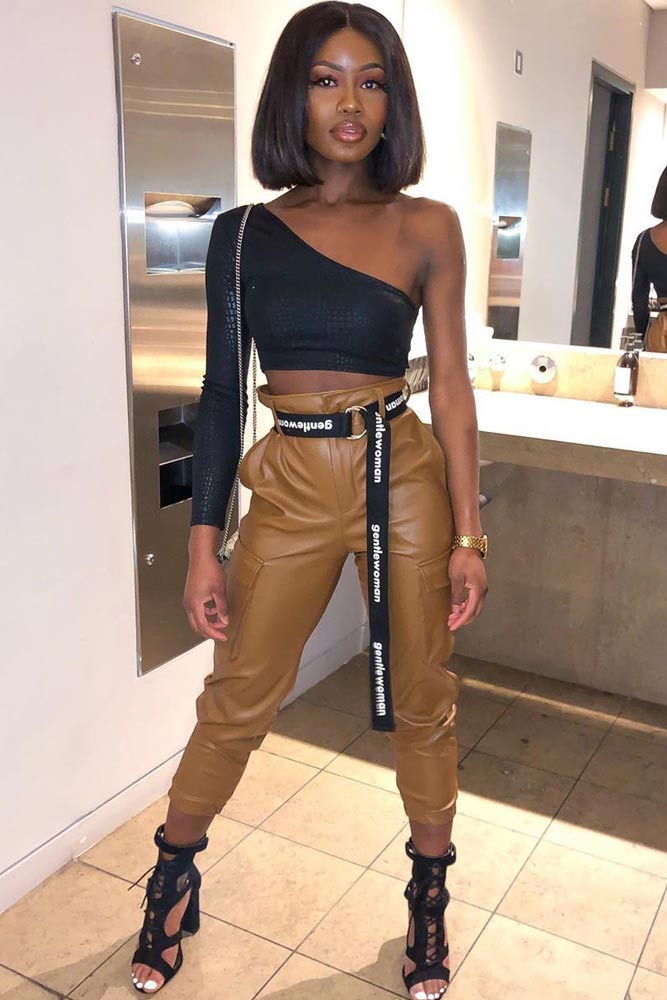 Source: Instagram/billykiss
Those of you who wonder if there is a chance you can plan a party outfit with a pair of leather trousers – you can. All you need is a sexy top, a pair of heels, and light brown leather pants with a high waist to complete the fantastic party look.
Black Lace Bralette With Leather Pants Outfit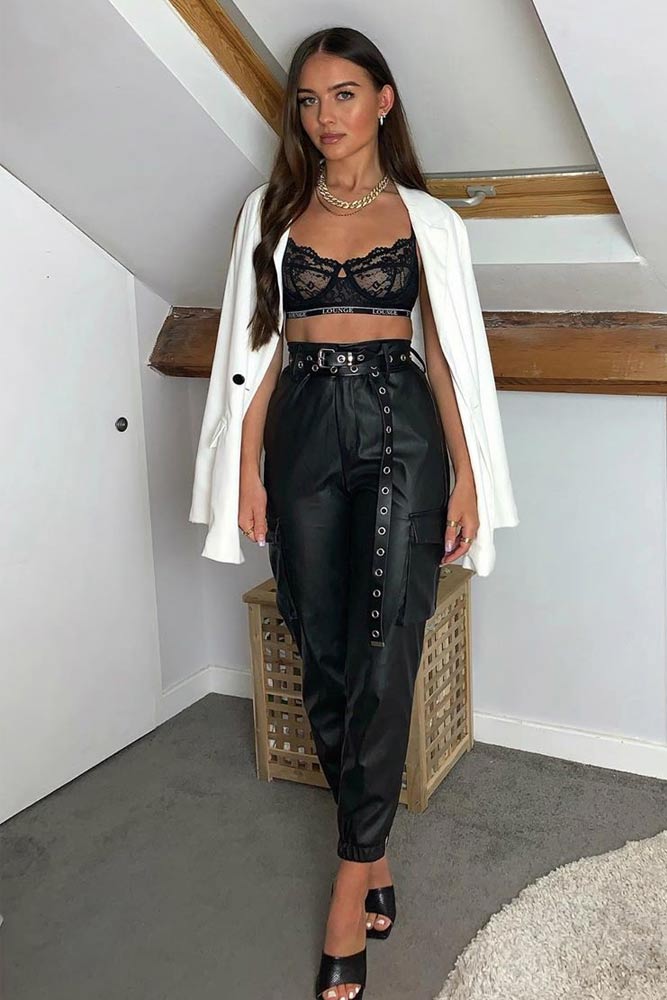 Source: Instagram/chlocraig
The fact is that the notion of sexy leather pants is overrated. Let us explain why. The truth is that these are not the pants that make you look hot, but the interaction between the items. In this case, lace bralette is that one thing that makes the whole look over the edge sassy, but the pants play their role as well.
Brown Leather Pants With Black Blazer Outfit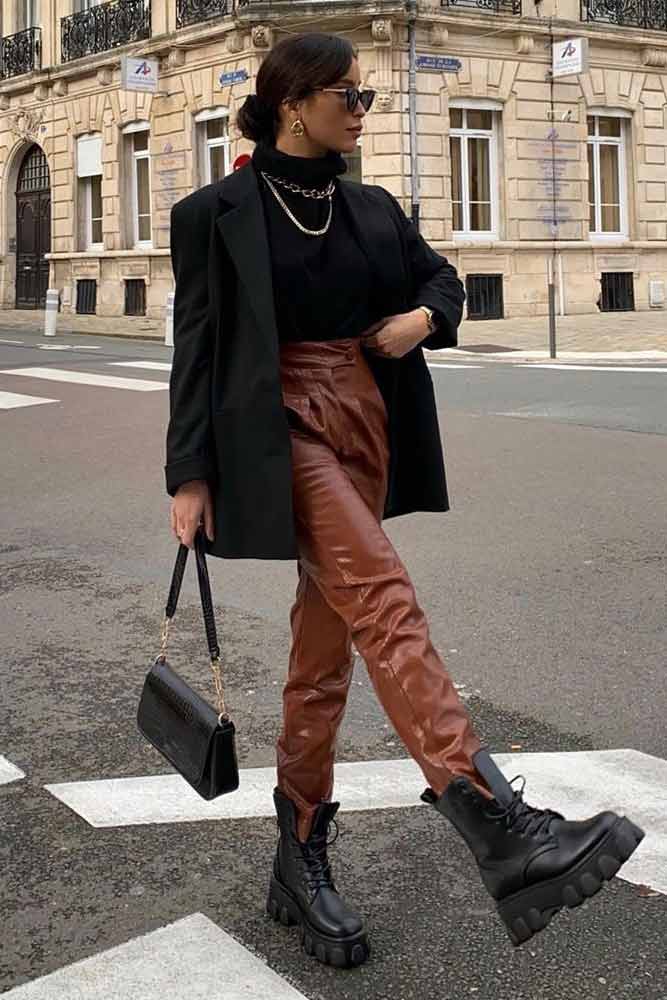 Source: Instagram/tissemrz
At times there is a need to find that perfect balance between formal and casual. We must admit that it is not the easiest task ever, but still manageable. A black turtle neck, formal blazer corresponds well with casual leather trousers and sporty boots. The image looks ultra-stylish while the balance is preserved.
Green Leather Pants With Top Outfit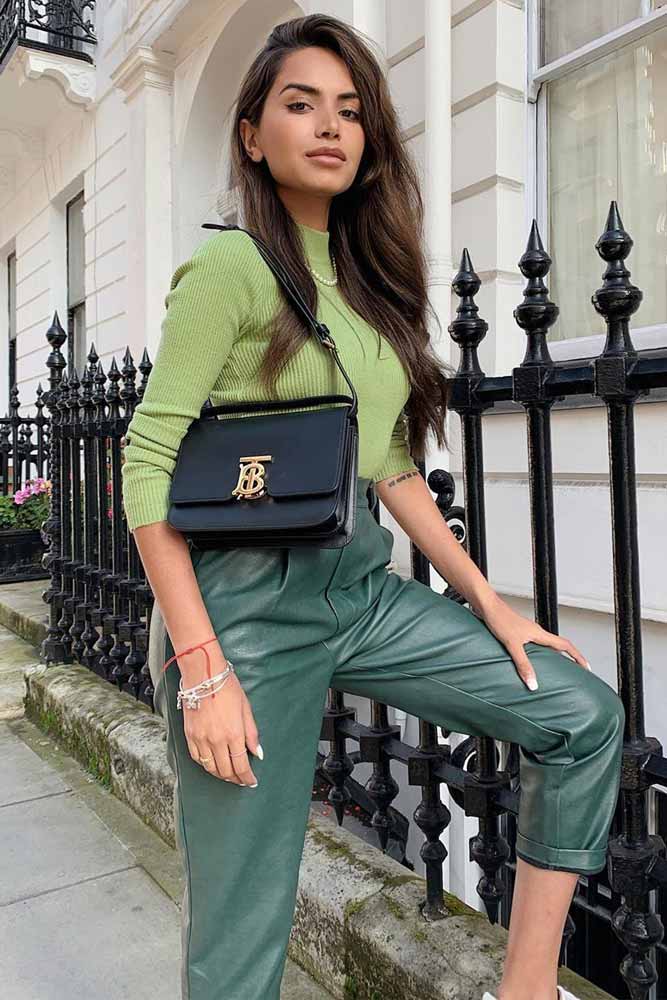 Source: Instagram/diipakhosla
If you think that there is only a basic palette on offer when it comes to leather pants – that is not true. The fact is that these days you can purchase such pants in any color that you prefer and then come up with an undeniably unique look.
Comfy Pants With Sweatshirt For Sporty Outfit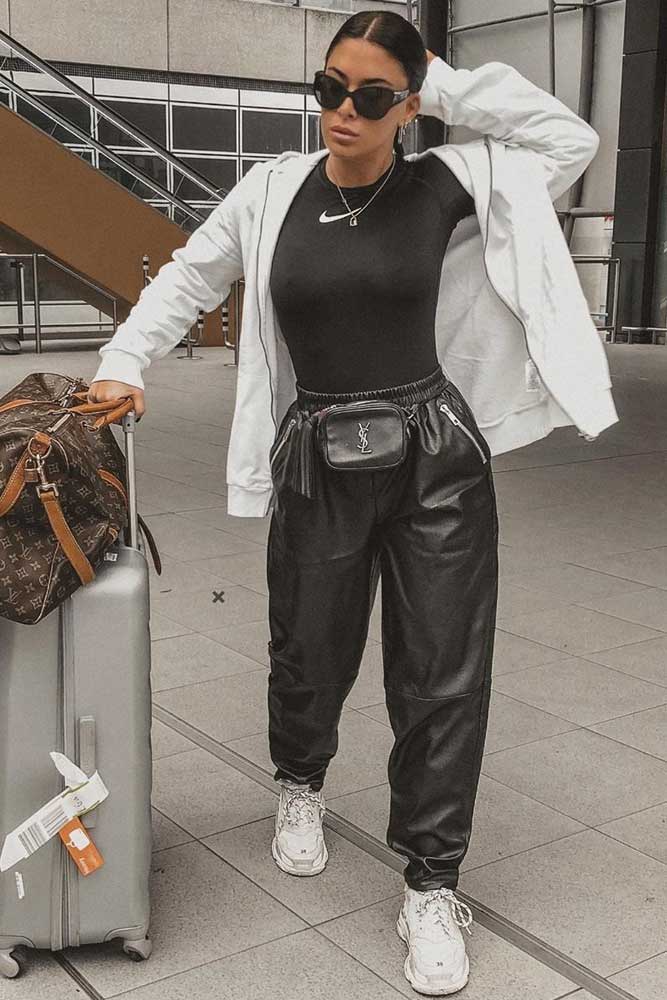 Source: Instagram/tashietinks
Who said that leather pants wouldn't fit ladies who are in love with all sorts of working out? The truth is that there are may comfy pants made of leather that you can style to your fitness-centered and not only life. Besides, such pants are irreplaceable when you are planning your travel look.
Vinyl Leather Pants With Cardigan Outfit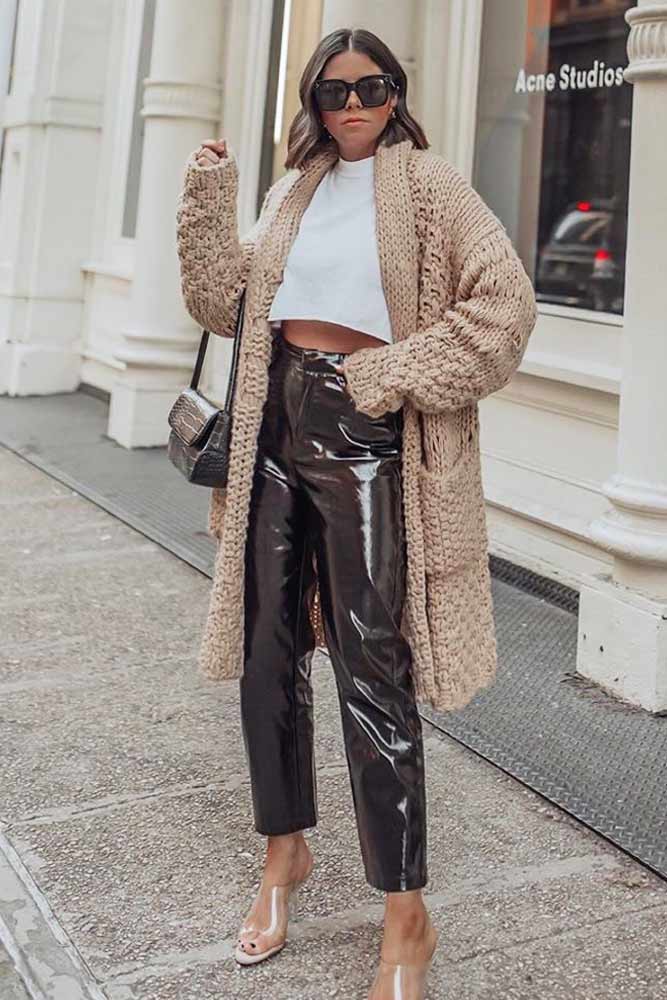 Source: Instagram/flauntandcenter
You shouldn't underestimate girls in leather pants. The truth is that there are more types of faux leather than the one that imitates natural leather. For instance, vinyl leather pants are the ones to stand out, that is for sure. One of the best ways to match them with proper outfit items is to go for a crop top and a warm cardigan.
Beige Leather Joggers With Warm Jacket Outfit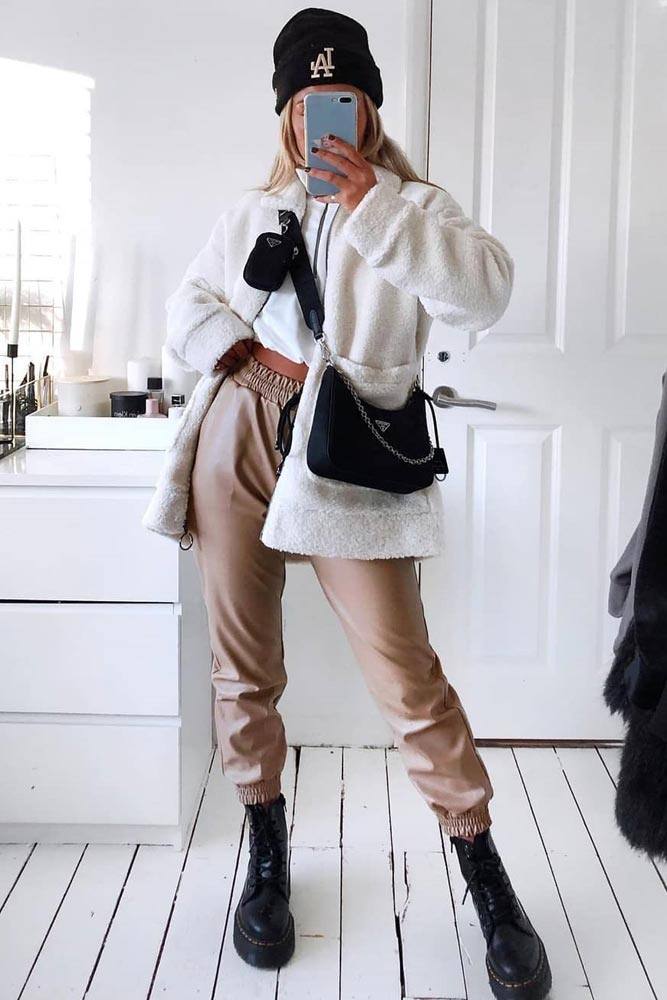 Source: Instagram/emilycocklin
It would be an understatement if we said that women in leather look gorgeous. However, you need to remember about the trends too. These leather joggers are a real tribute to the freshest trends. What is more, when mixed with a warm jacket and boots, such a look will keep you both warm and stylish.
Crop Top With Sporty Leather Pants Outfit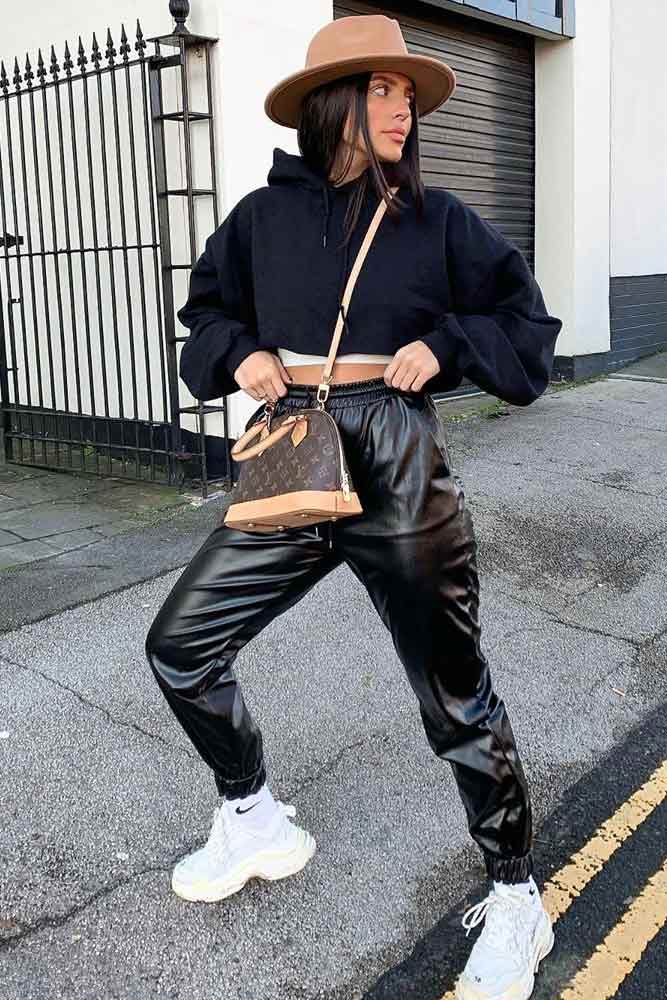 Source: Instagram/diocrowe
Do you think of yourself as one of those leather pants women that are anything but afraid of experimentation? Then we have something special in store for you! It may seem that a fedora hat and sports pants have nothing in common. However, one look at this gorgeous sporty outfit and you will change your mind forever!
Black Pants With Denim Jacket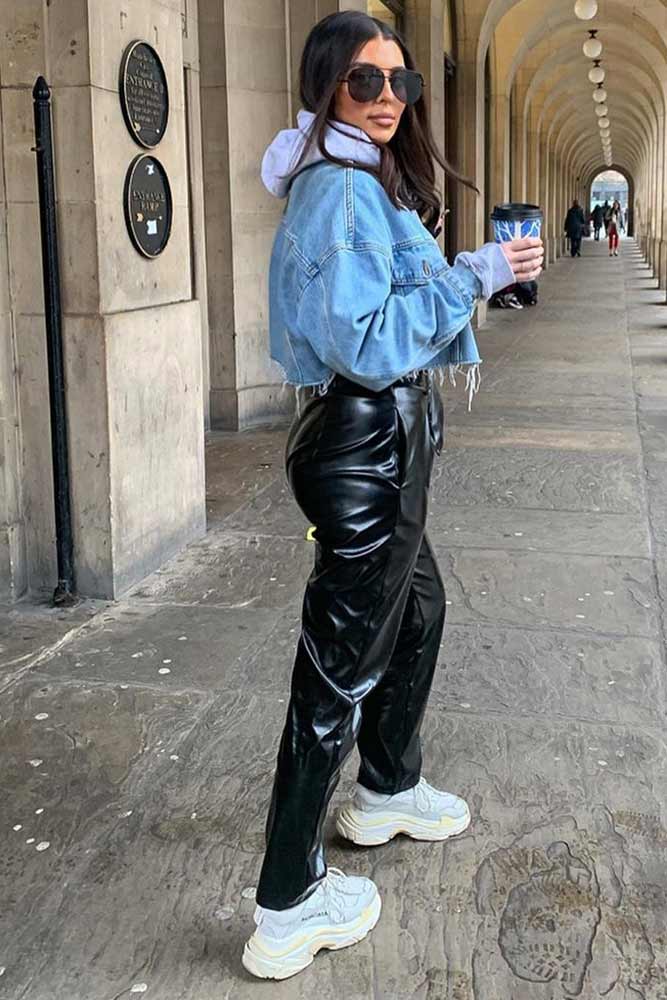 Source: Instagram/diocrowe
When there is the street style in question, it feels like you are open to put on anything at any time. Well, we partially agree with you. However, if you want the elements of your outfit to interact with one another, then a combo of a denim jacket and leather pants shouldn't skip your attention.
Lavender Blouse With High Waisted Pants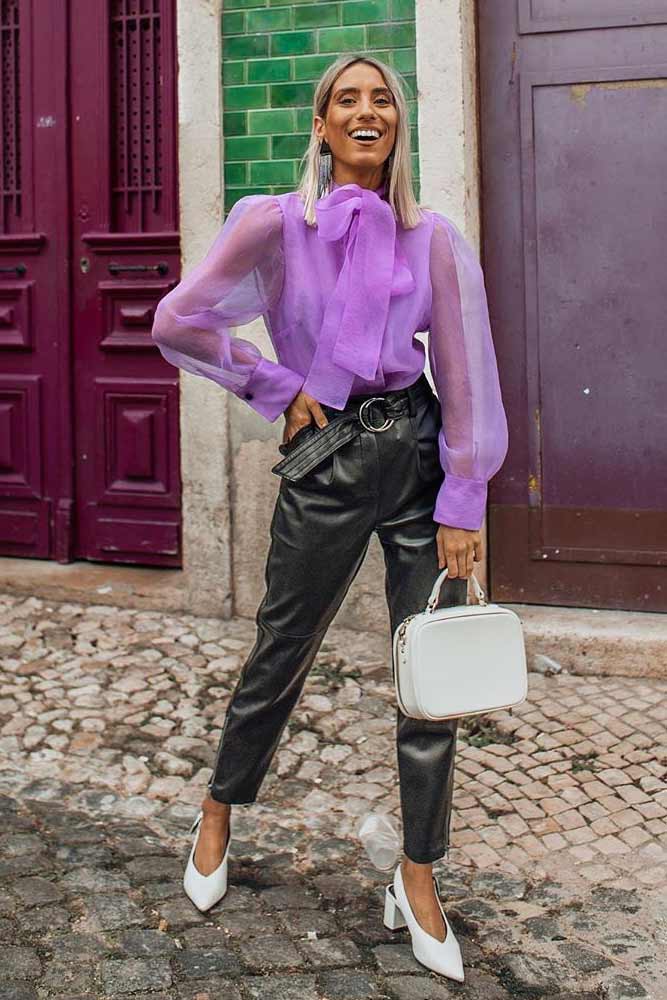 Source: Instagram/mexiquer
It is close to impossible to think that you can create a fancy outfit with a pair of pants made of leather involved. However, that is not only possible but also in fashion now. Such a fabulous dress blouse combined with a restricted pair of high-waisted pants is the best proof to the point. Add a pair of heels and a matching purse, and you will look irresistibly gorgeous!
Sweater With Leather Pants Outfit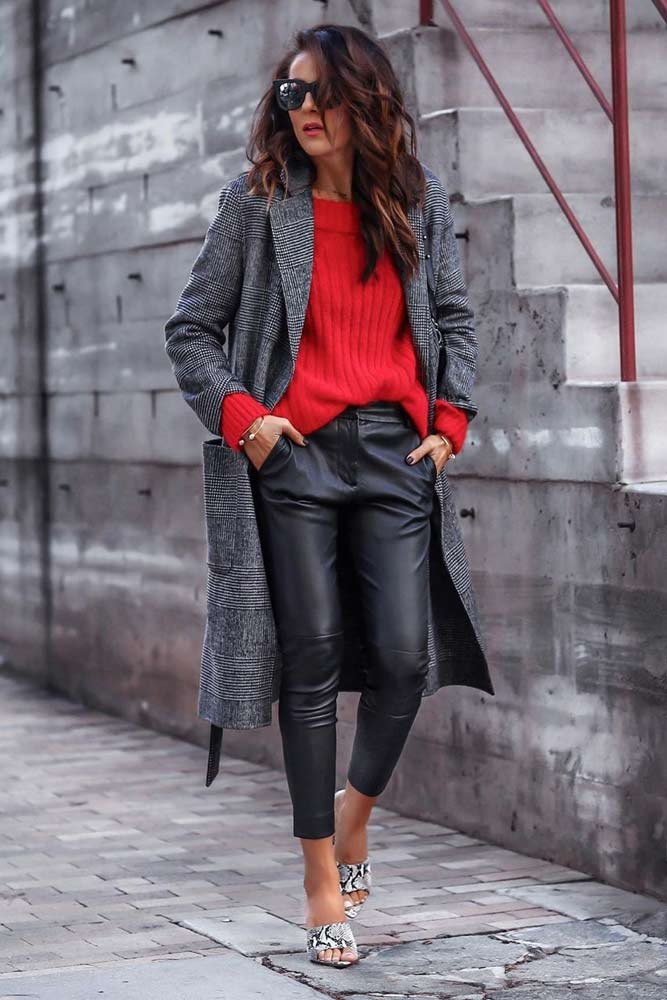 Source: Instagram/lucyswhims
We have mentioned it that leather pants go well with colder seasons. What can fit those seasons better than a warm sweater and a trendy coat? It is time you embrace the ways of embracing all the elements in one elegant look!
FAQ: Leather Pants
Is 60 too old to wear leather pants?
Actually, leather trousers can be worn at any age. Some of the great comments are, "What does age have to do with wearing leather trousers? I'm almost 60 years old and I'm wearing them and feeling good."
Can you wear leather pants all year round?
Shortly – yes, you can. Spring, summer, autumn and winter leather is a versatile material that good for wearing all year round.
Are leather pants uncomfortable?
There is nothing wrong with jeans, however you may find that leather pants are more comfortable to wear. This is due to the fact that leather pants are made of high-quality delicate leather, while jeans are made of denim. Denim is rigid and hard, whereas leather is supple and malleable.
REFERENCES:
Leather is a durable and flexible material created by tanning animal rawhide and skins. Source
Artificial leather, also called synthetic leather, is a material intended to substitute for leather in upholstery, clothing, footwear, and other uses where a leather-like finish is desired but the actual material is cost-prohibitive or unsuitable. Source
Was this article helpful?