Overalls are not a recent invention, that is for sure. Sometimes it seems that they have been in for ages now. However, that does not mean that new ideas and trends do not appear. That is why to follow up the fashion it is essential that you are aware of different ways of introducing overalls into your look. We are more than sure that there are more ideas to experiment with other than your T-shirt and a pair of sneakers. In case we have got your attention here, let's have a closer look at the exciting ideas we have gathered!
*We may earn money from affiliate links on this page. Please check out our disclosure policy for more details.
How To Wear Overalls In Summer
One of the outstanding features of womens overalls is their immense versatility when it comes to every season. When the summer strikes with full force, you can pair your favorite overalls with tank tops, crop tops, short-sleeved shirts, and even bodysuits. Should the weather get slightly chilly, a light long-sleeved shirt is an excellent idea, too.
Liberty Overalls With T-shirt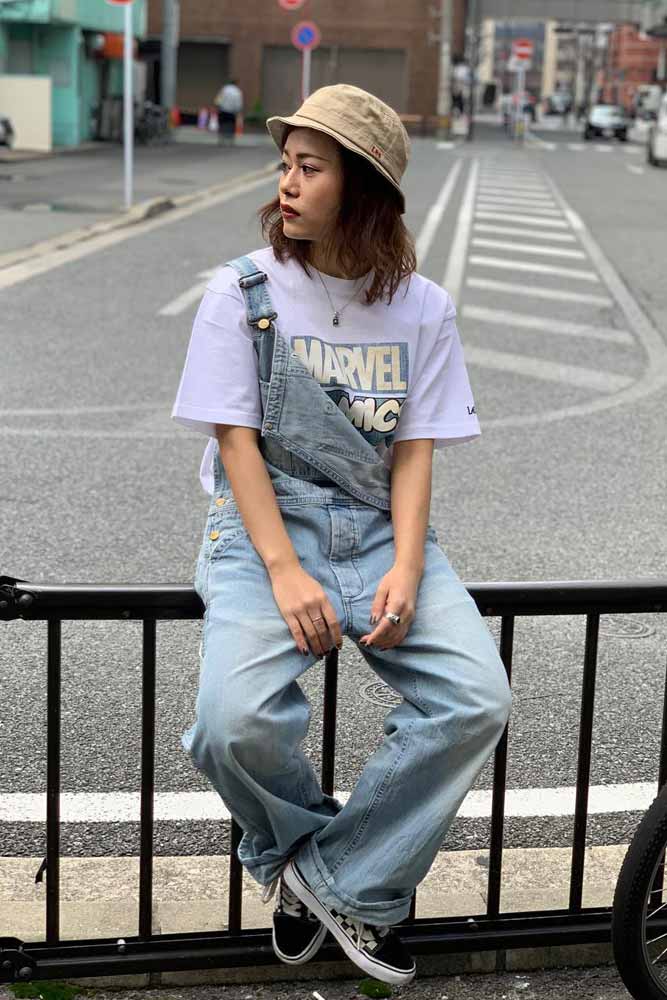 Credit photo: Instagram.com/_momosan_
We are going to begin our overalls fashion survey with liberty overalls. This is the closest to your casual look; there is no denying it. However, the way the overalls are worn, with one strap off, as well as the Marvel T-shirt are the details that make this look up to date. Try it out when you are getting ready for a casual walk and hit it with style.
Ripped Denim Overalls With Tank Top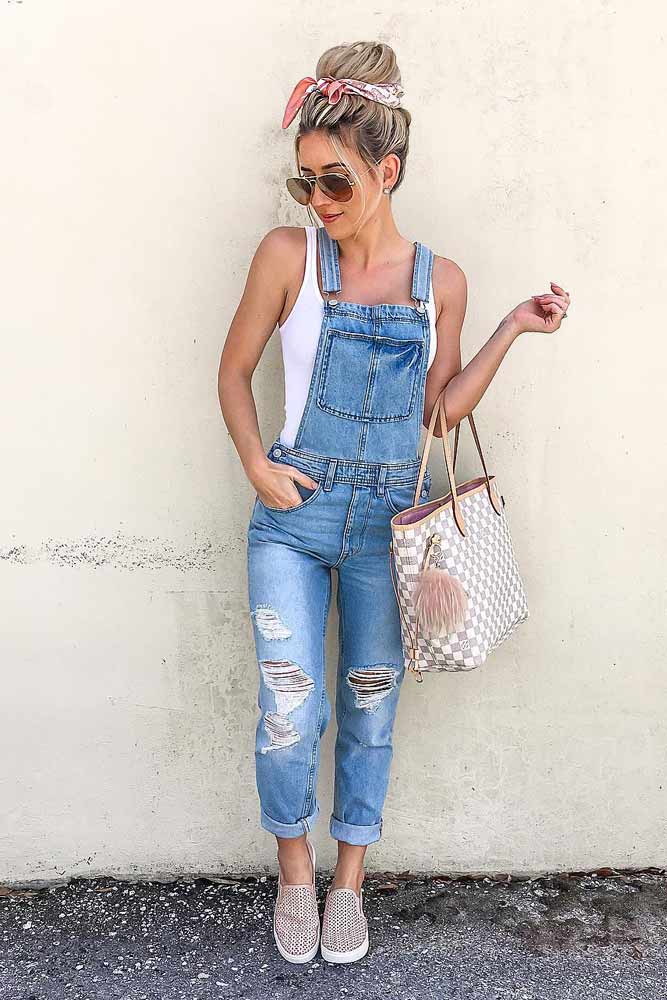 Credit photo: Instagram.com/laurabeverlin
The truth is that there are so many overalls for women to choose from these days that it may be hard to take a pick. However, if you are looking for a trendy vibe and unique look combined together, we have something in mind. The thing is that there is nothing special about ripped jeans and a tank top worn together. However, when you substitute a pair of jeans for the same ripped overalls, you will succeed with something comfortable and stylish looking.
Striped Overalls With Red Shirt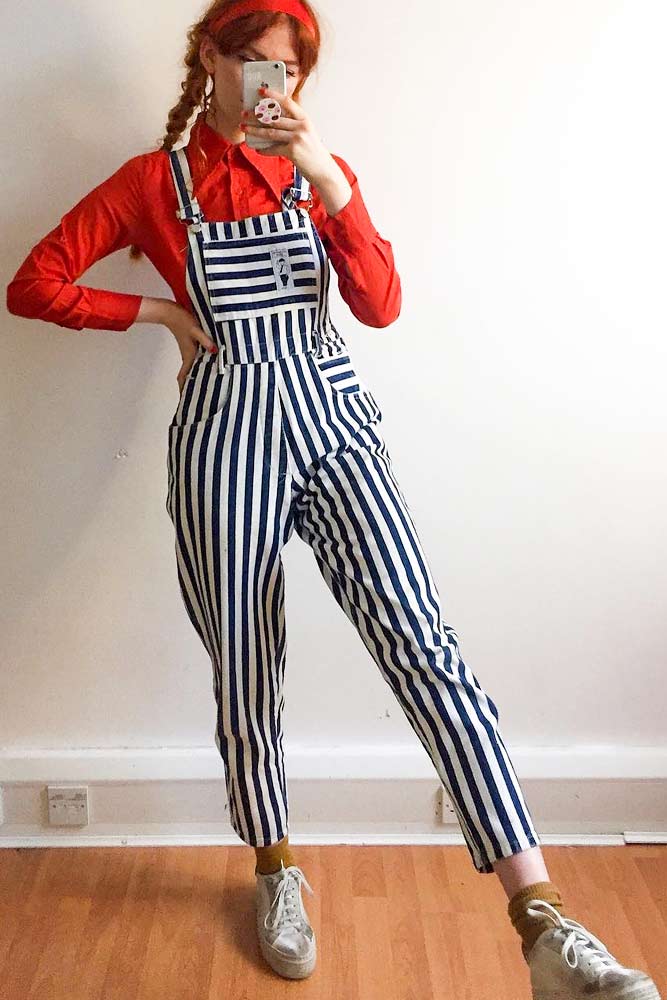 Credit photo: Instagram.com/mathilda.mai
Very often we tend to think that womens overalls are bound to jeans only. The reality is far from that. When you start researching the matter, you will come to realize that there are so many trendy looks to give a try to with something as regular as overalls. Just look at this exquisite match of red shirt and striped overalls. Simply magnificent!
Floral Overalls With High Platform Sneakers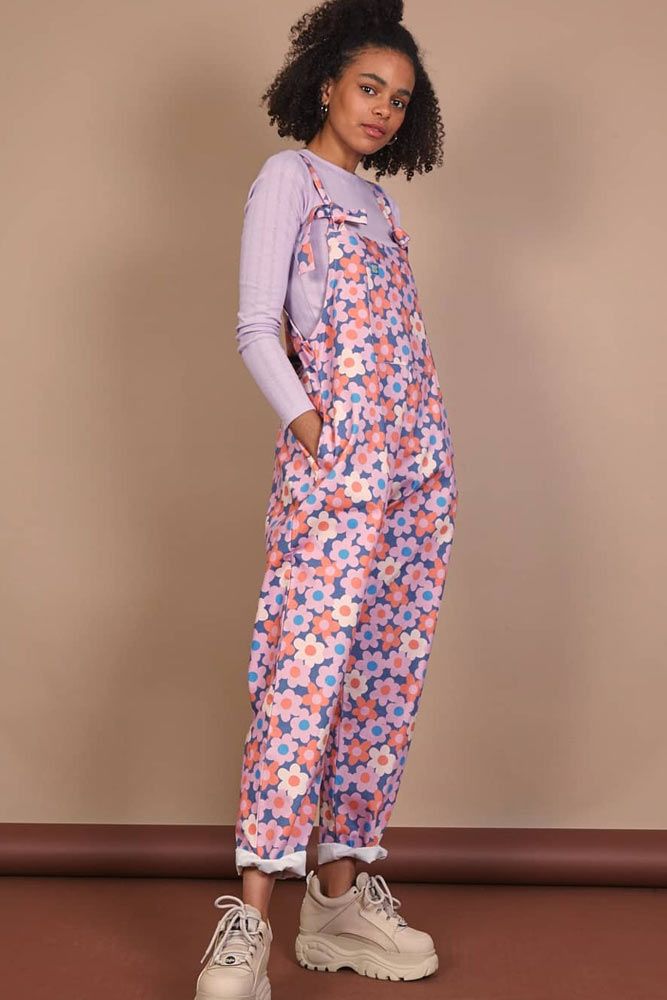 Credit photo: Instagram.com/lucyandyak
Those of you who are looking for women's overalls with an extraordinary vibe to them – we have it cover for you too. The thing is that floral overalls are not that common as you may think. However, the complete look with platform sneakers screams style and fab!
Printed Overalls With Blouse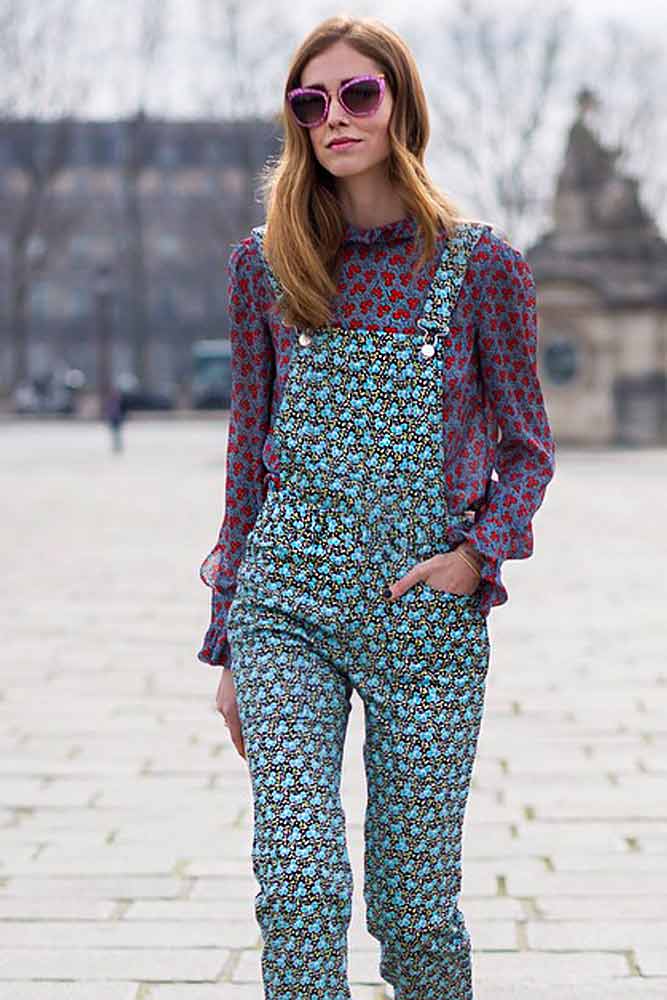 Credit photo: Instagram.com/styledumonde
These days it is both difficult and easy to stand out in the crowd. The fact is that giving up to one style may be tricky at times, but that is definitely not true about the mixture of printed overalls combined with the same printed blouse. We are sure that such a somehow retro look will help you stand out when you wish to!
Floral Overalls + High Neck Top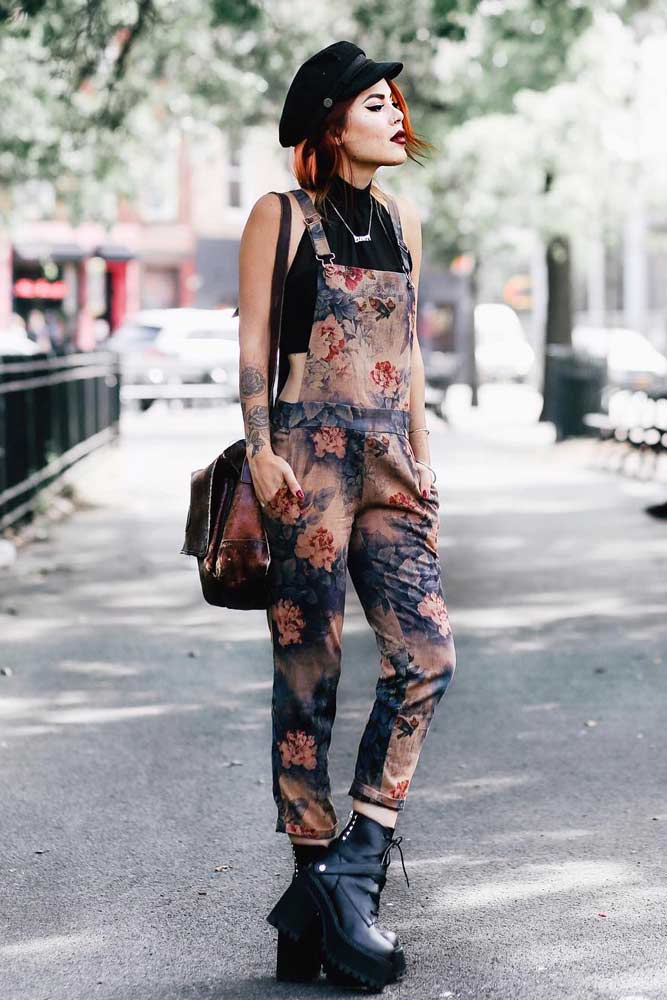 Credit photo: Instagram.com/luanna
All the fashionistas in here know how important it is to look one of a kind no matter what you put on. That is why we present to your attention this one of a kind overalls look. Everything about this outfit screams authenticity, starting with the hat moving to floral overalls and ending with edgy boots.
Overalls For Cold Weather
When the summer is due, it may seem like the signal to pack your fav overalls until next year. However, this clothing item is exceptionally suitable for cold and damp weather. You can use the extra protective layer to keep yourself warm and dry. Keep in mind jeans overalls will deal with the task more effectively than the rest.
With Fringe Cardigan Over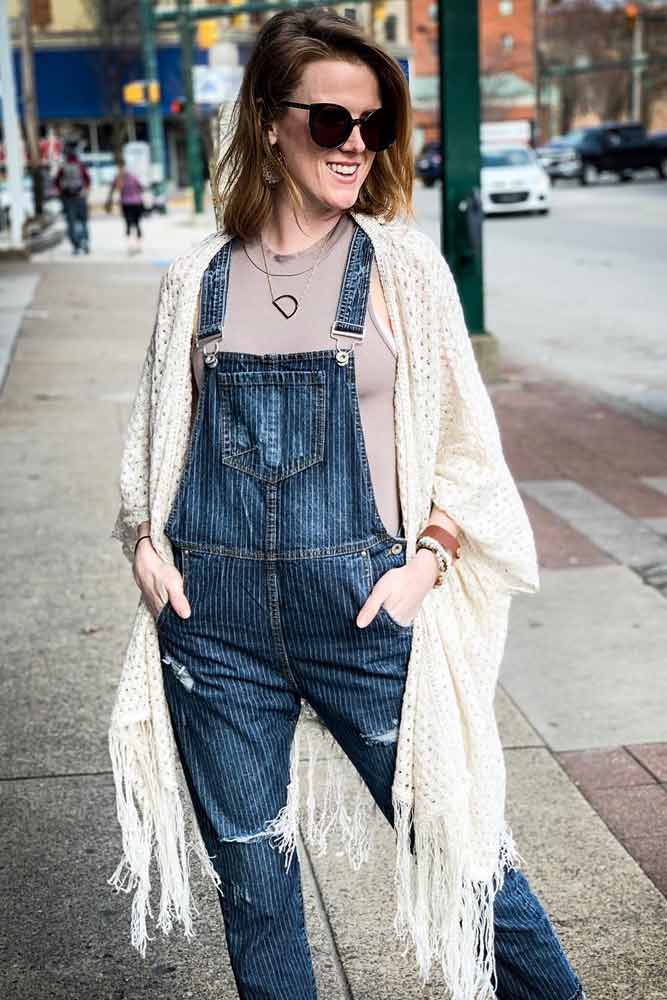 Credit photo: Instagram.com/iamdanicak
So far we have discussed what to wear with overalls when it is warm outside, but what about colder seasons? Worry not, there are suitable ways of pulling off overalls during cold seasons as well. All you need to do is to complete your overall look with a stylish cardigan – as simple as that!
Burgundy Overalls With Turtleneck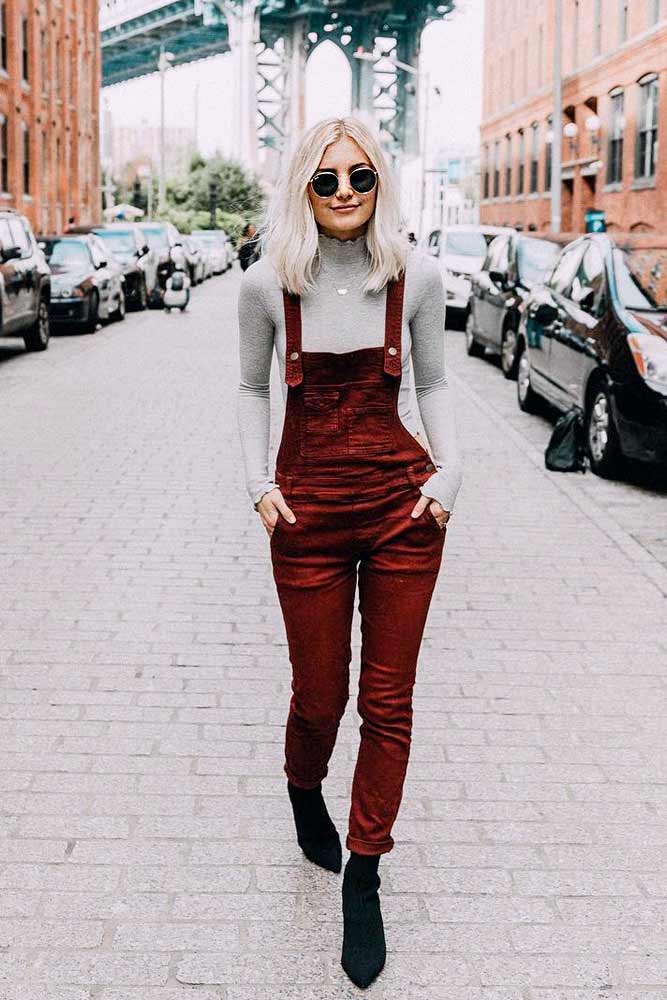 Credit photo: Instagram.com/aspynovard
There are times when a cardigan is not an option, but it is still quite chilly outside to wear a T-shirt under your overalls. Should you just come up with something else to wear? Not at all! Just put on a turtleneck under your overalls, and you are ready to roll! If you sport skinny overalls, you can even match them with heels to add some more style to your look.
Pink Overalls With Plaid Coat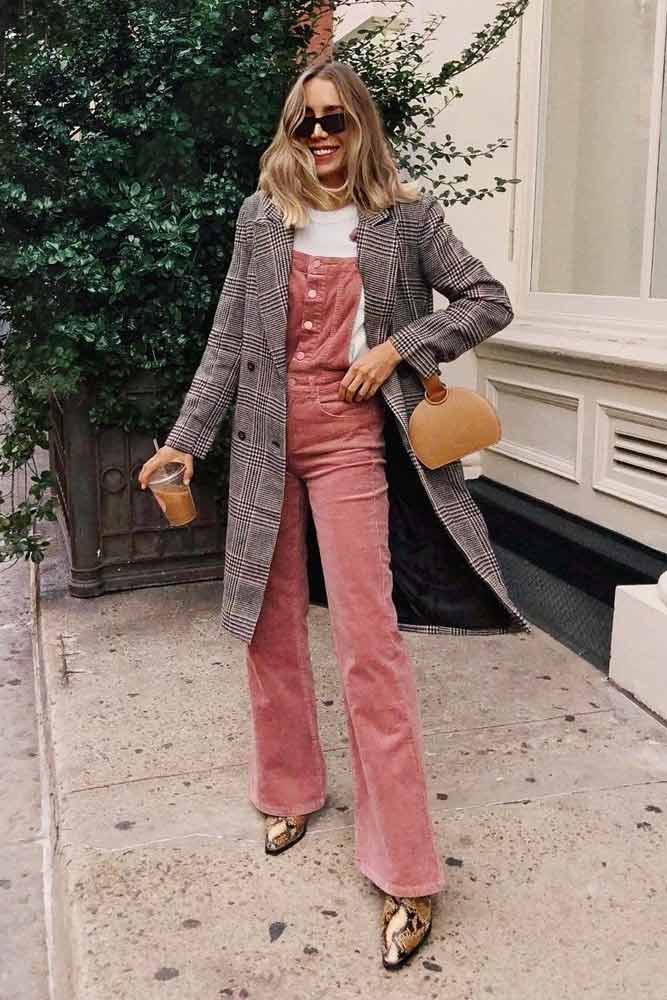 Credit photo: Instagram.com/viktoria.dahlberg
We are more than sure that you couldn't have even thought of wearing your overalls with a coat. However, that is not something out of the ordinary, quite on the contrary. Nevertheless, you need to come up with the items that even though belong to different categories are still matching each other. Pay attention to the color palette and the material. For instance, pink suede overalls will fit in with plaid coat seamlessly if the coat has even the tiniest pinkish tint involved.
With Warm Sweater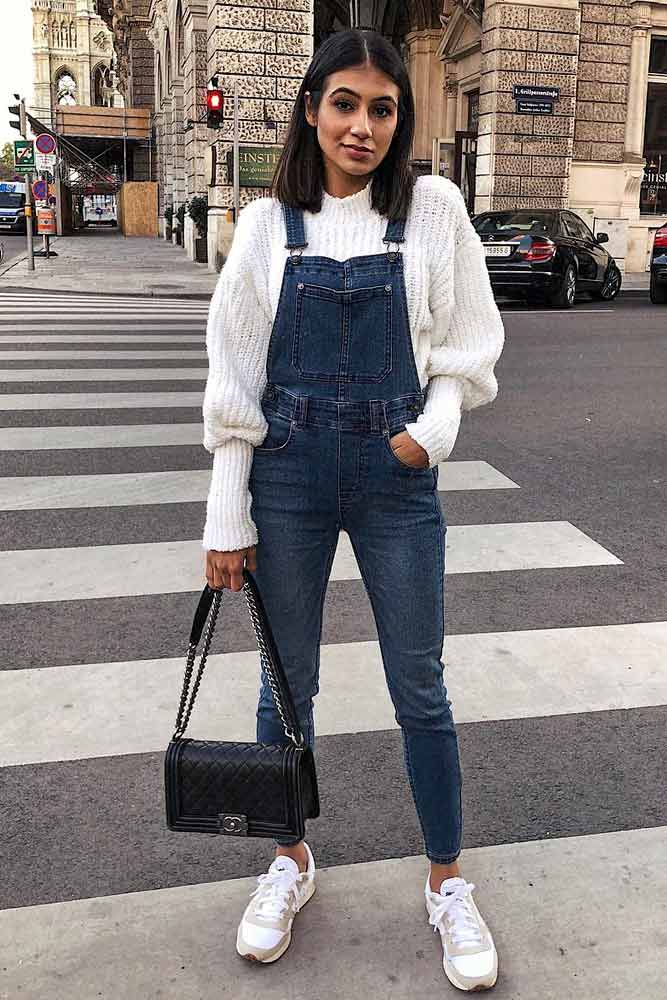 Credit photo: Instagram.com/soniaheartsfashion
The fact is that a combo of jeans overalls and an oversize sweater really seems possible. Yet, there are worthy exceptions to pay attention to. The thing is that this image proves that sometimes all it takes is a little bit of experimentation to come up with a proper match. There is nothing out of place about this look; sweater goes well with overalls just like sneakers match with the purse. Do not be afraid to experiment!
Liberty Overalls With Turtleneck And Pink Accented Coat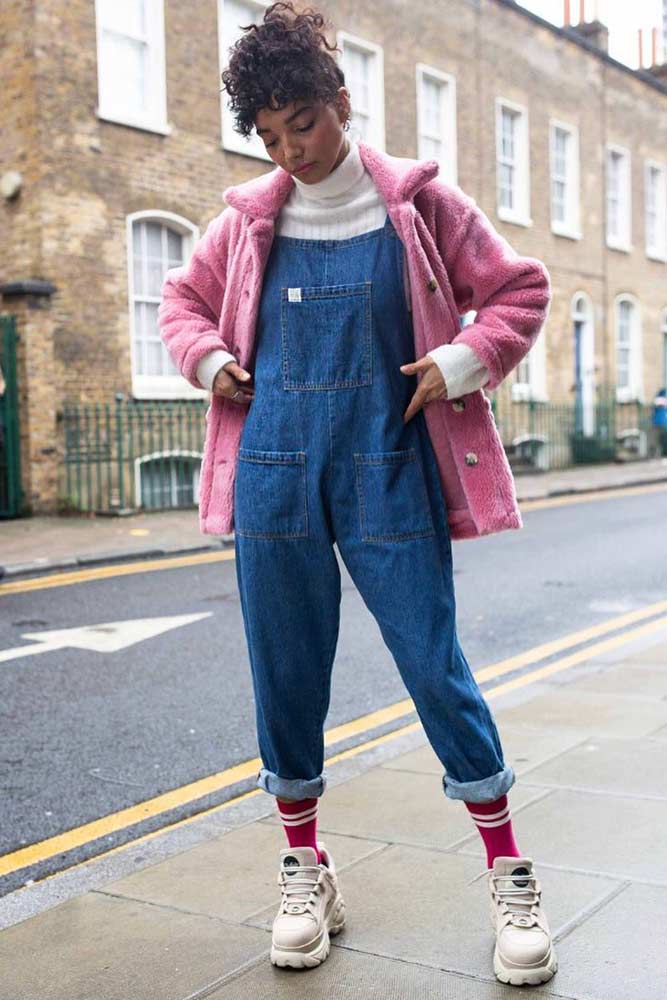 Credit photo: Instagram.com/lucyandyak
Very often many women wonder how come that some ladies can match the unmatchable and look like fashion icons while others may turn out looking like people from the street. To tell you the truth, matching the unmatchable is a real art. However, there are also details which should be considered. For instance, you shouldn't match more than three bright colors in one outfit. This complete outfit proves the point, yet that does not mean that you can't be creative and come up with other interesting ideas.
With Long Coat And Silver Boots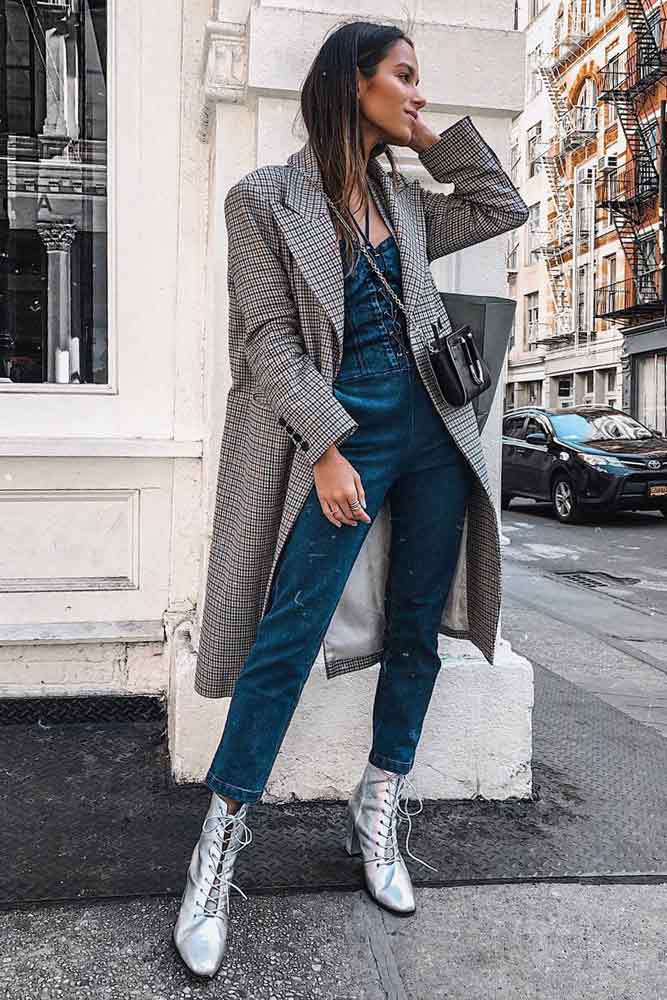 Credit photo: Instagram.com/rutaenroute
Every image requires a proper accent. In this case, we think that any piece is a ready-made accent in its own way. However the shoes deserve special attention. Of course, this article is about overalls yet in most cases we are used to overalls and sneakers combo, aren't we? It is time you realize that your new outstanding silver boots and regular jeans overalls make a perfect match while the trendy coat will keep you warm while wearing all these stylish clothing!
Short Overalls Outfits
In case you don't know, overalls come in different flavors, and short overalls are a great addition to your summer wardrobe. While the style is recognized for its retro flair, matching the overalls with a white T-shirt is a good idea. You can roll the sleeves up a little to intensify the vibe. In case you are headed for the beach, a navy striped Tee suits the occasion ideally.
With Floral T-Shirt And Hat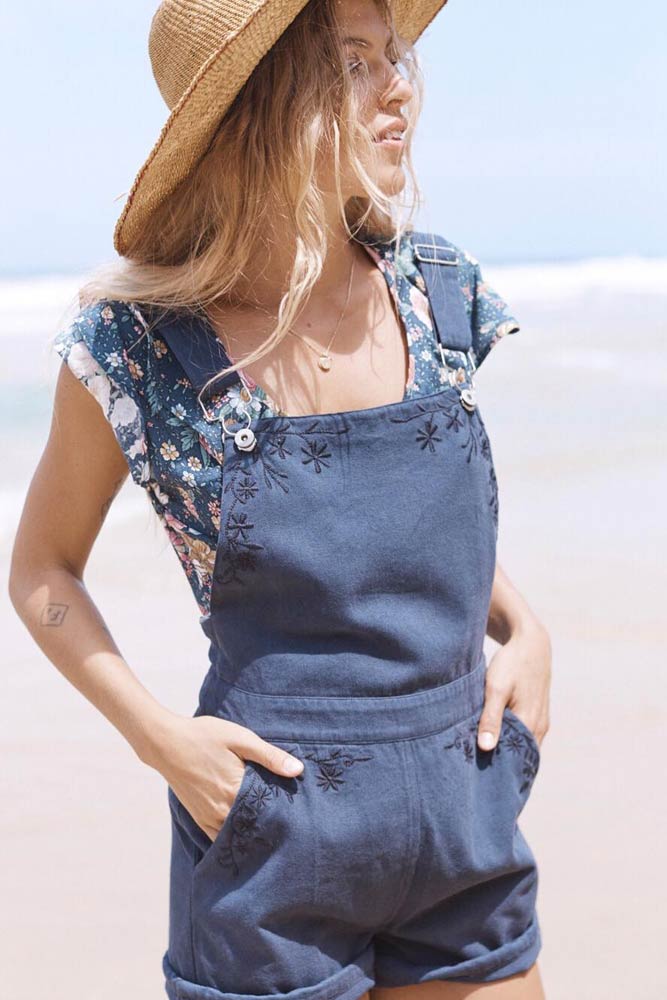 Credit photo: Instagram.com/augustethelabel
This lovely T-shirt with floral print paired with a summer hat will add happiness and brightness to your look. Bring some femininity to your short overall and walk on the beach!
With a Striped T-Shirt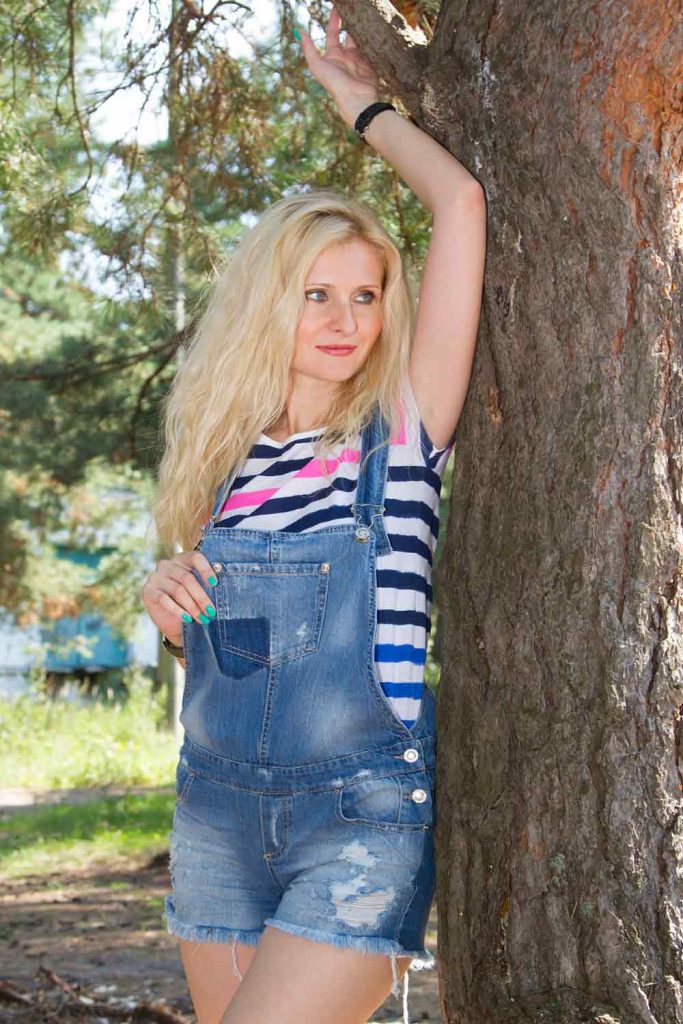 Credit photo: Shutterstock
In most cases when you think about overalls, you certainly exclude overalls shorts. To tell you the truth that is a bad thing simply because there is an unlimited amount of ideas to pull off with shorts of this kind. Simple blue overalls and a floral T-shirt are just the two items you need to complete your unique summer look!
Short Denim Overalls With Bell Sleeve Top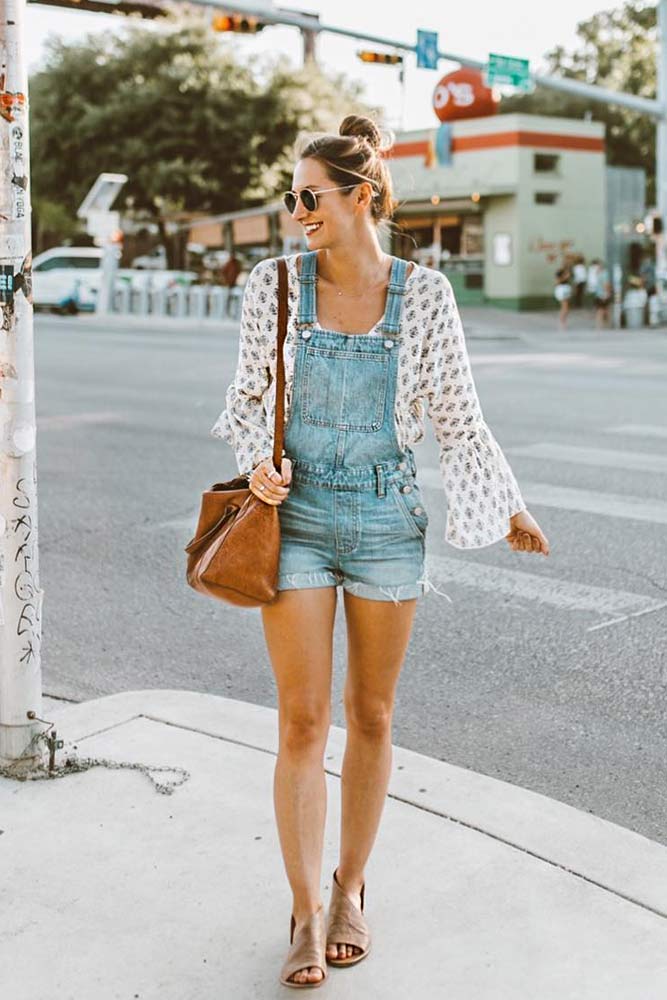 Credit photo: Instagram.com/livvylandblog
It is true that womens denim overalls are the most requested for. However, needless to remind you that there are also short overalls to consider when planning your next look. If you are not certain what to put on under such overalls, think bell sleeve top, and you will look unforgettably elegant and stylish.
Black Overalls Outfits With Accented Red Blouse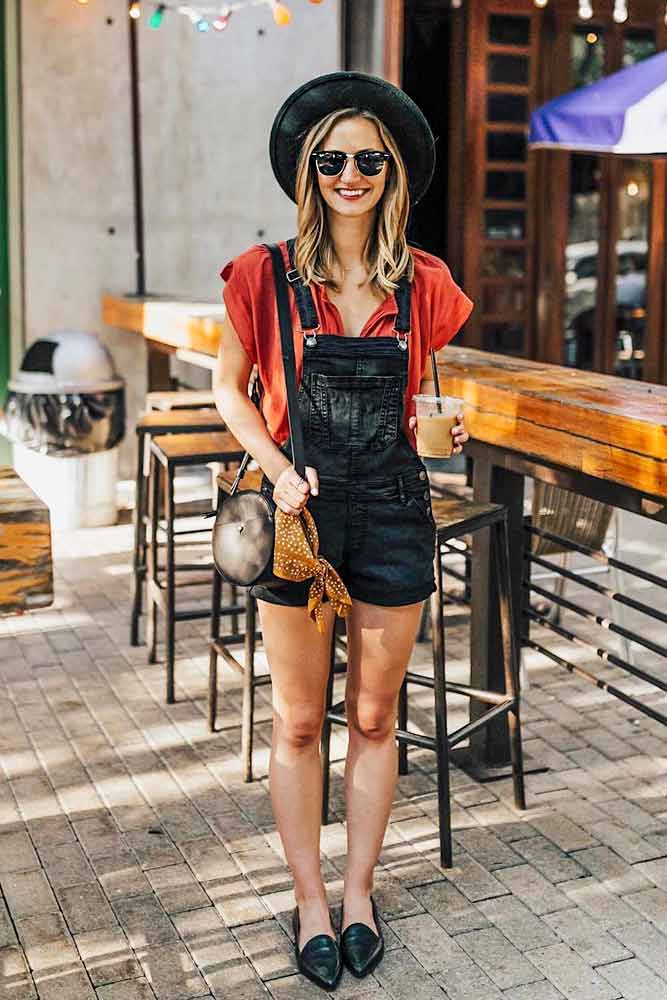 Credit photo: Instagram.com/livvylandblog
When planning your outfit, it is always essential not only to put two items together so that they complete each other but also to match the colors. If you are in love with contrasting and somewhat edgy looks, then you will surely appreciate this one. There is nothing extraordinary about black overalls and red blouse, but such a look won't go unnoticed.
Overall Shorts With Billowy Top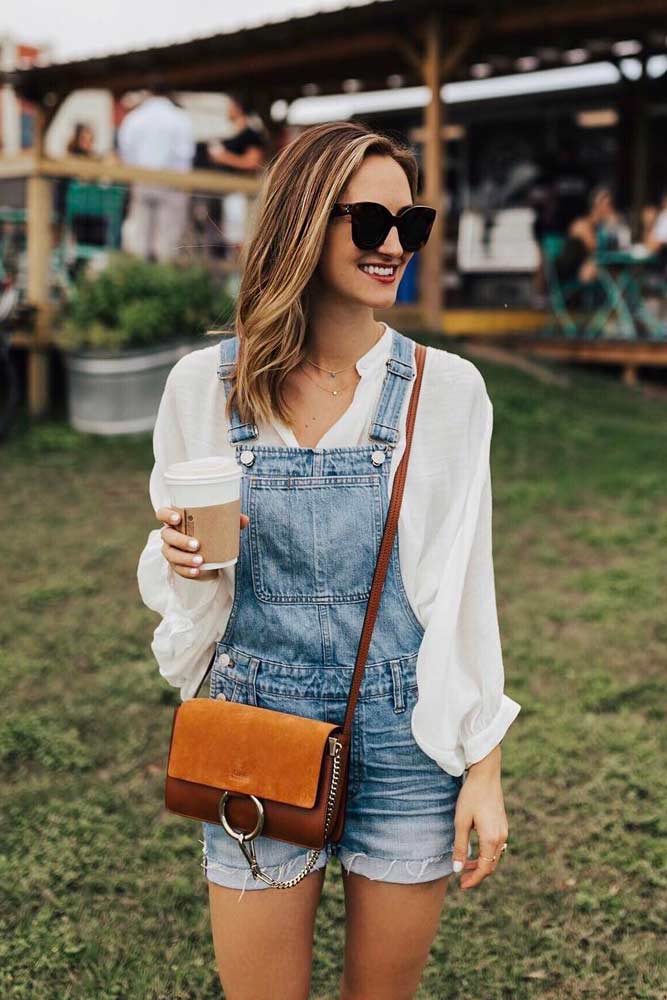 Credit photo: Instagram.com/livvylandblog
You may be surprised by the fact that overalls can look extraordinarily elegant. It is also about what you wear under. In this case, you can see that the billowy top is the element that is responsible for the elegant touch. We must admit that such an image is simply breath-taking in its simplicity and elegance.
With Long Sleeved Shirt And Hat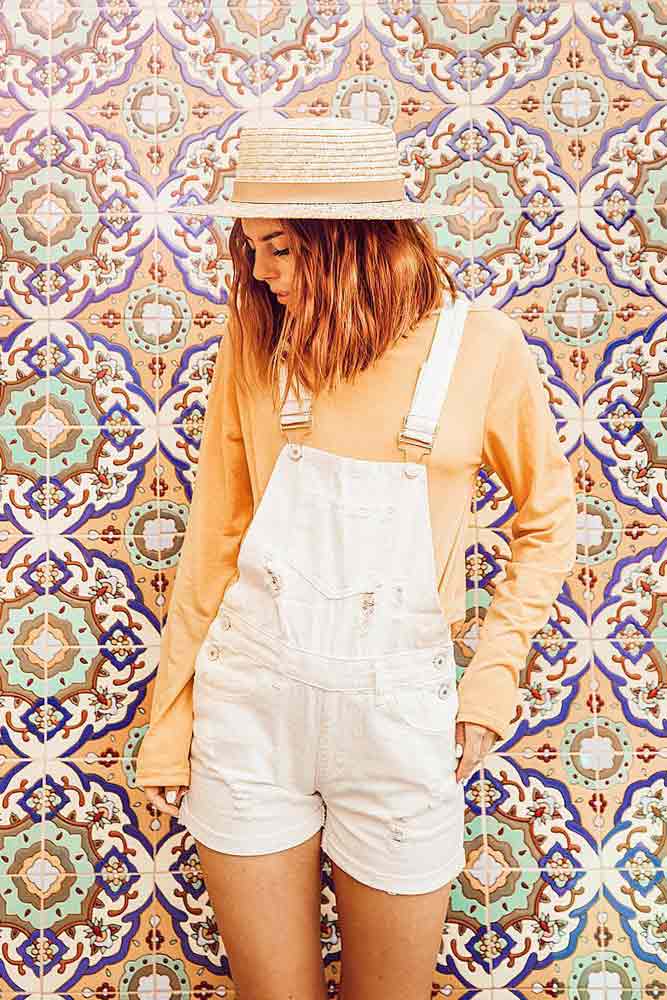 Credit photo: Instagram.com/jacimariesmith
Just like all white clothing items white overalls deserve special attention. The thing is that not every one of you would dare to opt for such a purchase since you may not know what to pair it with. We have a proper solution at hand. As you can see white overalls go well with a long sleeved shirt. Besides, you can easily complete the look with a trendy hat. As simple as that!
Pink Short Overalls With Off Shoulder Top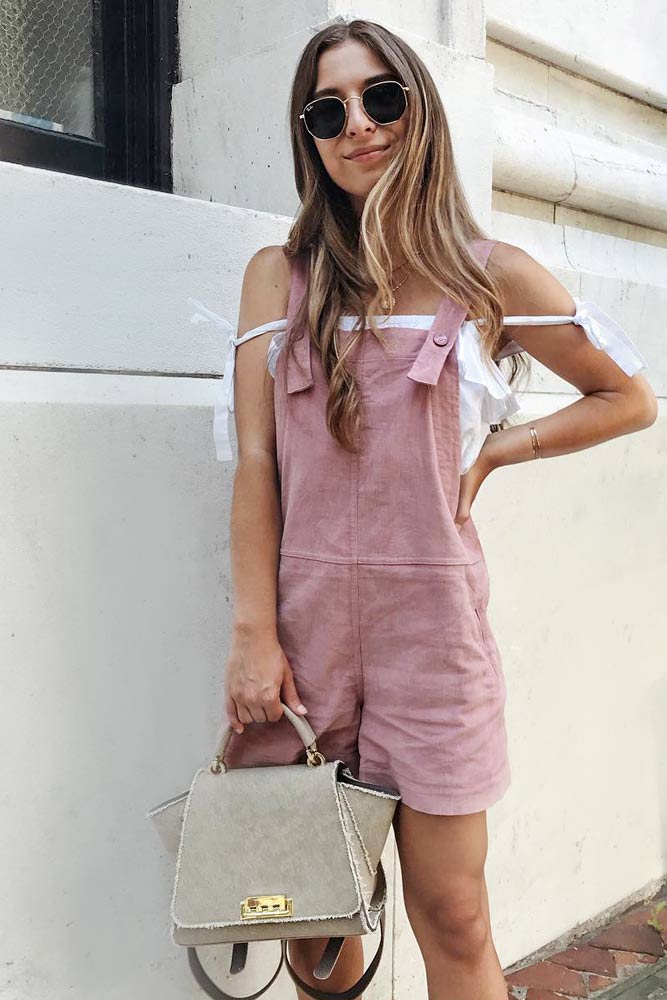 Credit photo: Instagram.com/fashionsensored
Super stylish ladies among you may say that overalls are for casual looks only. We beg to differ. Just one look at the outfit here will prove our point. The thing is that pastel pink short overalls together with a white shoulder off blouse look over the edge festive. There is no way you couldn't pull such a look off to a party or dinner out!
Work-Appropriate Overalls
Credit photo: Shutterstock
i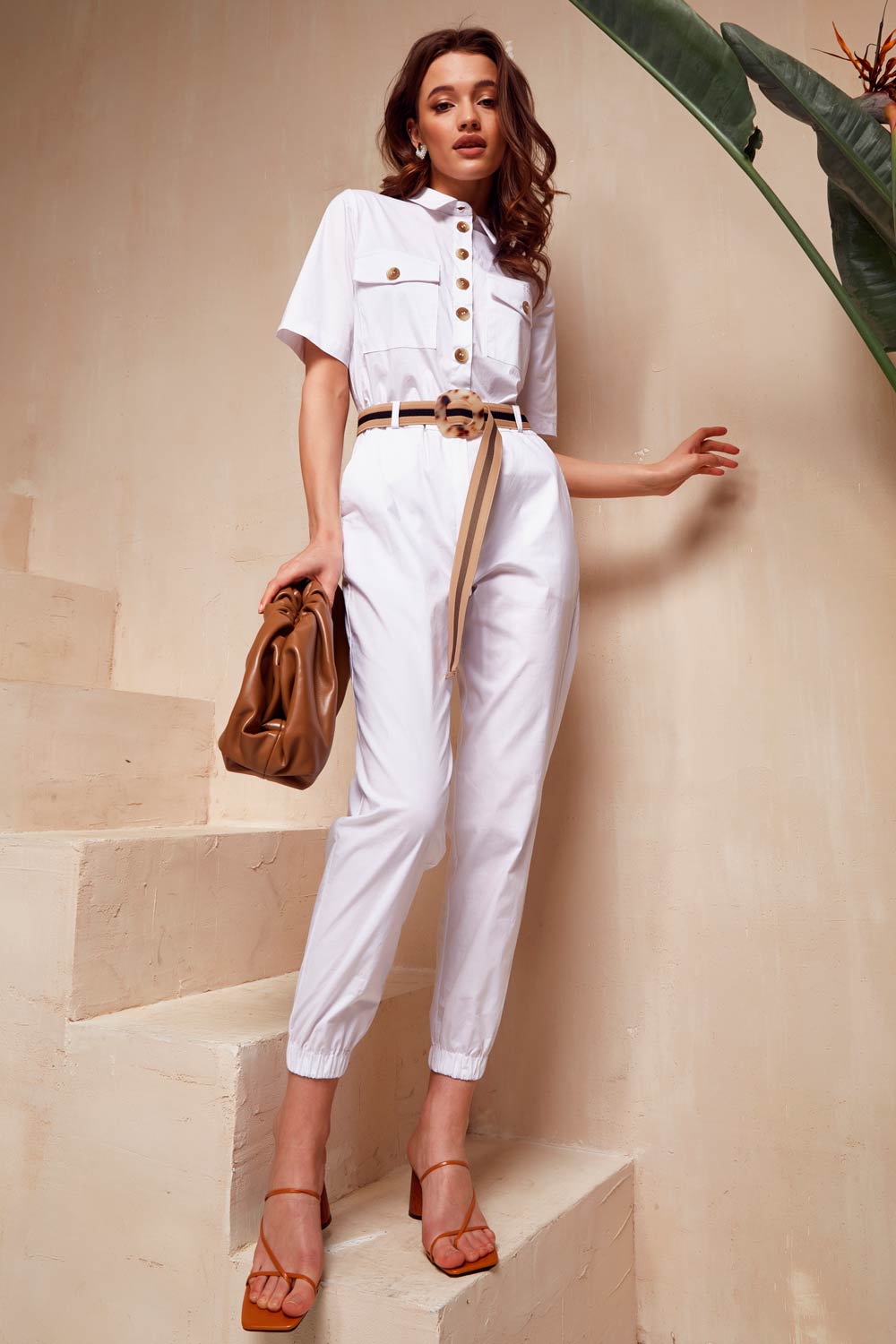 Credit photo: Shutterstock
i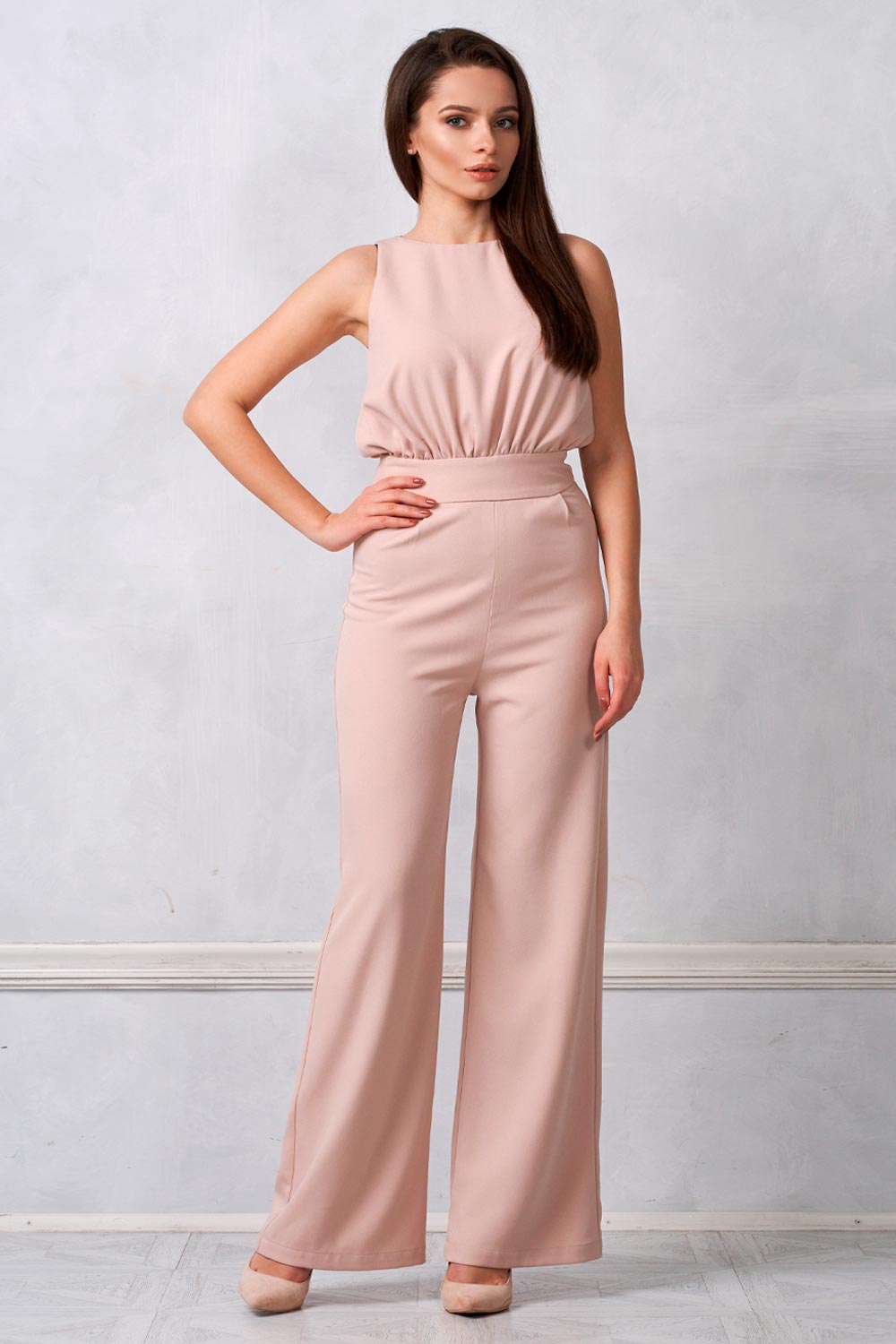 Credit photo: Shutterstock
i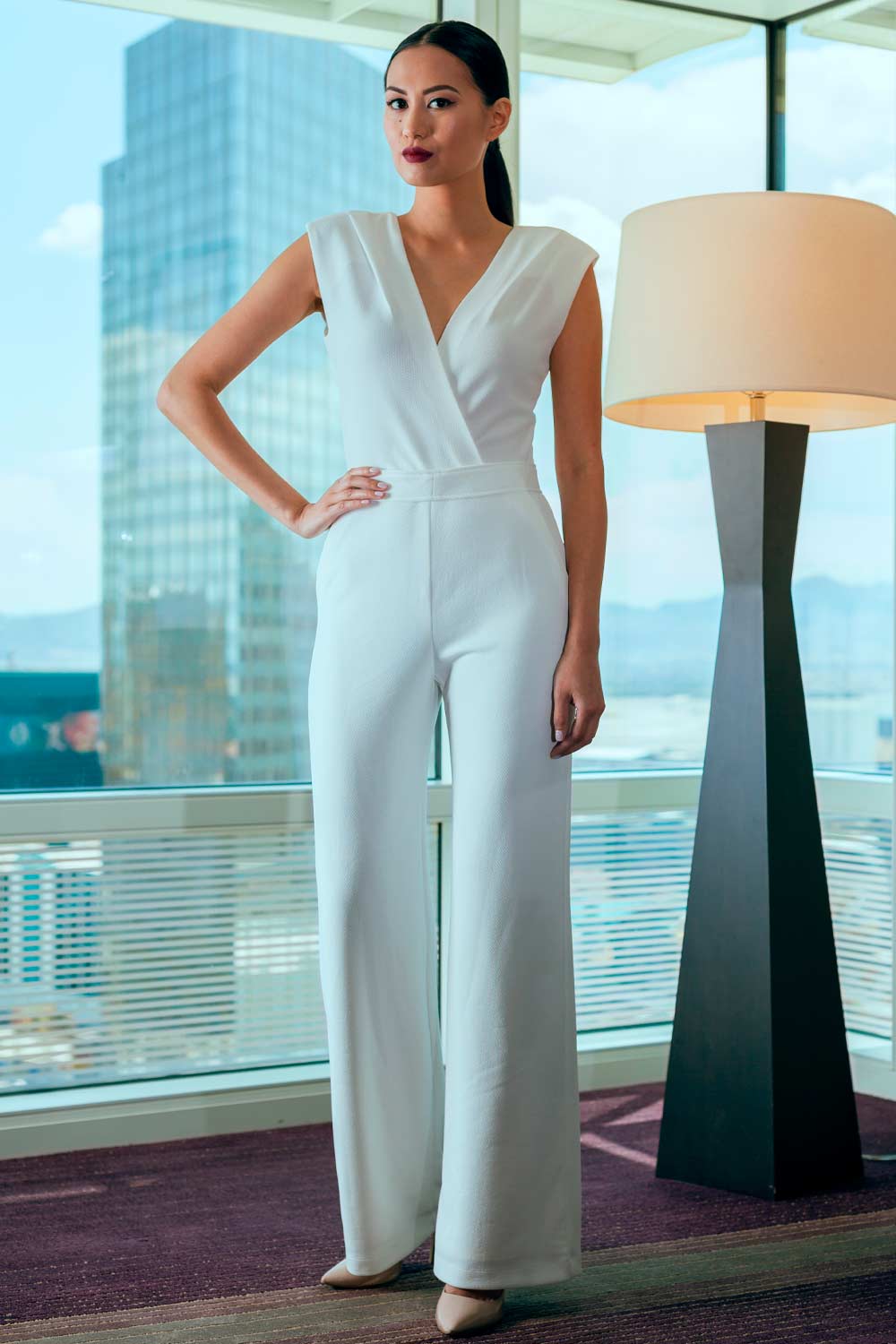 /
Womens overalls are known for their casual appeal. Yet, it is also possible to incorporate them into a more formal environment. Sometimes, all it takes is to pair them with a button-down shirt or suitable blazer. As the overalls grow in popularity, you can wear linen or chiffon overalls to a semi-formal workplace or a business dinner without the fear of looking out of place.
Perfectly Mom-Friendly Overalls
Credit photo: Shutterstock
i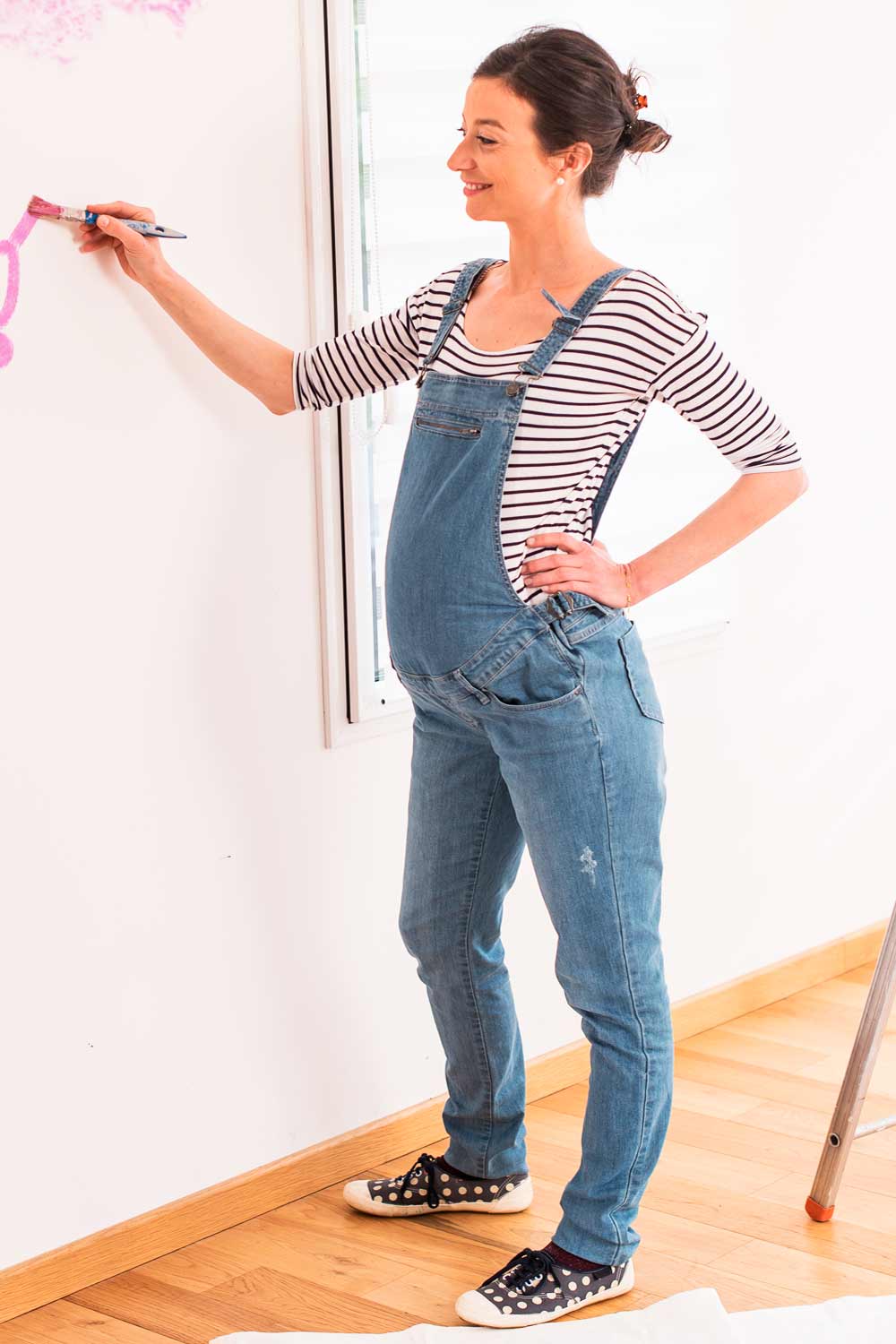 Credit photo: Shutterstock
i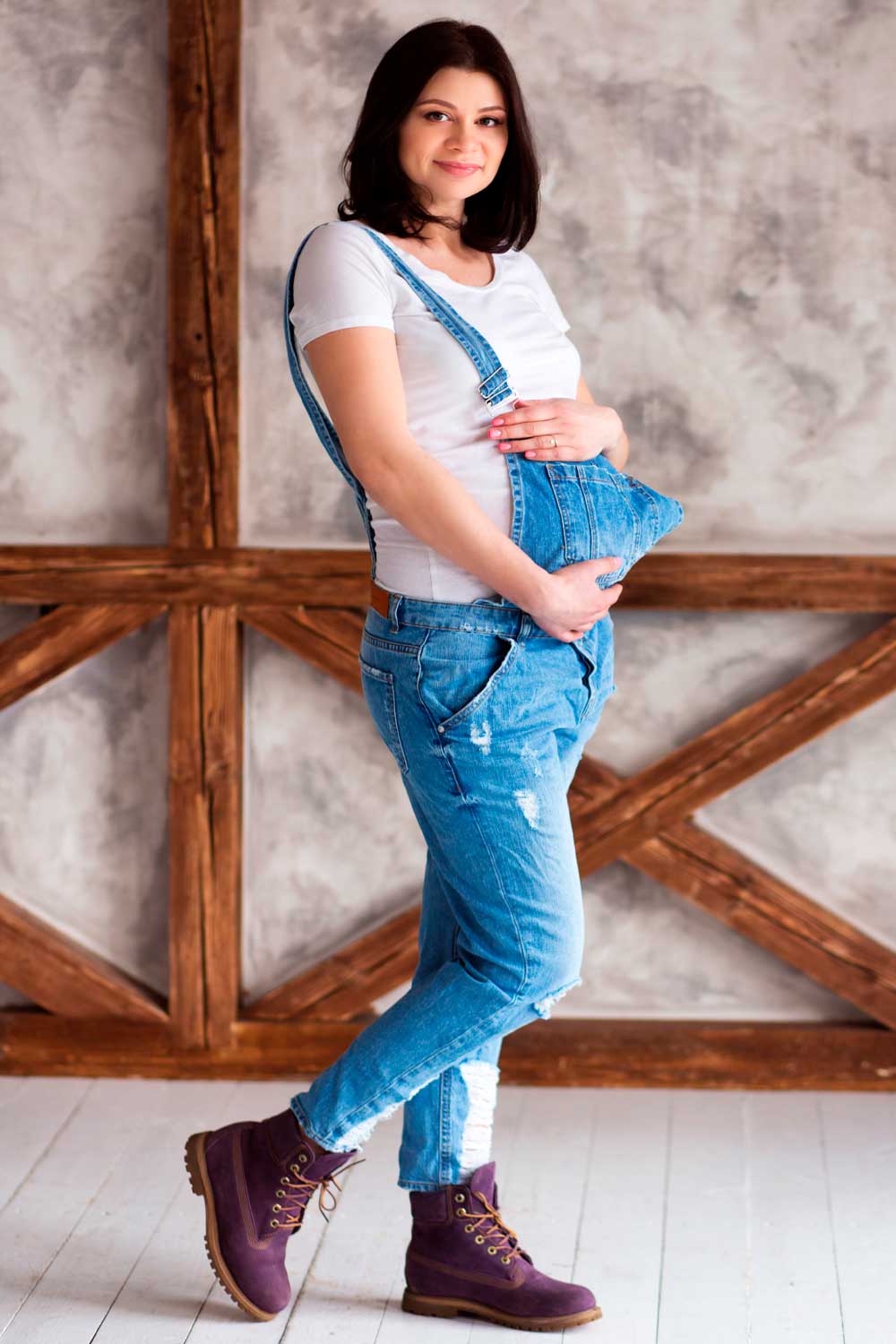 Credit photo: Shutterstock
i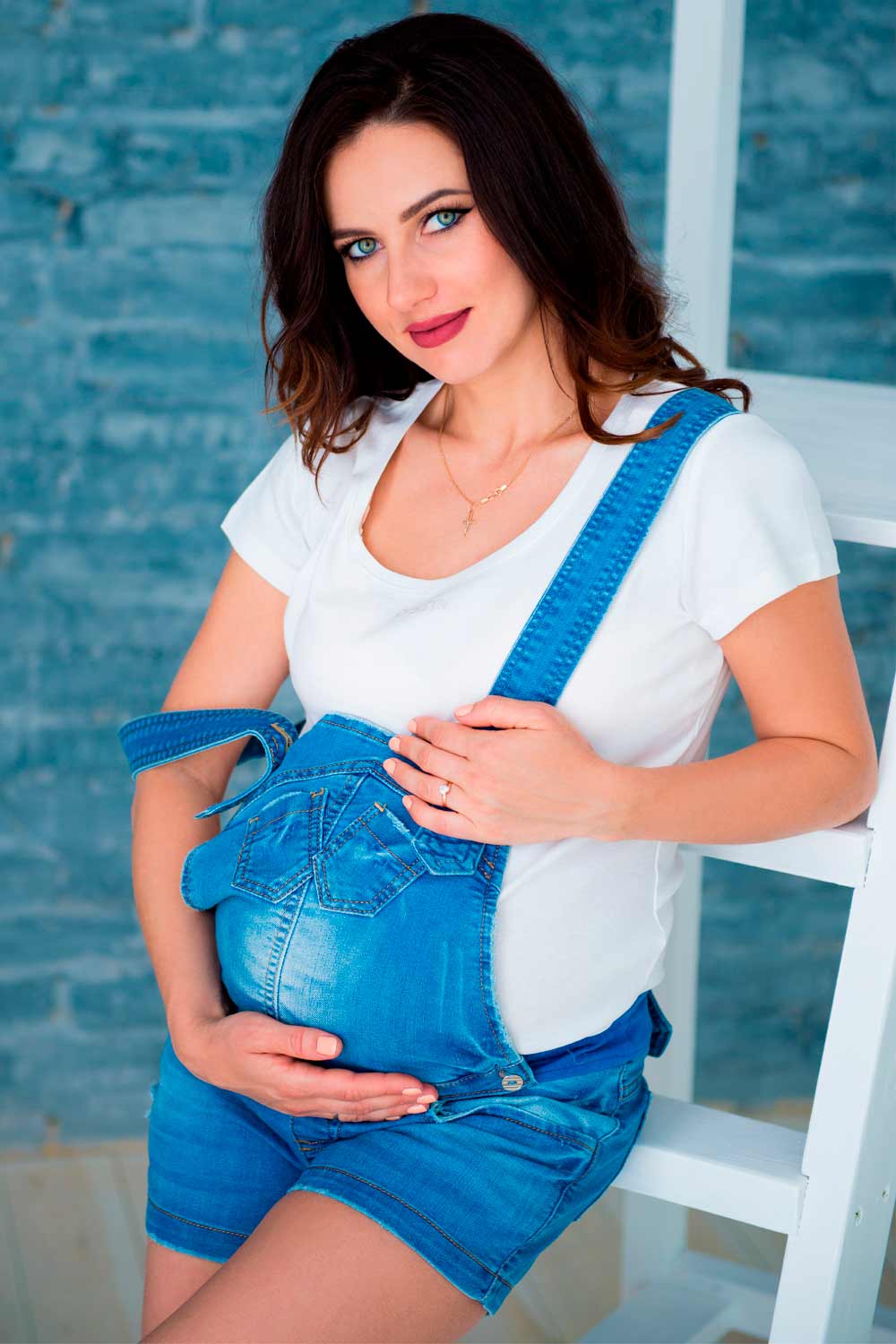 /
Overalls are usually a number 1 pick for expecting mothers, and for a great reason. While the overalls are incredibly comfy, they are also super versatile, so you can play around with your maternity wardrobe without looking like a 10-year-old 24/7. Throw on a long jacket or a chic blazer to keep up with ongoing contemporary trends.
Overalls for Travelling
Credit photo: Shutterstock
i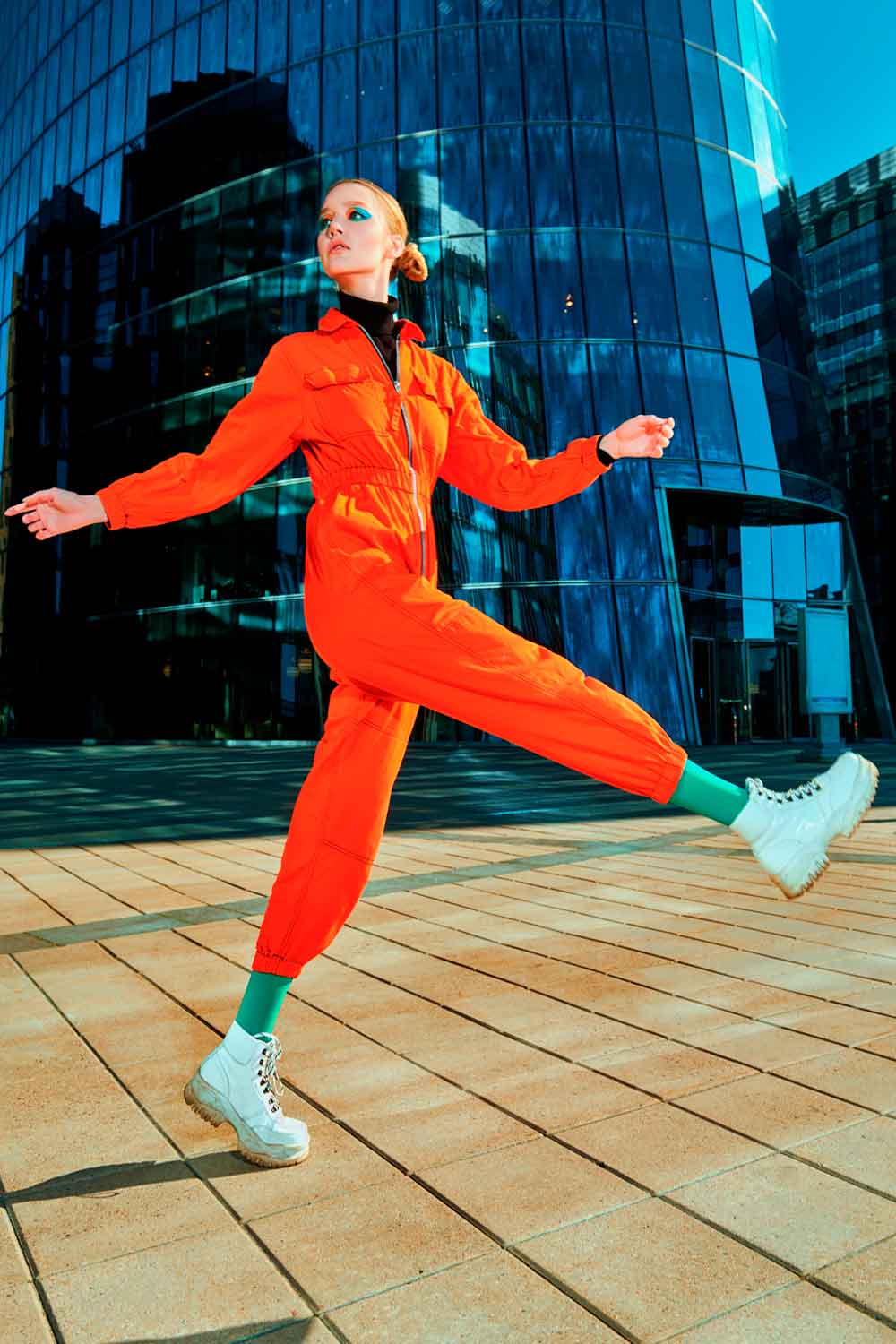 Credit photo: Shutterstock
i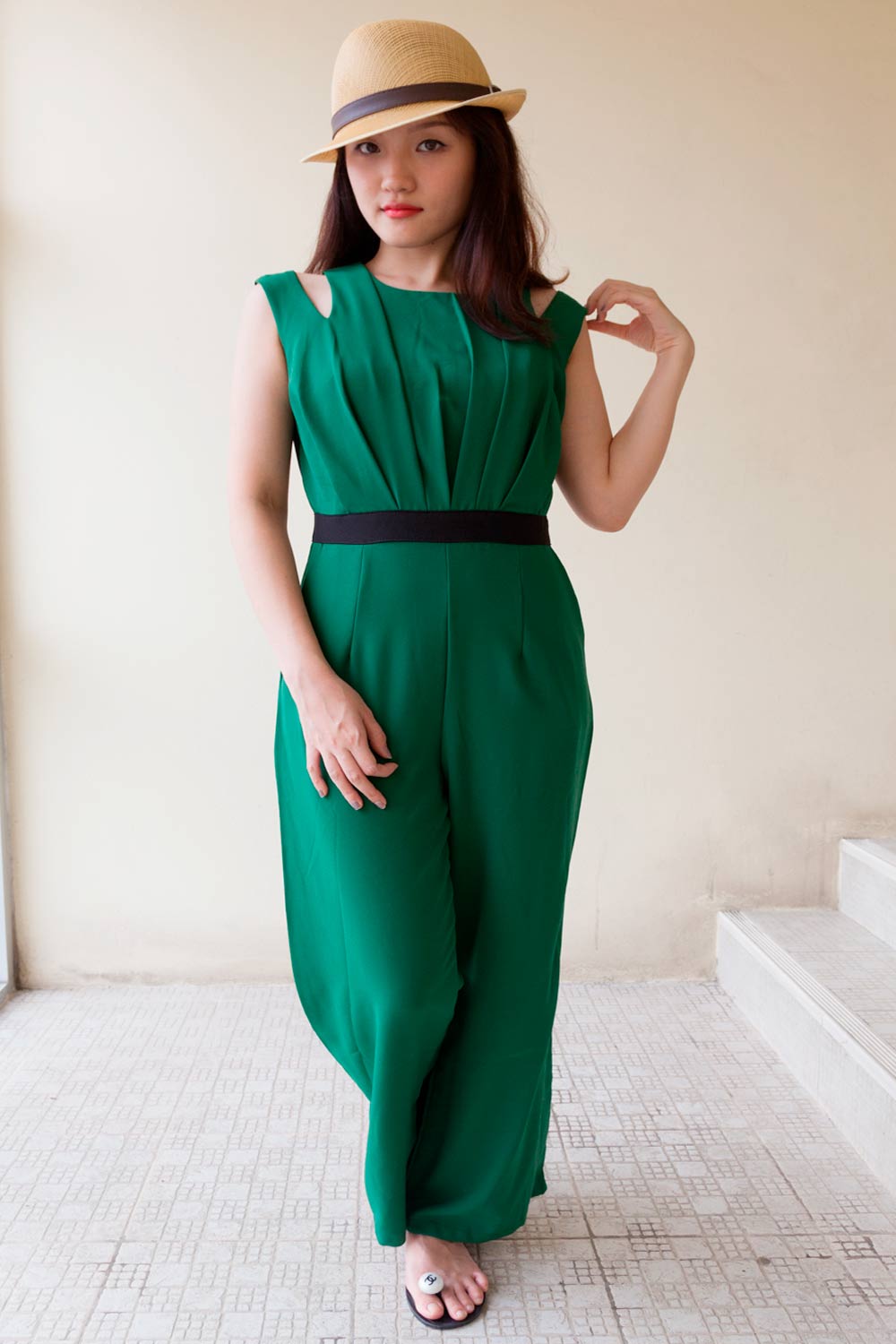 /
Planning your journey outfit is a responsible task. A lot depends on how comfy you feel during the trip, and overalls present a perfect chance to feel that way without sacrificing the style part. All it takes is to find a pair made of dark, wrinkle-resistant material, and you are ready to roll.
Overalls + Footwear
Credit photo: Shutterstock
i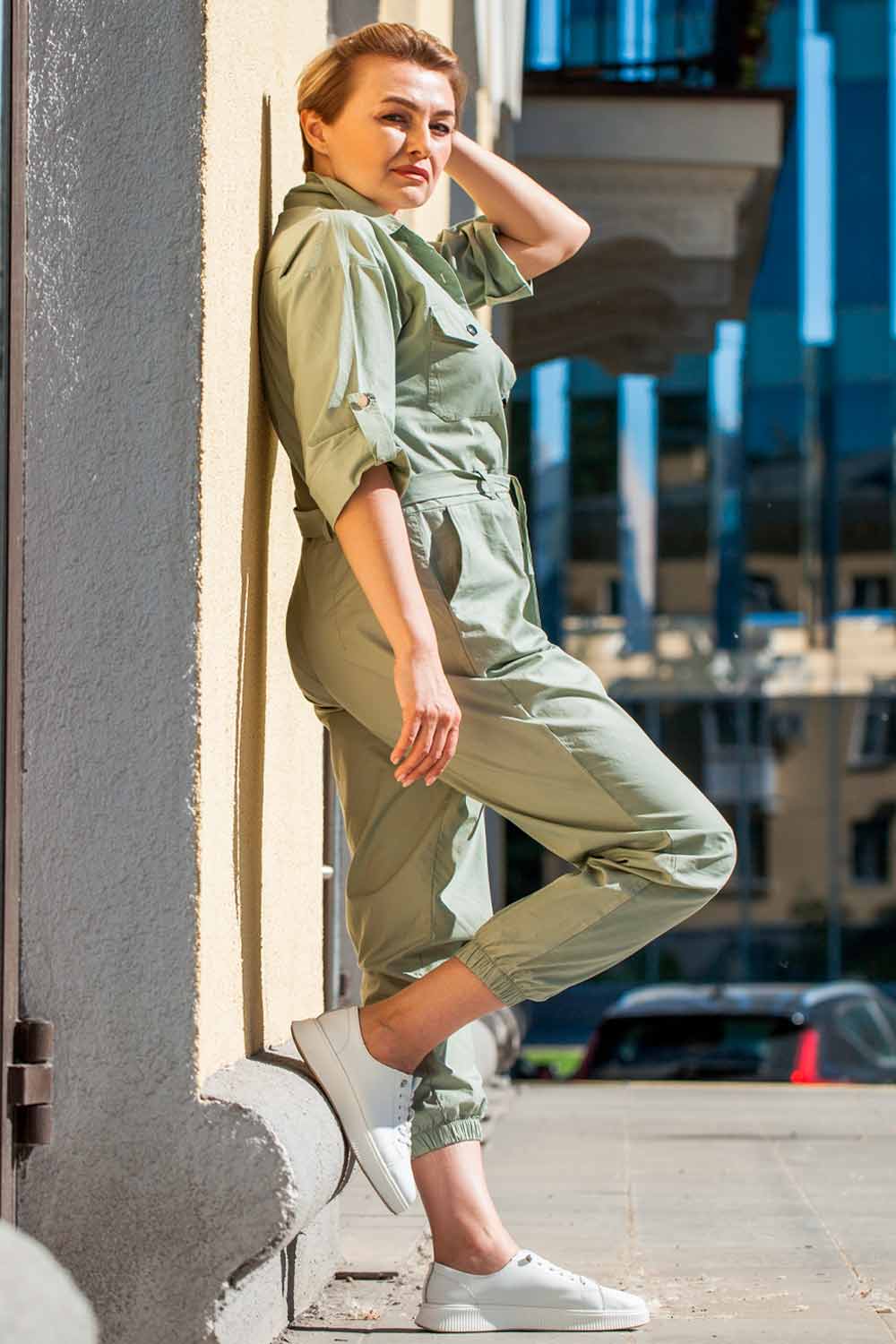 Credit photo: Shutterstock
i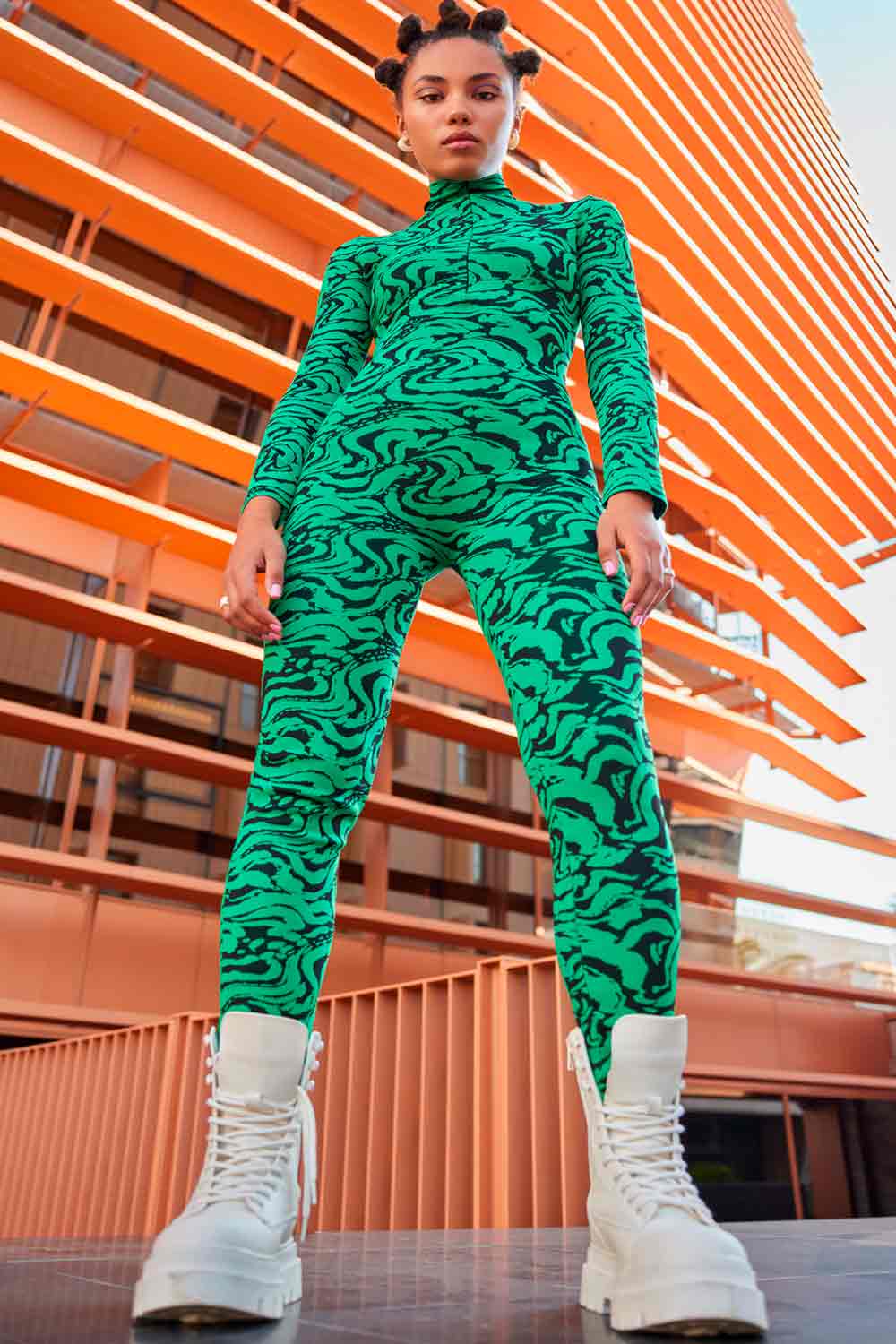 Credit photo: Shutterstock
i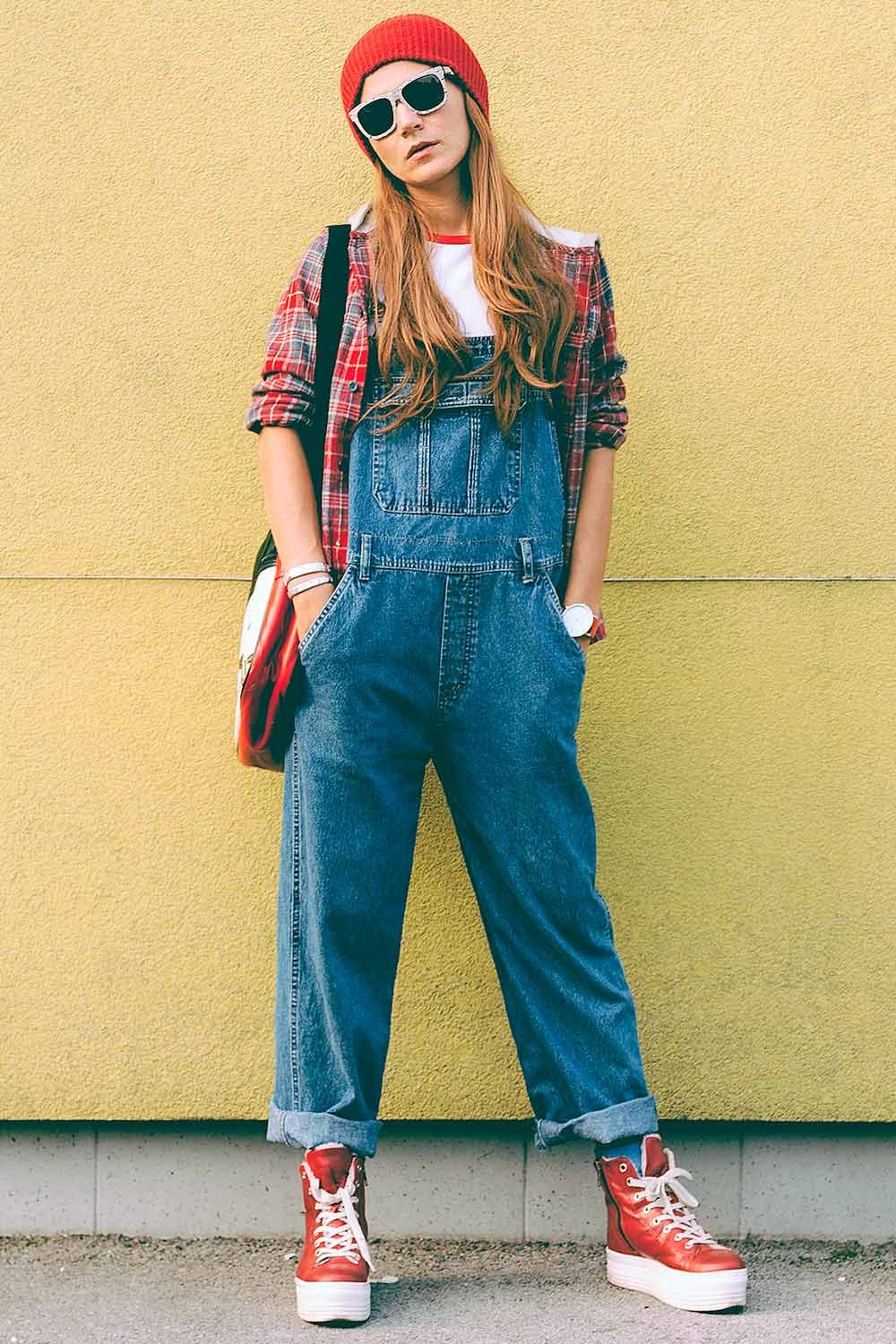 /
To finish off your overalls look with style, you must consider footwear. Despite the item's versatility, some shoes look better with it than the rest. We suggest you pair your overalls with strappy sandals, slip-ons, boots, or sneakers, but chucks are also an option. Keep in mind bright colors and vivid prints are welcome as well.
FAQ: Overalls
Are overalls in style now?
We don't have to worry about looking strange in this basic due to the latest fashions given by trendy designers. Many women are now incorporating overalls into their new looks, such as cool-hipster appearances, retro-inspired workwear and boho clothing. And this can only mean one thing: overalls are back in style.
Are overalls good for hot weather?
Two side-vent holes with snap closures are included in the coveralls. As a result, workers will have more airflow on hot summer days. Airflow is critical as it allows workers to use their bodies' natural cooling mechanisms to reduce the danger of heat stress.
Can adults wear overalls?
Overalls are always in style, so feel free to wear your first pair of (adult) overalls. When it comes to denim overalls, there's an art to layering, whether it's picking between a plain tee or a peasant shirt, a pair of heels or sandals.