Fancy Ways To Add Сardigan To Your Stylish Images
We are not going to argue with the fact that fall outfits are entirely different from the summer ones, but no one said that they should be any less stylish. Cardigan is a good option if you want to take off your leather jacket and make your look more comfy and cute. The fact is that you can spice up any look with the help of a trendy cardigan, and we are going to show you how. The truth is that something as simple as a cardigan can take your look to the whole new level of great. See for yourself!
Striped Cardigan With Black Leggings Outfit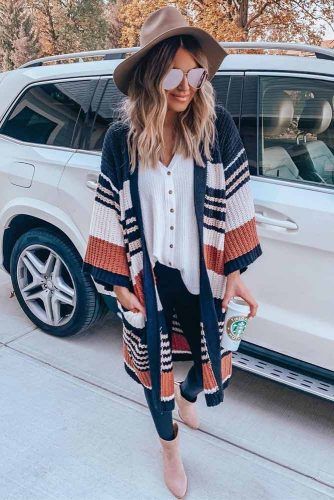 Source: holliewdwrd via Instagram
We know that giving up on the clothes you are used to wearing when it is summery outside may be quite difficult. You know what – you do not have to! The fact is that all you should do is to spice your regular summer look up with a trendy cardigan – that is it. Striped one will be merely irreplaceable when it comes to black leggings outfit.
Monochromatic Look Idea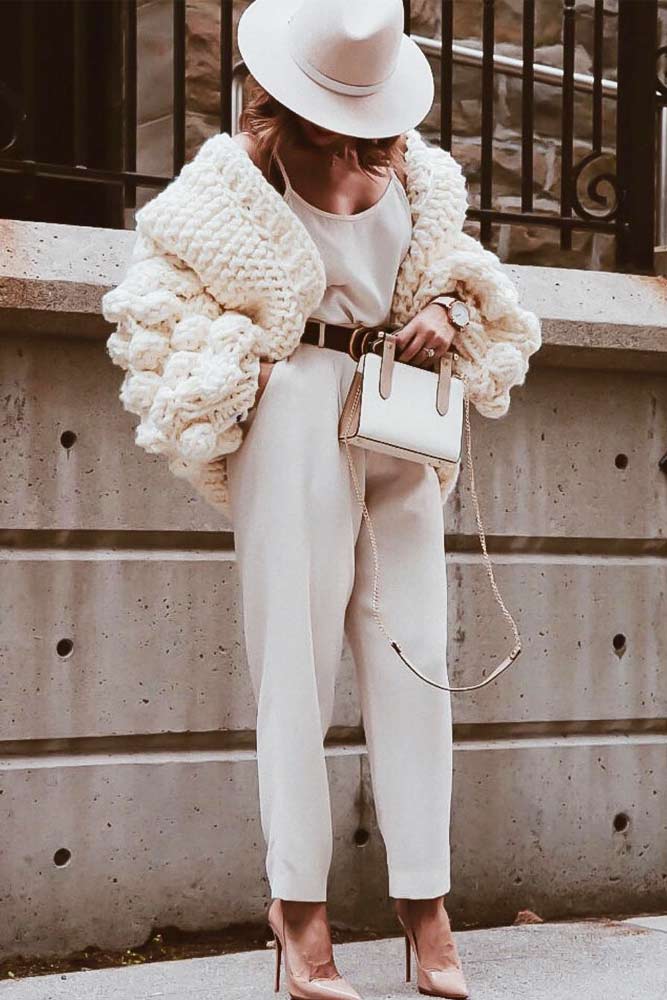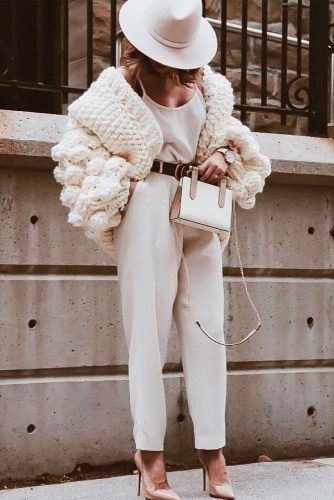 Source: aurelafashionista via Instagram
Stylish ladies – rejoice, you do not need to be cold and look elegant at the same time. We are kidding here, of course. However, no one can't dismiss the fact that a white cardigan looks fabulous with a pair of formal pants and cream-shaded heels. Besides, oversized sweaters are all the rage at the moment. Do not thank us!
Plaid Cardigan With Over The Knee Boots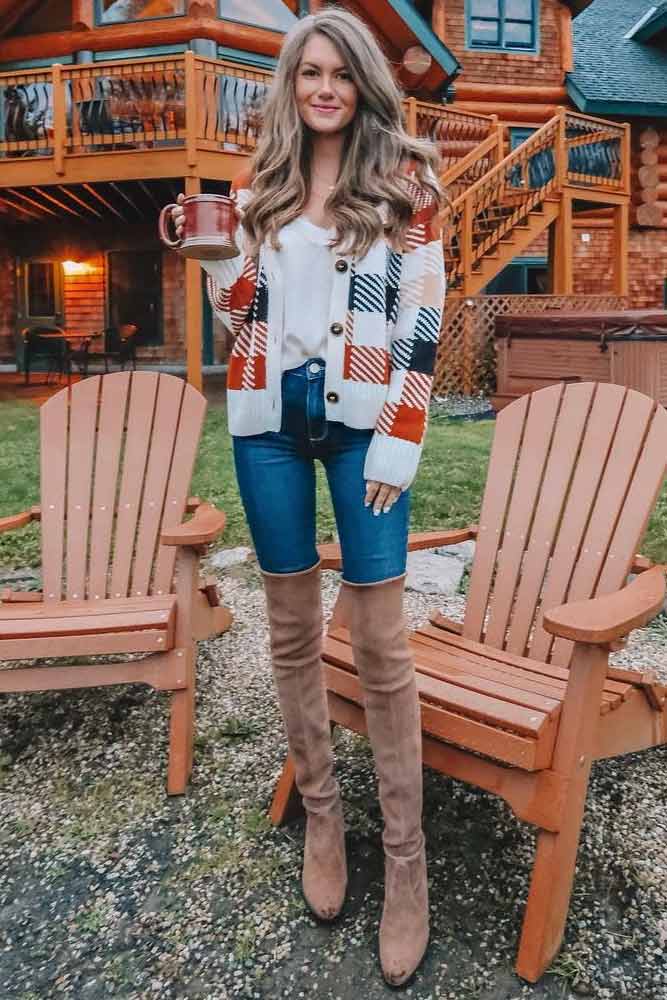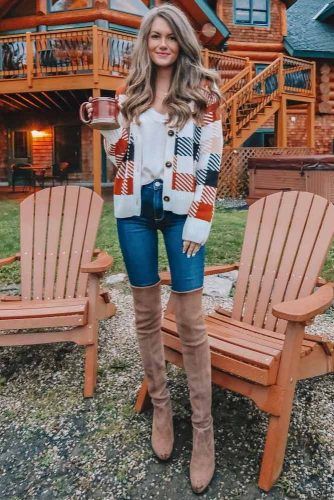 Source: cmcoving via Instagram
There are times when you are off on vacation, and you can't plan your vacation look properly. That is when we are reaching out a helping hand! The thing is that if it is autumn or spring outside, it is best to keep yourself warm all the time. While a plaid cardigan will take care of that referring to your upper part. The OTK boots will keep your feet dry and warm too.
Print Pants With Cozy Oversized Cardigan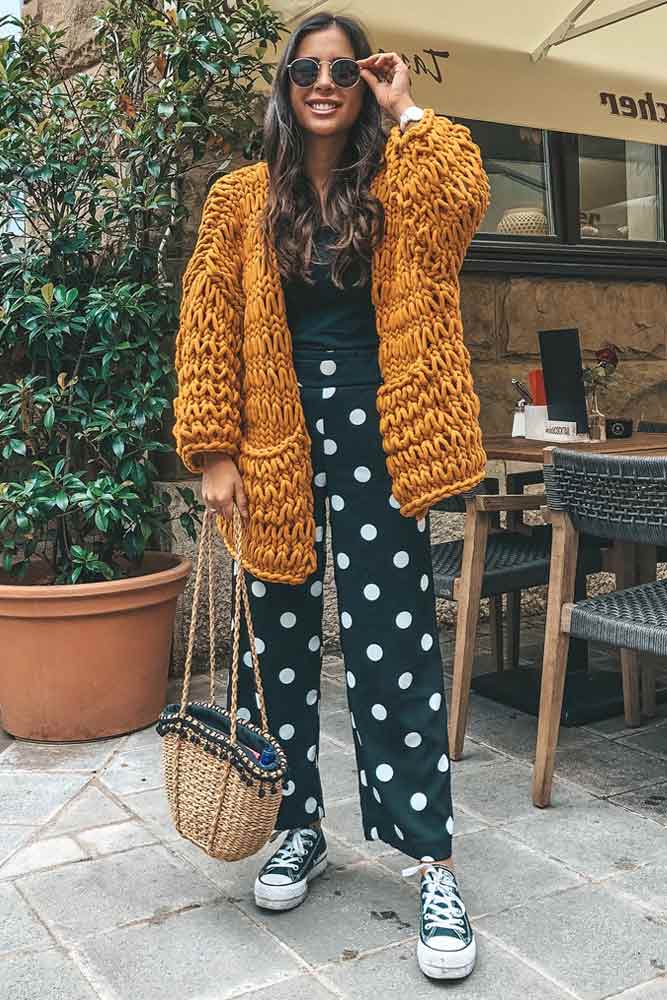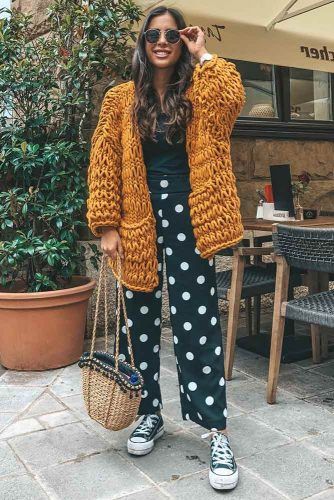 Source: jldrae via Instagram
Casual style is adored by all the fashionistas in the world. But what should you do when the weather gets bad? The answer is simple – get a cardigan. An oversized cardigan of mustard tones seems to be made to match these print pants look!
Gray Cardigan With Casual White Dress Outfit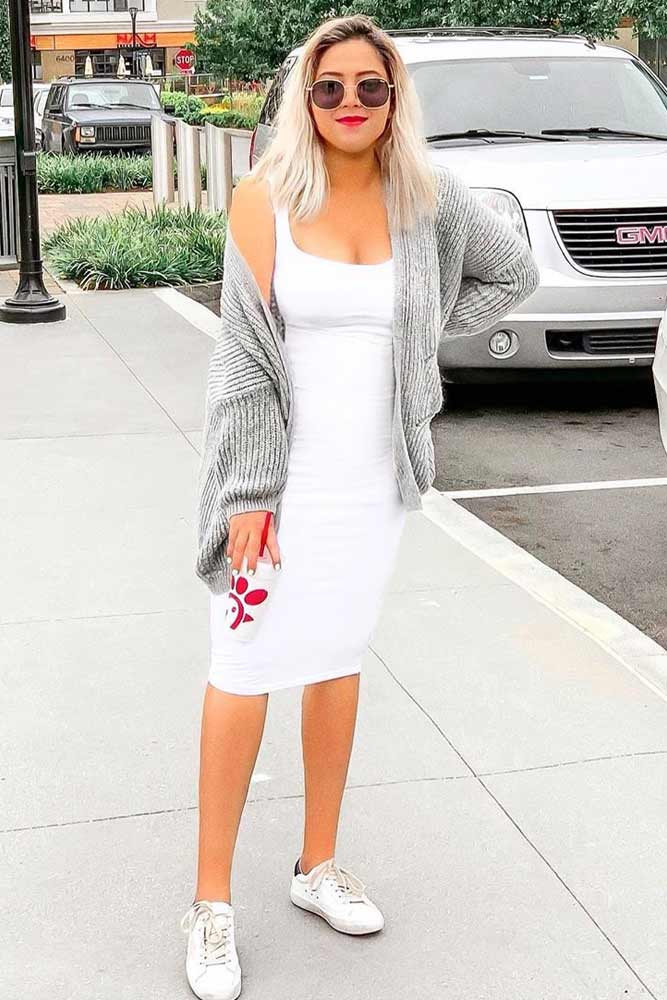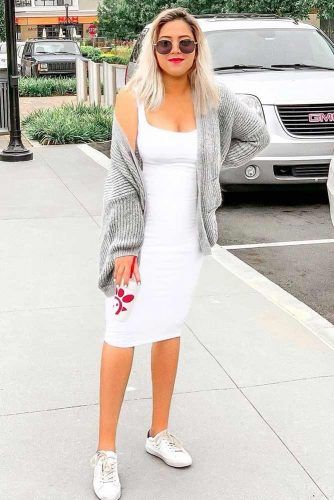 Source: sunainadas via Instagram
Looking for a casual outfit that will keep you both stylish and warm? We have a though in mind that you can consider. The fact is that when you are about to pull off a dress look, make sure that you own a matching cardigan in store. For instance, a grey cardigan will complete your white casual dress just perfectly.
Midi Dark Blue Cardigan With T-shirt Dress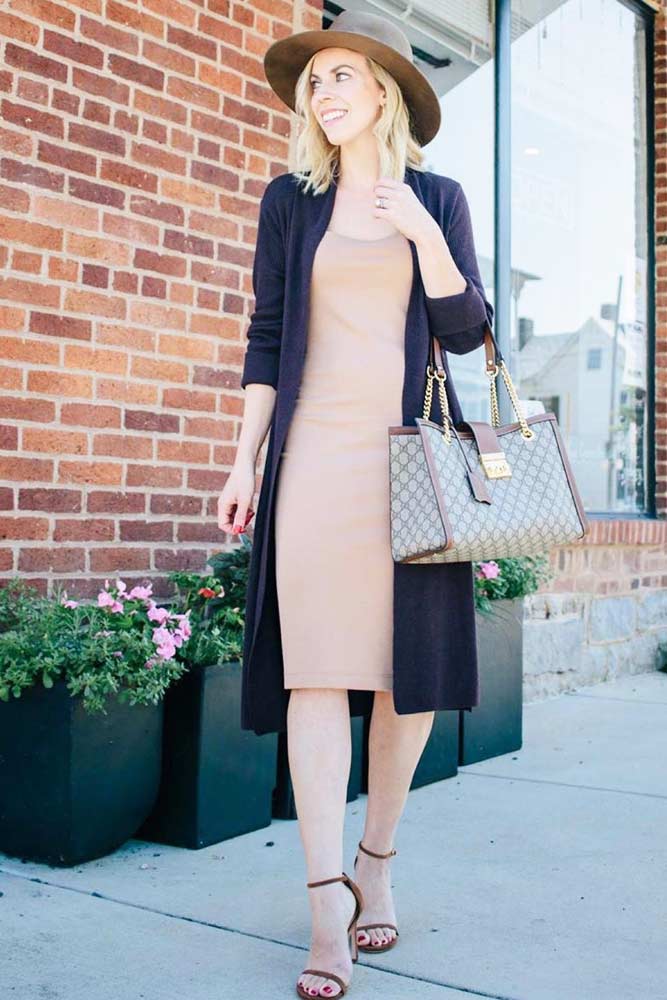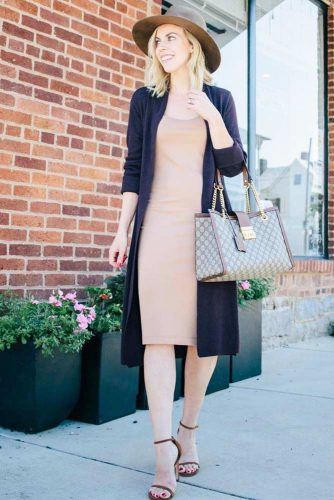 Source: meagansmoda via Instagram
There are countless womens cardigan ideas to choose from. However, it is more than essential that you pay great attention to the hues of the cardigan you are about to add to your wardrobe. Keep it in mind that dark hues go well with neutral tones. Just like this natural-shaded T-shirt dress and a dark blue cardigan.
Plaid Comfy Dress With Crochet Cardigan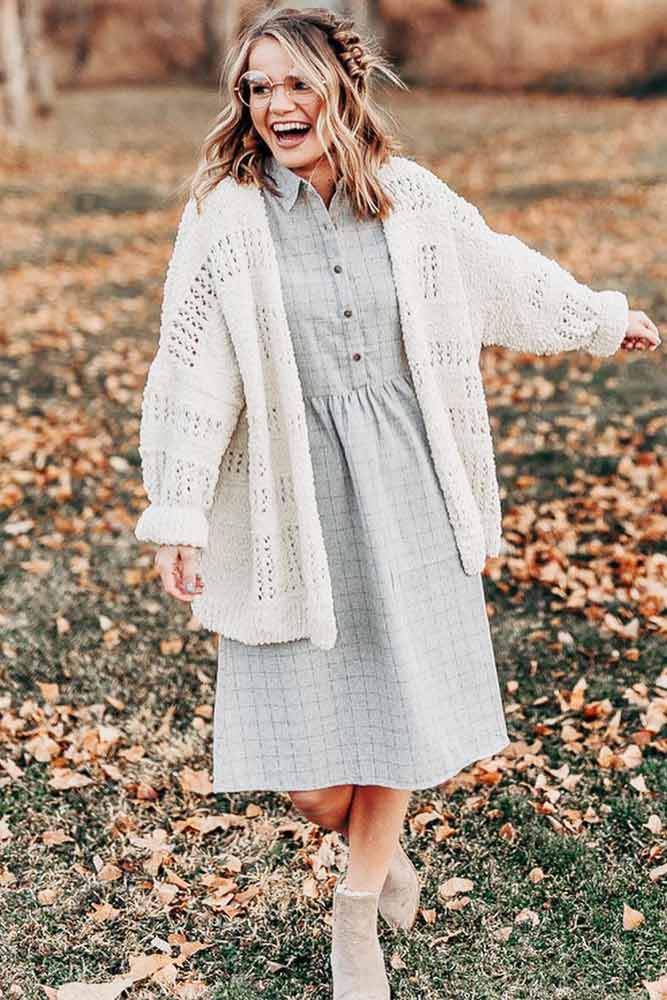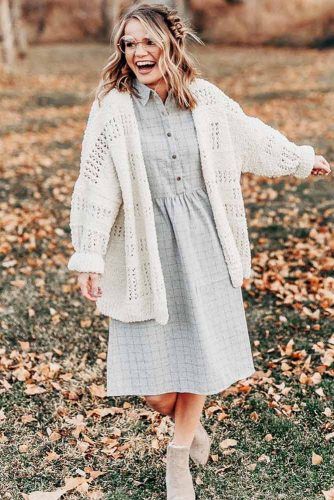 Source: oliveaveboutique via Instagram
Very often you may have that one comfy dress in your closet, but it is too cold to put it on alone. In times like this, a cozy knit cardigan will save the day. One look at this plaid dress and crochet cardigan, and you are about to make up your mind.
Layered Outfit Idea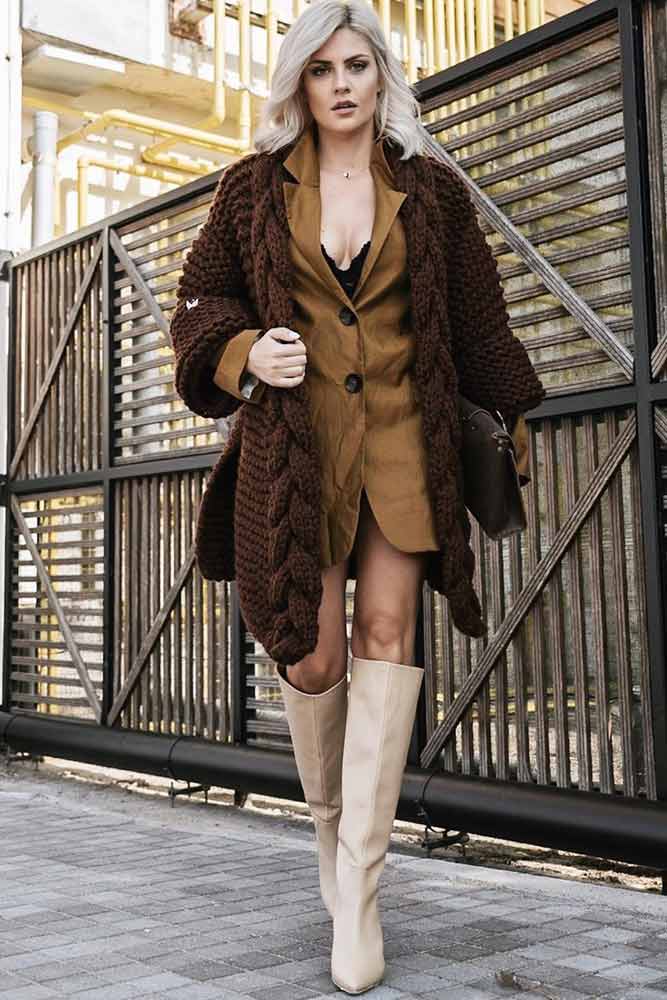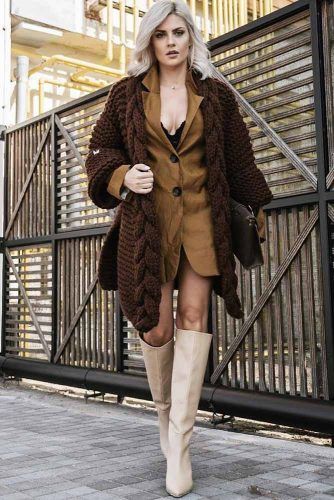 Source: mumshandmade via Instagram
There are times when it is easy to assume that a jacket won't go well with a long cardigan. Surprise-surprise that is anything but true. To be honest, combining your oversized cardigan with a layered outfit is the trendiest idea ever! If you are pulling off something short, do not forget about the OTK boots!
Black Mini Skirt With Pink Cardigan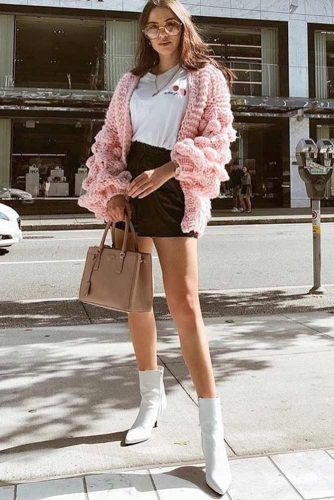 Source: vitaliia via Instagram
It is easy to look all formal and to feel cozy with a pink cardigan on. The voluminous cardigan can accent the mini skirt as well as the boots. Besides, you do not need to wear a blouse to impress your co-workers. A simple white T-shirt will do perfectly.
Camel Cardigan With Black Jeans And Belt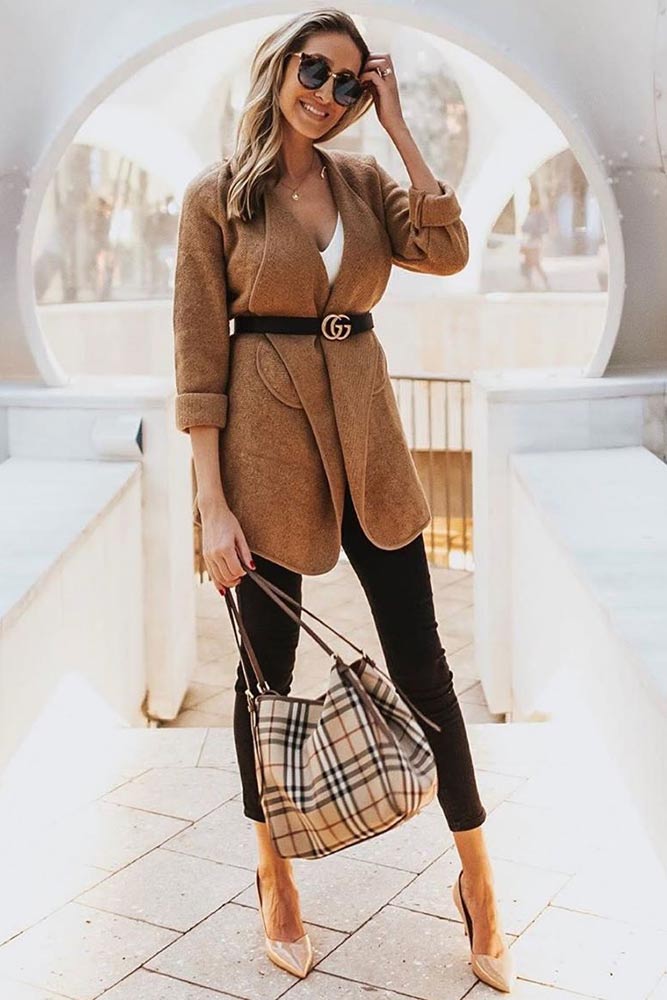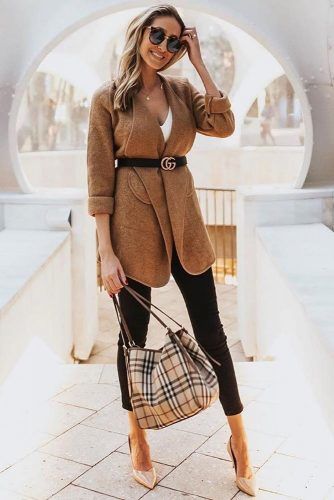 Source: alinelowry via Instagram
Did you know that you can accent your legs by wearing a pair of skinnies just like that? Although you need to consider a good match for the pair. We think that a woolen camel cardigan will deal with the task effortlessly. Besides, a pair of neutral heels will take a look to the next level of gorgeous.
Beige Cardigan With Blue Ripped Jeans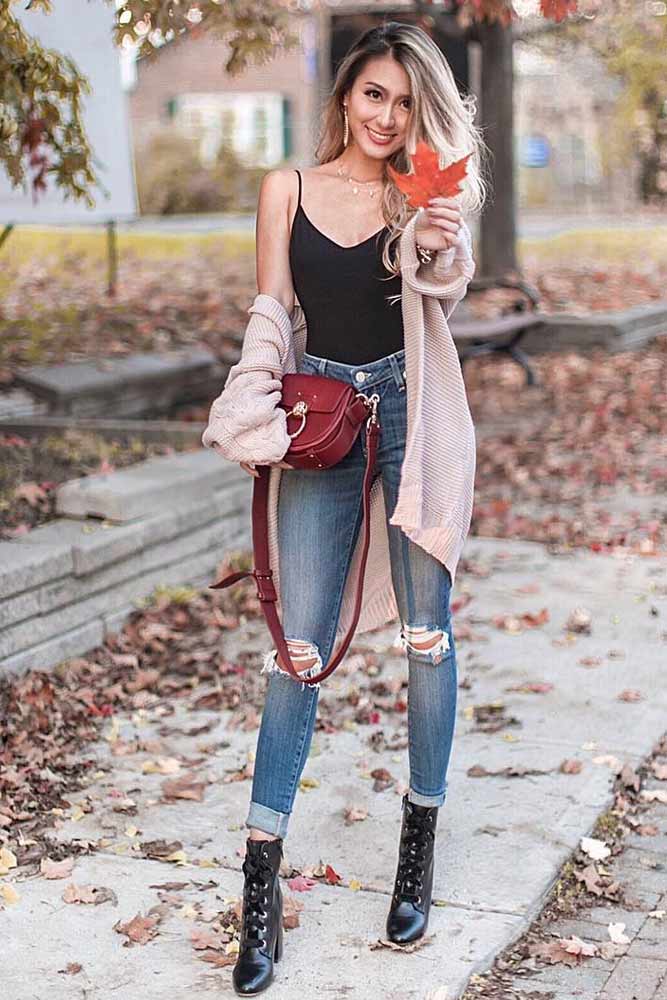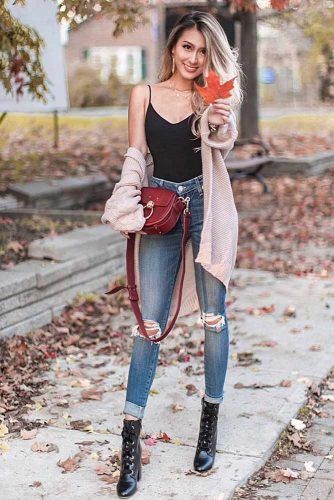 Source: kerina.wang via Instagram
To look absolutely casual you need a beige cardigan. The fact is that if ripped jeans are your cup of tea and the change of season can't influence your devotion, then a proper cardigan will become your irreplaceable friend. At times when it is cold in the morning and burning hot at not – this look would be your best bet.
Minimalistic Outfit Idea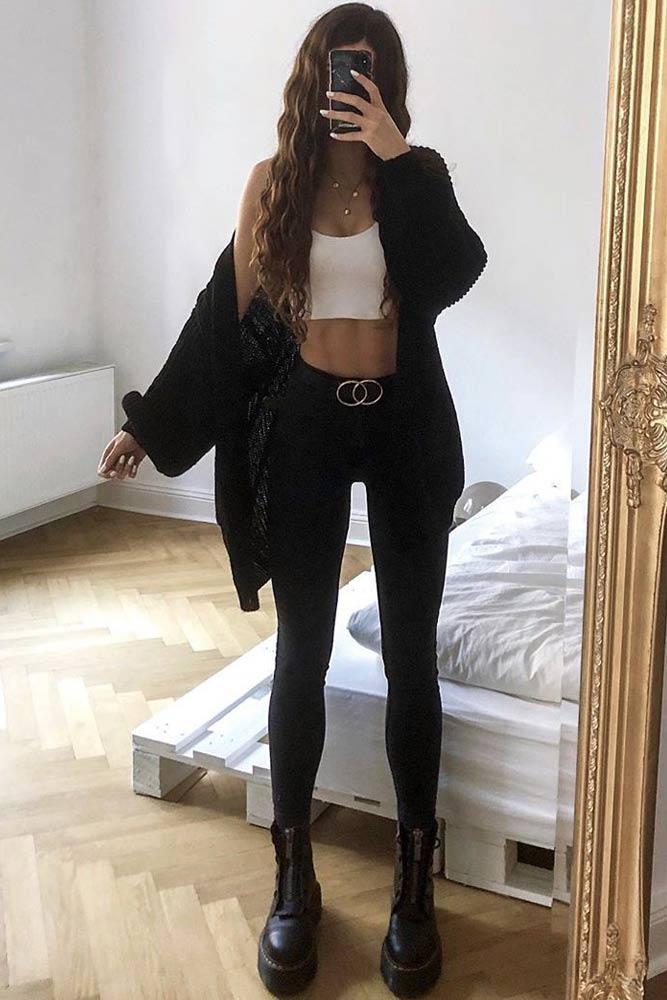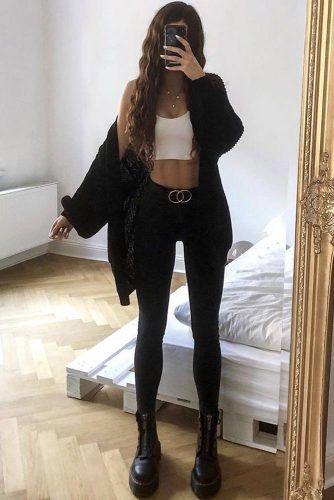 Source: kathiischr via Instagram
Are you an edgy kind of chick? Worry not. We know what is missing from your autumns look – a black cardigan! The fact is that black jeans and a crop top won't save you from the cold – while a suitable cardigan surely will!
Brown Cardigan With Jeans Outfit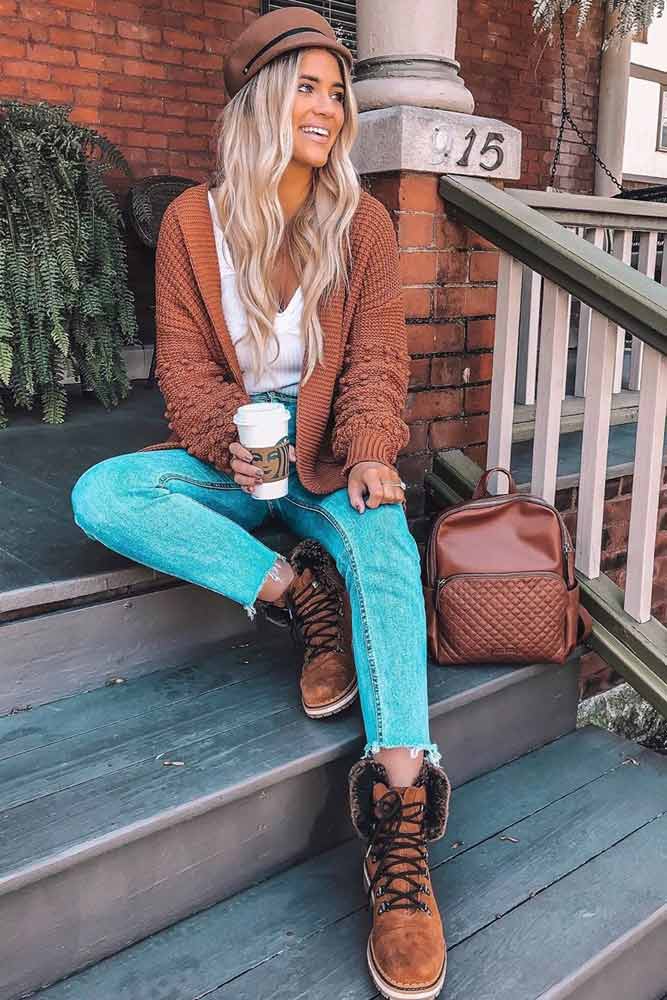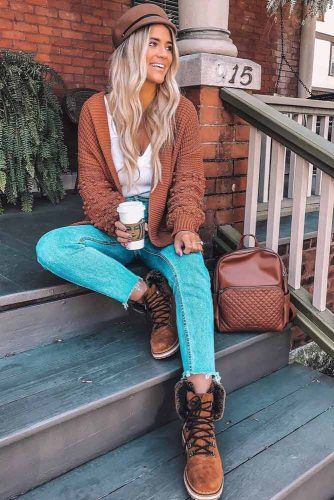 Source: samanthakatew via Instagram
There are times when you are not feeling like planning your today's outfit. We feel you, gal! That is why we suggest you this seamlessly causal look to replicate. There is nothing extraordinary about it, but when you match all the elements in one look – you will look magnificently ordinary and extraordinary at the same time.
Print Design With Beige Pants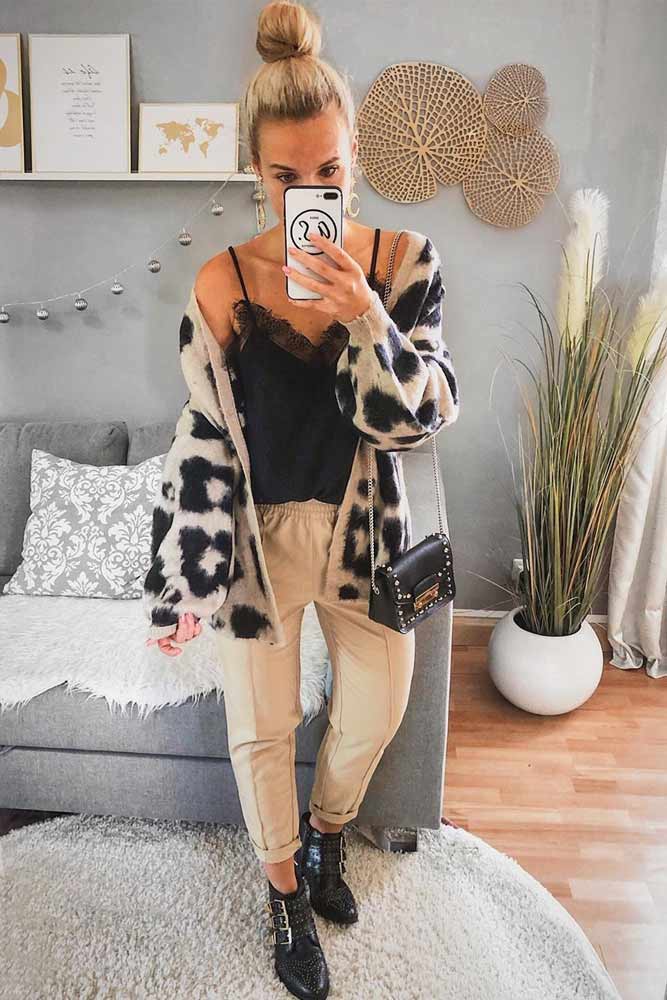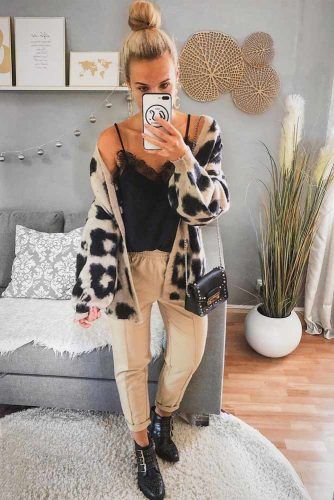 Source: caroko__ via Instagram
There may be a false assumption circulation that cardigans do not go well with summery tops. Here is the case, when we change the course of fashion. The truth is that we are going to produce the look that is not only against general opinion but also trendy and stylish looking. We assure you that with a printed cardigan like that, you can pull off almost anything!
Ruffled Skirt With White Knit Cardigan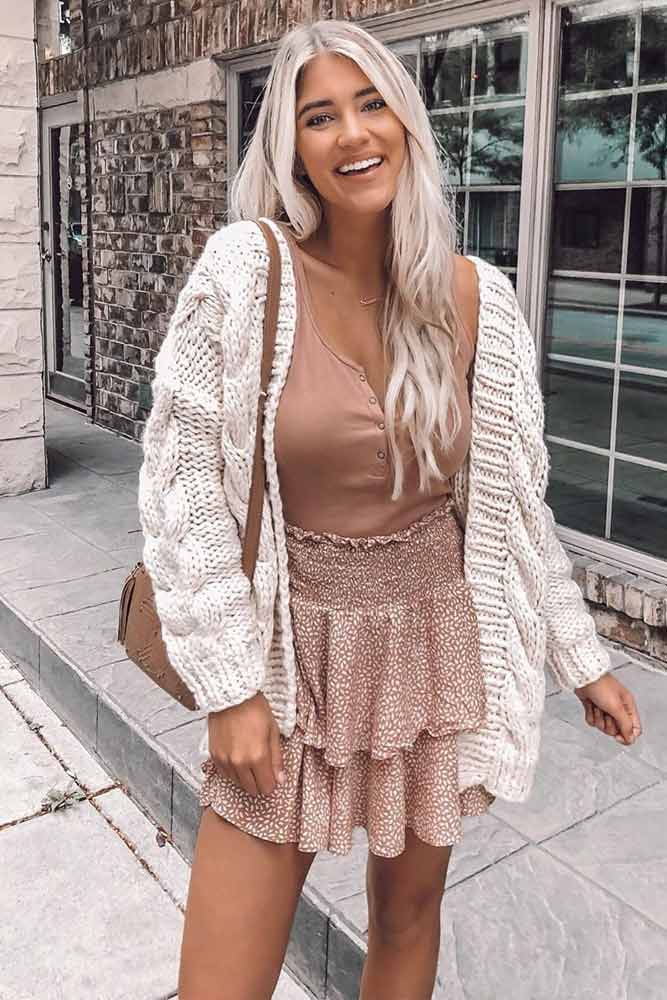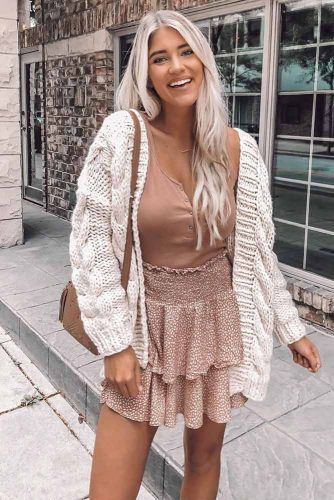 Source: samanthakatew via Instagram
We do not wish to repeat ourselves, but light ruffled skirts are entitled to warm seasons only. Unless you know how to mix and match a knitted cardigan with such a mini skirt. We are going to share a secret – the key point is to stick to the same color palette!
Maxi Floral Skirt With Burgundy Cardigan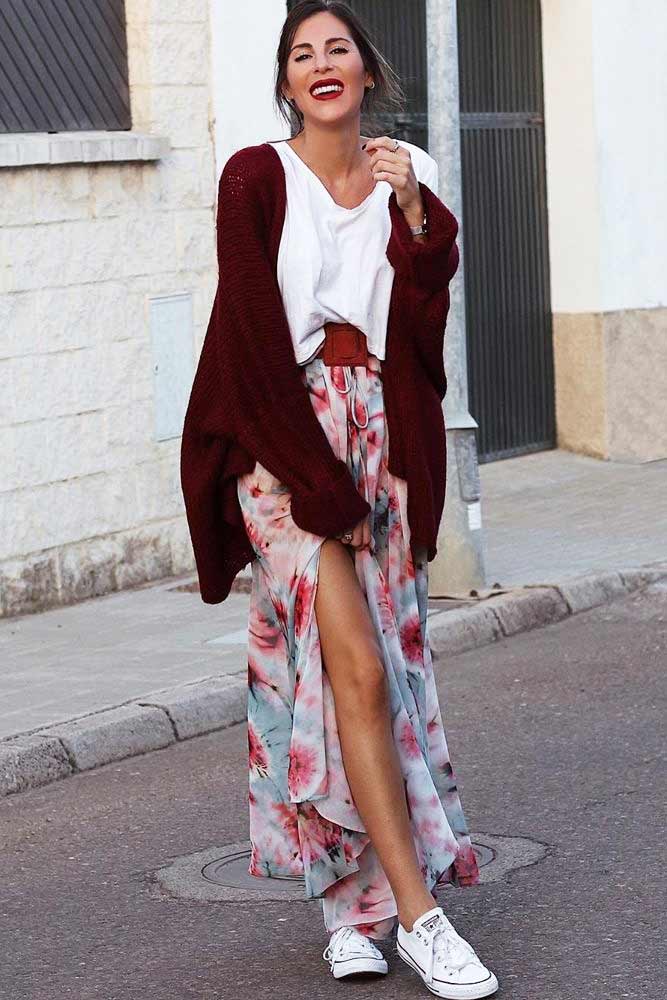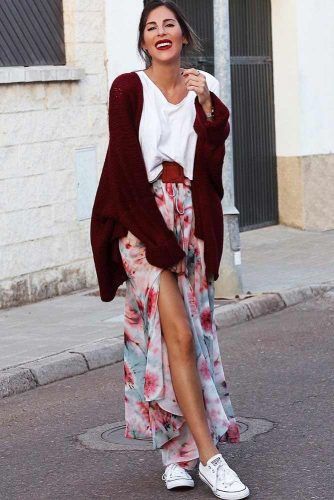 Source: martitamgd via Instagram
It is true that red cardigan may be too vibrant for certain occasions. Here is a burgundy one come in! The truth is that burgundy one is as juicy but less attention-drawing. Besides, you can easily sport such a design with a maxi dress, even if there is a summery floral print on it!
Gray Trousers With Bubble Sleeves Cardigan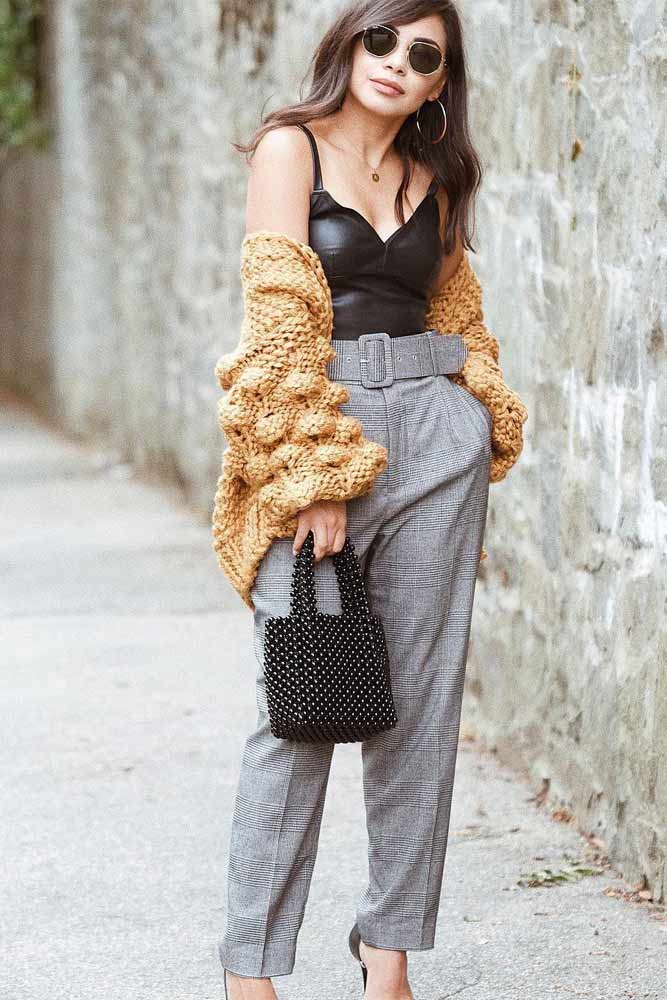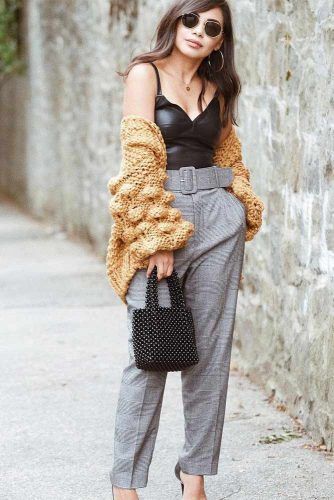 Source: thestylebrunch via Instagram
It is always important to add definition to the areas which are lacking it. In this case, the beautiful yellow cardigan adds some more dimension to the top while grey pans and leather top take care of the rest. Oh, do not forget to add heels to the look!
Cropped Cardigan With Jeans Outfit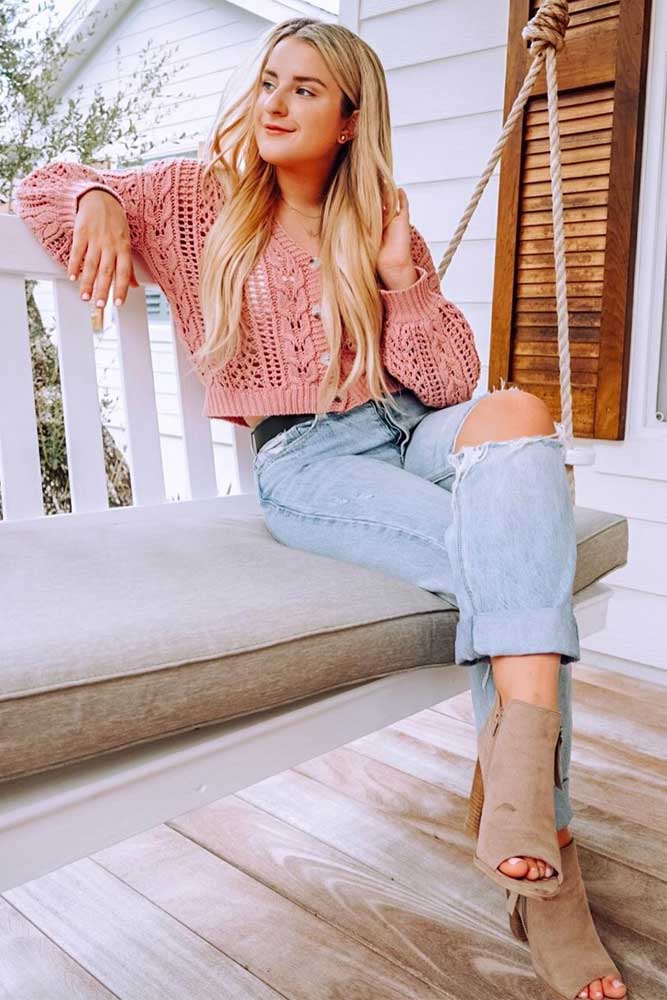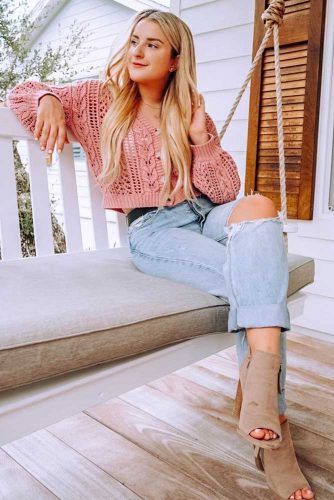 Source: melgalmin via Instagram
Cropped tops are all the rage these days. However, we realize that when summer ends and the fall hits, they are going to turn out to be pretty useless. That is when a cropped design takes place! Take this pink one – you can easily match it with a pair of your favorite ripped jeans and a pair of stylish sandals! How cool is that!
A cardigan is a piece in your wardrobe that you should never underestimate. The fact is that you can easily introduce it into any look as long as you know the rules to stick to.