Fall outfits are perhaps the most fun to style, with so many options for layers and accessories. Fall is the perfect time of the year to break out pretty, colorful scarves and stylish boots. From falling leaves to cooler breezes, fall seems to be everyone's favorite time of the year!
With so many sweaters, shirts, skirts, and jackets to choose from, you will have no trouble finding cute outfits for school this fall. There are so many great looks out there that you won't be disappointed. And these days, pretty much anything goes when it comes to style. So, feel free to mix it up and create your own style!
We have gathered some of the hottest outfit ideas for fall! Pin your favorites and get ready to break out those boots and bomber jackets! Fall will be here before you know it!
Stylish Outfit With A Sweater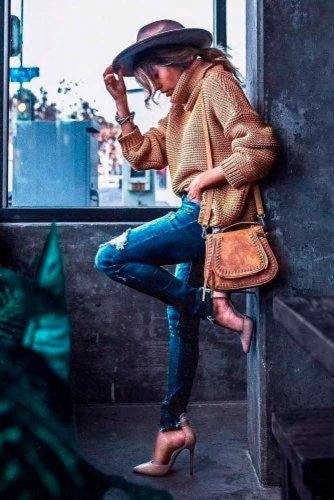 Source: frankvinyl via Instagram
Fall is all about the sweater. Every woman eagerly waits for fall to show off her favorite sweaters and this year's fashion trends are no exception. It's all about the texture. So, choose your favorite, be it wool, cashmere, or tweed.
Pair your favorite bulky sweater with ripped skinny jeans for a comfy look that will never go out of style. But if you want to dress it up, don your favorite cowboy hat and cute suede purse. But what really pulls this look together are the sexy stiletto heels that say you feel a bit flirty.
Fall Everyday Outfit With A Long Cardigan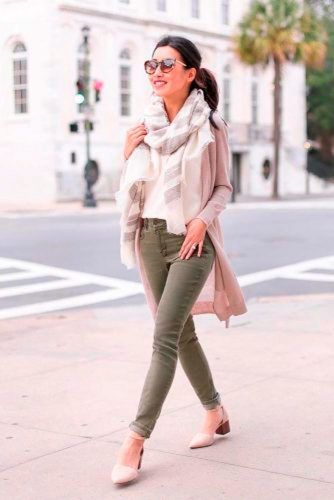 Source: jeanwang via Instagram
Of course, you need to have your everyday outfits for fall in addition to some sexy and stylish casual looks. This look is ideal for work or lunch in the city with the girls. Pair a long cardigan with green khaki pants and a white shirt or blouse. Then choose your favorite long scarf and platform heels for a relaxed vibe that says you are up for anything that involves fun and adventure!
Comfy Fall Outfit with Skinny Jeans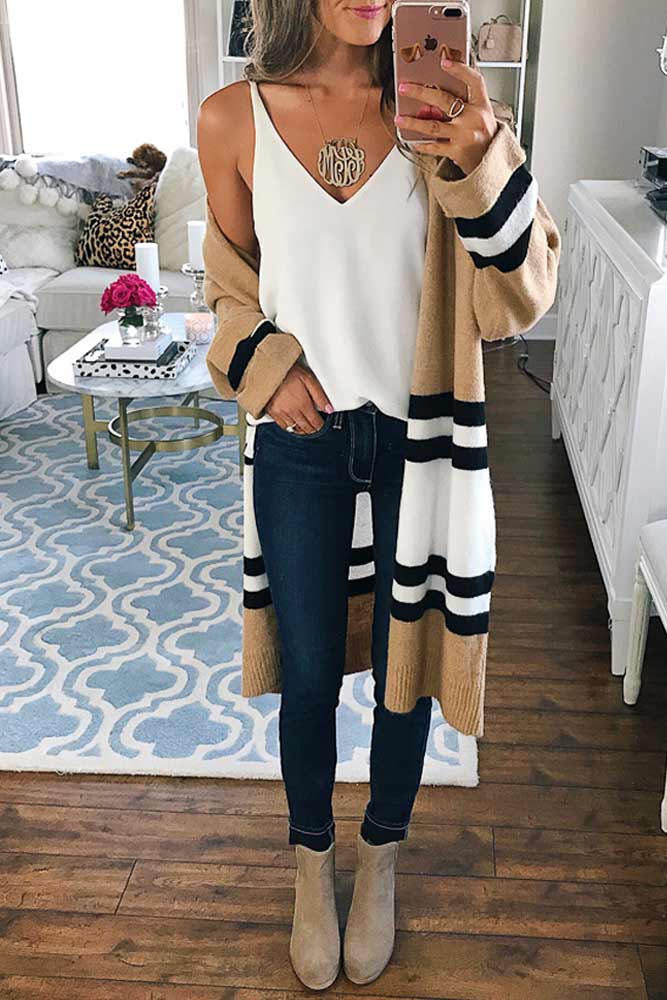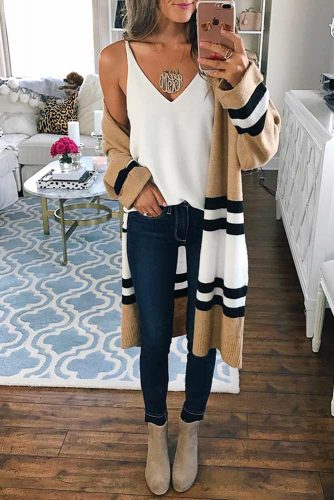 Source: Southerncurlsandpearls
Skinny jeans are still very popular. And they are extremely flattering. The long sweater over a tank top in pretty neutral fall colors is very pretty. The suede ankle boots go perfectly with the colors of the cardigan and look super cute with the blue skinny jeans.
Stylish Look with a Moto Jacket and Ripped Jeans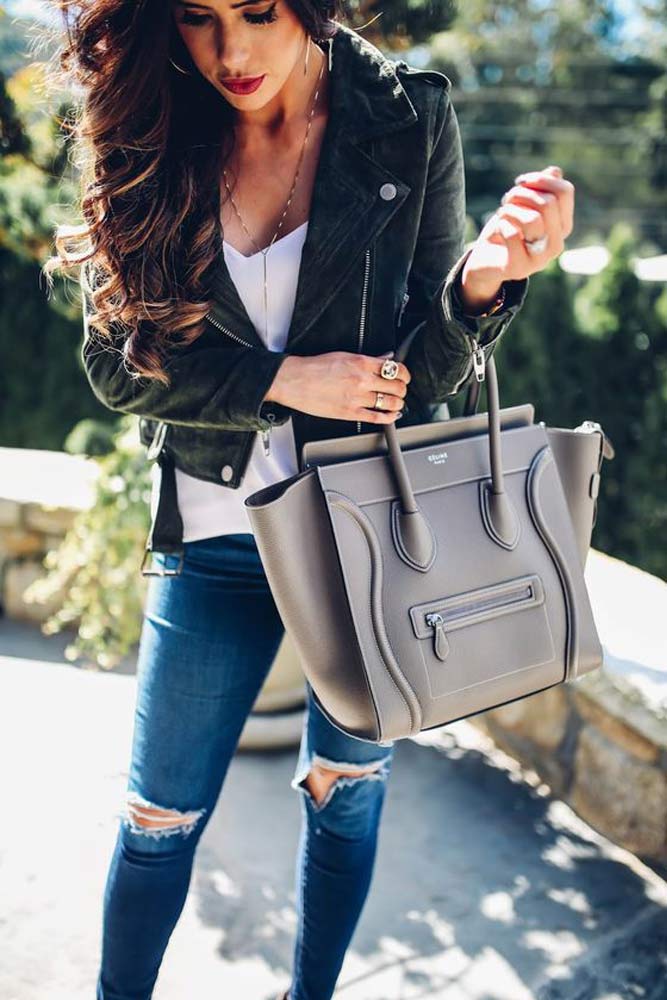 Source: Thesweetestthingblog
Ripped jeans and motorcycle jackets used to be considered rebellious, but now they are very much in style. We love the combo of the ripped skinny jeans with the moto jacket over a comfy tee shirt. This look is stylish yet edgy for a fun and casual vibe.
Casual Fall Look You Should Try this Season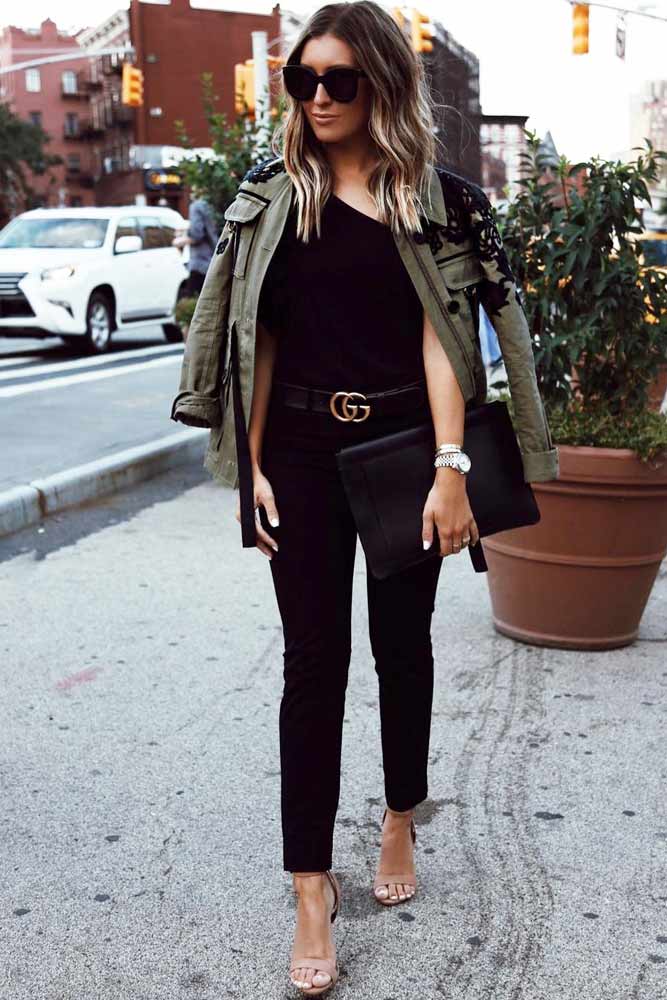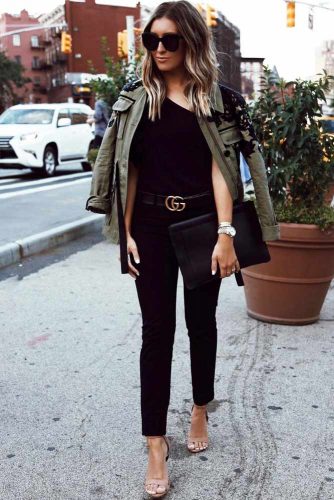 Source: somewherelately via Instagram
Military utility jackets are totally in vogue this year. If you pair a trendy army jacket with black jeans and a black tee, you'll be super stylish. Accessorize with sexy heels and as hip belt to complete this totally awesome look!
Pink Leather Jacket To Brighten Up Your Fall Outfit Ideas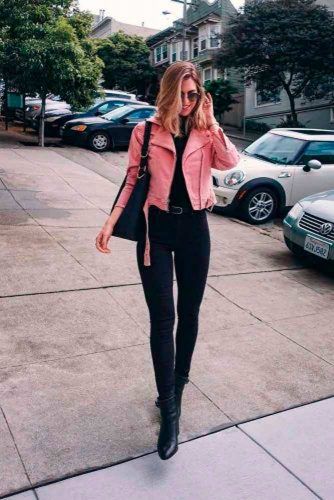 Source: nicholeciotti via Instagram
Fall colors tend to lean towards darker shades of yellow, red, brown or orange. However, if black is your favorite color, you can still adjust your attire for fall without having to spend a ton of money on fall colors.
Pair a short pink leather jacket with black boots, black skinny jeans and a black turtleneck, and you are more than ready for fall! Pink will add a soft touch to your sexy black outfit without taking away from the overall effect. And don't forget your favorite black sunglasses and an oversized black handbag to complete this sleek and sexy look.
Simple Outfit Idea with Gray Cardigan and Ripped Jeans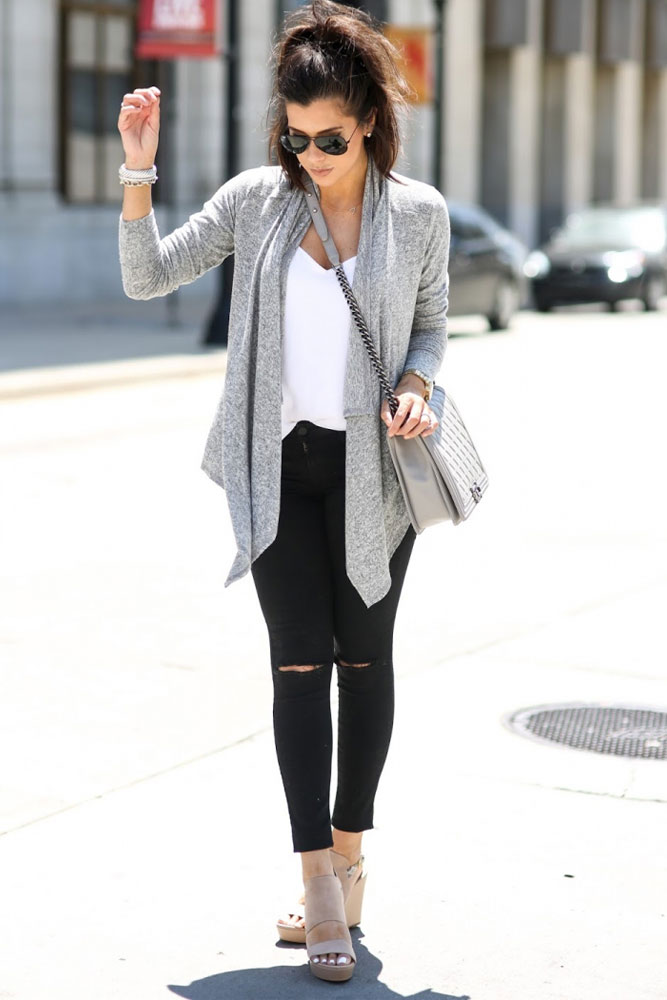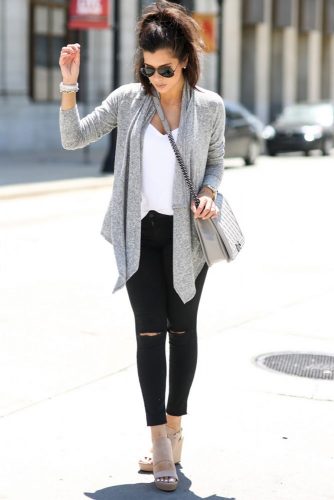 Source: The Sweetest Thing Blog
This image with a gray cardigan and stylish ripped jeans is casual yet fun. Top it off with your favorite hoodie for a relaxed look and feel.
Perfect Color Combination for Fall Outfit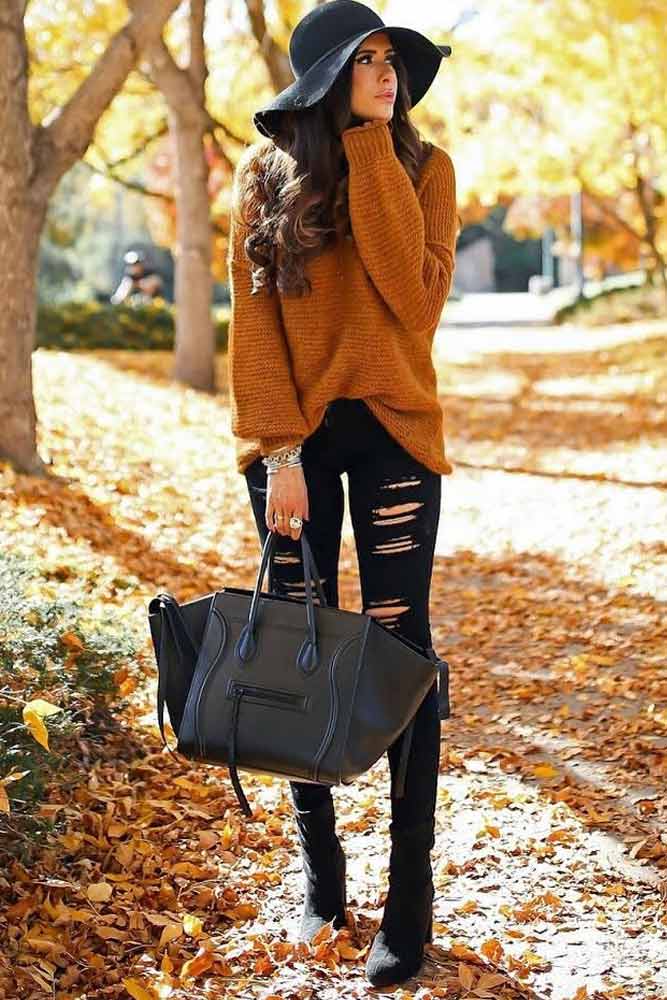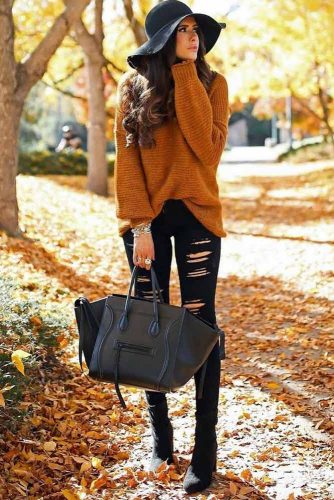 Source: emilyanngemma via Instagram
We absolutely love this look. The colors are perfect for fall. The ripped leggings are casual but the pretty rustic orange sweater is so pretty. The black floppy hat and boots are what really make this look stand out.
Coat And Boots: Perfect Fall Combination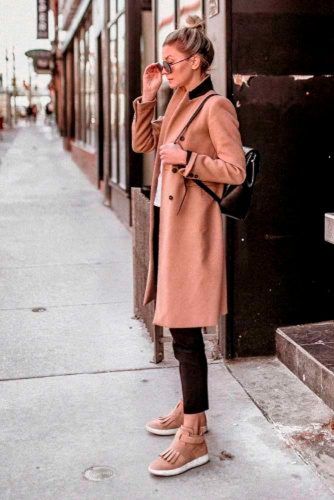 Source: laurie_ferraro via Instagram
If you are looking for comfy outfits, this coat and boot fall outfit is stylish yet relaxed. Brown suede boots are always in style and the fringe adds a bit of flair. Match it with a pair of casual slacks and a white sweater. But what really pulls this look together is the brown coat. You can button it up if it's chilly or wear it open on a mild fall afternoon. Always make sure to bring your favorite shades with you wherever you go. Fall weather can change from mild to cold at any minute so it's always a good idea to bring a coat or jacket!
Mini Skirt Look to Update Your Fall Sexy Outfits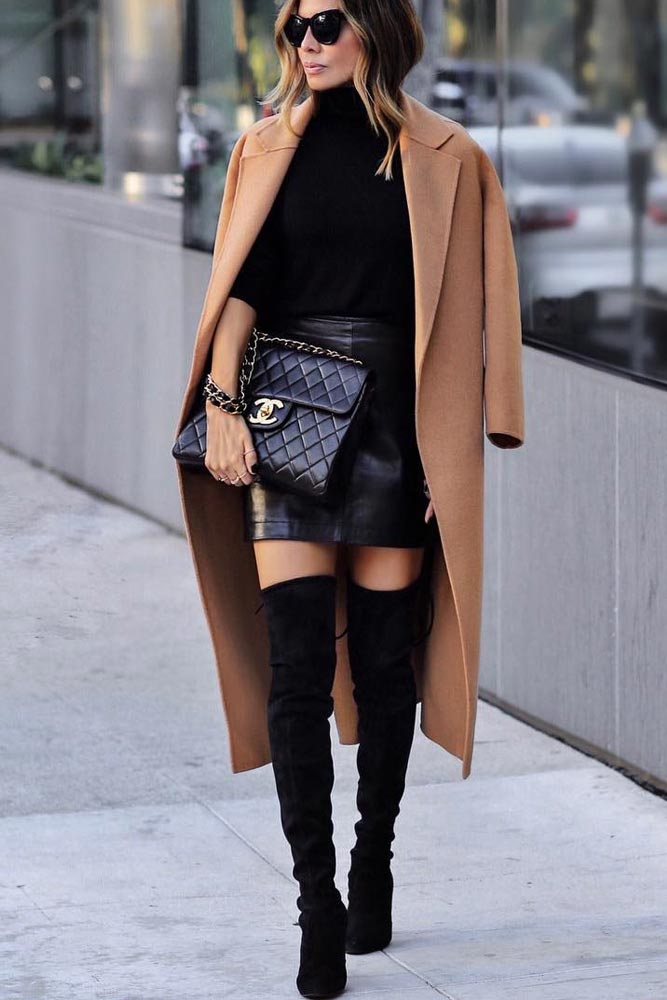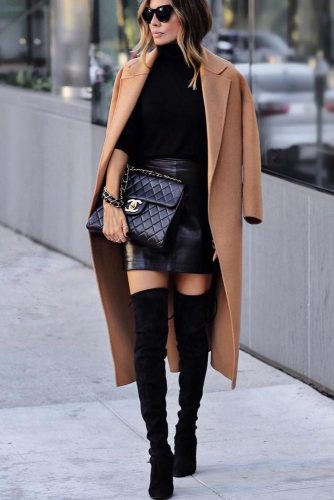 Source: lolariostyle via Instagram
Every girl needs to have at least one sexy outfit in her fall wardrobe. This thigh high boots are very stylish and the mink skirt is super girly and sweet. Wear a cute shirt to complete this chic style.
Pretty Classic Fall Look with Suede Ankle Boots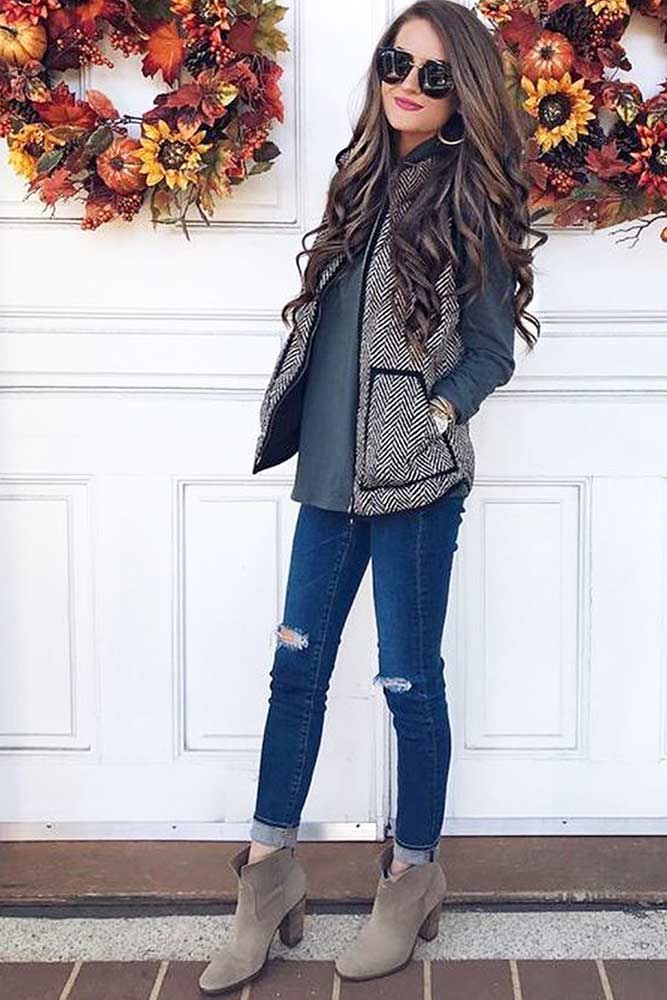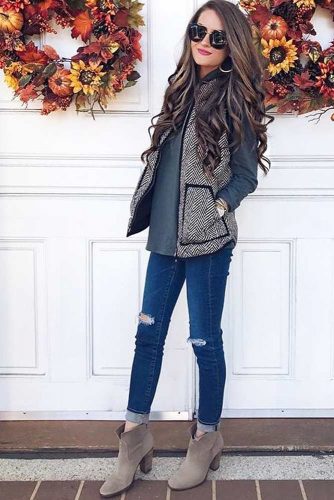 Source: cmcoving via Instagram
This look is timeless and true. The short boots and sweater vest are stylish. And the ripped and cuffed skinny jeans give it a modern edge.
Cool Fall Outfit With Torn Jeans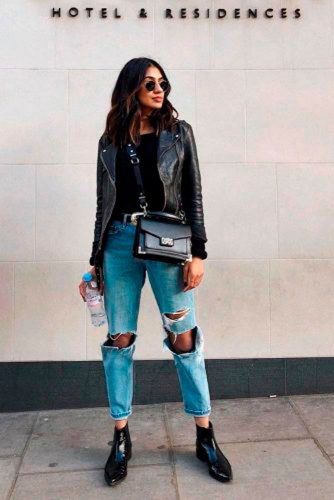 Source: soniaheartsfashion via Instagram
Fall is the perfect time to rock your favorite torn jeans. And what better way to show off your stylish ripped denims than with black leather boots and a black leather jacket.
Break out your leather jackets and boots and you can totally build plenty of cute fall outfit ideas. Trade your sandals and flip-flops for boots of any style and you will be set for fall. And you don't need a dressy shirt to complete this look, a simple black t-shirt will suffice. Don't forget your favorite black leather purse and you are all set for a casual weekend look.
Super Casual and Comfy Fall Look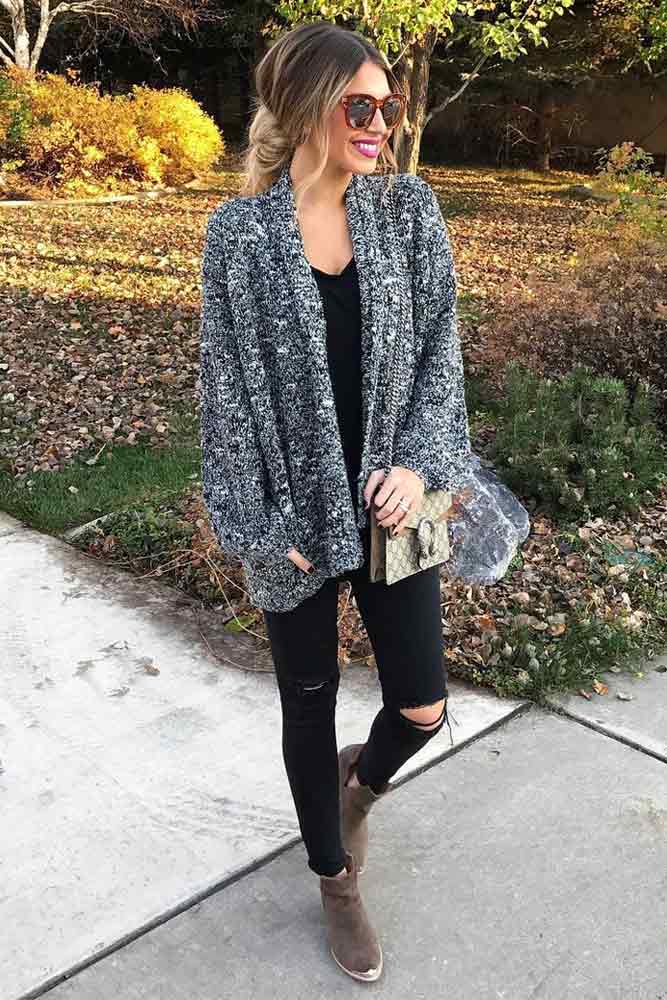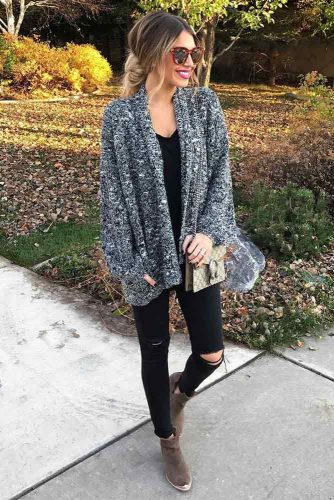 Source: holliewdwrd via Instagram
If you are looking for a casual look, this combo is perfect. Comfy jeans, a T-shirt, and a cardigan are simple yet stylish for a carefree vibe.
Popular Fall Look with a Moto Jacket and High Black Boots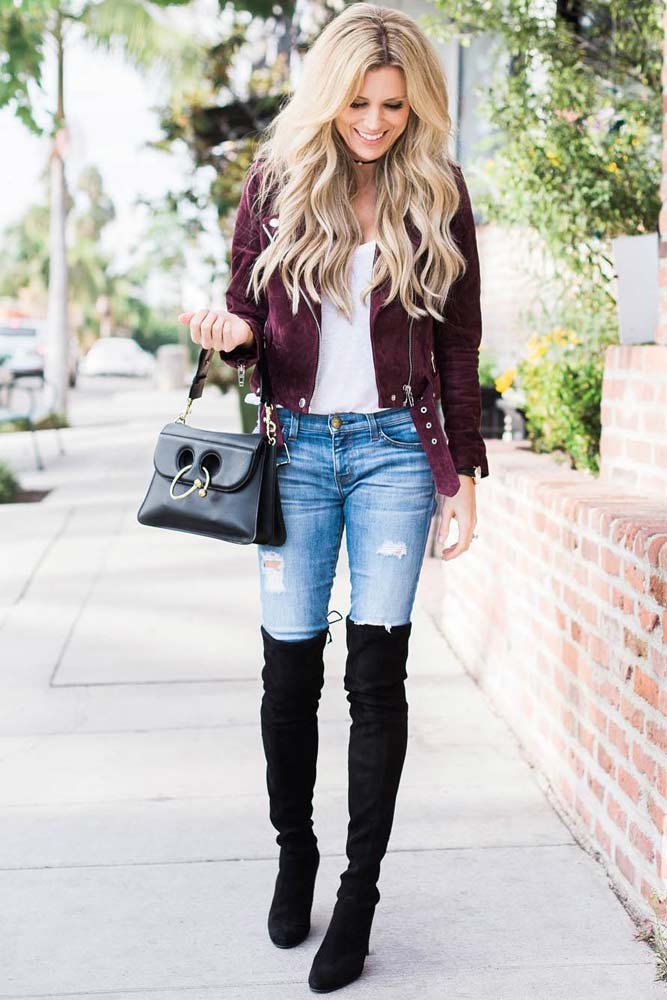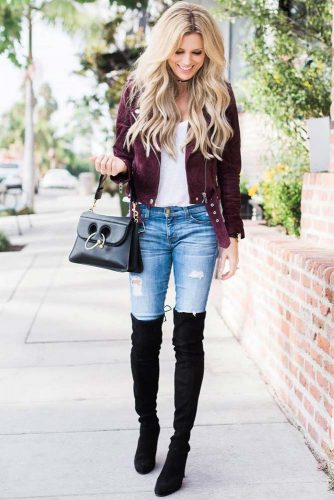 Source: sapphirediaries via Instagram
Thigh high boots aren't just for dresses or skirts. You can totally wear them over jeans like the look pictured here. The trendy moto jacket really sets this look apart.
Orange Jacket To Accentuate Your Look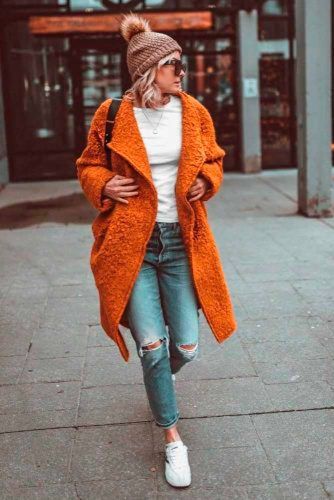 Source: laurie_ferraro via Instagram
Now that summer is over, you can trade your shorts for your favorite torn jeans. You can totally rock your favorite ripped jeans for a cute and casual fall look. Pair them with a t-shirt or turtleneck and your favorite tennis shoes. But if you want to really embrace the fall vibe, top it off with a cute beanie and a colorful coat or jacket. This burnt orange coat is the perfect way to show your love for all things fall.
Comfy Outfit With Leopard Print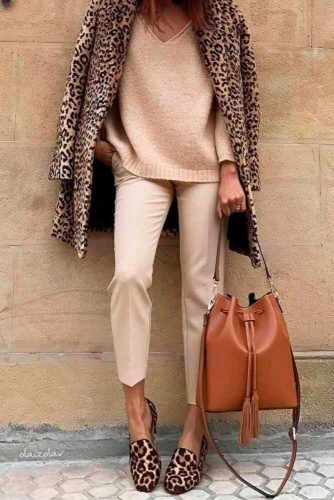 Source: olaizolav via Instagram
It is essential that while you are over the edge stylish looking, you need to feel comfy as well. A fashionable jacket with leopard print is surely super trendy, whole classy pants and sweater combo will result in comfortable look. Oh, and do not forget about the leopard printed sneakers!
Sporty Look With Denim Jacket And Gumshoes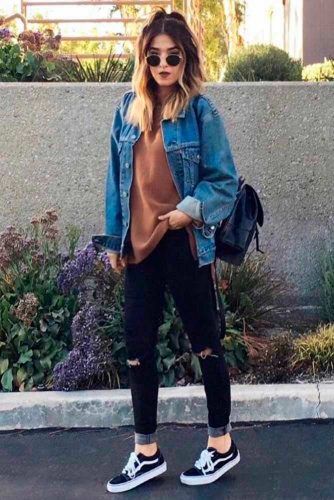 Source: rubilove via Instagram
If you are sporty kind of girl, then we have something in store for you! A pair of ripped jeans and gumshoes topped with a denim jacket will create that perfectly sporty outlook that many are looking for.
Schoolgirl look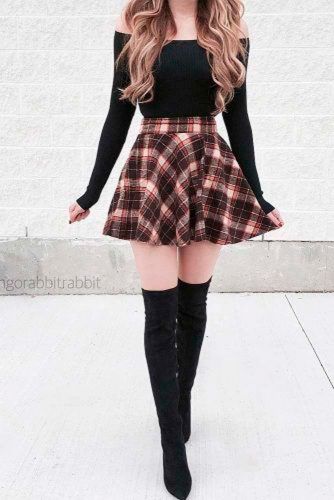 Source: mangorabbitrabbit via Instagram
Nothing screams louder about autumn than back-to-school outfits. Even if you are passed your school years, wearing a plaid skirt combined with a tight sweater and OTK boots is a nice idea.
Comfortable Look With Hoody And Coat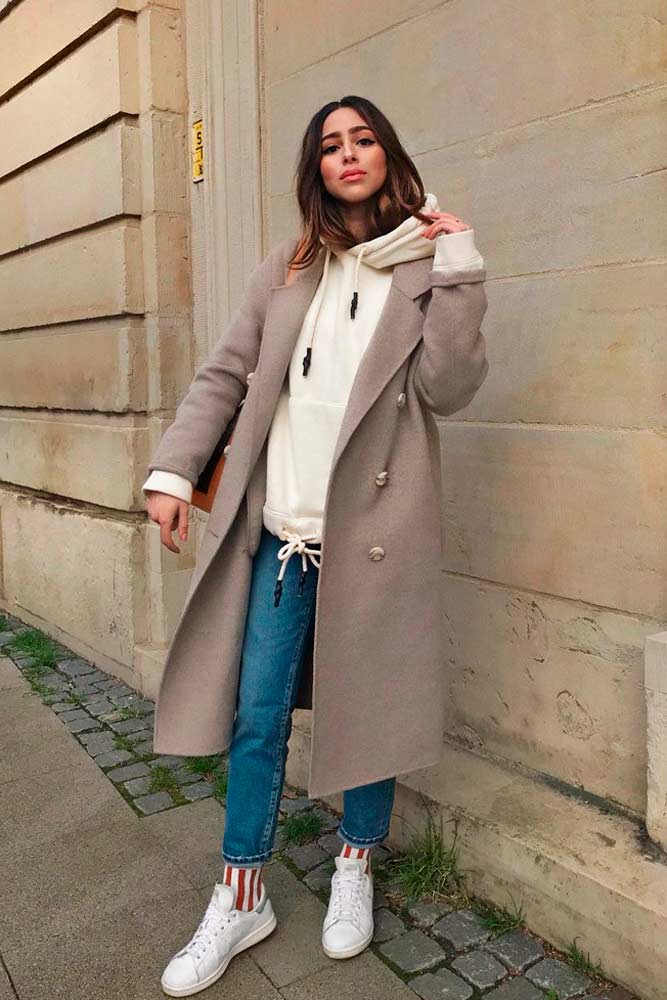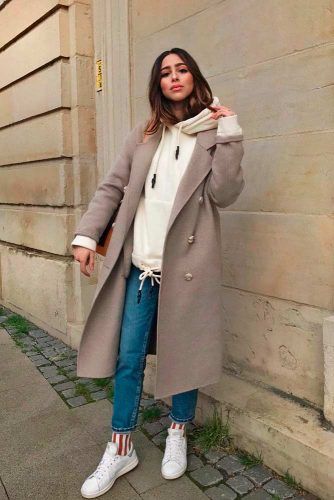 Source: soumiaelj via Instagram
It is not a secret that autumn is one of the colder seasons and you need to dress up not only to look stylish but to feel warm at the same time. That is when the mix of a comfy hoody, warm coat, and casual jeans come in more than handy.
Casual Black Suit And Sneakers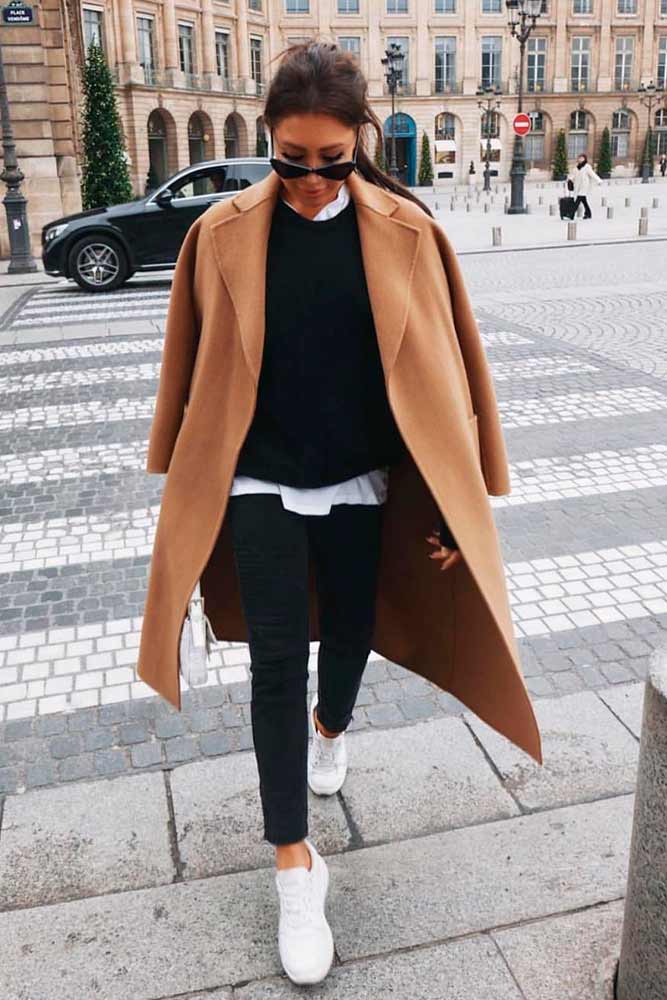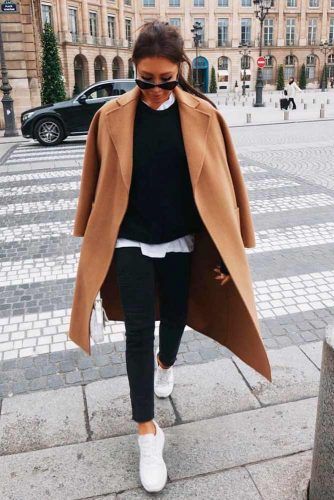 Source: lornaluxe via Instagram
We are lucky to live during the era when everything is possible as long as it looks good. For instance, the combination of a casual suit and a pair of comfortable sneakers could have been something unimaginable a few years ago. However, these days is not only ok to dress this way, but it is also ultra-modern and stylish looking.
Elegant Look With Pleated Skirt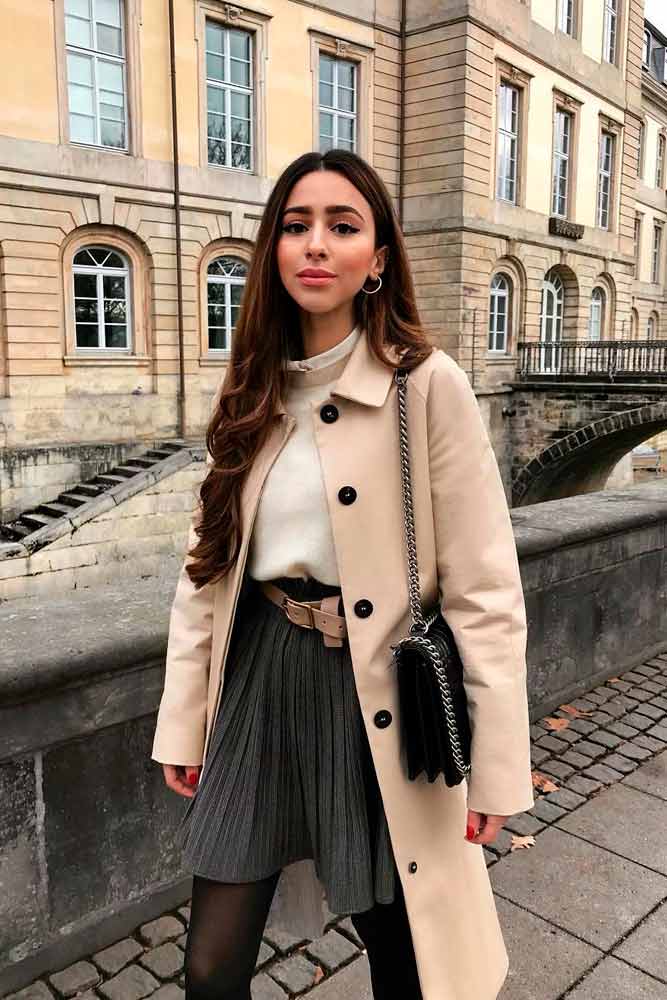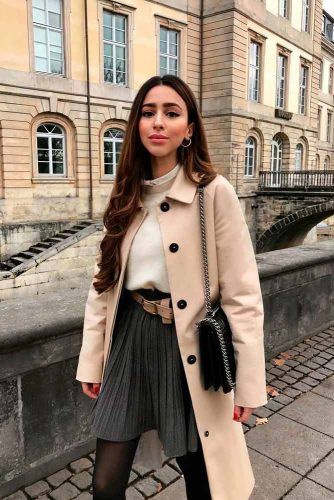 Source: soumiaelj via Instagram
That fact that it is autumn outside does not mean that you should forget about all the elegant and feminine looks you can pull off when it is summer in the air. On the contrary, there is nothing better than an elegant pleated skirt matched with a cozy trench when the weather cools down a little.
Matching Plush Coat And Boots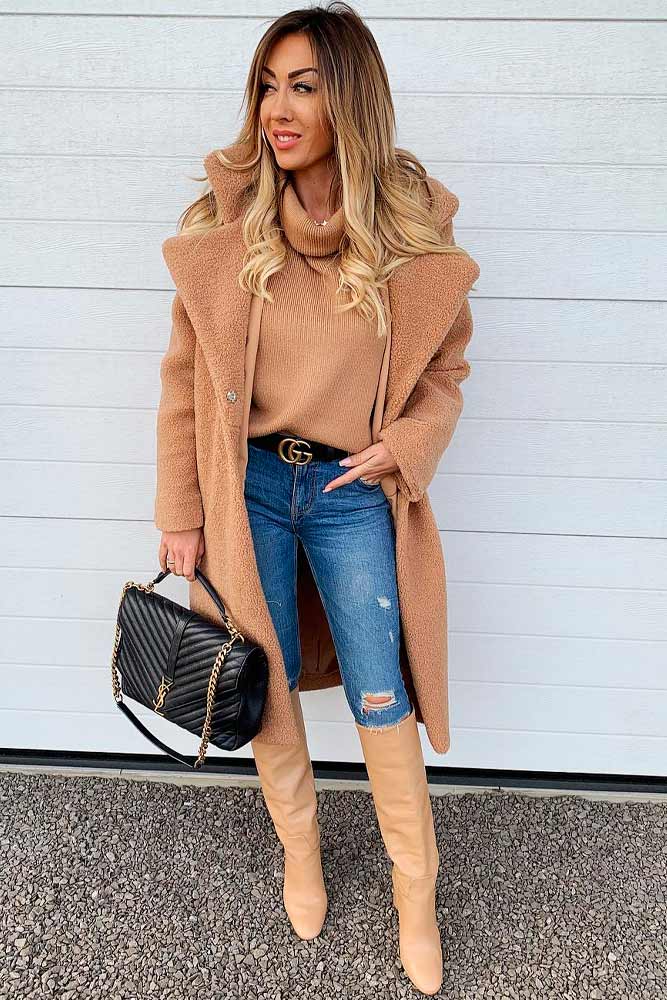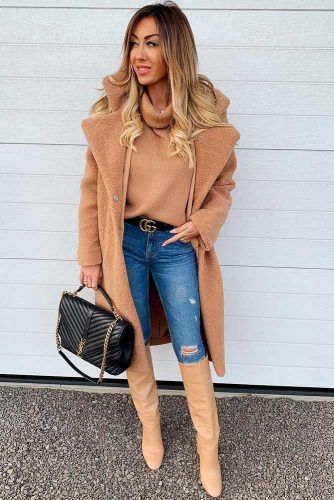 Source: chicaca_greta via Instagram
The beauty of the fall lies in that fact that you can easily combine your favorite boots and the coat in one outfit. It is even better if the hues of the items match each other. No one dismissed monochrome looks yet.
Oversize Sweater And Leather Shorts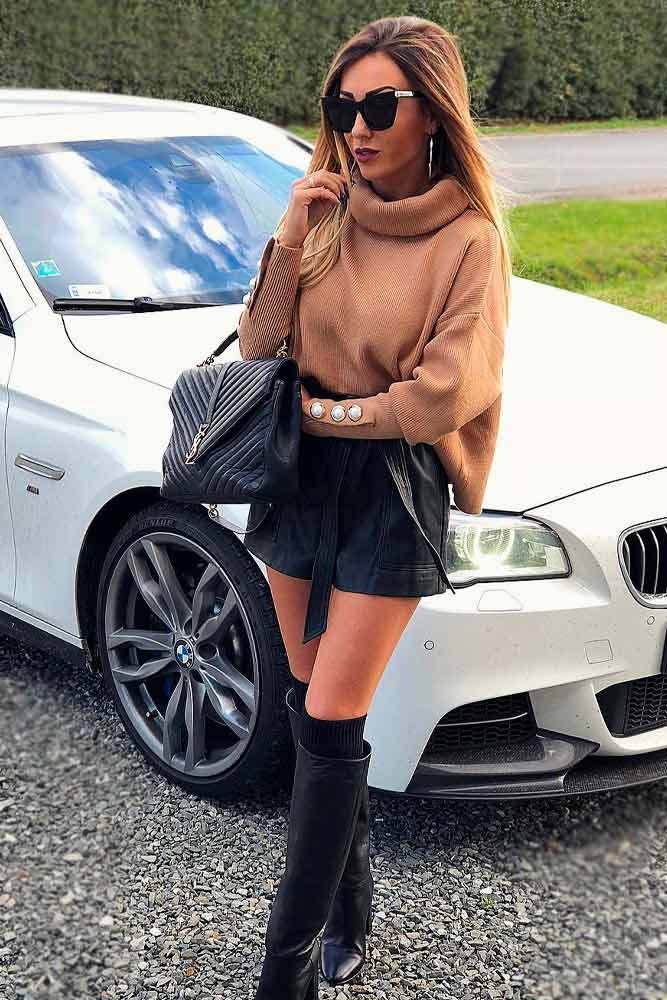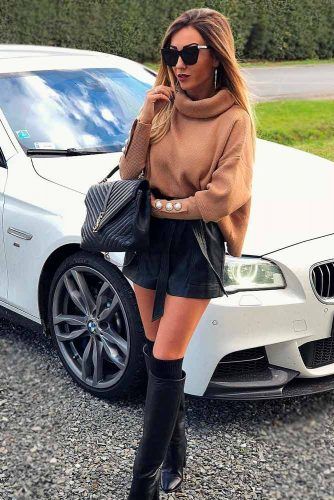 Source: chicaca_greta via Instagram
We know that not all of you are equal fans of all possible types of skirts and you would rather wear comfy pants or shorts instead. Autumn is the season of experimentation, that is why putting on your fav leather shorts matched with a cute oversized sweater is not only a possibility but a fashionable decision.
We hope these ideas for fall outfits for school or play have inspired you to update your wardrobe!
FAQ: Fall Outfits
When can you start wearing fall clothes?
Temperatures often begin to drop in mid-September and early October, especially at night, so it makes the most sense to wear your heavier fall staples then. Is there a decent stylistic rule to follow throughout this season of transition? Layer after layer after layer…
What do you wear to a work in the fall?
Power blazer.
Monochrome work dress.
White blouse.
Wide leg trousers.
Masculine loafers.
Trench coat.
Classic earrings.
How do you wear a sleeveless dress in the fall?
Complement your dress with lace sleeves, a kimono, or a sheer top. Add a cardigan or jacket to your ensemble, or layer your dress overtop of a shirt with long sleeves if you want to wear your sleeveless dresses during the chilly fall and/or winter months.