While picking your airplane outfits, you should make sure that they are not only good-looking but also comfortable enough to wear during the long hours of flight. Of course, the era of jogging pants and oversized sweaters has its benefits, but there are different conditions to take into consideration. That is why we decided to supply you with some ideas on what to wear.
What Can You Not Wear On A Plane?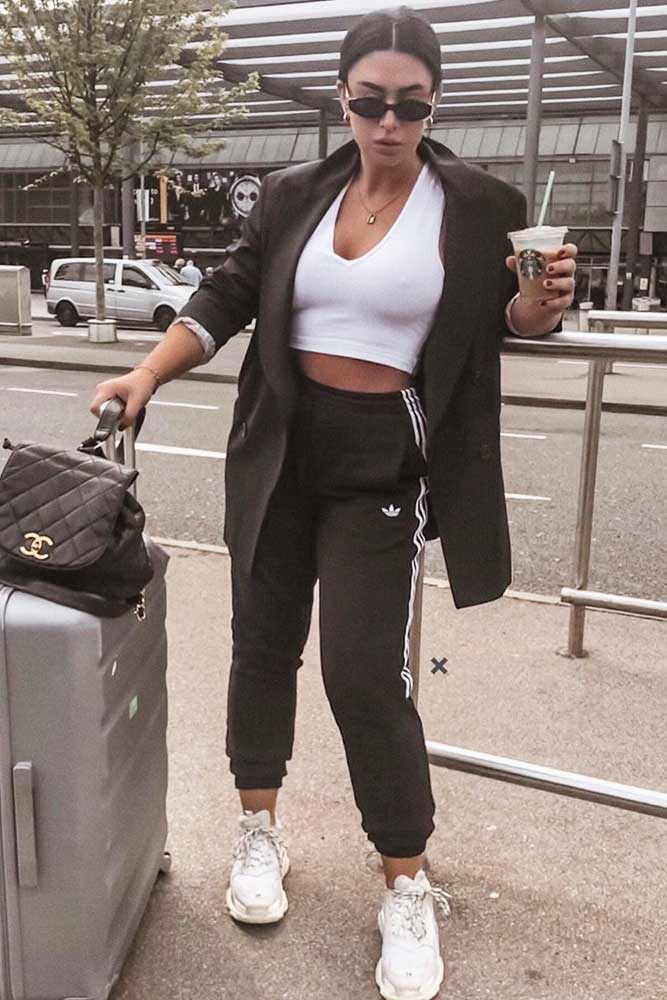 Credit: Instagram/tashietinks
It may seem that just like on the ground, you can wear anything when you are boarding the plane. However, it does not matter the destination, there are some advised restrictions when it comes to a clothing item you wear on board. Here is the list of things you should rather pack with you instead of putting them on:
Uncomfortable shoes – forget about the heels.
Shoes with lots of straps – just imagine how long it will take you to take them off at the security line?
Unbreathable material – if you want your body to breath and function well on board – stay away from nylons and leather attire
Tight clothes – anything that messes with proper blood circulation should be avoided
Complicated attire – just imagine how you are going to take off that bodysuit in the tiny airplane bathroom cabin?
Contact lenses – the air on the plane is just to dry to wear lenses
Perfume – light scent is ok, but you do not want all the passengers to suffocate because of your bold perfume?
Light clothes – it is usually cold on the plane, that is why stacking layers on you is a good idea.
What Should I Wear On A Plane In The Summer?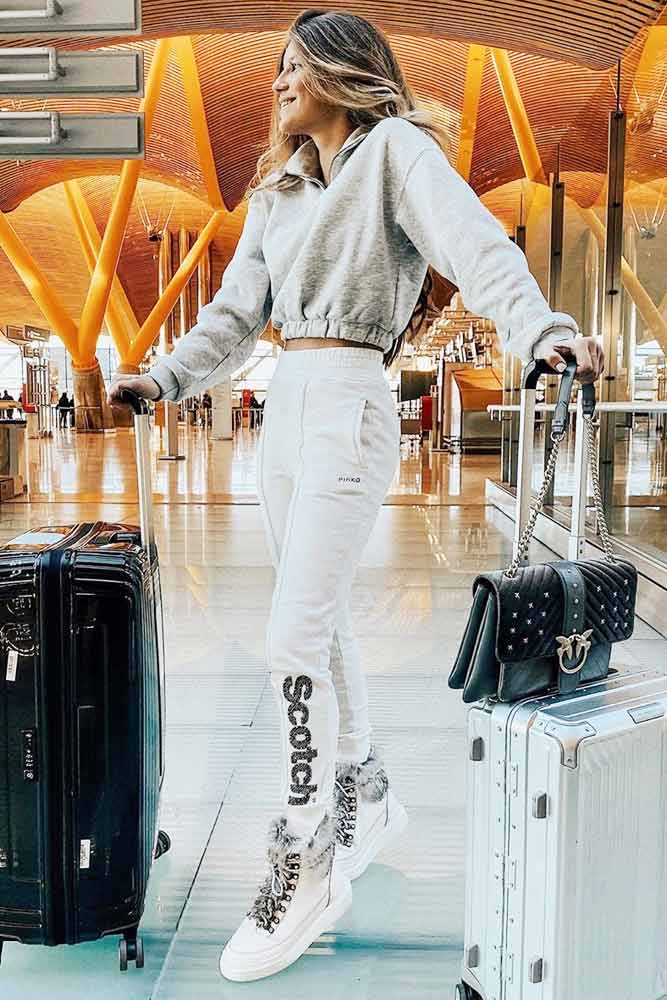 Credit: Instagram/claudiasorianomunoz
If you are traveling from a warm climate to a warm climate, it may seem that you can wear anything you regularly sport outside. That is a misleading assumption:
Wear layers – a T-shirt won't keep you warm when the temperature drops, but a light sweater or jacket will. Besides, you can easily take it off when you feel warm enough.
Dark hues – it is always advised to wear something darker when on the plane
Comfortable clothes – you should worry about your comfort in the first place, not the dashing appearance you make
Avoid dresses or skirts
Take a scarf with you – another way to keep yourself warm when the temperature drops
Avoid heavy accessories – you are bound to take them off at the security line anyway
Forget about pajamas – no matter how comfy you may feel, pajamas are still inappropriate when you are on a plane
Is It OK To Wear Leggings On A Plane?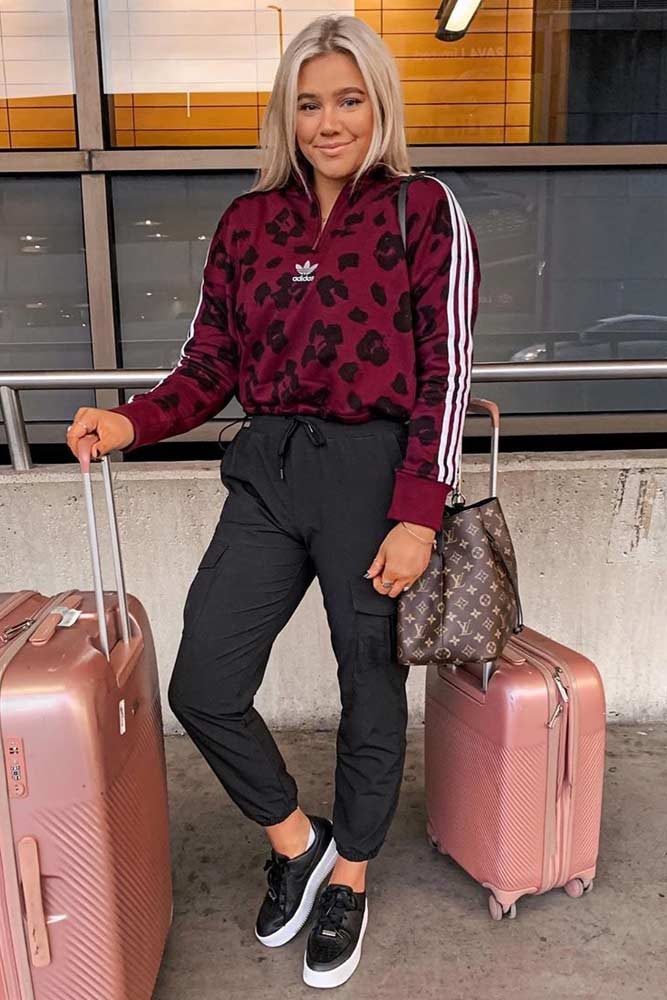 Credit: Instagram/bresheppard
First things first, you need to be aware of your passenger status when you are trying to figure out if leggings would be appropriate wear for the flight. If you are traveling on a 'buddy' pass, then you should forget about the leggings until you land. However, if you are a paid passenger – you can wear leggings on the plane.
Can I Wear Yoga Pants On A Plane?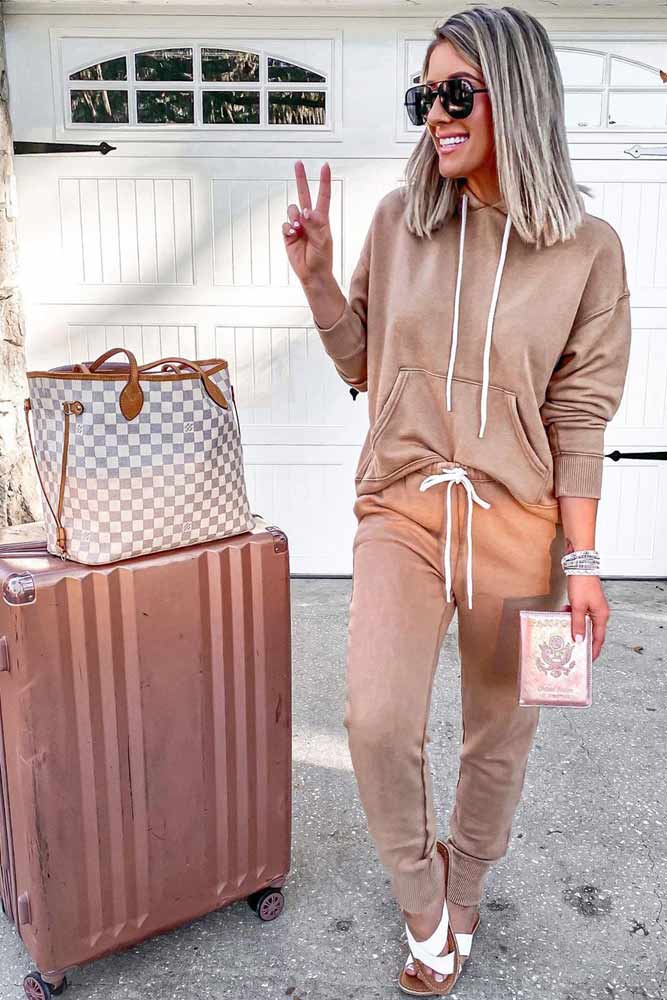 Credit: Instagram/laurabeverlin
It is best to keep away from anything that is quite tight when you are on the plane. It does not matter how great you look or feel in your favorite yoga pants. You need to remember that it is not a gym that you are going to.
Is It OK To Wear Sweatpants On A Plane?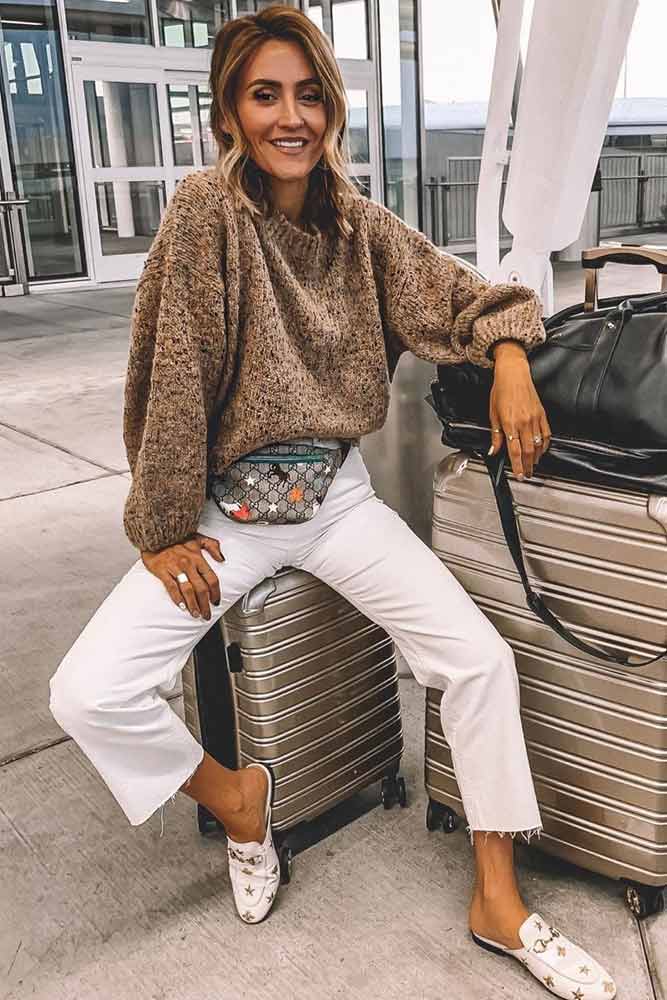 Credit: Instagram/karinastylediaries
Surely, you may feel over the edge comfy in your worn-out sweats, but there is the slight chance that those who fly next to you will see it that way too. When you are boarding the plane, you need to keep it in mind that even though you should feel comfortable, the people around you should feel as comfy around you as well.
Can You Fly In Flip Flops?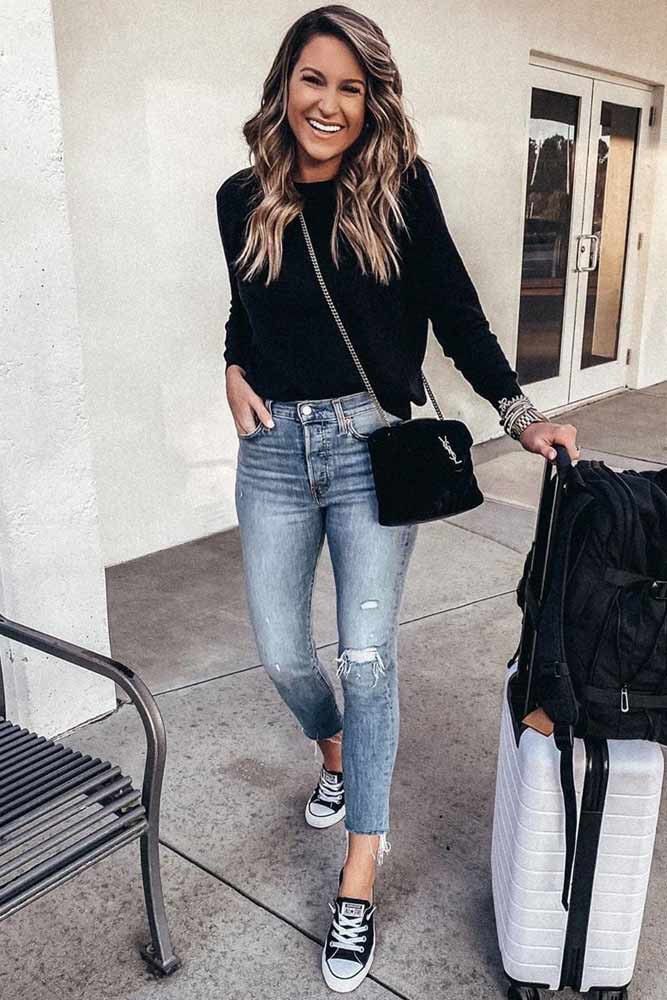 Credit: Instagram/shopdandy
There are no obvious restrictions for wearing the flip-flops on the plane. However, you should better reconsider any footwear that slides on due to safety reasons. Who knows when and where you may need to evacuate, and flip-flops won't come in very handy in situations like that. Besides, the conditions when you land may change too, and you wouldn't like to be wearing flip-flops when it is raining cats and dogs, or there is ankle-high snow to get through.
Casual Airplane Outfits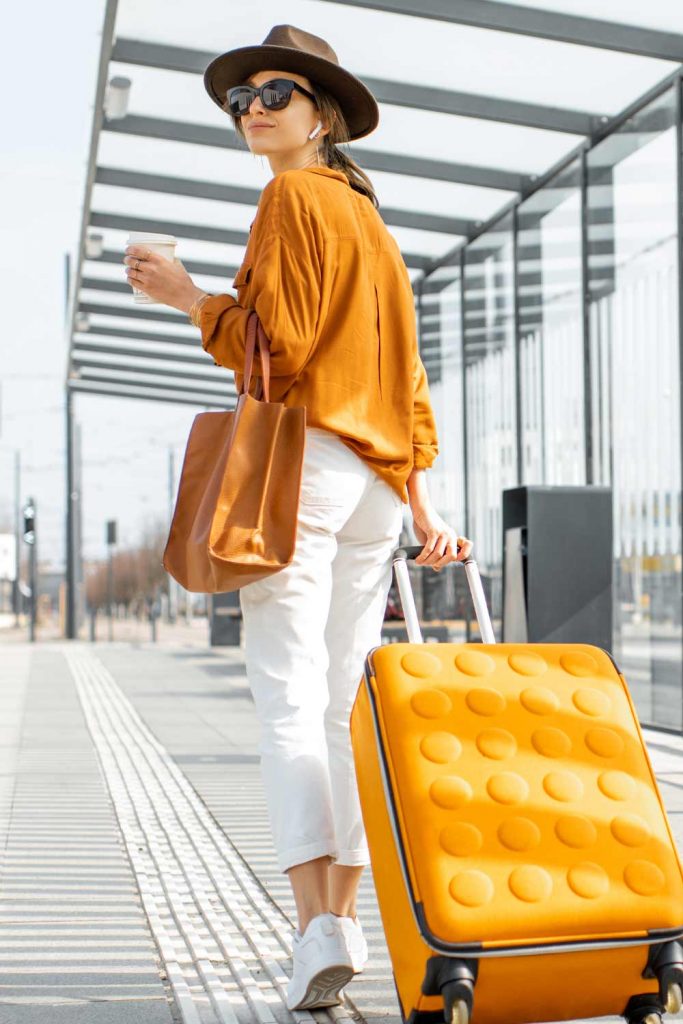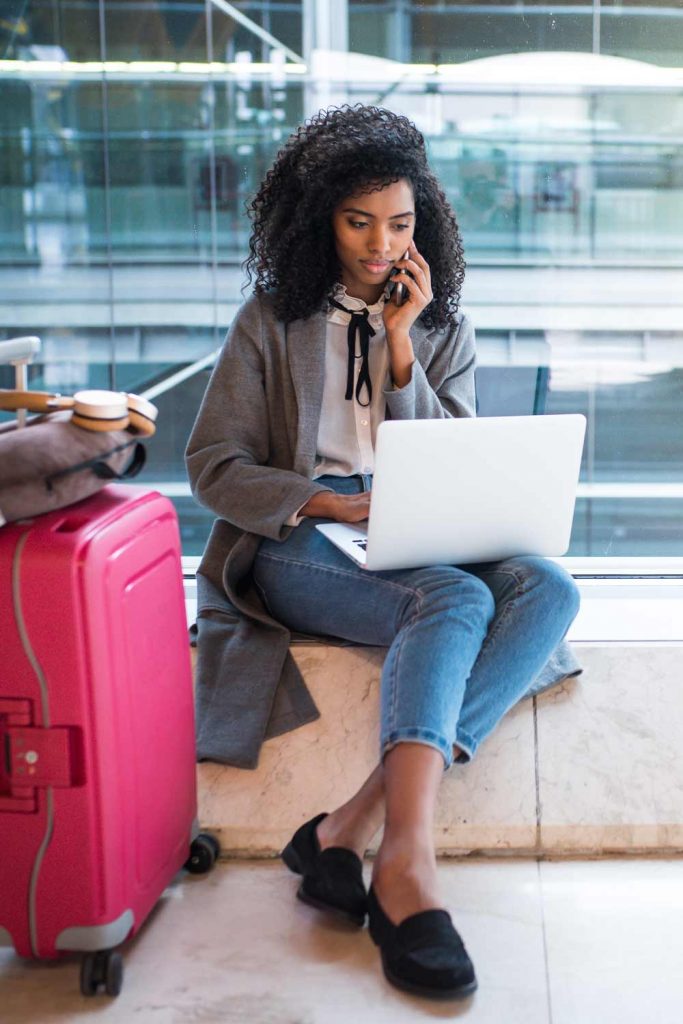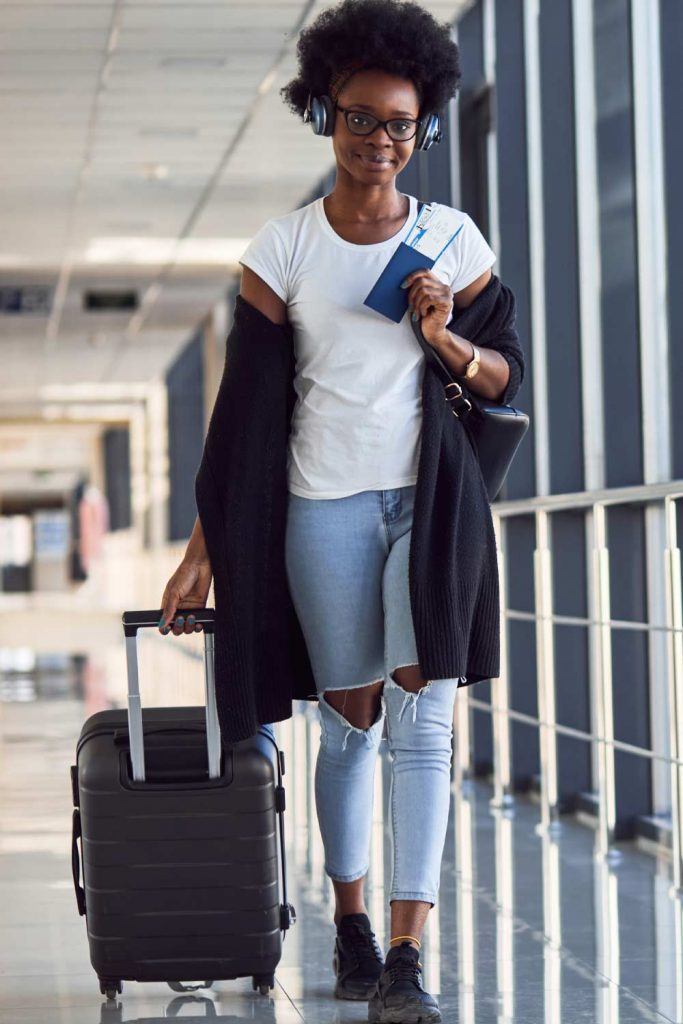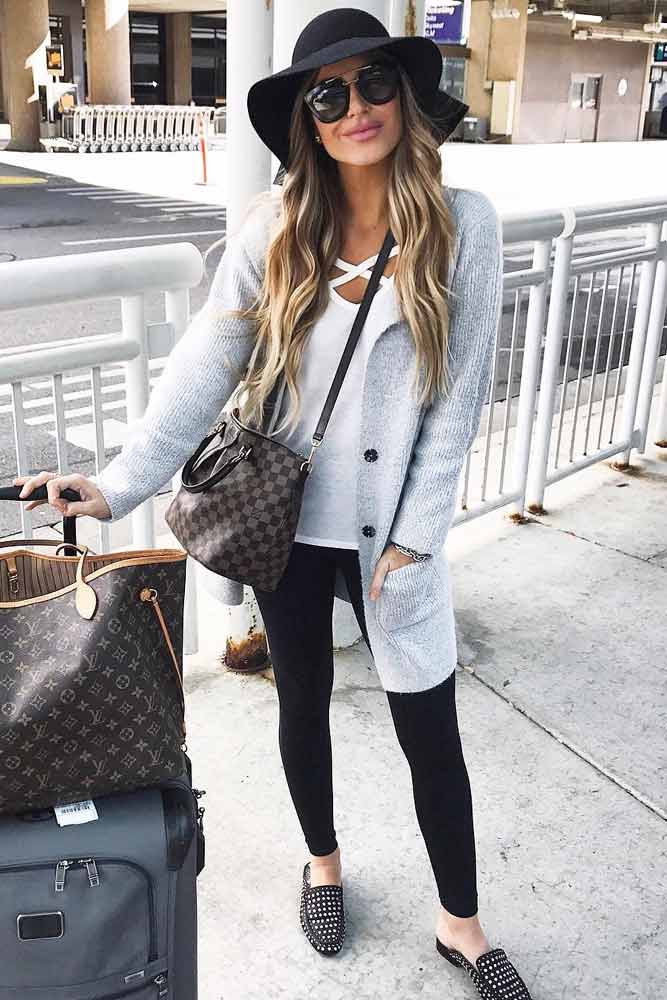 Credit: Instagram/holliewdwrd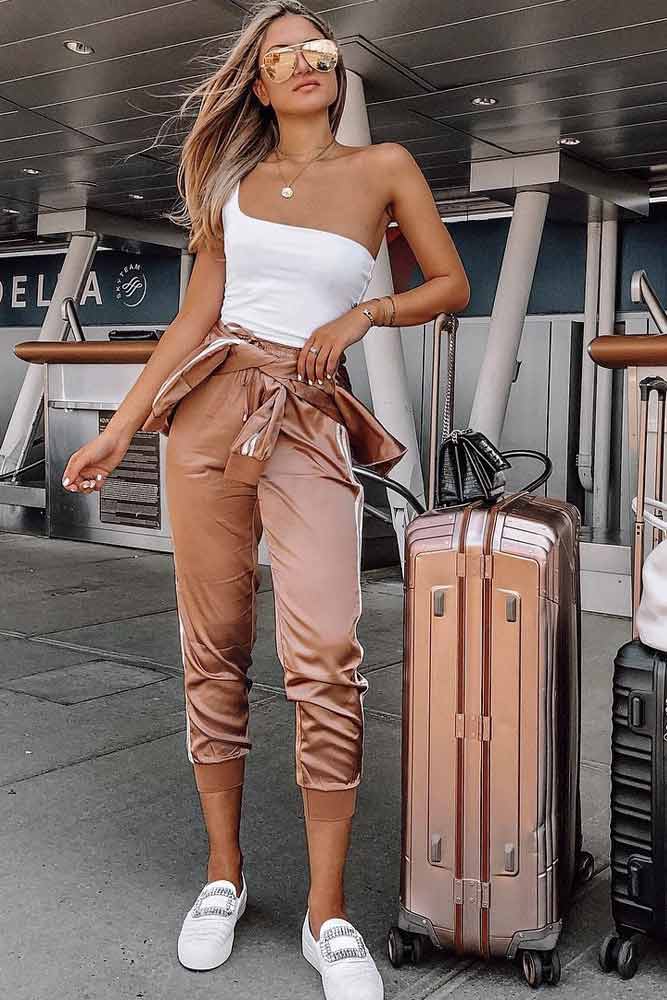 Credit: Instagram/fashionismyfortee
As exciting as a flight can be, so tiresome it may feel when it comes to what to put on. Even if you are ready to go all casual, you may want to look stylish but feel comfy at the same time. In times like this, you should consider a few basic tips. First things first – no matter the country you are headed to – a cardigan or a jacket is a must. While it seems quite bothersome to carry one around, you will be glad to have something to snuggle in should the flight become on the side of cool. As to what comes after the first layer – it is all you. A light blouse or a simple T-shirt – the choice is yours.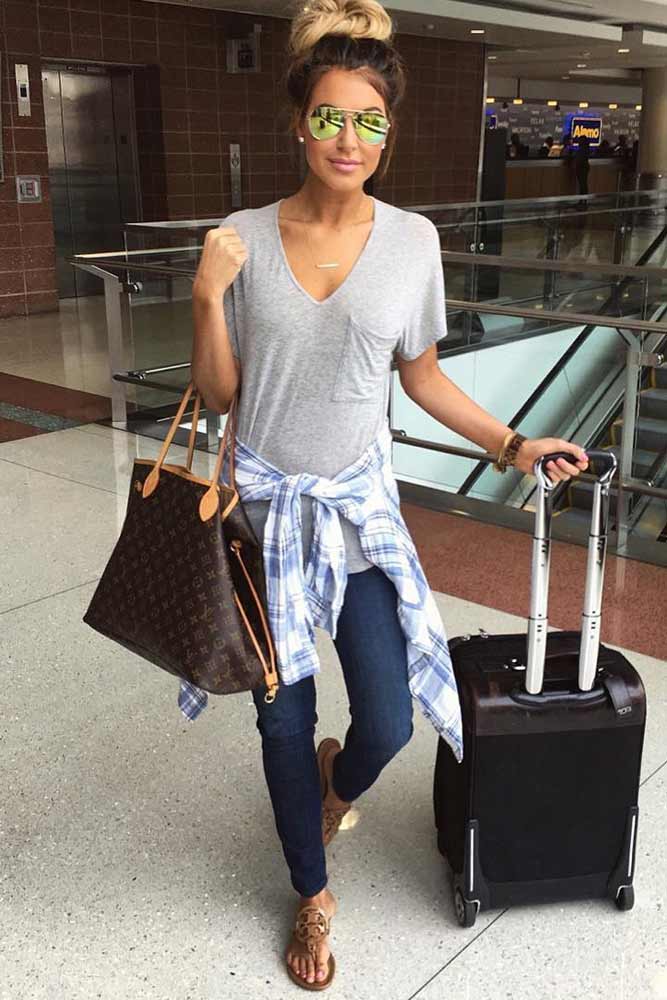 Credit: Instagram/holliewdwrd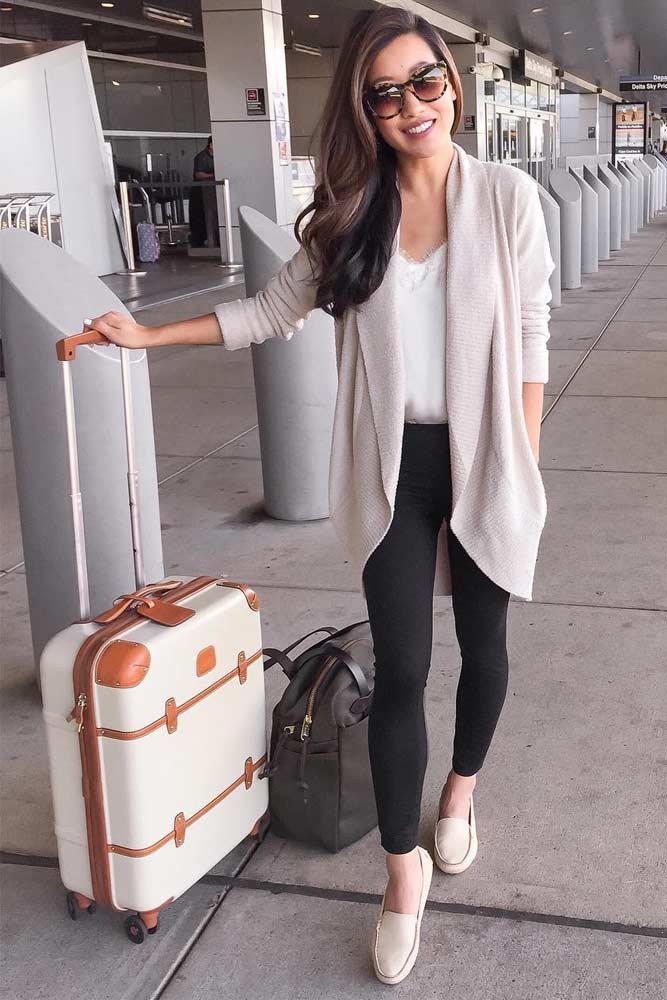 Credit: Instagram/jeanwang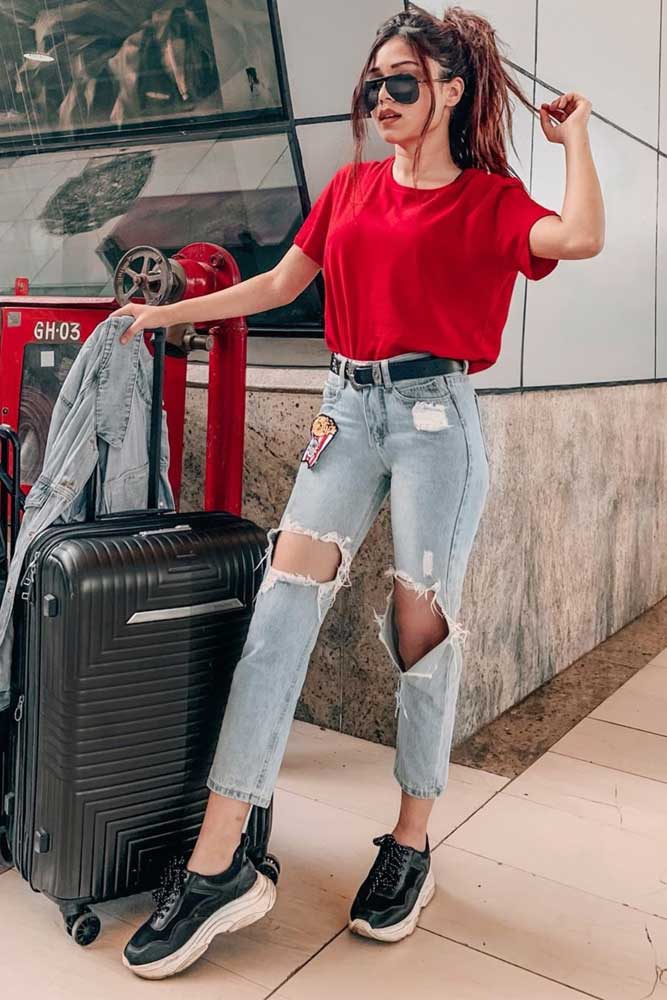 Credit: Instagram/caughtinacuff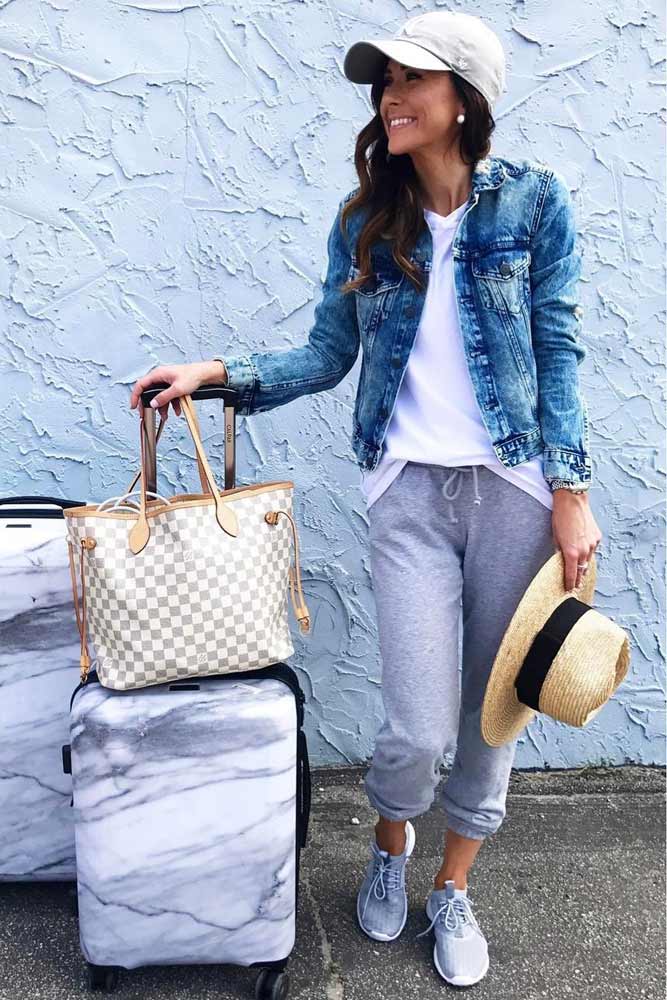 Credit: Instagram/alyson_haley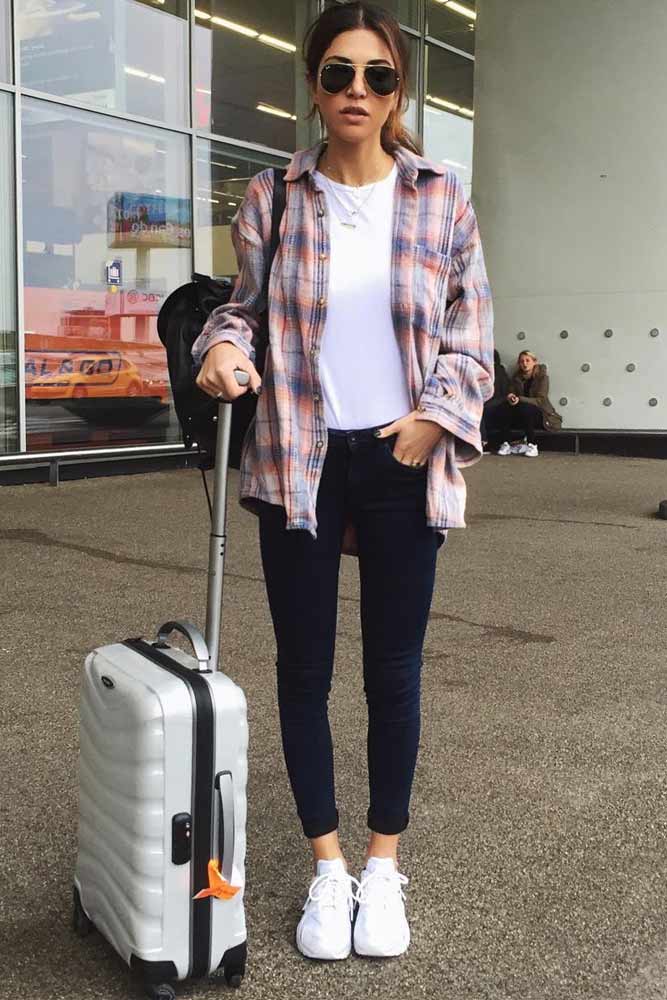 Credit: Instagram/negin_mirsalehi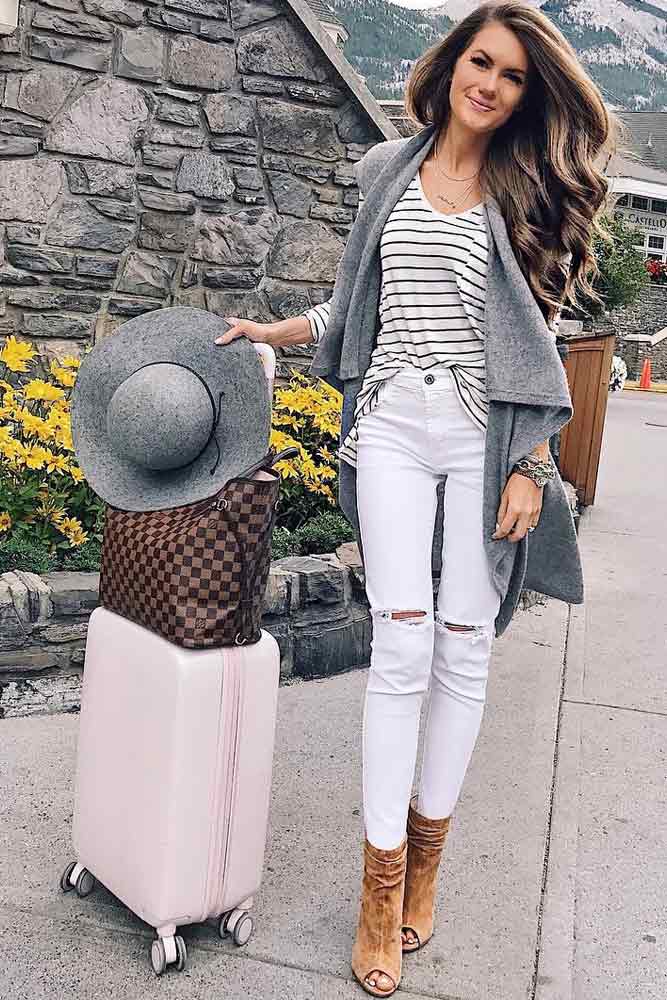 Credit: Instagram/cmcoving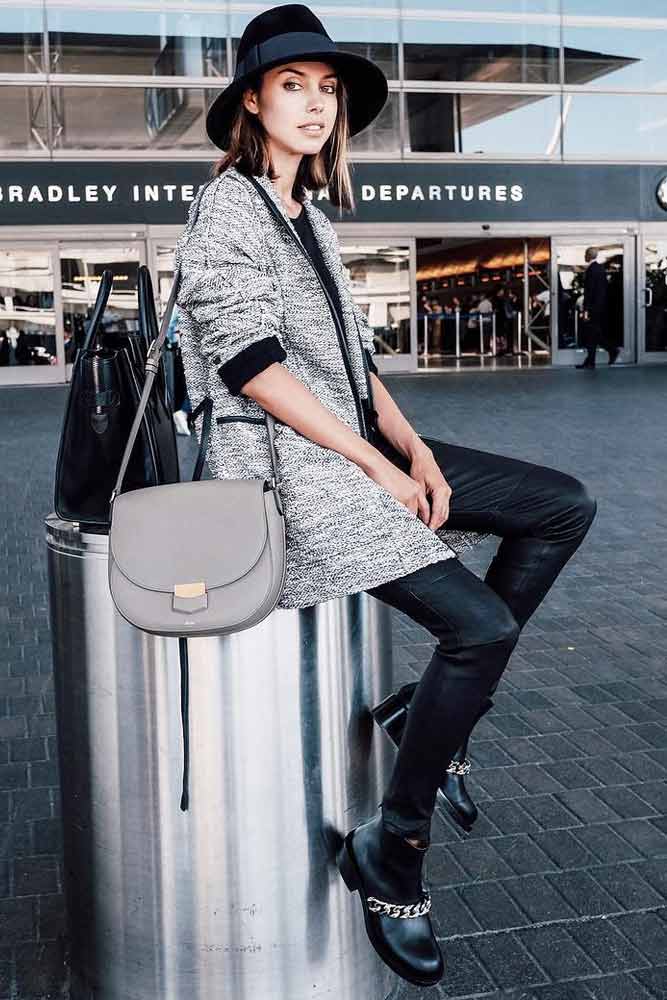 Credit: Instagram/vivaluxuryblog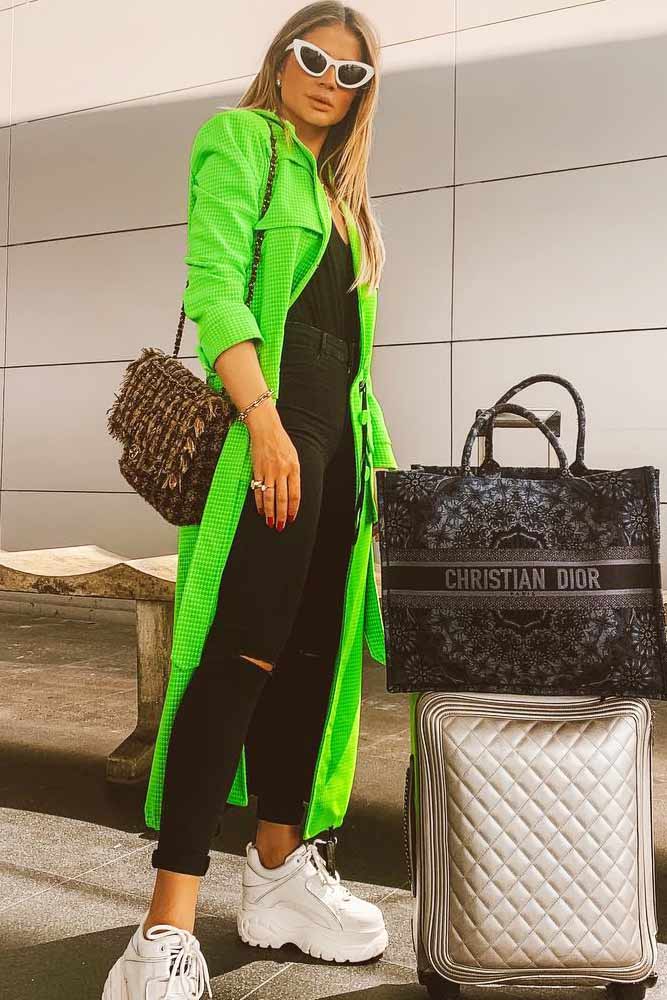 Credit: Instagram/thassianaves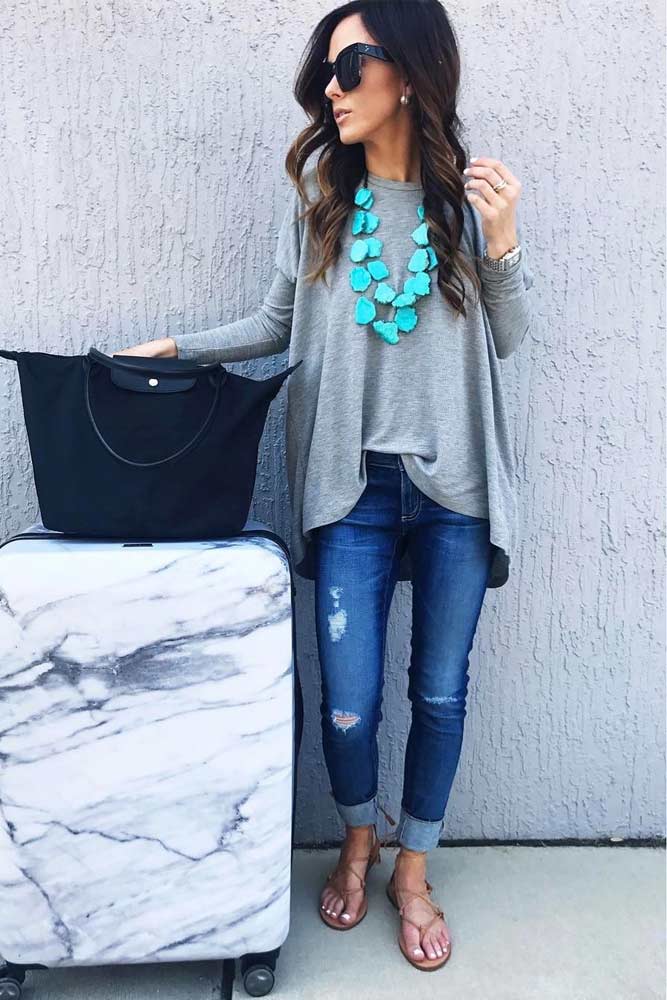 Credit: Instagram/alyson_haley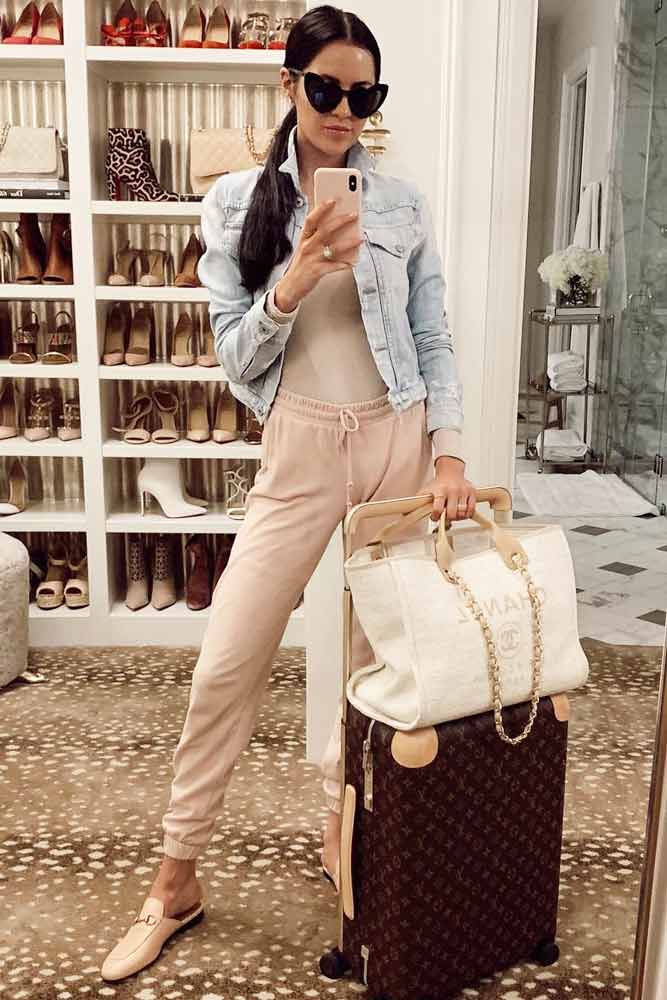 Credit: Instagram/rachparcell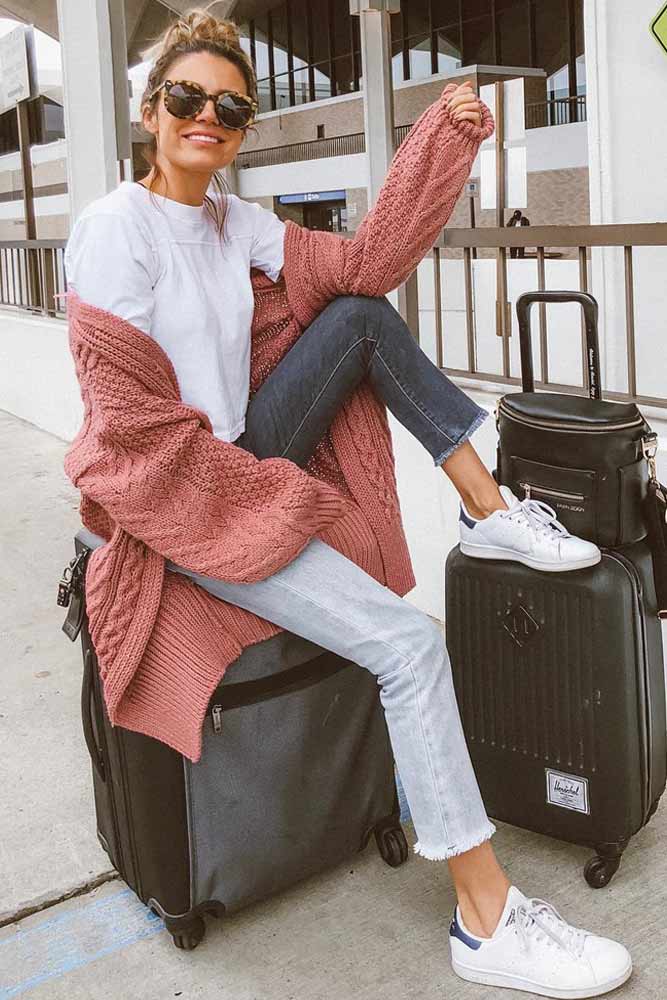 Credit: Instagram/hellofashionblog
Very often, when it comes to casual flight clothes, women choose jeans, and they are right to do so. However, if you feel like a pair of jeans is too mundane for your flight, you can experiment with your favorite slacks or leggings at this point. As long as you feel comfy and secure – the sky is the limit. You can use these trendy casual looks to inspire from in terms of recent trends and fashion. However – keep in mind the season you travel in. there is little use to the stylish image when you are freezing, or the sweat is dripping down your spine.
Sporty Airplane Outfits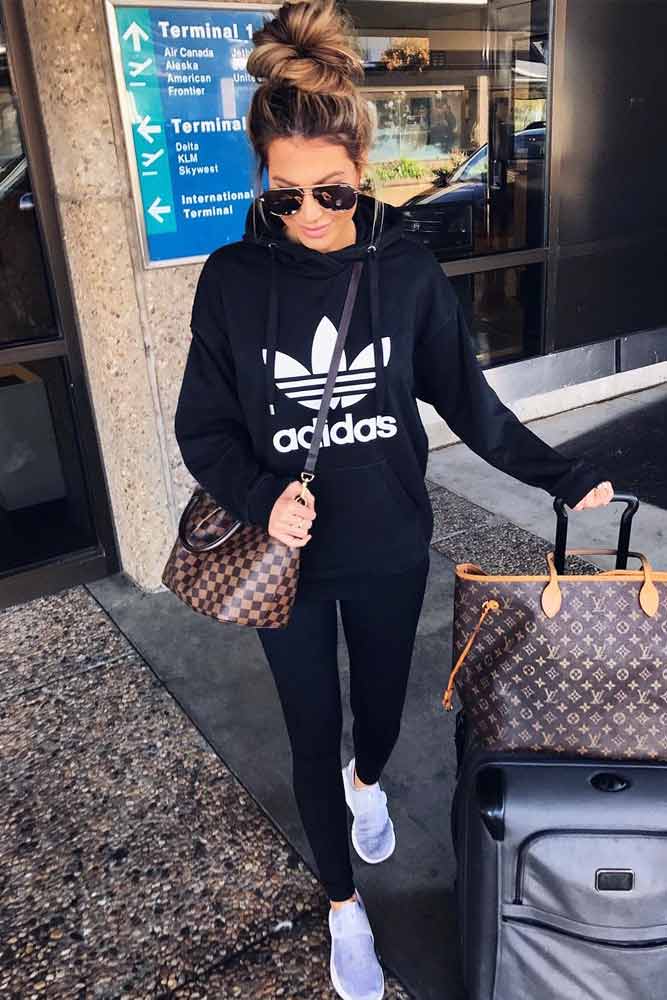 Credit: Instagram/jeanwang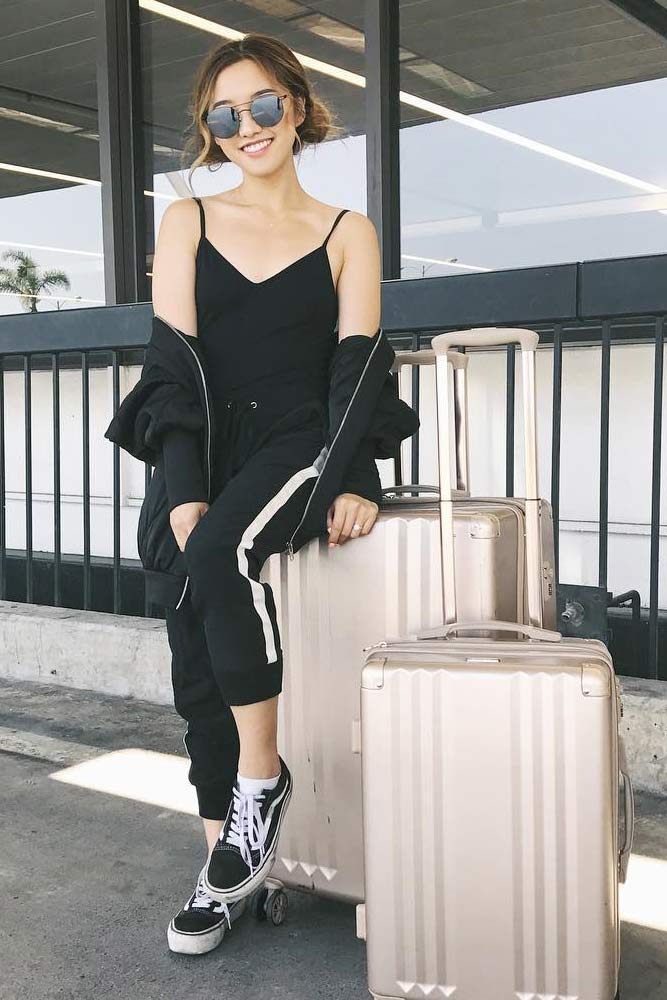 Credit: Instagram/imjennim
Some ladies seem to couldn't have cared less about the style when it comes to traveling. Can't say that we don't feel ya'. That is why so many women who value comfort and reliability above all prefer sporty outfits. If you think that comfort is all that the idea can offer – you are utterly mistaken. The fact is that in the majority of cases, sportswear is made of breathable fabric that will help you remain as fresh and clean as possible despite the length of your flight. Aside from that, most of the sporty outfits are spiced with lots of pockets that you can use during your flight will all the tiny checks, receipts, and other details that you will undeniably carry around. To add some fashionable flair to your look while sporting simple clothes, you can bring in a pair of your favorite shades if that's season-appropriate.
Airplane Outfits for Denim Lovers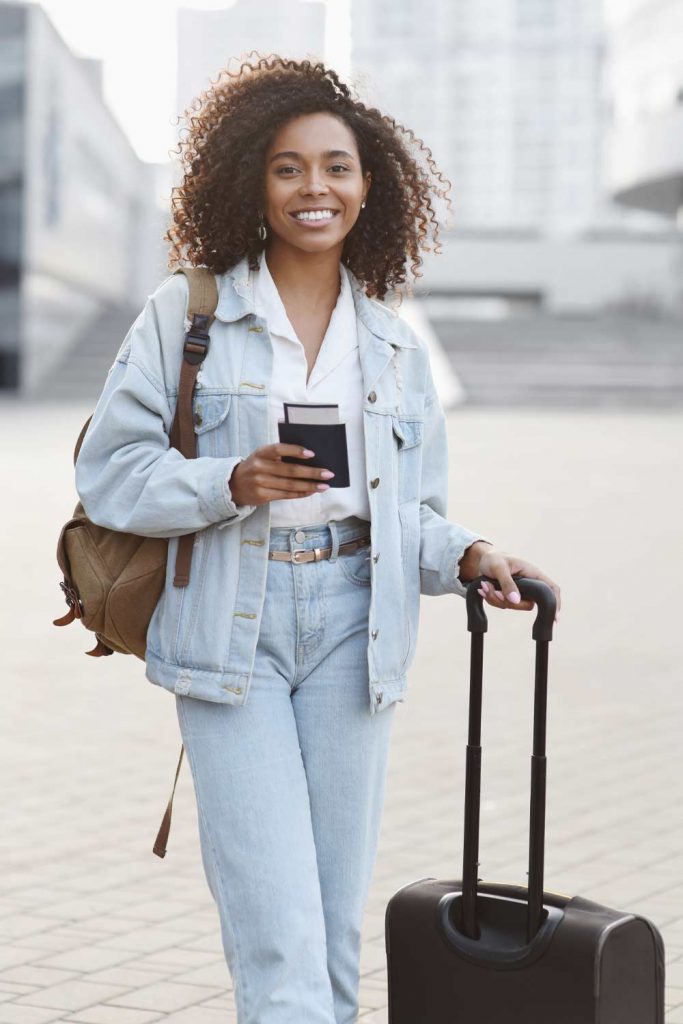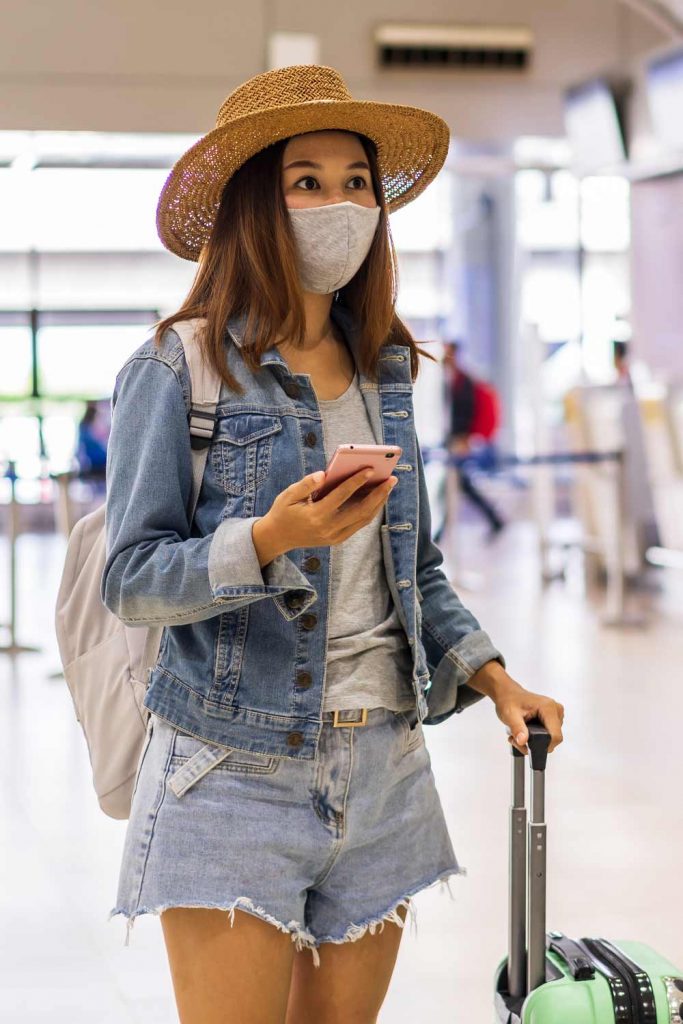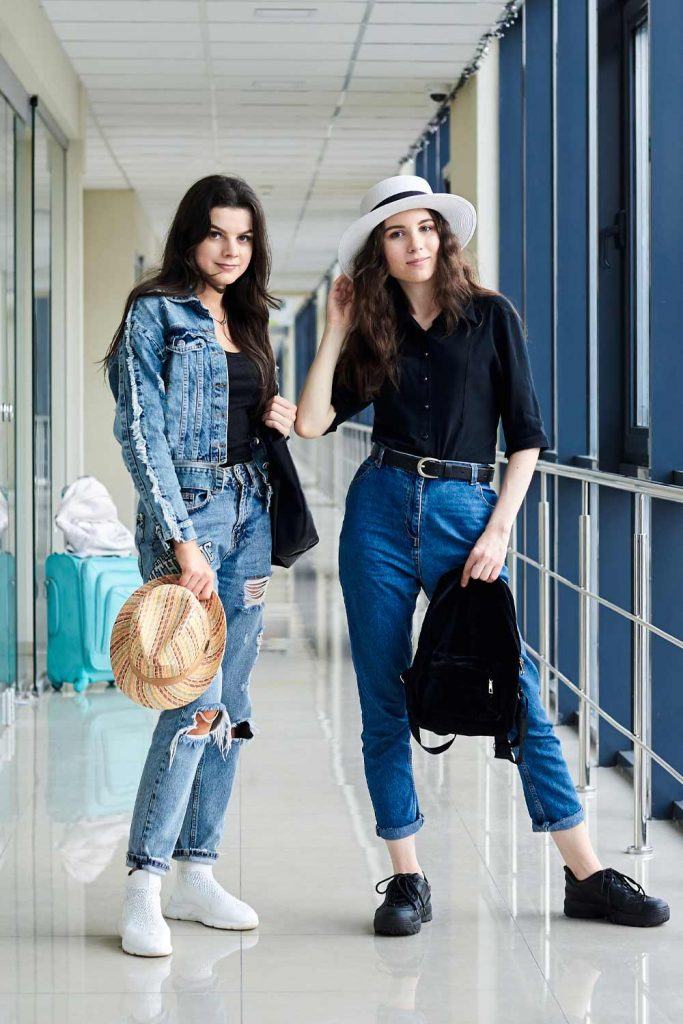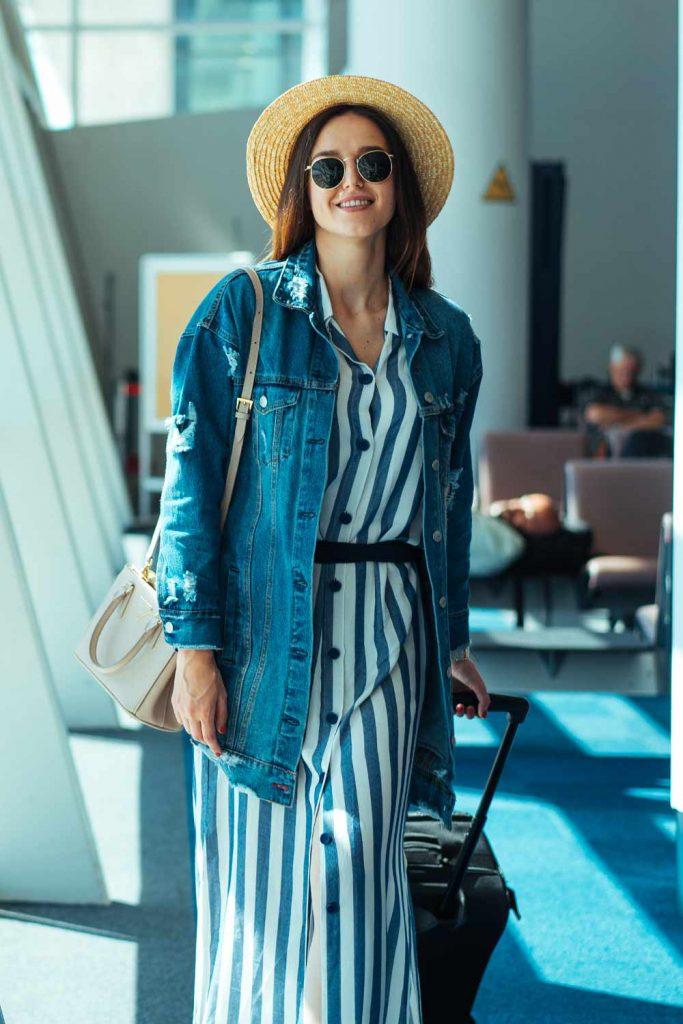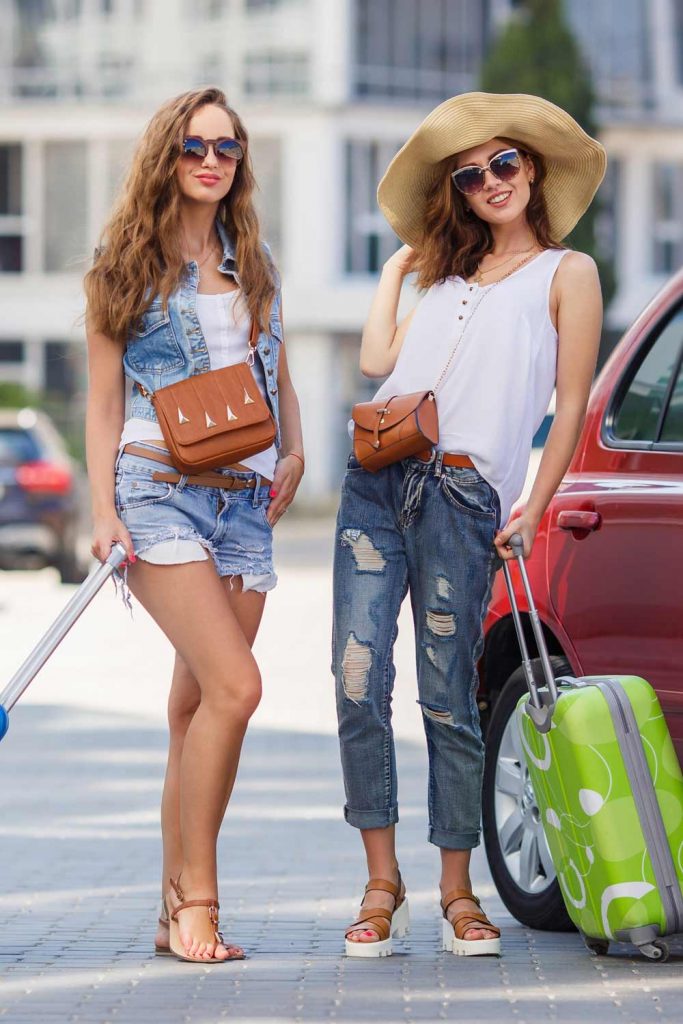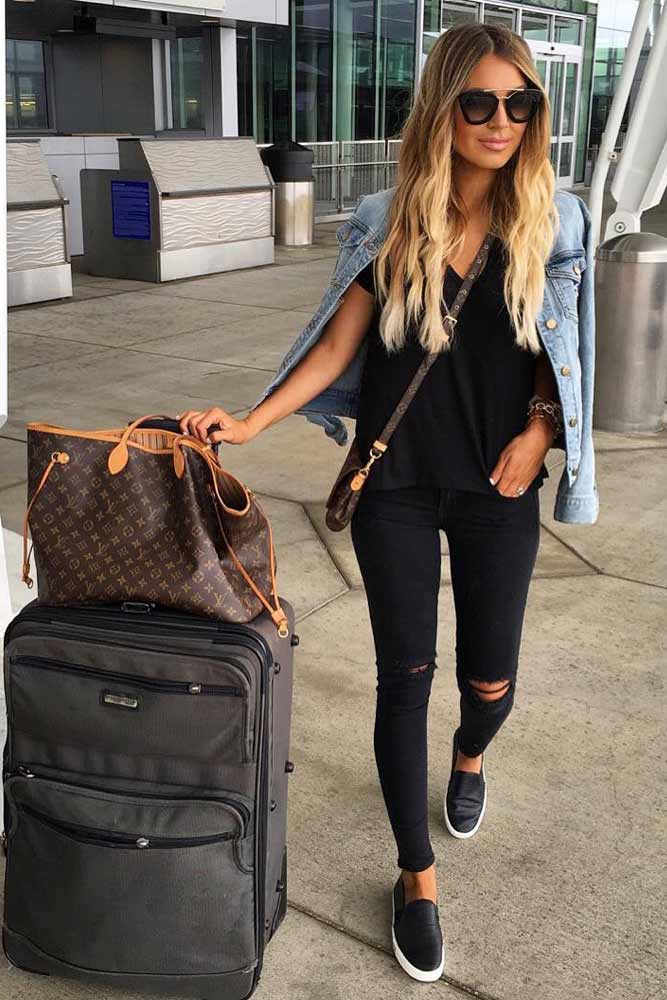 Credit: Instagram/holliewdwrd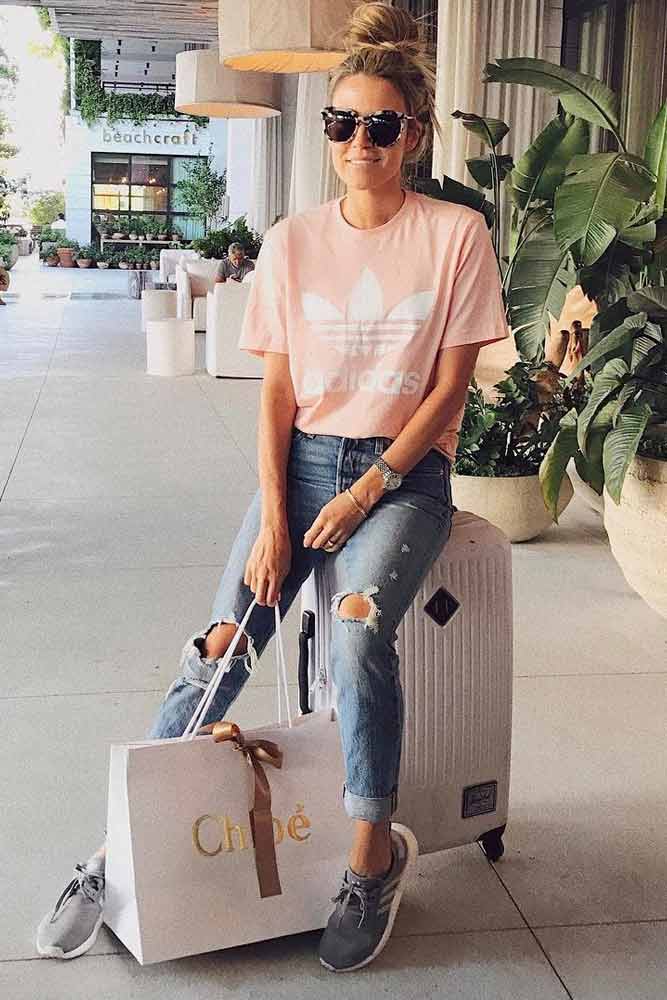 Credit: Instagram/hellofashionblog
You may have already heard that stretchy fabrics and breathable clothes are the best-fit for travel. Such a load of information may seem like you should pack your fav jeans and forget about wearing them to the plane. Yet, that is not true. Should you feel utterly comfy sporting your new jeans – no one is stopping you. Nevertheless, you should not forget that lengthy flights may add up to clot formation. That is why skinnies are out of the question here. Anything loose counts as a great deal.
What is more, the denim wear does not end with jeans. There are also denim shorts, shirts, and jackets to pay attention to. For instance, the combo of a denim jacket and a summer dress is certainly a killer one. Besides, pairing your boyfriend's jeans with a comfy polo T-shirt is an idea not to be treated lightly.
Airplane Outfits with Leggins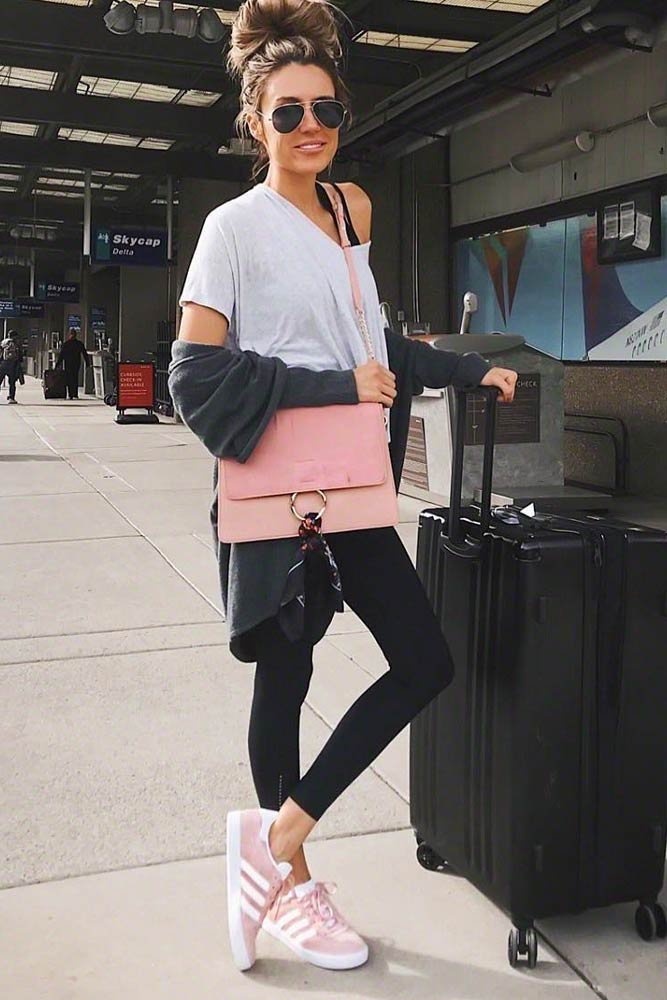 Credit: Instagram/hellofashionblog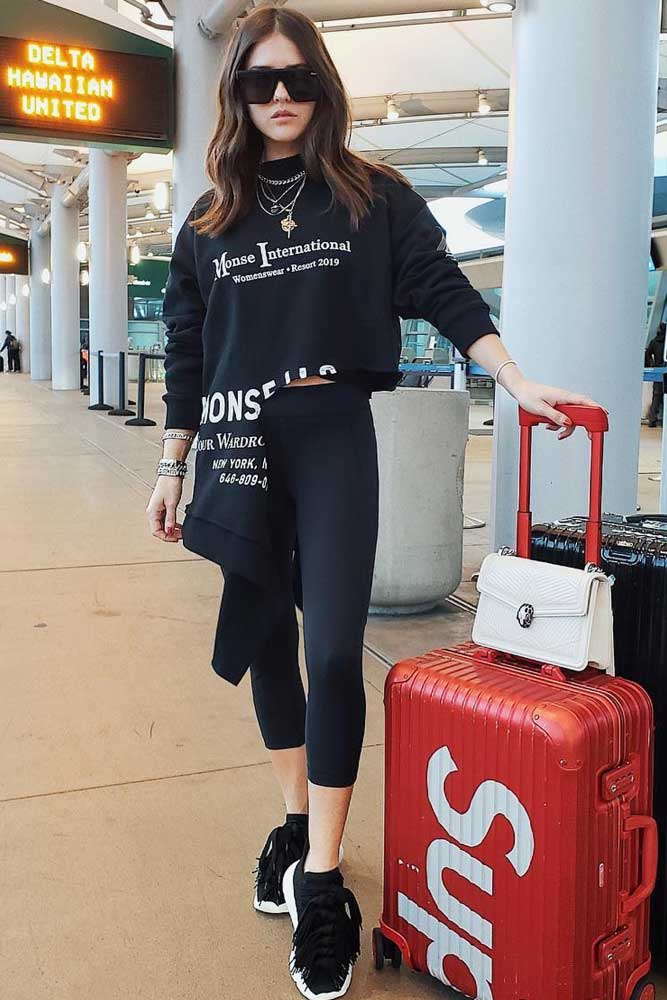 Credit: Instagram/paolaalberdi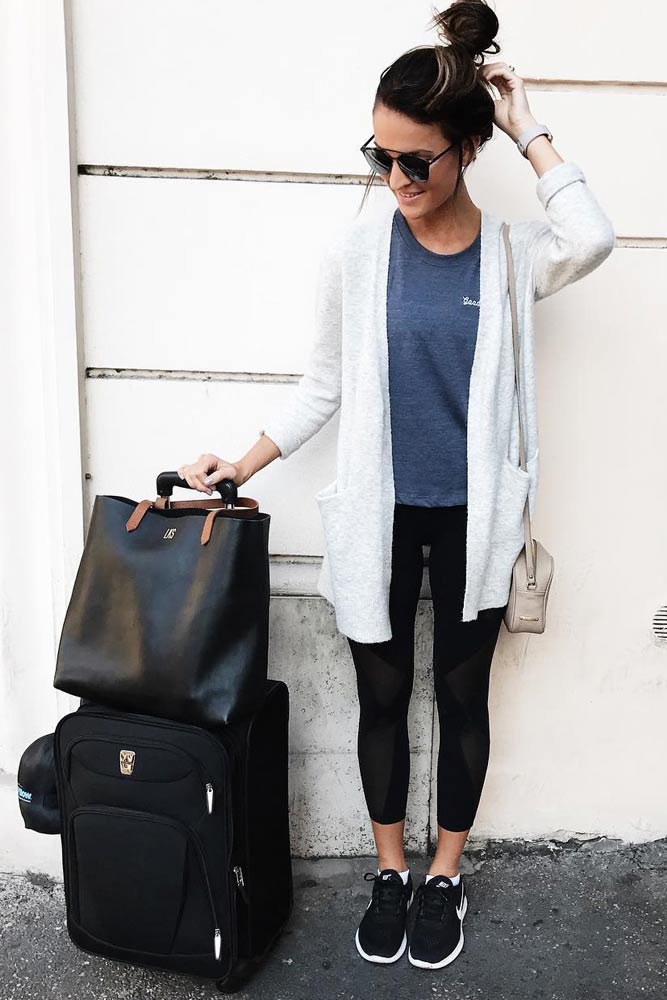 Credit: Instagram/laurenkaysims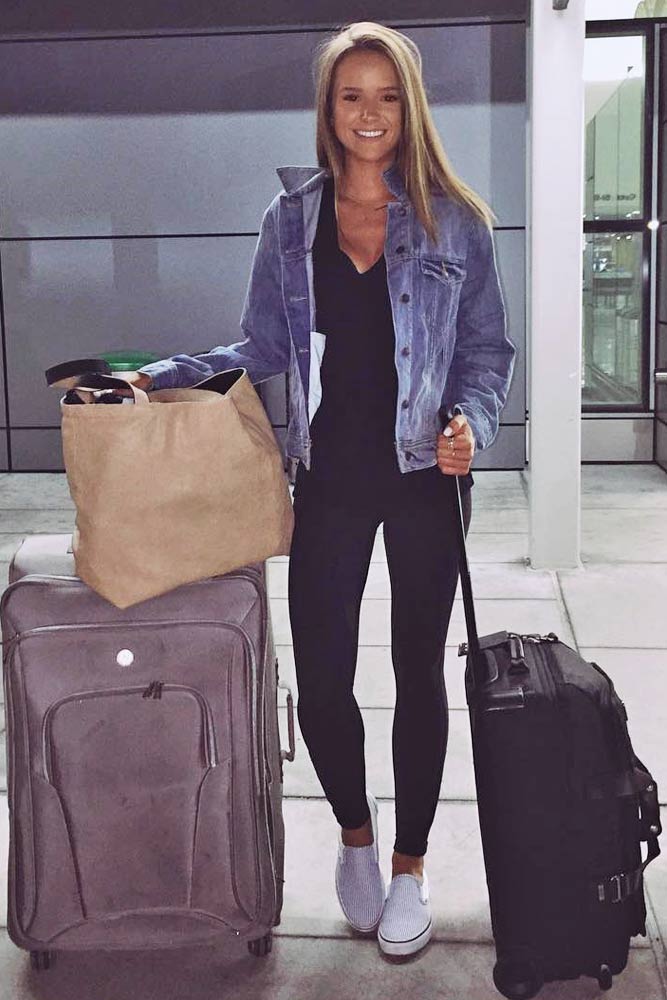 Credit: Instagram/helenowen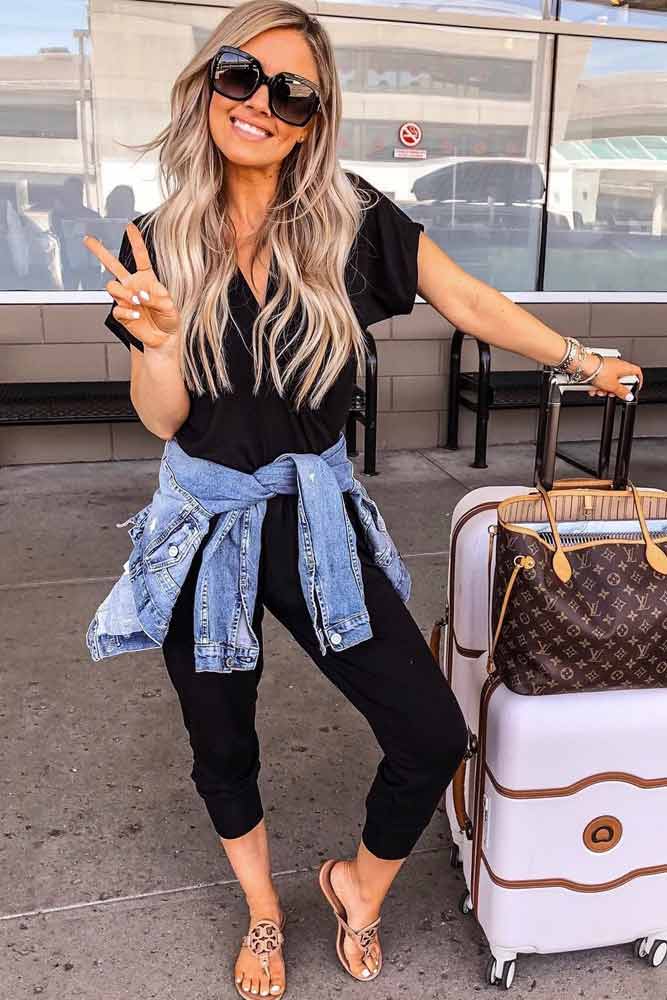 Credit: Instagram/almost_readyblog
We have been obsessed with the versatility of looks that a simple pair of leggings can offer for the longest while. Thus, discarding the item when it comes to plane travel would be a poor idea. Not only is the item utterly comfortable, but it can also be implemented into the greatest number of looks. Starting with a warm cardigan and ending with a simple T-shirt. Don't forget about the mixture that involves a stylish denim jacket. The only tricky part here is the footwear. While trendy sneakers may seem like an ideal match, you should consider how well your feet feel about those. It is best to choose your regular sneakers instead of top-notch branded ones. Also, it helps to cut on the makeup, and a fancy do' once you decide to sport a pair of comfy leggings.
Travel Outfits with Shorts and Skirts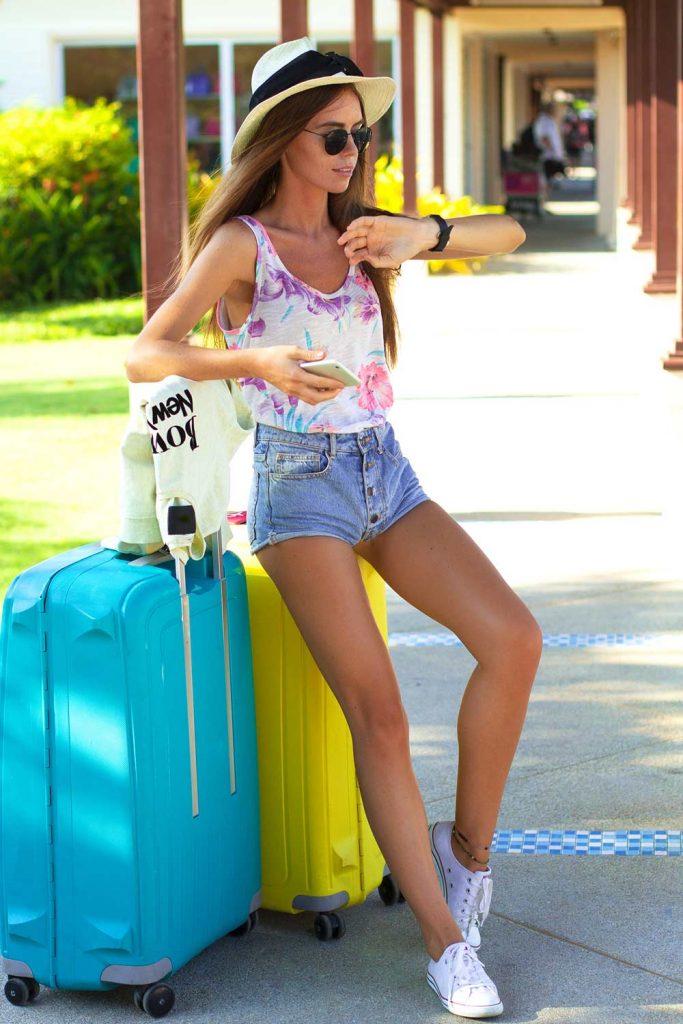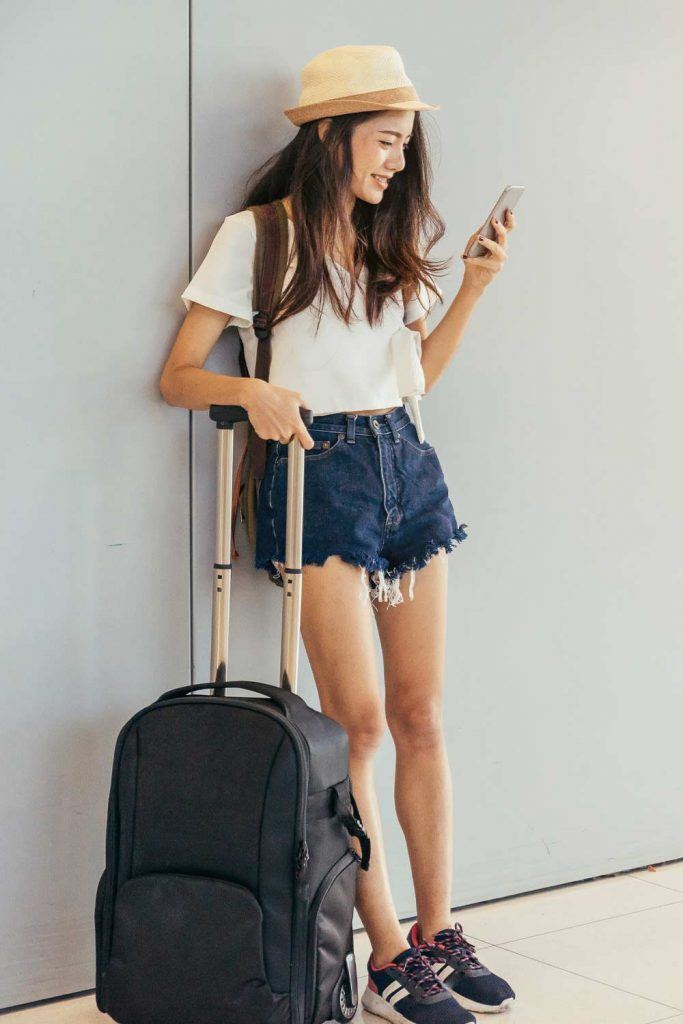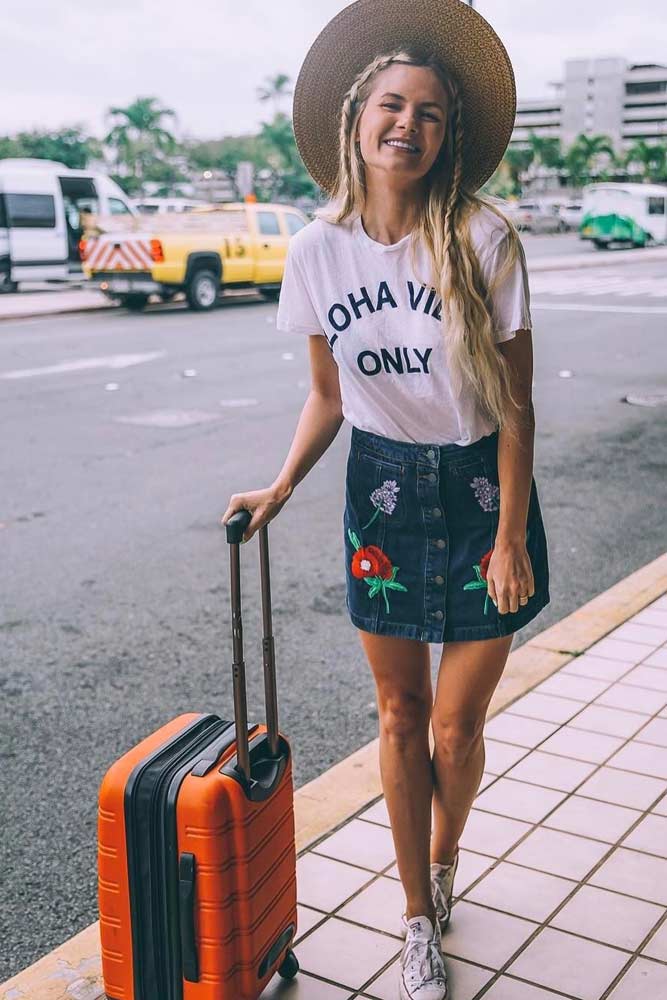 Credit: Instagram/amberfillerup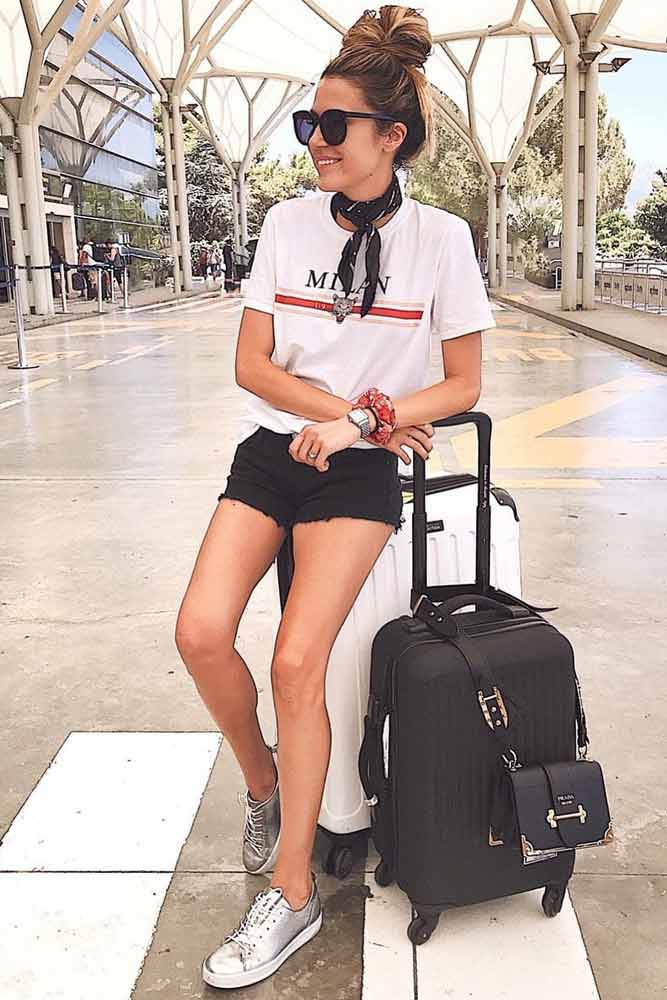 Credit: Instagram/hellofashionblog
Some sources claim that a short skirt or shorts are a 'no' option for a flight. We are going to disagree on the matter. First things first, it is the subject of preference. Should you feel like your short jeans shorts are the best you can wear on a flight, go for it. Yet, there a few rational predations to consider or at least brood upon. The fact is that the flight can get quite chilly when you are up. Thus, if it is a short flight – up to 2-3 hours – you may barely notice the chill. Yet, if you start from 4 hours and on, the cold legs may cause you unnecessary trouble. However, that is not a reason to ditch the shorts. You can simply bring in a warm blanket on you and cover the legs when the need arises. Also, you can use your cardigan or scarf to suit the goal and call it a day.
Airplane Outfits for Cold Weather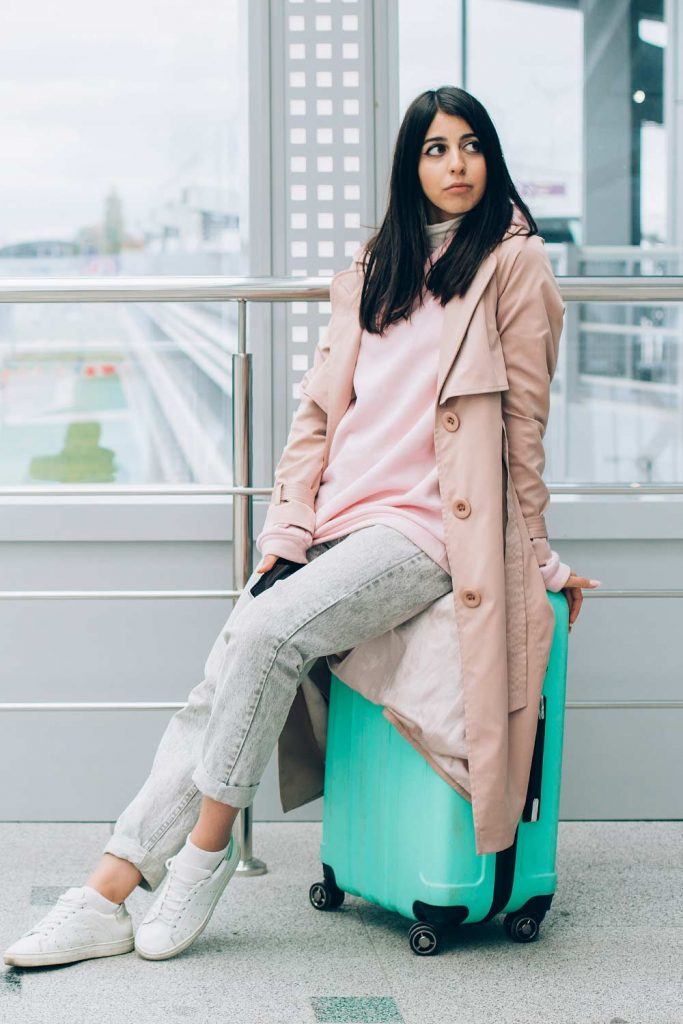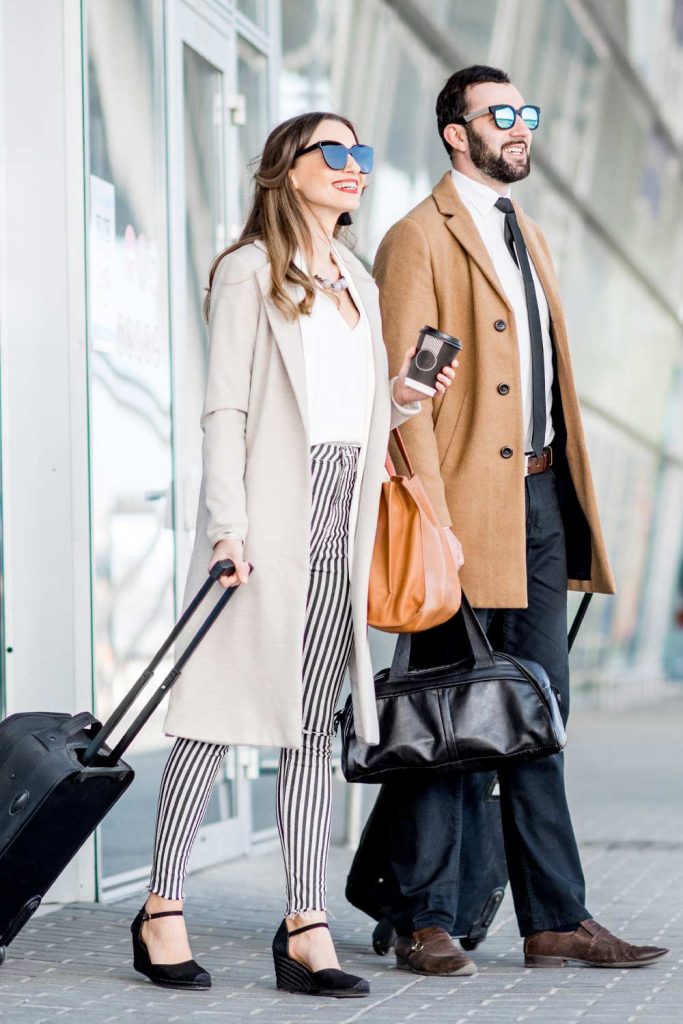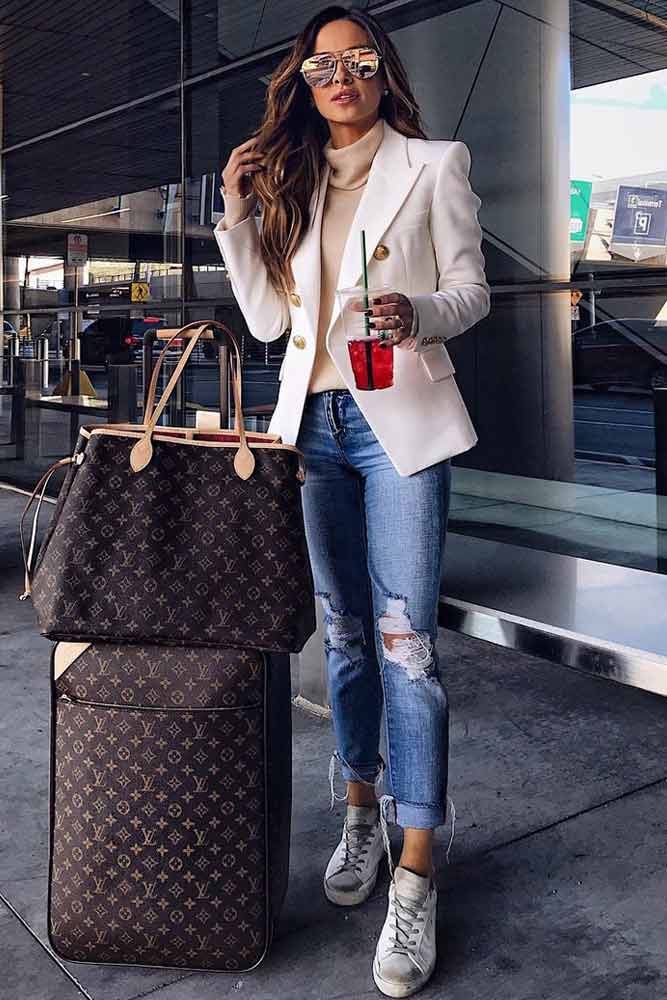 Credit: Instagram/miamiamine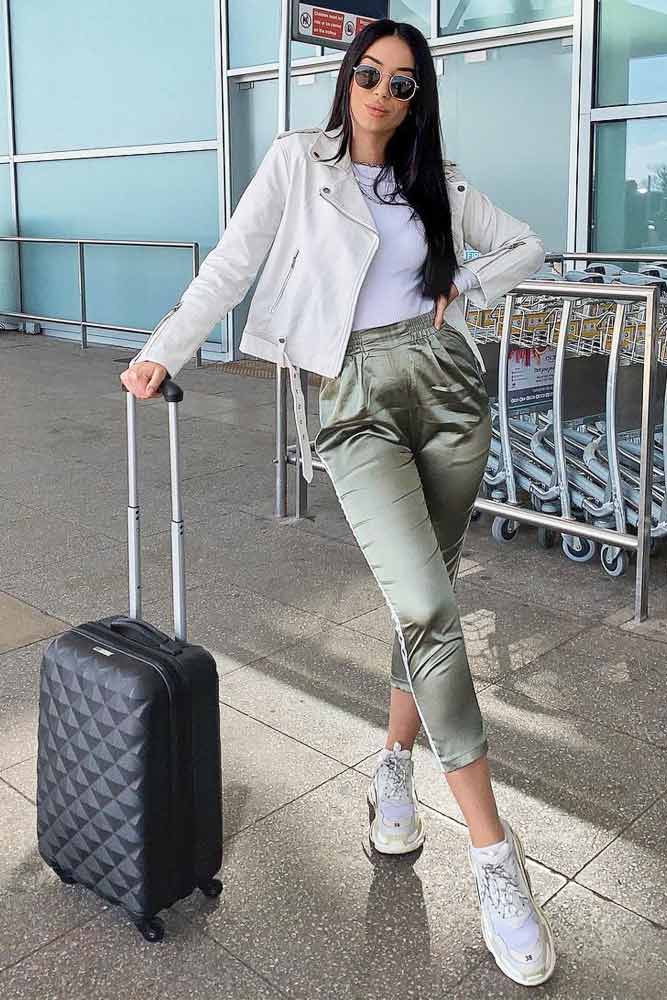 Credit: Instagram/yvzux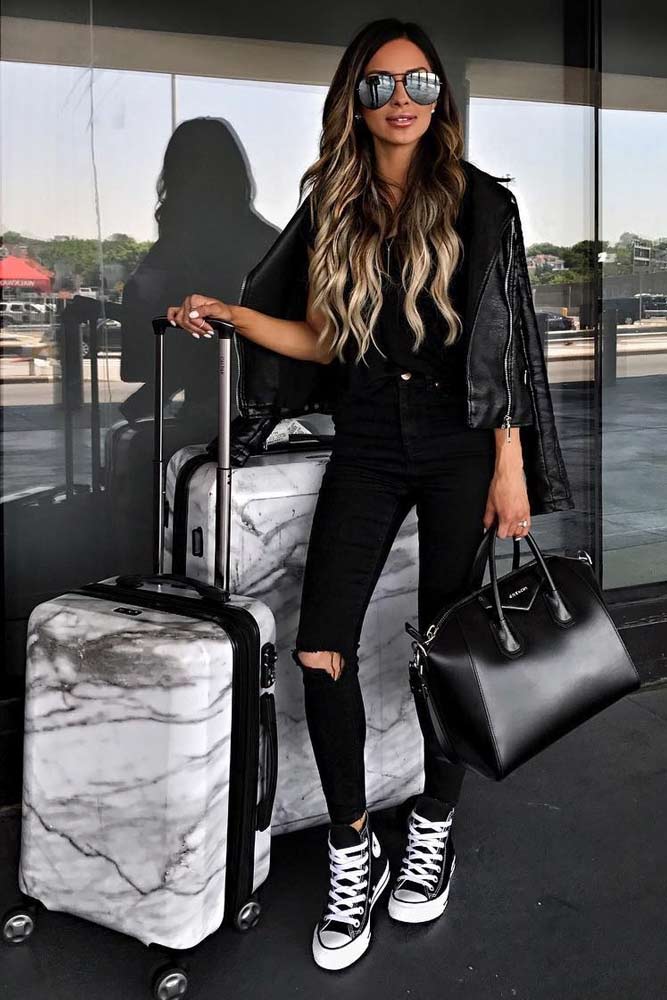 Credit: Instagram/miamiamine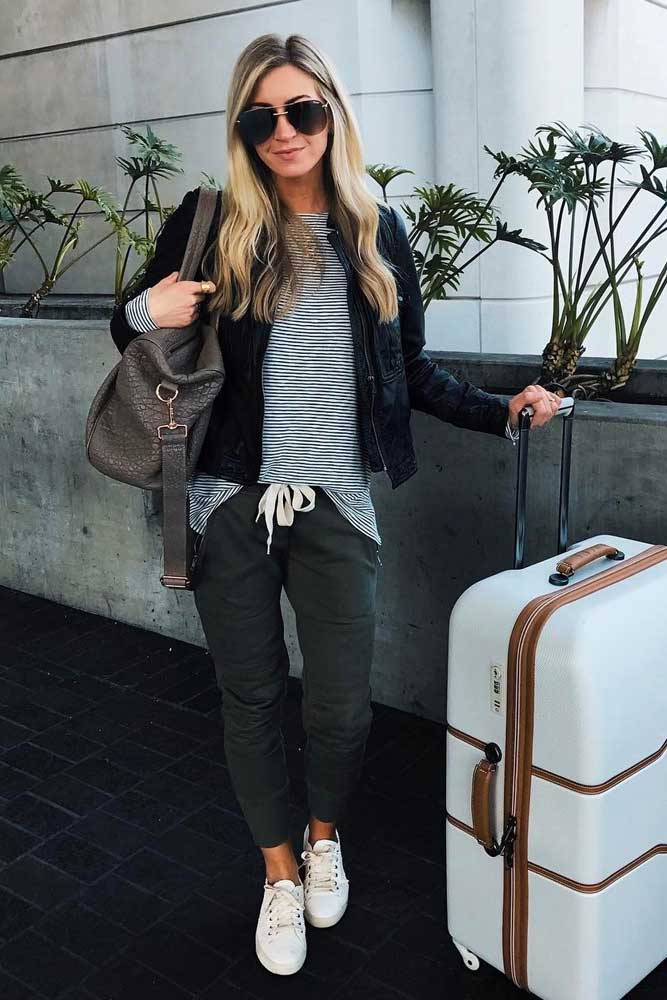 Credit: Instagram/leannebarlow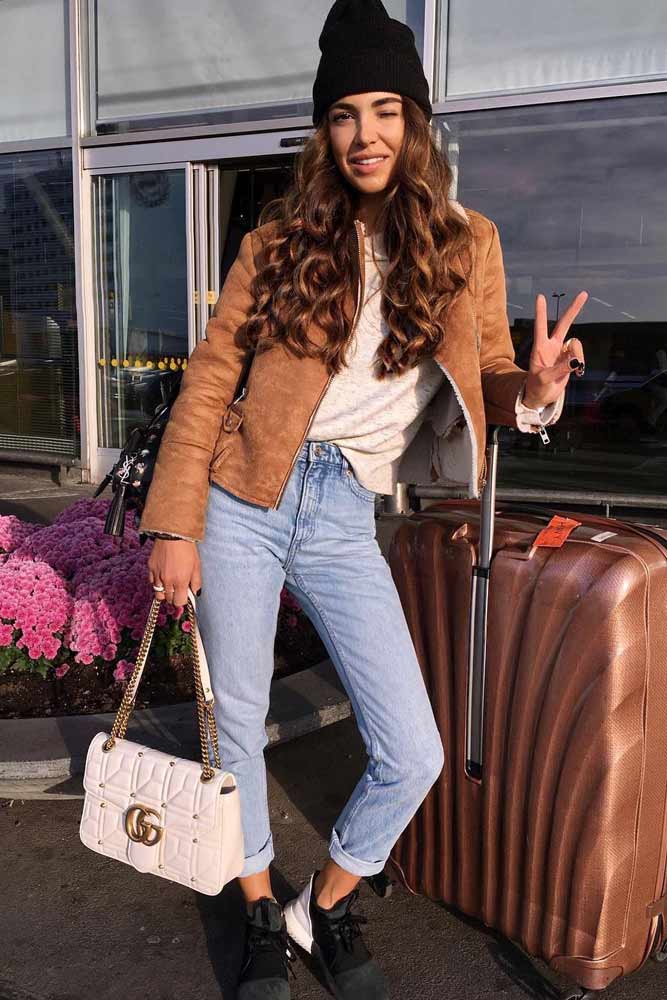 Credit: Instagram/negin_mirsalehi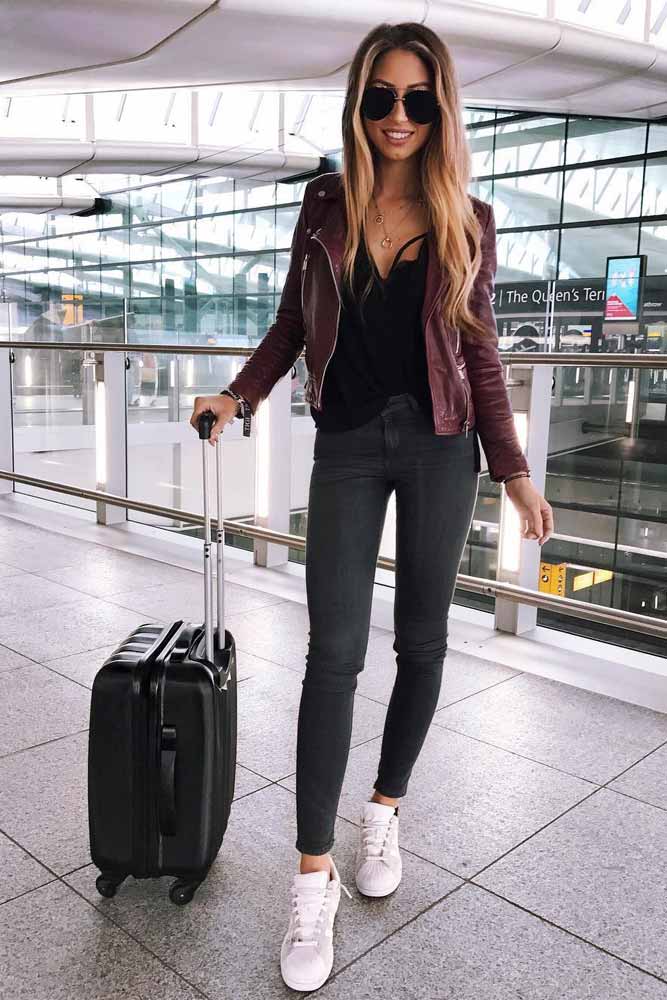 Credit: Instagram/caro_e_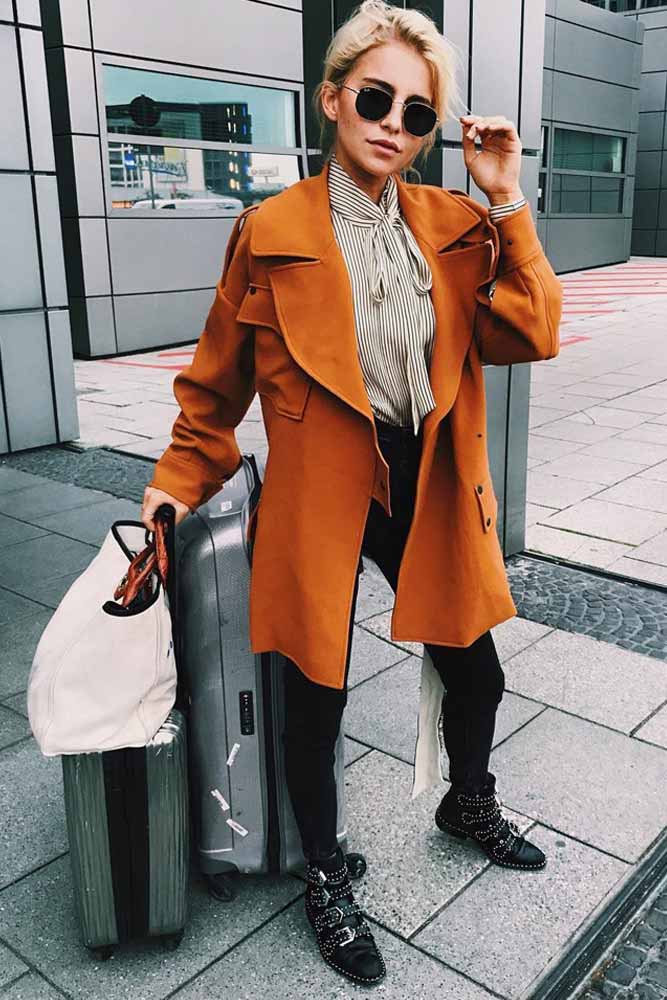 Credit: Instagram/carodaur
We have already figured that plane flights can get a bit chilly on their own due to the fact that the altitude changes. However, if you are traveling to a colder destination or during the cold season, the approach to your outfit should differ slightly too. You can still work with the layers, but there are a few additional alterations to make.
First things first, a leather jacket or a coat are a great addition to the warm sweater you are already wearing. Don't skip on the socks this time. The warmer your feet stay, the better you will feel. Add a cozy beanie to the list and match it with your fav scarf. The last tip – leave the ripped jeans at home and opt for something comfier and utterly warmer.
Getting ready for a flight does not mean that you can't show off your taste or style. However, while putting on your trendy clothes make sure that they are comfy as well. Take these ideas as perfect guide to a travel style even if you need to wear a face mask on airport!
FAQ: Airplane Outfits
Can I wear an Oodie on a plane?
Yes, you can. There are no regulations that prohibit wearing oodies on a plane. It is a very comfortable clothing item which will keep you warm during the flight. The only thing, make sure to wear something underneath if an airport security officer asks you to take it off when doing screening before boarding.
Can I wear revealing clothing on plane?
It is better not to wear revealing clothes on a plane. Firstly, because there is a noticeable temperature difference on a plane and you will easily get cold. Secondly, it might be offensive to certain nations. Lastly, in case of fire or evacuation the slide is uncomfortable on bare skin so it is better to be covered.
REFERENCES:
Dressing for the airport isn't always easy. From Bella Hadid to Rosie Huntington-Whiteley, take note from these stylish celebs who make in-flight fashion look effortless. Source
Was this article helpful?