Every lady knows that owning a pair of heels is a must. It is true that there are many occasions in our life that require us to look feminine and elegant and in most cases, it is impossible without wearing a pair of heels. The fact is that there are very many types of heels existing these days, but there are ones that are considered to be the most universal – black heels. As you may have already guessed they are going to be the subject of our today's survey. What is more, today you will learn that black heels are many, and there is a particular type not for just every occasion but for every person as well!
High Heels Sandals With Pearls
Source: lulus via Instagram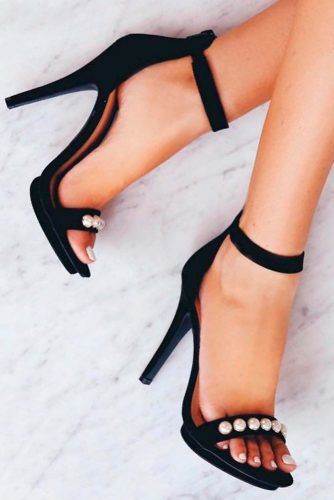 Pearls are all the rage now. They're everywhere: on hairpieces, bags, clothes and, of course, shoes. Add a dose of elegance to your look by opting for black heels with gems. Besides, high heels sandals are a great way to show off your matching pearly pedicure.
High Stilettos Heels With Ankle Strap
Source: veronniccas via Instagram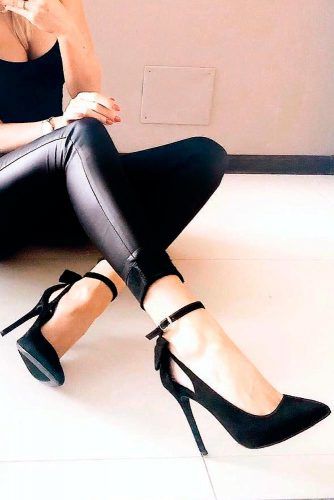 High stilettos instantly make you look more graceful and subtle thanks to their sharp and edgy shape. However, there's no limit to elegance and sophistication. Thus, you can enhance your look by choosing black heels with narrow ankle straps.
Toe Ring Sandals
Source: billinishoes via Instagram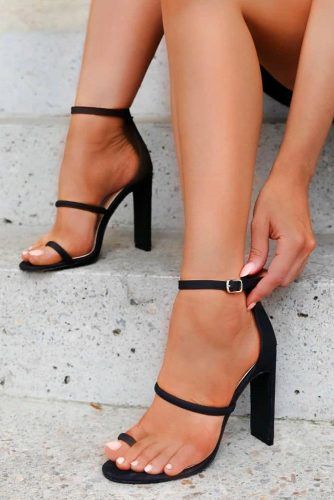 Although these toe ring sandals look quite flimsy and fiddly, they hold on your feet pretty tight. This option is for really daring and fashion savvy ladies, as not everybody will be able to pull it off. Make sure though that your pedicure is flawless, as, with such snazzy shoes, your feet will have all eyes on them.
Open Back Heels With Clear Straps
Source: tonybianco via Instagram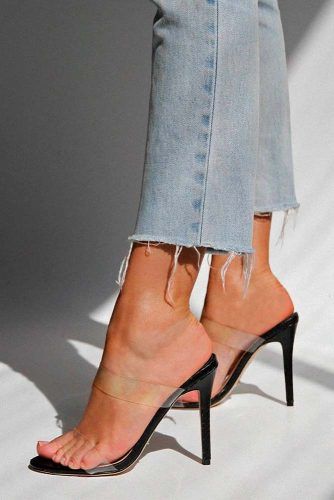 These black heels with clear straps actually look out of this world. They're made for confident and modern women who have nothing to hide or be ashamed of. At first, they may appear confusing and raising questions of how they are holding down there. But in the aftermath, they refuse to let you look away so awe-inspiring they are.
High Heels Sandals With Clear Straps
Source: egoofficial via Instagram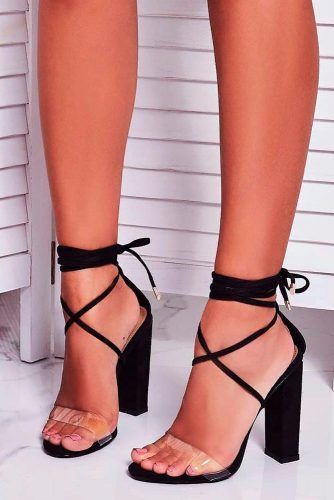 For real fashionistas, there are no boundaries when it comes to trendy shoes. You can mix several stylish elements to get an utterly breathtaking and unique look. High block heels sandals with ankle lacing and clear straps will allow you to make a strong fashion statement having all chances to become your signature shoes.
Black Open Toe Sandals With Block Heels
Source: deezeeshoes via Instagram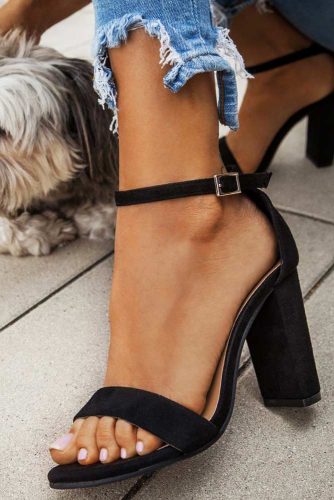 When it comes to choosing the sandals to wear, most women opt for something comfortable. Thus, they leave out heels. Yet, heels can be suitable for everyday wear, too. For example, these black heels open toe will suit even a pair of jeans. And what makes them comfortable is the block heel.
Black Velvet Sandals With Stiletto Heels
Source: deezeeshoes via Instagram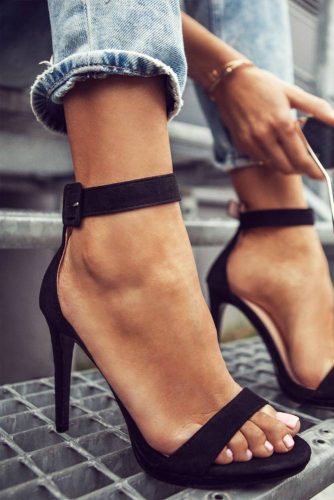 It is true that stiletto heel can be pretty daring to walk on. However, black heels with ankle strap even with a stiletto heel will be easy to wear since the strap fixes the ankle and you won't even notice that you are walking in heels!
Black Velvet Pumps
Source: deezeeshoes via Instagram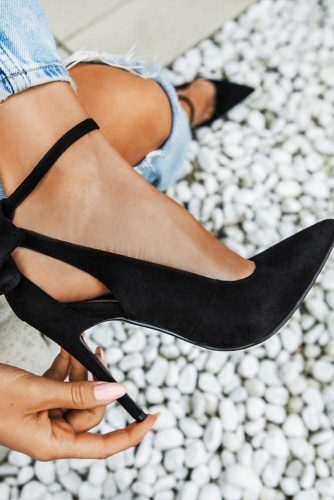 Black velvet pumps look very elegant and stylish but not every lady will dare to wear them to the office. The key point to finding a perfect pair of black heels closed toe lies in the ability to spend quite the amount of time with them on. This pair of heels has a decorative ankle strap, but the strap has another function too – it stabilizes your ankle so that your feet feel comfortable.
Open Toe Platforms Heels
Source: deezeeshoes via Instagram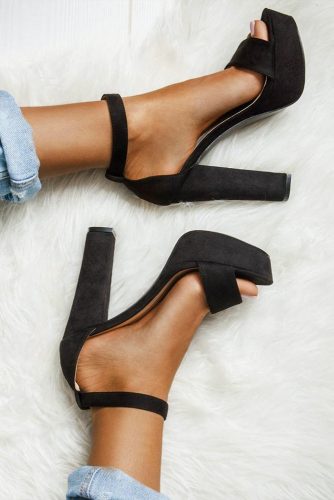 It is not a secret to anyone that wearing platform heels is much more comfortable than wearing stiletto heels. That is why if you are not sure whether you will endure the stiletto heel but still look for something to substitute it – open toe platform heels should be your perfect choice!
Patent Leather Shoes With Silver Heels
Source: deezeeshoes via Instagram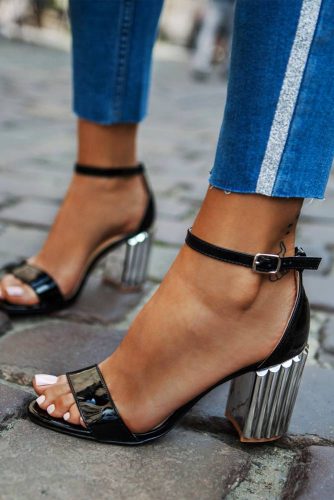 These days everything is centered on the accents, and black heels are not the exception. If you are looking for a perfect pair of shoes that are both easy to wear and have an ideal accent to them – then this is your best option. The silver block heel is exactly what makes this pair of shoes noticeable as well as comfortable.
Black High Heels With Fringe
Source: amiclubwear via Instagram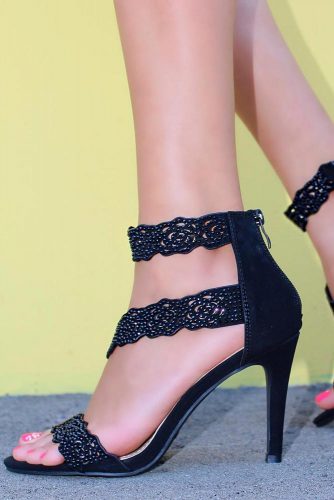 A special occasion requires special footwear. These fringe open toe sandals can fit such an event just perfectly. The heel itself is not too high while the straps stabilize our foot which doubles the comfort.
Sexy Corset Shoes With Metallic Heels
Source: amiclubwear via Instagram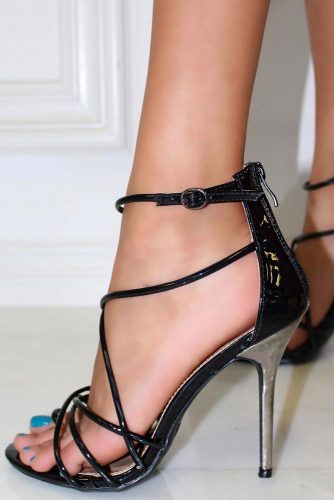 In case you are an experienced heel wearer, and you are searching for something out of the ordinary unique and stylish, then we have an idea in mind. These corset heels may be challenging to wear, but they are surely sexy and noticeable.
Transparent Platform Wedge
Source: amiclubwear via Instagram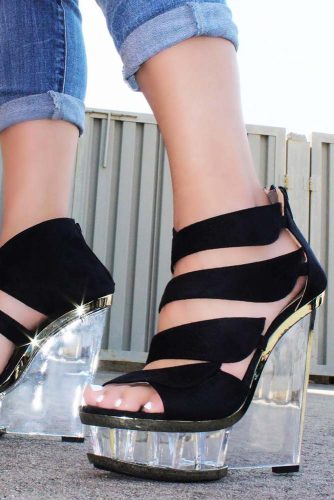 Platform wedge is trendy these days, and there is no wonder why. There are so many styles to pull off with these shoes that it is difficult to count. The black velvet top is what brings the class to these heels while the transparent platform is all about the party!
Laced Platform Heels
Source: amiclubwear via Instagram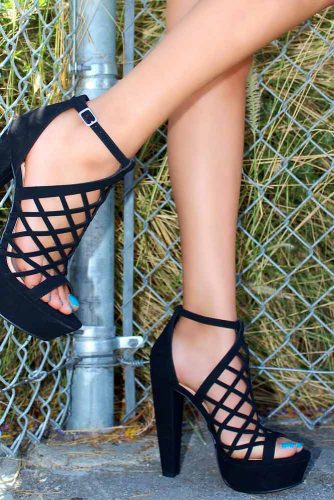 Even super high heels can be super comfortable, and we are not joking about it. The thing is that the stable heel together with the platform and laced front add up together and make these shoes extremely easy to walk in.
Peep-Toe Ankle Strap Platform With Rhinestones
Source: amiclubwear via Instagram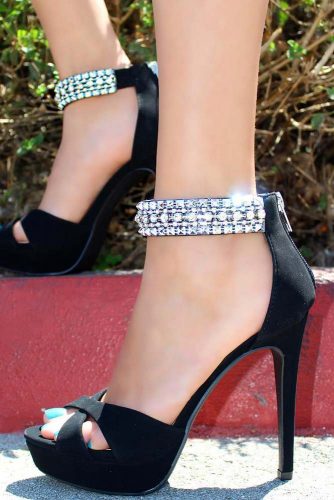 A perfect pair of heels is all about the decorative element. That is why if you are looking for something elegant and noticeable at the same time we suggest you pay attention to peep-toe ankle strap shoes. The ankle strap decorated with rhinestones will add up that necessary bling to your look, that is for sure!
T-Strap Sandals
Source: amiclubwear via Instagram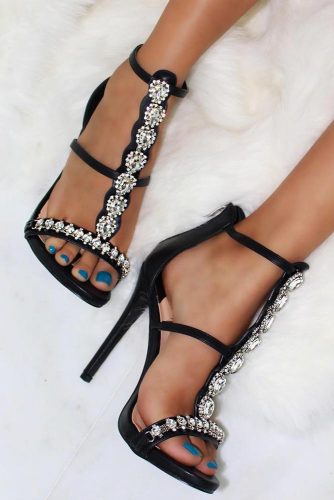 Black heels for women who like to look luxurious are bound to look unique and elegant. For example, these T-strap sandals are anything but ordinary, both the strapped pattern and the rhinestone accent make them look simply fabulous!
Platforms With Ballerina Straps
Source: deezeeshoes via Instagram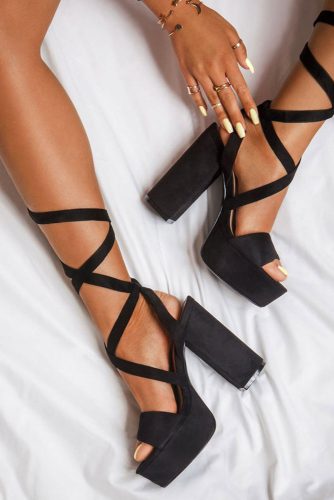 These days the options are so many that it is difficult to choose which type of black heels you want to own. However, there are some that are so magnetic looking that you can't simply pass by. These ballerina straps platform heels look so gorgeous and their simplicity that it is easy to conclude that they are as comfortable as they are beautiful and that would be absolute truth!
Black And Silver Gladiators
Source: amiclubwear via Instagram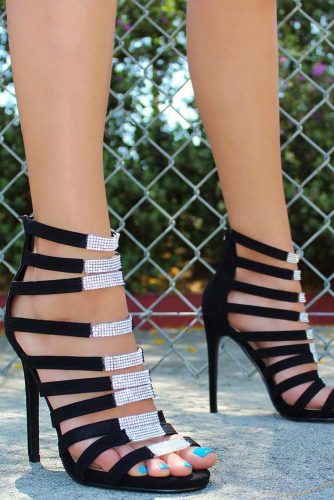 Very often it is considered that gladiators are all about being flat. Well, the truth is that if you are a fan of gladiators, it is time you give a try to a heeled version. It is obvious that they may be a little challenging to walk in, but there is nothing you wouldn't deal with to look fabulous – is there?
Closed Toe Stiletto Heels With Rhinestones
Source: amiclubwear via Instagram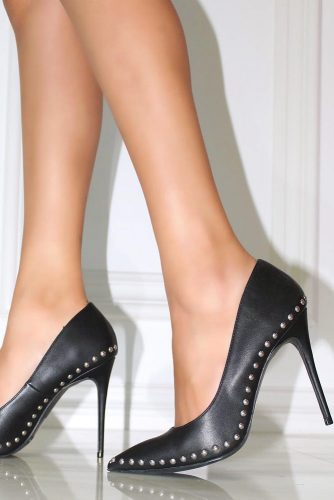 Closed toe stiletto heels are surely the most classic version of black heels there is. Although, this type is slightly upgraded with rhinestones, which do not interfere with the conservative vibe but make them look a little bit more up to date.
Platform Closed Toe Heels
Source: amiclubwear via Instagram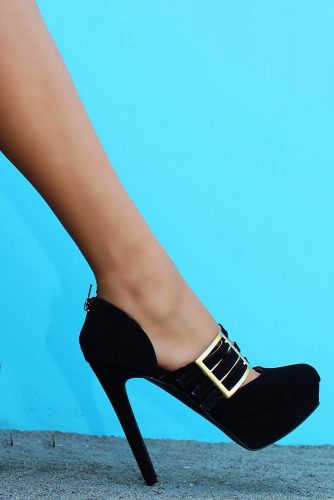 In case you do not want to take your chances, we suggest you try out these closed toe platform heels. The thing is that despite the heel everything else screams comfort when it comes to these shoes.
Black Closed Toe Heels With Red Soles
Source: jimmy2louboutin via Instagram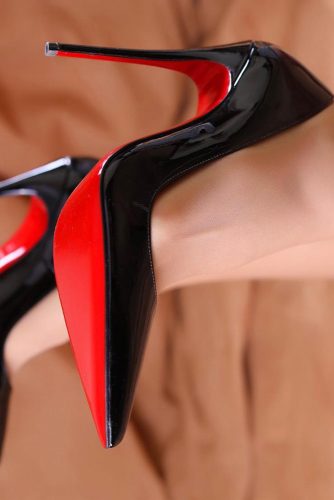 Black heels with red soles are on the edge of popularity these days. Closed toe and stiletto heel are the main attributes that go along with red soles.
Chunky Heels With Studs
Source: d.o.n.n.a.a.n.a.s.t.a.s.i.a via Instagram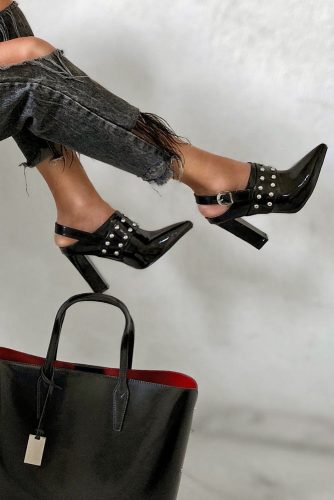 If you are looking for black heels to wear when the weather gets a little colder, then this option may be the best for you. The heel strap and the block heel not to mention closed top grants you that necessary stability most women seek for!
Closed Toe Patent Leather High Heels
Source: d.o.n.n.a.a.n.a.s.t.a.s.i.a via Instagram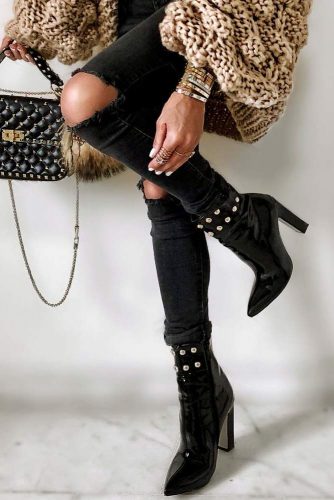 Leather high heels with a patent are what every lady needs when the fall hits. Anything on the scale from skinny jeans to stylish skirts or dresses will fit in with these marvelous heeled shoes!
Black heels are considered to be a universal footwear every lady is bound to own. However, it is time you learn about all possible options to choose from so that you look as stylish as you feel comfortable!
Over Knee Boots
Source: amiclubwear via Instagram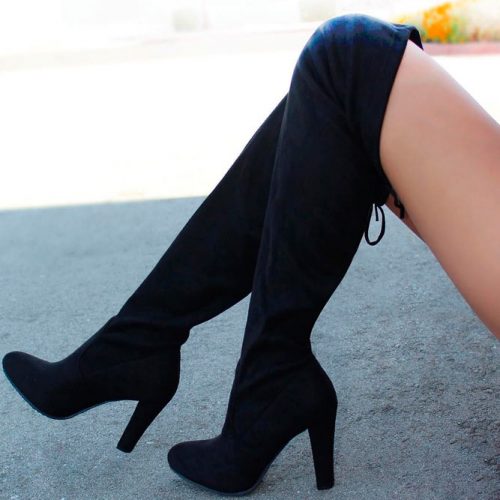 These days there are many types of heeled boots available. However, if you are looking for something both stylish and out of the ordinary then over knee boots are exactly what you need. Any short dress or skirt will complete the look perfectly, or you can go as far as to pair the boots with elegant and trendy shorts, the choice is yours!
Chunky Platform Boots With Silver Accents
Source: deezeeshoes via Instagram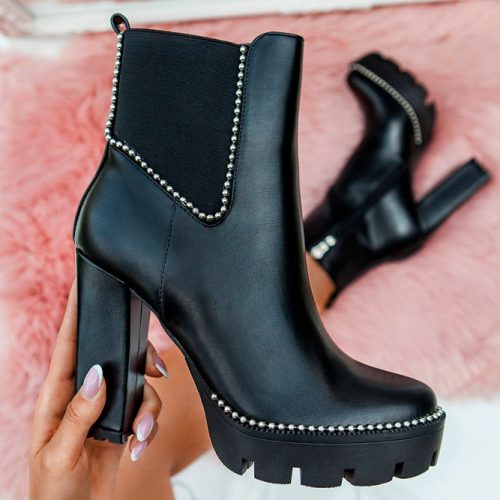 It is true that not all ladies like stiletto heels, sometimes a platform is much more preferred. If you are one of those, then this perfect mix of platform and heels in a shape of stunning boots is what you are simply bound to add to your collection!
Female Classic Lace-Up Boots With Slim Heel
Source: deezeeshoes via Instagram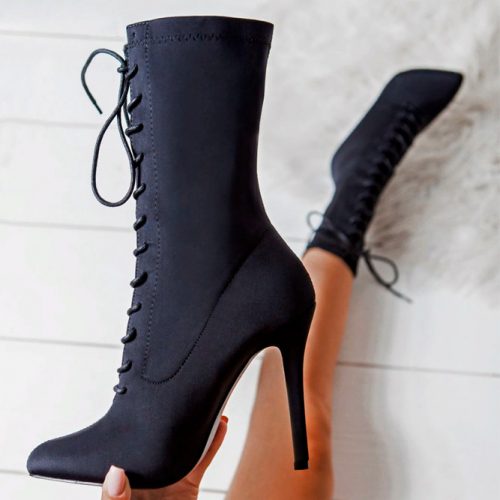 High heels are what makes a woman look like a lady. Once you have a glance at this gorgeous suede laced-up a pair, there is barely a chance you will resist the temptation of option for similar boots!
Modern Lace-Up Boots With Stilettos
Source: gianmarcolorenziofficial via Instagram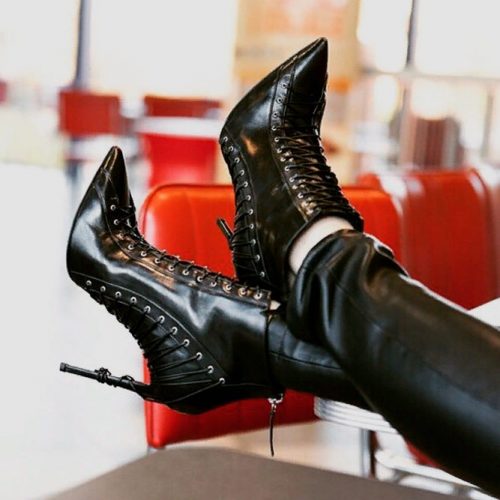 If you are all about following the trends, then this is the option that you need to add to your wardrobe! These glossy, laced up boots look both elegant and a bit edgy – the killer mix, don't you think?
Elegant Ankle Boot With Comma Heels
Source: nicholaskirkwood via Instagram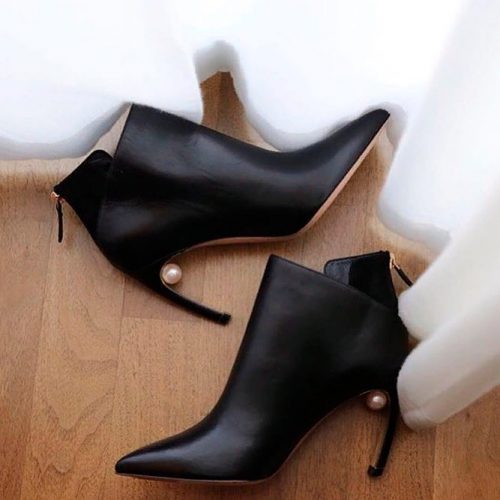 Those of you who are looking for something that is both stylish and unique – we have a suggestion in mind. The coma heel adorned with beautiful pearl isn't something you are going to see on an everyday basis, and that is the detail that makes this pair so special.
Modern High Heeled Boots With Gold Studs
Source: deezeeshoes via Instagram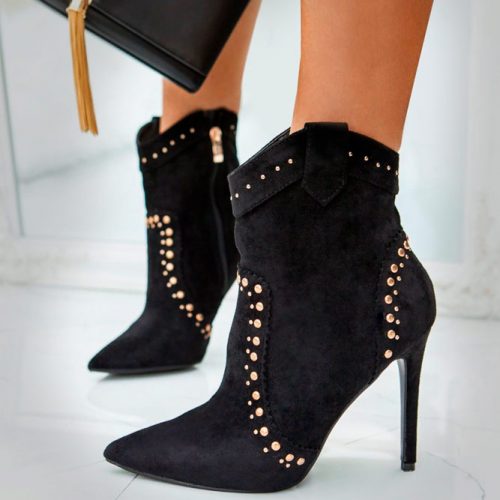 When there is a need for something modern being added to your everyday look, then high heeled boots with studs are there for you. There is not a single chance that you will regret your choice!
FAQ: Black Heels
Do black heels go with everything?
Almost everything looks good with black. Black is an attractive and tried hue that you cannot go wrong with, regardless of whether your clothing is warm or cool-toned. Black is a wonderful shoe choice for when you just need a basic look, whether it's black sneakers, pumps or flip-flops.
Do black shoes go with blue jeans?
The classic combo of blue trousers and black sneakers looks effortlessly smart. It's the ideal method to add a classy, modern edge to your jeans. Sneakers and boots are good for casual situations, whereas loafers are more appropriate for formal occasions.
What type of heels are easiest to walk in?
Wedge heels are an excellent alternative to stilettos since they are more comfortable and simpler to walk in. A wedge heel is ideal if you plan on wearing heels for an extended period of time.
Was this article helpful?