When the summer heat comes, all the ladies all over the glove are looking for the best combos to look stylish and not to feel overheated. That is when the mini skirt comes in more than requested. The fact is that among all skirt types, mini ones are staying on the edge of popularity no matter what. In case you wonder which looks to sport this summer to look super stylish and sassy – you have come to the right place. We have gathered here all the best mini skirt outfit ideas that will suit all tastes and preferences.
*We may earn money from affiliate links on this page. Please check out our disclosure policy for more details.
Denim Mini Skirts Outfits
Denim mini skirts are a versatile and timeless fashion staple that can be dressed up or down for various occasions. With their classic and edgy look, they can add a touch of style to any outfit. In this paragraph, we will discuss some outfit ideas for denim mini skirts and how to style them for different occasions.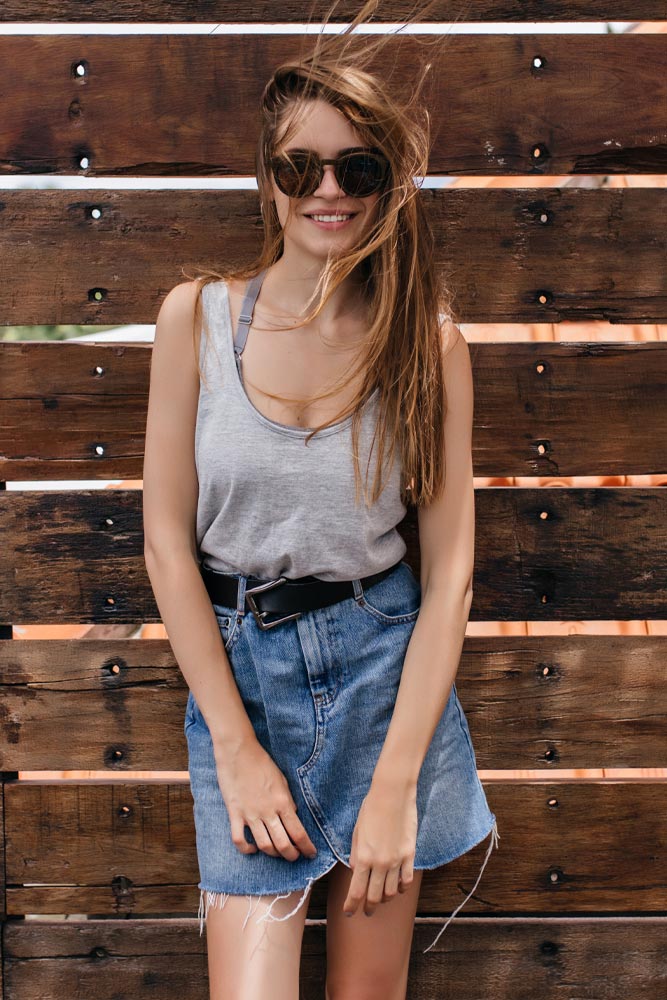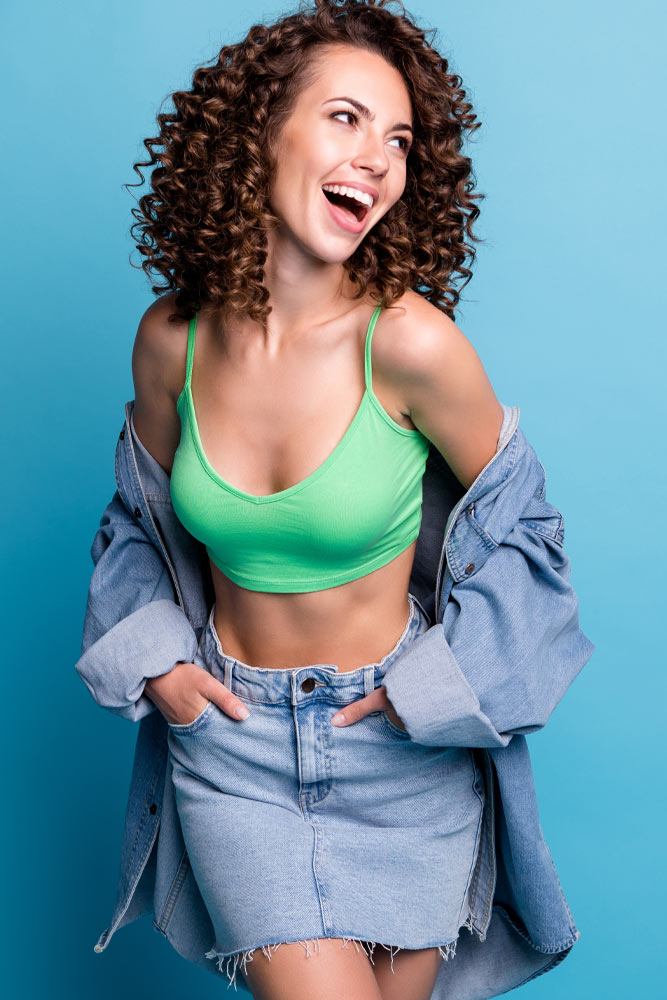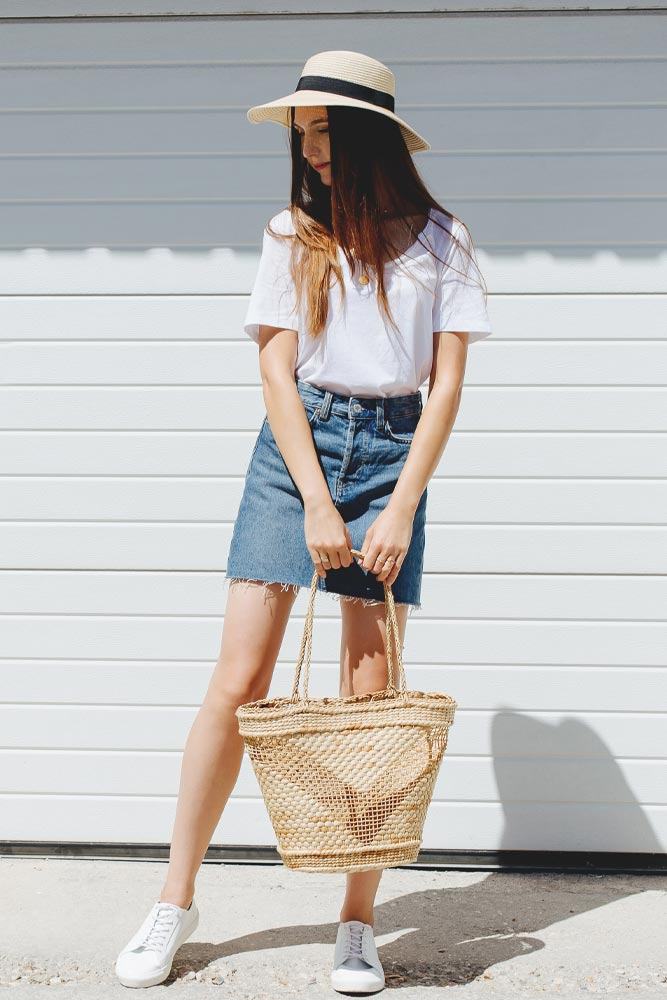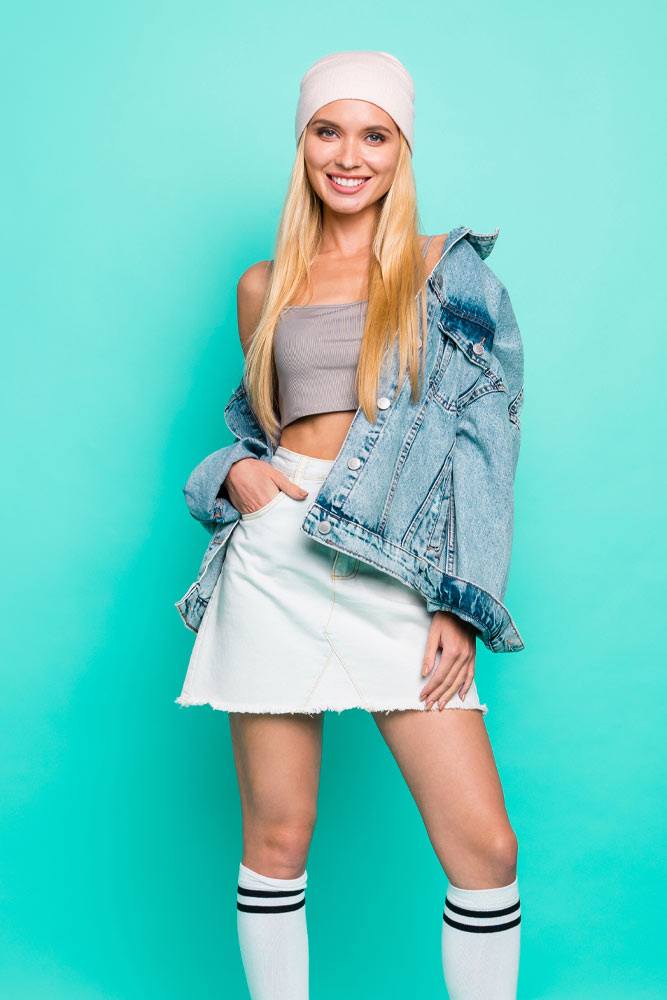 Denim Mini Skirt With Long Sleeved Top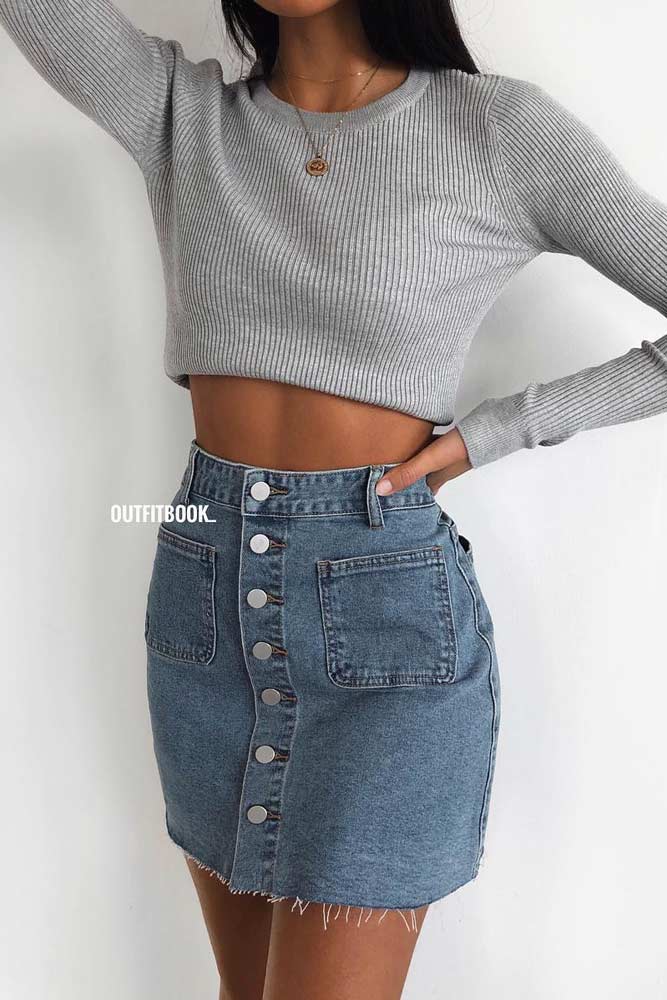 Credit photo: Instagram.com/outfitbook_
It has been already mentioned that denim skirts have made their way back into fashion so that you should consider taking your old-school skirt out of the closet. Many ideas involve a denim skirt, and this long-sleeved top, and mini skirt is surely on the list.
Black Mini Skirt With Black Denim Jacket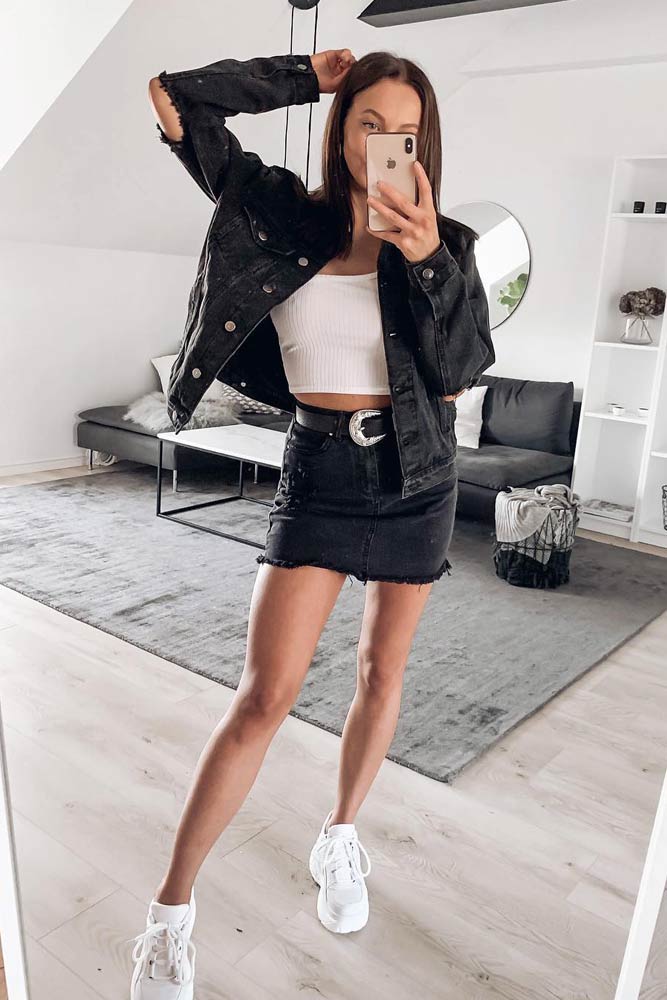 Credit photo: Instagram.com/karolinlisa
Very often, when we say denim skirt, we think only regular blue. However, denim can be black as well. That is why if you are looking for a more reserved but still stylish look, then a black mini skirt, same-colored jacket and a white top and sneakers to contrast will help you achieve the goal in no time!
Denim Outfits Style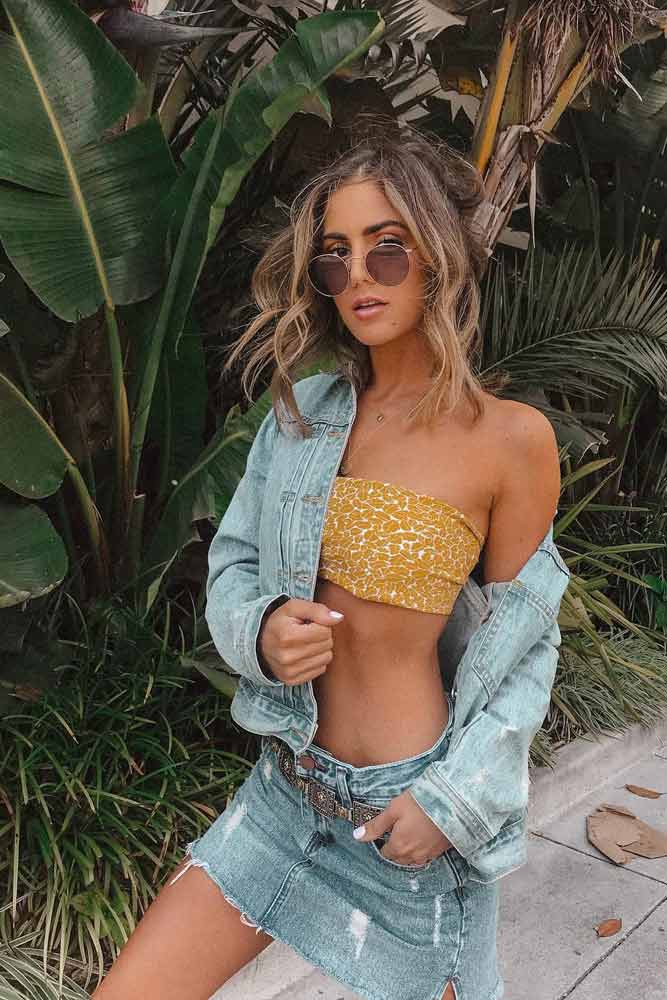 Credit photo: Instagram.com/stephweizman
When we are discussing mini skirts, we can't leave denim mini skirt out because it is another trending element at the moment. The shaggier it is, the more stylish your look will be. Such a skirt goes well with a sexy top and a denim jacket and can't be easily worn to a friend's party or an evening stroll with your BFF.
Classy Look with Mini Skirt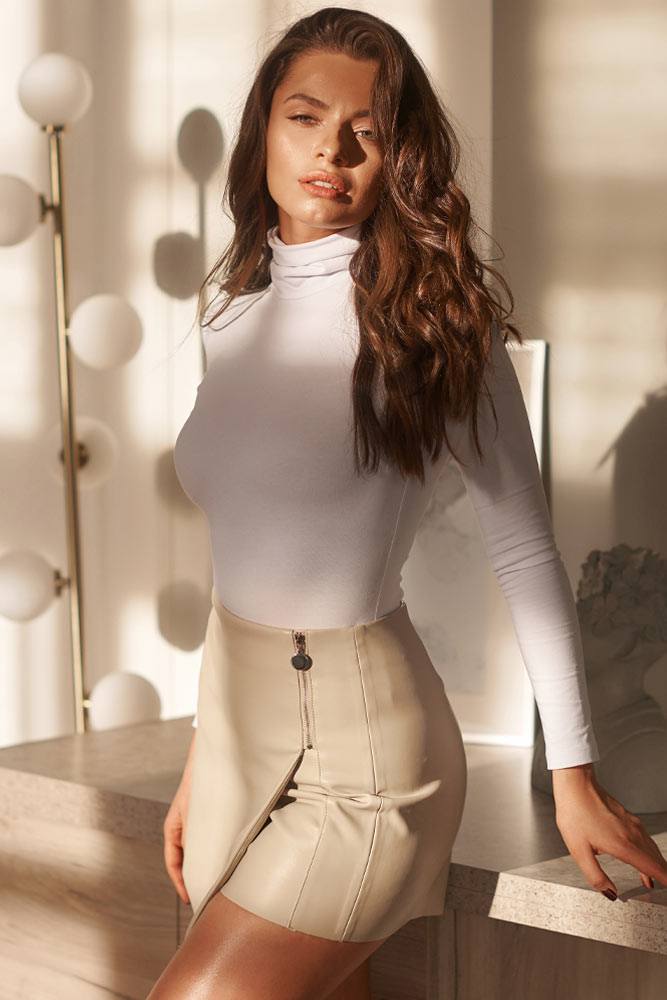 Classic Work Outfits With Mini Skirt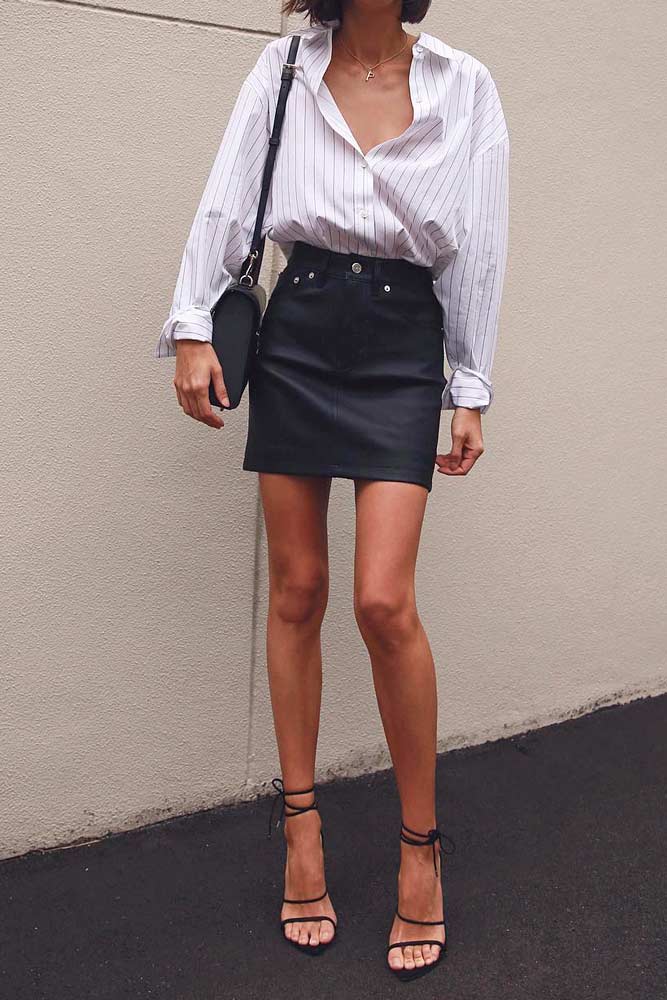 Credit photo: Instagram.com/pepamack
When you are looking for a perfect formal outfit that involves a mini skirt, we may have a suggestion. The thing is that a black mini skirt paired with an oversize shirt looks both formal and hot at the same time. Perfect balance, in our opinion.
Classy Look With Beige Mini Skirt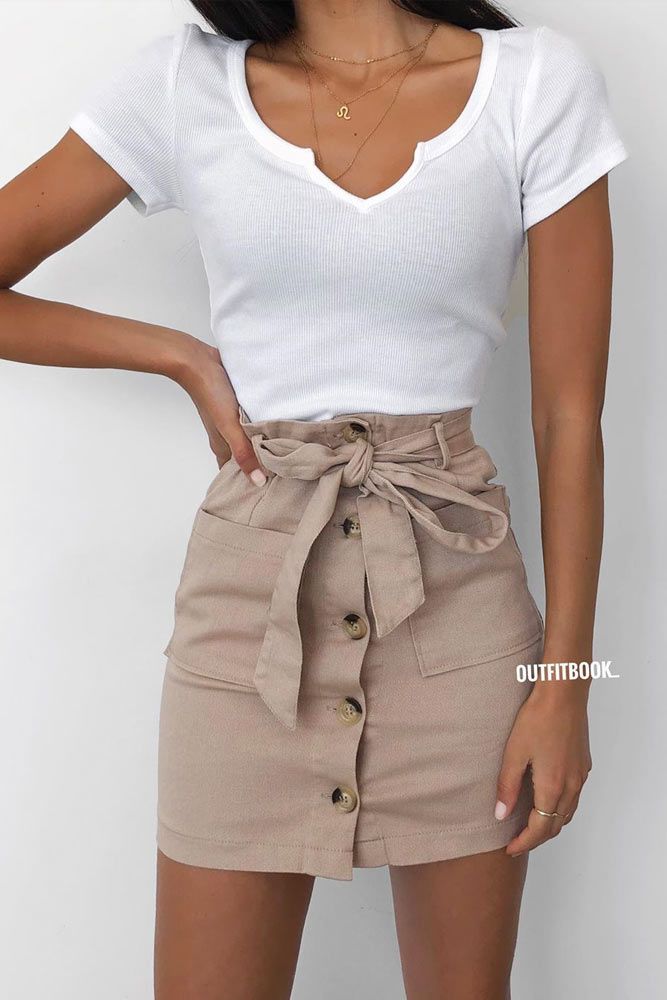 Credit photo: Instagram.com/outfitbook_
Before we move on to something more complex, it needs to be pointed out that even classy miniskirts look over the edge stylish and cute. Such a classic beige skirt with a bow will fit any office environment perfectly. Besides, if you wear it with a regular T-shirt, you can as easily succeed with a casual look.
Ruffle Mini Skirt With Silk Blouse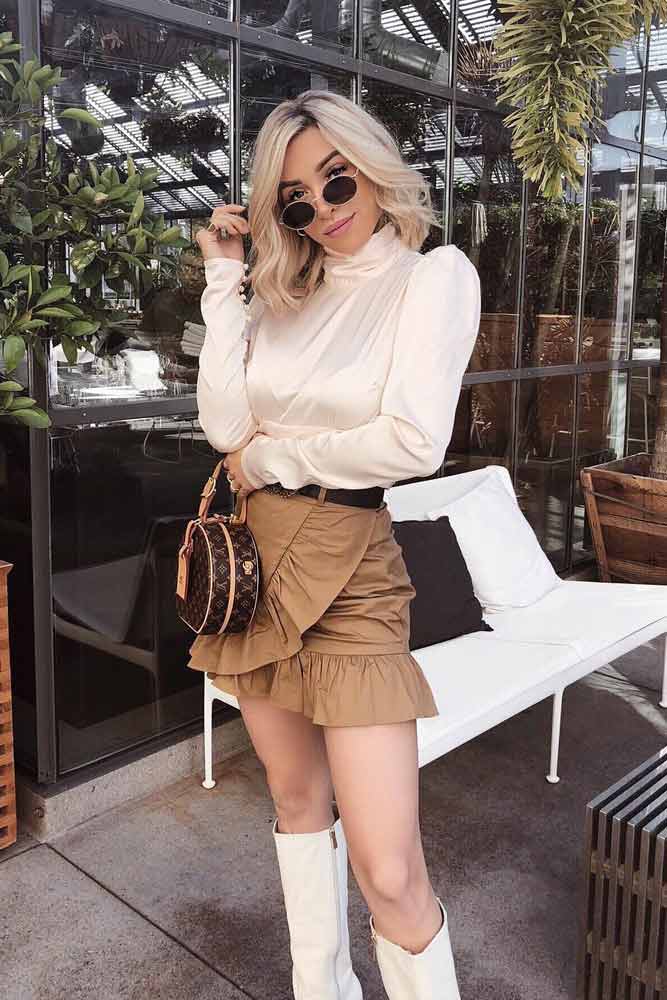 Credit photo: Instagram.com/thestyledseed
All the miniskirts are unique and differ from one another. For instance, this sand-colored ruffle mini skirt will suit any dinner occasion in a fancy restaurant if you pair it with a same-toned silk blouse. Do your hair and take out your fancy purse to look your absolute best!
Casual Look For Every Day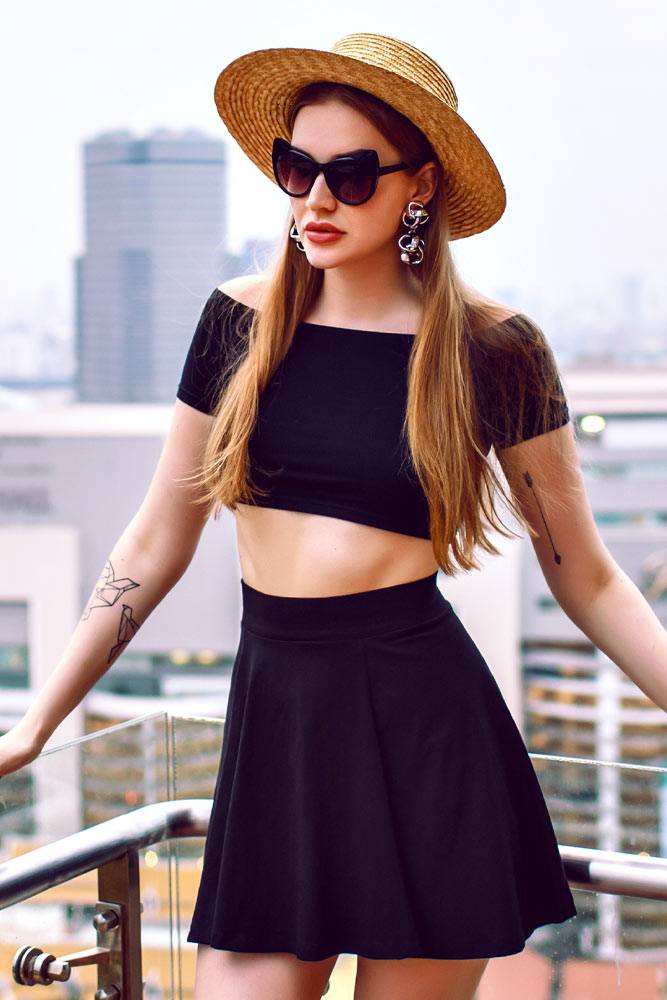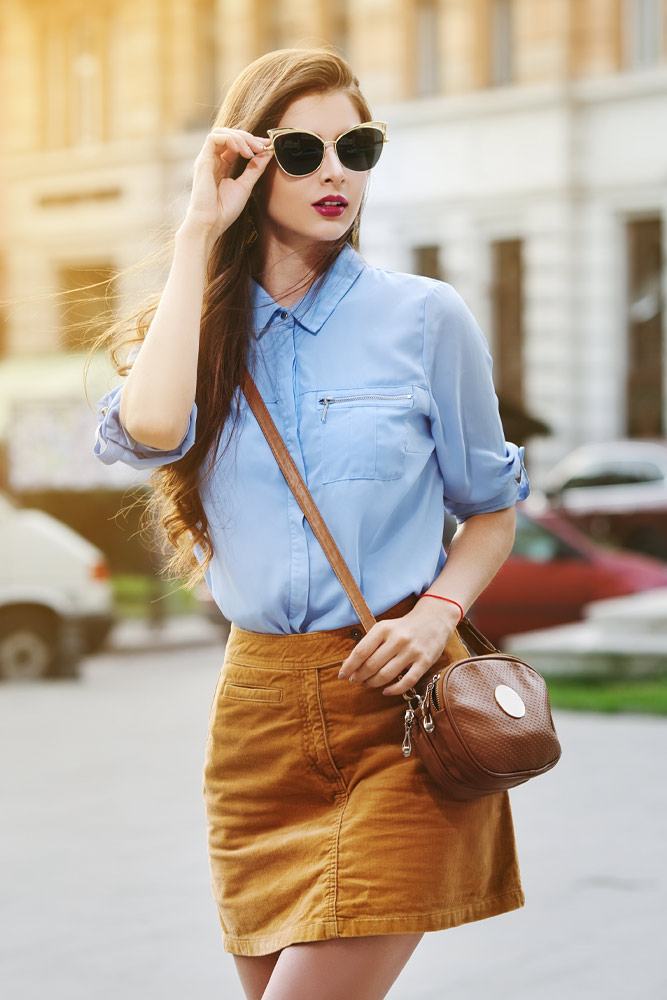 Casual Look With Pink Mini Skirt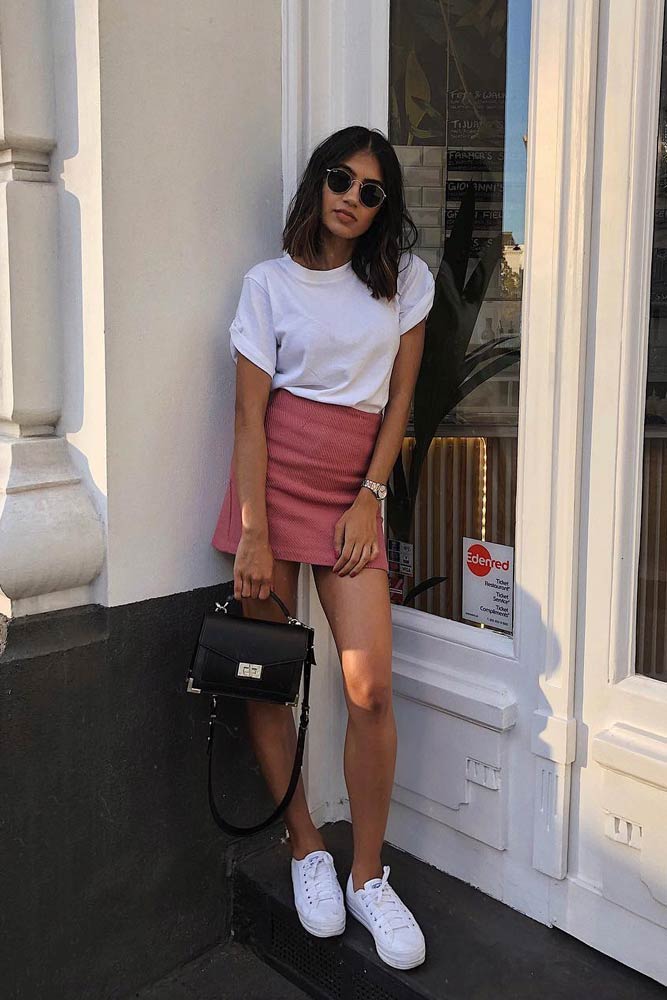 Credit photo: Instagram.com/soniaheartsfashion
If you wish your casual mini skirt outfit to be both bright and subtle at the same time, then we know what you should opt for. Your shoes and T-shirt can match while the skirt should stand out. The combo of white and pink is surely fitting.
Sporty Look With White Mini Skirt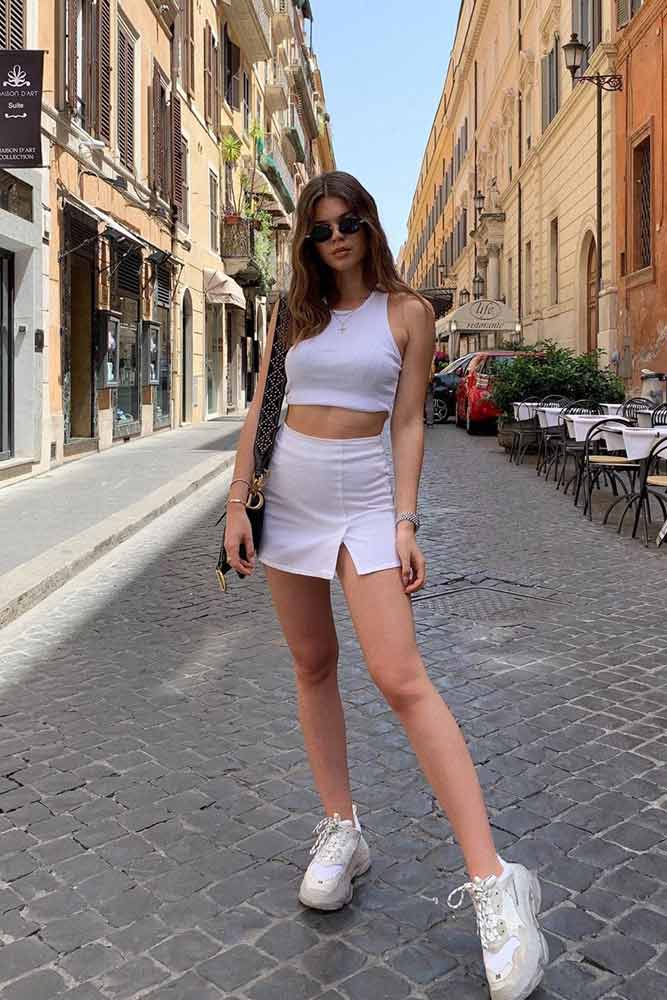 Credit photo: Instagram.com/ivanikolina
Sporty looks are on the edge of glory these days that is why a sporty and sexy mini skirt is a must for every trendy lady. You can combine the skirt with a pure white crop top and a pair of high-platform sneakers to complete the look.
White Mini Skirt With Off The Shoulder Top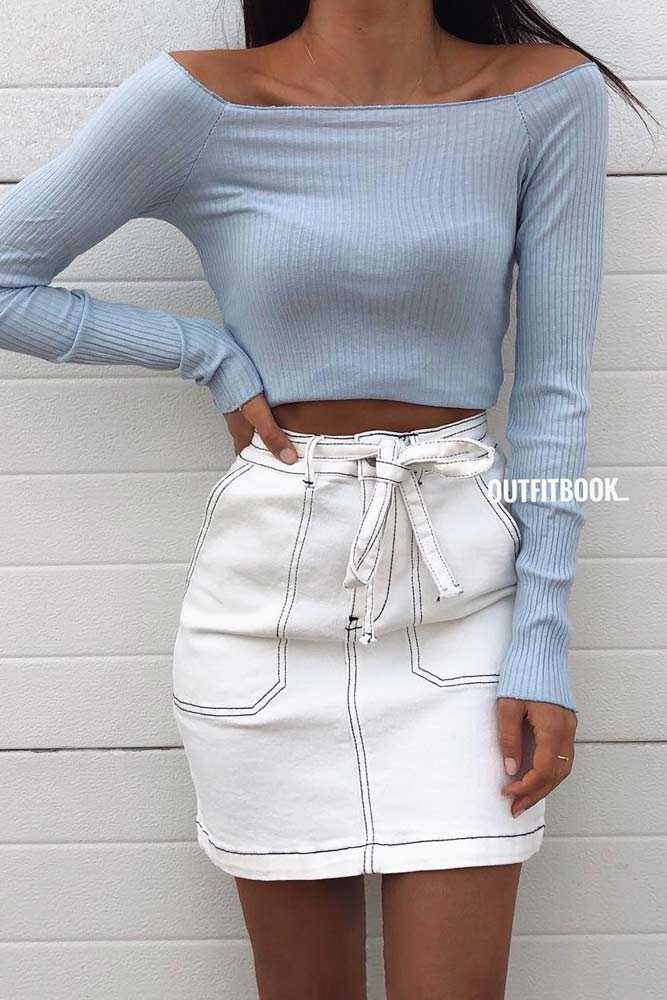 Credit photo: Instagram.com/outfitbook_
Elegance comes with simplicity. That is why to succeed with a hot, and over the edge stylish look, there are only two things you need. They are a simple pencil skirt and a tight light blue top with long sleeves. Don't be scared to show your tiny waist off!
Pencil Mini Skirt With OTK boots And Plaid Shirt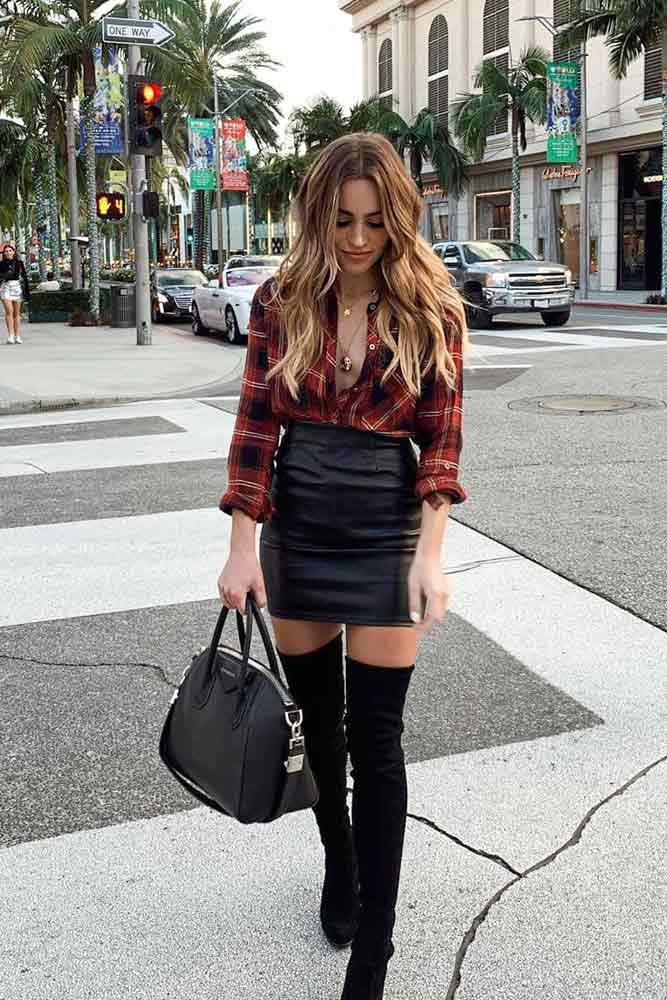 Credit photo: Instagram.com/claudiagraziano
There is a false assumption that a black leather mini skirt can fit only an edgy outlook. However, the fact is that such a skirt can easily complete an ultra-stylish image. Wear a plaid shirt and OTK boots paired with pencil leather skirt to achieve the goal.
Black Leather Mini Skirt With One Shoulder Sweater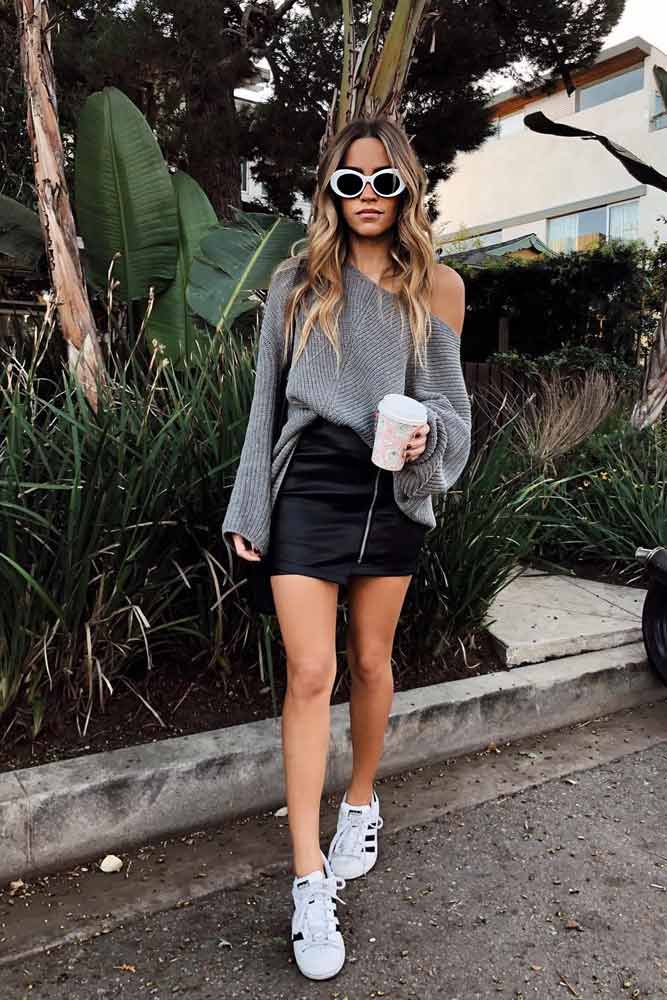 Credit photo: Instagram.com/claudiagraziano
Casual looks can also be created with the help of your fav leather skirt. A mini skirt with a zip on the side combined with a warm oversize sweater and regular sneakers will keep you warm and stylish on those chilly days.
Total White Look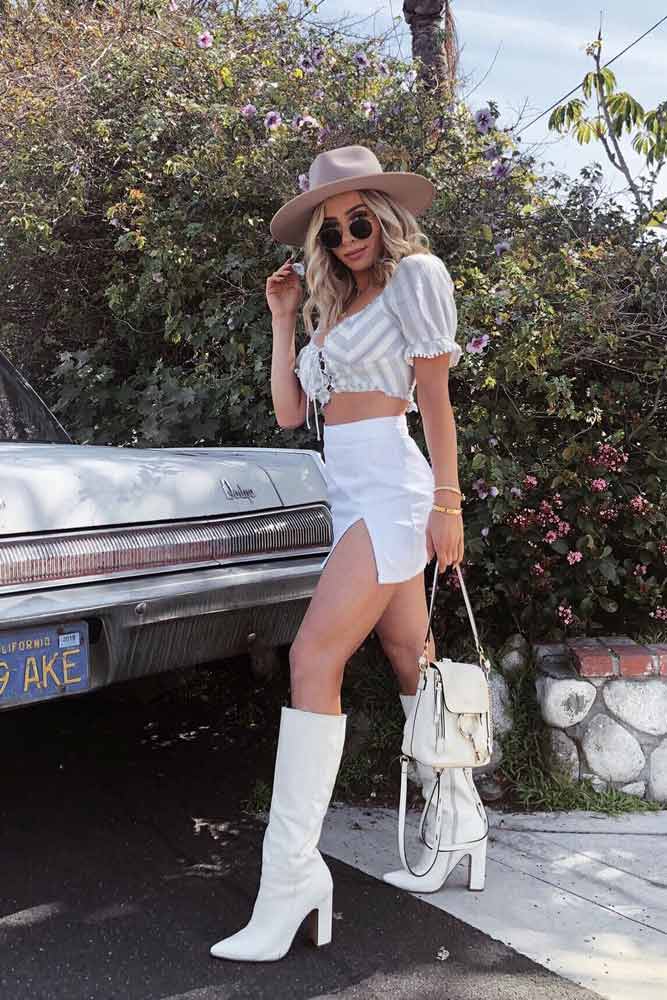 Credit photo: Instagram.com/thestyledseed
There are many total white looks there is no doubt about that. However, there are ones that are simply outstanding and breath-taking. This summery cow-girl one is clearly on the list. Everything from the hat to the white OTK boots looks trendy and authentic. Truth be told, you have to be quite bold to pull a look like that off.
Grunge Style with Mini Skirt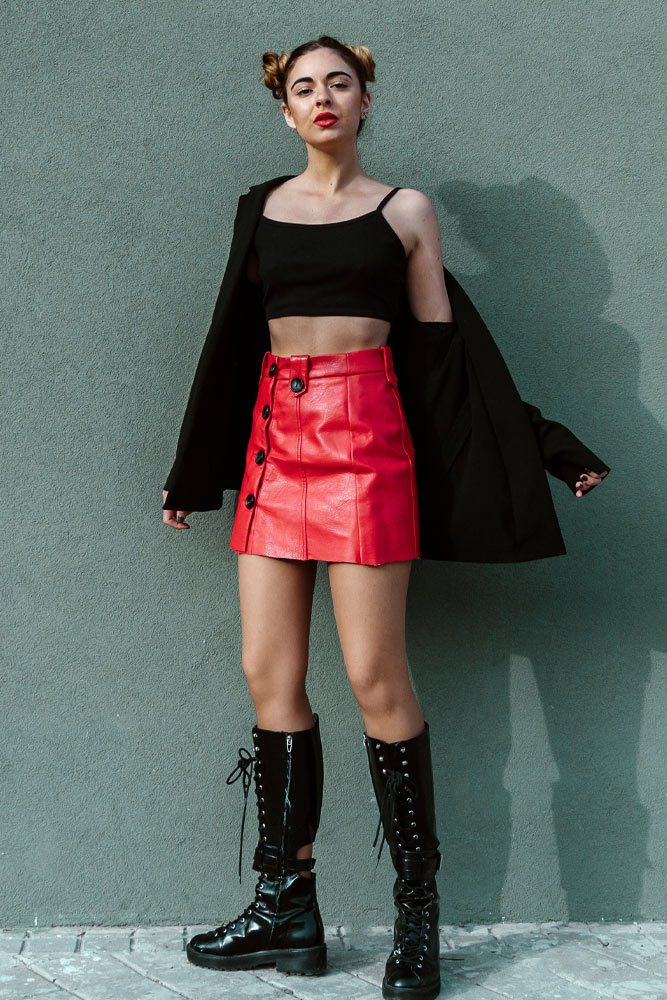 Rock Outfit With A Leather Mini Skirt And Leather Jacket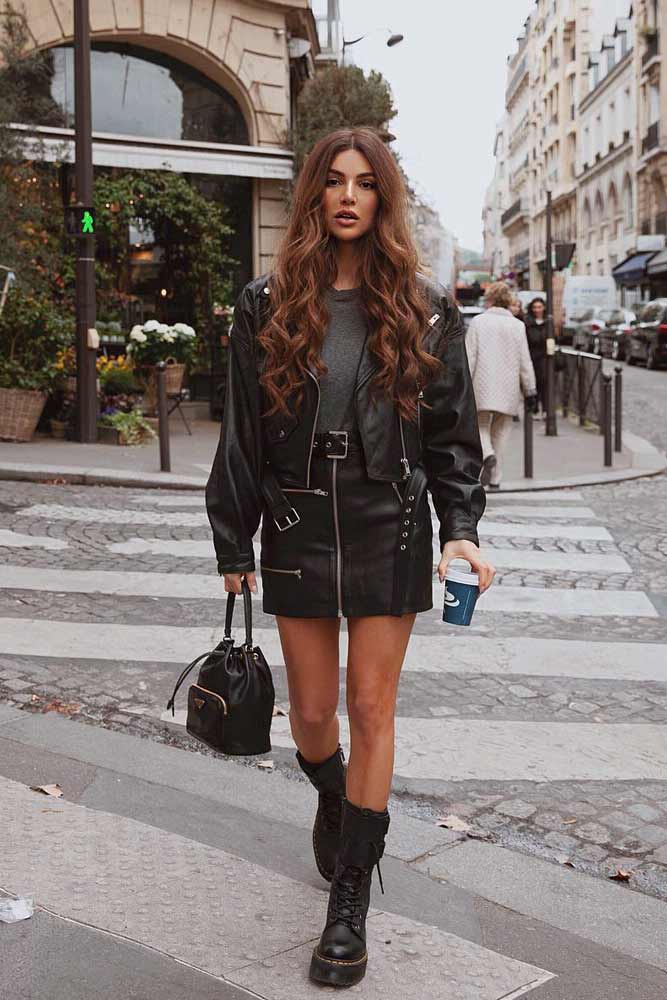 Credit photo: Instagram.com/negin_mirsalehi
Some rock'n'roll ladies may complain that miniskirts are too common for their edgy look. We beg to differ. Truth be told a perfect leather mini skirt followed by the same type of jacket and a simple T-shirt underneath will make you the queen of any hard rock party!
Red Mini Skirt With Leather Jacket And Stockings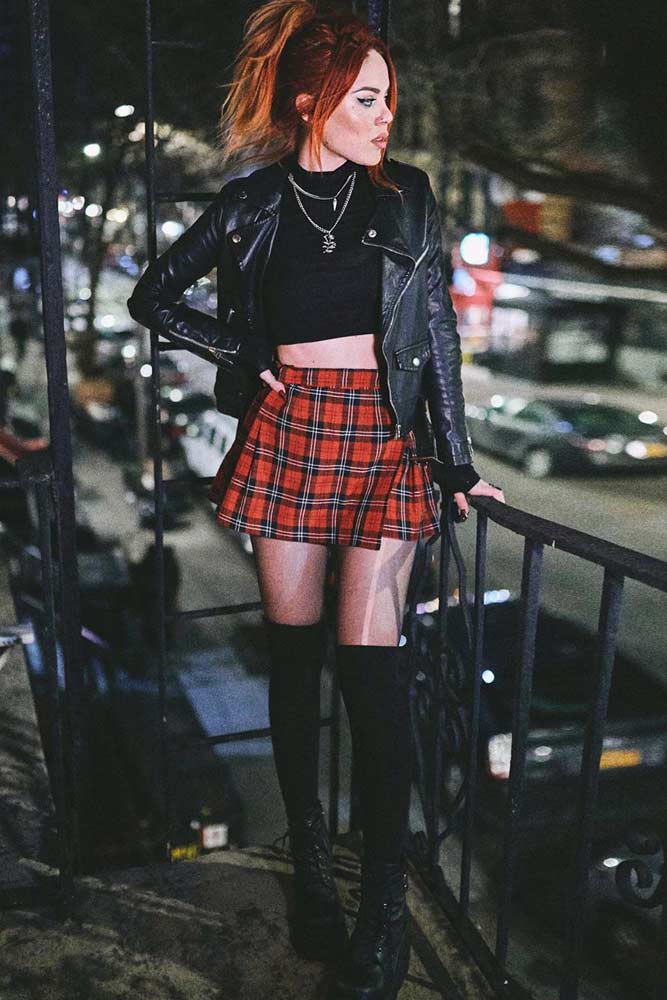 Credit photo: Instagram.com/luanna
Many stylish ladies prefer the mixture of grunge and sassiness at times. If you belong to the category then this red mini skirt combined with a sexy black top, leather jacket and stockings look is what you need.
Plaid Mini Skirt With V-Neck Top And Boots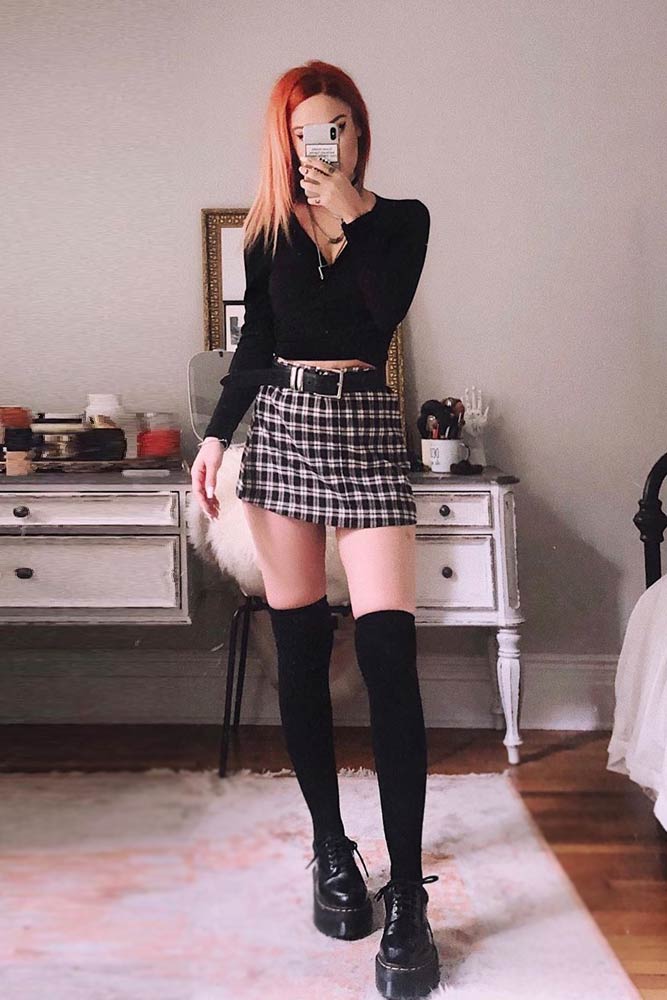 Credit photo: Instagram.com/luanna
When you want to stand out, you need to consider every tiny detail of your look so that instead of sexy you do not look vulgar. We have just a perfect example in mind how you can achieve the goal. A black and white plaid skirt, black long-sleeved top, high stockings, and grunge boots and you are ready to conquer!
Mini Skirt for Cold Weather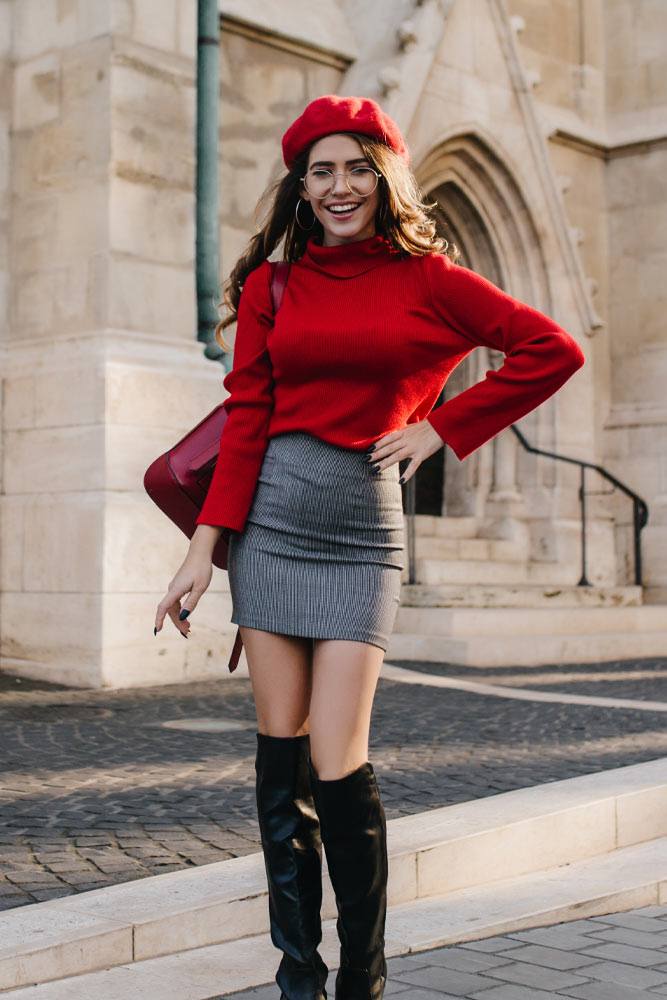 High Waisted Mini Skirt With A Top And Coat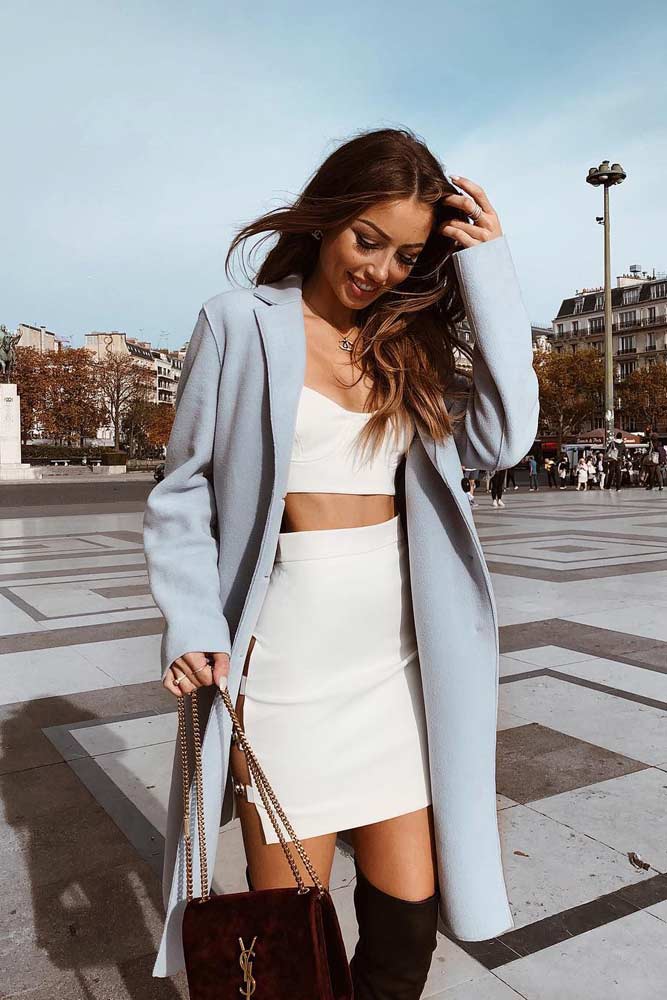 Credit photo: Instagram.com/caro_e_
There are times when it is super cold in the morning and then blazing hot in the afternoon. How should you dress to win over such weather? The answer is simple, a nice high-waisted white mini skirt paired with the same-colored top and a coat on top will help you feel stylish and comfy no matter the weather conditions.
Mini Skirt With Cashmere Sweater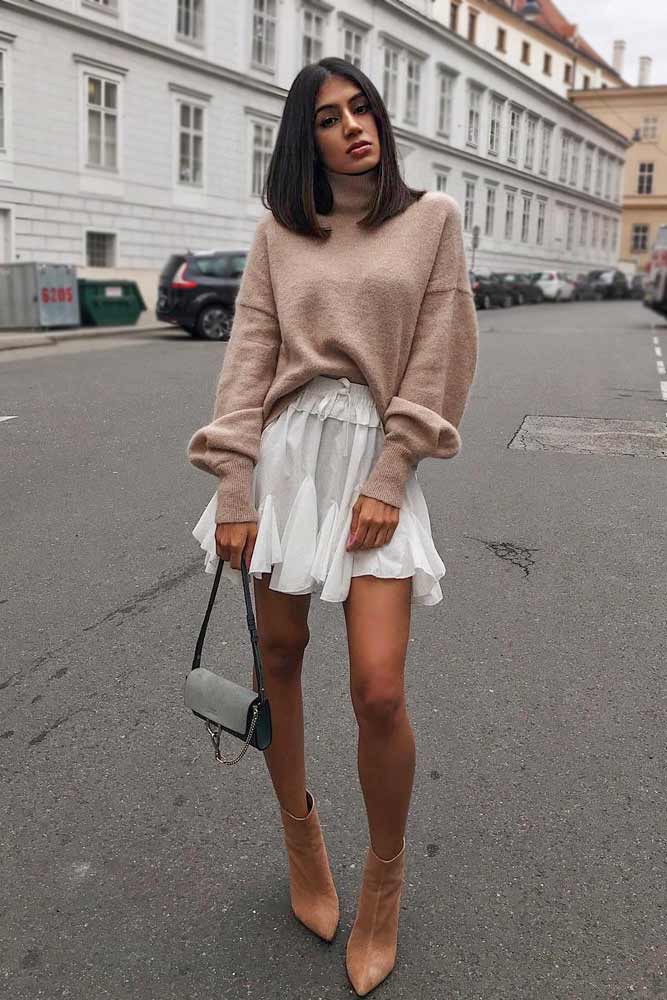 Credit photo: Instagram.com/soniaheartsfashion
There are many different mini skirt outfits that you can easily pull off on a regular basis. Besides, these days you can easily combine a light white mini with a cashmere sweater and look gorgeous in it. Do not trust us? See for yourself!
Plaid Mini Skirt With Oversize Sweater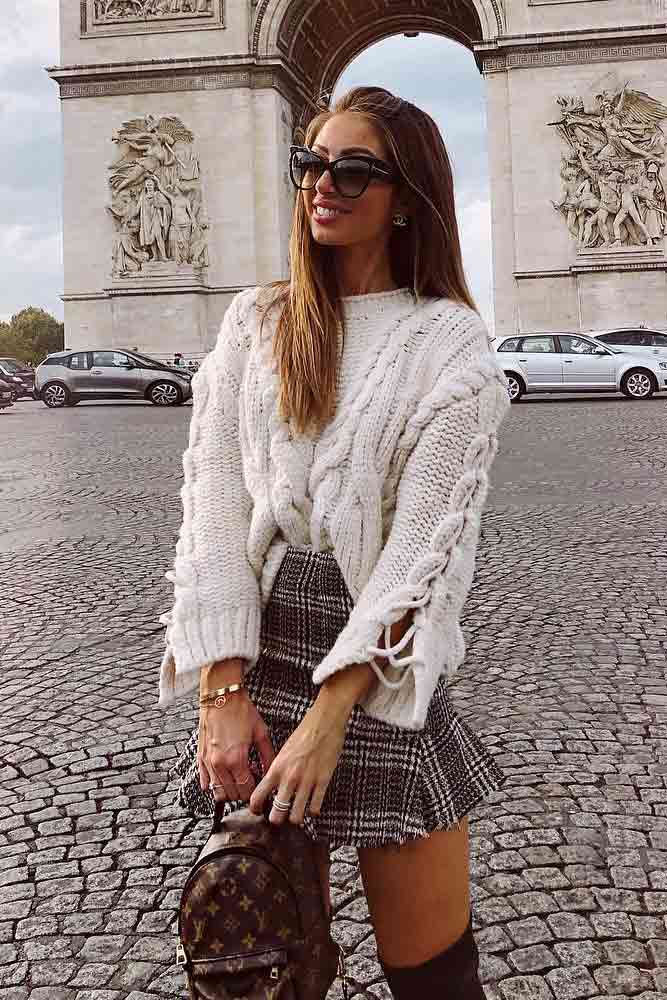 Credit photo: Instagram.com/caro_e_
We have mentioned the fact that miniskirts are highly popular during summertime, but other seasons can involve a mini skirt as well. All you need to take care of is the material that a skirt is made of. If you are looking for the one to fit spring or fall, a plaid skirt may be the one you need. Pair it with OTK boots and stylish oversize sweater and your flawless image is ready!
There are so many different miniskirts to give a try to this season. We have gathered only the best looks for you to consider. Surely you will find something that fits your style and taste best! Take your pick!
FAQ: Mini Skirt
What replaced the mini skirt?
In 1961, hemlines were just above the knee, and they gradually rose over the next couple of years. Some styles already had the hem at the upper thigh by 1966. Stockings with garters were not practical with miniskirts, thus colorful tights replaced them.
Who Popularised the mini skirt?
Mary Quant is frequently credited with "creating" the miniskirt, the 1960s' most remarkable fashion trend, but in fact, the introduction of 'above the knee' skirts was a long and winding road. Skirts did not become truly short until 1966, according to contemporary images and surviving outfits.
What length is a mini dress?
The hemline of a mini skirt sits mid-thigh, above the knee. It measures between 10 and 20 inches in length. Mini skirts are a good option for women who have slim legs since they can make them look longer.
Was this article helpful?