Many women may think that a dress is a clothing item that fits warm seasons only. There is a grain of truth to it – since no one likes to get cold when winter hits. However, today we are going to show you that winter dresses not only exist but also are super easy to introduce into your everyday life not to mention the fact that with dressing ideas like these you will never get cold no matter the temperature outside. So, take out your notebooks and get ready to change your whole perception of winter clothing!
Long Bodycon Winter Dress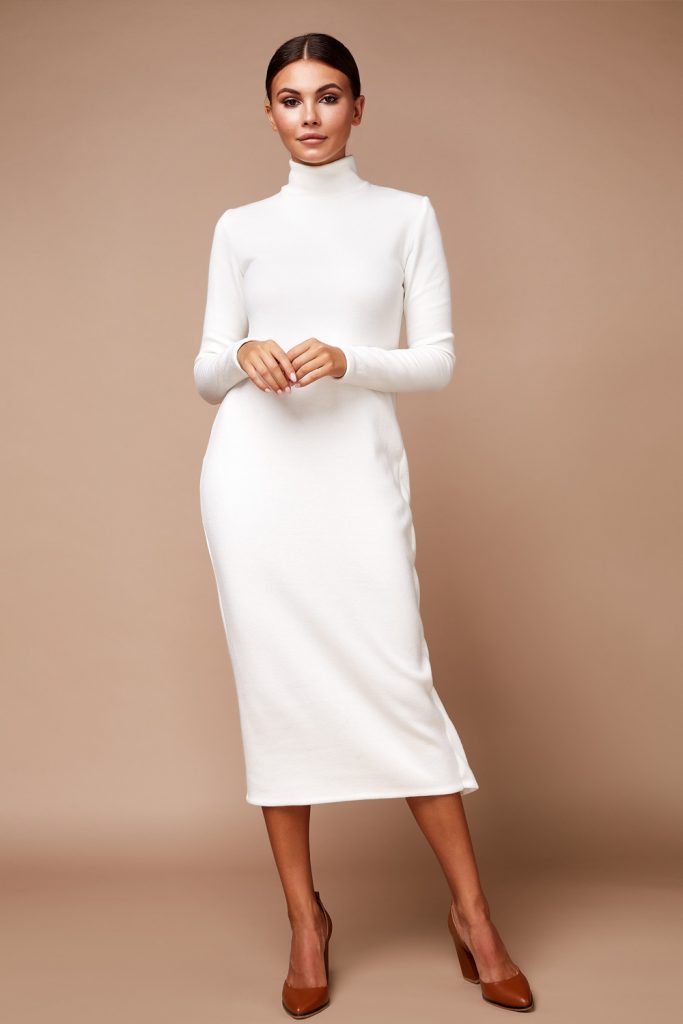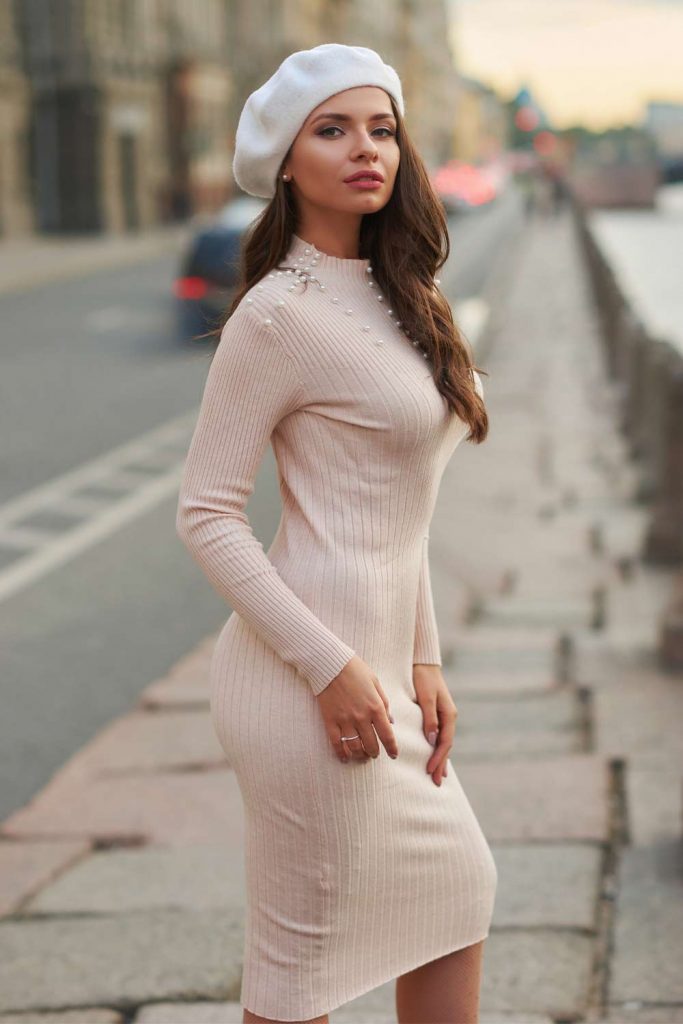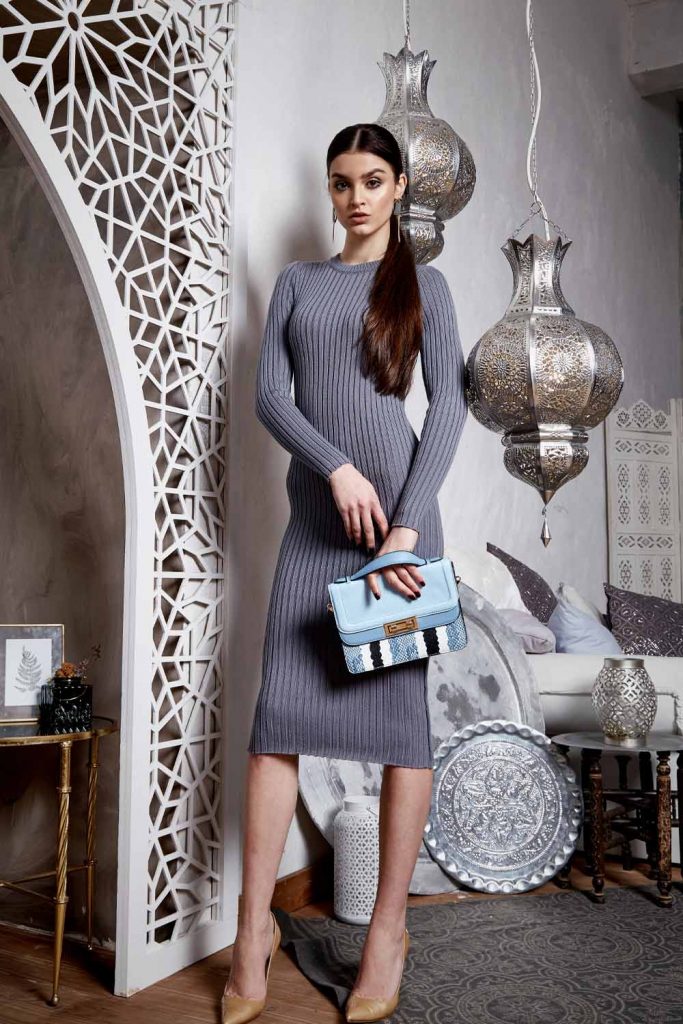 Dress Under The Sweater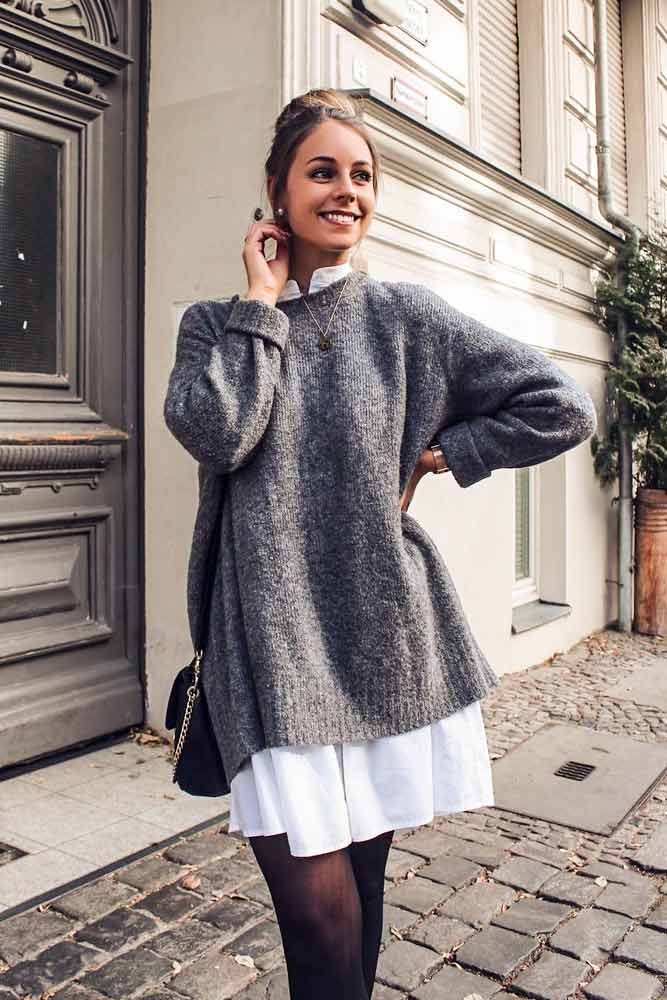 Source: about.desiree via Instagram
Your favorite summer dress can easily transform into a winter dress. All you need to do is to put on an oversized sweater and a pair of boots, and you are ready to conquer. Simple, stylish, warm!
Winter Dress With Long Coat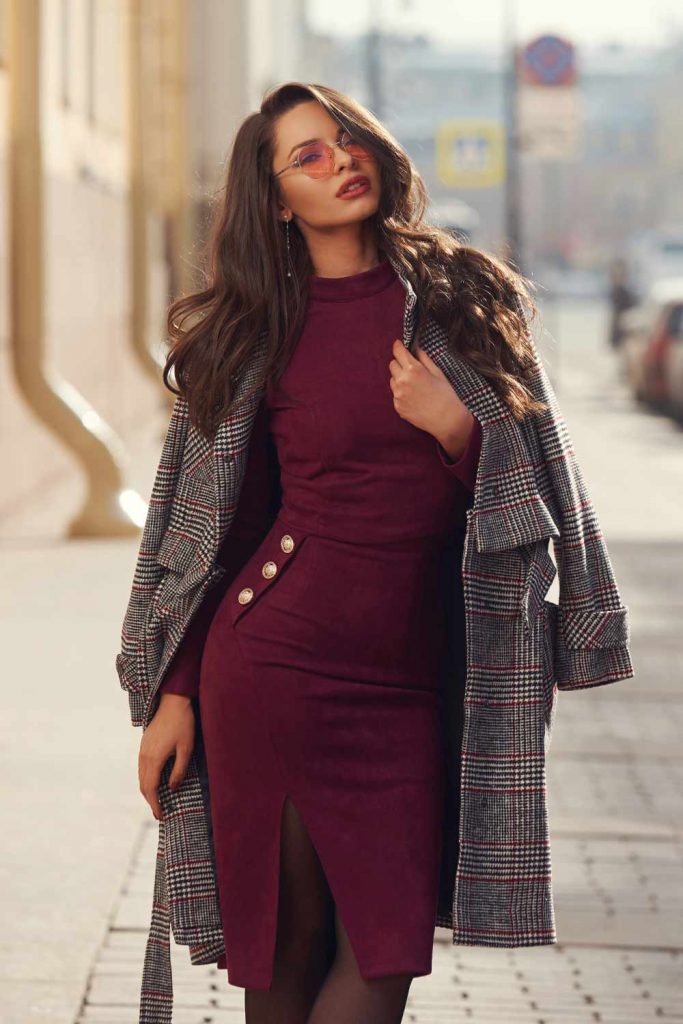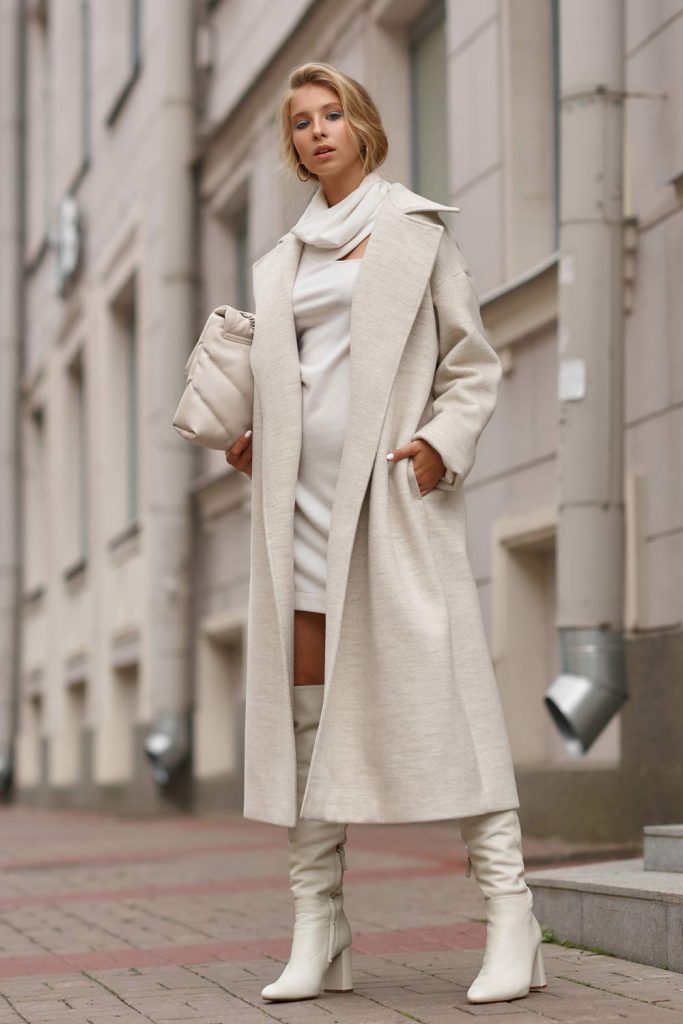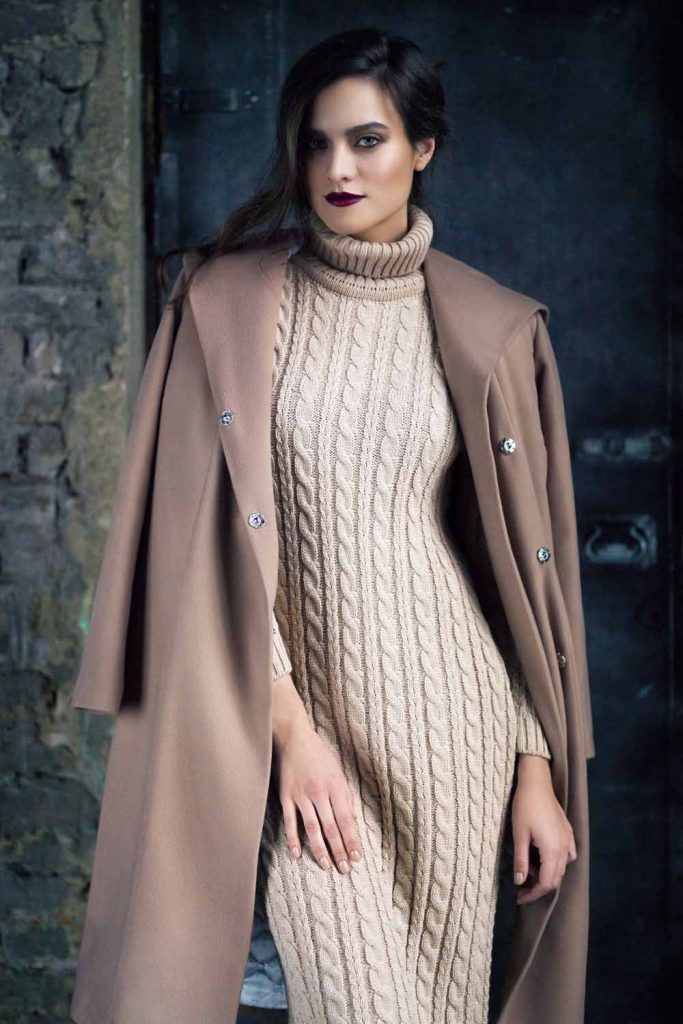 Long coats are truly what every lady needs when winter comes. You can actually pair such a coat with almost anything but when there is a need to look super elegant then a little dress and high-heeled boots it is!
Short Dress With Black Tights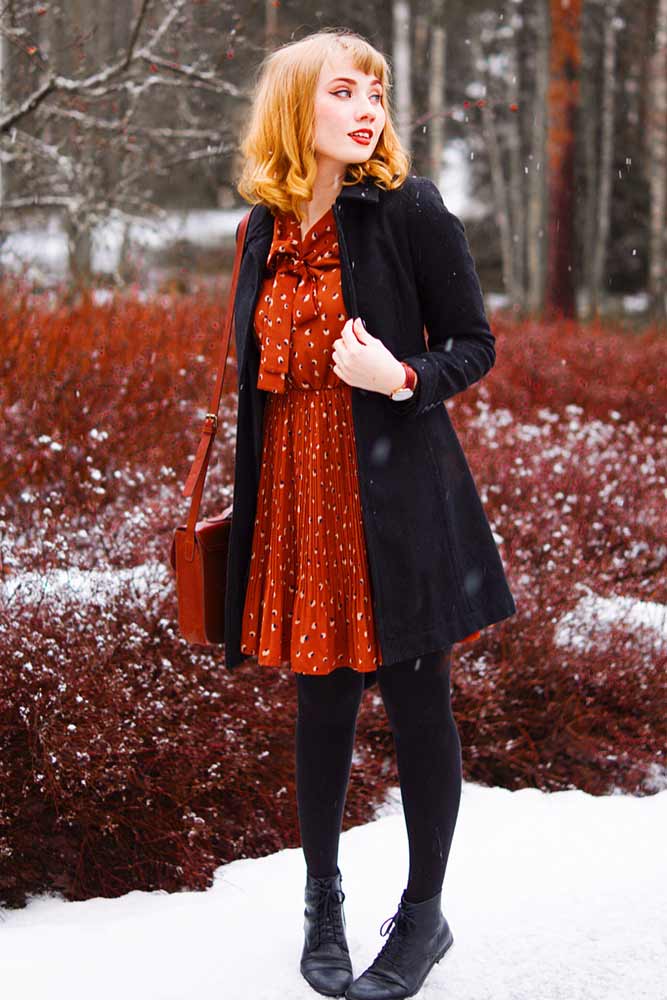 Source: jerianie via Instagram
It may sound like a cliché, but tights are a must when it gets cold. However, you need to be able to match those tights with the rest of your outfit properly as well. For example, black tights are classy, but that does not mean that you can't wear a bright-shaded dress together with them. Although, there are a few things to consider – the dress should not be longer than midi, the coat should not be shorter than a dress and the tights, and the coat should match. Keep those tricks in mind, and you will look stylish no matter where you are headed!
Winter Dress With Faux Fur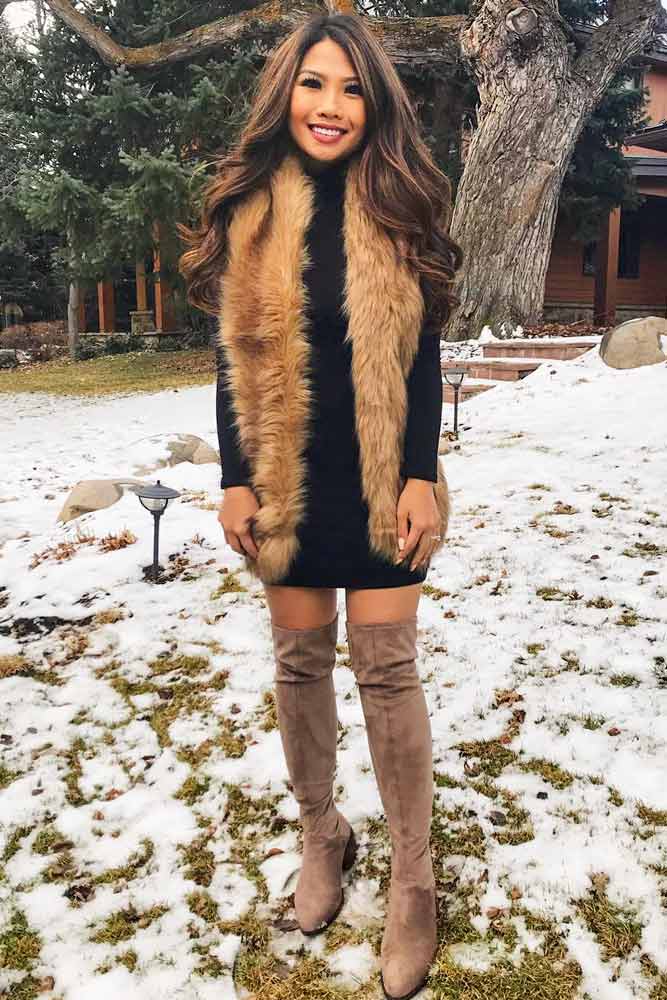 Credit photo: Instagram.com/sweetandpetite_
Faux fur is that one detail that makes winter outfits for women look perfectly seasonal. What is more, such a coat or vest will surely keep you warm while the mini dress will add that necessary style to your look.
Dress Over A Long-Sleeve Turtleneck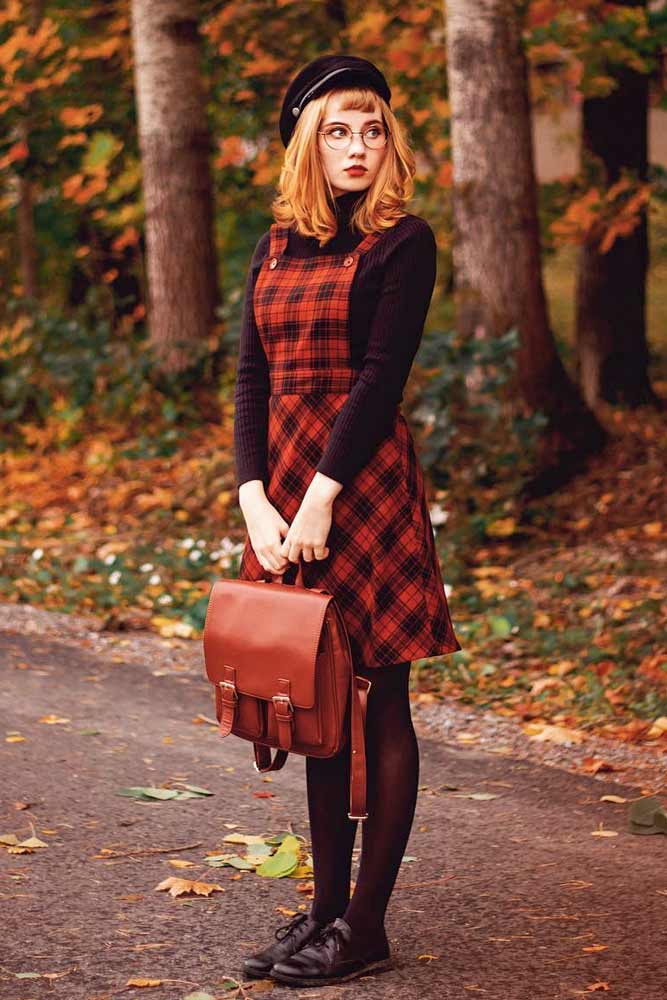 Credit photo: Instagram.com/jerianie
In case you are fond of cute winter outfits then this is precisely the perfect idea for you. It is true that turtlenecks are extremely popular on their own but when paired with a nice dress the cuteness overloads!
Warm Dress With Over The Knee Boots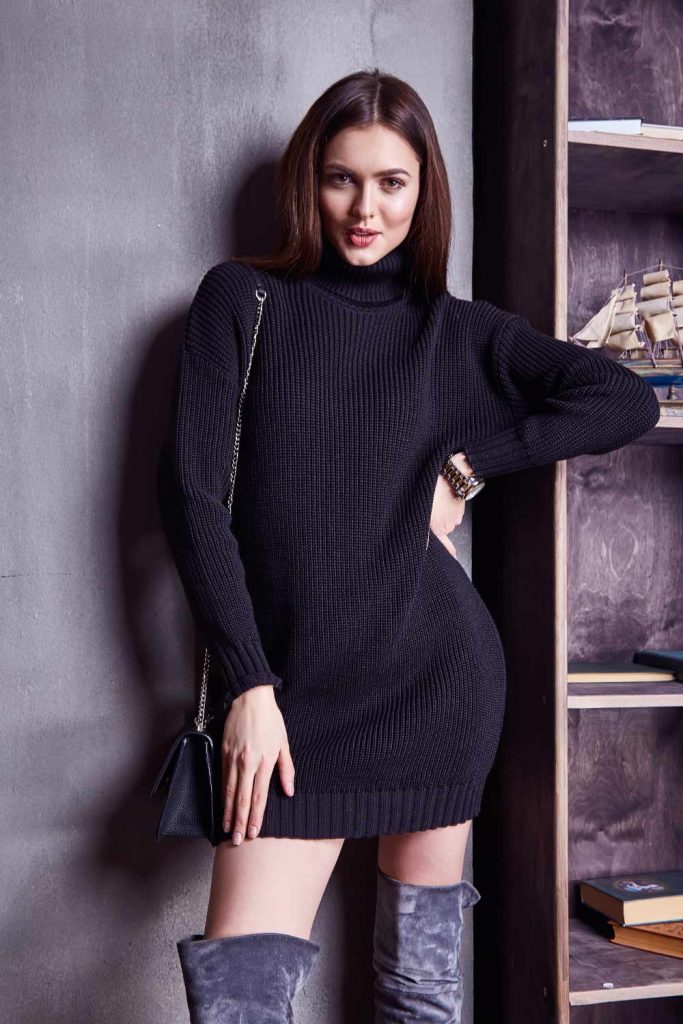 Your favorite over the knee boots can be that crucial element that will help you complete your perfect winter look. Yet, you need to make sure that the dress you are going to put on is just above the top of your boots. As well as it is quite essential that the dress and the coat you wear together are of the same length and color.
Dress Combined With Jeans And Sweater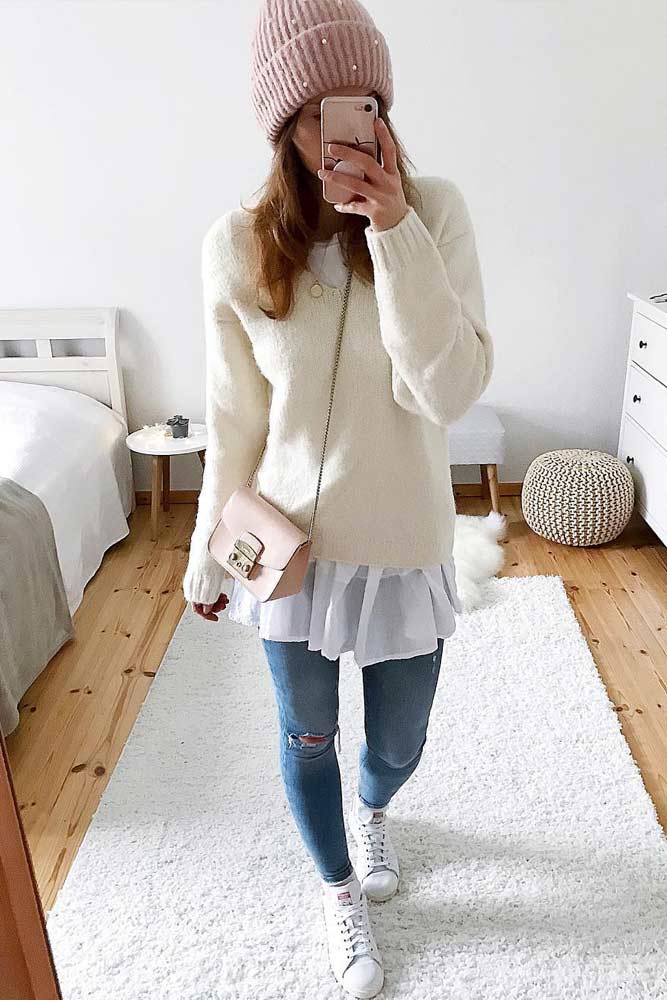 Credit photo: Instagram.com/lena.summer.fashion
Those of you who are bold enough to experiment with your winter clothes can go as far as to match a light dress with a sweater and a pair of jeans. Of course, that is not quite a winter dress but close enough, don't you think? Besides, it looks over the edge stylish!
Sweater Dress Over Black Leather Pants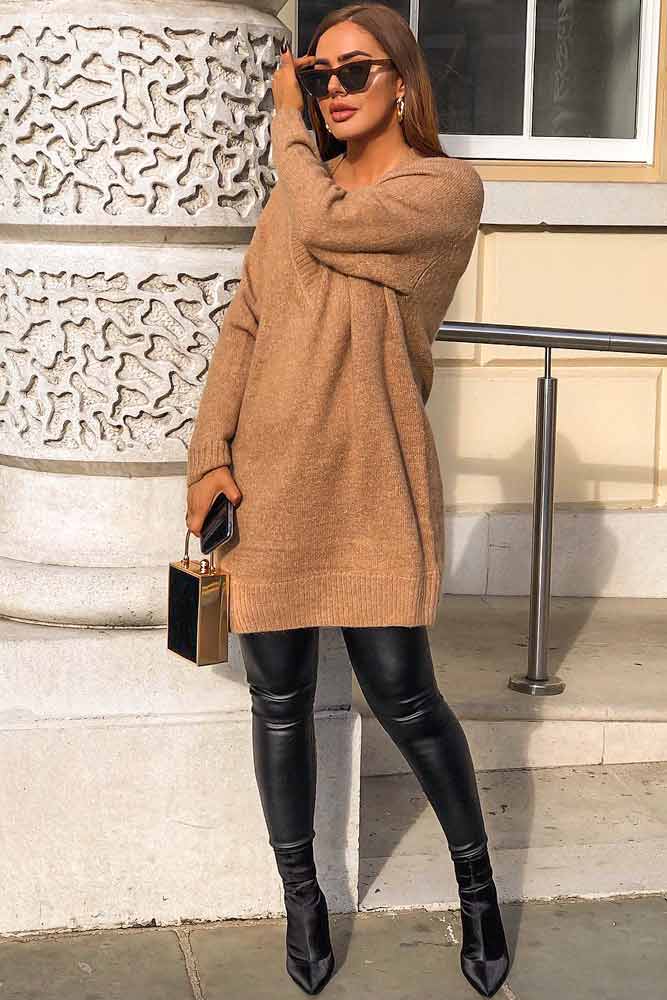 Credit photo: Instagram.com/courtneyxmi
Black leather pants have been in for a while now, but not everyone knows what to pair them best with. The truth is that the combo of a knitted tunic and leather pants is clearly the killer one. Besides, you can always wear your fav heeled boots to add you look some class and style!
Long Dress With Knee-Length Classy Coat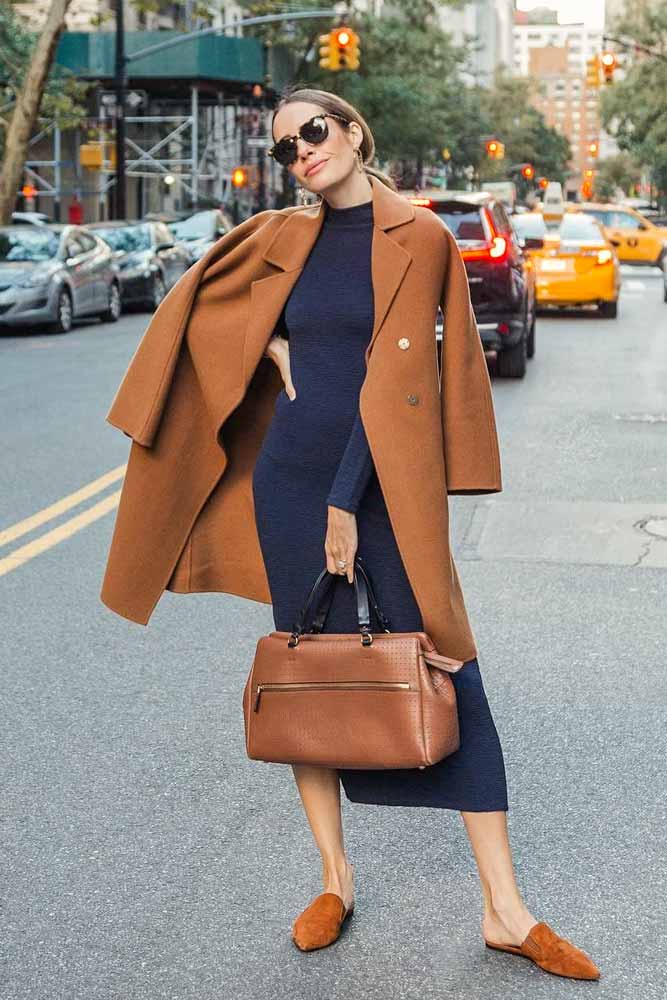 Credit photo: Instagram.com/louiseroe
The fact is that when you are playing around with winter dresses, there are some key points to be considered. The thing is that not only the length and the material of the dress should be paid attention to but also the coloring of other clothing pieces you introduce into your look. For example, such a beautiful navy blue dress will look just gorgeous with a coat, shoes, and purse on the same color palette.
Belted Long Sleeved Dress With Turtleneck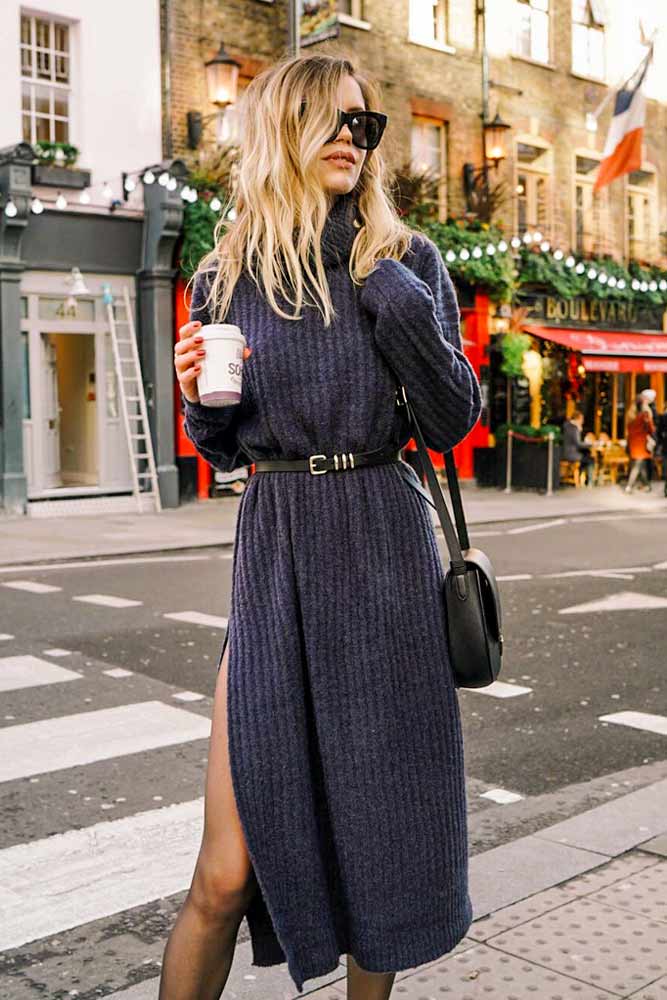 Credit photo: Instagram.com/thelipstickfever
There are some winter dresses for women that may not need the coat or jacket on; it also depends greatly on the temperature outside. However, when you decide to play around with a look like this keep it in mind that decorative elements are essential. A belt, a pair of sunglasses and a small purse add that necessary spice to the whole look in general.
Maxi Dress With Bright Oversize Sweater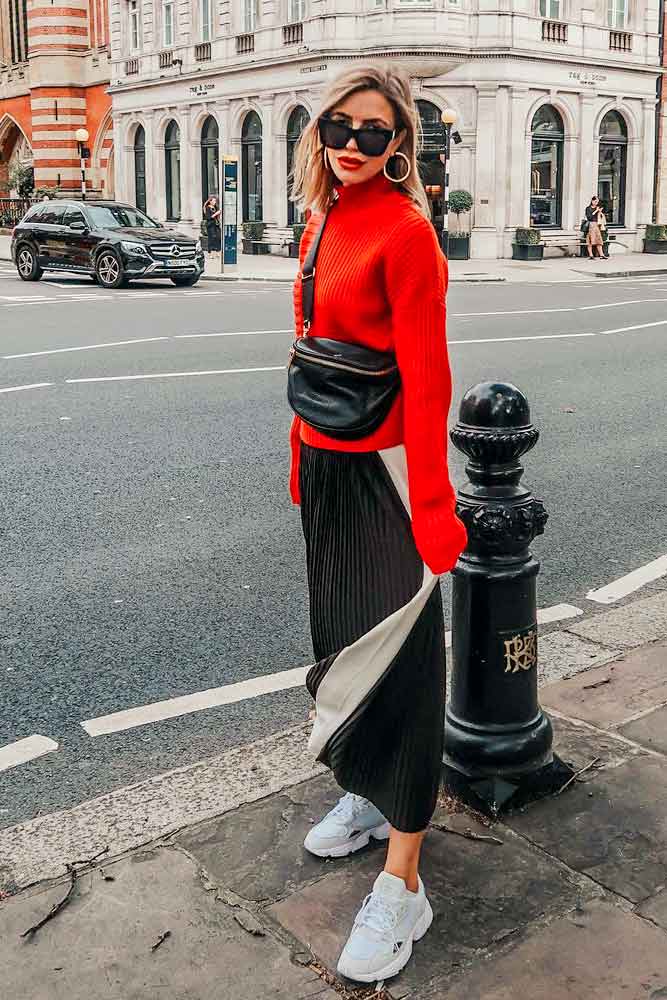 Credit photo: Instagram.com/thelipstickfever
Contrasting looks are always the best ones, especially the ones in classic hues. Black maxi dress adorned with a bright red oversized sweater seems to be the match made in heaven!
Short Dress With Warm Scarf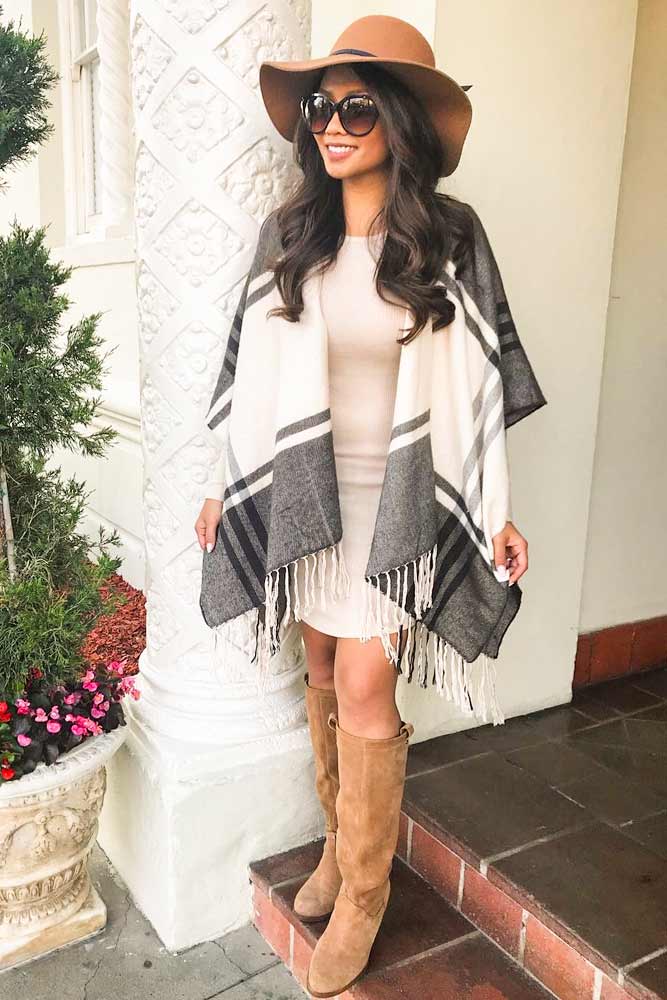 Credit photo: Instagram.com/sweetandpetite_
There are many elements that winter dresses can go fabulously with, and a nice huge warm scarf is surely one of those. Yet, you need to pay attention to the coloring, the hues that match will help you create a better image.
Monochromatic Look With Long Silk Dress Under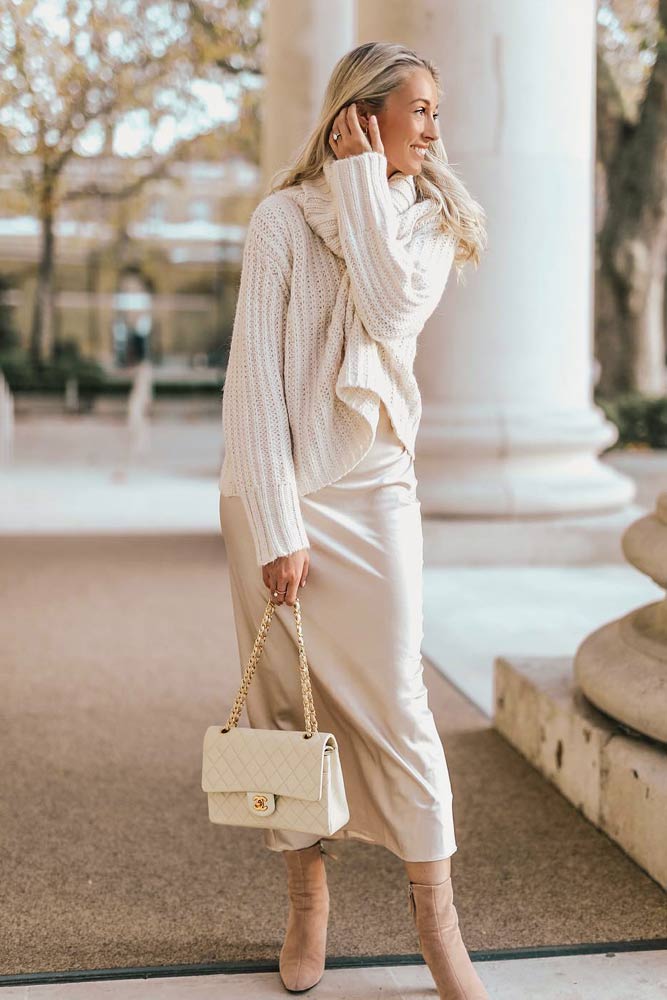 Credit photo: Instagram.com/josieldn
If you are a fan of one color – there is nothing to worry about, monochromatic looks are all in these days. A sweater, silk dress, and suede boots and you are ready to rock!
Dress With Warm Cardigan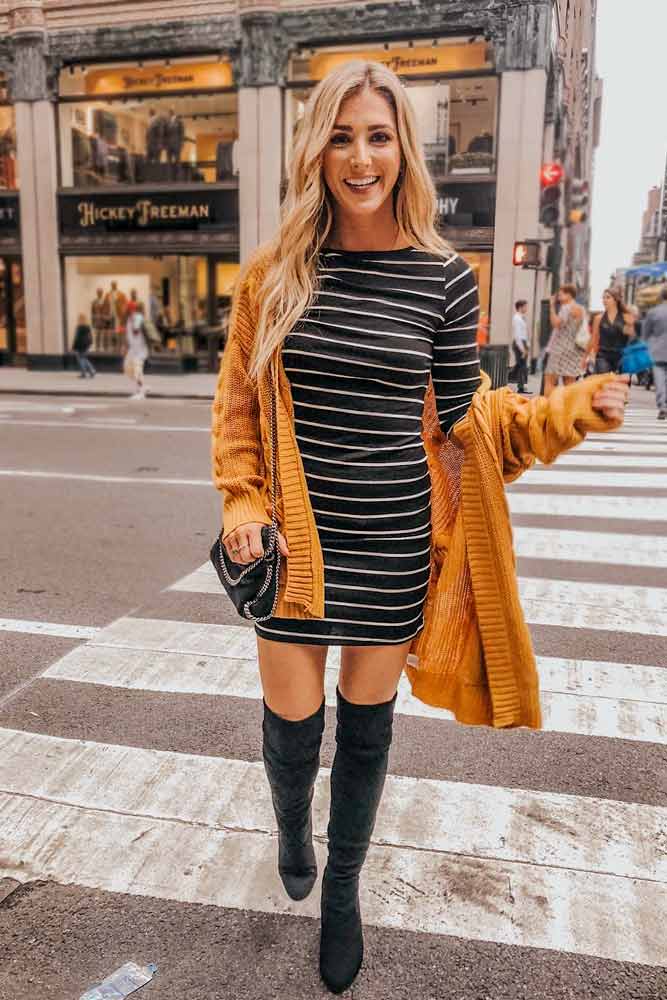 Credit photo: Instagram.com/alwaysmeliss
Before it gets too cold, make sure that you try all the possible looks involving your favorite cardigans. The thing is that a bright cardigan and subtle-shaded mini dress seem to walk hand-in-hand with each other!
Sweater Dress With Winter Jacket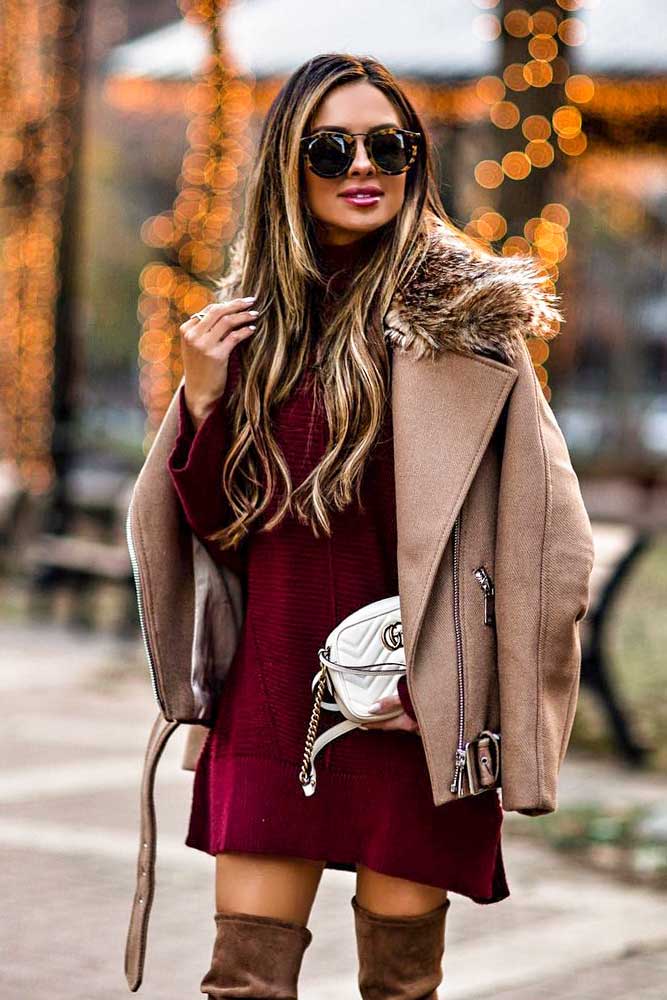 Credit photo: Instagram.com/miamiamine
When you want to show off your new winter jacket you do not need the colds season to hit with all force, you can simply match it with a cute dress and elegant over the knee boots. The outcome will be just ravishing!
Christmas Colored V-Neck Short Dress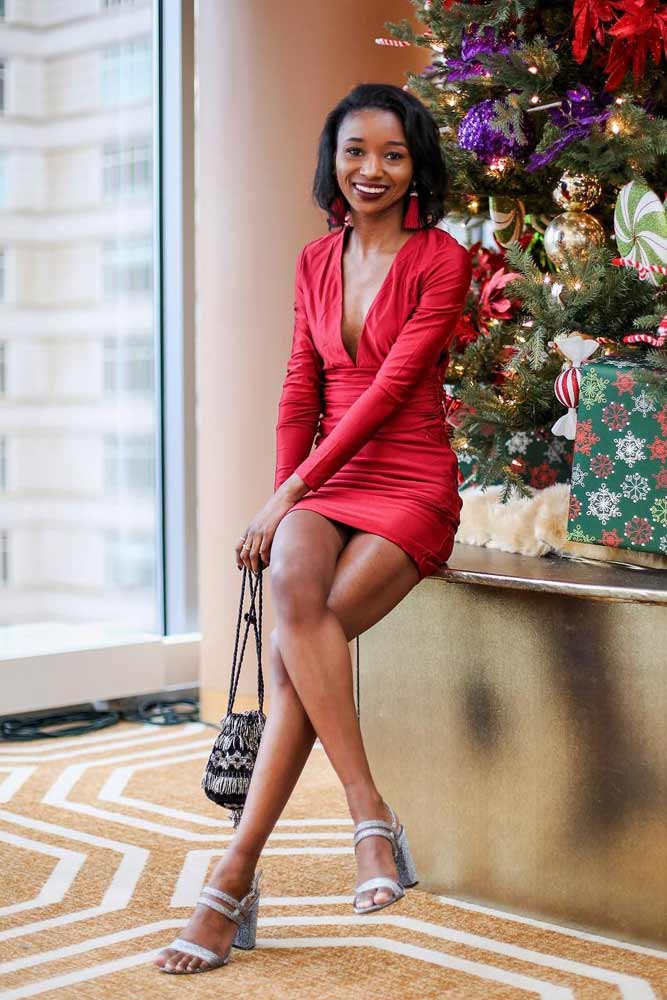 Credit photo: Instagram.com/annemarieamber
The color of the dress that you are going to sport for Christmas party matters too. In fact, red is one of the best holiday hues to consider. This outstanding V-neck dress proves the point.
Belted Long Sweater Dress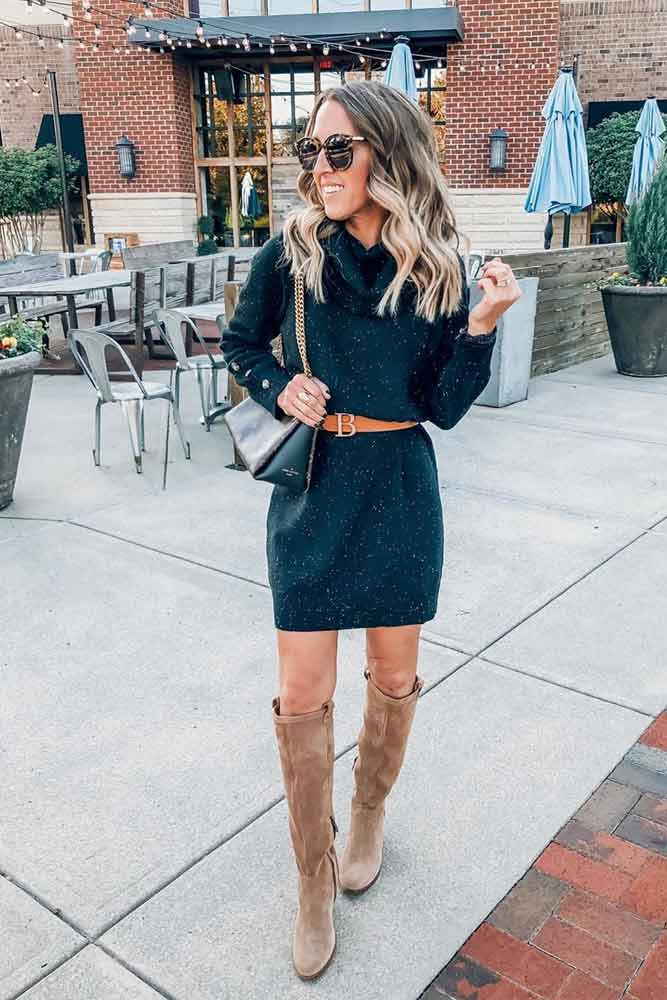 Credit photo: Instagram.com/twopeasinablog
Looking gorgeous during winter may seem a little harder when compared to summer. However, if you think about it, all you need is a range of sweater dresses to choose from and look stunning on a daily basis.
Long Slim Dress With Coat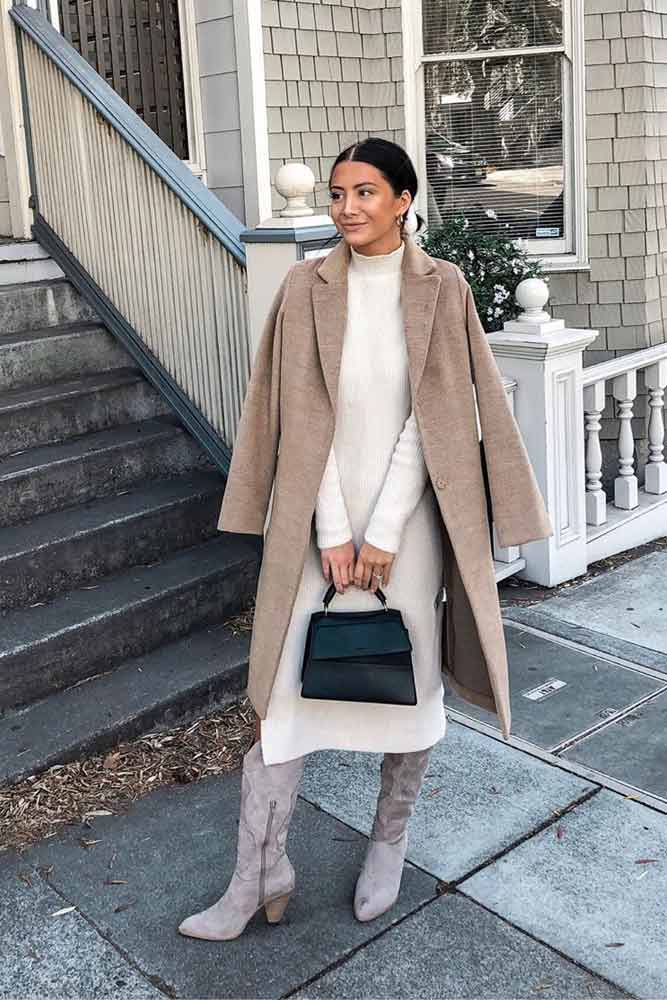 Credit photo: Instagram.com/nicolecarlsonxo
Winter is beautiful but cold season, and you should treat it seriously and with style. Besides, such a dress, boots, and coat combo is one of many to consider.
Short Leopard Print Dress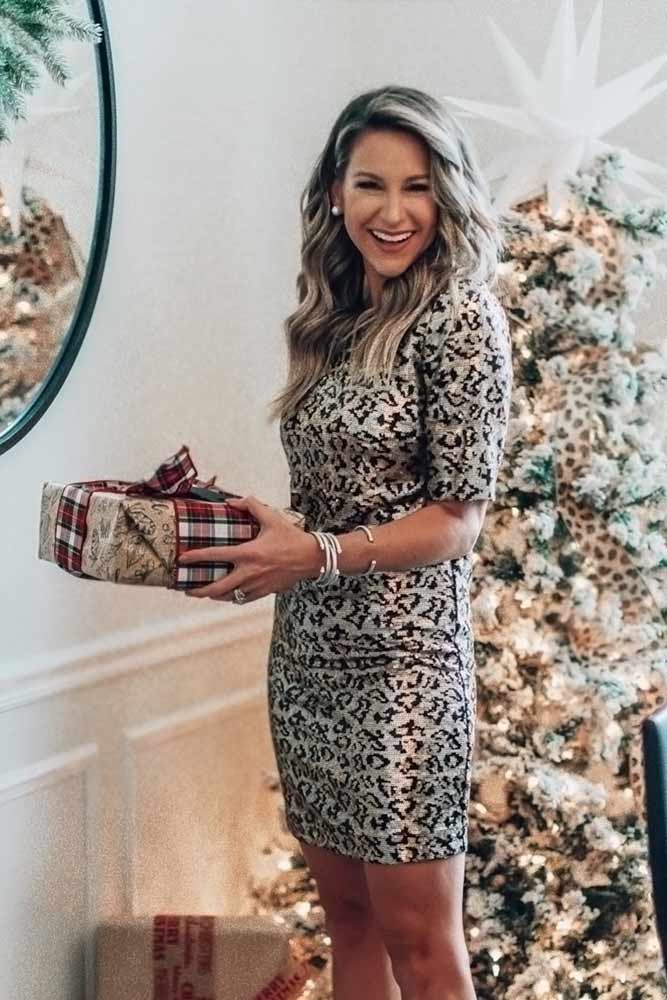 Credit photo: Instagram.com/shopdandy
Some may think that winter is not fit for animalistic prints. We see it differently. The fact is that such a fabulous leopard dress would suit any event that you are headed to.
Plaid Print Short Winter Dress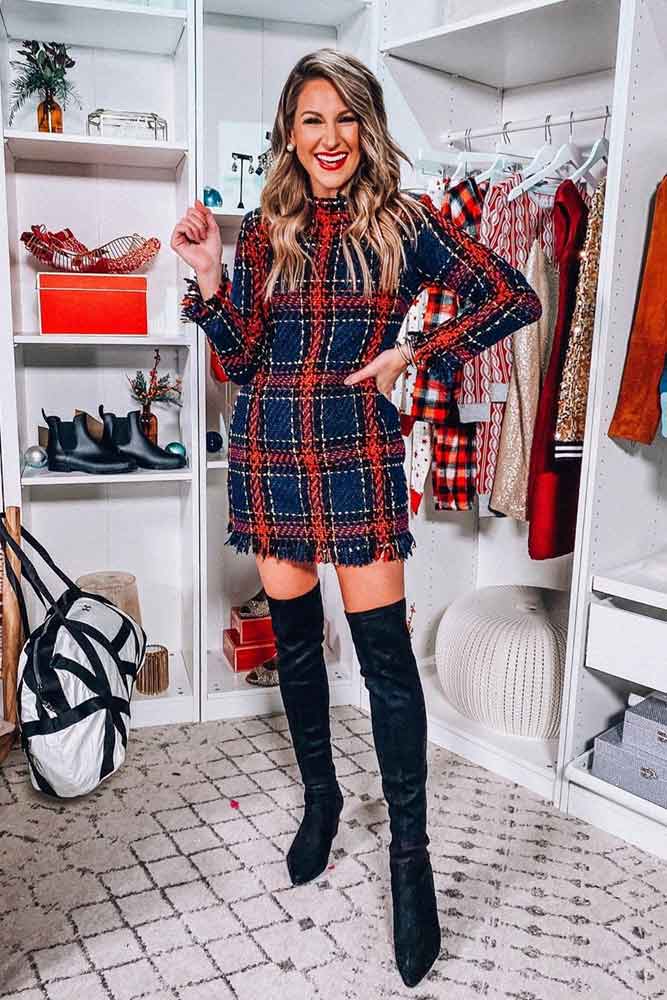 Credit photo: Instagram.com/shopdandy
Another popular winter print would be a plaid one. We agree that plaid looks outstanding no matter the season outside, but this dress is a 100% winter-fit.
Silver Sequin Dress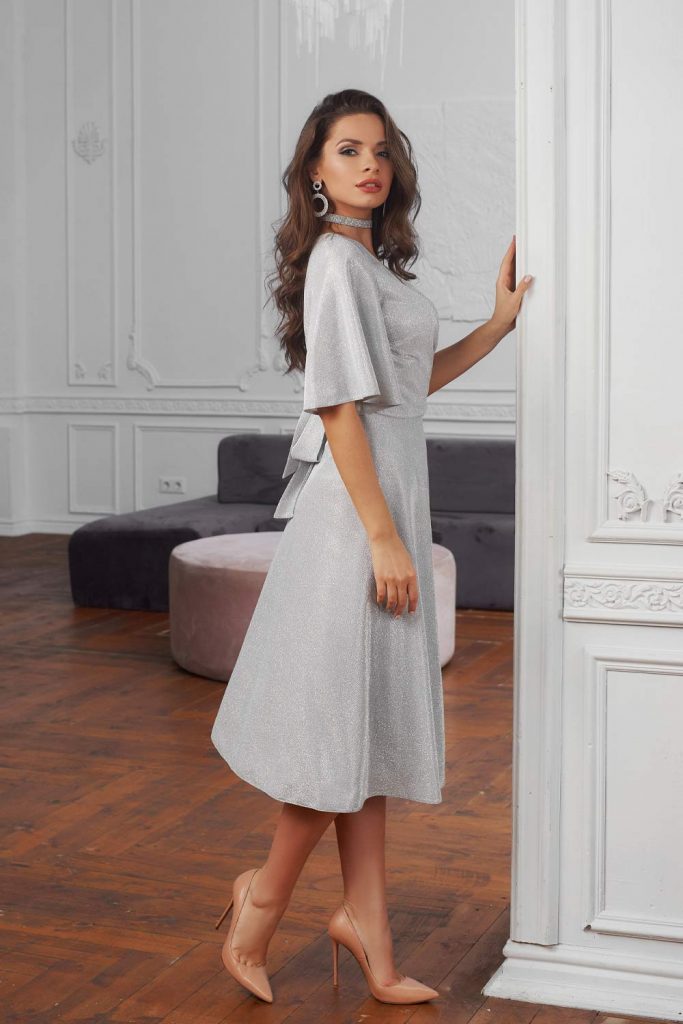 What can be better than to sparkle as bright as the snow and the Christmas tree when the holiday season begins? To achieve that, you need one thing – this fantastic silver dress!
Winter does not mean the end of cute dresses season, on the contrary. There is not only an unlimited range of winter dresses to pull off, but also you can easily incorporate the summer ones into your stylish look. All that we are going to prove to you in this article!
FAQ: Winter Dresses
What dress to wear for the holidays?
Draped neck midi dress is a dress that always looks elegant. It has a pencil skirt shape and has just the right amount. Wine color is perfect for the holiday season. You can complete it with statement accessories like belt that looks like a thick chain in the front with a skinny leather surround in the back, some beige clutch and gold earrings.
What is a perfect winter dress?
Wrap dresses are the ones that look most flattering on any figure and create a nice silhouette. You can choose a long sleeve wrap front mini dress to accentuate your waist and show legs. You can wear some ankle boots or even do over-the-knee boots with tis type of dress. Bold jewelry like gold neckless will complement nicely your V-neck dress.