Has it occurred to you that many items from the 90s fashion are making their way back into modern trends? Well, there is nothing weird about that since the 90s were full of things that many of us miss up till today. Tweed jacket is one of those timeless trends that has never actually been out of fashion, from the day Coco Chanel introduced it into fashion. However, this season has some upgrades in store, and it is essential that you know everything on the matter!
Tweed Jacket Guide
If you still do not know what tweed is and whether it is popular at the moment, we are going to answer the questions in detail!
What Is A Tweed Jacket?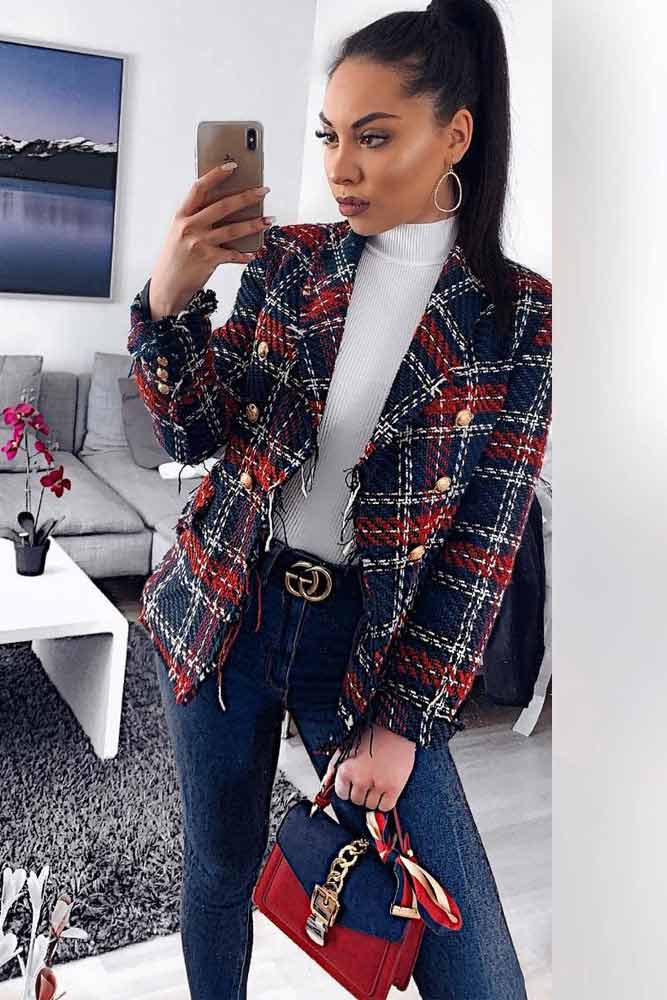 Source: Instagram/klimentina13
You may be familiar with many types of jackets, but tweed is still a mystery to you. Are we right? Well, then you should know where it originated from and what it is made from. First things first, tweed fabric was created in Scotland, as long ago, as at the beginning of the 19th century. Tweed is made of wool and has a particular pattern to it so that there is not a chance that you will mistake in for any other material. Herringbone or houndstooth is the patterns that define tweed. As for the colors, back in the day, they produced tween in earthly hues. However, these days, there are almost no limits as to the shade you want your tweed jacket to be painted in.
Are Tweed Jackets Fashionable?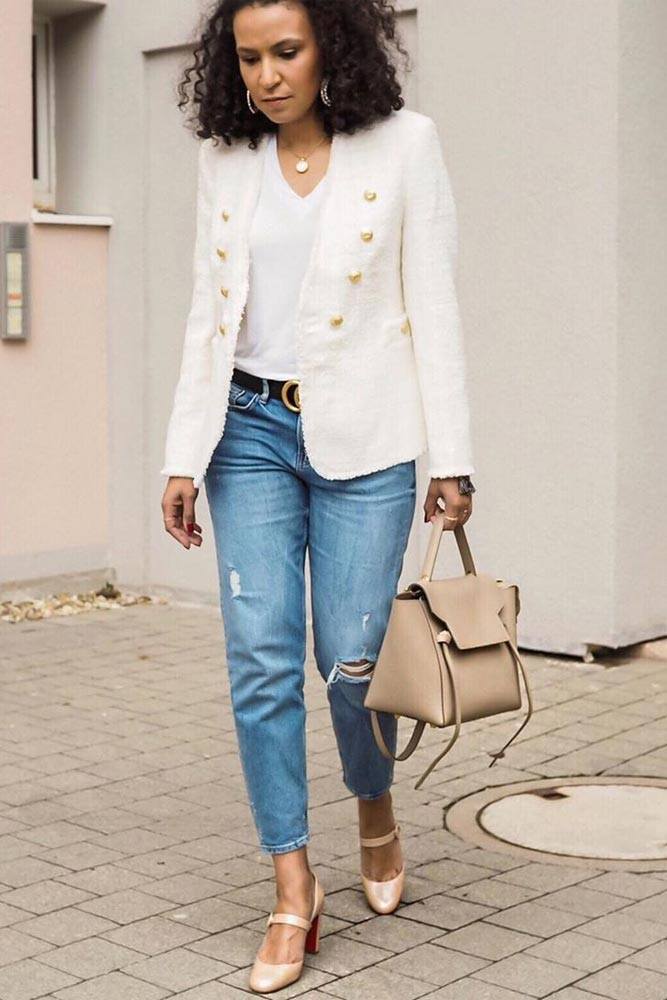 Source: Instagram/stylesby_ana
One of the main features to pay attention to when it comes to jackets for women is whether or not they are in fashion. Originally, these were Blair Waldorf and Coco Chanel, who adored the tweed fabric and created the best elegant outfits using it. However, modern designers find tweed highly required these days too. If you look at the recent runaways, you will notice lots and lots of tweed blazers, skirts, and suits made of tweed. So, to cut a long story short – yes, tweed jackets are back in fashion now.
Tweed Jacket Outfits
In case you are wondering what you can pair your tweed blazer or jacket with, we have gathered all the trendiest ideas in our compilation. All you need to do is to choose the ideas that fit your taste and style best!
Brown Tweed Blazer With Pants Outfit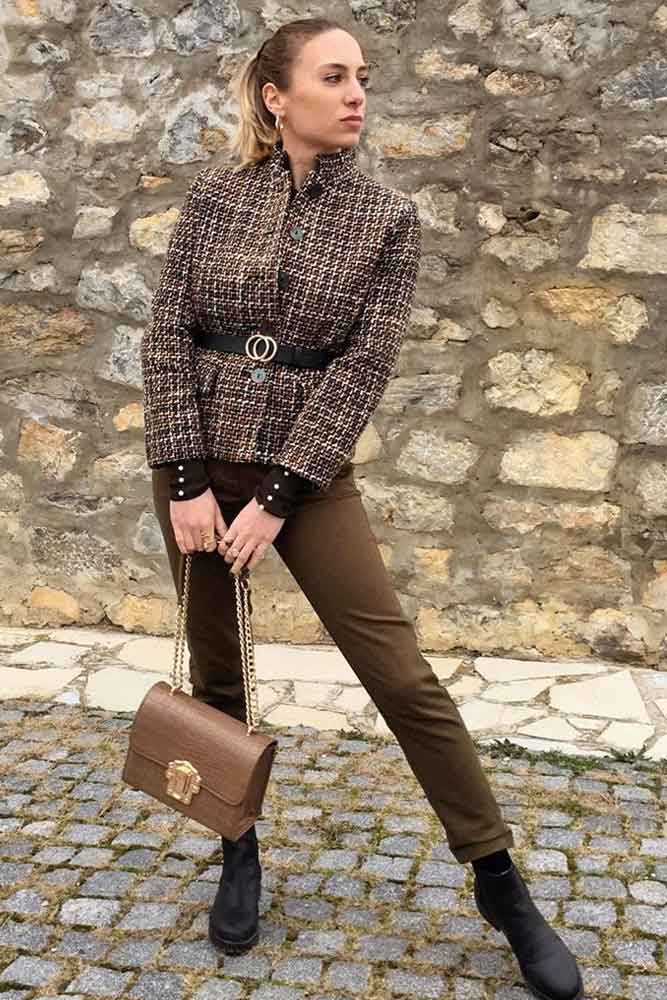 Source: Instagramm/_anajo_
When it is a little chilly outside, an elegant brown tweed jacket will keep you warm and stylish when paired with stylish pants. You can complete the look by a matching purse and sleek hairdo.
Beige Blazer With Black Jeans Outfit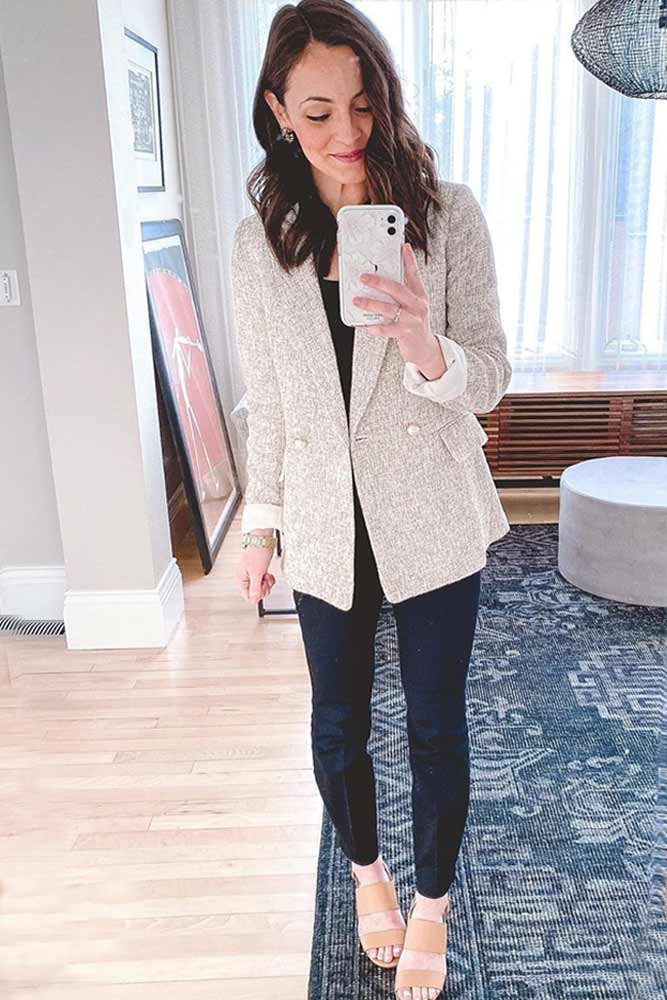 Source: Instagram/thelifeshewanders
A beige tweed blazer seems to be created for matching outfits. Black jeans have never looked that elegant and feminine at the same time. What do you think?
Chanel Jacket With Mini Skirt Outfit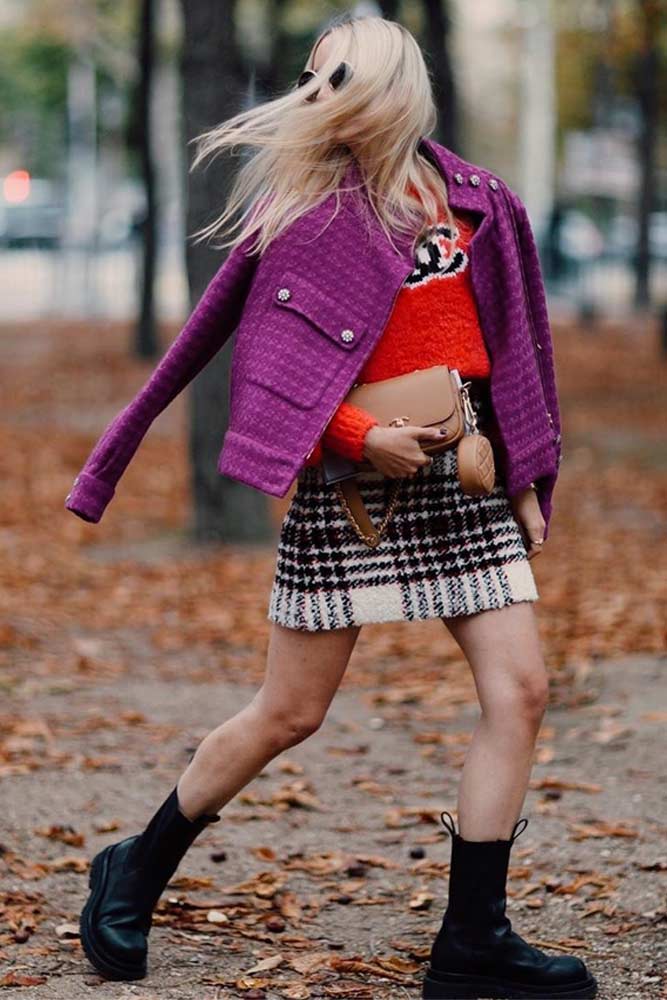 Source: Instagram/thefashionguitar
One of the most interesting features about womens tweed jacket is that you can match it with almost anything, and it won't look out of the place. One look at this mini skirt complimented by grunge boots and completed with a Chanel blazer proves the point like nothing else.
Crop Jacket With Vinyl Leggings Outfit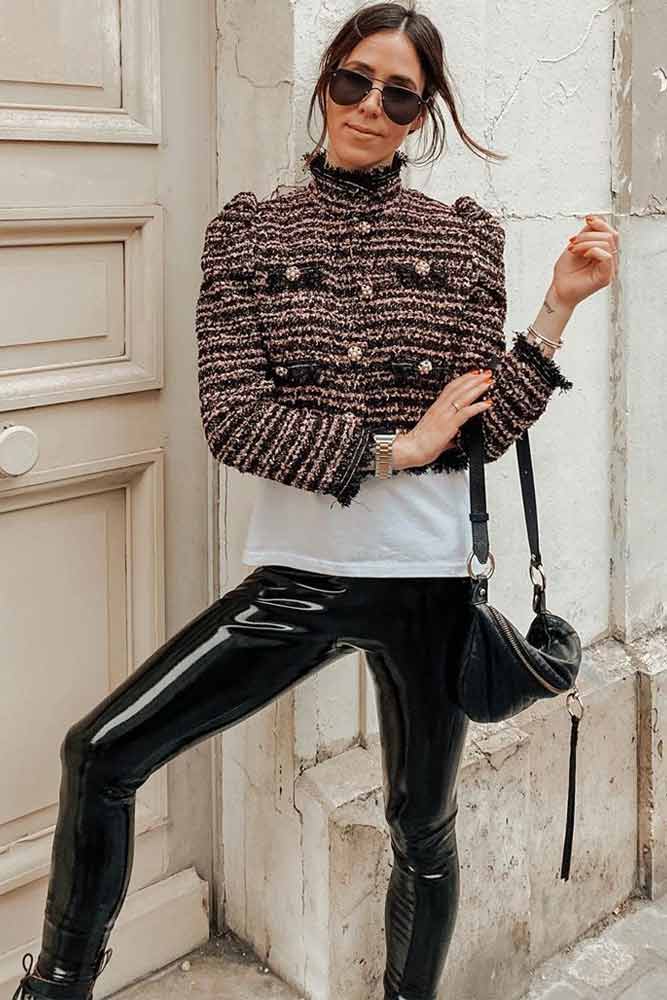 Source: Instagram/mksportsanista
When you think about a tweed jacket, it is hard to say that is it one of many womens casual jackets. At the very same time is looks seamlessly complementing such a casual look as vinyl pants and a white shirt.
Tweed Bomber Jacket With Ripped Jeans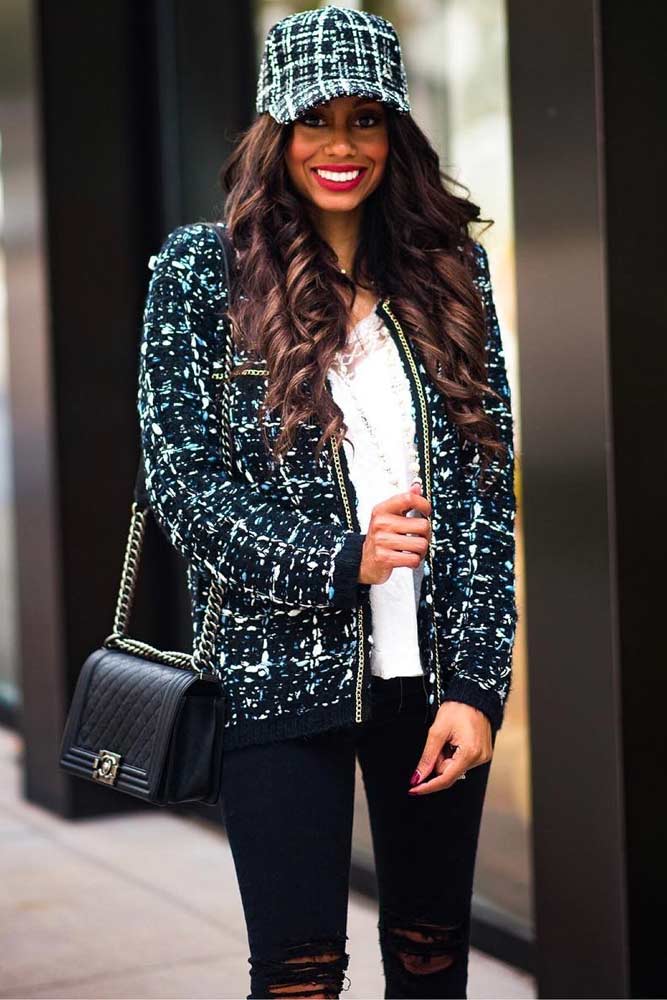 Source: Instagram/rorodeiso
Many ladies prefer comfortable but stylish wear when it comes to their everyday life. If you wish to express your devotion to modern fashion, but you do not want to look too formal, we know a way. All you need is a tweed bomber, and a pair of your fav ripped jeans. As simple as that!
Pink Tweed Jacket With Mini Skirt Suit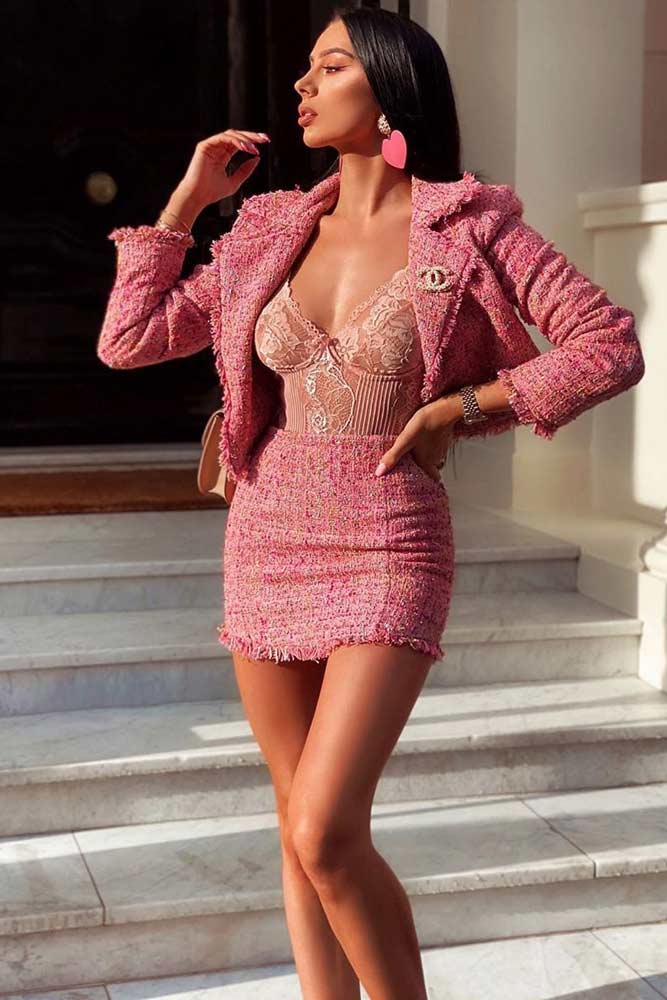 Source: Instagram/klaudiabadura
When you have a look at this pink tweed jacket and skirt combo, you will surely be lost for words. There are a few reasons for that. First of all, such a suit is very elegant-looking, almost formal. On the other hand, it is so sassy and hot that it is hard to take the eyes off!
Black Jacket With Plaid Skirt Work Outfit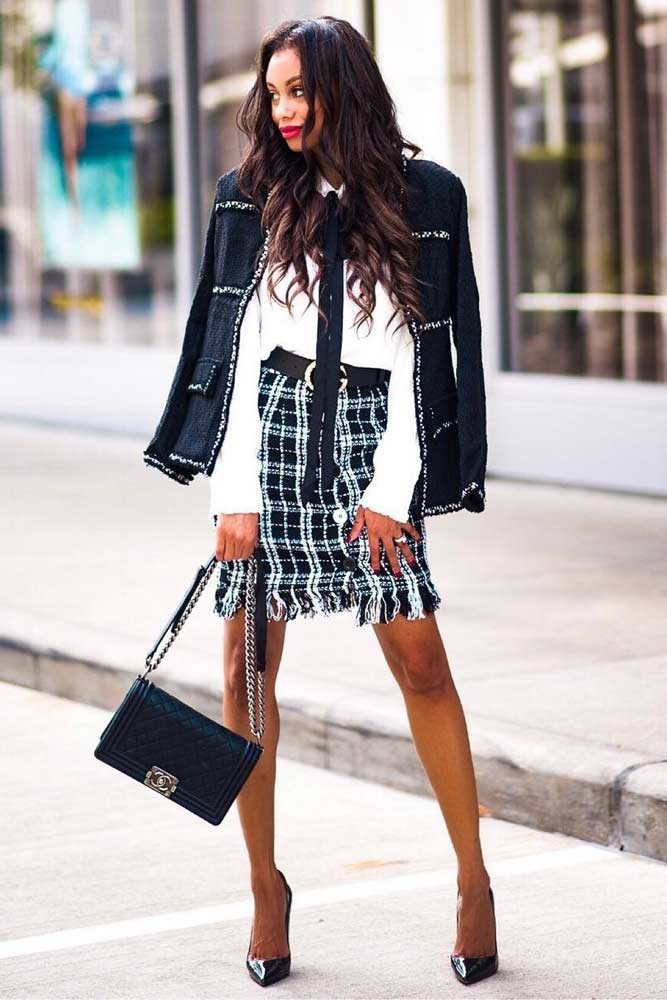 Source: Instagram/rorodeiso
We are going to step away from casual wear for a while to show you that a black tweed jacket can help you achieve that flawless and professional formal look that many are looking for. As you can see, the skirt and the jacket are both matching and contrasting at the same time. The white blouse is the item that balances the look and makes it so attractive and professional.
Monochromatic Outfit With Tweed Jacket And Beret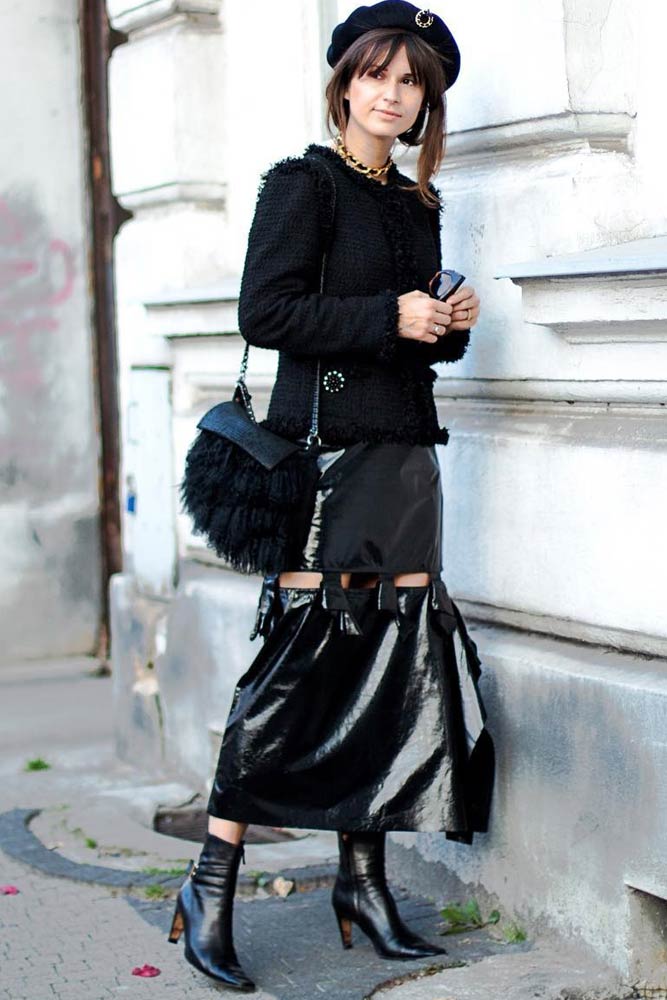 Source: Instagram/miagiacca
Sometimes a contrasting jacket for women is not acceptable. We are not going to dwell on the reasons why we are going to prove to you that monochromatic looks are gorgeous. The key lies in proper accessorizing. The beret plays one of the major roles here. There is no doubt here!
Cropped Tweed Jacket With Faux Leather Skirt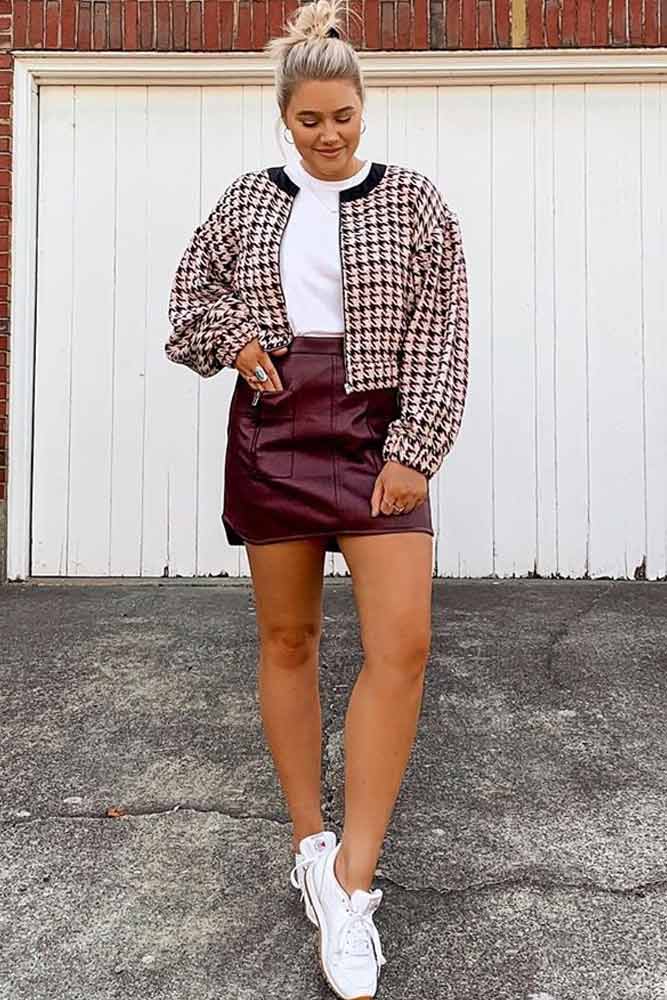 Source: Instagram/bresheppard
You may have formed the impression that tweed jackets go well only with skirts that are made of the same material. However, that is not true. This cropped tweed jacket seems to compliment the ultra-stylish leather skirt like nothing else.
Tweed Beige Jacket With Flare Jeans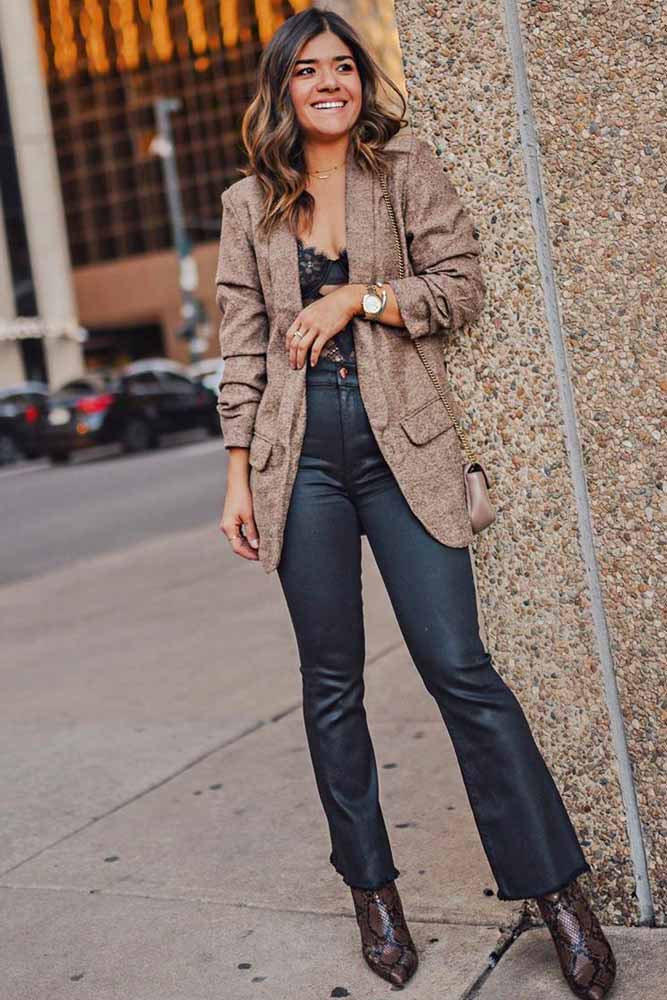 Source: Instagram/chictalkch
If you are looking for an example of a perfect taste, this would be an example to consider. Flare jeans are slowly making their way back, and not everyone knows what to pair them will properly. Well, we are going to say that laced top, tweed jacket, and snake-patterned boots will make it work.T
Red And Green Tweed Jacket With Black Pencil Skirt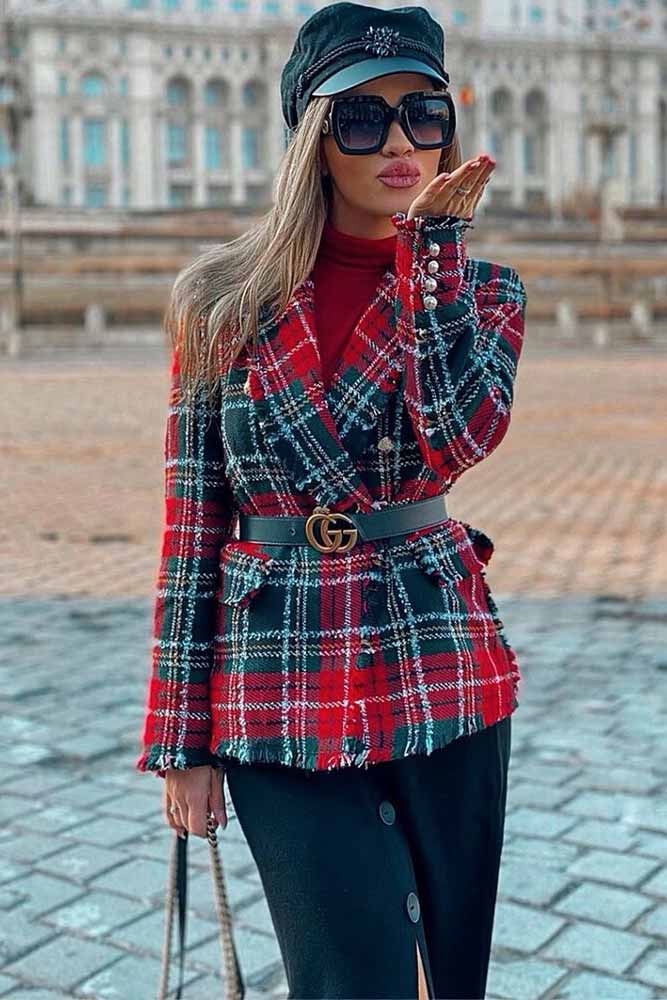 Source: Instagram/patriciahonciu
If you are looking for a classy a-la Chanel look, then we know what you may like. The match of red and green tweed jacket and a pencil skirt seems to be a match made in heaven. However, you should not forget about the stylish beret too.
Tweed Jacket With Red Mini Skirt Outfit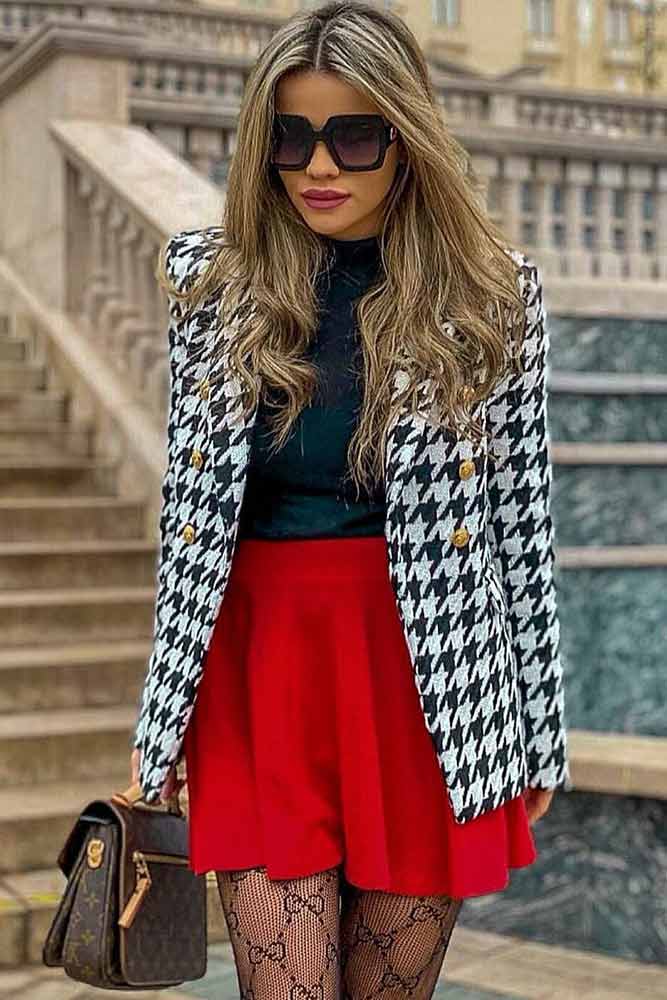 Source: Instagram/patriciahonciu
Many people think that short skirts can bring in only one type of vibe into the look – a sexy one. We beg to differ. When you match a red flare skirt with a reserved tweed jacket, what you will receive will be a feminine and elegant outcome.
Classy Beige Blazer With Light Blue Jeans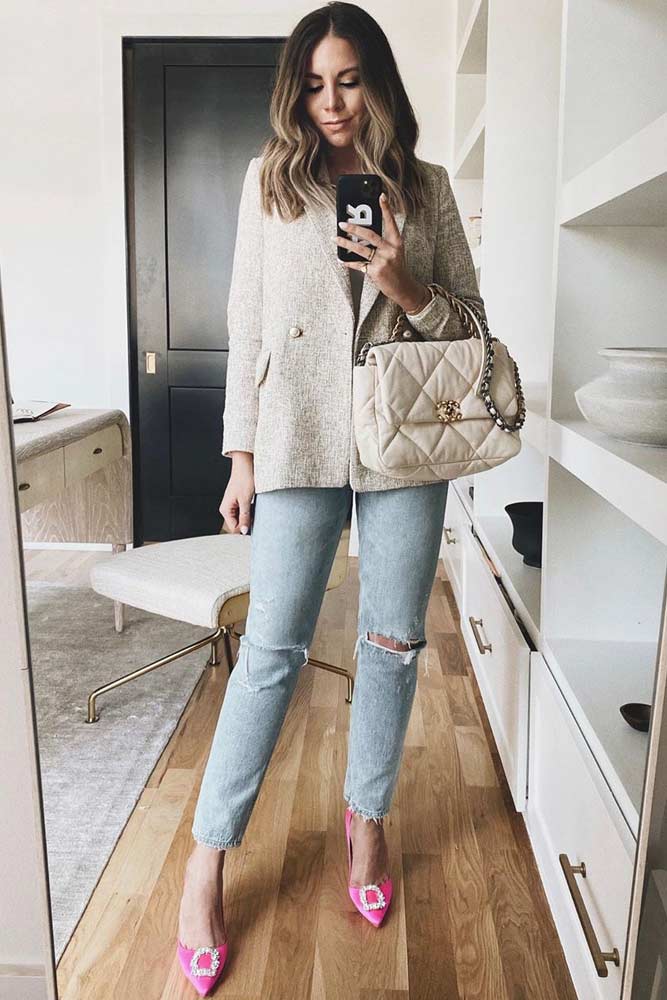 Source: Instagram/ashleyrobertson
When you think that you can't mix all your favorite items in one look, then you need to see this example. Elegant beige jacket, casual ripped jeans, and pink heels turn out to look just marvelous when paired together. Do not be afraid to experiment!
Tweed Jacket With Faux Leather Skirt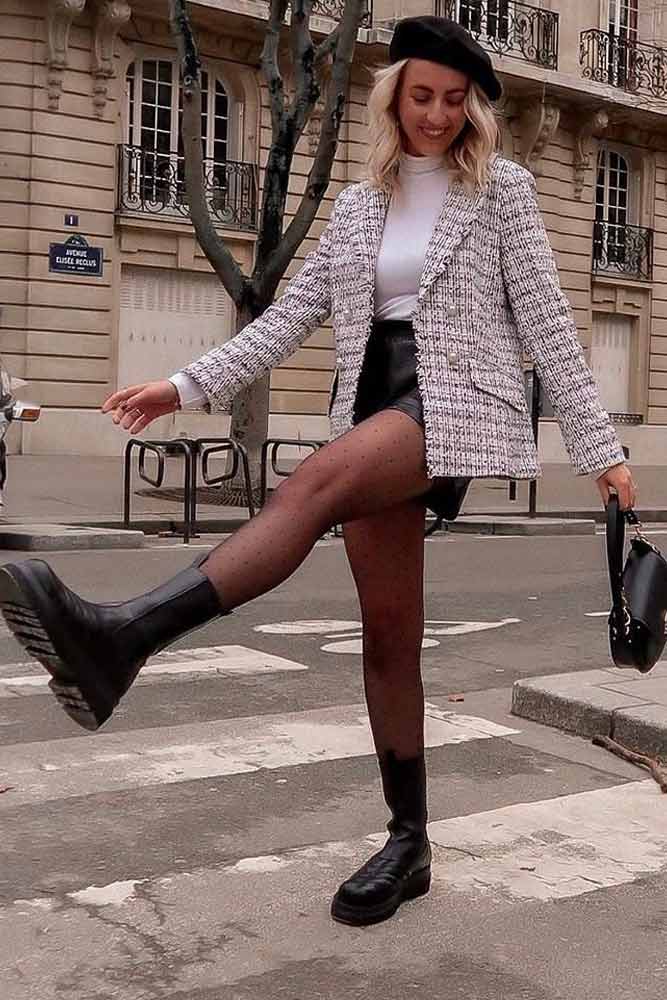 Source: Instagram/missselfridge
When the spring comes, there are so many new looks to give a try to, that it is hard to list them all. However, we suggest that you start with trendy tweed spring jackets complementing short leather miniskirts.
Print Oversized Jacket With Leather Leggings Outfit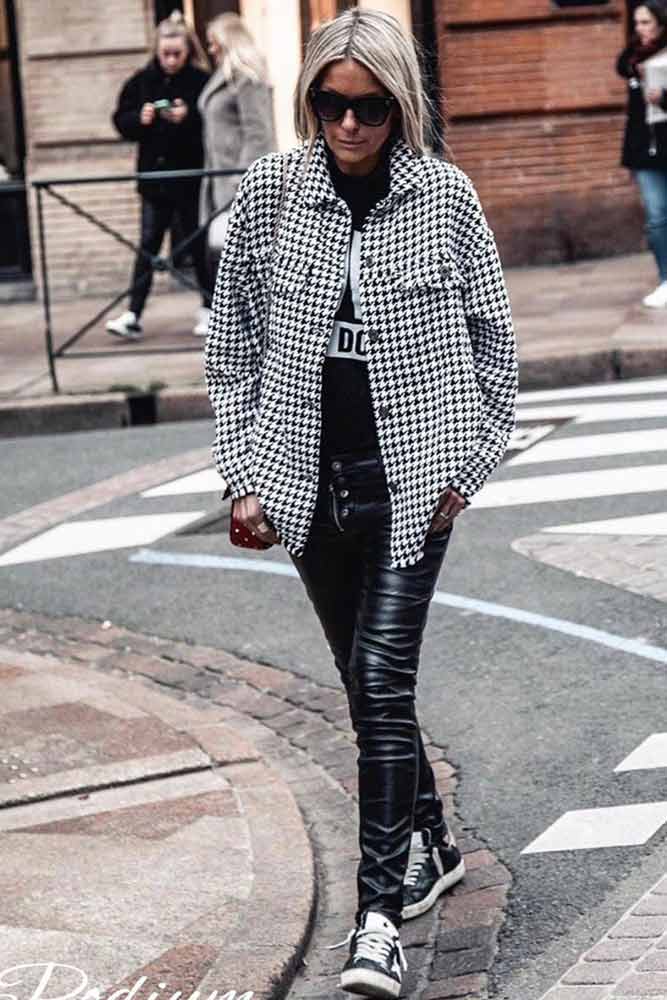 Source: instagram.com/the_shop_1nstagram
Rejoice all the sporty women among you! As it turns out, something as elegant as a tweed jacket can be transformed into something overly casual with a pinch of edgy just like that!
Tweed jacket is not a recent invention. There is no doubt about that. However, there are so many new looks to get familiar with that it is hard to count. Luckily, we have gathered all of them in the article!
FAQ: Tweed Jacket
Why are tweed jackets expensive?
Tweed is a high-quality, pure wool textile that is considered a classic, thus it can be pricey. Fortunately, if you want to save a little money, you can now get blended materials that are far more wallet-friendly.
Is boucle and tweed the same?
Actually, it's all about their personalities. Tweed textiles are tough and long-lasting, resistant to damp and usually simple to sew. Boucle textiles are soft and springy. They're usually made with a
loose weave, though there are plenty of strongly woven options.
Can I wear tweed in summer?
Tweed is a great fabric for summer. Tweed suits are tough, thick and water-resistant. They're the best way to stay stylish during the summer months.
REFERENCES: