Top Boho Wedding Dress Ideas For You
A Boho wedding dress is a must this season! Some people consider Boho to be boring and old fashioned, but we don`t agree. Why? There are so many options done in such a style completed with modern details that make these wedding gowns perfect. From open backs to long sleeved romantic designs that will make your look unforgettable. We want you to think properly and pick the dress of your dream, so our best tip would be to look through the gowns without rushing. Try on different variants and choose your dream one. If you need some help, then we are here to give you some suggestions in the Boho style that occupied wedding salons this year.
Romantic Lace Wedding Dress
Source: Berta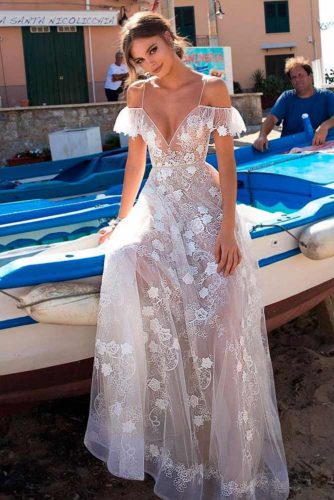 Are you looking for a dress that will make you feel like a queen? Then you got this one right. A perfect option that will add romance and flirtiness to your look. A lacey material will make you appear as airy as possible while a low neck will bring some definition to the whole wedding look. Do you still doubt? Then don`t, cause we believe this lace wedding dress to be one of the trendiest Bohemian dresses of this wedding season.
Boho Wedding Dress With Long Sleeves
Source: Emily Riggs Bridal via Instagram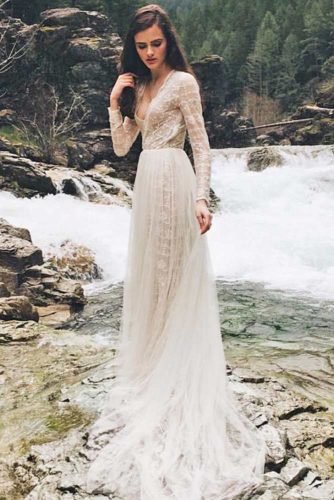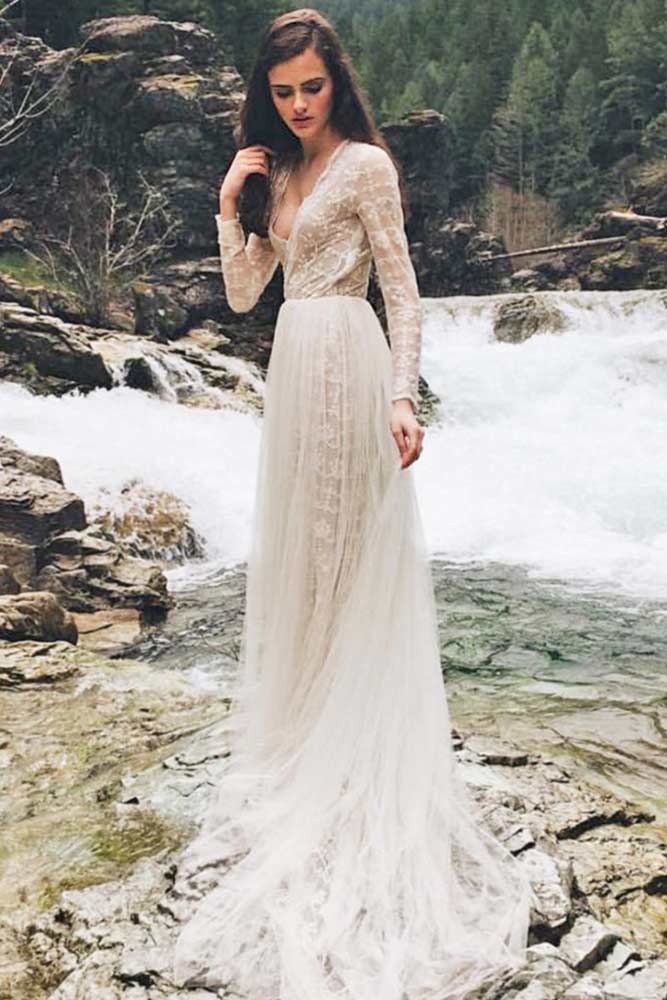 This long sleeve bohemian wedding dress is a true dream for people who want to choose something unusual for their special day. Long sleeves that bring some mystery to the whole look will help you put an accent to a long super airy skirt. Made of a beautiful combination of tulle and lace, it will be just right to show how tender the bride is. Couldn`t find the wedding gown that will show your character? Look carefully at this one then.
Hippie Style Bride
Source: Rue De Seine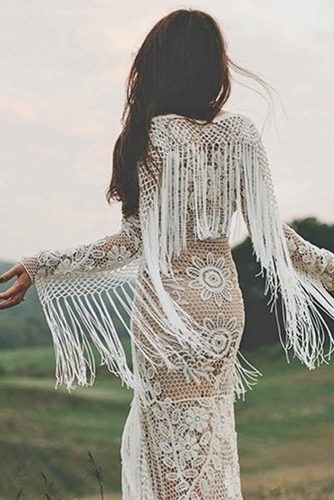 Do you belong to the club of the free spirited souls? If yes, then this wedding dress is your perfect match. Long, decorated with gorgeous hand made lace and knitting, it reminds us of a hippie movement that brought happiness and peace to the world. Add this amazing piece of art to your wedding look and you will definitely be happy with how your wedding look turns out.
Wedding Gown With A Bare-Skin Effect
Source: galialahav via Instagram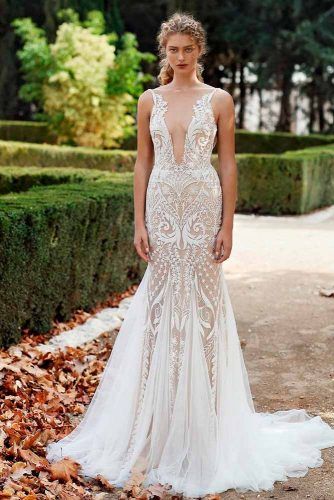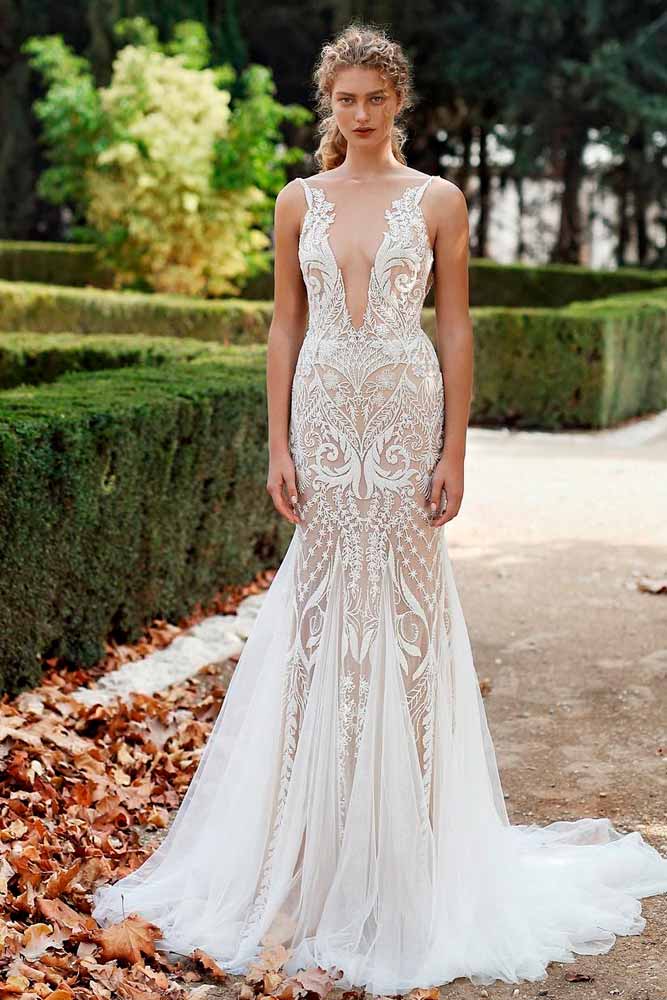 This wedding dress with a bare-skin effect is the dream one for all the girls who want to find something different. Not a casual one, it shows more skin, weighing down the look with a beautiful lace skirt with tulle godets that falls to the ground. A low V-shaped neckline will be a great detail in this romantic wedding dress. We advise you to make up your mind fast on this one, as it is a true definition of style.
Boho Floral Lace Dress To Feel A Harmony
Source: Rue De Seine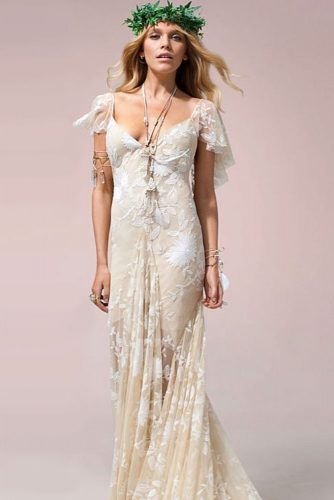 If you believe that simplicity is the key to perfection, then this Bohemian wedding dress is your piece of cake. Super simple but really beautiful and interesting at the same time, it will bring as much attention to you as possible. Long, completed with super thin floral lace, it gives an idea of harmony and lightness. If that`s a definition of how you want to look, then don`t skip this design and rush to the shop to buy your dream dress!
Best Bridal Dress For A Beach Wedding
Source: immaclenovias via Instagram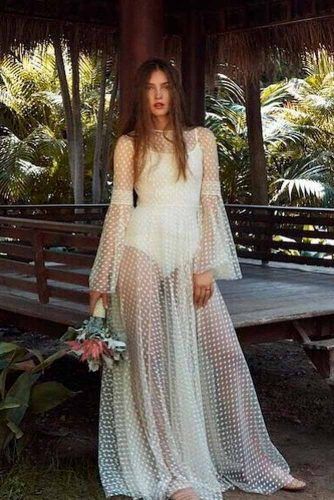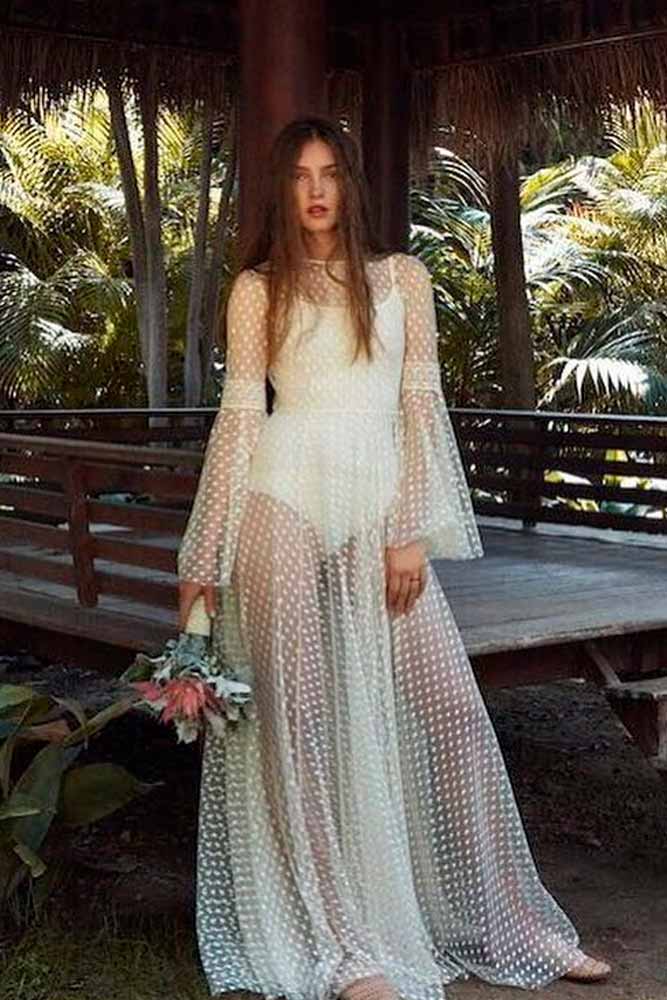 Is your dream wedding location a tropical beach with a bungalow and palm trees? Then this style is just for you. Super light and daring, it's an ideal option for girls who have nothing to hide, don't you think? With beautiful long flounce sleeves, thin see-through lace and floor length, it's exactly what you are looking for. Revealing yet perfect for a beach ceremony.
Beautiful Embroidered Dress For Your Inspiration
Source: Serafin Castillo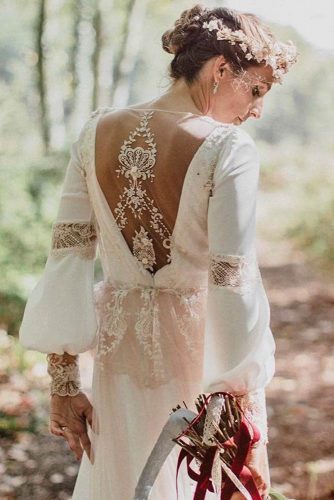 Embroidery is becoming a great trend not only among wedding designers nowadays. More and more often embroidered clothes appear on the shelves of the stores. We believe that such an ethnic tradition is a great way to remind of old-school simplicity and charm in a wedding dress design. Romantic and truly gorgeous, embroidery will make your wedding dress turn into the perfect gown. Done on chiffon and completed with lace, it`s the true definition of tenderness.
Wedding Gown For A Free-Spirited Bride
Source: Eisen Stein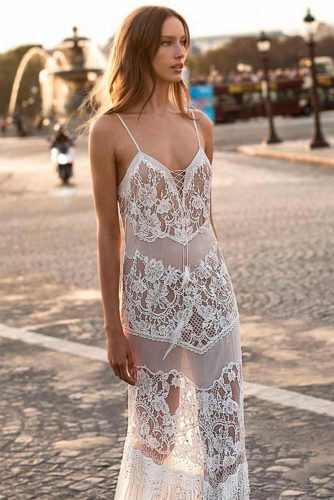 Are you not keen on keeping up with the trend? If your soul needs something simple that will show your independence from the rest of the world and freedom, then this beautiful wedding dress is for you. Simple but still really effective, it`s one of a kind. Long, made of different kinds of lace that can be seen through in some places, and chiffon at the end of the skirt. It will for sure make your look unforgettable not only for you and the groom but also for all of the guests.
Fab Long Sleeve Wedding Dress
Source: Daughters Of Simone via Instagram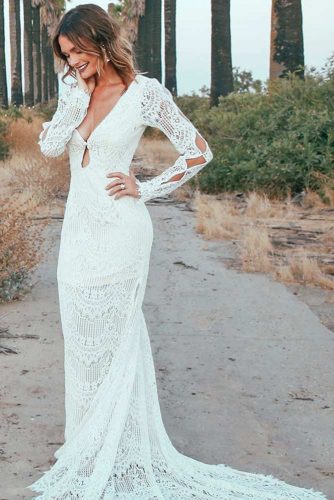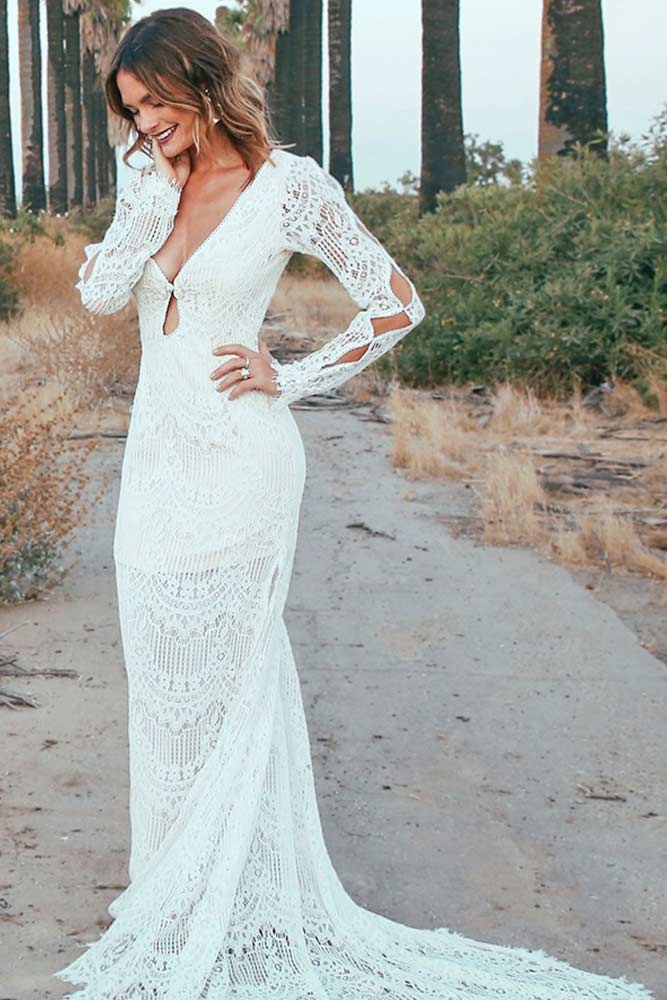 Do you prefer fabulous wedding gowns with long sleeves? If yes, then look at this one. Super romantic it is a perfect match for those who want their wedding look to be simple but dreamy at the same time. Lacey material which adds a bit of mystery to the whole look is spread all over the gown down to the ground where it is gathered into a beautiful skirt with the tail. Isn`t it a dream dress?
Off The Shoulder Wedding Dress
Source: Dreamers And Lovers via Instagram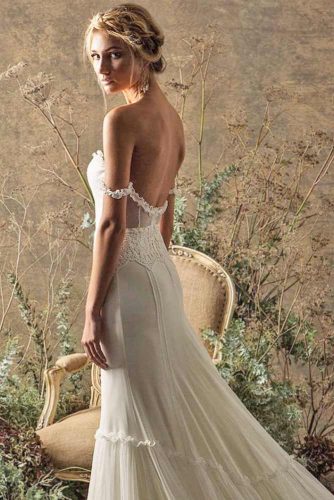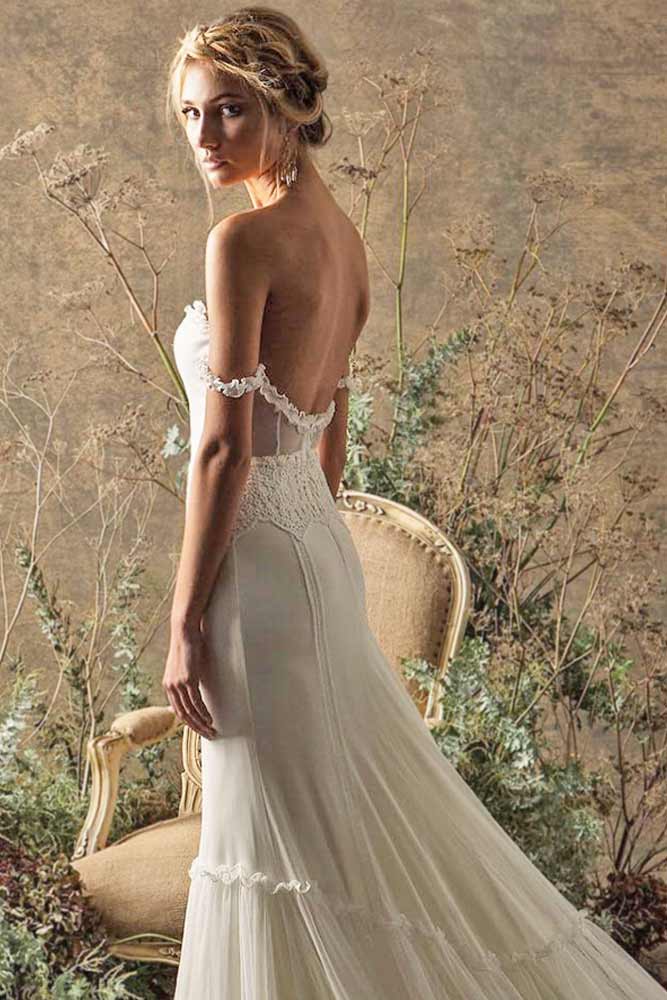 Dresses that show more skin are getting more and more popular this year. Of course, as they add some definition to the body of the bride and make her look as delicate as possible. However, if you prefer such a trend but still want something more special added, then think of an off shoulder wedding dress. A small detail that will bring so much beauty into the look that it can`t be missed.
Boho Wedding Dress With An Open Back
Source: Grace Loves Lace via Instagram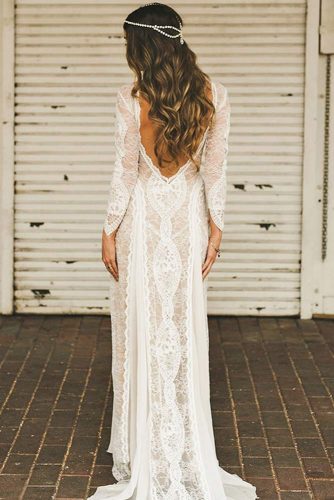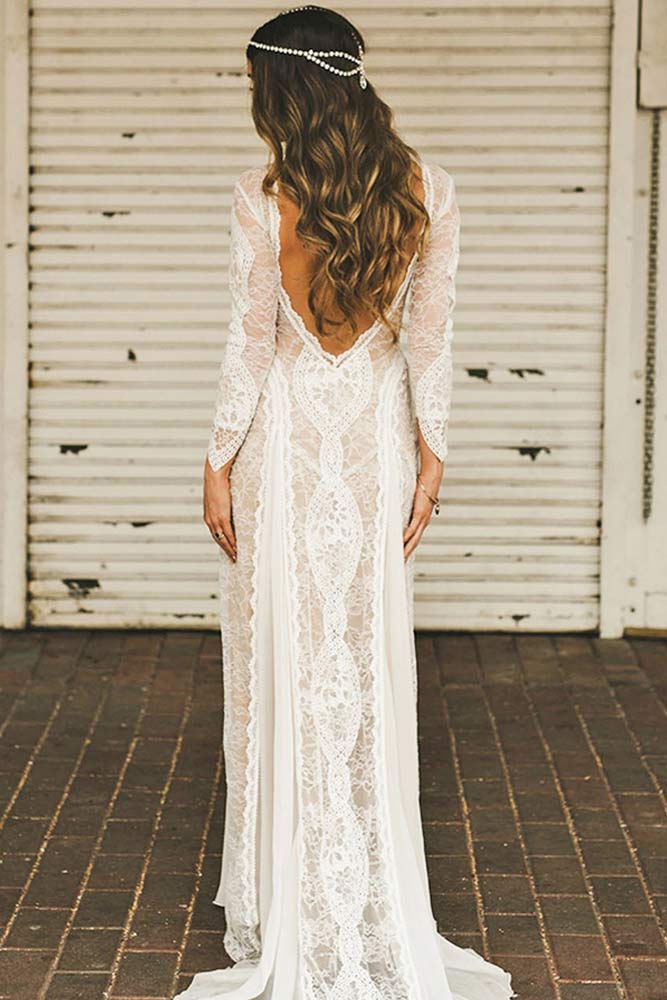 Super simple, it`s still one of the trendiest in 2018. Done in a special way, it will make your look truly awesome. A long skirt that goes up into the top with an open back and long sleeves. Isn`t it perfect? All made of lace, it`s super romantic for a wedding day.
Boho Bridal Dress Must-See
Source: Serafin Castillo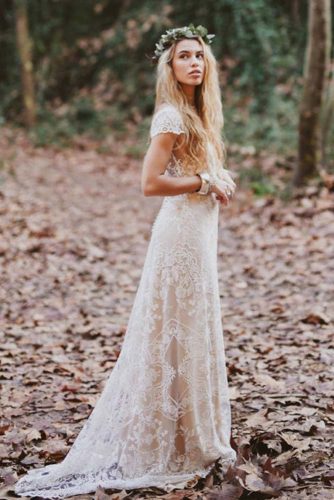 Thin lace is thought to be the key to an amazing look this year. Think of picking a Boho wedding dress fully made of such a material, and you won`t regret your choice even for a second. Why? It`s super airy, romantic and flirty. As for us, it is a nice example of the Boho dress style as it gives the vibe of freedom and simplicity that Boho represents.
Boho Dress Of Your Dream
Source: Radion photography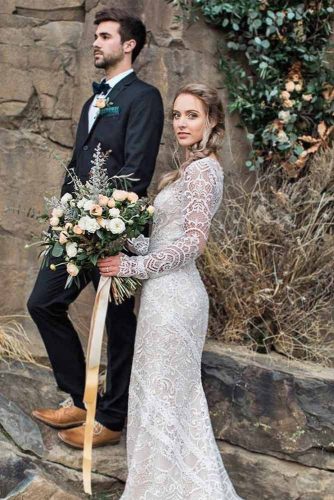 If you still doubt if a Bohemian style is to your liking, then this dress will definitely make you decide for it. Look at how beautiful it looks! Long, all covered in lace, it is skin tight to show all of the best sides of your body, but still to hide what you might not want to show. A long skirt completed with different types of lace combined on top. Gorgeous, as for us.
Bohemian Backless Wedding Dress
Source: Immacle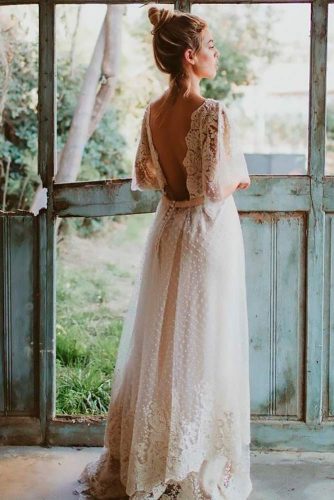 As you have understood, backless dresses are on top of the most requested Bohemian designs right now. Of course, as they give us a feeling of delicacy and tenderness that every bride aspires to bring to a special event of her life. This Boho wedding dress specifically is a backless miracle. Truly romantic, it is made of different types of materials all brought into a full skirt that is not too much for.
Amazing Lace Dress
Source: Serafin Castillo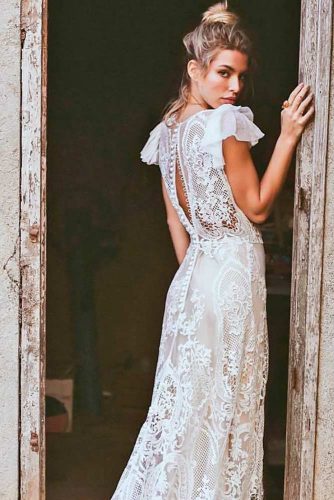 It`s not a secret that lace is what makes it all for the Bohemian dresses. It makes the wedding looks super airy, special, delicate and simple in a good way. Extraordinary and super stylish, it will help you to bring out the best wedding look ever.
Boho Dress For A Sexy Silhouette
Source: Tara Lauren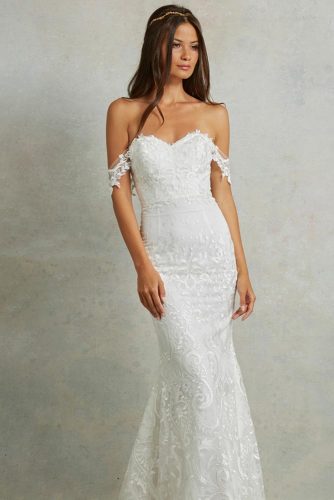 Do you prefer a dress that will complement all your curves? Then this sexy Boho dress is for you. Be sure, it will help you define your body the best way possible. The variant that is perfect for those confident ladies who are not afraid to show the beauty of their body even on a wedding day.
Gorgeous Lace Wedding Dress
Source: Flora Bride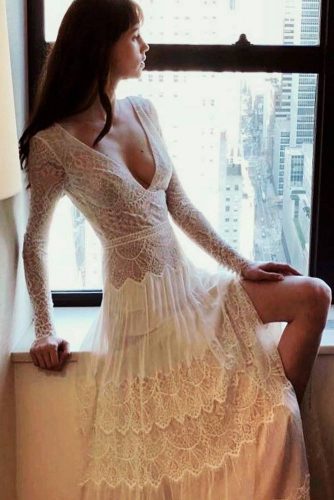 Usually lacey wedding dresses are made in pair with another material. But why don`t you try on a plain lacey one? It will be so tender and delicate that your wedding look will be really unusual. Super simple but stylish.
Boho Chic Wedding Gown
Source: Tali photography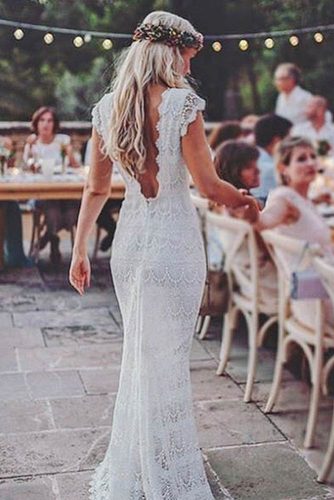 This Boho chic dress is another alternative for those who prefer lacey dresses with an open back. What can be more beautiful than that? Put it on once and you will feel it. A gorgeous dress that will meet all of your expectations for the dress of your dream.
Fantastic Wedding Gown In A Boho Style
Source: berta via Instagram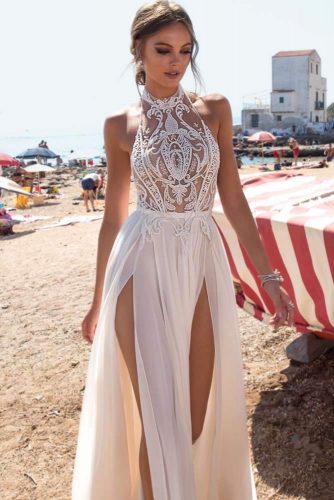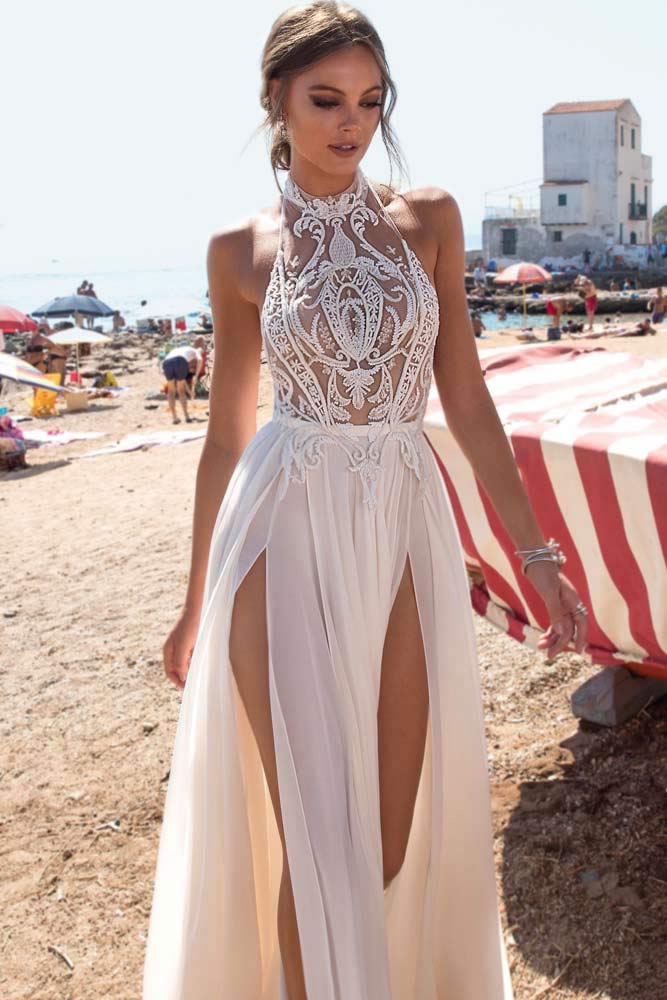 This wedding gown design is for the most daring brides. As you can see, this design demonstrates much bare skin on the bottom as well as on top. Are you ready to amaze?
Gypsy Dress With Embroidery
Source: ruedeseinebridal via Instagram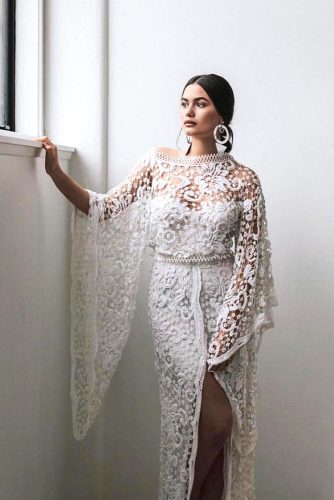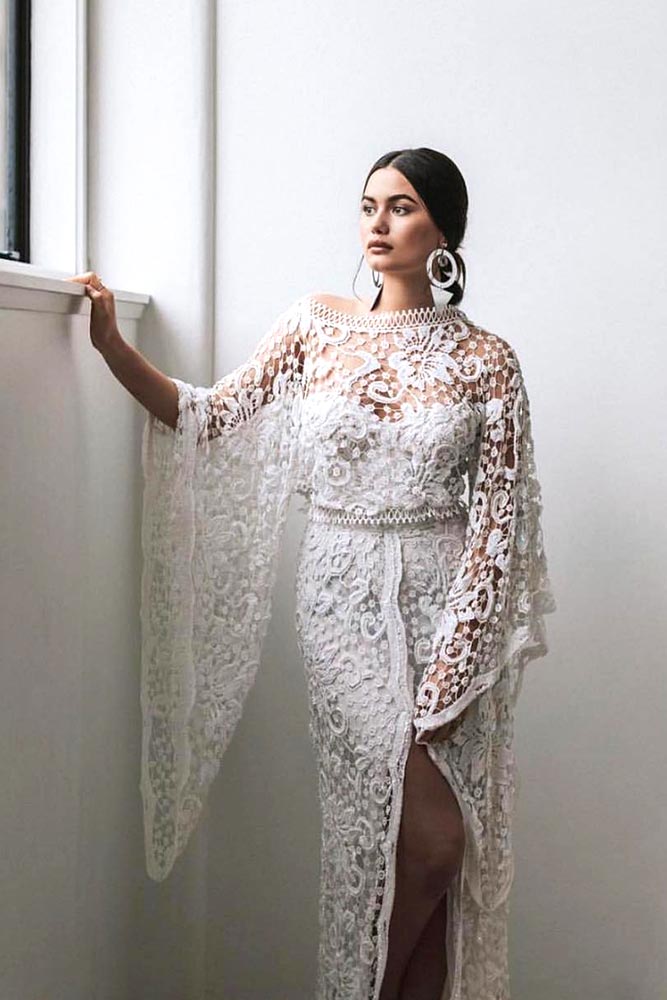 This gypsy wedding dress with embroidery will work wonderfully for brides who have an artistic soul. Long loose sleeves of this dress design appear very romantic.
Charming And Sexy Off The Shoulder Dress
Source: ruedeseinebridal via Instagram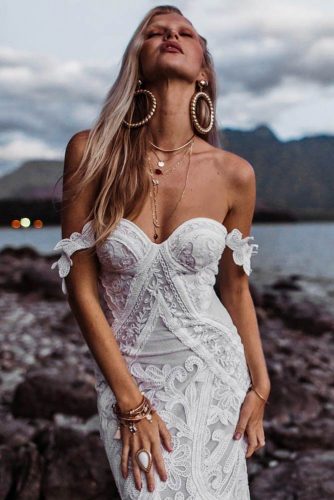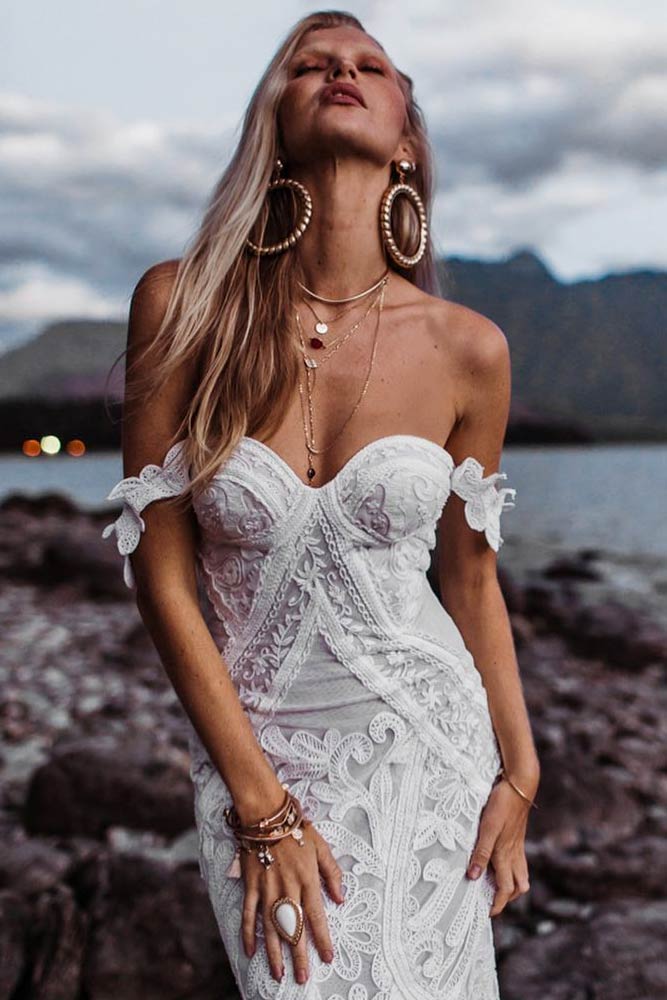 Do you like this off the shoulder dress in a bohemian style? If it looks a bit simple for you, you can always spice it up by adding some boho accessories like shown in this picture.
Royalty Wedding Gown For A Floral Princess
Source: ruedeseinebridal via Instagram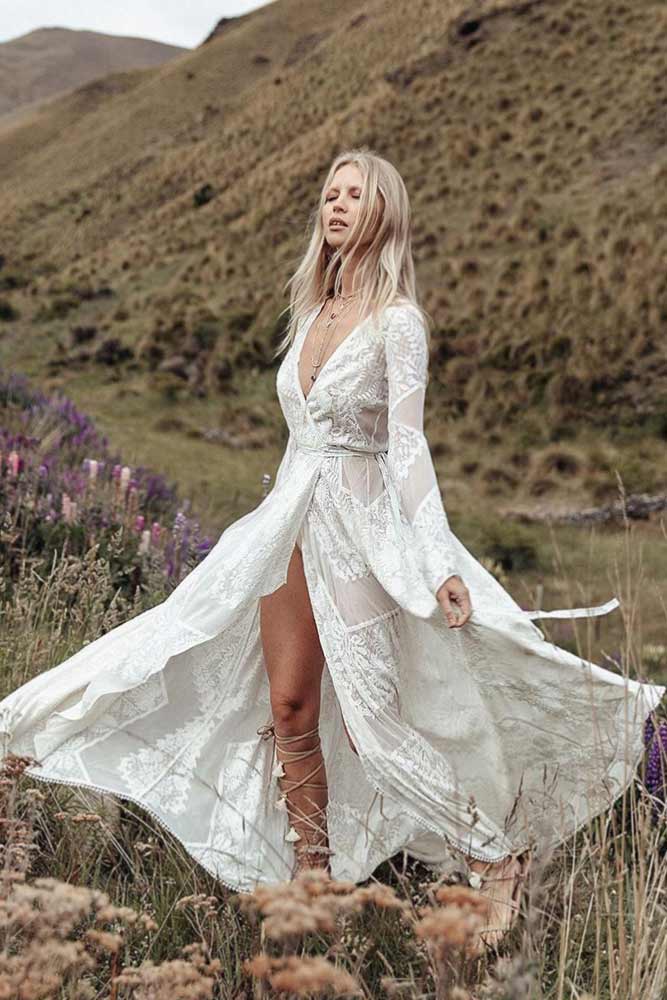 This wedding dress in a bohemian style has a flowing silhouette and shows off some bare skin. Will your wedding ceremony take place outside? Then this dress will work great for you.
Beautiful Wedding Dress For A Tempting Bride
Source: berta via Instagram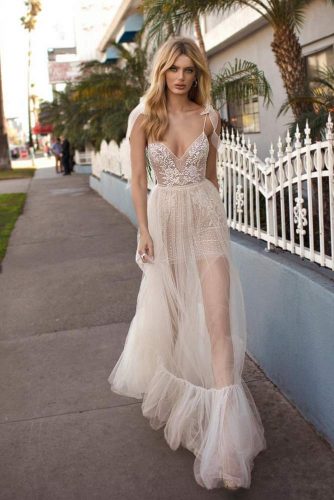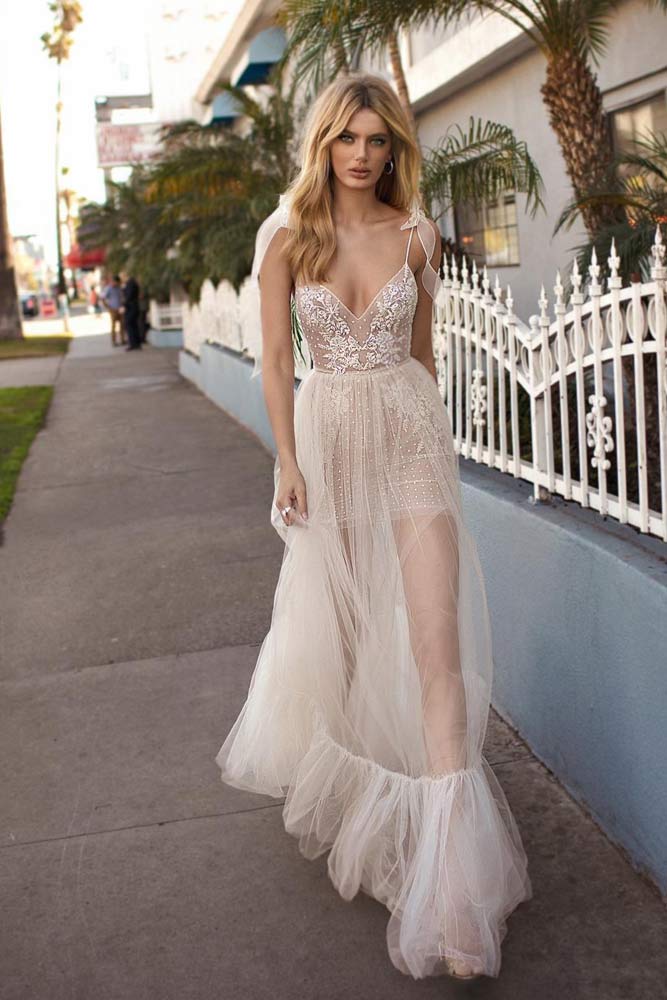 If you are brave and not afraid at all to show off your beautiful body, then this bohemian wedding dress could be your perfect choice. All eyes will definitely be on you.
Backless Boho Dress With Removable Sleeves
Source: ruedeseinebridal via Instagram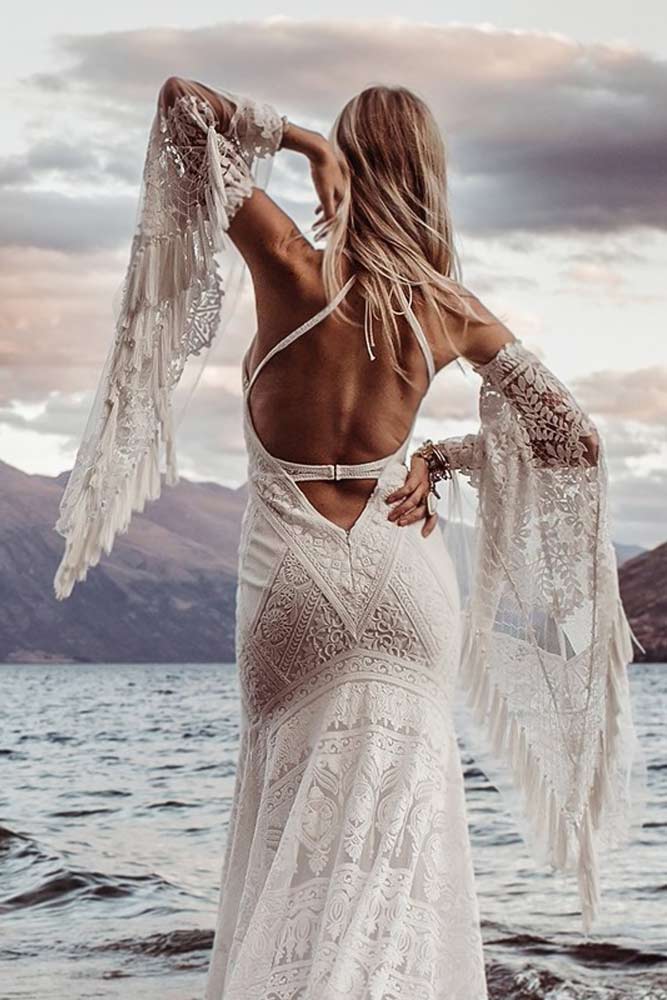 In case you know that it will be super hot on your wedding day, it's a nice idea to choose a backless dress. Not to appear too provocative, this design has removable sleeves.
Shoulder Baring Mermaid Wedding Dress
Source: bylillianwest via Instagram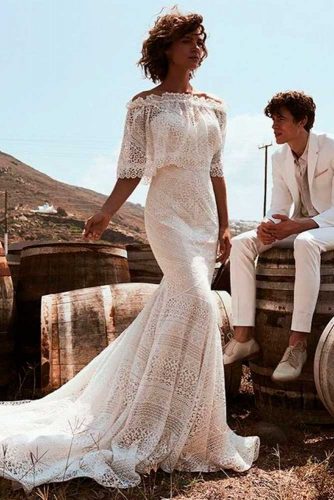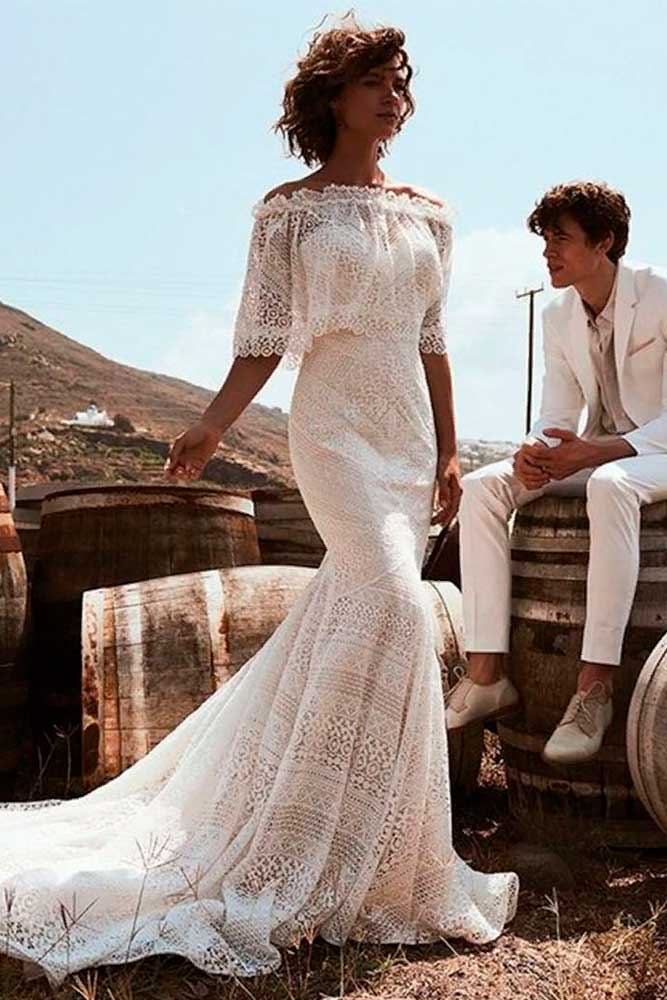 The mermaid silhouette does not lose its popularity and is chosen by many brides every year. Pick a shoulder baring design like this one to appear more playful.
Floral Dress With Indian Fringe
Source: ruedeseinebridal via Instagram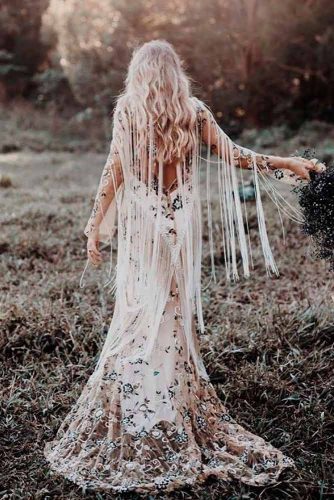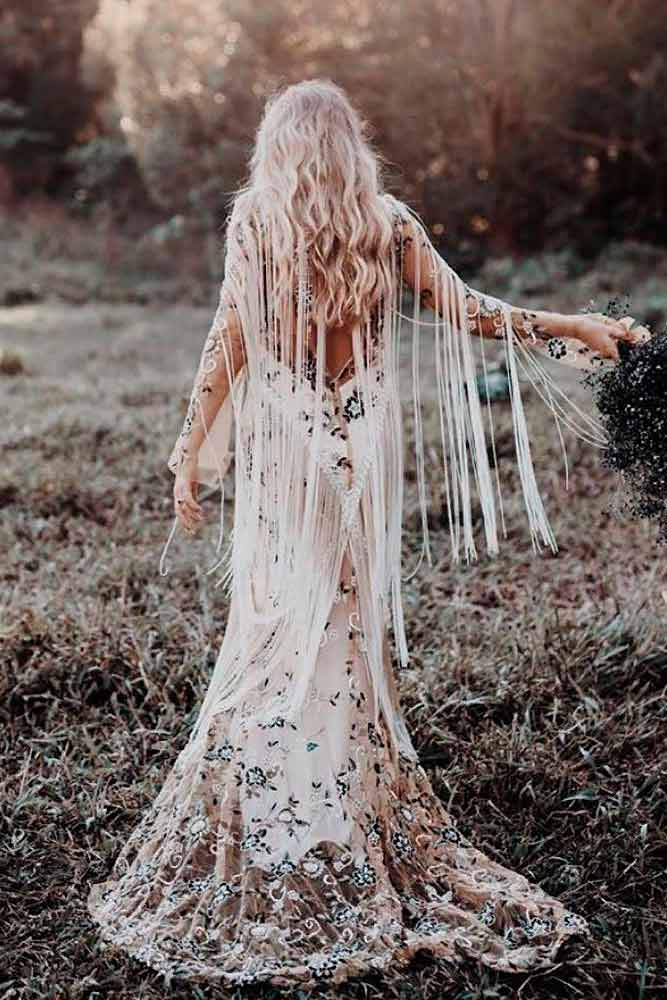 This wedding dress design is spiced up not only with subtle floral patterns but also with the Indian fringe. It would be a nice choice, if you are looking for the unique dress.
Cute Wedding Dress With A Boho Pattern
Source: ruedeseinebridal via Instagram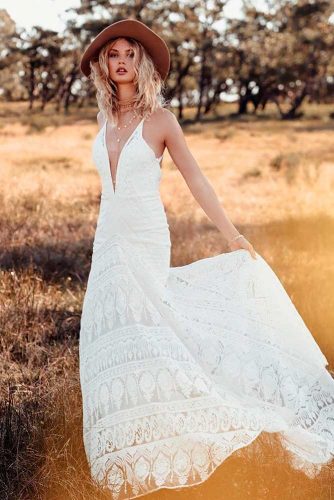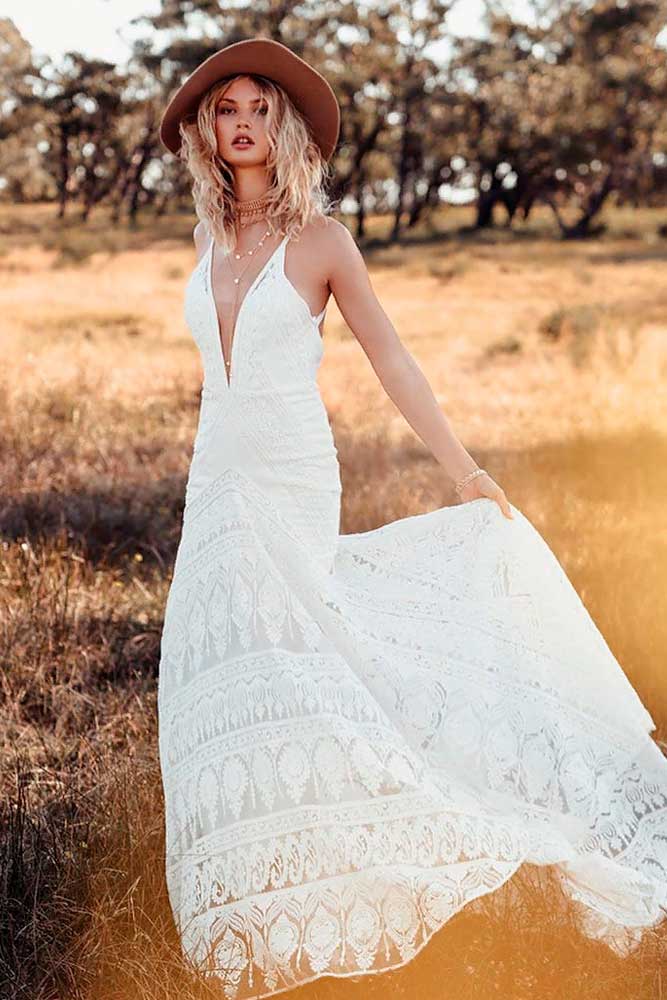 This long dress does not scream Boho. Yet, look closer, and you will notice the bohemian pattern. The hat really does the talking in this model's image.
Delicate Guipure Wedding Dress
Source: lightandlacecouture via Instagram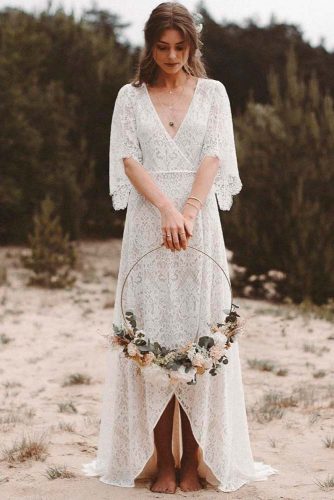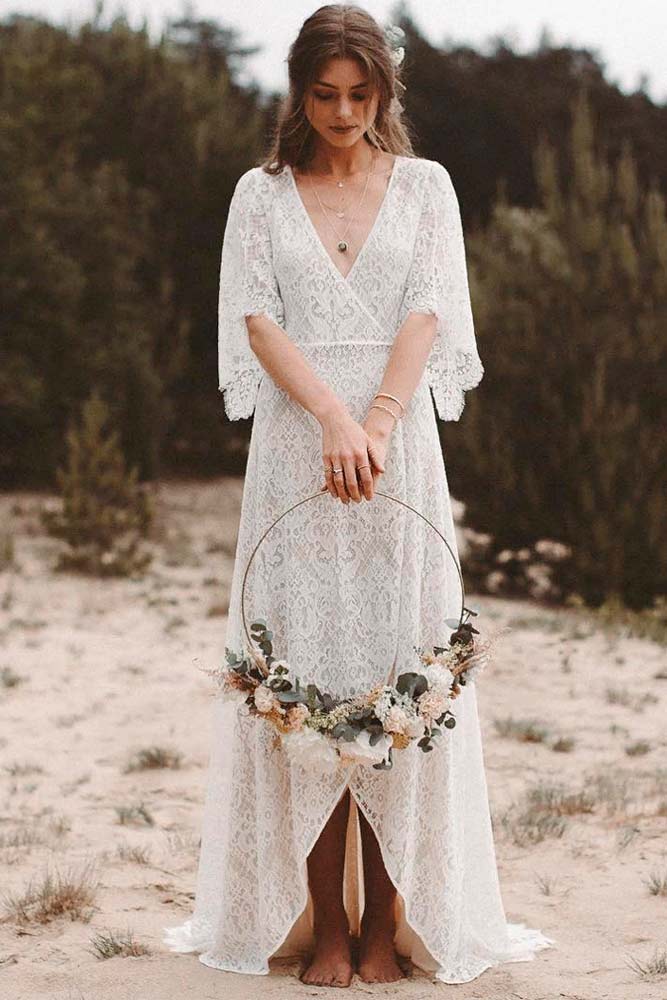 This wedding gown is made of guipure and it really compliments this model's body shape. If we want to describe her image with only one word, we would choose the word Innocence.
Multilayered Wedding Dress With Fringe
Source: lightandlacecouture via Instagram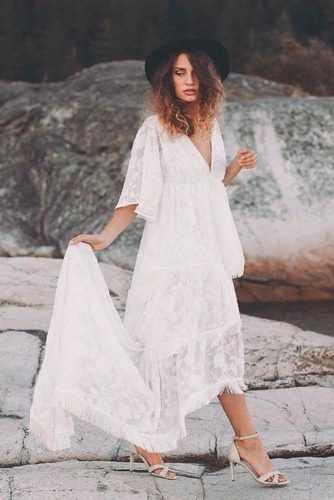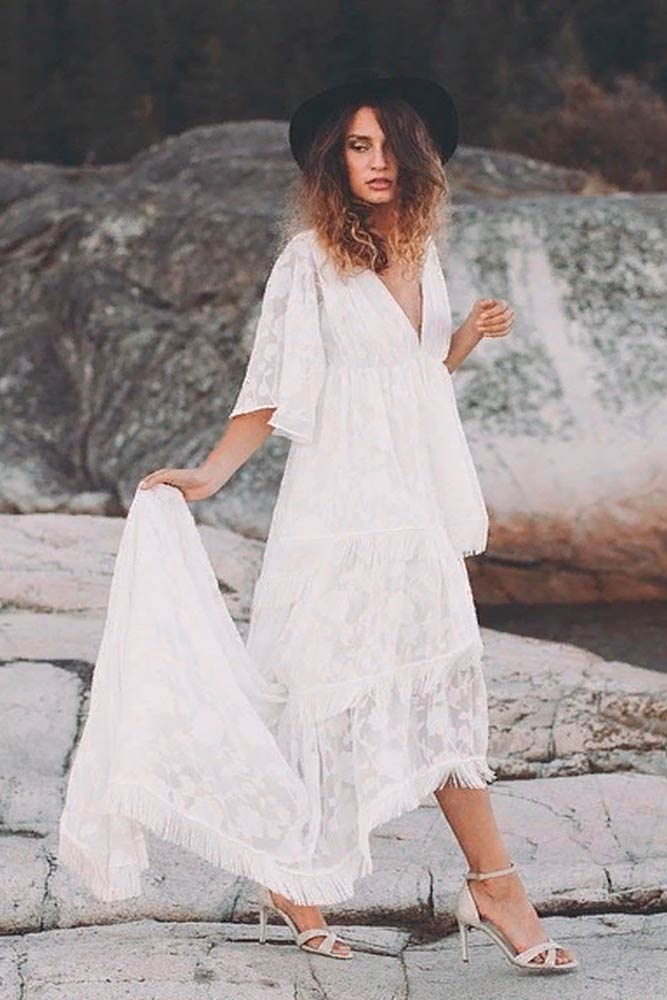 The wedding gown depicted here has an extra long tail. Surely, long tails make the bridal image more sophisticated. But keep in mind that it would be more difficult to walk in such a dress.
Elegant Wedding Dress With Boho Pattern Lace
Source: brooketaelorphoto via Instagram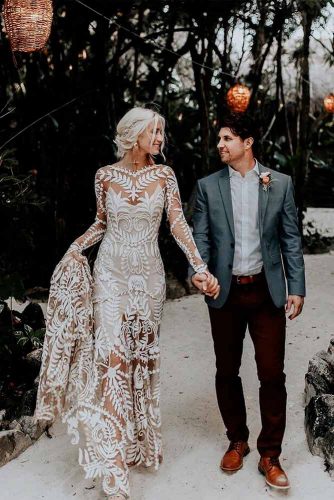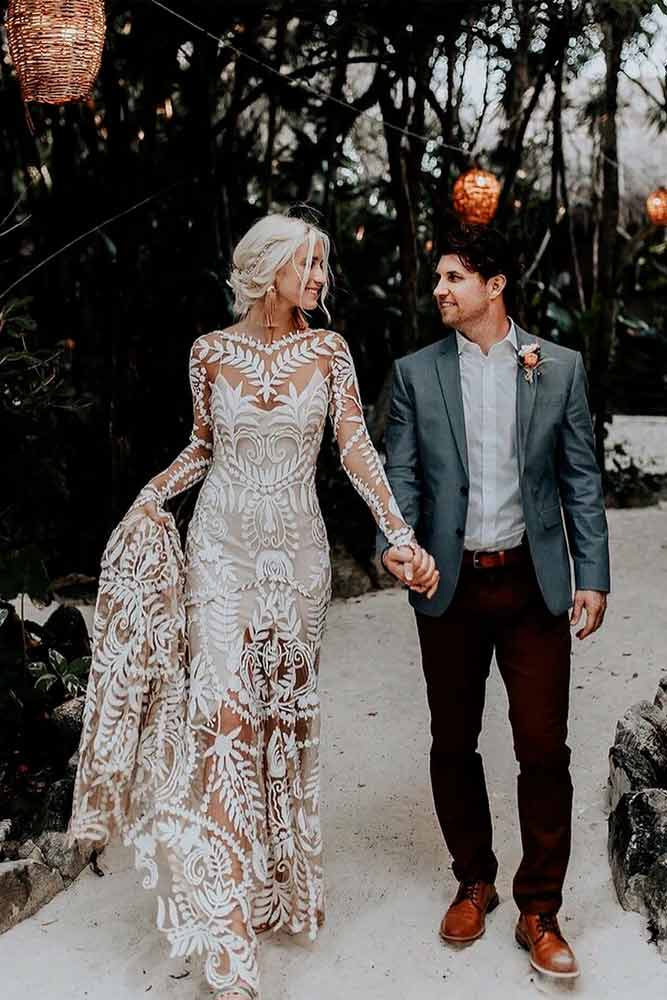 The combination of silk and lace is always a win-win, and the gown you can see here proves that. Look how elegant this model looks wearing this boho wedding gown!
Floral Chiffon Wedding Dress
Source: ruedeseinebridal via Instagram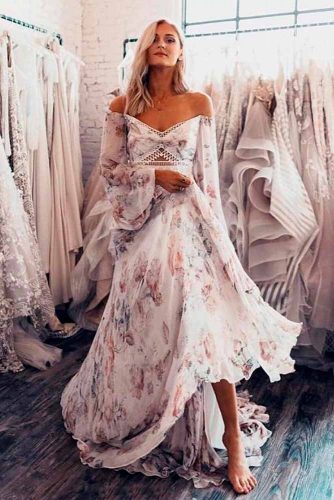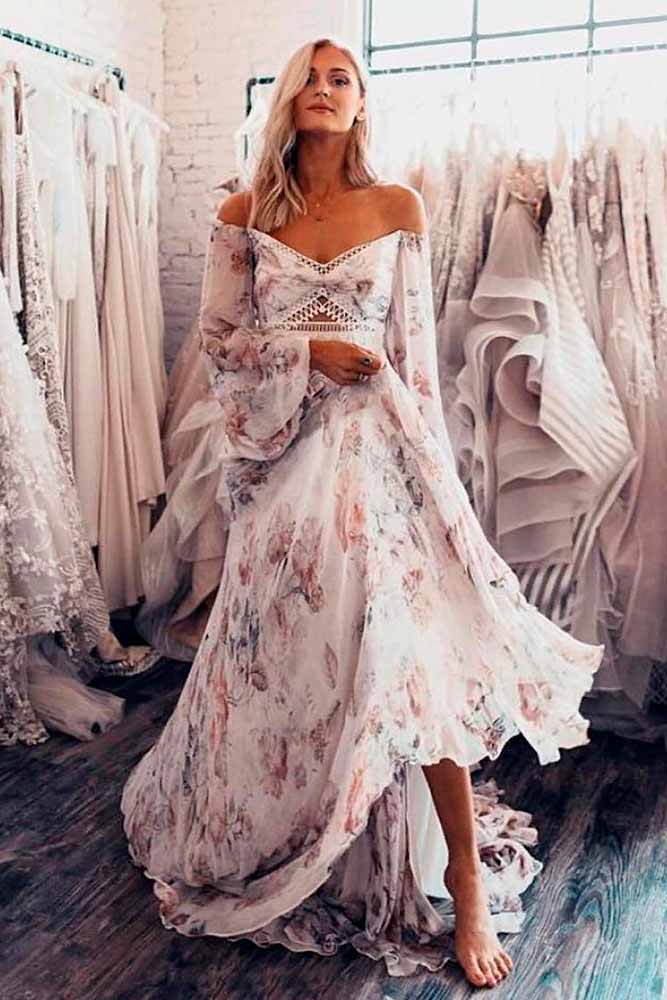 It is true that the boho style is all about flowing materials and feminine silhouettes. However, it should be mentioned that a wedding dress in a boho style can be not only light and gentle but also decorated with flowers. This chiffon wedding dress with flowers on and shoulders off is the perfect proof to the point.
True Bohemian Wedding Dress With Multiple Laces
Source: ruedeseinebridal via Instagram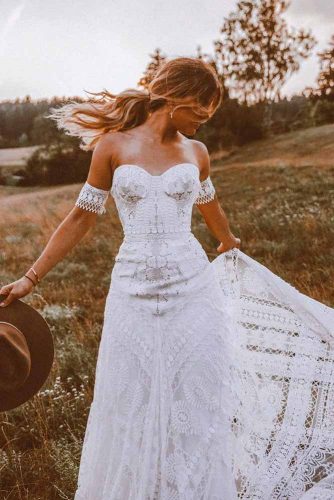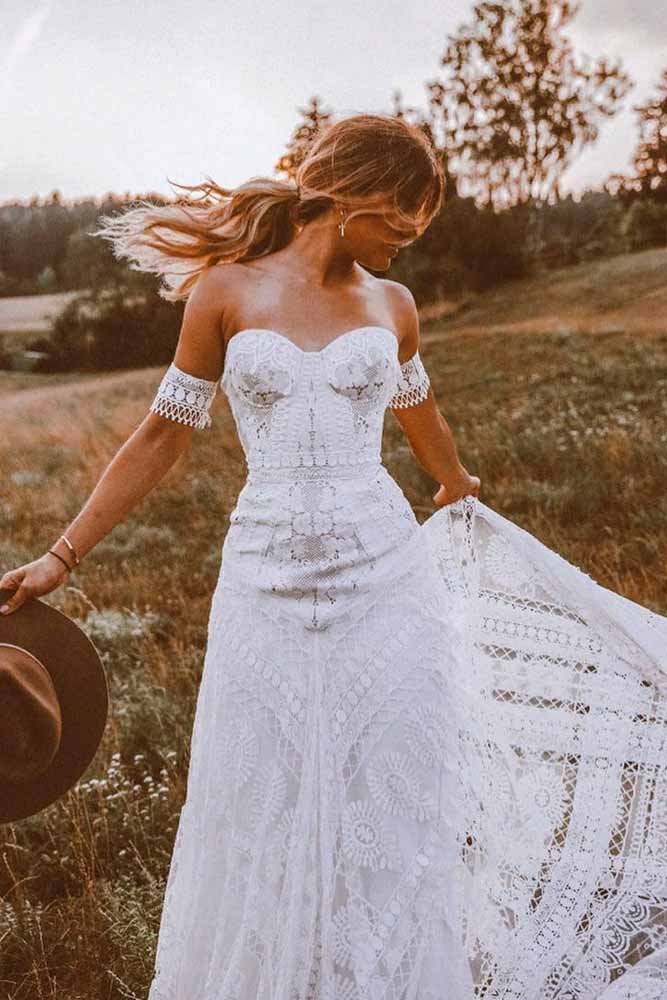 We all know that most wedding dresses are about the lace. Yet, when you think about a true boho wedding dress, the lace patterns are supposed to be unique in their own way. This bohemian dress can be that very one to inspire you!
Wild East Motifs For Bridal Look
Source: brooketaelorphoto via Instagram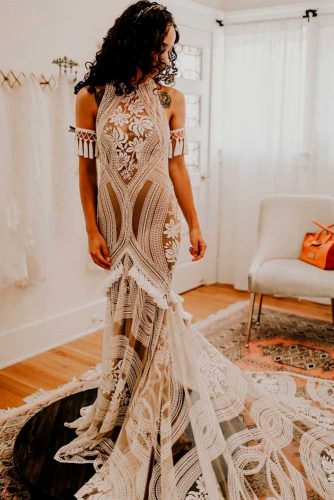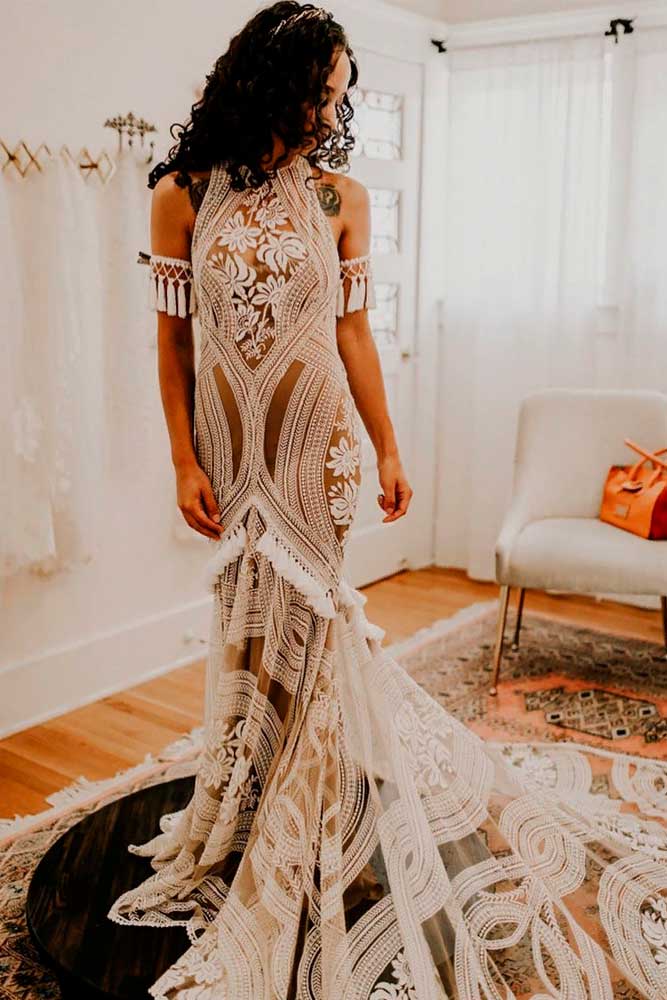 When it comes to your boho bridal look, you can go as far as to introduce some of the wild east motifs in. The thing is that not only such a dress will look unique but also it will grant you that perfect charm that a wedding dress needs.
Island Floral Printed Gown
Source: grace_loves_lace via Instagram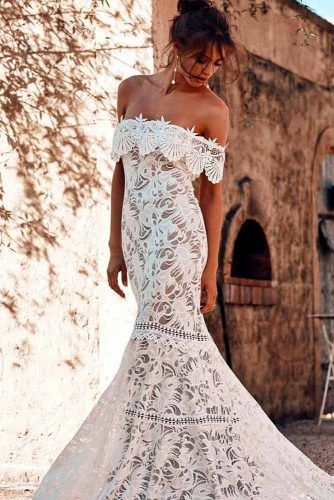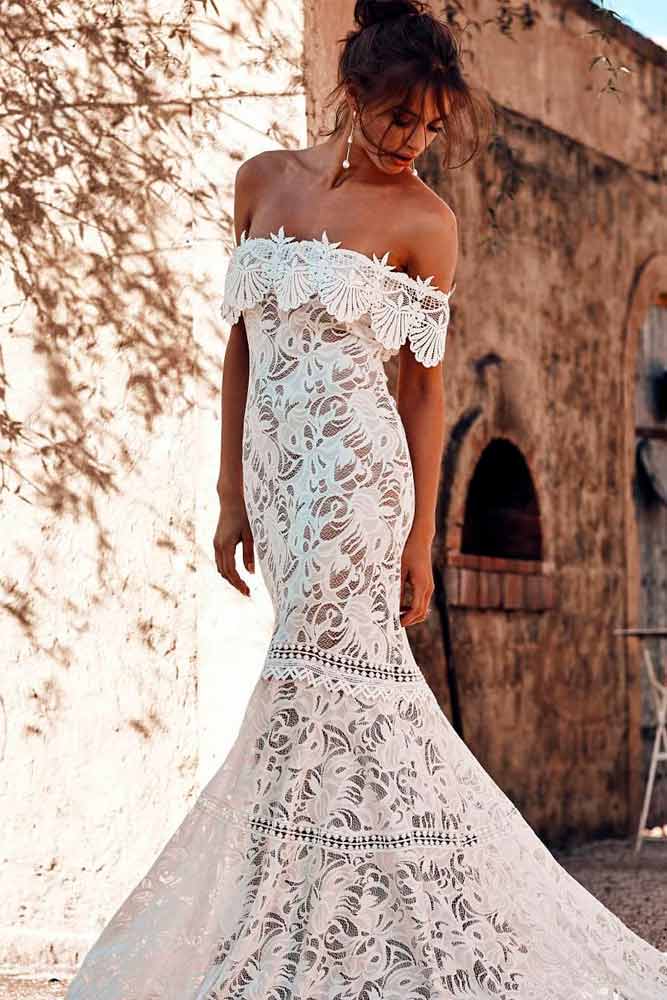 What's a better option for a wedding ceremony held on an island than a floral printed gown? The scattering of amazing tropical flowers that embellish the dress adds romance and breeze to the bride's look. If you want to show off your enviable tan and emphasize your tenderness at the same time, opt for an off the shoulder wedding gown.
Topiary V Neck Boho Wedding Dress
Source: temperleylondon via Instagram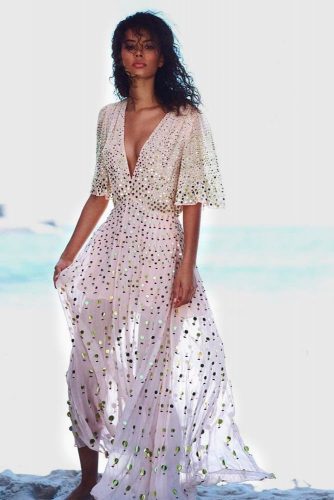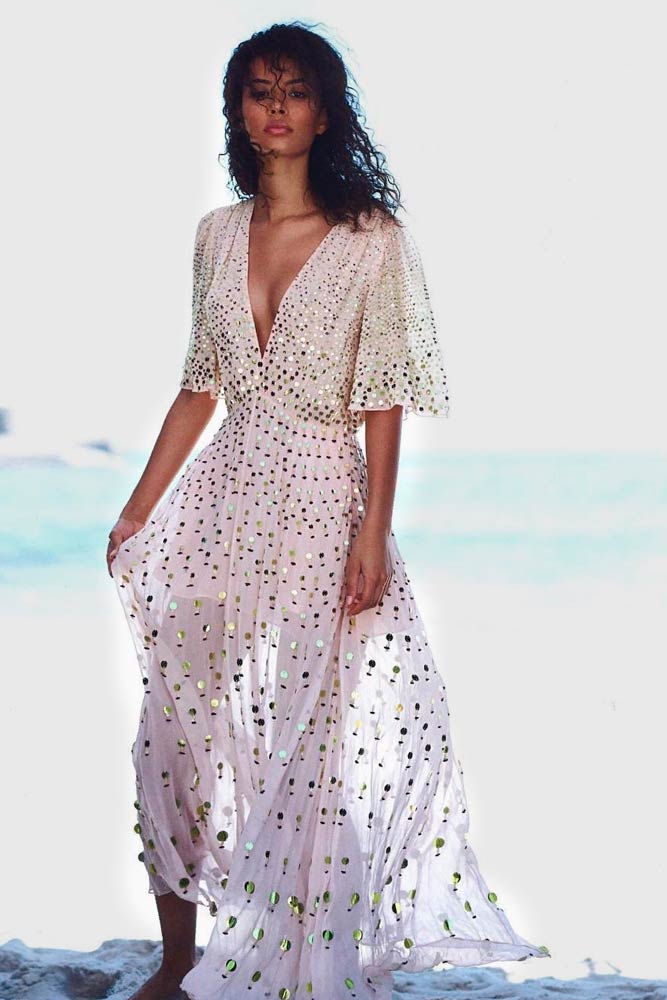 If you are looking for a dress to emphasize your feminine silhouette – we have something in store for you. The thing is that this light dress with glowing studs all over will not only accent your femininity but will also show off your flawless taste!
Elegant Styled Shoulder Off Wedding Dress
Source: daughtersofsimone/ via Instagram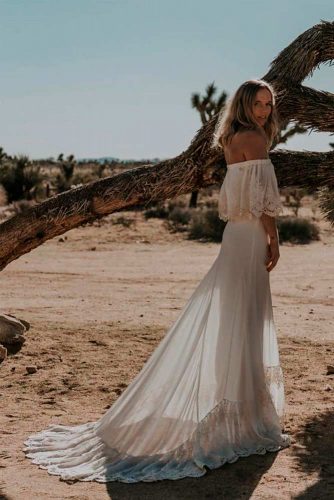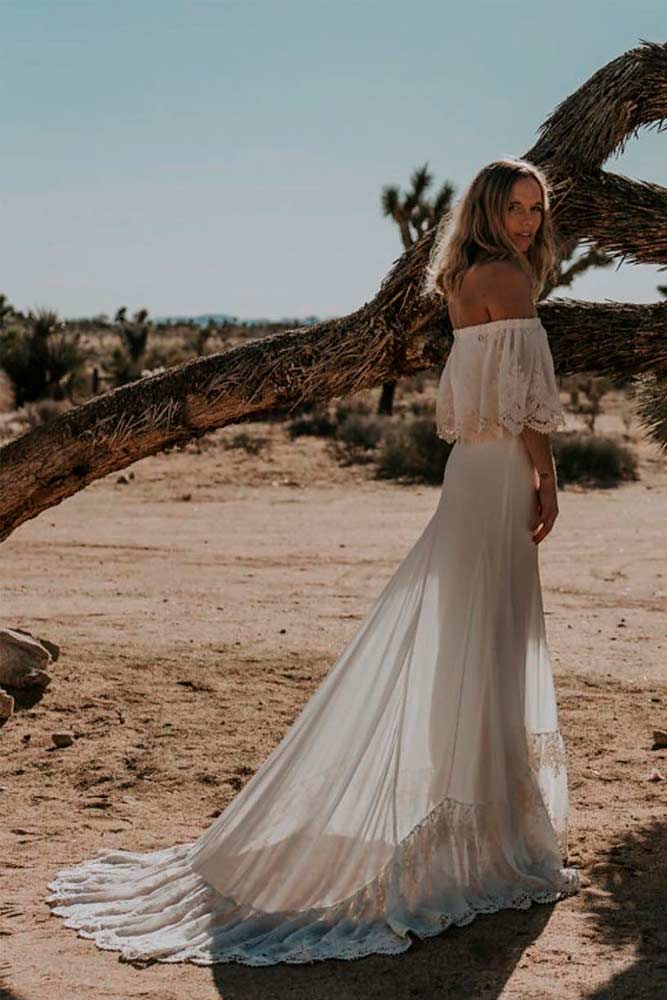 Many women prefer shoulder-off dresses to all the others when it comes to such a great occasion as a wedding. However, we have something unique to suggest to your attention. This flowing shoulder-off dress is precisely what any gentle and stylish bride needs!
Boho Lace Wedding Dress With Choir Boy Sleeves
Source: madewithlovebridal via Instagram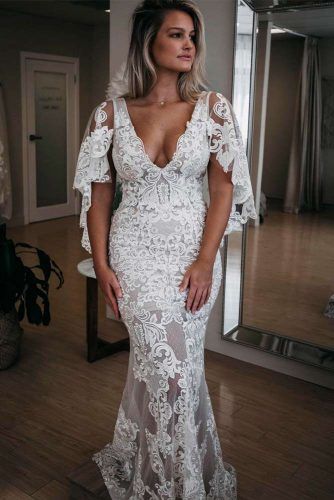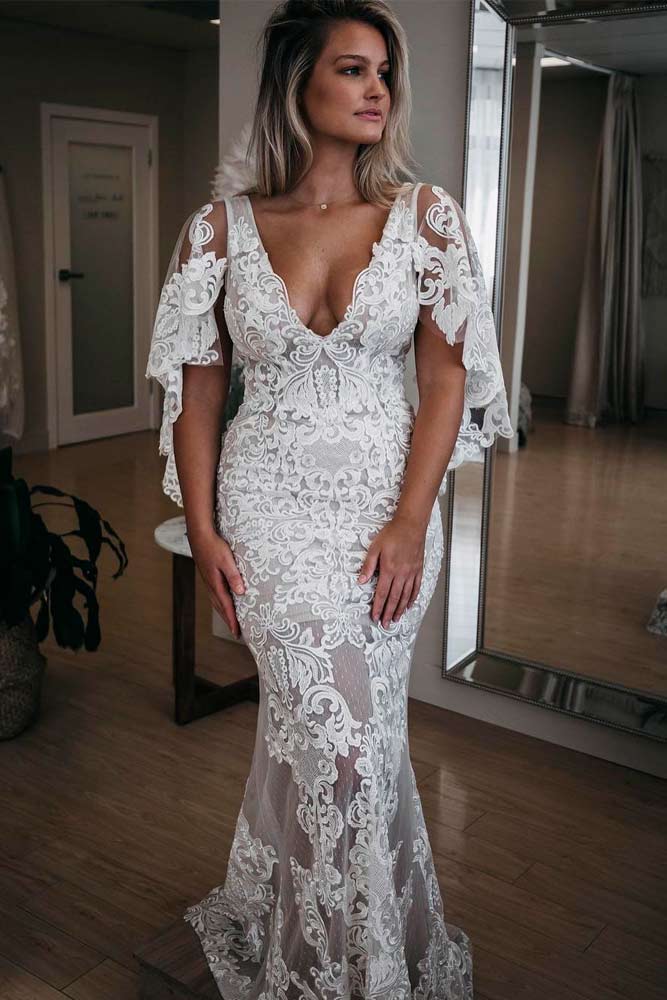 Choir boy sleeves serve as a perfect accompaniment for a mermaid wedding dress. They come down your arms delicately making your look even more feminine and romantic. Besides, they become very handy in case you feel chilly in the evening. Thus, you can continue your celebration without ruining the look with your hubby's tuxedo jacket. Besides, he can get cold too.
Simple Hippie Wedding Dress With Floral Pattern
Source: immaclenovias via Instagram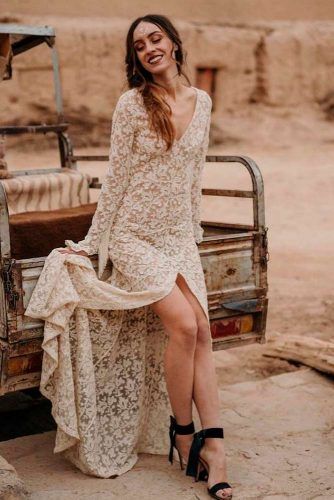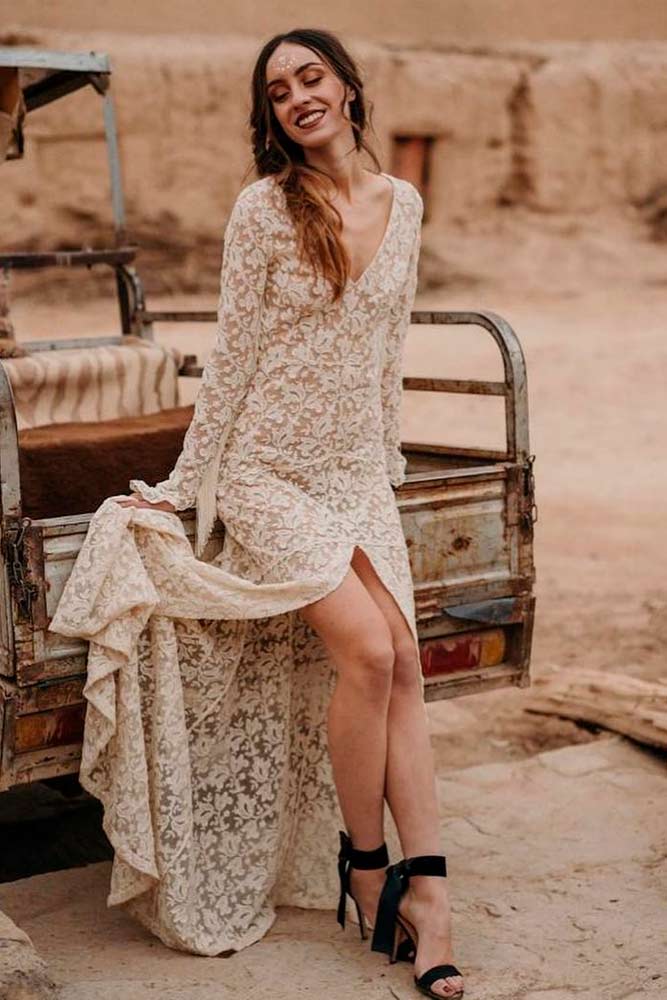 This boho wedding dress represents simplicity in its finest. Although it doesn't have any intricate design elements or appliques, you can't call it plain. The floral pattern turns out to be its most distinctive feature, but it's more than enough. The central leg slit of this dress adds sensuality and elegance to your look.
Wild Indian Wedding Dress Style
Source: ruedeseinebridal via Instagram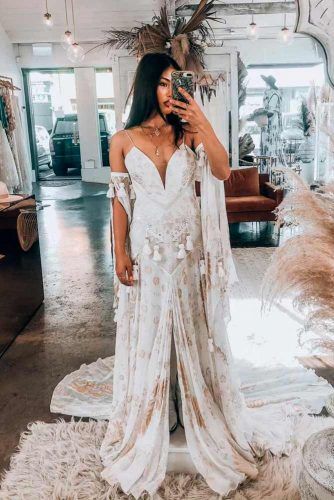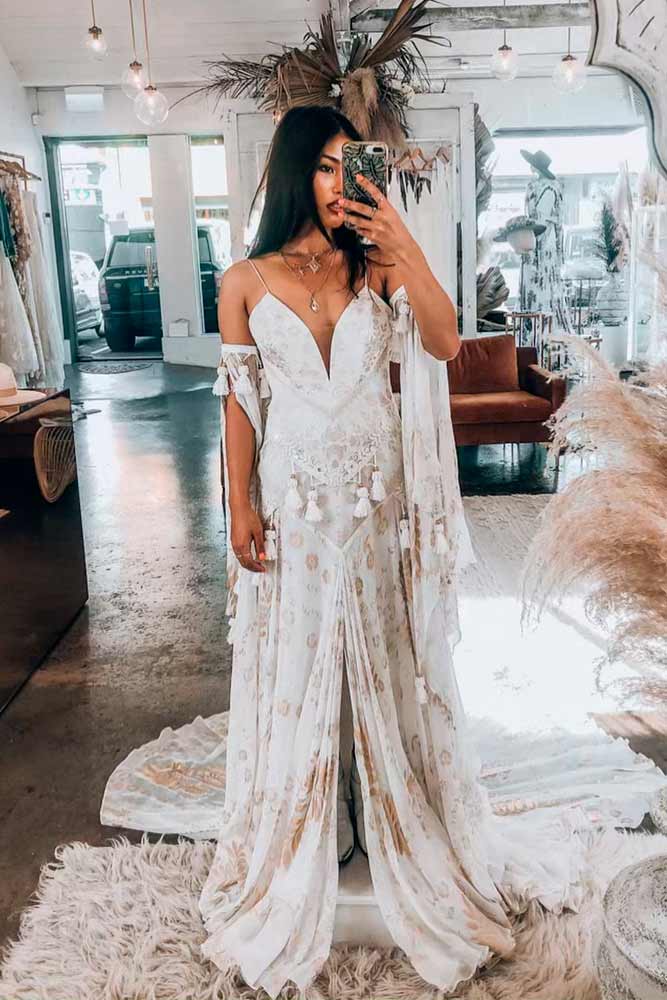 Indian wedding dresses have this unique flair that's very hard if possible to replicate. This very gown is tailored in a boho chic to enhance its airy and carefree feel. The tassels add ethnicity to the look, and spaghetti straps help to keep the focus around the neck area so complement it with some nice layered necklaces.
Strapless Bohemian Wedding Dress With Fringe
Source: ruedeseinebridal via Instagram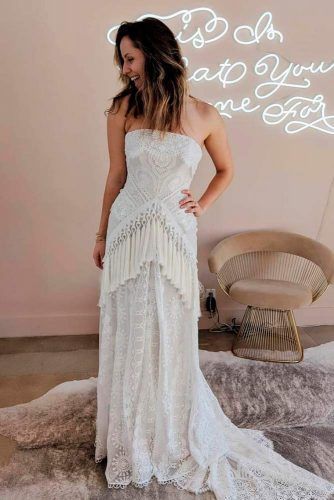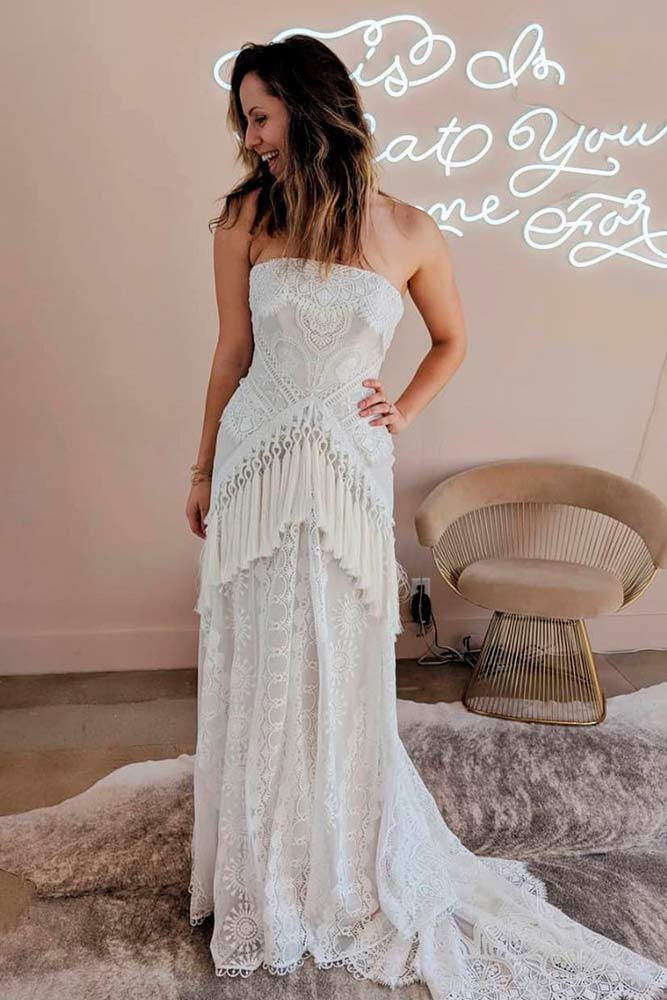 A strapless dress is almost always a win-win solution for the wedding because it instantly makes the bride appear feminine and charming. A long lace train balances out the look and adds a dose of elegance to the dress. However, the most unusual and eye-catching element of this gown is the fringe that falls down gradually.
Bohemian Wedding Dress With Ostrich Feathers
Source: valdrinsahitiofficial via Instagram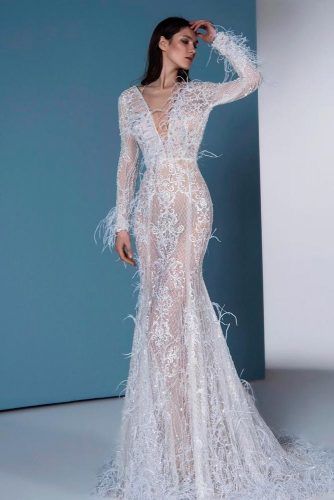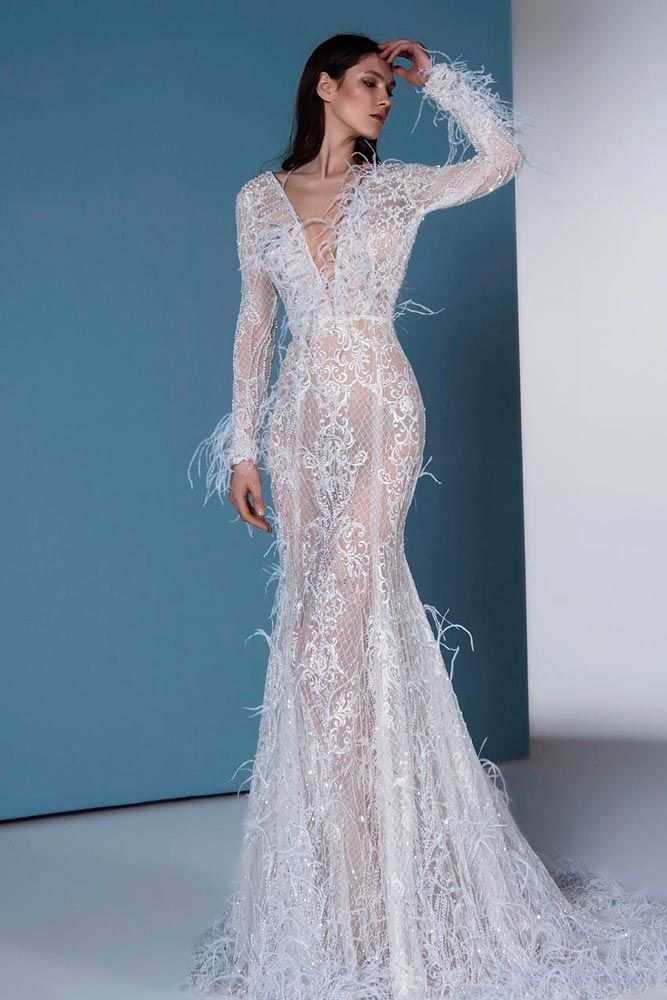 Do you want to give your bohemian mermaid wedding dress an unusual feel? Embellish it with subtle ostrich feathers then, which will make your look even more heavenly and unforgettable. Being as light as a cloud, they create a blurry highlighted silhouette that looks as if you're glowing with happiness.
Stylish Wedding Dress Like As Fringe Robe
Source: jonnieandgarrett via Instagram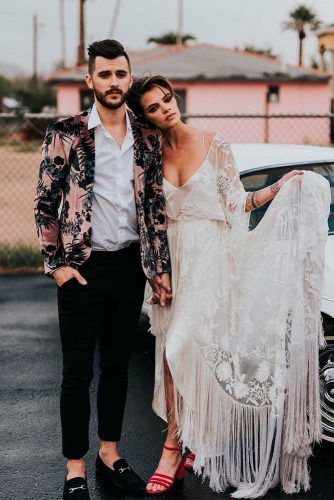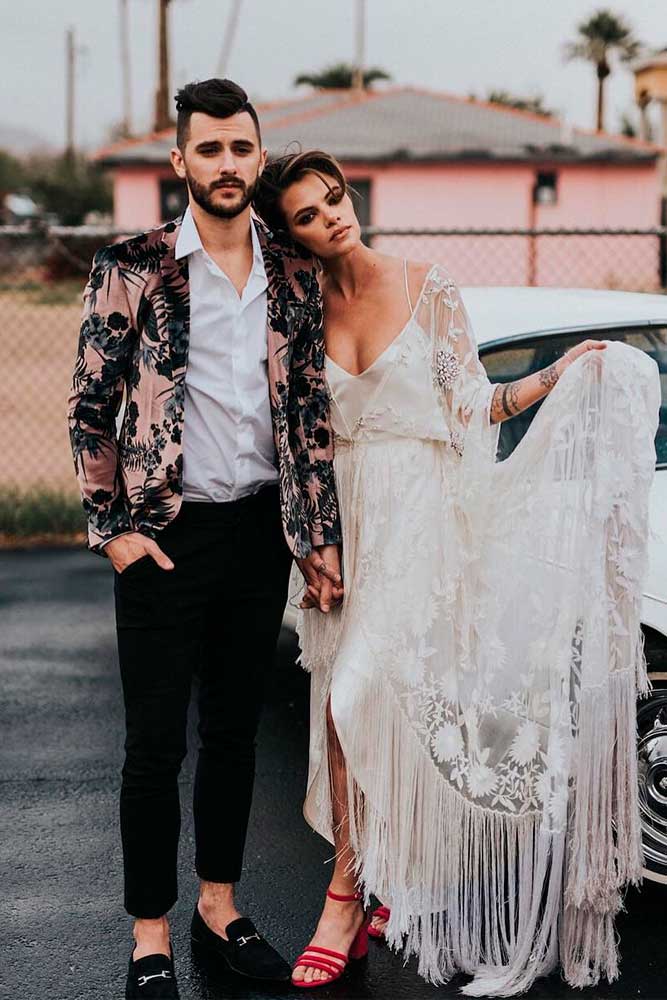 If you're a fashion forward couple that wants to make a stylish statement with their trendy boho wedding outfits, then there's no better choice for the bride than a gawn that is tailored in the image of a fringe robe. Fancy yet casual, it will allow you to express your personality and retain the solemnity of the moment.