A Boho wedding dress is a must this season! Some people consider Boho to be boring and old fashioned, but we don`t agree. Why? There are so many options done in such a style completed with modern details that make these wedding gowns perfect. From open backs to long sleeved romantic designs that will make your look unforgettable. We want you to think properly and pick the dress of your dream, so our best tip would be to look through the gowns without rushing. Try on different variants and choose your dream one. If you need some help, then we are here to give you some suggestions in the Boho style that occupied wedding salons this year.
Boho Wedding Dress With Long Sleeves
Boho Wedding Dress With Long Sleeves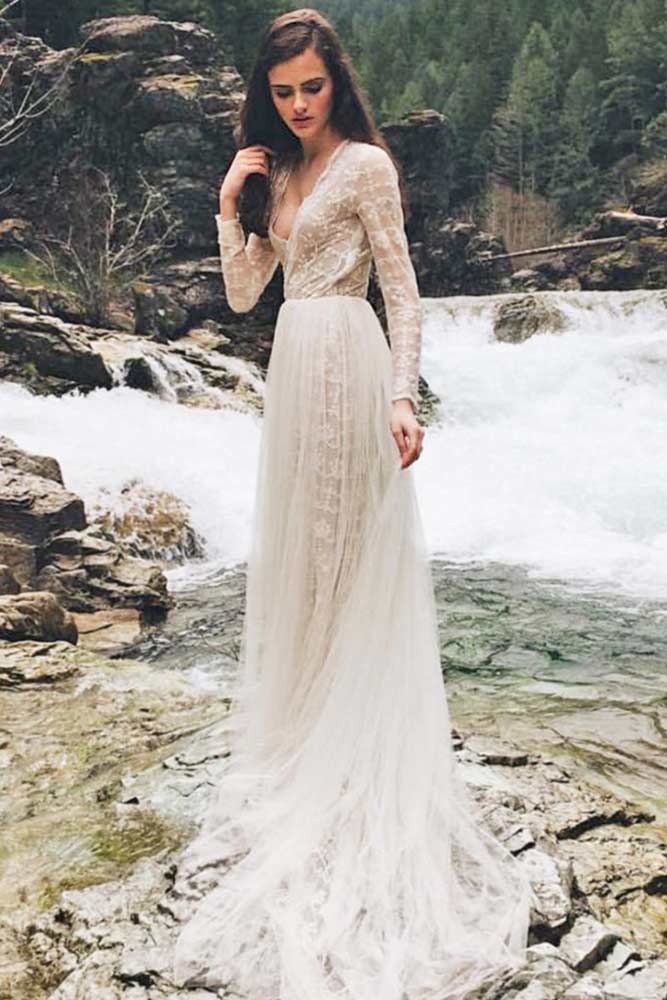 Credit photo: instagram.com/_emilyriggsbridal
This long sleeve bohemian wedding dress is a true dream for people who want to choose something unusual for their special day. Long sleeves that bring some mystery to the whole look will help you put an accent to a long super airy skirt. Made of a beautiful combination of tulle and lace, it will be just right to show how tender the bride is. Couldn`t find the wedding gown that will show your character? Look carefully at this one then.
Best Bridal Dress For A Beach Wedding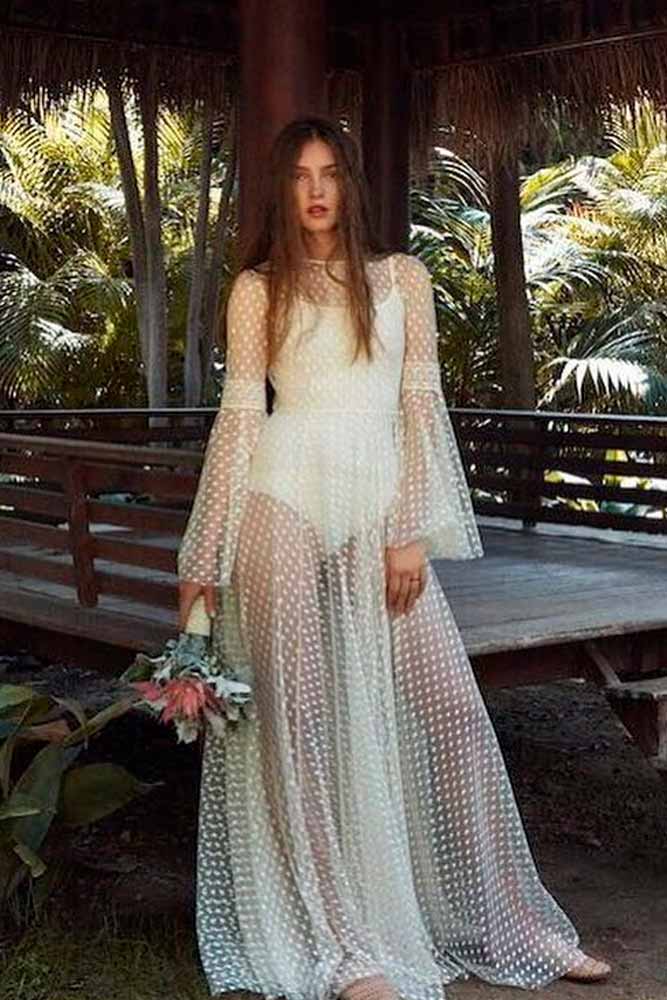 Credit photo: instagram.com/immaclenovias
Is your dream wedding location a tropical beach with a bungalow and palm trees? Then this style is just for you. Super light and daring, it's an ideal option for girls who have nothing to hide, don't you think? With beautiful long flounce sleeves, thin see-through lace and floor length, it's exactly what you are looking for. Revealing yet perfect for a beach ceremony.
Fab Long Sleeve Wedding Dress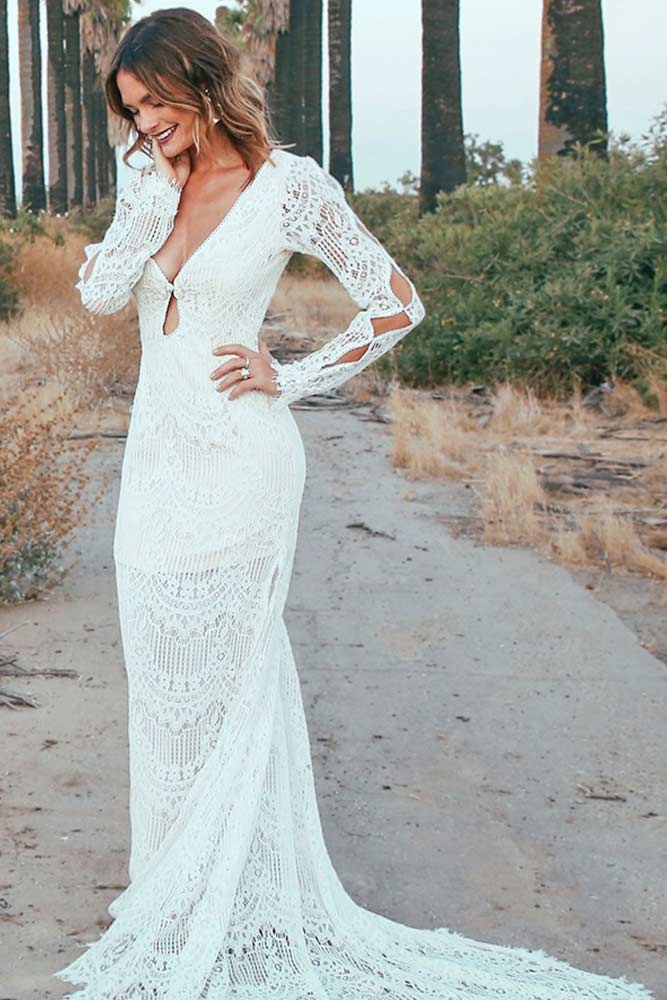 Credit photo: instagram.com/daughtersofsimone
Do you prefer fabulous wedding gowns with long sleeves? If yes, then look at this one. Super romantic it is a perfect match for those who want their wedding look to be simple but dreamy at the same time. Lacey material which adds a bit of mystery to the whole look is spread all over the gown down to the ground where it is gathered into a beautiful skirt with the tail. Isn`t it a dream dress?
Boho Wedding Dress With An Open Back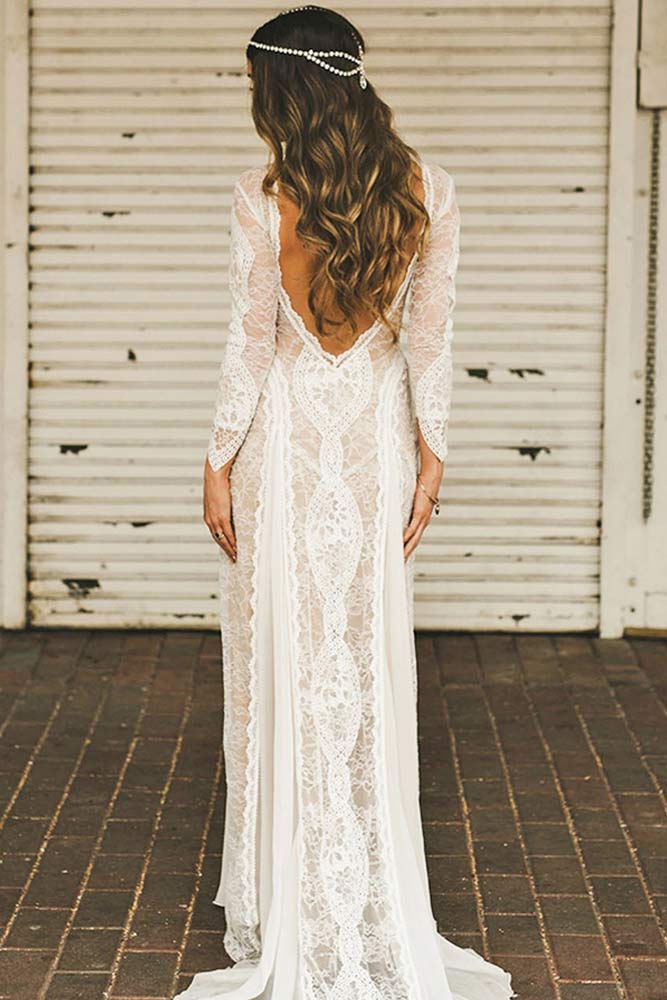 Credit photo: instagram.com/grace_loves_lace
Super simple, it`s still one of the trendiest in this year. Done in a special way, it will make your look truly awesome. A long skirt that goes up into the top with an open back and long sleeves. Isn`t it perfect? All made of lace, it`s super romantic for a wedding day.
Gypsy Dress With Embroidery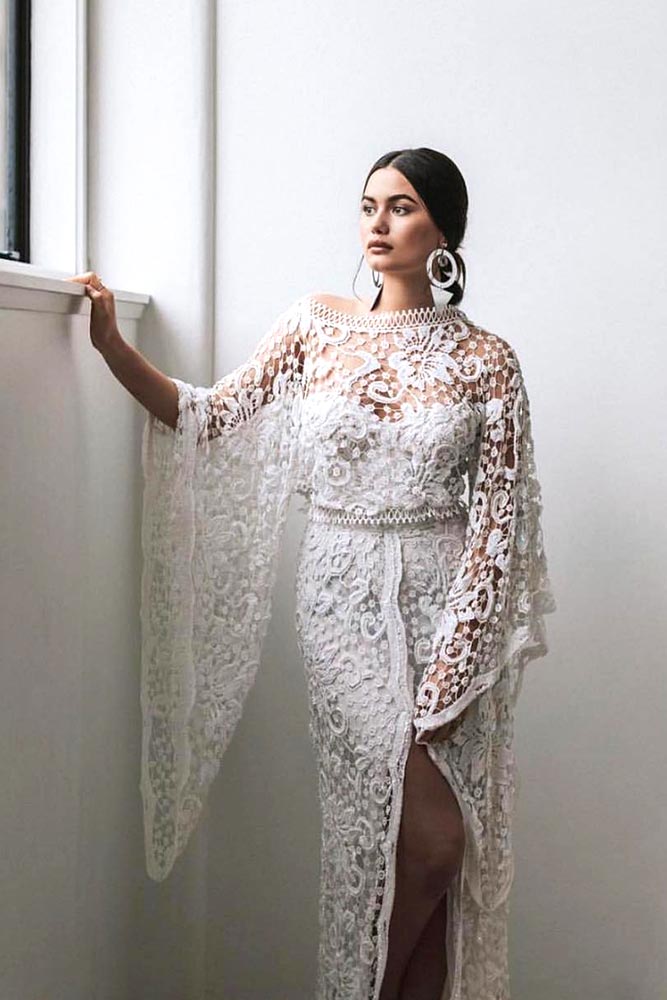 Credit photo: instagram.com/ruedeseinebridal
This gypsy wedding dress with embroidery will work wonderfully for brides who have an artistic soul. Long loose sleeves of this dress design appear very romantic.
Royalty Wedding Gown For A Floral Princess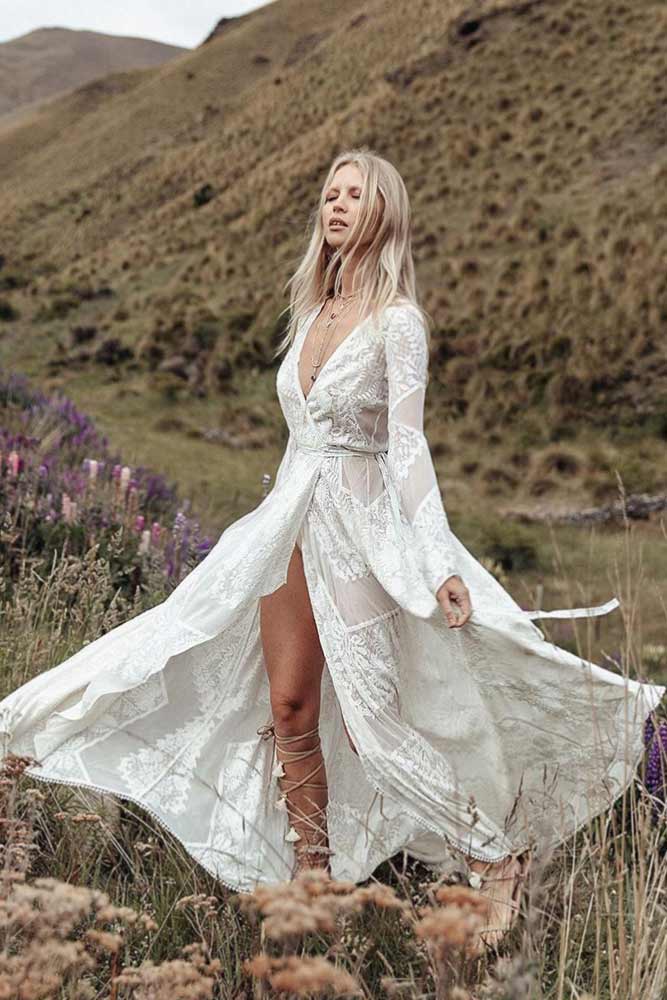 Credit photo: instagram.com/ruedeseinebridal
This wedding dress in a bohemian style has a flowing silhouette and shows off some bare skin. Will your wedding ceremony take place outside? Then this dress will work great for you.
Floral Dress With Indian Fringe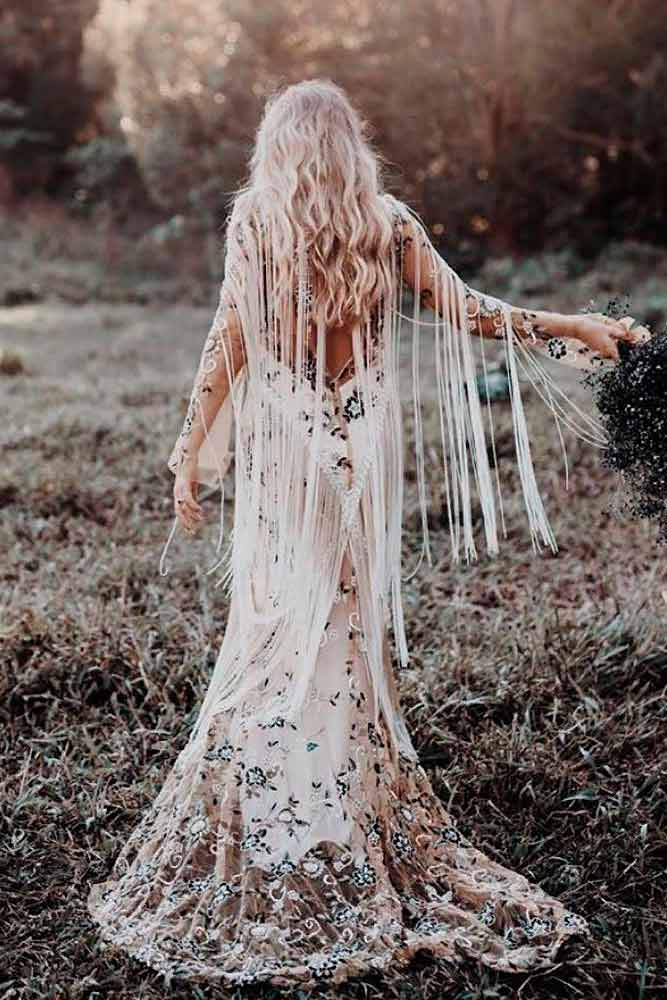 Credit photo: instagram.com/ruedeseinebridal
This wedding dress design is spiced up not only with subtle floral patterns but also with the Indian fringe. It would be a nice choice, if you are looking for the unique dress.
Floral Chiffon Wedding Dress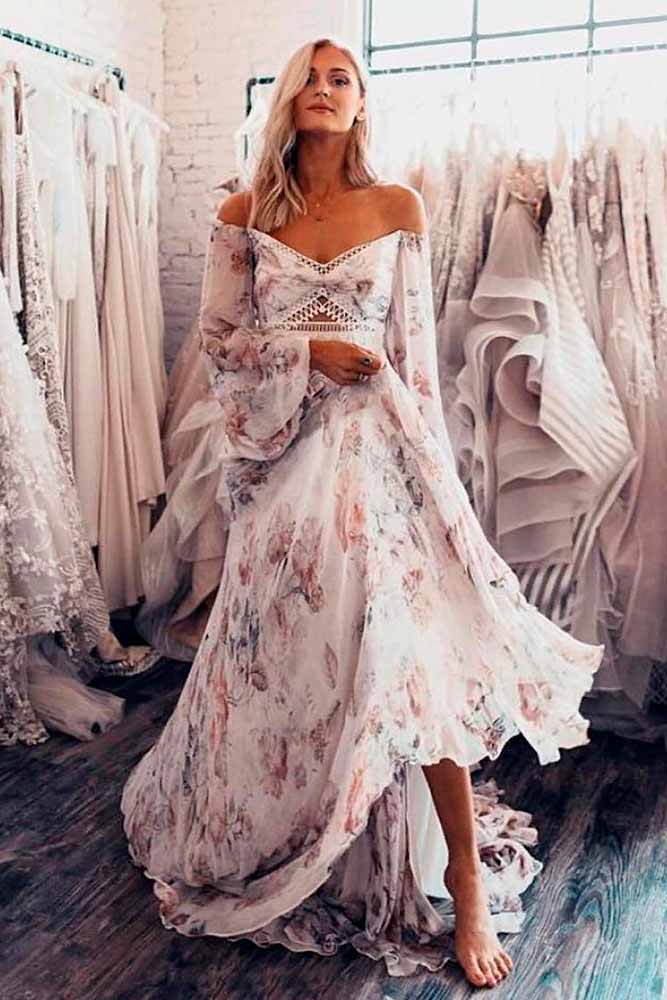 Credit photo: instagram.com/ruedeseinebridal
It is true that the boho style is all about flowing materials and feminine silhouettes. However, it should be mentioned that a wedding dress in a boho style can be not only light and gentle but also decorated with flowers. This chiffon wedding dress with flowers on and shoulders off is the perfect proof to the point.
Bohemian Wedding Dress With Ostrich Feathers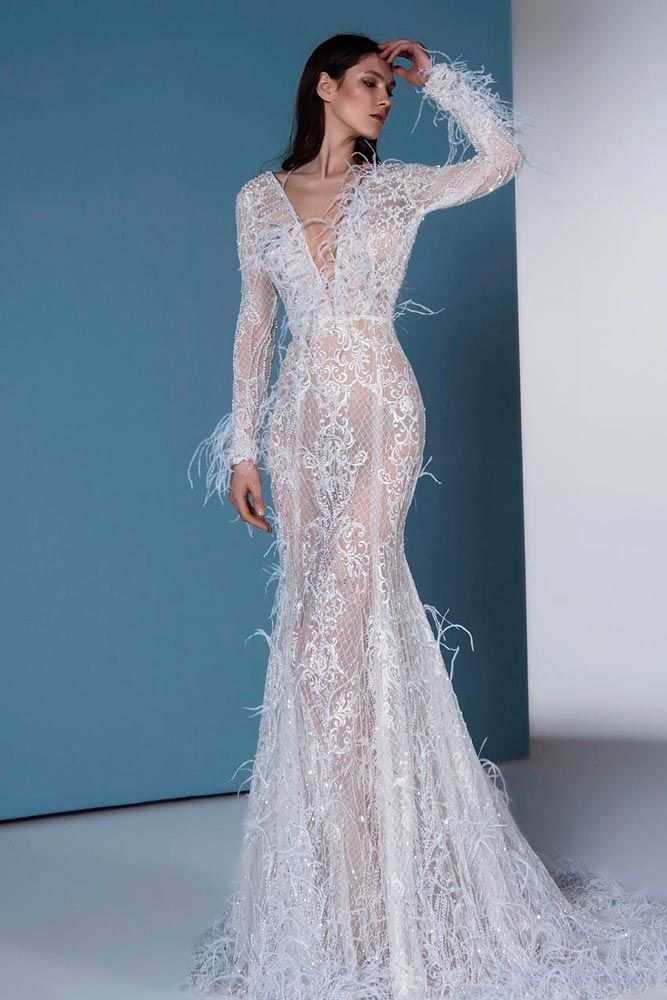 Credit photo: instagram.com/valdrinsahitiofficial
Do you want to give your bohemian mermaid wedding dress an unusual feel? Embellish it with subtle ostrich feathers then, which will make your look even more heavenly and unforgettable. Being as light as a cloud, they create a blurry highlighted silhouette that looks as if you're glowing with happiness.
Stylish Wedding Dress Like As Fringe Robe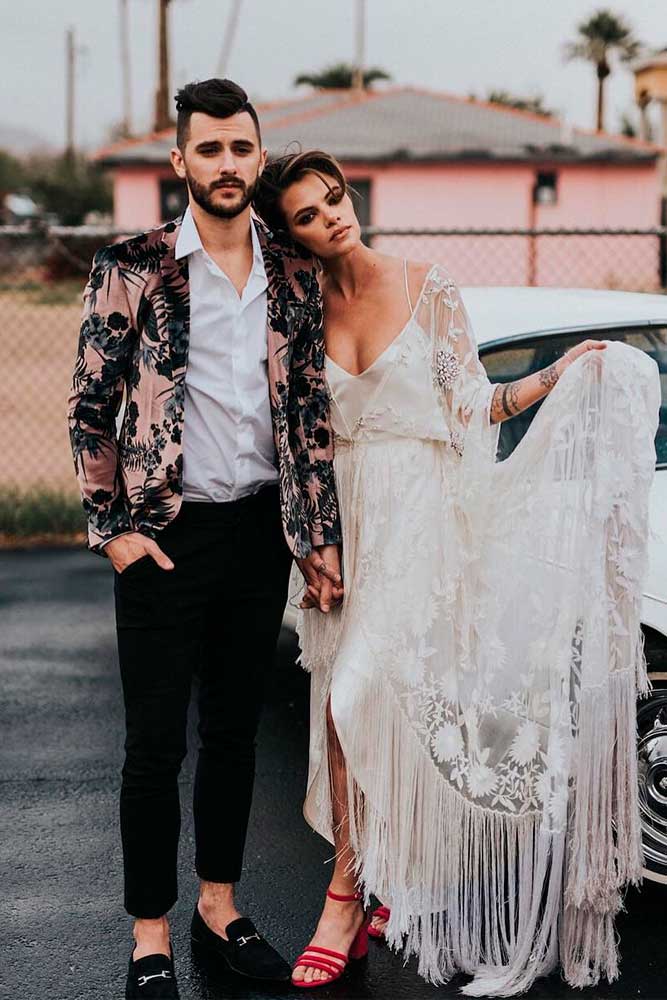 Credit photo: instagram.com/jonnieandgarrett
If you're a fashion forward couple that wants to make a stylish statement with their trendy boho wedding outfits, then there's no better choice for the bride than a gawn that is tailored in the image of a fringe robe. Fancy yet casual, it will allow you to express your personality and retain the solemnity of the moment.
Simple Hippie Wedding Dress With Floral Pattern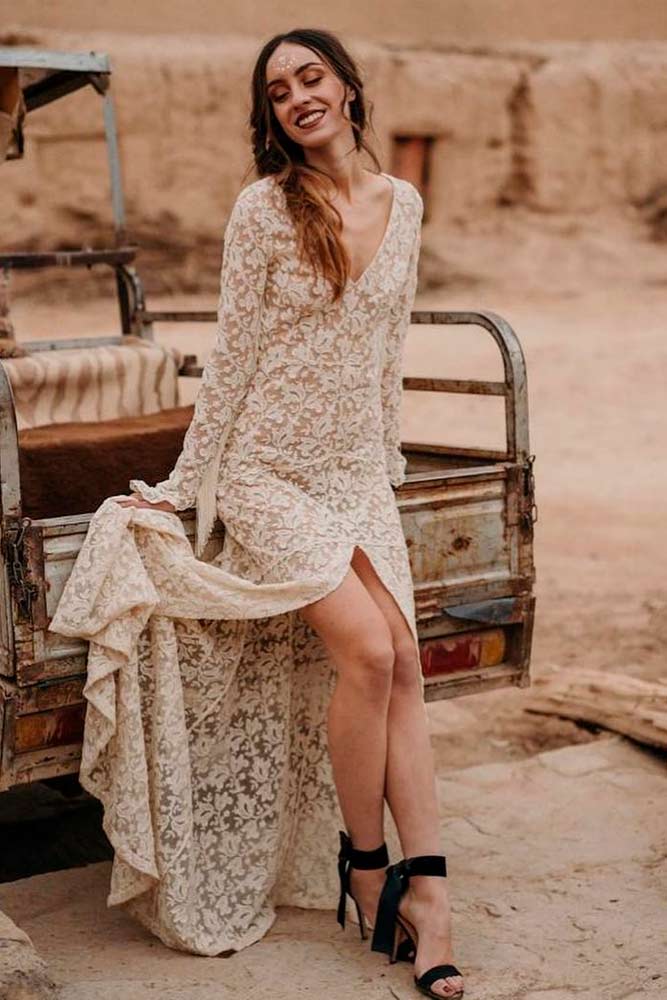 Credit photo: instagram.com/immaclenovias
This boho wedding dress represents simplicity in its finest. Although it doesn't have any intricate design elements or appliques, you can't call it plain. The floral pattern turns out to be its most distinctive feature, but it's more than enough. The central leg slit of this dress adds sensuality and elegance to your look.
Careless Boho Wedding Style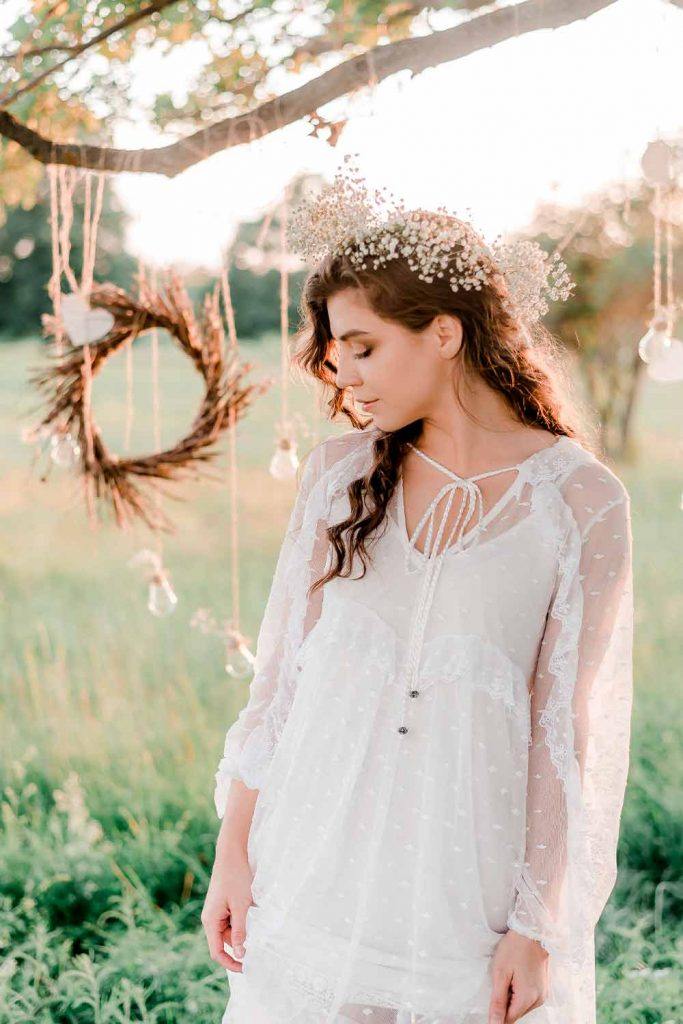 Creating that airy impression is one of the main goals that every boho bride sets in front of her, and we are not going even to try denying it. This gentle image is created with the help of a simple flowing dress, which creates that careless impression that is hard to take the eyes off. There is nothing better to complete the look but a lovely wild-flower wreath, don't you think?
Wedding Dress With Circular Sleeves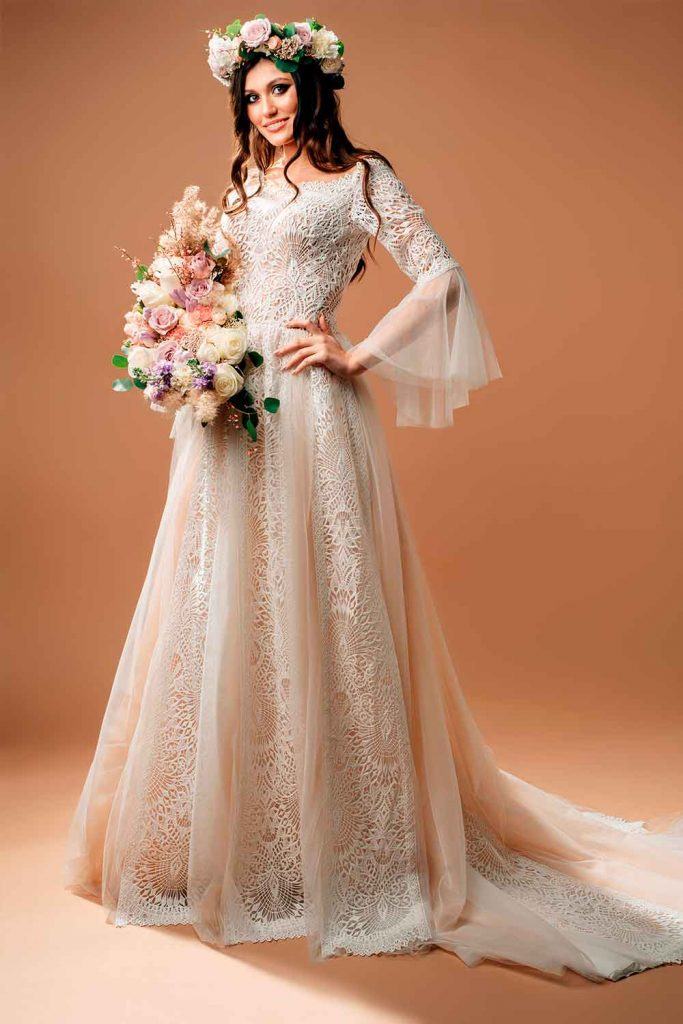 Some brides are looking for that golden middle between a classy wedding gown and a boho one. We think that this ivory dress adorned with distinctive patterns and with unique circular sleeves fits the description well. Who says that you can't kill two birds with one stone?
Boho Wedding Gown With Bishop Sleeves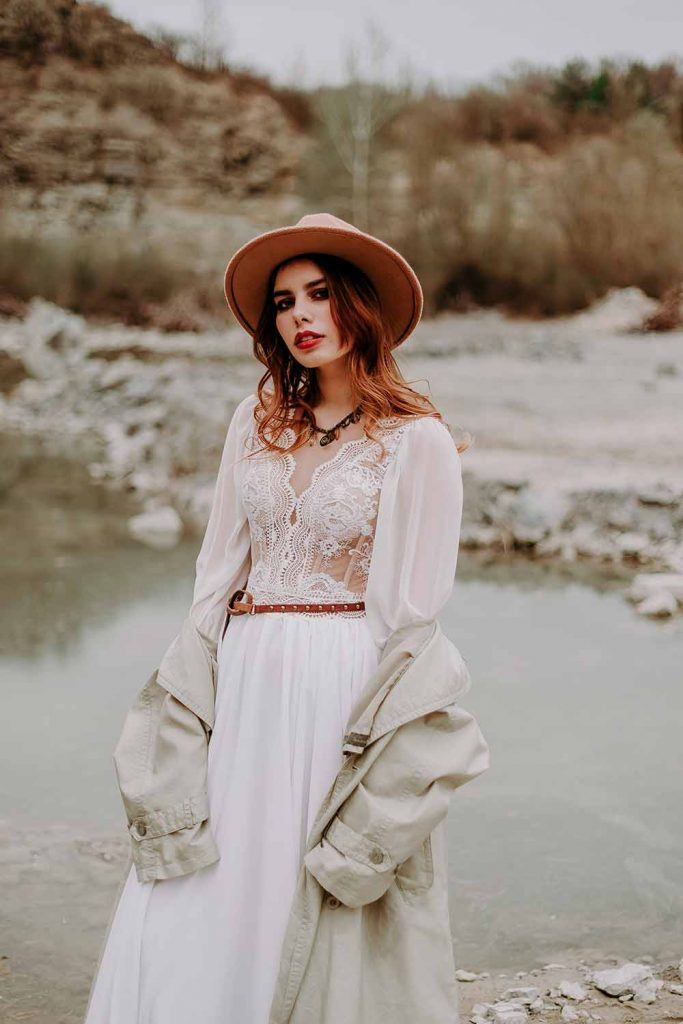 It is not that difficult to get the point that boho dresses are all about the details. Bishop sleeves, chiffon material, lovely belt to accent the tiny waist – all these elements combined create that unforgettable impression of a gorgeous boho bride.
Two Layered Wedding Gown With Long Sleeves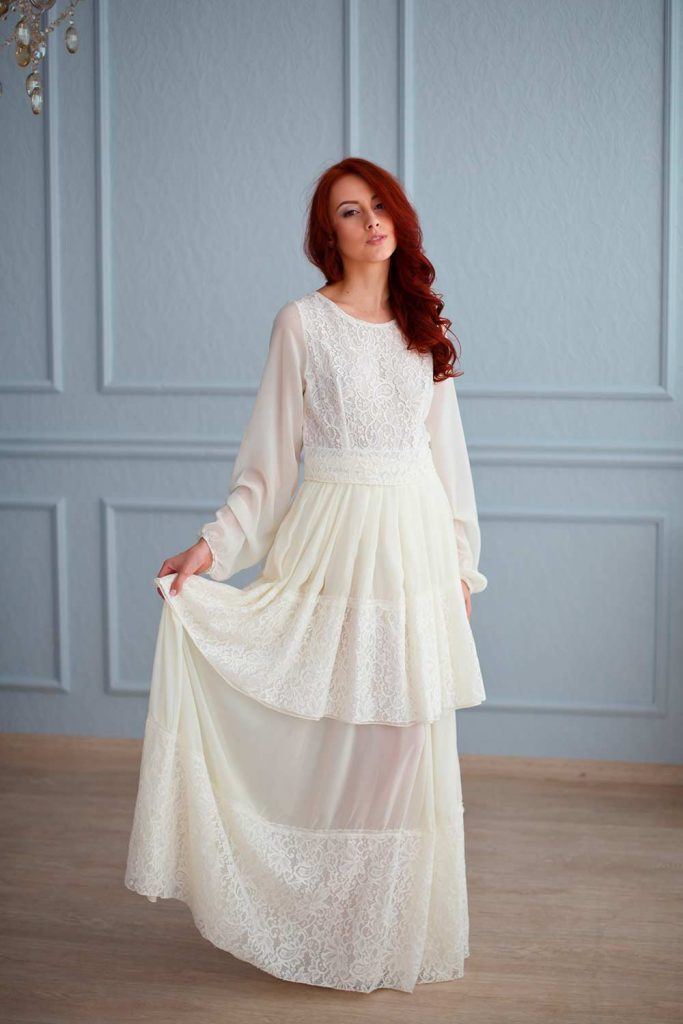 Going back to the source is never a waste, especially these days when retro vibes are highly appreciated. A two-layered wedding gown is a bit rustic and old-fashioned, but that is precisely what makes it so appealing and of the kind.
Short Wedding Dress With Long Sleeves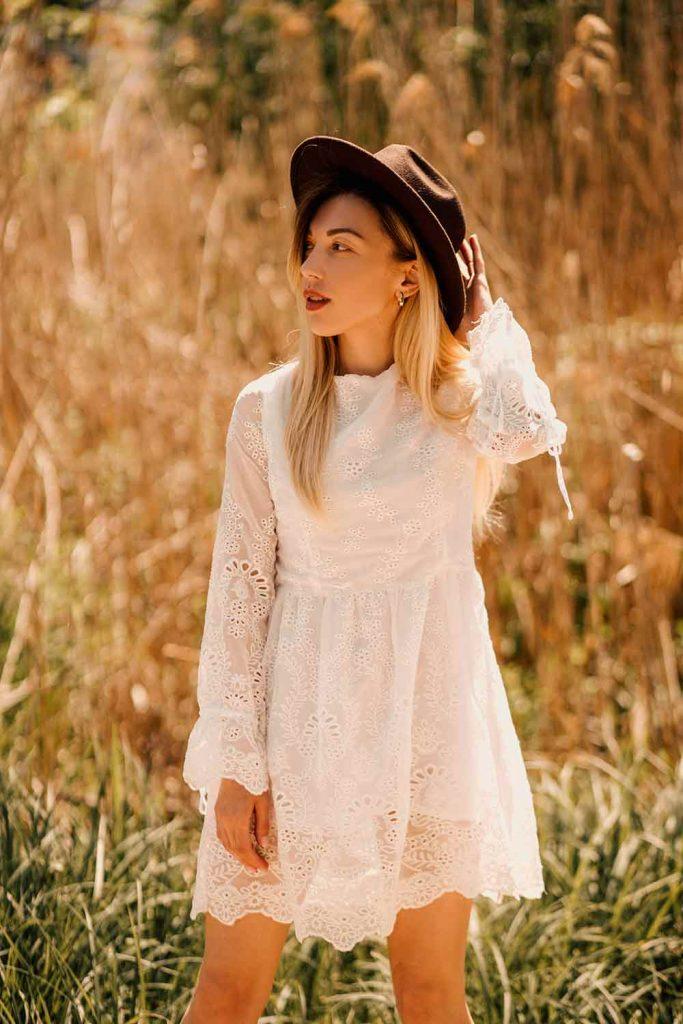 If it is a mere family and friends gathering to celebrate the holy union and you do not want to go over the edge with the dress, but you wish to look fabulous – a short boho dress is there for you. There is not a chance that anyone would dare to say that this short dress with long sleeves is too simple to be a boho wedding dress.
Medium Length Dress With Long Sleeves And Lace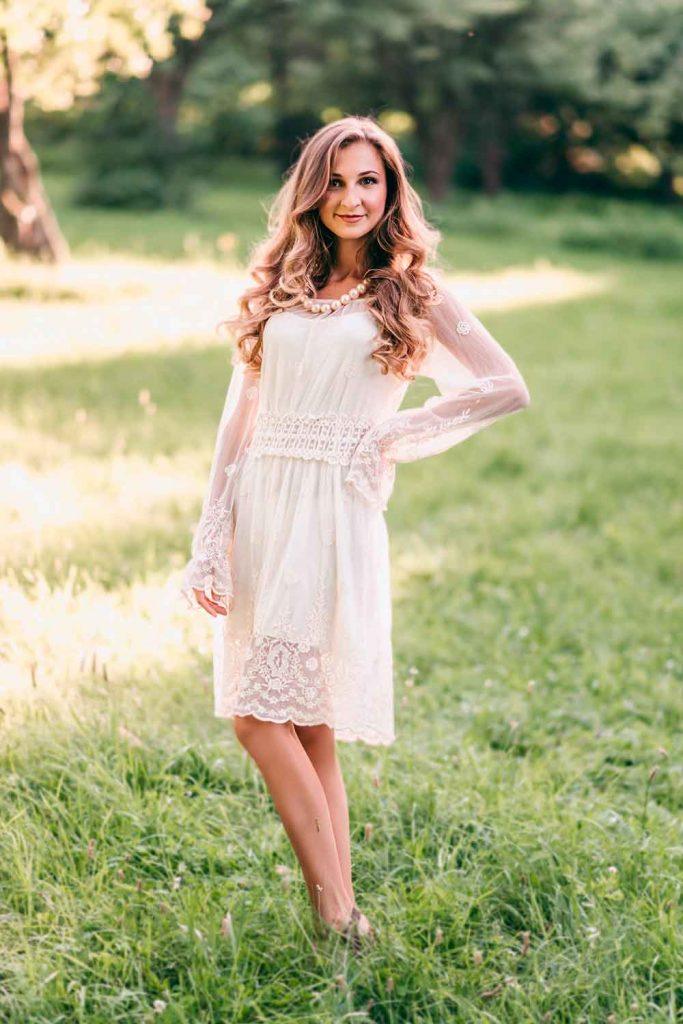 If you think that all the boho wedding dresses are too elaborate and at times revealing. The truth is that if you want your look to be feminine and reserved, there is a way also. All you should do is to find yourself a beautiful mid-length dress with fitting lace and flowing fabrics. A string of baroque pearls will make your look the one to remember.
Boho Wedding Dress With Short Sleeves
Shoulder Baring Mermaid Wedding Dress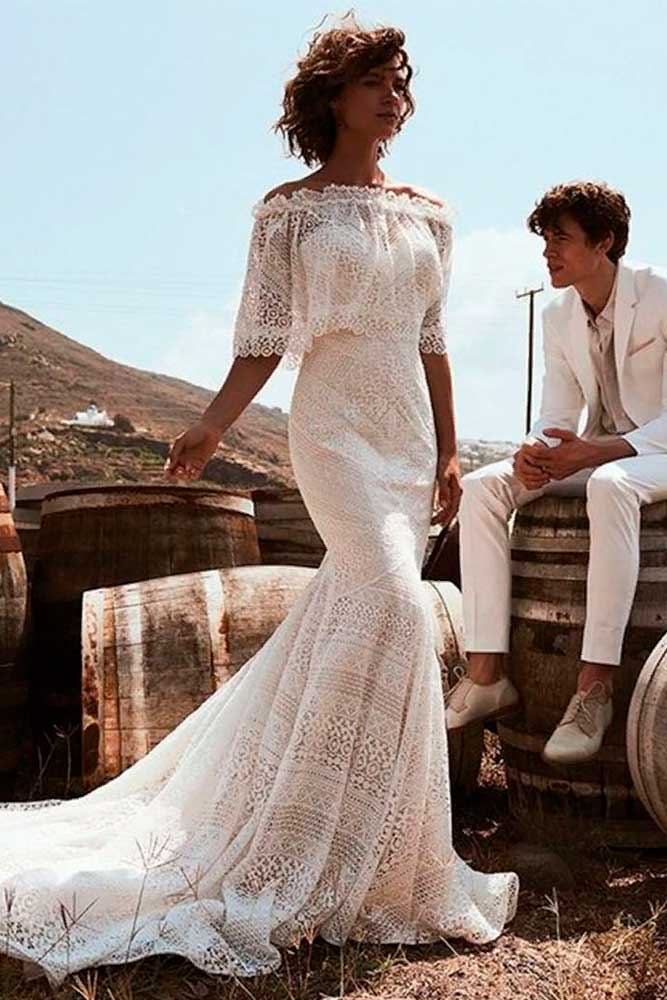 Credit photo: instagram.com/bylillianwest
The mermaid silhouette does not lose its popularity and is chosen by many brides every year. Pick a shoulder baring design like this one to appear more playful.
Delicate Guipure Wedding Dress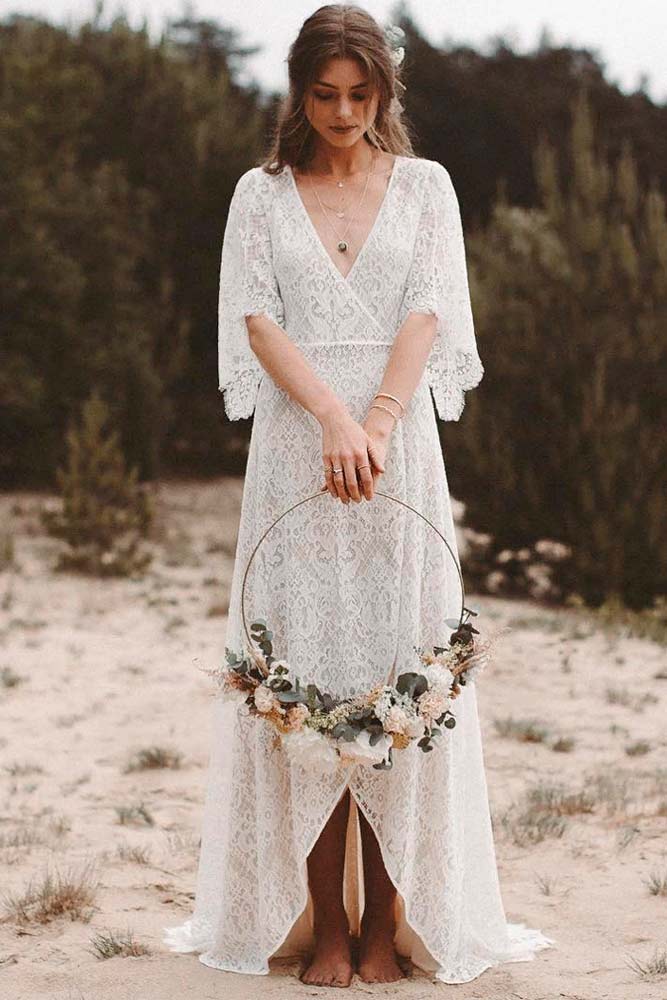 Credit photo: instagram.com/lightandlacecouture
This wedding gown is made of guipure and it really compliments this model's body shape. If we want to describe her image with only one word, we would choose the word Innocence.
Multilayered Wedding Dress With Fringe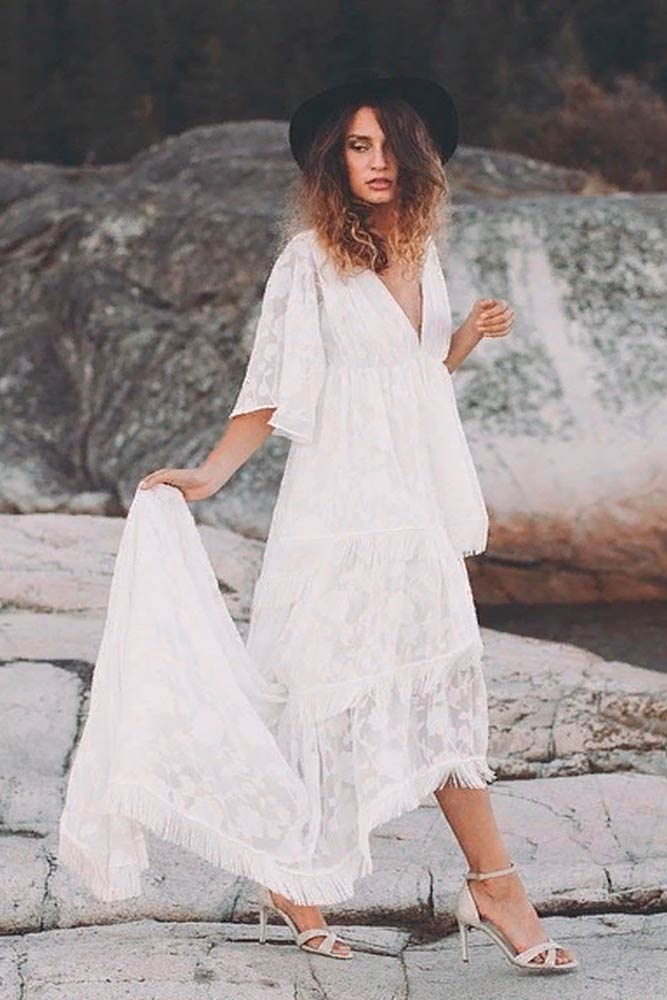 Credit photo: instagram.com/lightandlacecouture
The wedding gown depicted here has an extra long tail. Surely, long tails make the bridal image more sophisticated. But keep in mind that it would be more difficult to walk in such a dress.
Boho Lace Wedding Dress With Choir Boy Sleeves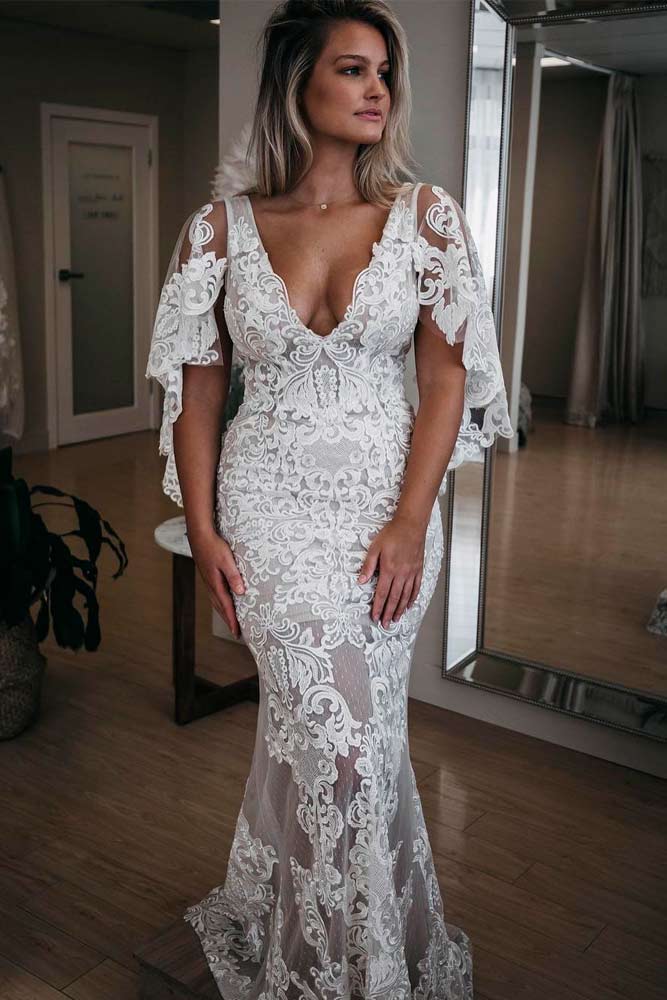 Credit photo: instagram.com/madewithlovebridal
Choir boy sleeves serve as a perfect accompaniment for a mermaid wedding dress. They come down your arms delicately making your look even more feminine and romantic. Besides, they become very handy in case you feel chilly in the evening. Thus, you can continue your celebration without ruining the look with your hubby's tuxedo jacket. Besides, he can get cold too.
Topiary V Neck Boho Wedding Dress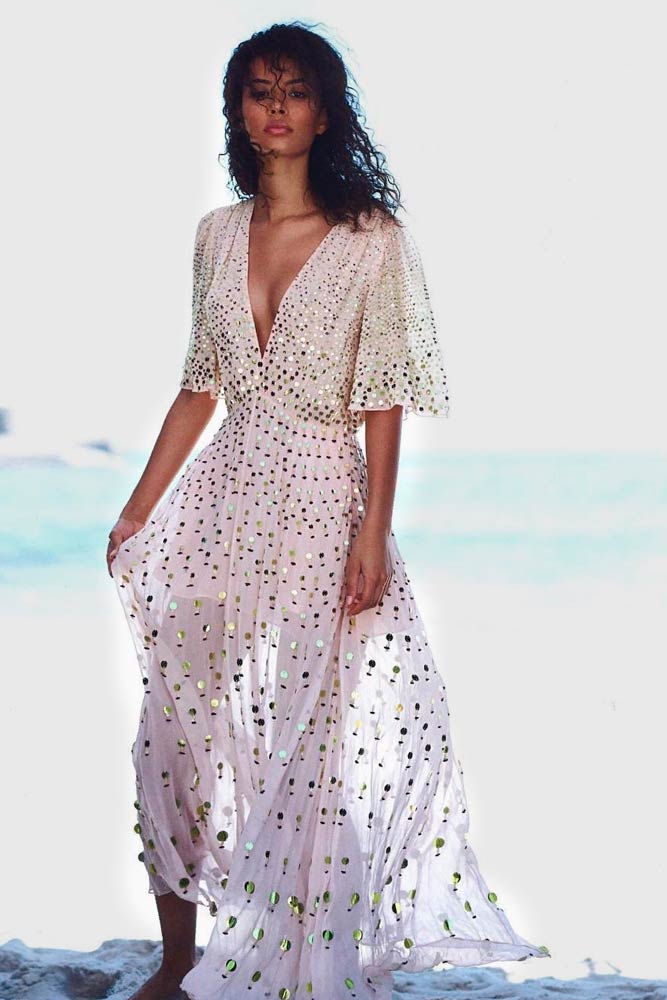 Credit photo: instagram.com/temperleylondon
If you are looking for a dress to emphasize your feminine silhouette – we have something in store for you. The thing is that this light dress with glowing studs all over will not only accent your femininity but will also show off your flawless taste!
Wedding Dress With Perforation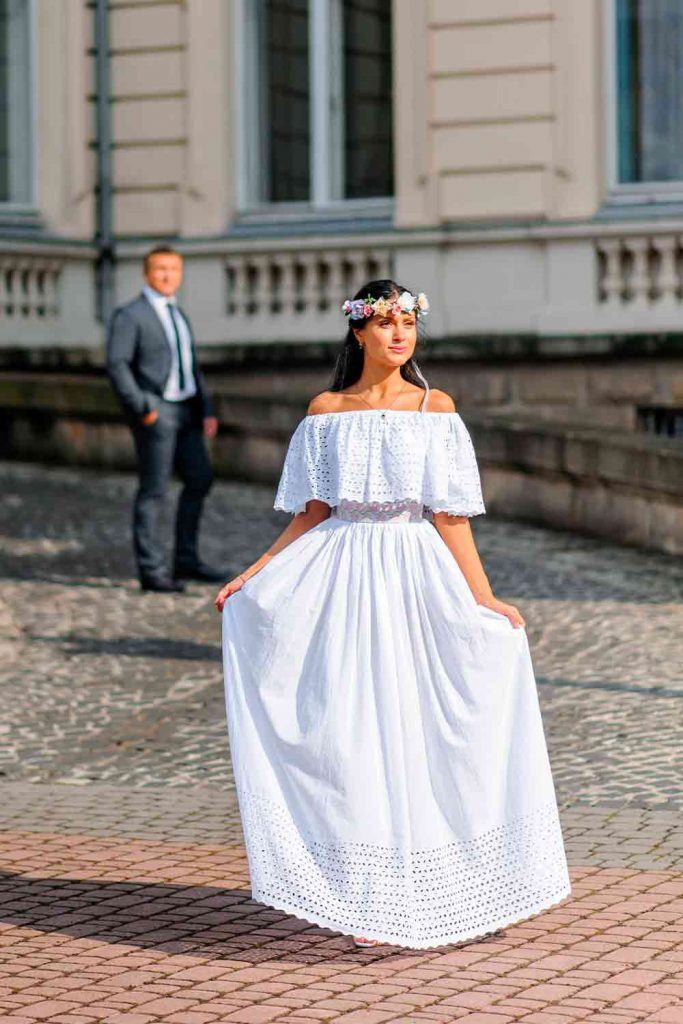 Shoulder-Off Guipure Wedding Dress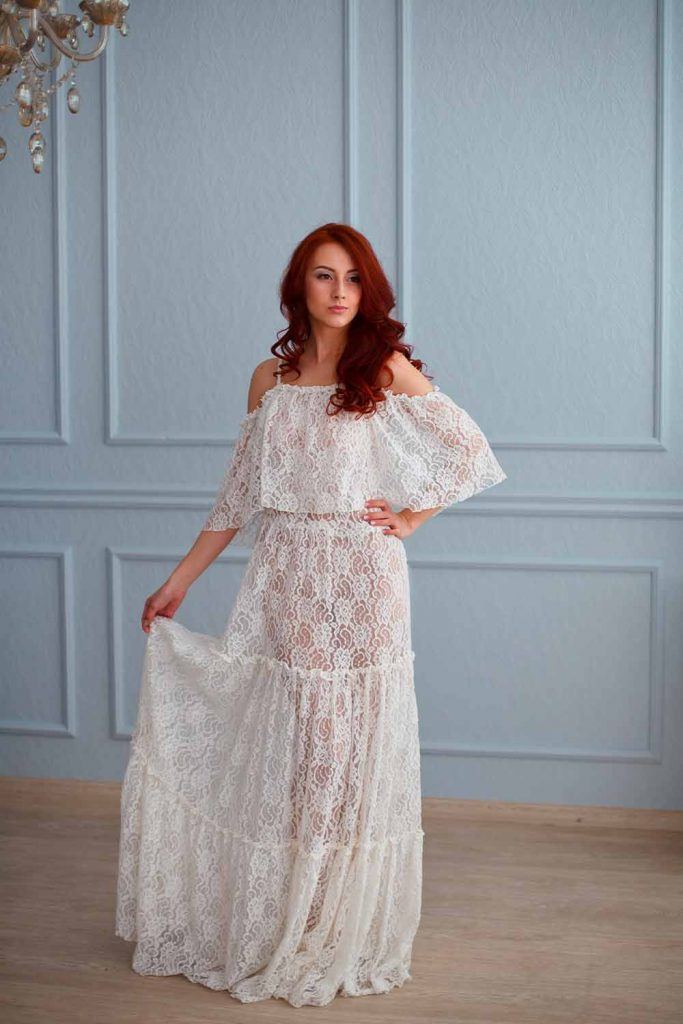 Sleeveless Boho Wedding Dress
Wedding Gown With A Bare-Skin Effect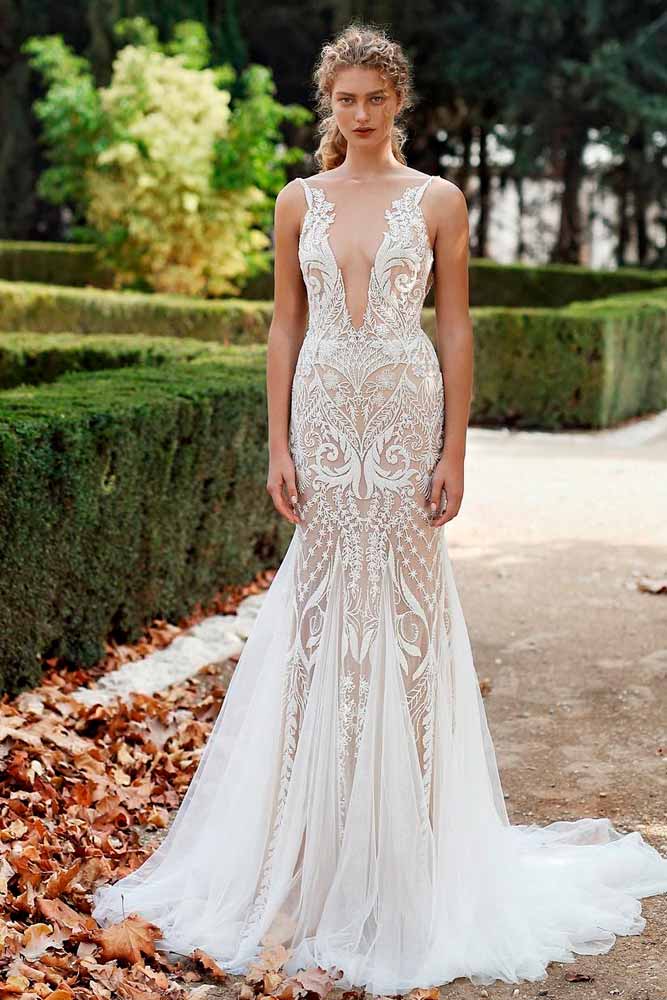 Credit photo: instagram.com/galialahav
This wedding dress with a bare-skin effect is the dream one for all the girls who want to find something different. Not a casual one, it shows more skin, weighing down the look with a beautiful lace skirt with tulle godets that falls to the ground. A low V-shaped neckline will be a great detail in this romantic wedding dress. We advise you to make up your mind fast on this one, as it is a true definition of style.
Wedding Gown For A Free-Spirited Bride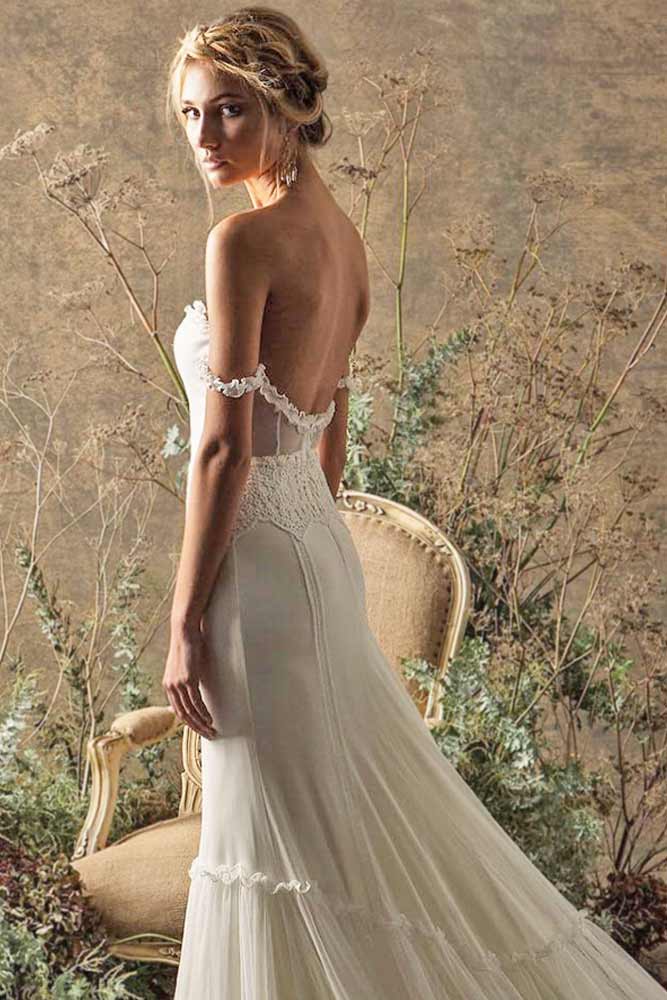 Credit photo: instagram.com/dreamersandlovers_
Dresses that show more skin are getting more and more popular this year. Of course, as they add some definition to the body of the bride and make her look as delicate as possible. However, if you prefer such a trend but still want something more special added, then think of an off shoulder wedding dress. A small detail that will bring so much beauty into the look that it can`t be missed.
Fantastic Wedding Gown In A Boho Style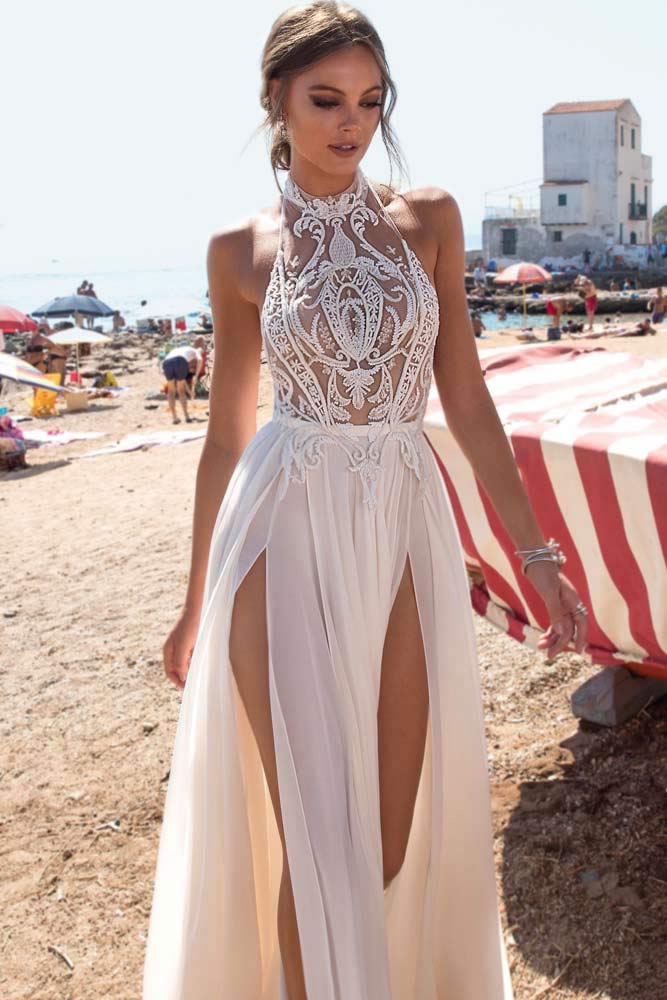 Credit photo: instagram.com/berta
This wedding gown design is for the most daring brides. As you can see, this design demonstrates much bare skin on the bottom as well as on top. Are you ready to amaze?
Charming And Sexy Off The Shoulder Dress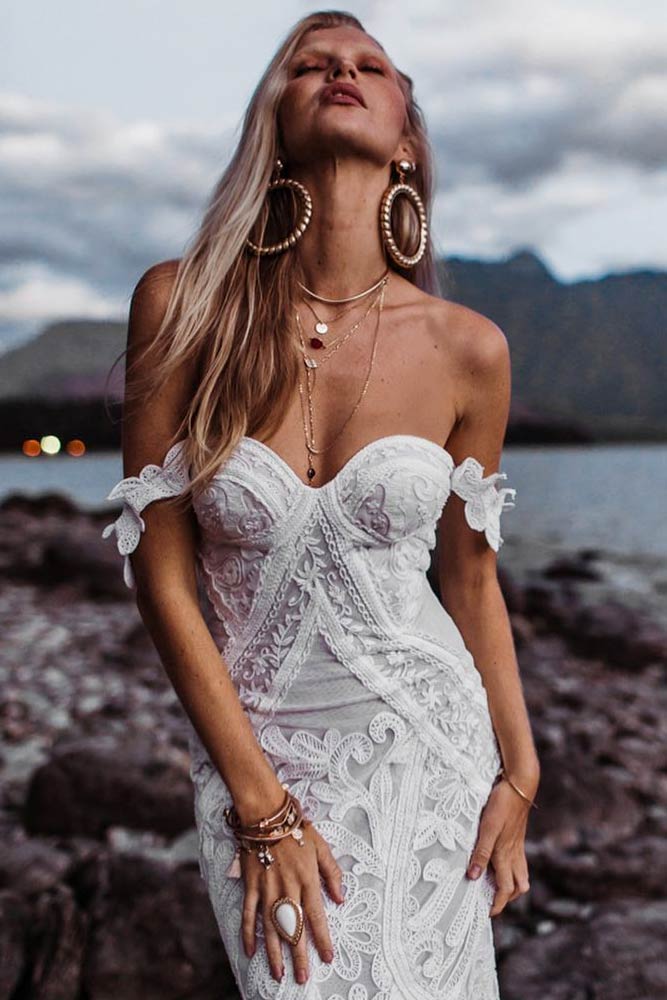 Credit photo: instagram.com/ruedeseinebridal
Do you like this off the shoulder dress in a bohemian style? If it looks a bit simple for you, you can always spice it up by adding some boho accessories like shown in this picture.
Beautiful Wedding Dress For A Tempting Bride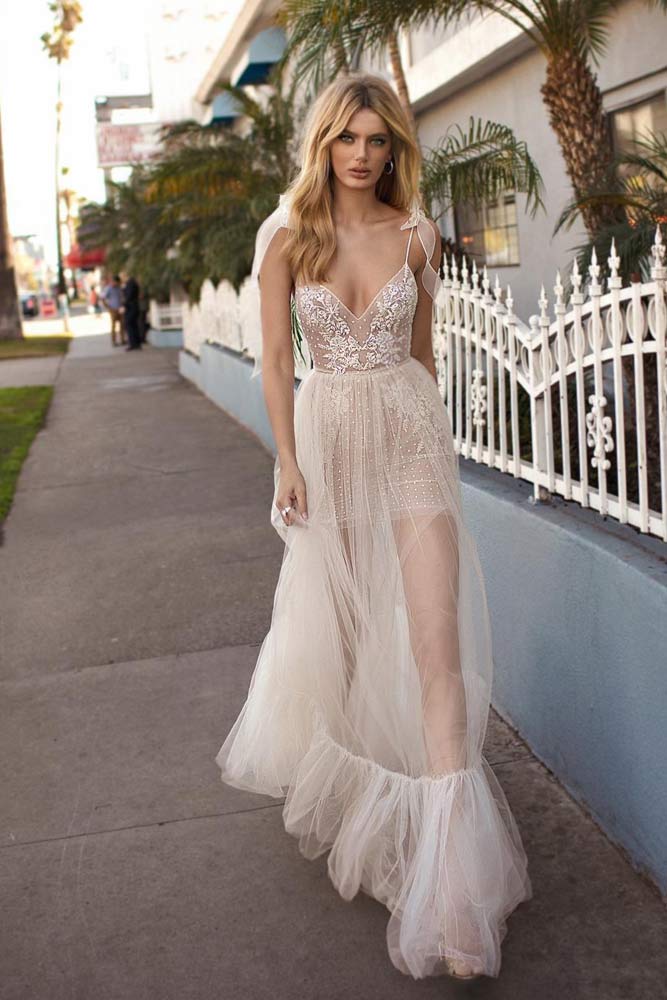 Credit photo: instagram.com/berta
If you are brave and not afraid at all to show off your beautiful body, then this bohemian wedding dress could be your perfect choice. All eyes will definitely be on you.
Backless Boho Dress With Removable Sleeves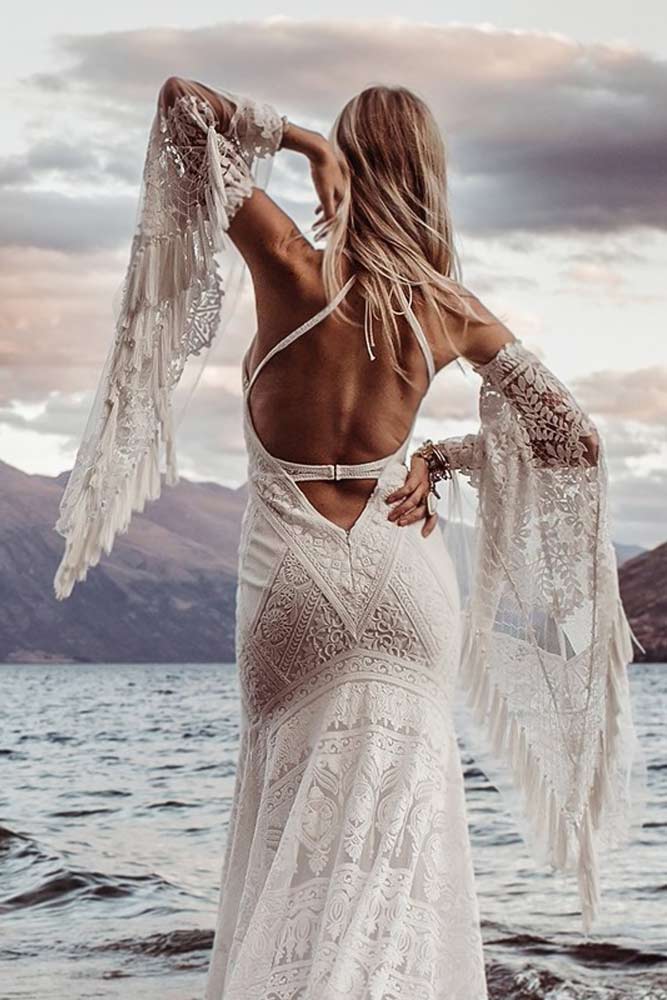 Credit photo: instagram.com/ruedeseinebridal
In case you know that it will be super hot on your wedding day, it's a nice idea to choose a backless dress. Not to appear too provocative, this design has removable sleeves.
Cute Wedding Dress With A Boho Pattern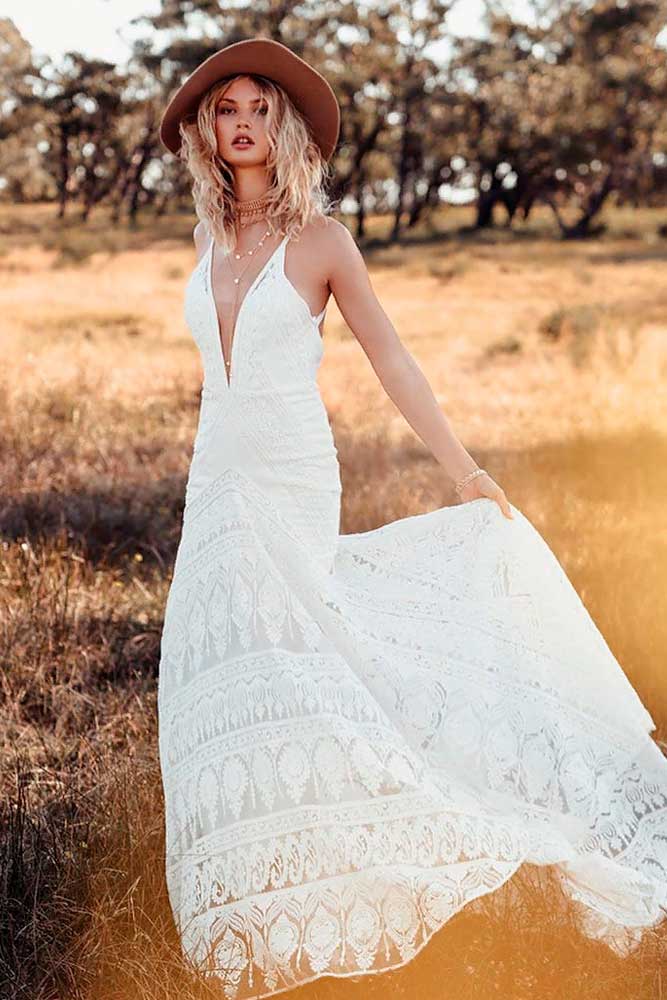 Credit photo: instagram.com/ruedeseinebridal
This long dress does not scream Boho. Yet, look closer, and you will notice the bohemian pattern. The hat really does the talking in this model's image.
True Bohemian Wedding Dress With Multiple Laces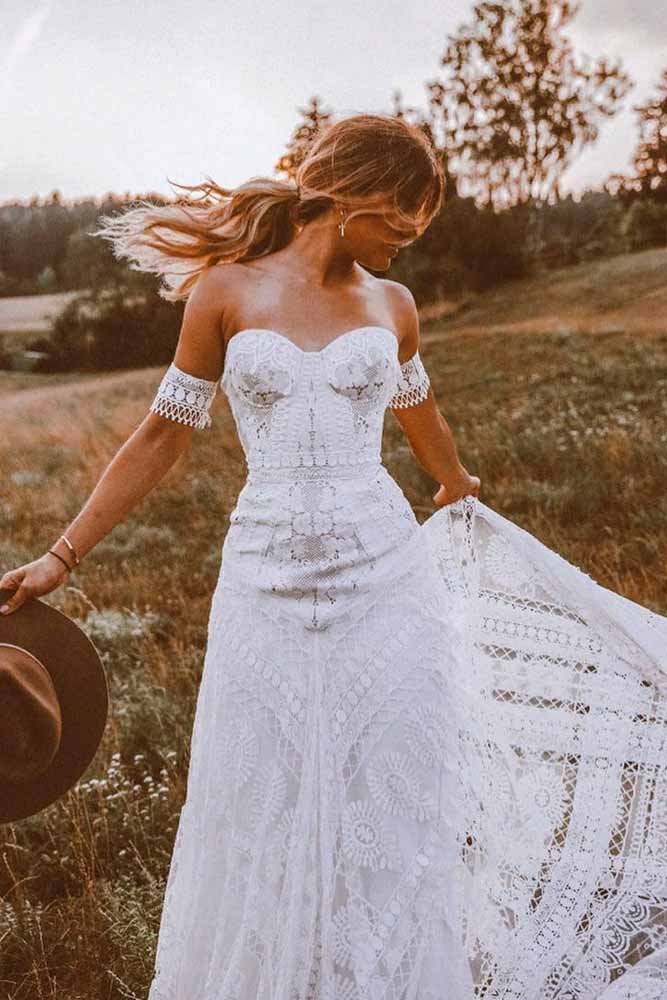 Credit photo: instagram.com/ruedeseinebridal
We all know that most wedding dresses are about the lace. Yet, when you think about a true boho wedding dress, the lace patterns are supposed to be unique in their own way. This bohemian dress can be that very one to inspire you!
Island Floral Printed Gown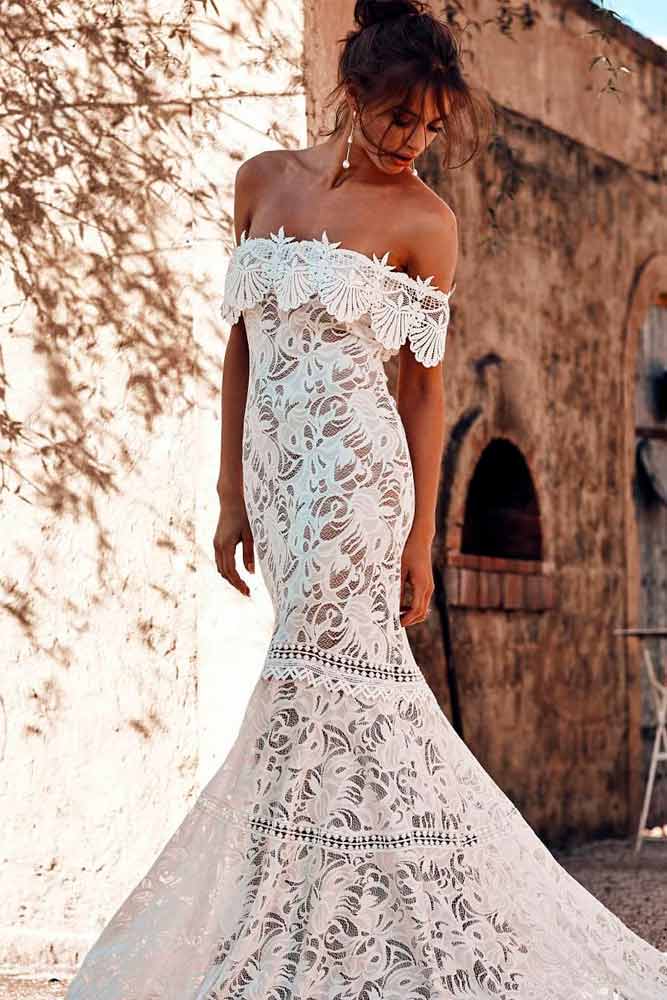 Credit photo: instagram.com/grace_loves_lace
What's a better option for a wedding ceremony held on an island than a floral printed gown? The scattering of amazing tropical flowers that embellish the dress adds romance and breeze to the bride's look. If you want to show off your enviable tan and emphasize your tenderness at the same time, opt for an off the shoulder wedding gown.
Elegant Styled Shoulder Off Wedding Dress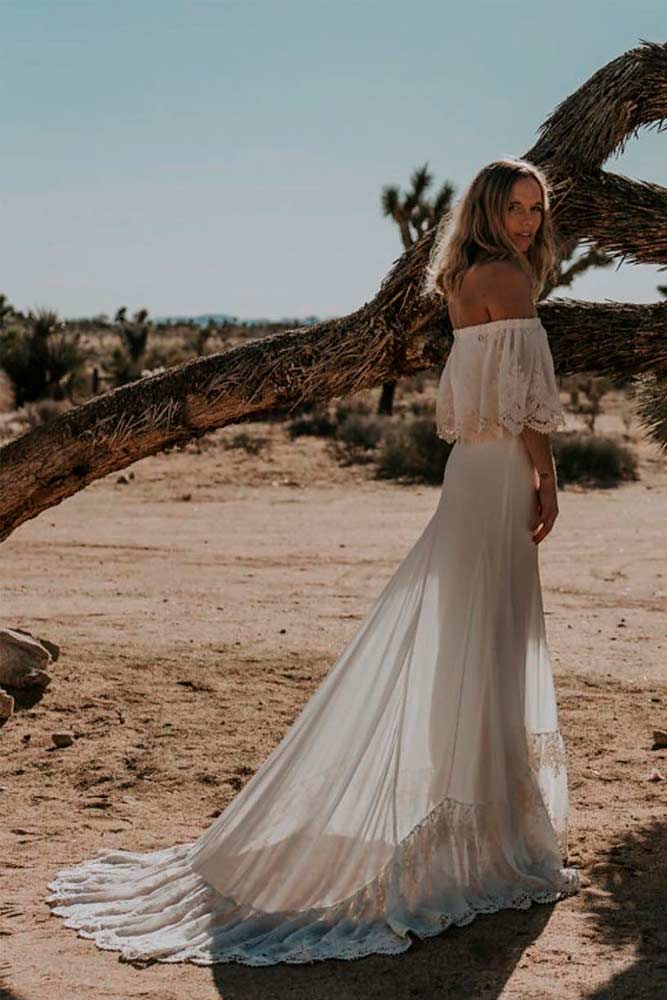 Credit photo: instagram.com/daughtersofsimone
Many women prefer shoulder-off dresses to all the others when it comes to such a great occasion as a wedding. However, we have something unique to suggest to your attention. This flowing shoulder-off dress is precisely what any gentle and stylish bride needs!
Wild Indian Wedding Dress Style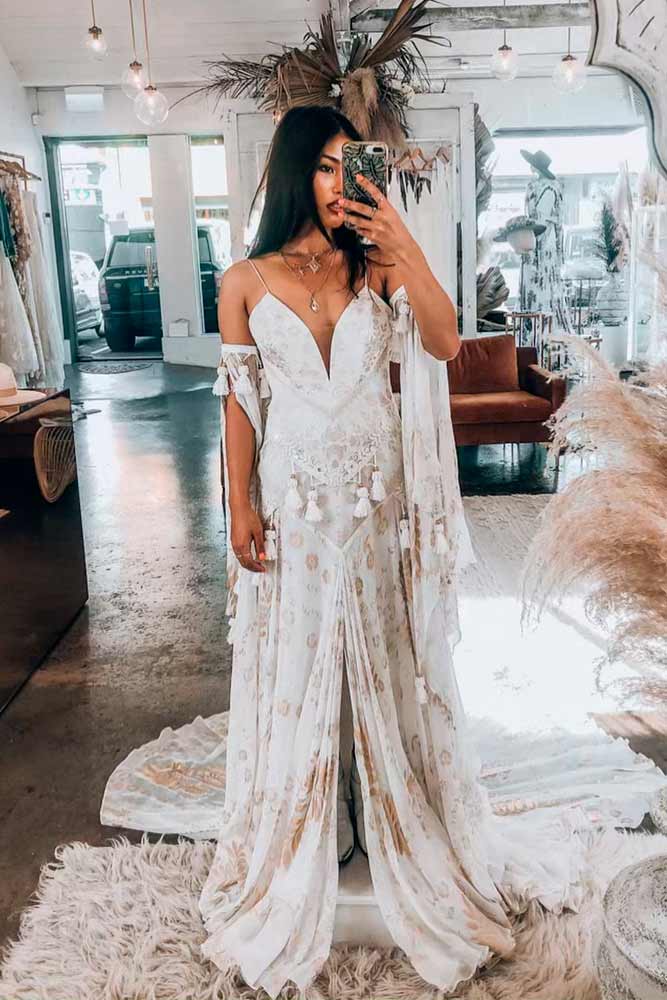 Credit photo: instagram.com/ruedeseinebridal
Indian wedding dresses have this unique flair that's very hard if possible to replicate. This very gown is tailored in a boho chic to enhance its airy and carefree feel. The tassels add ethnicity to the look, and spaghetti straps help to keep the focus around the neck area so complement it with some nice layered necklaces.
Strapless Bohemian Wedding Dress With Fringe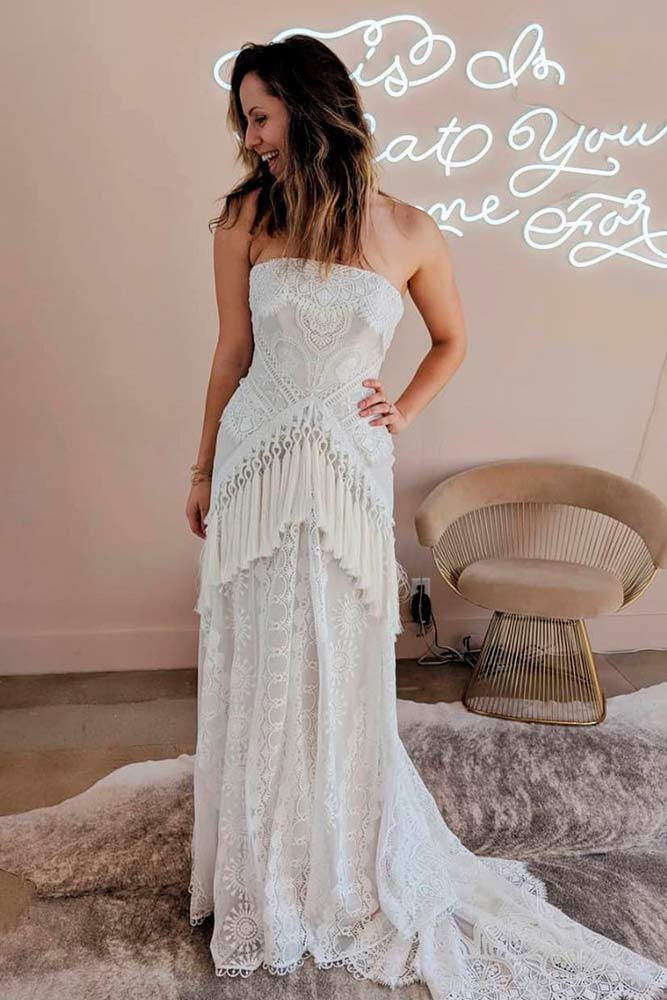 Credit photo: instagram.com/ruedeseinebridal
A strapless dress is almost always a win-win solution for the wedding because it instantly makes the bride appear feminine and charming. A long lace train balances out the look and adds a dose of elegance to the dress. However, the most unusual and eye-catching element of this gown is the fringe that falls down gradually.
Short Ruffled Wedding Dress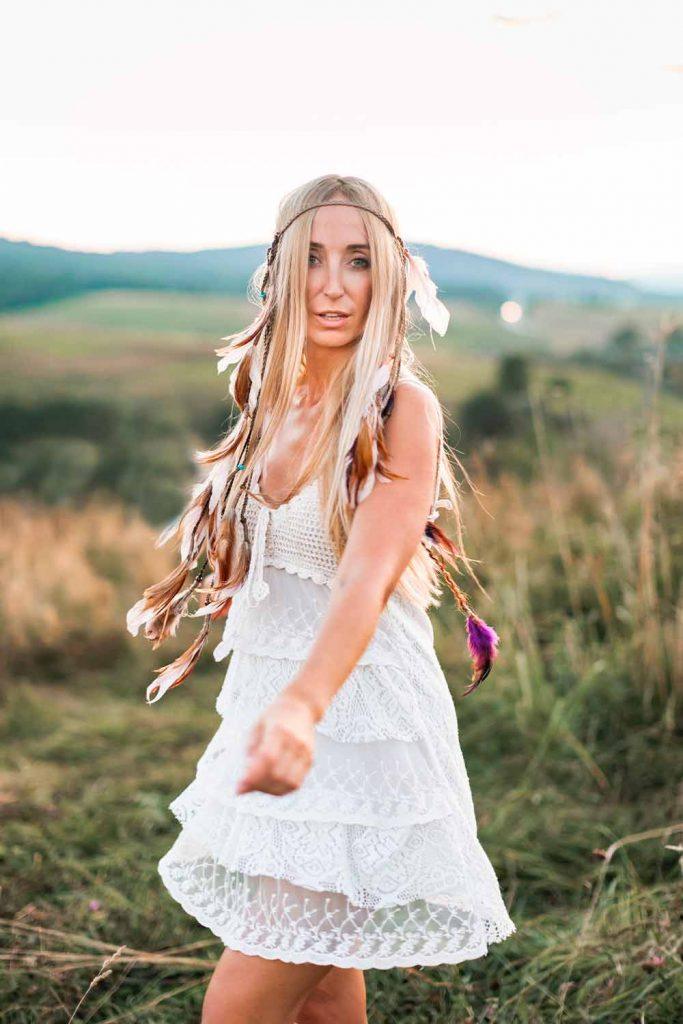 You do not need to hide your wild nature when the day comes. You can accent it instead. Of course, wearing tribal patters and animal skins is not required, a short ruffled dress and feather headband will deal with the task ideally. See for yourself!
Separated Boho Dress For Hot Brides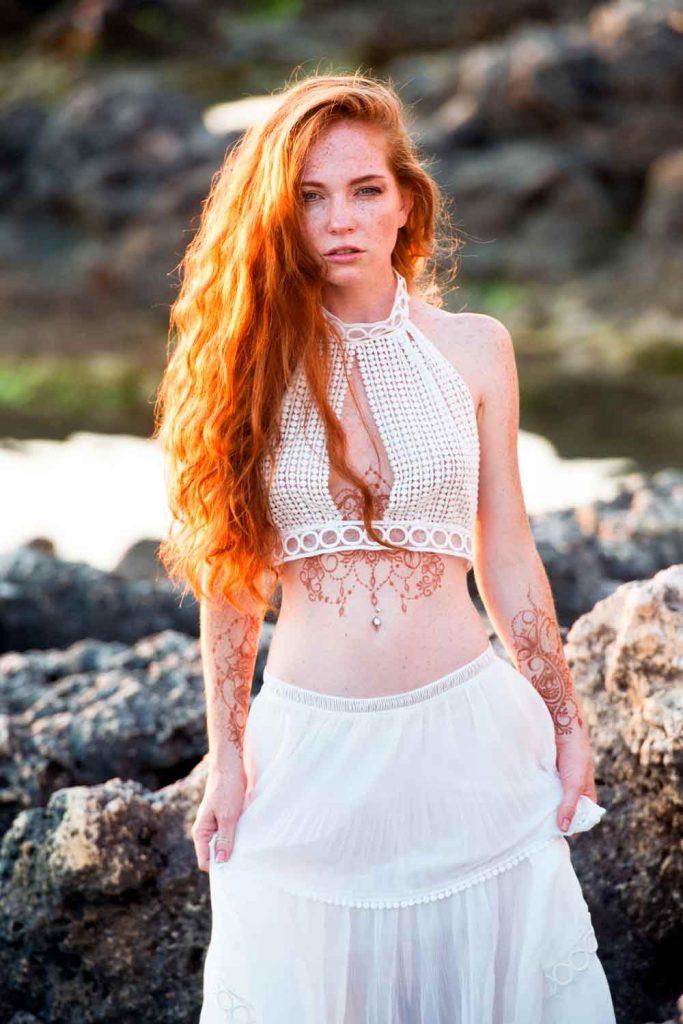 Hot brides are always aware of the best ways to stand out from the rest, whether it is a wedding day or any other occasion. If you belong to the category, then this separated boho wedding dress is undoubtedly worth your attention. When it is too hot outside to wear tons of layers, and there are gorgeous henna tattoos that you wish to be noted too – such a dress is merely irreplaceable.
Sleeveless Tulle Wedding Gown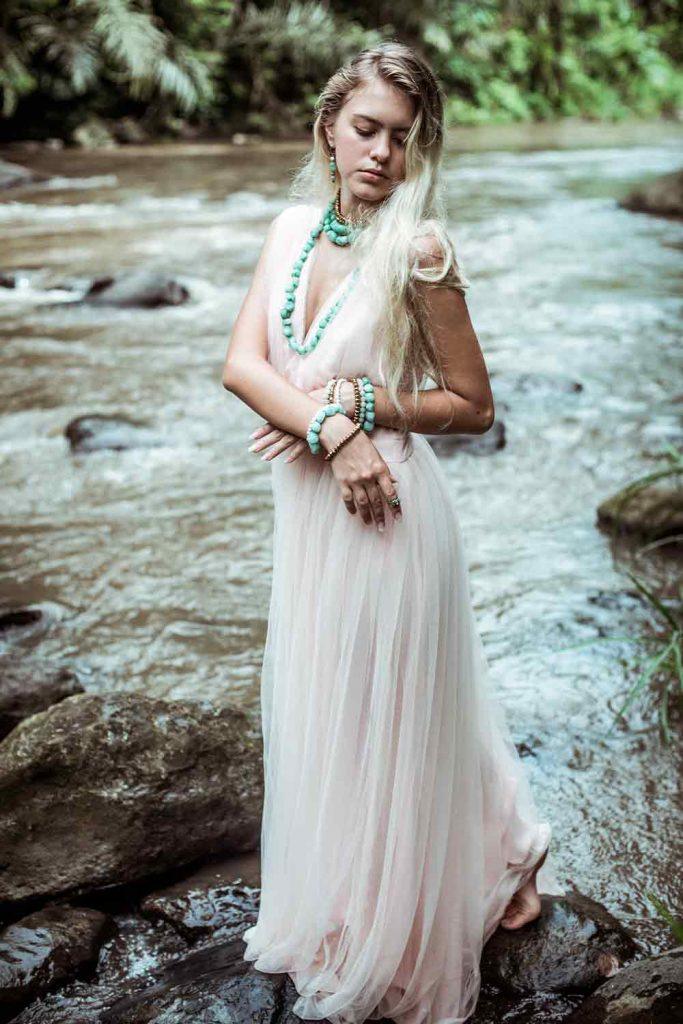 It has been mentioned that the boho style is about the patterns for the most part, but it is also about the form. In this case, the simplest tulle dress complemented by the ethereal beauty of the bride and vibrant jewelry is what makes the wedding look one of a kind and beautiful.
Halter Boho Dress With A-line Gown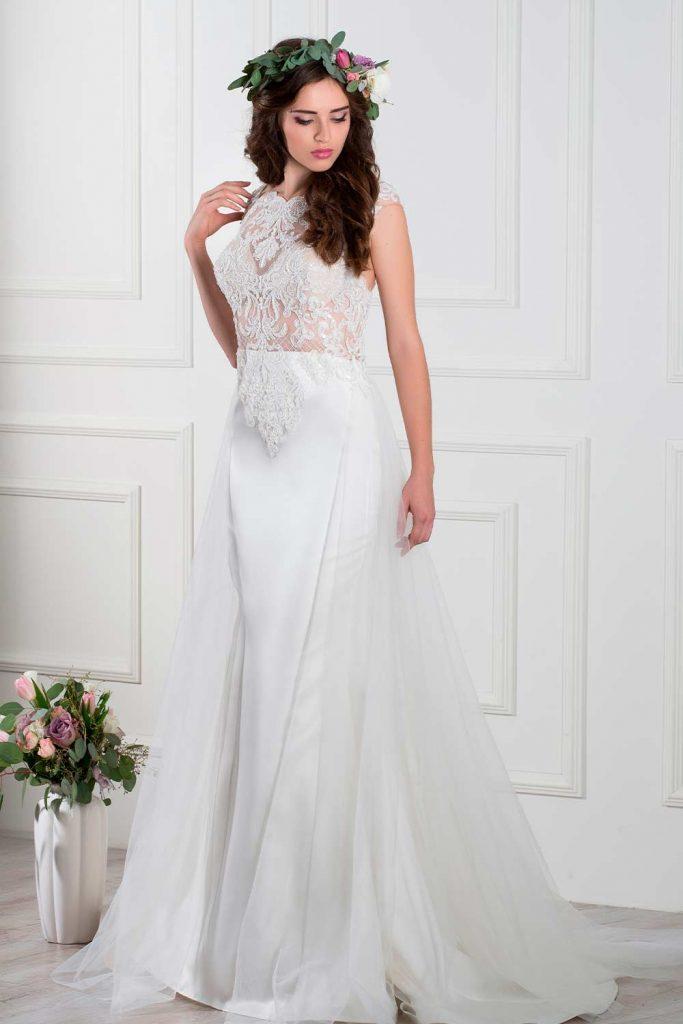 At first glance, it is hard to differentiate between a classic wedding gown and a boho style since they are well-matched in one. What gives the boho vibe out is the torso pattern and the beautiful floral wreath. With a dress like that on, it does not matter where you are wed – at the sandy beach or a small-town chapel.
FAQ: Boho Wedding Dress
What does boho wedding dress mean?
Bohemian wedding dresses achieve a simple yet chic style and are an example of an effortless and romantic look composed of light and easy-to-wear fabrics, organic beaded patterns and lace. Boho dresses are a great idea for any free-spirited wedding.
What does the mother of the bride wear to a boho wedding?
Normally, mother of the bride that wants to match the boho style of the wedding opt for elegant midi- or full-length dresses that are decorated with delicate lace detailing or tulle skirts, floral prints or other adornments. Feminine silhouettes like A-line or fit and flare in pastel shades will be complementing the bohemian style perfectly.
Was this article helpful?