Irresistible Beauty Of A Mermaid Wedding Dress
Wedding day is one of the most important days in your life; we all know that. That is why every detail matters. When it comes to choosing a wedding dress that is when the panic starts since there are so many ideas and designs to choose from. However, once you set your mind on mermaid wedding dress, we know how to make the circle of possible ideas a little narrower. The thing is that if you want a dress that defines your figure perfectly and grants you that unforgettable other-worldly look, you have come to the right place! We welcome you to browse through our fantastic mermaid wedding dresses collection!
Mermaid Wedding Dress Without Sleeves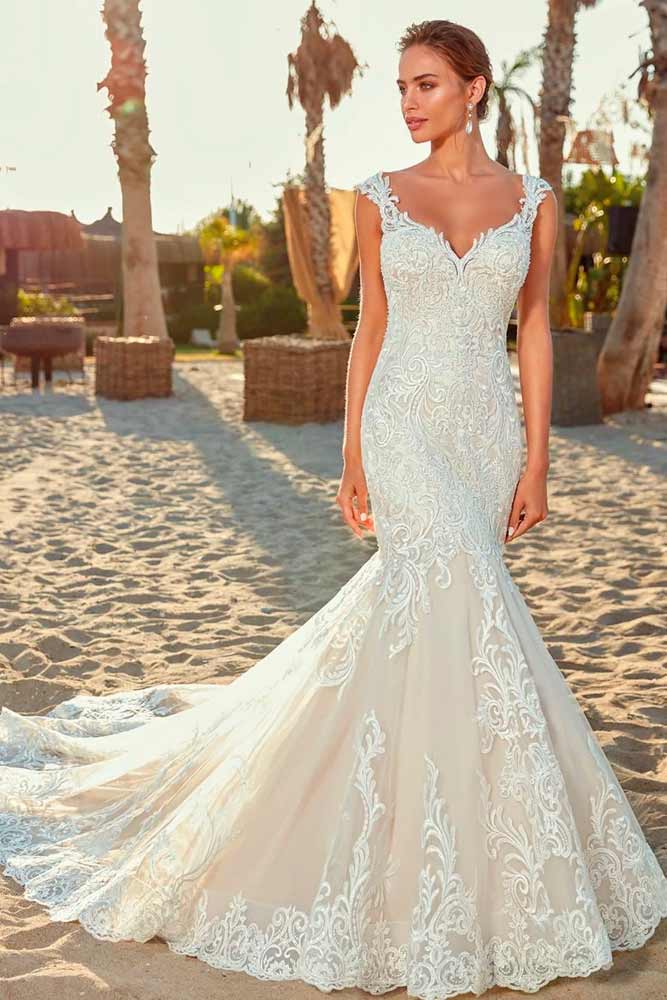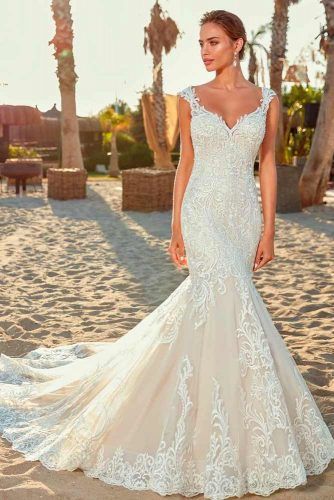 Apart from a marvelous design, there are other things to pay attention to when you are choosing the dress to fit your big day. You need to think whether hot or cold the season is, where the occasion takes place and so on. That is why things like with sleeves or sleeveless matter. If you are getting ready to get married during the summer, then it is best you pay attention to a mermaid wedding dress without sleeves. We have to have a suitable example at hand!
Source: Eddyk_bridal via Instagram
Sweetheart Lace Mermaid Wedding Dress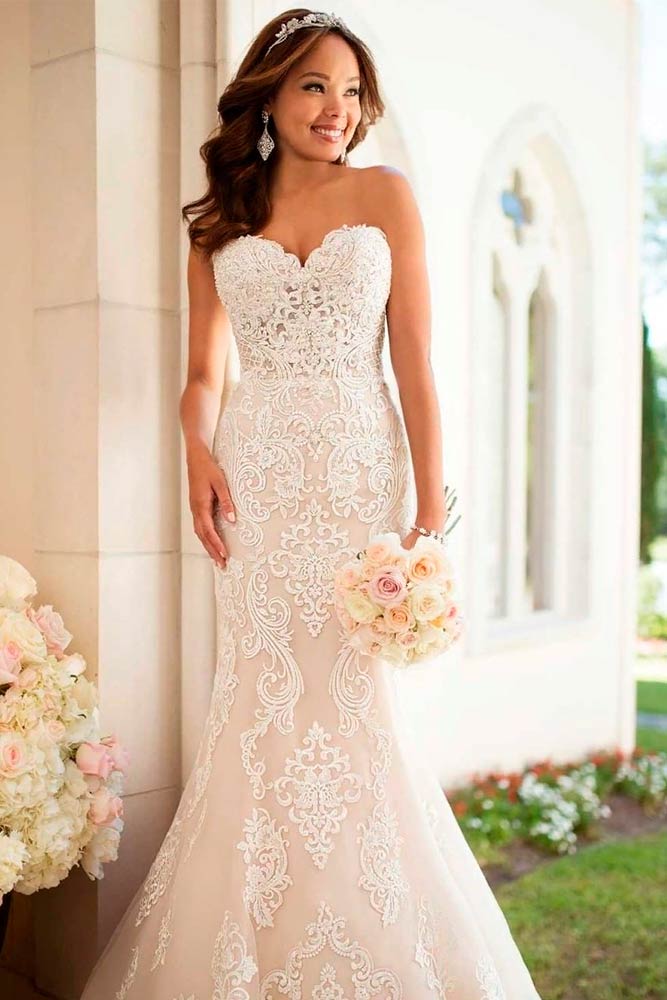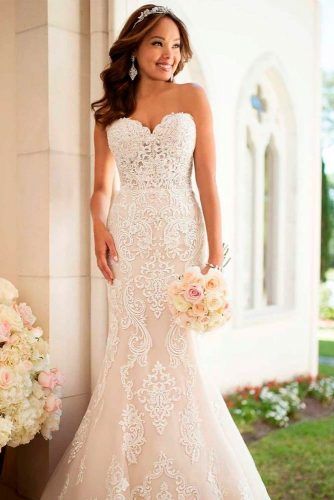 We are going to start out the collection with a somehow classic mermaid style wedding dress. The thing is that this dress is the representative of classics and modernism in one dress. While the reserved design interacts with romantic lace, the sweetheart neckline and bare shoulders add that the dress that sexy sophistication we all long for.
Source: missstellayork via Instagram
Layered Wedding Dress With Rhinestones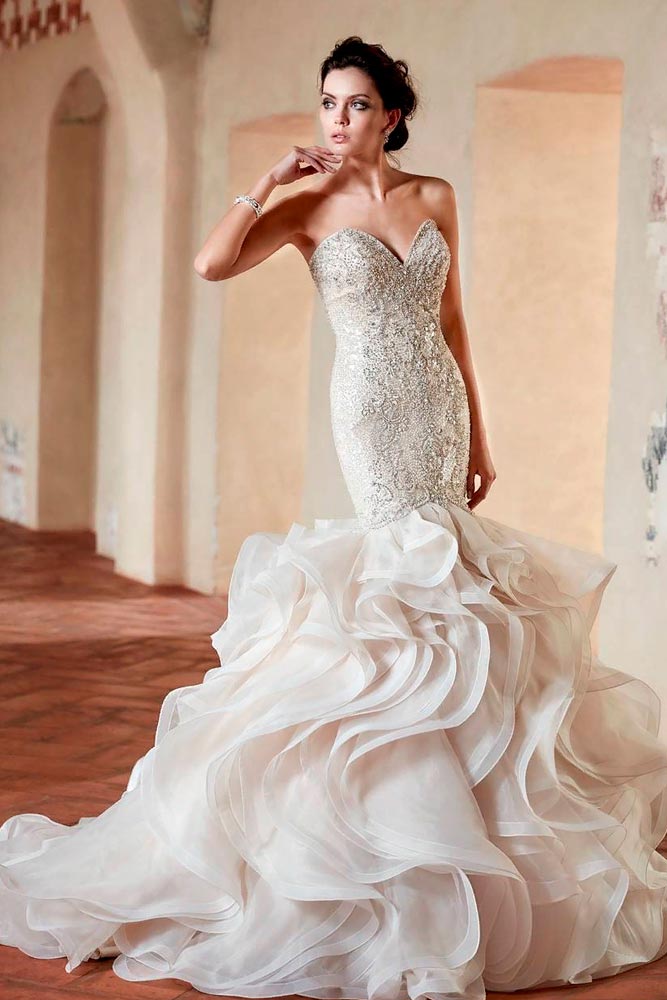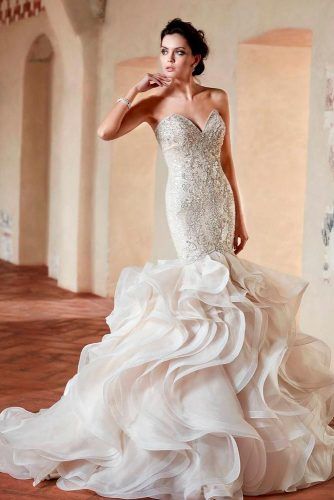 Those of you who prefer one of a kind wedding dress mermaid style we suggest you pay attention to this one. The thing is that this dress is indescribably rich-looking due to the rhinestone decorated top. But the bottom part is not less exquisite due to the exquisite layering.
Source: eddyk_bridal via Instagram
Deep Cleavage Wedding Dress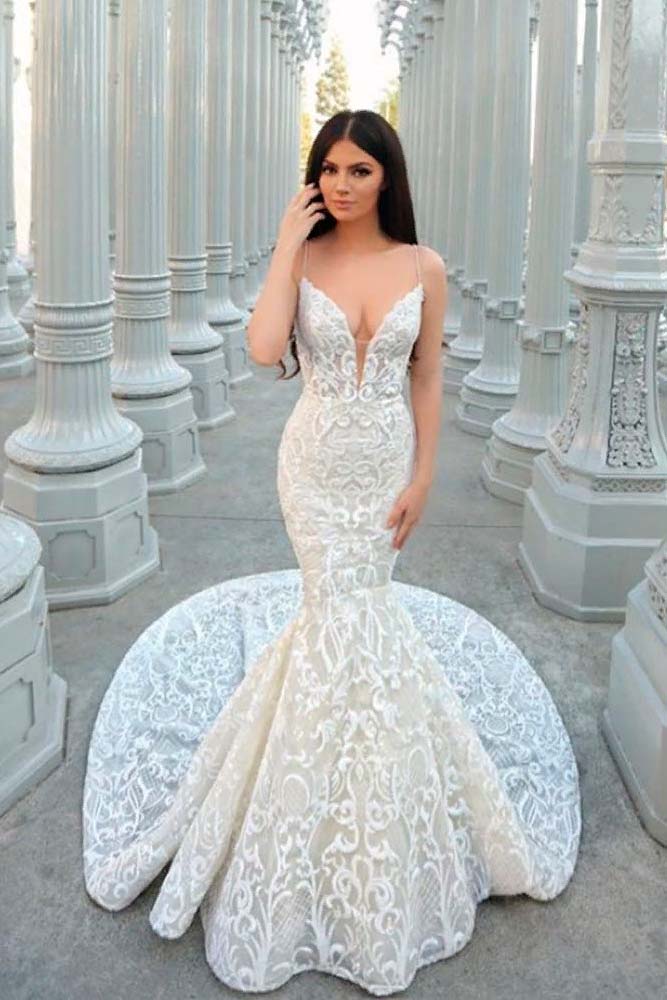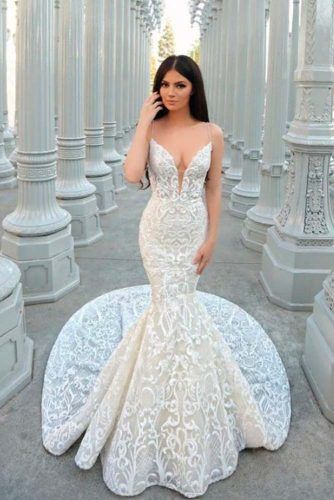 To create a hot bridal look, there is not much needed other than a suitable dress. The thing is that if you think that deep cleavage is not wedding-appropriate just look at this mermaid dress wedding idea. It is both sensual and sassy not to mention over the edge gorgeous.
Source: tie_the_knot_boutique via Instagram
Simple Mermaid Gown With Halter Neckline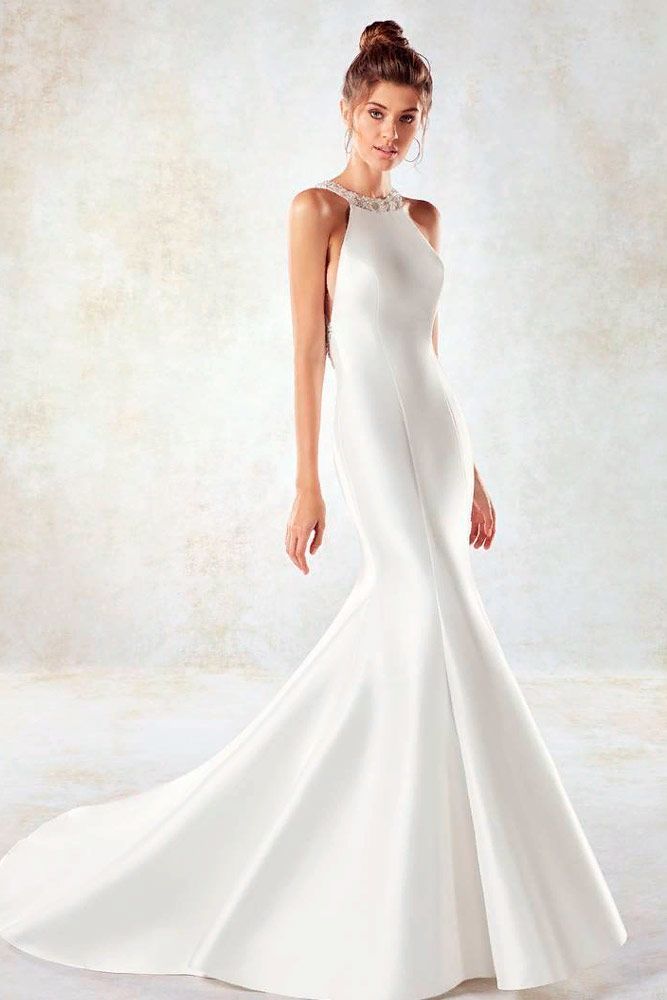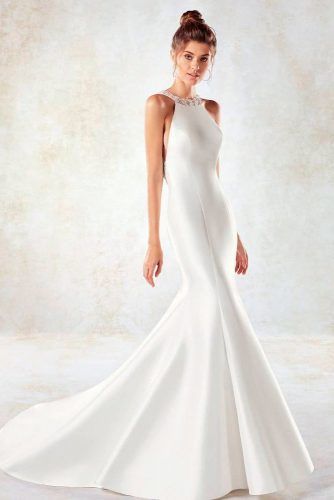 The truth is that not everyone believes that a simple wedding dress can look extraordinary. Wait until you see this one. There is nothing more than just silk that wraps around your figure. However, the halter neckline decorated with gemstones and the design takes this dress to the new level of extravagant simplicity.
Source: eddyk_bridal via Instagram
Shoulder Off Wedding Gown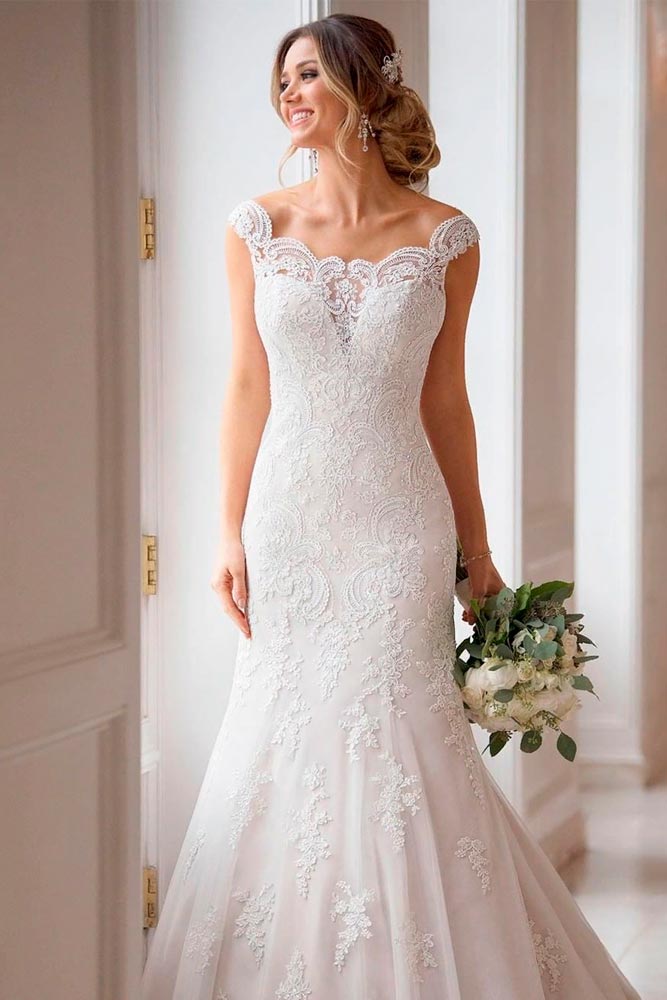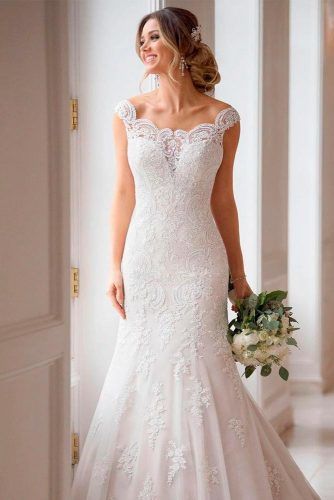 Going for a strapless dress, no matter how beautiful it is, is not for every lady. That is why if you are not a strapless wedding dress fa, but you wish to show your shoulders off, there is another way out. Shoulder-off dresses look very feminine and romantic, add a mermaid design to that mix, and you will receive pure perfection. See for yourself!
Source: missstellayork via Instagram
Fit-And-Flare Gown With Falling Strap Sleeves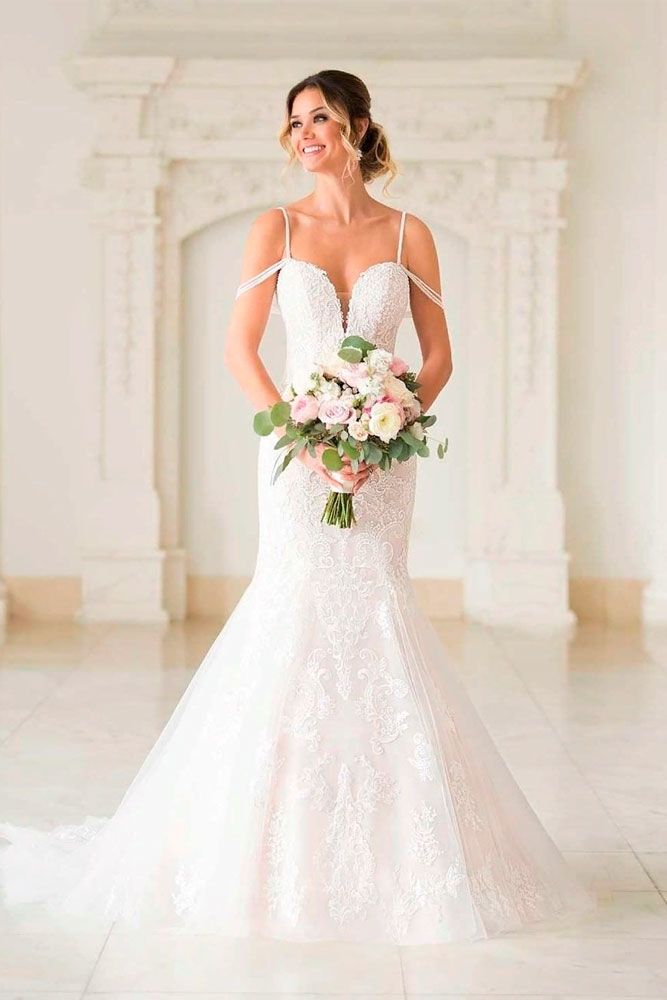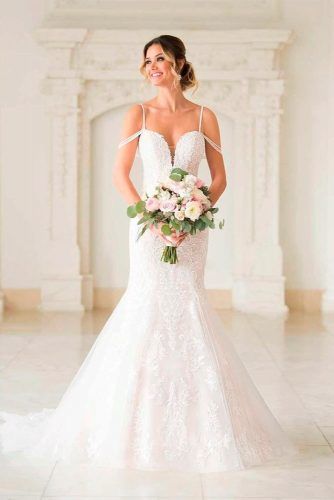 In most cases, brides look at the decorative elements spread all over the dress but leave the sleeves out. You may have no known it, but sleeves can serve a decorative function too. For instance, in this case, the falling strap sleeves complete the fit-and-flare dress as nothing else would.
Source: missstellayork via Instagram
Falling Sleeves Mermaid Wedding Dress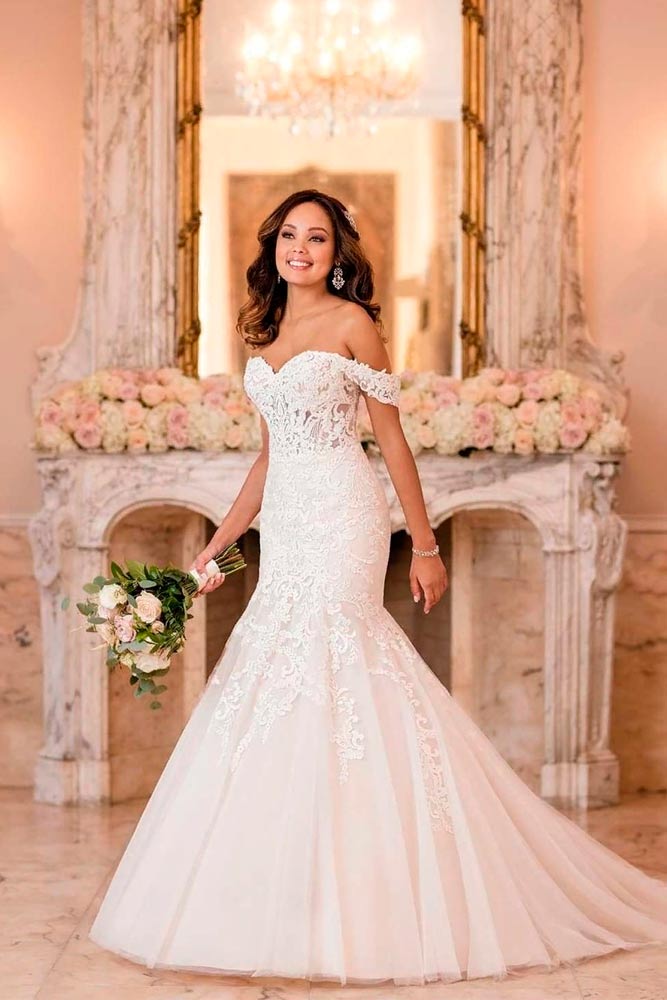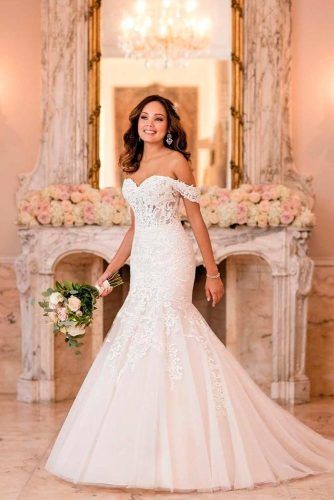 The truth is that the ways you can experiment with mermaid dresses seem to be unlimited. The fact is that when someone thinks about shoulder-off or strapless dress – you can easily combine the two. Aside from extraordinary sleeves, this dress can mesmerize you with the skillful combination of lace and tulle into one outstanding design.
Source: missstellayork via Instagram
Choir Boy Sleeves Wedding Dress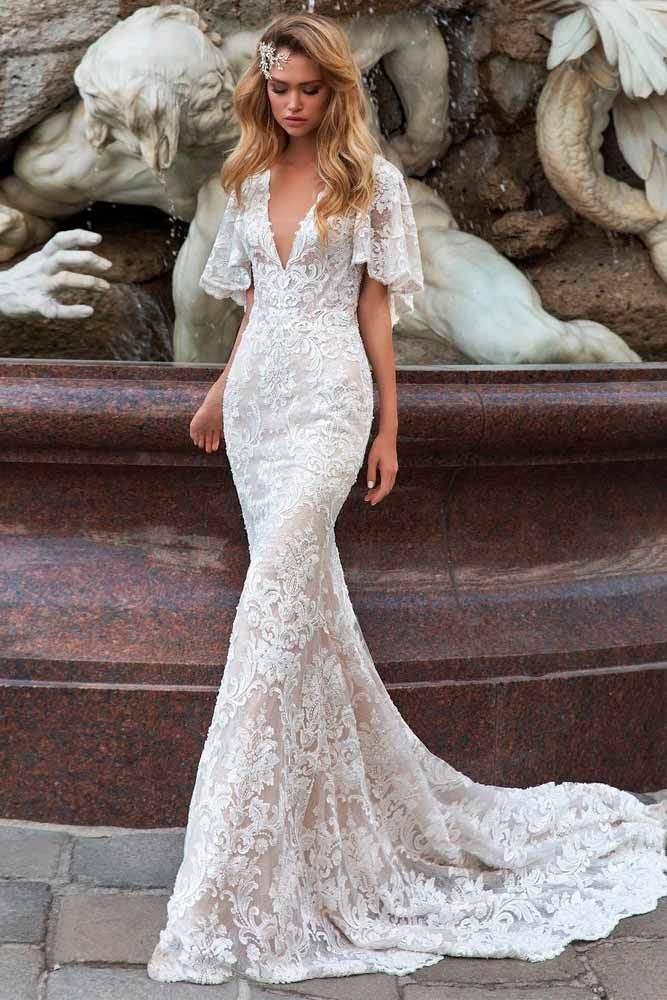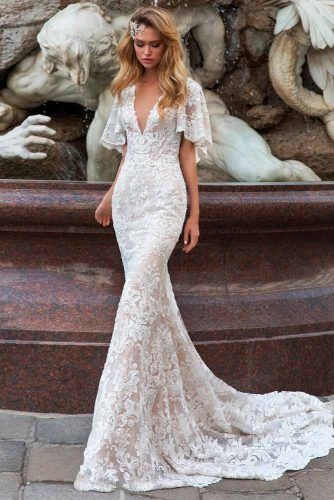 Choir boy sleeves complete this gentle mermaid dress perfectly. The thing is that the dress may look heavy without a proper component to even out the long mermaid trail. In this case, choir bot sleeves create that light, ethereal look that only accents the bride's femininity.
Source: bel_avantage_official via Instagram
Sheer Sleeves Wedding Mermaid Dress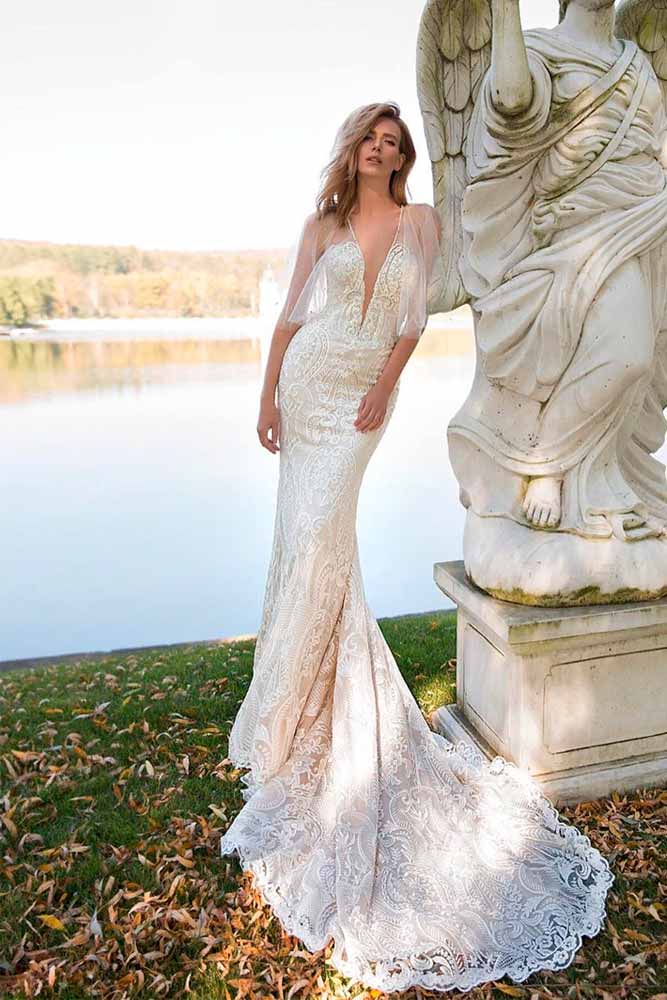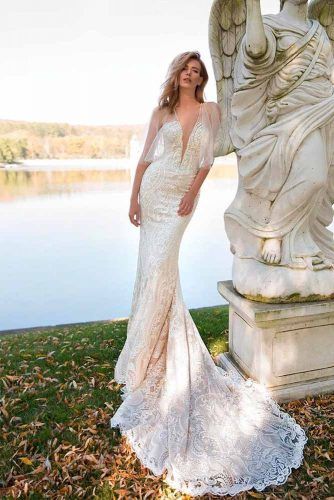 When you hear about a dress with sleeves, you usually imagine something that wraps around your arms. However, as you can see that is not the only case. The thing is that the sleeves can flow around your arms just like the mermaid trail flows around your legs. Besides, the transparent material only intensifies the feeling of undeniable innocence.
Source: pollardi_fashion_group via Instagram
Sexy Mermaid Wedding Gown With Open Back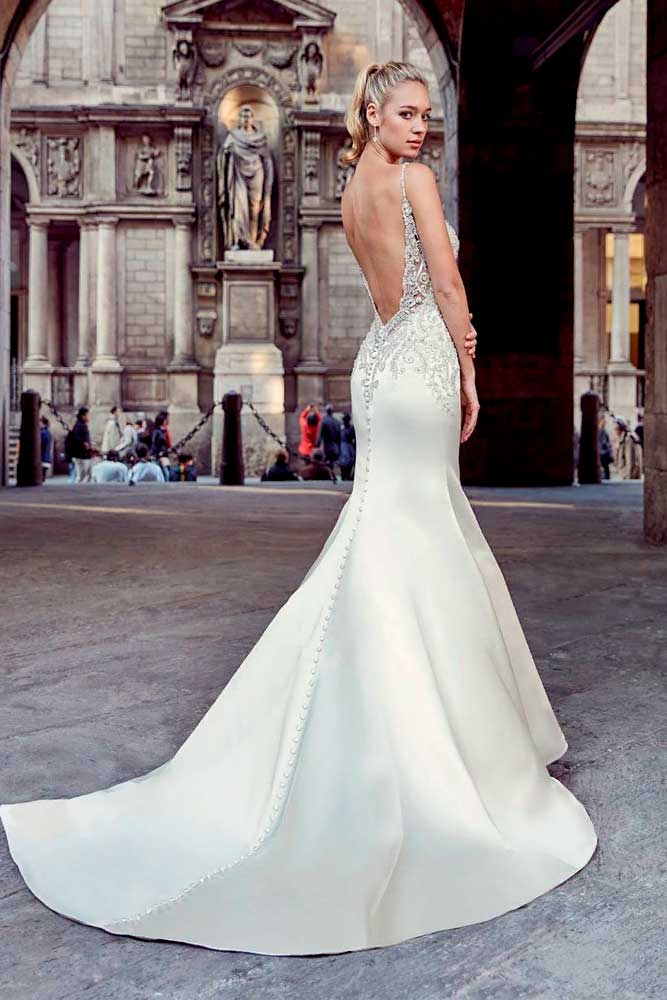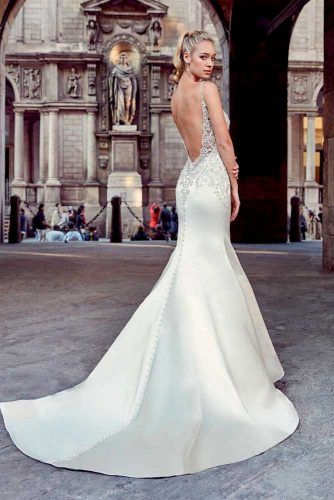 There is something indescribably gentle, personal and sexy about an open back mermaid wedding dress. The proper amount of decoration adds something dreamy to the silhouette and of course the trail. So simple but so exquisitely beautiful!
Source: eddyk_bridal via Instagram
Portrait Back Wedding Dress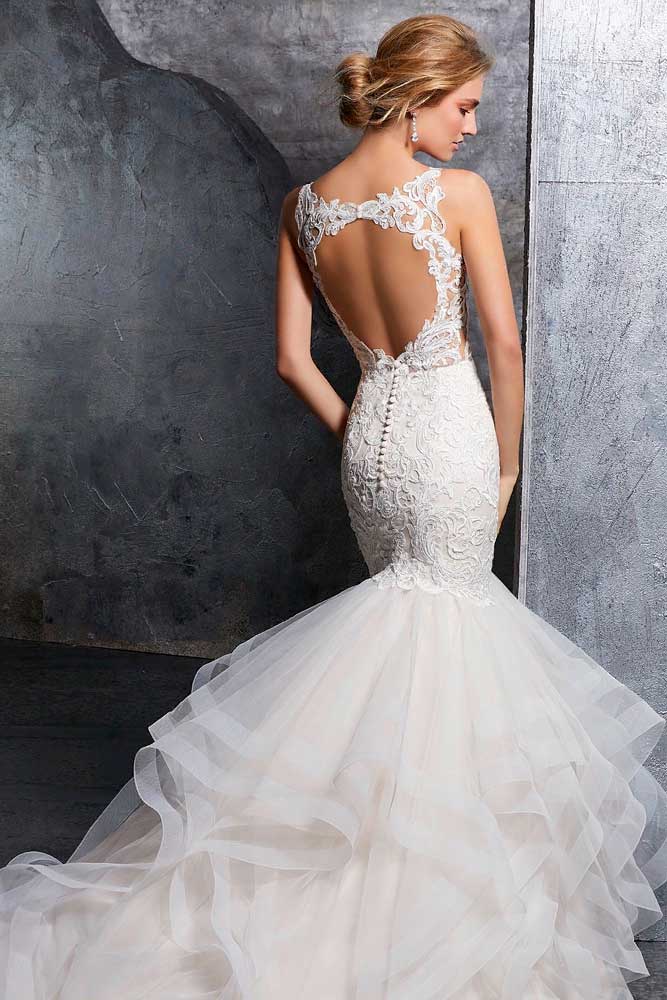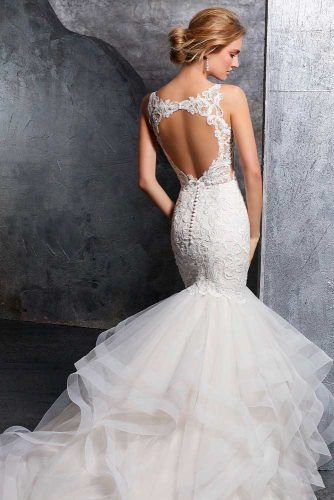 When completely open back is not your cup of tea, but you wish there were something alike to consider. The fact is that there is a portrait back dress option. Portrait back is responsible for gentler vibe instead of strong, sexy one. Such a mermaid wedding dress will accent a romantic and sensual bridal look if you choose one. Let's not forget about the unusual layered mermaid trail, which only adds up to the illusion.
Source: bridestudio via Instagram
Simple Mermaid Wedding Gown With Lace Back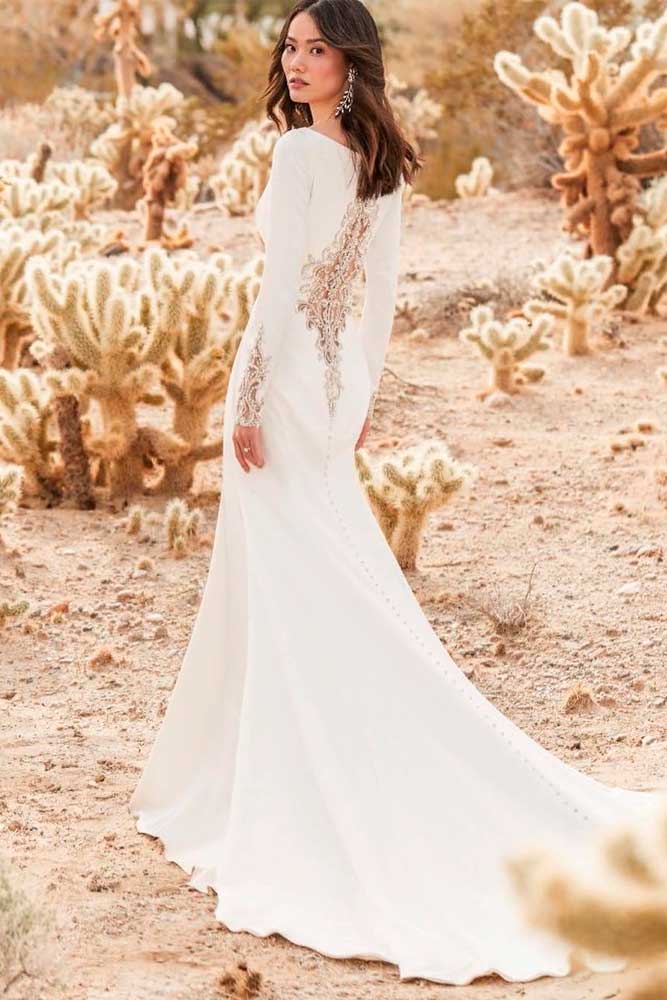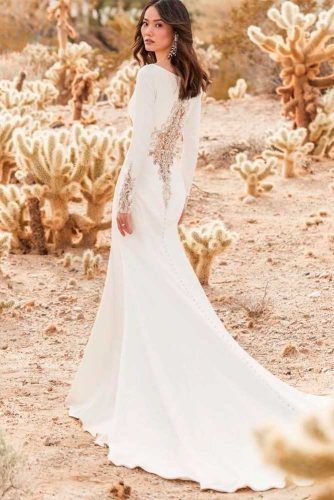 If you have always imagined a simple look when it comes to your wedding, then we may have one in mind. The thing is that a long-sleeved mermaid dress looks great on its own, but there is no way we would skip one intricate detail about it. Lace back is one of those decorative elements that complete simple dresses without taking them over the edge.
Source: maggiesotterodesigns via Instagram
Wedding Dress With Long Lace Sleeves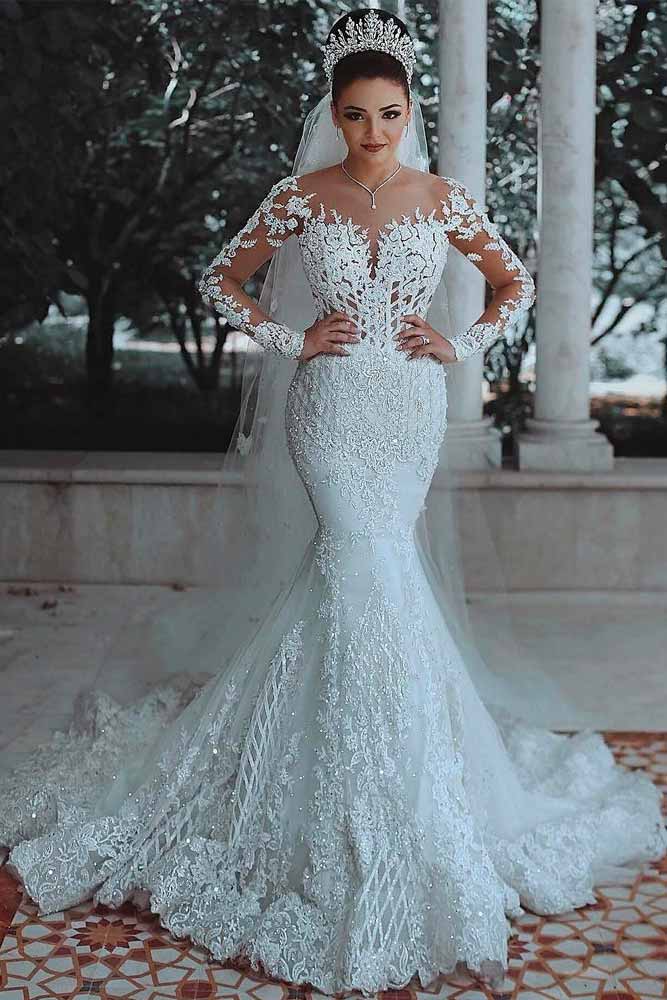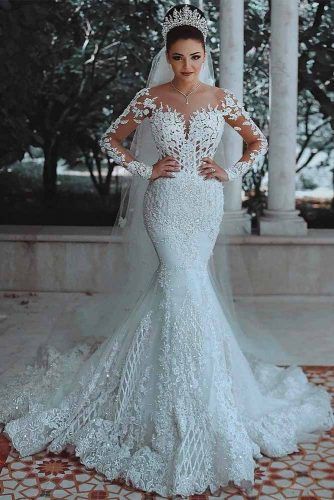 If you are looking for a luxurious lace mermaid wedding dress, we have one just for you! There is barely a spot not covered with lace about this dress. Starting with long sleeves and the top part and ending with the trail. However, despite the excess of decoration, the dress does not look like anything else but gorgeous mermaid dress!
Source: babyonlinedress via Instagram
Shoulder Off Wedding Dress With Long Sleeves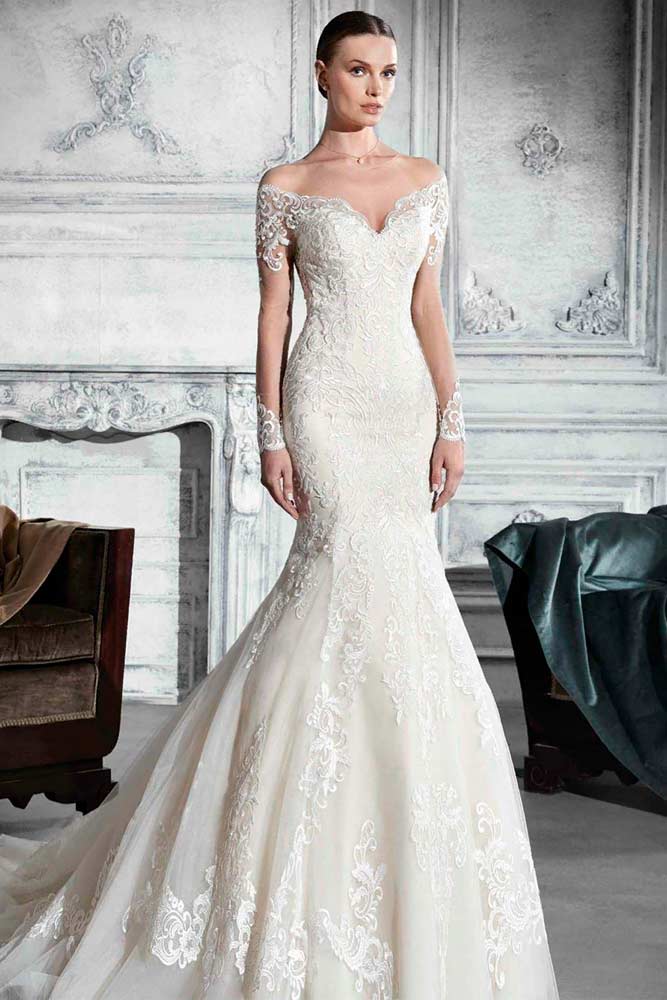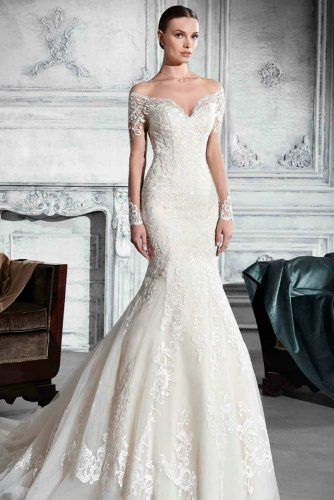 Shoulder-off long sleeve mermaid wedding dress in ivory is truly a masterpiece. It seems that there is nothing out of place about it. Elegant long sleeves match the lace covered silhouette flawlessly. Even the lace pattern itself seems to be a separate element that makes the dress stand out.
Source: demetriosbride via Instagram
Vintage Mermaid Wedding Dress Like A Queen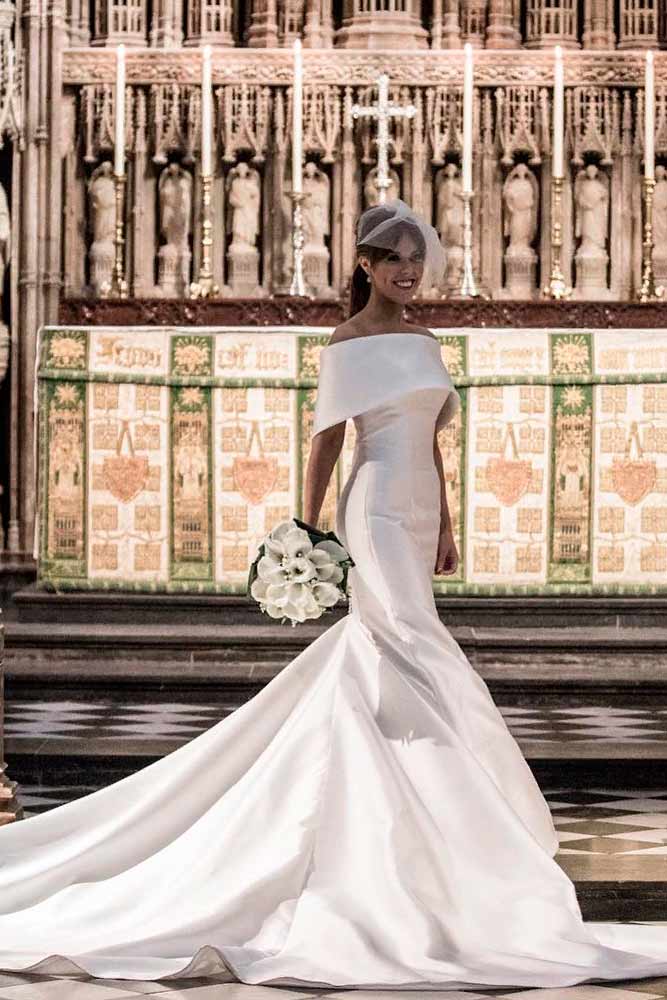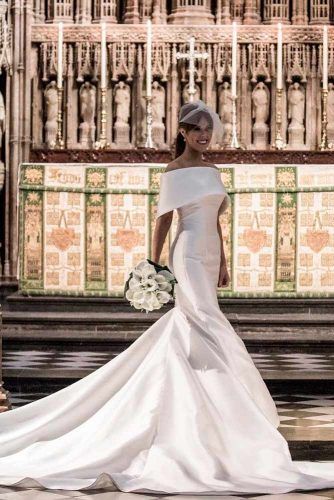 Strapless mermaid wedding dress in silk and with the shoulders off will make a real queen out of you. Such a vintage dress will not only attract admiring glances but will also create an unforgettable look for the bride. The extra-long trail makes it up for the absence of details, and you can call such a dress nothing but a vintage temptation!
Source: gracephilipsbridal via Instagram
Elegant Mermaid Dress With Greek Motives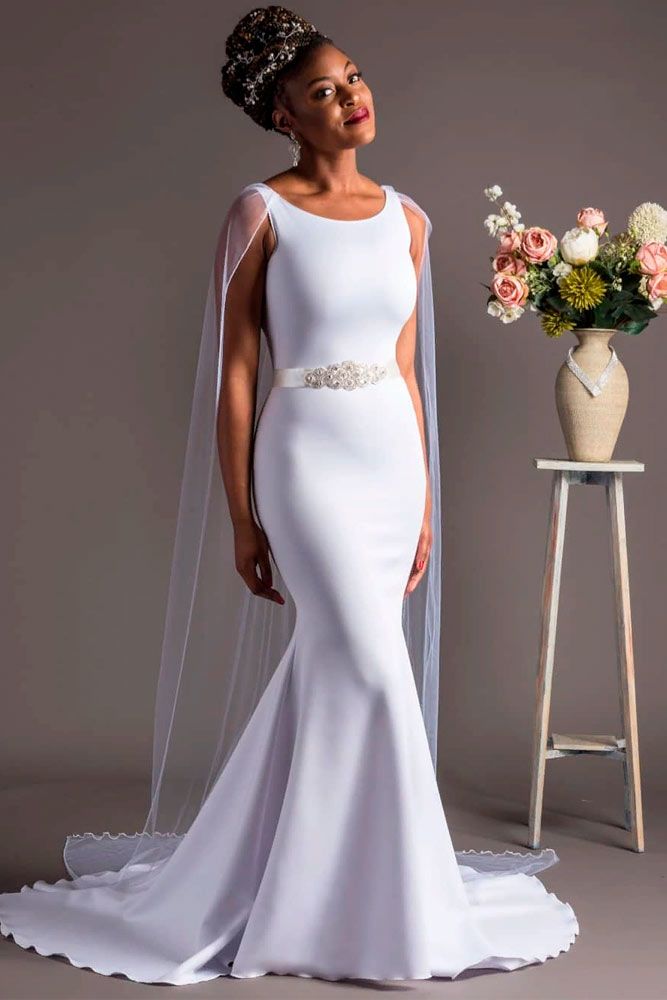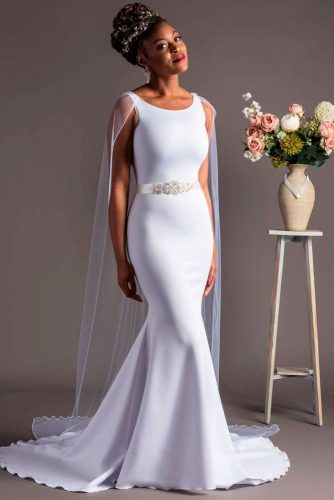 If you are looking for an unusual dress, think Ancient Greece. The fact is that such a mermaid wedding dress will surely sand out even though there is nothing out of place about it. A sleek silhouette with a gorgeous belt to it seems to coincide with a tulle cape flowing off the shoulders.
Source: karentinobridal via Instagram
Sparkly Wedding Dress With Bohemian Pattern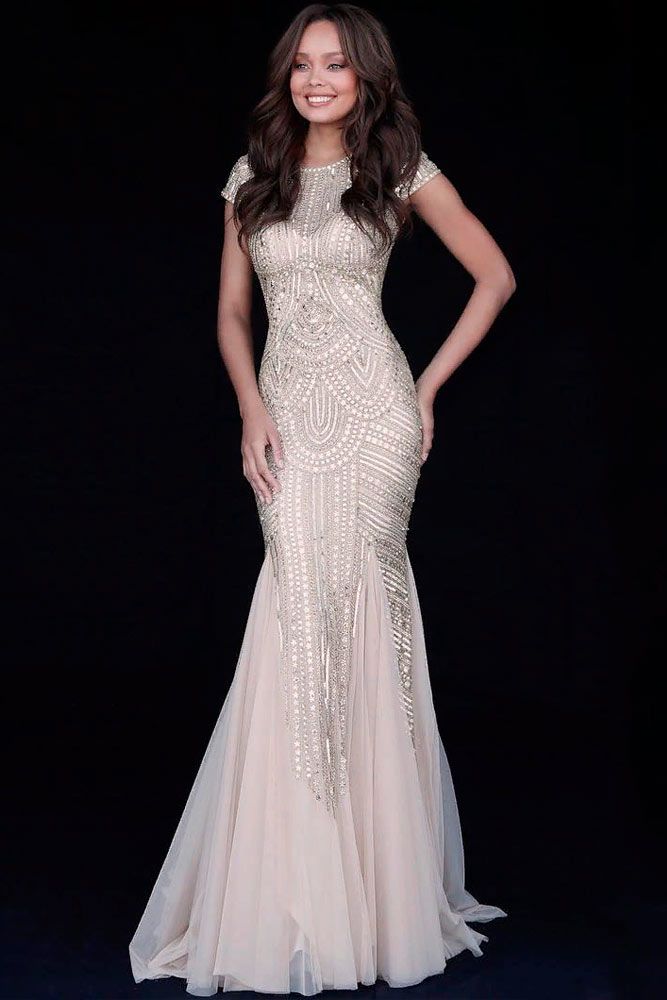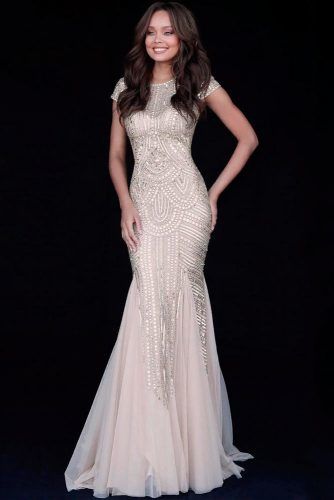 The truth is that bohemian wedding dresses are on the edge of popularity these days. However, we know that all you need is a unique dress. That is why we suggest you combine a perfect mermaid dress with a bohemian pattern. The result will be amazing; you can trust us on that! Sparkles up to the ankle and a trail made of flowing fabric will make you shine bright!
Source: sherrihill via Instagram
Those of you who are looking for a perfect mermaid wedding dress – you have come to the right place. Only the best and the trendiest ideas are gathered here. What is more, there is definitely a dress that will conquer your heart listed here!