We are used to the fact that a wedding dress is supposed to be that one a princess would wear. However, there are dozens of simple wedding dresses that no one even knows about. The fact is that not all the brides prefer ball gowns to be worn on their big day. Very often brides-to-be prefer minimalism but have no clue what to refer to and which dress to choose. Taking all this into consideration we decided to gather all the trendiest and the simplest wedding dresses in one place. That is why if you do not seek for the pompous wedding dress but would rather wear a simple and beautiful one on your wedding day – you have come to the right place.
You need to keep it in mind that simple does not equal not beautiful or any less exquisite. Read on, and we will prove this point.
Simple Wedding Dress With Long Sleeves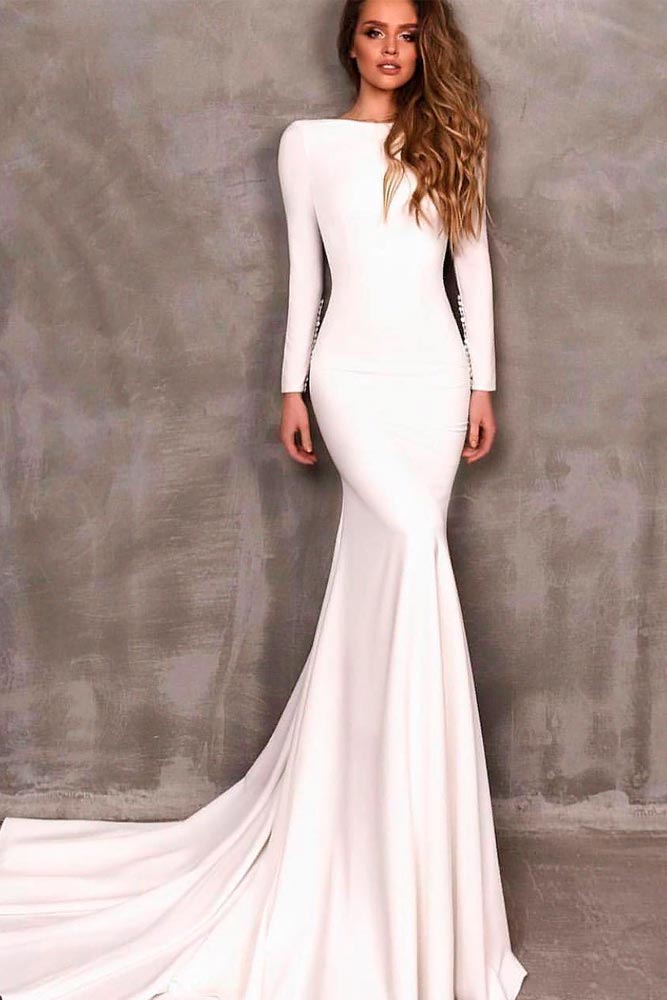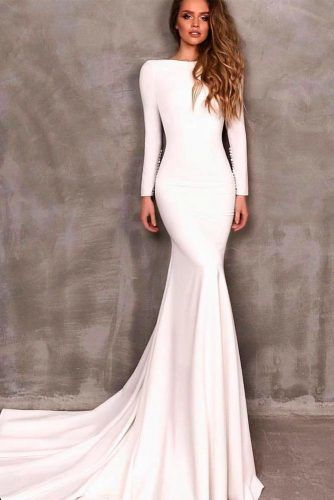 We are going to begin our survey with simple, elegant wedding dresses with long sleeves. As you can see the dress is of maxi length that is why it fits the occasion perfectly. Even though there is not that much of decoration involved, the silhouette itself emphasized the beauty and sleekness of the dress. Such a dress will come in more than suitable if it is quite cold outside.
Source: evalendel via Instagram
Choir Boy Sleeves Wedding Dress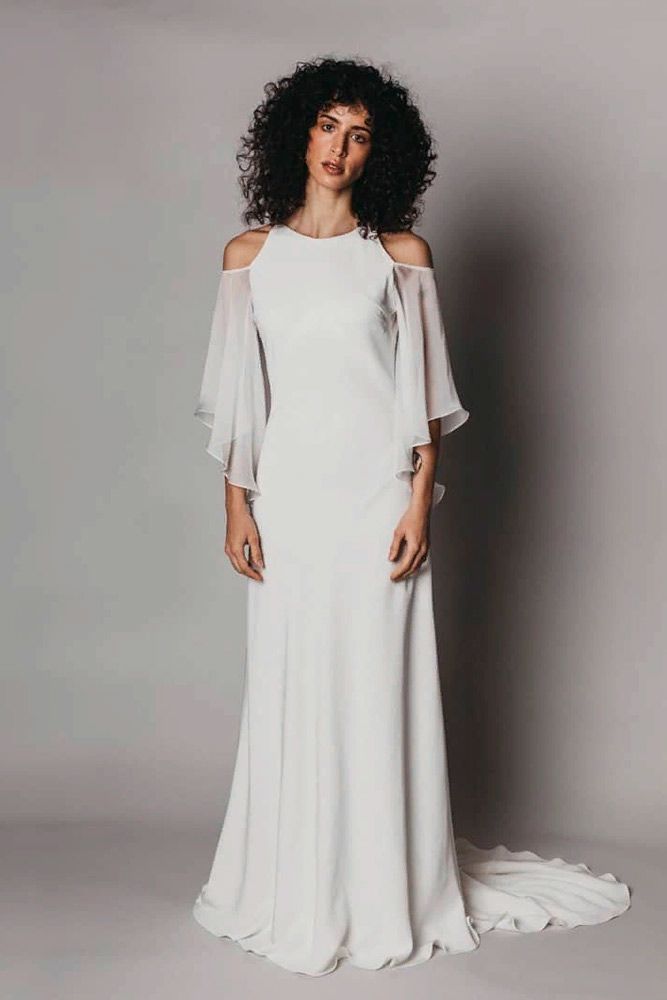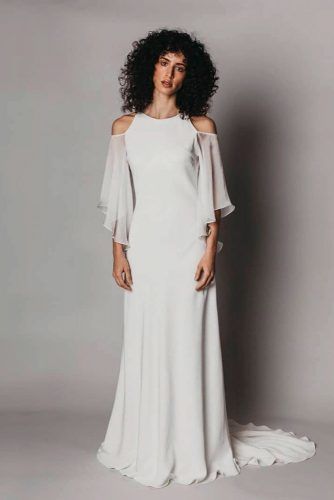 Very often simple maxi dresses have that one element that makes the dress stand out. In this case, you can see that choir boy sleeves add up to the gentle image of a bride. The sleeves are made of lighter material so that it flows around the bride as she moves and that is the particular detail which makes you fall in love with this simple yet gorgeous dress.
Source: rolling_in_roses via Instagram
Simple Boho Wedding Dress With V-Neck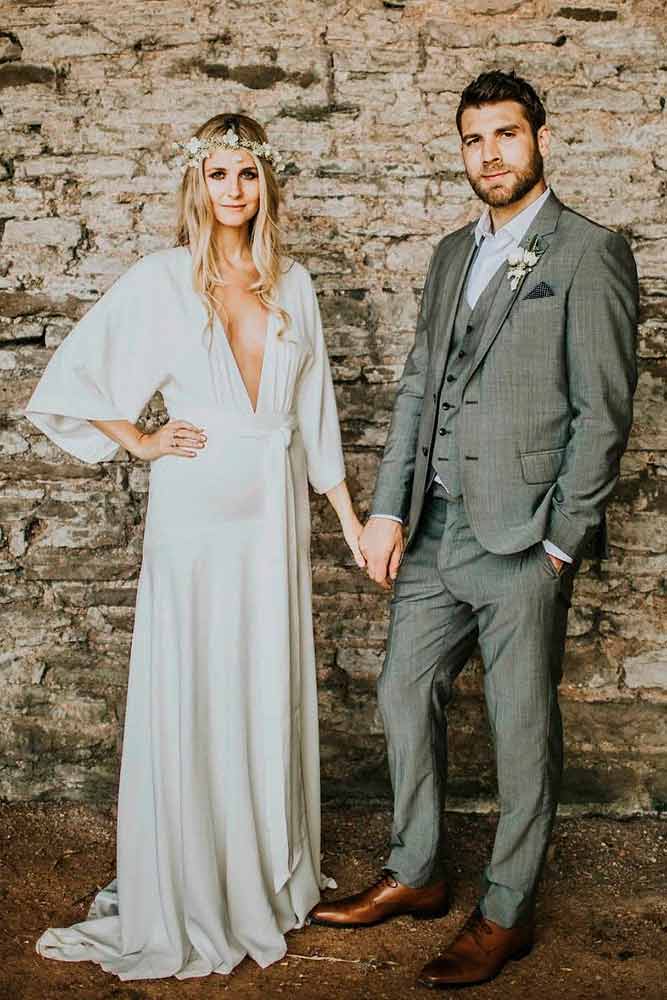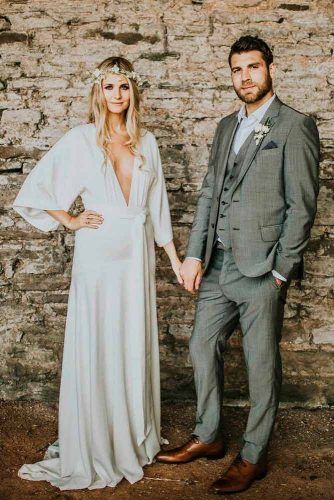 In case you are looking for some simple beach wedding dresses – we may have something in store for you. The truth is that the boho style is usually connected with sunny weather water. That is why this V-neck boho wedding dress seems to fit in the category well. Even though there is nothing extraordinary about the dress, the V-neck is the detail that adds uniqueness not to mention sexiness to the bridal image.
Source: charlie_brear via Instagram
Elegant Wedding Dress With Short Sleeves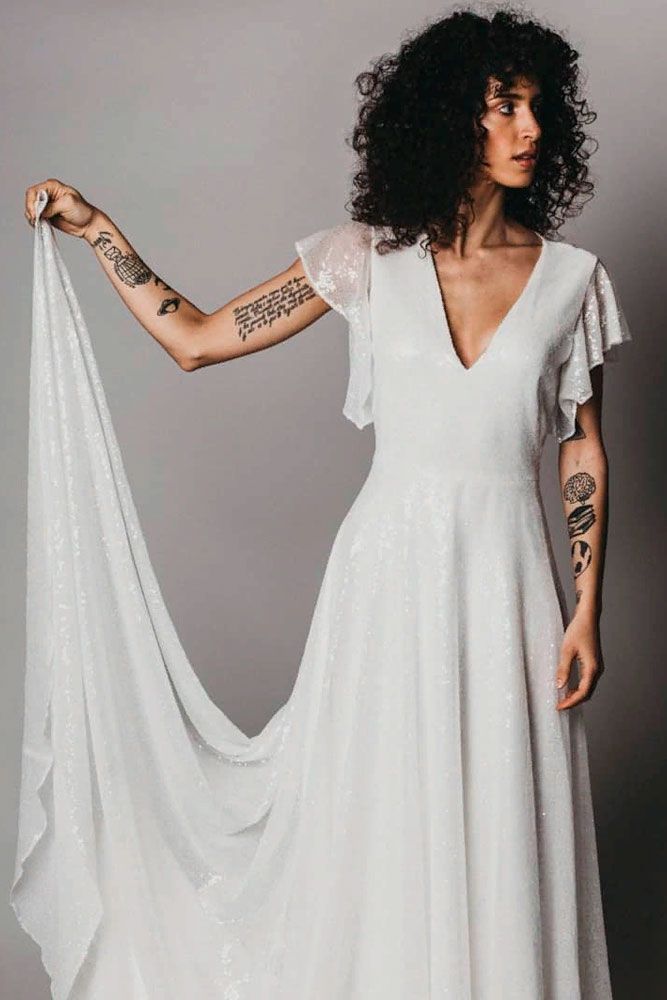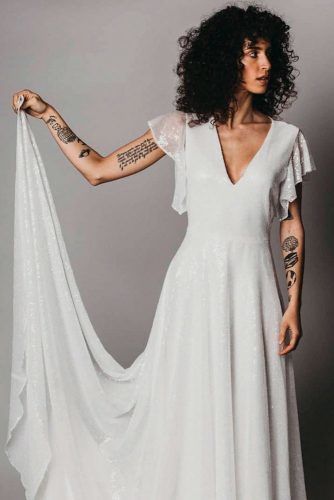 Those of you who are searching for simple, classy wedding dresses with short sleeves we have a suitable idea to offer. This flowing dress is luxurious in its minimalistic charm. The thing is that the fabric it is made of is flowing and has a light pattern on it. However, you can notice this detail only when you look at the sleeves, and that is what makes the dress even more exquisite and mesmerizing.
Source: rolling_in_roses via Instagram
Simple Puffed Sleeves Wedding Dress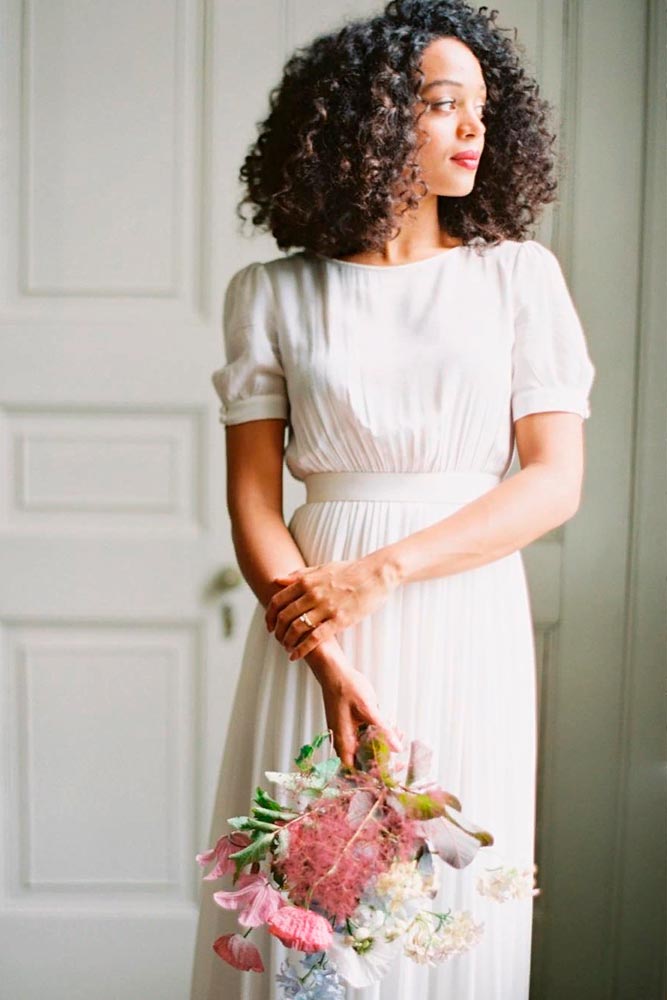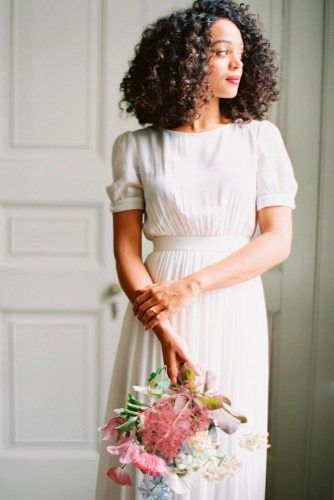 Many dresses come with puffed sleeves, and this one is surely not the exception. In case you still do not know what a puffed sleeve is – it is a sleeve that is gathered at the shoulders and caught in at the cuff to create a puffy effect. When there are no other decorative elements, the sleeves become that one feature that makes a dress unforgettably beautiful. See for yourself!
Source: jessicarosephoto via Instagram
Layered Greek Wedding Dress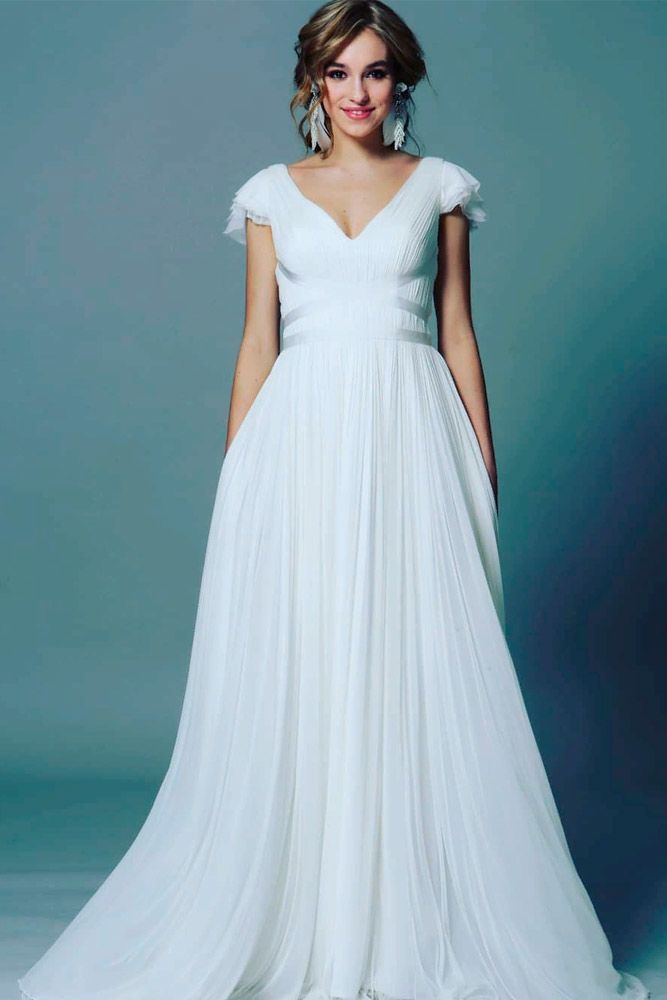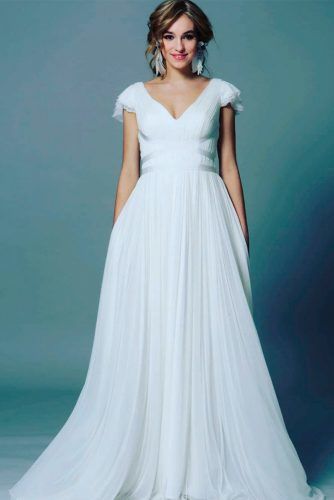 The truth is wedding dresses in Greek style are the representatives of femininity despite the simple design. As you can see the amount of flowing material and the absence of any other decoration but cup sleeves make the dress stand out. In case, you wonder what is so special about cap sleeves, in most cases, they are attached only to the top of the gown so that there is no fabric underneath the arm. Such a sleeve type looks extremely romantic, while offers the bride the freedom of arm movement.
Source: sadoni via Instagram
Simple Sleeveless Wedding Dress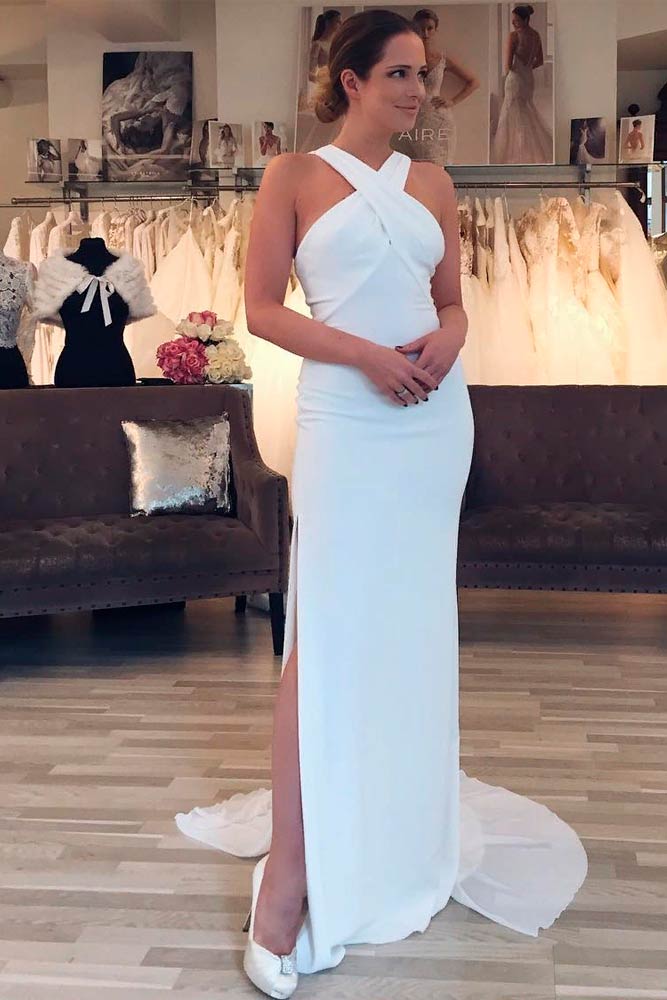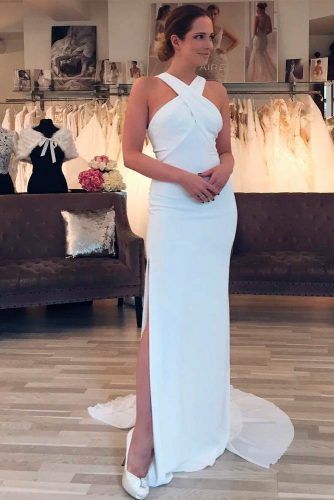 Very often when you think about a sleeveless dress, it occurs to you that since there are no sleeves it is not suitable for you, because you are afraid such a dress won't stay in place. However, even though sleeveless defines the absence of sleeves, usually there still wide straps crossed over the shoulders. As you can see in the photo below such crossed straps both define the dress and keep it in place.
Source: brudekjolen via Instagram
Satin Mermaid Wedding Dress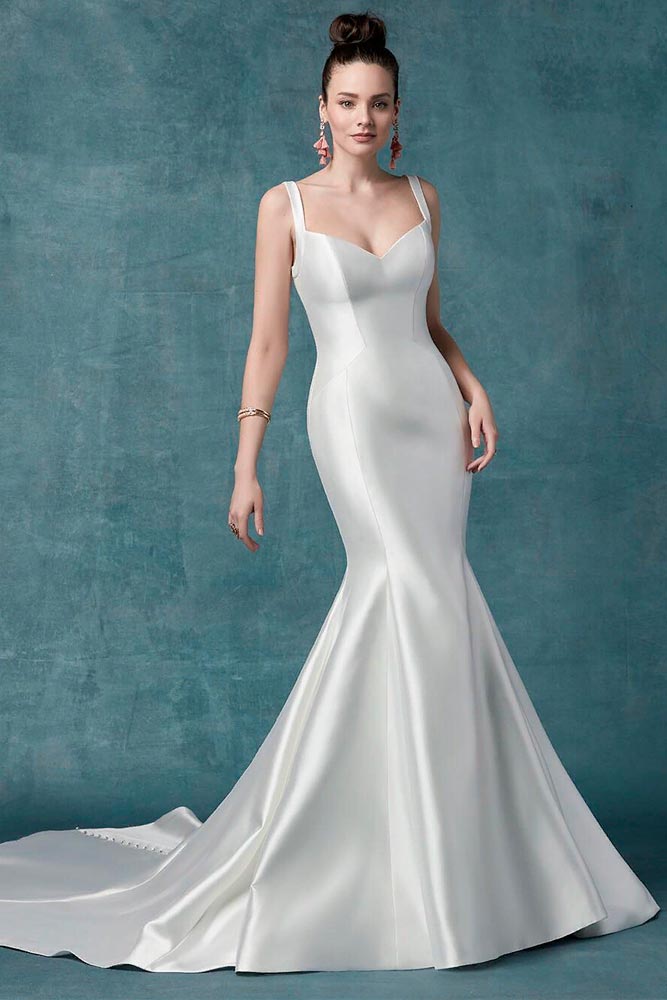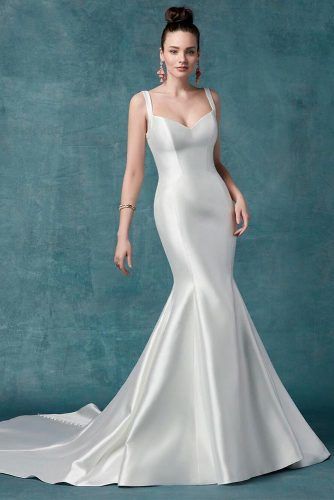 If you are looking for some simple mermaid wedding dresses – we have one to suggest. The dress is made of satin, and that already make sit over the edge appealing for most ladies. However, let's have a look at that mermaid bottom part – isn't it magnificent? Besides, the thin straps not only intensify the elegant vibe but also ensure the comfort of the wearer. Perfect!
Source: maggiesotterodesigns via Instagram
Sexy Tight Wedding Dress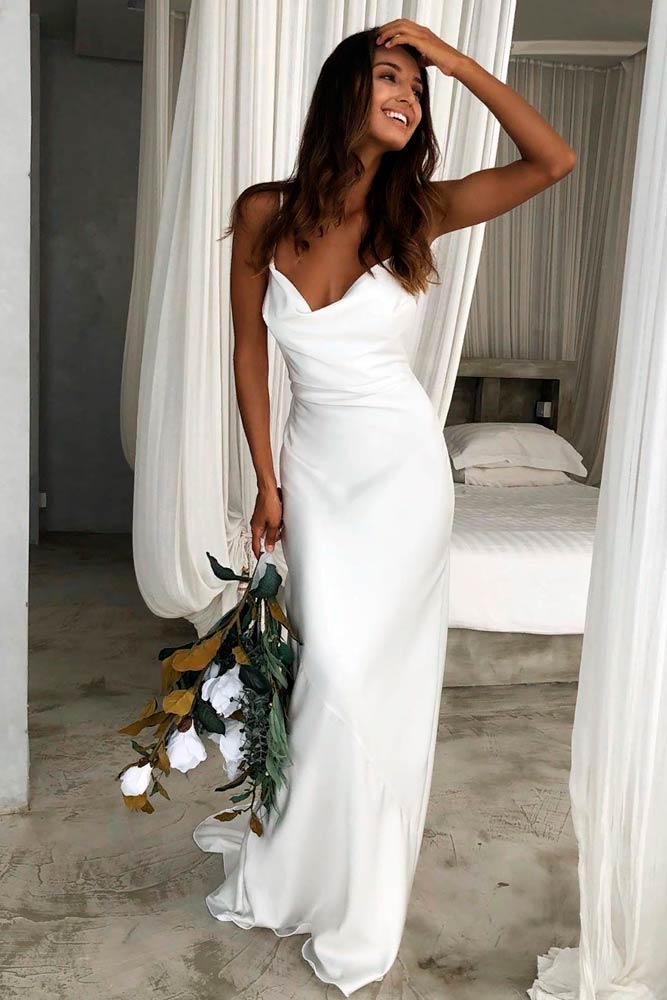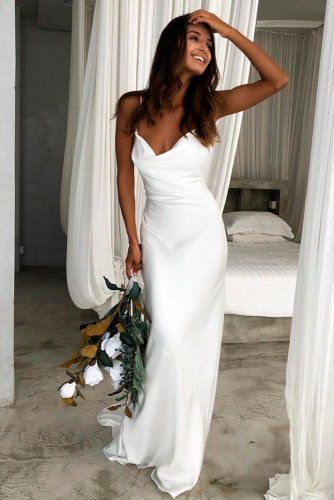 There are times when you wish to sport a strapless dress, but the fear that it will not stay in place makes you forget about the idea. That is when spaghetti straps come in more than helpful. They are barely noticeable, but they provide that necessary support that enables you to wear the dress of your dream.
Source: studiomincworld via Instagram
Simple Lace Plus Size Wedding Dresses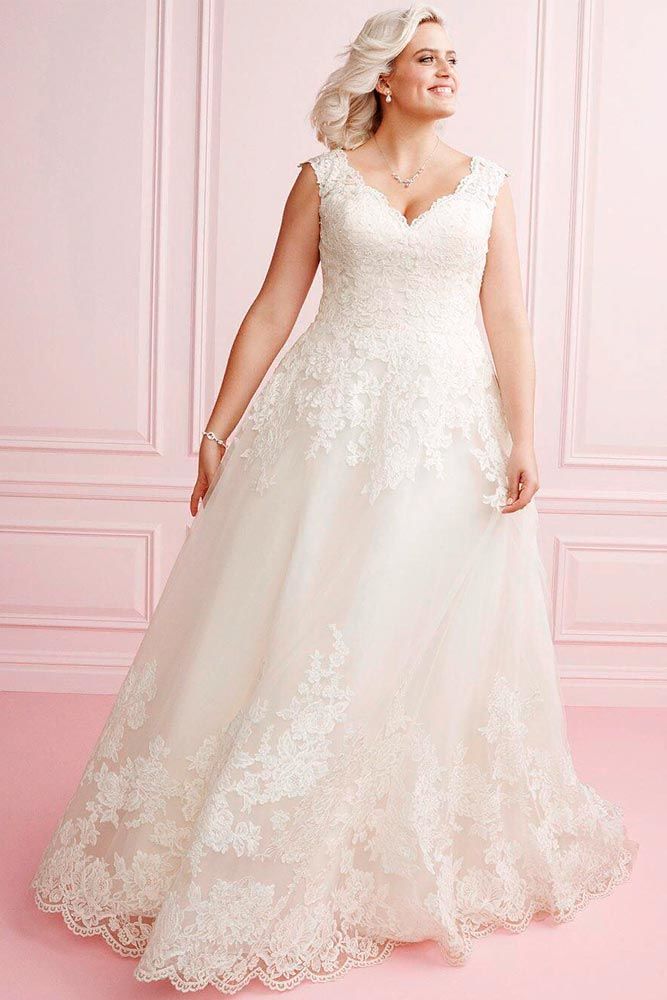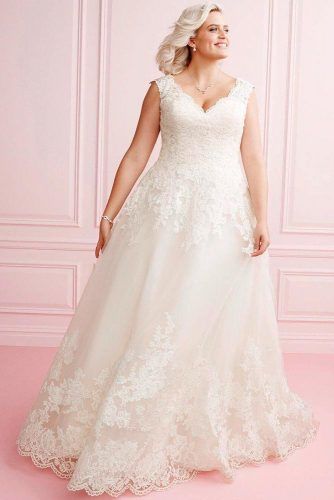 It may have occurred to you that simple means no lace. No, not at all! For instance, if we have a look at this gorgeous example of simple wedding dresses plus sizes you can see that it is covered with lace almost all over. Yet, despite the amount of lace, it creates a simple and elegant aura around the bride.
Source: davidsbridal via Instagram
Simple Plus Size Spaghetti Strap Wedding Dress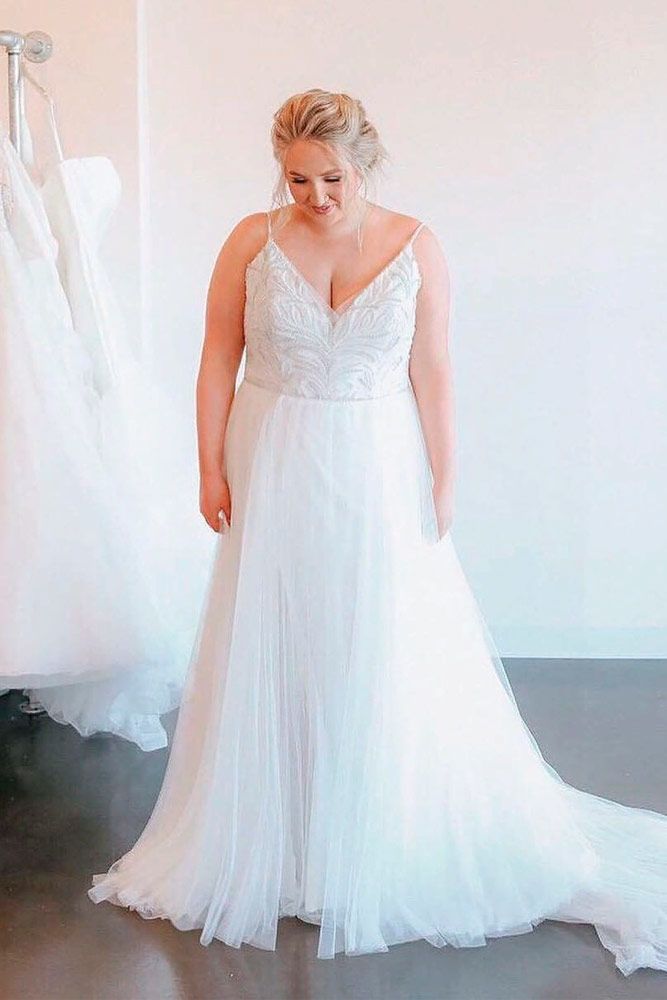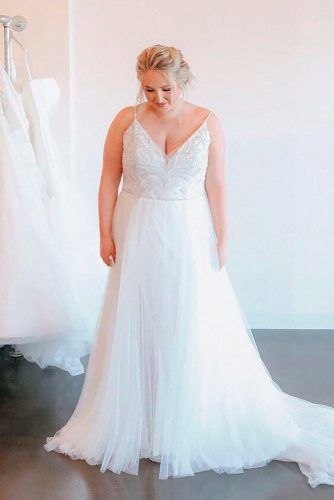 You will be surprised at how many beautiful and simple plus size wedding dresses there are. One look at this tulle plus size dress with spaghetti straps will make you drool all over it. It seems that everything necessary has been combined in this simple design: beauty, flowing silhouette, elegance, and comfort.
Source: maggiesotterodesigns via Instagram
Satin Plus Size Wedding Dress With Sweetheart Neckline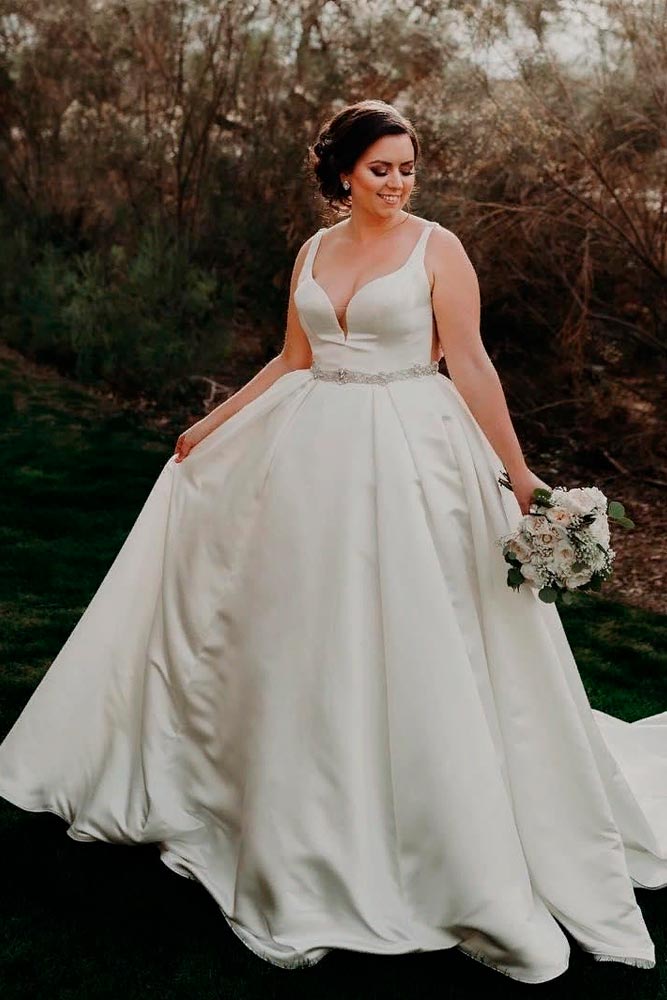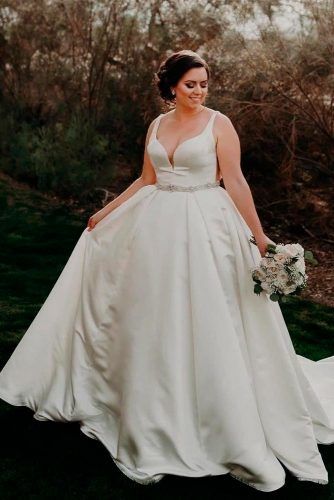 There are times when it may seem that simple dresses do not fit the princess-like image. Yet, that is not true. One look at this simple satin wedding dress will make clear what we have in mind. There is nothing out of place about this gorgeous dress. What is more, there is not a single pompous detail about it. However, the material and the sweetheart neckline do the trick and result in a magical bridal look.
Source: maggiesotterodesigns via Instagram
Elegant Off The Shoulder Wedding Dresses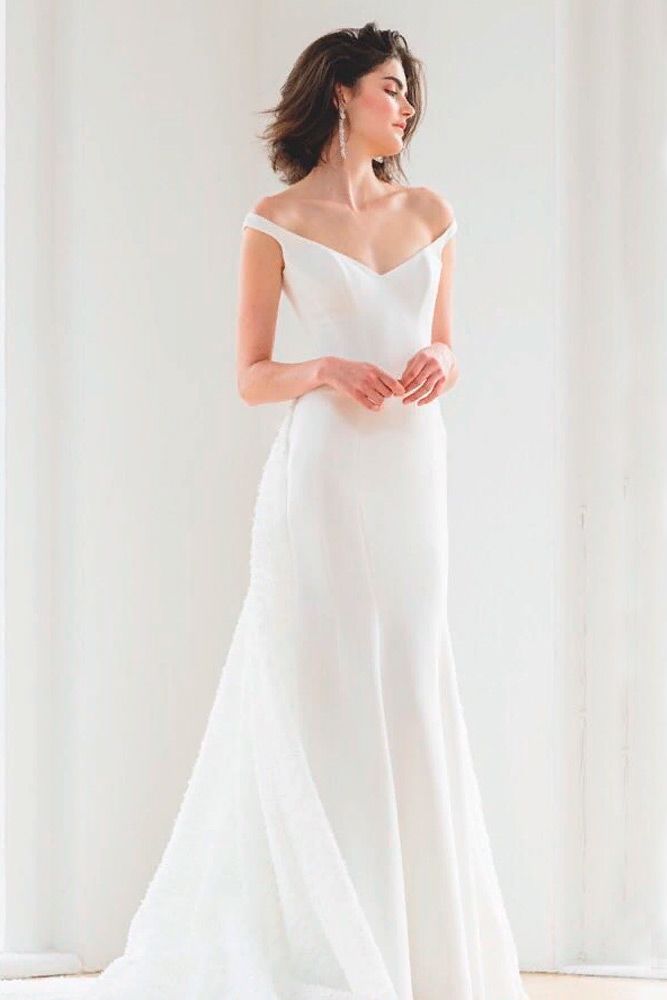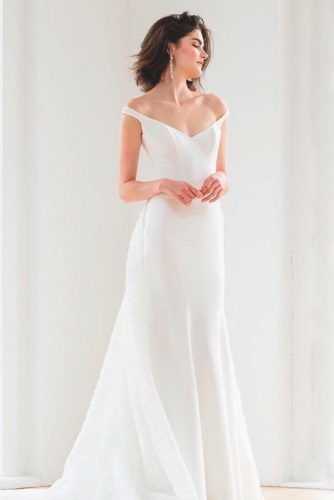 No matter how much comfort straps may offer not all the brides will dare to wear a wedding dress with straps. The reason why lies in the shoulder breadth. No one wants to add definition to broad shoulders especially when it is a wedding day we are talking about. That is why the designers invented something as amazing as a shoulder-off dress. With a dress like that, you will not only succeed with drawing attention away from your wide shoulders but will also end up with a gentle and romantic bridal image.
Source: inesdisanto via Instagram
Simple Lace Bridal Gowns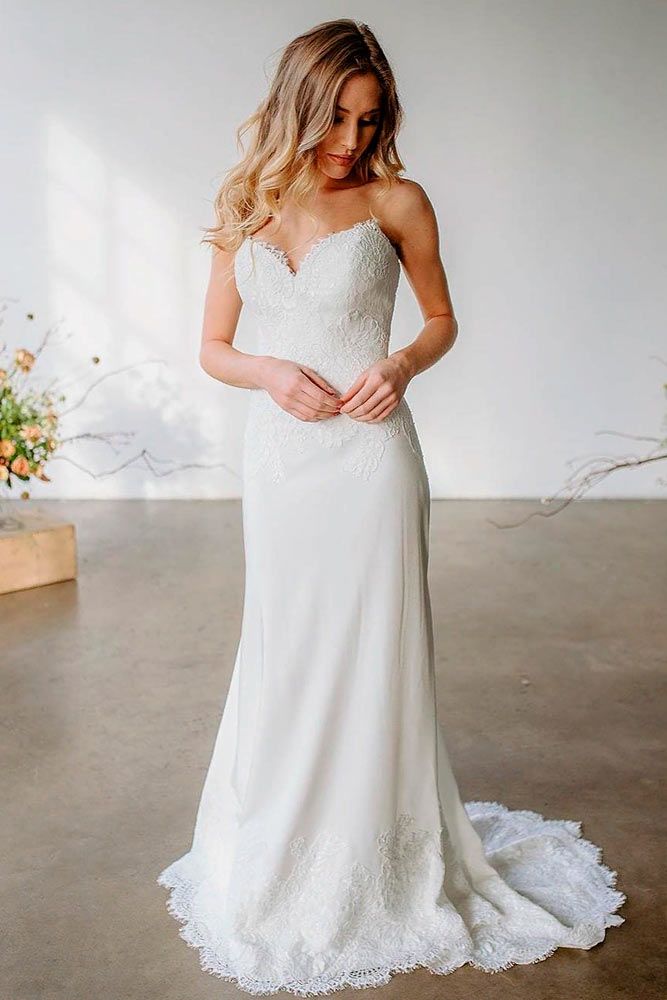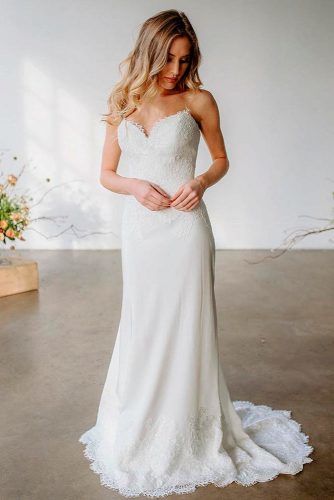 Those of you who prefer strapless dresses will surely fall in love with this simple wedding dress. The absence of straps or sleeves does not affect the general effect of the dress since the sweetheart neckline, and the moderate amount of lace make up for it.
Source: lace_and_liberty via Instagram
High Wrap Wedding Dress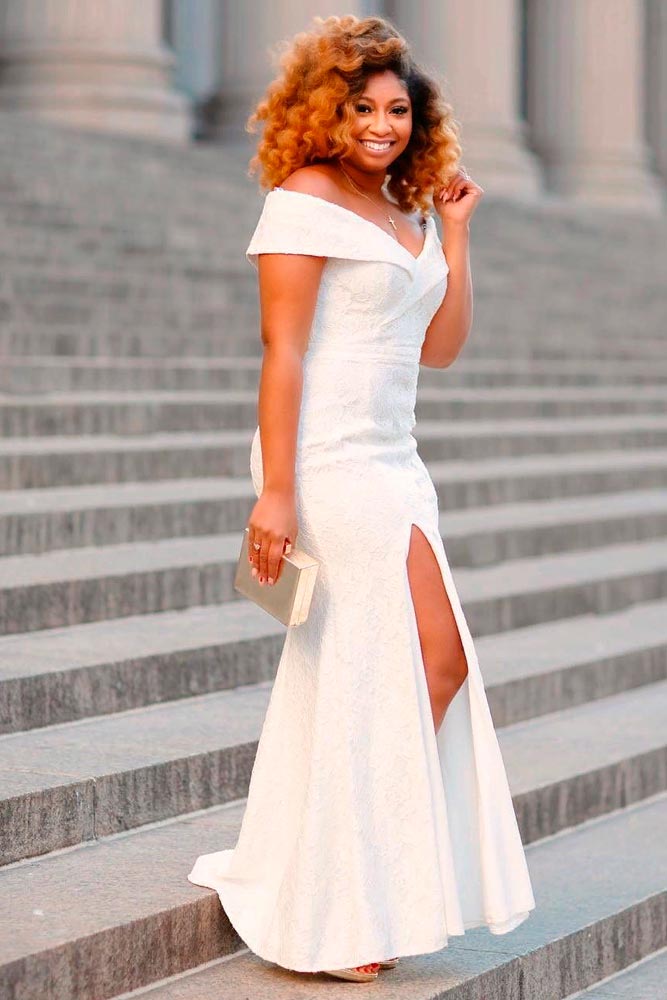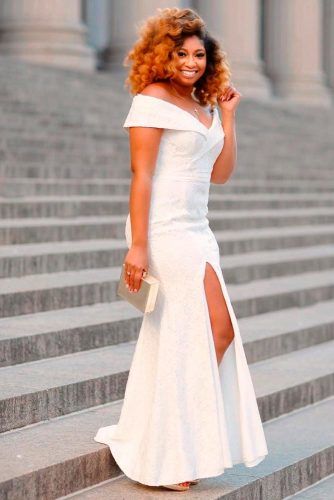 In times when you want to combine a simple look with a sassy vibe then you need to consider a shoulder-off high wrap wedding dress. However, you need to be careful with the material. Thicker fabric with elegant embroidery all over it fits the goal just perfectly. See for yourself!
Source: davidsbridal via Instagram
Simple wedding dresses can be over the edge versatile and elegant. In case you do not trust us then you haven't had a closer look at this compilation!