Even though wedding veils are simple, weightless bridal details, every bride knows how it's important to find the right finishing touch for their big-day look. The truth is, these little cuties made out of delicate transparent fabric can define your wedding style, accentuate your wonderful dress, and emphasize your unbelievable beauty. Yes, beauty is in the details: let's see how a little touch of elegance will create a silhouette that you will call perfect.
Let's don't forget that your veil should match not only your preferences but also your dress and the style of your long-awaited ceremony, so the right length and fabric are crucial! In our inspo-gallery, we've collected the latest ideas that will fit any wedding: from rich vintage patterns to minimalistic traditional styles. It's time make your look as ideal as you could never dream of!
Shoulder Length Veils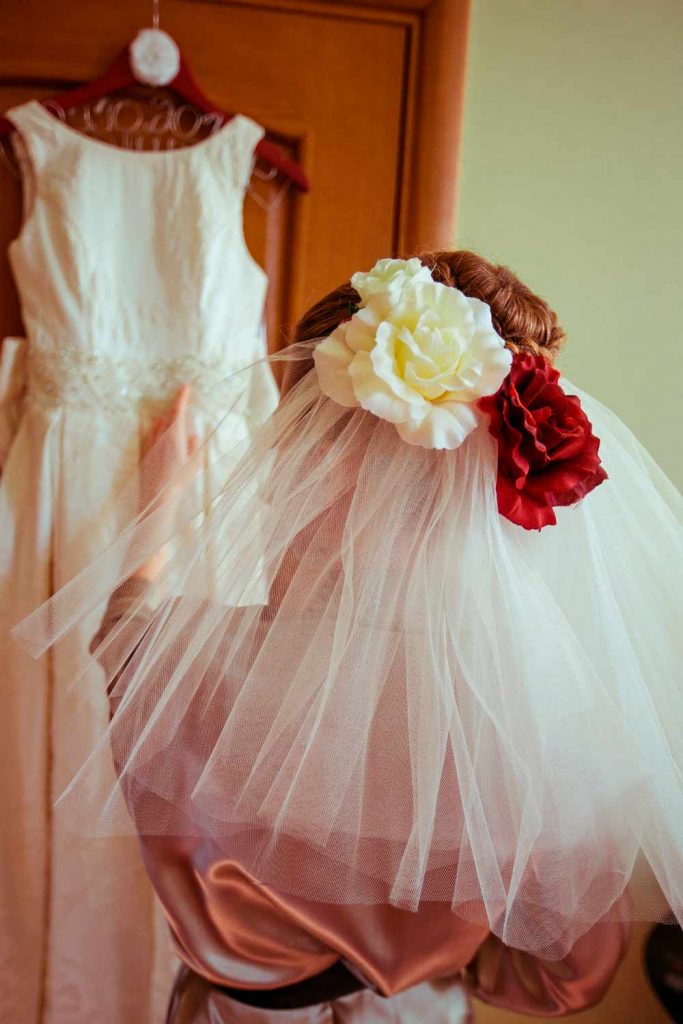 Source: Shutterstock
Shoulder length wedding veils are pretty versatile when it comes to finding a matching complement to your hairstyle. And this is probably one of the main reasons why future brides tend to opt for them: nothing stops them from wearing their favorite hairdos. Also, they're quite minimalistic compared to traditional veils, which makes them totally special. But there's also a little pitfall: since they're so tiny and usually patterned, your dress shouldn't be too embellished so as not to break the overall balance. So, ladies with minimalistic dresses here are some simple, yet elegant shoulder length veils for you!
Vintage Blusher Veil With Rhinestones
Source: elishacaplanbridal via Instagram
Your wedding day is a good day for a huge comeback of the enchanting vintage times! Vintage wedding dresses were so dramatic and gentle at the same time that no wonder so many ladies would like to go through the stylish epoch of fur wedding capes, long pearl necklaces and soft Hollywood curls hanging on the shoulders. Of course, such a look can't do without a matching, authentic veil, and this cutie with rhinestones is an excellent start. Your blusher veil will cover your beautiful face while you will walk down the aisle, and the shiny rhinestones will show off your exceptional taste.
Shoulder Length Veil With Hearts Pattern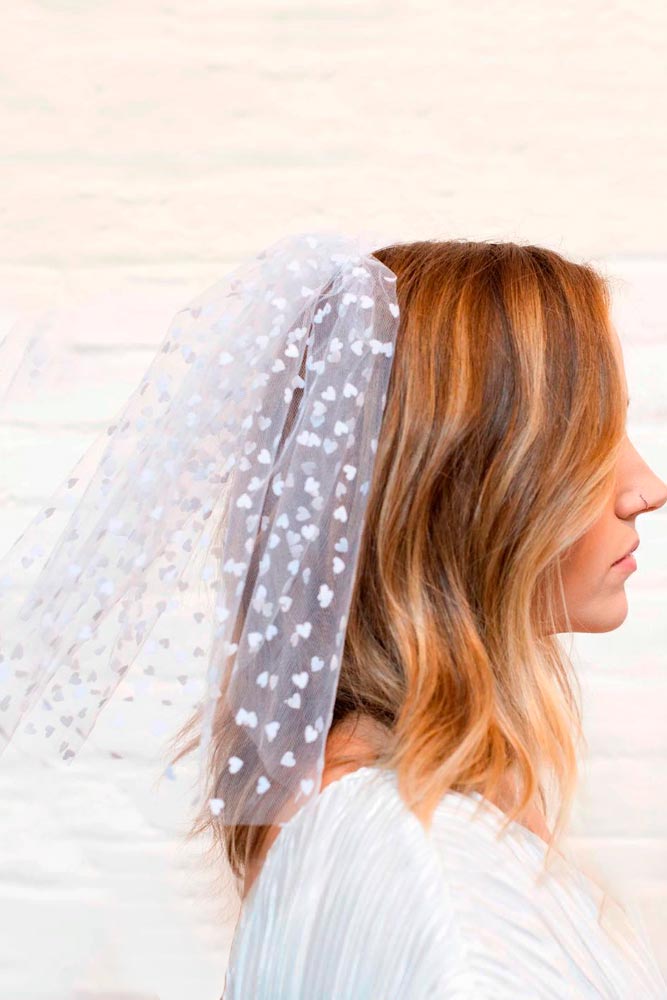 Source: ashleywildbridal via Instagram
Keep in mind that wedding veils can be as unique and customized as you want. Moreover, when brides feel that it's hard to find the perfect veil for their personal style, they go for tailored wedding accessories that will fit their desirable wedding mood. You can find such a lovely shoulder length veil with hearts pattern in any store or design your own; it's all up to you. The point is that it's absolutely versatile: it will look ravishing with any hairdo and any type of dress, which is a win-win option.
Shoulder Length Butterfly Veil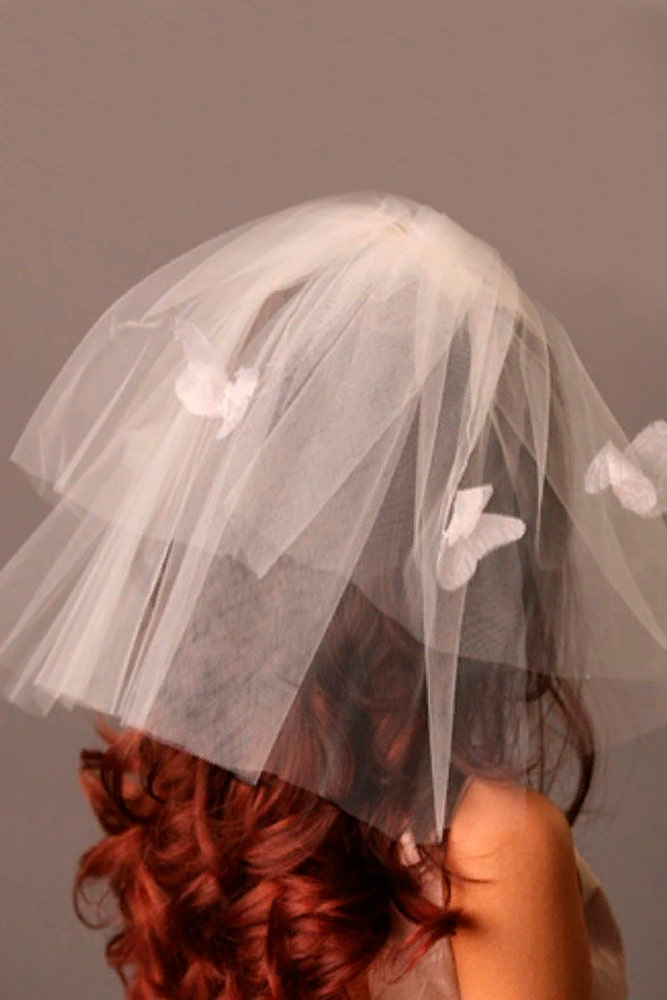 Source: elishacaplanbridal via Instagram
Ladies who want their wedding look to be tiny and weightless are going to copy this pure delicacy. This soft butterfly veil is quite different, as the pattern isn't too drastic or all-over: it's very simple, and this simplicity can take your look to the next level. As you can see, it's pretty modest, so it will allow you to wear an embellished dress, which is so in demand these days.
Elbow Length Veils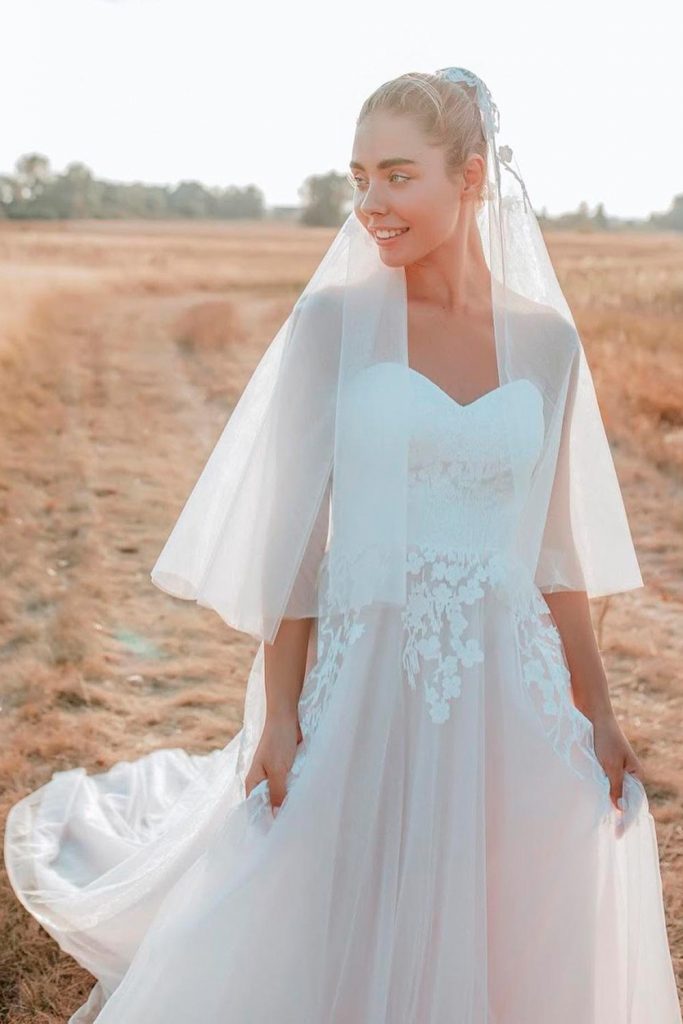 Source: stylishbrideaccs via Instagram
Elbow length wedding veils belong to semi-traditional bridal styles. Though they may come in any style, as well as coordinate with absolutely any dress, they usually accompany gentle and minimalist dresses with minimum accessories. As for celebration hairstyles, brides who can't help themselves when they see soft elbow length veils should go for updos so that they can secure the adorable detail over it. See why such veils are so popular!
Classic Bubble Veil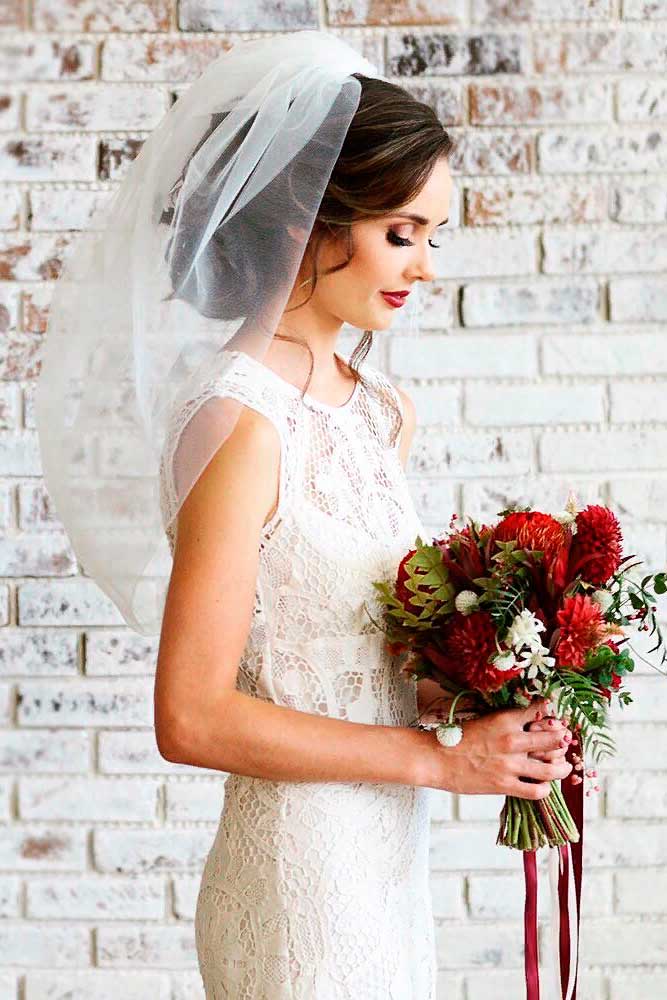 Source: madametulle via Instagram
When you want to add a touch of fascination to your bridal look, don't look any further than the classic bubble veil. Unlike many short wedding veils, the layered design of an elbow length bubble veil can add more volume and sophistication to your look. It can create a stunning contrast and fullness to brides who go for v-neck or peplum dresses and neat updos, giving a gloriously balanced silhouette.
Elbow Length Circle Veil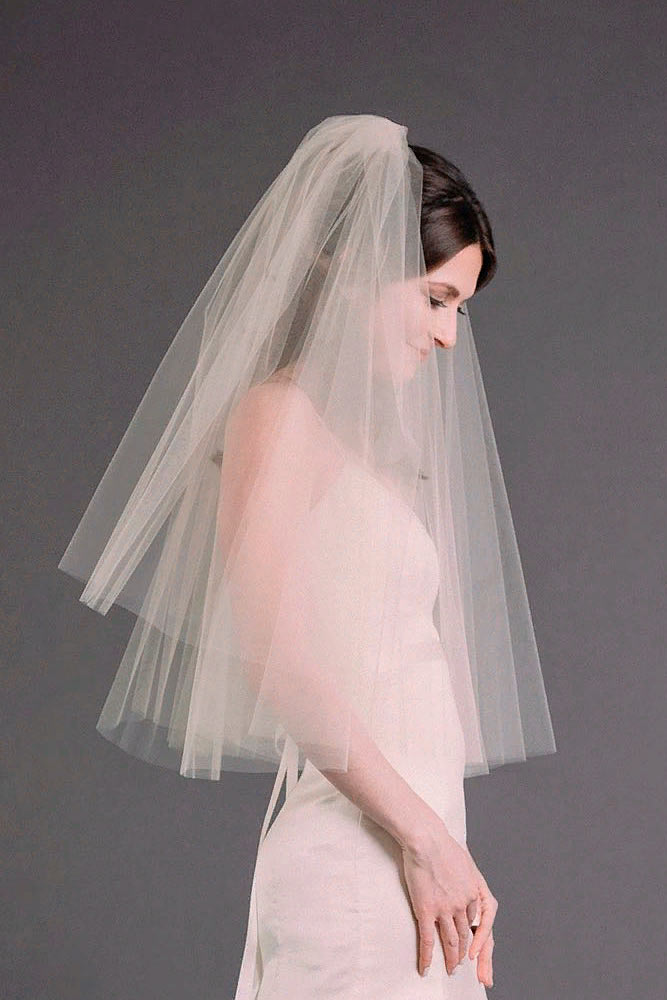 Source: yuricweddingshoppe via Instagram
Circle veil has always been the proof that veils will never go out of style. Strangely enough, there's no better enhancement of women's femininity than a thin layer of tulle. It seems like wedding veils are the embodiment of our subtle nature, that's why ladies won't ever stop wearing them. And when your veil has a neat circle shape where multi-layered fabric gently drops over the head, no words can describe this beauty. You can combine such a veil with a simple, but exquisite dress to reveal your incredible delicacy and sense of style.
Simple Elbow Length Veil With Hair Barrette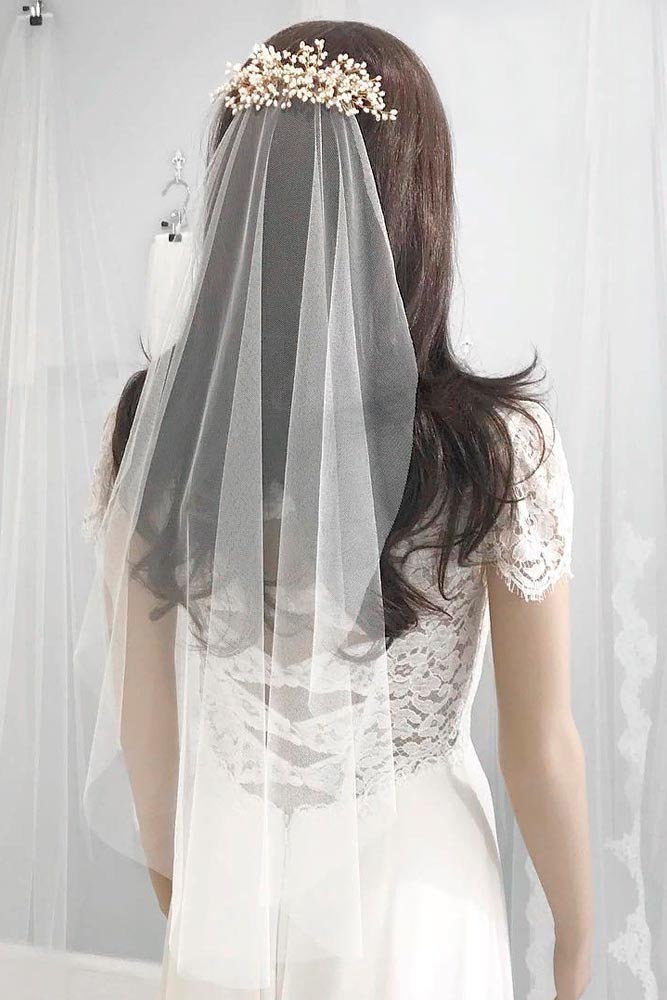 Source: brittenweddings via Instagram
If your dream wedding is all about pearly designed portrait dress, your lush waves that gently fall on your back, and simple veil, this idea is exactly what you need. As we've mentioned before, elbow length veils usually work well for gathered hair, but who says that there are no exceptions? This simple veil, accompanied with a luxurious hair barrette, will look gorgeous on your loose hair: it both sets the balance and keeps up with the traditional style.
Fingertip Length Veils
Fingertip wedding veils were designed to make brides' dreams come true. Those who love full, posh, and smooth silhouettes won't be able to take their eyes off the magnificent beauty that reaches their fingertips. Such a length literally has no disadvantages: it creates an incredible shining when the sun shines down on it, enhancing the beauty of sewn rhinestones and silky elements. The best thing is, most of them are beautified with lace edges or beaded embroidery, making the whole look scream how big your day is.
Fingertip Length Veil With Lace Edge
Source: fabyoubliss via Instagram
Richly embellished sheath dress, a tiny little bouquet of your favorite white roses, neatly styled updo, and a soft layer of glory with a lace edge. Isn't that a perfect bridal look you couldn't even dream of? Just look at how captivating this look is. It's pretty obvious that it wouldn't look so unbelievable without this veil: it creates a smooth and well-balanced silhouette that nicely finishes everything.
Fingertip Length Veil With Your Hair Down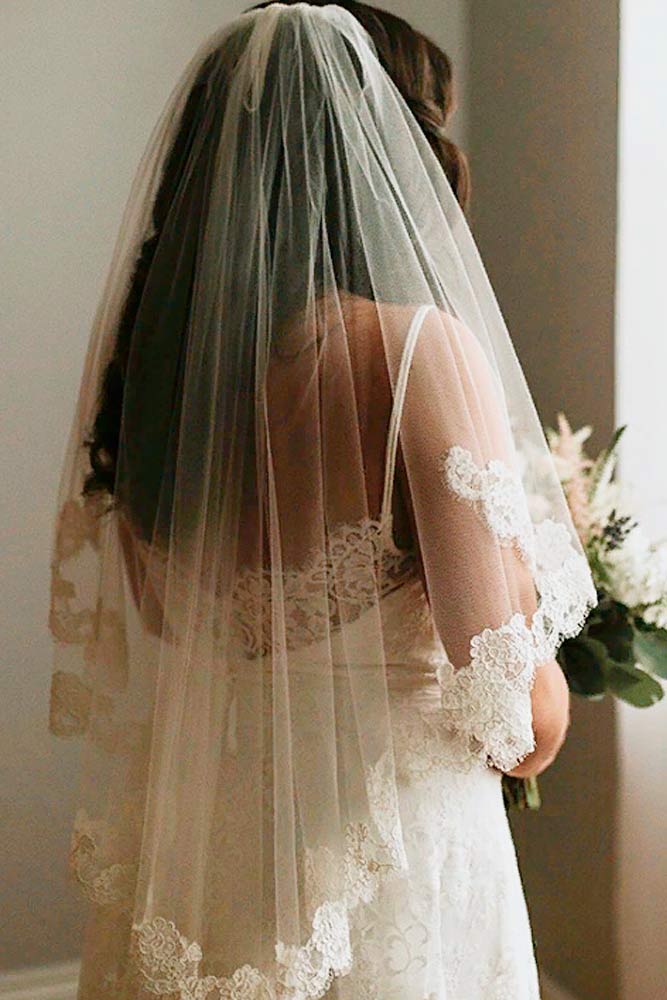 Source: biancadjardins.weddings via Instagram
All those beautiful lace elements and silky dresses with shiny embellishments can't compare to the natural accessory that has always been and will always be the symbol of women's beauty. We're talking about your hair. With this veil length, you can also play around with your hair, but our advice is to reveal its charm by wearing it down. Just imagine that your subtle lace veil softly falls on your back and melts with your beautiful locks. Yes, this is how real femininity looks like.
Simple, Yet Chic Fingertip Length Veil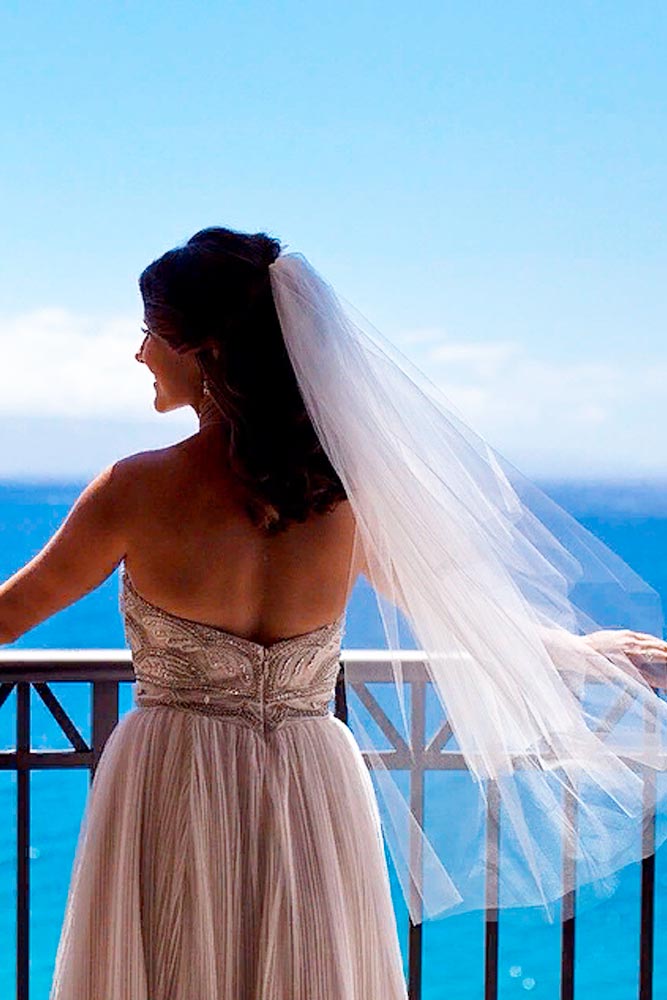 Source: mauicreativephoto via Instagram
Don't want your veil to grab the world's attention? That's totally OK: so many brides, so many wed-style preferences. If you are looking for a really effortless veil, without any eye-catching details, that won't only be a wallet-friendly decision, but also a very refined finish to your look. Keep in mind that most cheap wedding veils don't feature lace, pearls, and any other fashionable details. But it doesn't mean that the quality is a disaster. Look how stunning the simplicity can be: it's ordinary, yet entirely unique.
Waltz Length Veils
Waltz length wedding veils are a very thin, adorable complement to your dress that seamlessly melts with the texture of your dress, creating a soft, feminine mantle that covers your back and shoulders. Most longer veils look like a part of the gown, but waltz length veils still can be an independent finish, as their edges reach your knees. Such veils are usually designed with minimalistic lace or embroidery embellishments. They also belong to traditional wedding styles, so sticking to authenticity and minimalism is crucial before getting a waltz veil.
Simple Waltz Length Veil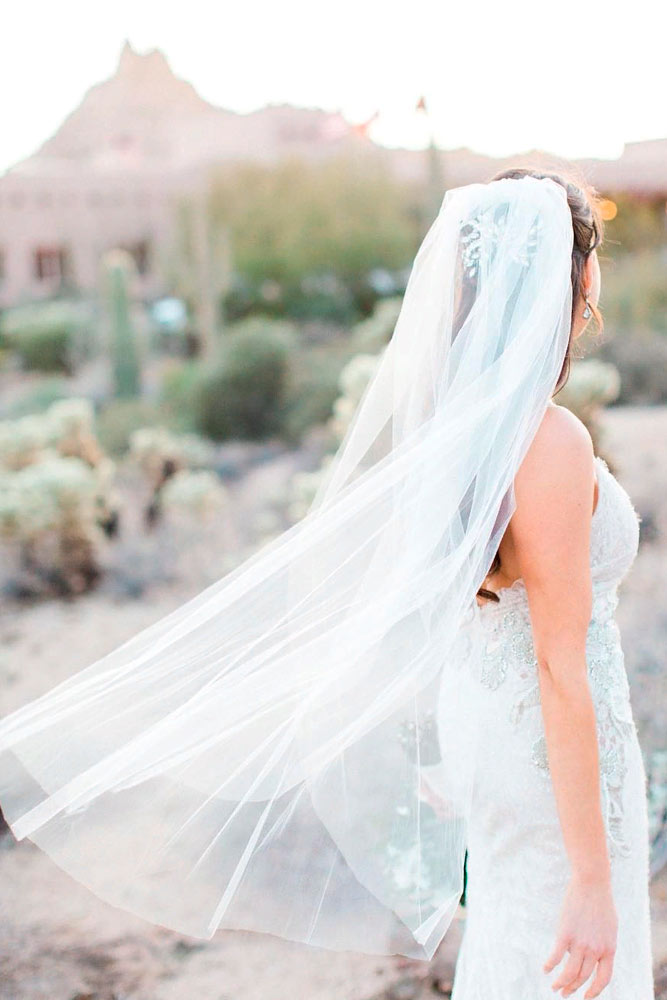 Source: pinkertonphoto via Instagram
Some brides love to be covered with shining accessories all over their looks, while some prefer to keep everything as simple as possible. If you feel that your beautiful eyes and glorious smile are the only things that should shine at your wedding, leave it up to the simplicity which never fails. A white sheath dress with no-frill multilayered waltz length veil is a perfect idea to focus on your natural beauty.
Elegant Waltz Length Veil With Lace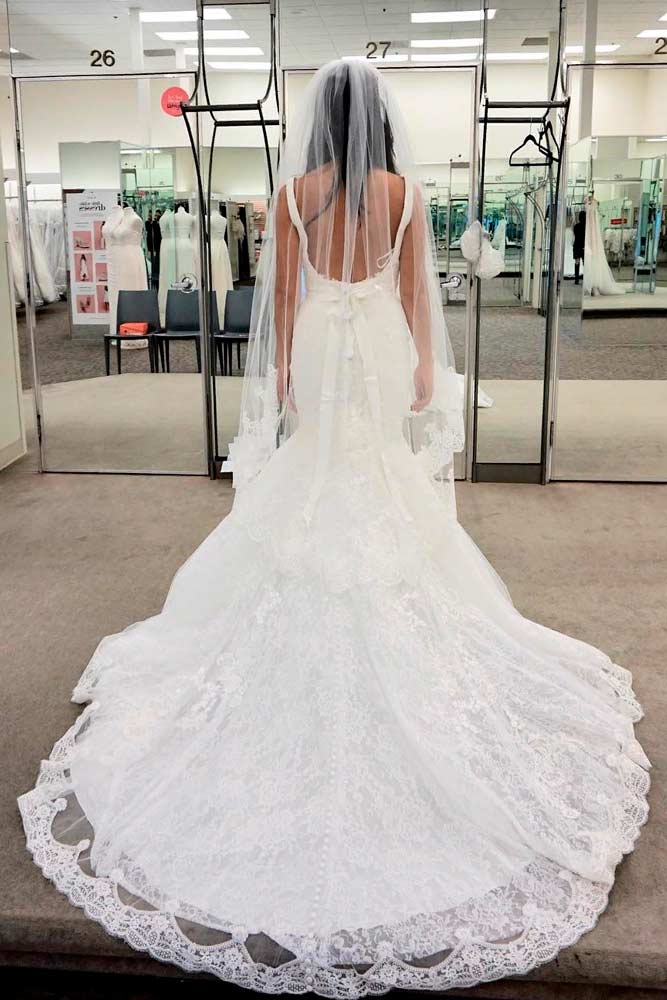 Source: katelynnansari via Instagram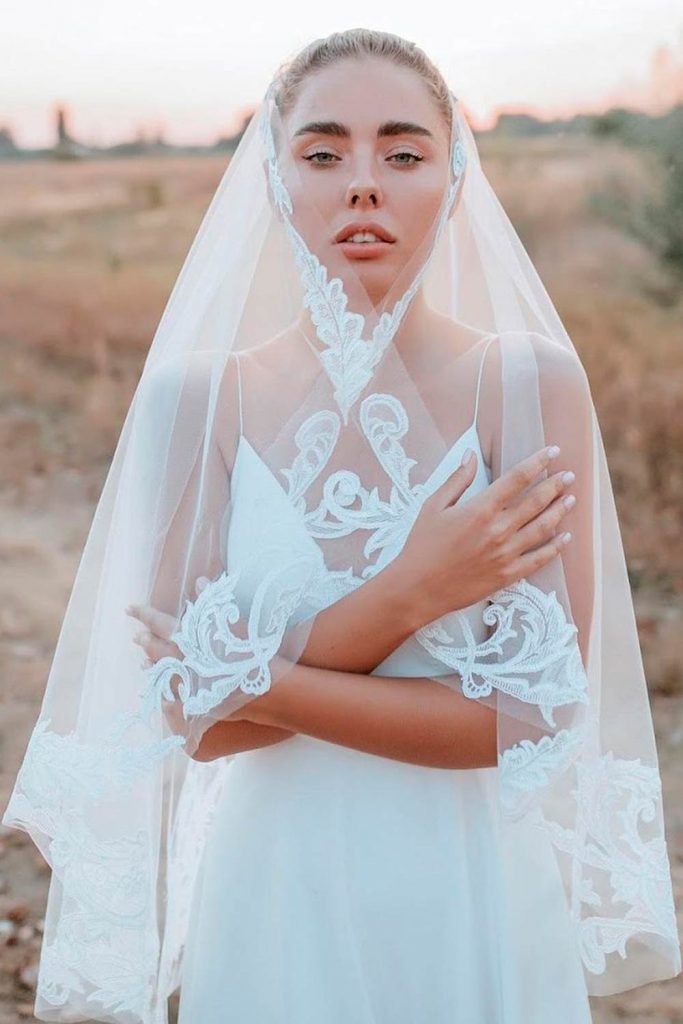 Source: stylishbrideaccs via Instagram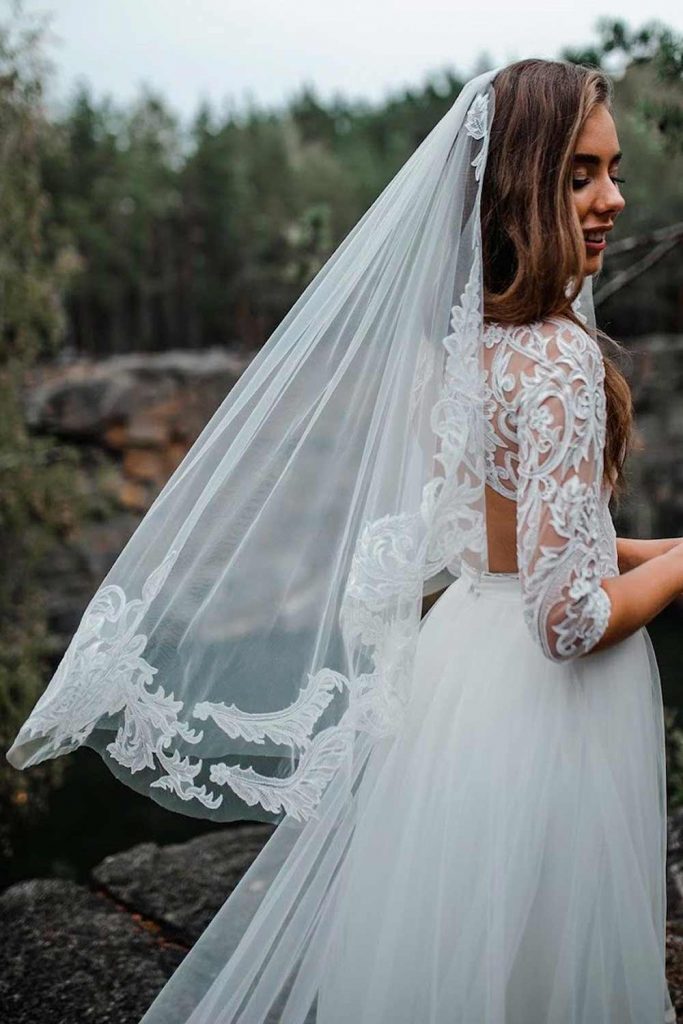 Source: stylishbrideaccs via Instagram
Waltz length veils usually come in oval shapes. Mainly because such silhouettes can fit any type of wedding dresses, without outweighing the look of a bride. This majestic duo of the fantastic mermaid dress that emphasizes the best features of the bride's body and long one-layer tulle with lace elements are something that can leave your guests speechless.
Tender Face Cover Waltz Length Veil With Lace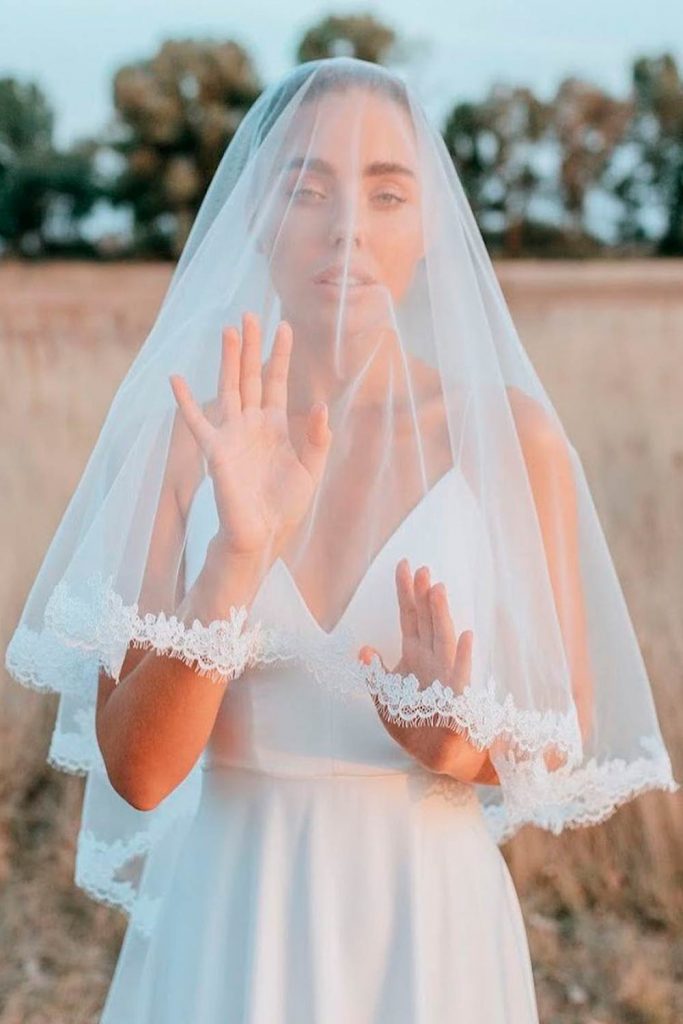 Source: stylishbrideaccs via Instagram
The pearl of the bridal ensemble is certainly the veil. It can be adorned with the same lace as your dress. Additionally, you won't stress over your clothing's potential differences in colors or texture.
French Chantilly Lace Veil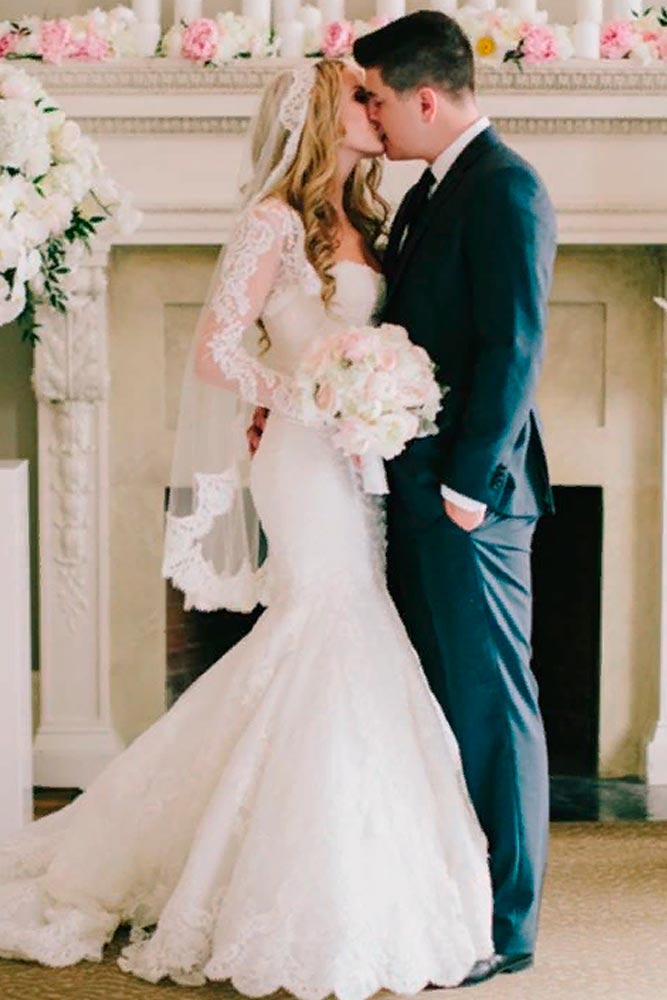 Source: veilsbyrebecca via Instagram
Happy ladies who have dreamt about a truly romantic wedding since their very childhood will literally fall in love with French Chantilly wedding veils. Once you have a look at this silky-patterned knee length cutie, you will realize that everyone will be at your feet when you show up with it. Nothing is more romantic than lace flowers on the soft weightless tulle, that's for sure.
Chapel Length Veils
Chapel length veils were created for brides who want their happiness to be recognized from a mile away. It seems like designers tried to reach the highest point of wedding aesthetics: the veil is the same length as the dress. If the fabric of such veils weren't so thin, it would be hard to notice where dresses end and veils begin; they form a whole stunning look. Traditions have many faces, and your chapel length wedding veil will be one of them.
Chapel Length Blusher Veil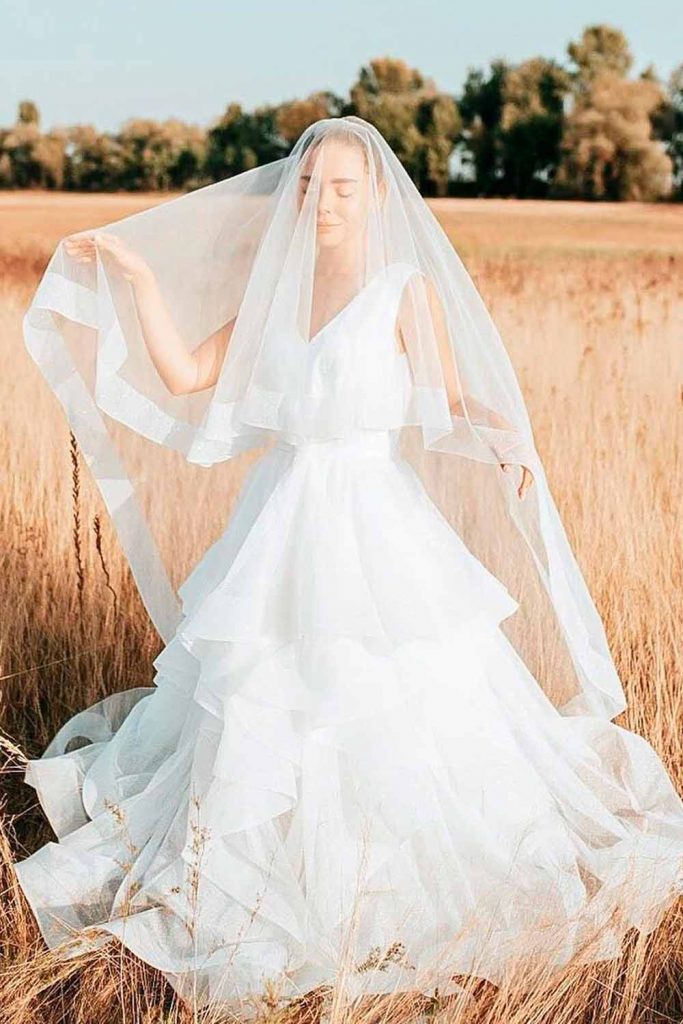 Source: stylishbrideaccs via Instagram
As you already know, a blusher veil is a wedding headpiece that conceals the face. It's a timeless, conventional option that will never lose its appeal. Your face does not need to be hidden by a bridal veil. However, it will if you decide to wear a blusher veil. Some fiancees prefer wearing a blusher veil down the aisle until they approach the altar. During the ceremony, the face-covering portion of the veil is then moved out of the way. Blusher veils are available in a variety of styles. A bridal veil with a blusher built in or one that is fingertip length are both options, as well as chapel length veil or a birdcage veil that cover only a part of your face.
Boho Chapel Length Veil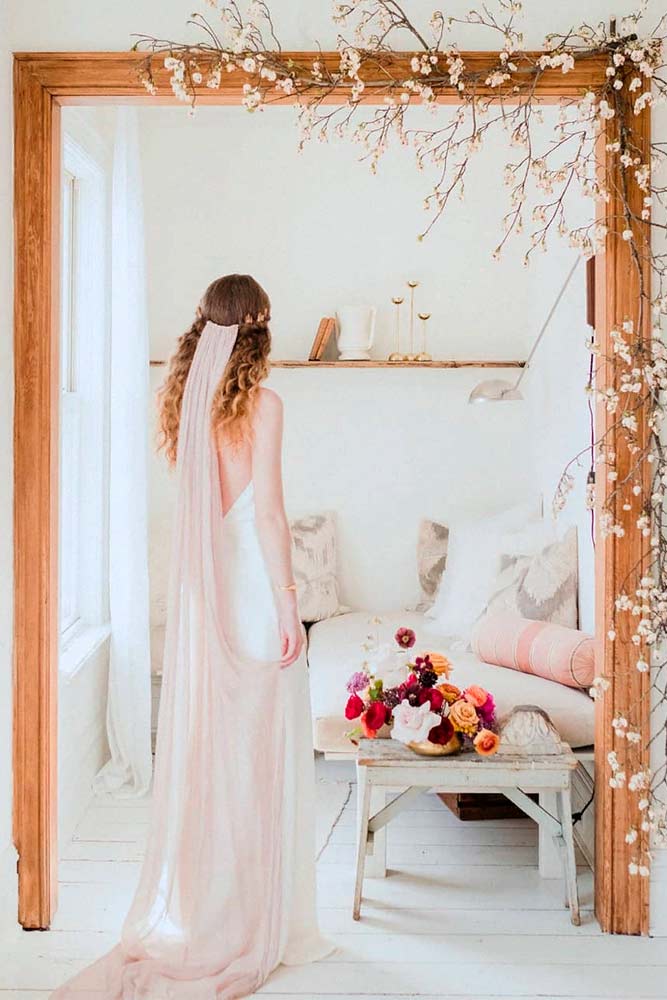 Source: greenweddingshoes via Instagram
Your inner boho queen deserves the most flattering boho wedding. A dress with exposed back with braided or wavy hair with floral accessories: everything should match your bohemian lifestyle. As for your veil, there's always an option for special ladies. Why don't impress your guests with an adorable boho style, where chapel length veil is gently secured on the crown of your hairdo, falling right on the floor. Boho chapels create a less voluminous silhouette, but they're still charming in their own way
Chapel Bottom Lace Veil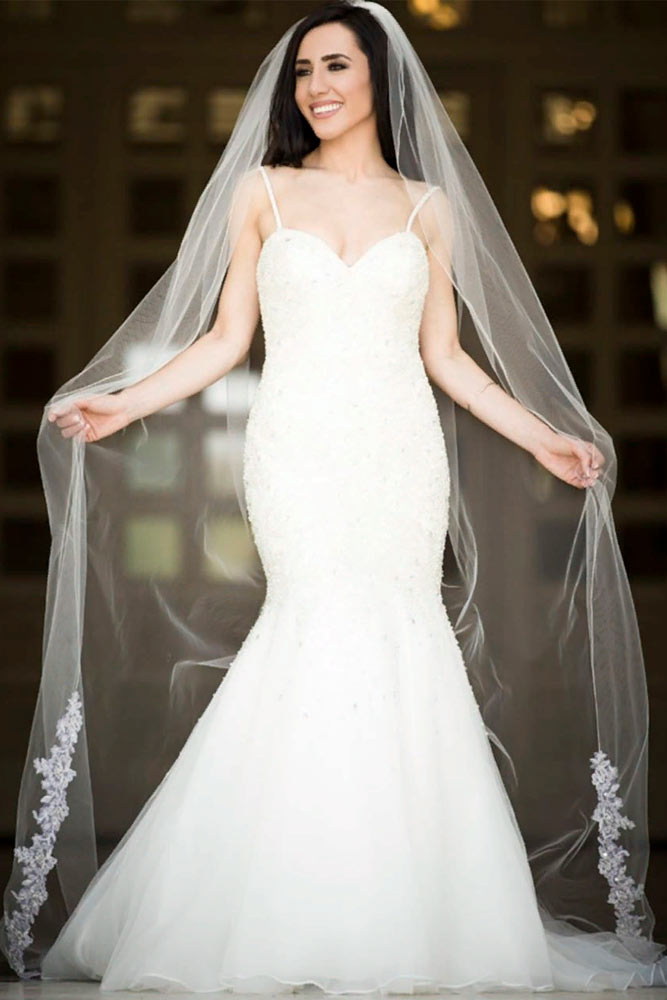 Source: veilsbyrebecca via Instagram
A single tier tulle with fantastic lace edges is the wedding embellishment we all deserve to wear one day. You already know that if you'd like to wear a minimalistic dress, it's better to combine it with a posh and full veil that will set the balance of your glamorous look. And this pic is the embodiment of this rule: a simple mermaid dress + bottom veil = the look that is worth a red carpet wedding.
Cathedral Length Veils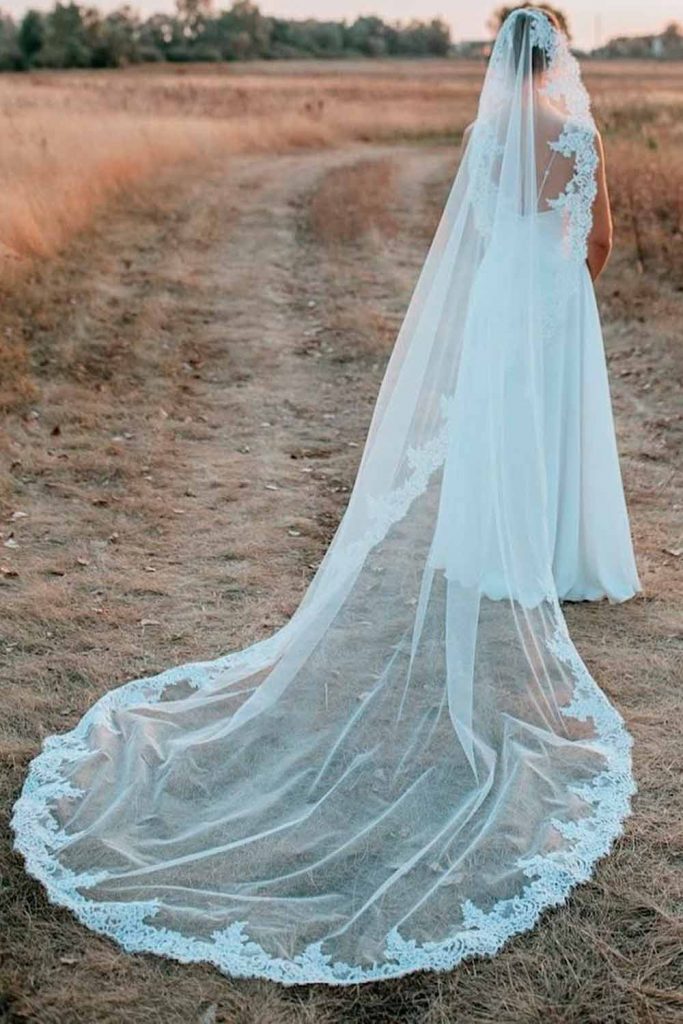 Source: stylishbrideaccs via Instagram
Cathedral wedding veils are another traditional classic that will never go out of fashion. There's no need to tell how gorgeous and magnificent they look, as everything is obvious for those who saw it. These 108 to 120 inches veils are usually worn by brides who want to show their appreciation of traditional styles and create a dramatically romantic look. Besides the unbelievable visual side, there's one strong reason to wear cathedral veils: the long aisle. It looks very impressive as brides walk down with a magical shining halo that trails after her dress.
Gorgeous Tulle Veil With Touch Of Glitter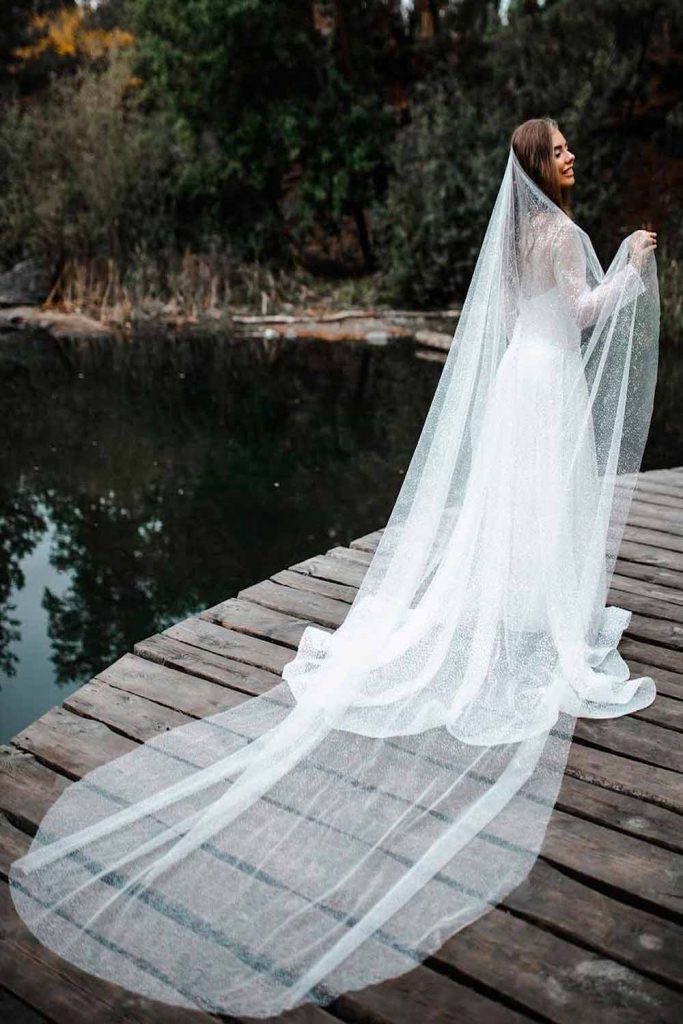 Source: stylishbrideaccs via Instagram
Almost all silk tulles are as light as a swan, incredibly soft, and has the most exquisite luster—unmatched by any tulle created from synthetic or human-made fibres. It's a confection that wedding designers sincerely wish to work with. Tulle made of silk is highly airy and drapey. It's a lovely option for the popular "Juliet veil" in the boho style popularised by Kate Moss or a draped, back cowl veil. The good thing is that it will sit close to the dress and hang pretty straightly from hair accessories.
Blusher White Veil With Rhinestones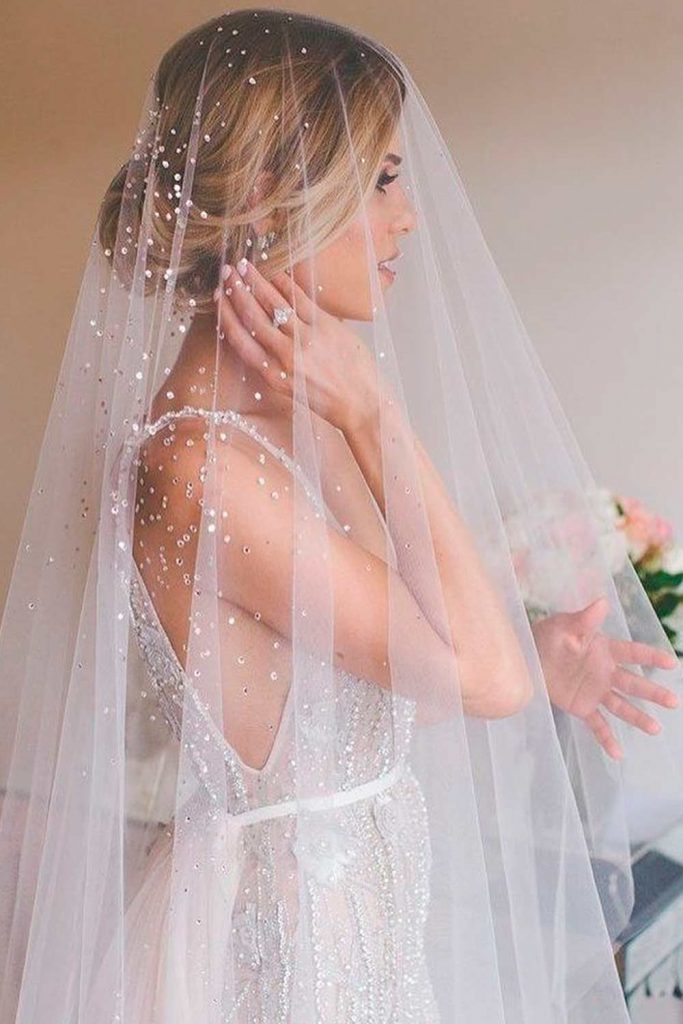 Source: caminhandoparaoaltar via Instagram
A veil with rhinestones has a sparkling shape that is ideal for glitzily framing your face. These veils are adorned with tiny jewelries that shine brightly, adding to your sunny and lovely day. Sparkly bridal veils possess a luminosity that makes them great examples of wedding "bling". Speaking about the bridal attire custom, we're sure you've heard the saying "Something old, something new, something borrowed, and something blue"? Now you can complete it with the "and, of course, something shiny too!" The veil with the rhinestone trim might be your "something shimmering" to round off your bridal ensemble.
Cathedral Length Veil With Lace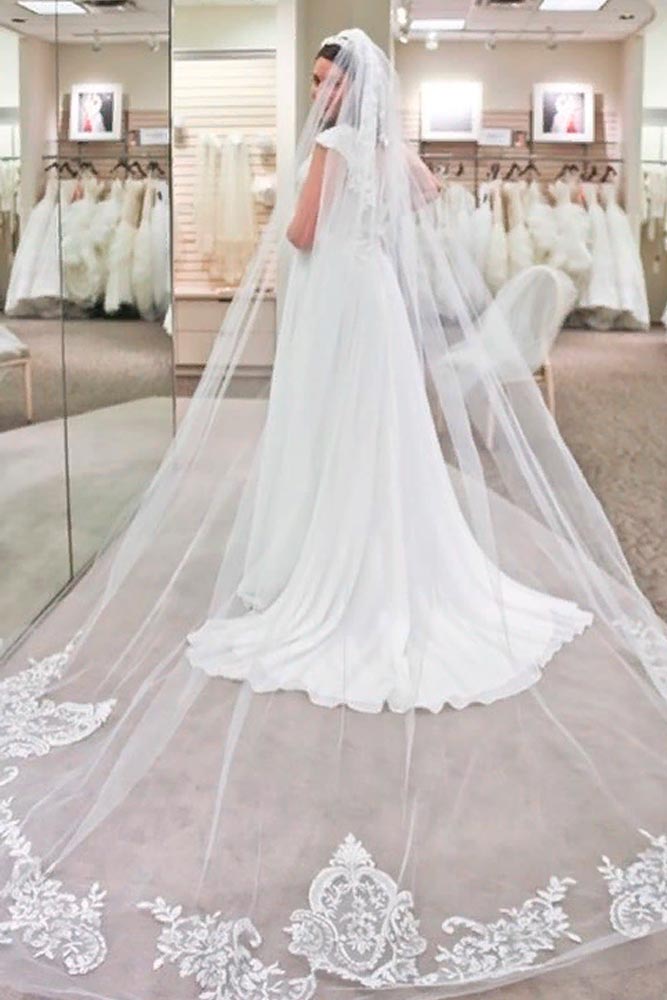 Source: davidsbridal via Instagram
Yes, cathedral veils know how to impress you; they can be as creative and elegant as you want. Ladies who are fond of traditional weddings usually combine restrained cathedral gowns with sleek updos and non-lace veil. And this look shows you how you can add individuality to it, preserving traditions in your own exquisite way. An elegant lace design on the edges keeps the look pretty reserved and chic.
Cathedral Length Veil With Tiara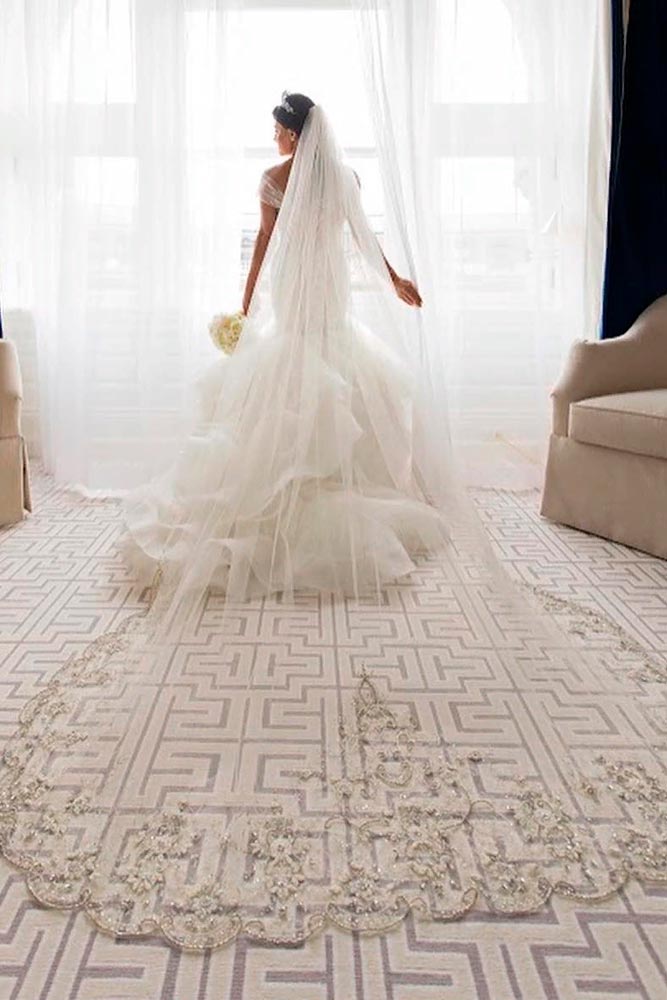 Source: matthewbridal via Instagram
This idea is the mixture of traditional and modern styles. There's nothing bad in playing around, but everything should always be authentic and moderate. The white color is the bridge between traditional aisle-look and its modern variations. Nowadays, many brides go for pink, yellowish, and blue dresses, which would look ridiculous with cathedral length veils. In this pic, you can see a very puffy ballroom dress, which is popular these days and a classic veil, secured with a tiara, which will always be on everyone's lips.
Long Veil With Your Hair Down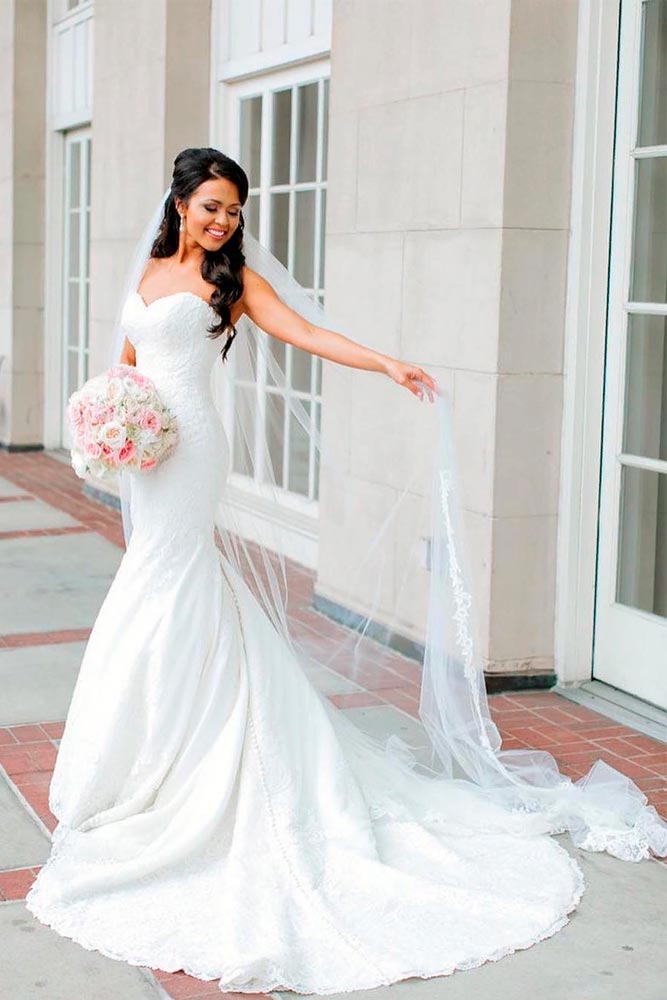 Source: dashphotographyatl via Instagram
Though respecting traditions is important, it's also essential to listen to your heart. Yes, your long veil should be secured on a clean updo with all your hair twisted, but who says that there are heavy restrictions when it comes to your big day? You can wear your hair down, securing your long veil on your charming waves. The point is to make everything harmonic, and this idea is the harmony in its purest form.
Wedding Veils Color Options
Most brides believe that a bridal gown and veil must be white. Nevertheless, it isn't. There is a wide variety of hues in front of us. For instance, choosing blue for your wedding gown and veil could be interpreted as a method to project maturity, dependability, and even loyalty. If you don't want to wear the typical white wedding dress color, then blue would be an excellent choice for your bridal gown. When it comes to peach and beige, these are universally flattering colors. They seem quite delicate on pale skin and perfectly complement dark skin. However, keep in mind that these colors in the ensemble will only appear stunning with accessories that are perfectly matched to the color of a specific gown. So, request from your wedding atelier that all of your accessories, including your jewelry, veil, bridesmaids' dresses, etc., completely match your personalized wedding dress.
Beige Chapel Length Blusher Veil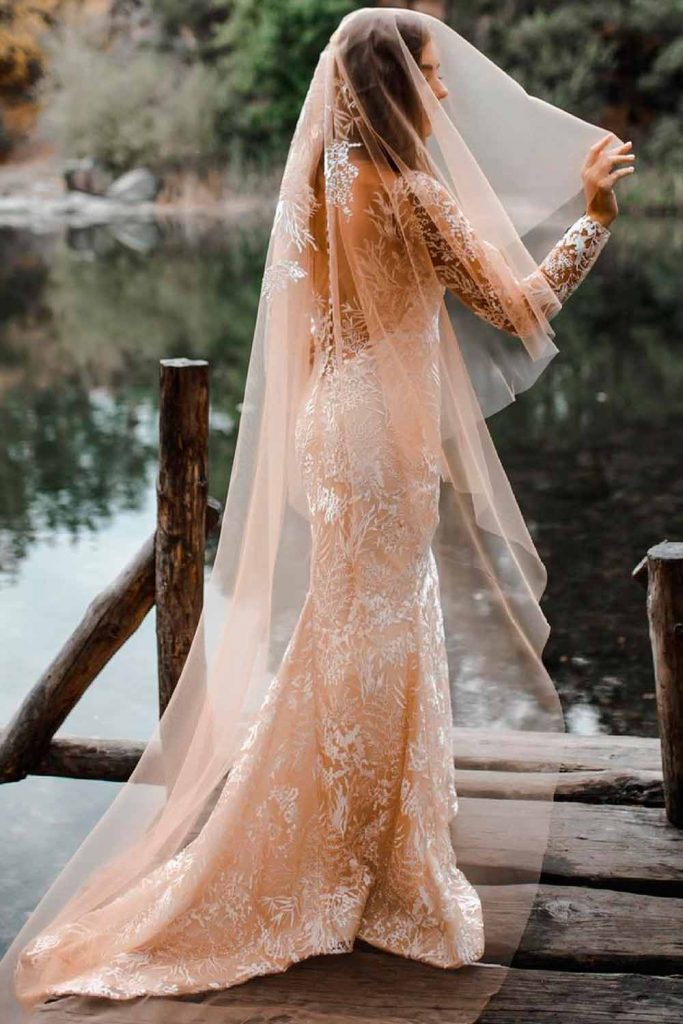 Source: stylishbrideaccs via Instagram
Dusty Blue Cathedral Length Wedding Veil With Handmade Silver Glitter Stars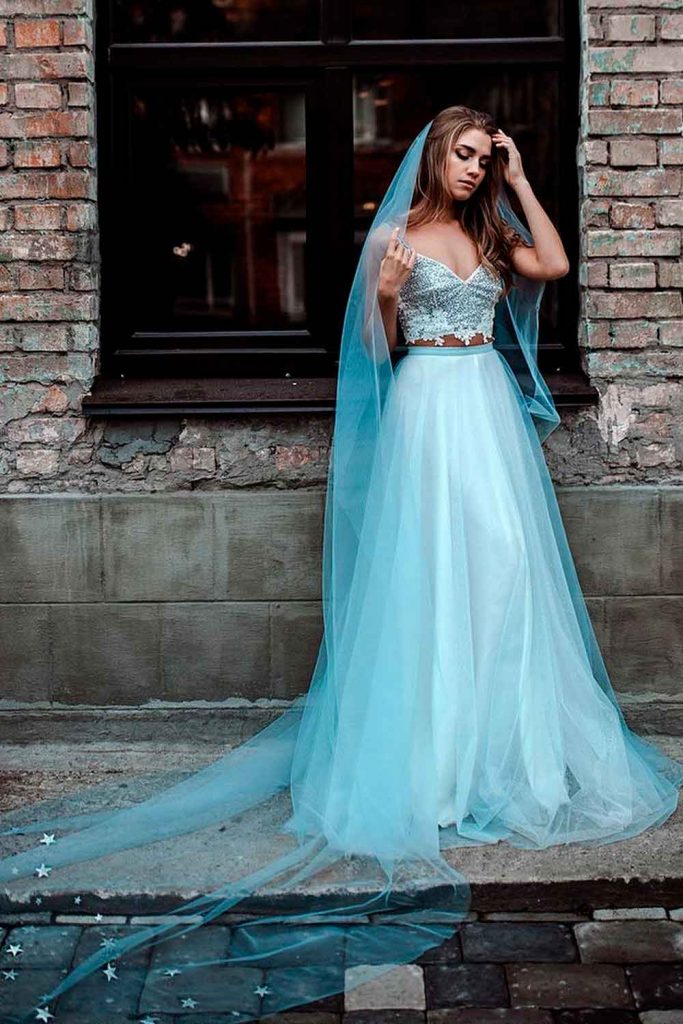 Source: stylishbrideaccs via Instagram
Peachy Chapel Length Blusher Veil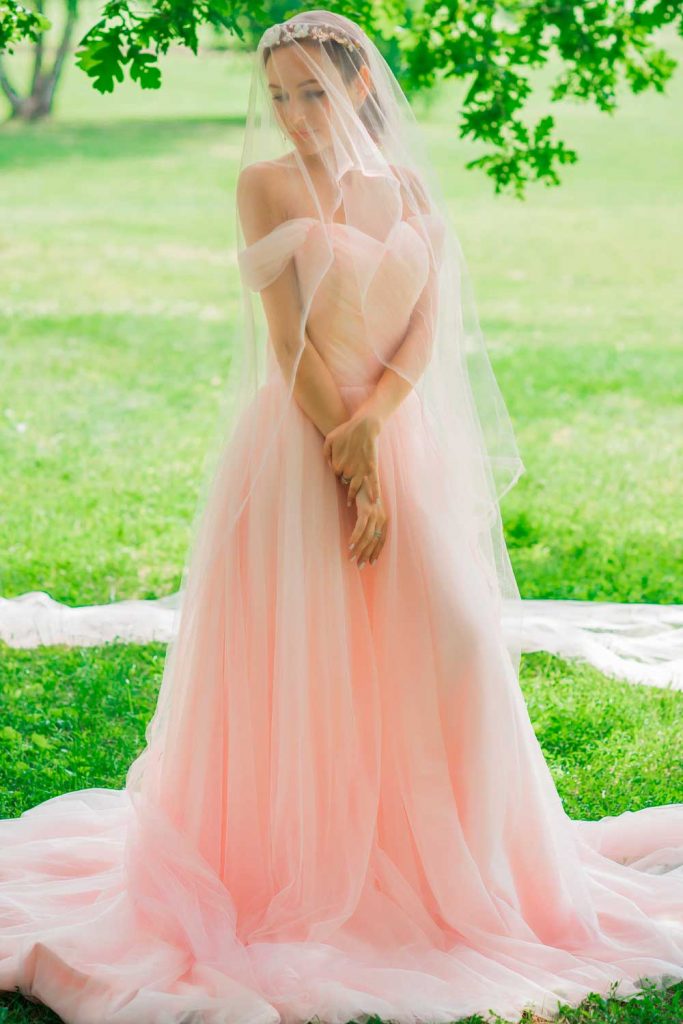 Source: Shutterstock
Grayish Blue Chapel Length Blusher Veil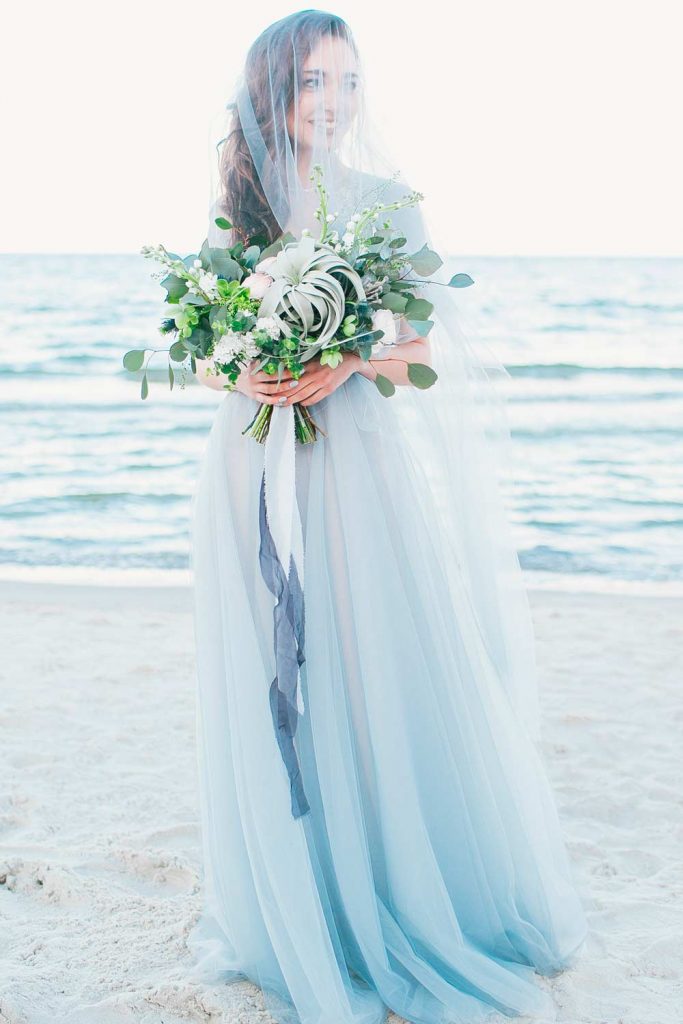 Source: Shutterstock
Now you understand that wedding looks without authentic wedding veils are looks wasted. When creating your aisle-look, every single detail should be on point, and your veil is something that will do the talking before you say the tempting "yes."
FAQ: Wedding Veils
How to choose a wedding veil?
If your wedding is a glamorous one, choose a cathedral-length veil.
If you want to create more of a modern look, go for a shorter one.
If your dress has a lot of detailing such as lace or sequins at the back, choose a one tier veil, it is a sheer veil that won't hide the dress.
The detailing on the veil should complement the dress, not overwhelm it. There can be sequins, ribbon, lace adornments on a veil.
Bell shaped veil of a fingertip length is perfect for a mermaid dress and a one tier veil will complement a ball gown dress.
Does a wedding veil have to cover your face?
Wearing a blush veil is solely a preference. It is rather a tradition than a must-have for a wedding look. Typically, a bride wears a blush veil while going down the aisle until she reaches the altar. Then the bride's father or a groom lifts the part that is covering the face.