Practical And Beautiful Kitchen Ideas To Introduce Into The House Design
It is only natural to opt for house renovations every now and then. However, before you consider demolishing the walls and going for something extreme, we suggest you start with something small. You will be amazed how new furniture or reorganization can change the general look. No matter what your favorite style is we have all the best and the freshest kitchen ideas gathered here. Use the ideas to your benefit, and you will be amazed at how fun redecoration can be!
Gray Kitchen With Wooden Accents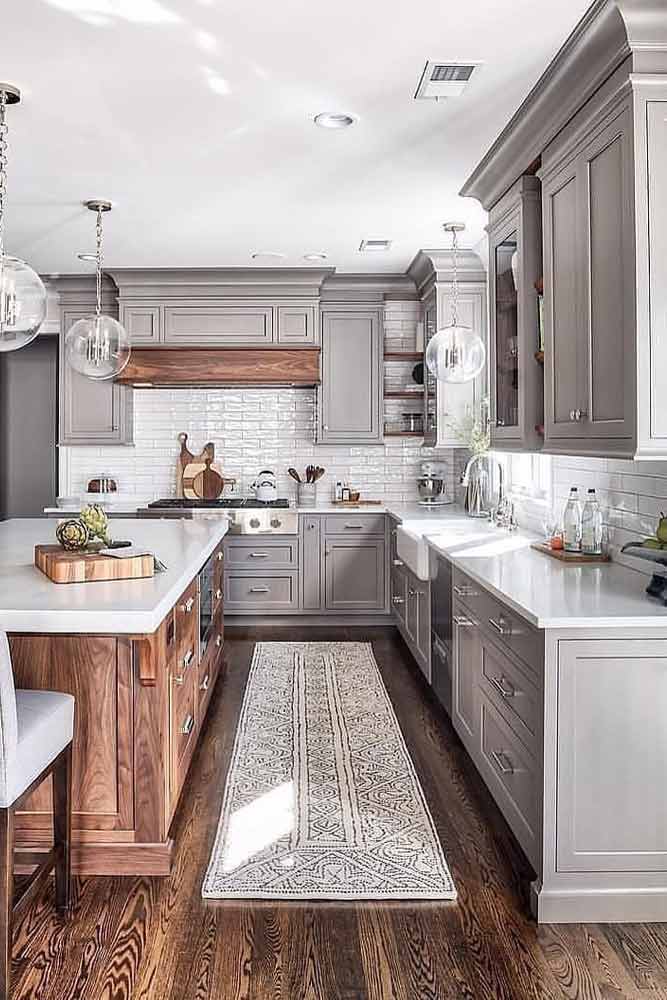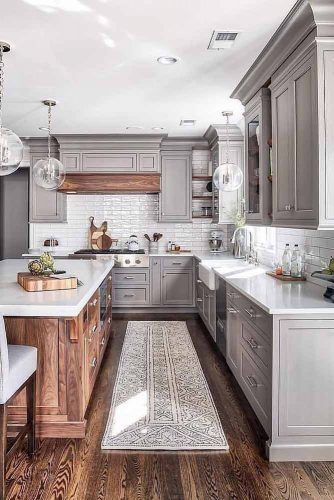 Source: odysseyofdesign via Instagram
There are times when certain kitchen design ideas come to your liking by they are other too dark or too bright. In times like this, something in-between would seem like the real savior. If that is your case, we advise you pay attention to this stylish grey kitchen décor. It is quite subtle at first glance, but on account of contrasting wooden floors and the same-shaded kitchen island, such a kitchen acquires peculiar taste and style.
Mid-century Kitchen With Marble Counter Top And Backsplash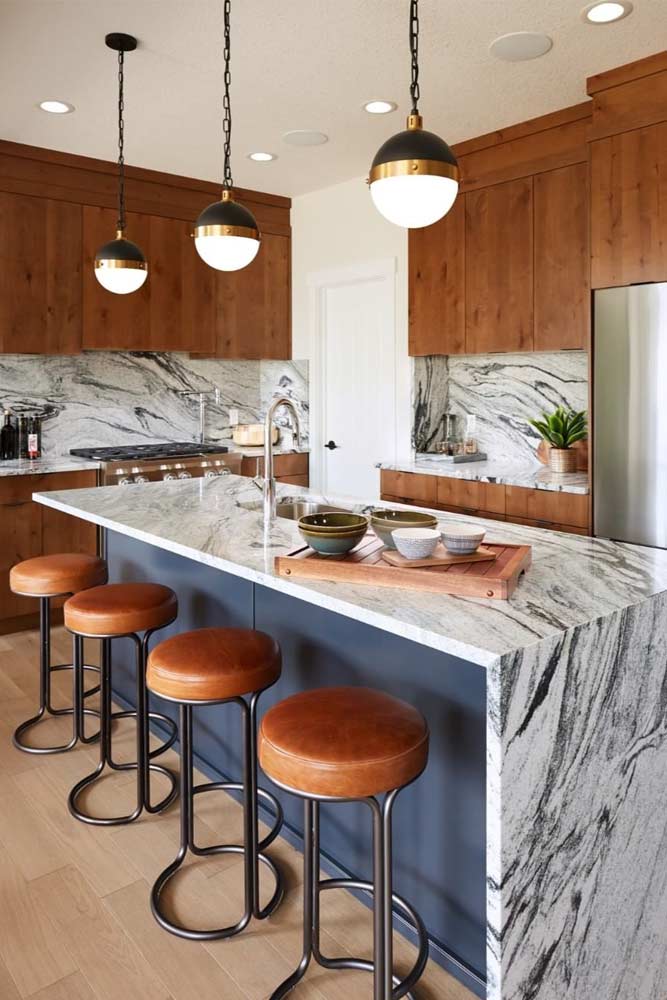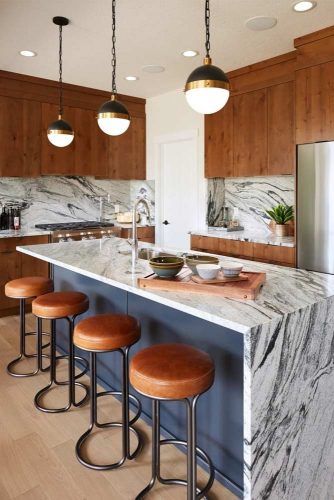 Source: coventryhomesyeg via Instagram
Marble stone patterns are all over now. In case you happen to be a fan then, this kitchen decor will steal your attention. It seems like there is nothing out of place about it. Reserved wooden cabinets oppose the marble countertop and backsplash just perfectly. Round ceiling littles serve as that modern accent that any interior requires.
Classy Kitchen With Cabinets Storage Space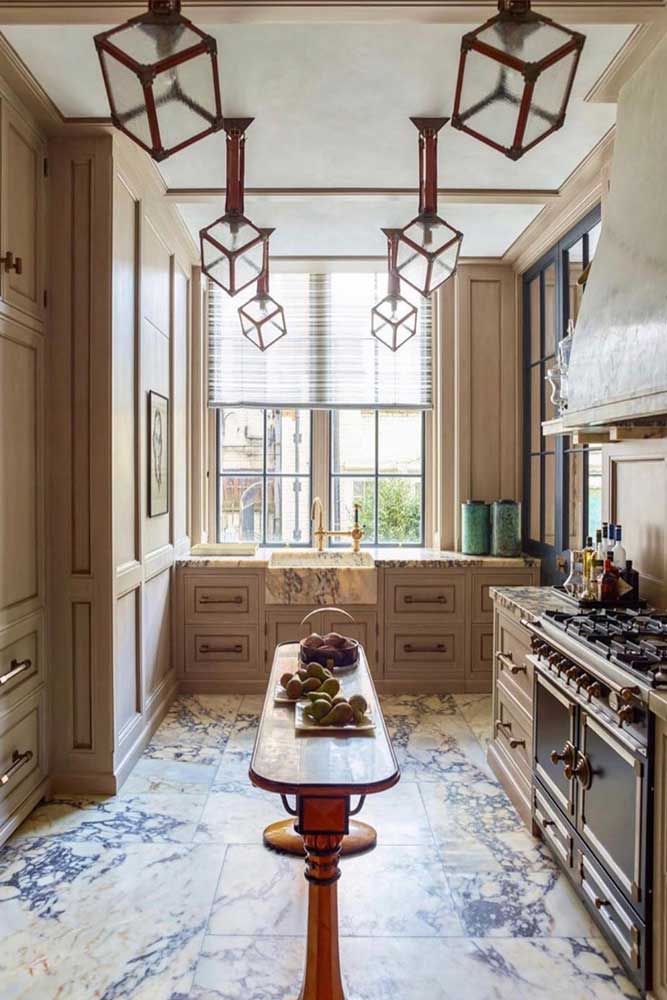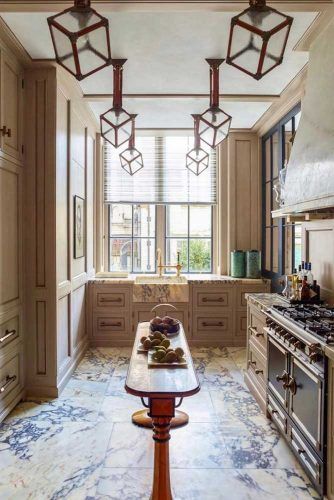 Source: amberinteriors via Instagram
There is nothing wrong with you if instead of something ultra-modern you would prefer a classy kitchen instead. In this case, we say that a spacious kitchen with neutral kitchen cabinet ideas is perfect. Nevertheless, you should also pay attention to the floor. It is not that simple as you would expect due to fabulous marble tiles. Besides, square-shaped lamps create the impression of elegance and uniqueness, not to mention that they will illuminate the kitchen well.
Kitchen Ideas With Retro Counter Stools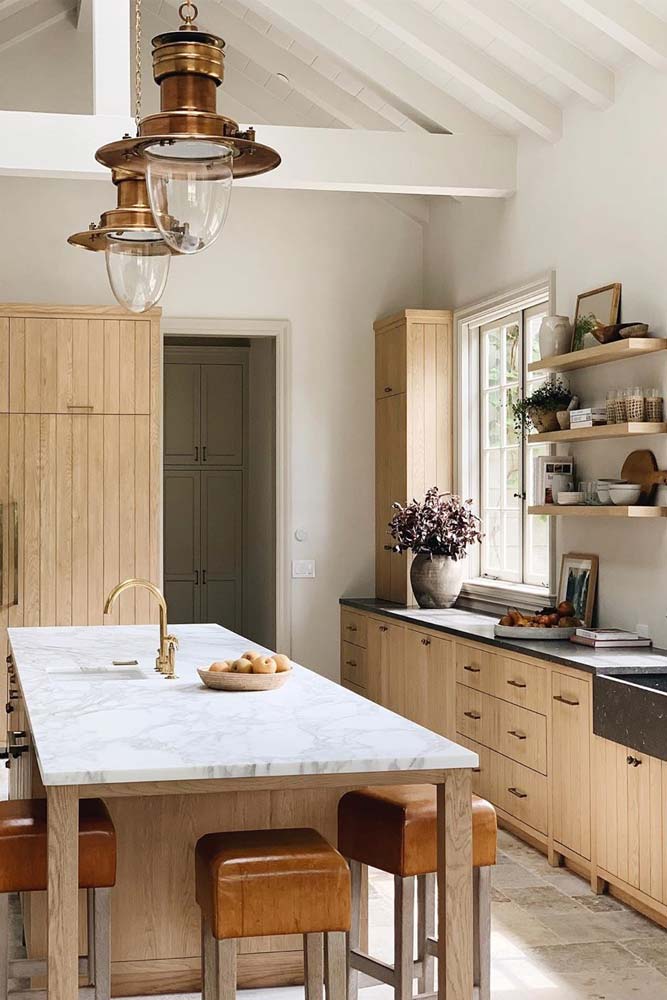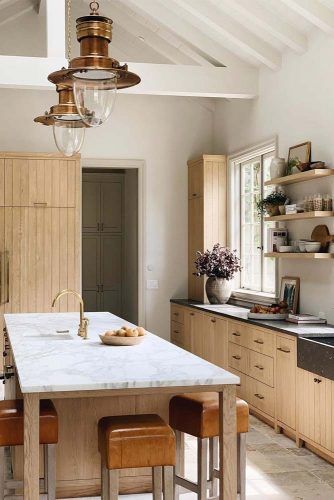 Source: tessaneustadt via Instagram
Rustic kitchen ideas are on the edge of popularity these days. There is no use denying it. Such a kitchen will be a good idea to look at if you need a lot of space and storage room. Apart from carrying out its primary role, the stools and the lamps introduce that perfect retro vibe that will complete your rustic kitchen.
Small Kitchen With Wall Pictures Decor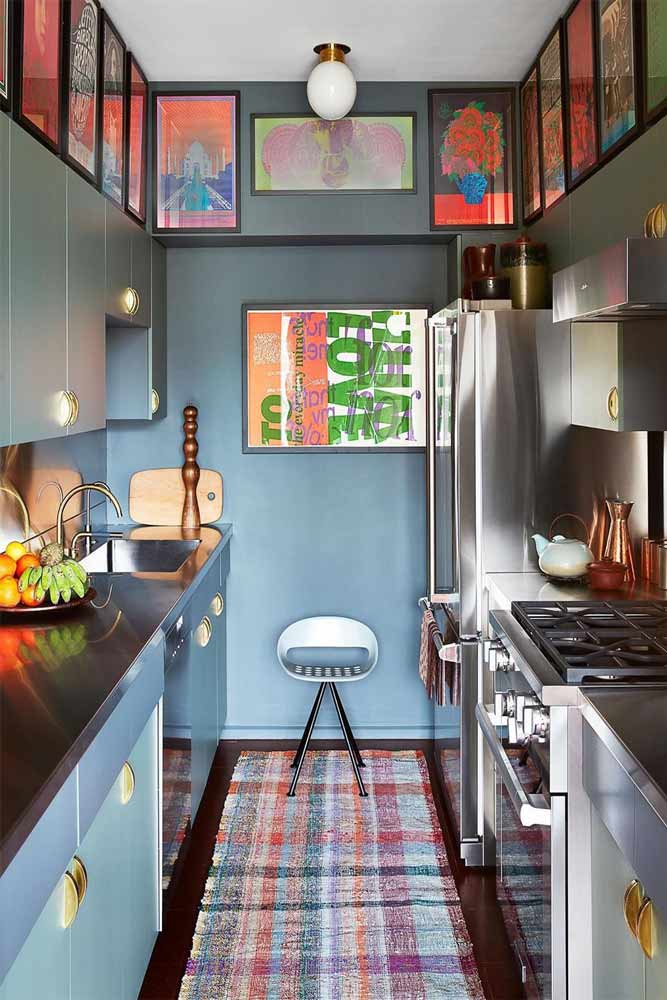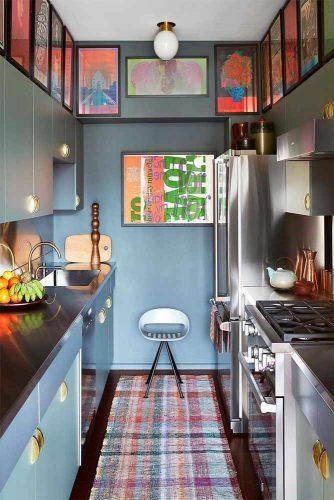 Source: archdigest via Instagram
It goes without saying that a large kitchen is not always an option, no matter how hard you wish it were. If all that you are ready for are small kitchen ideas we know how to spice such a kitchen up too. When you are decorating a smaller kitchen it is essential to pay attention to the storing aspect, and these cabinets will come in more than useful. However, you should not forget about the accents that make your kitchen look cozy and stylish. Hang as many pictures on the walls as you like and transform your kitchen into the art gallery just like that.
Lemon Yellow Kitchen Idea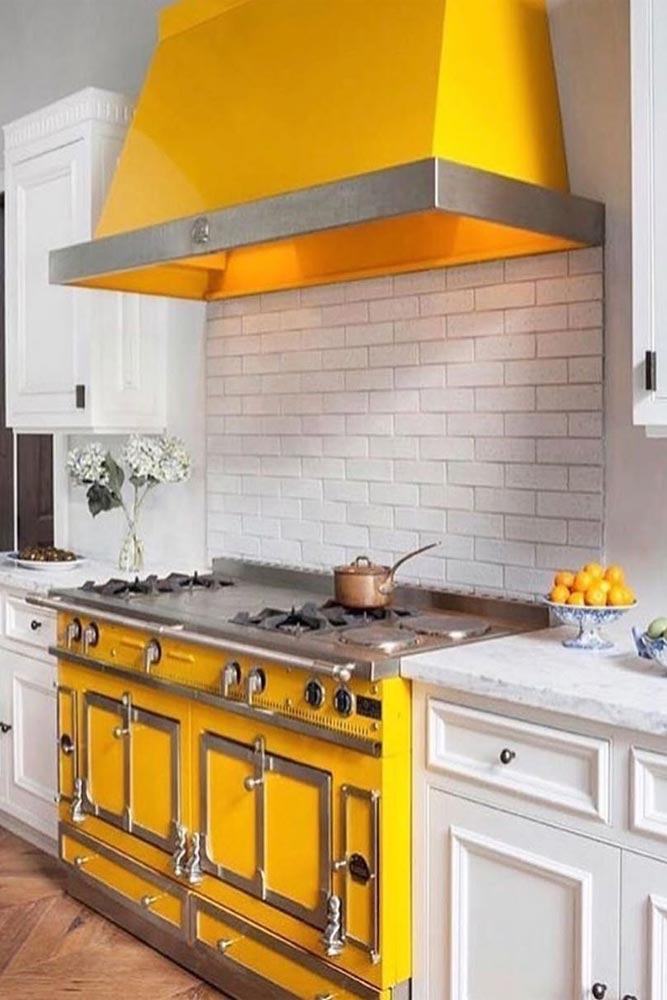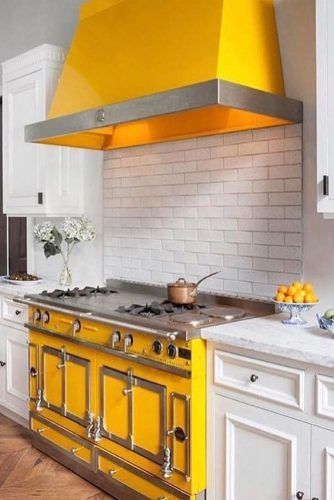 Source: andreaschumacherinteriors via Instagram
The truth is there is that unspoken rule that the kitchen should be practical in the first place and the style comes last. We think that it is a false approach and suggest you consider some spicy kitchen color ideas. This lemon yellow kitchen does not look too extraordinary despite the brightness. Besides, it remains as practical storage- and space-wise. With such a vibrant accent, your kitchen will always look stylish and sunny.
Black And White Design Idea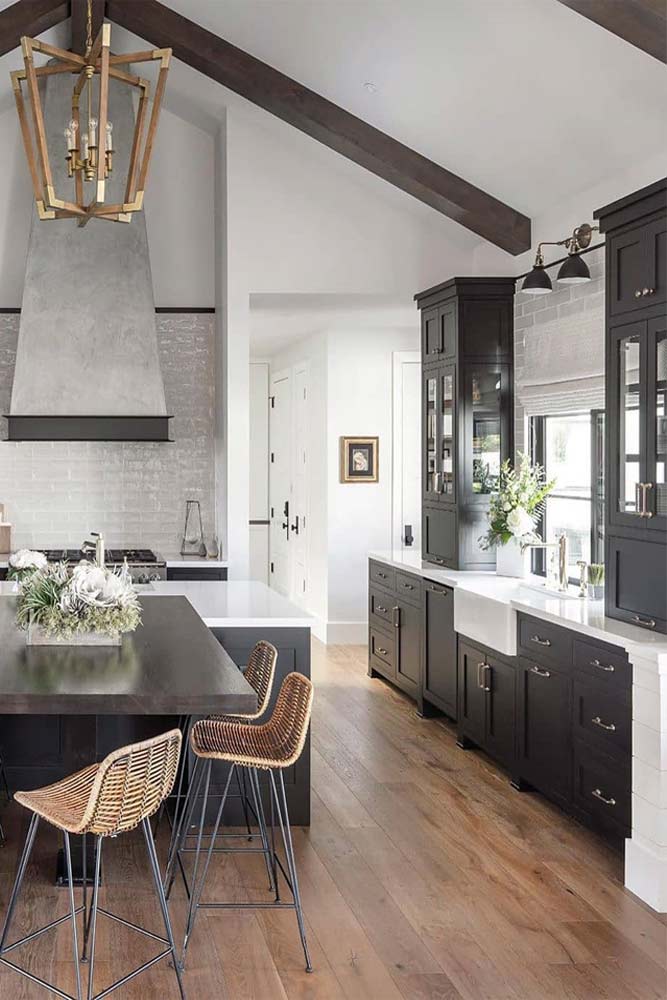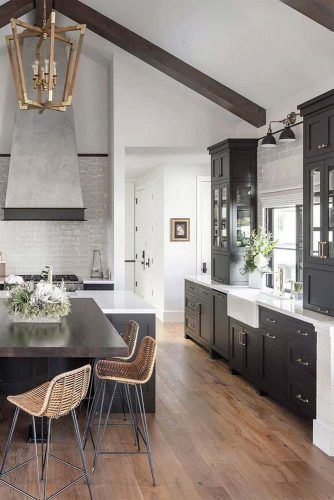 Source: odysseyofdesign via Instagram
Black and white kitchen ideas are always full of elegance and style. There is no use denying it. However, for the most part, such contrasting hues remain undeservingly left out. What we are doing here is proving you that these two classy opposing colors will make a masterpiece out of your kitchen. However, you need to remember that without proper accents, the kitchen may look too dull. Wicker chairs and golden chandelier will add the necessary notes.
Black Color With Vintage Accents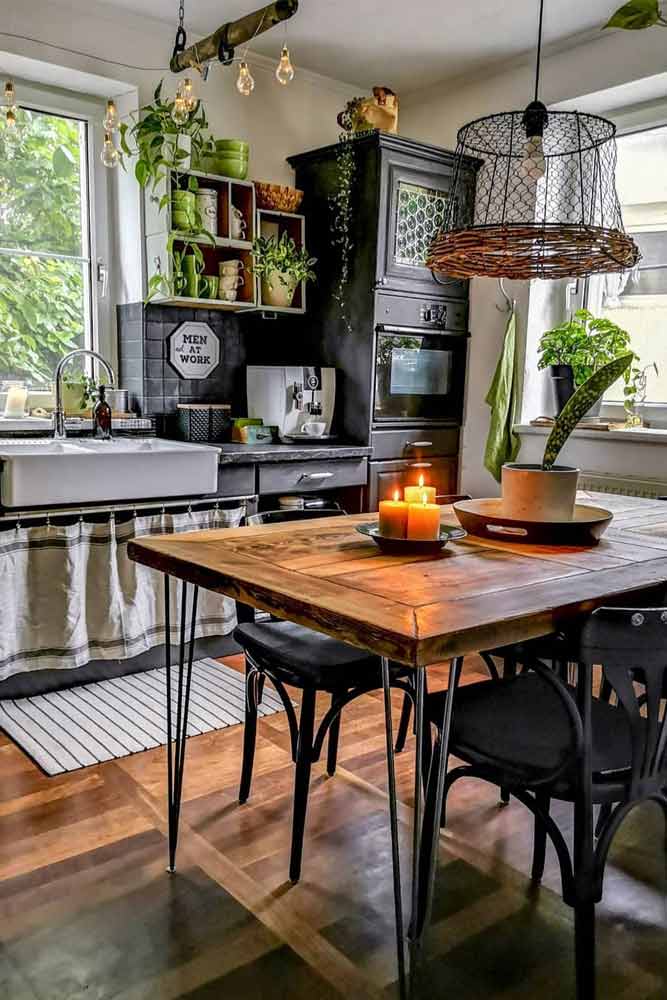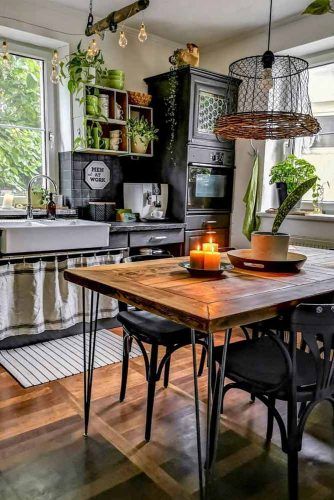 Source: kunis_lovely_vintage_home via Instagram
It is surprising how many exquisite black kitchen decorating ideas there are. Those of you who are interested in vintage designs, we have something special for you! This how modern elements intertwine with rustic ones creating an outstanding result. There is nothing that would be out of pace here. The wooden table and the black chairs are simple and extraordinary at the same time. The same goes for the interaction of electric lights and candles. With such a kitchen, cozy dinner would be not a dream but everyday reality!
Kitchen With Patterned Backsplash In Minimalistic Colors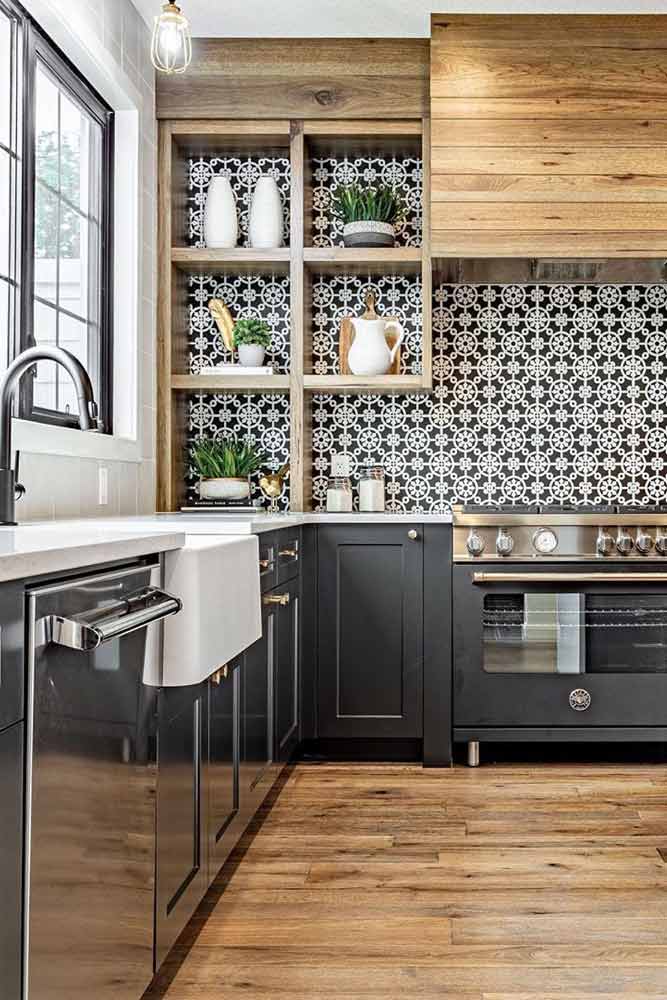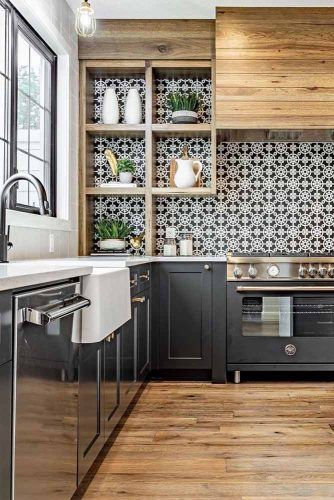 Source: aspencreekdesignerhomes via Instagram
When you do not want to experiment with the general items in the kitchen, you can consider some patterned kitchen backsplash ideas. It is unbelievable how one exquisite pattern can change the whole look and take it to the new level of exquisite! What is more, the mixture of both cabinets and shaped shelves is seamless.
Gray Kitchen With Metallic Stools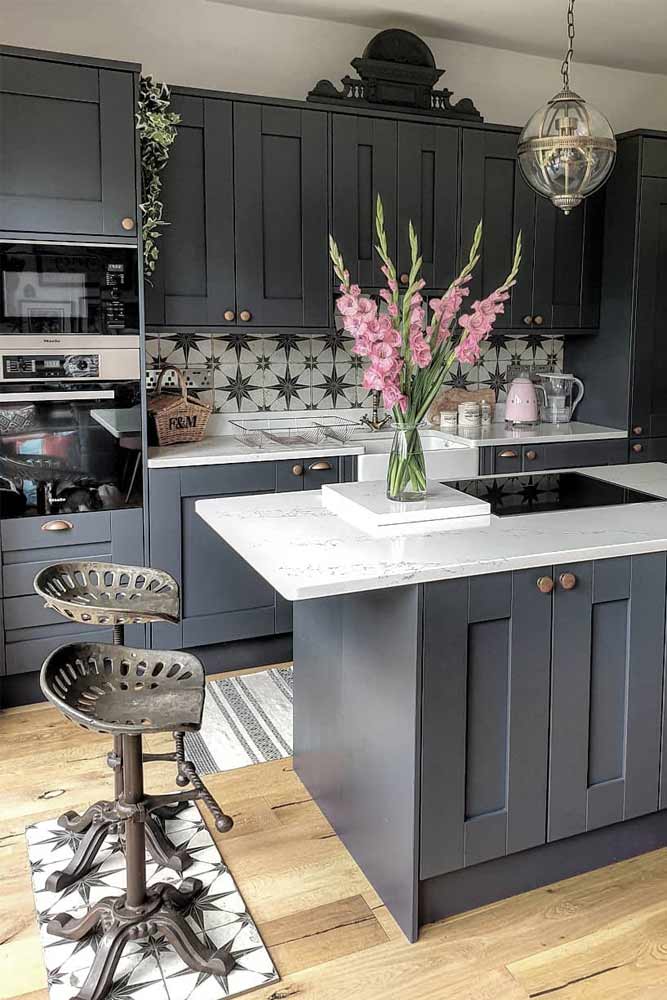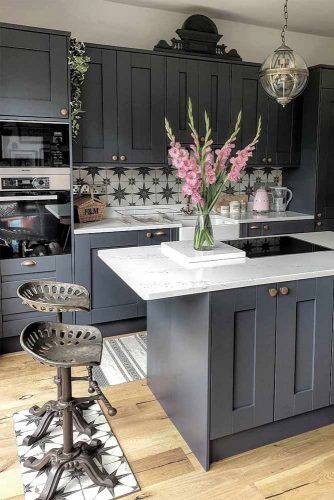 Source: the_girl_with_the_navy_kitchen via Instagram
We know how many items there are to fit into every kitchen. This can only mean that you need lots of kitchen organization ideas to browse through. However, there is always an easy way out. The thing is that kitchen cabinets, and the kitchen island can contain all the utilities and tools you own. At the very same time, metallic stools will introduce that certain futuristic vibe, which will make your kitchen look special. Pay attention to how the tiles of the backsplash and under the stools correspond!
Kitchen With Wooden Cabinets And Teal Backsplash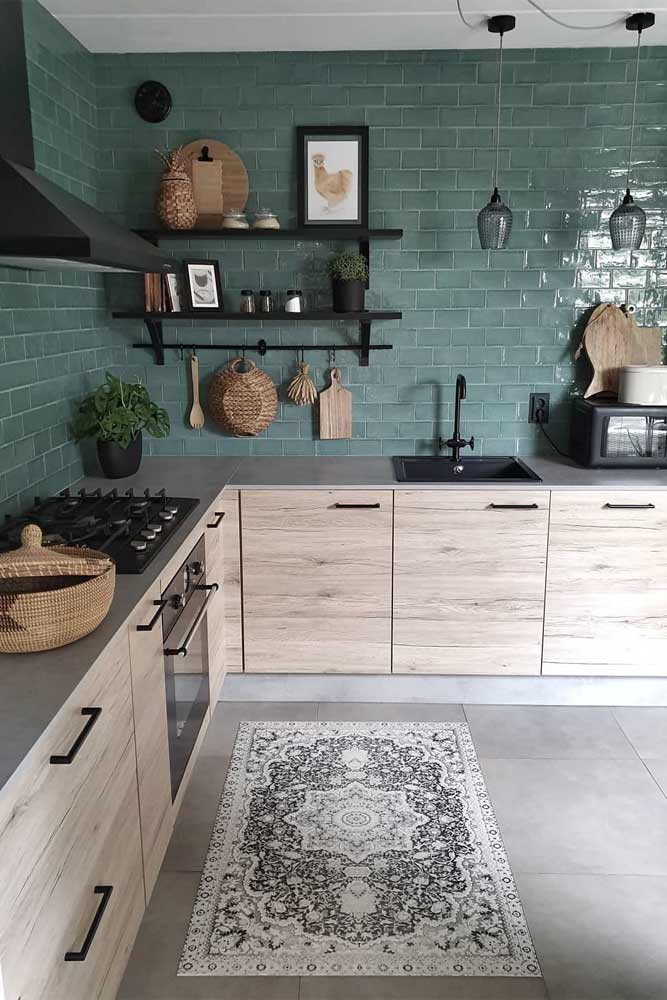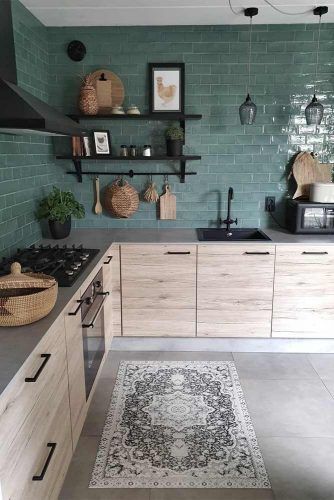 Source: madeleineshouse72 via Instagram
Those of you who are not so eager about introducing hanging cabinets into the kitchen décor, there are also other kitchen cabinets ideas. You can easily mix and match the floating shelves and floor cabinets if you want too. To add some more coziness to the interior, we suggest you consider teal backsplash and a cute kitchen carpet. Pay attention to the coloring, though. Teal may be quite dark that is why light cabinets will solve the issue perfectly.
Kitchen Décor With Red Island Accent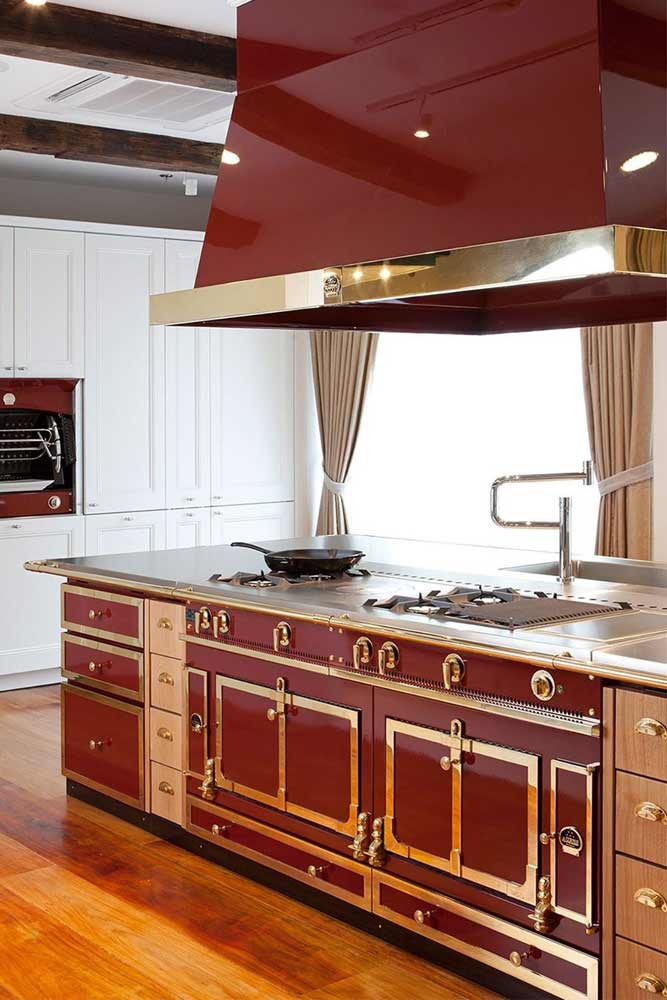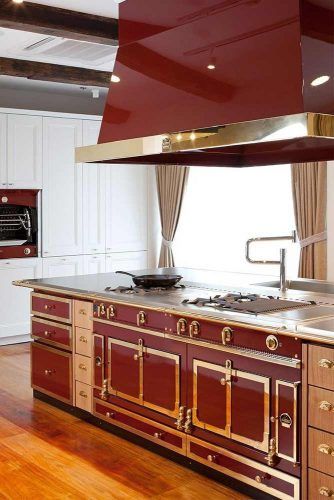 Source: lacornueofficial via Instagram
We must say that this particular kitchen is one of those extravagant kitchen island ideas. You may consider all the pros and cons before adding it to your décor. The fact is that while it is fabulously bright and vibrant, some may perceive it as aggressive. To even out the impression, you should better match it with white hues.
Modern Kitchen With Patterned Walls And Backsplash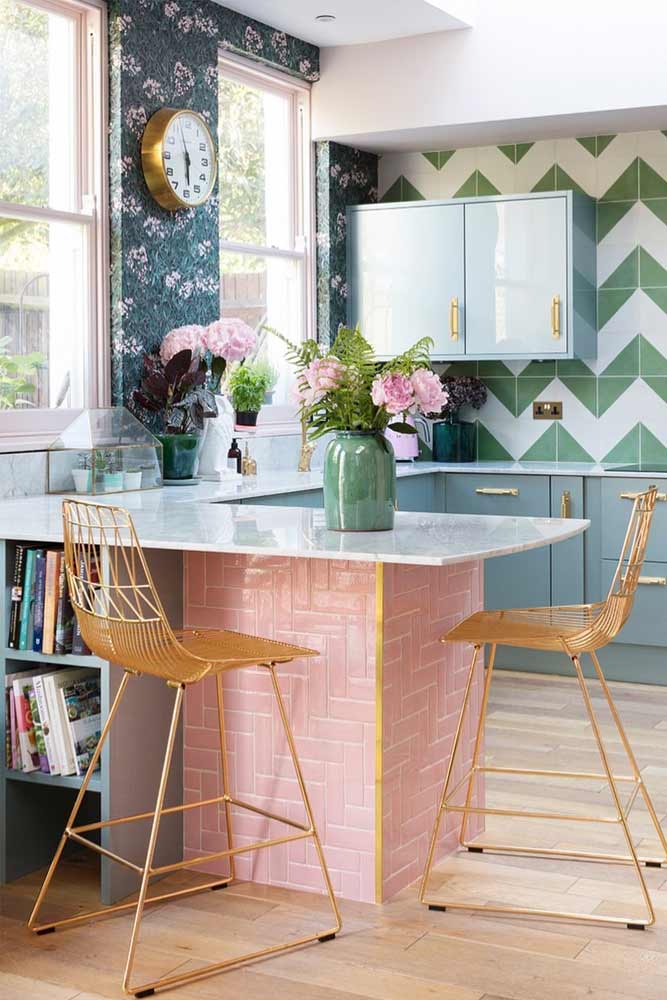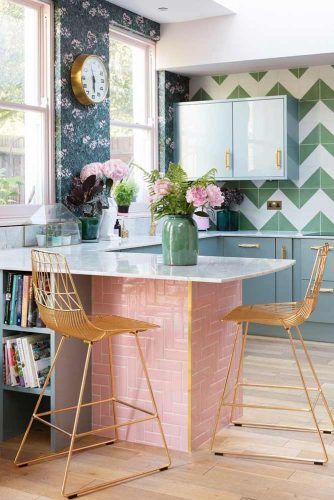 Source: pinkhouseliving via Instagram
We must admit that among all the modern kitchen ideas, this one is exceptionally cute. At first glance, it seems like there are too many colors involved. However, on the second thought you will agree that all of the hues complete each other perfectly. This is that perfect case when patterned backsplash does not look out of place when matched with floral wallpaper walls.
White Kitchen With Golden Lights Accents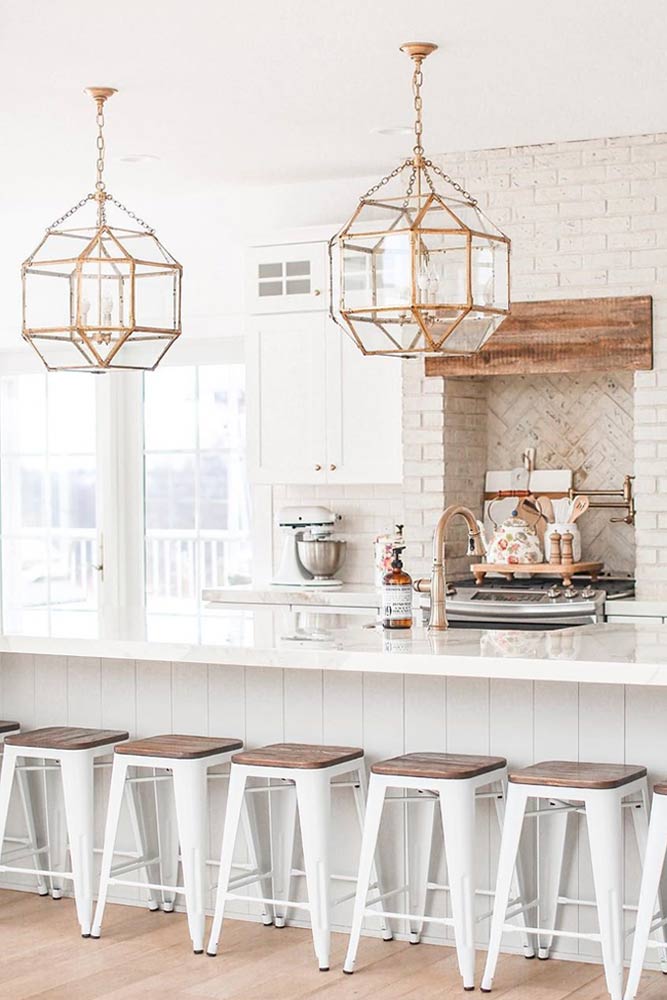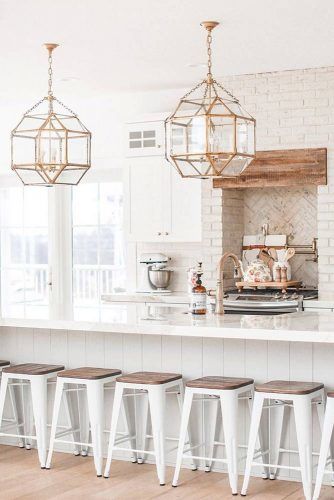 Source: ninawilliamsblog via Instagram
In the vast majority of cases when you are thinking about experimenting with home decor ideas, you should think about the general style in the first place. If the rest of the house is modern and futuristic rustic kitchen would be totally out of place. This farmhouse kitchen is purely classy and gorgeous. If the farmhouse is your cup of tea, you should be captured by these golden lights accents!
Small Kitchen With White Cabinets And Dark Walls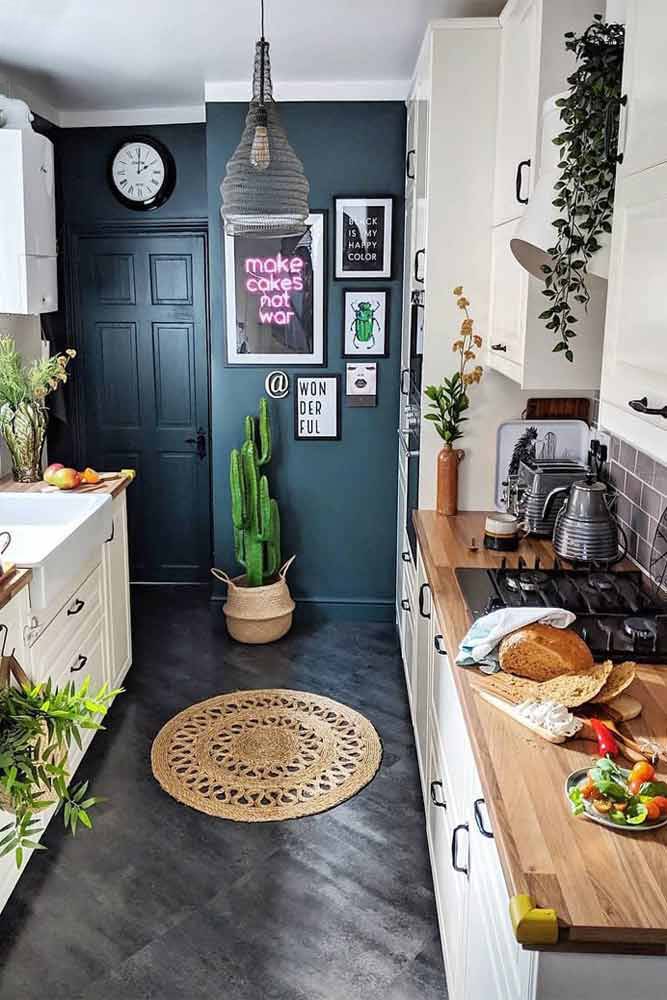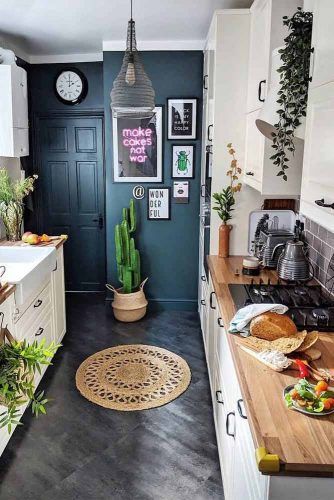 Source: agi_at_59 via Instagram
You should not worry if your kitchen is quite small. All you need to od to add some more spaciousness to it is to experiment with kitchen wall decor ideas. What we have in mind is the contrast between the walls and the cabinets. Due to the opposing colors interaction the kitchen looks bigger and not overstuffed.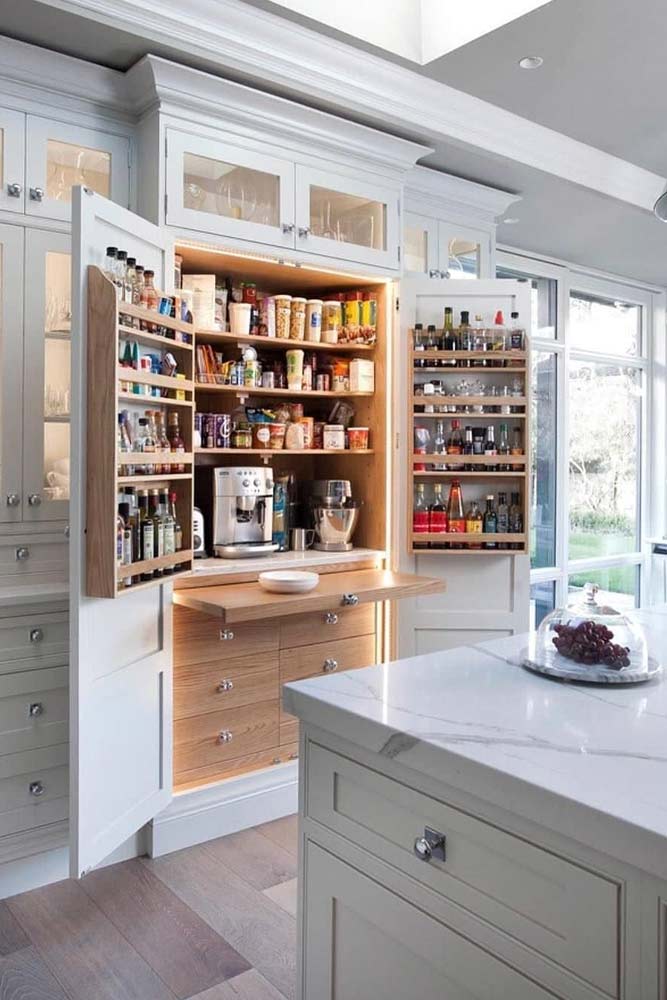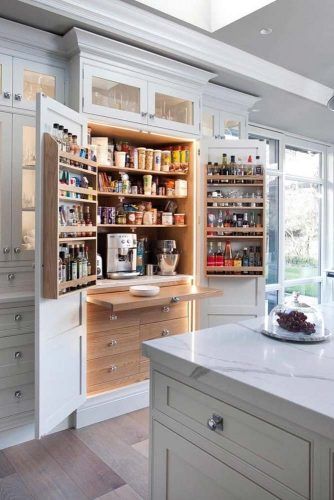 Source: odysseyofdesign via Instagram
We know that among all the tiny kitchen ideas, you will be grateful for those that will add up some more room to it. in such a case, the hidden pantry will become your real savior. Not only all the products are stored away but also all in place and super easy to access. It is a win-win option!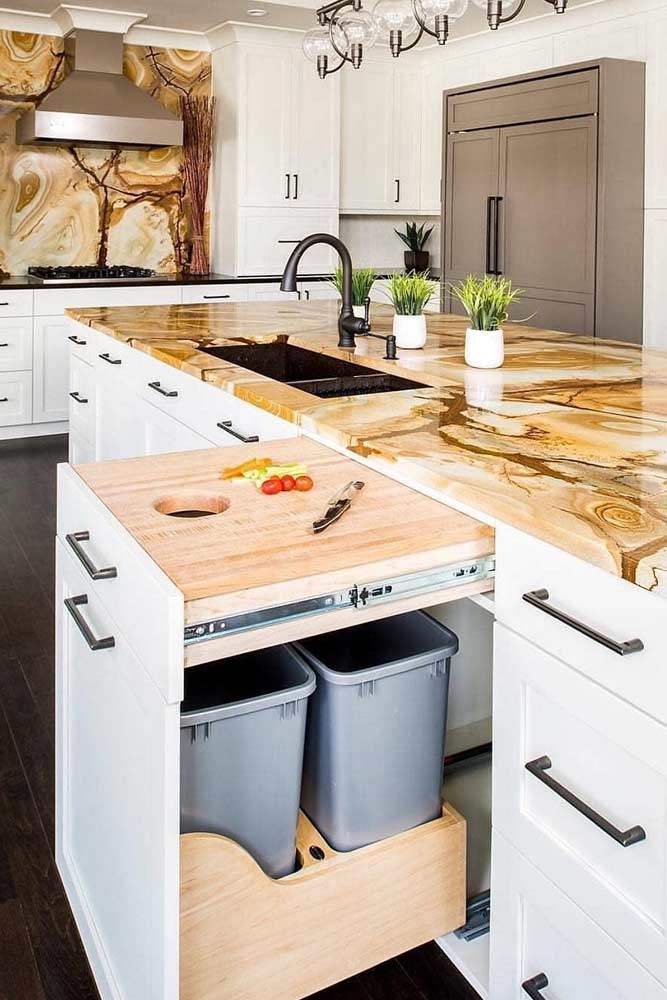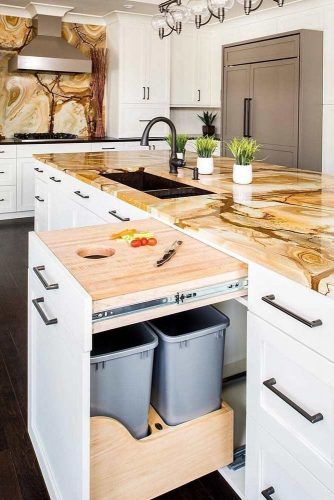 Source: odysseyofdesign via Instagram
You may already know that kitchen island serves many purposes. Surely additional storage is on the list. However, look at this thoughtful cutting space and trash bin mixture idea. We are sure that one of this kitchen storage ideas will help you keep your kitchen much spacious and cleaner at the same time! Oh, and you shouldn't leave this gorgeous countertop and backsplash accent in no case!
Shelves Space Organization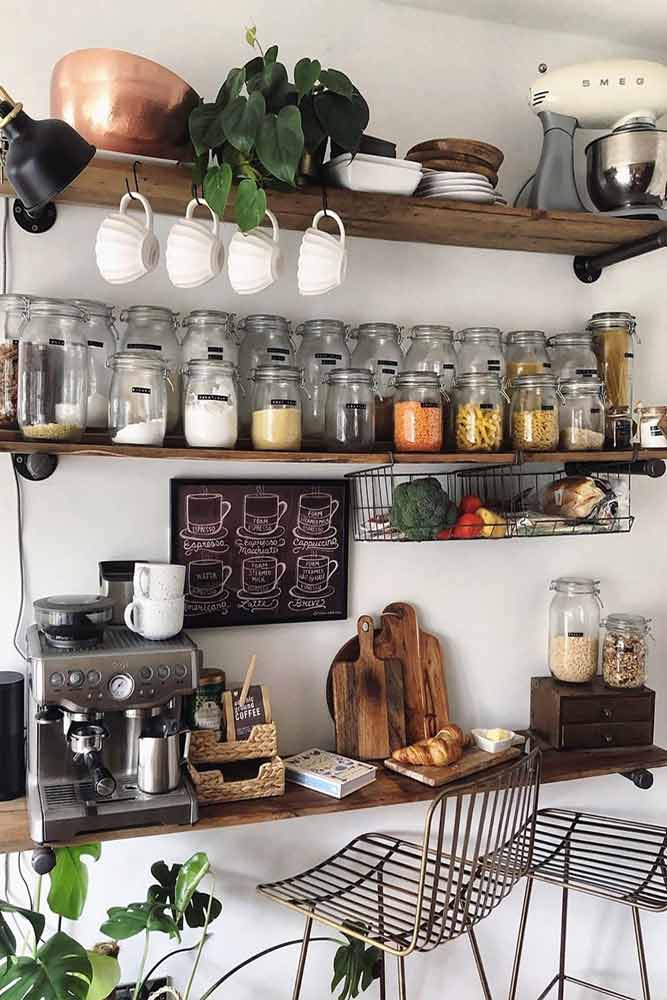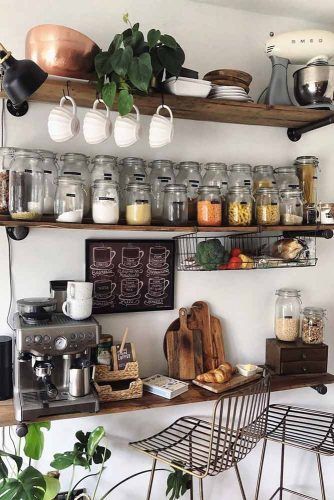 Source: renovating_ethelwolf via Instagram
We know that cabinets are not always the option. What should you do if there is not enough space in the room to add cabinets? Well, the answer is clear – add some more shelves. You will be surprised by how many things you can store up there. Besides, they will add up that special charm to the interior too.
Inexpensive Kitchen Updates
Paint The Cabinets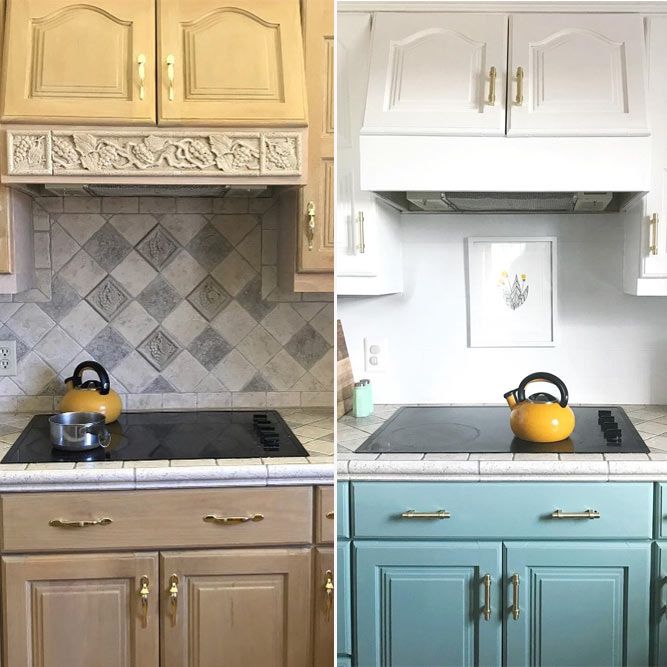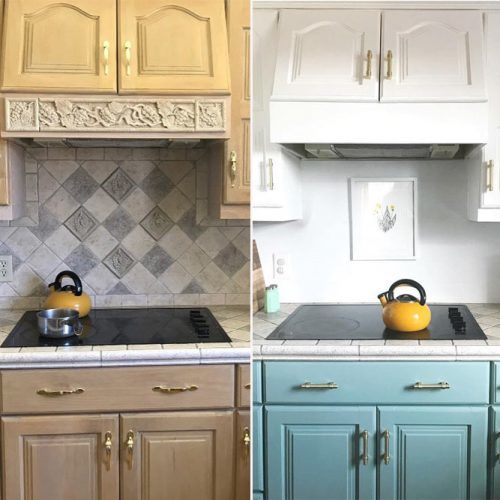 Source: gingiber via Instagram
There are times when investing in your kitchen décor is not an option at all. Worry not, there is a perfect way out. All you are going to need to grant your kitchen a new look is some refreshing pain. Just paint the cabinets and observe the dramatic change. Amazing, isn't it?
Add A Chalkboard Into Your Kitchen Space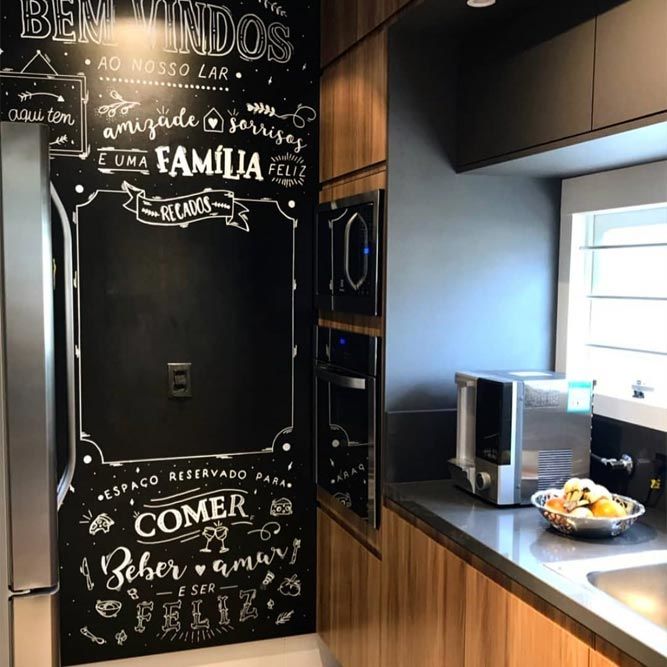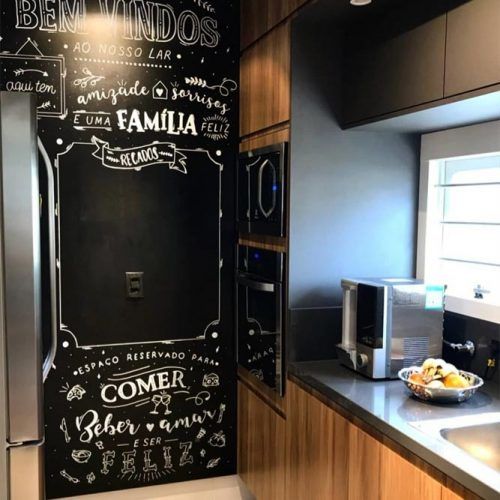 Source: fegiacomini.arte via Instagram
Can you imagine that a terrific change in the kitchen décor can cost you approximately $30? We are not joking here. The fact is that once you turn your fridge into a useful chalkboard, you will be able to not only experiment with the décor but also write a menu on it or any other important things that your family members are not supposed to forget? Here are what you need: painters tape for the outline, magnetic primer and chalkboard paint!
Change Kitchen Hardware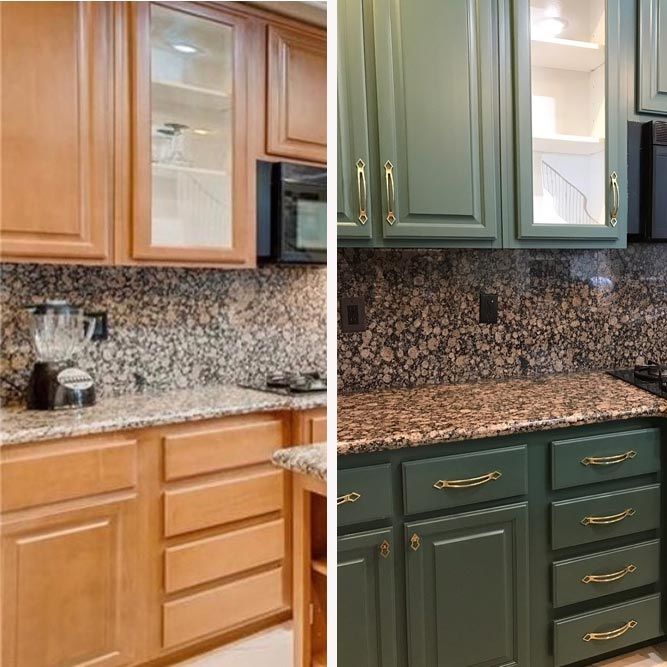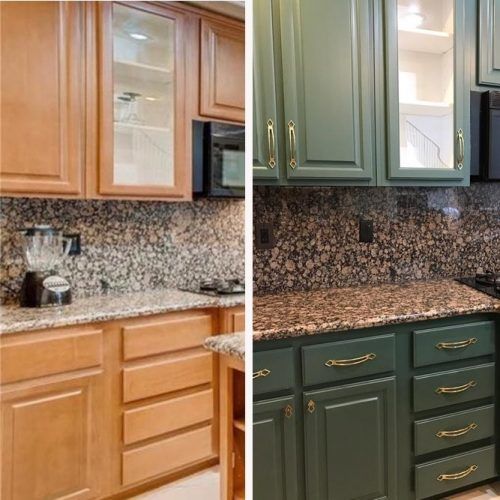 Source: ungrealestate via Instagram
There is an unlimited source of innovative decoration ideas when it comes to your kitchen cabinets. The fact is that apart from granting the cabinets with new paint coat, you can also get a little experimental with the hardware. Look at this gorgeous outcome! It seems like the brand new kitchen set wad added!
Hang A New Light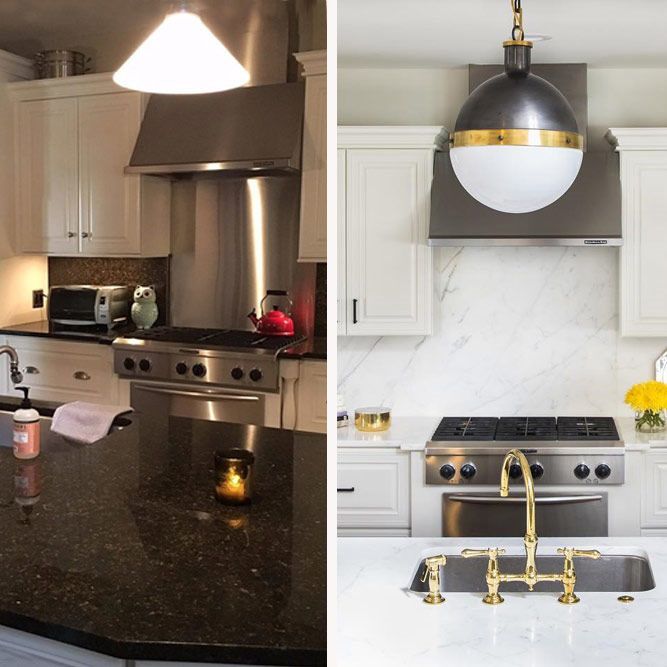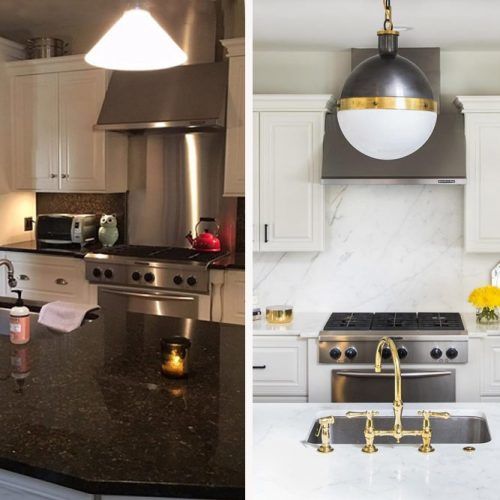 Source: sarahwittenbraker via Instagram
You will be surprised, but in times it is enough to hang a new lamp in the kitchen to change the look. Besides, if you need some more lighting you can experiment with the statement floor light too. Keep it in mind that while regular light is softer, the LED light will add up to the general brightness of your kitchen.
Refresh The Sink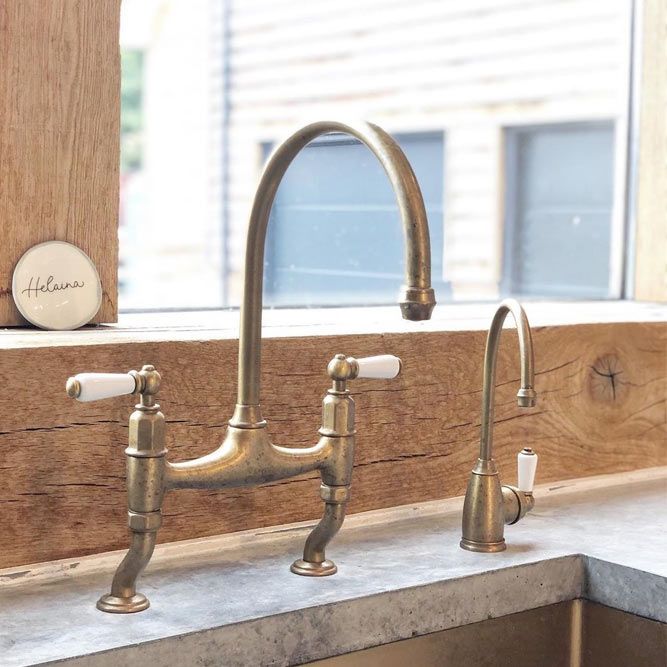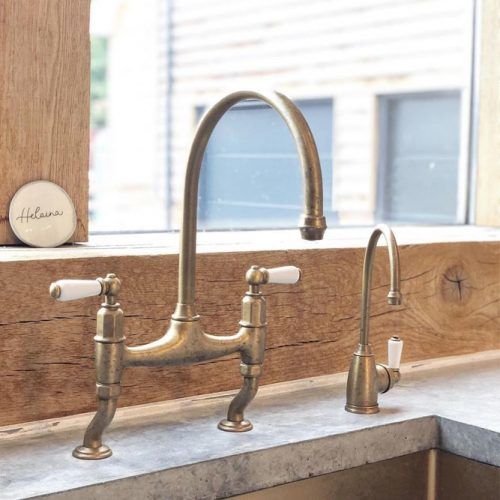 Source: storeyselfbuild via Instagram
Your sink is probable of one the most used up things in the kitchen. When the sink loses its significant look it is very noticeable. So, you can easily kill two birds with one stone. You will refresh the sink and will add something new to the décor! As simple as that!
Those of you who are thinking about some significant or not so much kitchen updates – we have something in store for you! With this load of kitchen ideas, you will be able to set your imagination free and come with a whole new kitchen look in no time!