Great Sunroom Ideas To Pay Attention To
We all know about the most common rooms in the house – living room, dining room, bedroom, kitchen…But what about a sunroom? Many of you may wonder what kind of room it is. The thing is that a regular sunroom is something that combines the inside and outside worlds in one. This means that you can enjoy the sunny outside view without even leaving your house. How fun is that? In case we have your attention it is time you learn about all possible types of this particular room so that when the time comes, you have just the perfect idea in mind as for how to style your favorite sunroom!
Traditional Sunroom With Wood Accents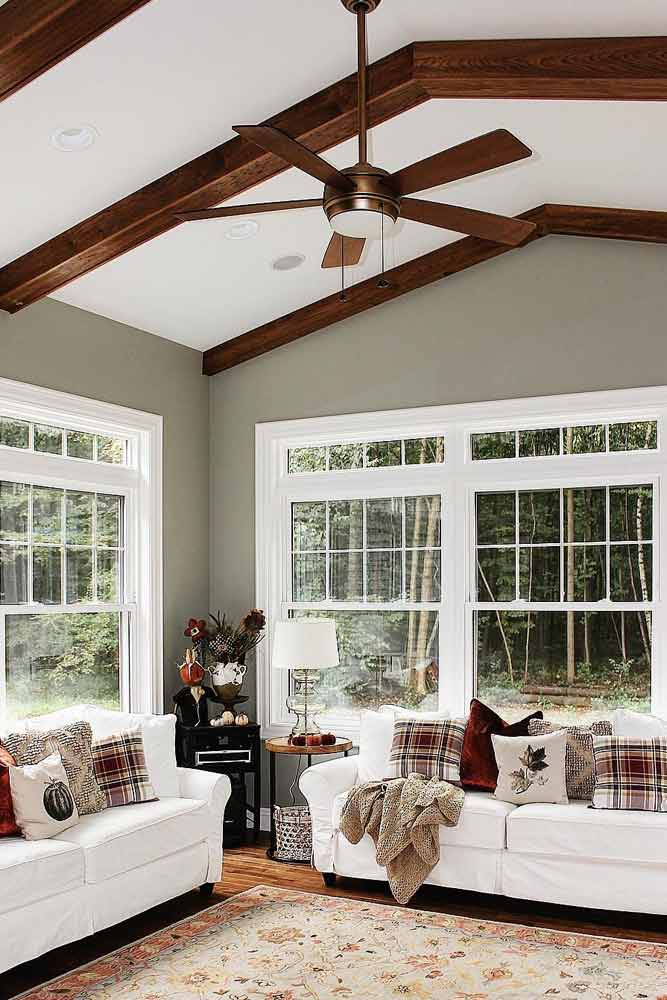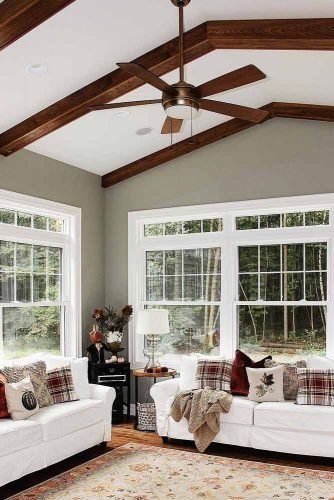 Source: daisygracehome via Instagram
It is evident that there are many sunroom ideas. However, we are going, to begin with, a traditional one. In most cases, such a room is just a useful and practical extension to your lovely house. That is why the extended amount of wood is more a necessity than the contribution to the style. Yet, this allows you to kill two birds at the same time because wood accents are always trendy.
Traditional Sunroom Design With Patterned Wall And Pillows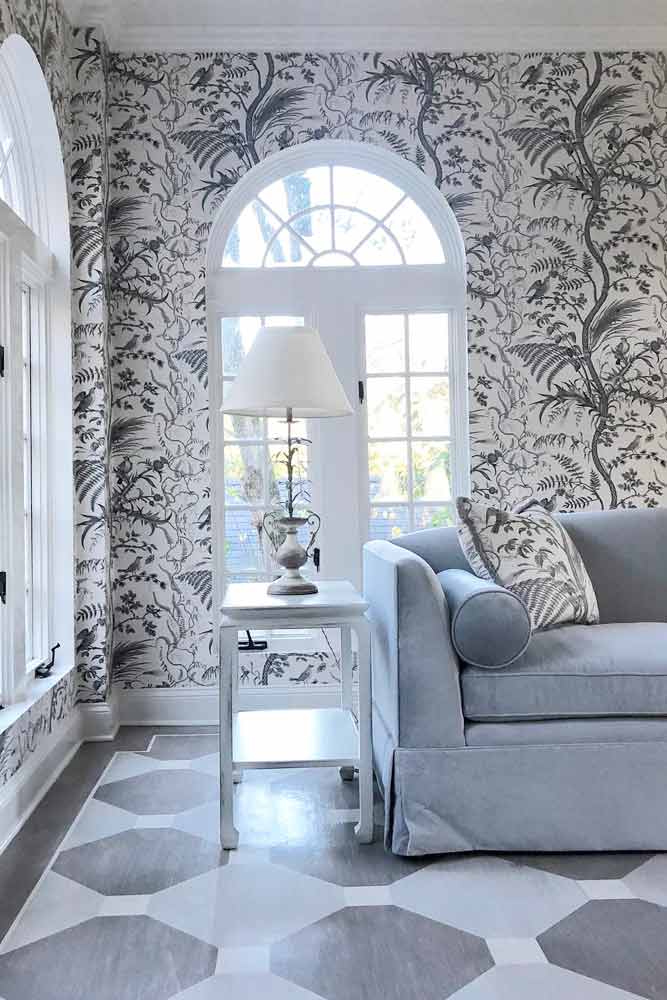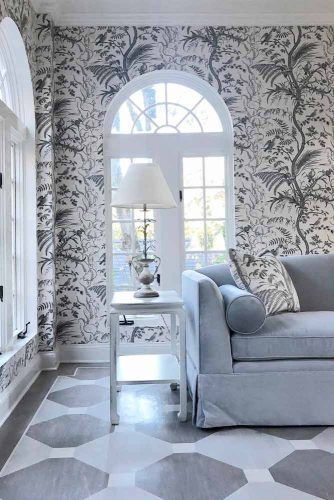 Source: courtneygilesinteriors via Instagram
It is true that your sunroom is the room to rest. This means that the room furniture is supposed to be corresponding. A reading lamp and a cozy sofa are indeed a must. However, you can play around with the décor the way you like as well. This means that aside from calming hues you can introduce some exciting patterns into the design. What is more, you can add matching patterns into the wall décor as well as the furniture elements.
Classy And Rustic Sunroom Design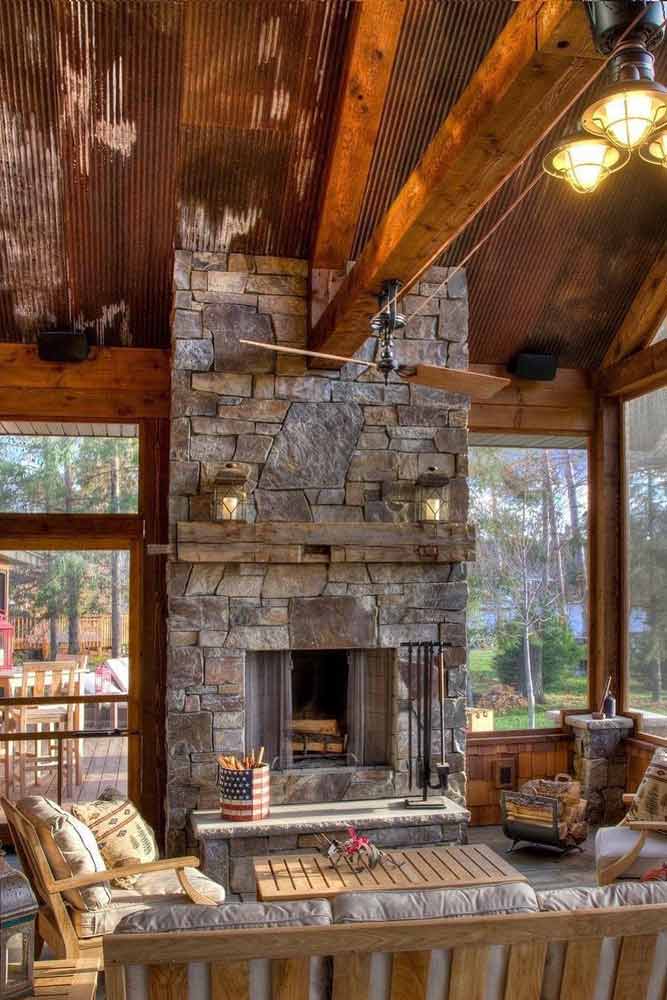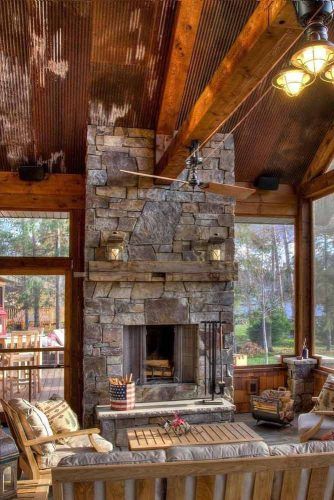 Source: barattobrothers via Instagram
Classic sunroom does not mean that you can't mix and match different styles. For instance, here you can see the flawless connection between classics and rustic décor. Yet, one thing should remain unchanged - windows. The windows are bound to be huge and take up the most of the walls so that the sun can light up the whole room.
Classy Sunroom With Plants And Colored Furniture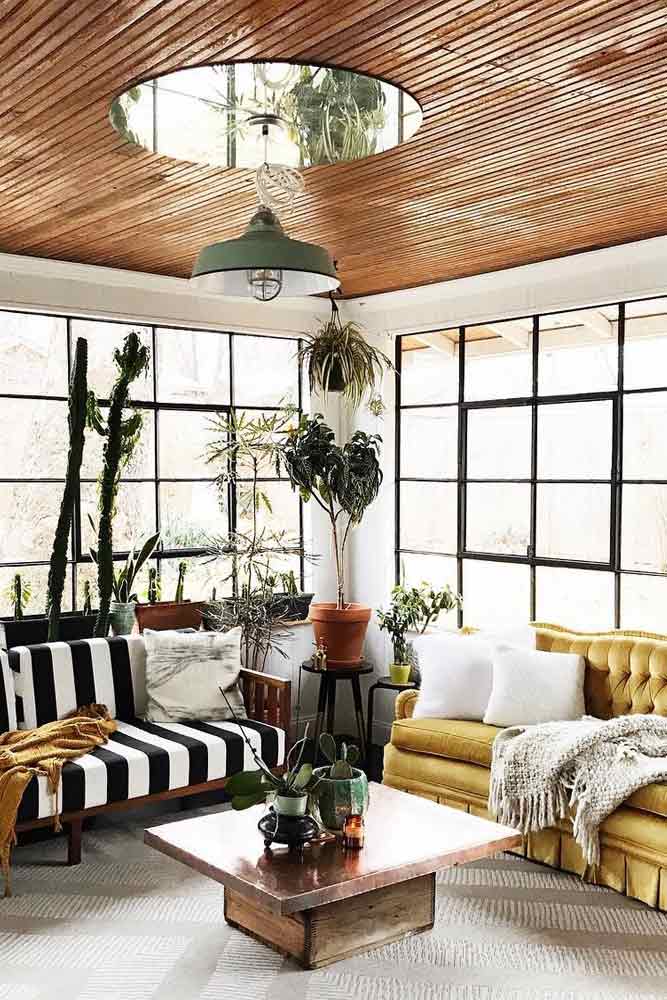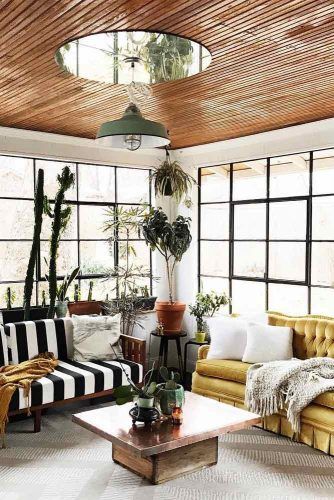 Source: sunwoven via Instagram
When it comes to sunroom decor, it is up to you to decide how to style it. However, if you are interested in our opinion – then we have a few things to add. The idea is that the sunroom is the best-lighted room in the house that is why bringing in your favorite plants is a good choice. The plants will create an unforgettable atmosphere as well as they will bloom due to that necessary amount of light. Yet, be careful with the plants that are not that fond of the sun!
Functional Design With Rest Space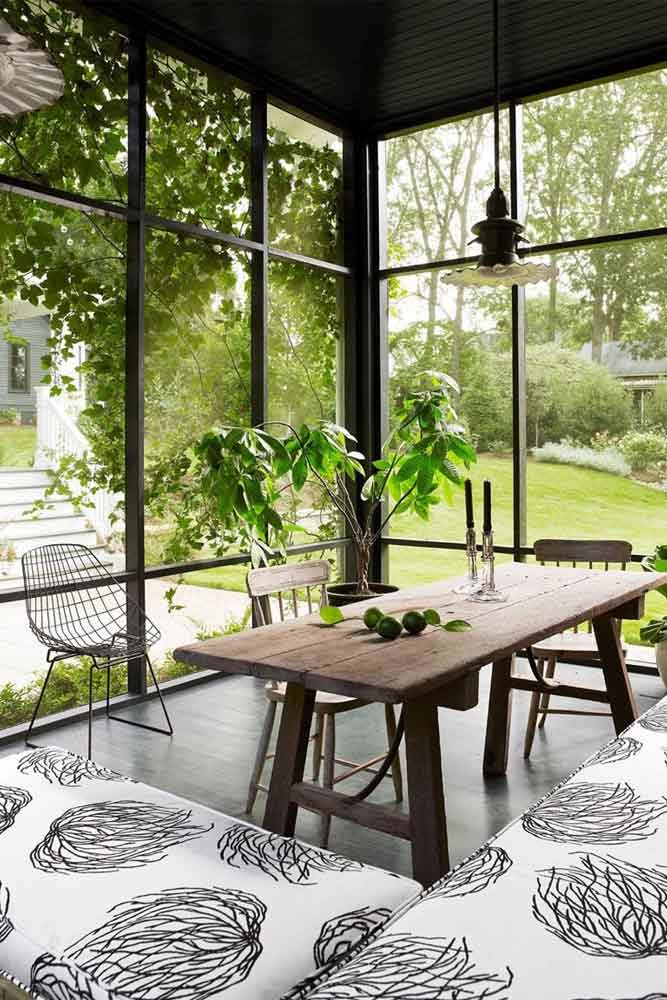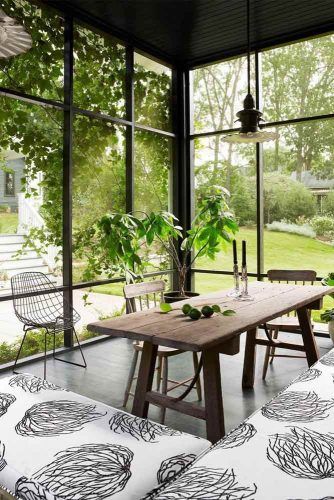 Source: b.lovedinteriors via Instagram
The fact is that every owner decides to decorate every room according to his or her desires and wishes. Yet, if you are looking for a functional way to do so – we have something to share. The thing is that your sunroom can be a restroom as well as a dining room. All you need is to combine a beautiful dining table and a comfortable sofa together. As simple as that!
Vintage Rustic Traditional Sunroom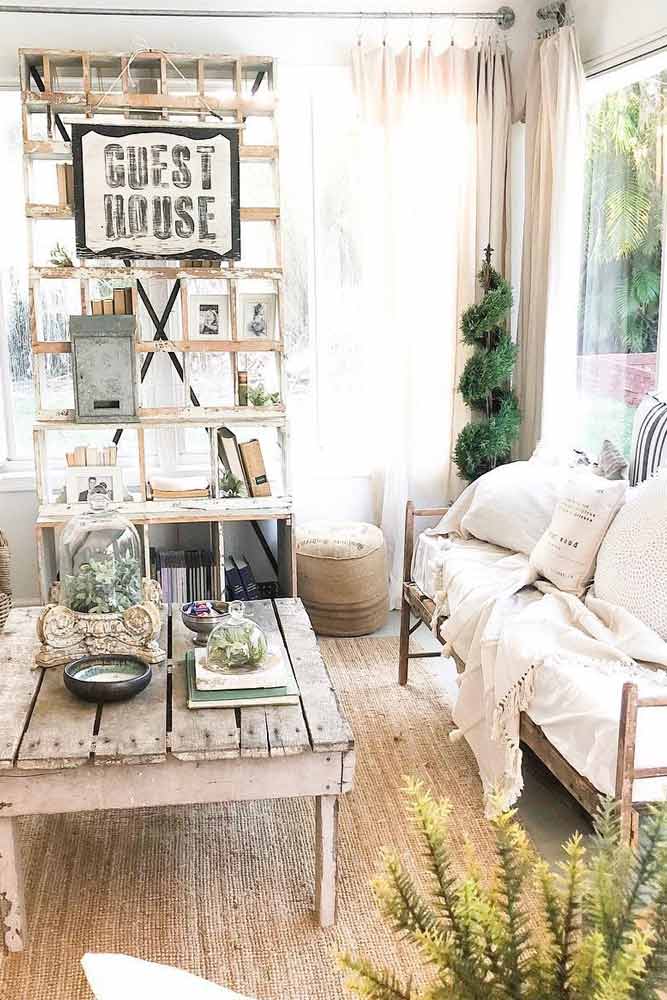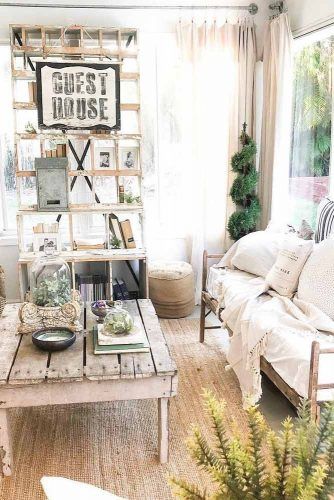 Source: robyns_frenchnest via Instagram
If you are all into rustic types of décor then you can bring in all your favorite things into one room - the sunroom. As you can see, nothing seems to be out of place here. What is more, it is highly likely that every piece of décor and furniture carries out its proper function. Do not leave out curtains, make sure they not only fit in but also add up to the atmosphere.
Conservatory Sunroom Design With Living Space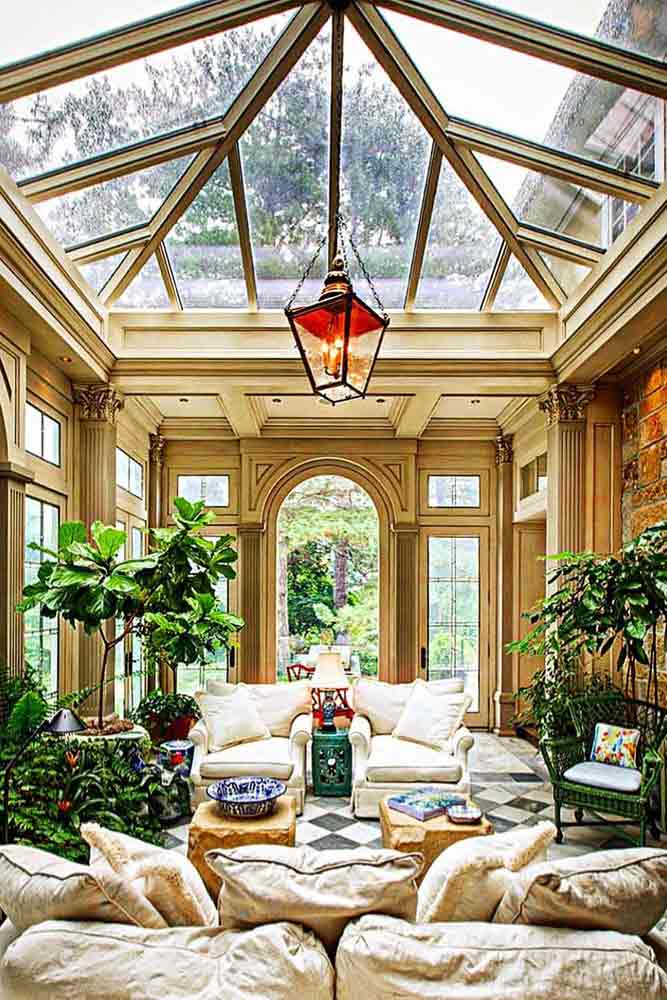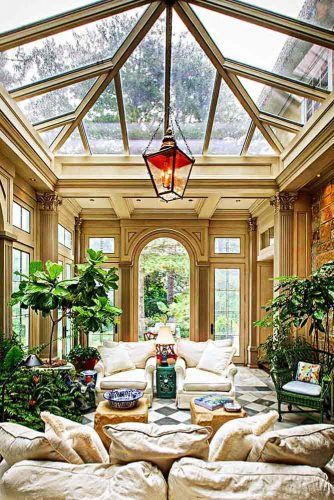 Source: lola_moonn via Instagram
When a simple and traditional sunroom is not enough for you, then you surely need a conservatory. In case you wonder what is the difference between these two types of sunrooms – the answer is quite apparent – glass roof. The truth is that such a sunroom will let in as much light as possible. Placing your resting place in the middle of the room is one of the best options there are.
Three Season Conservatory Sunroom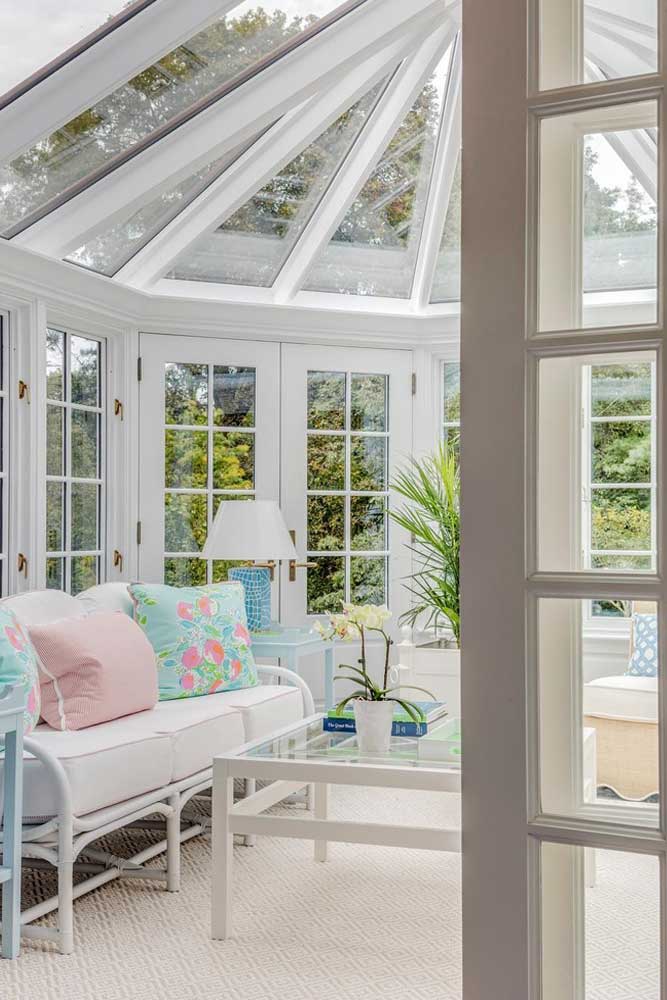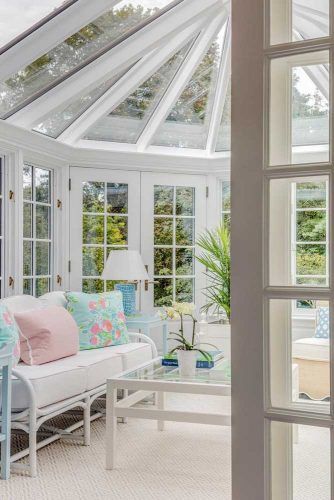 Source: patrickahearnarchitect via Instagram
If you do not plan to use your sunroom during cold seasons, then a three-season one is the perfect one for you. Such a room will grant you and your loved ones the ability to enjoy the outsides without leaving your house or suffering from nasty bugs. Besides, the minimalistic furniture and interior will provide a perfect resting atmosphere.
Straight Eave Sunroom With Modern Furniture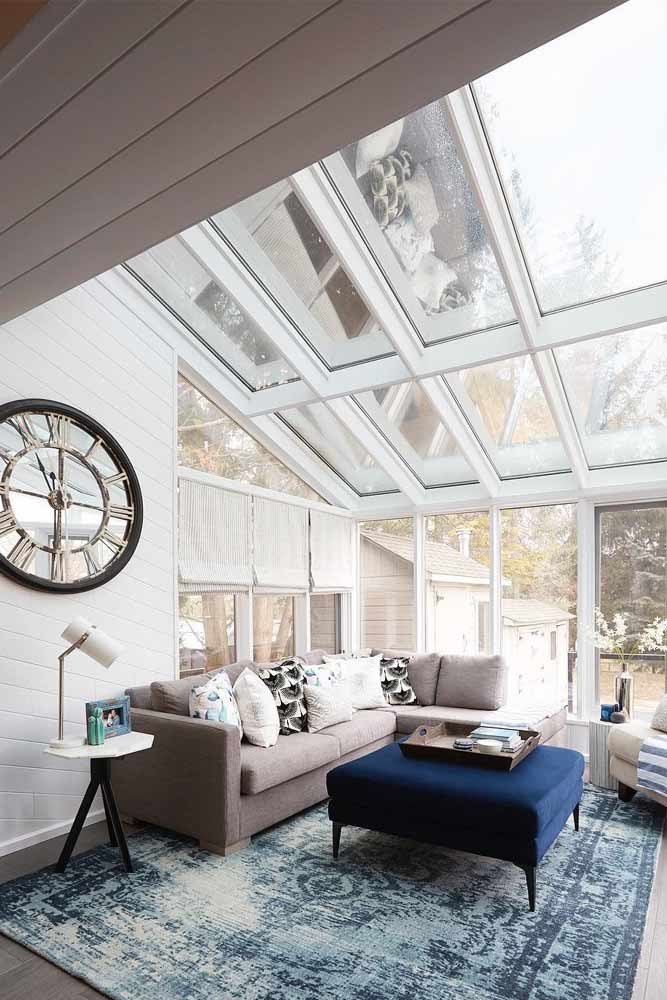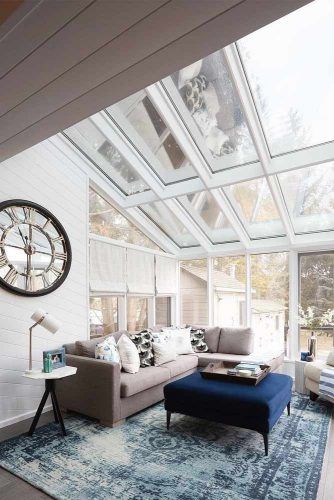 Source: michelleberwickdesign_ via Instagram
The fact is that not all of you may be equally fond of traditional or rustic sunroom styles. That is why we have something entirely different here for you. The thing is that the straight roof is not something you can see on a daily basis when it comes to a sunroom. Besides, the minimalism in the interior as well as the shading grants that modern touch that some of you may be seeking for.
Solarium Sunroom With Plants And Rest Space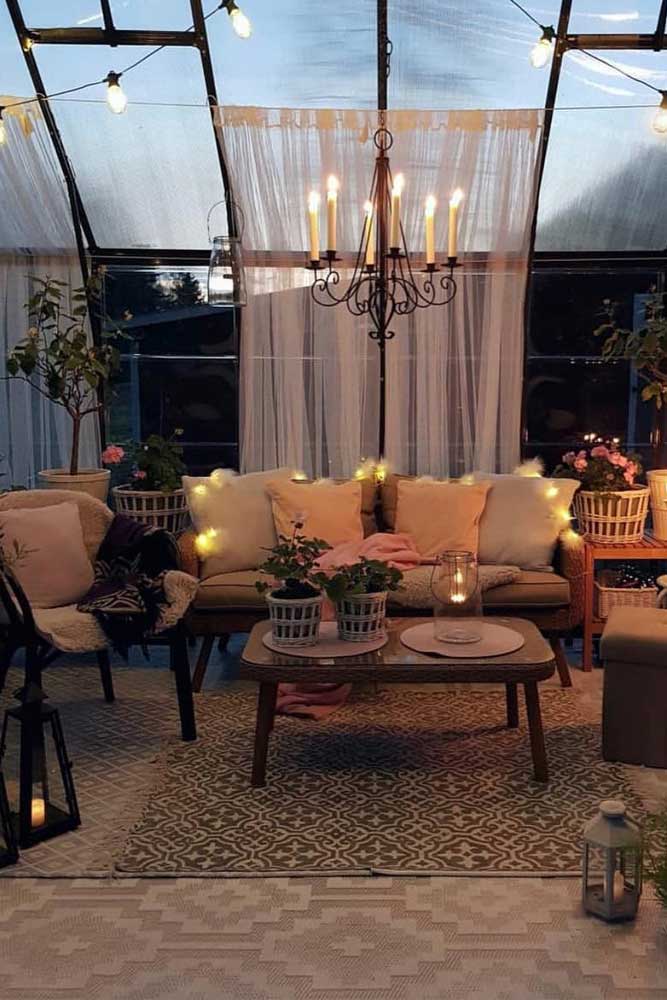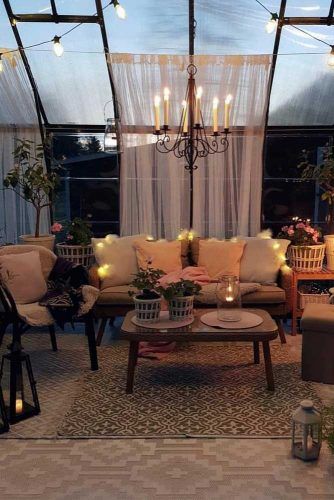 Source: coastalhamptonstyle via Instagram
Some people think that if it is a sunroom, there is already enough of light in it. However, you should not forget about nighttime. What we are hinting at is that you can bring in your favorite candles or any other type of lights into the sunroom and grant your room that unbelievable and magical charm, especially when the night falls. What is more, lovely plants will only intensify the magical vibe.
Cathedral Glass Sunroom Design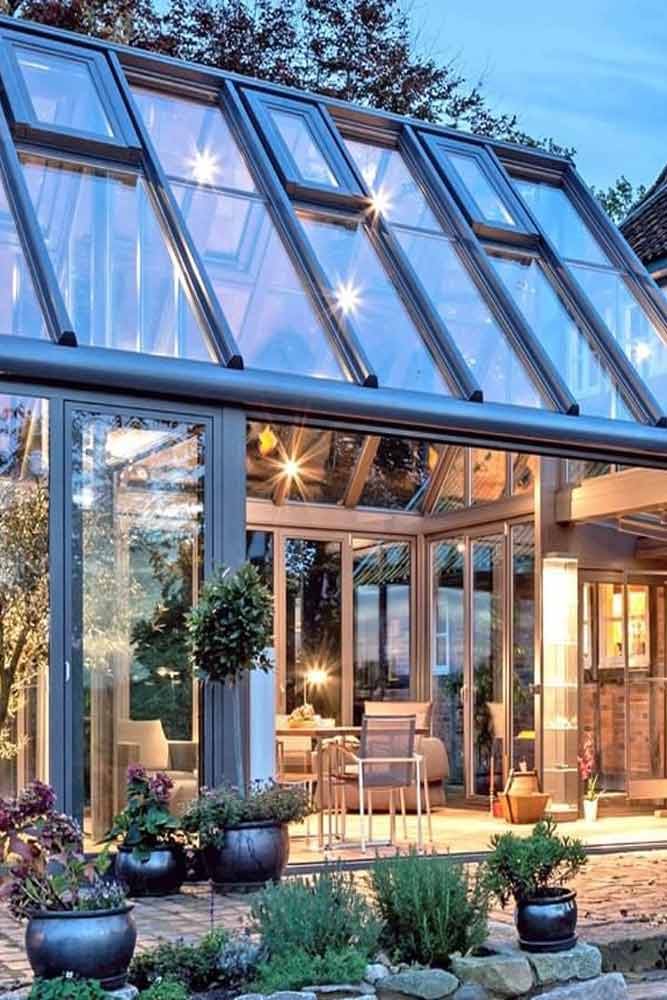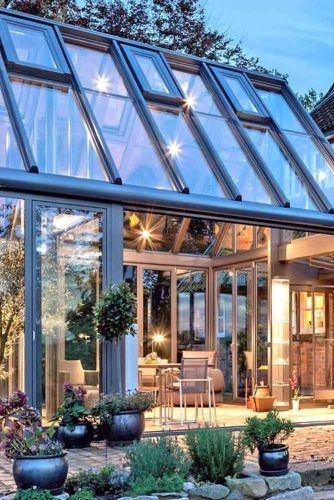 Source: climapod via Instagram
How many of you dreamed about a glass castle when you were little? It is high time your dream comes true with this fantastic cathedral glass sunroom design. The fact is that this sunroom is just glass and metal and that is what makes it so appealing for many people. The charm such a room possesses can't be denied by anyone, that is for sure!
Solarium Sunroom With Dinner Space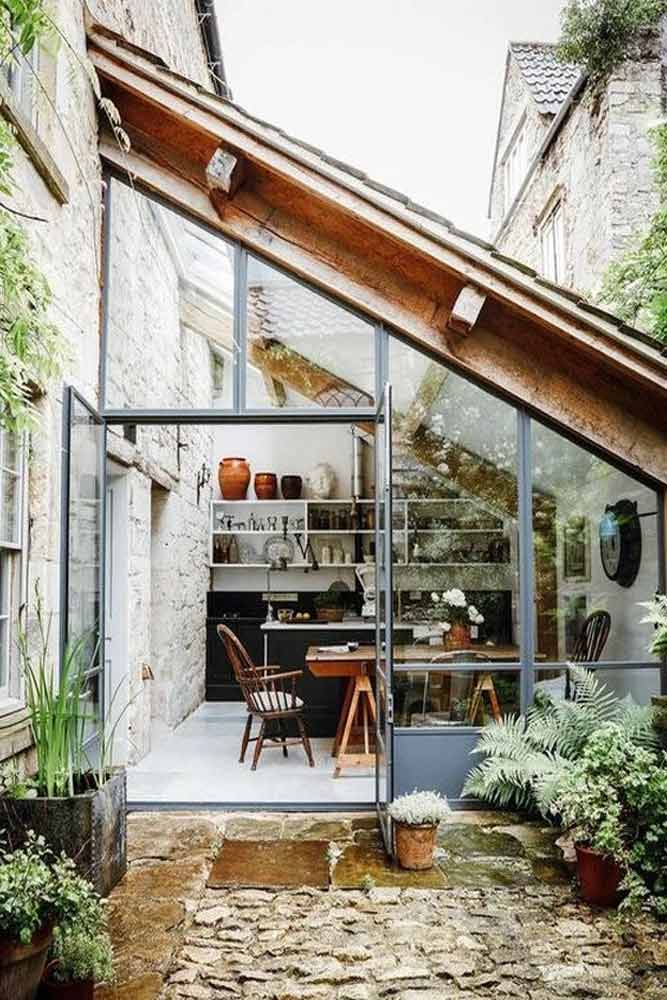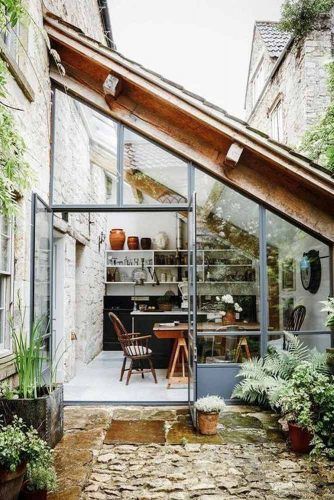 Source: buildwithrise via Instagram
There is a widespread opinion that sunroom is supposed to be vast and spacious. However, if you are limited in the room there are also small sunroom ideas. This particular one is a sunroom with dining space. Even though it is not that big, it is still practical not to mention cozy and comfortable. If you have such a room, every dinner will become a truly enjoyable tradition.
Cozy Sunroom Design With Fur Rug and Ornament Pillows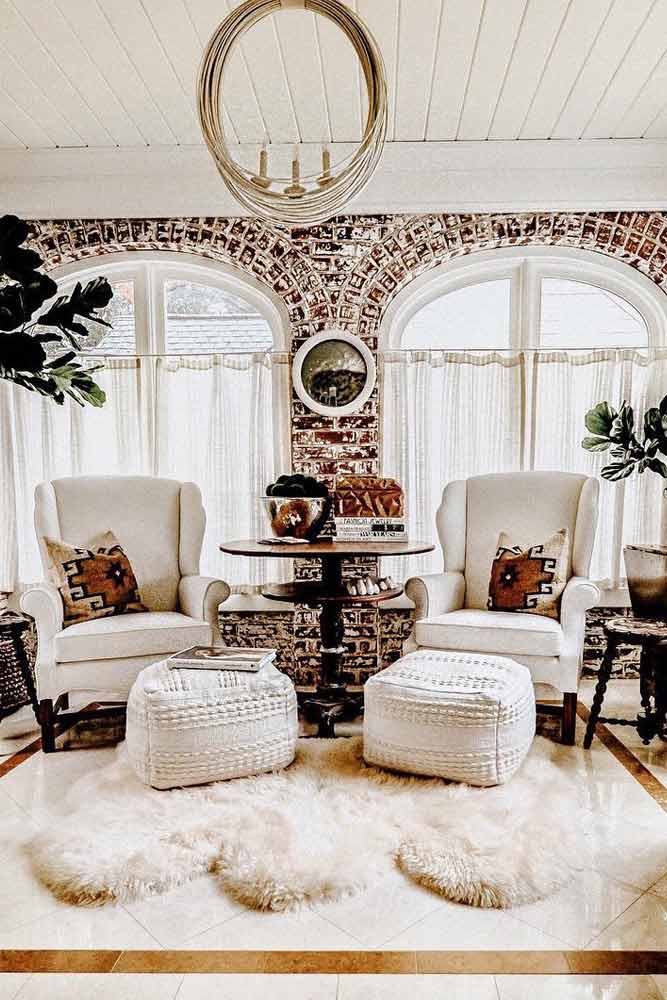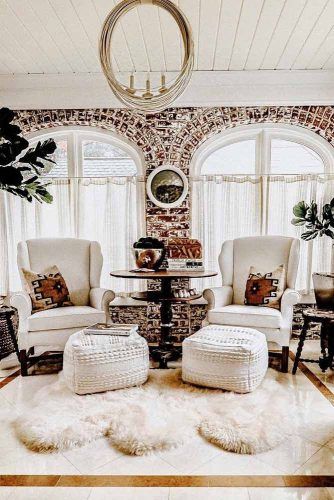 Source: elegantedge via Instagram
Since we have discussed a three-season sunroom, it is time to introduce to your attention a 4 season sunroom. These two types are alike when it comes to the designing and decoration. However, a four-season sunroom can be ideas all year round since it offers a possibility add a heating or a cooling system to it. For instance, this oriental sunroom can be your perfect resting place no matter the season outside.
Sunroom With Dramatic Peaked Roof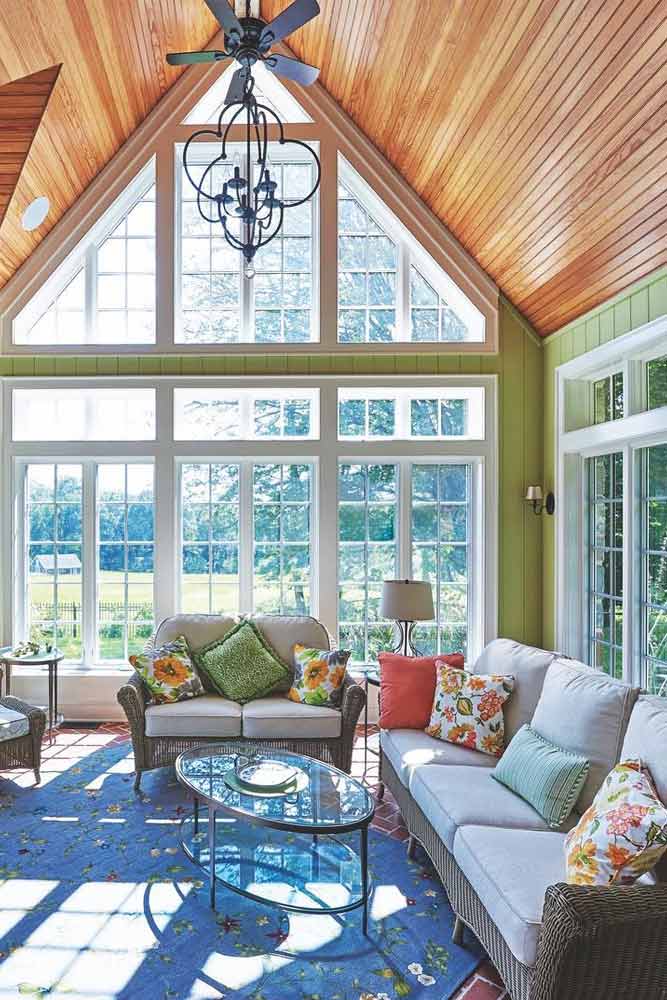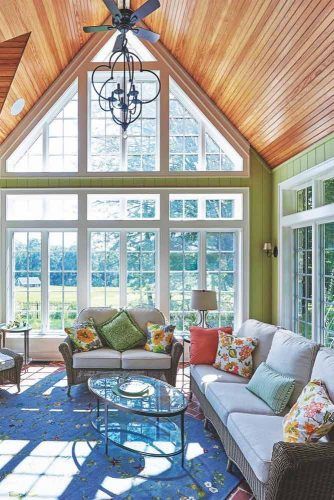 Source: design_nj via Instagram
Very often people pay most attention not to the interior but to the sunroom design itself. In case you are one of them then you will undoubtedly appreciate this dramatic peaked roof one. The inside decor is one of those universal sunroom kits, but the sunroom design is precisely what catches the attention in the first place.
Four Season Sunroom Design With Dinner Space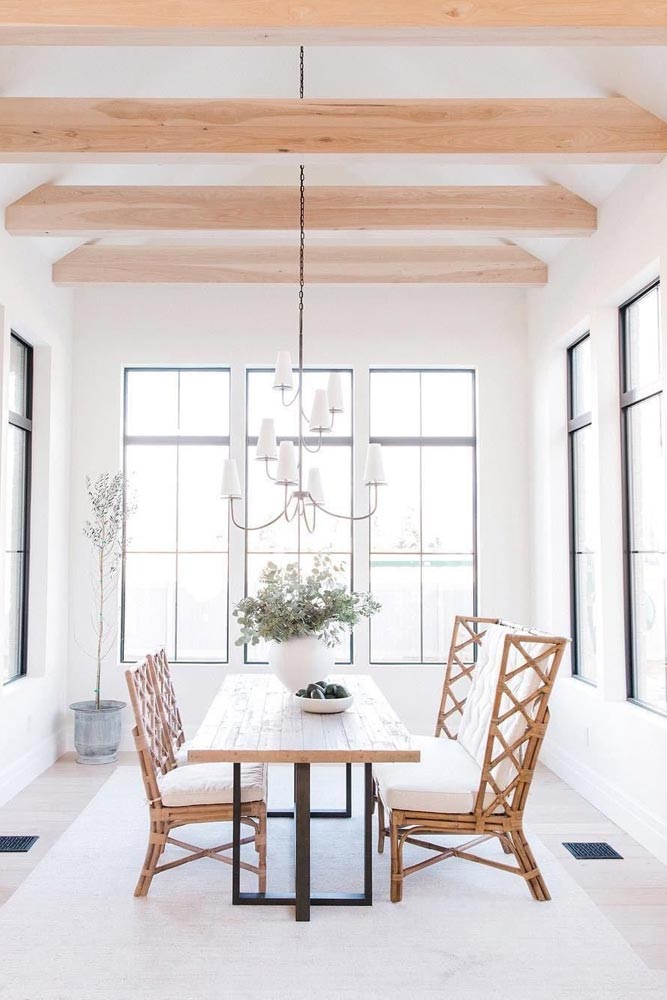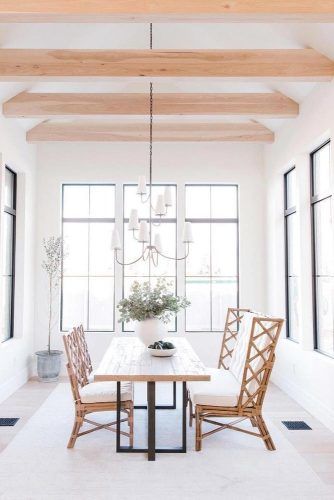 Source: designlovesdetail via Instagram
There are times when it may seem that a sunroom is all about the rest, but that is not entirely true. Your sunroom can be a perfect dining room at the same time. Such ideas will please those of you who do not have that much space to devote to two separate rooms. That is why combining two in one is undoubtedly a worthy solution.
Small Sunroom With Dinner Setting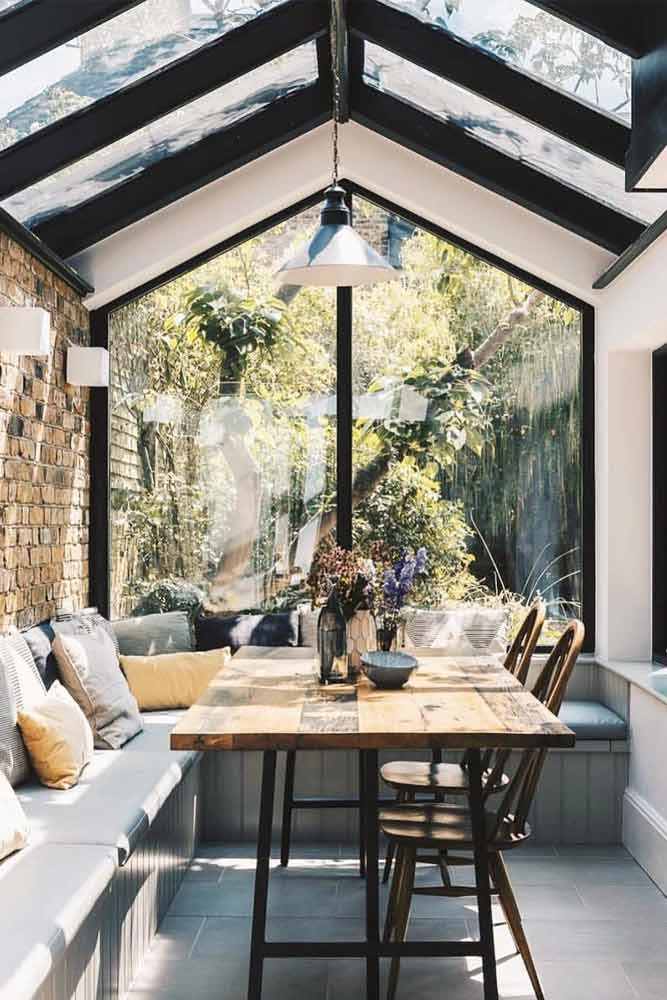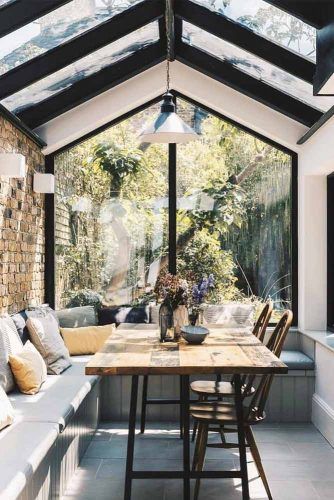 Source: imperfectinteriors via Instagram
Of course, all of us wish to own a massive house with enough space for every possible room in it. However, the reality is not that bright in many cases. That is why if you are limited in area - worry not; there is still a way out. The thing is that the common illusion that a sunroom is supposed to be huge is a deceiving one. Even a small area can be transformed into a perfect sunroom with a dining and resting place in it. See for yourself!
Small Sunroom With Work Space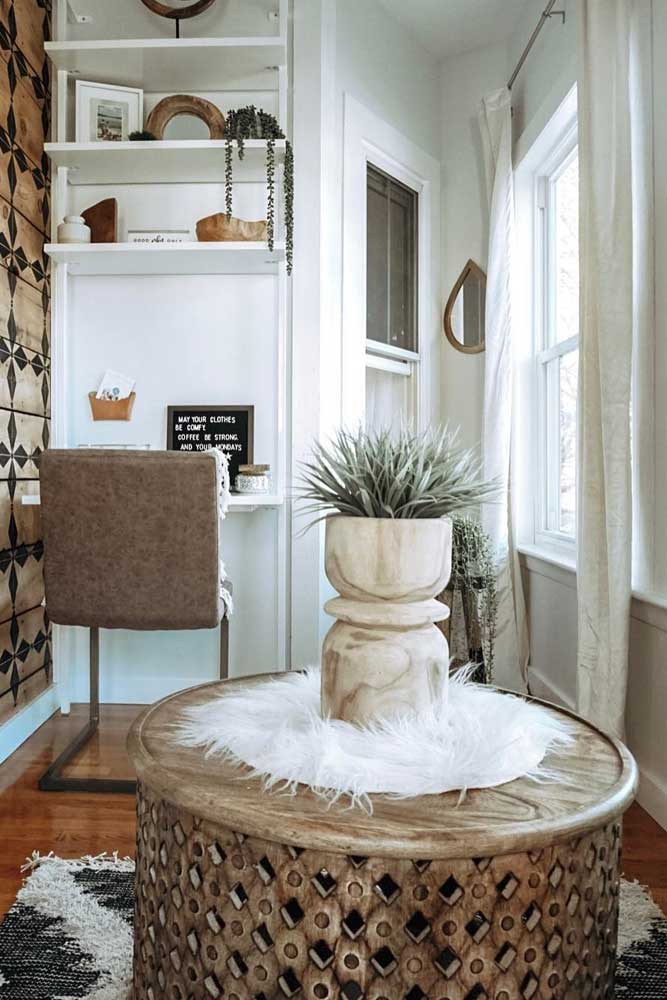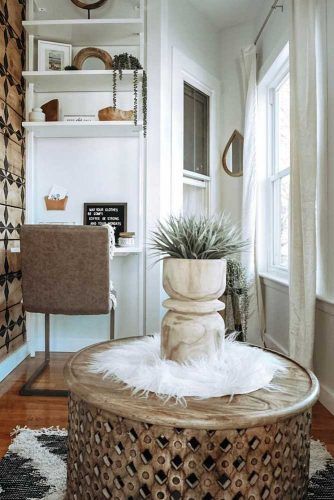 Source: thebohemiancasa via Instagram
We have already discussed it that a sunroom is a perfect room to rest and to dine in. However, there is something more to it. The truth is that such a room can be your ideal studying or working place as well. The amount of light, beautiful view and cozy interior will only promote your productivity.
Small Sunroom Design In Bohemian Style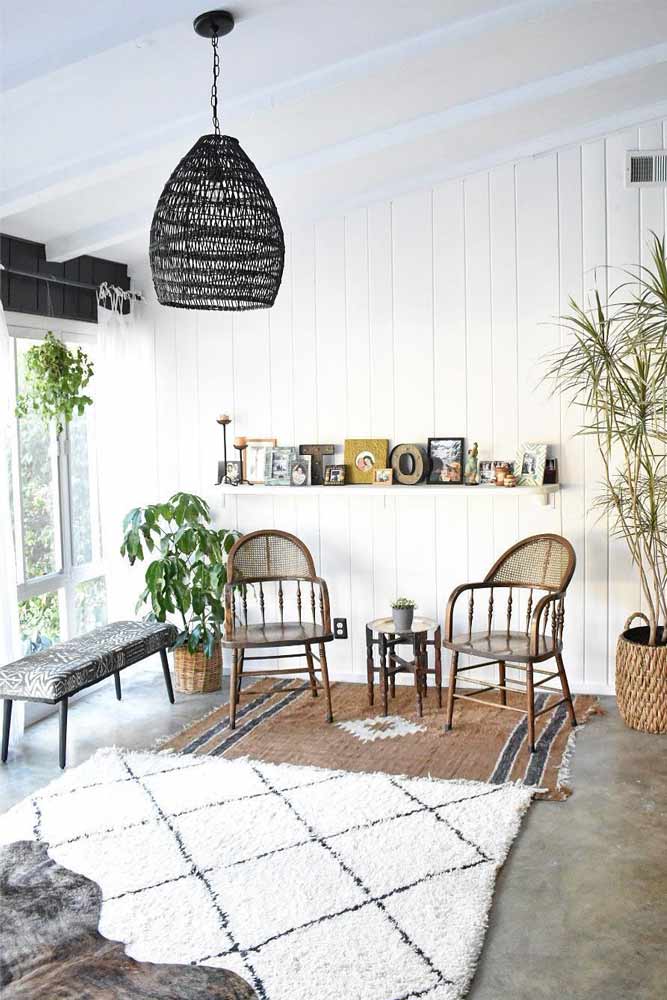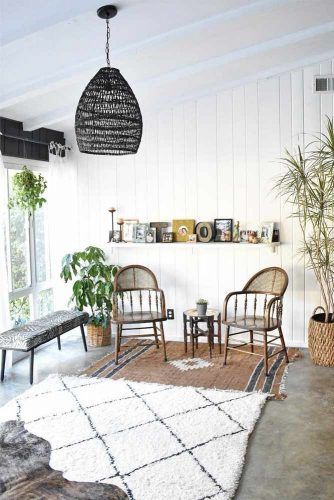 Source: gilmoregirl_home via Instagram
Bohemian styles are all the rage these days. That is why if it is your cup of tea and if you are limited in space – then this is that one perfect sunroom idea you need to consider at least. There is everything necessary present in the room, aside from that there is nothing else requested!
Main photo
sunwoven