Unique And Stylish Round Dining Table Ideas To Browse Through
The dining room is one of the most visited places in the house after the kitchen, there is no doubt about it. It does not matter if it is a couple in love or a huge family – all tend to gather around the dining table at least once a day. That means that a dining table is certainly a must. However, what should you do if your dining room is not that big as you would like it to be? Well, it means that you need to be very careful when you are choosing the table to place in there. We say that a round dining table would be your best bet, and there is a number of reasons why. Today, we are going to support the idea throughout the article as well as share some interesting table models and designs that you can implement into your interior.
Why Are Dining Tables Round?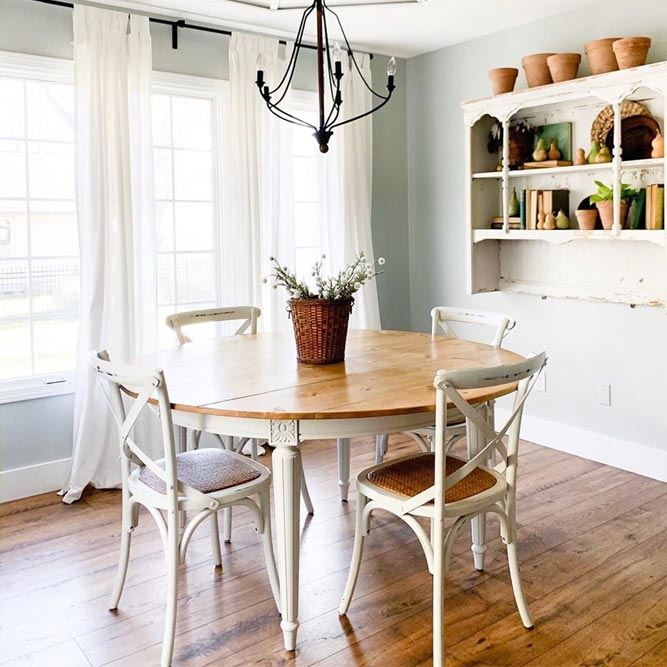 Source: Instagram/cailinaomi
If you wonder why we praise the round dining table so much – we are going to explain it to you briefly. The fact is that in the vast majority of cases, dining tables are rectangular. Even though there are many disadvantages to such a shape, many people tend not to pay attention to them since they think there is no alternative to a rectangular dining table. So, what are the advantages of a round table?
First of all, the absence of corners that any other table comes with allows you to create more space so that your guests or family can easily walk around the table and get into the seats.
Secondly, a round table fits in any style and décor seamlessly since there are countless designs that you can choose from.
It is a lot easier to interact with each other sitting around the round table since there are no corners to separate you.
You can reach any dish on the table without asking someone to pass it to you.
A round table is perfect for small spaces since it does not take up as much space as a table with corners would.
Do Round Dining Tables Save Space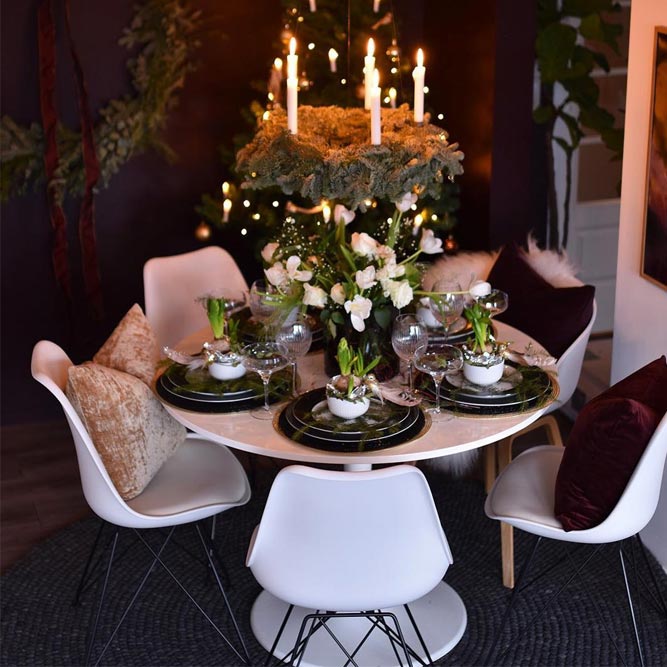 Source: Instagram/marenbaxter
When you are limited in living space, then every centimeter matters, and a round dining table is that piece of furniture that will help you make the most of your place. It is true that because of the absence of corners, a round table is destined to save up space. Besides, in the majority of cases, round tables come with only one leg, and that means that you have a lot of room for your legs too. If you are a happy owner of a petite house, but you love family and friends' gatherings, then such a table should be considered at least.
Do Chairs Have To Match Dining Table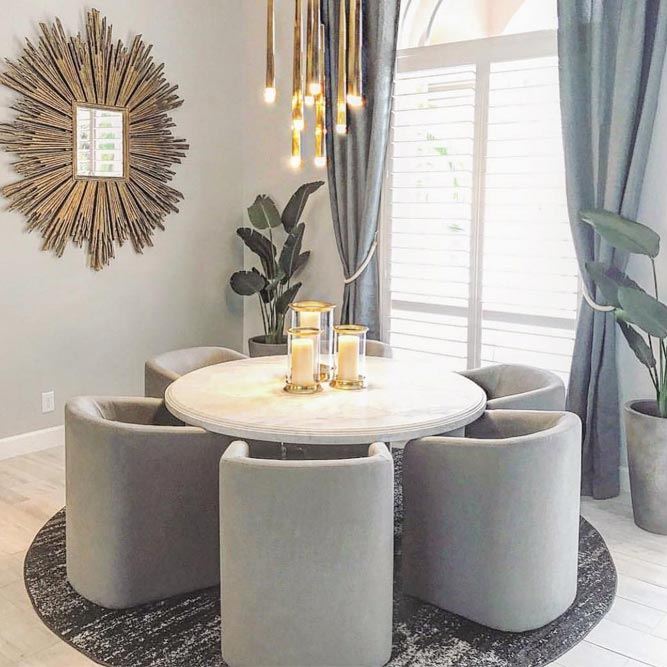 Source: Instagram/onepiece_at_a_time_design
It is difficult to answer this question with a mere 'yes' or 'no' answer. There are many different round tables to choose from, and often you pick the one that fits in your interior well. This means that your chairs should suit the general vibe too, but that does not mean that every piece of furniture is supposed to be matching. You can mix and match various elements to create a masterpiece as a result. It is essential that you do not create a dissonance when you are pairing your furniture. Whenever you enter the room and it feels either too chaotic or too dull – you have made a wrong choice. You shouldn't be afraid of getting a little experimental when decorating your dining room and fitting the table and the chairs in. As we move on with the article, we are going to share some beautiful examples with you so that you can use them as your personal inspiration.
Vintage Marble Table With Modern Stools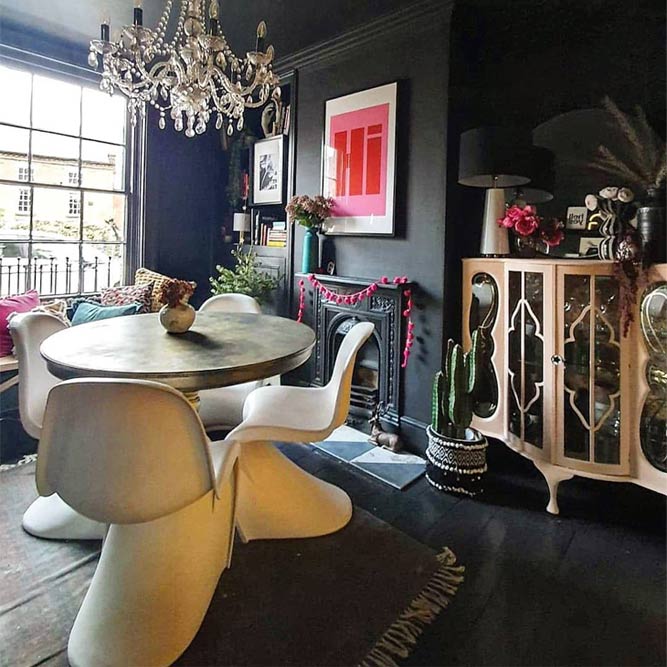 Source: Instagram/nestninanest
There are so many living rooms decorating ideas that they are difficult to list. However, you need to remember than the simple fact that very often the décor of your dining room should coincide at least partially with your dining table and the chairs. In this case, we can see that there is a thin line drawn between the vintage table and modern chairs, but the match they make is magnificent and beautiful.
White Round Table With Wooden Chairs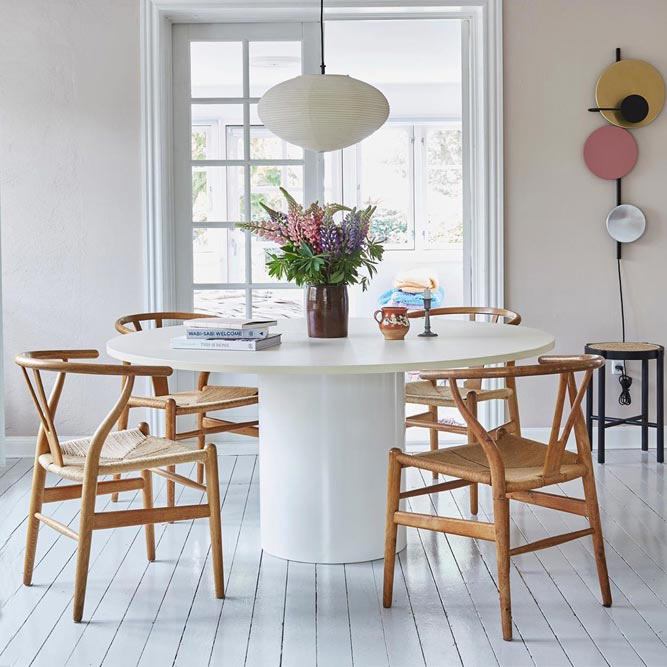 Source: Instagram/homestylemag
When you are looking for a table that would brighten up the whole room, then a white round dining table is the one to consider. The impression will only be intensified if you paint the floor in the same shade. However, leave the chairs our of the white palette, we say that wooden chairs would complete the picture flawlessly.
Modern Round Table With Glass Top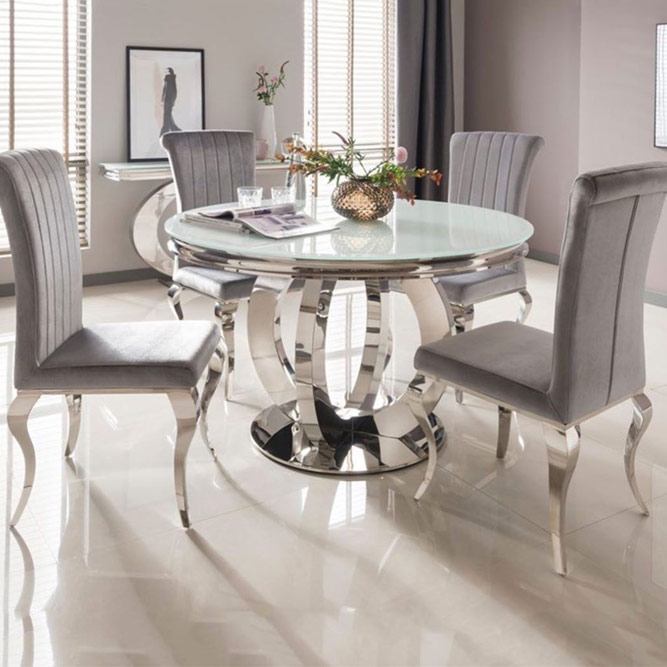 Source: Instagram/uniquechicfurniture
Many people are into modern décor these days, and there is no wonder why. In case you belong to the category, then this round glass top dining table is the one that will make you fall in love with it. Not only is it unique and stylish, but also the chrome leg creates that magical atmosphere that will capture anyone's attention. As for the chairs, they match the general décor while the legs match the table. This is one of the ways that you can match your table and chairs.
Rustic Expandable Dining Table Set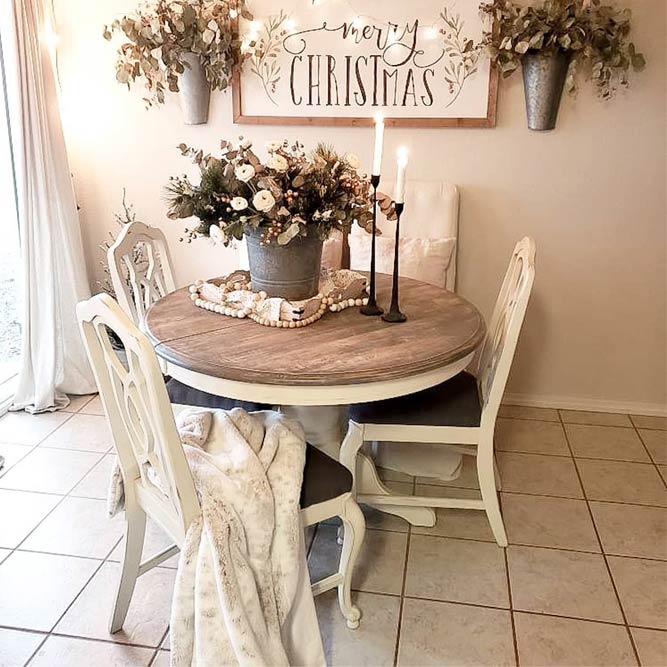 Source: Instagram/repurposedecor
Very often, when your family is a tiny one, people suggest getting just a small table for two or three people. However, what happens when guests come over? Where would you sit them? This is when we advise you to consider an expandable wooden table. You can keep it small when no one is to come over, and you can easily turn it into something bigger when you invite guests. This rustic table with a set of same rustic chairs is adorable.
Retro Dining Table Set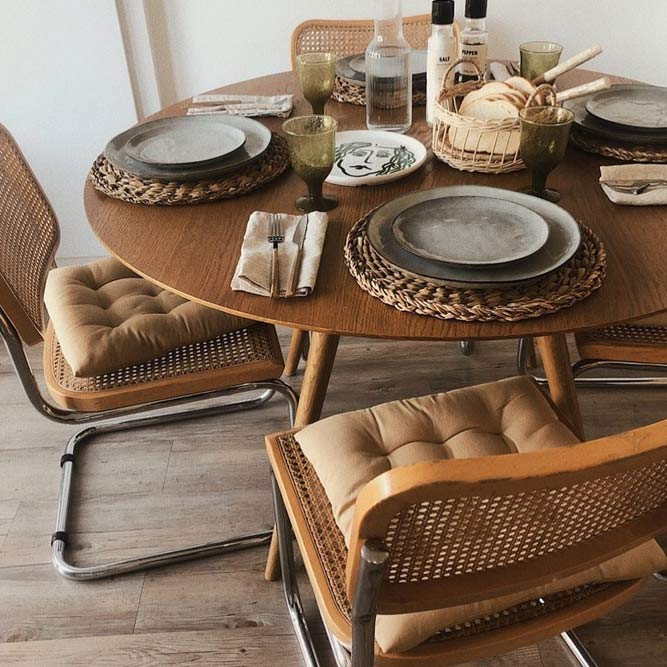 Source: Instagram/laurenlewisliving_
The truth is that round tables are not a recent invention, they have existed through the ages, and now you understand why. If you are a retro décor fan, then this rustic round dining table may attract your attention. As you can see, the table color as well as the chairs' match. However, such a small accent as a chair cushion makes a difference.
Mid-century Inspired Table Set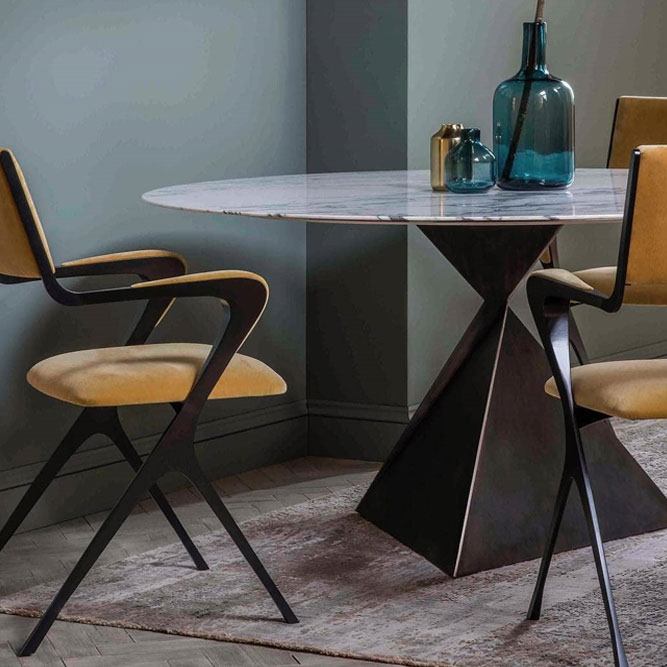 Source: Instagram/tomfaulknerfurniture
It is easy to miss out on the fact that your dining table can become the accent of the room just like that, all you need is a proper table in mind. This modern round dining table is more like a piece of art than just a regular table. There is nothing special about the top, but the table leg is the one to attract amazed glances. Besides, it may seem that the chairs do not match the table. They don't in color, but the abstract shape is the one that makes them click.
Classy Wooden Table With Mix Sitting Place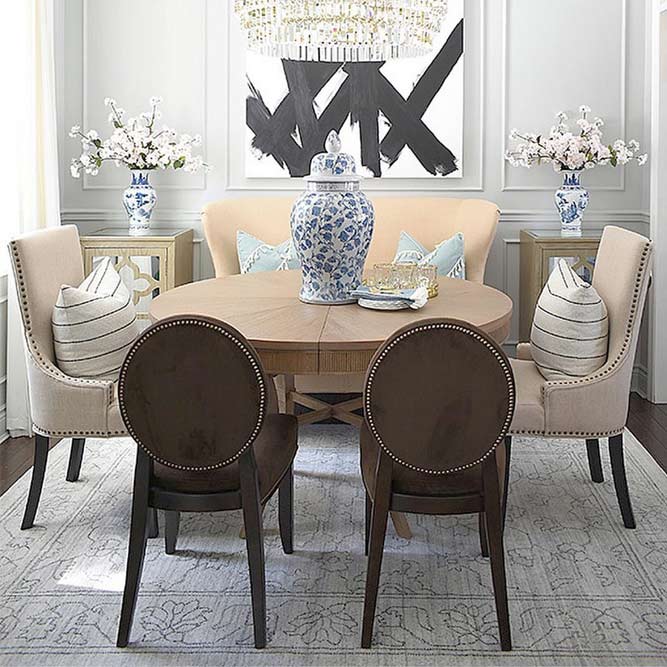 Source: Instagram/citrineliving
Those who are in love with trendy French country décor will certainly appreciate the given set. The table itself is simple and practical, while the sitting area is what stands out. As you can see, the sitting place is the mixed one, but nothing looks out of place. The colors of both the table and the sitting area differ slightly, but they remain on the same color palette, and that is something you need to stick to when choosing your dining room furniture.
Loft Dining Table Set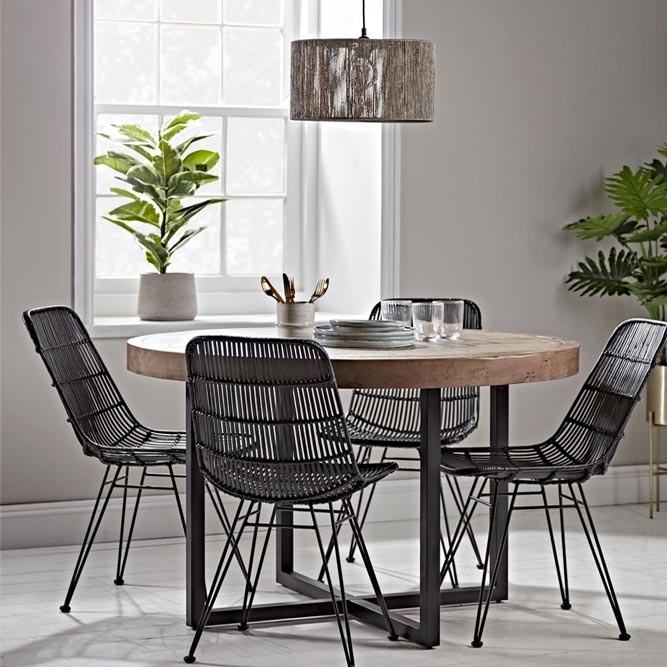 Source: Instagram/coxandcox
If you are not a fan of all sorts of fancy designs and all that you seek is simplicity, we have something in store for you. A round dining table set with metal legs and wooden top is simple but gorgeous. While the chairs match in color to the table legs, there is nothing else but the table top that creates the contrast. For a simple loft décor, such a table is a true discovery.
Modern Set With Glass Top Table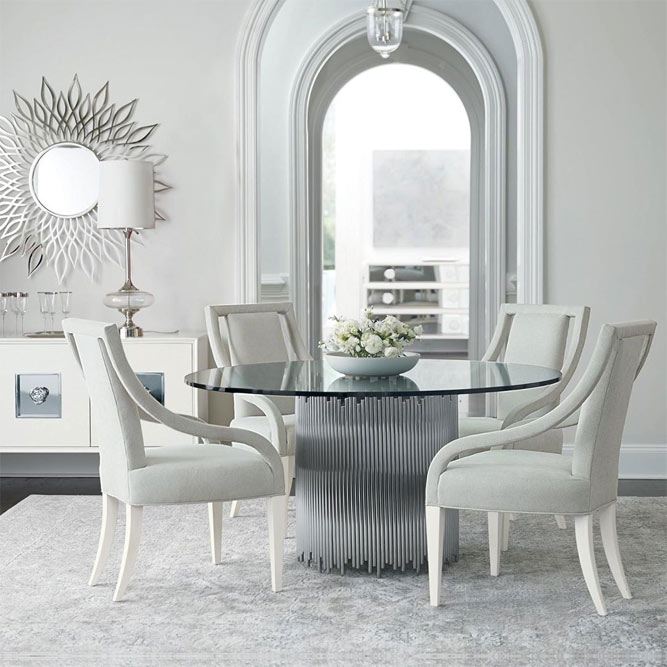 Source: Instagram/baersfurniture
Some people are looking for futuristic and elegant furniture, and at times that is a desire difficult to satisfy. If you seem to lose all hope to find something like that, then you have come to the right place. This round glass dining table is the element of futurism, while white chairs that suit the general décor are responsible for that elegant touch.
Silhouette Pedestal Modern Dining Table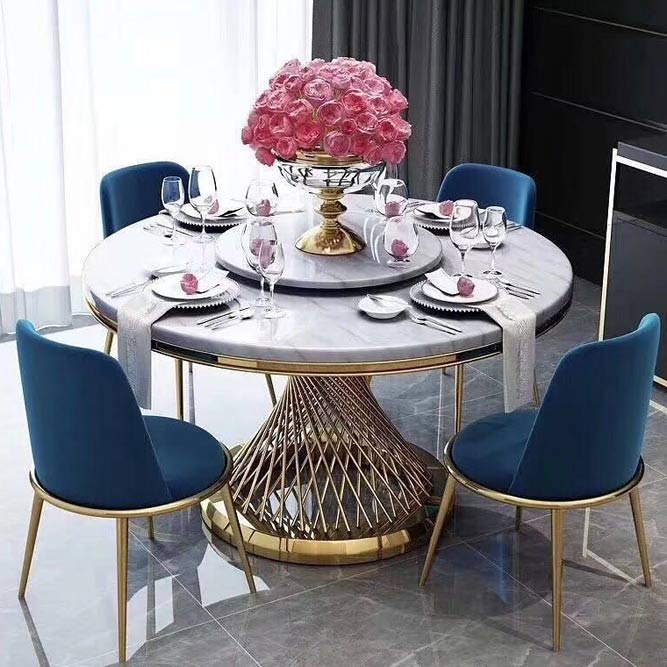 Source: Instagram/modernfurnituresupplier_china
Those of you who want the dining table to become a real decorative piece that also serves a practical goal, you may have found it. This table set looks rich and regal. The table leg, with its chrome coating and unique structure, won't leave anyone indifferent. It should be added that while darker tones are prevailing in the interior, vibrant blue chairs add all the necessary brightness to the décor.
Bistro Table Set In Black White Colors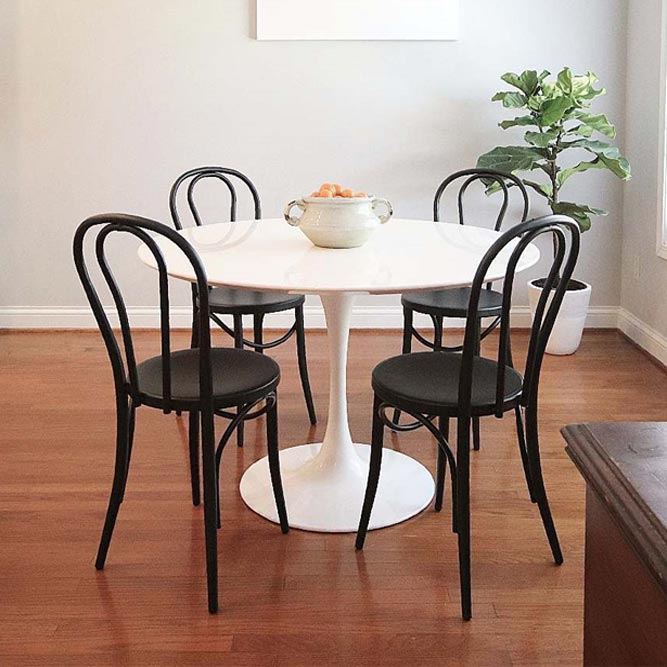 Source: Instagram/urbanhausdesigns
Another minimalistic but not less stylish option to fit into your spacious dining room would be the contrasting mixture of classy black and white. The bistro table is the white piece of a whole while the chairs are white. The combo is a very simple one but yet captivating, don't you think?
Black Modern Dining Table Set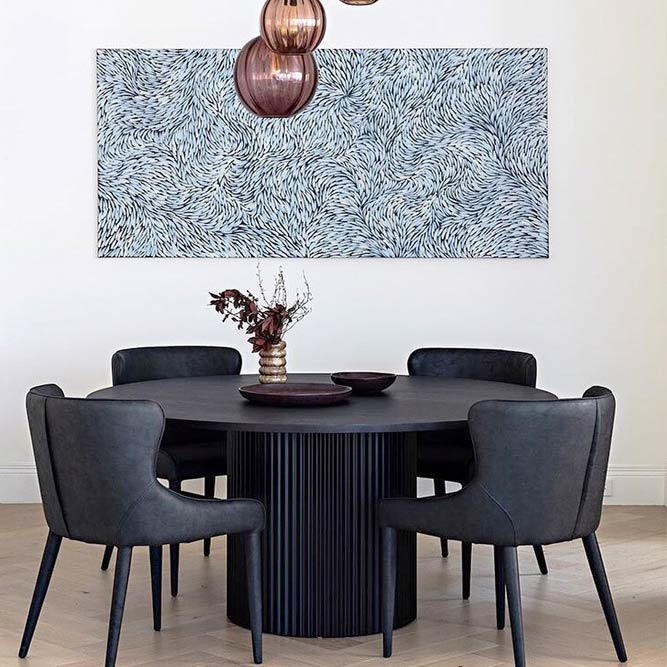 Source: Instagram/ansariarchitects
There are cases when it matters, not what is trending at the moment or what fits according to set standards. The only thing that matters to you is that you adore your interior. This is the case when a black round dining table combined with the same black chairs wouldn't look out of place. If you like the mix, there is only one piece of advice – leave the floor light and do not overstuff the room if possible.
Small Round Table With Modern Chairs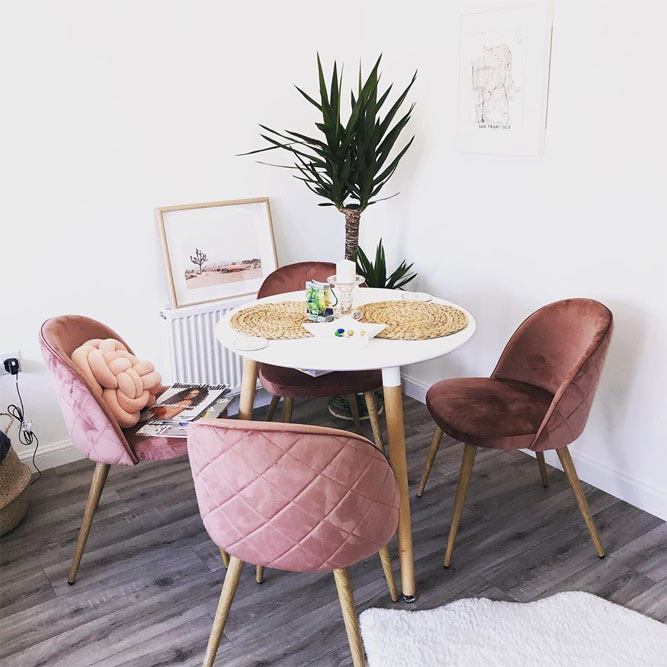 Source: Instagram/diy_in_heels_by_mags
The beauty of a small round dining table lies in its flexibility and practicality. It does not take up a lot of space and can be fitted into any corner of the room. Besides, even the simplest design will do as long as you have a set of chairs that stand out and accent it.
Arc Base Pedestal Dining Table With Wicker Chairs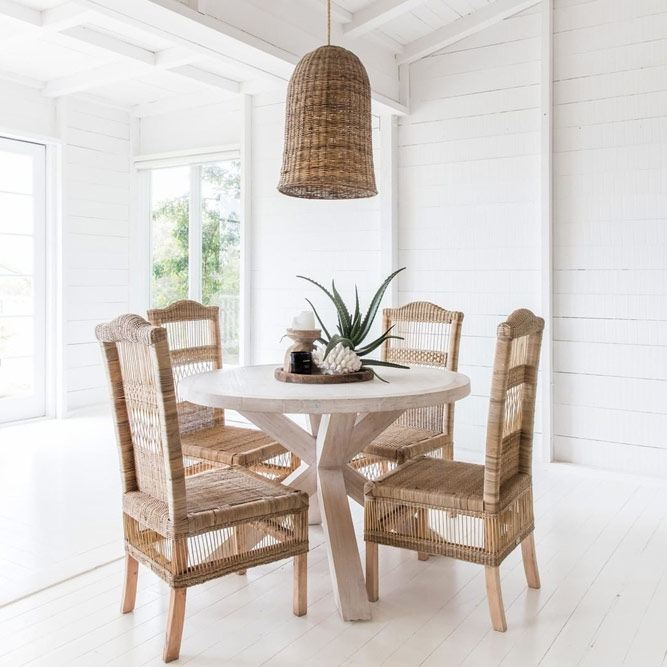 Source: Instagram/malawicane_au
Not every round wood dining table will introduce that rough and vintage authenticity to the room. You need a table that would stand out but not steal all the show. This arc base one with wicker chairs to it is precisely what we have in mind. Such a set adds that lightness and brightness to the room, even if it is placed somewhere else but by the window.
Classy Dining Table Set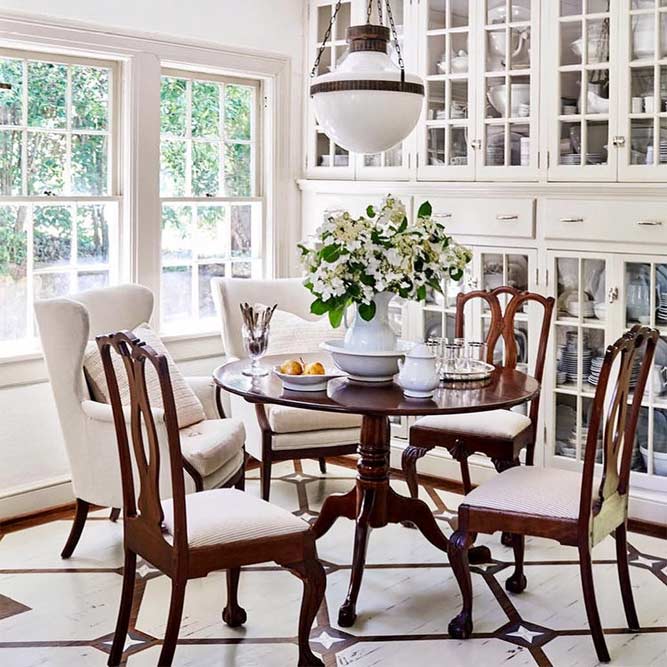 Source: Instagram/heatherchadduck
Some families do not need or do not want a large round dining table. It is a matter of personal preferences and some other factors. However, if you see yourself in the position, then this classy dining set is the one you may appreciate. The polished round table reminds us of the past century with all the tea parties and things like that. Besides, as you can see, there are two sets of chairs involved. However, no matter the differences, it is hard to say that anything is missing out.
The round dining table comes with many advantages and almost no disadvantages. There are countless sets and models, not to mention sizes to choose from. Consider the option once, and we are more than sure that you will get yourself one of those gorgeous tables.
SOURCES:
*
A table is an item of furniture with a flat top and one or more legs, used as a surface for working at, eating from or on which to place things.
*
A dining room is a room for consuming food. In modern times it is usually adjacent to the kitchen for convenience in serving, although in medieval times it was often on an entirely different floor level.
*
A dining room is a room for consuming food. In modern times it is usually adjacent to the kitchen for convenience in serving, although in medieval times it was often on an entirely different floor level.
*
Vintage design has risen in popularity, and price as of recent years. Outlets of vintage design have also shifted from thrift store, to shabby chic stores.
FAQ: Round Dining Table
Can I put a round dining table in a rectangular room?
Because a round table in a rectangular space creates an inconsistent image, it's preferable to only use round tables in square rooms. It's a simple challenge to fix if you really need a round table in a rectangular room. Just pick a square or circular location within the room to look like the "eating area".
How much room do you need around a round dining table?
Allow 24 inches of room for each person gathered around your table as a basic rule of thumb. The majority of side chairs are 16 to 24 wide, with arm chairs up to 30 wide.
How big does a round table need to be to seat 4?
A 42-inch round table can comfortably seat four persons, whereas a 48-inch circular table may comfortably accommodate 4-6 persons. A 60-inch circular table, in its turn, may comfortably accommodate 6-8 persons.
Was this article helpful?