The kitchen is an essential room in any house or flat. That is where your best meals are prepared and where your family is usually gathered. However, not everyone knows that there are a few varieties of kitchens. The outdoor kitchen is precisely one of those kinds of kitchens we suggest you take into consideration. The thing is that such a kitchen offers you a lot more possibilities rather than a regular one. Be it a warm Sunday afternoon or a cozy evening it is always nice to dine outside. Can you imagine having such a dinner or supper in your backyard? In case you can, we have a fair share of exciting ideas to share! Read on!
Modern Outdoor Kitchen
Modern Kitchen With Grill And Sink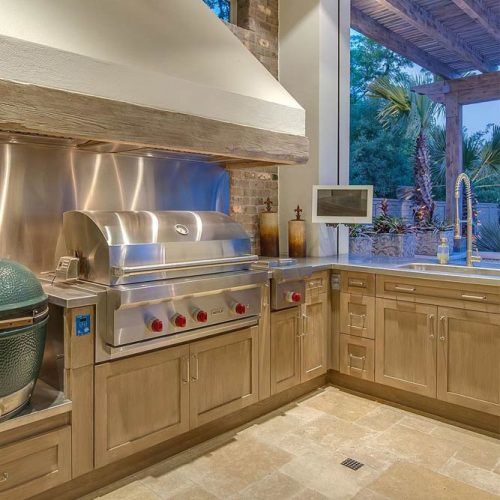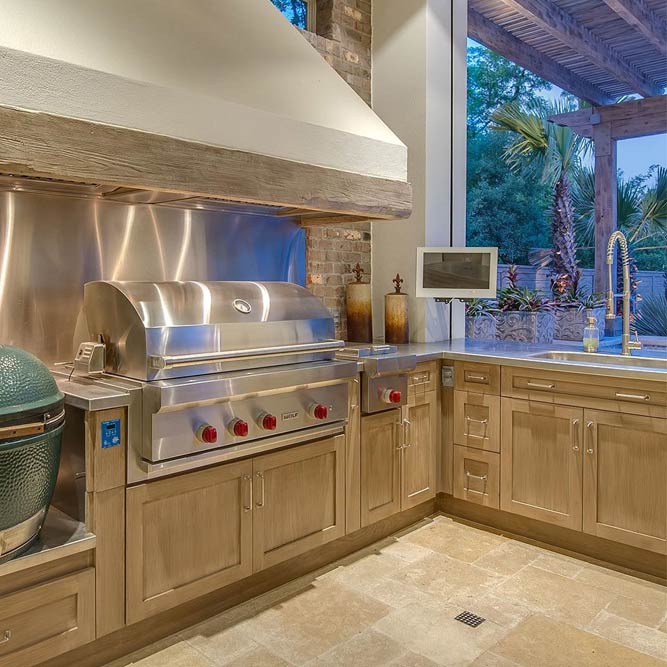 Source: houston_luxury_properties via Instagram
If you are looking for an outdoor kitchen with a modern touch, then this one may suit you well. The thing is that if you are a fan of family barbeques you surely need a grill and this kitchen has it. What is more, in order not to bring all the dirty dishes in you can easily wash them outside since there is also a sink included. Besides, outdoor kitchen cabinets are as necessary as the indoor ones, because there is always something to store in there!
Modern Design With Kitchen Island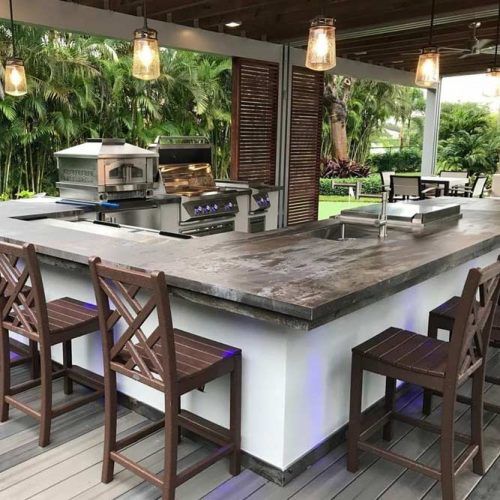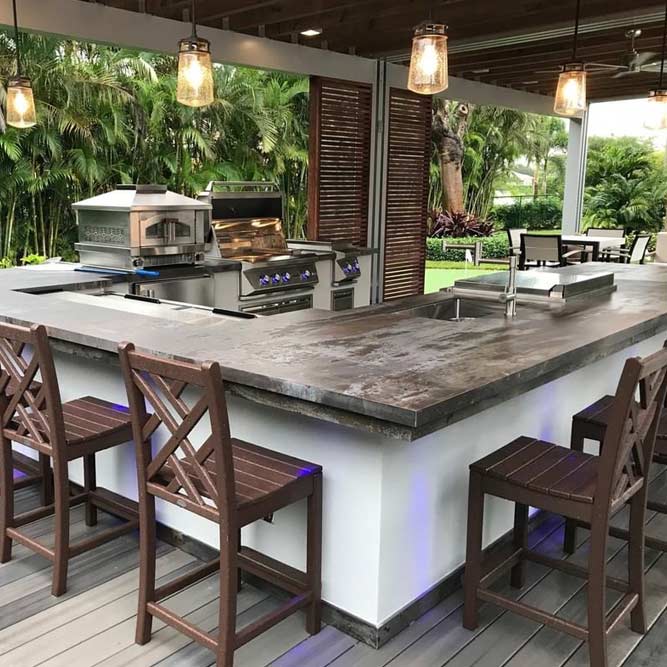 Source: luxapatio via Instagram
Another modern outdoor kitchen design is the one with the island. This type of kitchen will suit those of you who have quite a big family. Besides, if you like everything to be in perfect order and within reach when you are working your magic in the kitchen, such an island is clearly irreplaceable. Despite the light coming from the outside, you need to introduce some electrical lighting in the kitchen as well, keep it in mind.
Outdoor Kitchen Design With All Grill Functional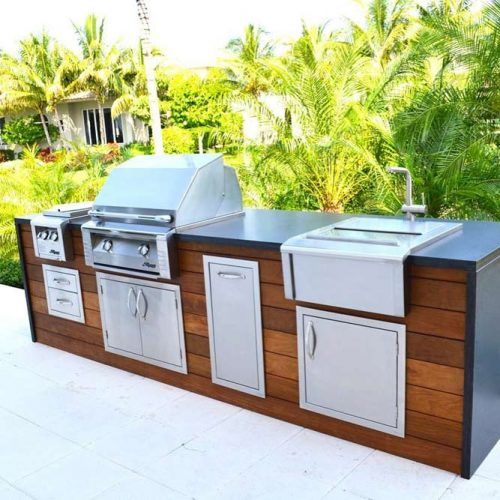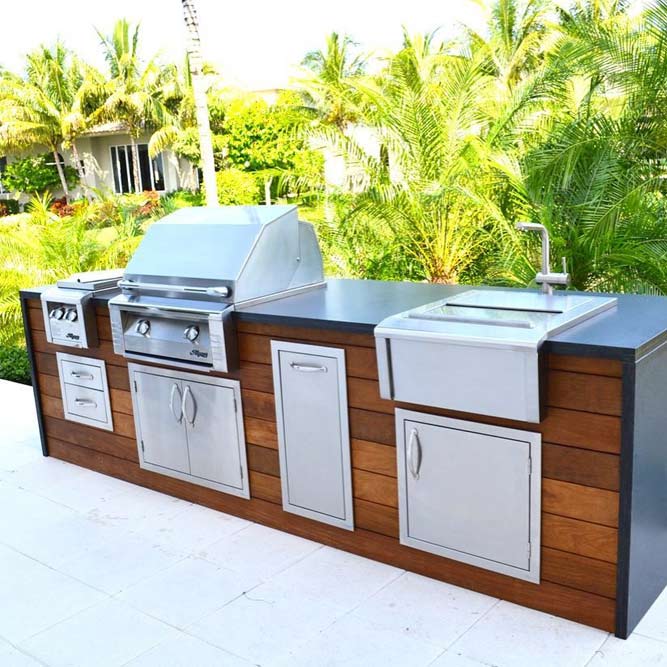 Source: luxapatio via Instagram
Many people are looking for outdoor kitchen designs that are perfect for grill parties. In case you are one of them then it is precisely what you need to pay attention to. The thing is that when it comes to well-done grill you need all the functionality present and that is precisely what this outdoor kitchen has to offer. From now on, your barbeques will be the tastiest in the area!
Outdoor Kitchen With Wood Décor
Simple Wooden Kitchen With A Sink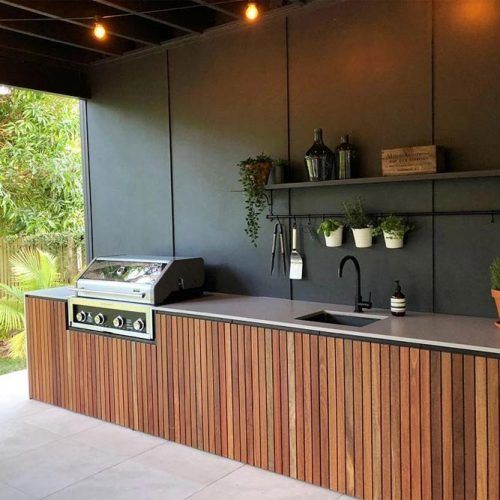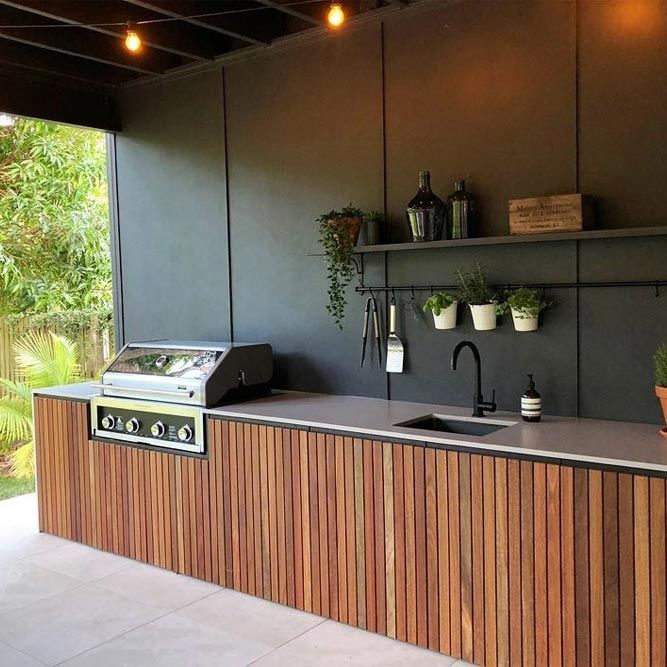 Source: imakeinteriors via Instagram
Very often, when we opt for a new addition to our home, we certainly want it to be not only functional but stylish as well. That is why if you appreciate lots of wood in your interior – your outdoor kitchen should not be the exception. When you have a look at this design, it seems that there is nothing out of place about it. All the necessary utilities such as outdoor kitchen sink and grill are present, as for the rest it is minimized.
Small Wooden Grill Area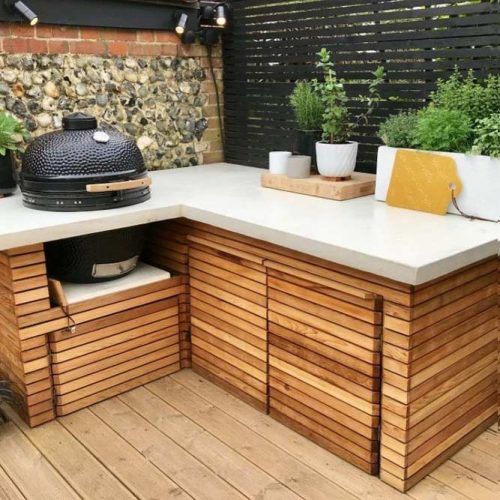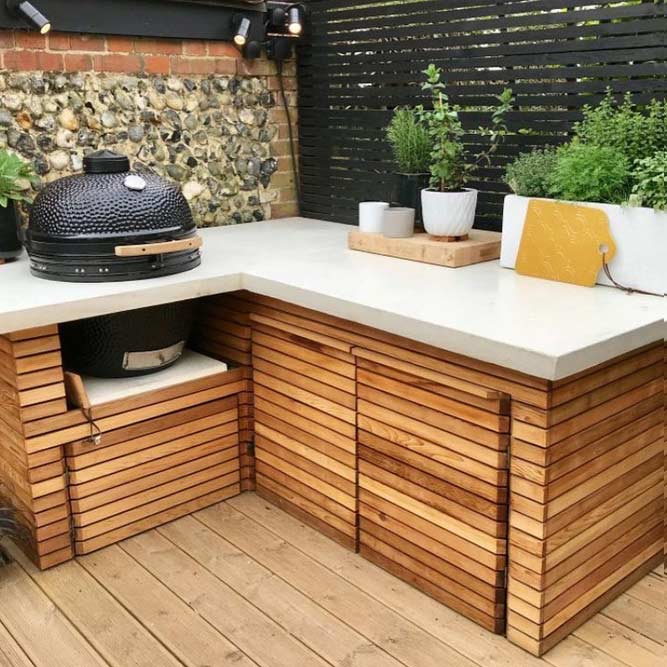 Source: tradectory via Instagram
The truth is that not everyone has a lot of room in the backyard to devote to a huge outdoor kitchen. However, that does not mean that you should forget about having one. The thing is that a small wooden grill area is as good as a big outdoor kitchen. After all, everything that you need is a grill itself and one of those outdoor kitchen countertops.
Wooden Outdoor Kitchen Area With Sliding Doors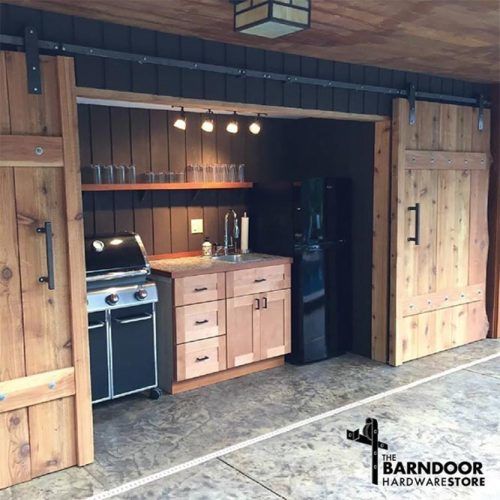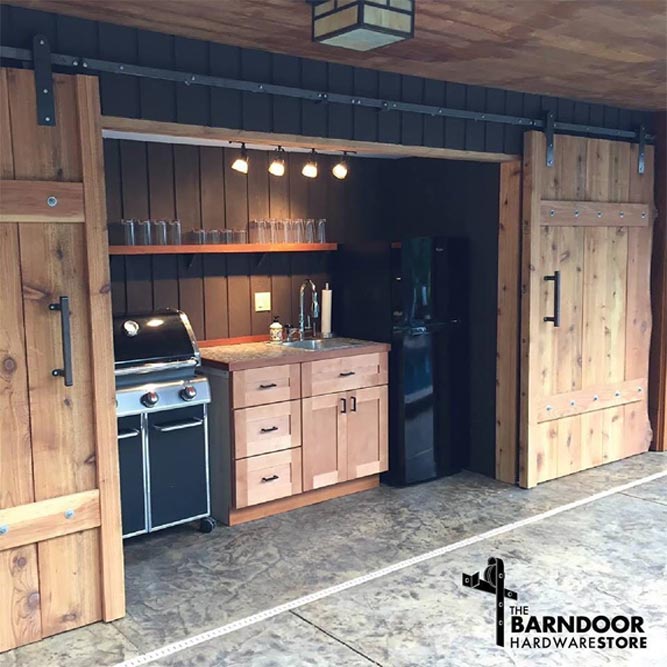 Source: thebarndoorhardwarestore via Instagram
These days the miracles of modern technology and interior have gone far. That means that something you couldn't have even dreamt of before is a simple possibility right now. What we are hinting at is that your outdoor kitchen can be hidden away at will. All that you need is a simple sliding door that keeps the treasures hidden when required.
Outdoors Kitchens With Pizza Oven
Minimalistic Outdoor Kitchen With Pizza Oven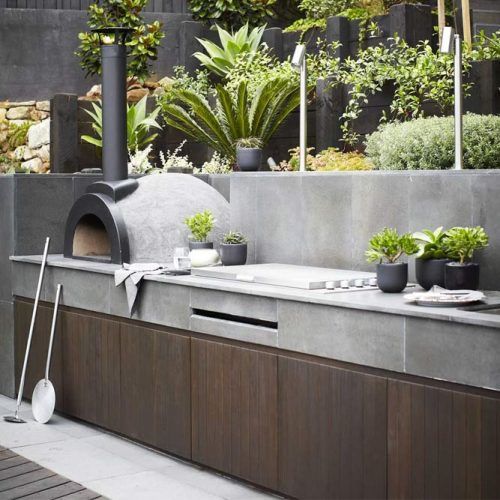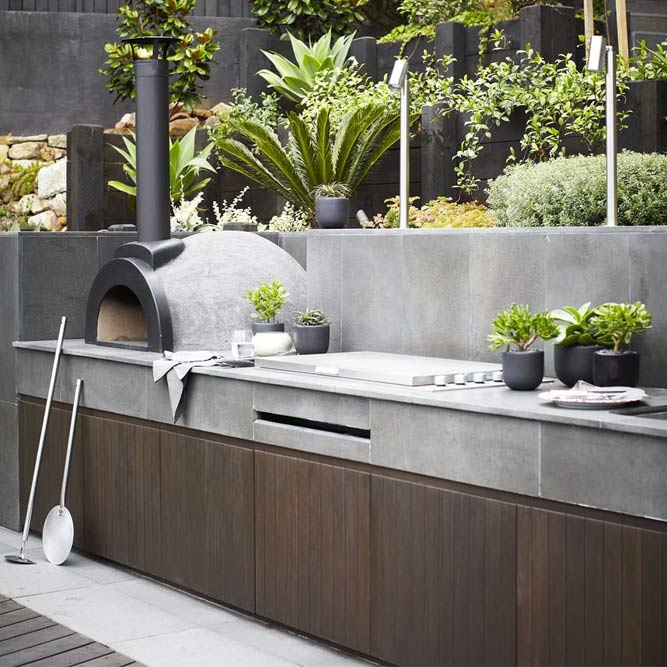 Source: harrisonslandscaping via Instagram
It is not a secret to anyone that not everyone is equally fond of grilled meat – some people prefer pizza instead. If that is the statement that describes you and your family – we have something special up our sleeve for you. The thing is that a minimalistic kitchen with a pizza oven is everything that you need to enjoy your perfect, tasty family gatherings!
Big Kitchen With An Oven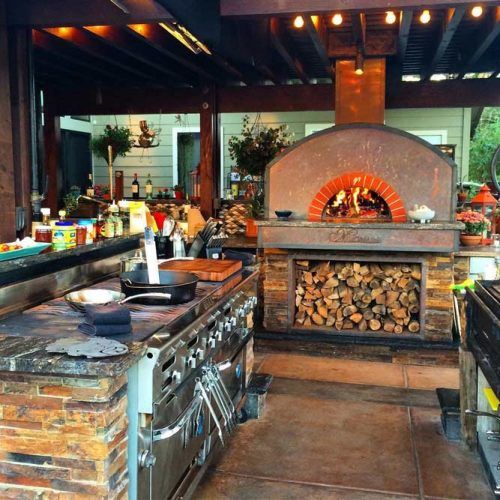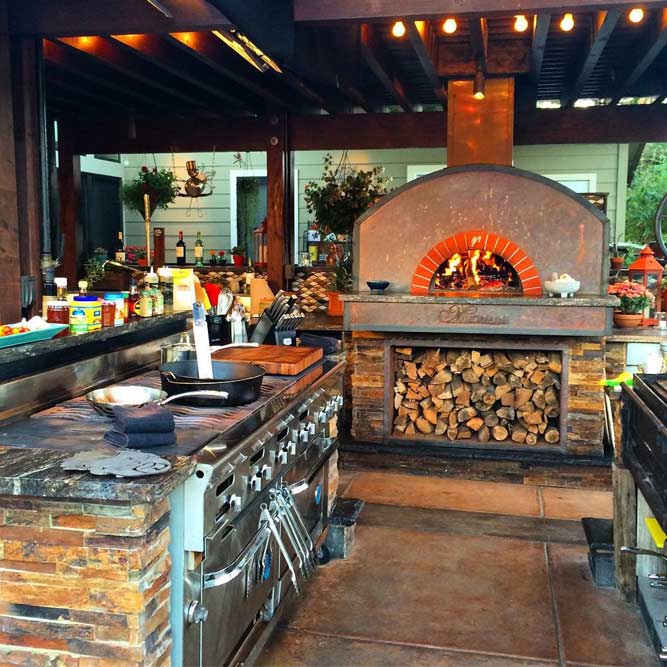 Source: guyfieri via Instagram
Truth be told the size of your outdoor kitchen depends not only on the size of your backyard. It matters much whether you like to cook a lot as well. In case you do then you need a properly equipped area. This gorgeous kitchen with a huge oven is precisely what is required. Besides, the old-fashioned design will grant your practical kitchen that unique vibe that many long for!
Outdoor Kitchen With An Oven And Sitting Area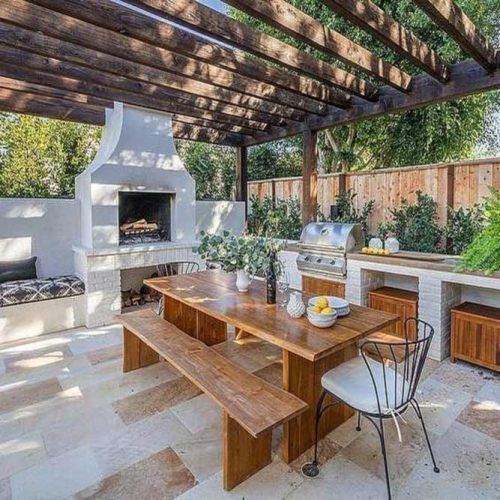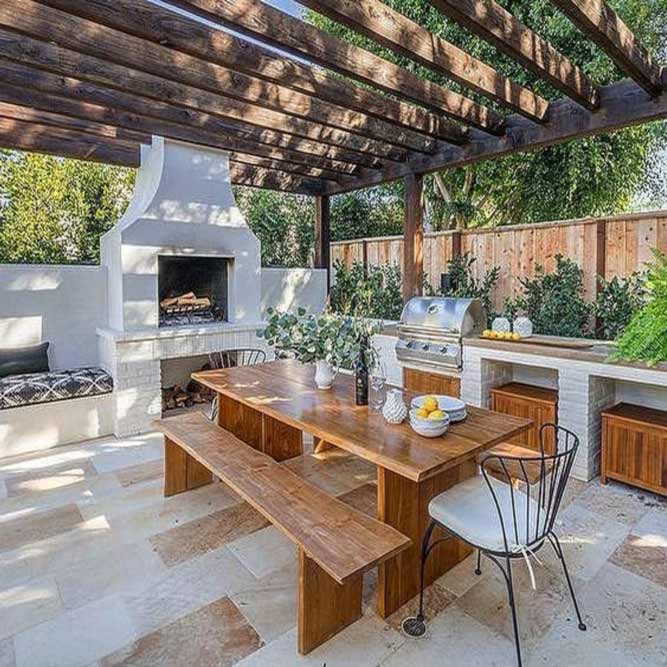 Source: backyardbossnet via Instagram
Those of you who wonder how to combine your outdoor kitchen island with a setting area – we have just perfect idea in mind. We are more than sure that after just one glance at this design you will fall in love with it. The thing is that there is everything perfect and in order about it. The big oven, the setting place, even the resting place. It is indeed a masterpiece of an outdoor kitchen!
Small Outdoor Kitchen
Small Outdoor Kitchen Space With Sink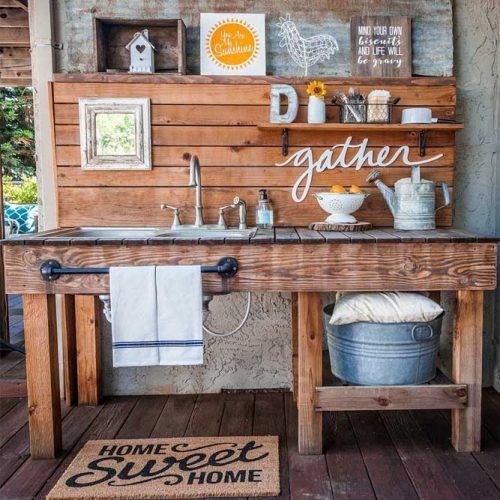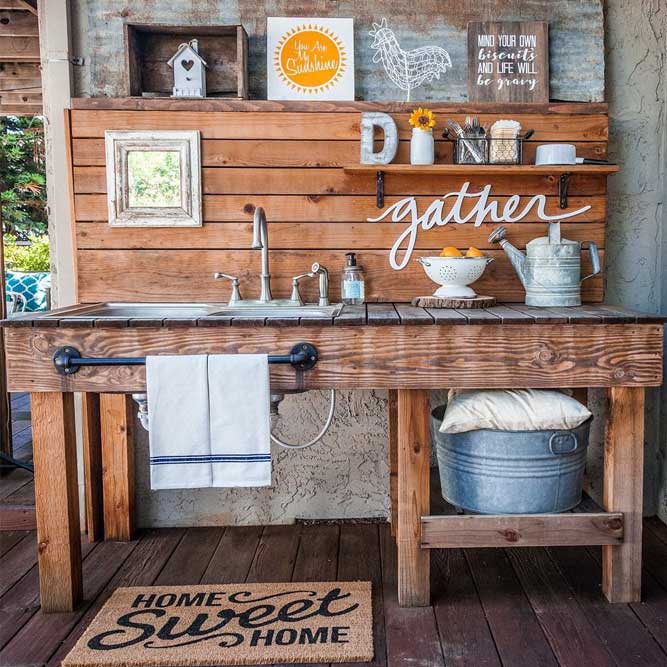 Source: destrophoto via Instagram
Size does not matter when you think about an outdoor kitchen. There are lots of interesting ideas to play around with even if you are limited in space. The key point is to have everything necessary gathered. The sink and the countertop, not to mention a few shelves and your small outdoor kitchen area is set. Besides, the introduction of little details will add up to the atmosphere.
Small Kitchen Space With Grill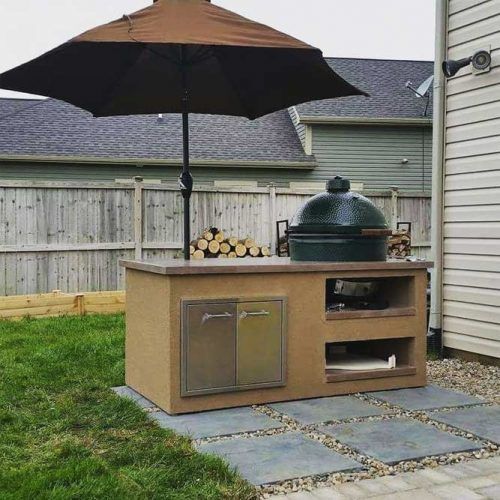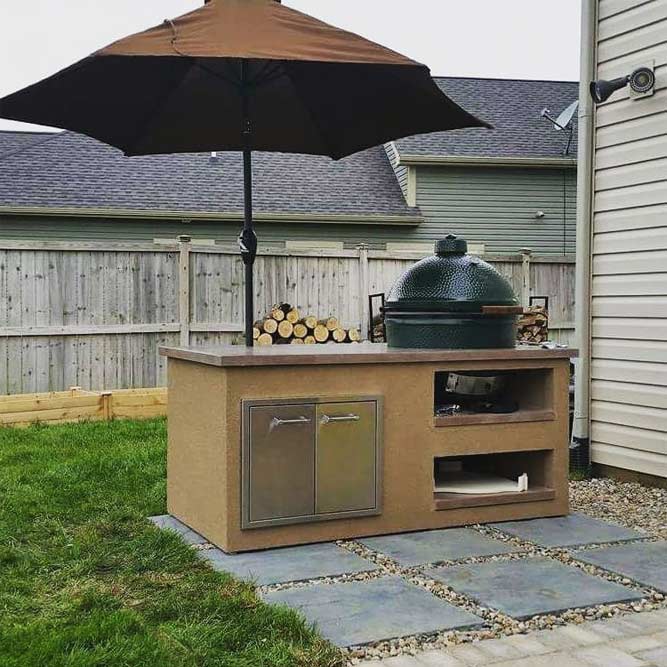 Source: outdoorroomscapes via Instagram
Bbq island is the perfect addition to your backyard. Of course, that is not a full set outdoor kitchen idea. However, when you have not that much room to use up – it is close enough. Yet, there is one thing to remember – such a kitchen needs a proper roof since no one knows when the weather is going to change, and you surely wouldn't like your barbeque to be ruined by rain.
Small Grill And BBQ Space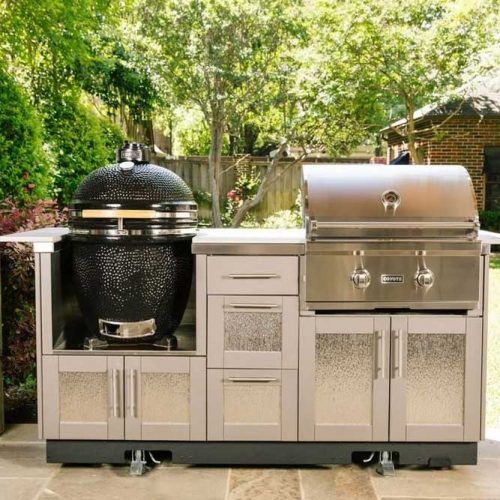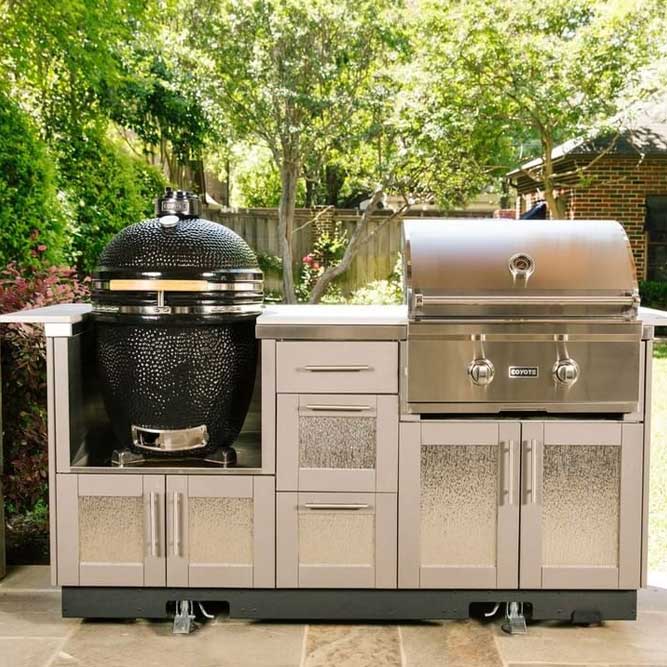 Source: coyoteoutdoor via Instagram
In case you are looking for a movable outdoor kitchen grill – there is a suitable option. This metallic portable barbeque space is precisely what you need when you do not want to take up your backyard on a permanent basis. You can easily hide away such a kitchen on wheels at your will.
Outdoor Kitchens With Bar And Patio Space
Outdoor Kitchen With Bar And Lights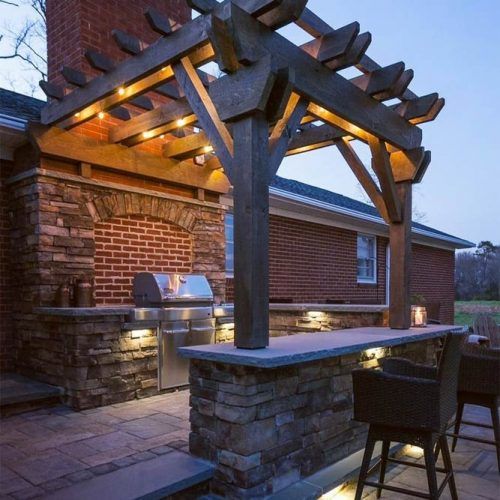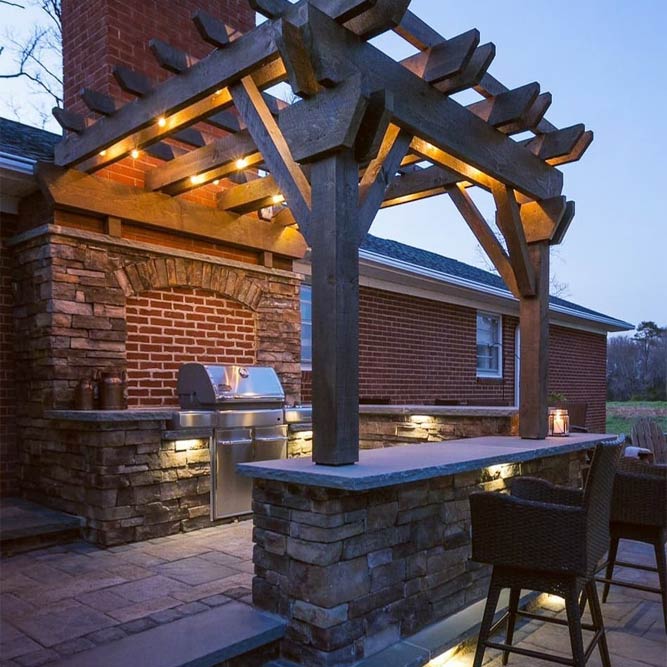 Source: outdoorartisan via Instagram
It is true that there are very many outdoor kitchen ideas out there. However, if you are looking for a full set outdoor place, then this may be just the best one. The thing is that the lights and the combination of a cooking and sitting area in one grant you the feeling that you are dining out, while still remaining in your backyard.
All Functional Outdoor Kitchen With Bar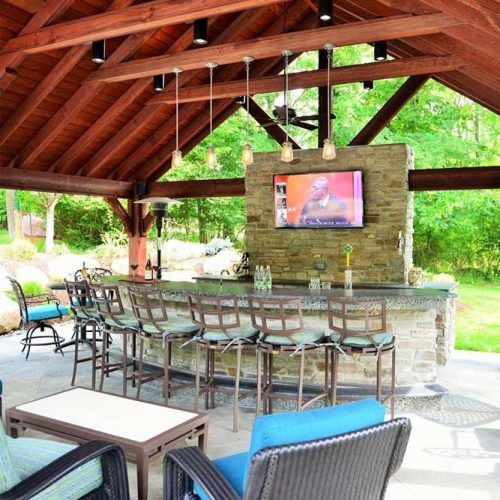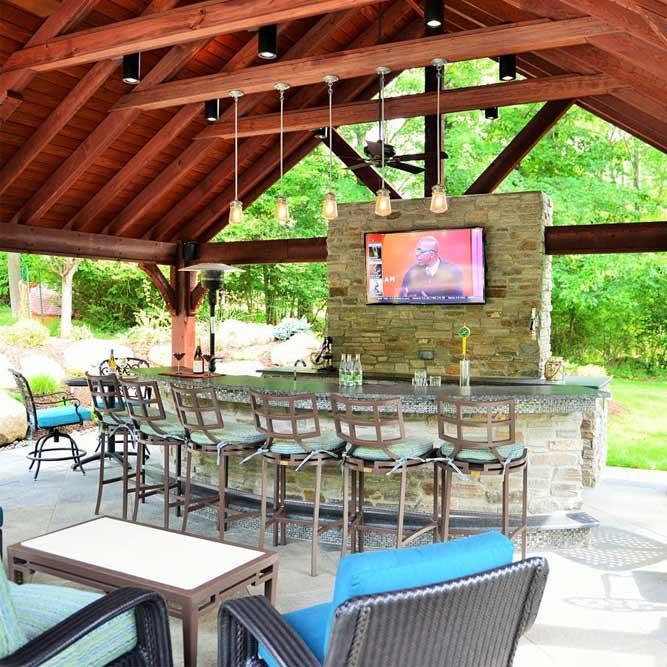 Source: easyoutdoorkitchens via Instagram
Many people appreciate outdoor bar ideas as well. Who are we to blame them? On the contrary, such an idea grants you many more evenings spent outside. With a massive TV on the wall you won't ever miss your favorite game or movie. Besides, you can enjoy a glass of wine or something stronger and sweet fresh air while enjoying the program.
Outdoor Kitchen With Simple Bar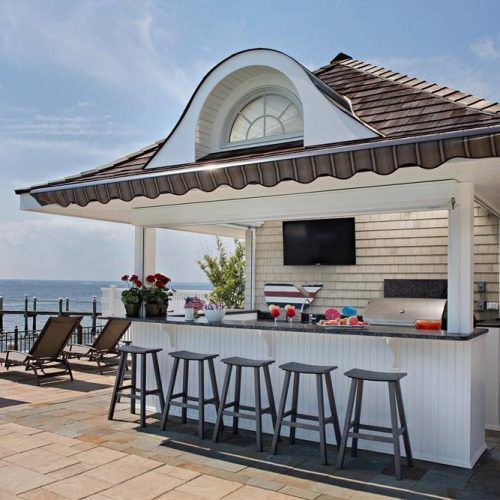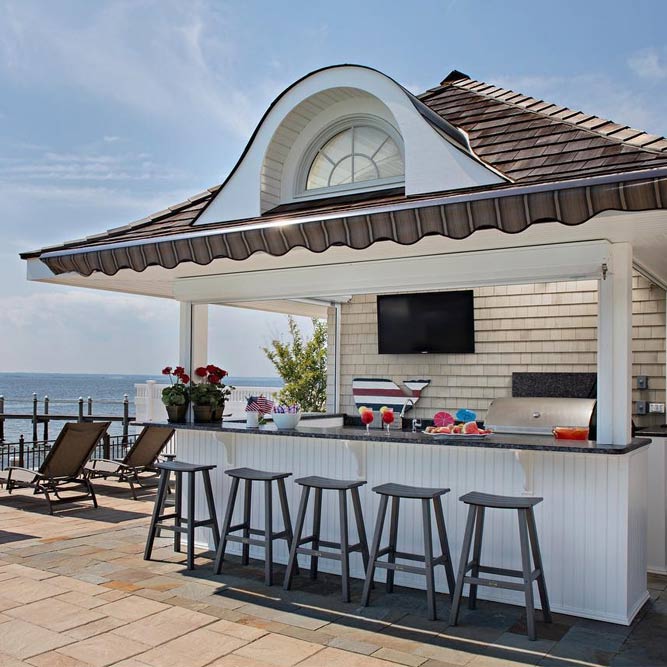 Source: franciemilanokitchens via Instagram
Sometimes it is considered that if there is a bar in your outdoor kitchen, it is supposed to be huge and over the edge extraordinary. The truth is that if you want to have a bar, it can be of any size and style you can afford. Here you can see the perfect example of a simple one. Even though it is ordinary, it does not mean that it is less functional. Besides, compactness and simplicity is often a benefit rather than a disadvantage.
Outdoor Kitchen With Classic Patio Space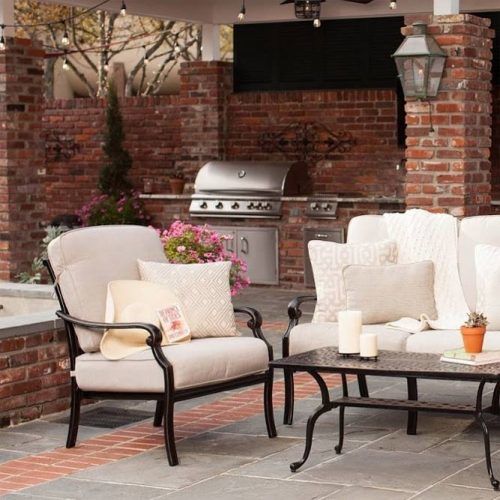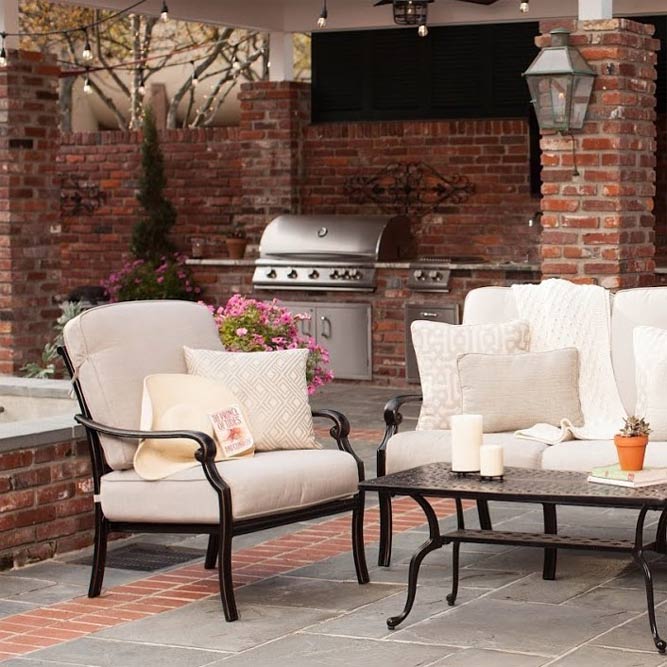 Source: bbqguys via Instagram
If you wish to kill two birds with one stone, then you are bound to combine your outdoor kitchen with a patio. Of course, such an outdoor option will take up a significant backyard area. However it will be worth it, that is for sure.
Outdoor Kitchen With Living Space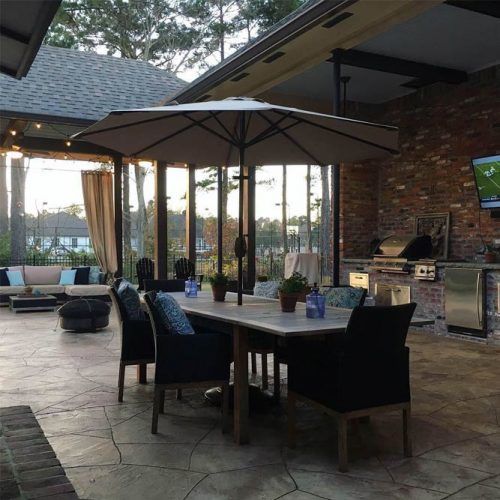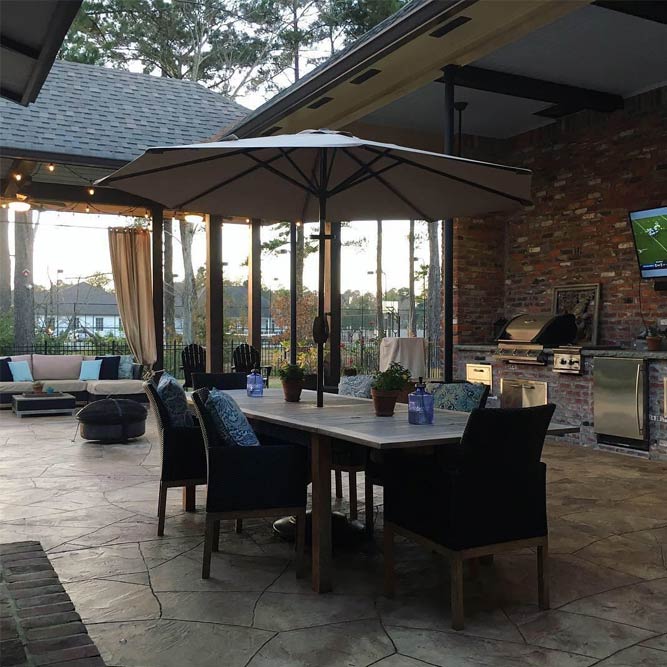 Source: kristenlewisday via Instagram
Those of you who have a luxury of owning a huge house you are bound to pay attention to this outdoor living area. The thing is that this outdoor place has everything you should ever need to enjoy your staying outside with comfort. A sitting area, proper outdoor kitchen and of course patio to have some rest after a tasty dinner.
Wooden Outdoor Kitchen With Bar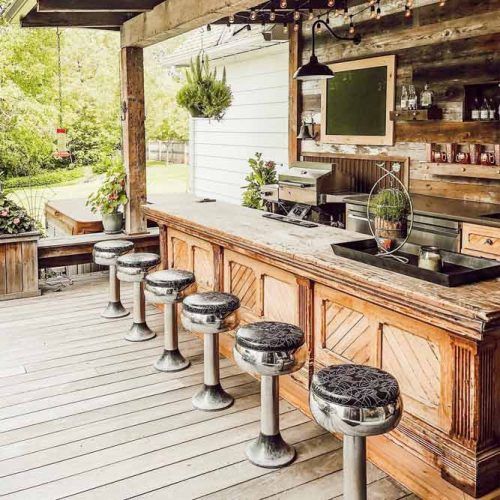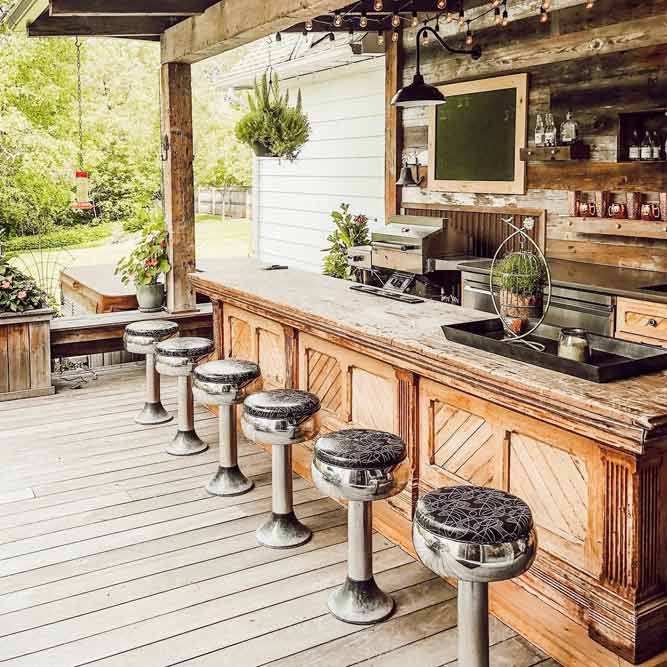 Source: loveelizabeth via Instagram
There is nothing better than working on the dinner while having a friendly chat with your friends or family. This combination of a bar and outdoor kitchen can offer you both. Besides, your guests will be more than willing to have a proper aperitif before the meal is served!
Outdoor kitchen is something that many of you would like to introduce. However, not everyone is fully aware of available options. That is why we gathered the best outdoor kitchen ideas to suit any taste, size, and style! Also, with outdoor kitchen people usually make an outdoor shower.
FAQ: Outdoor Kitchen
What is the point of an outdoor kitchen?
An outdoor kitchen allows for more cooks, or, at the very least, more helping hands to assist with food and drinks preparation, grilling or cleaning up. More people in an outdoor kitchen, depending on its layout, aren't necessarily a bad thing because it can be not as overcrowded as an indoor kitchen.
Can you put outdoor kitchen against house?
Actually, there is no ideal location for an outdoor kitchen. You might love the idea of a barbecuing area outside your back door, or a freestanding kitchen pavilion by the pool. A close-to-the-house outdoor kitchen is popular for a variety of reasons.
Does outdoor kitchen add value?
Outdoor kitchens are becoming increasingly popular, and experts in the field believe that they significantly increase the home value. According to an Absolute Outdoor Kitchens research, homes that have an outdoor kitchen have a higher ROI (100-200%) than homes that don't have one.
Was this article helpful?