Bedroom string lights tend to be strands of light bulbs of a small size. These bulbs run along the so-called strings of wire. They are also called fairy lights or Christmas lights.
We are used to seeing string lights on holidays. However, today the fairy lights can be seen at any time of the year. It's fun and trendy to use string lights as décor for interior as well as exterior
Are you ready to explore how to embellish various spaces with string lights?
String Lights Decoration In The Bedroom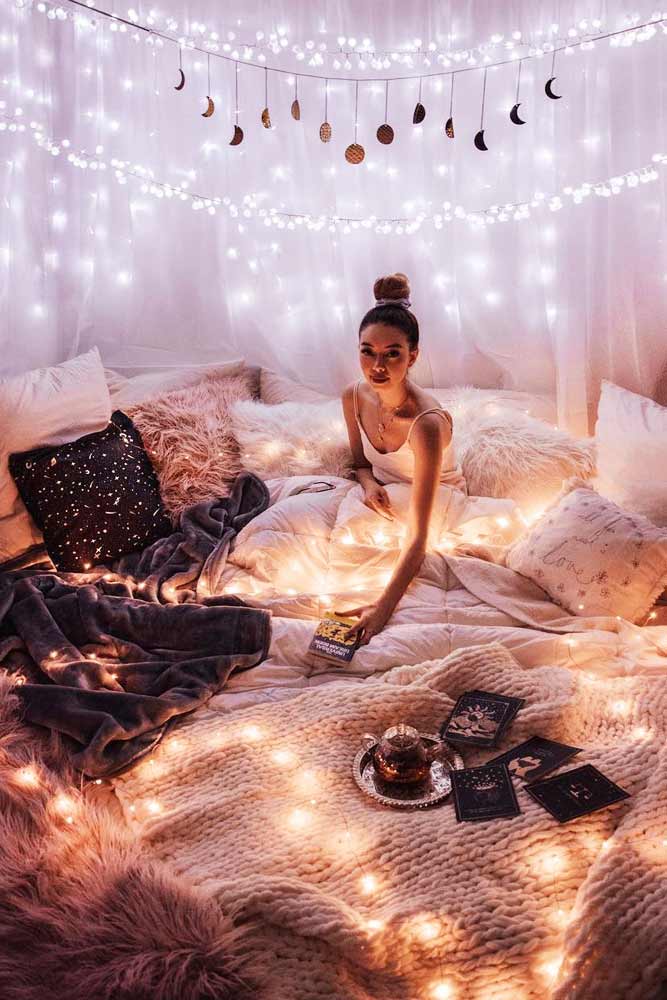 Source: Instagram/taramilktea
LED bedroom string lights are often used for home décor, and it is not surprising why. Besides being futuristic and super cool, LED lights are perfect for room décor because of their functionality. They are flexible and thin, which means that they can be placed where traditional bulbs won't go for sure. Such lights will shed just a bit of light, but it's a great effect. When it comes to placing LED lights in your room, there are no limits.
How Do You Hang String Lights Without Nails?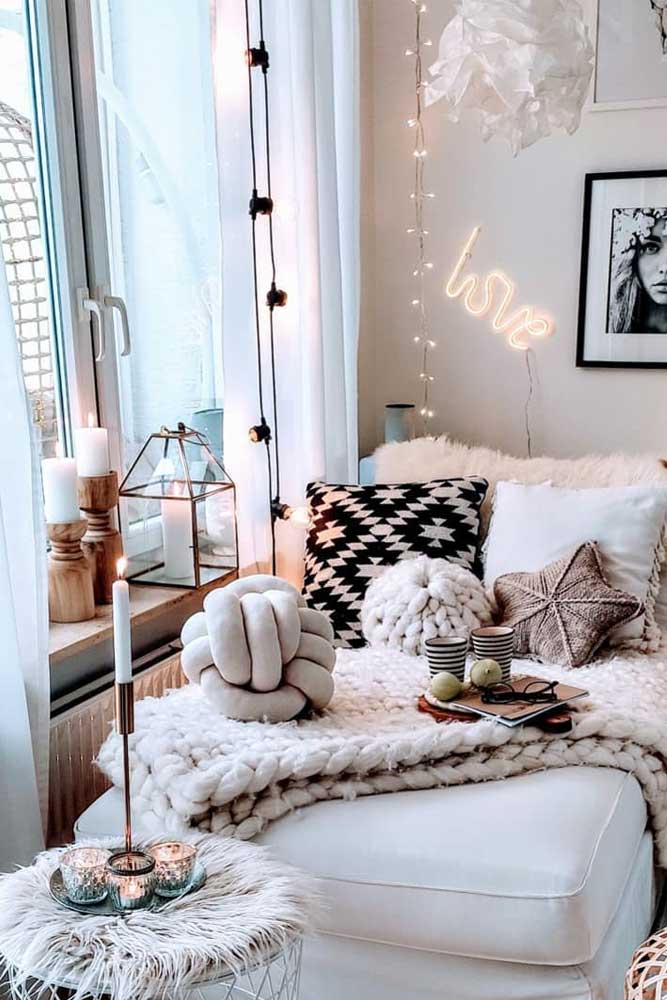 Source: Instagram/herzenstimme
How to incorporate bedroom string lights into your design? Nails, wall hooks, or thumbtacks can assist you in hanging the string lights up. Your choice will be based on where you decide to place the lights. For example, if you hang them on shelves, mirrors, or walls, it's better to use clear wall hooks. Usually, they are self-adhesive. And thumbtacks or nails can be used anywhere else inside and outside.
Are String Lights A Fire Hazard?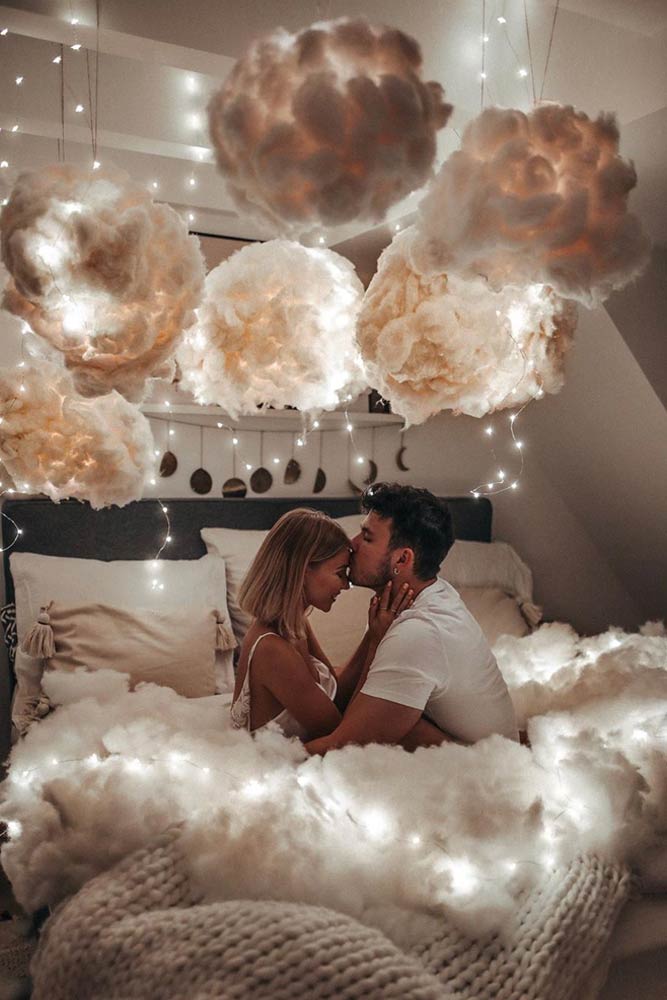 Source: Instagram/anajohnson
It is hard to say that string lights are any more hazardous than the regular light. However, it is best not to leave the lights unintended. The thing is that sometimes the bulbs get really hot and when in touch with something easily-flammable may lead to ignition.
Can You Sleep With Fairy Lights On?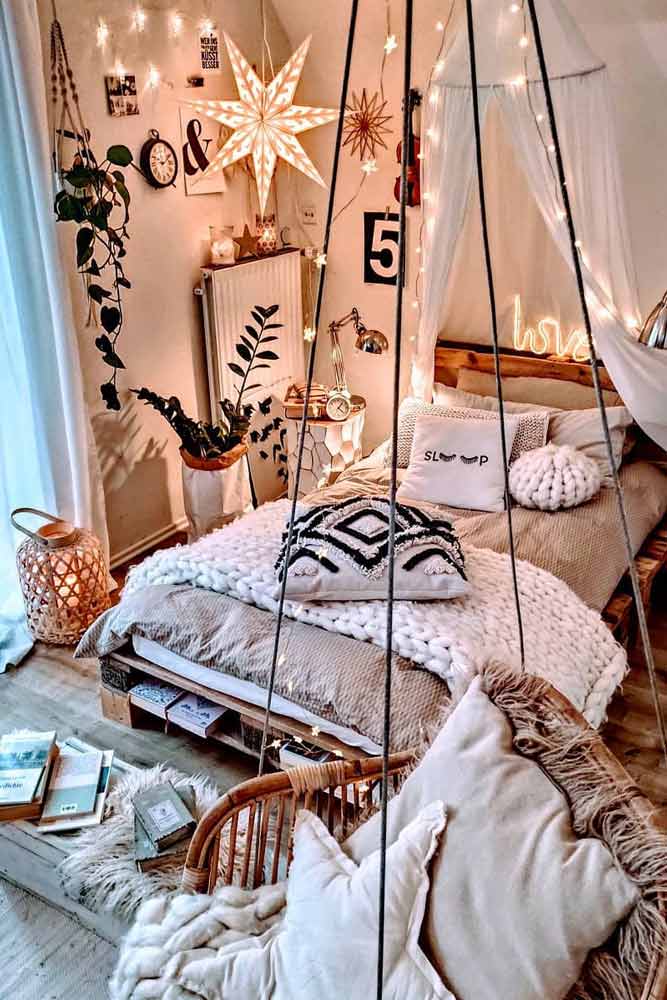 Source: Instagram/herzenstimme
Fairy lights are gorgeous to look at. There is no use denying it. Besides, if you are looking for a magical atmosphere – decorate your bedroom with a bunch of string lights, and the effect is granted. In the vast majority of cases, fairy lights are perfectly safe, that is why you should not worry about falling asleep under an artificial starry sky. What is more, with the lights on, there is not a chance that you will get lost in the dark or hit your lovely pinkie over the chair leg.
How Do You Hide Battery Packs On Fairy Lights?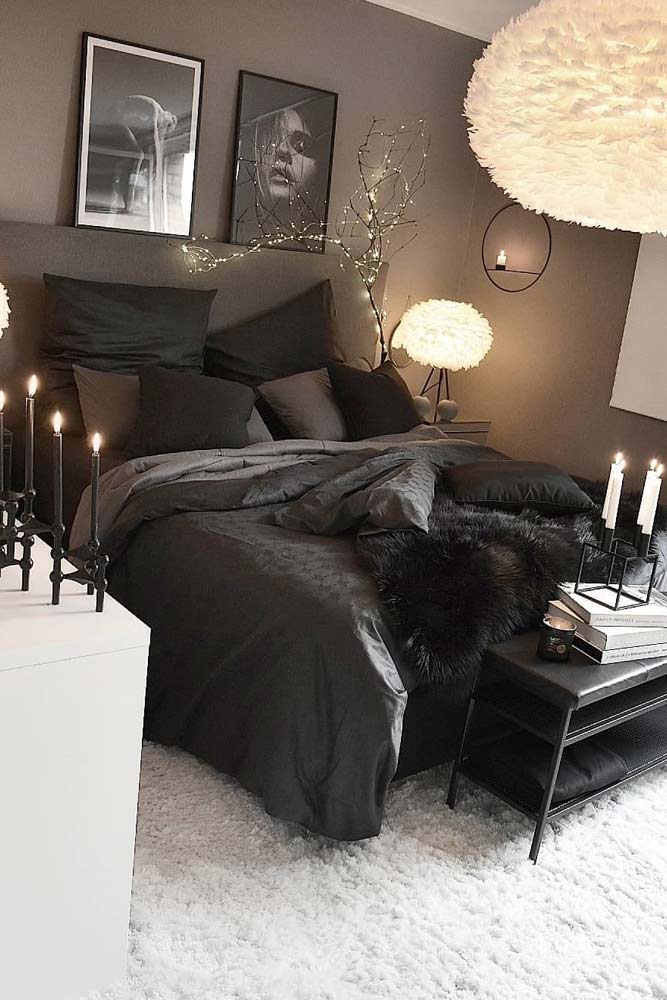 Source: Instagram/zeynepshome
Usually, the battery pack is not something that people bother hiding. However, if you want to know how to create a fantastic mason jar light that seems to glow without a noticeable battery pack to it – there is a way. All you need to do is to pack the jar with lights and then use double-sided tape to secure the pack to the bottom of the lid. Magic is simple!
What Can I Do With Fairy Lights In My Bedroom?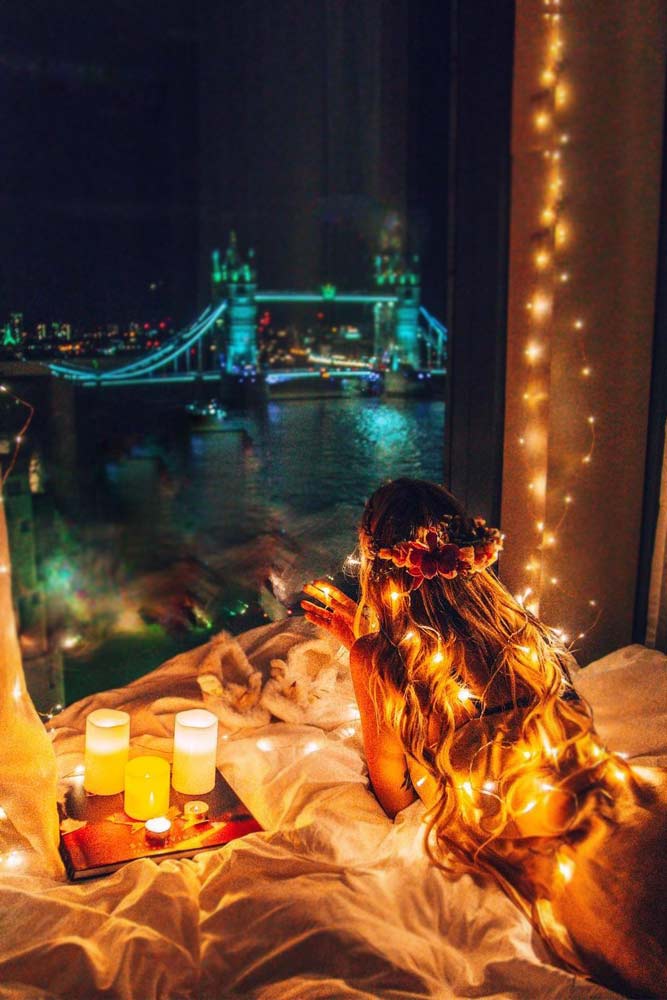 Source: Instagram/margaux_leo
Do you know what the most exceptional thing about fairy lights is? You can use such lights to decorate anything. And by writing anything, we really mean it. Here you can see how wonderful fairy lights can look on a dress. It is a very long dress, with a huge and flowing tail that provides much space for the lights.
There are plenty of ideas on how you can use string lights to grant your bedroom that peculiar look and individual touch:
If you wish to sleep under the stars, then a light fabric over the bed with a bunch of string light on it will help you achieve the goal.
You can add some gloving spice to your makeup table too.
If there are many bookshelves in your bedroom, do not forget to decorate them with lights too.
A mirror outlined with string light always looks magnetic.
String Lights Decor with Canopy Bed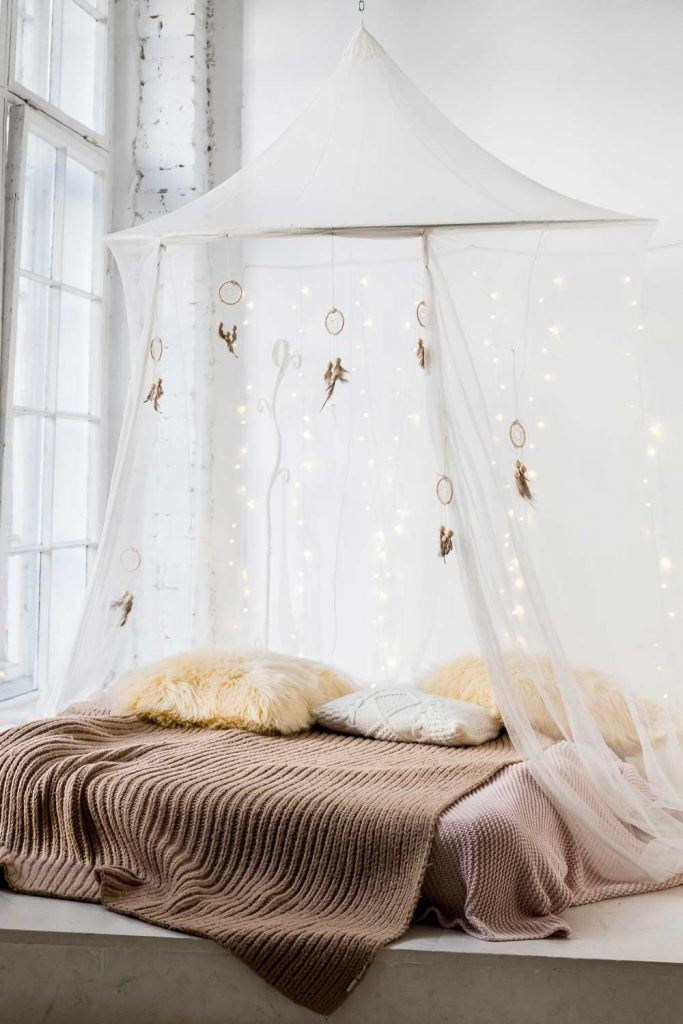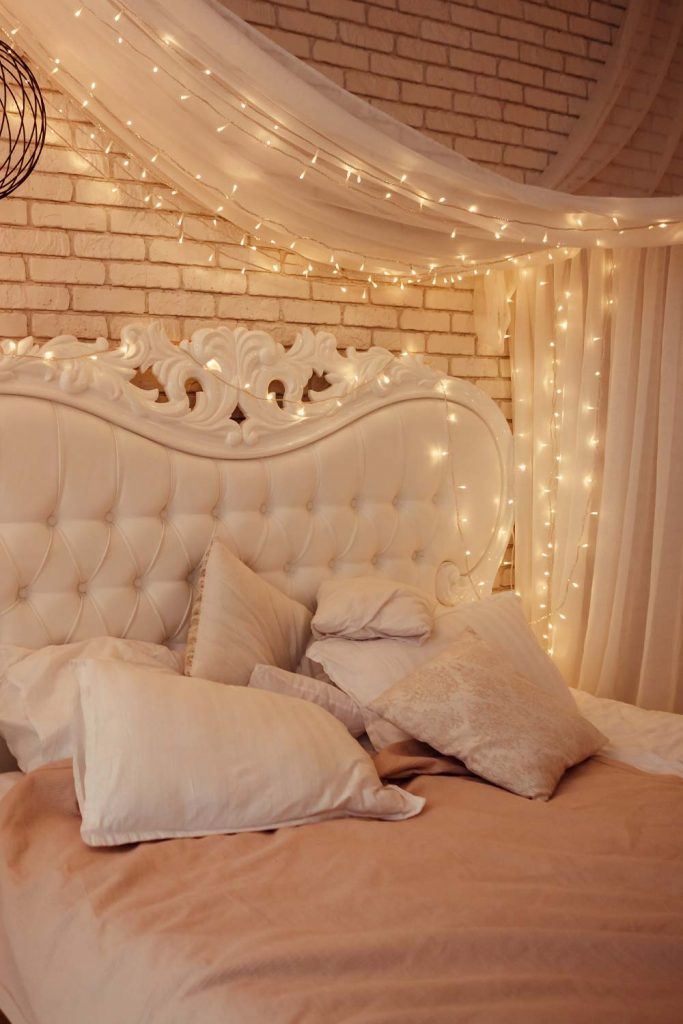 Bedroom Design With Canopy Lights Decor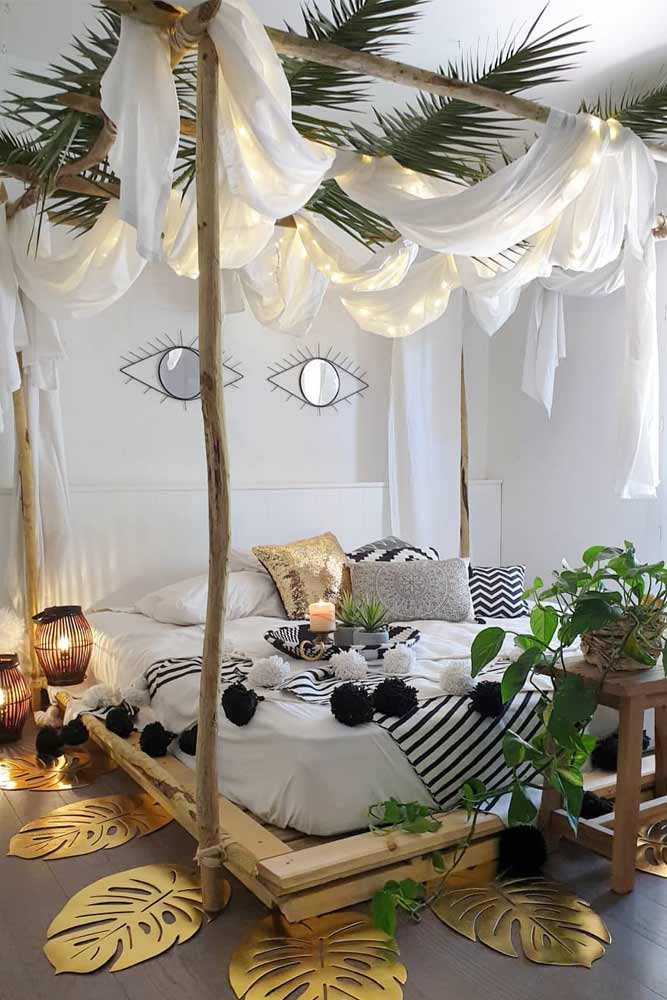 Credit photo:Instagram/zebodeko
Embellish your bedroom with canopy lights, and you will feel as if you live in a fairy tale. The design looks especially magical when soft and warm hues are added.
String Lights Bedroom Design With Canopy Accent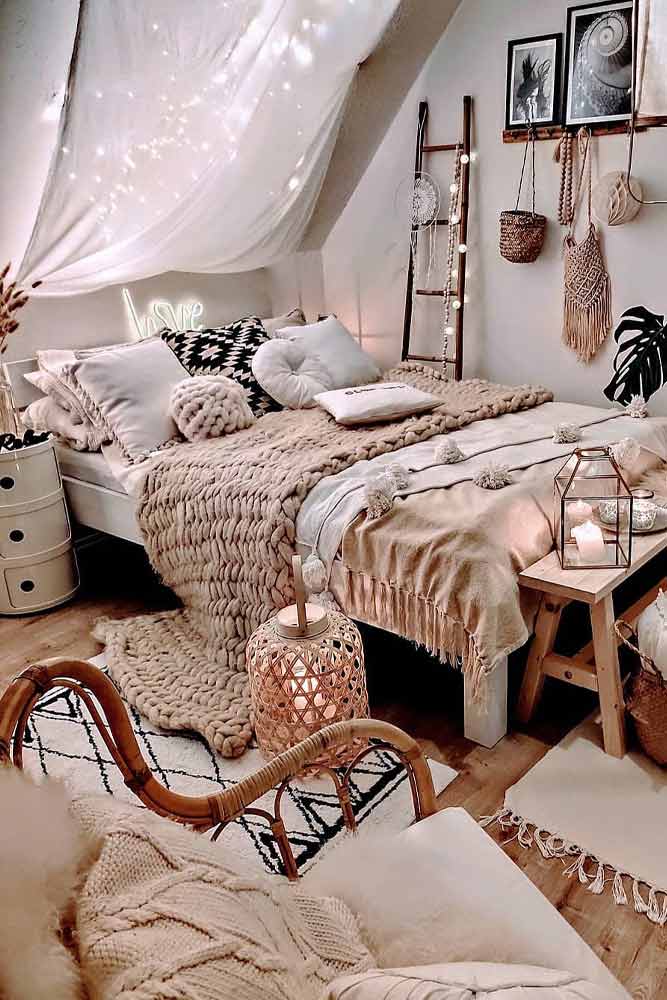 Credit photo:Instagram/herzenstimme
In many cases, while decorating the bedroom, people take the comfort factor in mind while leaving the romance out. Your bedroom will acquire that romantic flair with the addition of something as simple as a canopy and a string of lights to it.
Boho Bedroom Decorations With String Lights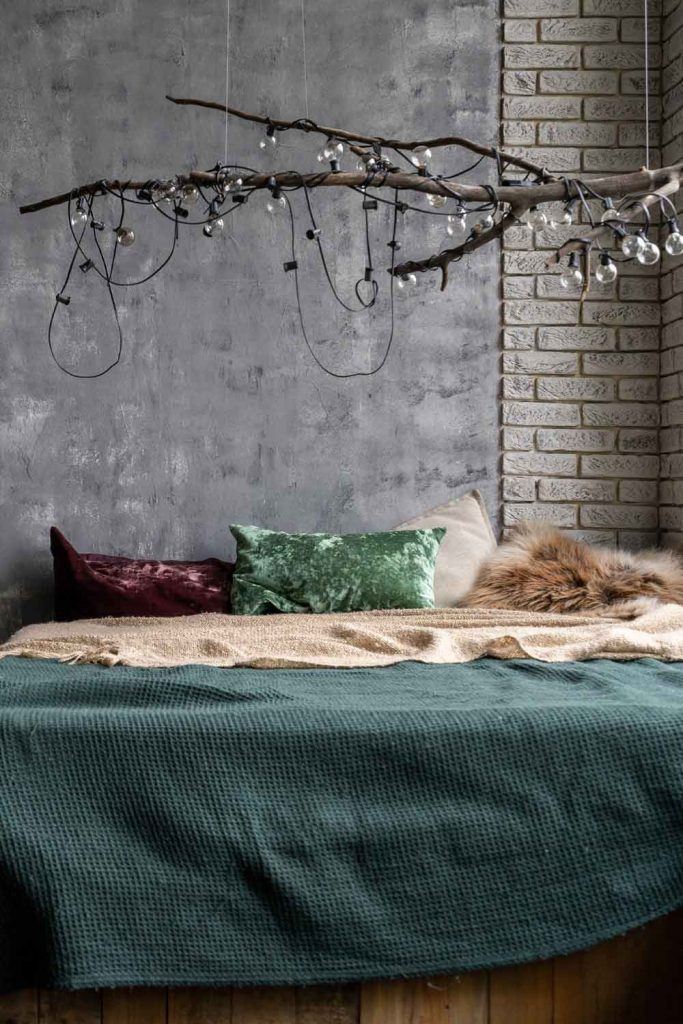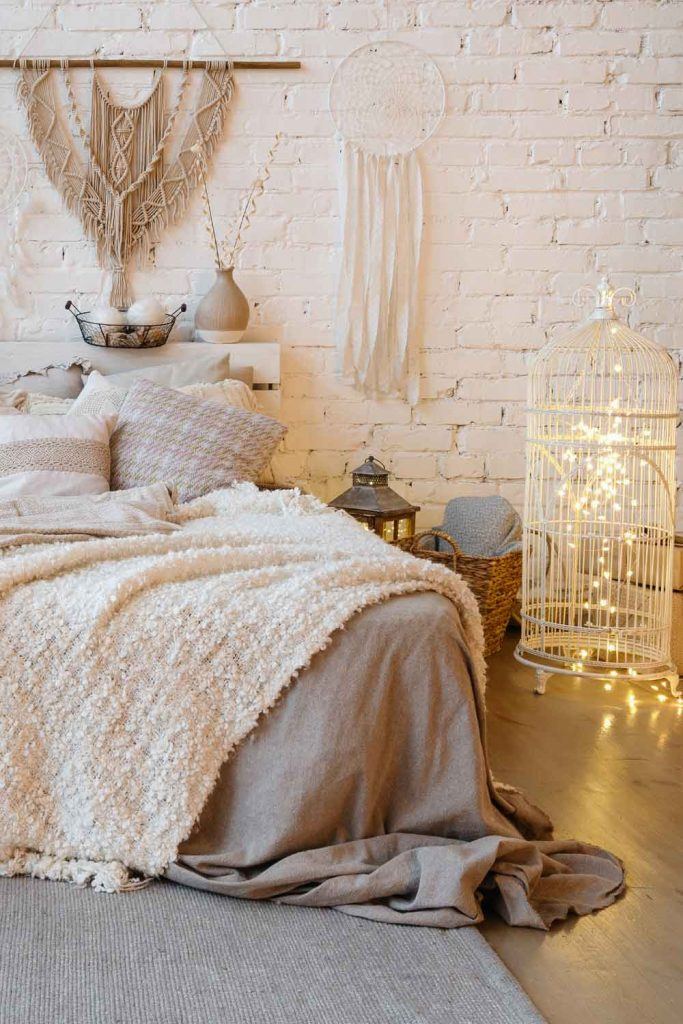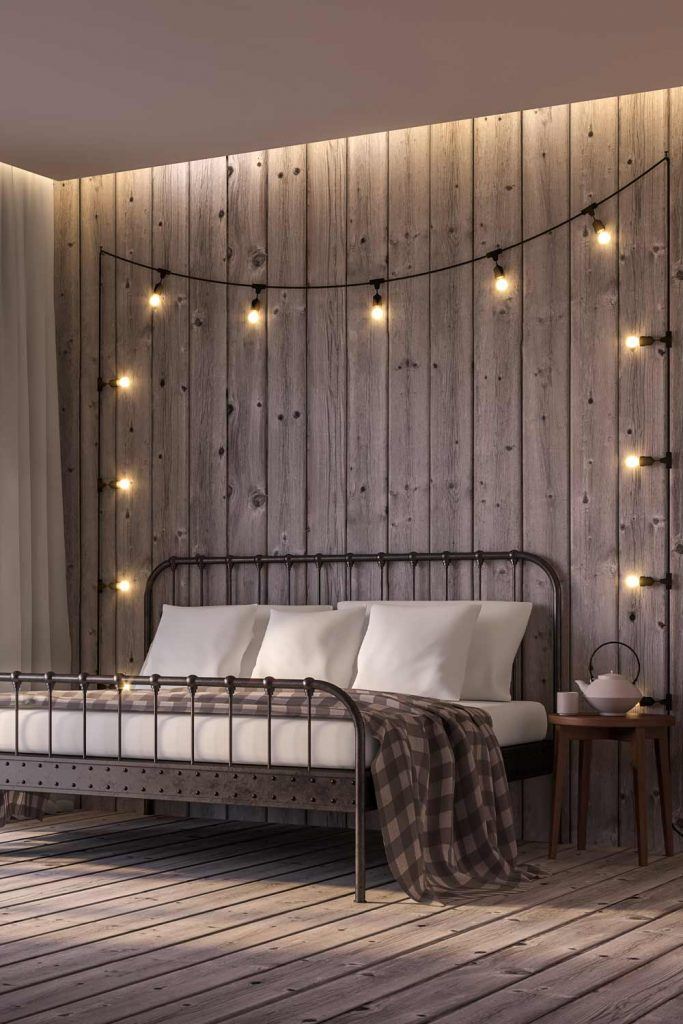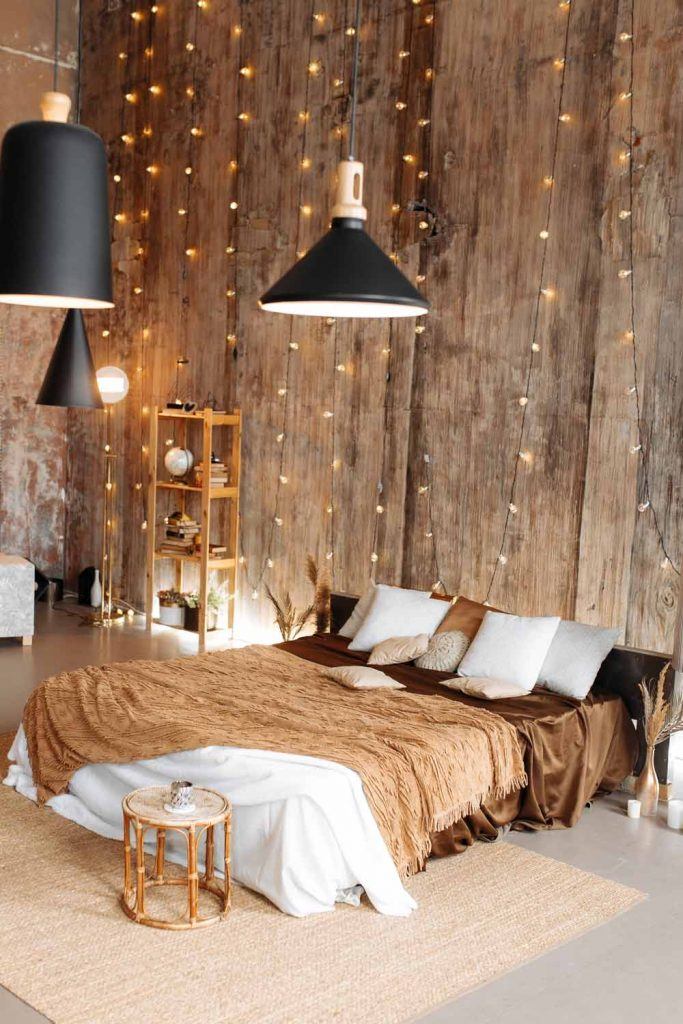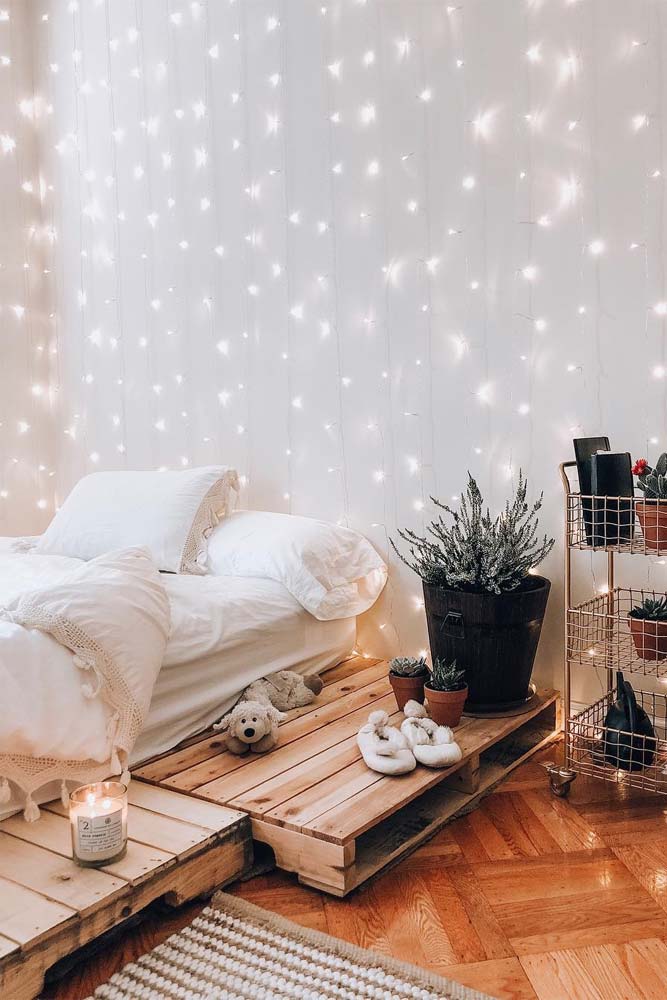 Credit photo:Instagram/gfswhotravel
Bedroom string lights can accentuate the boho design of your bedroom quite nicely. You can decorate your bedroom with led string lights as you see in this pic. Boho is all about the free spirit and in the room in the pic, there is no exact pattern. Instead, the string lights seem to lay there in a nonchalant manner as if someone had dropped them accidentally.
Bedroom In Boho Style With Plants And Lights Accents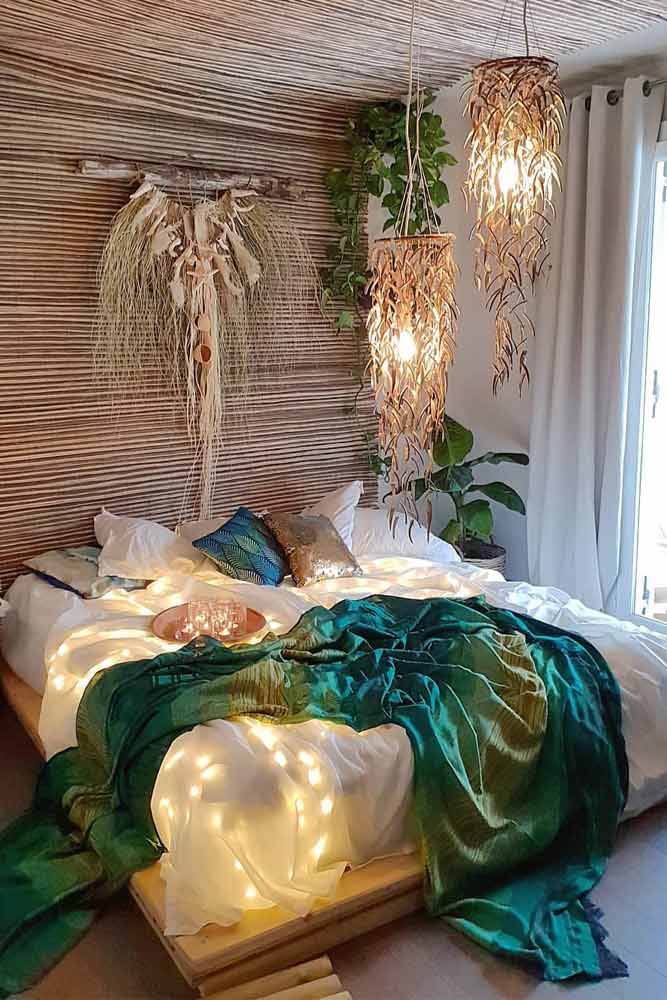 Credit photo:Instagram/zebodeko
Boho screams exotic and if you feel that it is your cup of tea – go for it. However, we suggest you do not leave the light accents out since they serve many purposes, and all of them come in handy in the bedroom.
Bedroom Design With Globe String Lights Accent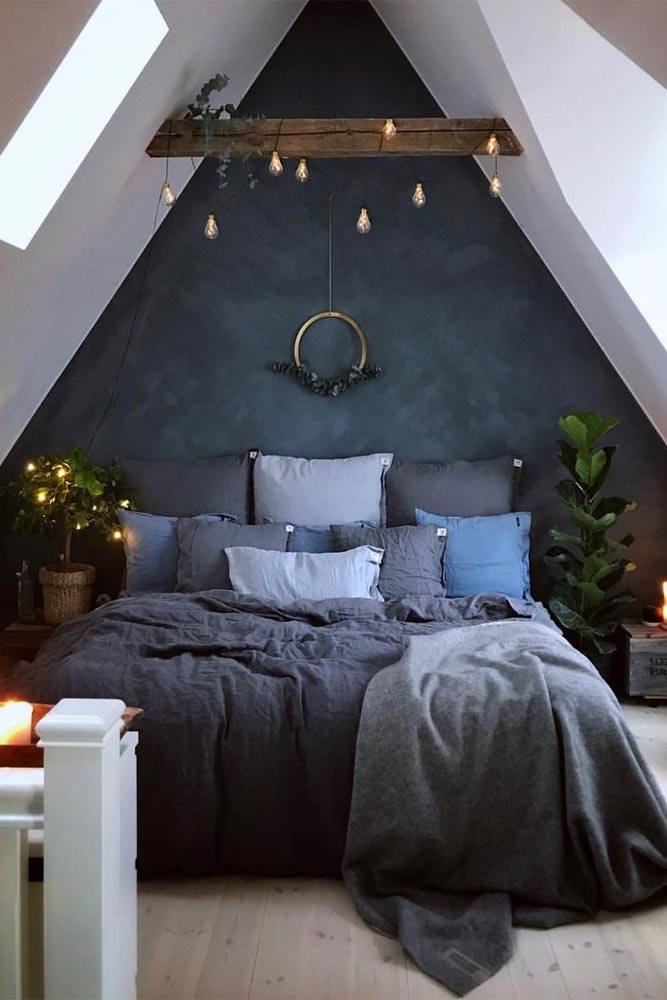 Credit photo:Instagram/hannasanglar
Simple Boho Bedroom With String Lights Decor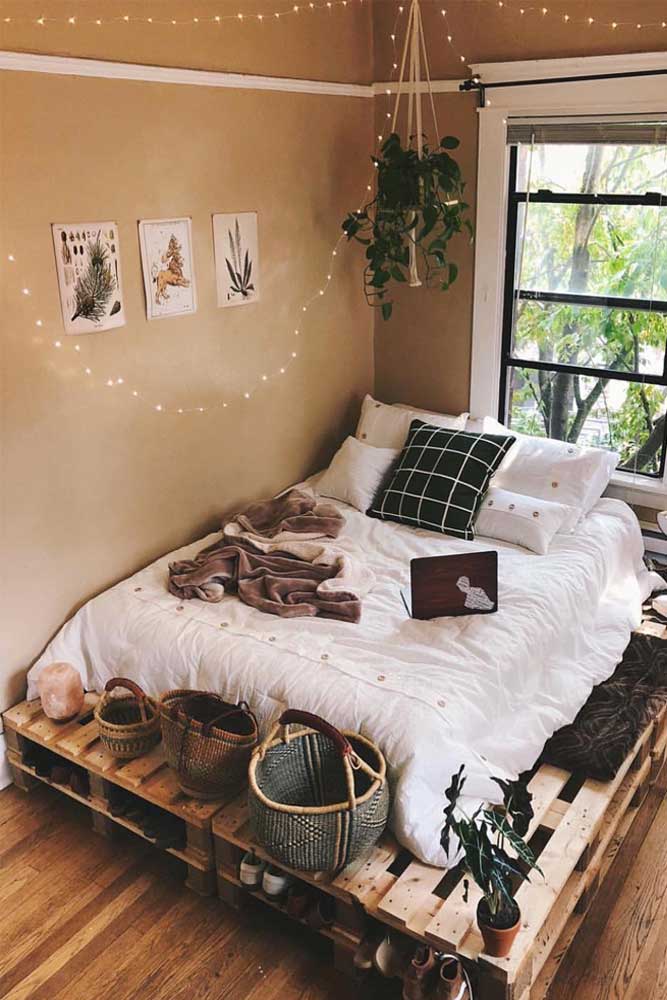 Credit photo:Instagram/carissalani
Living Room Interior With String Lights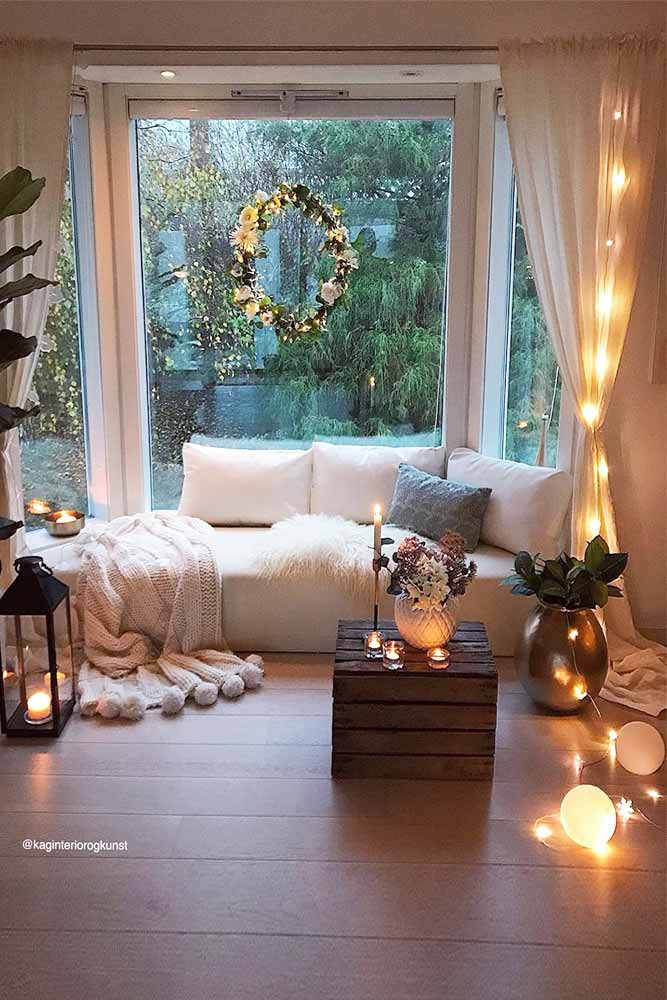 Credit photo:Instagram/kaginteriorogkunst
Aren't fairy lights a great alternative to a night light when they serve as décor for your bedroom? And there are so many creative ways how you can do it. The example you can see here is quite adorable. In this pic, lights wander on the sofa and then go around the poster – pure inspiration. And some candles are placed here and there to enhance the effect.
Cozy Living Room Design With Lights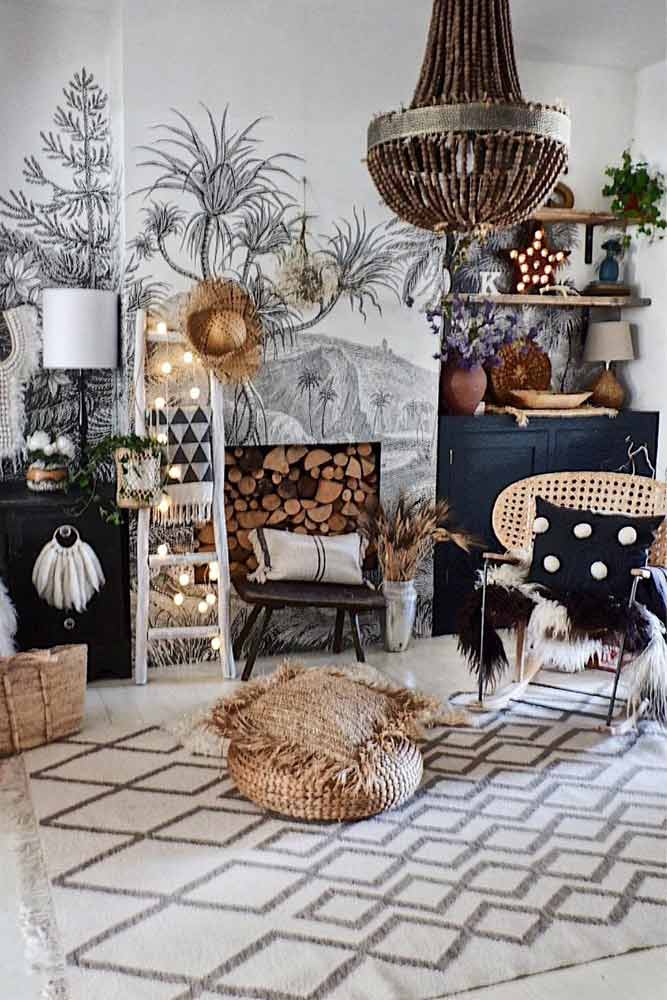 Credit photo:Instagram/kylamagrathinteriors
What makes fairy lights so adorable? Well, opinions vary, but everyone agrees that it's mostly about the unique effect they give the room. Once placed as décor, string lights make any room prettier and more comfortable. With such lights, you can feel like home anywhere. Fairy lights are often paired with candles to double the light as well as the coziness.
Modern Bedrooms Decoration Ideas with Lights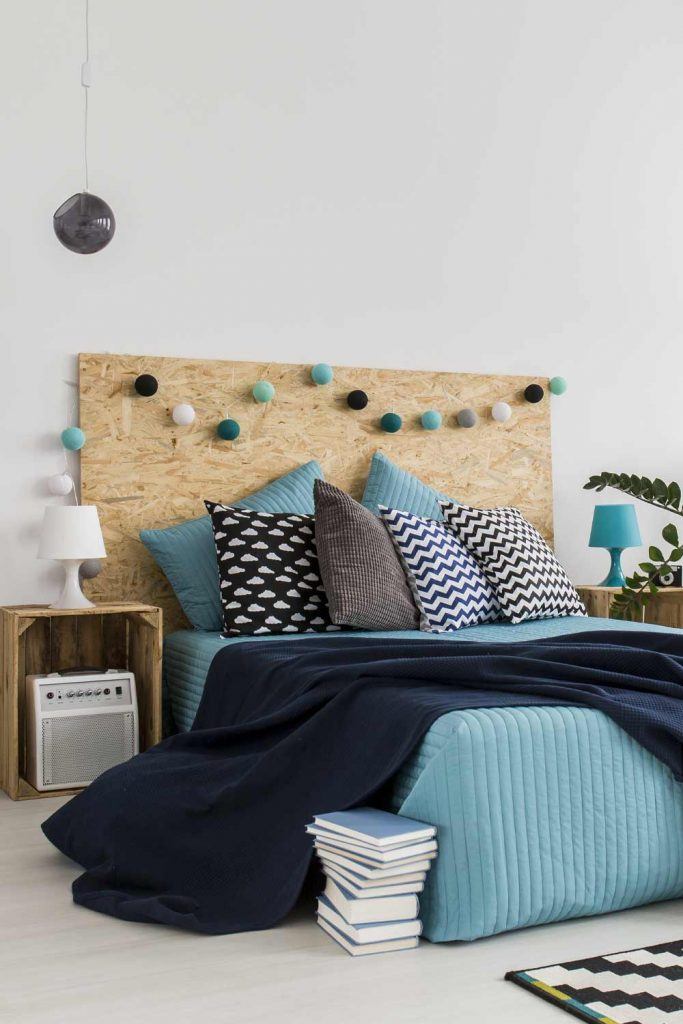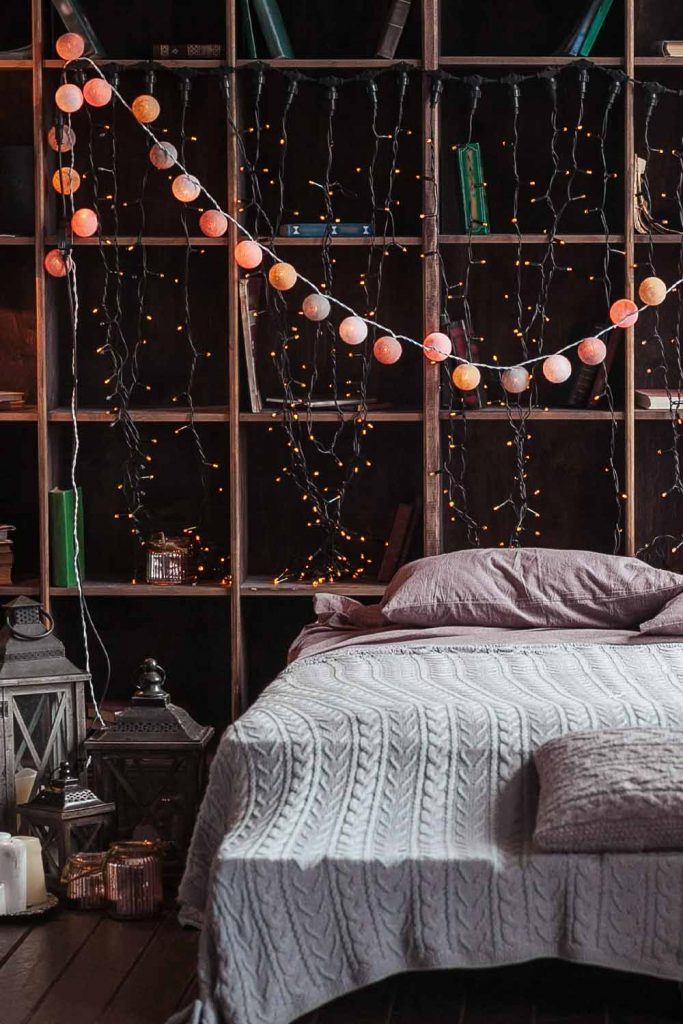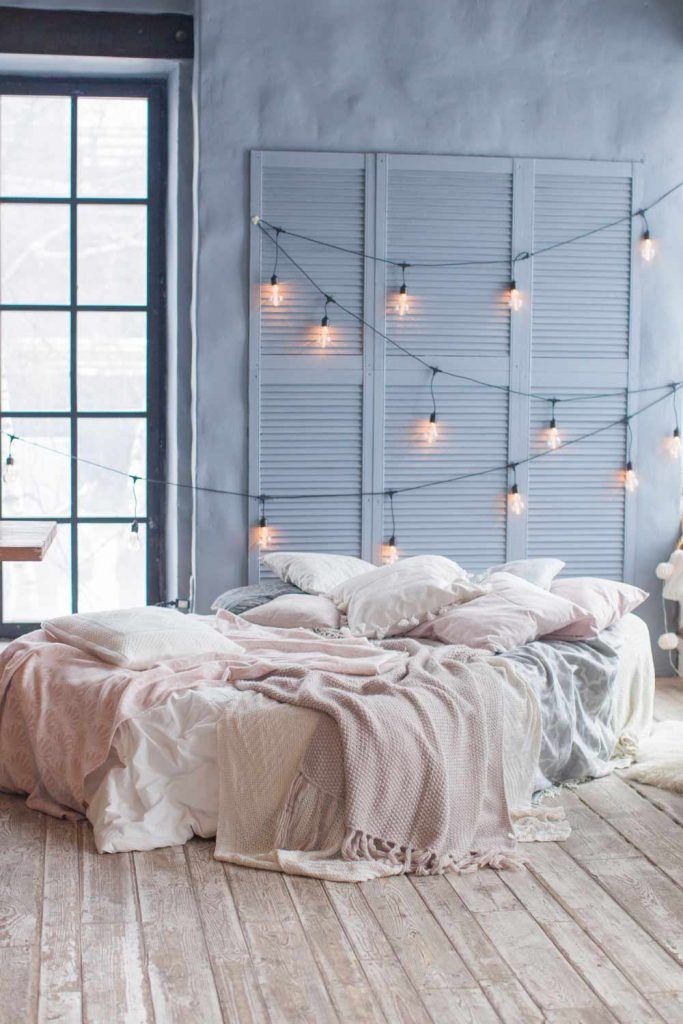 Pastel Bedroom Decor With String Lights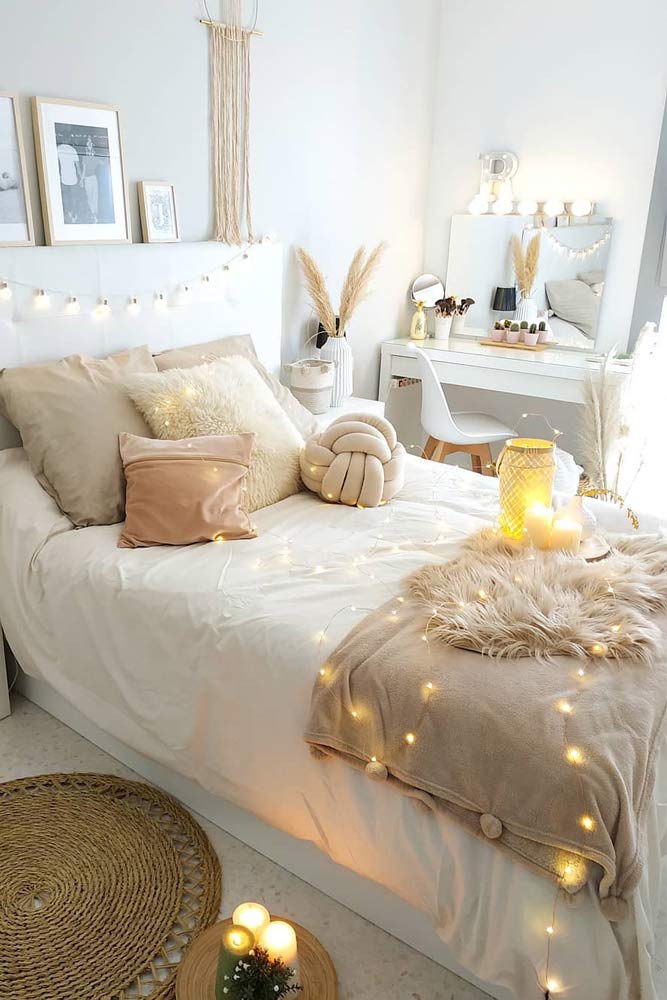 Credit photo:Instagram/mi_hogar__deco
String lights décor is what takes this bedroom design to the whole new level. Bring in some festive mood to your everyday life by picking a design like this.
Girly Bedroom Decor With String Lights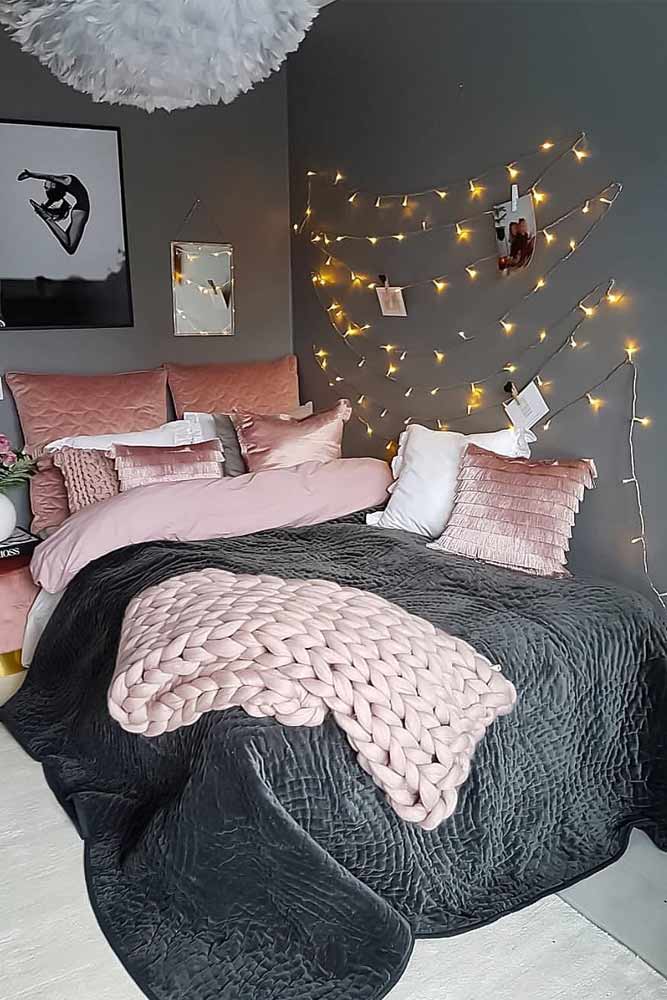 Credit photo:Instagram/interiorbylindawallgren
It seems that girly bedroom designs are here to stay. And it is not surprising why. Just look at this pink and gray color combination. It is super sweet and stylish.
Modern White And Gray Bedroom Design With String Lights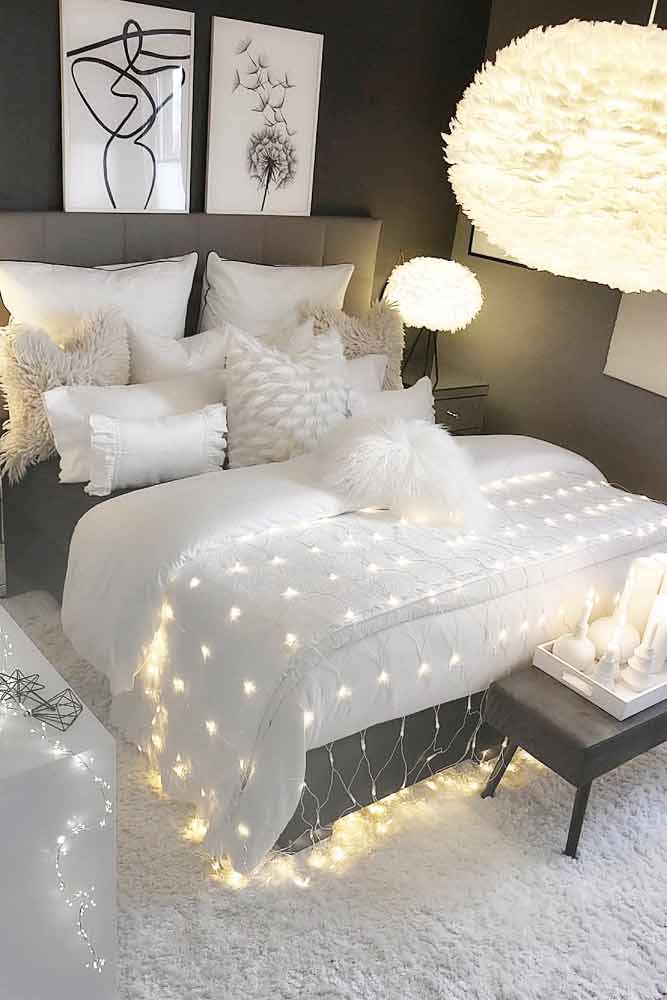 Credit photo:Instagram/zeynepshome
Minimalism is the sign of modernism, and many prefer to stick to it while decorating their bedrooms. Nevertheless, we think that gentle touch in the form of string lights will take any décor to the next level of unique and cozy.
Wall Decor Idea With String Lights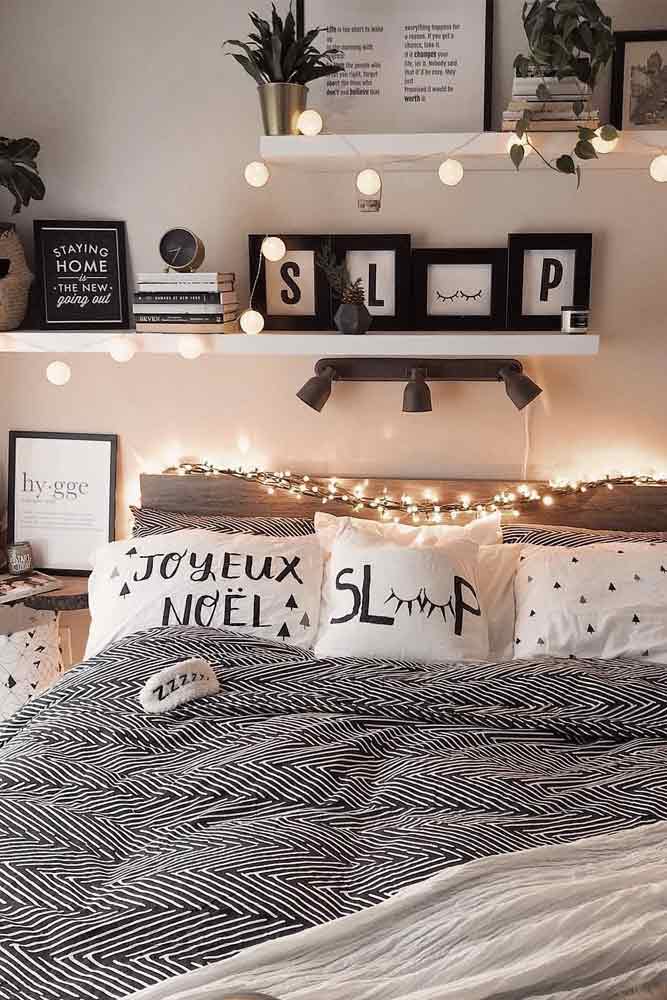 Credit photo:Instagram/cup_of_hygge
Outdoor String Lights Decor
Outdoor Decoration Idea With String Lights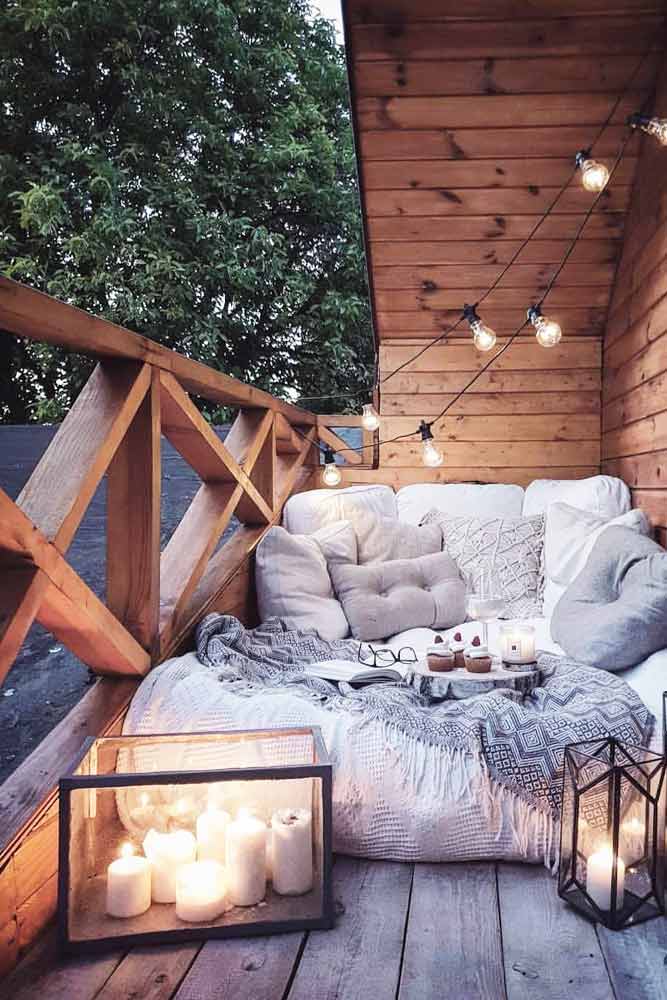 Credit photo:Instagram/marzena.marideko
Do you know that string lights are often used to decorate outdoor spaces? A patio may be made so cozy with a sofa and many soft pillows. Add string lights and candles, and it will become the place that you will never wish to leave. It will be so pleasant to spend your time there: relax, read, drink some wine or tea.
How To Decorate Your Favorite Outdoor Space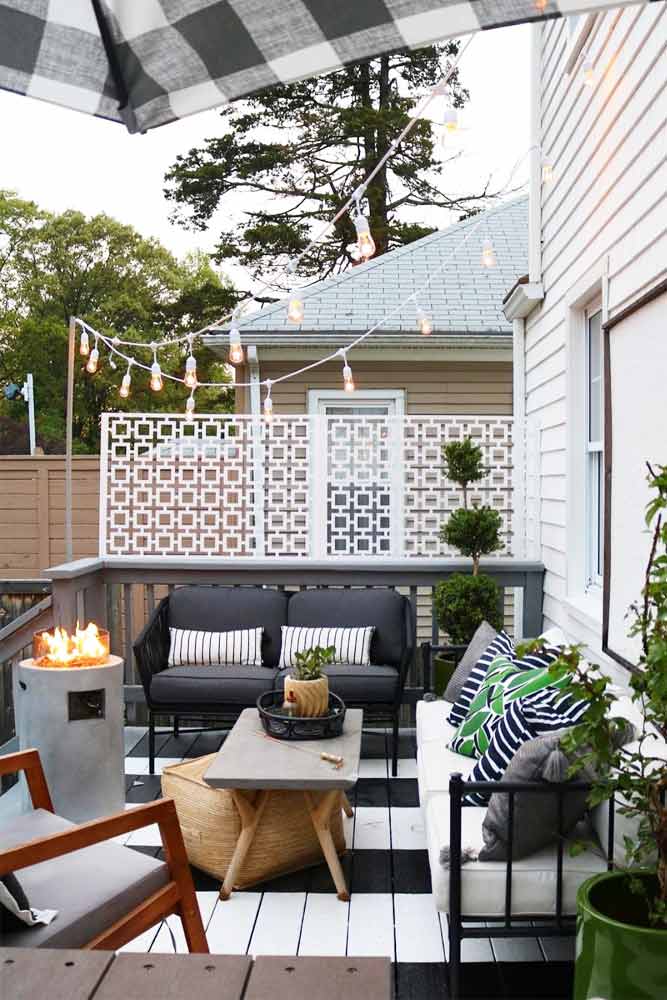 Credit photo:Instagram/nestingwithgrace
When you have a house, there are so many options what to do with the yard that it is hard to choose something particular. But we think that this idea deserves your attention. It would be so nice to spend your summer evenings outside in front of an open fire with string lights hang upside. The lights can be fixed to poles.
Cozy Outdoor Décor Idea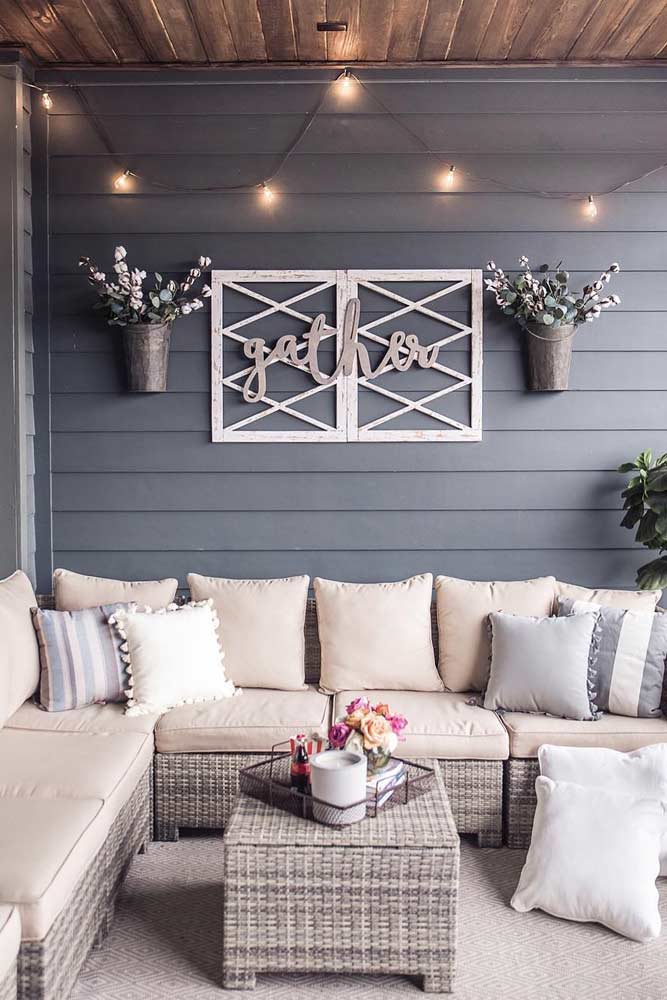 Credit photo:Instagram/_anna_english
Who says that string lights are supposed to draw all the attention towards them? Actually, they can serve as subtle accents rather than focal points in your exterior décor. Just drape the fairy lights on a wall like shown in this picture. Thus, your patio will appear lovely and not that pretentious. In case you are into simplicity, this idea will work great for you.
Amazing Wedding Styling With String Lights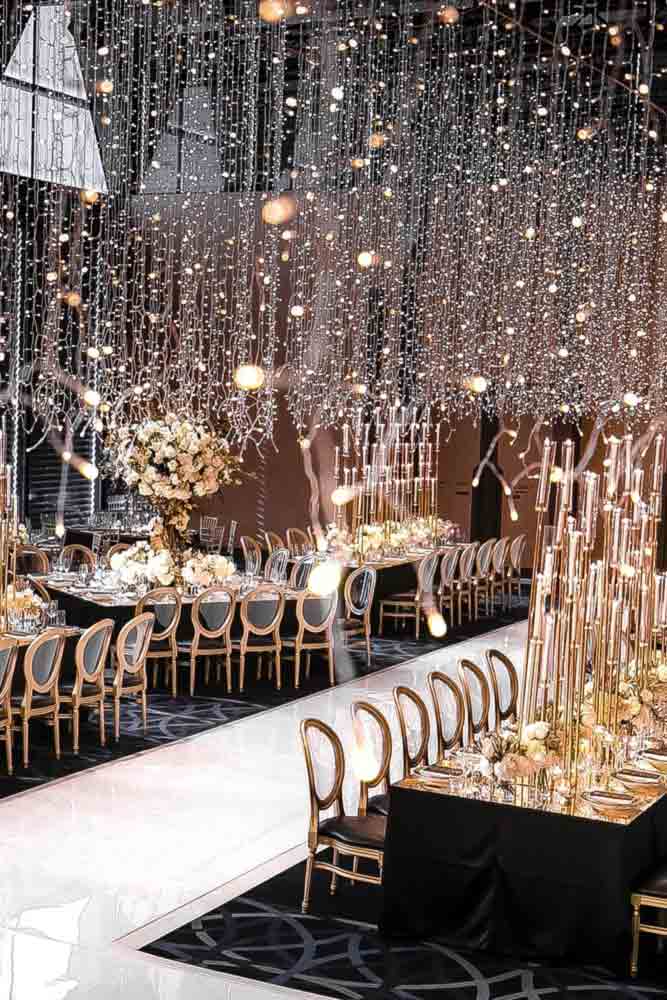 Credit photo:Instagram/dianekhouryweddingsandevents
String lights can turn your wedding décor into something truly fantastic. We really love this picture with a big number of fairy lights sets hanging down from the ceiling. These lights accentuate nicely the gold wedding theme chosen here.
Fantastic String Lights Décor For Special Events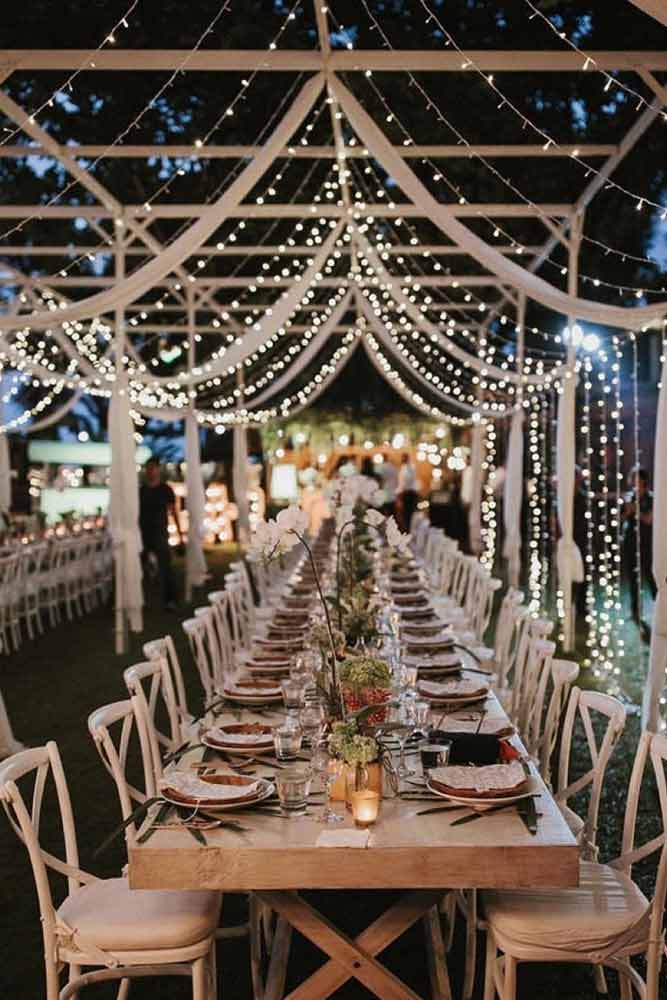 Credit photo:Instagram/frostyphoto
When it's an outdoor event, imagine how wonderful it all will look when it gets dark. In this picture, fairy lights create some kind of a tent visually. Your guests will be amazed, and the lights will help set the best mood possible. Well, what can we say, the dim light is always pleasant, especially when sitting outside and relaxing.
Magical Romantic Décor Idea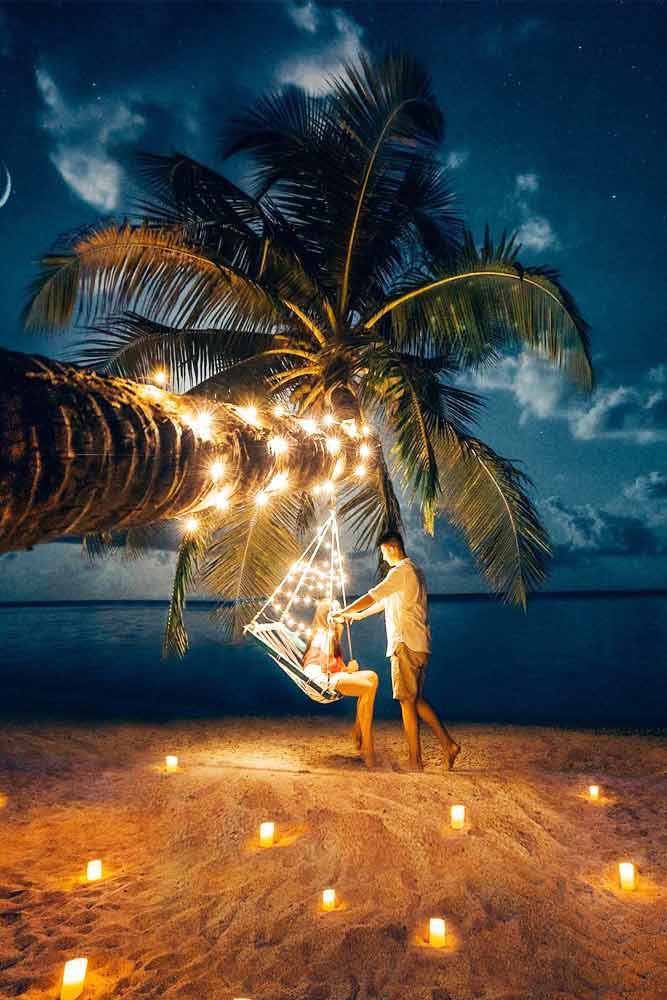 Credit photo:Instagram/mikevisuals
Do you want to prepare a romantic surprise for your honey? This idea has all compounds of romance – a beach, a swing, and lights. This moment will be unforgettable. Fairy lights can be fixed to a tree, for example, a palm tree. And place some candles here and there to enhance the romantic effect.
Lights Decorations Tips
How To Decorate Your Room With Lights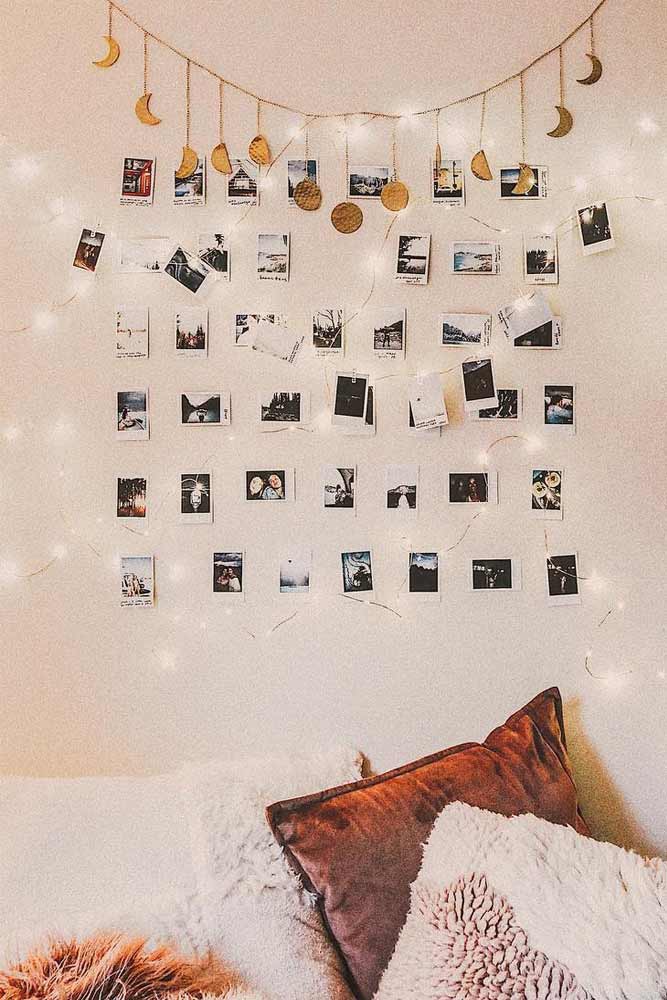 Credit photo:Instagram/allegraroseb
Indoor string lights can be used to create a beautiful display like the one you can see in this photo. Like shown here, you can hang a very long lights strand over a display of your favorite pictures. By the way, it's an awesome idea for some special occasion where you will share your memories. For example, it can be a sweet surprise for your anniversary.
String Lights Photo Inspiration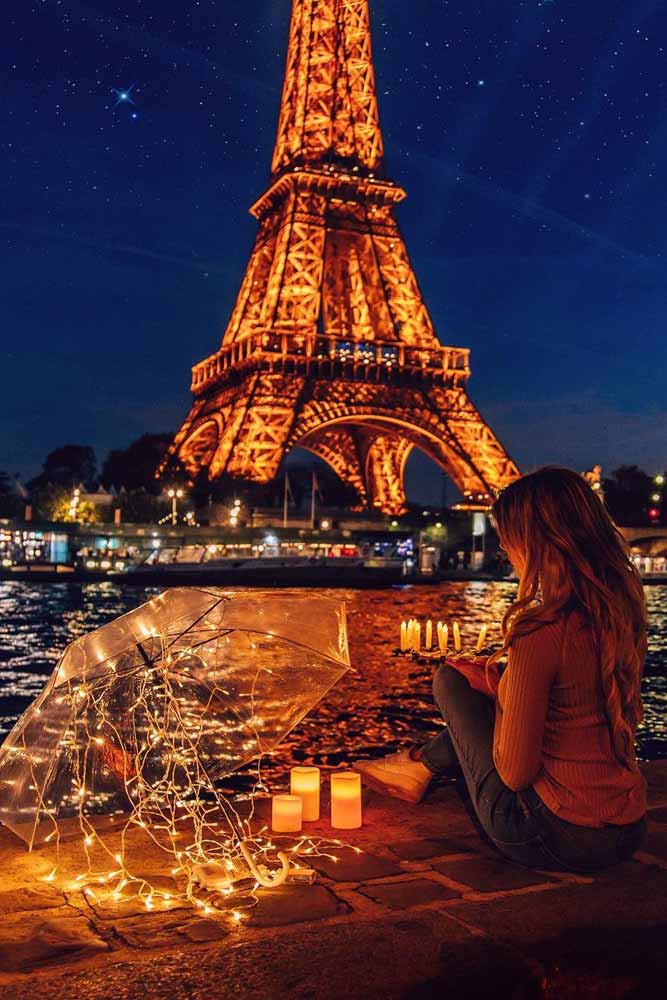 Credit photo:Instagram/margaux_leo
Here you can see that Christmas lights can be used to enhance your mood anywhere. Of course, if they are placed on an umbrella, the fun can be taken literally anywhere. Do positive thoughts come to your mind when you are looking at it?
Magnificent Decoration Idea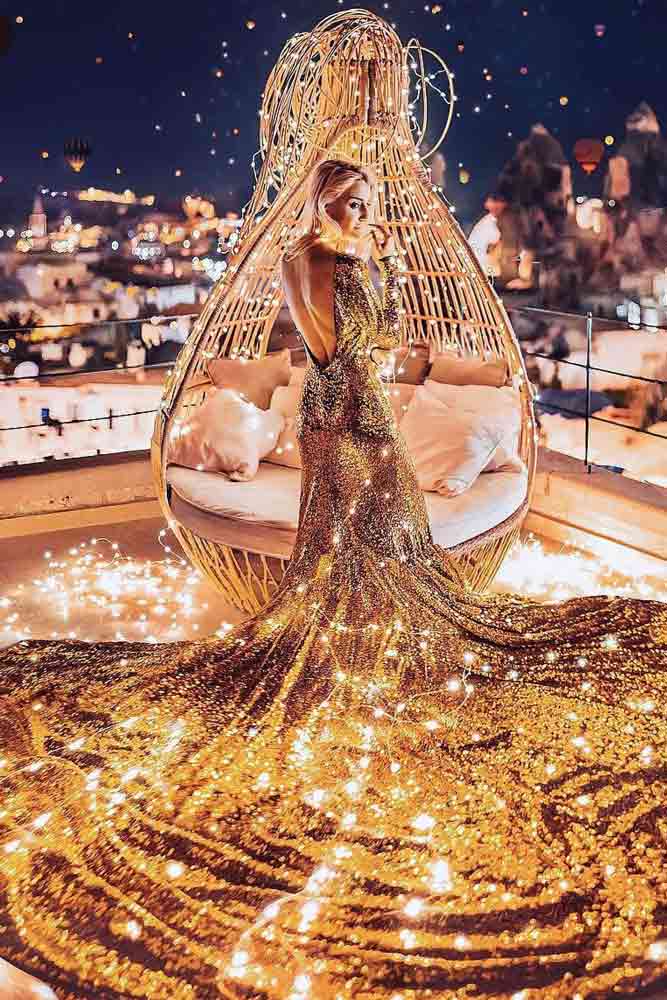 Credit photo:Instagram/hobopeeba
Here decorative lighting was used specifically for the photo shoot. There is no way one person can decorate her own dress tail like that. And in our opinion, the result is truly outstanding. The string lights make this sparkling sequin dress in gold shine even brighter. And it all looks like a fairy tale under the stars.
Fairy Lights Ideas For Your Home Décor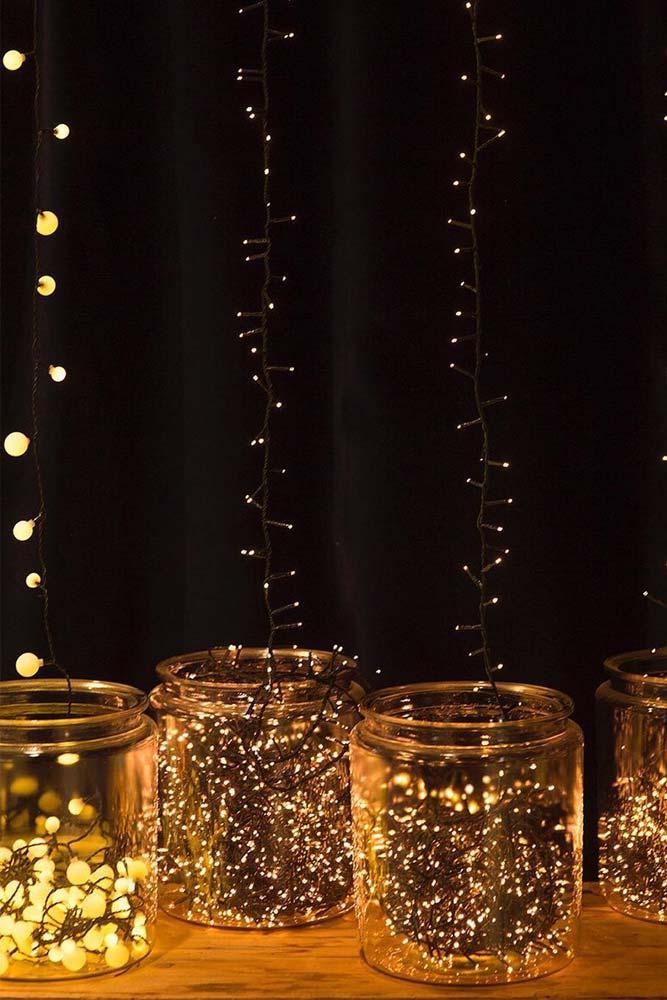 Credit photo:Instagram/shopterrain
There are so many ways how string lights can help you enhance the design of your room. And we really like this idea – sparkling jars. Here it is shown like jars paired with string lights can be used as decorative lamps. And what's important, it is creative, yet, extremely simple to make. You just need 4 transparent jars and 4 sets of string lights, that's all.
Amazing Light Tree Idea For Your Home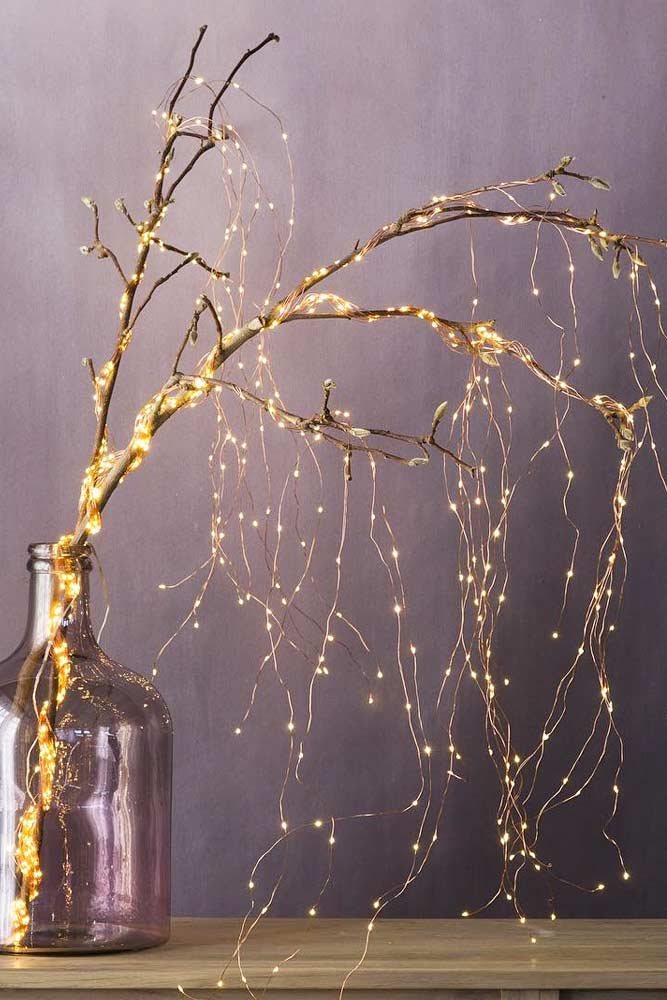 Credit photo:Instagram/shopterrain
Now after seeing all these inspiring pictures we think that normally, without string lights, living rooms appear pretty dull. Well, what can we say, it's something that will be in our hearts from now on. Just look at this amazing tree made of the real branches and string lights. Simply wind the lights around the branches and put it in a decorative bottle.
REFERENCES:
A rope light is primarily used as a decorative lighting fixture, featuring small light bulbs linked together and encased in a PVC jacket to create a string of lights. Source
A light-emitting diode (LED) is a semiconductor light source that emits light when current flows through it. Electrons in the semiconductor recombine with electron holes, releasing energy in the form of photons. Source
Lamps are commonly called light bulbs; for example, the incandescent light bulb. Source
FAQ: Bedroom String Lights
How do you make string lights look classy?
Hang string lights to add coziness and draw attention to some areas of your interior. You can place string lights over the dining table or add them to the ceiling. Lights are a great way to highlight architectural details.
Do LED fairy lights use a lot of electricity?
Generally speaking, LED Lights use less electricity and last longer than incandescent or CFL bulbs. LED Lights are more efficient, according to The Indiana University of Pennsylvania they convert 80-90% of their energy into light, unlike incandescent bulbs that only convert about 10-20% of their energy into light.
Was this article helpful?