Choose A Perfect Outdoor Shower With Us
An outdoor shower is a great idea if you love spending time outside. There is so much atmosphere about doing it there that we think every house should have one. What style do you prefer? What design would you choose? Do you need a hand in helping? We are here for you then. Let`s choose a perfect outdoor shower for your beach house or just for your garden.
Simple Copper Murray Shower Head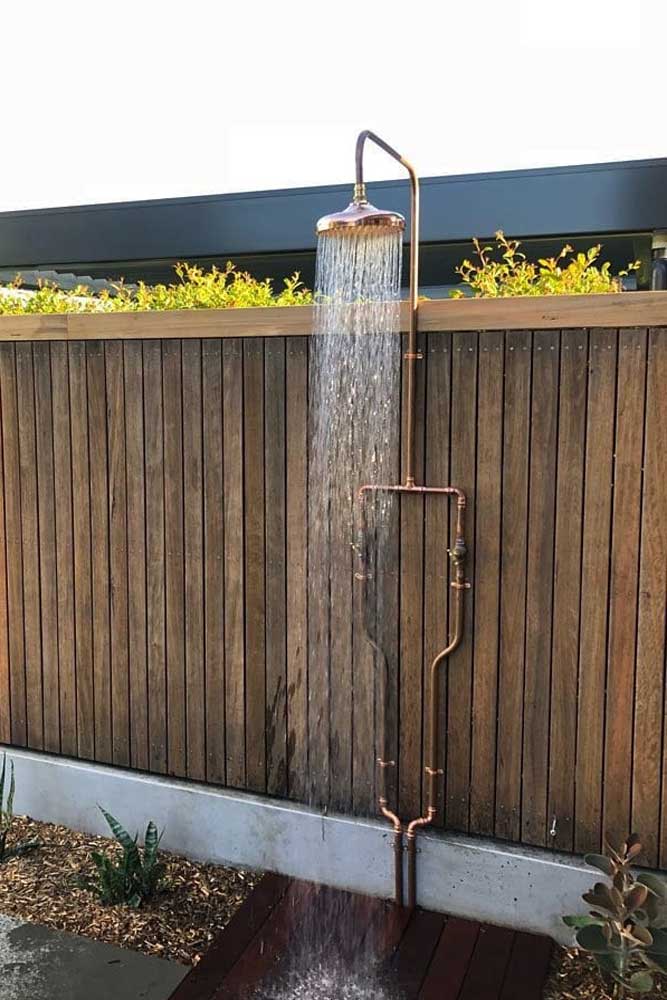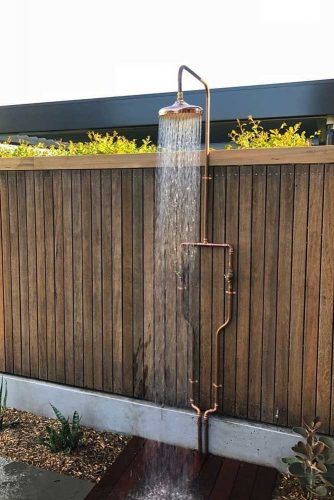 Source: harrisonslandscaping via Instagram
Simplicity is not necessarily a bad thing nowadays. A classy choice like a copper shower can make your outdoor shower area look super modern and good-looking. What do you think about such an amazing idea?
Minimalist Outdoor Shower With Pipe Head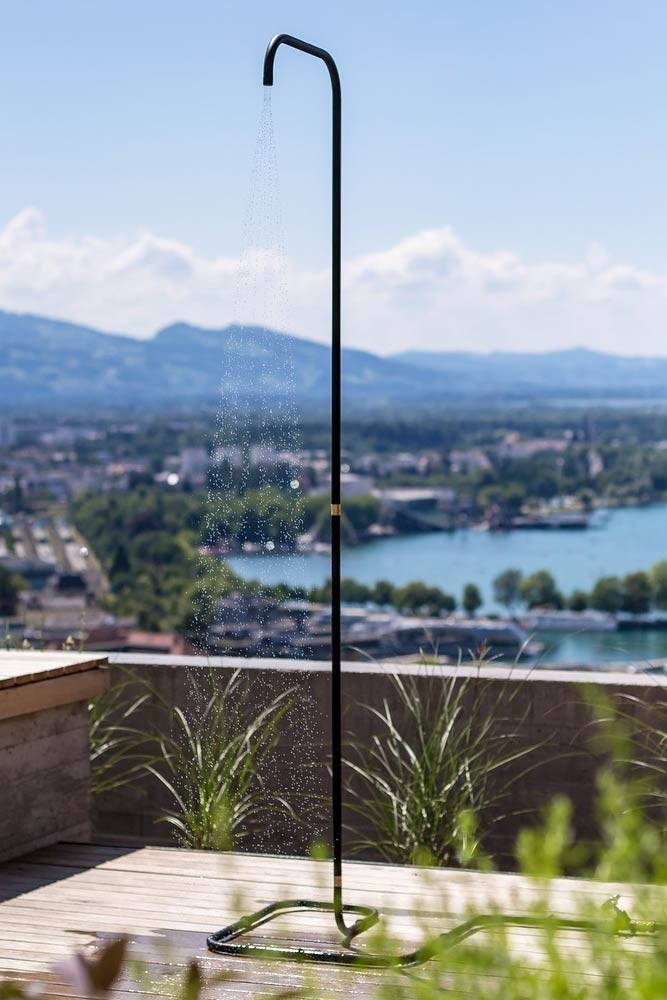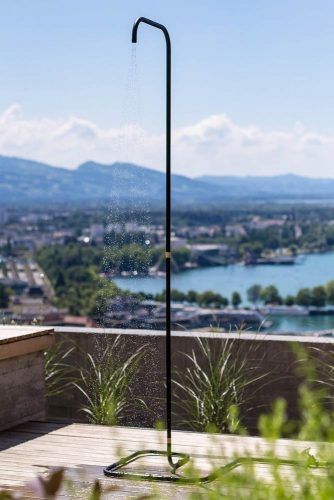 Source: tarantik_egger via Instagram
An outside shower head is not necessarily the only option. What will you say about this creative idea? A pipe head is a good-looking idea that will look beautiful in your garden.
Vintage Summer Outdoor With Monsoon Shower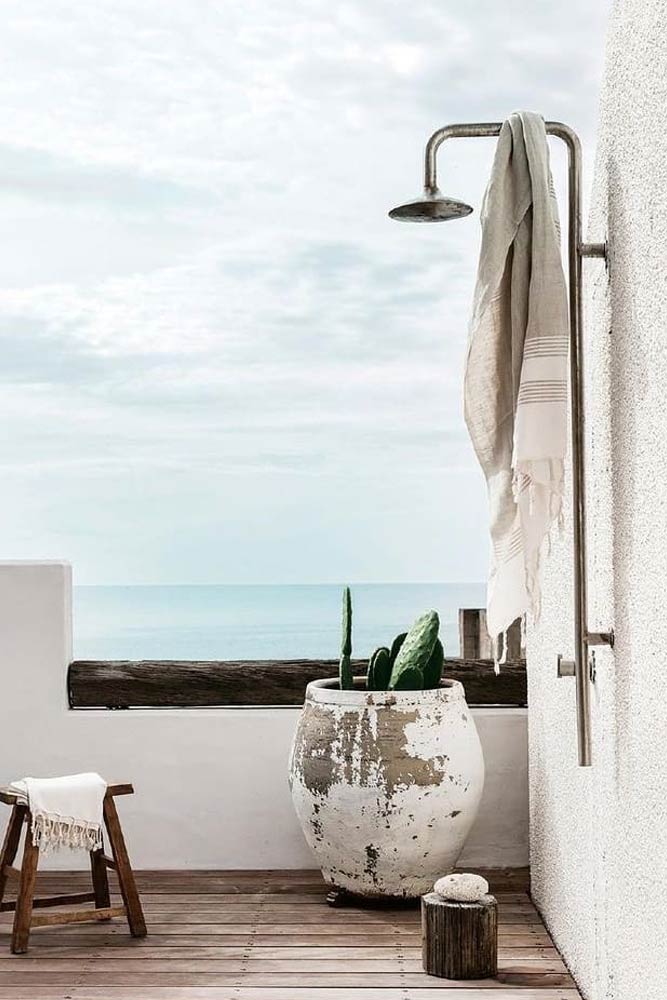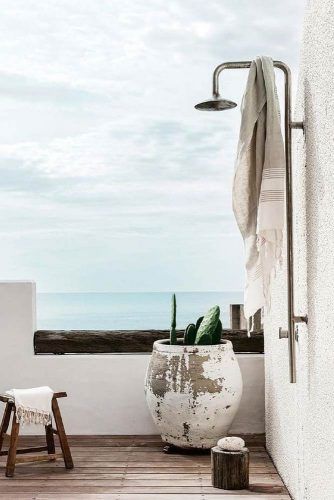 Source: multipartfinance via Instagram
Vintage is coming back and not only in clothes! Just have a look at this vintage shower. Such an idea is so simple but elegant looking that it will only make the area around it look even more stylish.
Simply Monsoon Shower And Mixer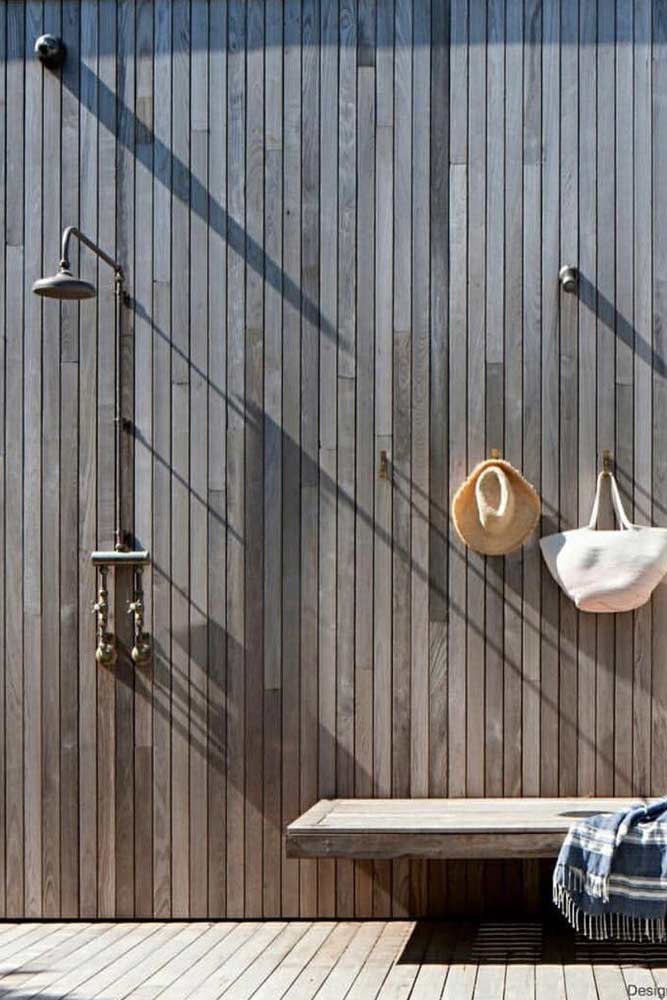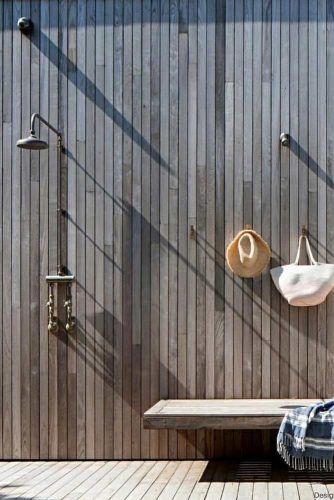 Source: robsonrakarchitects via Instagram
The outdoor shower ideas for sure must include a simple monsoon shower and mixer. Decorate the shower area outside of your house with such a stylish piece and you will love how it will turn out to look.
Closed Garden Outdoor Shower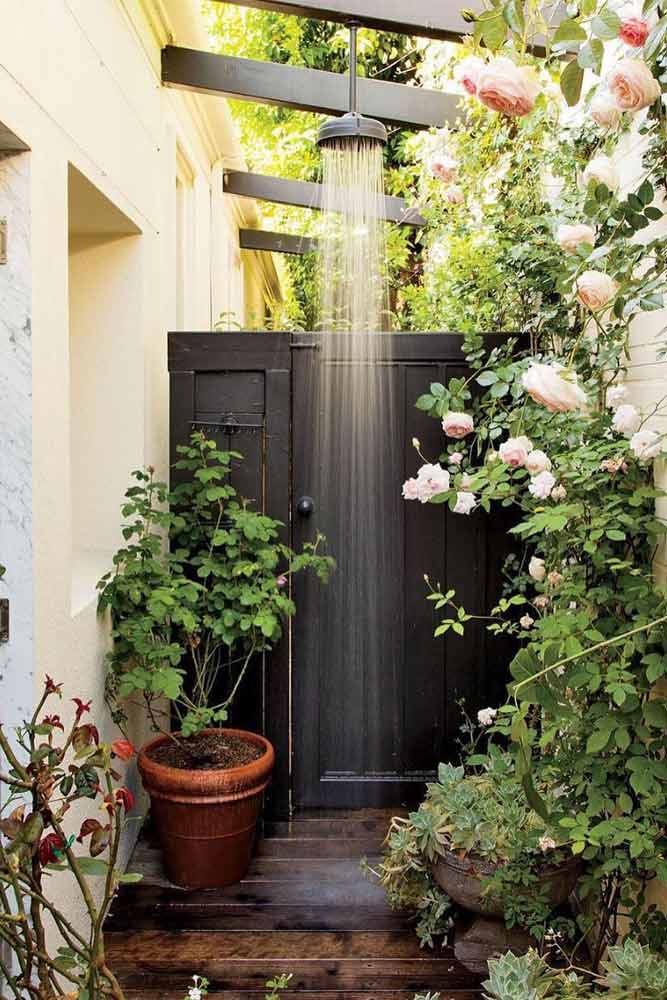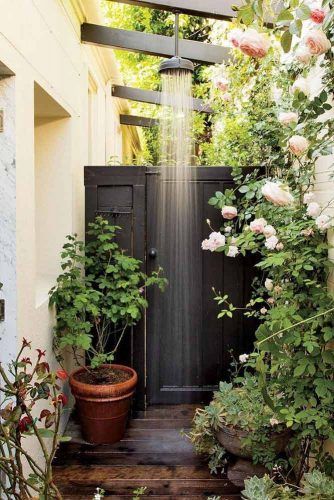 Source: kristywharvey via Instagram
Are you looking for shower door ideas? Then you came to the right place because we have that prepared for you as well. Looking absolutely amazing this black door will not only separate your outdoor shower area but will also make it as private as possible. Apart from being closed, it will also look beautiful. Isn`t that promising?
Beach Outdoor Shower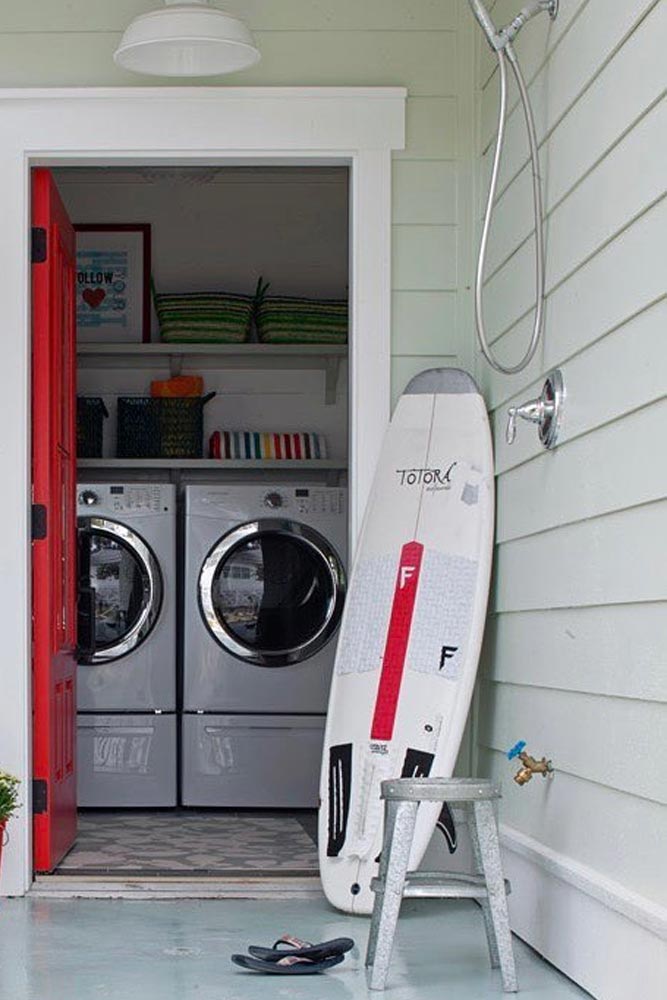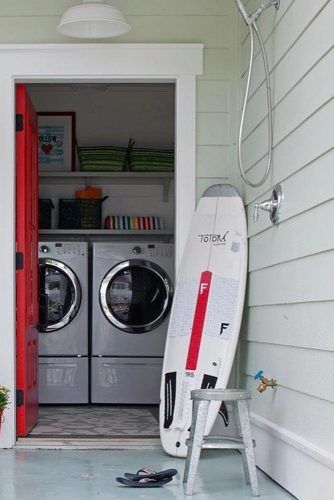 Source: rethinkdesignstudio via Instagram
Do you have a beach house where the outdoor shower is necessary? If yes, then look at this idea. A simple idea with a separate area will leave you a lot of space for the shower time. Quick and comfortable isn`t that what the shower at the beach house is all about?
Rustic Garden Shower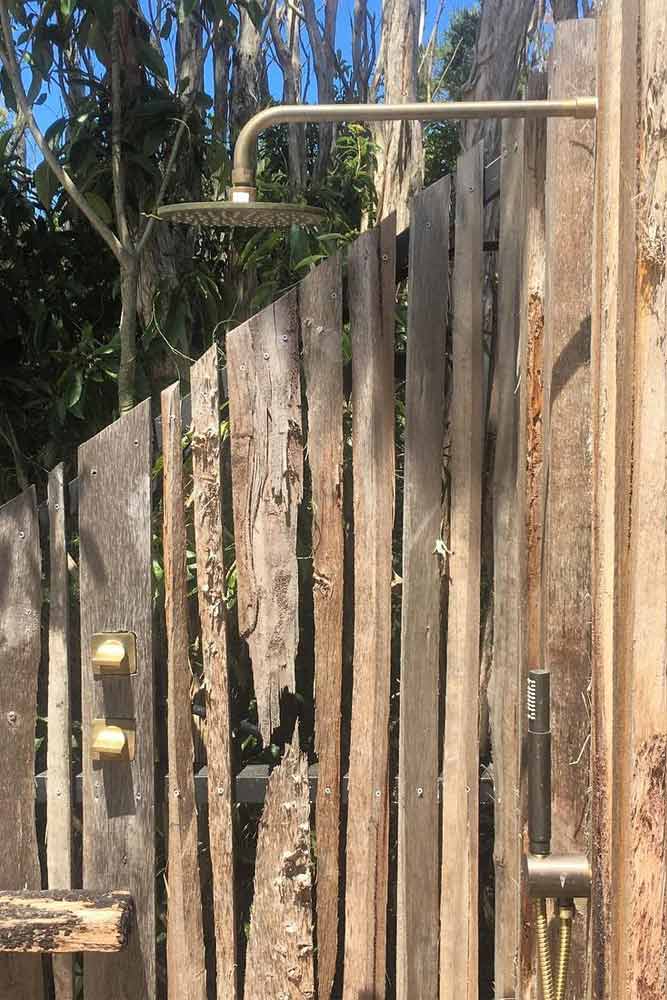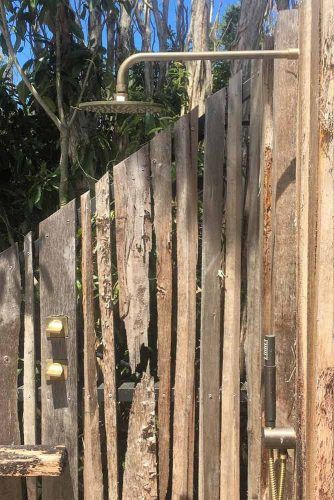 Source: teatreehollow_au via Instagram
A rustic garden shower is a dream for every person who has at least for a second taken a look into the design`s nowadays trends. We love everything about it. How simple it looks and how this simplicity brings style to the whole area.
Wood And Handheld Spray Mixer Set Shower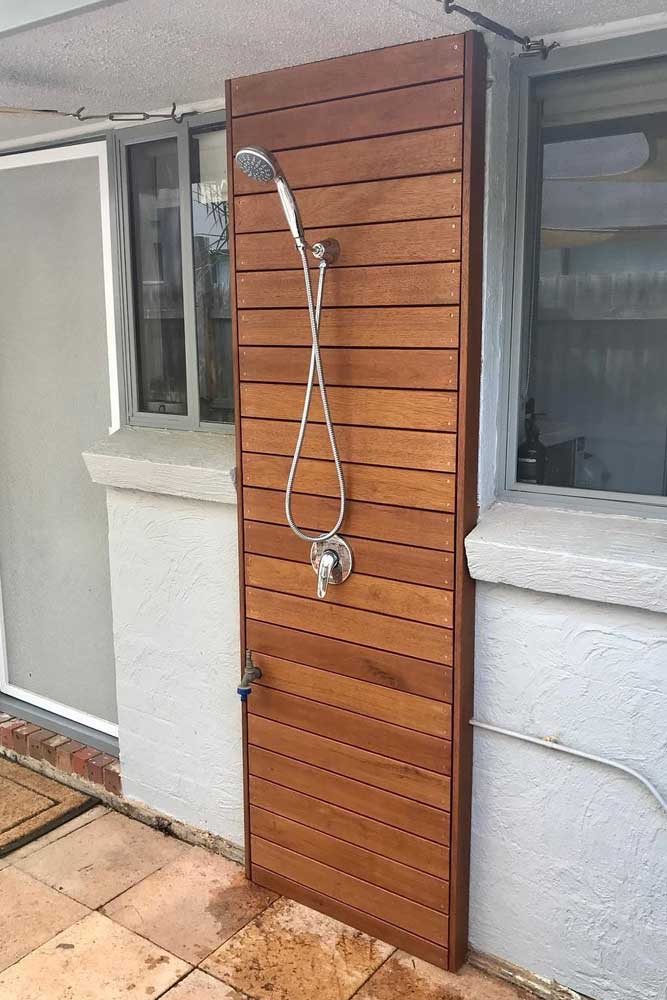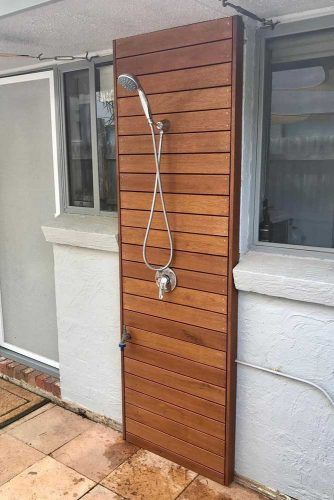 Source: rokk_carpentry via Instagram
Don`t you love the combination of wood and steel together? We def do! It is impossible not to after looking at how well they look together. Make your outdoor shower with them and you will be happy every time you take a shower there.
Closed Corrugated Tin And Wood Closed Shower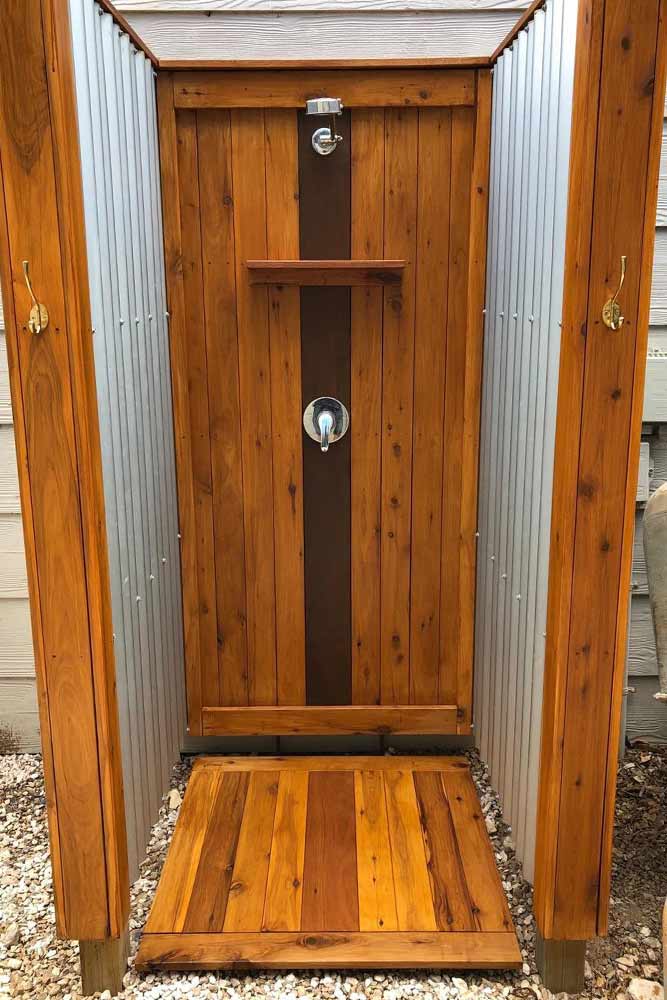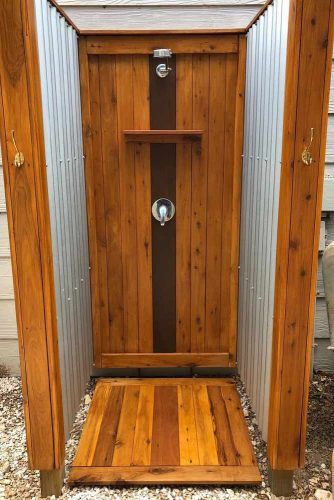 Source: frazergardens via Instagram
A closed shower will be a perfect choice for those who love their showers to be super private. Make the shower area with the help of wood and bring style to it.
Closed Wood Outdoor Shower With Garden Head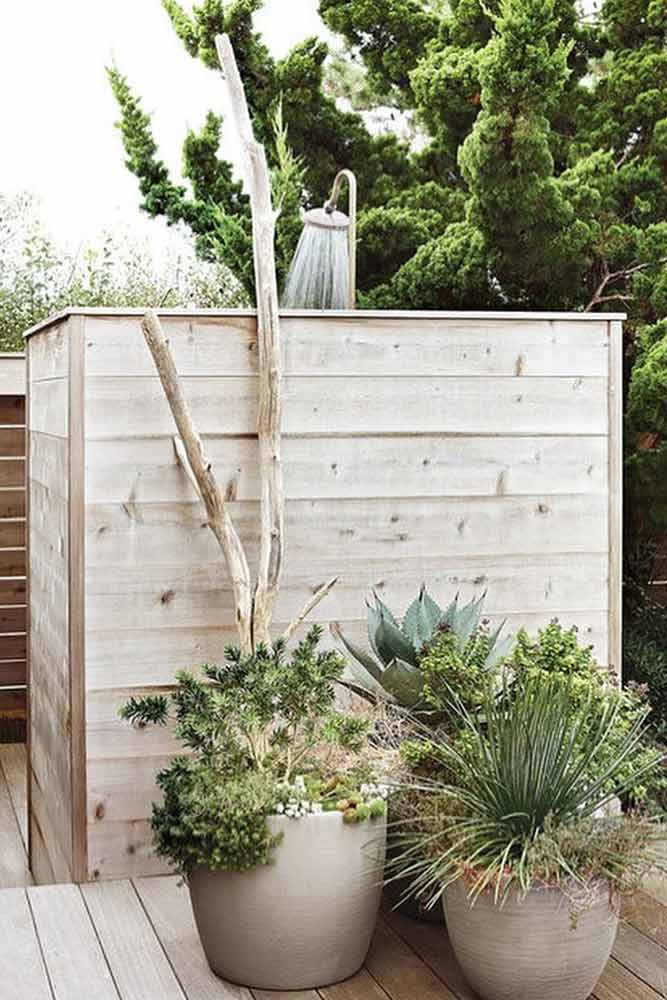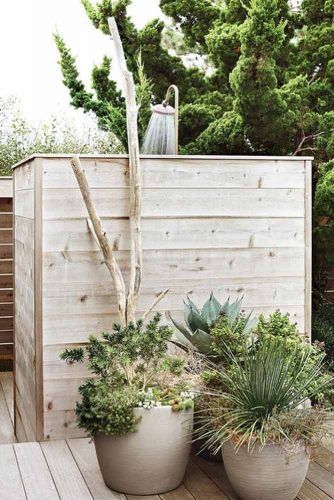 Source: isaac_rae_studio via Instagram
Another closed wood outdoor idea like this will bring so much inspiration to you. Isn`t that looking super modern and trendy? We love how this type of wood looks with greenery around it. We think it will be a beautiful addition to your possessions.
Poolside Wooden Shower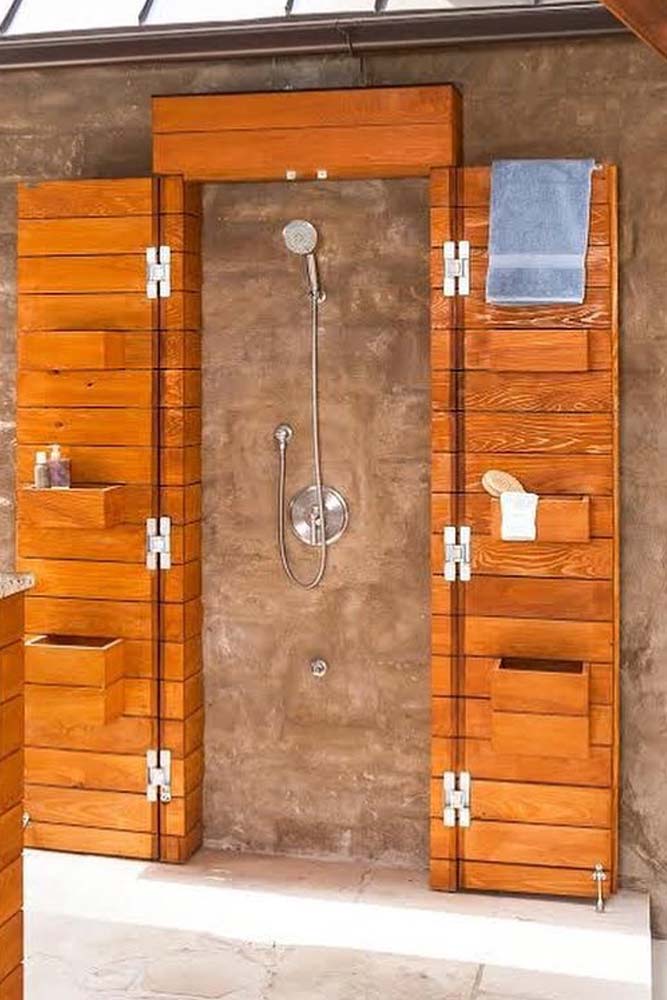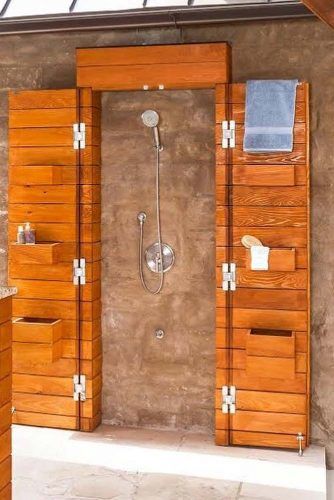 Source: cgsdesignbuild via Instagram
Do you prefer to freshen up with a shower after the pool session? Us too! That is why we choose such a design for an outside shower area. The wooden sides will be not only good-looking, but they will also be super practical if you add little shelves where you can put your products. Isn`t that a dream?
Natural Stones Outdoor Shower Design With Double Heads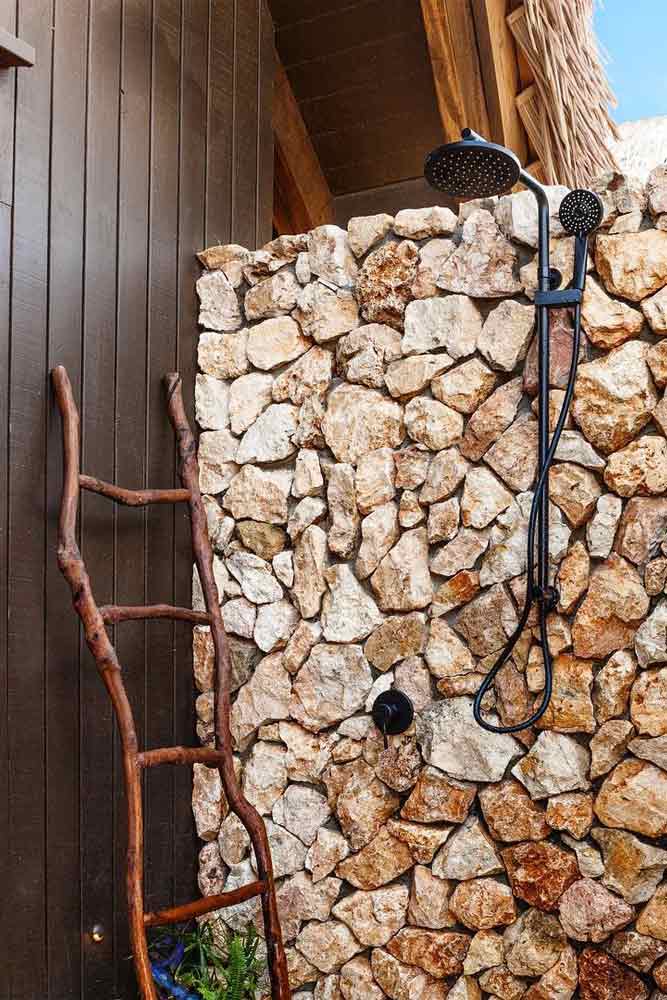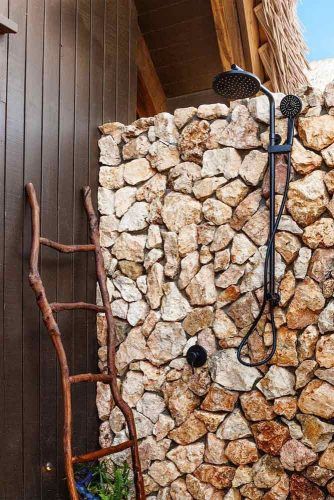 Source: sixsensesfiji via Instagram
Do you prefer natural vibes for your shower designs? Then choosing stones for the wall is the perfect option. What can be more perfect looking outside? Practical, it is a perfect choice for your house.
Wood Closed Shower With Place For Towels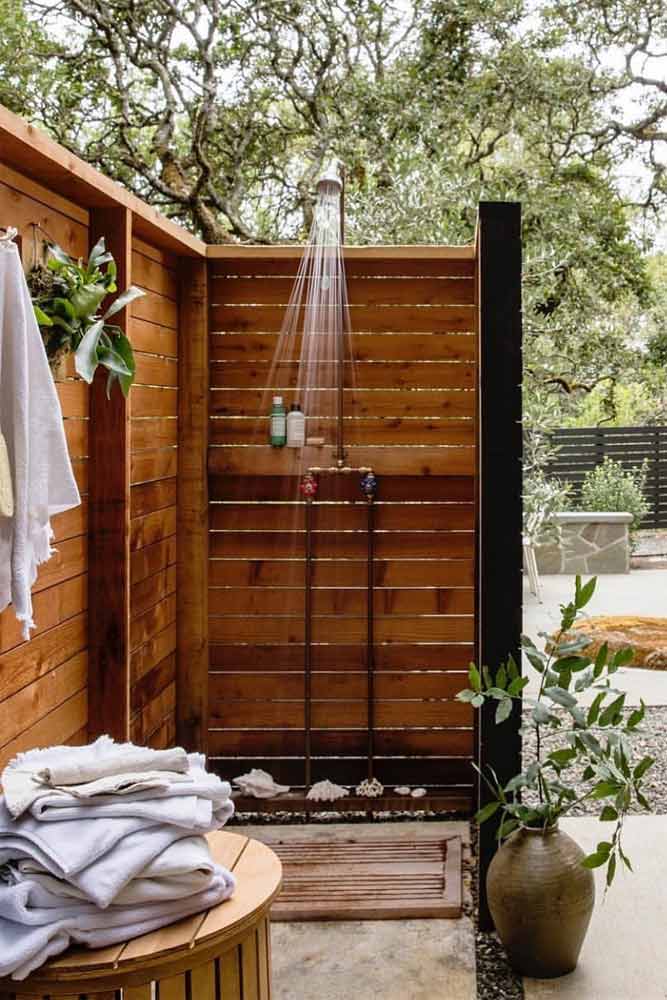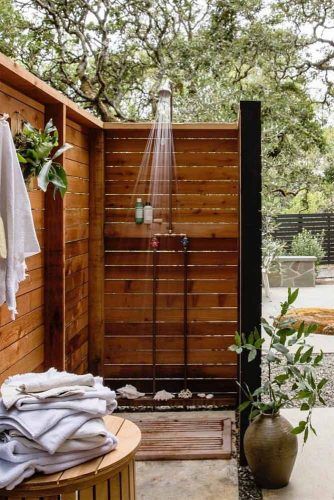 Source: niyamamaldives via Instagram
An outdoor shower has to be comfortable for those who take it too. This wood one is perfect if considering this. The wood walls will make you feel secure and private. Add a few shelves and hooks for your towels and it will be a perfect place for your outdoor shower.
Modern Garden Shower Design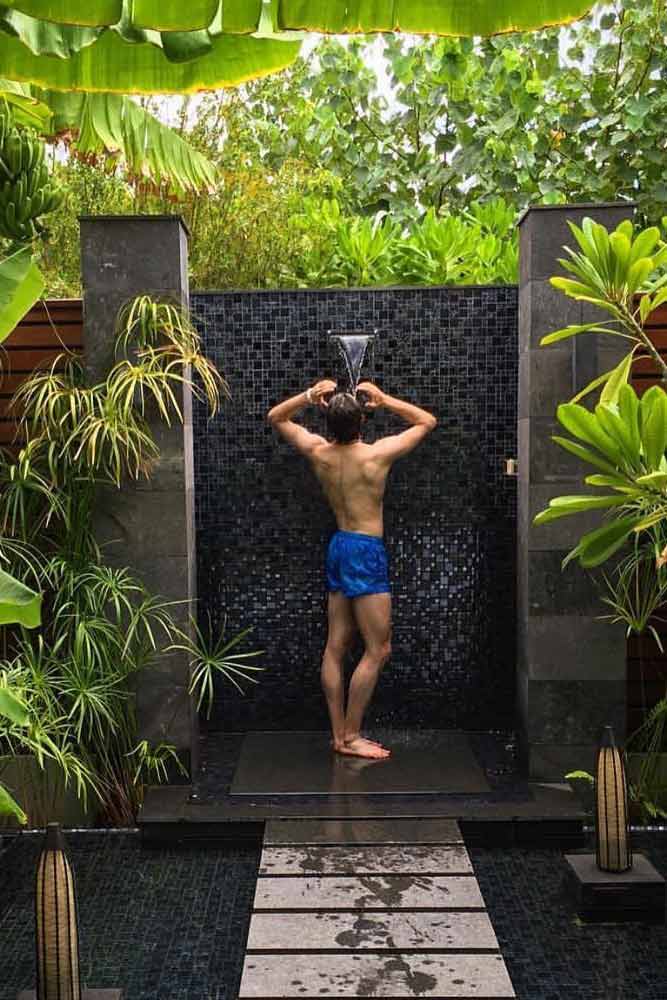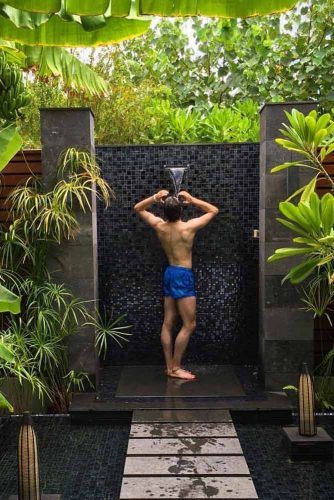 Source: sunsetmag via Instagram
Haven`t you seen such a design from the pictures off the internet? Of course, you did and there`s nothing strange if you want the same one to be in your garden too. A modern outside shower in dark tones will look natural and classy in your garden.
Minimal Spectacular Outdoor Shower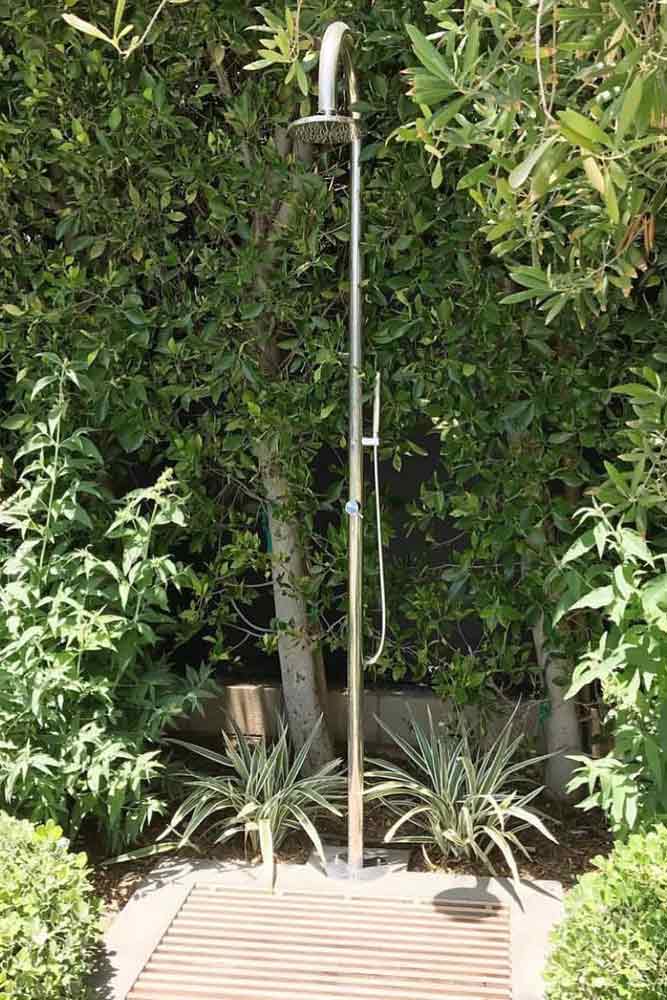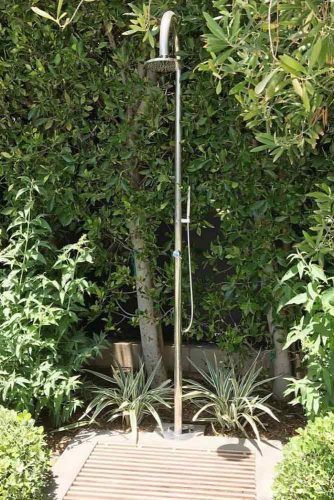 Source: sunsetmag via Instagram
A shower that looks the most natural is this one. Plant some beautiful greenery around it and enjoy the colors around you while you take a shower. A minimalistic approach that can`t be defeated.
Blue Colors And Textures Shower With Setting Place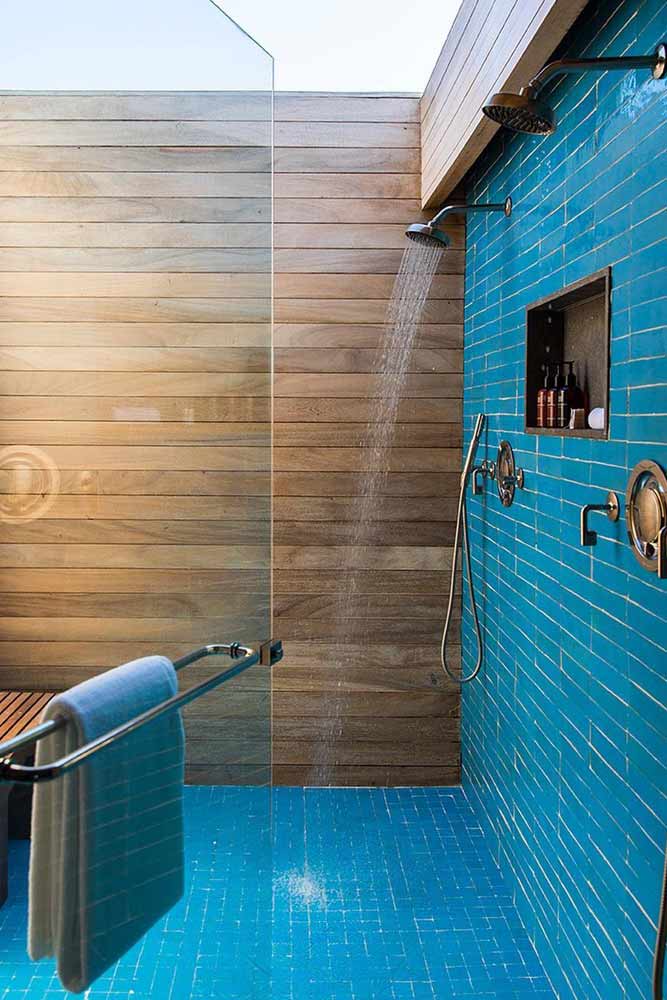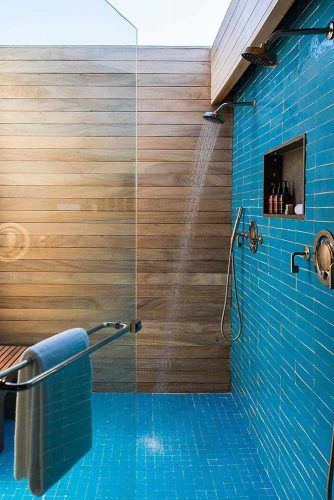 Source: sunsetmag via Instagram
Colors are great to bring some contrast around your garden. That looks impressive and fresh, don`t you think? That`s how the area is supposed to look. Add some details, like a wooden bench, a towel holder and a glass door and enjoy how stylish and comfortable your shower is.
Wood Closed Outdoor Shower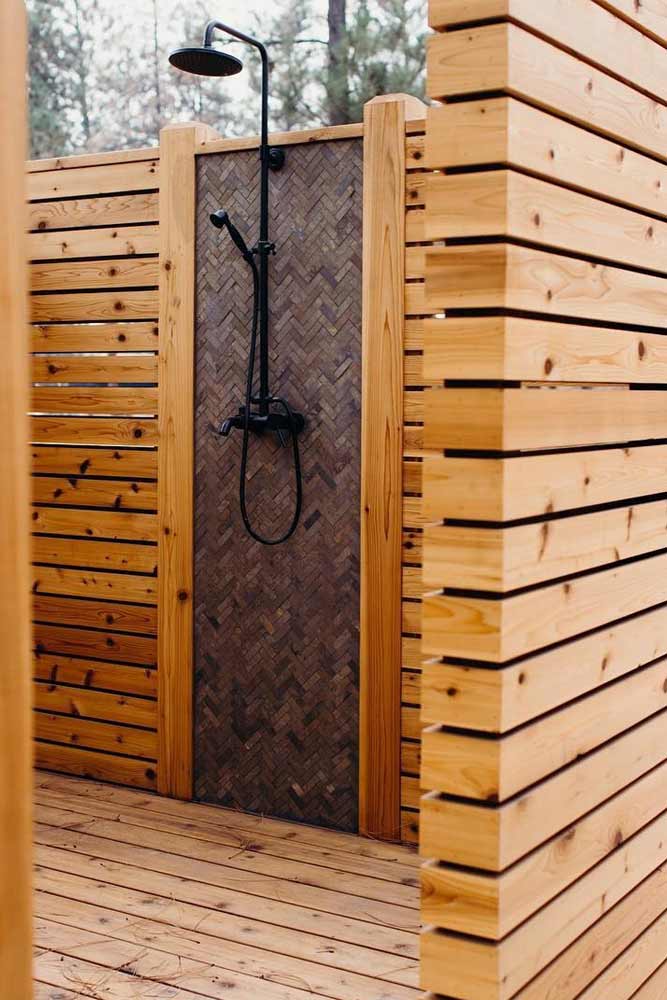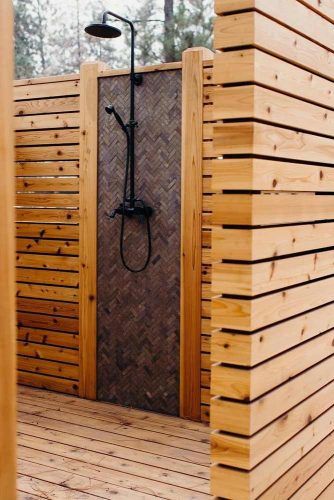 Source: morrisgeneralcontracting via Instagram
Why don`t you build a separate wood construction for your outdoor shower? Trust us, you won`t regret such a choice. It will be a great addition to your garden or cottage house without ruining the picture around.
Modern Closed Outdoor Shower With Square Stainless Head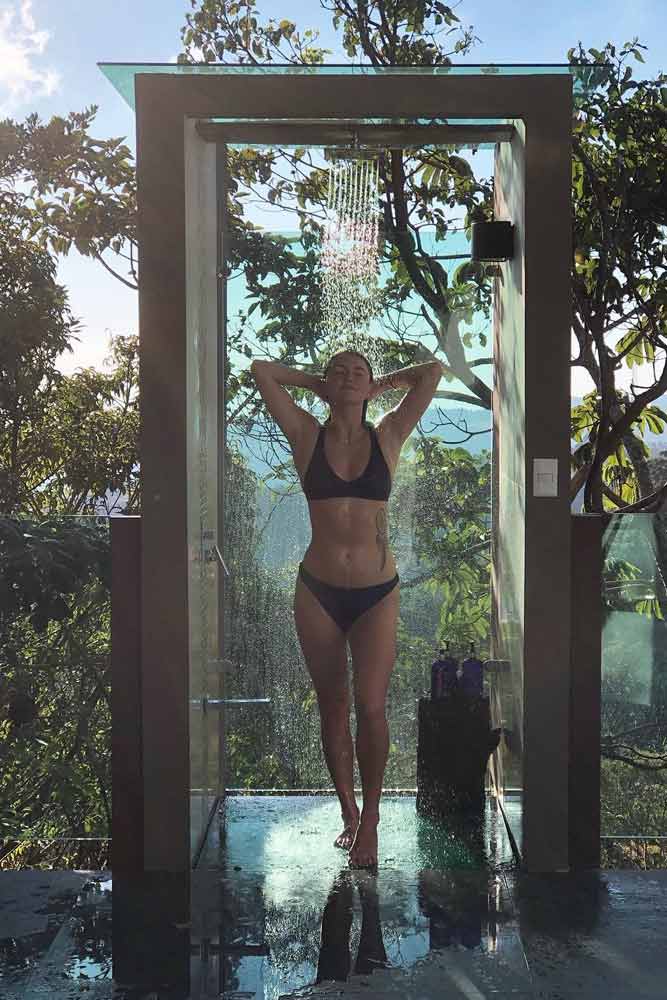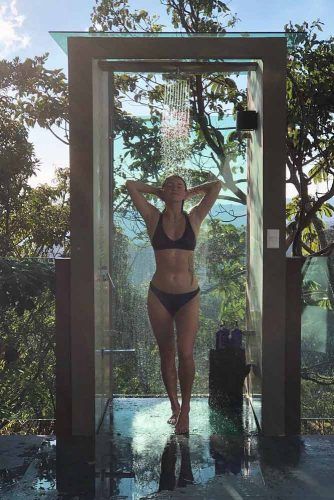 Source: alyssa_westfall via Instagram
A modern outside shower should be defined as this one. Just have a look at this idea. The combination of stone and glass is so trendy nowadays and looks amazing. If the choice is for your beach house, it is the one.
There are so many modern outdoor shower ideas that will make your heart beat faster. Good looking, comfortable they are all for everyone`s preferences. What do you think about the ideas we have for you?