Practical And Fascinating Deck Ideas For Your Pool
With summer just around the corner, everyone dreams about sunbathing and getting into the water. While hitting the beach is certainly an option, you can also enjoy a nice day at the pool in the safety of your backyard. All you need is a pool. When you have the pool issue figured out, provide the deck, and the perfect home resting area is ready. If you think that all that is missing is a nice deck design – we have it covered for you! All the best and the trendiest pool deck ideas are gathered in here! Read on!
Concrete Pool Deck With Grass Accent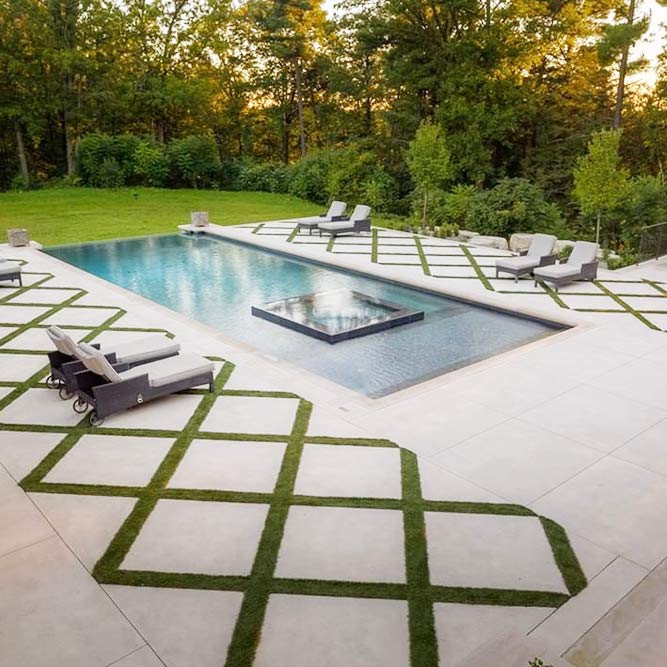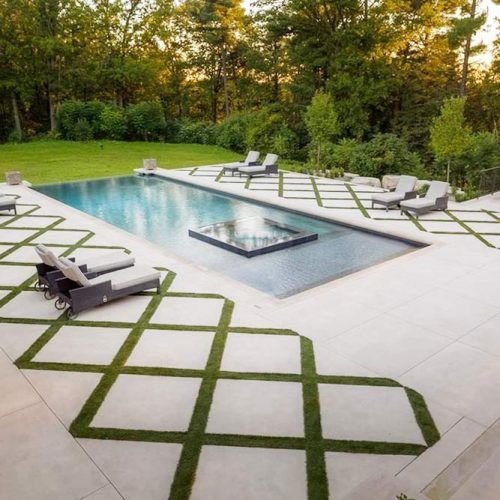 Source: bomanitetorontoltd via Instagram
Among all the deck design ideas you need to keep it in mind that pretty does not always means convenient, however, there are certain exceptionі. The fact is that you are looking at one of the exceptions. The thing is that the mixture of concrete and grass looks not only lovely but will also keep your feet conveniently cool when the sun shines.
Wooden Pool Deck Design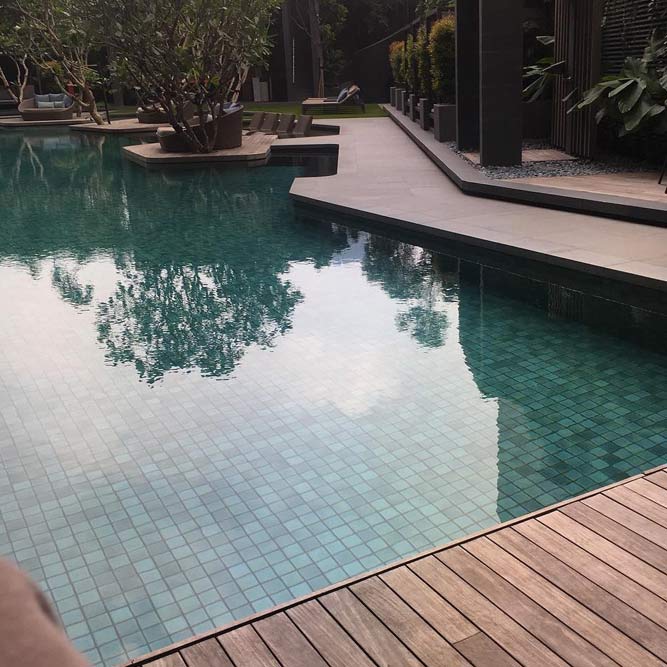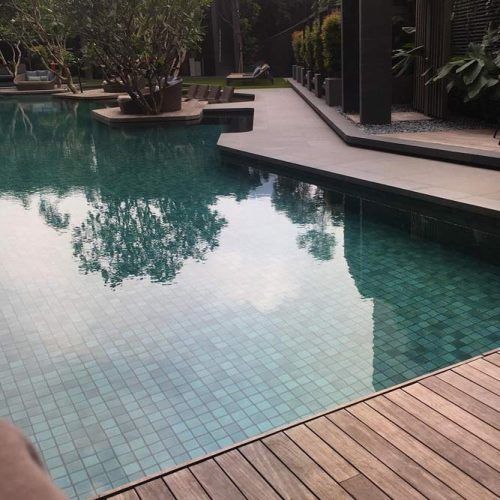 Source: highlyclassifieduser via Instagram
Many people choose wooden pool deck ideas when it comes to pool decoration. There is no wonder why since such a deck looks super sleek.
Islander Pool With Techo Eva Pavement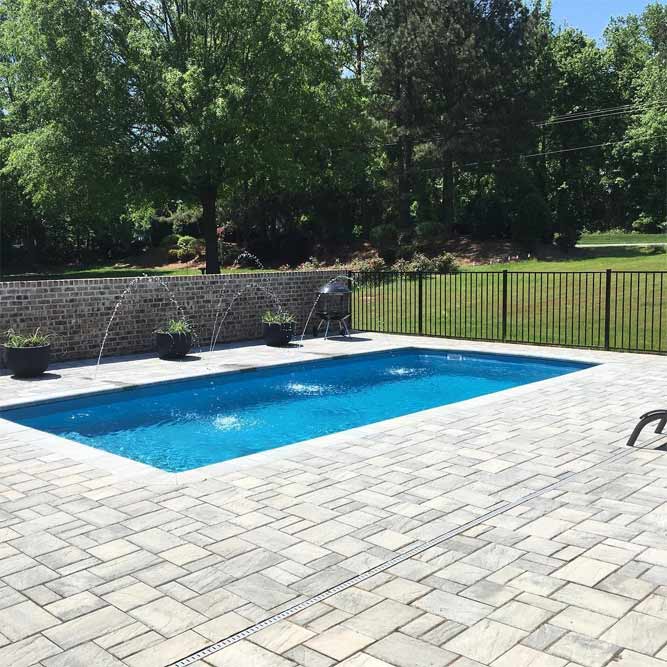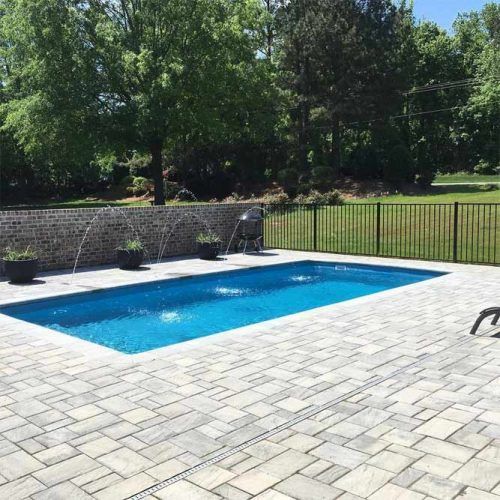 Source: adkoutdoordesign via Instagram
If you are looking for some simple outdoor deck ideas, we have something in store for you too. The thing is that Techo Eva blocks create that simple and elegant touch necessary for any islander pool. Place a couple of plants along the pool to enrich the atmosphere and the perfect pool resting area is ready.
Modern Pool With Stone Deck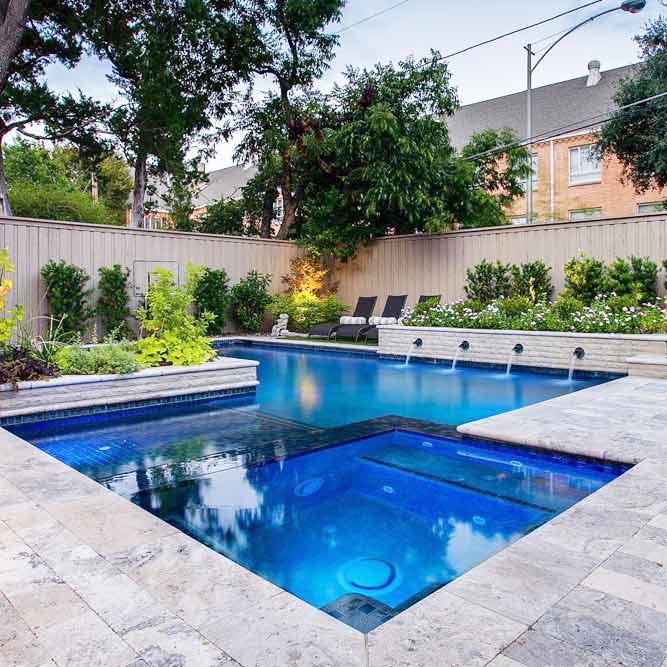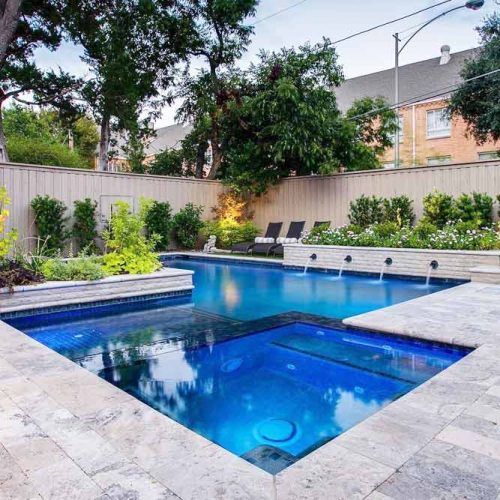 Source: paveprousa_texas via Instagram
Minimalism and vintage are the two styles that intertwine with each other to create a modern look that many people crave for. If you belong to the category, then you will surely appreciate this stylish and modern stone pool deck.
Tuscany Travertine Pavers On A Deck Around A Pool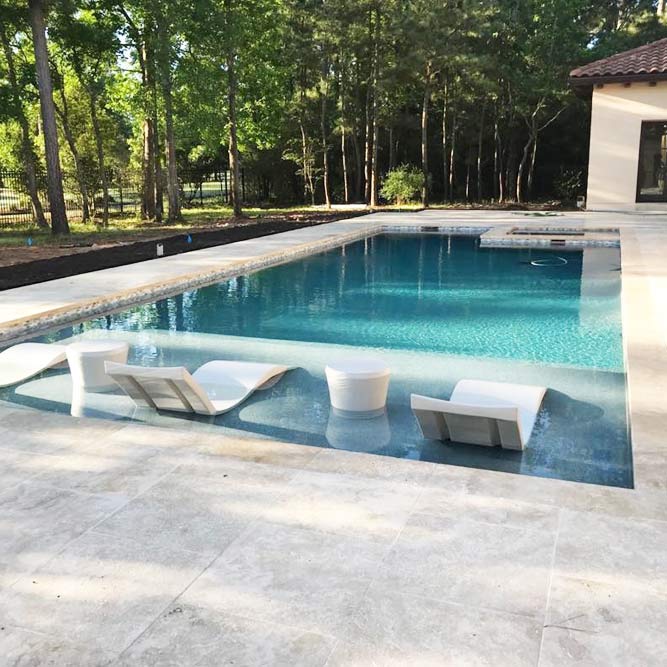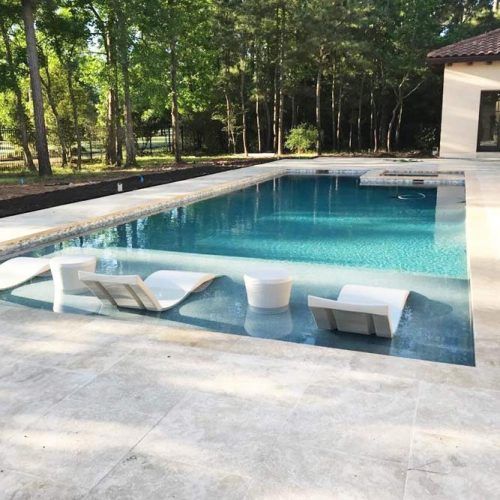 Source: travertinepavershouston via Instagram
When the concrete deck is not your cup of tea, it is easy to find the suitable material to replace it. What we have in mind are Tuscany travertine pavers. They look like something in-between stones and marbles. The general look is gentle and elegant not to mention stylish.
Natural Mountain Lake Style Custom Pool Project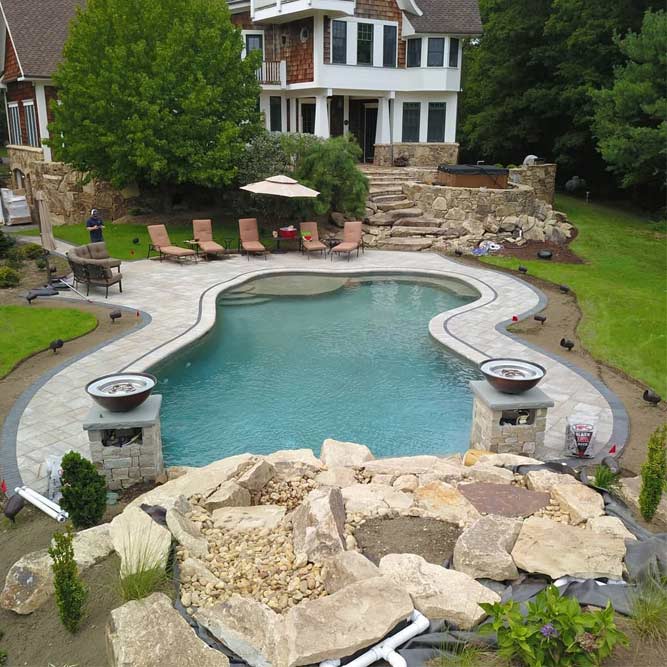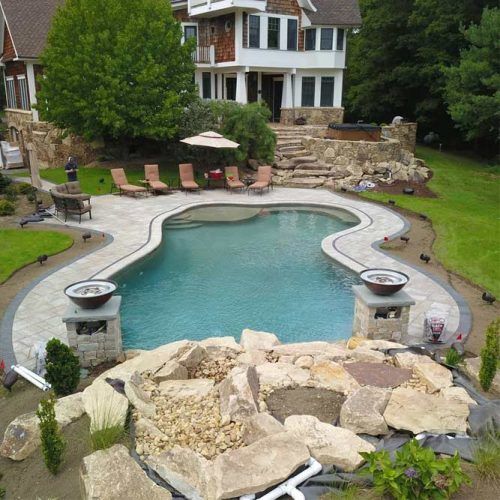 Source: travertinepavershouston via Instagram
There is nothing better than to hike to the lake and rest there in the sun for a while. However, there is not always a possibility to do that. That is why you can easily transform your backyard pool into a mountain lake. All you need is proper guidance and a little bit of imagination.
French Pattern Ivory Travertine Pavers For Your Pool Deck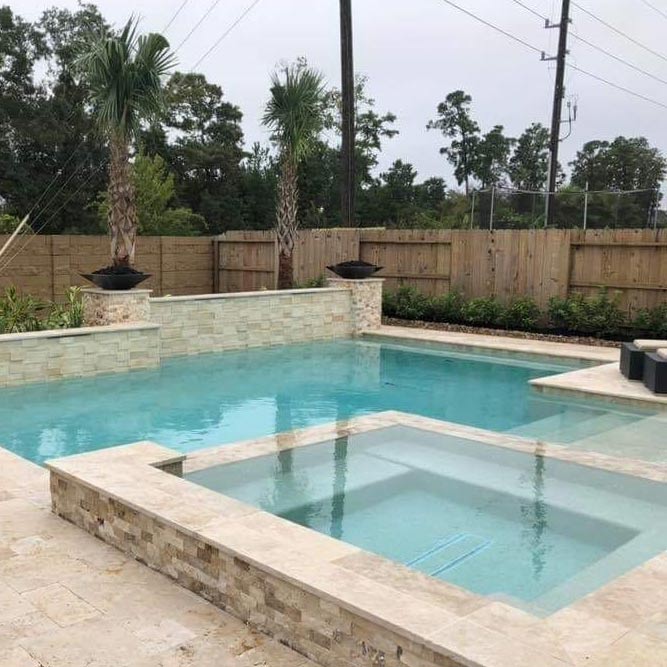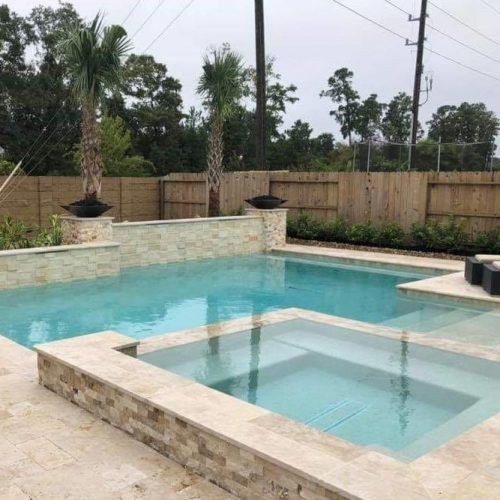 Source: premierlandscaperi via Instagram
Apart from deck decorating ideas, you should also come up with a proper pool idea. For instance, this intricate pool design coincides with travertine pavers completely, and the French pattern takes you somewhere warm and ancient.
Composite Pool Decking And Timber Screening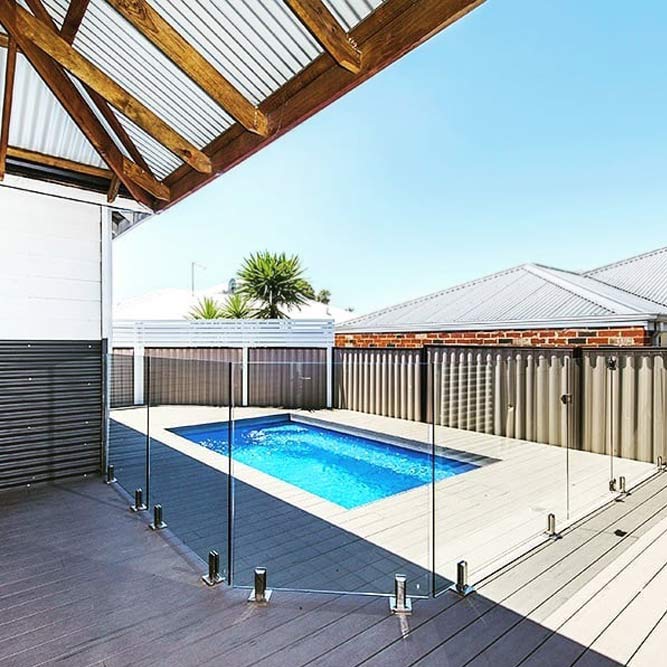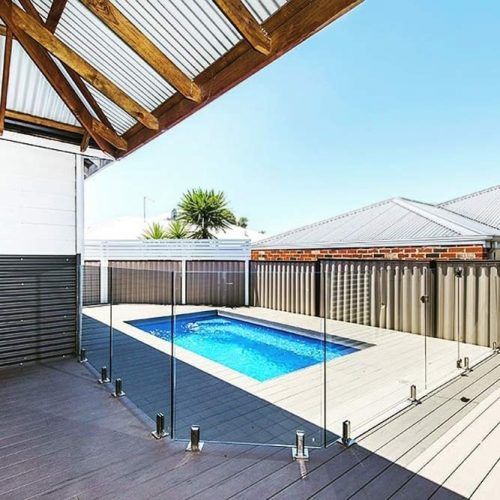 Source: peake_build via Instagram
There is nothing better than to chill in your backyard pool after a long day or week. However, you need to keep it in mind that you should think about the screening as well. That is why if you choose a wooden deck and the same timber screening you will kill two birds with one stone.
Baron Pool, Spray Deck, Glass Tile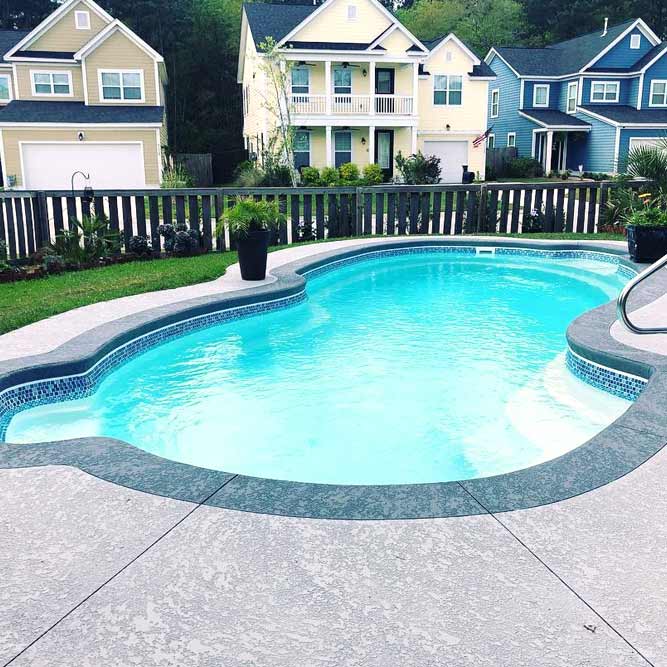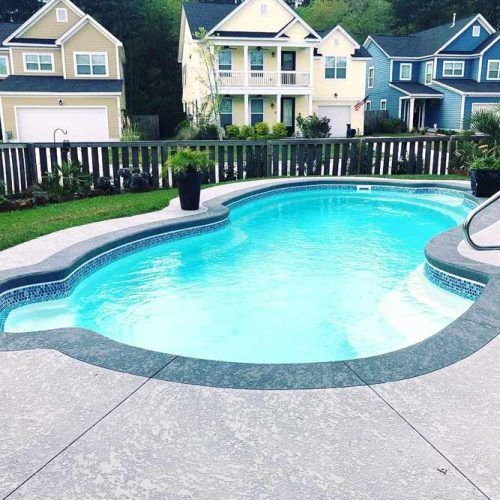 Source: alaglaspoolschs via Instagram
When you first read the title, you may think that there are too many components for one deck. However, when you have a look at how all the named elements interact with one another, you will definitely wish you have the same. The thing is that the baron shape and the glass tile pool decoration look extraordinarily with one another while spray tile ensures that there will be no slipping on the deck.
Pool Deck With Gemstone Emerald Water Line And Spotter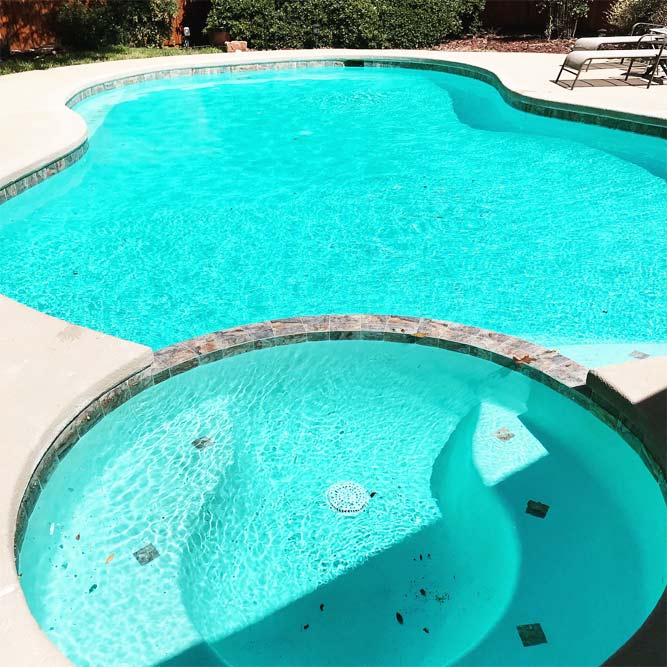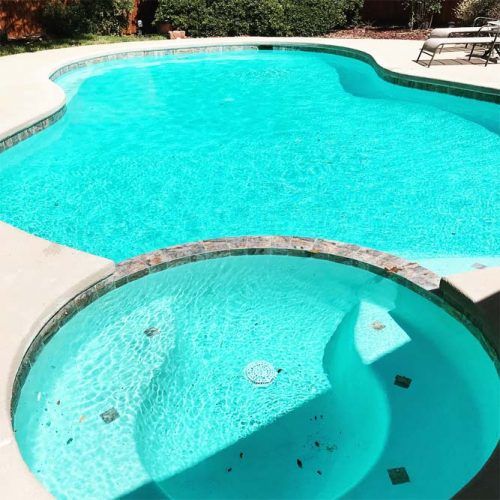 Source: bluelagoonsdallas via Instagram
When you are thinking about deck designs, you need to think about your safety as well. The thing is that if your pool has steps inside, you should better mark them with spotter tiles to avoid any mishaps.
Pool Deck With Concrete Blocks Construction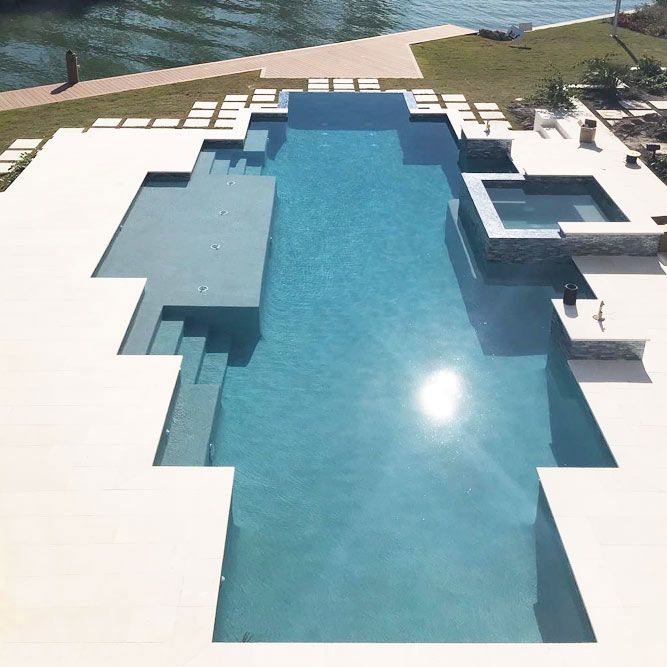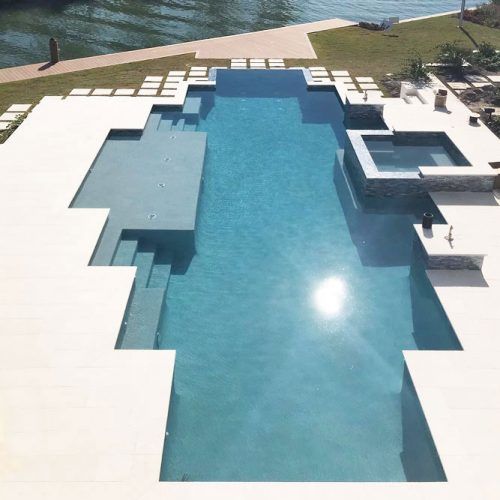 Source: kkgbuild via Instagram
Who would have thought that with the help of something as regular as concrete blocks you can create something so outstandingly elegant. This amazing deck is made of concrete blocks solely, but their interaction is what makes the design stand out.
Lux Pool Deck With Spa Constructions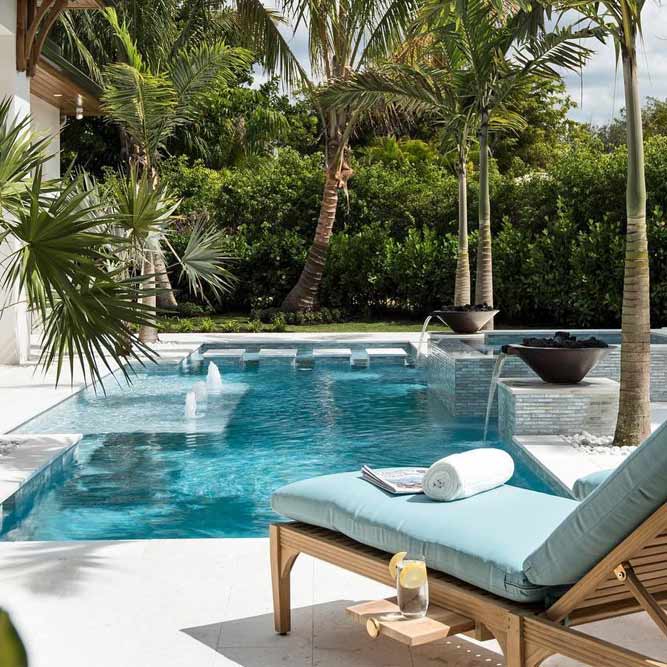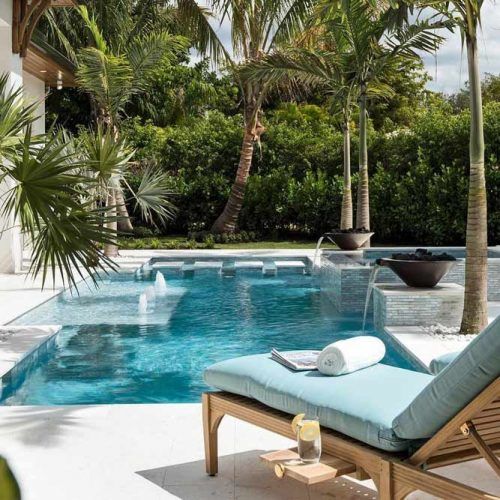 Source: kkgbuild via Instagram
If you have enough room to suit a large pool in your backyard, then we advise that you get one with a spa section. We have a ready-made lux deck in mind to suit the pool with. Every time you get on the deck you will feel like in a five-star famous resort.
Custom Pool Deck Design With Colored Concrete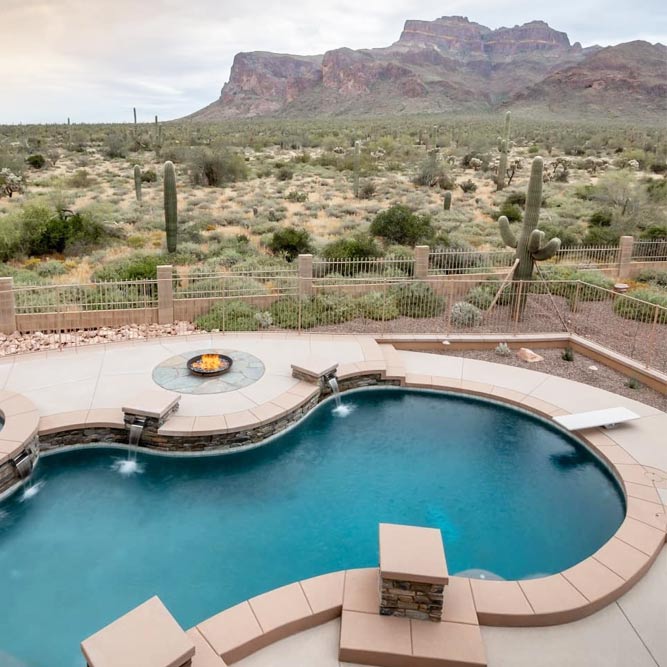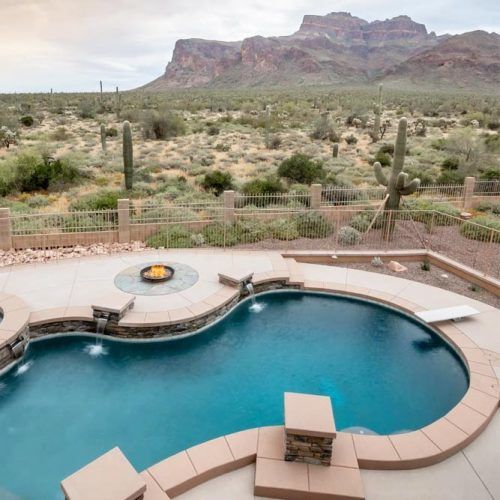 Source: imaginearchitectural via Instagram
Not everyone knows that concrete blocks can be extremely versatile and affordable. If you do not want to experiment with expensive tiles to get a fancy deck – try different-colored concrete blocks. The effect will be the same if not better. See for yourself!
Wooden Pool Deck Design Around Vinyl Liner Pool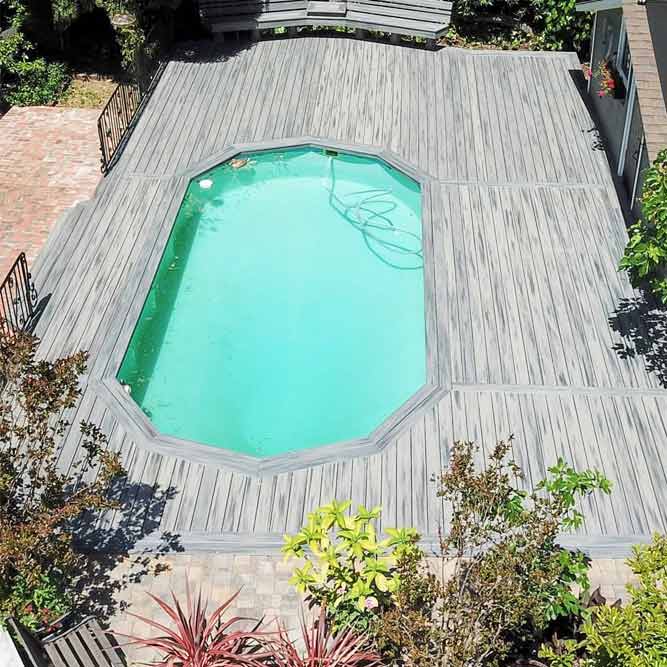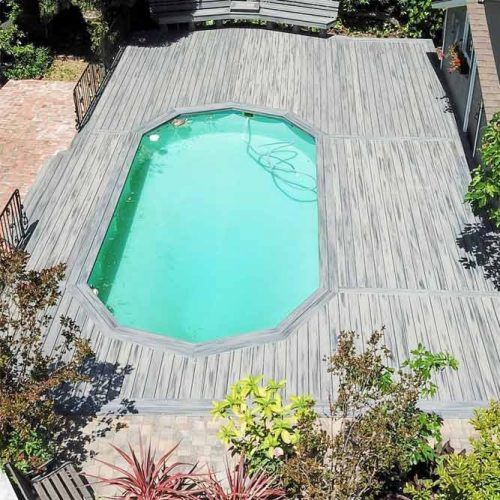 Source: aidanconstruction via Instagram
To tell the truth, wood deck ideas are all pretty much alike, but that does not mean that they are any less attractive. If you are looking for a simple deck to add to your backyard pool, this sleek wooden one may just be it.
Pool Deck Design With Stamped Concrete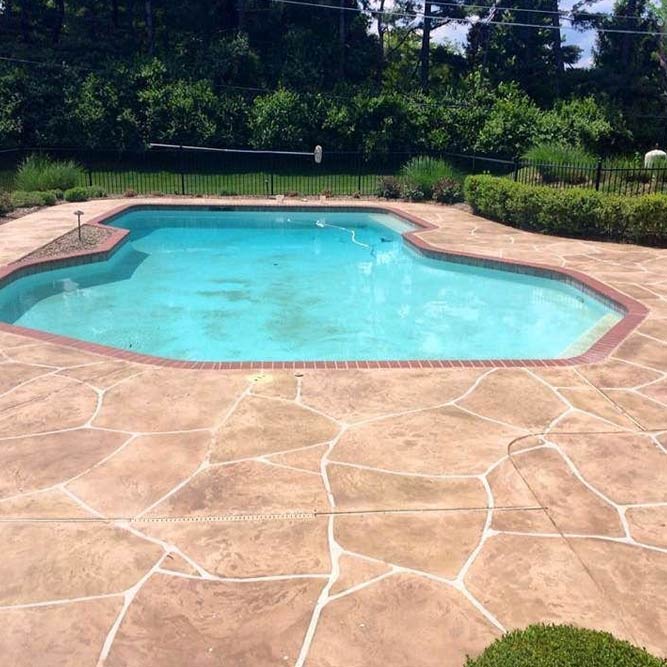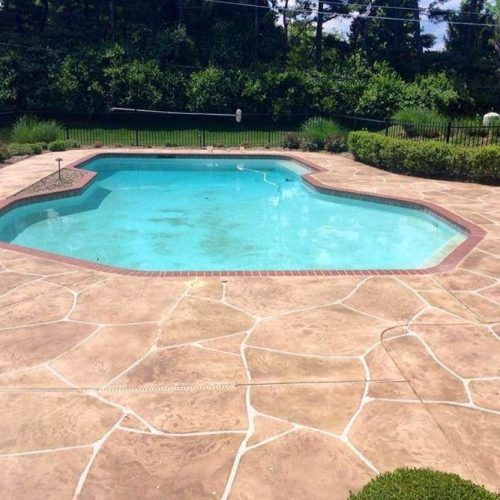 Source: decorativeconcreteflooring via Instagram
Those of you who are looking for such a deck idea that is both easy to afford and nice to look at, not to mention convenient, we may have one in mind. The thing is that stamped concrete looks a little different than mere concrete and such a deck will spice up even the simplest pool.
Pool Deck With Wood And Tiles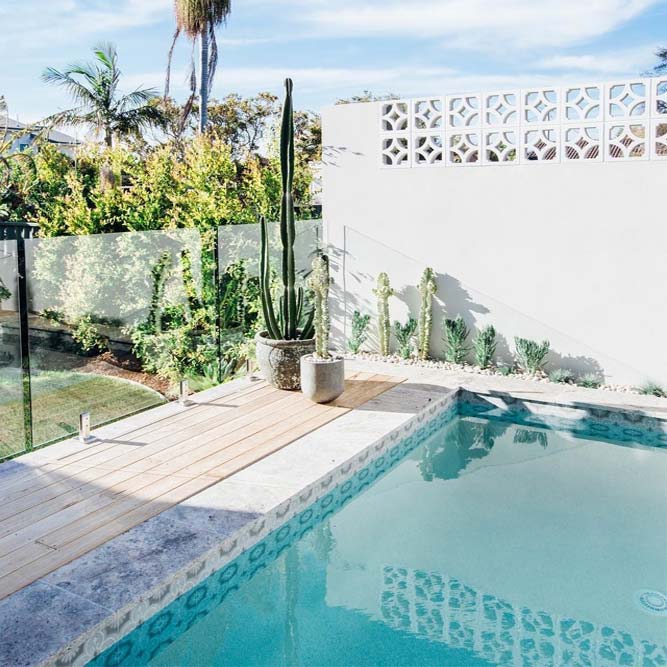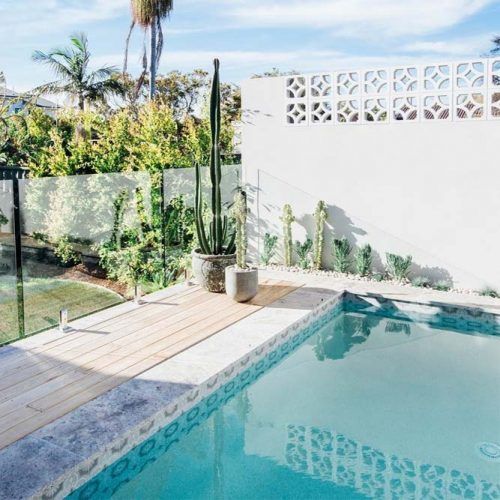 Source: kyalandkara via Instagram
So far, we have discussed either wooden deck or deck paved with tiles, but what about the combination of two? The truth is that such a combo is not only possible but also magnificent looking. All you need to do is to find the matching materials and decorate your pool.
Patterned Tiles For Pool Deck Decor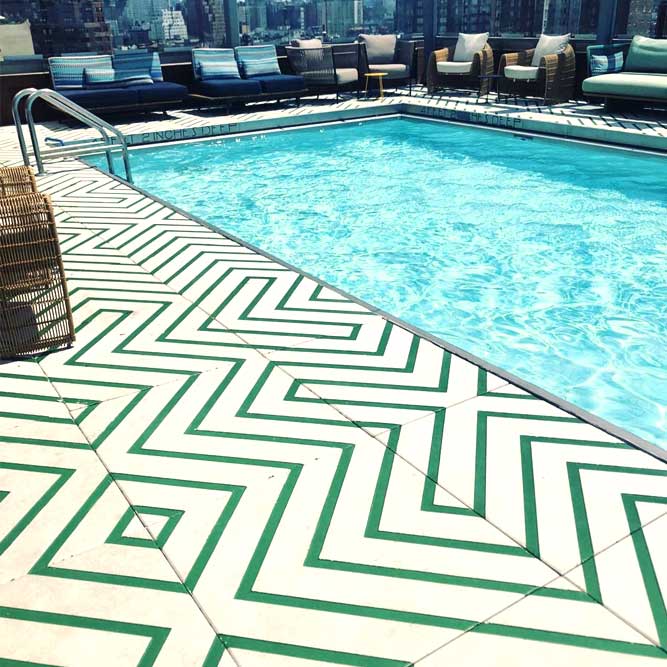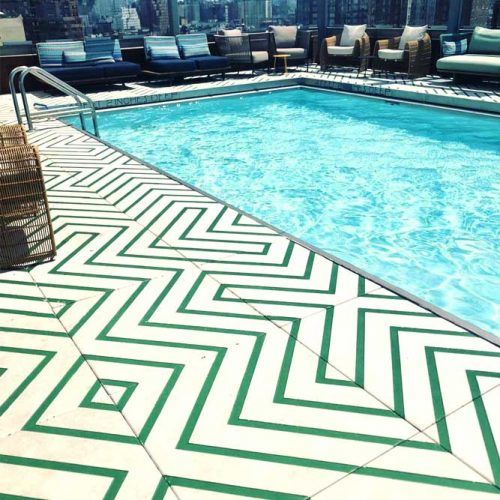 Source: newworlddesign_ via Instagram
In case you think that your deck requires some brightness, we know how to achieve that. The fact is that there are many various patterned tiles to choose from; all you need to do is to pick the one that appeals to you most.
Pool Deck With Fireplace And Rest Space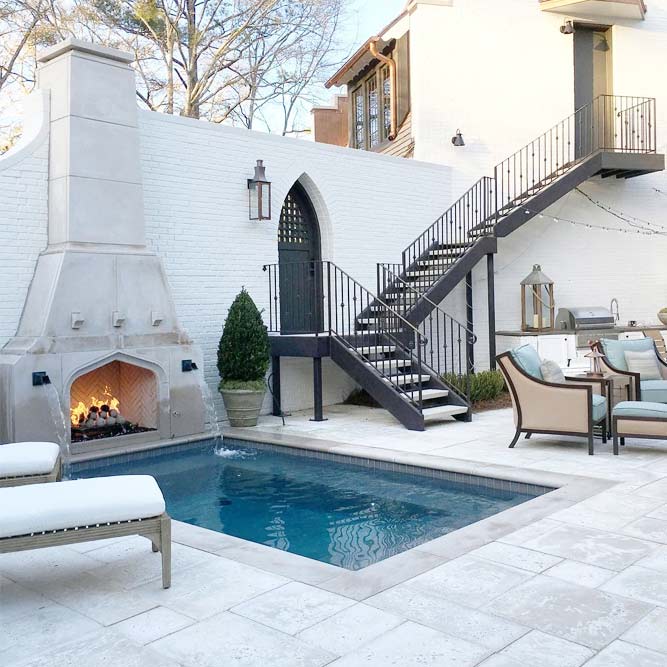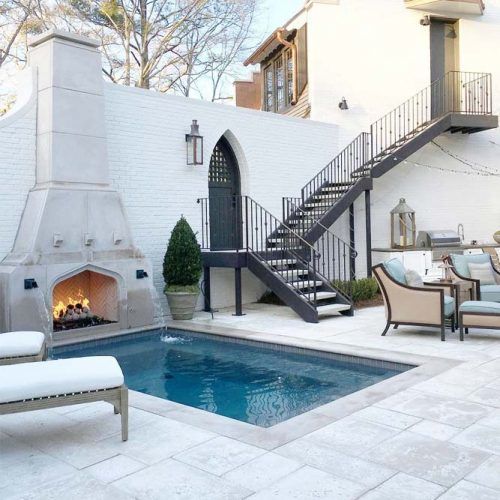 Source: christopherai via Instagram
The best way to create a perfect resting area in your backyard is to combine a fireplace and a pool. In case you think that such backyard deck ideas are close to impossible, you should have a closer look at the design we have prepared for you here!