A comfy bed is one of the essential things in our lives. We are sure that most of you will agree with the statement. However, there are times when a comfy bed and your teen bedroom size do not coincide. What should you do in such a situation? The answer is quite simple – get yourself a comfy and convenient loft bed! Loft beds are compact and versatile so that you can easily find the bed that suits your taste and room preferences. Today we are going to share with you a list of best loft bed ideas to head you in the right direction!
Kids Bedroom With Loft Bed And Rest Space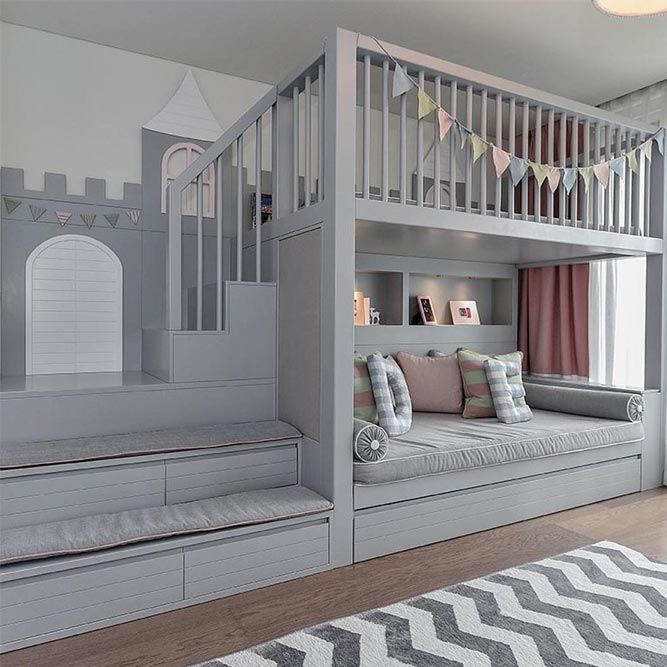 Source: Instagram/happykidsdecor
It is strange and mesmerizing at the same time as a simple kids loft bed can turn into the completely furnished private space. This particular bed looks like a fortress, and that is something that will surely appeal to your kid as well as his friends. Besides, the sleeping area over the rest space is a brilliant idea!
Girls Bedroom With Beauty Space Loft Bed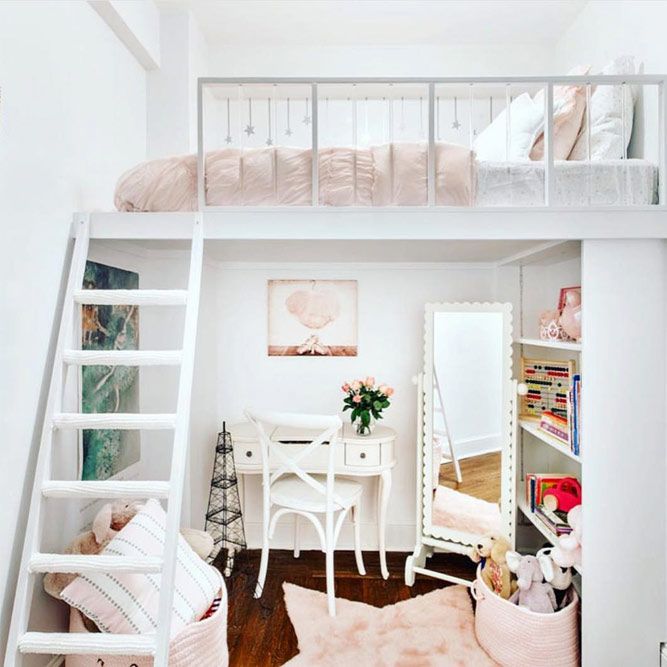 Source: Instagram/projectnursery
When you are coming up with loft bed ideas for your daughter, there is a list of things to keep in mind. First of all, it is best to opt for pastel and light shades in décor. Besides, no matter how old your little doll is, she needs a proper beauty area. With a loft bed like that a beauty space will not be an issue, don't you think?
Twins Metallic Loft Beds With Study Space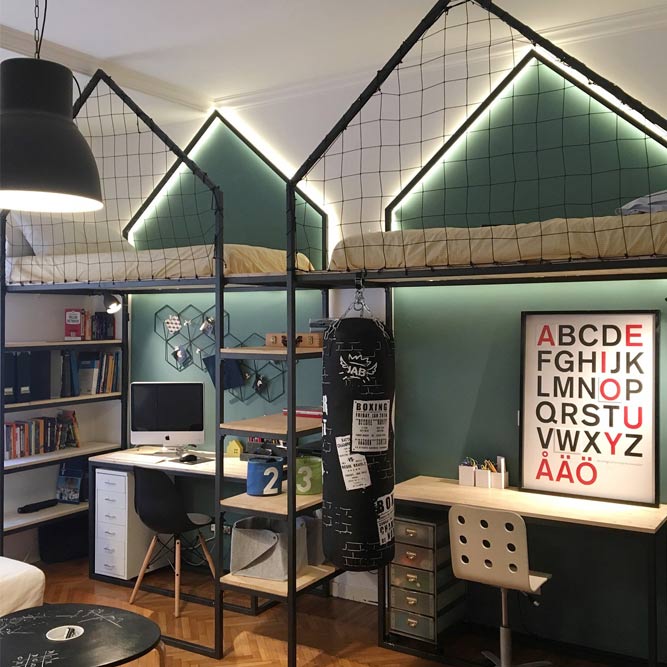 Source: Instagram/mommodesign
When you are the lucky parent of twins, here comes double trouble, things only get worse if you are limited in space too. Nevertheless, there is a simple and quite stylish way out – twin loft bed. If it is boys that we are talking about, then the beds that resemble sports they are into, let's say football, are your best bet. Add study space to each bed, and you have a finished twin study room, just like that!
Kids Bedroom With Loft Bed And Activity Space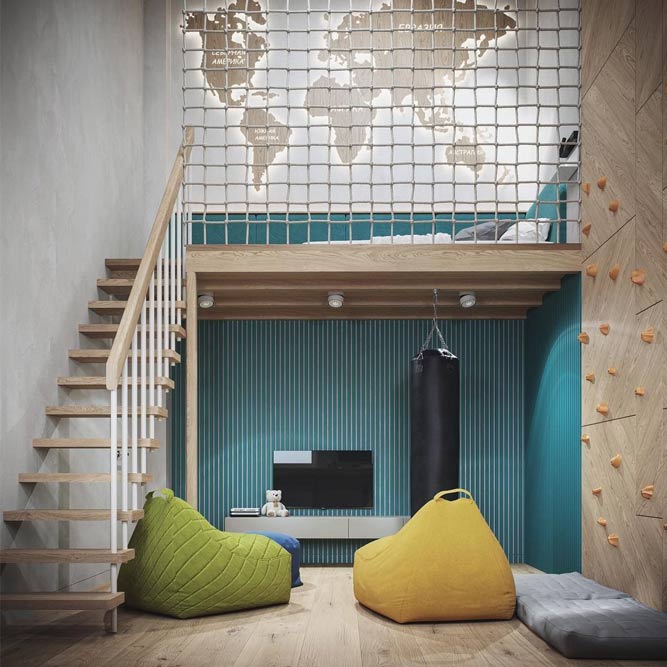 Source: Instagram/futuroom
Very often the space freed due to loft bed is used for rest or the study, yet there are other uses to it too. Such a loft bed with stairs can provide enough of room to create a unique activity space underneath. No matter gaming or boxing your kid is into – you can fit in both.
Pink Girly Bedroom With Canopy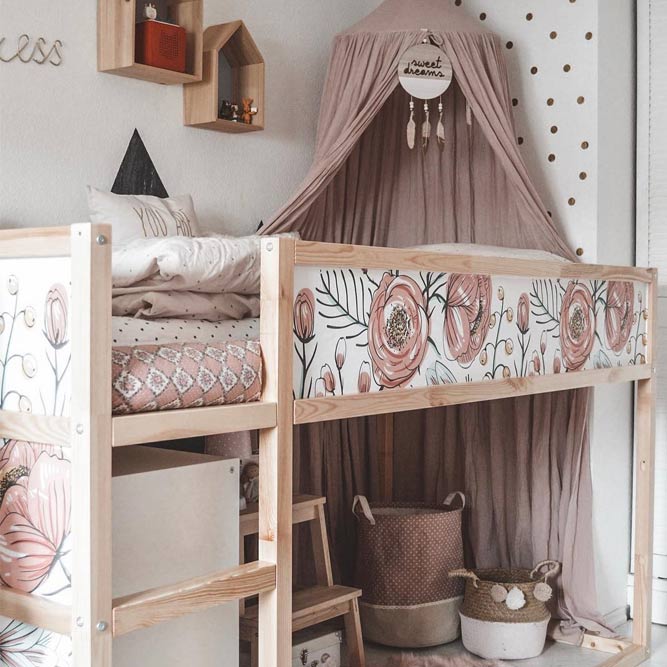 Source: Instagram/maren.liebt.maria
Dusty pink colors are all over the place these days, that is why we couldn't simply leave this girly bedroom out. It is subtle, girly, and spacious. You can use the space beneath the bed to store her toys and other belongings. A trendy canopy will ensure that she sleeps well too.
Industrial Loft Bed For Kids Bedroom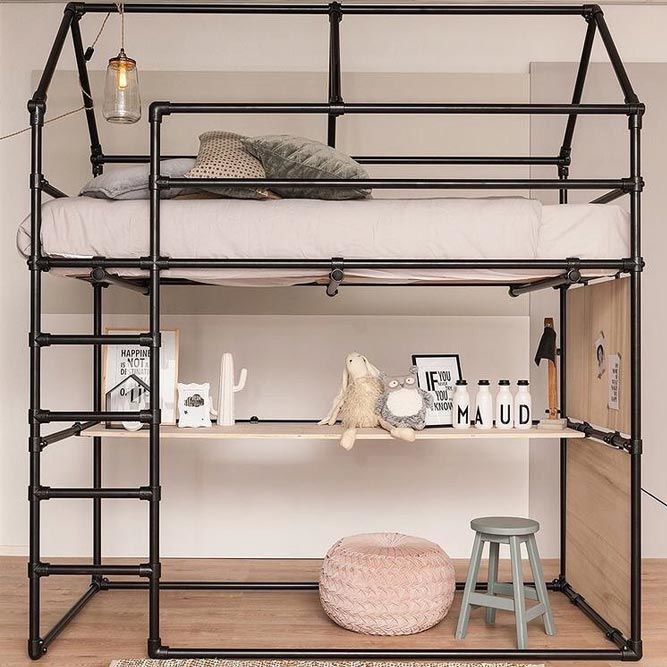 Source: Instagram/mommodesign
If you are skillful enough, it is possible to create a perfect industrial metal loft bed for your little princess on your own. However, if you wouldn't take a risk at trying your constructor skills out, you can always find such a metal loft bed with desk at the store.
Wooden Loft Design With Build In Stairs Drawers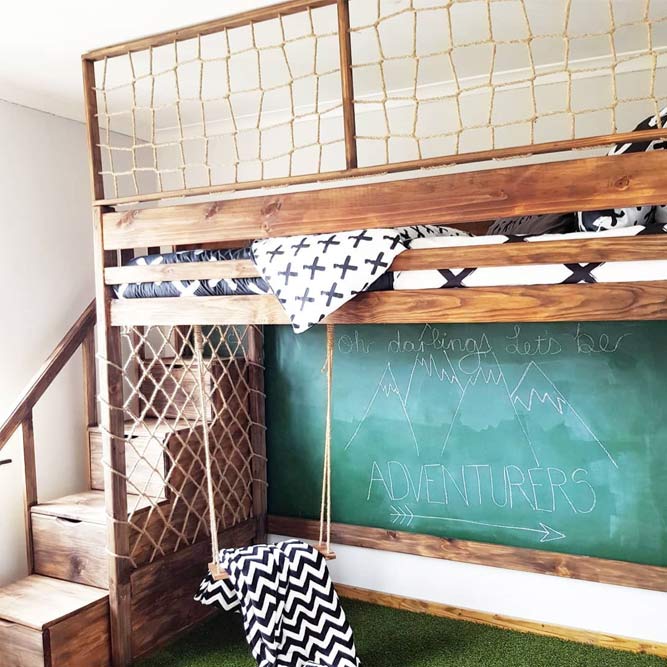 Source: Instagram/sawdustandhighheels
Wooden loft bed looks stylish and elegant. Besides, it is a loft bed for a kid you are looking for, it is safe to say that such a bed is also safe. Due to the nets on the bedside as well as on the stairs, you can be sure that your kid will not fall down or hurt himself. Besides, the stairs can be used for storage, and in the kid's room, there is always an extra need for storing space.
Black Metallic Bed With Study And Rest Space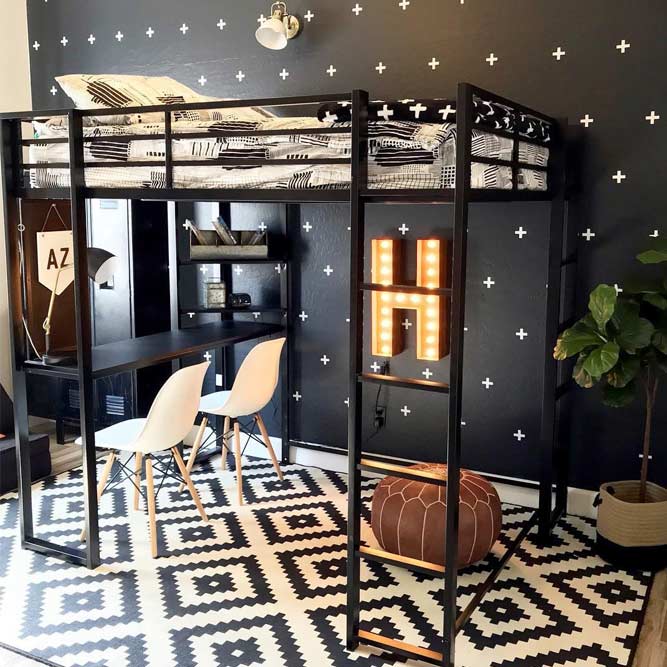 Source: Instagram/jaci.daily
There are times when you are looking for something over the edge minimalistic to fit into your room. Such a metallic loft bed with a desk and a rest space will suit even a larger room. If you choose such a reserved design, you will free up space while everything necessary will within reach.
Loft Bed Design For Play House Space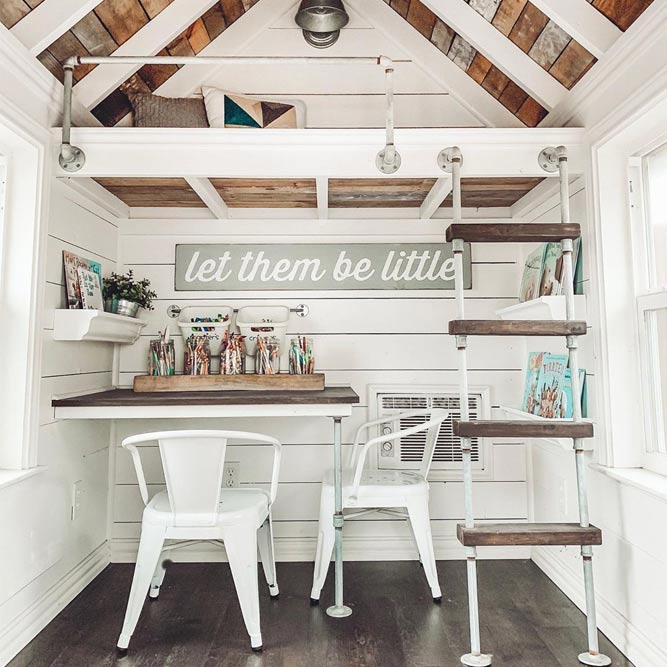 Source: Instagram/ourfauxfarmhouse
Loft beds are mostly used as bedroom furniture. However, that is not a must. There are times when such a bed fits in other rooms too. For instance, such a simple white loft bed and small kids desk will complete your child's playhouse perfectly. Anytime your kid gets tired, he or she can climb up the ladder and have a sweet nap.
Loft Bed With Vintage Rest Space Décor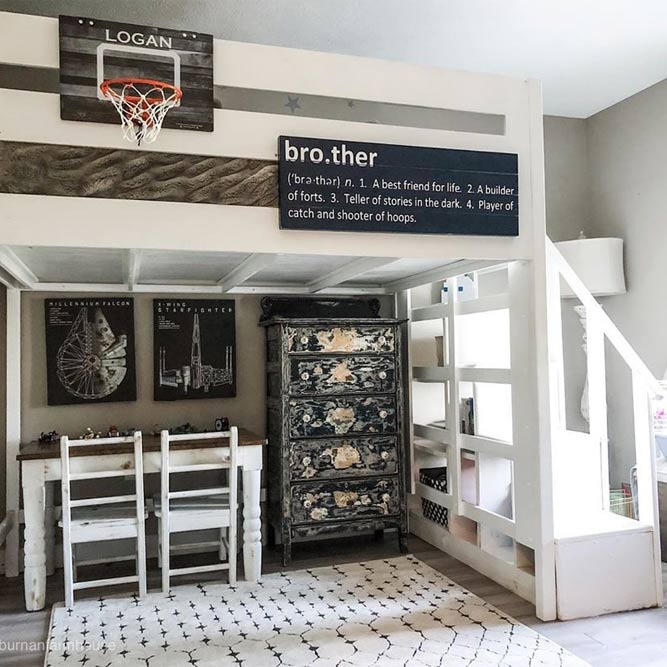 Source: Instagram/littlesuburbanfarmhouse
It does not matter whether junior loft bed or adult one is the one you are searching for, this vintage rest space will steal your heart. It is so compact and stylish that it is difficult to tell where the bed ends, and the chilling area starts. Besides, a basketball ring may come in more than useful at times too, especially if you are decorating the room for a boy.
Wooden Bed With Book Storage Stairs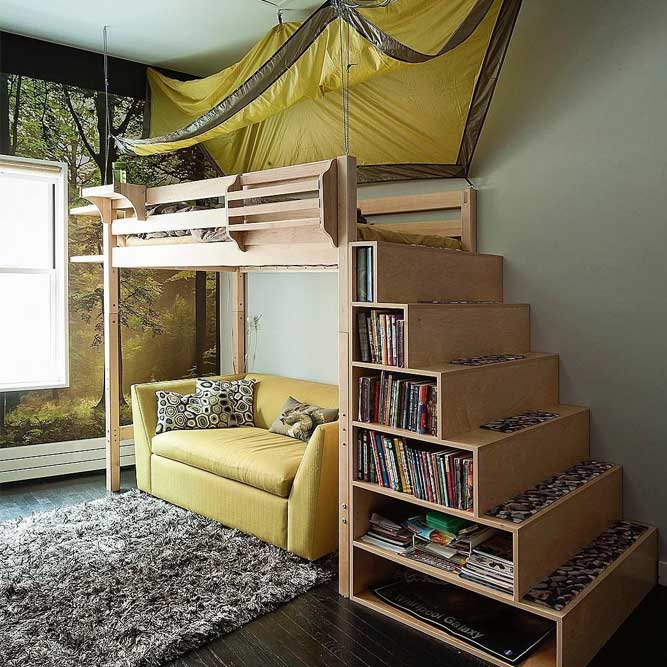 Source: Instagram/tamarahubinskyinteriors
There are so many useful things that a loft bed can come with that it is hard to list them all. For instance, if you are a bookworm and the books are lying all around the room stuffed in piles a loft bed with storage stairs will save the situation. Stairs will ensure that you comfortably get into the bed, while the spaces filled with books will add special charm to the room.
Rustic Bed For Boho Bedroom Design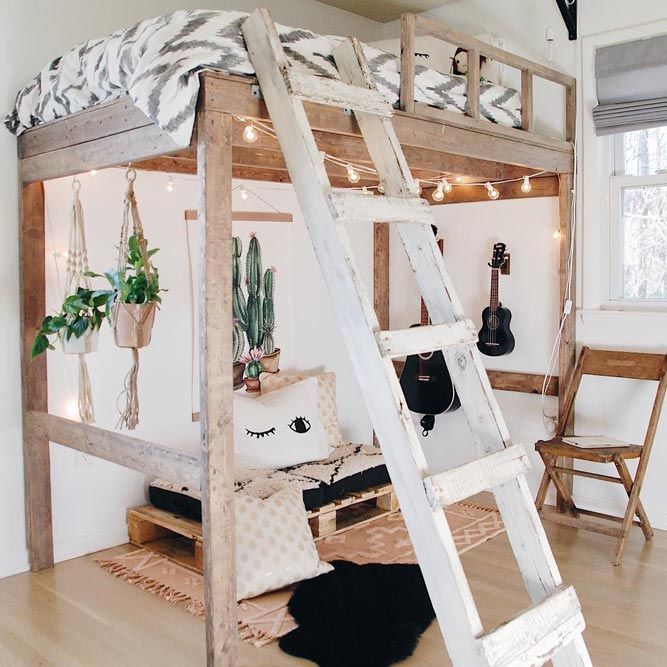 Source: Instagram/jaimejscott
No matter how convenient a bed is, it is a waste if it does not fit your room interior. Unlike with other beds, you can easily dig up a loft bed of any type, shade, and style. For instance, if you are looking for something related to boho style, this simple wooden bed will be clearly irreplaceable. Just a few finishing details and you will fall in love with your room and will refuse to leave it ever!
Bed For Small Room Space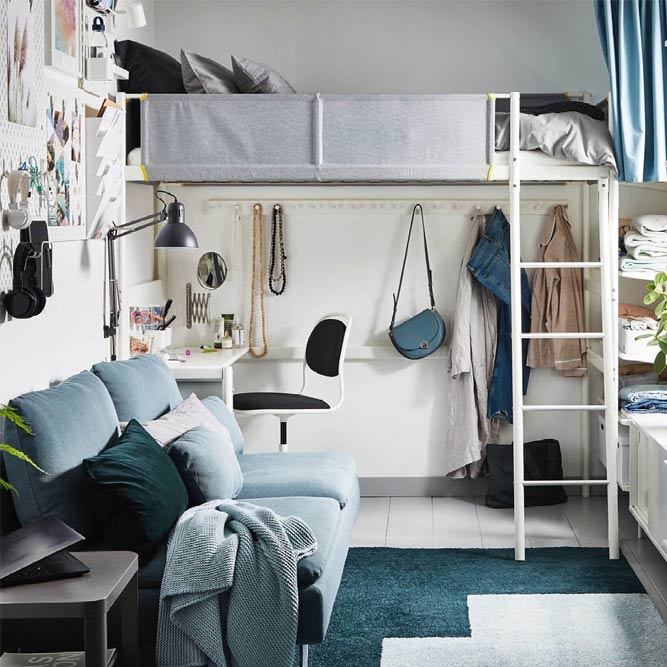 Source: Instagram/ikea_australia
There are very tiny rooms, there is no doubt about. Even if you live alone, it seems impossible to fit in all your stuff into that small room, simply because the bed takes all the space. That is the perfect chance for you to consider a loft bed with a desk and storage. While your sleeping area is on top, the rest can be used to your needs. You will be amazed by how much space will be freed with a bed like that.
Metallic Bed Design With Corner Study Space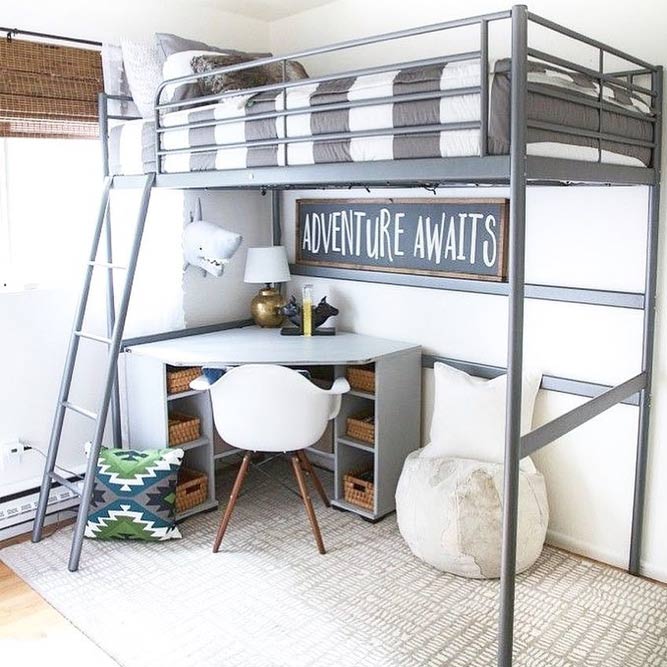 Source: Instagram/raiseandsocial
Gray tones are subtle and calm, not to mention elegant. That is why many parents choose the color for a kid's bedroom. In this case, we see the study space combined with a sleeping area. However, they do not interfere with each other. It is safe to say that the bed and the corner desk complete each other. The only thing you should keep in mind is that there is enough light in the study area.
House Bed With Barn Doors Design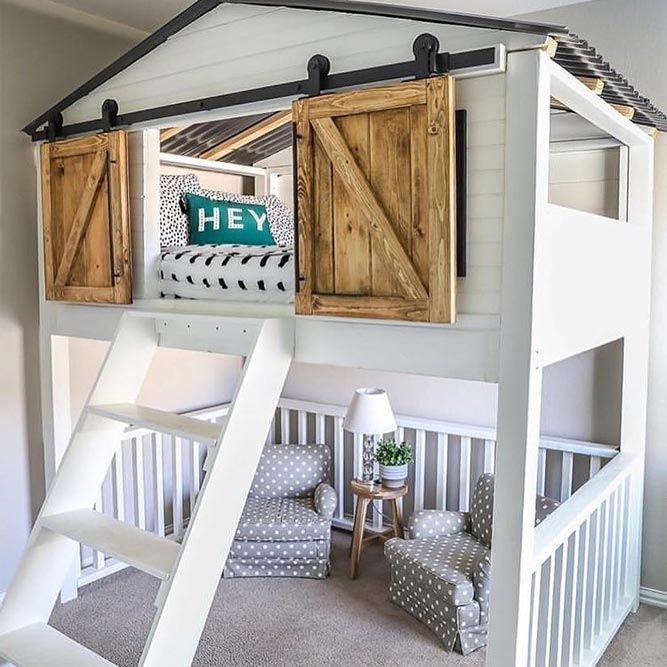 Source: Instagram/realtorjanemcgill
They say that your house if your fortress, however, in this case – your bed is your fortress. Literary! There is a small 'yard' where you can chill after the long and tiresome day, and there is a comfy 'barn' on top. If you feel like you do not wish to see either hear anyone, all you need is to shut your barn doors!
Wooden Bed And Desk Design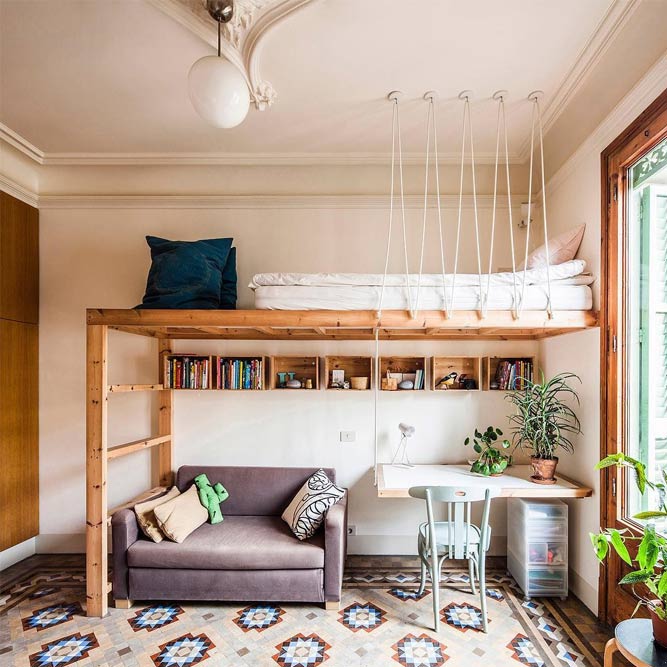 Source: Instagram/eugenibach
Not all the beds that fit the loft category are necessarily made of metal. If you are looking for a more elegant and classy touch, wooden beds are also of great variety. Such a gorgeous bed can fit in a little studying as well as resting area underneath, and that is a tremendous advantage.
Bedroom Idea For Small Space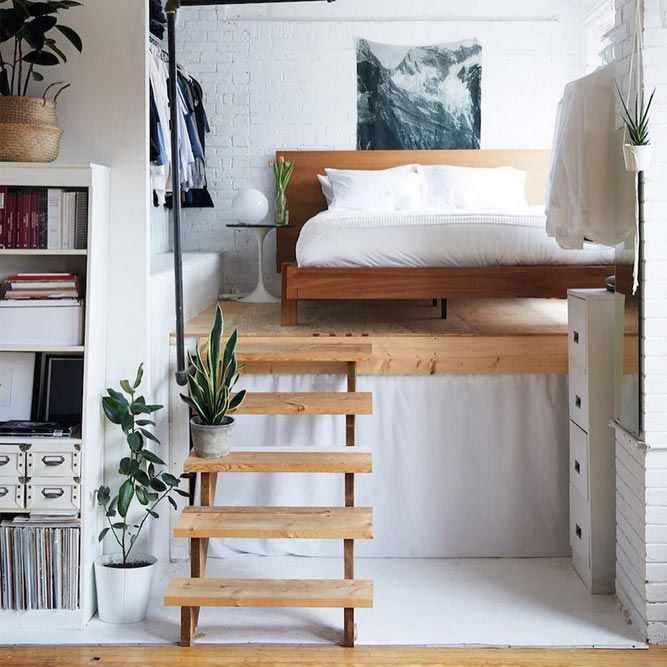 Source: Instagram/spaceoptimized
There may be a false assumption that loft beds are suitable for kids and teenagers only. That is not true. A full size loft bed can save you at times when you think about sleeping on the couch for the rest of your life. Placing the be on a stand ensures that there is a lot of storage room underneath. Such a benefit will help you keep your little room away from looking overstuffed.
Bedroom With Space Storage For Your Stuff And Clothes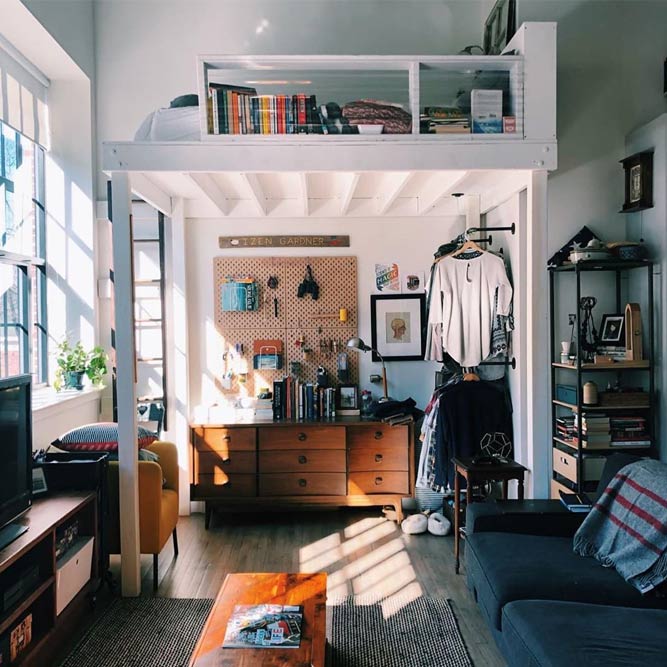 Source: Instagram/studioz.pinheiros
What Is A Good Age For A Loft Bed?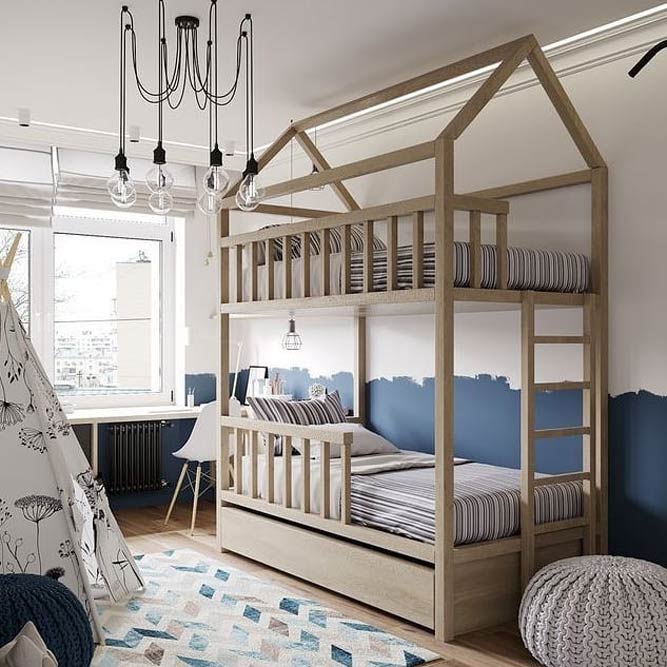 Source: Instagram/littlekingdoms.uae
When it comes to age, it is important that your child be older than six years. Apart from it, you should take into account such a factor as maturity. The thing is even if your kid has reached the required age, they may not be mature enough to realize that the loft or bunk top is only aimed at reading and sleeping.
Can Adults Use Loft Beds?
Source: Instagram/littlekingdoms.uae
Of course, it can be tempting for an adult to use a loft bed, especially if they did not have one in their childhood. But is it worth it? Actually, you will be surprised to find out that loft beds are equally a great idea for both adults and children. In addition to being fun to use, they are extremely practical. This item of furniture allows you to save quite a lot of space, thus being a real savior for small apartments.
Are Loft Beds Good For Small Rooms?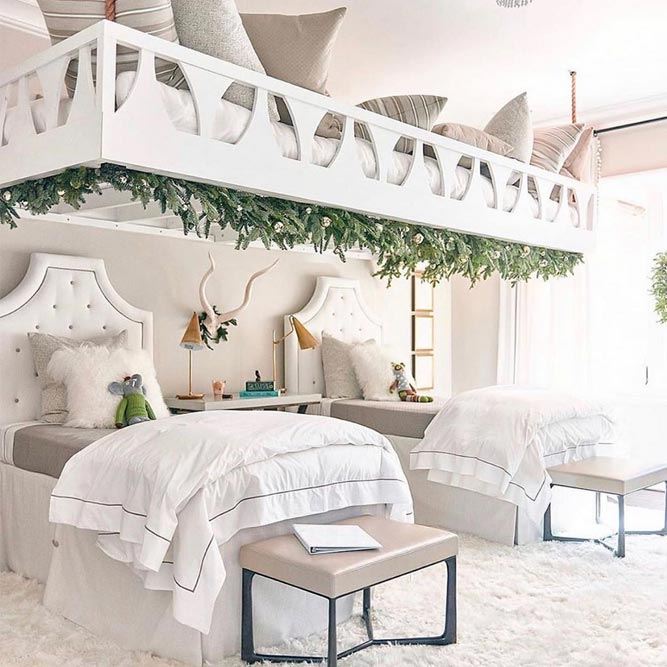 Source: Instagram/bloomingdiyer
Good is not probably the right word to describe how beneficial loft beds are to rooms with limited space. It allows room for a sitting area, a vanity table, a desk or any other nook you want to have. Thus, they are a perfect substitute for chunky traditional beds, which can sometimes take almost the whole space in the room.
What Do You Put Under A Lofted Bed?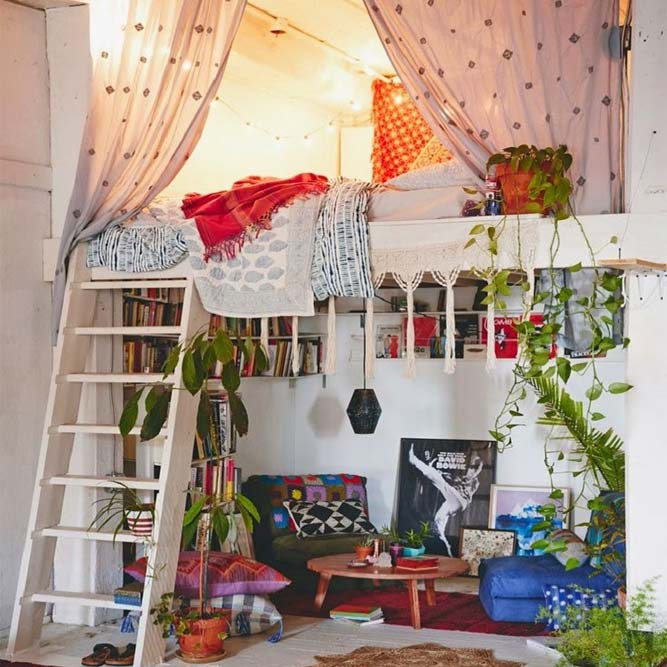 Source: Instagram/rafakids
While it is totally up to you what to place under your lofted bed, the most popular options are a desk, a workstation, storage boxes, a couch, a reading nook and such other things. Just make sure that the lofted bed is secure, as you do not want to put anyone, including yourself, at risk.
Bed Decor In French Style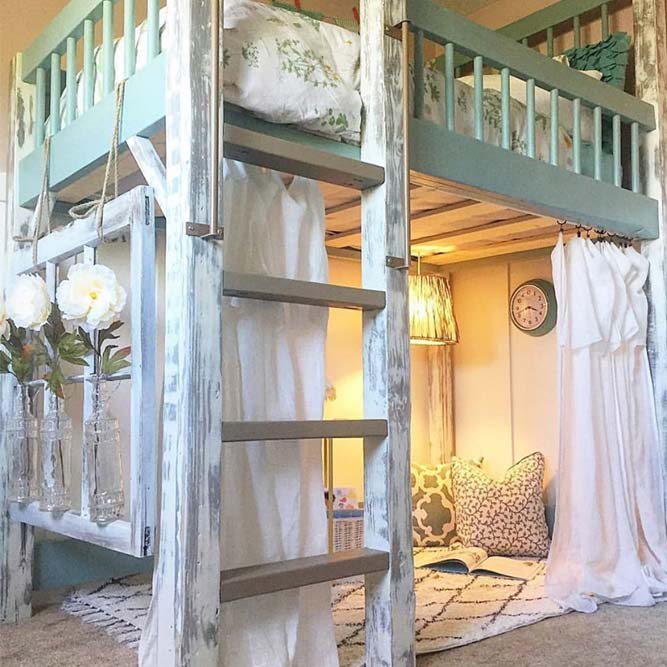 Source: Instagram/roomsbyzoyab
Does French design appeal to you? Then why not draw some inspiration from it to decorate your loft bed? The brushed white and pastel mint finish will bring a French aesthetic to your room, while rustic detailing will give it toasty feel. Thus, if you want to create a cozy nook to enjoy your hobby and have some quality me-time there, look no further.
Modern Wooden Bed For Boys Room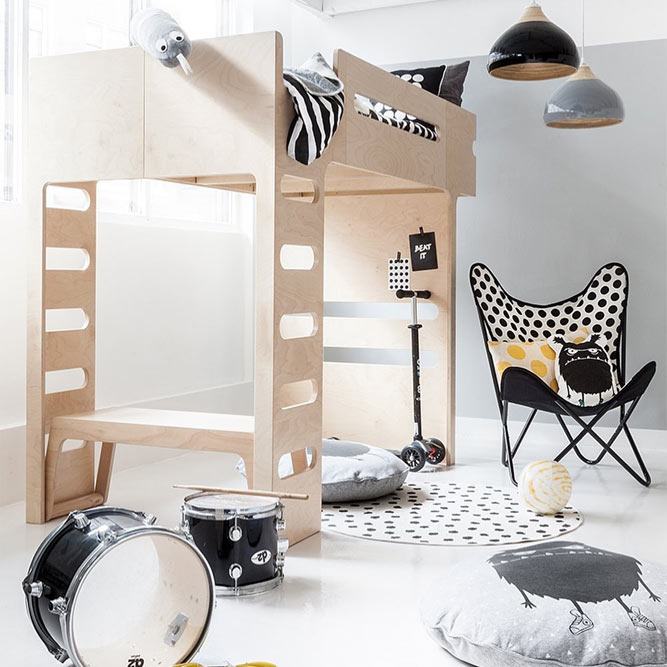 Source: instagram.com/unitedtinyhouse
One of the best things about this modern loft bed design with a wooden profile is that it will not only save you a lot of space but also promote your child's talent development. It allows you to create a perfect environment for your kid to play, study and relax so that he feels happy and fulfilled.
Adult loft bed comes in merely irreplaceable when the apartment you rent or own is the tiniest possible. If you opt for such a bed, you can not only save up your means but a lot of room too. Just imagine where you could have put all those things that reside right under your bed? Besides, the bedside of this loft bed is suitable for storing as well. This means that investing in such a bed turns out to be an investment into a proper living room!
A loft bed is the best decision to create some more room in your sleeping area. Besides, the range of ideas to choose from is almost unlimited. Choose the one that catches your attention first!
REFERENCES:
A bunk bed is a type of bed in which one bed frame is stacked on top of another, allowing two or more beds to occupy the floor space usually required by just one. Source
How to Build a Loft Bed. This is one method of building a loft bed by anchoring two of the sides to walls. Source
FAQ: Loft Bed
Are loft beds good for small rooms?
Loft beds are ideal for small spaces, as they help to use floor space twice. For example, some loft beds have desks and storage built in. Loft beds are particularly great for small apartments, if there are tall ceilings, you can transform a compact apartment into a studio by raising the sleeping area and provide room for a large closet or a workstation.
What is the weight limit on a loft bed?
Normally, the weight limit on a loft bed is between 220 Lbs. to 300 Lbs when desined for a twin mattress or a twin size bunk bed. An adjustable height loft bed can hold less weight than a solid wood or metal bed post. Custom loft beds for adults and teens can support weights from 300 lbs. to as high as 600 lbs.
Was this article helpful?